If there is one true way to see Australia it is by packing up your sense of adventure and embarking on a road trip by campervan. Living the van life in Australia allows you to really get a sense of what this country is all about. Experiencing the remote outback in its true, rugged sense, where you could easily go a full day without seeing another person and only kangaroos for miles.
We love the van life so much that we bought our own campervan in Australia and converted it to suit us, however for many who may be visiting Australia for only a short time, hiring a campervan in Australia is the most cost-effective way to see the country.
There are many companies offering cheap campervan hire in Australia to choose from, all varying in prices and designs, there is bound to be one that will suit your needs. In this post, fellow travellers share their experiences of renting campervans all over Australia so you can make an informed choice about your trip of a lifetime down under.
Read more about our campervan adventures in Roxy here
Pin this image to your Australia board for later!
Hiring a Campervan in Australia – First-hand Experiences
Hiring a campervan or car and driving around Australia is by far the most popular way to get around this huge country. With so many sights to see and such a great distance between them, we highly recommend you look into driving in Australia as your primary method of transport.
There are many options for Australia campervan hire across the length and breadth of the country and trying to decide where and who to rent from can seem a daunting task. Below is a brief list of experiences with different companies across the states of Australia to help you decide where and who is the best for you.
Campervan Hire in Cairns
Mighty Campers
Hiring a campervan in Cairns is an excellent choice as the city is the perfect gateway for travellers to explore tropical North Queensland. At the end of Airport Avenue, visitors will find several local recreational vehicle rental agencies with a range of campervan and motorhome options.
Mighty Campers Cairns manages a fleet of campervans and motorhomes by Britz, Mighty and Maui. Those wanting to rent a campervan can book and pay online. Our experience with the agency was a positive one. On our arrival day, the agent took copies of our drivers' license, showed us all the features of our mobile home and diligently explained the important safety features too.
Upon return, the final inspection was completed diligently with minimal waiting time. It is super important to return the campervan rental to the nominated branch at the specified date and time otherwise travellers risk incurring additional charges.
The Britz Double Down 4YX is capable of sleeping 4 people. The campervan rental included two double beds, sheets and towels, a kitchen sink, gas stove, microwave, fridge, cooking utensils, kettles (x1 gas, x1 electric), crockery and cutlery and a TomTom navigation system.
The vehicle included a Standard Accident Liability Bond of $3500. This meant that drivers are held liable for the cost of repairs and/or damages to the vehicle, and/or third party, up to a total of $3500. There is an option for drivers to purchase a Liability Reduction Option to reduce this liability to nil. This is something that each traveller should assess.
We hired the Britz campervan for five days covering almost 100 kilometres whilst chasing waterfalls in tropical North Queensland. Those looking to complete a similar road trip have the option of booking powered sites at caravan parks or reserving a lot at one of Queensland Parks' campgrounds.
Written by and photo from Jasmine from The Travel Quandary
Motorhome Hire in Brisbane
Travellers Autobarn
When you think about Australia, you think campervan. It makes sense to hire a campervan when travelling down the east coast of Australia to really get a feel for the country that you wouldn't get on a bus or a train. Hiring a campervan from Brisbane to Sydney for 10 days with campervan company Travellers Autobarn Australia is great. They are an amazing company offering travellers some of the best deals for campervan hire in Australia.
They provided a 2-berth campervan, which is one of the most popular amongst travellers and backpackers. The 2-berth campervans are compact and simple, but they have everything you'll need for a two-week trip inside the five doors. 2-berth vans are amazing for couples or best mates and are ideal if you are travelling for up to a month but any more than that and they recommend a three-bed or four-bed simply for more space.
The 2-berth vans from Autobarn are also small enough to find parking for easily, meaning there is no added stress to pulling up.
The campervans come with lounge/table area for eating with foldaway table, a double bed big enough for two people (very spacious actually!), sleeping bags, bed sheet and pillows, a cool box for all your fridge food, gas cooker in the back, push down water sink, electricity/lighting throughout the van and 2-4 plug access points (two in the back and two under the seats).
All the extras did cost more; however, you are welcome to bring your own with you instead of paying the extra for theirs. If you are doing a long trip it may well be worth buying your own equipment and sleeping bags but for the ten days, we had the van it was really nice to give it all back at the end of the trip. We thoroughly enjoyed hiring a campervan with Traveller's Autobarn and would recommend.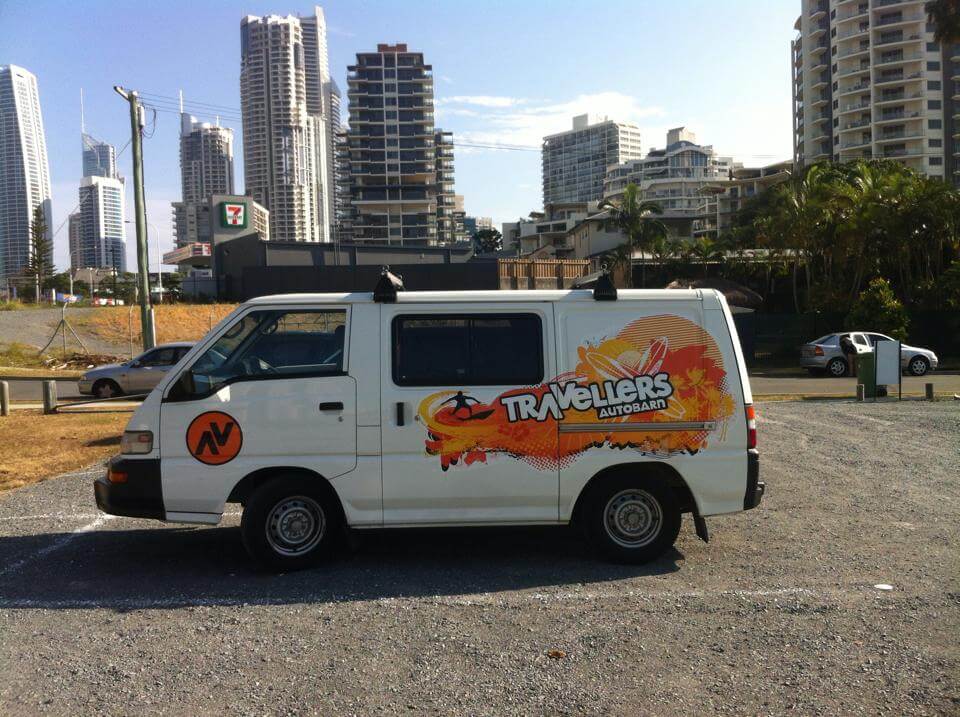 Written by and photo from Sophie from Sophie's Suitcase
Britz Campervan
Renting a camper van or motorhome is the best way to explore Australia. Driving a van from Brisbane to Sydney allows you to visit popular locations such as gorgeous Byron Bay but also lesser-visited spots such as Lake Macquarie and Port Stephens.
Renting a camper van in Brisbane from Britz couldn't be easier. Britz vans are of a high specification and are stocked with everything you need for your East Coast road trip from bedding to crockery. The vans are clean and well maintained with four-six berth vans providing plenty of space for larger groups or families.
Campervans are easy to drive on roads and towns in New South Wales and there are plenty of campsites along the route. However, if your van is self-contained – has a toilet – you can take advantage of the freedom camping initiative.
Self-contained campers are permitted to stay in designated locations completely free for one or two nights. Plus, many freedom camping spots are in tranquil and scenic rural locations. Britz also offers relocation deals which is when a van is driven from one Britz depot to another. For customers who are willing to travel on a time frame, Britz camper vans can be hired for as little as $5 a day.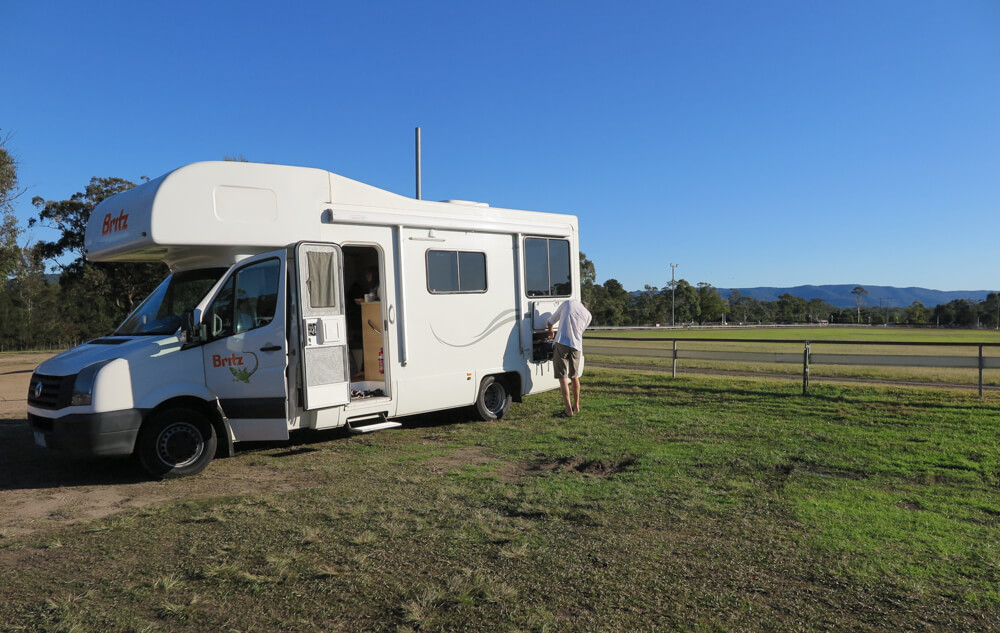 Written by and photo from Sinead from Map Made Memories
Campervan Hire in Perth
Wicked Campers
When hiring a campervan in Perth, Wicked Campers is a great choice for a Perth to Esperance road trip. The depot is just 10 minutes away from Perth airport and there are taxis available to get there. The main selling point of Wicked Campers is the colourful exterior and crazy patterns on the camper vans. It really is a 'hippie' vibe! However, make sure to request one of these or you may get a plain one.
They are cheap and cheerful, and a great option to keep costs down. The van comes with a sat nav, a small stove, one gas canister, kitchen utensils, storage space and three pieces of thin mattress that make up the bed once put together. There is a K mart nearby to purchase all the other necessary equipment and bedding.
The thin mattress is not very comfortable, so for a 2-week road trip, it is okay but not for long. The separate kitchen area in the back of the van is very useful, even with a small sink and they do have tables and chairs available to hire. 
The seats are very comfortable and the vans are good for driving long distances. As they aren't large camper vans, more converted 7 seaters, it is possible to drive faster and cover greater distances. The drive from Esperance back up to Perth is a long one all in one day! There are also no curtains or covers over the windows so you will be up with the sun, but this will allow you to make the most of your days along the incredible Australian coast!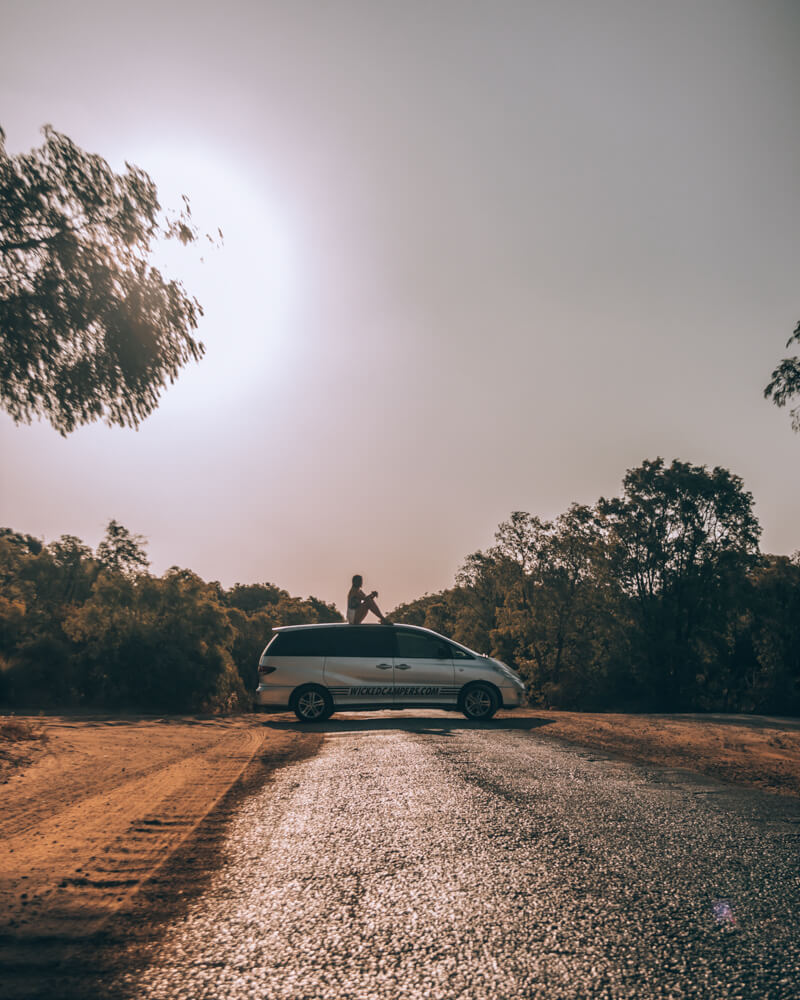 Written by and photo from Hanna from Solar Powered Blonde
Motorhome Hire in Melbourne
Apollo Campervans
Exploring the coastline of Australia is best done in a campervan, and there are few more spectacular road trips than a journey along the Great Ocean Road. Start your journey in Melbourne, where Apollo Motorhome Holidays has a range of campervans, 4WD, and motorhomes for rent.
Solo travelers or couples will do well in Apollo's Hitop camper, a basic campervan with few amenities, while families and savvy drivers will be more comfortable in the Euro Tourer. If you're looking for the budget bare minimum, Apollo also rents bare-bones manual campervans with groovy flowers painted along the sides, their Hippie Camper.
Renting your campervan from Apollo is a straightforward process if you choose the campervan in advance. A taxi ride from Melbourne International Airport to the Apollo office costs about $40 AUD. It's recommended that you spend a night nearby in Melbourne to get acquainted with the campervan and can sort out any mishaps before venturing too far.
Read our full guide to arriving into Melbourne for the best tips for how to get around
On your road trip, be sure to stop at the Twelve Apostles, Loch Ard Gorge, surf at Bells Beach, admire the gum trees at Lorne, and enjoy meals with a view at the tens of picnic spots along the coastline. Kennett River, a must-see on your trip, is one of the best places in Australia to see koalas in their natural habitat.
Consider the time of year when choosing your campervan. While the most basic campervan models are ideal for a surf trip during summertime, you'll want a van that's a bit more robust and insulated come wintertime. Demand for these cameprvans will also sky-rocket during the Victorian Public Holidays, so if you are planning a trip during this time, make sure to book well in advance.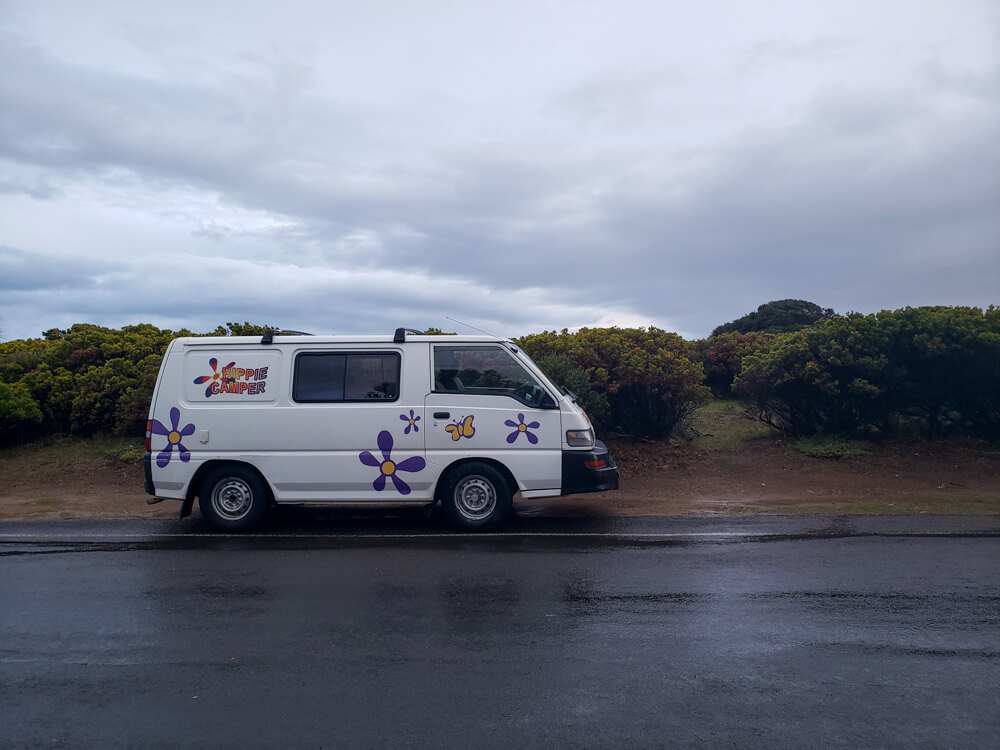 Written by and photo from Chantae from The Salt Sirens
Jucy Campervans
Jucy is one of the most popular campervan rental companies in Australia. The main reason for that is probably their very affordable prices. Coupled with an aggressive marketing strategy, this means that campgrounds down under are absolutely packed with Jucy's distinctive green Toyotas.
The sheer amount of customers this company attracts suggests you can't go wrong by choosing them. However, it should be highlighted that you definitely get what you pay for. Their fleet is really, really old (some cars were built over 20 years ago!) and averages a high mileage. As a result, they are not exactly pretty to look at and the ride can be rough.
That being said, their campervans will get you where you need to go and if you are on a budget, the price is on point. In the Melbourne area, it's doubtful whether you'll be able to find a cheaper alternative. Driving the van for a month, covering more than a thousand miles on a spectacular Tasmania itinerary,  it performed absolutely fine.
Was it perfect? No, of course not, but you can easily end up spending double the money on a fancier car and it won't make a huge difference. In the end, it's the experiences and the adventures along the way you'll remember, not whether your wheels had a spotless paint job or not.
The Jucy office is located in the suburbs of Melbourne, near one of the airport bus stops. Once there, check-in is swift and painless and you'll be on the road in no time. All the vans come with an automatic gearbox, and are surprisingly economical, especially considering their age, averaging 12 litres of petrol per 100km.
Expect to pay around 50 AUD per day for the cheapest model, with unlimited mileage. That should leave you with some extra pocket money for the things that really matter!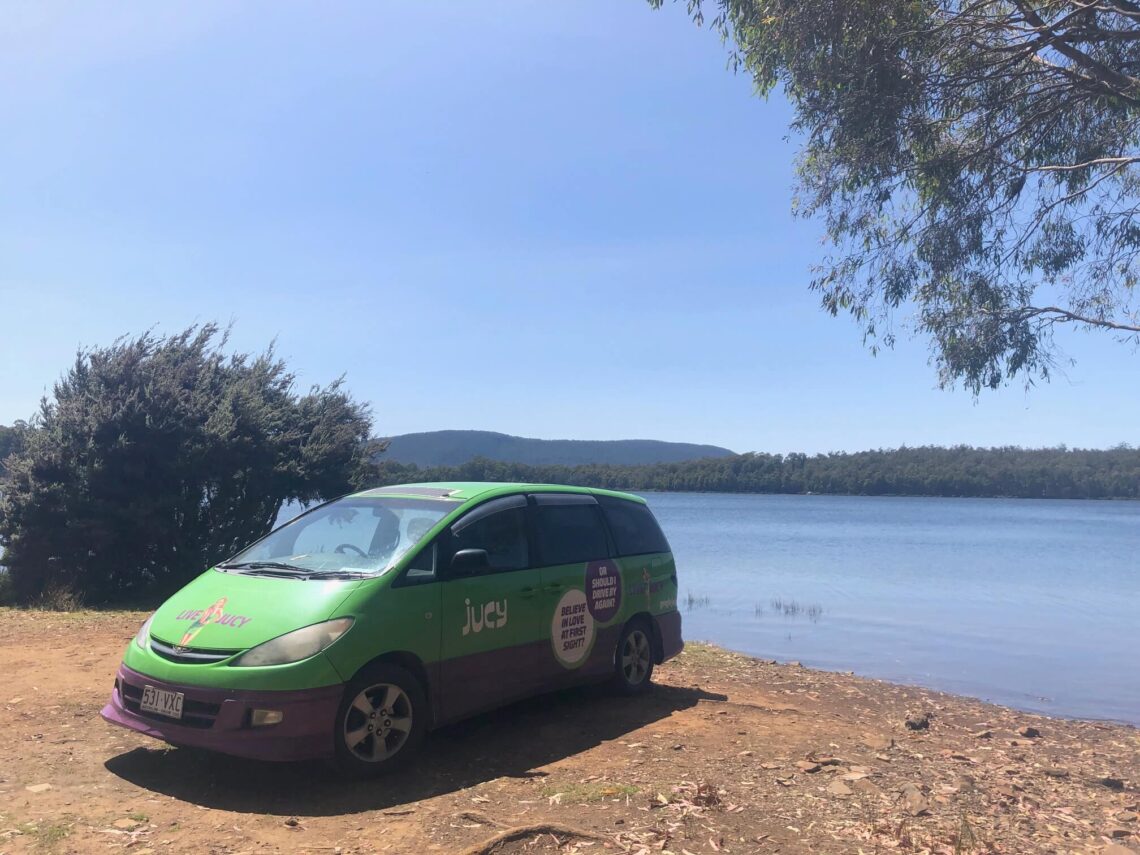 Written by and photo from Nick from The Danish Nomads
Motorhome Hire in Sydney
Maui Campervans
A road trip from Sydney to Brisbane with Maui, one of Australia's most popular motorhome rental companies allows you the opportunity to explore this region's famous destinations and incredible natural habitat. This provides the perfect opportunity to explore Sydney to its fullest and then shoot north to the popular tourist city of Brisbane.
Maui's vehicles are all less than 2 years old and so guarantee you modern and efficient designs to ensure you travel and holiday in comfort. All come equipped with kitchen utensils, crockery and cutlery as well as a freshly laundered linen pack including bedding, pillows and towels.
You know a company fully understands your holiday priorities when these packs include both a corkscrew and a cafetière!
The office of the Maui Sydney branch is located south-east of the international airport, approximately 10 km from the city centre. Open every day of the year except Easter and Christmas the office staff will greet you on arrival and ask you to provide your details and read all relevant information electronically.
First-timers need not worry as you will be given an extensive tour of your vehicle including all important demonstrations on how the various facets work.
Before you leave, ensure you choose from the helpful range of maps and brochures for the area's attractions and campsites. You'll be pleased to learn that Maui customers receive a 10% discount on all Big4 Holiday park bookings. An ideal stop at any time but particularly for respite during high temperatures or a heatwave.
From Sydney, the East Coast to Brisbane is your oyster. How about a short hop to the verdant Hunter Valley wine region or the lush Blue Mountains before heading north to beautiful Port Macquarie?
The active among you can try your hand at surfing in fashionable Byron Bay before hitting the fashionable bars of the Gold Coast.
All of this before you reach Brisbane, the stunning capital of Queensland.
Written by and photo from Paul from Thetwothatdo
Before You Leave on Your Australia Road Trip
Before you set off on your own camping along the Great Ocean Road trip, there are a few things you will need to get organised to make your adventure run smoothly. Since this guide is for wild camping in a car/van, we will also discuss where to rent each of these from. If you have a van or car of your own, skip right past that section.
Download our FREE full guide to arriving in Melbourne and getting yourself set up. This includes how to set up a bank account, superannuation and so much more!
Applying for an Australian Visa
If you have yet to leave for Australia then this is a section of interest for you. There are a LOT of different visa options for people arriving in Australia, from tourist visas to permanent residence visas. The most common visas, however, are the 3-month tourist visa and the Working Holiday Visa.
If you are only visiting Australia for a short period of time then a tourist visa is your best option. These are easily obtained and relatively cheap, costing roughly $140AUD, and allow you to stay in the country for up to 12months. These can be applied for on the government website here.
If you wish to work and travel in Australia, a working holiday visa is your best option. These cost around $480AUD and allow you to stay in Australia for up to 12months, whilst working and earning money to travel. This visa also gives you the opportunity to extend your stay in Australia by up to 24months by working in certain job sectors.
For all of the information you need to know about the Australian Working Holiday Visa, read our full guide over here.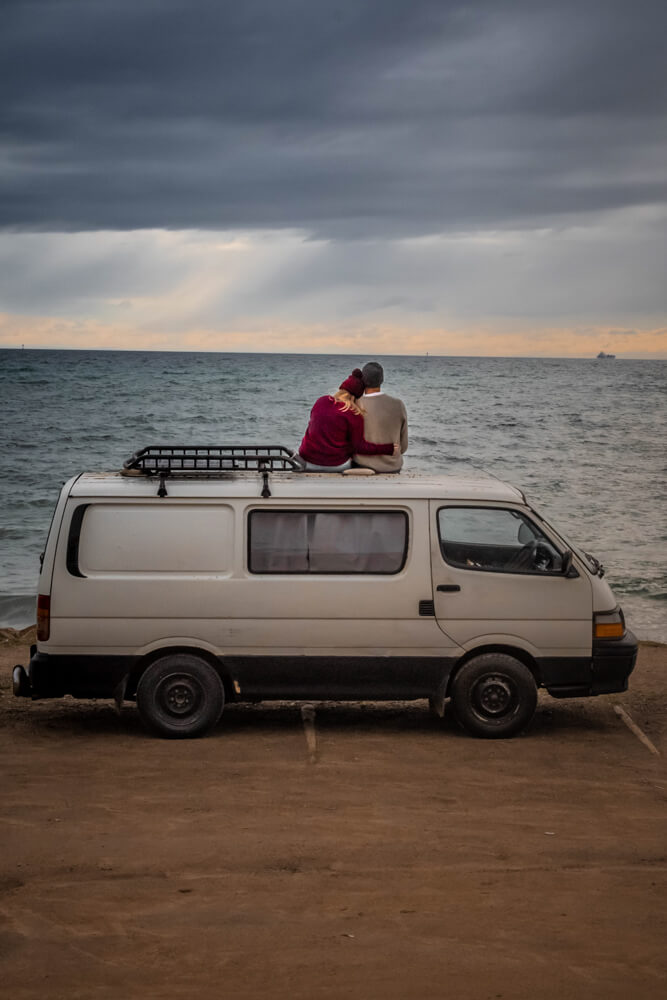 What to Pack for Your Australia Road Trip
Depending on which season and where you visit in Australia, the weather you experience will be different.  During the summer months of December to February, temperatures in most of Australia can reach temperatures in the mid-20s- 40+.
During the other months, temperatures can fluctuate depending on where you visit. If you are in the south of the country then the weather will be cooler. However, if you are in the centre or further north, then you will continue to have hot temperatures.
Clothing to Pack for living in a campervan
We all know that Australia gets warm during the summer, sometimes peaking above 40oC, however what a lot of people do not realise is just how cold it can get in the winter. Depending on the time year you do this road trip, you might be faced with the full force of freezing, Antarctic winds from the south or burning, desert winds from the north.
Regardless of what the season is, one thing is for sure. The most important thing to do when packing for your road trip is BE PREPARED. This means packing for both hot summer winds and freezing winter rain.
You can read about all of the clothing we pack during both summer and winter on our packing guides over here. 
Food to Pack for your campervan road trip
To make your camping trip a lot easier and cheaper, we would advise that you bring some gas and a stove. That way you can cook up your meals on the go and spend less time and money on eating out.
Whilst in the van, we generally cook simple, tasty meals using foods that are less likely to perish. Van life has converted us to a vegetarian lifestyle, as we found it not only to be cheaper, but also found it would be very difficult to keep meat fresh whilst camping in Australia.
We, therefore, recommend stocking up on loads of tinned and dried foods that are easy to store and don't require refrigeration.
If you are looking for some delicious camping food inspiration, read all of our best camping recipes that are guaranteed to warm your belly.
When it comes to toiletries, we recommend that you pack as much sunscreen as you can. The sun in Australia is strong, and even the darkest skin tones can get easily burnt. No matter what the season is or how warm you may feel, you should always wear sunscreen in Australia.
Given the beautiful sights and scenery that you are no doubt going to see around on your road trip in Australia, we highly recommend packing a good camera for your trip. If you want to read more about the cameras we use and why we love them, check out the link below.
You can read what else we keep in our camera bag over here.
What Insurance to Get for Your Australia Trip
As with any adventure, when travelling Australia you will want to get yourself some travel insurance. The idea of forking out money for something as dull as insurance is never fun. However, if you are not covered, the consequences for your loved ones, should something happen to you, are simply not worth thinking about.
Take the stress out of your trip and use the backpacker friendly, travel insurer that we use, World Nomad's Travel Insurance. This provider not only provides excellent cover at cheap rates, but the understanding customer service agents make claiming whilst on the road a breeze.
Get your own quote for travel insurance right here and get covered.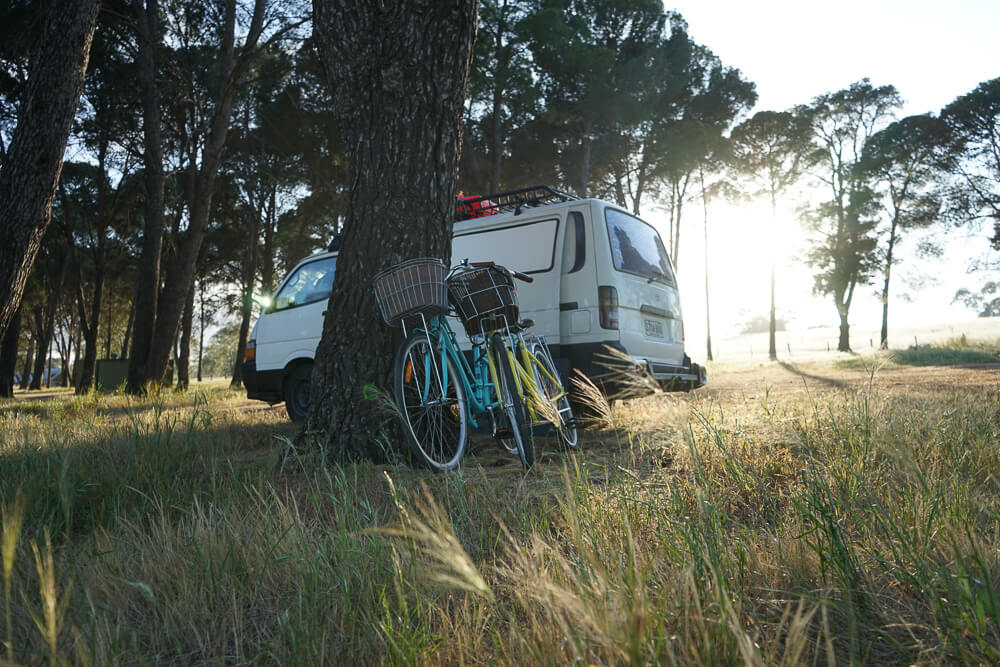 So there you have it, your full guide to hiring a campervan in Australia. If you have recently hit the open road yourself and have any recommendations of other places to hire a campervan in Australia, make sure to share them below for your fellow campers to see. Where did your Australian road trip take you?  Let us know in the comments below!
Remember, sharing is caring, so if you enjoyed this article then hare it with your friends and family so they too can enjoy the beauty of Australia by van.
Check out our other Australia content and get planning your own ultimate road trip around the continent. If you used this guide to help you plan your Australia roadtrip, let us know how you found it. You can catch up with us over on our social channels to see where we currently are, and tag us in your photos to show us you enjoy the wonders of the Australia.
Read Now: 
This article may contain affiliate links that provide us with a small income. For more information read our Affiliate page.
---
Pin it to your Australia board for later!