Dornoch is one of the first stops you will come across on the NC500 road trip. There are many things to do around Dornoch from beautiful beaches to historical sights and outdoor activities.
In this post we share our favourites as well as recommending some great places to stay in Dornoch if you decide to spend the night here.
No time to read now? No problem, save a pin to your Pinterest board for later!
Things to do in Dornoch - East Coast stop on NC500 road trip
You won't regret making Dornoch a stop on your NC500 itinerary. The quaint town offers lovely places to stay and eat and drink and as a bonue, it is also only a 10 minute walk from the beach!
Watch the Salmon Leaping at the Falls of Shin
Visit the best chocolate cafe – Cacao Mountain Cafe
Play Golf at Royal Dornoch Golf Club
Go for a paddle at Dornoch Beach
Snap some photos of the beautiful Dornoch Cathedral
Marvel at the beauty of Dunrobin castle 
Pay a visit to Dornoch Jail
Learn about the history at Dornoch Museum

Preparing for your trip to the NC500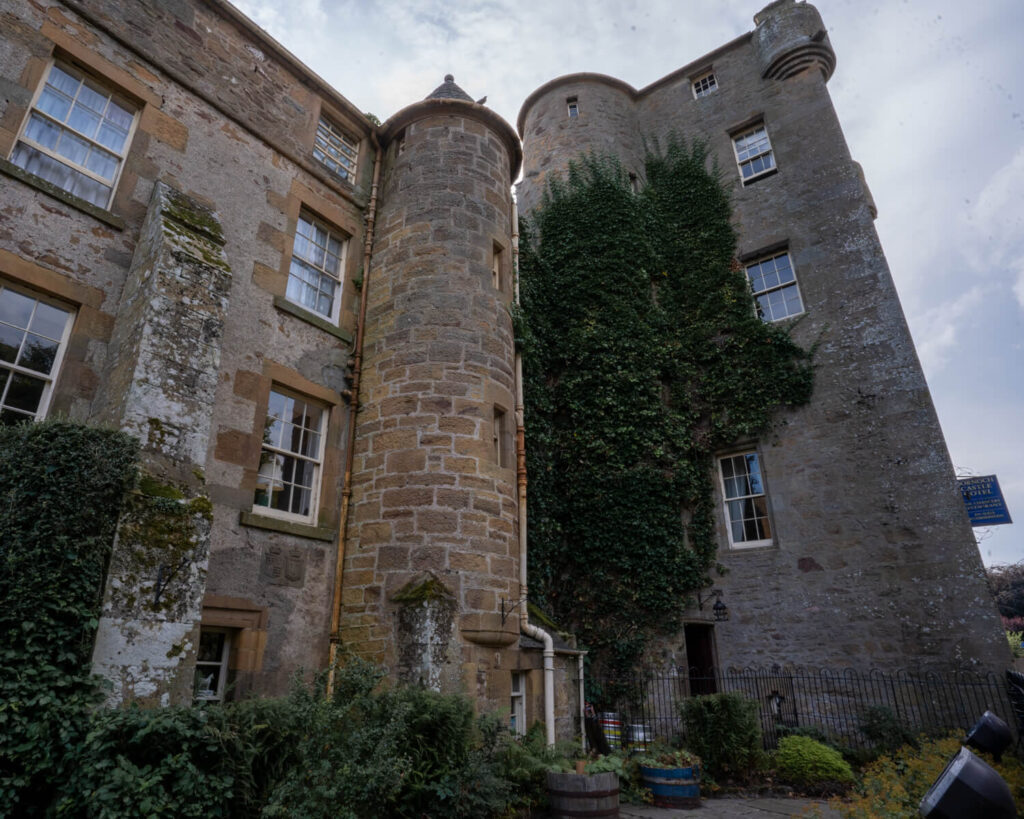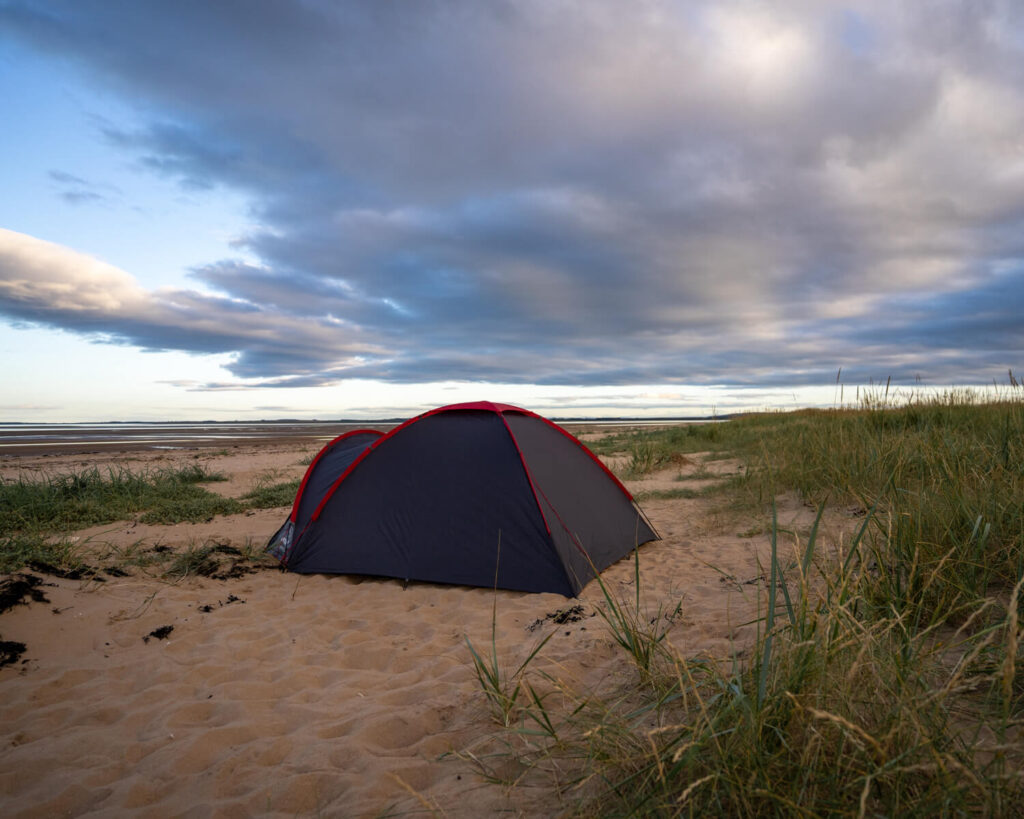 Watch the Salmon Leaping at the Falls of Shin
Hidden just off the main route of the NC500, the peaceful Falls of Shin is a must-visit attraction on Scotland's Route 500. This small collection of waterfalls has an easily accessible viewing platform, toilets, a visitor centre and cafe, and is also the perfect place to watch the annual migration of leaping salmon.
Linking Loch Shin and the Kyle of Sutherland, River Shin is a common commute for the Atlantic salmon as they make their annual migration to breed.
If you are wanting to stay at the Falls of Shin Visitor Centre for longer, there is a huge choice of nature walks to enjoy or you can simply relax with a coffee while the kids enjoy the outdoor adventure area.
Visit the best chocolate cafe – Cacao Mountain Cafe
There are two of these amazing cafes on the NC500 route, one in Dornoch and one in Durness. They serve delicious hot chocolate, cakes and homemade chocolate bars. It will most likely be on of the more expensive places you will visit at £4.70 for a hot chocolate but when it is pure melted chocolate it is well worth it!
Play Golf at Royal Dornoch Golf Club
Golf is a popular activity in Dornoch and with views over the Dornoch Firth, there is no better place for an 18 hole golf course in the area than Royal Dornoch Golf Club.
There is also a driving range and from here there is a great view of the Dornoch Castle Hotel sitting over the town.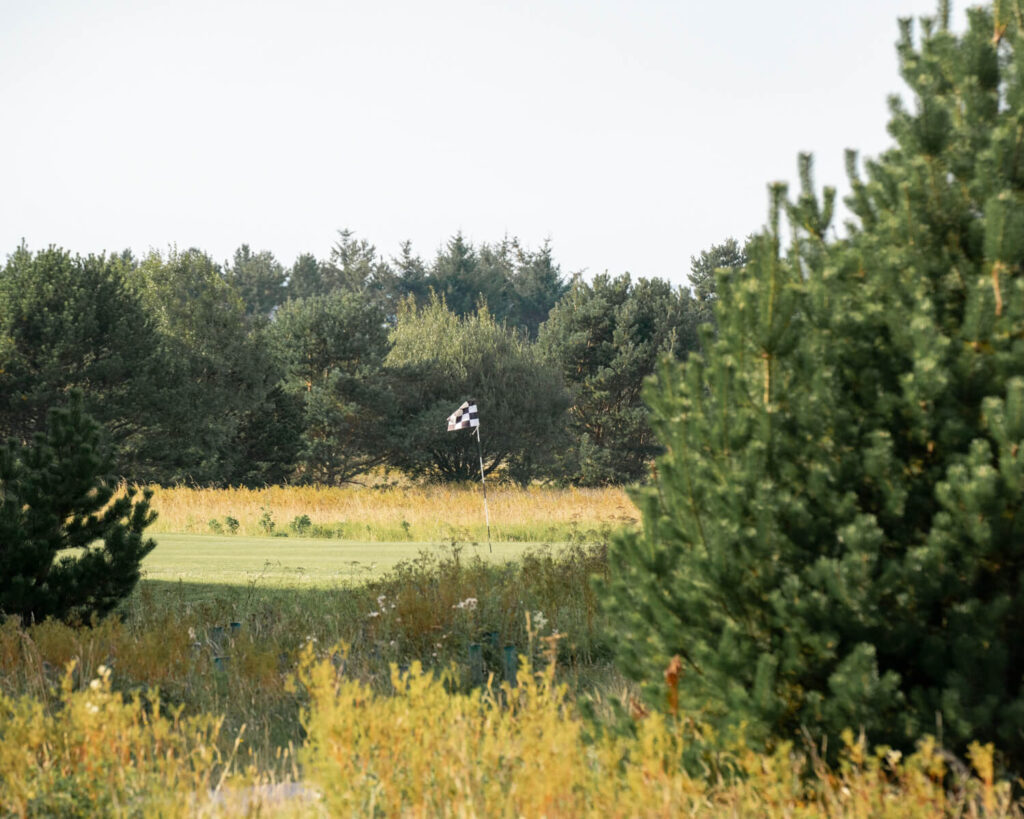 Go for a Paddle at Dornoch Beach
By following the road back towards the sea before continuing north, you will eventually reach Dornoch. We decided to pull in here and explore the beach to decide where we would stay for the night. The beach itself stretches for miles along the coast, with the softest sand I have felt in a long time! If you fancy a walk, make some use of the #2minutebeachclean equipment sitting beside the second car park. 
If you are wanting a bite to eat, head back into town and take a walk along to the Eagle Hotel. With free wifi and top-notch hot chocolates, it's highly recommended! PLUS it also makes use of paper straws, so you can have a guilt-free cocktail if you fancy.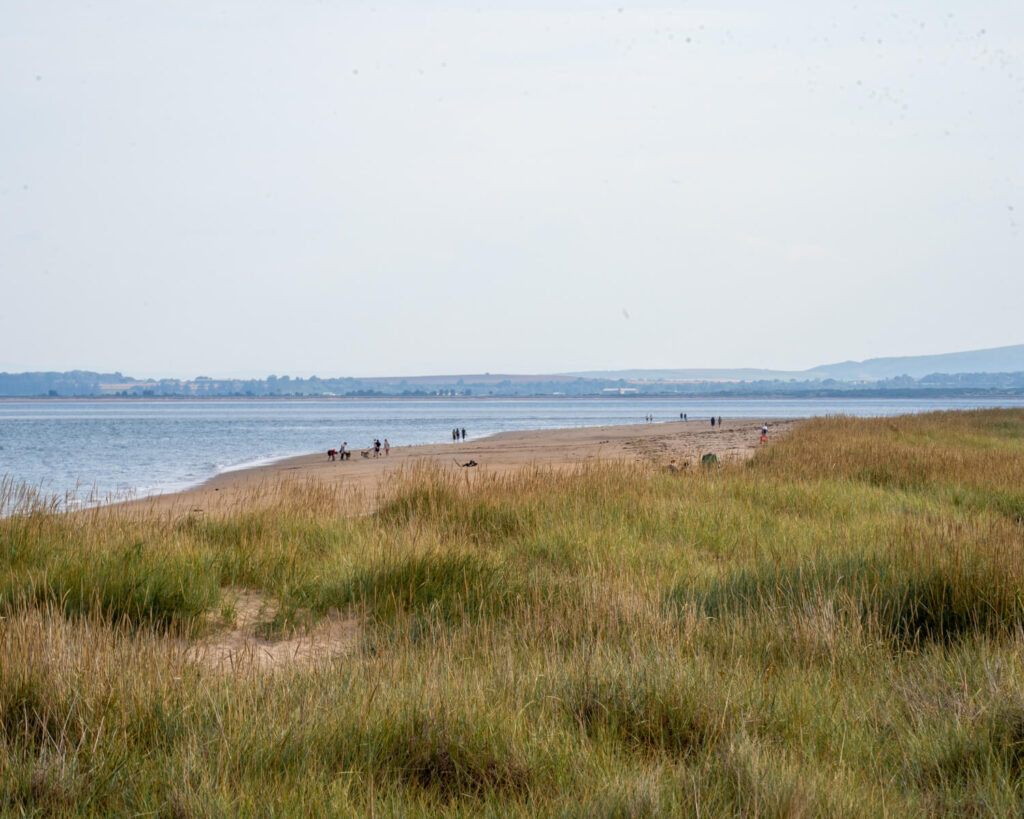 Snap some photos of the beautiful Dornoch Cathedral
Dornoch Cathedral sits proudly in the heart of the Royal Burgh of Dornoch. Built in the 13th century, this former cathedral is now a Church of Scotland Parish Church. It is a beautiful building to photograph and make sure you look out for the gargoyles on the front!
Marvel at the beauty of Dunrobin Castle
The beautiful Dunrobin Castle sits about 20 minutes north of Dornoch and will cost you £12 to go inside the castle to have a look around. Dunrobin Castle is known as one of Scotland's great northerly castles, dating all the back to the 13th century.
Resembling a beautiful French Chateau, with is conical spires and quaint details in its architecture, this castle has been kept in pristine condition throughout the years. It is one of Britains oldest continually inhabited houses and has been host to a wide range of roles over the years, from a First World War Naval Hospital to a boarding school for boys.
The castle is open for tours between 1st April and 31st October annually.
Read more about the castles of the North Coast 500 in our full guide. 
Pay a visit to Dornoch Jail
The county of Sutherland's 19th century jail was transformed in 2000 into a shop selling gifts, clothings and accessories. The historical structure of the building combined with the new design is a pleasurable sight to experience. A lovely place to visit for some take home gifts of your trip to Dornoch.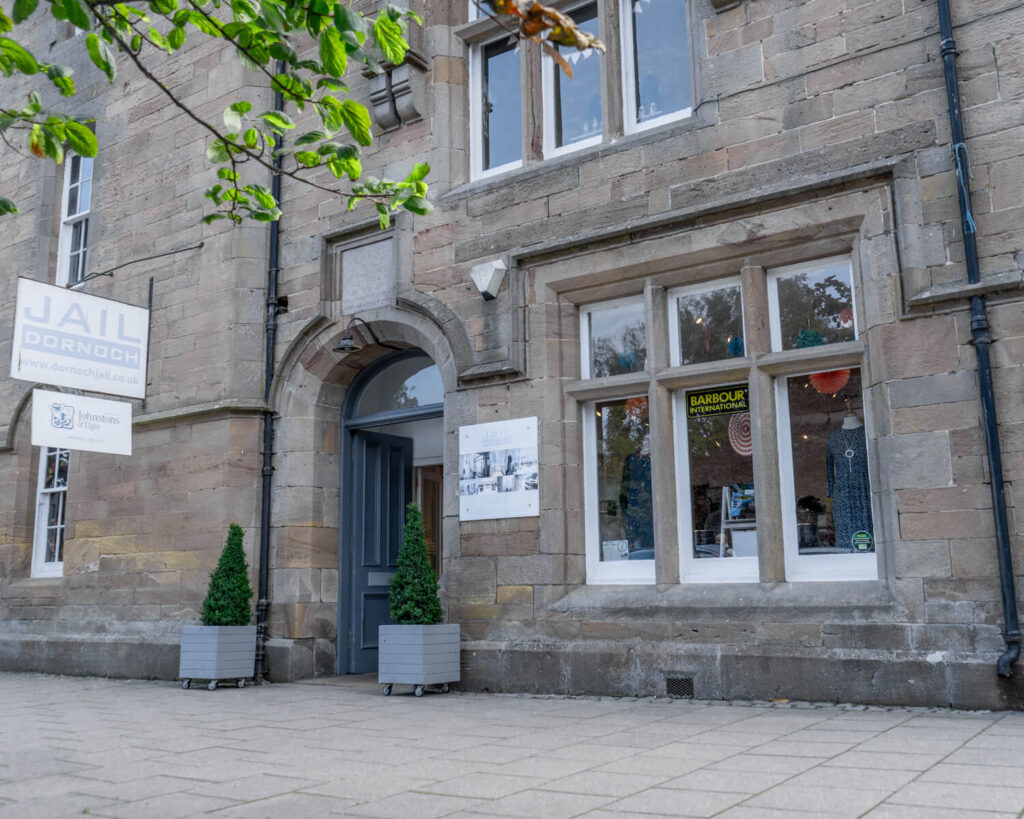 Learn about the History at Dornoch Museum
The Dornoch Historylinks Museum shares the history of the town of Dornoch displaying information about the burning of Scotland's last condemned witch, the impact of the Picts and the Vikings as well as a golf professionals workshop. As well as reading about the history, there are also quizzes, puzzles and the option to dress up. In addition there are translations in French, German, Spanish, Italian and Swedish.
This is one of Scotland's few 5* star museums so it is worth a visit when you visit Dornoch.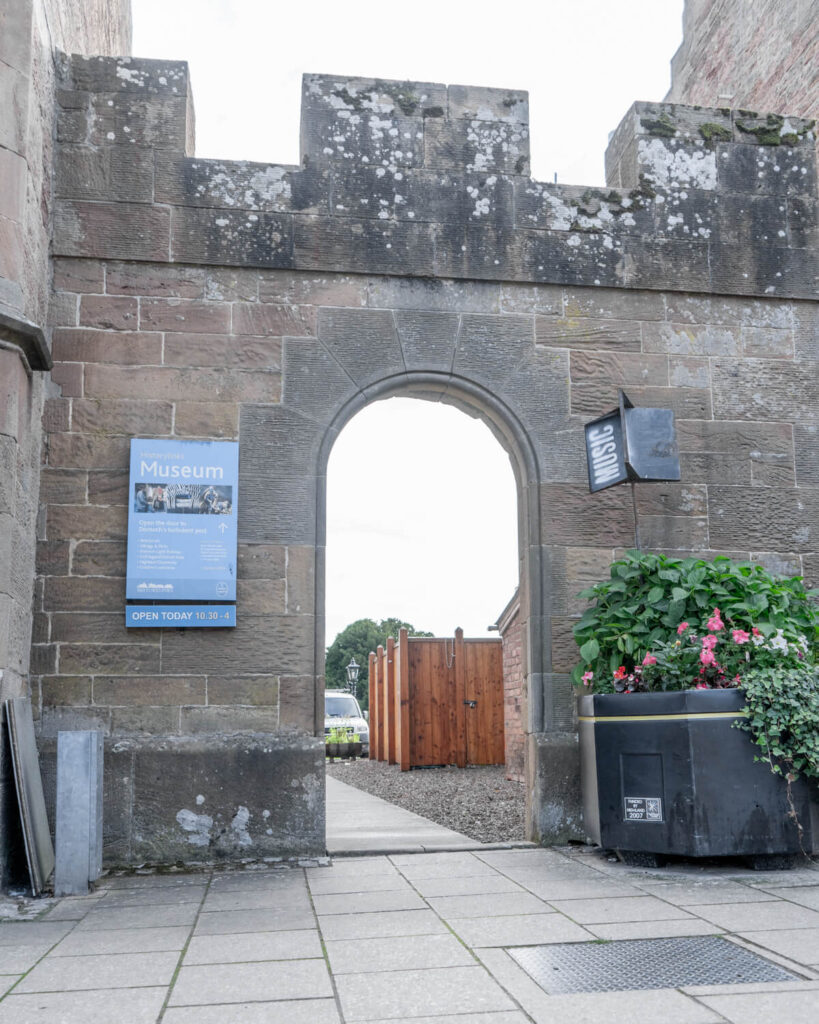 Before You Leave on the North Coast 500
Before you head off on your trip around the NC500, there are certain things you will need to get organised to ensure a smooth trip. These include how to get around the route, including being aware of single track roads, etc., what to pack for Scotland, where to stay along the route and what travel insurance to book.
Read more planning tips for the North Coast 500 in our full guide.
How Do I Get Around the NC500?
Given the remote location of the NC500 and the majority of the sights along the route, the best way to get around this road trip is by driving. There are of course other methods that are still popular, such as cycling and hiking, however, if you have a short amount of time on the route, neither of these are very suitable.
As for public transport, the use around the NC500 is understandably difficult due to how remote each location is, however, with the increasing problem of congestion along the route, this is a good option to research if you have time. If it is something that interests you, you can read a public formed itinerary of how to get around the NC500 by public transport over here.
If you are looking to rent a cosy, reliable and luxurious campervan for your trip along the NC500, we highly recommend hiring through Bunk Campers. We toured with these guys around the up-and-coming Heart 200 road trip in Scotland's central highlands and could not believe the comfort and customer service we experienced with their vans.
Browse the full range of vehicles on offer at Bunk Campers over here.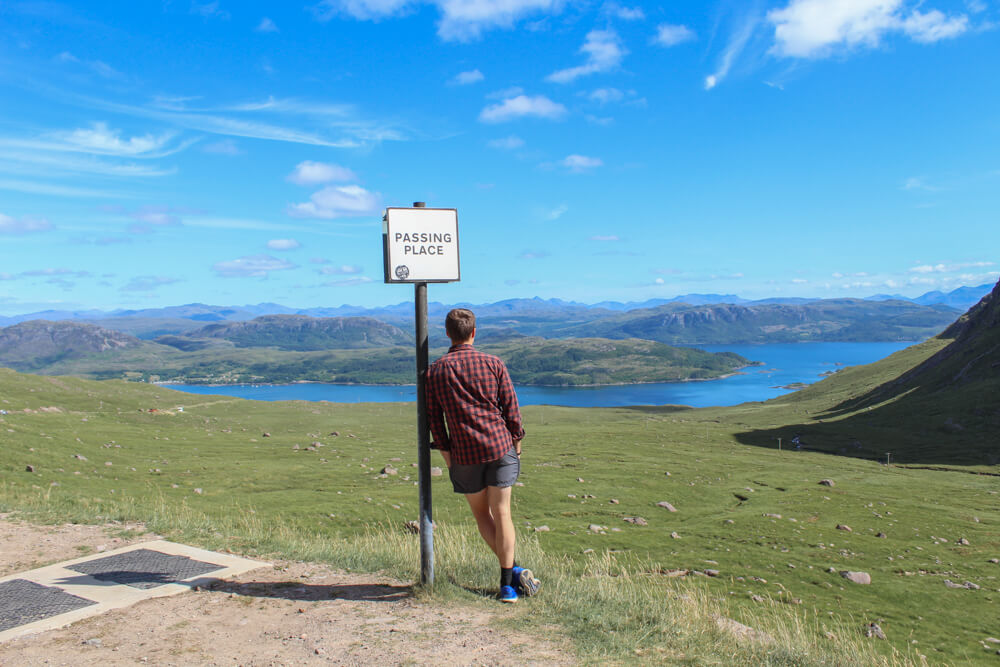 What Should I Pack for the NC500?
When it comes to packing for a trip along the NC500 there is one item of clothing that you are going to need all year round: a waterproof. It rains in Scotland on average 250 days a year, meaning that during your 7-day NC500 road trip you will probably experience at least a drizzle of rain. Due to this, the number one item on any Scotland packing list is a good waterproof jacket.
As for the rest of the year, the temperature in Scotland and the central heartlands is reasonably mild for most of the year. During the winter months, you will most likely experience snow, however, temperatures usually sit around freezing, so it is not too cold. For your reference, the average temperatures in Scotland are listed below during each season.
Spring (March, April, May) – 5-10 degrees C
Summer (June, July, August) – 15 degrees C
Autumn (September, October, November) – 5-10 degrees C
Winter (December, January, February) – 0-5 degrees C
As you can see, the weather never really gets above the teens, with anything over 25 degrees C considered a heatwave. The best way to pack for your trip to the highlands is with layers that can be added and removed as you need them. You will definitely need a hat and gloves during the colder months and will most likely need sunscreen to protect you on the long days in the open.
For our full list of items that we pack no matter where we go in the world, check out our full packing guides over here.
Given the beautiful sights and scenery that you are no doubt going to see around Scotland, we highly recommend packing a good camera for your trip. If you want to read more about the cameras we use and why we love them, check out the link below.
You can read what else we keep in our camera bag over here.
Where to Stay in Dornoch
Hotels near Dornoch
For the best place to rest your head after your first, whirlwind day on the North Coast 500, there are plenty of places to choose from in the Dornoch town centre. The best value hotels that are all within walking distance of the pubs and restaurants in Dornoch are the Dornoch Hotel, Royal Golf Hotel, and the Albatross B&B.
Click here for more options for accommodation near Dornoch.
Campsite for the Night – Dornoch
There are three campsites in Dornoch you can choose from Grannie's Heilan Hame Holiday Park, Pitgrudy Holiday Park and Dornoch Camping and Caravan Site. We opted for the cheaper option and found a quiet spot on the beach to pitch up for the night. If you arrive late and leave early (and of course leave no trace!), camping here shouldn't be an issue.
Read more about these holiday parks in our complete guide to the best NC500 campsites.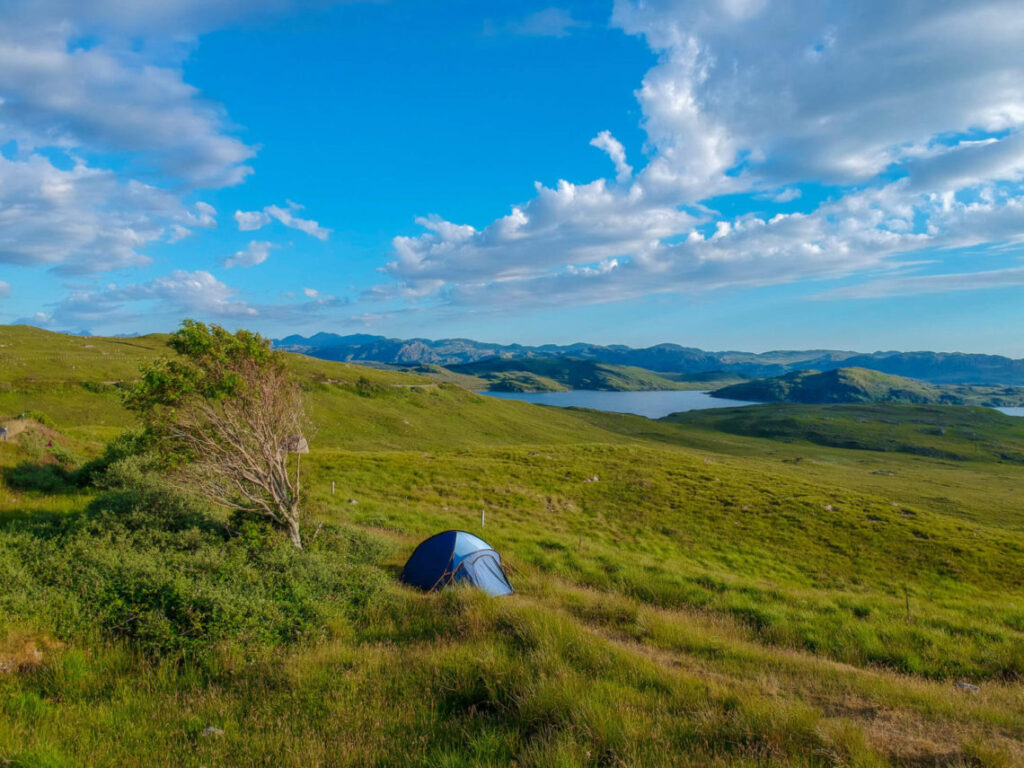 What is the Best Travel Insurance?
No matter what type of adventure you are heading on, whether it is a mountain adventure or a relaxing beach destination, one thing we all need to be aware of is that accidents can happen. The last thing you want is for an unexpected medical emergency to ruin your trip of a lifetime. Luckily, that is what travel insurance is for.
Whenever we travel abroad, we get covered with World Nomad's Travel Insurance, a reliable, friendly and extremely affordable method of covering yourself on any adventure. With years of experience working for backpackers around the globe, the service they provide is perfect for whatever type of trip you have planned.
Get covered for your next trip and get a quote from World Nomad's right here.
So there you have it, all of the best things to do in Dornoch. If you have visited the NC500 recently, let us know what you thought of the sights listed above, or if you have any suggestions let us know in the comments below.
As always, sharing is caring so make sure to share this photo guide with your family and friends and inspire them to head off on their own North Coast 500 adventure. If you are planning the trip for yourself, make sure you have a look at the rest of our Scotland content for more inspiration to our beautiful home country.
When you set off on your own adventure, be sure to tag us in your photos on Instagram and we will share them with the rest of our community. In the meantime, why not follow us over there to see what we are currently up to and keep up with us on our Instagram Stories.
Now Read:
This article may contain affiliate links that provide us with a small income. For more information read our Affiliate page.
Pin this image to your Scotland Pinterest board for later