Blown away by THIS PART of the UK 😱
Do you know where it is?!
We are back in the UK and hungry for more adventures in Ellie!
This past week we have been busy at the NEC Birmingham for the Motorhome and Caravan Show, talking all about Scotland and our advice for visiting our bonnie home country.
Thank you so much to all who came along to our talks and also to everyone who came up to say hi to us. We love meeting everyone who watches and reads our content and are so grateful for your support on this platform.
In this catchup we are going to share all about:
Our adventure along the southern coast of Wales, as we road tripped from Bristol along to the Gower

Our top tips for visiting Scotland on your next road trip

Some exciting news about our book launch for the Wild Atlantic Way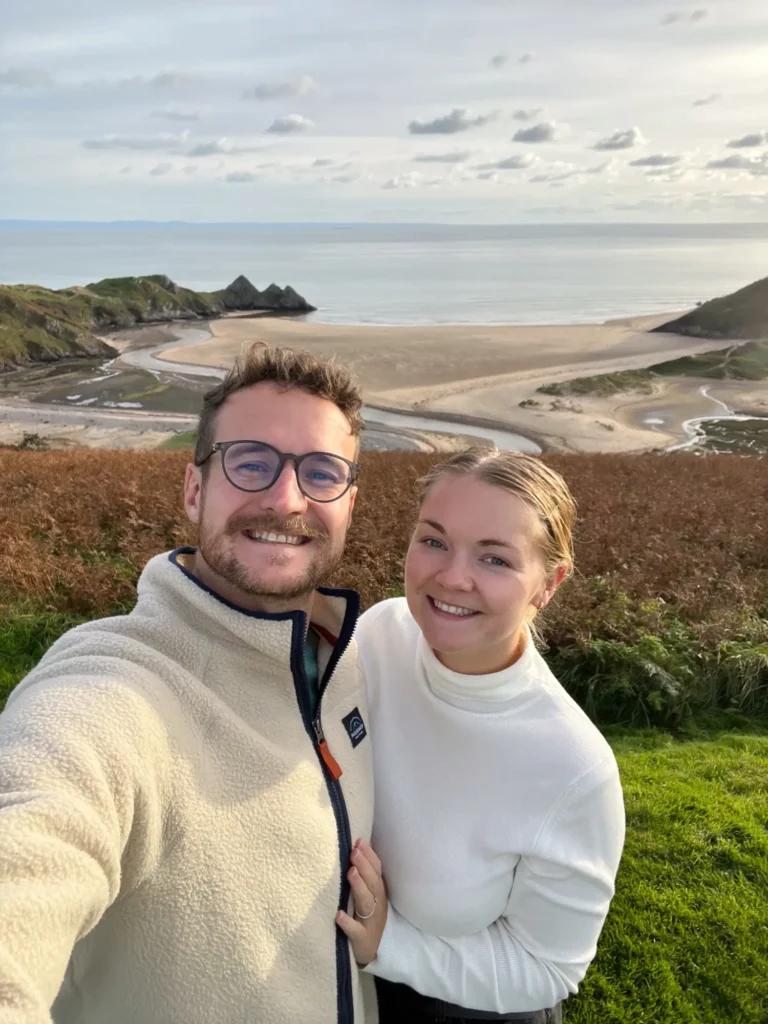 Road Tripping in Wales
After arriving back into the UK from our big Turkiye trip (check out our Youtube video here all about that amazing trip if you missed it), we began our Welsh road trip along the beautiful southern coastline. Having not visited Wales in over 6 years, and never having toured there in our motorhome, we were so excited to get our teeth stuck into this new territory, filled with towering mountains and plenty of cute sheep.
Our first (rather soggy) stop was at the Brecon Beacons National Park, where we were met with the traditional October weather that you would expect from this hilly region of Wales. Moody views and plenty of rain, it was the perfect day to check out the local waterfalls.

We spent our first day hiking out to the crashing torrent of Sgwd Yr Eira along the 4km path through the Brecon Beacons. Although we had planned on hiking out and going for a wild dook, as you can see in the picture below, it wasn't exactly swimming conditions sadly..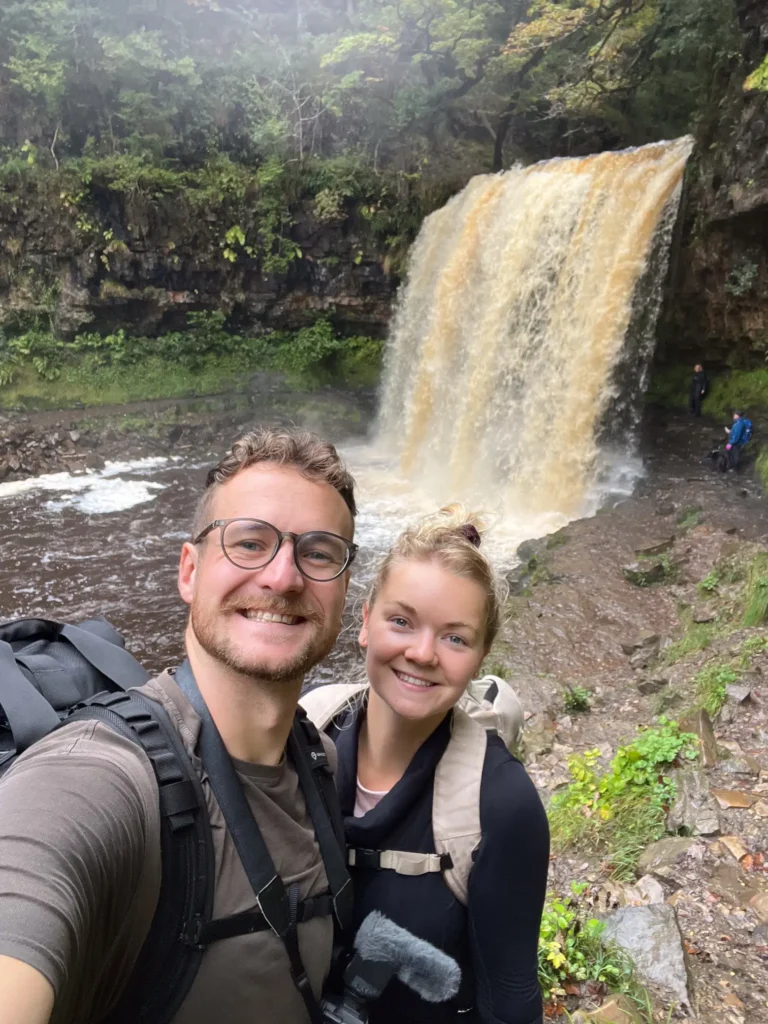 Next up, we continued our journey west along the coastline to the stunning beach of Three Cliffs Bay. Spending the night in the Gower Heritage museum car park (£12/night), we enjoyed a leisurely walk out to the bay as the sunshine decided to grace us for a few hours letting us admire the beauty of Wales in all of its glory.
After spending three hours walking along the beach, with our wild swimming cravings still not satisfied, we packed our swimmers and turned our noses to the western coastline of the Gower. Sitting below the towering cliffs of Broughton Bay is the perfect (or so we thought) swimming hole of the Blue Pool, a stunning natural rock pool that is perfect for a dip on a hot day.
Unfortunately, after arriving at the pool, it turned out that the tide hadn't replaced the water in the pool for a little while, meaning that the water was.. far from appealing! Without wanting to come out dirtier than when we went in, we instead settled for a dook in the sea and it was amazing!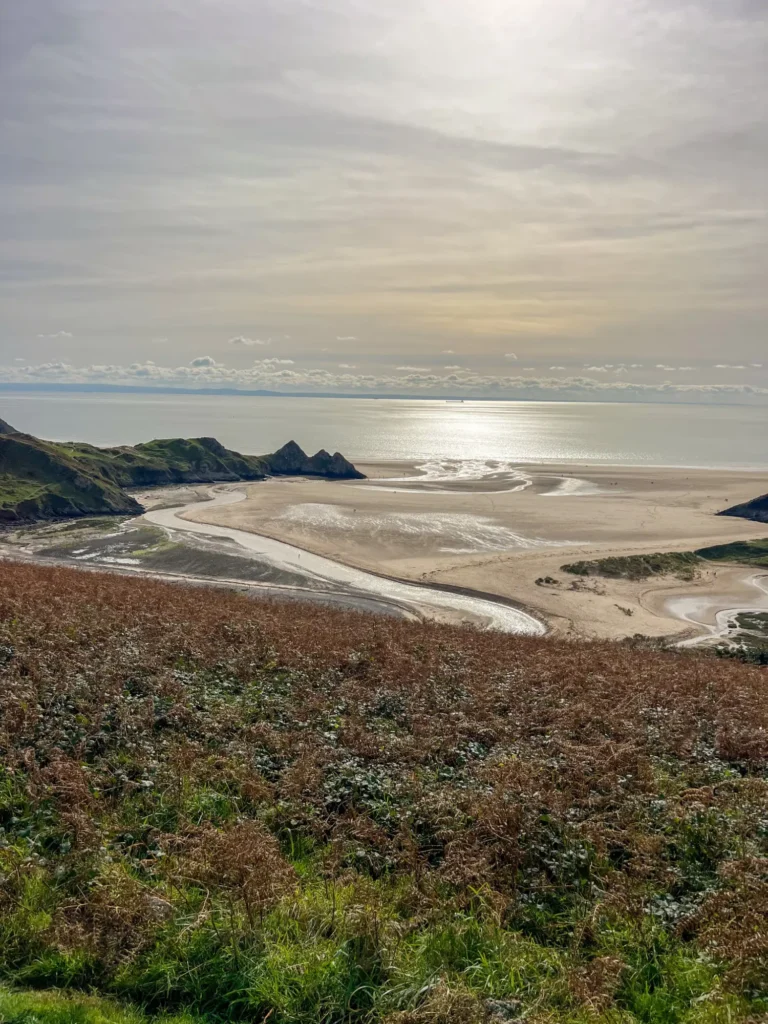 To round off our south coast road trip, we checked into the stunning Three Cliffs Bay campsite, which sits high up on the cliffs overlooking the bay that we had previously visited. The staff here were so friendly and the campsite itself is simply luxurious, with heated floors, a pitchside firepit, and stunning views of the bay below and the sea beyond.
What an end to our first trip to Wales! We will definitely be back soon 🏴󠁧󠁢󠁷󠁬󠁳󠁿❤️
Road Trips in Scotland – Our Top Tips 🚐🏴󠁧󠁢󠁳󠁣󠁴󠁿
This week we have been busy sharing our passion for our bonnie home country at the Motorhome and Caravan Show at the NEC Birmingham and we wanted to do a quick recap for you in this email.
Time to visit – We always love touring Scotland in Spring time due to the weather, lack of midges, and how quiet it is. Plus the hills are full of cute little lambs.

Packing for every weather – No matter when you do visit (even in the middle of summer), it is important to pack for all weather conditions. Waterproof jacket, trousers, and a warm base layer is always a necessity.

Avoid the midges.. – Touching on this again because of just how much a swarm of midges can fill the heartiest Scotsman with fear, we would recommend visiting Scotland outside of the months of July and August. We would also always recommend packing a good old midge net. Read our full packing list here for more ideas.
Aside from this, you are going to have an amazing trip! Let us know if you have any questions by just replying to this email, or simply let us know what your plans are as we love to hear from you.
Wild Atlantic Way Book Launch
(Exclusive Information 🤫🙈)
We have now officially sent the final draft of our latest travel book off to the printers ready to send out to all of you beautiful people who have already ordered. We are going to be doing the official launch next weekend, however, if you cannot wait till then, then the book is currently available on our website for pre-orders.
Pre-order it here 🇮🇪
We are so grateful to everyone who has placed their trust in us and has already pre-ordered a copy of our largest travel guide yet (this book is 280+ pages 🤯) and we are so excited to send it out real soon!
Once again thank you for reading this catchup, we love to hear from all of you who send us a reply back about your adventures so please let us know where you are reading this from.
It also helps us out a lot if you can add our email to your address book as it marks it as "not spam" in Google's eyes and ensures that you don't miss out on future adventures and discounts. Simply click the "Star" beside the top of this email or add us to your "VIP List" if you are using an iPhone.