Plan your trip to the North Coast 500 like never before and enjoy a road trip around the most scenic landscape in the world.
Containing details on
– All of the best sights (100+)
– Where to eat and stay
– Campervan facilities (water points and waste disposal)
– Sample itineraries
and so much more!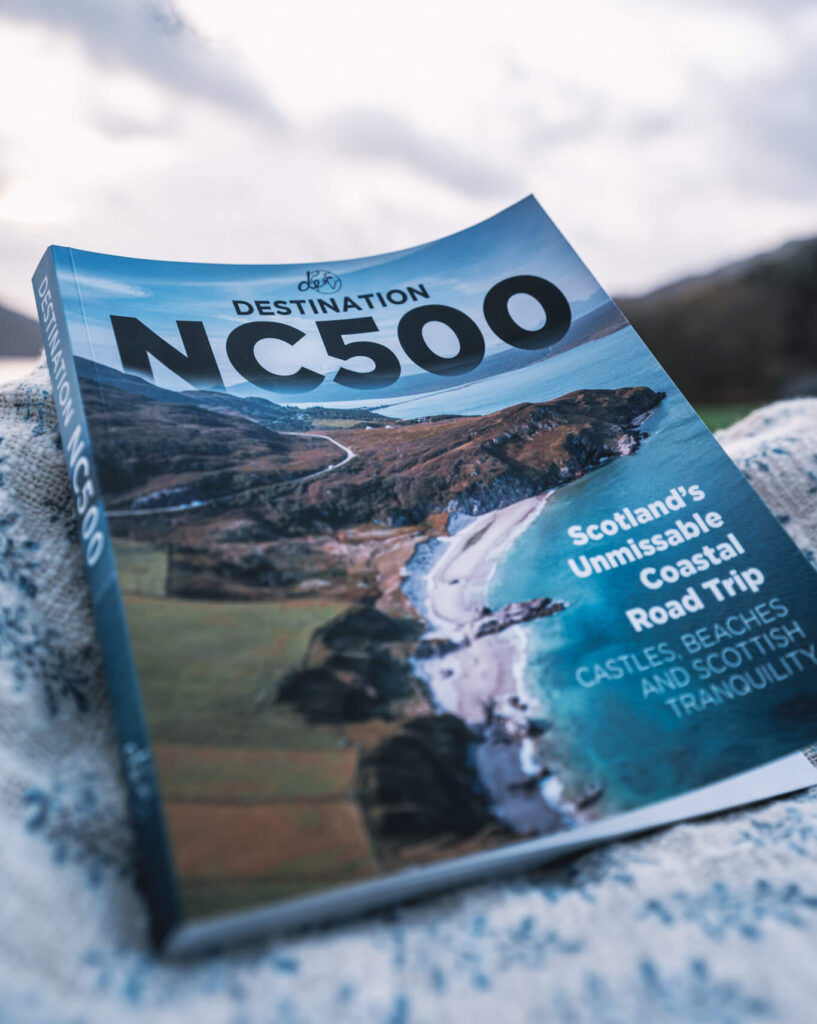 Smoo Cave is an incredible sea cave that is must visit on the NC500 road trip. This natural sea cave is located on the north coast of Scotland in the small village of Durness and is one of the largest sea caves in the UK.
Smoo Cave is one of the most popular places to visit on the NC500 and this unique sight has the option of a free look at the cave or a paid tour taking you deeper into the cave.
No time to read now? No problem, save a pin to your Pinterest board for later!
Smoo Cave Durness - Visit an Ancient Cave on the NC500
Smoo Cave is a magical place to visit. The size of this natural cave is just incredible and really shows the true power of nature. We would recommend giving yourself an hour to visit Smoo Cave and if you are planning to go on the tour, leave yourself 2 hours on your NC500 for this stop. In this post, we will go into more detail on the following frequently asked questions about Smoo Cave.
What is Smoo Cave?

Where is Smoo Cave?

How to get to Smoo Cave?

Why Should I go to Smoo Cave?

When Should I go to Smoo Cave?

Preparing for your trip to the NC500.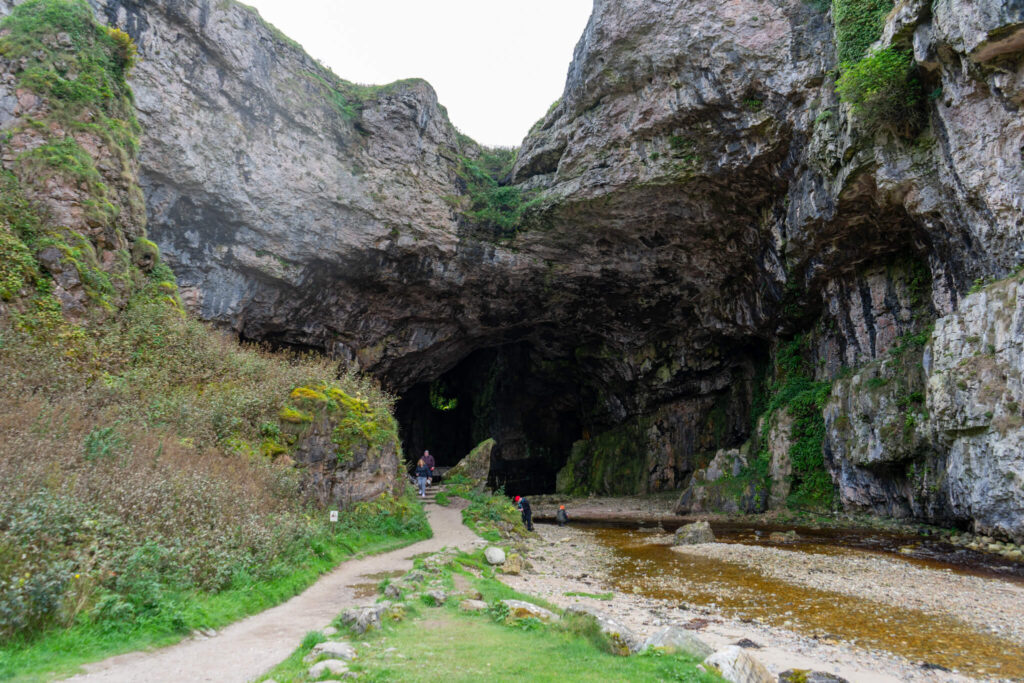 Destination North Coast Map
Make sure you have all the resources you need to make the most of your trip to the North Coast of Scotland. Our Destination North Coast Map is the perfect addition to any traveller's toolkit. With detailed information on all the best spots, along the NC500, this map is your ultimate guide to exploring the rugged beauty of Scotland's north coast.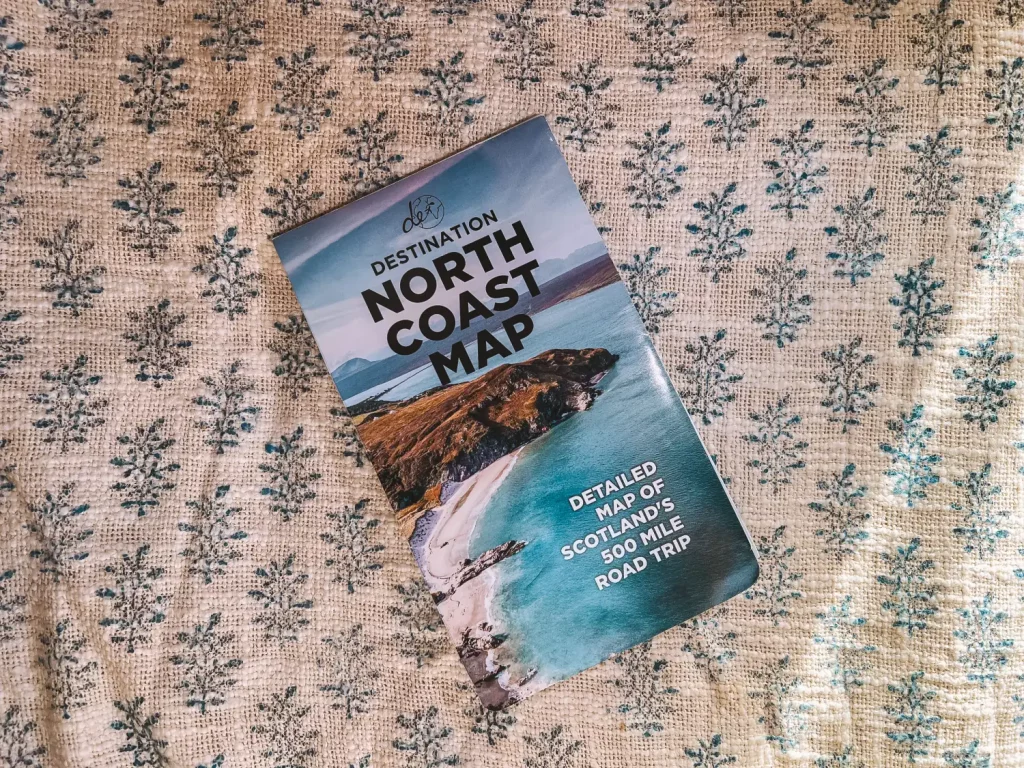 What is Smoo Cave 
Smoo Cave is a natural sea cave in Sutherland on the NC500 route. It is made up of three parts; the large entrance, the first chamber with a large waterfall and the second chamber which sits at the back of the cave.
The cave is open all year round and is accessible via a staircase. If the weather is suitable during the peak season, tours are operated which take you further into the cave on a short boat ride. The tours are weather dependent and will not run if there has been poor weather as heavy rain can cause the water levels to change within the cave meaning it can often be closed during winter. Smoo cave was formed due to erosion caused by the sea over time.
The water at Smoo Cave is inaccessible unless you have paid for the tour that takes you further into the chamber. You will travel through the cave on a small boat and no swimming is allowed inside the cave.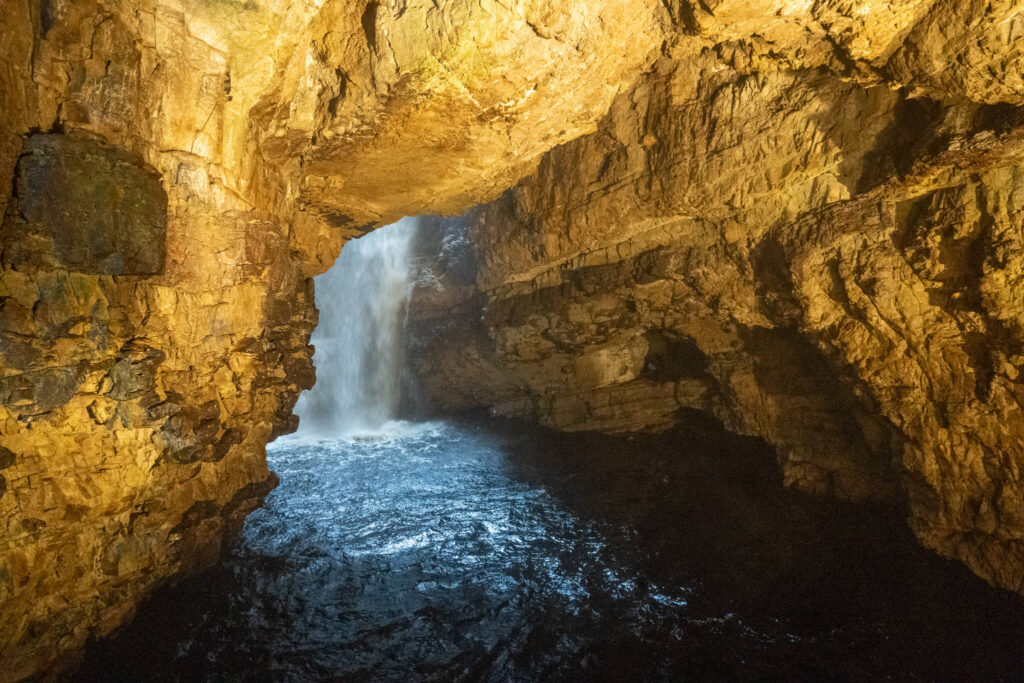 If you are looking for a good bag for your time exploring Smoo Cave, we can highly recommend the Wandrd Bag PRVKE 41L if you are carrying camera equipment. If you are looking for a smaller backpack, The Nest by Tropicfeel is one of the most comfortable bags I have ever owned and perfect for a day exploring the caves.
Where is Smoo Cave
Smoo Cave sits one mile to the east of the small village of Durness on the north west coast of Scotland. It can be found of the A383. It is the main tourist attraction in this area and sits in between some of the most beautiful beaches on the north coast of Scotland. There are not many sign posts for Smoo Cave, however it can be found by following the stairs down beside the public toilets in Durness.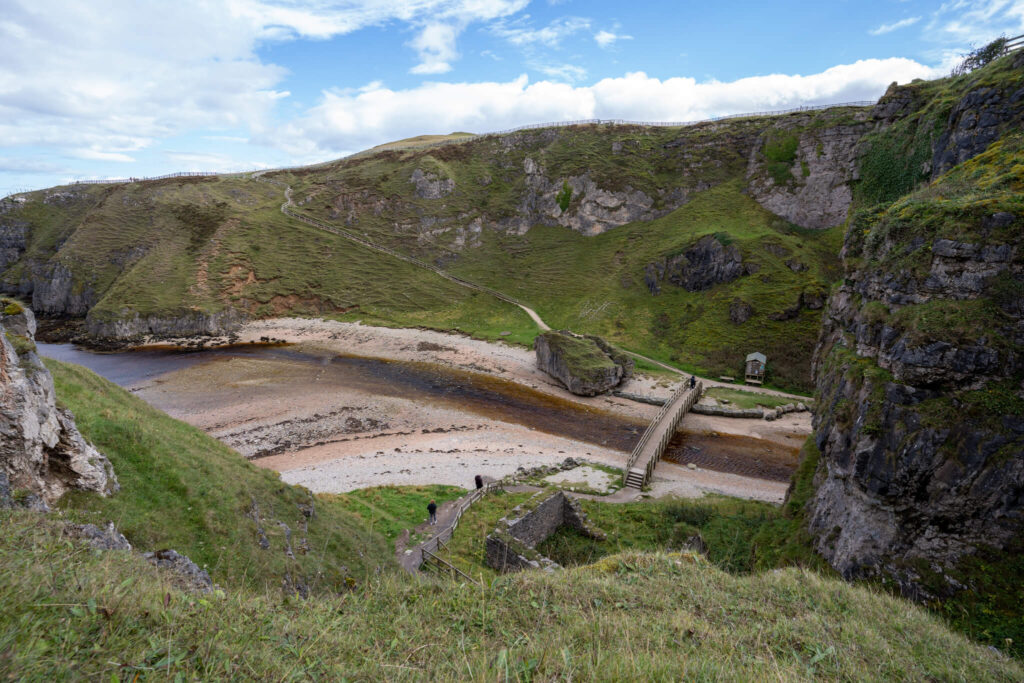 How to get to Smoo Cave
There is a small car park that sits above the cave at the public toilets. Unless you arrive early, this will most likely be very busy. There is further pay and display parking across the road 
There is a path to get down to the cave from the car park which is quite steep at some parts and the surface can be rough underfoot. There is a banister that follows down the path, however this is not entirely accessible for those with mobility difficulties. The walk down to the cave only takes around 10 minutes from the car park.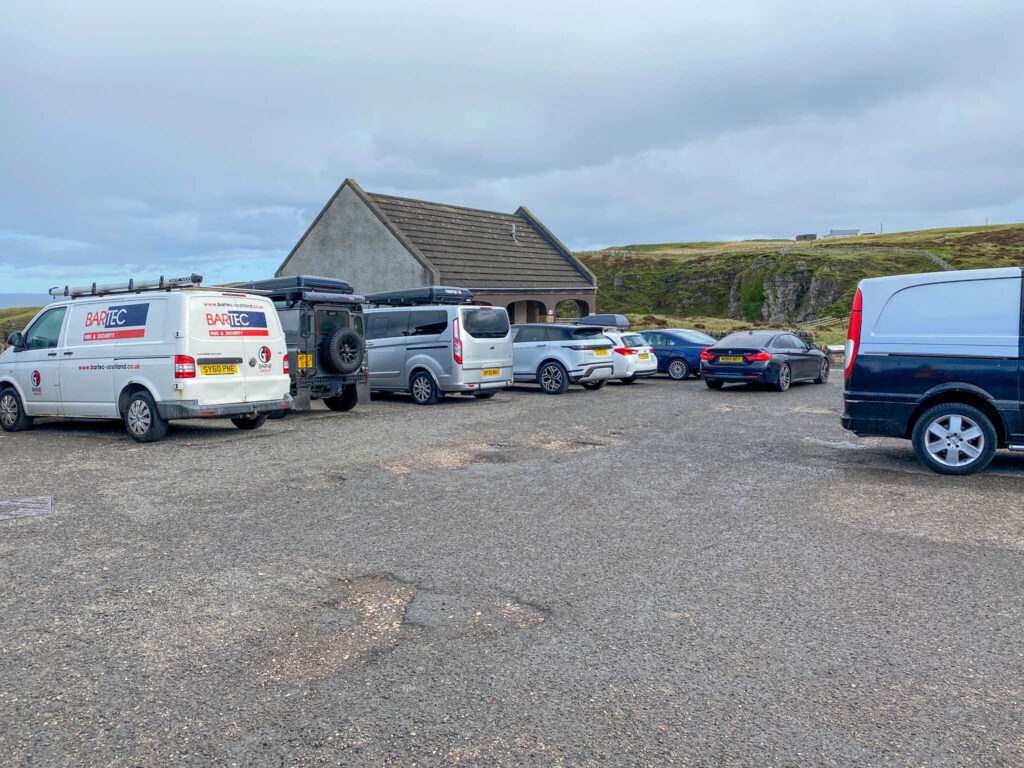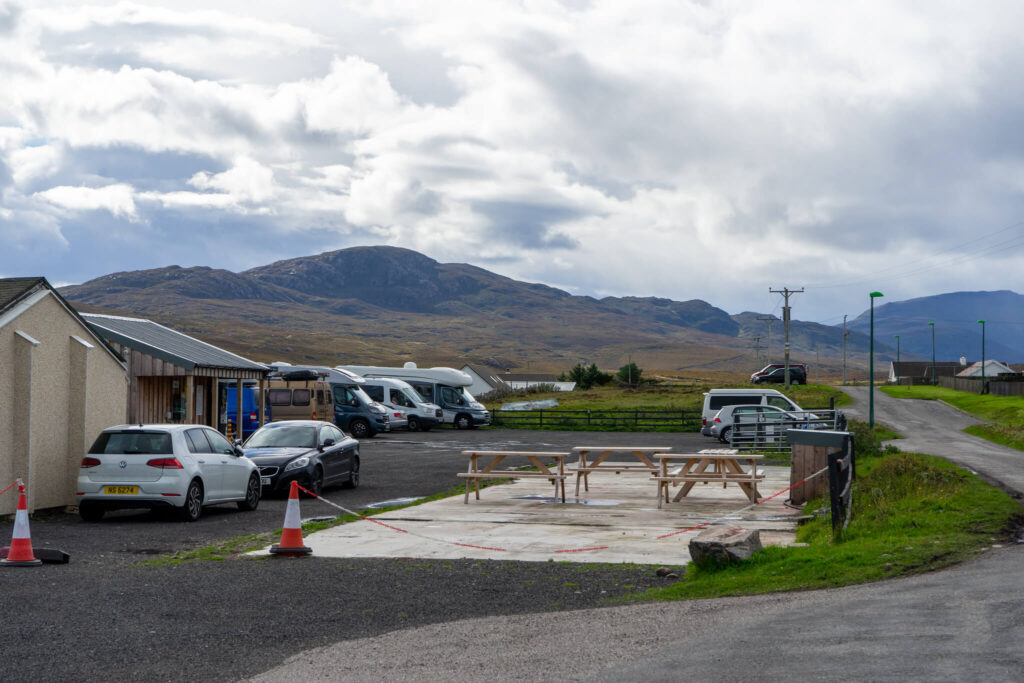 Why Should I go to Smoo Cave?
Smoo Cave is a very impressive place to visit on the NC500. After you have walked down the path from the car park you will cross a short wooden bridge across the spill of tidal water where you will be faced with the entrance to Smoo Cave. The entrance into the cave is 15 metres high, 40 metres wide and 61 metres long. This makes it one of the largest sea caves in the UK. When you arrive inside this magnificent cave, follow the path along the covered wooden bridge and you will arrive at a viewing platform of an incredible 25 metre waterfall, dropping into an 8 metre deep pool.
Access into this front part of the cave is free and open all year round. If the tours are running when you are at Smoo Cave, we would highly recommend you join one. It lasts for around 20 minutes and costs £10 per adult and £5 per child. The tour starts with a short boat ride that takes you deeper into the cave, you have to climb into the boat therefore it may not be entirely accessible for everyone. We would recommend wearing waterproof clothing and footwear that you are comfortable walking over rocky and uneven ground in. Note that the lighting conditions are unpredictable due to the shadows from the flood lights.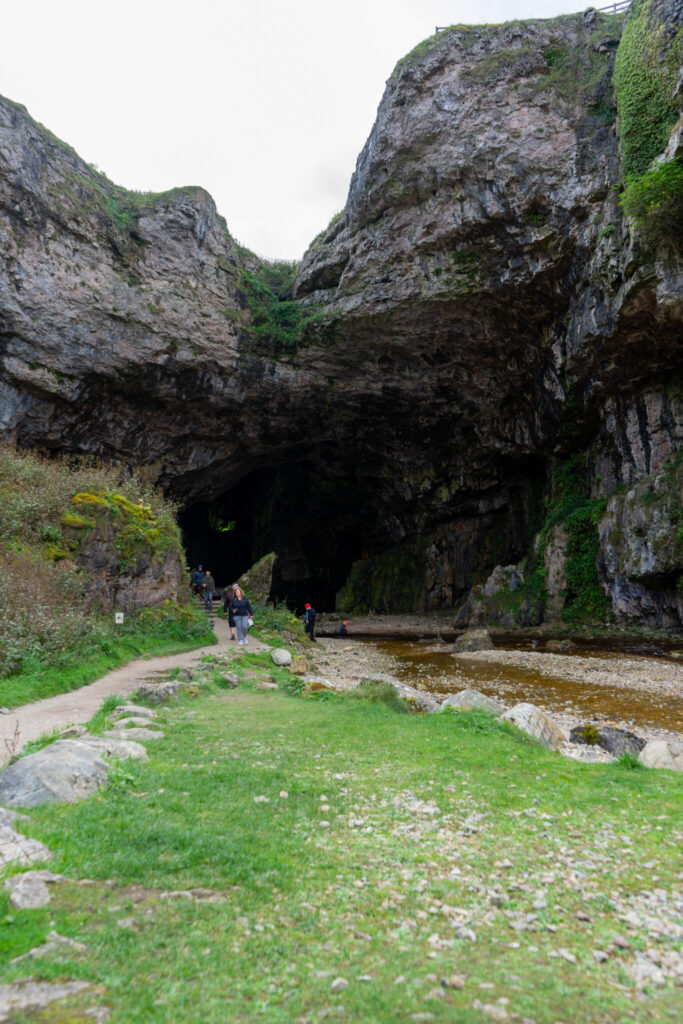 DON'T FORGET
Your trip to Scotland will be a lot more comfortable with a midge net and midge spray. These little biting bugs can be enough to ruin a trip if you don't have the equipment to protect yourself from them. A repelling candle can also be helpful if you are sitting oustide.
When Should I go to Smoo Cave?
If you are interested in going on the tour then you will need to visit between April and October. If you are driving the NC500 outside of these months, we would still recommend visiting Smoo Cave to see the incredible waterfall that may well be full flowing if there has been a lot of rain.
Due to the popularity of Smoo Caves, we advise visiting early to avoid the crowds. If you have a dog, you are also welcome to bring your pooch along as Smoo Cave is dog friendly. Do be aware that dogs are not allowed on the tours though.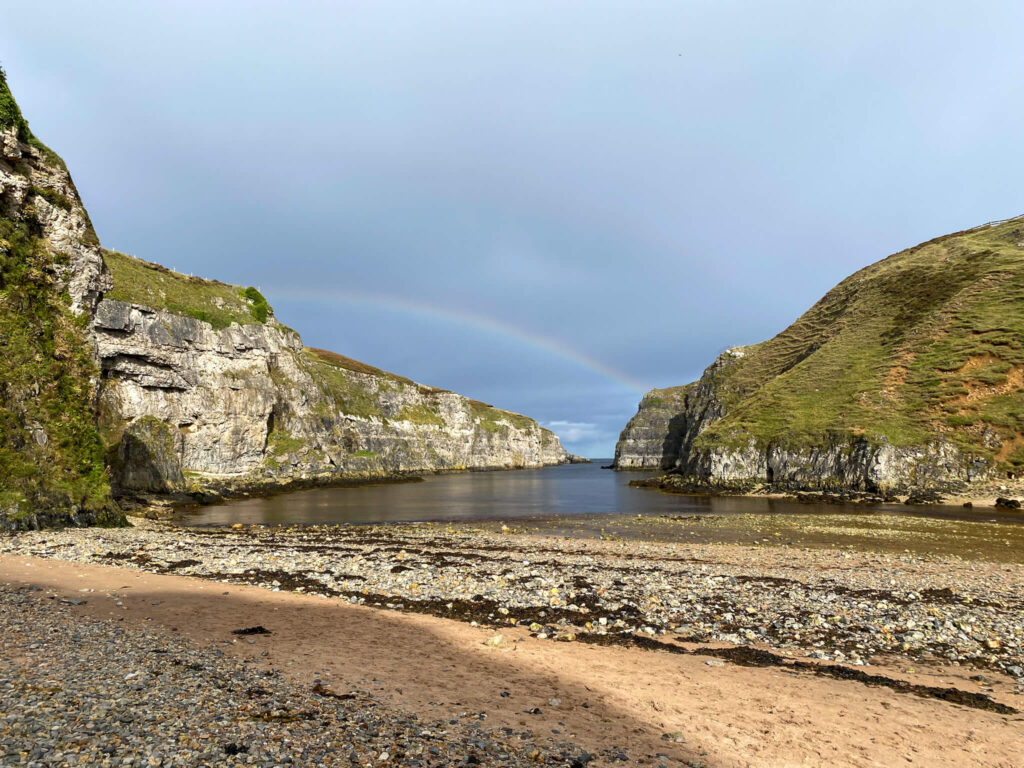 Before You Leave for the North Coast 500
Before you head off on your trip around the NC500, there are certain things you will need to get organised to ensure a smooth trip. These include how to get around the route, including being aware of single track roads, etc., what to pack for Scotland, where to stay along the route and what travel insurance to book.
Read more planning tips for the North Coast 500 in our full guide.
How Do I Get Around the NC500?
Given the remote location of the NC500 and the majority of the sights along the route, the best way to get around this road trip is by driving. There are of course other methods that are still popular, such as cycling and hiking, however, if you have a short amount of time on the route, neither of these are very suitable.
As for public transport, the use around the NC500 is understandably difficult due to how remote each location is, however, with the increasing problem of congestion along the route, this is a good option to research if you have time. If it is something that interests you, you can read a public formed itinerary of how to get around the NC500 by public transport over here.
If you are looking to rent a cosy, reliable and luxurious campervan for your trip along the NC500, we recommend hiring through Spaceships Rentals.
Browse the full range of vehicles on offer at Spaceships over here.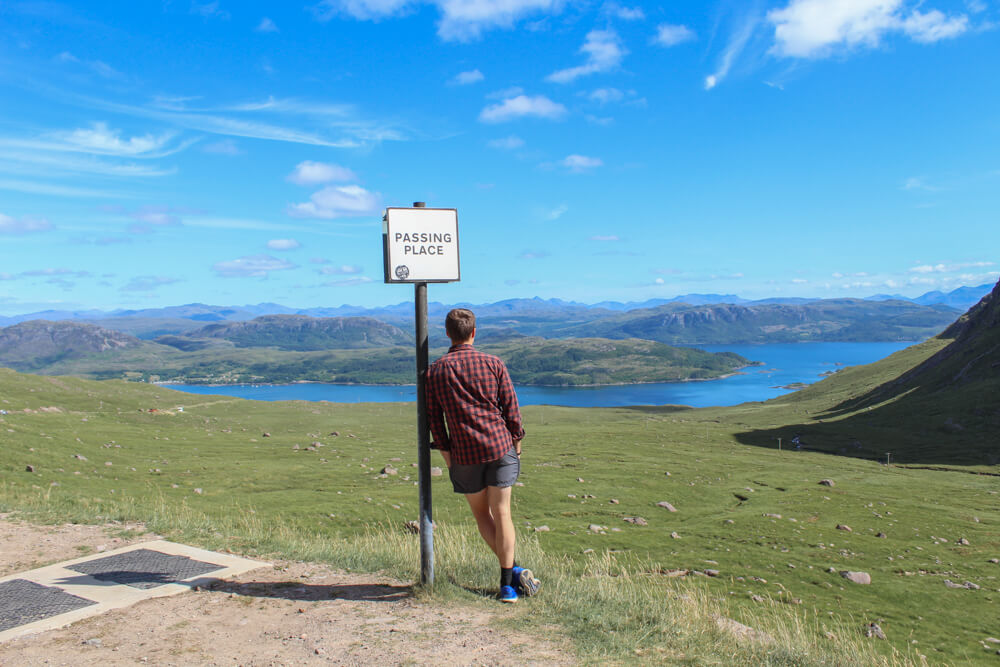 What Should I Pack for the NC500?
When it comes to packing for a trip along the NC500 there is one item of clothing that you are going to need all year round: a waterproof. It rains in Scotland on average 250 days a year, meaning that during your 7-day NC500 road trip you will probably experience at least a drizzle of rain. Due to this, the number one item on any Scotland packing list is a good waterproof jacket.
As for the rest of the year, the temperature in Scotland and the central heartlands is reasonably mild for most of the year. During the winter months, you will most likely experience snow, however, temperatures usually sit around freezing, so it is not too cold. For your reference, the average temperatures in Scotland are listed below during each season.
Spring (March, April, May) – 5-10 degrees C
Summer (June, July, August) – 15 degrees C
Autumn (September, October, November) – 5-10 degrees C
Winter (December, January, February) – 0-5 degrees C
As you can see, the weather never really gets above the teens, with anything over 25 degrees C considered a heatwave. The best way to pack for your trip to the highlands is with layers that can be added and removed as you need them. You will definitely need a hat and gloves during the colder months and will most likely need sunscreen to protect you on the long days in the open.
It is also important to stay hydrated, especially if you are out exploring in the marvellous landscape of Scotland. We use Water to Go water bottles to fill up with water from running streams when we are hiking.
For our full list of items that we pack no matter where we go in the world, check out our full packing guides over here.
Given the beautiful sights and scenery that you are no doubt going to see around Scotland, we highly recommend packing a good camera for your trip. If you want to read more about the cameras we use and why we love them, check out the link below.
You can read what else we keep in our camera bag over here.
Where Should I Stay on the NC500?
The remoteness in the highlands of Scotland will leave you with little choice of accommodation in each location along the NC500, however, there are still enough options to choose from to ensure a comfortable trip. These are mostly in the shape of B&Bs, Airbnbs, converted cottages and other quirky accommodations.
Depending on how adventurous you are, there may be more accommodation choices than just the above, often with an even better view. Caravan and camping sites are abundant along the NC500, drawing camping enthusiasts from all over the world. For some of the most spectacular bedside scenery along the North Coast 500, we recommend packing a tent and getting in touch with nature for the week.
As we travelled along the North Coast 500, camped in our trusty Vango tent on a mixture of campsites and wild sites. Wild camping is a fantastic way to enjoy the beauty of the highlands, however, it must be done respectfully. Read our full guide to Wild Camping if you wish to give it a go so you know everything you need to for a comfortable and sustainable trip.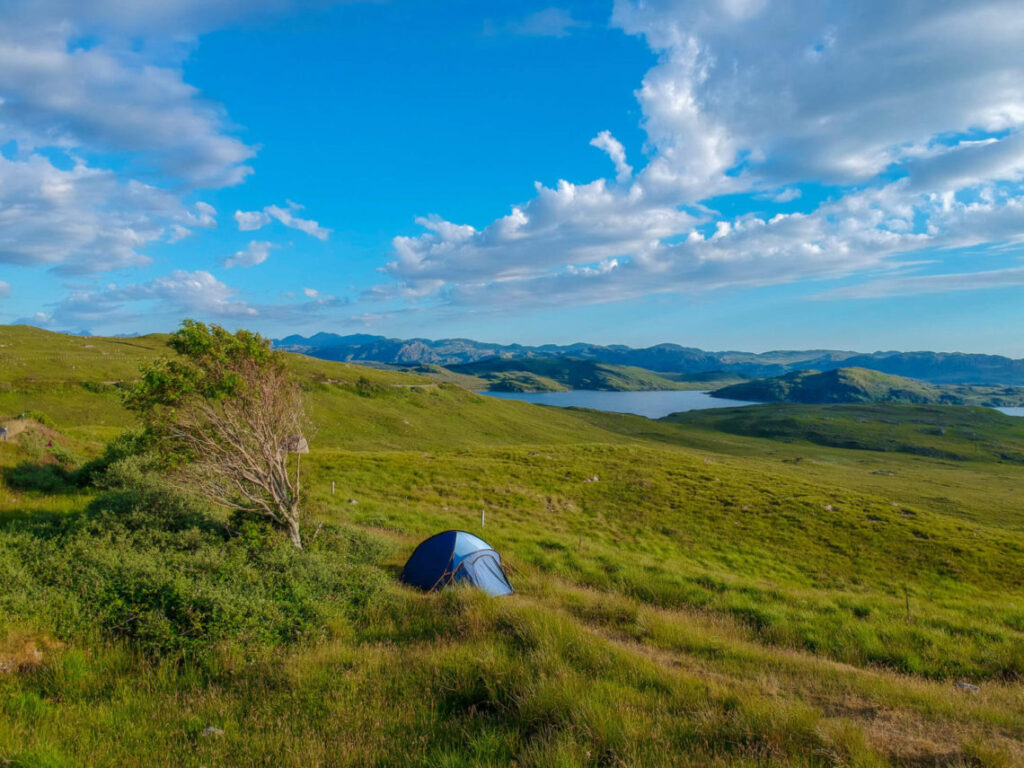 What is the Best Travel Insurance?
We know travel insurance is the least enjoyable thing to purchase and look at when you're planning a trip, however, you wouldn't want to be without it in the event that something happened. Accidents can happen anywhere and the extortionate medical bills will ruin your trip if you are not covered.
To ensure you have a stress-free trip with no worries about potential medical bills, make sure you cover yourself when you travel. We can recommend using SafetyWing, a backpacker-friendly and cheap insurance company that provides good coverage and support. It is also nomad-friendly, unlike most other insurance companies, meaning you do not need to worry about being out of your home country for too long.
Get a quote for your travel insurance right here and get covered!
So there you have it, a complete guide to visiting Smoo Cave on the NC500. If you have visited the NC500 recently, let us know if you have been in the comments below.
As always, sharing is caring so make sure to share this photo guide with your family and friends and inspire them to head off on their own North Coast 500 adventure. If you are planning the trip for yourself, make sure you have a look at the rest of our Scotland content for more inspiration to our beautiful home country.
When you set off on your own adventure, be sure to tag us in your photos on Instagram and we will share them with the rest of our community. In the meantime, why not follow us over there to see what we are currently up to and keep up with us on our Instagram Stories.
Now Read:
This article may contain affiliate links that provide us with a small income. For more information read our Affiliate page.
Pin this image to your Scotland Pinterest board for later