Located on the western coast of Guernsey lies the stretch of golden sand known as L'Eree Beach. Facing west and framed with Lihou island to the north and Fort Grey to the south, this beach offers one of Guernsey's most jaw-dropping sunset locations.
Consisting of mainly sand and bordered by rocky outcrops at the lower end of Guernsey's drastic tidal action, L'Eree Beach 
No time to read now? No problem, save a pin to your Pinterest board for later!
L'eree Beach is the perfect place to go in Guernsey on a warm, sunny day either for a walk around the coastal paths or for a dip in the sea. In this guide, we will discuss the best time to go to Cobo as well as the following
What is L'eree Beach?

Where is L'eree Beach?

How to get to L'eree Beach?

Why Should I go to L'eree Beach?

When Should I go to L'eree Beach?

Preparing for your trip to Guernsey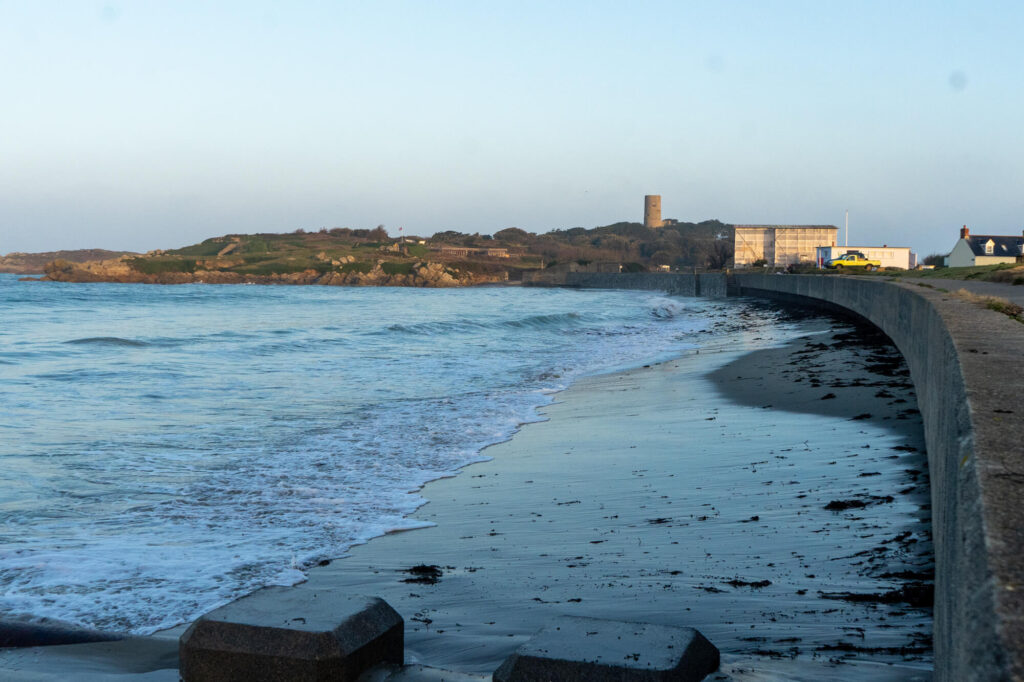 What is L'eree Beach?
L'eree Beach is a sandy beach on the west coast of Guernsey with plenty of rock pools for exploring at low tide. It is a popular beach for families to visit during the summer months.
In terms of history and sights, L'Eree Beach has more than any other beach in Guernsey. At the northern end, looking over the causeway to Lihou Island, you will find a collection of WWII bunkers that remain in incredible condition. Just down the hill from the bunkers, you can explore an ancient, Neolithic tomb that sits hidden underground (Le Creux es Faies), and if you continue south along L'Eree Beach, you will find the unmissable silhouette of Fort Grey, also known as the "cup and saucer". The fortification of Fort Grey was once used to defend the long stretch of L'Eree Beach, however, it is now used as a museum to the maritime history of the island.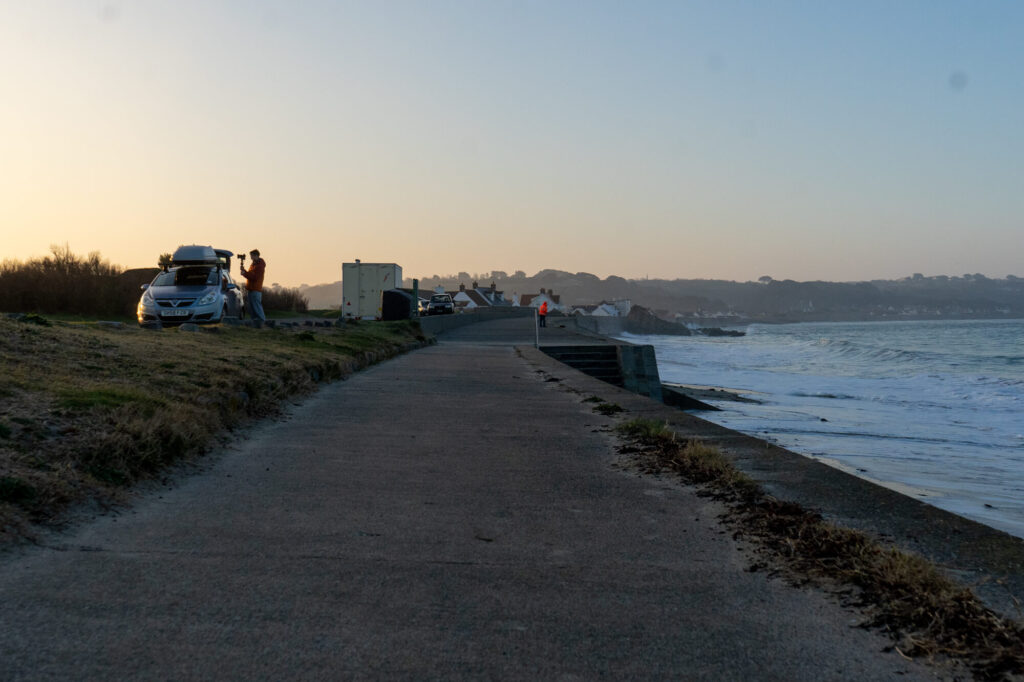 Where is L'eree Beach?
As you travel south down the western coast of the island of Guernsey, you will eventually reach the final stretch of sand on the west side of the island known as L'Eree Beach. This huge length of beach goes from the outcrop known as Lihou Island to the kiosk at the southern end of the beach.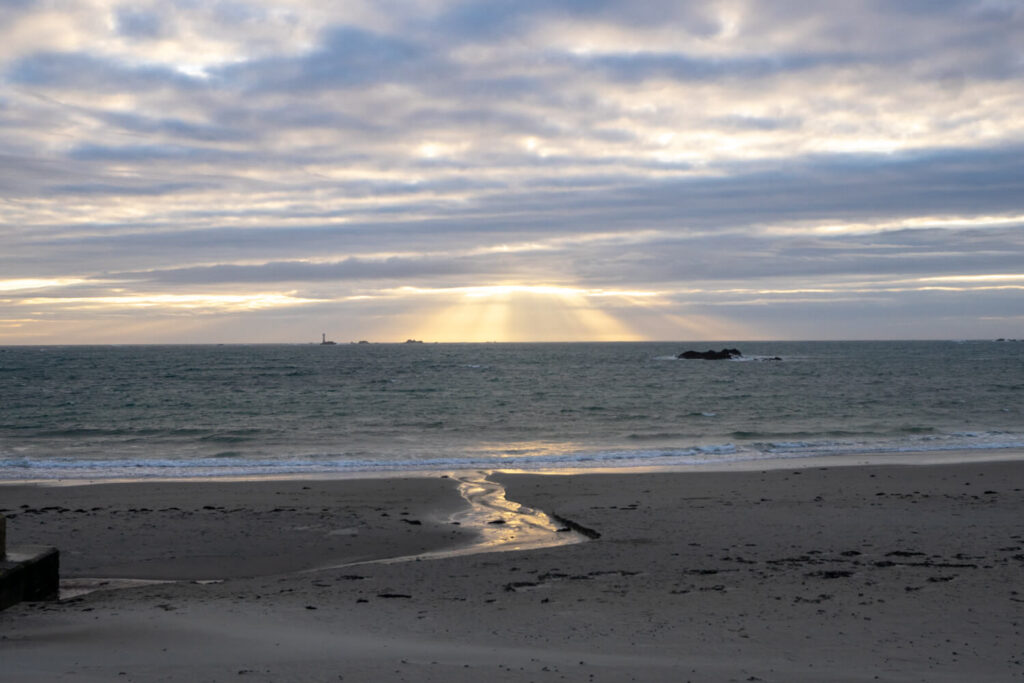 How to get to L'eree Beach?
You can drive to L'eree Beach and there are two options for parking. One carpark has a kiosk and the other is across the road from Taste of India and the Fish and Chip shop. There is also a toilet block in this car park.
 You can also get the bus to L'eree beach, the bus routes to get there are 61, 91, 93. 
The beach is easily accessible by a ramp or by the stairs.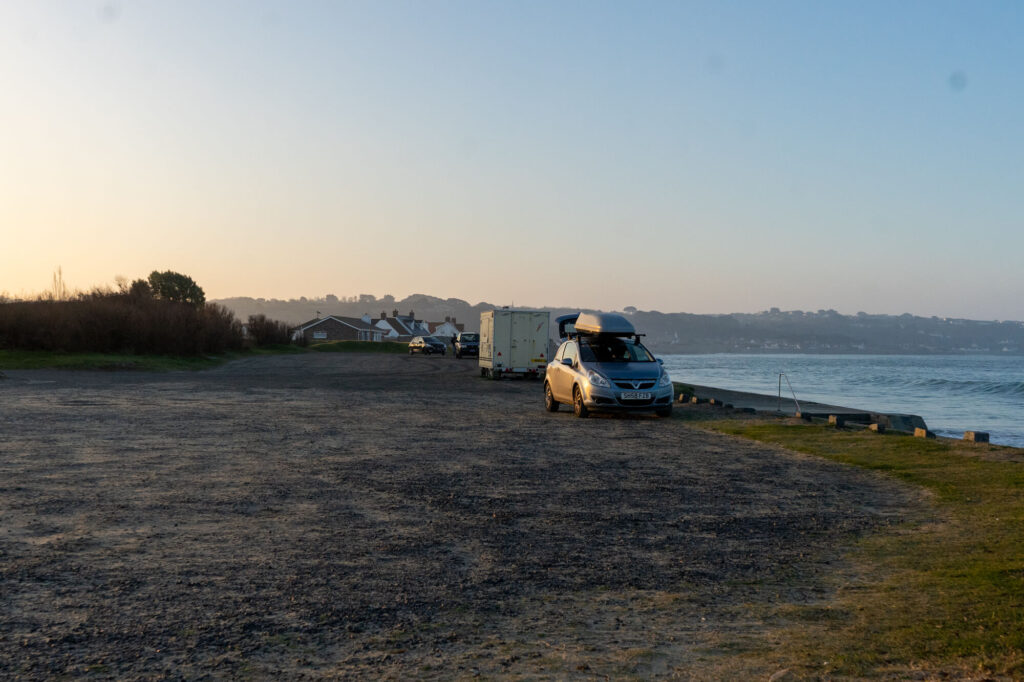 Why Should I go to L'eree Beach?
L'eree Beach is a great beach to go to in terms of being accessible, pretty and having amenities near by.
In terms of food and drink, there are a few options for you to check out in the L'Eree region. Beginning at the northern end of the beach, there is the Taste of India, one of our favourite Indian restaurants on the island. Continuing south you will reach the Guernsey Pearl, which is a small and cosy cafe that overlooks the beach at Fort Grey.
Further to the south, you have the Imperial Hotel, a popular bar and restaurant for locals to come and unwind at the weekend and take part in the weekly "meat draws". Sitting beside the Imperial Hotel, you will find the L'Eree kiosk, which sells hot food and drinks, ice cream, and a selection of cold drinks.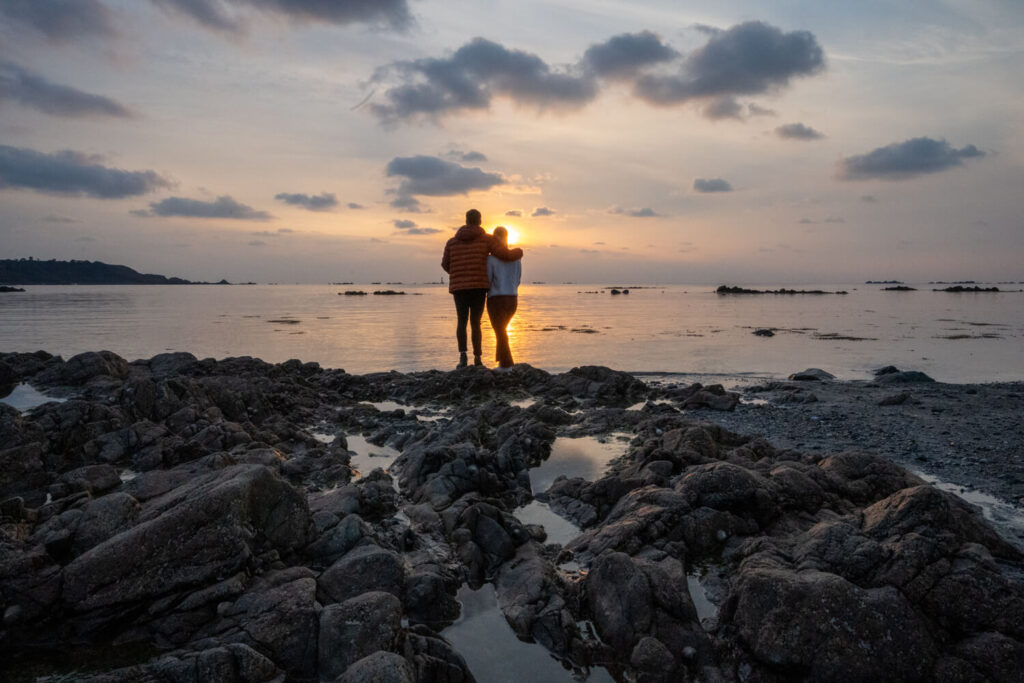 When Should I go to L'eree Beach?
In our opinion, the best time to go to L'eree beach is at medium-high tide. When the tide is low, they can sometimes be a lot of seaweed washed up onto the beach.
If you plan on going in the water it is worth bearing in mind that the rock pools are still under foot when the tide is high. Therefore we would recommend wearing water shoes if you plan on going in the water at L'eree Beach.
Due to being on the Western coast of Guernsey, L'eree Beach is perfect to watch the sun go down over the ocean. This is one of our favourite places to come and watch the Golden glow in Guernsey.
Before You Leave for Guernsey
Before you leave on your trip to the beautiful island of Guernsey, there are a number of things you will need to organise to ensure a smooth and stress-free trip. These include what to pack, where to stay and what is the best travel insurance for Guernsey.
What to Pack for Guernsey
What you need to pack for Guernsey will rely highly on when you make your trip to the Channel Islands. During the Spring and Autumn months, temperatures and weather patterns vary wildly between beautiful sunny skies and storming gales.
The temperatures generally vary from 10 oC to 25 oC during these months, with a mixture between cold, northerly winds and warmer southerlies. There is a small amount of rain, with maybe 1 in 7 days receiving rainfall, which makes it perfect for days out exploring the beautiful island.
During the Summer months in Guernsey, temperatures tend to range from 20oC to 30oC, with some days topping 35oC. Summer days in Guernsey are perfect for the beach, with many locals and travellers alike sending their day soaking up the sun and playing in the sea. When it comes to toiletries, we recommend that you don't forget to pack sunscreen. The sun in Guernsey can be strong, especially in the summer months.
If you need more inspiration on what to pack for your trip, check out our full packing guides for all-weather conditions over here.
Given the beautiful sights and scenery that you will see in Guernsey, we highly recommend packing a good camera for your trip. If you want to read more about the cameras we use and why we love them, check out the link below.
You can read what else we keep in our camera bag over here.
What is the Best Travel Insurance for Guernsey?
If you are simply planning on heading to Guernsey for a holiday, one thing that is essential for everybody is good travel insurance. Accidents can happen anywhere and at anytime and unexpected hospital bills will ruin a holiday. Remove the stress from your next adventure and get covered for the worst.
World Nomads Travel Insurance provides budget reliable travel insurance that will keep you covered for any level of adventure.
You can get your quote before you leave on your trip right here.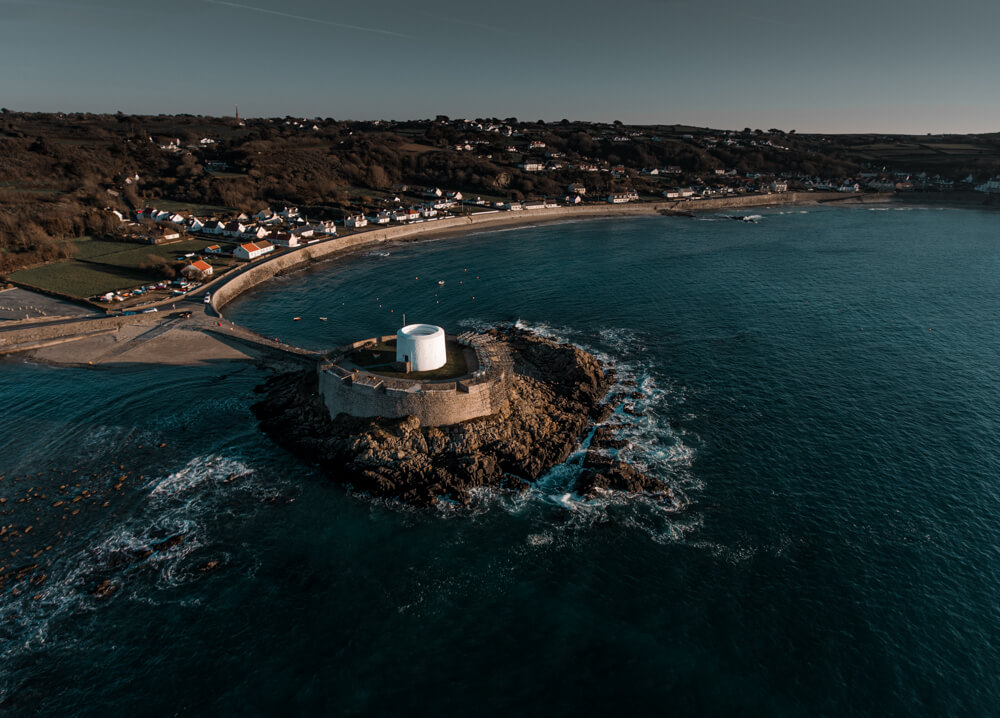 Where to Stay in Guernsey?
When it comes to accommodation on Guernsey, you are simply spoiled for choice with a huge range of hotels, B&Bs and even campsites to choose from. No matter what your preferred level of luxury is, there is the perfect place for you.
Luxury – Spend your time on Guernsey in true luxury at the Old Government House Spa and Hotel in St Peter Port. This hotel has beautiful views over the harbour of Guernsey's capital, as well as access to a luxurious spa, an outdoor terrace and a heated, outdoor pool.
Book your stay at the Old Government House Spa and Hotel here.
Mid-range – If you would like a taste of luxury at an affordable price, then the Auberge du Val Hotel is perfect for you. This 19th-century farmhouse sits on the west coast of the island and offers cosy, ensuite rooms, complete with tea, coffee and tv. The hotel is just a short walk from the beautiful nature reserves in St Saviour, perfect for a romantic trip away for the weekend.
Book your stay at the Auberge du Val Hotel here.
Budget – Situated just 2-miles from Guernsey airport in the heart of St Martins, the Carlton Inn is the best value hotel in Guernsey. With free parking and wifi, as well as access to the Wicked Wolf pub that sits in the same building.
Book your stay at the Carlton Inn here.
Camping – If you are up for a more adventurous stay on Guernsey, Fauxquets Valley Campsite offer a range of glamping safari tents, glamping pods and sites for your own tent if you bring one. Visit their website for a full price list of tents and campsites.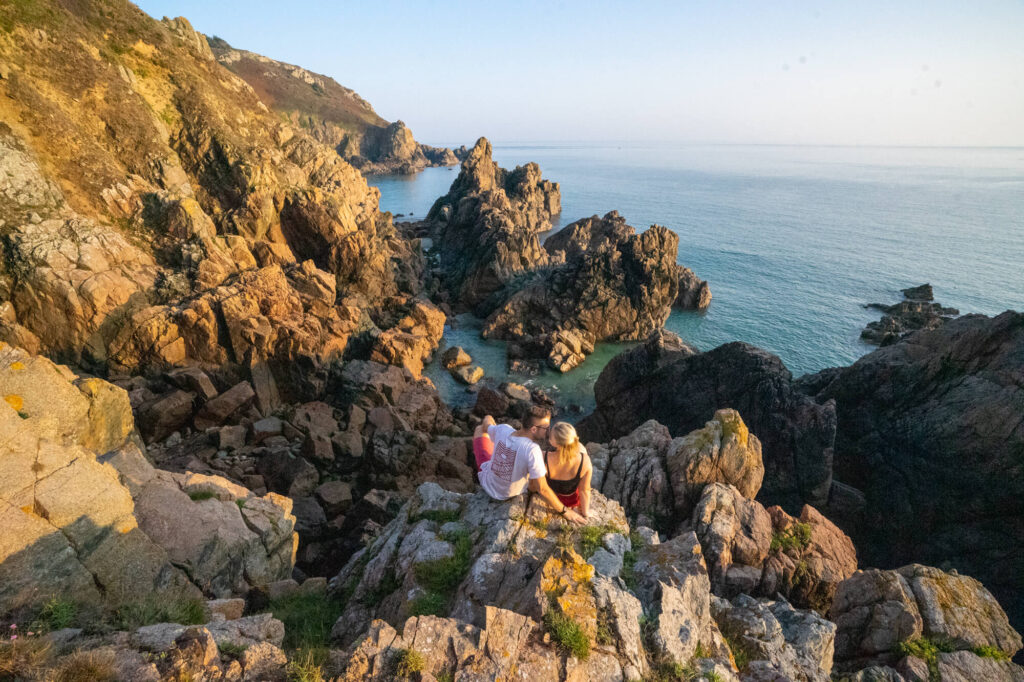 So there you have it, your complete guide to visiting L'eree Beach in Guernsey! This is just one of the many great beaches in Guernsey, and we would recommend that you visit it whilst you are in Guernsey.
If you found this guide to L'eree Beach in Guernsey useful, please let us know in the comments section below. We love chatting you guys about this kind of thing, and sharing our top experiences with everyone else! What beach was your favourite? Do you have any places to add that we missed out?
Also, make sure you share this article with your family and friends to show them how beautiful the Channel Islands can be. Sharing is caring and we want to inspire as many people as we can to visit this unbelievable part of the world.
If you are planning a trip to Guernsey soon then check out our other Channel Islands content right here. Come and find us on social media to see where we are currently exploring. Tag us in your photos from Guernsey and we will share them with the rest of our community of explorers and backpackers on our social channels!
Now Read:
This article may contain affiliate links that provide us with a small income. For more information read our Affiliate page.
---
Save this to your Guernsey Pinterest board for later