This post is intended to be an ever-expanding article. If you have any suggestions or recommendations of places not included in this article, let us know in the comments section below.
Eating out in Guernsey is a lifestyle that many choose to live on the island. There are many great restaurants located all around the island so you will never be far from somewhere serving some good grub. If you are visiting Guernsey during the month of October, you will be arriving in time for Tennerfest, a fixed priced food festival serving up to 3-course meals for only £10!
In this guide to eating out in Guernsey, we take you to some of our favourite restaurants on the island, exploring a variety of different foods. In Guernsey, there is a multitude of different cultures and the food served on the island reflects that offer a vast range of restaurants and bars to choose from.
The best restaurants in Guernsey are compiled into this post and trust me, you don't want to miss them.
Plan your trip to the island of Guernsey with this detailed two-day itinerary!
Save this pin to your Guernsey board on Pinterest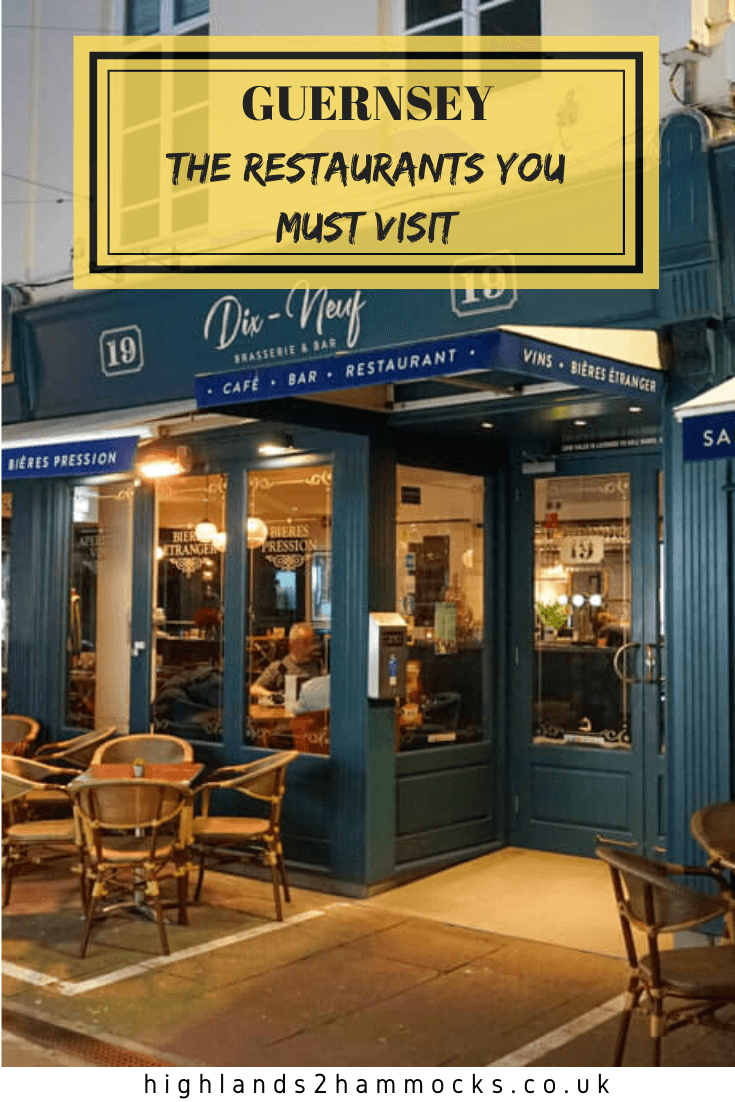 Come along on our food tour of Guernsey in this video. Make sure you subscribe to our Youtube channel for more by clicking here!
Eating Out in Guernsey – The Best Restaurants in Guernsey
The Liberation Group – Save Money When You Dine Out
For those who are moving to Guernsey, or perhaps already live here, there is a loyalty scheme that is well worth looking into if you dine out regularly. The Liberation Group is a group of restaurants and bars that offer special deals and gifts to members throughout the year.
Upon signing up for the group, you will receive an Indulgence card in the mail (hence why it is only suitable to long-term residents), which you can use to earn points, receive birthday gifts and even get discounted meals. On a Wednesday, you will get 25% off of your food bill.
Guernsey restaurants that are part of this group are the Deerhound Inn, Dix Neuf, Harbour Lights, The Crows Nest, The Ship and Crown and White D'Or.
Sign up for your own Indulgence Card and start saving money whilst you dine out.
St Peter Port
The Boathouse
Located on the harbour of St Peter Port, the Boathouse is the perfect place for a reasonably priced meal. During the day, between 12 pm-2.30 pm, you can enjoy a meal from their continental menu or simply a coffee or glass of wine as you listen to the waves crash off the harbour wall. Come evening, at 6 pm -late, you may need to book your table as the main menu is popular along with the perfect view you get at mealtime.
We enjoyed a vegetarian breakfast at the Boathouse that was fantastic value for money. The breakfast menu is available from 9am-11.30 and has a great selection of sweet and savoury breakfast options, all at a great price.
Mora Restaurant and Grill
Mora Restaurant and Grill is located on the seafront in St Peter Port selling a delicious range of foods. If you want to eat here in the evening, we would recommend booking a table as it can be a popular choice for an evening meal. In addition to the downstairs area, where the bar is, there is also an upstairs restaurant area with extra seating.
We recently had a meal in Mora and chose the three-course vegetarian menu. This wasn't the cheapest meal in Guernsey, however, the quality of the dishes was well worth the price. There is an ample wine selection at this restaurant, of which the Water Edge Zinfandel Blush was our favourite.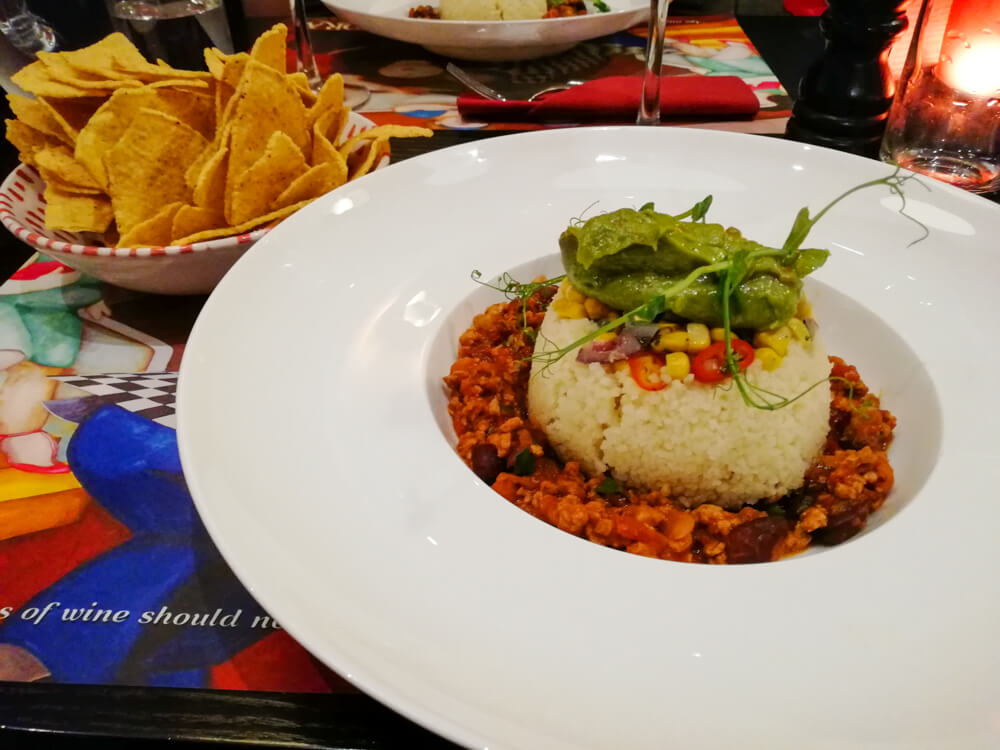 Thomas de La Rue
Also located on the St Peter Port seafront, this traditional town pub serves up a delicious selection of food at a reasonable price.  Inside Thomas De La Rue, you can be sure to find some classic bar meals as well as a new vegan menu. There is a very laid back atmosphere in this restaurant and throughout the day, the tv's are on showing the sports channels.
As the night falls, the Thomas de La Rue turns into a popular scene for live music and open-mic nights.
Octopus
Octopus bar and restaurant is located in St Peter Port, on the south side of Havelet Bay. This is one of our favourite restaurants on the island due to the aesthetically pleasing interior and the amazing views it has to offer. The international menu has something for everyone and whether you are going for breakfast, lunch or dinner, you will have a great selection to choose from.
Although breakfast at Octopus is more expensive than other breakfasts in the area, the views of the castle from your table are definitely worth it. Octopus' opening times vary throughout the year and if you want to visit, we recommend you book a table.
White D'or
A tapas bar located on the seafront in St Peter Port, White D'or is a restaurant that is part of the liberation group serving unique tapas dishes and grazing plates. The interior in White D'or is very sophisticated and when you are seated in your booth, you will be given a menu to tick the dishes that you want. The inspiration in this restaurant comes from the Mediterranean and the Far East.
We really enjoyed the food and the atmosphere in White D'or, the only downfall we have is the cost due to it being tapas dishes.
Top Tip – Remember you can go on a Wednesday and get 25% off with an Indulgence card.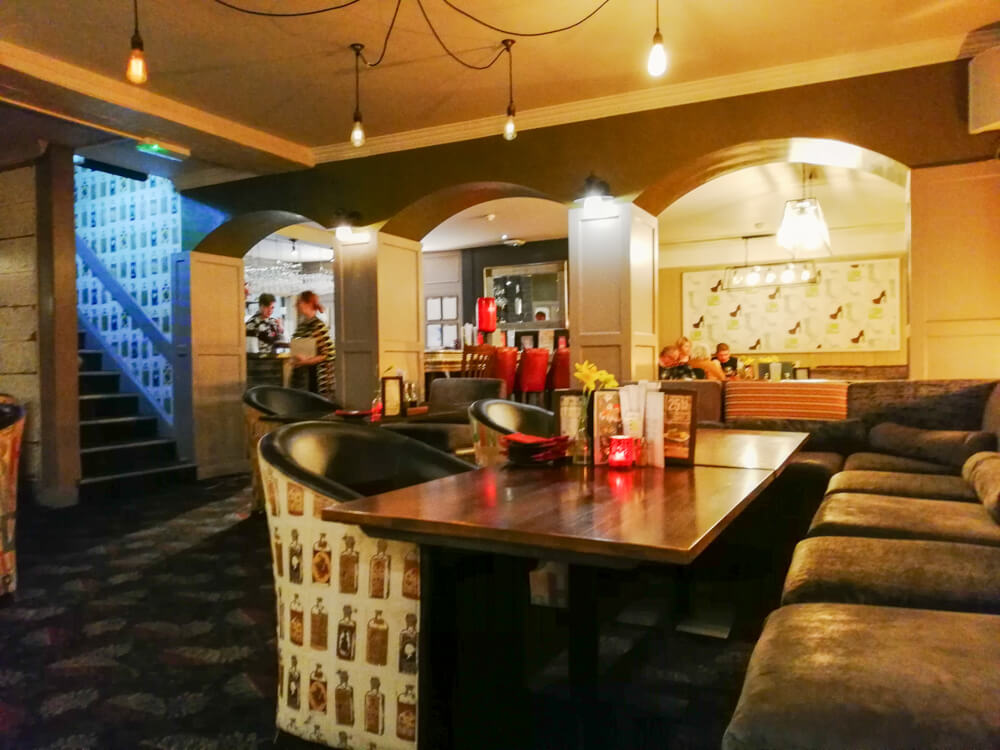 The Terrace Garden Cafe
The Terrace Garden Cafe is one of our favourite places to visit during the summer months in Guernsey. It's open-air feel sitting above the town of St Peter Port, gives you that warm summer feeling, not to mention, the views from the Terrace are spectacular on a clear day, looking right across the harbour to Herm.
Serving the most delicious Thai food as well as other classic dishes, The Terrace menu has something for everyone and is very reasonably priced. The Terrace is closed during the winter months and opens in Spring, welcoming those to sit out under the patio heaters on the cooler days.
It's a sun trap at The Terrace so make sure you apply suncream if you are not sitting under shelter.
Dix Neuf
Dix Neuf is another Liberation Group restaurant located in the heart of the shopping district of St Peter Port. There is a touch of French inspiration at Dix Neuf, combined with continental classics meaning there is something for everyone to enjoy Dix Neuf is open 7 days a week for breakfast, lunch and dinner.
Or even just for a hot drink or a glass of wine as you watch the world going by around you.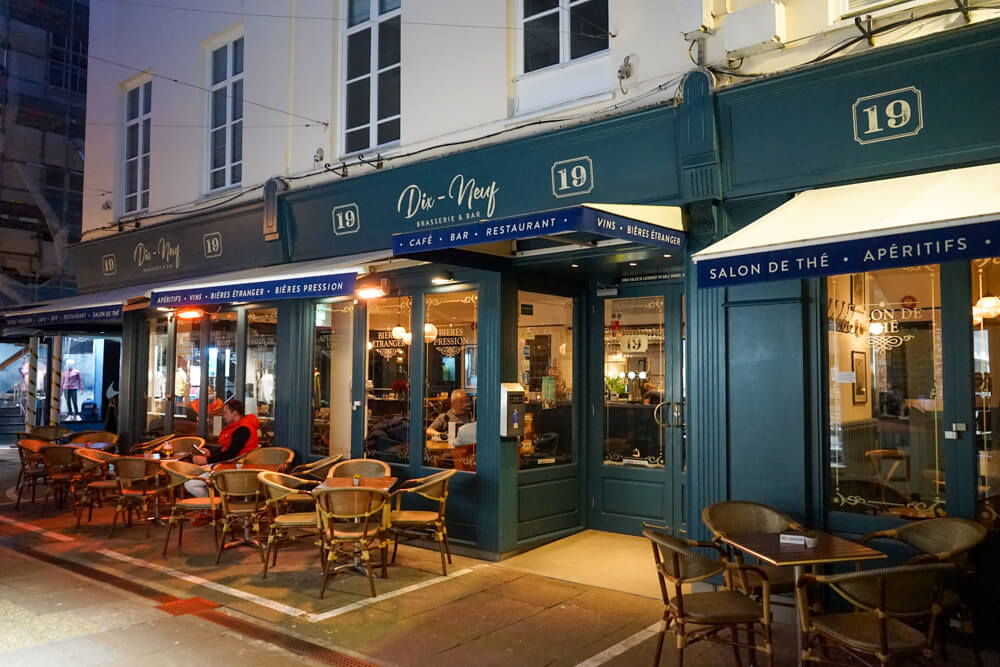 The Catch
Located on the seafront of St Peter Port, The Catch aims to serve you the freshest local seafood on the island. This comfortable and aesthetic restaurant is also suitable for those of us that are vegan or vegetarian. Have you ever heard of banana blossom? Neither had we until we decided to try out the vegan no-fish and chips on their menu. Banana blossom is a flower that grows at the end of a banana cluster and is a great alternative to fish due to the soft and flakey texture. We couldn't recommend you try this more. We absolutely loved it and have now found our fish alternative.
The Catch is open 6 days of the week for lunch and dinner and closed on a Tuesday.
Don't miss out on this unique dish!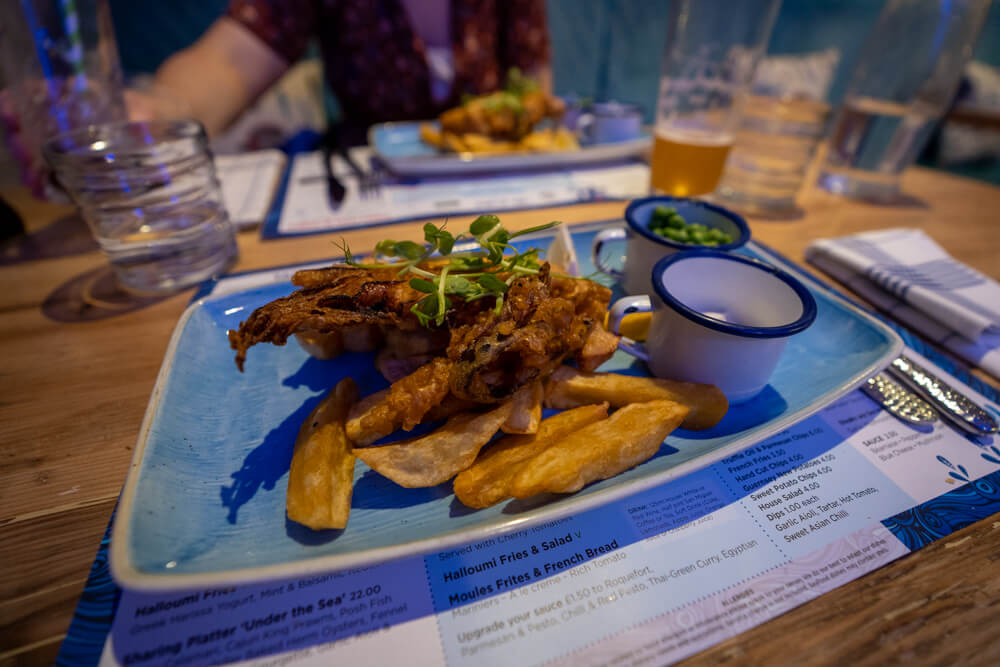 St Martins
Buho Mexican Restaurant
The Buho Mexican style restaurant just up the hill from St Peter Port. The unique interior of this restaurant transforms you across the world to Mexico where you will be offered a selection of delicious Mexican meals and cocktails. Our favourite dish here would be the Burrito Madness and we can highly recommend trying out the vegetarian chorizo.
Buho are open for breakfast at 7.30am-10am and dinner 6pm – late, Tuesday – Saturday.
Take advantage of Happy Hour at Buho on a Tuesday and Thursday between 5pm-6pm and 9pm-10pm.
Cobo Bay
The Rockmount Bar and Grill
Located in Cobo and overlooking one of our favourite beaches on the island, The Rockmount is a restaurant and bar that offers a delicious range of dishes with a view to die for. The Rockmount is open for food and drinks throughout the day, however, we really recommend spending an evening here and watching the sunset with a couple of drinks.
The Rockmount is open for lunch at 12pm-2.30pm and 3pm on weekends and open for dinner at 6pm-9pm, and 9.30pm on weekends.
TOP RECOMMENDATION – Order the chunky chips as a side with your meal, they are phenomenal.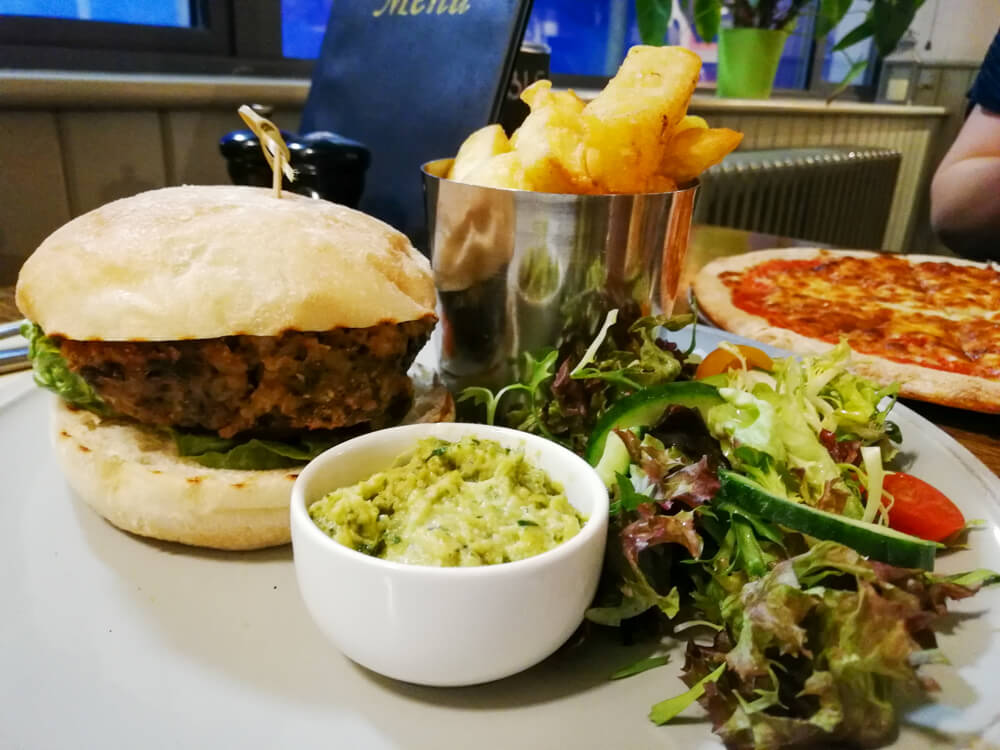 Before You Leave for Guernsey
Before you leave on your trip to the beautiful island of Guernsey, there are a number of things you will need to organise to ensure a smooth and stress-free trip. These include what to pack, where to stay and what is the best travel insurance for Guernsey.
How to Get to Guernsey
Given that Guernsey is an island, you really have two choices of transport for getting there: plane or boat. Both of these transport methods are available from the UK, France and from the neighbouring Channel Islands.
Ferry to Guernsey
Condor is the best option for ferries to and from the Channel Islands from the mainland. Leaving from the mainland UK ports of Poole and Portsmouth, the French port of St Malo and the Channel Islands port of Jersey, there are two main ferries that will bring you to Guernsey.
The faster boat, known as the Liberation, takes 3 hours to get from Poole to Guernsey, while the slower boat, known as the Clipper, takes 7 hours from Portsmouth. From St Malo, it will take you just under 2 hours aboard the Rapide to reach Guernsey.
Browse all of Condor's ferries and routes on their website here.
Fly to Guernsey
Flying to Guernsey can be done from multiple airports across the UK with the Channel Islands airline, Aurigny. This is the quickest and easiest way to get to the island if you are only coming for a short period of time.
You can browse all of the available flights and routes on the Aurigny website here.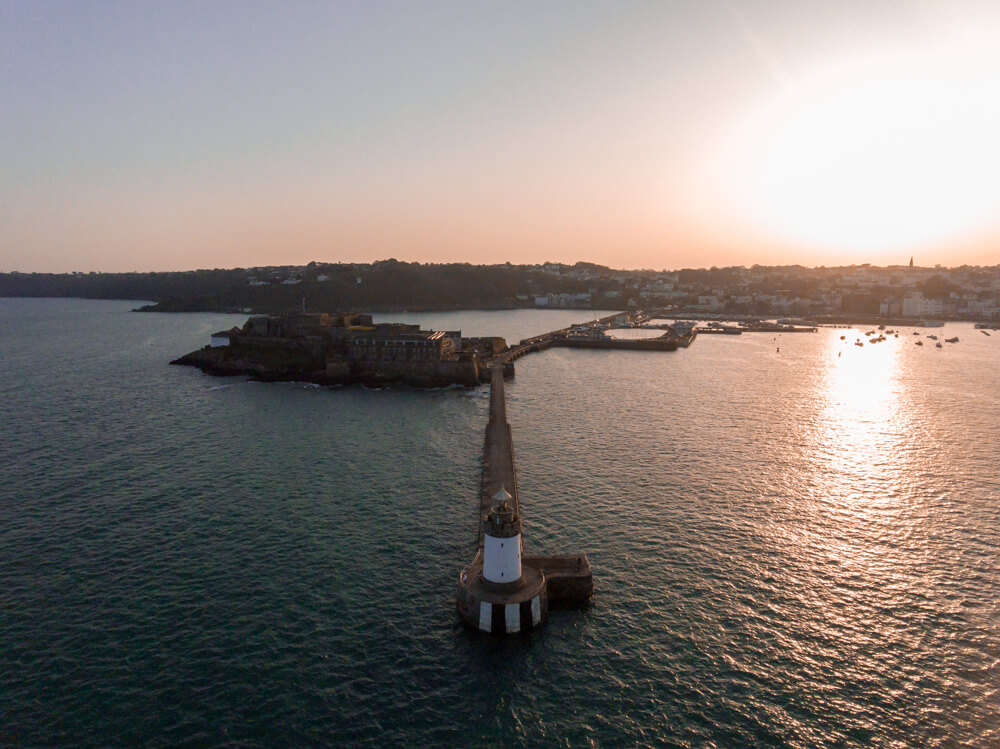 What to Pack for Guernsey
What you need to pack for Guernsey will rely highly on when you make your trip to the Channel Islands. During the Spring and Autumn months, temperatures and weather patterns vary wildly between beautiful sunny skies and storming gales.
The temperatures generally vary from 10oC to 25oC during these months, with a mixture between cold, northerly winds and warmer southerlies. There is a small amount of rain, with maybe 1 in 7 days receiving rainfall, which makes it perfect for days out exploring the beautiful island.
During the Summer months in Guernsey, temperatures tend to range from 20oC to 30oC, with some days topping 35oC. Summer days in Guernsey are perfect for the beach, with many locals and travellers alike sending their day soaking up the sun and playing in the sea.
If you need more inspiration on what to pack for your trip, check out our full packing guides for all-weather conditions over here.
When it comes to toiletries, we recommend that you don't forget to pack sunscreen. The sun in Guernsey can be strong, especially in the summer months.,
Given the beautiful sights and scenery that you will see in Guernsey, we highly recommend packing a good camera for your trip. If you want to read more about the cameras we use and why we love them, check out the link below.
You can read what else we keep in our camera bag over here.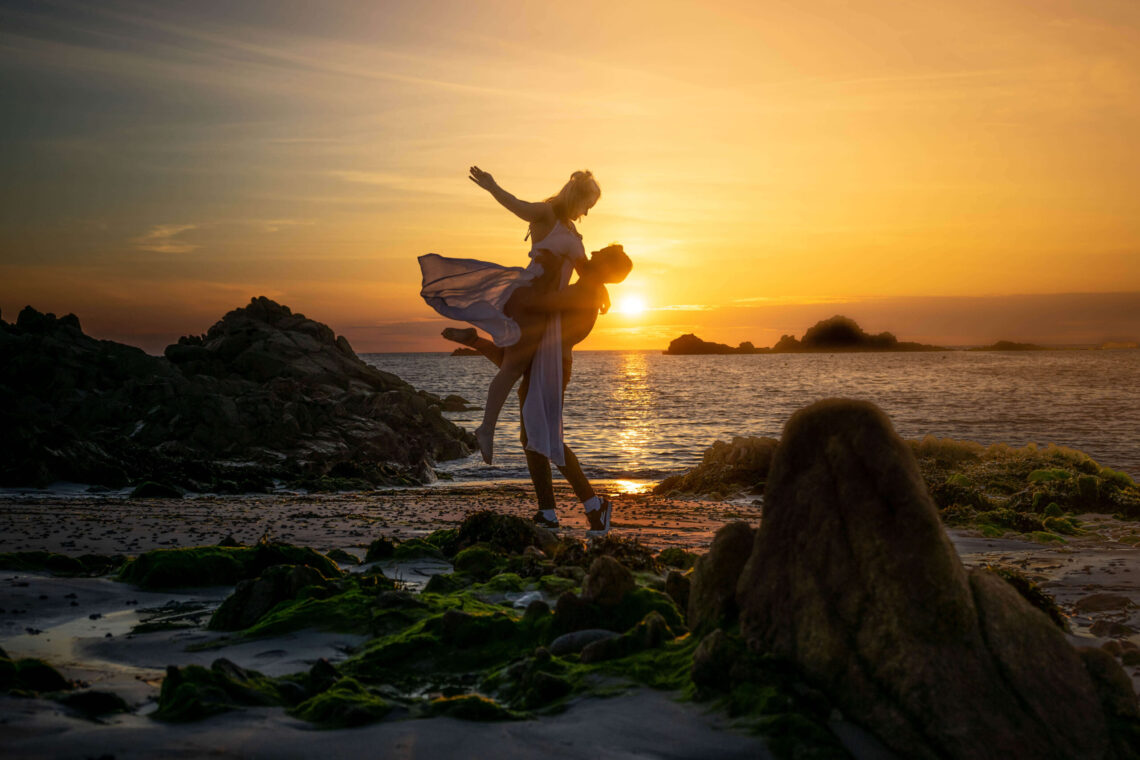 What is the Best Travel Insurance for Guernsey
Regardless of what type of trip you are heading on, one thing that is essential for everybody is good travel insurance. Accidents can happen anywhere and at anytime and unexpected hospital bills will ruin a holiday. Remove the stress from your next adventure and get covered for the worst.
World Nomads Travel Insurance provides budget reliable travel insurance that will keep you covered for any level of adventure.
You can get your quote before you leave on your trip right here.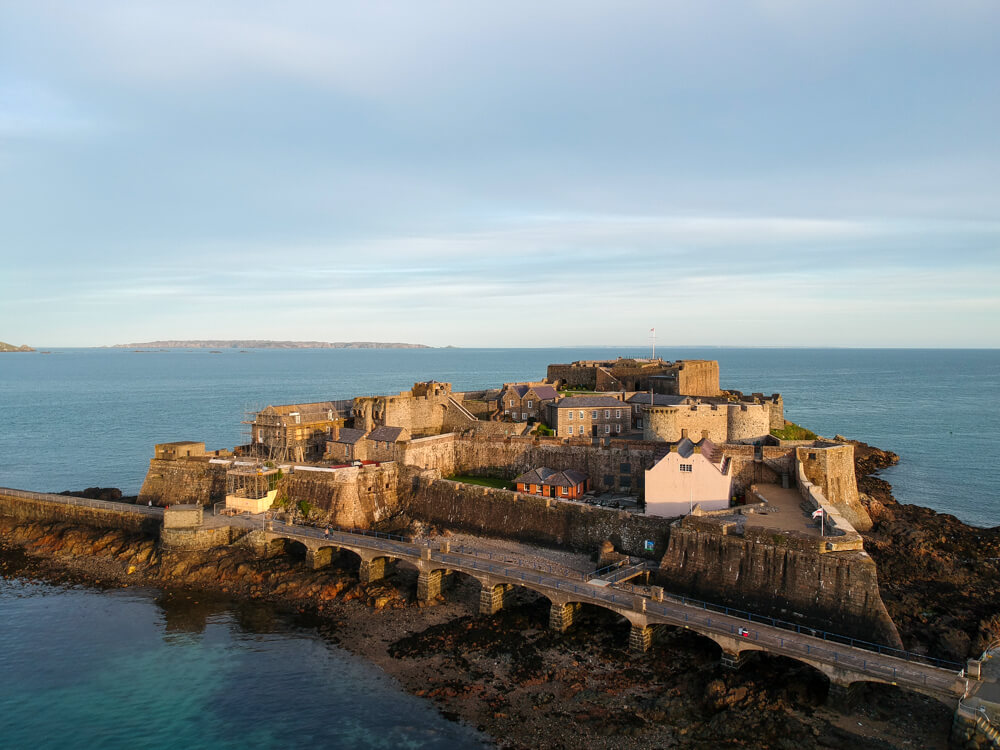 Where to Stay in Guernsey
When it comes to accommodation on Guernsey, you are simply spoiled for choice with a huge range of hotels, B&Bs and even campsites to choose from. No matter what your preferred level of luxury is, there is the perfect place for you.
Luxury – Spend your time on Guernsey in true luxury at the Old Government House Spa and Hotel in St Peter Port. This hotel has beautiful views over the harbour of Guernsey's capital, as well as access to a luxurious spa, an outdoor terrace and a heated, outdoor pool.
Book your stay at the Old Government House Spa and Hotel here.
Mid-range – If you would like a taste of luxury at an affordable price, then the Auberge du Val Hotel is perfect for you. This 19th-century farmhouse sits on the west coast of the island and offers cosy, ensuite rooms, complete with tea, coffee and tv. The hotel is just a short walk from the beautiful nature reserves in St Saviour, perfect for a romantic trip away for the weekend.
Book your stay at the Auberge du Val Hotel here.
Budget – Situated just 2-miles from Guernsey airport in the heart of St Martins, the Carlton Inn is the best value hotel in Guernsey. With free parking and wifi, as well as access to the Wicked Wolf pub that sits in the same building.
Book your stay at the Carlton Inn here.
Camping – If you are up for a more adventurous stay on Guernsey, Fauxquets Valley Campsite offer a range of glamping safari tents, glamping pods and sites for your own tent if you bring one. Visit their website for a full price list of tents and campsites.
So there you have it, all of the best restaurants in Guernsey! This island truly has a fantastic selection of eateries and bars to choose from.
If you enjoyed your trip to Guernsey, let us know what your favourite sight on this amazing island was in the comments section below. We love chatting you guys about this kind of thing, so let's share our top experiences with everyone else! What beach was your favourite? Did you try any of the kiosks? How good is a Guernsey sunset?!
Also, make sure you share this article with your family and friends to show them how beautiful the Channel Islands can be. Sharing is caring and we want to inspire as many people as we can to visit this unbelievable part of the world.
If you are planning a trip to Guernsey soon then check out our other Channel Islands content right here. Come and find us on social media to see where we are currently exploring. Tag us in your photos from Guernsey and we will share them with the rest of our community of explorers and backpackers on our social channels!
Now Read:
This article may contain affiliate links that provide us with a small income. For more information read our Affiliate page.
---
Save this to your Guernsey Pinterest board for later