Edinburgh is Scotland's capital city and one of the most well-known cities in the world. Every year tourists flock to Edinburgh whether it's to study at one of the many universities, explore the city and the surrounding areas of Scotland or visit for the famous Edinburgh Fringe Festival. With so much fascinating history, so many beautiful people and endless amounts of fun (and delicious) activities, it is no wonder visitors to the UK head to Scotland's capital.
If you are simply passing through Scotland and still want to make the most of your time in Edinburgh then do not worry! It is possible to see all of the best sights in Edinburgh in one day. This full-day itinerary takes you on a walking tour of Edinburgh's best activities, most beautiful sights and delicious places to eat. As far as one day in Edinburgh goes, this is your ultimate guide to the capital.
Get planning your ultimate Scotland Road Trip with our 10-day Scotland itinerary to all the best sights!
No time to read now? No problem, save a pin to your Pinterest board for later!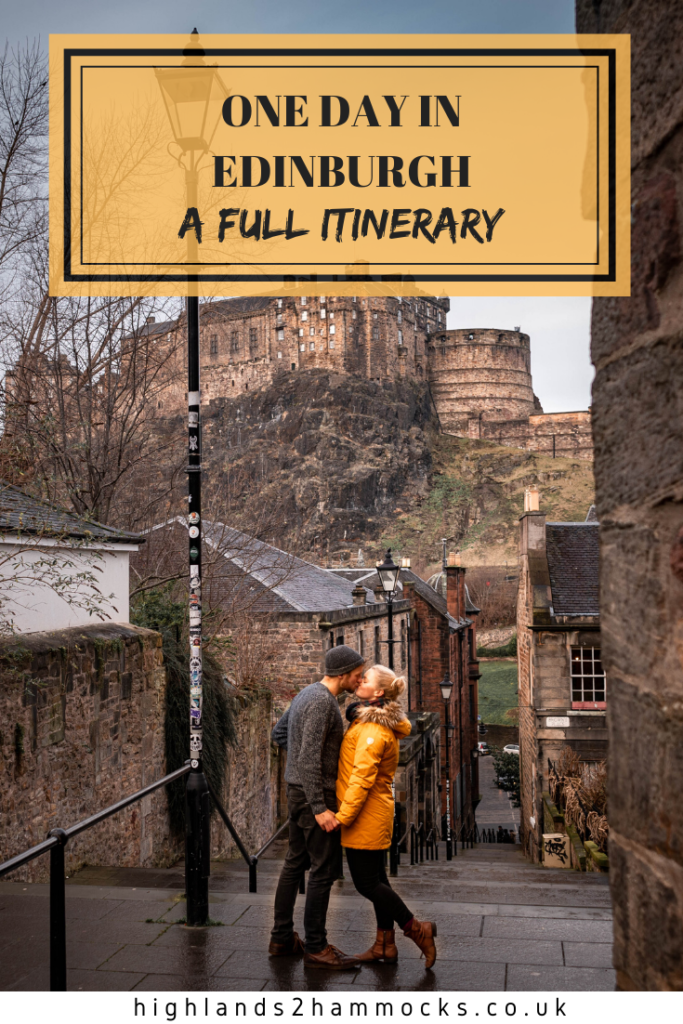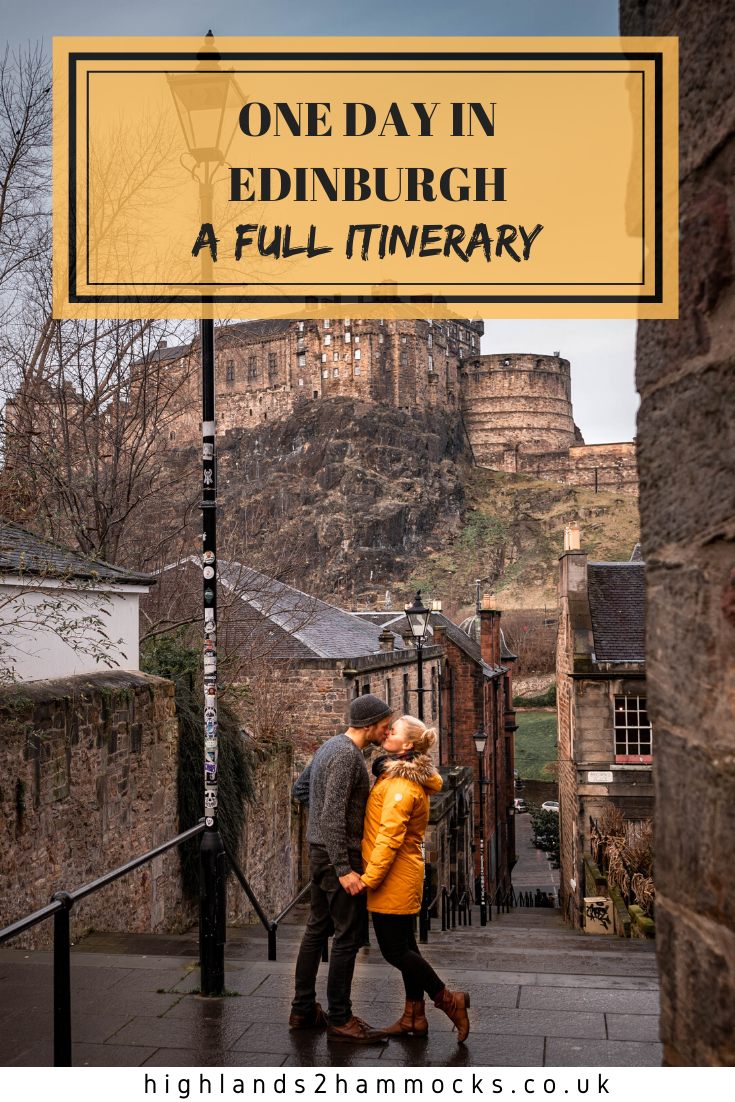 Edinburgh is one of the best and most photogenic cities you will visit. In this guide, we will discuss the best time to go to Edinburgh and go into this itinerary in more detail.
Sunrise at Arthur's Seat

Breakfast a Coro Chocolate Cafe

Walk the Famous Royal Mile

Visit Victoria Street – Scotland's Most Photographed Street

Learn the Story of Greyfriars Bobby

Princes Street Gardens for Lunch
Explore Edinburgh Castle 
Catch the Sunset at Calton Hill 
Dinner in Edinburgh

Preparing for your trip to Edinburgh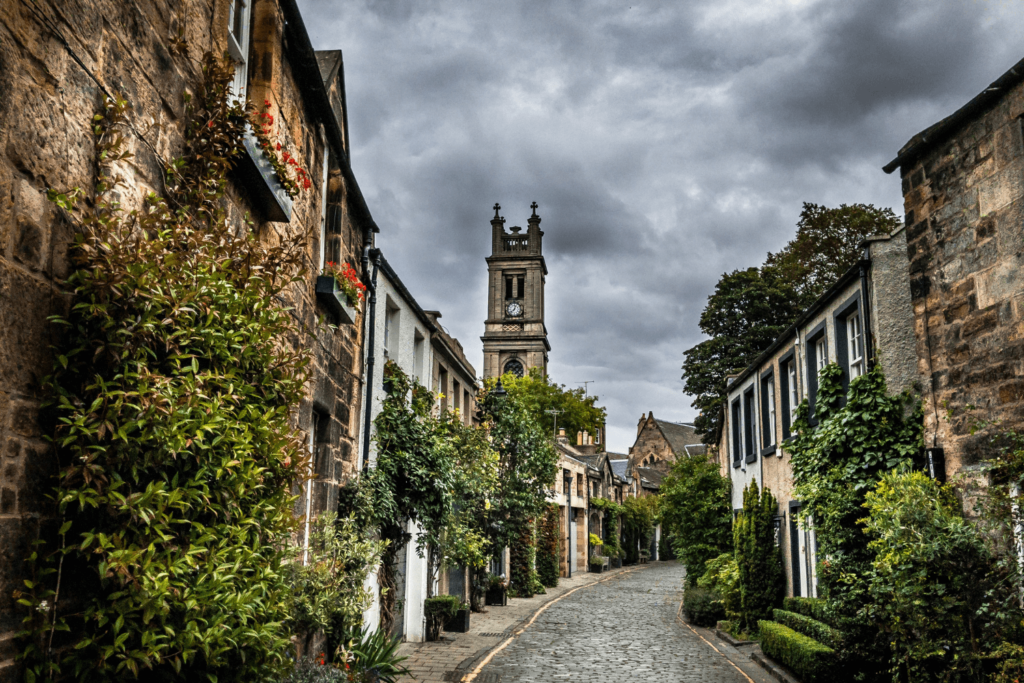 One Day Edinburgh Itinerary
Sunrise at Arthurs Seat
If you only have a day in Edinburgh, the best way to make the most of your time in the capital is to start your day off at sunrise. A short walk from the famous Royal Mile, is Holyrood Park, a hilly public park of extinct volcanos and steep pathways, a reflection of the natural rugged landscape of the rest of Scotland.
It is here that you will find a completely unique way to see the city from a different perspective, high above the surrounding city on Arthurs Seat. Arthurs Seat is an extinct volcano from 350 million years ago and is the peak in the centre of Holyrood Park. The summit sits at 251m above sea level and the walk to the summit follows well-maintained paths, taking around an hour from the bottom.
This hike will take you around 2-3 hours to get to the top and back down again, so make sure you leave in plenty of time to catch the sun rising over the city. It might even be a good idea to pack a picnic and bring it with you in order to enjoy breakfast with a view.
If you don't fancy starting the day off with a walk up Arthur's Seat then your other option is to simply wander the streets of the Royal Mile and enjoy the buzz of the city as it comes to life. If it is an especially beautiful sunrise, we suggest heading over to Princes Street and watching the sunrise over the eastern side of the city from there.
Breakfast Time at Coro Chocolate Cafe
It's breakfast time in Edinburgh now and what could be better than visiting a chocolate cafe? There are many quirky, delicious restaurants spread across the city, however, this has to be one of our favourites. Coro Chocolate Cafe serves up a variety of pancakes, waffles, and other sweet breakfast items. We can also highly recommend that you try their hot chocolate!
If you fancy something a little different, we can also recommend the following restaurants to enjoy your breakfast at:
The City Cafe on Blair St
Papii Cafe on Hanover St
Dishoom Edinburgh on St Andrews Square
Walk the Famous Royal Mile
The city of Edinburgh is a mashup of Old Town sights and New Town attractions, one of which is the famous cobbled streets that are symbolic of Edinburgh. As you explore the city centre of Edinburgh, especially on the southern side of Waverly Station, it is easy to get lost in time as you wander the narrow lanes and busy streets.
The most famous street in Edinburgh is the Royal Mile, which despite what the name of this street might suggest, this cobbled street is actually 1.12 miles long. It will take you around 20 minutes to walk from one end to the other, however, due to the number of sights and shops along the way, I would give it an hour.
The Royal Mile runs through the Old Town of Edinburgh, downhill from Edinburgh Castle to Hollyrood Palace. The name comes from the ancient tradition of Kings and Queens using it as their processional route through the city.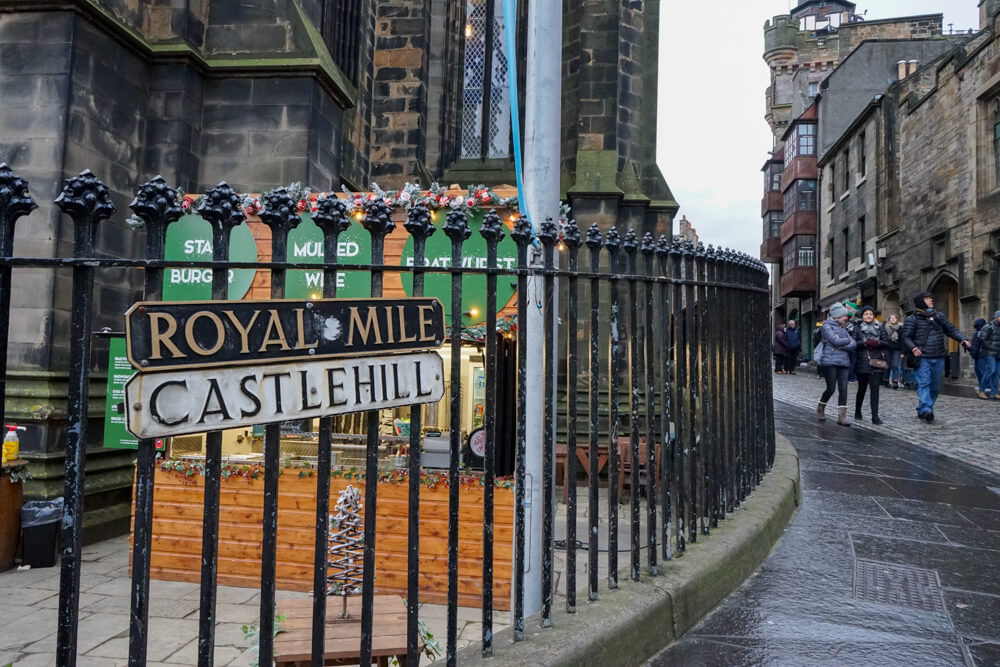 This part of Edinburgh is especially fascinating as there is much more to the old town than meets the eye. Due to the design of the old town of Edinburgh, including the famous Flodden Wall that surrounds and once protected the city. Due to the rapid expansion of the city and its population in the years after the city walls were built, architects had to get creative with where to put the new houses.
This resulted in the buildings stretching upwards rather than outwards, creating buildings that were much taller than any other city's during this period of time. Not only did the builders stretch up towards the skies, but they also constructed more dwellings beneath the buildings and city streets themselves.
Beath the Royal Mile, the beautiful tenement buildings that tower above stretch beneath the earth like the roots of an ancient tree. Deep in the earth below the streets of the Royal Mile, these buildings connect to form a labyrinth of ancient history and secret underground sights.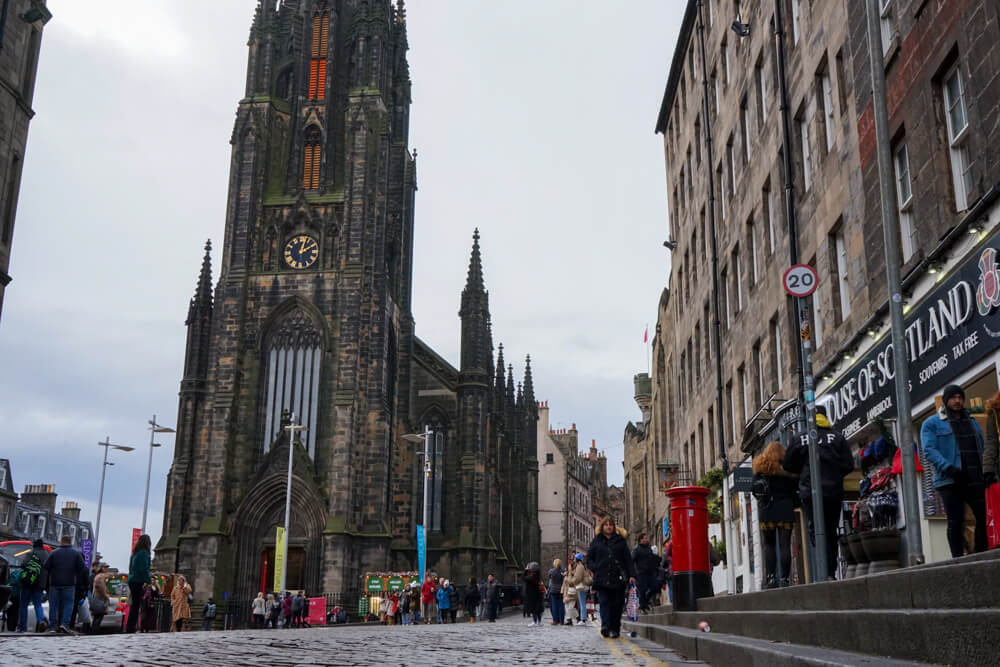 Visit Victoria Street – Scotland's Most Photographed Street
Just off of the cobbled streets of the Royal Mile lies another world-famous location that draws visitors from all over. Victoria Street is actually the most photographed street in Scotland and when you get there you will see exactly why. The colourful buildings winding around the curved cobbled road are a photographers dream and very easy on the eye.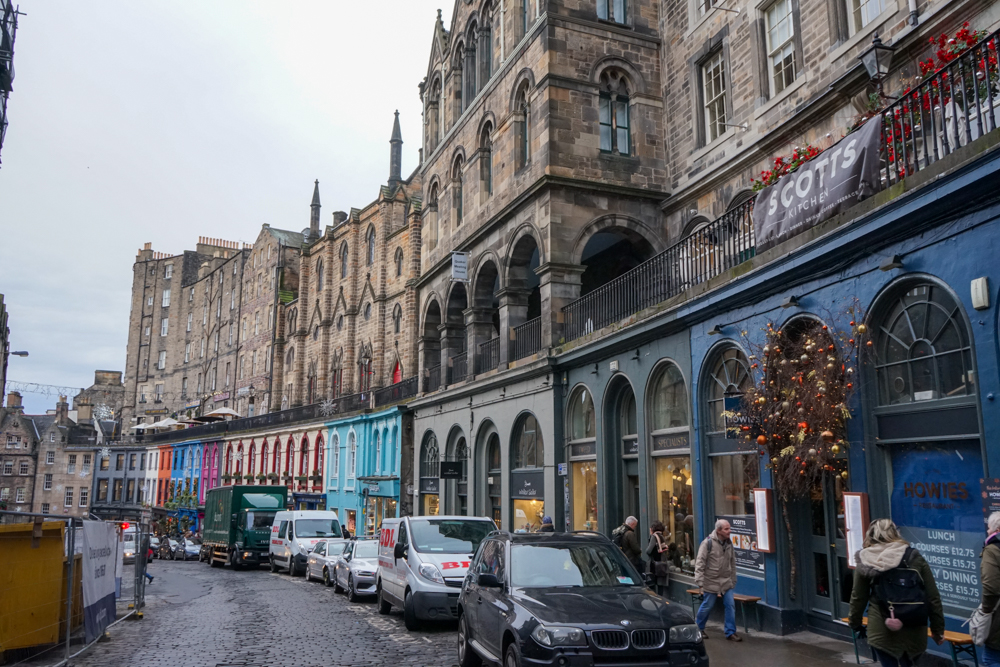 Given its popularity, you can imagine that this street is always teeming with life. Photographers, locals and general tourists all flood up and down this street all day long soaking up the sights and visiting the shops along the way. If you do wish to admire this street with no one else there, the best time is at sunrise during the summer, when the early sun reveals a world unknown to the sleeping city.
For all the Harry Potter fans out there, this is the street that it is believed JK Rowling got her inspiration for Diagon Alley. There is even a Harry Potter shop on Victoria Street, which has a full selection of Harry Potter memorabilia. It even has a full selection of novelty wands from all of the characters in the books and movies.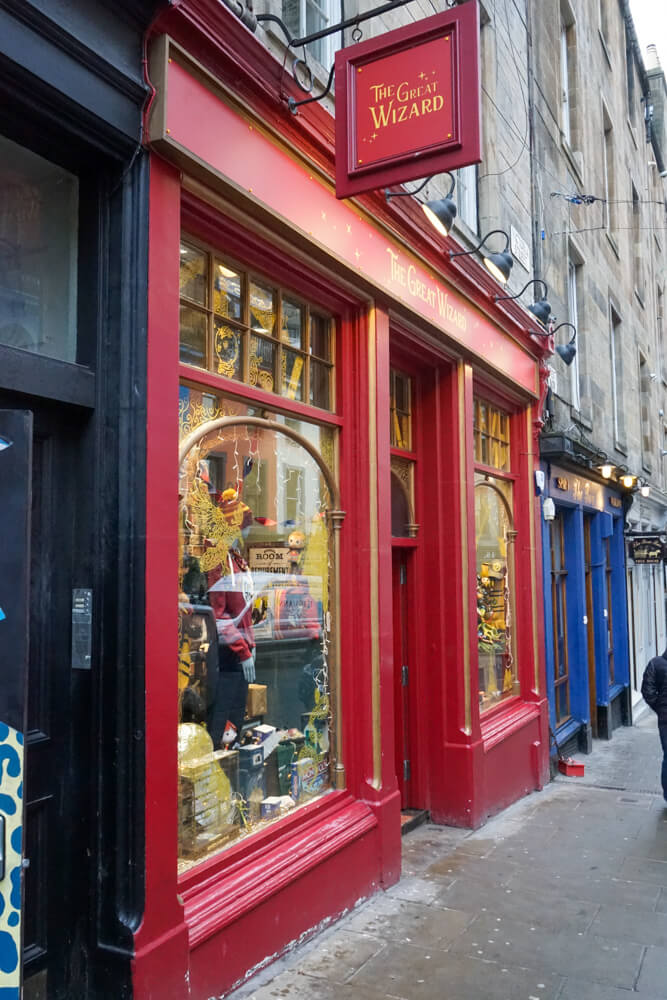 Learn the Story of Greyfriars Bobby
As you reach the top of Victoria Street, turn right and cross the George IV Bridge to find one of Edinburgh's cutest monuments, the Greyfriars Bobby statue. The story behind Greyfriars Bobby is equally as heartbreaking as it is warming, based on the compassion shown by a 19th-century dog.
Greyfriars Bobby was a Skye Terrier, whose partner was a man named John Gray, a night watchman with the Edinburgh Police. When John sadly passed away in 1858 of tuberculosis, his faithful companion is said to have spent the next 14 years guarding his grave. Greyfriars Bobby is said to have been seen on this same spot until he himself passed in 1872 at the old age of 16.
This story has been the inspiration for many dog films all around the world, and although the accuracy of the details themselves have been challenged many times, the story is still one for the ages.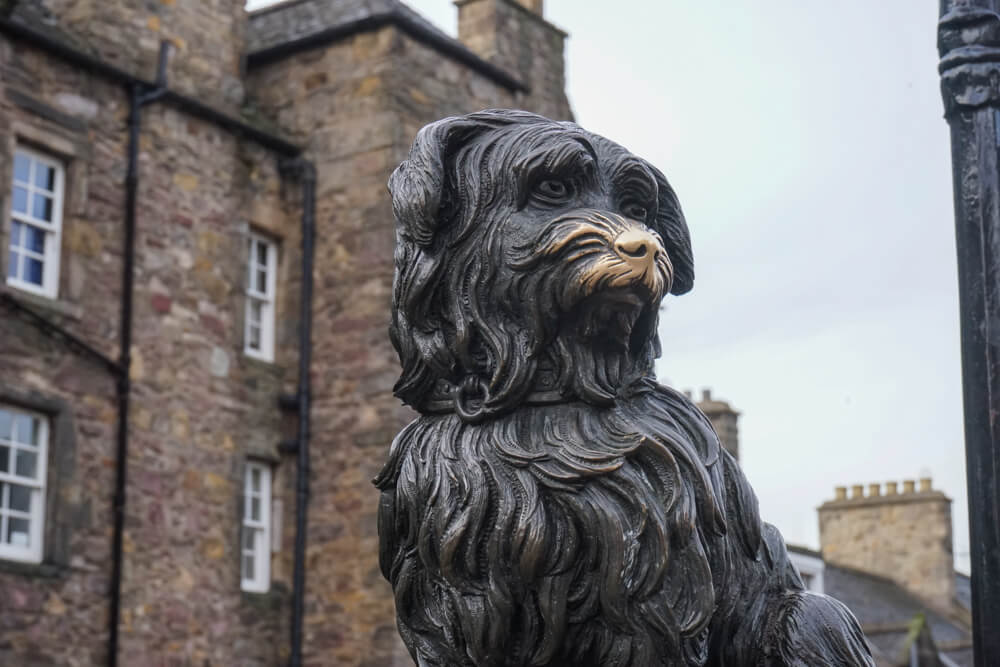 When you visit the statue you will see that the nose of the black statue shines a bright gold. This is due to the rumour that rubbing the nose of the dog will bring you luck. There has been a lot of complaints from the council about this act, as people think that it damages the statue, however, we believe as long as you take care and respect the statue, there is nothing wrong with a light tap.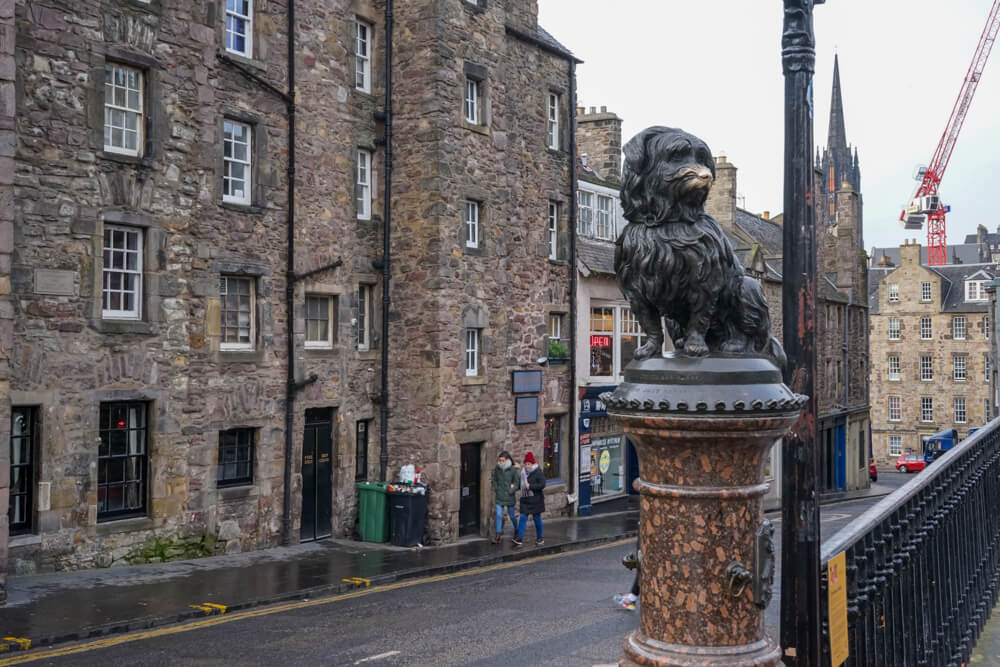 Princes Street Gardens for Lunch
Hopefully, the weather will be dry for your day in Edinburgh and you can enjoy a picnic in Princes Street Gardens. There are many cafes around this area of the city that you can grab some food and takedown to the gardens and take in the serenity of your surroundings.
There are many Scottish delicacies that are worth trying during your time in Edinburgh and these are some that we would recommend.
Scottish tablet
Edinburgh fudge
Macaroon
Irn Bru soft drink
Deep-Fried Mars Bar
If the weather isn't on your side, or you would prefer a sit-down meal instead, there are loads of delicious cafes and restaurants to choose from in the city centre. Have a hunt for some of Edinburgh's best spots for afternoon tea or check out some of our other top recommendations:
Contini Italian on George St
Cafe St Enore French Restaurant on Thistle Street
83 Hanover St for a Chilean/British Fusion
The Dome on George St
Explore Edinburgh Castle
Edinburgh Castle is an extremely picturesque castle that sits proudly on a rocky crag overlooking the city. For many, this image is considered to be the symbol of Scotland's capital city, as it dominates the skyline on arrival into Edinburgh. The castle sits upon an extinct volcano, known as Castle Rock, and has a long rich history of many exciting and astonishing facts and tales to learn if you visit.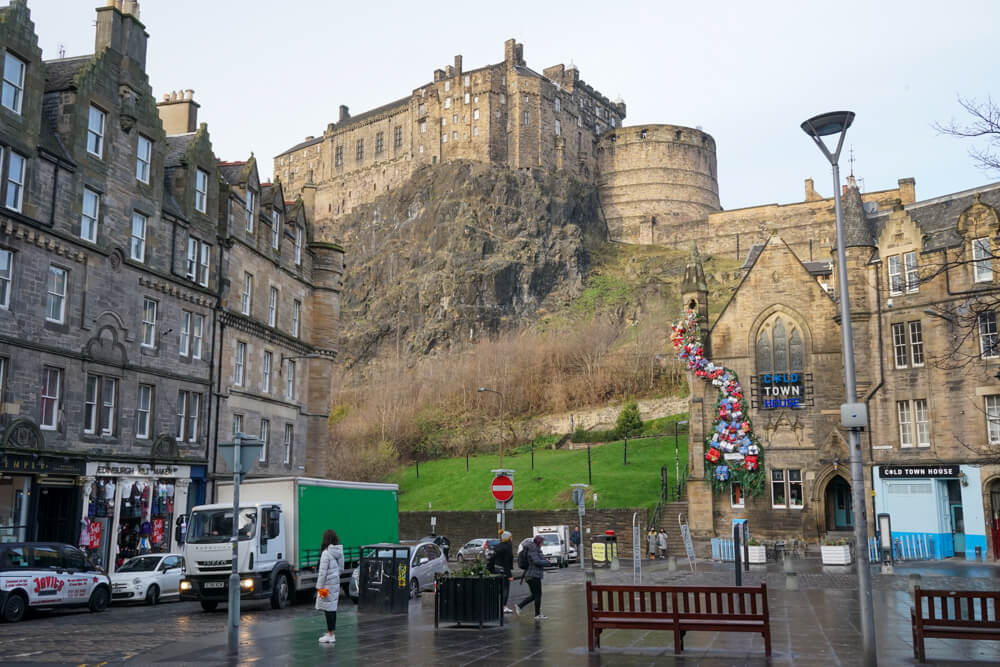 History of Edinburgh Castle
Edinburgh Castle was once used as a residence for royals, as it was home to many kings and queens for centuries. The castle has also been used as a military garrison, a prison, and a fortress. It was built at the top of this hill as it was the obvious choice for a defensive position, overlooking what once was the man-made Nor Loch.
The Nor Loch was a small loch (or lake) that was created in 1460 by King James III, who decided the previously boggy land would make a strong defensive feature. The Nor Loch was created through the use of a dam to control the stream that flowed along the side of the cliff. This body of water, coupled with the steep incline to the castle on the north side, meant that there was no need for a wall on this side of the city.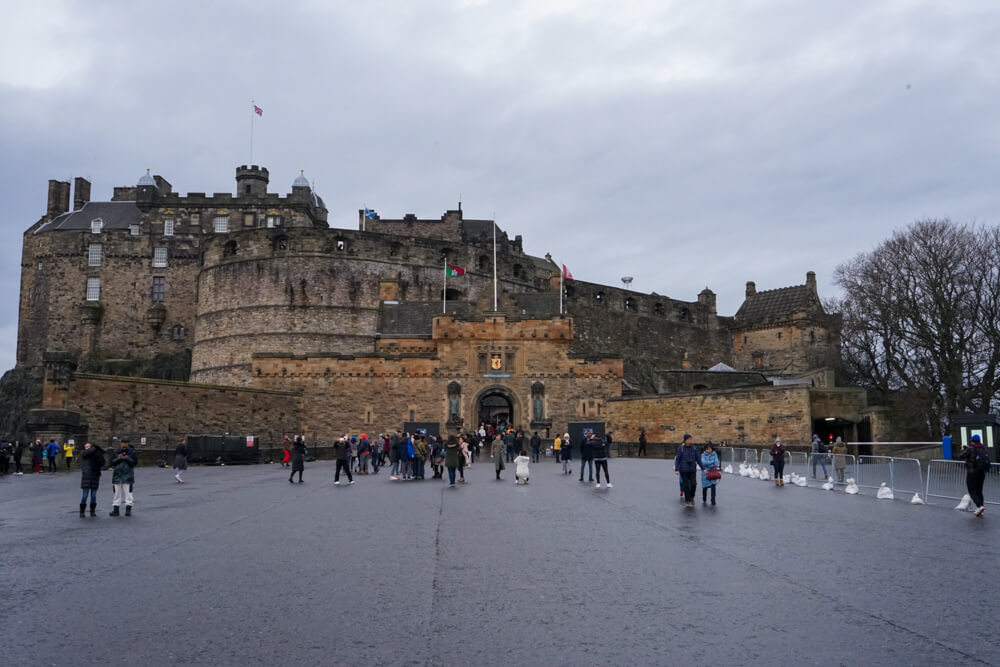 Visiting Edinburgh Castle
Today parts of the castle still remain in military use, however, it is a large visitor attraction that welcomes hundreds of visitors through the doors every single day. It is a paid exhibit, costing roughly £20, and grants you access to the castle grounds and includes a free guided tour that departs every 30-minutes.
The castle is open daily from 9.30am – 5pm, with the last entry at 4pm. If you purchase tickets online, they will be a couple of pounds cheaper than buying them at the castle. By doing this you can also avoid waiting in the queue to buy your tickets. Your ticket will display a specific entry time that you must abide by, however, once you are in the castle you are welcome to stay until closing time.
If you visit the castle at 1pm then you will see the One o'Clock Gun Fires from the castle. Edinburgh Castle is one of the most famous landmarks in Scotland and a must-visit on your trip to Edinburgh.
Check out the official website for full information on the tours available.
Catch the Sunset at Calton Hill
With the day coming to an end and a whole city yet to see, the best way to end a day in Edinburgh is with a sunset view from Calton Hill. Located on the east side of Princes Street, this Unesco World Heritage Site is one of the most photographed spots in Edinburgh with panoramic views out over the city and over the sea.
Some of Edinburgh's most iconic sights can be viewed from the top of Calton Hill and at sunset, the golden glow over the city is a sight not to be missed. It is an easy walk from the city centre of Edinburgh and a 15-minute walk from Edinburgh Castle. It is also easily accessible via the stairs on Regent road, with a well-maintained path leading up to the viewpoint. The walk from here will only take around 5 minutes.
Read our full guide to Calton Hill for all the information you need to know.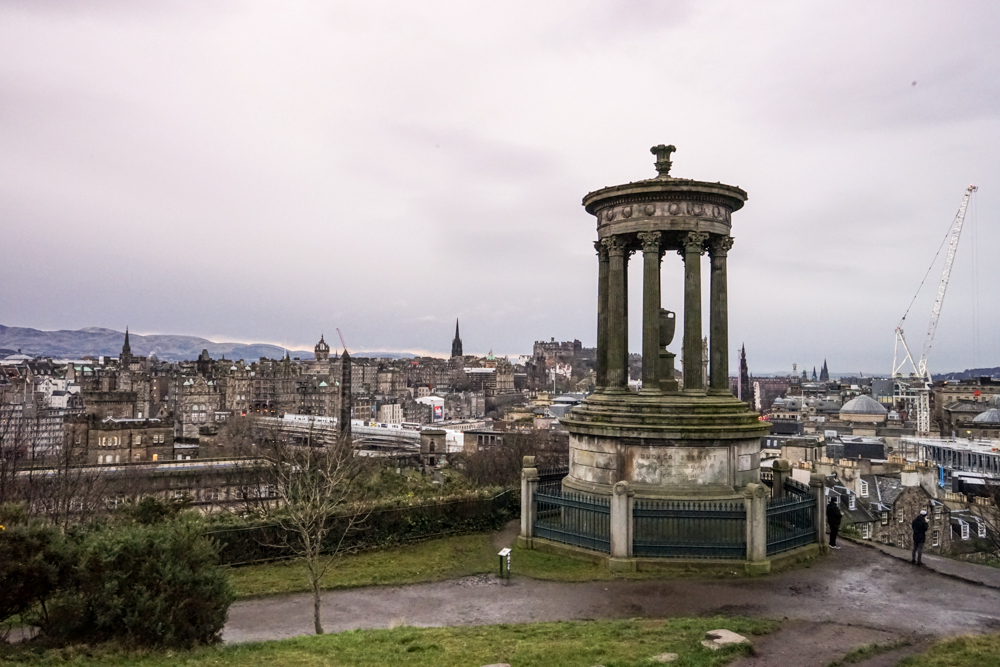 As well as being well known for photography, Calton Hill is also famous for the historic monuments on top of the hill. One of the largest monuments is the National Monument which was built with the intention to commemorate the Scottish servicemen who died in the Napoleonic wars. Unfortunately, the monument was never completed leaving only the twelve pillars that stand there today.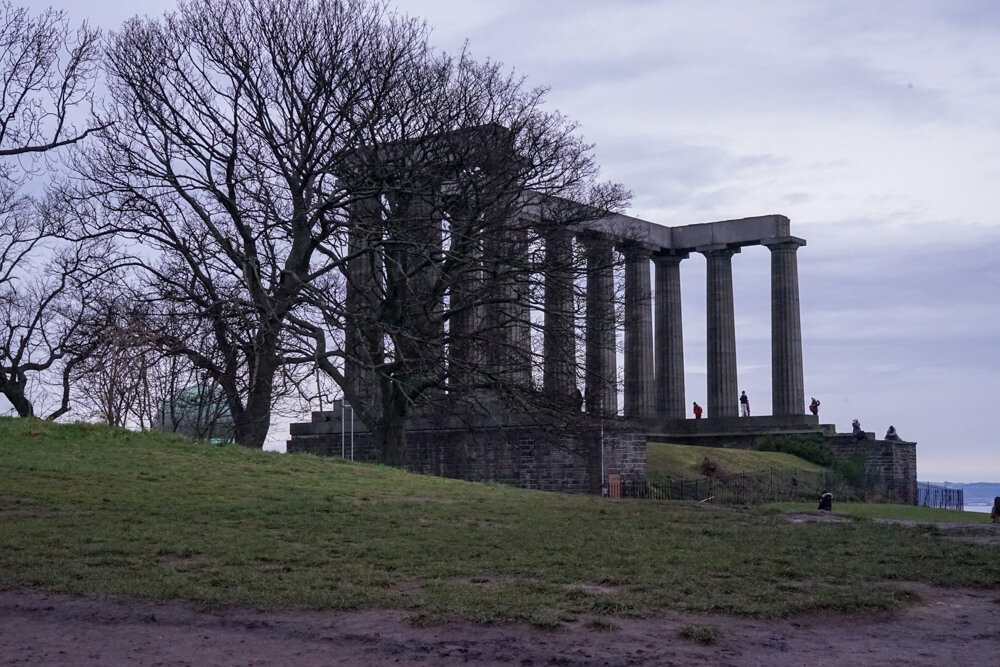 Dinner in Edinburgh
To finish off the day properly in Scotland's capital city, only the best food and drink spots will suffice. Luckily, you are absolutely spoilt for choice when it comes to restaurants, bars, and nightclubs in Edinburgh. Thanks to the city's heavy student and young professional influence, more and more quirky, niche bars and restaurants are opening every year, all taking you on an epic Scottish culture trip.
The Ivy
Dishoom
The Witchery European Restaurant
Castle Terrace Michelin Star Restaurant
Mother India Cafe Tapas Bar
If you simply do not want your day in Edinburgh to end then a good disco is definitely on the cards. Dance the night away at one of the many nightclubs spread throughout the city, the best of which are listed below.
The Three Sisters Irish Bar
Why Not Nightclub
The Hive Nightclub
Total Cost of One Day in Edinburgh
If you know us at all you will be aware of how we like to explore the best that a city has to offer on as low a budget as possible. Luckily, the city of Edinburgh is full of sights and activities that cost little to nothing, as a lot of them are simply admiring the views around the city centre itself.
There will be some costs throughout the day, such as entrance fees, food and drinks, and accommodation, so we will tally this up for you to give you a rough idea of the costs. This budget will be based on food and accommodation costs, so if you like to travel budget you can subtract about 50% from this, and if you prefer luxury add an extra 50% on top.
Due to the wide range of transport costs for arriving in Edinburgh, we have left this cost out to simplify the budget.
Accommodation for Two Nights – £180 for one room (suitable for 2 people) at the Haymarket Hub Hotel
Activities – £20pp Castle Entry
Food and Drink – Breakfast £10pp / Lunch £10pp / Dinner £20pp / Night Out Drinks £20pp
The total budget for one day in Edinburgh including two nights accommodation will, therefore, be £340 for two people sharing a room. As I said, if you wish to stay budget and eat at cheaper restaurants, this budget can be reduced by as much as 50%.
How to Prepare for your Trip to Edinburgh
Before you set off on your way to Edinburgh, there are a number of things you will need to get organised to ensure a smooth and enjoyable journey. These include what to pack, where to stay and what is the best insurance for your trip to Scotland. All of this is discussed in detail below.
How to Get to Edinburgh
When you arrive in Edinburgh, you will most likely arrive at one of the two main train stations, the bus station or the airport. If you are wanting to explore the city centre sights, such as the Royal Mile, Edinburgh Castle, and the Princes Street shops, then Waverley is the best train station for you. The Edinburgh Bus station also sits just behind Princes St, so it is perfect for arriving into the city.
Haymarket Station sits slightly further from the city centre, and the airport itself even further out of the city, however, there is a very simple and reliable tram system that runs around the city. You can catch a tram from Edinburgh Airport directly into the city centre, passing through Haymarket, in just 35-minutes.
For this itinerary, any of these options will be fine for getting you into the city centre, however, most of the sights are based around the castle so Edinburgh Waverly or the bus station are the closest stations.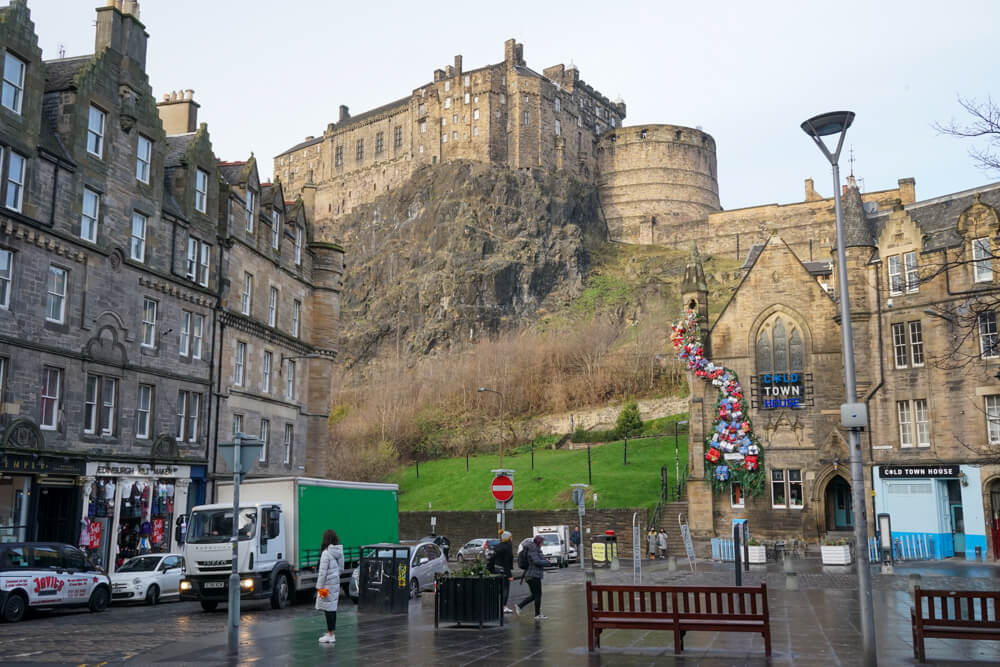 Where to Stay in Edinburgh
There is a wide range of accommodations available in Edinburgh, so you will not be short on options. Here are our top suggestions for the best places to stay in Edinburgh for any budget.
Luxury – Sitting less than 500m from one of Edinburgh's main stations, Edinburgh Haymarket, the Leonardo Royal hotel is a fantastic choice if you would like a bit of luxury. The spacious and comfortable rooms at this city-centre hotel are complete with a large TV, tea and coffee facilities and work away.
Book your stay at the Leonardo Royal Haymarket here.
Mid-Range – For a more reasonably priced stay in the city of Edinburgh, without crimping on comfort, the Haymarket Hub Hotel is the best choice for you. This comfortable and central hotel is just a 15-minute walk from sights such as the Edinburgh Castle and the Royal Mile.
Book your stay at the Haymarket Hub Hotel here.
Budget – For those wishing to make the most of their time out in Edinburgh and don't plan on staying long inside the accommodation itself, the High Street Hostel is your best choice. The building that hosts this hostel dates back to 1564 and sits right on a high street just off the Royal Mile.
Book your stay at the High Street Hostel here.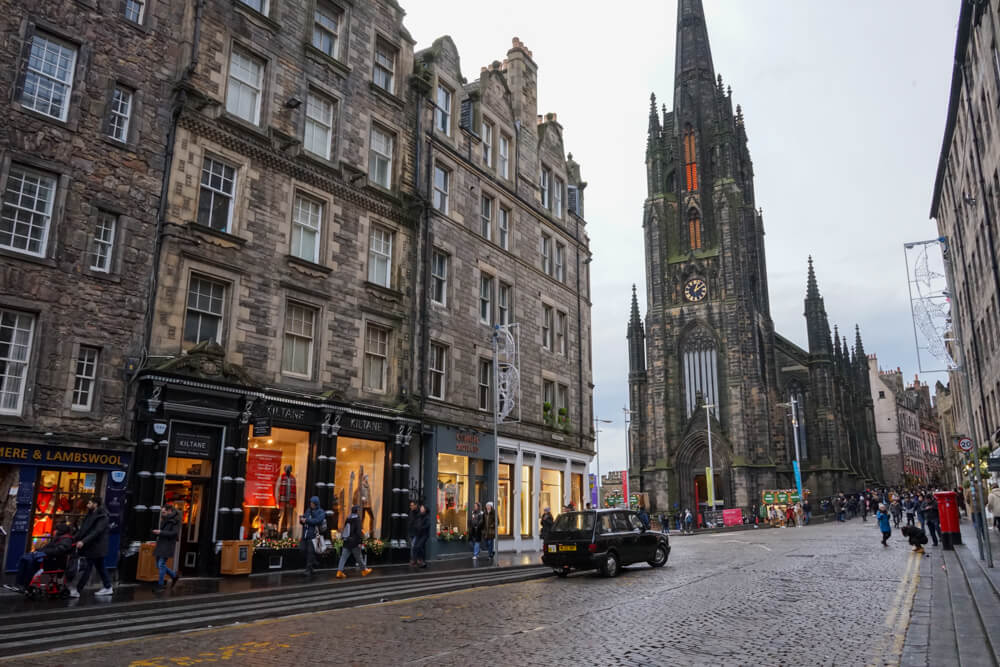 What to Pack for Your Trip to Edinburgh
When it comes to packing for a trip to Scotland there is one item of clothing that you are going to need all year round: a waterproof. It rains in Scotland on average 250 days a year, meaning that during your trip to the Isle of Skye, you can expect rain at some point. Due to this, the number one item on your packing list is a good waterproof jacket.
Second to that, another item to not leave home without is a good pair of warm and, if possible, waterproof boots. A lot of the best sights on Skye require a bit of walking to reach them and the conditions underfoot can become very muddy. You do not want to ruin a good pair of white trainers so pack some sturdy boots.
You will definitely need a hat and gloves during the winter months as the wind chill can be bitter.
For our full list of items that we pack no matter where we go in the world, check out our full packing guides over here.
Given the beautiful sights and scenery that you are no doubt going to see around the Isle of Skye, we highly recommend packing a good camera for your trip. If you want to read more about the cameras we use and why we love them, check out the link below.
You can read what else we keep in our camera bag over here.
What is the Best Travel Insurance for Scotland
I know travel insurance is the least enjoyable thing to purchase and look at when you're planning a trip, however, you wouldn't want to be without it in the event that something happened. Accidents can happen anywhere and the extortionate medical bills will ruin your trip if you are not covered.
To ensure you have a stress-free trip with no worries about potential medical bills, make sure you cover yourself when you travel. We can recommend using World Nomads, a backpacker-friendly and cheap insurance company that provides good coverage and support.
Get a quote for your travel insurance right here and get covered.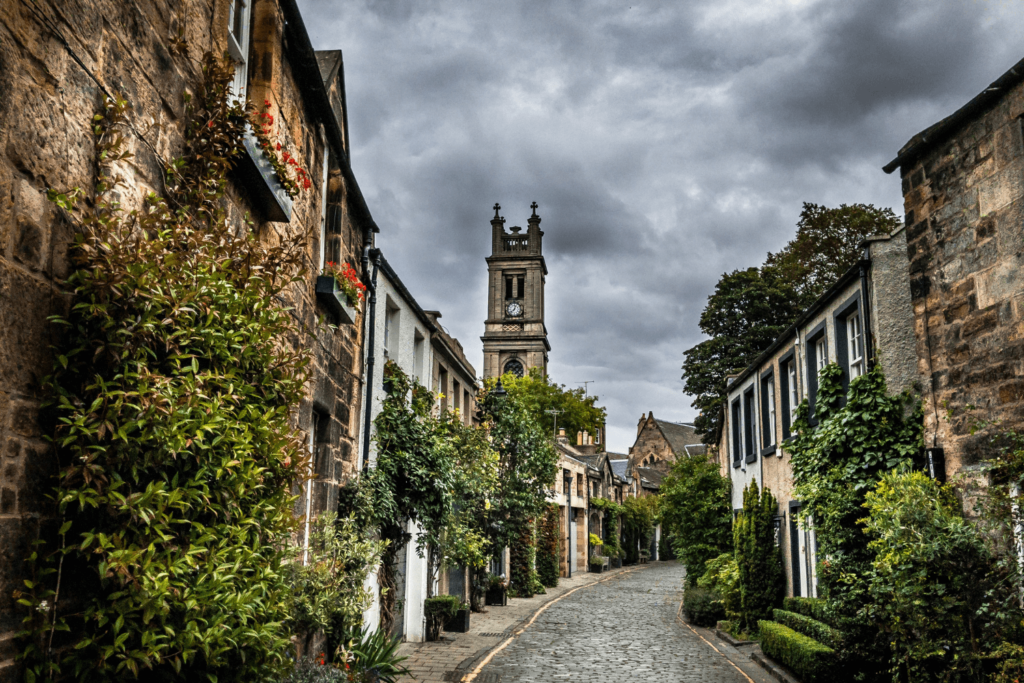 So there you have it, your one day itinerary to Edinburgh. If you are visiting this incredible city and have any other questions on what to expect, leave us a comment down below. We love to chat about this stuff! If you have already been, let us know how it was! Did you get visit the castle? Did you manage the trip without getting caught in the rain? Let us know in the comments below!
Also, remember to share this with your friends and family that you are going to share this amazing experience with. Sharing is caring and we want to ensure that everyone is fully prepared to maximise their experience completing this stunning walk.
If you are planning a Scotland trip soon then check out our other Scotland content right here. Come and find us on social media to see where we are currently exploring. Tag us in your photos from your stay and we will share them with the rest of our community of explorers and backpackers.
Read Now:
This article may contain affiliate links that provide us with a small income. For more information read our Affiliate page.
---
Pin it for later!