Stretching along the rugged and beautiful southern coast of the island of Guernsey are a series of hidden gems, consisting of sand, stones, and a lot of soul-searching. These hidden beaches in Guernsey are one of our favourite parts of the island; isolated and completely alone, you can really relax on these beautifully secret coves.
If you are planning a trip to the small island of Guernsey, whether it be for a weekend or a week-long trip, these hidden beaches are all a must-see location during your stay. Although some of the listed beaches are slightly more difficult to reach than others, all of them can be easily be found thanks to this useful guide.
Don't miss out on some of the Channel Island's most beautiful spots during your next visit and discover all of the best-hidden beaches in Guernsey.
Plan your weekend break to Guernsey with this detailed two-day itinerary
Save this picture to your Guernsey Pinterest board for later!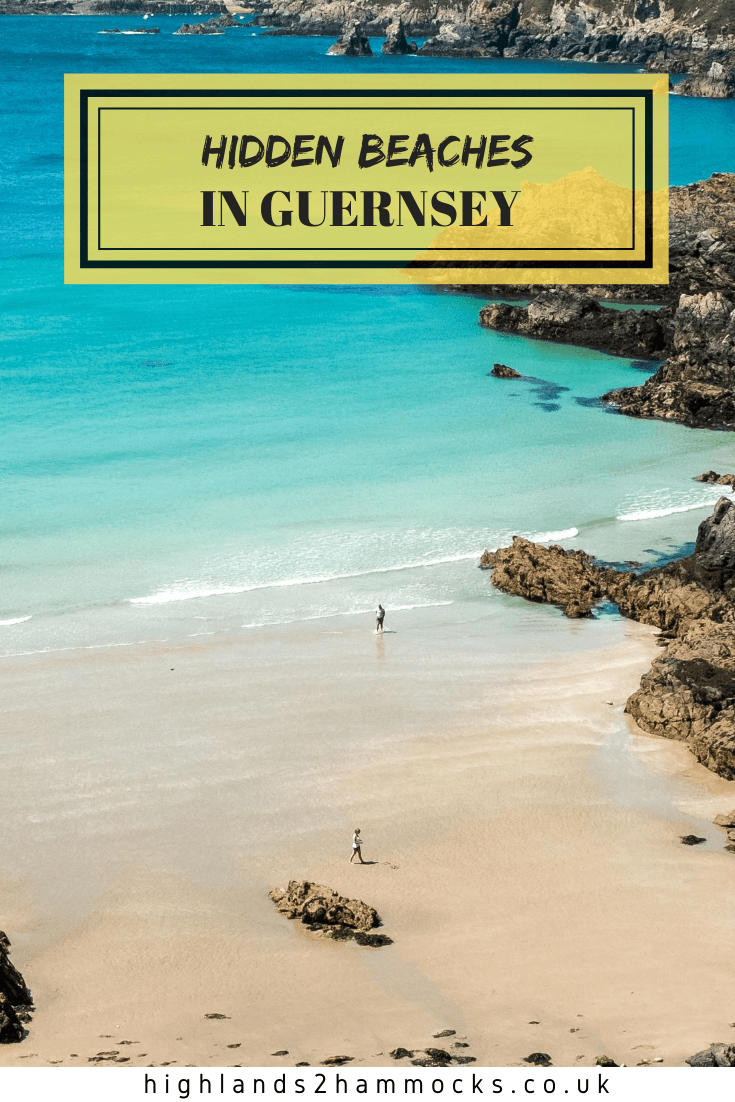 Come along on our cliffside tour of Guernsey in this video. Make sure you subscribe to our Youtube channel for more by clicking here!
The BEST Hidden Beaches in Guernsey –
Everything You Need to Know
What Are Guernsey's Hidden Beaches?
The southern coast of Guernsey mainly consists of rugged and towering cliffs, stretching all the way from the southeastern corner to the southwestern tip. There is a walking trail that leads all the way along the entire coast of these cliffs, beginning in the town of St Peter Port and ending at the sight known as the Fairy Ring.
Dotted along the coast, sitting in hidden alcoves and calm bays, are a number of beautiful and peaceful beaches. These beaches and bays have been used for thousands of years as a place to land from the sea, so much so that the entire coast is heavily fortified to prevent invasion.
It is along this southern coast that you will find some of Guernsey's most beautiful beaches, based on how remote and peaceful they are compared to the more popular beaches to the north.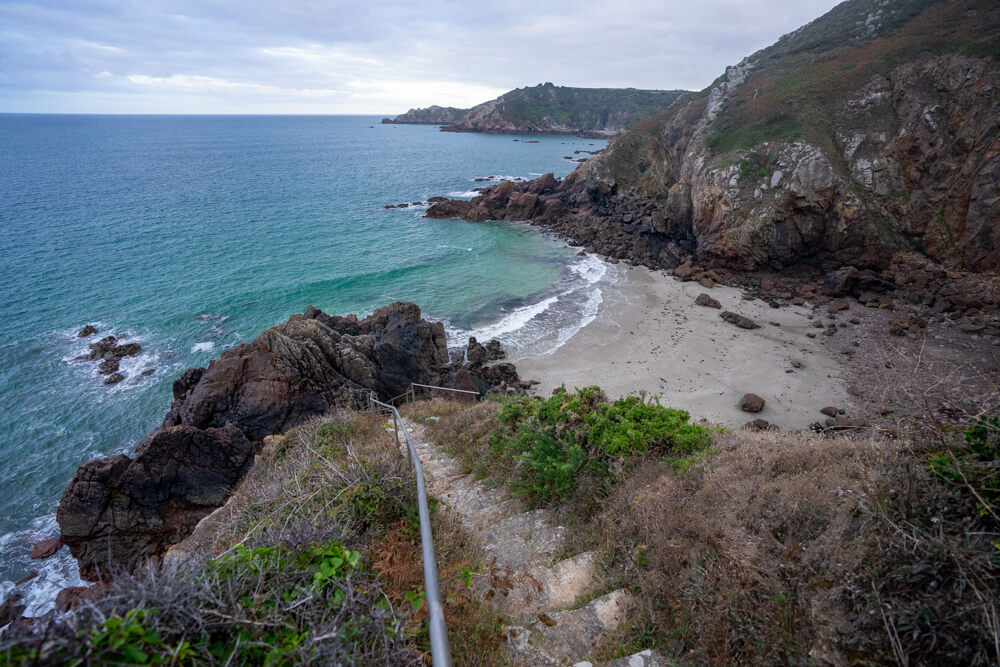 How to Get to the Hidden Beaches on Guernsey?
The best thing about the hidden beaches in Guernsey along the southern coast is just how accessible they are no matter what your level of mobility may be. Some beaches are more inaccessible, requiring a 15-20 hike and a clamber up and downstairs, however, there are a lot of beaches in Guernsey where you can park right by the sea and access the beach via a ramp.
Obviously, every single beach is going to have its own tale of how to get there, but this guide will give a brief outline of where you need to park, how far you have to walk, and what you should look out for. This will all be discussed in the individual sections below.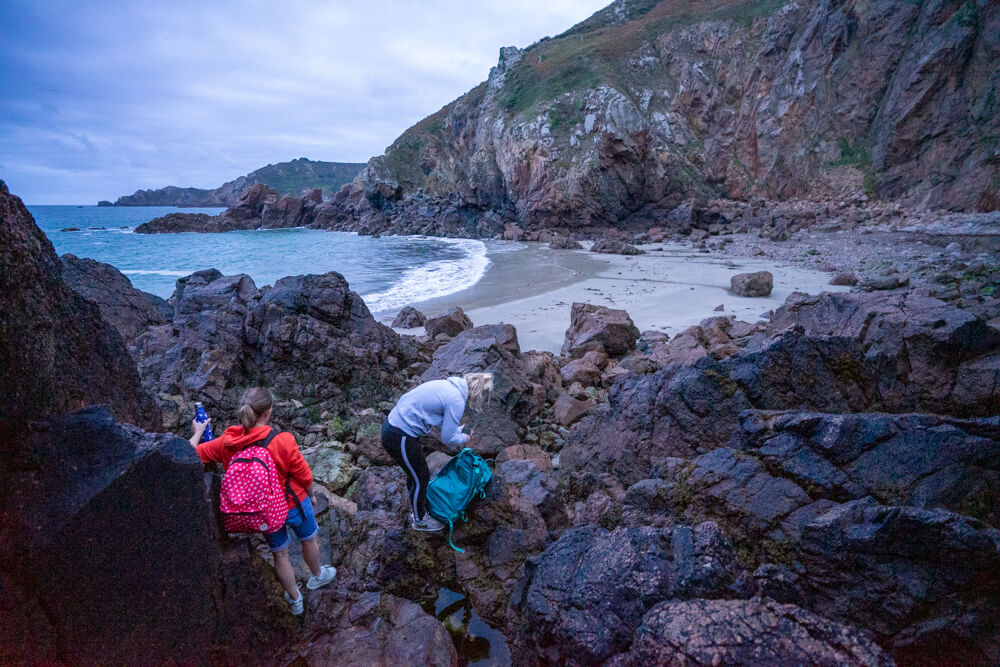 When is the Best Time to Visit the Hidden Beaches?
For us, the answer to this is always SUNRISE. We are avid sunrise chasers and get serious FOMO (fear of missing out) when we wake up to a stunning, orange sky and we are still lying in bed. We would highly suggest that you try to make it to at least one of these beaches for sunrise, as the view of the crashing waves, the morning mist, and the golden light of sunrise is one you will never forget.
If you are not quite up for rising to the occasion, then we would instead suggest later in the day for sunset. This way you will avoid whatever small crowds there might be at these beaches, and it also means you will be able to use the car park that sits beside some of the beaches.
These are mainly used for staff parking and deliveries at the cafes, however, if you arrive before they open or after they close it shouldn't be a problem.
It also needs to be noted that there are a few beaches mentioned below which are completely inaccessible at high tide, and so close attention must be paid to the tide times when visiting. In general, most of the beaches on the southern coast are covered by the sea at high tide, only revealing their beautiful golden sands as the water retreats at low tide.
Make sure you check out the tide times before visiting these beaches to avoid disappointment.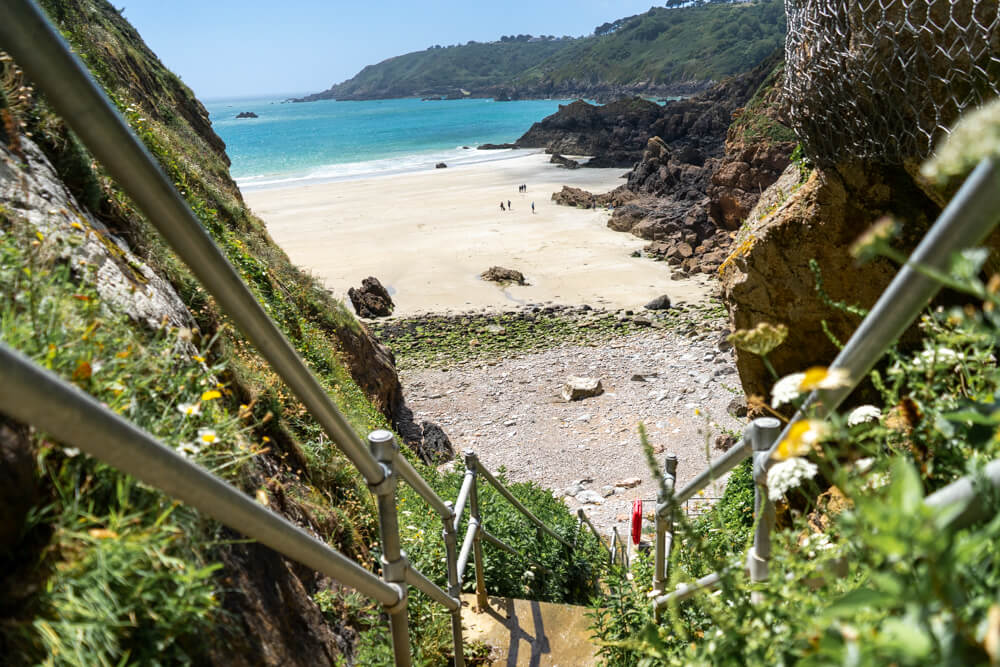 What Should I Wear to the Hidden Beaches in Guernsey?
The overall attire that will be required on the beaches depends on the season during which you visit Guernsey's beaches. Obviously, colder months require warmer clothes and warmer months require less. We will discuss what you need to pack for your Guernsey trip later on in the article in much more depth, so read on for those tips.
However, in order to make your trip to and from the beaches in Guernsey a LOT more comfortable, there are certain items of clothing that we highly recommend.
First of all, you are going to need a good pair of shoes to handle all of the climbing and walking you will be doing. Some of the beaches require you to climb up and down ladders, as well as clamber over rocks to reach the sea, so flip flops and sandals are NOT suitable.
We also recommend investing in some good Water Shoes that you can wear in and out of the water in Guernsey. This will make the stony beaches a lot less painful and will also protect you from Weaver Fish and other stinging creatures.
Lastly, you are going to need a traditional Guernsey Towel Wrap for after your swim in the sea. After freshening up in the beautifully clear water of Guernsey's beaches, cuddling up in a huge towel robe is the only way to go. Below is an example of the towel robes that we use on a daily basis.
Buy your towel robe right here
Guernsey's Hidden Beaches
The coastline of Guernsey is chocked full of unbelievably beautiful beach spots and other hidden treasures, so many in fact that you would struggle to visit them all in your lifetime. This is an incomplete list of all of these hidden beaches, however, it does contain those which are most recommended by locals.
We aim to constantly add to this list when we discover more and more of Guernsey's secrets so make sure you regularly check it out. If you have any suggestions of other hidden gems we should check out, either drop a comment below this article or message us on Instagram or Facebook.
Petit Port Beach
Our first hidden beach in Guernsey lies right on the southeastern tip of the island and is known as Petit Port. This beach is accessed by a steep staircase that winds its way down the side of the cliffs to the beach below.
The walking trail begins just down the road from the Jerbourg Kiosk car park, nearby the Doyle Column. The best place to park is either at the column itself or if there are no spaces, at the small car park that sits across from this. If you really struggle to get parked, continue on the Jerbourg Hotel and park beside the kiosk. It is only a 5-minute walk back to the column from here.
Walking towards the sea from the column, you will pass a small toilet block on your right and eventually meet a fork in the road. To the left, the tarmac road continues on, but to the right, a small, dirt path opens up. Take this right and begin a slow descent through the bushes.
Soon you will reach another path and will continue to the left towards the sea. Keep following the path downhill until you see the Petit Port Beach below and notice the beginning of the staircase. From here, it will be another 5-minute descent to the bottom of the stairs.
The best feature of Petit Port is the unique cave that can be found in the rock face to the side of the beach. If you visit here at low tide, it is possible to climb up on the rocks to enter the small cave and appreciate the beautiful beach from a whole new perspective.
There are no facilities at the bottom of Petit Port, with the only toilets in the area being those beside the Doyle Column or at the Jerbourb Kiosk. The staircase down to the beach and the rocks at the front of the beach are very slippery and require appropriate footwear to ensure safe access. Don't do what we did and wear flip flops or you might injure yourself.
Fermain Bay
This is probably one of the most popular hidden beaches in Guernsey, mainly because of its easy access and onsite cafe. The Fermain Beach is not as affected by the tide as some of the other beaches in Guernsey, meaning it is accessible all day long. At high tide, the water is almost directly beneath the wall and at low tide, it can be reached by a short walk along the sandy shore.
Reaching Fermain Bay can be quite difficult during the peak hours, however, due to the lack of parking at the bottom of the hill. Officially, there is no parking allowed at Fermain Bay at any time of day, with multiple warning signs stating this on the way down the hill.
This means that the only way to access Fermain Bay is either by parking at one of the bars at the top of the hill, such as Buho or the Fermain Tavern, and then walking down the hill, or by making your way along the coast from Jerbourg to the south or from Fort George to the north.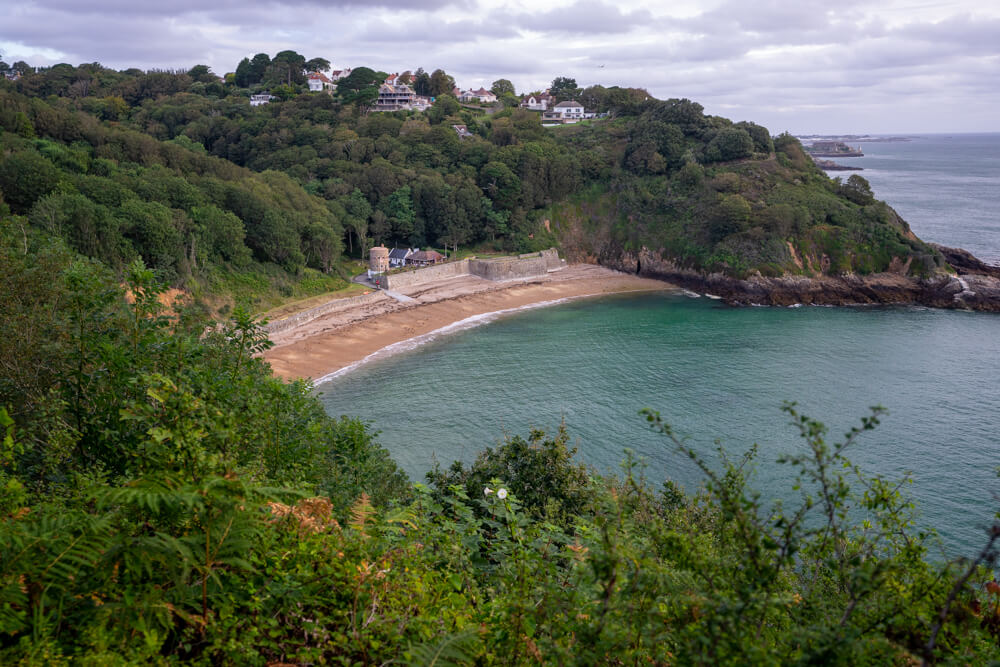 At Fermain Bay, you will find a small cafe that serves cold drinks and delicious food from 10am till 6pm, 7 days a week from April to September, and then weekends only the rest of the year. There is also a toilet block and a water fountain at the bottom of the hill, which are both free to use.
There are a lot of picnic benches and open space for a blanket on the grass or the beach if you fancy bringing your own packed lunch to Fermain Bay, so it is an excellent place to bring children.
We visited this bay multiple times throughout summer for a sunrise swim and never had an issue with parking at the bottom of the hill, so long as we were away by 7am. If you fancy a morning dip, just ignore the signs and bring your vehicle down to the bottom of the hill.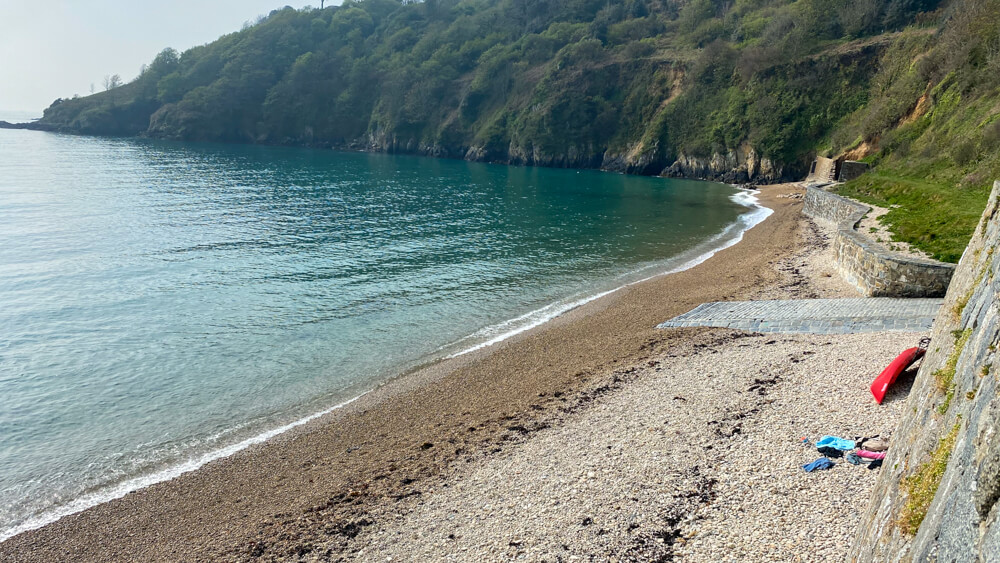 Le Jaonnet Bay
Possibly one of our favourite hidden beaches in Guernsey, Le Jaonnet Bay is definitely the most dramatic and difficult bays to access along the southern coast. Only accessible at low tide, this bay is completely hidden by the sea when the tide comes in. This, of course, means timing is everything when it comes to visiting Le Jaonnet Bay.
In order to reach the bay, the easiest way to get here is to park at the car park near to Saints Bay Hotel. Driving along Icart Road, once you reach the hotel you need to keep right and follow the road till you reach the car park at the end. From here it is a right along the cliffs, keeping the sea on your left, and a 10-15 minute walk along the winding path.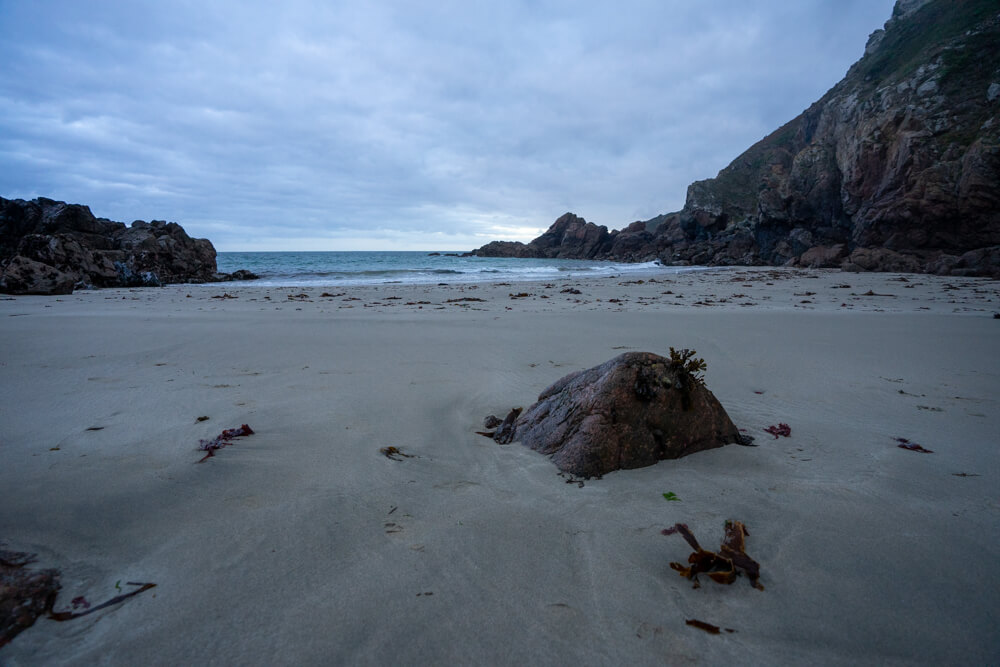 The path leading to Le Jaonnet Bay separates from the general cliff path at a small wooden bridge, where you make a right turn towards the bay and continue down the hill. The path gradually turns to stairs, which slowly increase in steepness until you are pretty much descending vertically down the cliff to the bay below.
At the bottom of the stone steps, you will reach a metal ladder, which is bolted into the cliffside and sits about 4-metres in length. This sturdy access point is the only way to get down onto Le Jaonnet Bay, and once you are on the ground it is a bit of a clamber over rocks to access the soft sand of the beach.
On this note, it is important to wear appropriate footwear when walking to Le Jaonnet Bay as it is incredibly difficult to do so in flip flops or sandals.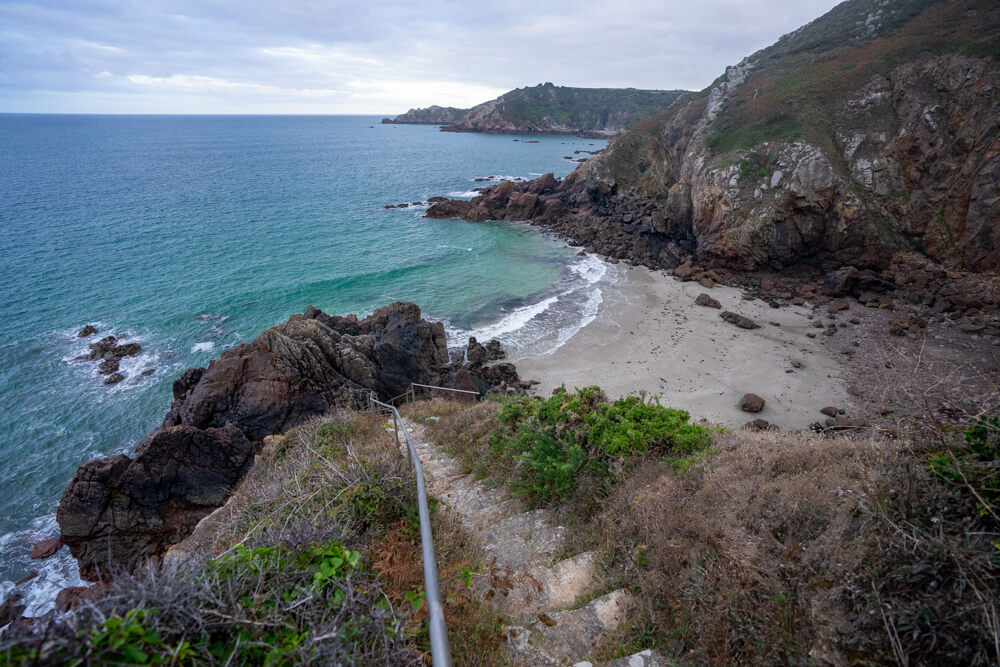 Saints Bay
Similarly to Fermain Bay, Saints Bay is a beach that is easy enough to access at the quieter times of the day. Saints Bay is also accessible at both high and low tides, meaning you are able to enjoy the beauty of the bay throughout the day.
Unlike Fermain Bay, there is a small amount of parking at Saints Bay that is available all day long as well, meaning it is a lot more accessible to those unable to walk long distances. In order to reach the car park, simply continue along Saints Bay Road, past La Barberie, all the way to the bottom of the road. Here you will find enough space for maybe 5 or 6 cars.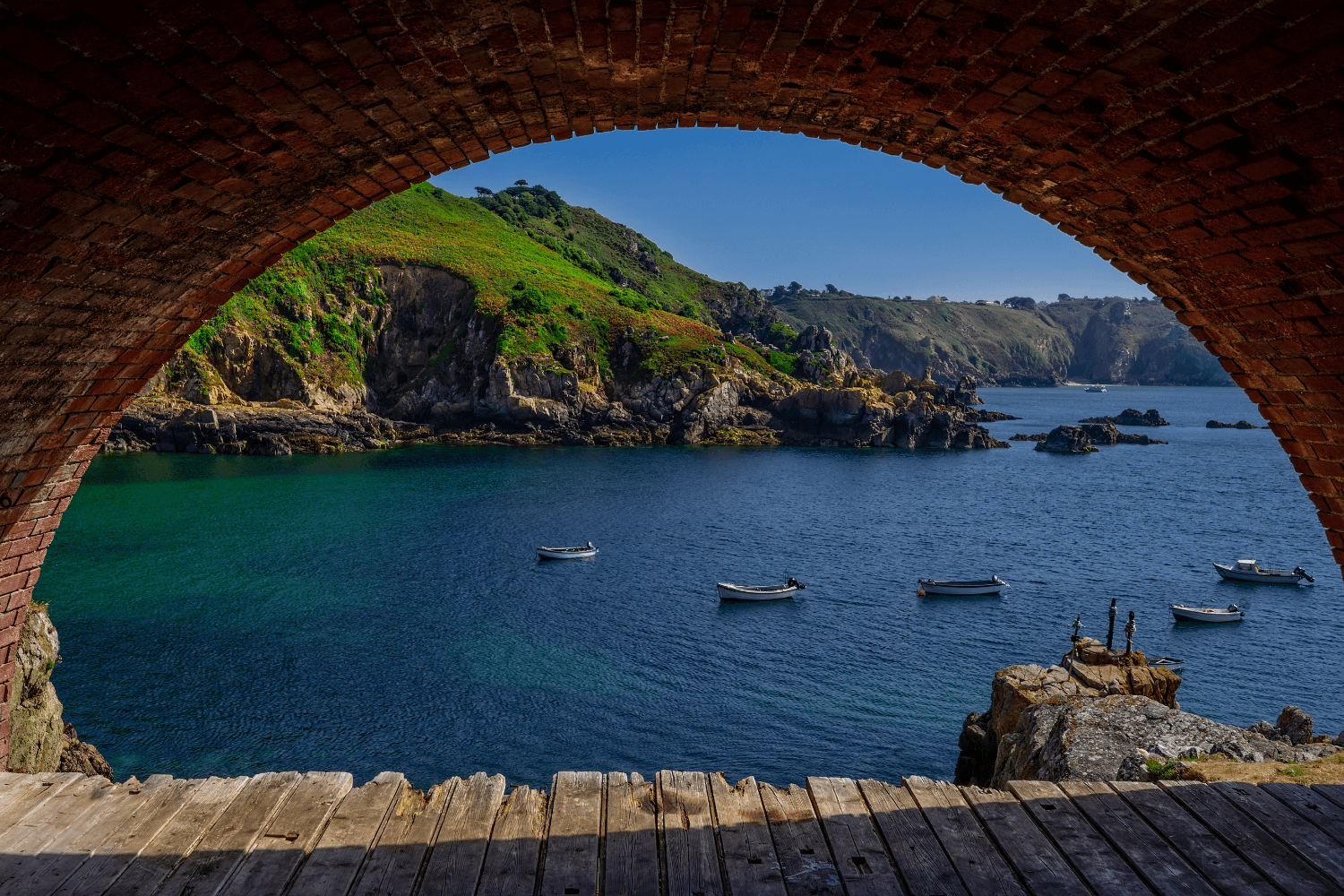 The car park sits directly above the Saints Bay Harbour, offering beautiful views to the east over the crystal blue water and rocky cliffs of southern Guernsey. If you wish to visit the beach at Saints Bay, you are going to need to walk for about 5-10 minutes back up the road that you came down.
About 300m along the road from the car park, you will see Saints Bay Tower. From here, take a right down the winding staircase the takes you beneath the tower on the cliffside. Walk all the way to the bottom of the stairs you will come out beside the Saints Bay Kiosk and a free to use toilet block.
Despite it being accessible all day long, we would suggest you aim to visit Saints Bay at low tide so that the golden sands are not hidden by the high tide. Due to its eastern vantage point, we also suggest visiting the Saints Bay Harbour at sunrise for a spectacular view of the surrounding cliffs in the golden light of dawn.
Marble Bay
One of Guernsey's hardest to reach beaches, but also one of its most beautiful, is the small cove known as Marble Bay. This hidden beach lies midway along the coast between Jerbourg Point and Fermain Bay. It is not accessible by car and will require a 10-15 minute walk wherever you decide to park your car, along a rather demanding coastal path.
Similarly to Le Jaonnet Bay, Marble Bay is completely inaccessible at high tide, so prior planning is required to ensure that you visit at the correct time.
When we visited Marble Bay, we parked a the bottom of Fermain Bay (as we visited at sunrise), from which we hiked along the cliffs to approach Marble Bay from the north. It should also be possible to reach Marble Bay from Jerbourg Point if you park at the Jerbourg Kiosk and walk along the cliff with the sea on your right.
Keep an eye out for the small stone signposts along your route and you will eventually find one pointing downhill towards Marble Bay (with a view rather like the one below). Follow the staircase all the way to the bottom and you will eventually reach the soft, sandy shore at the bottom.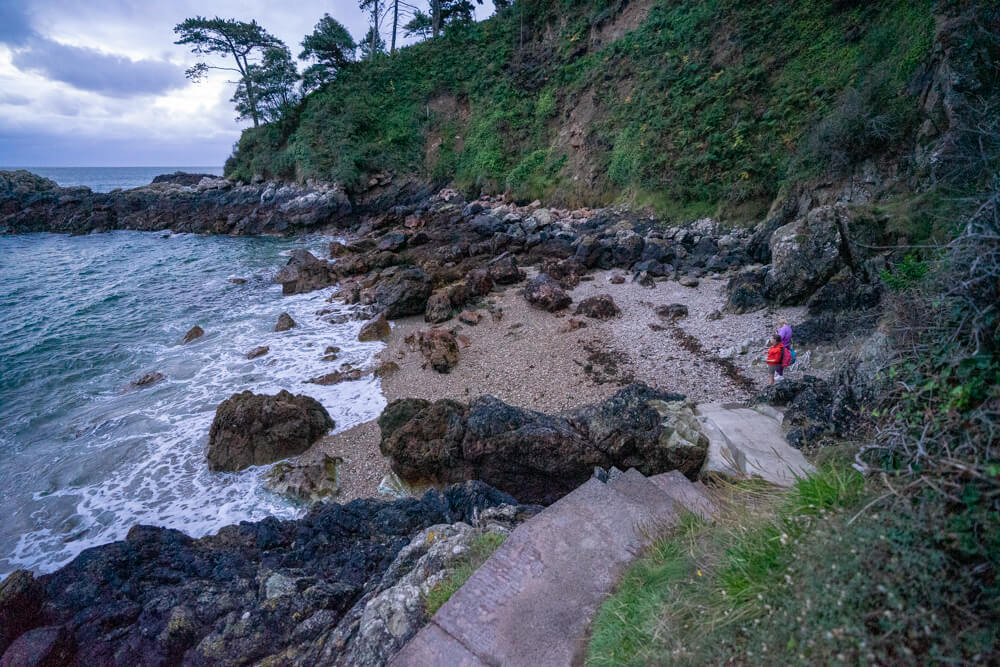 Marble Bay is one of our favourite beaches in Guernsey due to its remote location and the resulting solitude, as well as how beautiful the beach looks at low tide. It has received its name due to the "marble-like" rocks that decorate the beach at low tide. Once again, we visited this beach at sunrise and were treated to a beautiful light show of sun rays over the distant island of Sark.
Petit Bot
Saving possibly the best till last, the small beach of Petit Bot combines the best of all the above beaches to produce an incredible place for swimming, dining out and relaxing with a view. Petit Bot is the furthest west beach on the southern coast of Guernsey and features parking, a cafe, a stony beach (no sandy feet!), and a multitude of caves to explore,
The easiest way to reach Petit Bot is by following the Rue de Croise from the main road nearby the airport (you will see a small sign directing you down the road). Follow this winding and narrow road until you reach the Petit Bot car park, where you will find the cafe, kiosk and toilet block.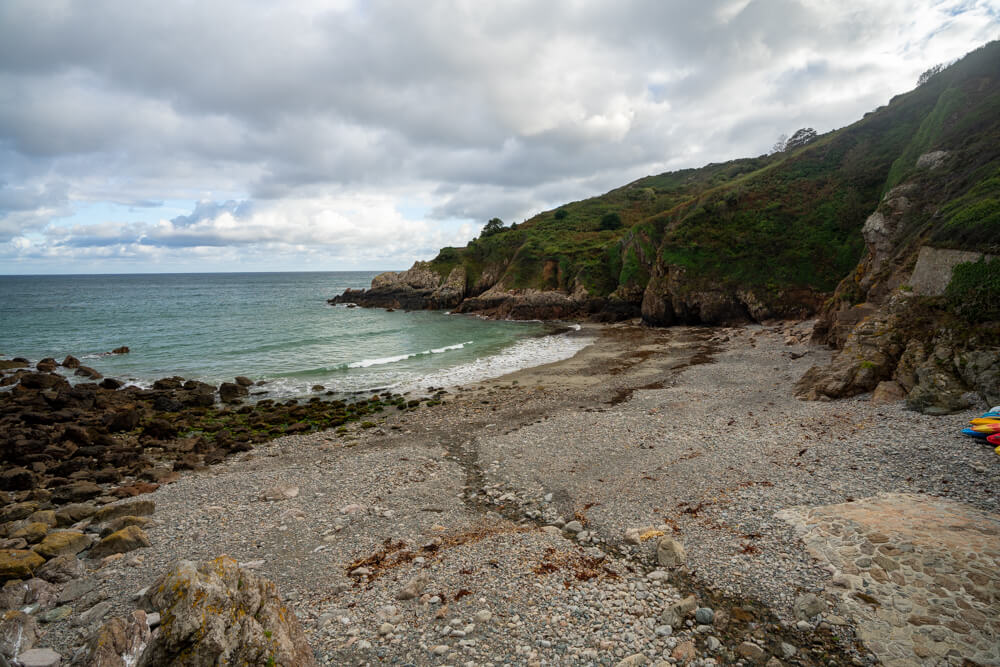 There are about 10 parking spaces at the Petit Bot cafe, so if you visit at a quiet time of the day you should have no problem parking here. The beach itself is also easily accessed, with a sloping ramp leading down onto its stony shore. We recommend you bring water shoes for accessing this beach and the water, however, as there is little to no sand on the beach.
To the right of the beach, at low tide, you will be able to find a collection of huge caverns, dug into the side of the cliffs. These are accessible by foot at low tide and possibly by swimming at high tide, however, extreme caution is advised at all times due to rock-fall and currents of water.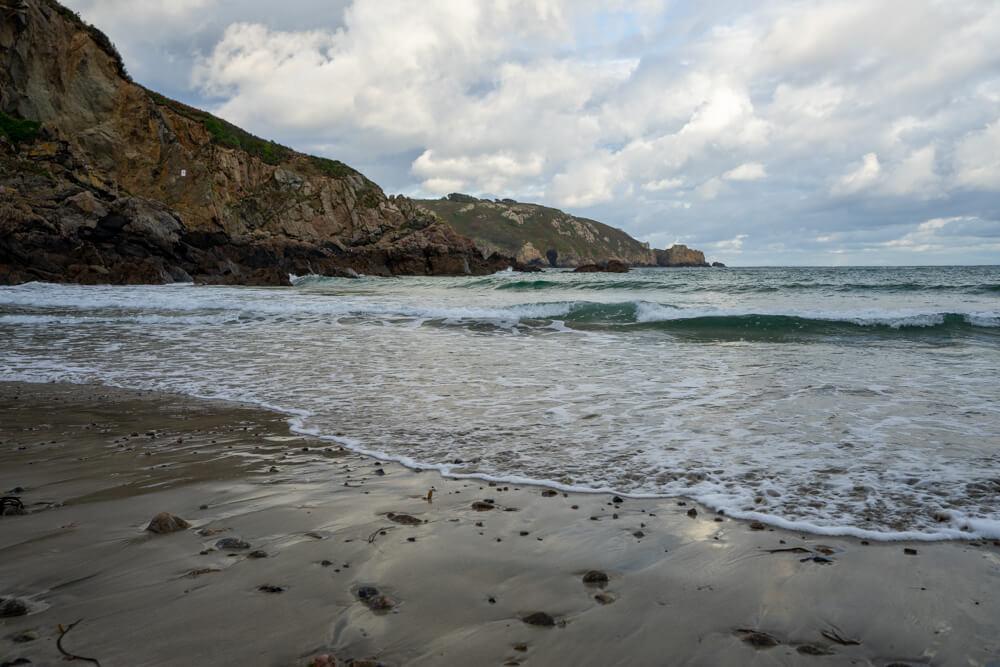 Getting Around Guernsey
Travelling around Guernsey by car is the easiest way to explore the history and reach the popular stretches of sand and hidden coves on the island. The roads and lanes can be narrow and there is also a filter in turn system used, which we have never seen before elsewhere. It would be advised reading further about this if you plan to drive in Guernsey.
The bus in Guernsey is a cheap mode of transport and if your accommodation is situated in St Peter Port, then this may be a mode of transport for you. We can recommend using a Puffin pass as this will cost 70p per journey instead of £1.
Hiring a bicycle is a great option for getting around Guernsey. Some parts of the island can be steep, however, if you choose to stick to the coast then you will be cycling mainly on flat land. You can rent a bike from multiple places around Guernsey for a day.
Another option of getting around the island is hiring a scooter. If you have a driving license or a scooter license then you are allowed to drive a motorcycle in Guernsey. This is a very popular way of getting around the island due to how small the roads are.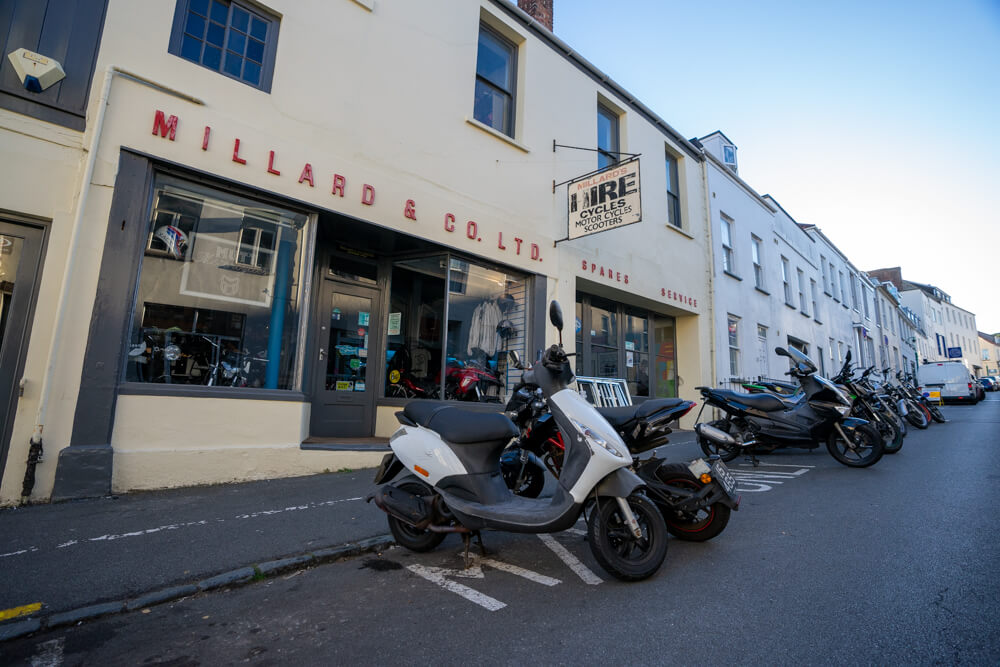 Before You Leave for Guernsey
Before you leave on your trip to the beautiful island of Guernsey, there are a number of things you will need to organise to ensure a smooth and stress-free trip. These include what to pack, where to stay and what is the best travel insurance for Guernsey.
How to Get to Guernsey
Given that Guernsey is an island, you really have two choices of transport for getting there: plane or boat. Both of these transport methods are available from the UK, France and from the neighbouring Channel Islands.
Ferry to Guernsey
Condor is the best option for ferries to and from the Channel Islands from the mainland. Leaving from the mainland UK ports of Poole and Portsmouth, the French port of St Malo and the Channel Islands port of Jersey, there are two main ferries that will bring you to Guernsey.
The faster boat, known as the Liberation, takes 3 hours to get from Poole to Guernsey, while the slower boat, known as the Clipper, takes 7 hours from Portsmouth. From St Malo, it will take you just under 2 hours aboard the Rapide to reach Guernsey.
Browse all of Condor's ferries and routes on their website here.
Fly to Guernsey
Flying to Guernsey can be done from multiple airports across the UK with the Channel Islands airline, Aurigny. This is the quickest and easiest way to get to the island if you are only coming for a short period of time.
You can browse all of the available flights and routes on the Aurigny website here.
What to Pack for Guernsey
What you need to pack for Guernsey will rely highly on when you make your trip to the Channel Islands. During the Spring and Autumn months, temperatures and weather patterns vary wildly between beautiful sunny skies and storming gales.
The temperatures generally vary from 10 oC to 25 oC during these months, with a mixture between cold, northerly winds and warmer southerlies. There is a small amount of rain, with maybe 1 in 7 days receiving rainfall, which makes it perfect for days out exploring the beautiful island.
During the Summer months in Guernsey, temperatures tend to range from 20oC to 30oC, with some days topping 35oC. Summer days in Guernsey are perfect for the beach, with many locals and travellers alike sending their day soaking up the sun and playing in the sea.
If you need more inspiration on what to pack for your trip, check out our full packing guides for all-weather conditions over here.
When it comes to toiletries, we recommend that you don't forget to pack sunscreen. The sun in Guernsey can be strong, especially in the summer months.,
Given the beautiful sights and scenery that you will see in Guernsey, we highly recommend packing a good camera for your trip. If you want to read more about the cameras we use and why we love them, check out the link below.
You can read what else we keep in our camera bag over here.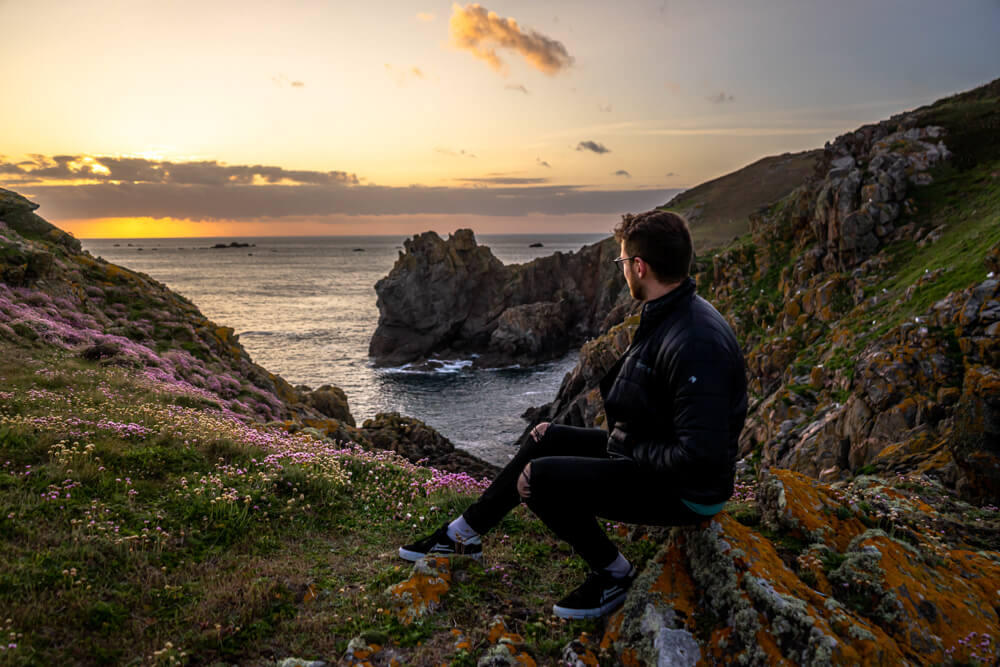 What is the Best Travel Insurance for Guernsey
Regardless of what type of trip you are heading on, one thing that is essential for everybody is good to travel insurance. Accidents can happen anywhere and at anytime and unexpected hospital bills will ruin a holiday. Remove the stress from your next adventure and get covered for the worst.
World Nomads Travel Insurance provides budget reliable travel insurance that will keep you covered for any level of adventure.
You can get your quote before you leave on your trip right here.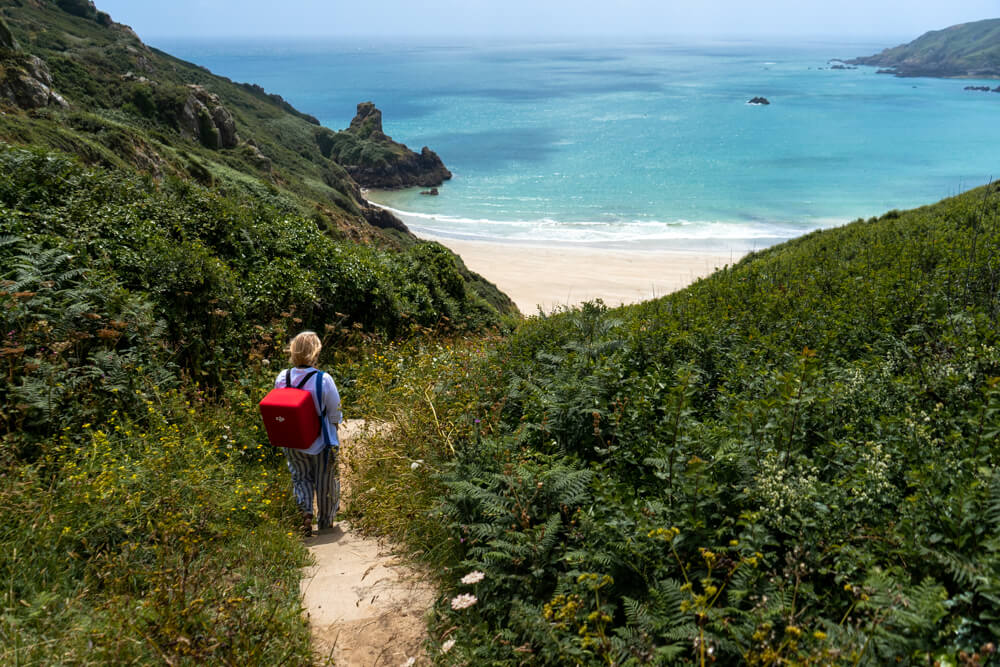 Where to Stay in Guernsey
When it comes to accommodation on Guernsey, you are simply spoiled for choice with a huge range of hotels, B&Bs and even campsites to choose from. No matter what your preferred level of luxury is, there is the perfect place for you.
Luxury – Spend your time on Guernsey in true luxury at the Old Government House Spa and Hotel in St Peter Port. This hotel has beautiful views over the harbour of Guernsey's capital, as well as access to a luxurious spa, an outdoor terrace and a heated, outdoor pool.
Book your stay at the Old Government House Spa and Hotel here.
Mid-range – If you would like a taste of luxury at an affordable price, then the Auberge du Val Hotel is perfect for you. This 19th-century farmhouse sits on the west coast of the island and offers cosy, ensuite rooms, complete with tea, coffee and tv. The hotel is just a short walk from the beautiful nature reserves in St Saviour, perfect for a romantic trip away for the weekend.
Book your stay at the Auberge du Val Hotel here.
Budget – Situated just 2-miles from Guernsey airport in the heart of St Martins, the Carlton Inn is the best value hotel in Guernsey. With free parking and wifi, as well as access to the Wicked Wolf pub that sits in the same building.
Book your stay at the Carlton Inn here.
Camping – If you are up for a more adventurous stay on Guernsey, Fauxquets Valley Campsite offer a range of glamping safari tents, glamping pods and sites for your own tent if you bring one. Visit their website for a full price list of tents and campsites.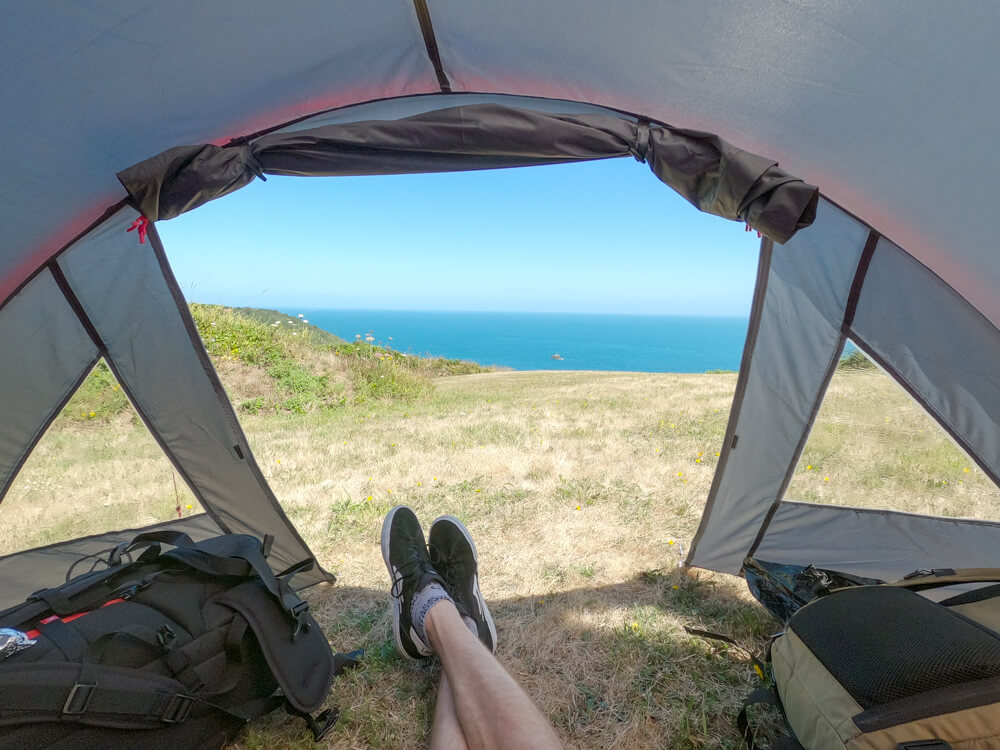 So there you have it, a complete guide to the best-hidden beaches in Guernsey! There are so many beautiful beaches and cliff views along the southern coast of the island, so make sure you read our other Guernsey guide to discover even more of them.
If you enjoyed your trip to Guernsey, let us know what your favourite sight on this amazing island was in the comments section below. We love chatting you guys about this kind of thing, so let's share our top experiences with everyone else! What beach was your favourite? Did you try any of the kiosks? How good is a Guernsey sunset?!
Also, make sure you share this article with your family and friends to show them how beautiful the Channel Islands can be. Sharing is caring and we want to inspire as many people as we can to visit this unbelievable part of the world.
If you are planning a trip to Guernsey soon then check out our other Channel Islands content right here. Come and find us on social media to see where we are currently exploring. Tag us in your photos from Guernsey and we will share them with the rest of our community of explorers and backpackers on our social channels!
Now Read:
This article may contain affiliate links that provide us with a small income. For more information read our Affiliate page.
---
Save this to your Guernsey Pinterest board for later