Petit Port beach in Guernsey is a stunning sandy beach on the south-east side of the island. A popular beach choice for many living in Guernsey as the white sandy beach and crystal clear water is well worth the steep hike down. This guide to Petit Port in Guernsey covers how to get there, the best time to go and a detailed article of what you can expect when you visit this beach.
The long walk down to Petit Port Bay is not for the faint-hearted and not suitable for those with limited mobility. The reward revealed when you reach the bottom is well worth the hike if you can make it down there. In this guide, we will discuss the best time to go to Petit Port, as well as the following:
What is Petit Port?
Where is Petit Port?
How to get to Petit Port?
Why Should I go to Petit Port?
When Should I go to Petit Port?
Preparing for your trip to Guernsey
Plan your weekend break to Guernsey with this detailed two-day itinerary
Save this image to your Channel Islands Pinterest board for later!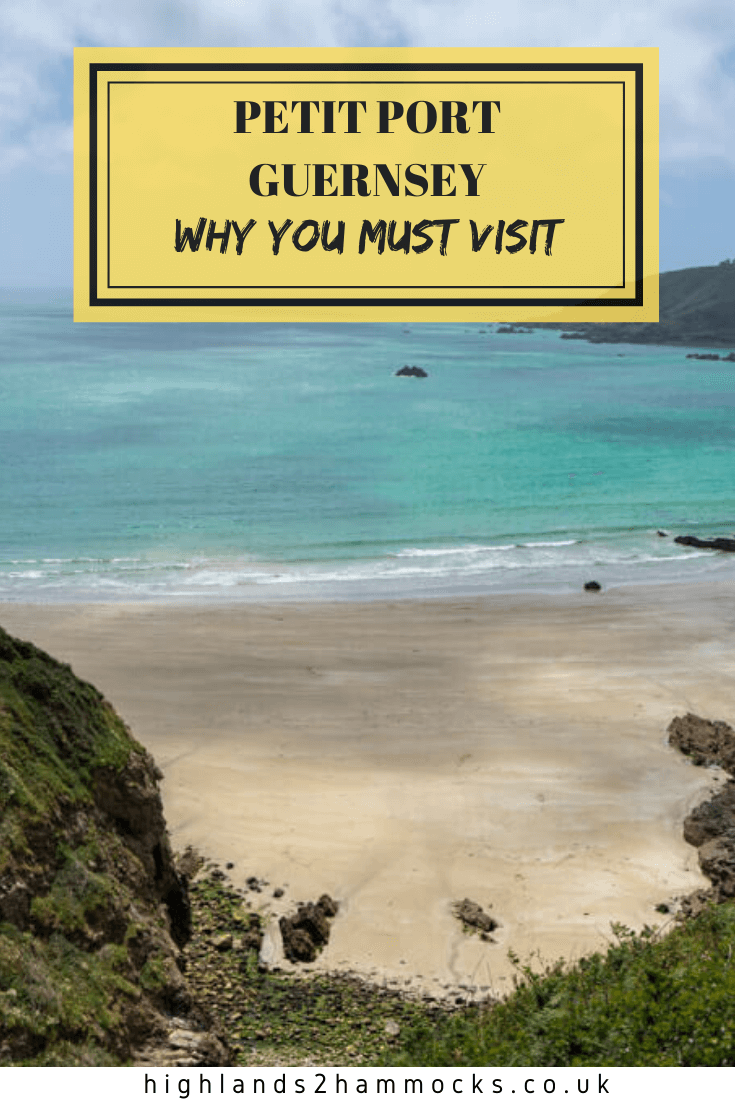 Come along on our cliffside tour of Guernsey in this video. Make sure you subscribe to our Youtube channel for more by clicking here!
Petit Port Guernsey – A Complete Guide
When Guernsey re-opens it's borders, it's time to pack your bags and head on an unforgettable trip to the Channel Islands and explore Guernsey. Guernsey has a lot of beaches and cliffs to visit and Petit Port has both as you climb down the cliff to reach the beach.
Petit Port hit the news in recent years due to the stormy weather making the stairs down to the beach unsafe to use. Access to the beach was closed for over a year, thankfully it is now reopened and safe to visit.
What is Petit Port?
Petit Port Bay is one of Guernsey's most beautiful beaches where you can take the time away from home to chill out and relax or go for a dip in the sea. The bay itself does not have any facilities, so you will need to bring all that you need down with you.
There are toilets near the car park and the nearest cafe is the Jerbourg kiosk, which is a 5-minute walk from Doyle Column.
Where is Petit Port?
This breathtaking beach is located on the south coast of the island, in the parish of St Martins, close to Jerbourg. It is reached by climbing 270 steps down the cliff face to get to the beach. There are plenty of wonderful cliff-walks to explore in this area and Petit Port can either be accessed from Jerbourg or from Moulin Huet Bay.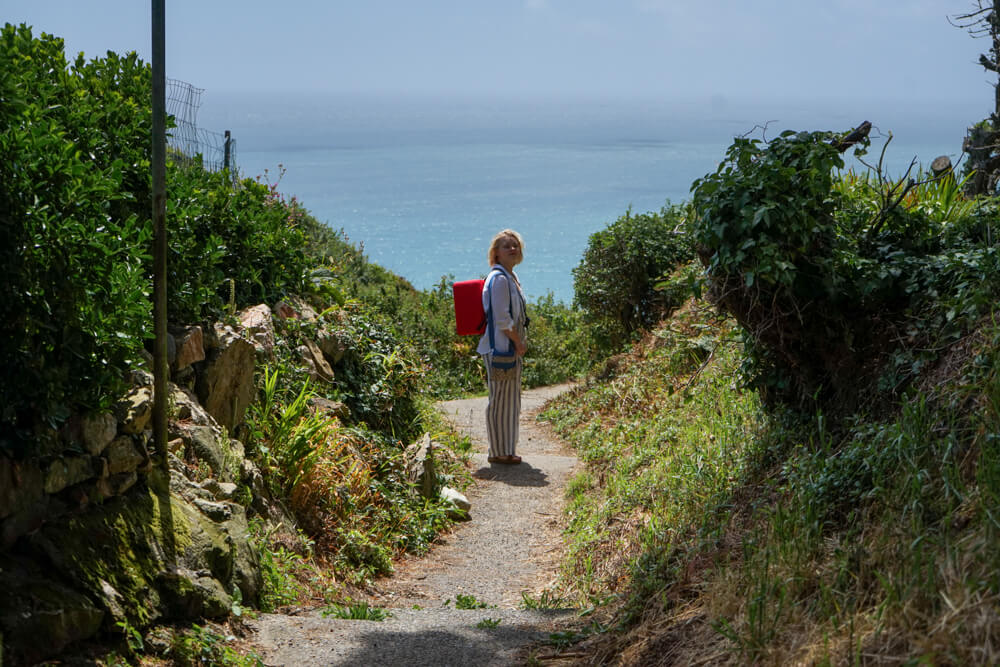 How to get to Petit Port, Guernsey
Getting to Petit Port is quite straight forward. From Iceland in St Martins, follow Route des Blanches, which later turns into Route de Jerbourg all the way along until you reach the Doyle Column on your left. The coastal path will be on your right.  There is limited parking in the area, the best place to park is at Doyle Column.
From there head towards the coastal path on the south side of the island. There is a small sign just outside of the car park directing you to the path, you will need to look quite low to the ground to spot it.
Why Should I go to Petit Port?
Given the isolation of Petit Port, along with the other hidden beaches on Guernsey's southern coast, it is definitely one of our favourite beaches to visit.
The trek down to Petit Port isn't the easiest, however, it is well worth the reward when you get there. The white golden sands and crystal clear blue sea is beautiful. This secluded spot is the perfect place to chill out and relax, watching the waves hit off the shore.
When you are walking towards the sea on Petit Port beach, look out for the cave in the rocks on your right-hand side. You can go inside this cave and look out towards the sea. Do this at your own risk and remember that being too close to the cliff face there is a risk of a landslide of rocks.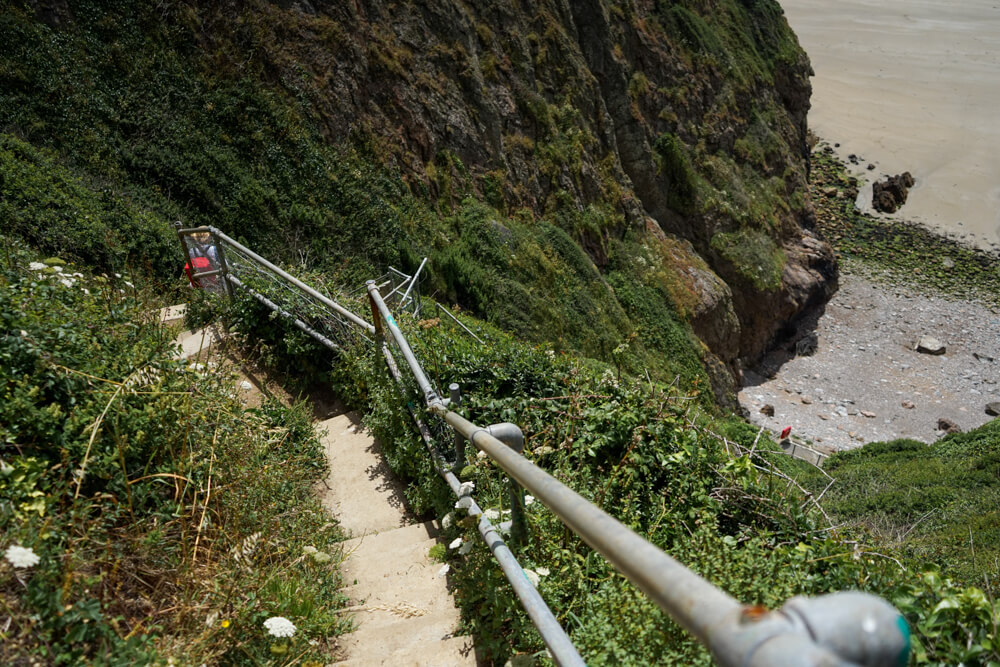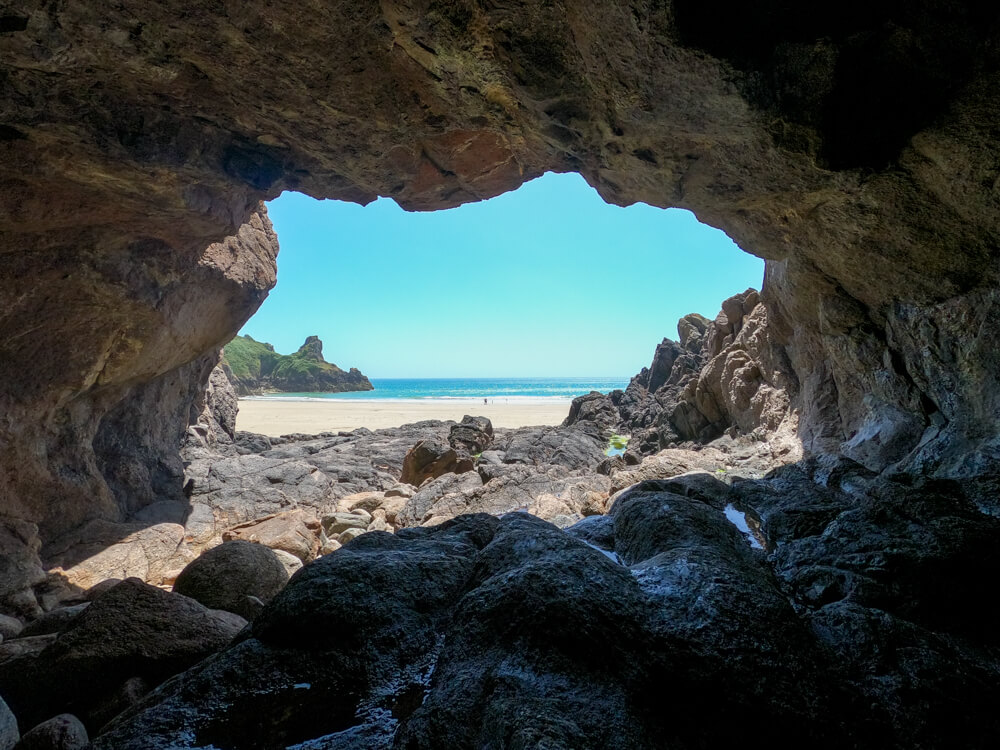 When Should I go to Petit Port?
High Tide 
When the tide is high at Petit Port Bay, the white sand is non-existent and it is only stones and pebbles that are revealed by the waves. You can see the beach from the top of the stairs and from there you can decide whether the small, stony beach is worth it for the climb down.
Low Tide
At low tide, the golden sand is revealed and Petit Port is one of the most beautiful beaches on the island. It is the perfect place for paddling and sunbathing due to how sheltered it is by the rocks.
Before You Leave for Guernsey
Before you leave on your trip to the beautiful island of Guernsey, there are a number of things you will need to organise to ensure a smooth and stress-free trip. These include what to pack, where to stay and what is the best travel insurance for Guernsey.
How to Get to Guernsey
Given that Guernsey is an island, you really have two choices of transport for getting there: plane or boat. Both of these transport methods are available from the UK, France and from the neighbouring Channel Islands.
Ferry to Guernsey
Condor is the best option for ferries to and from the Channel Islands from the mainland. Leaving from the mainland UK ports of Poole and Portsmouth, the French port of St Malo and the Channel Islands port of Jersey, there are two main ferries that will bring you to Guernsey.
The faster boat, known as the Liberation, takes 3 hours to get from Poole to Guernsey, while the slower boat, known as the Clipper, takes 7 hours from Portsmouth. From St Malo, it will take you just under 2 hours aboard the Rapide to reach Guernsey.
Browse all of Condor's ferries and routes on their website here.
Fly to Guernsey
Flying to Guernsey can be done from multiple airports across the UK with the Channel Islands airline, Aurigny. This is the quickest and easiest way to get to the island if you are only coming for a short period of time.
You can browse all of the available flights and routes on the Aurigny website here.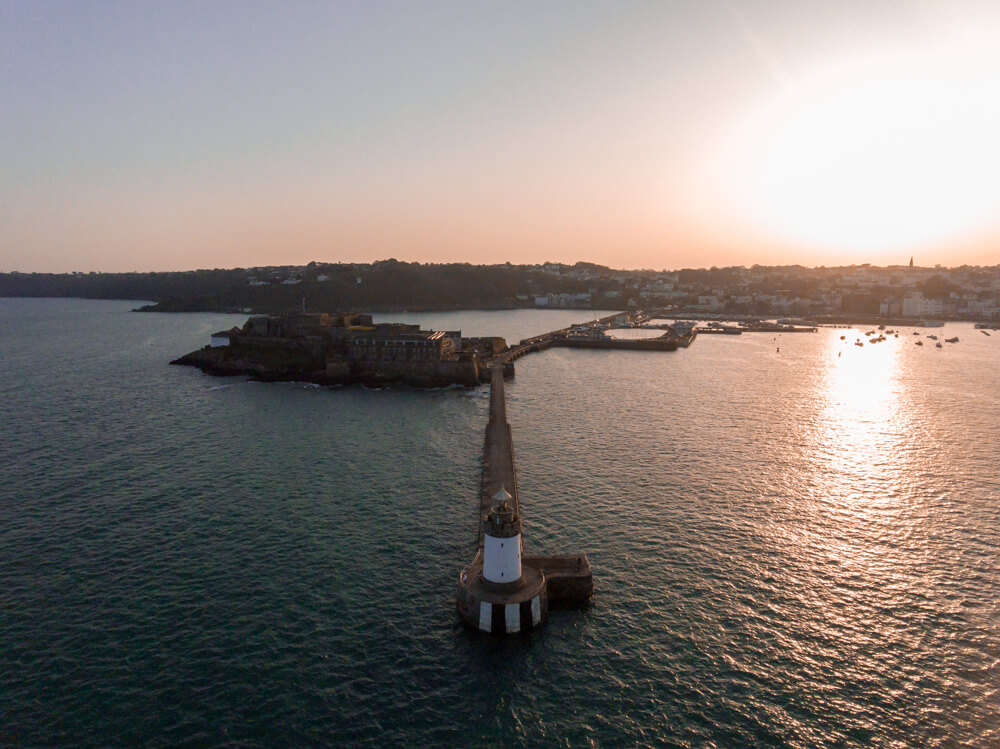 What to Pack for Guernsey
What you need to pack for Guernsey will rely highly on when you make your trip to the Channel Islands. During the Spring and Autumn months, temperatures and weather patterns vary wildly between beautiful sunny skies and storming gales.
The temperatures generally vary from 10 oC to 25 oC during these months, with a mixture between cold, northerly winds and warmer southerlies. There is a small amount of rain, with maybe 1 in 7 days receiving rainfall, which makes it perfect for days out exploring the beautiful island.
During the Summer months in Guernsey, temperatures tend to range from 20oC to 30oC, with some days topping 35oC. Summer days in Guernsey are perfect for the beach, with many locals and travellers alike sending their day soaking up the sun and playing in the sea.
If you need more inspiration on what to pack for your trip, check out our full packing guides for all-weather conditions over here.
When it comes to toiletries, we recommend that you don't forget to pack sunscreen. The sun in Guernsey can be strong, especially in the summer months.,
Given the beautiful sights and scenery that you will see in Guernsey, we highly recommend packing a good camera for your trip. If you want to read more about the cameras we use and why we love them, check out the link below.
You can read what else we keep in our camera bag over here.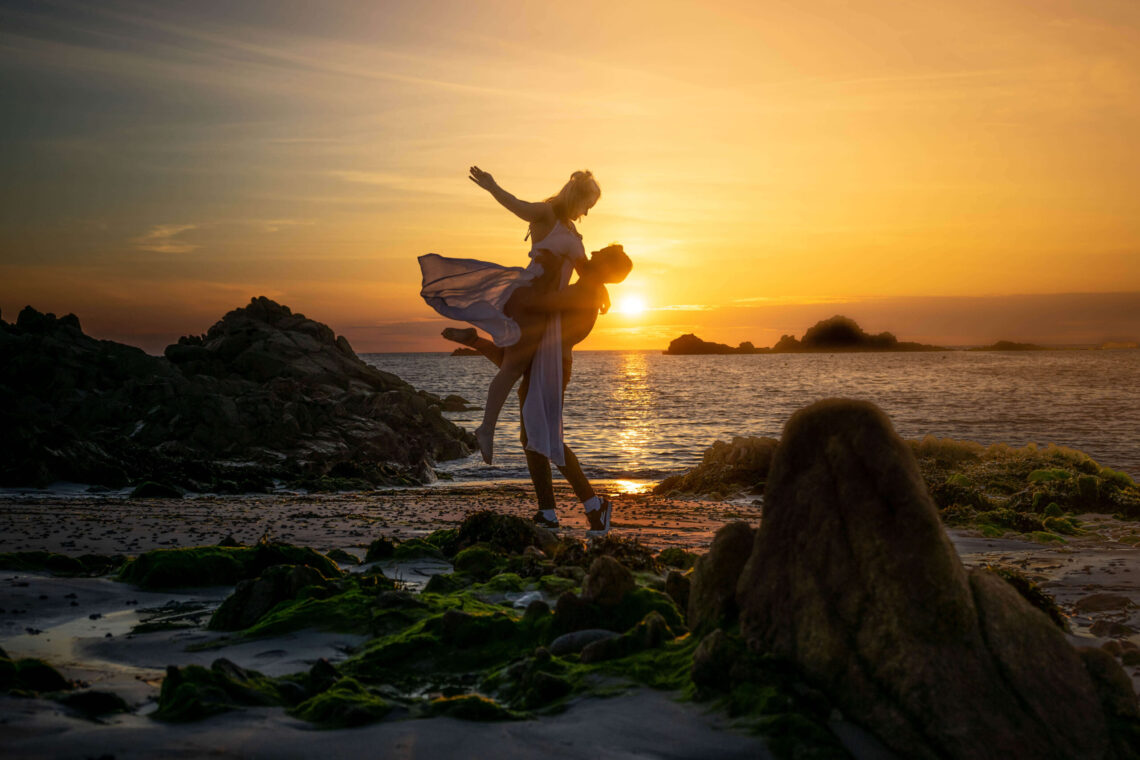 What is the Best Travel Insurance for Guernsey
Regardless of what type of trip you are heading on, one thing that is essential for everybody is good travel insurance. Accidents can happen anywhere and at anytime and unexpected hospital bills will ruin a holiday. Remove the stress from your next adventure and get covered for the worst.
World Nomads Travel Insurance provides budget reliable travel insurance that will keep you covered for any level of adventure.
You can get your quote before you leave on your trip right here.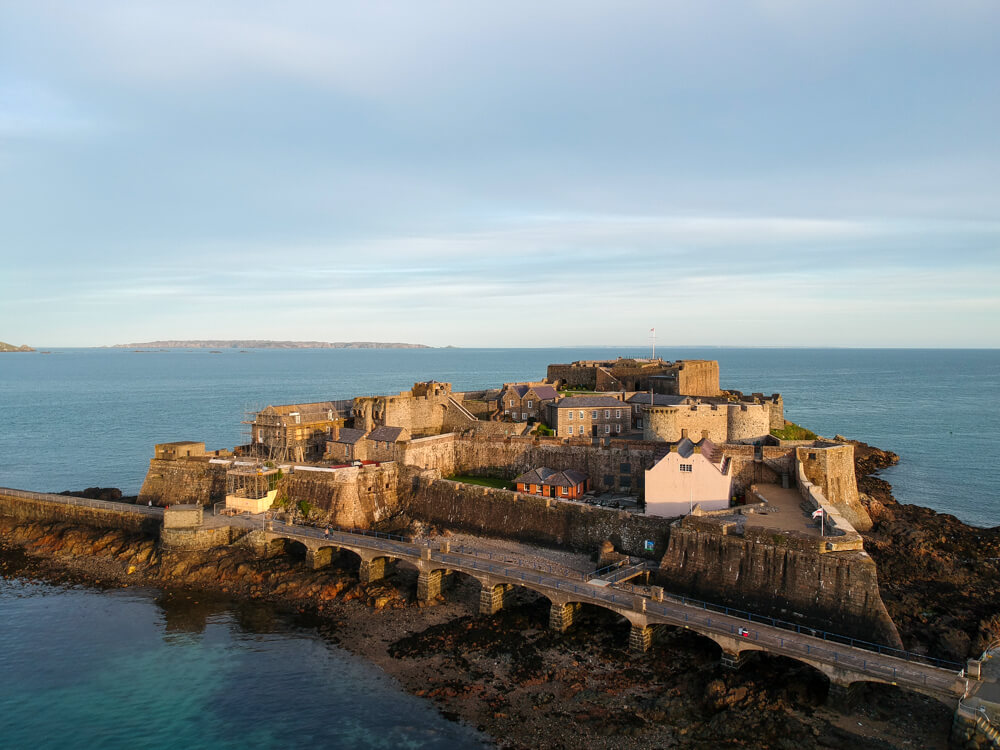 Where to Stay in Guernsey
When it comes to accommodation on Guernsey, you are simply spoiled for choice with a huge range of hotels, B&Bs and even campsites to choose from. No matter what your preferred level of luxury is, there is the perfect place for you.
Luxury – Spend your time on Guernsey in true luxury at the Old Government House Spa and Hotel in St Peter Port. This hotel has beautiful views over the harbour of Guernsey's capital, as well as access to a luxurious spa, an outdoor terrace and a heated, outdoor pool.
Book your stay at the Old Government House Spa and Hotel here.
Mid-range – If you would like a taste of luxury at an affordable price, then the Auberge du Val Hotel is perfect for you. This 19th-century farmhouse sits on the west coast of the island and offers cosy, ensuite rooms, complete with tea, coffee and tv. The hotel is just a short walk from the beautiful nature reserves in St Saviour, perfect for a romantic trip away for the weekend.
Book your stay at the Auberge du Val Hotel here.
Budget – Situated just 2-miles from Guernsey airport in the heart of St Martins, the Carlton Inn is the best value hotel in Guernsey. With free parking and wifi, as well as access to the Wicked Wolf pub that sits in the same building.
Book your stay at the Carlton Inn here.
Camping – If you are up for a more adventurous stay on Guernsey, Fauxquets Valley Campsite offer a range of glamping safari tents, glamping pods and sites for your own tent if you bring one. Visit their website for a full price list of tents and campsites.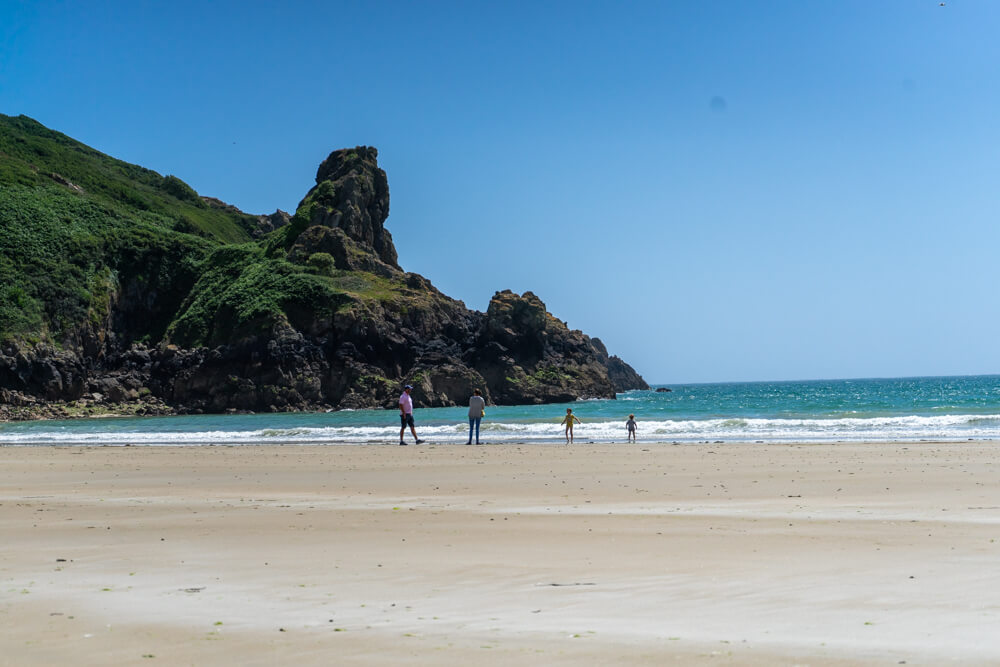 So there you have it, a complete guide to Petit Port in Guernsey! This is just one of the many beautiful beaches and cliff views along the southern coast of the island, so make sure you read our other Guernsey guide to discover even more of them.
If you enjoyed your trip to Guernsey, let us know what your favourite sight on this amazing island was in the comments section below. We love chatting you guys about this kind of thing, so let's share our top experiences with everyone else! What beach was your favourite? Did you try any of the kiosks? How good is a Guernsey sunset?!
Also, make sure you share this article with your family and friends to show them how beautiful the Channel Islands can be. Sharing is caring and we want to inspire as many people as we can to visit this unbelievable part of the world.
If you are planning a trip to Guernsey soon then check out our other Channel Islands content right here. Come and find us on social media to see where we are currently exploring. Tag us in your photos from Guernsey and we will share them with the rest of our community of explorers and backpackers on our social channels!
Now Read:
This article may contain affiliate links that provide us with a small income. For more information read our Affiliate page.
---
Save this to your Guernsey Pinterest board for later