Guernsey is a small island located in the English Channel. Alongside Jersey and other smaller islands, it is part of the Channel Islands. Guernsey is well known for its occupation by the Germans during WWII and the pristine beaches and stunning cliff walks. We lived on this tiny island for 12 months during 2020 and during this time we turned the island inside out to find the best activities, sights and hidden gems.
There is so much to do on the island, despite its tiny 65km2 surface area. If you only have a short time to spend on the island, this 2-day itinerary to Guernsey is perfect for you, taking you around the top sights, best activities and some hidden gems that we discovered when we lived in Guernsey.
Plan your two day trip to Guernsey today with this complete itinerary to the Channel Islands.
Save this image to your Guernsey Pinterest board for later!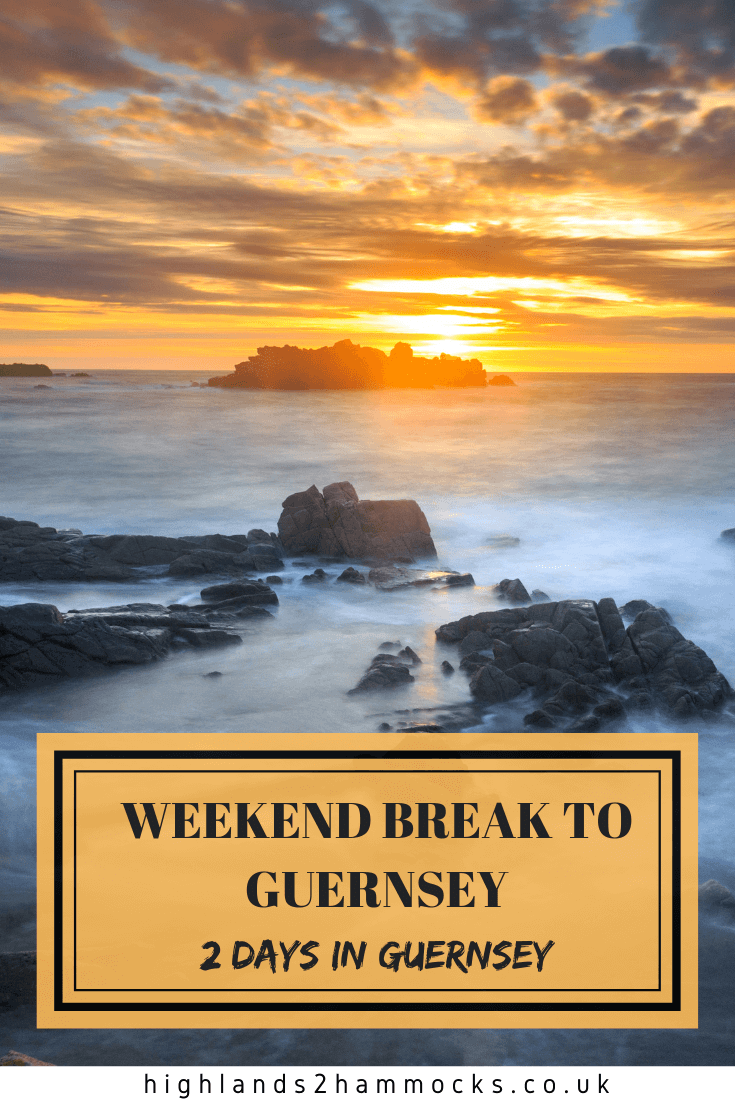 Come along with us on our 48 hours in Guernsey adventure in this video. Make sure you subscribe to our Youtube channel for more by clicking here!
This guide contains a fully detailed itinerary to two days in Guernsey, the main sights of which are listed below. This article goes into more detail on each of these activities later on in the text.
Arrive into St Peter Port
Tour of Castle Cornet
Explore the Cobbled Streets in St Peter Port
Cream Tea at Candie Gardens
Watch the sunset on the west coast
Sunrise at one of Guernsey's best-hidden beaches
Mexican breakfast
SUP at Petit Bot
Try Guernsey's best coffee at Bordeaux
Tour Vale Castle
Explore the rugged coastline of Sark
Weekend Break to Guernsey – The Ultimate 2-day Itinerary Guernsey
When Should You Visit Guernsey?
The best time to visit Guernsey is definitely during the warm Spring and Summer months of May through to September. As Winter comes to an end, the days in Guernsey get longer and the strength of the sun gets stronger and stronger. At the height of the Summer season, you can expect the temperatures on the island to consistently sit above 20 degrees Celcius, sometimes reaching as high as 30 degrees Celcius.
The best months to visit the island are definitely either May, June and September, as this way you can avoid the crowds of the UK school holidays, which are usually around July and August. The peak season in Guernsey is during these months and the island becomes incredibly busy with local school kids and families, as well as tourists from the UK and the multiple cruise ships that stop at Guernsey.
Are Two Days in Guernsey Enough?
As with any location, we would always recommend spending as long as you can in one location to maximise your experience of the country. The longer you spend in Guernsey, the more you will grow to appreciate the discrete and beautiful cultural quirks that the island has, with friendly locals, stunning secret locations and fascinating history.
With that being said, if you can only manage a flying visit, two days are definitely long enough to see all of the best sights that Guernsey has to offer. This itinerary will take you around our favourite sights and activities and will give you a good impression of what life on the island is really like.
If you have time, we would also recommend taking a day trip to the other small islands that sit in the Bailiwick of Guernsey, such as Alderney or the island of Herm and the island of Sark.
If you are spending more time in the Channel Islands, we would recommend visiting the beaches and activities in Jersey as this island also has a lot to offer.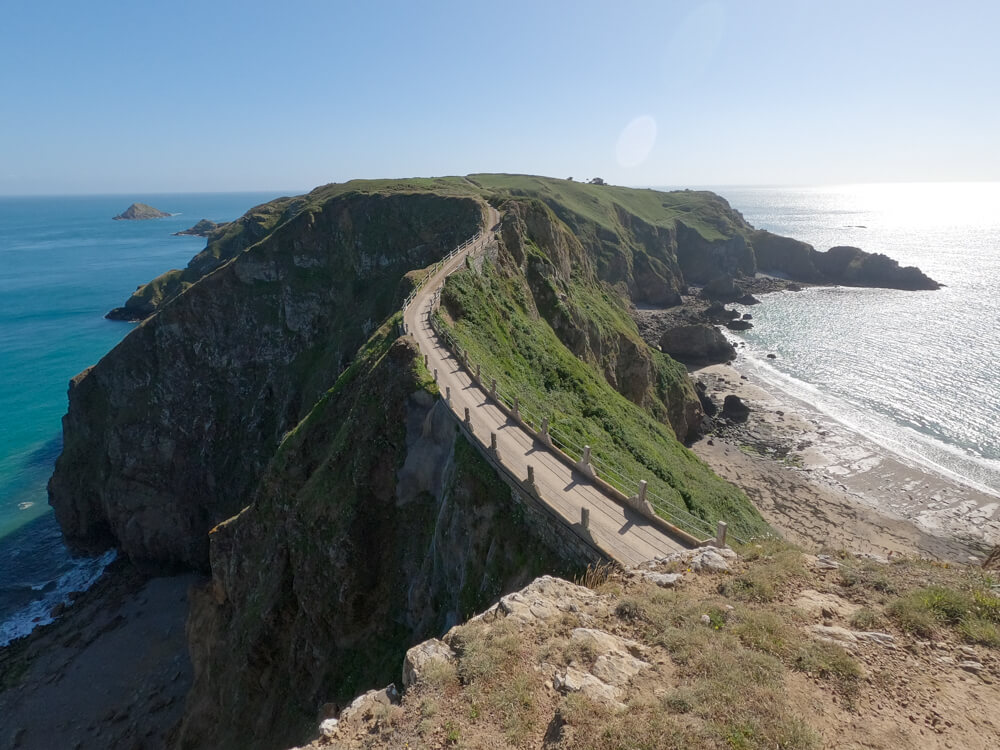 What Should You Not Miss in Guernsey?
Of all the incredible and unforgettable sights and activities that Guernsey has to offer, there are a few that have truly stood out to us during our year on the island. The first thing that you cannot miss out on if you are only here for one day is the incredible sunset that can be found on the western coast of Guernsey.
The other thing that cannot be missed when you visit Guernsey is the unbelievable number of historical sights and stories that that island has to show off. We have never been anywhere in the world where there is so much history concentrated into such a small area of land. Tour the castles, walk the WWII bunkers and hear the stories of old on the cobbled streets of Guernsey.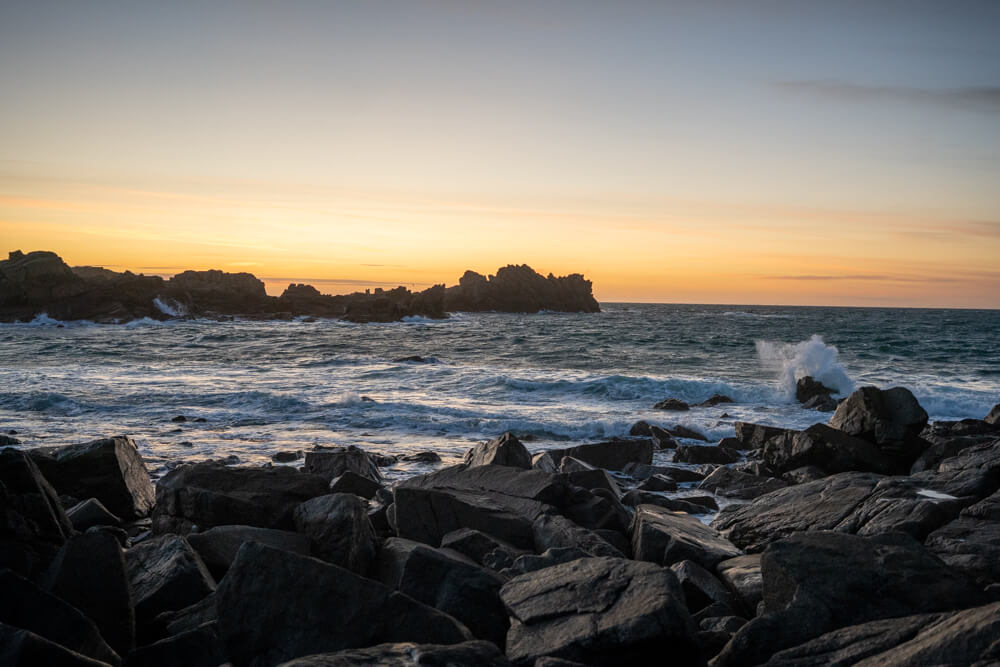 Day One in Guernsey – Check out the Town
Breakfast in St Peter Port
The sun is rising over the quaint town of St Peter Port. The waves are quietly lapping off of the docile boats in the harbour and the early bird fisherman are beginning to make their way out of the harbour to get the daily catch in time for dinner.
Kicking off your day on the beautiful island of Guernsey, what better way is there than grabbing a bite to eat at one of the many cafes that line the cobbled streets of the capital. The French influence is very evident in the harbour town of St Peter Port and you will be spoiled for choice when it comes to breakfast options.
We recommend beginning your day on the seafront at either the Boathouse Cafe that sits on the ocean side of the main street, on Victoria Pier or perhaps at the smaller cafe known as Coco's. Both of these cafes offer cheap and delicious breakfast options and also have beautiful views out over the harbour of St Peter Port.
If you fancy something a little more expensive then the Octopus restaurant and bar is also a fantastic choice for breakfast. This sits further south than Coco's, overlooking Havelet Bay and offering stunning views of Castle Cornet and out towards the islands of Herm and Sark.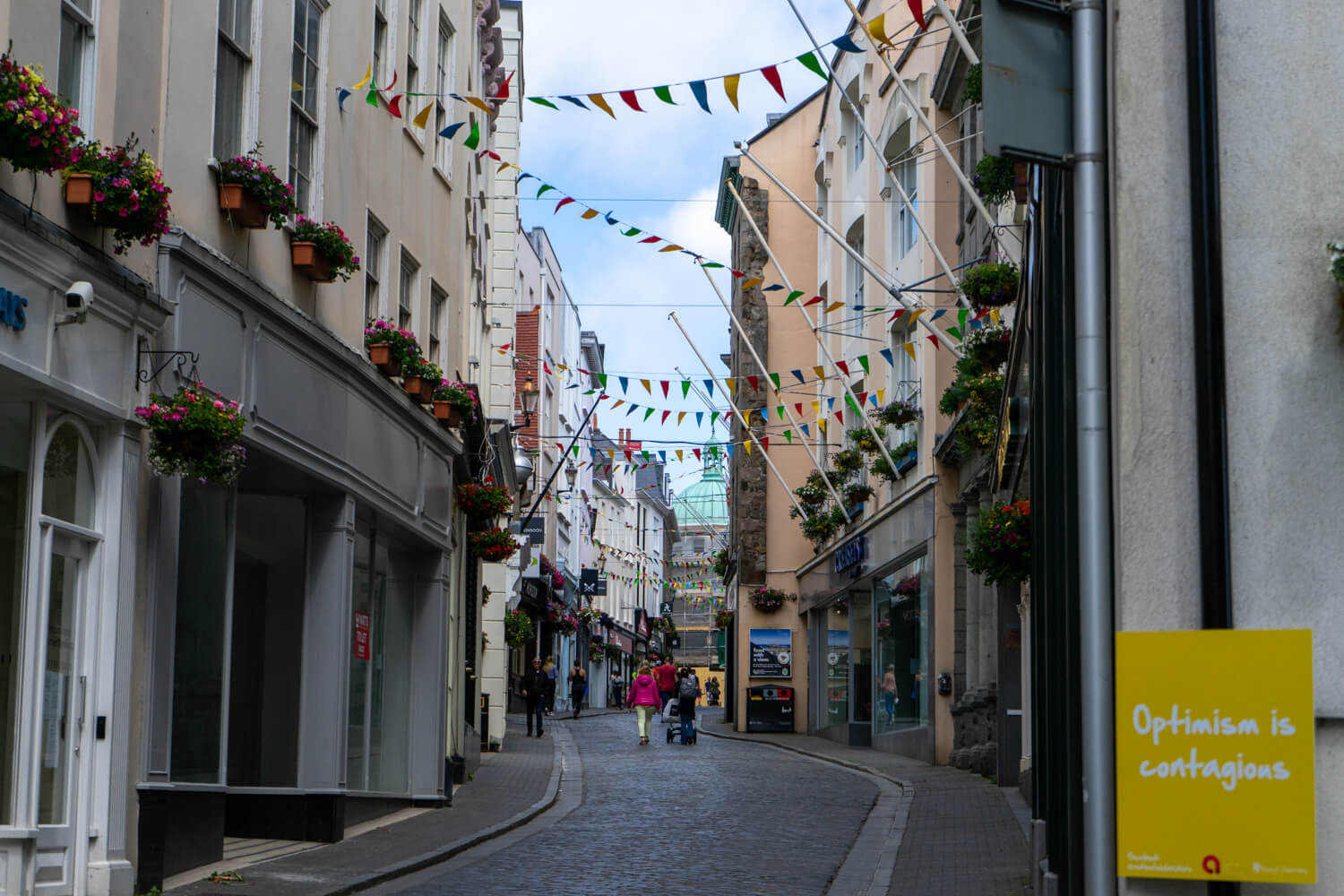 Castle Cornet Tour
Since you have spent breakfast admiring the view of this ancient castle it is about time you checked it out close up and learnt more about its fascinating history. Castle Cornet dates back to as early as the 13th century, guarding the bay to Guernsey's most populated harbour for hundreds of years.
The construction of the castle as a result of the loss of Normandy by the English crown in 1204 by King John, which then required improved defences for the Channel Islands. The castle was originally situated on a small island off of Guernsey's mainland, which was only accessible by foot at low tide.
As the island grew in population and the harbour of St Peter Port expanded out to sea, access to the castle was eventually granted by bridges and harbour walls.
It is possible to experience a guided tour of the castle to here the history and tales of this iconic part of Guernsey's history from a local tour guide. This tour runs daily at 10.20am and is included in the ticket of entry. After you have completed this tour you are free to wander the castle and explore on your own for as long as you would like.
You can buy tickets for the castle at the entrance to the castle itself. If you are also wanting to explore some of Guernsey's other museums and historical sights then the Discovery Pass is the recommended option as it grants you access to all four sites on the island and grants children free access.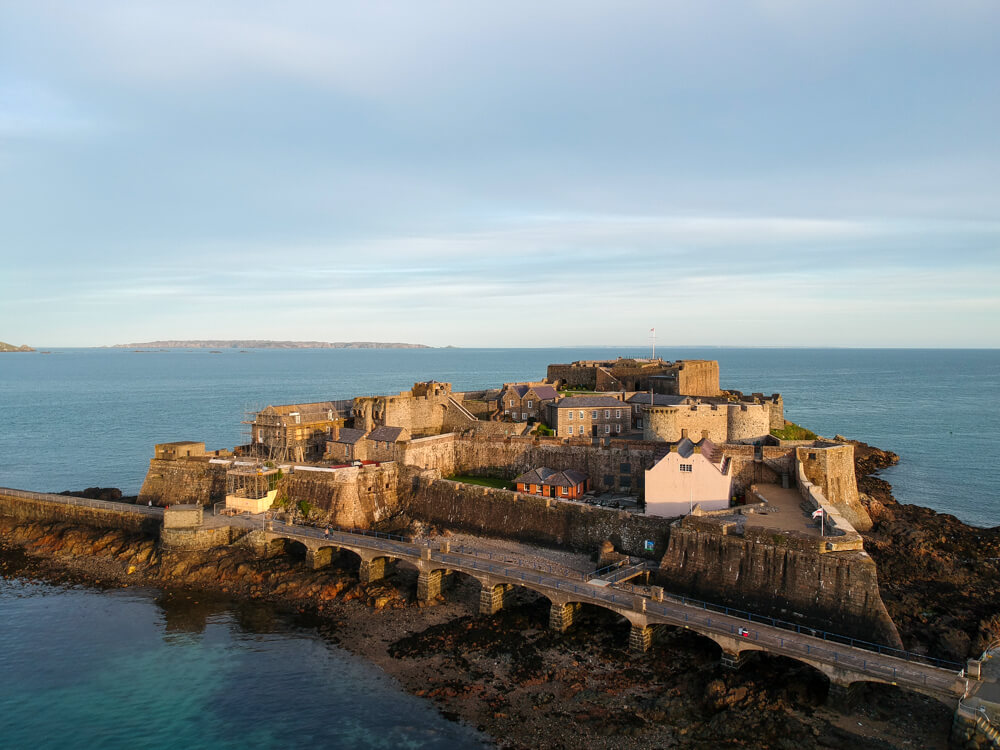 Walkthrough St Peter Port
After you have finished admiring the beauty of St Peter Port from the top of the castle, head back into town and enjoy a stroll along its cobbled high street. Now is the perfect time to browse the small shops for souvenirs and trinkets for your trip to the Channel Islands.
Soak up the atmosphere of the high street and admire the architecture of the old buildings that rise above the polished cobblestones. There is always a buzz to this part of Guernsey that is just so electrifying for such a small corner of the world.
NOTE – Guernsey continues to close almost all of its shops on a Sunday, so if you walk this high street on this day it will seem like a ghost town compared to how it seemed the day before.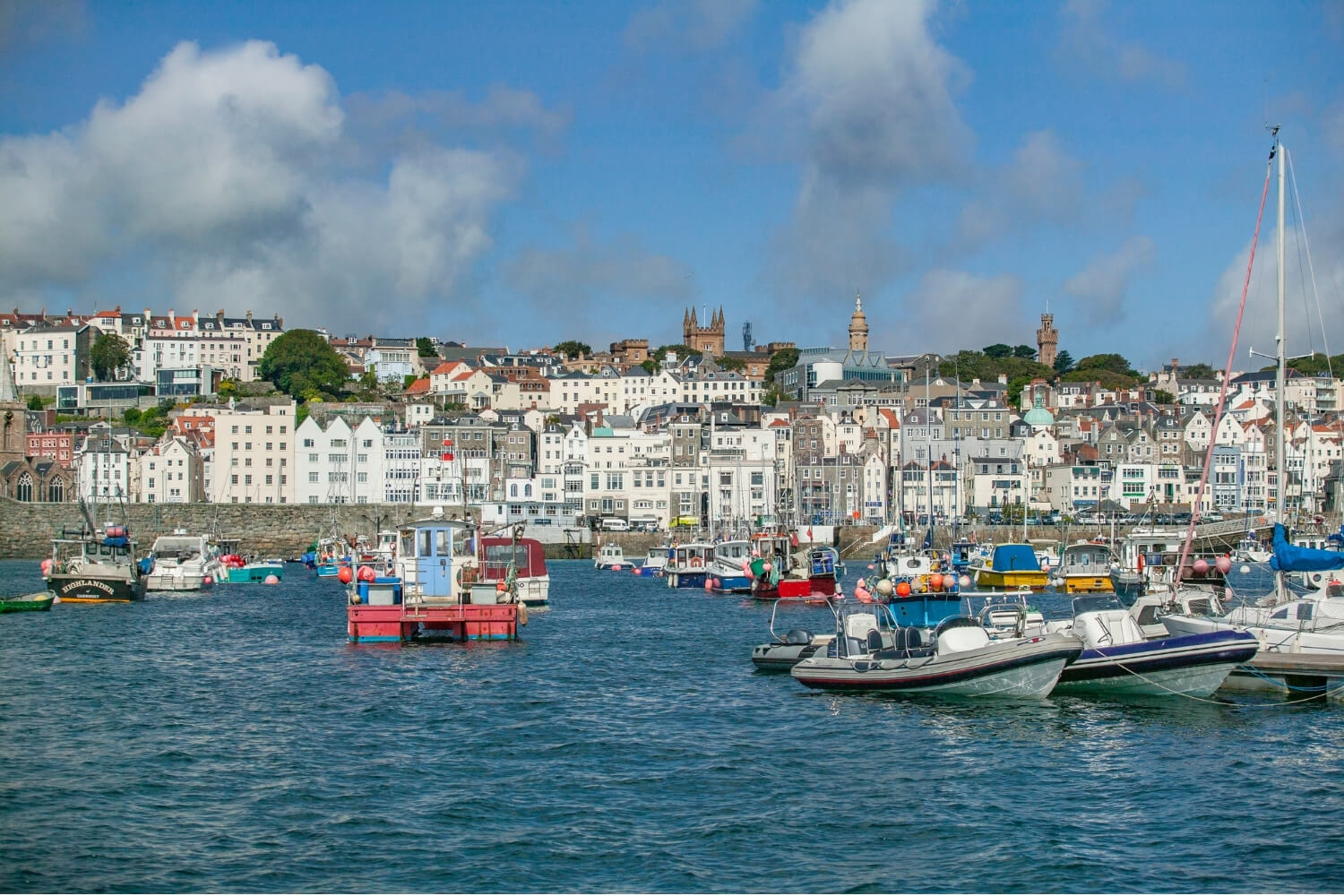 Candie Gardens Cream Tea
Just outside of the busy and bustling town centre of St Peter Port you will find the peaceful and beautiful escape of Candie Gardens. Sitting high above the madness of the cars, boats and pedestrians that line the promenade of St Peter Port, Candie Gardens is a quiet and serene place to come and relax for a couple of hours, soaking up the sunshine and admiring the beautiful flowers.
Walk around the upper and lower gardens before you head inside the Guernsey Museum and Art Gallery to find the cafe. Here you can enjoy a delicious portion of Cream Tea, which includes a drink as well as a selection of sandwiches and cakes. If you are still feeling quite full from breakfast then you can get the smaller (and cheaper option) of a simple scone and jam.
For us, the scone was enough to share as it was just so big! Relax in the tranquillity of the gardens before you head on to the last stop of the day.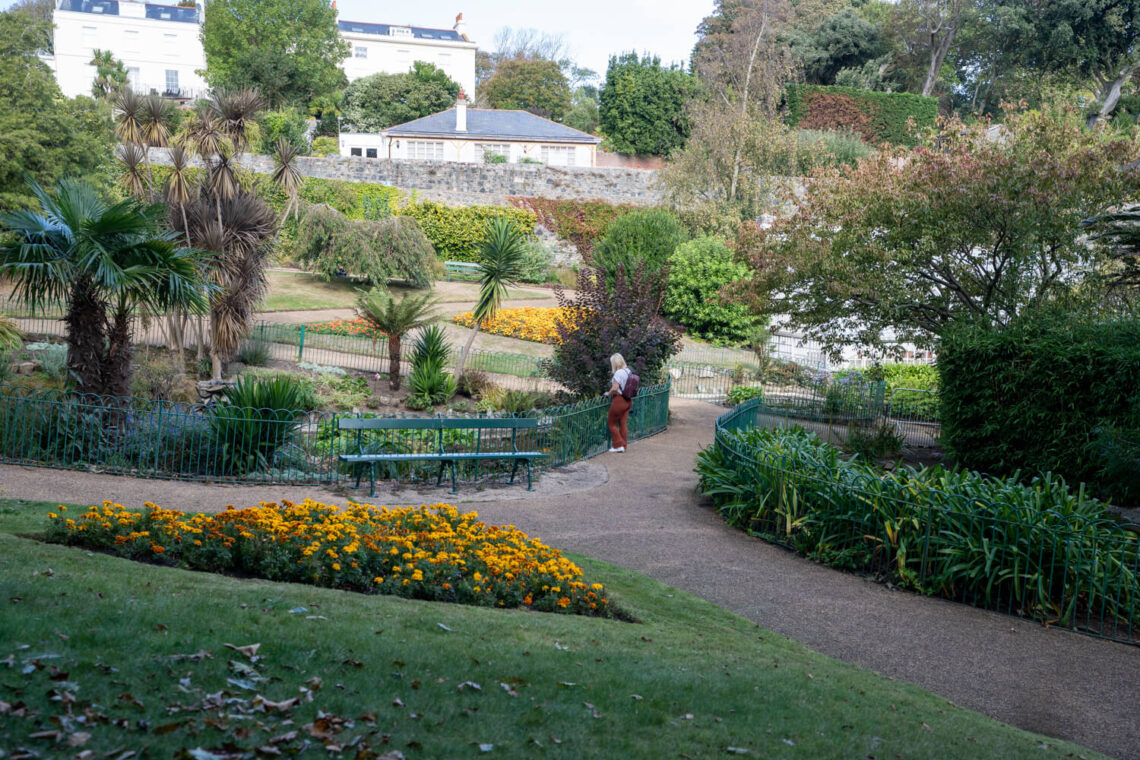 Sunset on the West Coast
After you have checked into your hotel and enjoyed the luxury that it has to offer, it is time to head out for one of Guernsey's most popular past-times; the sunsets in Guernsey are like none other in the world. During the summer months of June through to September you will be pretty much guaranteed a stunning sunset over the sea on the western coast of the island.
It is, therefore, time to catch a lift to the western coast of the island, either by bus or other transport option, and get ready for the sunset of your life. The best option for an unbelievable sunset in Guernsey has got to be on the golden stretch of sand on Cobo Bay.
Facing off towards the west, on a clear day the sun sets directly over the sea at Cobo. When you combine this with the close proximity to bars, restaurants and hotels, it is no wonder that Cobo Bay is one of the most popular choices when it comes to watching the sunset in Guernsey.
Once the show is all but over and you have had your fill of stunning sea views with the gentle noise of the ocean, you can head directly up from the shore to the Rockmount hotel for dinner or you can catch a lift back into St Peter Port and continue the night there.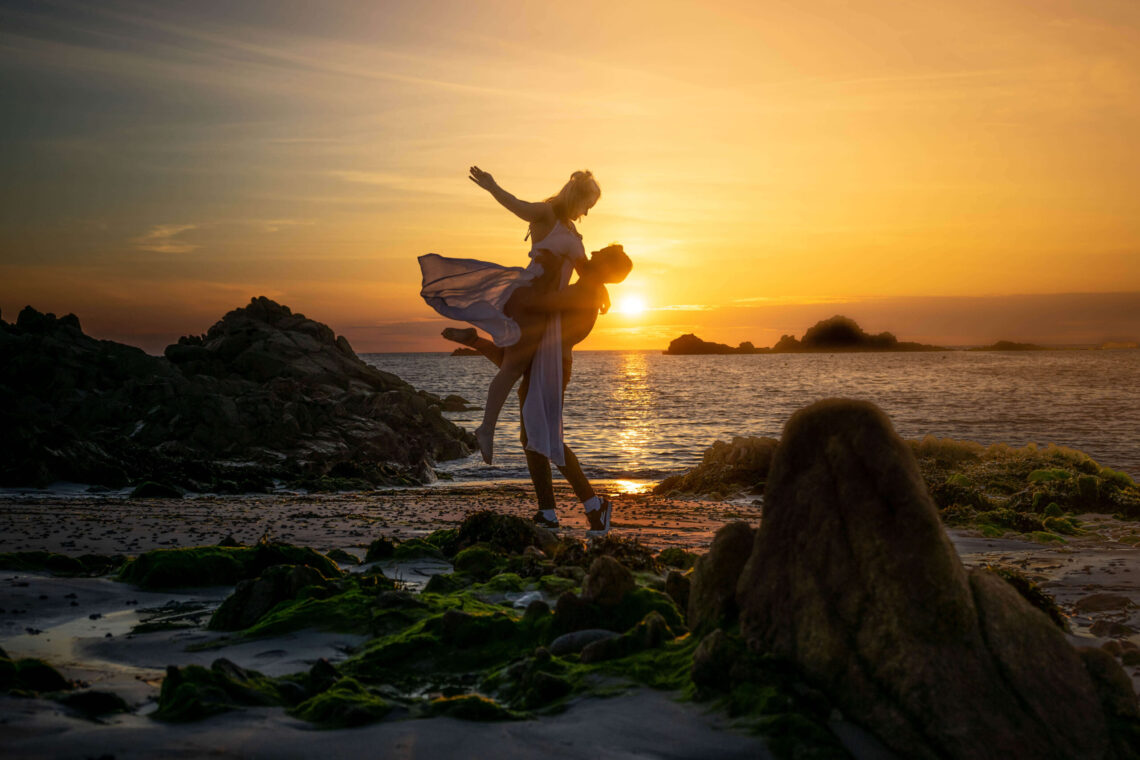 Day Two in Guernsey – Guernsey's Adventurous Side
Sunrise at Guernsey's Best Hidden Beach
Guernsey has an abundance of pristine white sandy beaches, there are plenty to choose from. Some of these beaches are more easily accessible than others and our favourite is hidden on the southern coast down a ladder, but well worth the climb.
Jaonette Bay is located approximately a 15-20 minute walk around the cliff, heading west from Icart car park. It is best accessed at low tide as the white sandy beach is revealed, giving you a lot more to play with. As we mentioned above, you do need to climb down a ladder to reach the beach, meaning it is definitely not a beach for the faint-hearted, or for those with limited mobility.
If you do decide to take the trip, make sure you check the tide times first and you are wearing comfortable footwear. If you choose to visit a more accessible beach, we would recommend heading to Pembroke on the north coast of the island.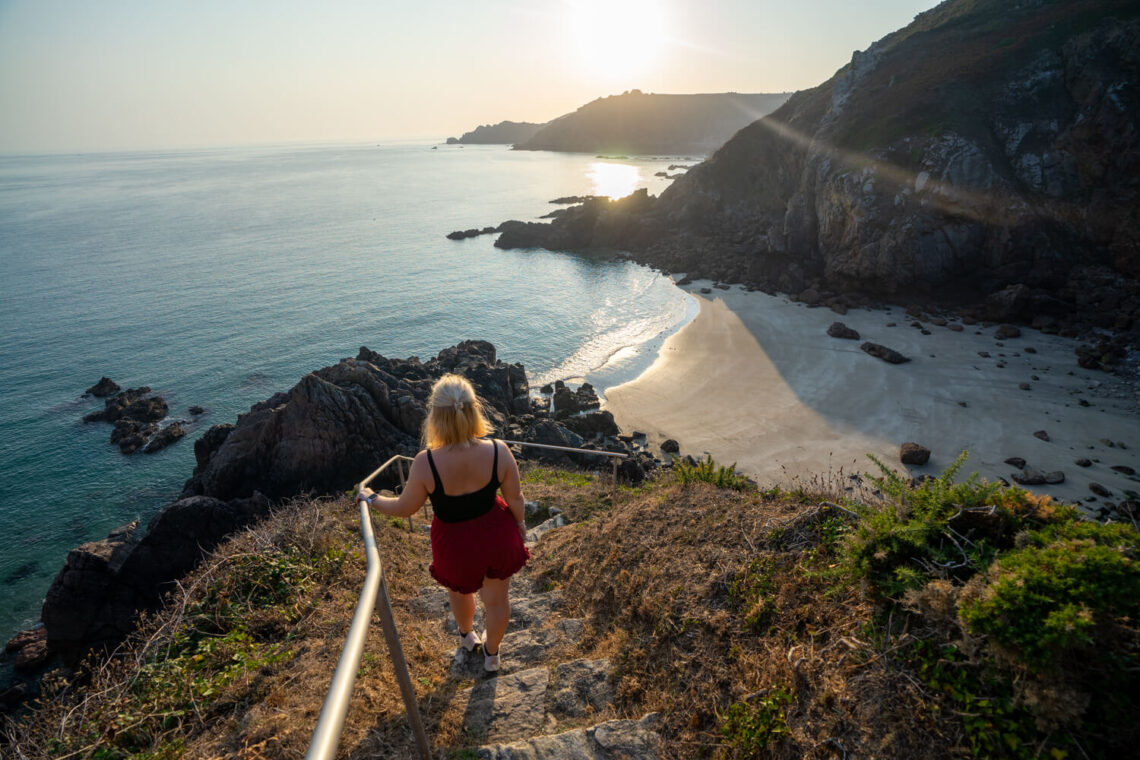 Come along on our cliffside tour of Guernsey in this video. Make sure you subscribe to our Youtube channel for more by clicking here!
Breakfast at Buho Mexicana
The Buho Mexican style restaurant just up the hill from St Peter Port. The unique interior of this restaurant transforms you across the world to Mexico where you will be offered a selection of delicious breakfast options. Our favourite was the full breakfast with the vegetarian chorizo sausages!
Buho are open for breakfast at 7.30am-10am and dinner 6pm – late, Tuesday – Saturday.
If you would rather go to Buho in the evening, take advantage of Happy Hour at Buho on a Tuesday and Thursday between 5pm-6pm and 9pm-10pm.
SUP at Petit Bot
Hire a kayak or Stand up Paddle Board from Outdoor Guernsey for a morning adventure at Petit Bot. This beach is best accessed at low tide when the white sandy beach is revealed. Petit Bot Bay is actually one of the easier hidden beaches in Guernsey to access. If you are driving then it doesn't have to involve an up and down walk around the cliffs, however, due to the rocks on the beach, the sea itself is only really accessible for those with no mobility concerns.
The Petit Bot Tearooms also look over the beach with picnic benches outside and serving up food and drink throughout the day if watersports are not your thing.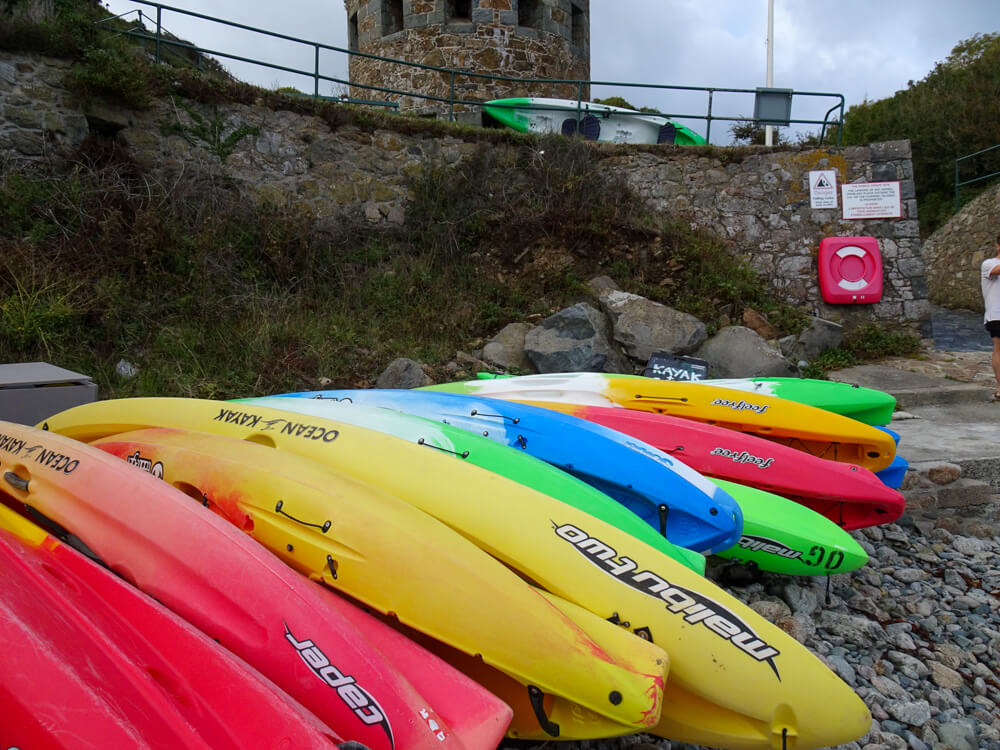 Try Guernsey's Best Coffee at Bordeaux
Our favourite place to go for a coffee or ice cream is Woodie's kiosk at Bordeaux. With beautiful views over the sea towards Herm and Sark, you can choose to either sit in your car and admire the view or sit outside on one of the picnic benches. Woodies also serve a variety of hot and cold food and snacks. There are toilets on-site for your convenience.
Tour the Vale Castle
A short walk from Bordeaux kiosk is Vale Castle.
Overlooking the northeast end of the island, with spectacular views out towards Herm and Sark, Vale Castle is a beautiful spot for both sunrise and sunset in Guernsey. As it is open to the public throughout the year, there are no opening times to abide by for early mornings or late nights, making it perfect for photography, you can visit whenever you please.
The site of the castle itself is believed to date back as far as the Iron Age, however, the stone building that you see today dates back to the 15th century. The castle was also used by occupying forces during the Second World War and remnants of this can still be seen today.
Looking out to the west from the top of the castle, the sunset view from Vale Castle is a combination of the ancient history of the island and the modern-day character of Guernsey. As your gaze journeys beyond the aged, weather-worn stones of the fortification, your eyes will meet the skyline of St Sampsons, with towering chimneys of the local power plant.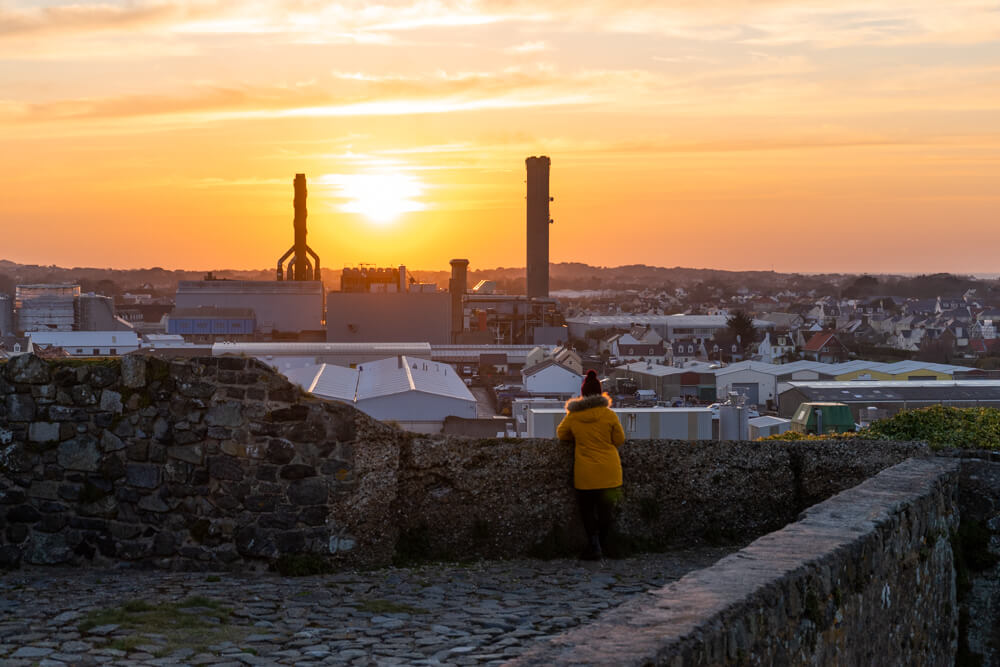 Pay a Visit to Sark's Rocky Coastline
Sark is one of the smaller islands in the Bailiwick of Guernsey, which is well worth visiting if you are spending longer in Guernsey. However, on your 2 day Guernsey itinerary, you don't need to skip out on Sark completely. Island Rib Voyages can skip you across the waves to the rocky coastline of Sark where you can explore the caves and caverns.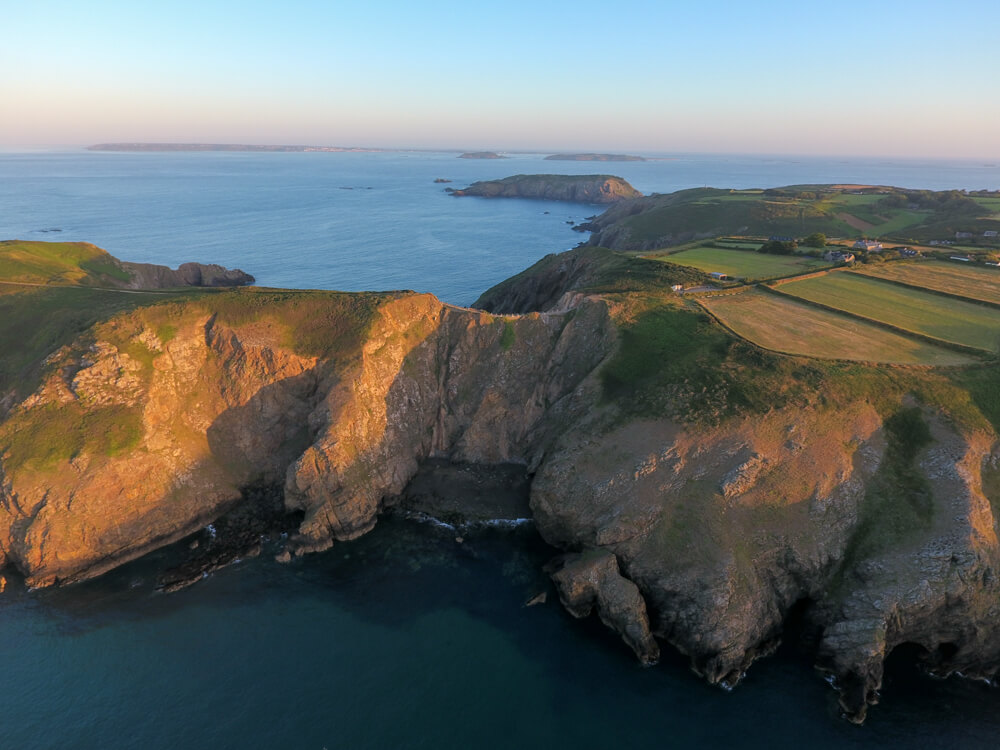 Where to Eat in Guernsey
As we've said before, Guernsey has a great food scene snd there are many great restaurants located all around the island so you will never be far from somewhere serving some good grub.
Below we have mentioned a couple of our favourite restaurants in Guernsey for breakfast and dinner. However, you can check out our full guide of where to eat out in Guernsey here.
The Boathouse
Located on the harbour of St Peter Port, the Boathouse is the perfect place for a reasonably priced meal. During the day, between 12 pm-2.30 pm, you can enjoy a meal from their continental menu or simply a coffee or glass of wine as you listen to the waves crash off the harbour wall. Come evening, at 6 pm -late, you may need to book your table as the main menu is popular along with the perfect view you get at mealtime.
We enjoyed a vegetarian breakfast at the Boathouse that was fantastic value for money. The breakfast menu is available from 9am-11.30 and has a great selection of sweet and savoury breakfast options, all at a great price.
The Rockmount
Located in Cobo and overlooking one of our favourite beaches on the island, The Rockmount is a restaurant and bar that offers a delicious range of dishes with a view to die for. The Rockmount is open for food and drinks throughout the day, however, we really recommend spending an evening here and watching the sunset with a couple of drinks.
The Rockmount is open for lunch at 12pm-2.30pm and 3pm on weekends and open for dinner at 6pm-9pm, and 9.30pm on weekends.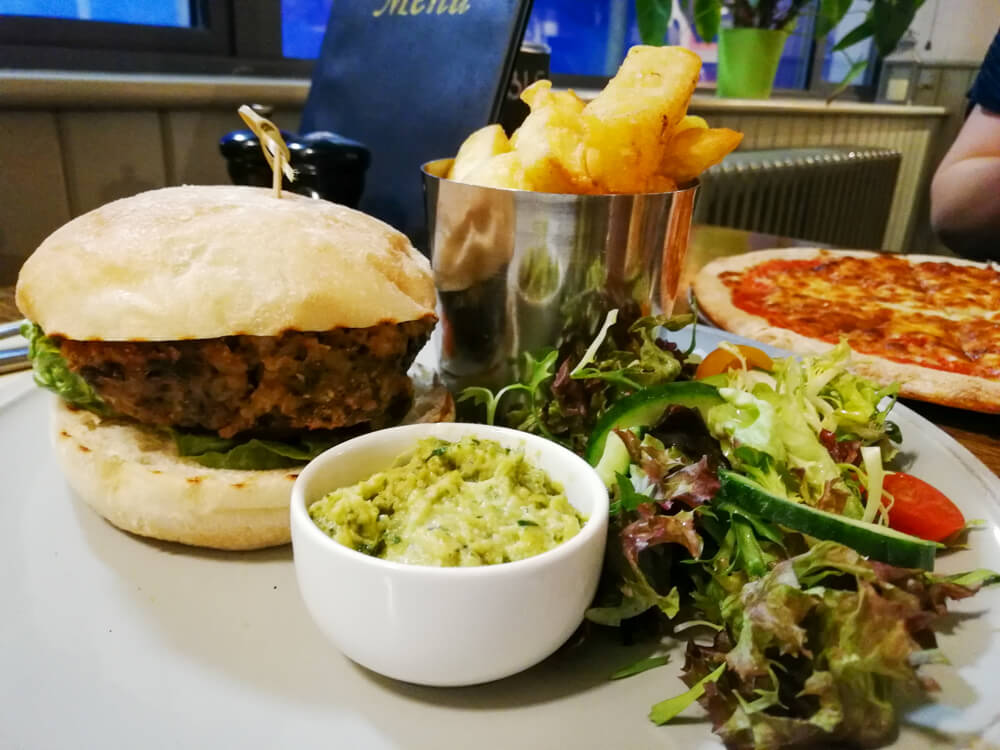 Before You Leave for Guernsey
Before you leave on your trip to the beautiful island of Guernsey, there are a number of things you will need to organise to ensure a smooth and stress-free trip. These include what to pack, where to stay and what is the best travel insurance for Guernsey.
How to Get to Guernsey
Given that Guernsey is an island, you really have two choices of transport for getting there: plane or boat. Both of these transport methods are available from the UK, France and from the neighbouring Channel Islands.
Ferry to Guernsey
Condor is the best option for ferries to and from the Channel Islands from the mainland. Leaving from the mainland UK ports of Poole and Portsmouth, the French port of St Malo and the Channel Islands port of Jersey, there are two main ferries that will bring you to Guernsey.
The faster boat, known as the Liberation, takes 3 hours to get from Poole to Guernsey, while the slower boat, known as the Clipper, takes 7 hours from Portsmouth. From St Malo, it will take you just under 2 hours aboard the Rapide to reach Guernsey.
Browse all of Condor's ferries and routes on their website here.
Fly to Guernsey
Flying to Guernsey can be done from multiple airports across the UK with the Channel Islands airline, Aurigny. This is the quickest and easiest way to get to the island if you are only coming for a short period of time.
You can browse all of the available flights and routes on the Aurigny website here.
What to Pack for Guernsey
What you need to pack for Guernsey will rely highly on when you make your trip to the Channel Islands. During the Spring and Autumn months, temperatures and weather patterns vary wildly between beautiful sunny skies and storming gales.
The temperatures generally vary from 10 oC to 25 oC during these months, with a mixture between cold, northerly winds and warmer southerlies. There is a small amount of rain, with maybe 1 in 7 days receiving rainfall, which makes it perfect for days out exploring the beautiful island.
During the Summer months in Guernsey, temperatures tend to range from 20oC to 30oC, with some days topping 35oC. Summer days in Guernsey are perfect for the beach, with many locals and travellers alike sending their day soaking up the sun and playing in the sea. When it comes to toiletries, we recommend that you don't forget to pack sunscreen. The sun in Guernsey can be strong, especially in the summer months.
If you need more inspiration on what to pack for your trip, check out our full packing guides for all-weather conditions over here.
Given the beautiful sights and scenery that you will see in Guernsey, we highly recommend packing a good camera for your trip. If you want to read more about the cameras we use and why we love them, check out the link below.
You can read what else we keep in our camera bag over here.
What is the Best Travel Insurance for Guernsey
Regardless of what type of trip you are heading on, one thing that is essential for everybody is a good travel insurance. Accidents can happen anywhere and at anytime and unexpected hospital bills will ruin a holiday. Remove the stress from your next adventure and get covered for the worst.
World Nomads Travel Insurance provides budget reliable travel insurance that will keep you covered for any level of adventure.
You can get your quote before you leave on your trip right here.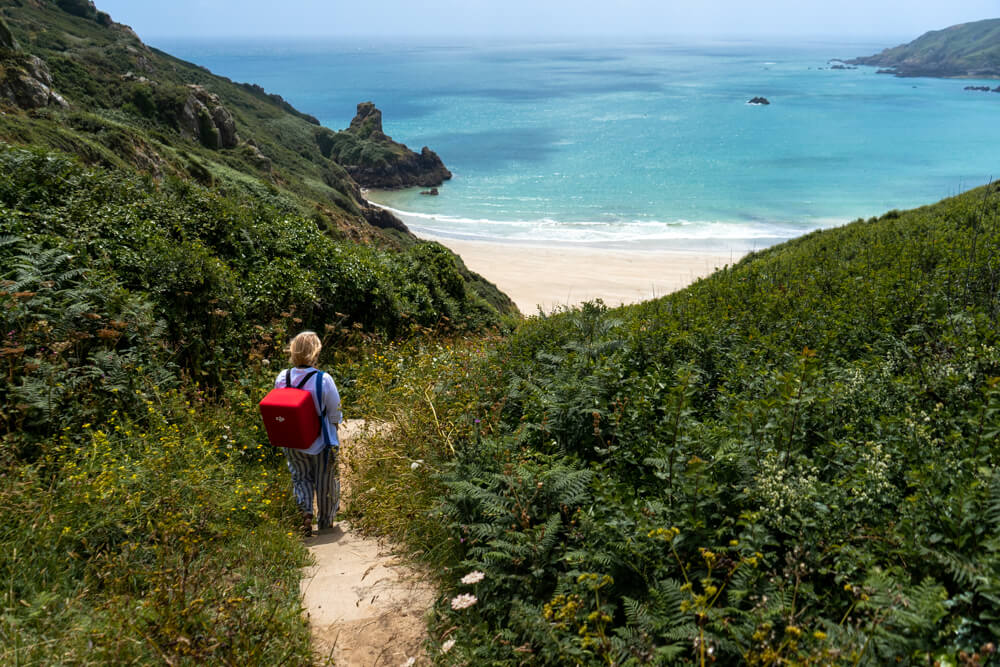 Where to Stay in Guernsey
When it comes to accommodation on Guernsey, you are simply spoiled for choice with a huge range of hotels, B&Bs and even campsites to choose from. No matter what your preferred level of luxury is, there is the perfect place for you.
Luxury – Spend your time on Guernsey in true luxury at the Old Government House Spa and Hotel in St Peter Port. This hotel has beautiful views over the harbour of Guernsey's capital, as well as access to a luxurious spa, an outdoor terrace and a heated, outdoor pool.
Book your stay at the Old Government House Spa and Hotel here.
Mid-range – If you would like a taste of luxury at an affordable price, then the Auberge du Val Hotel is perfect for you. This 19th-century farmhouse sits on the west coast of the island and offers cosy, ensuite rooms, complete with tea, coffee and tv. The hotel is just a short walk from the beautiful nature reserves in St Saviour, perfect for a romantic trip away for the weekend.
Book your stay at the Auberge du Val Hotel here.
Budget – Situated just 2-miles from Guernsey airport in the heart of St Martins, the Carlton Inn is the best value hotel in Guernsey. With free parking and wifi, as well as access to the Wicked Wolf pub that sits in the same building.
Book your stay at the Carlton Inn here.
Camping – If you are up for a more adventurous stay on Guernsey, Fauxquets Valley Campsite offer a range of glamping safari tents, glamping pods and sites for your own tent if you bring one. Visit their website for a full price list of tents and campsites.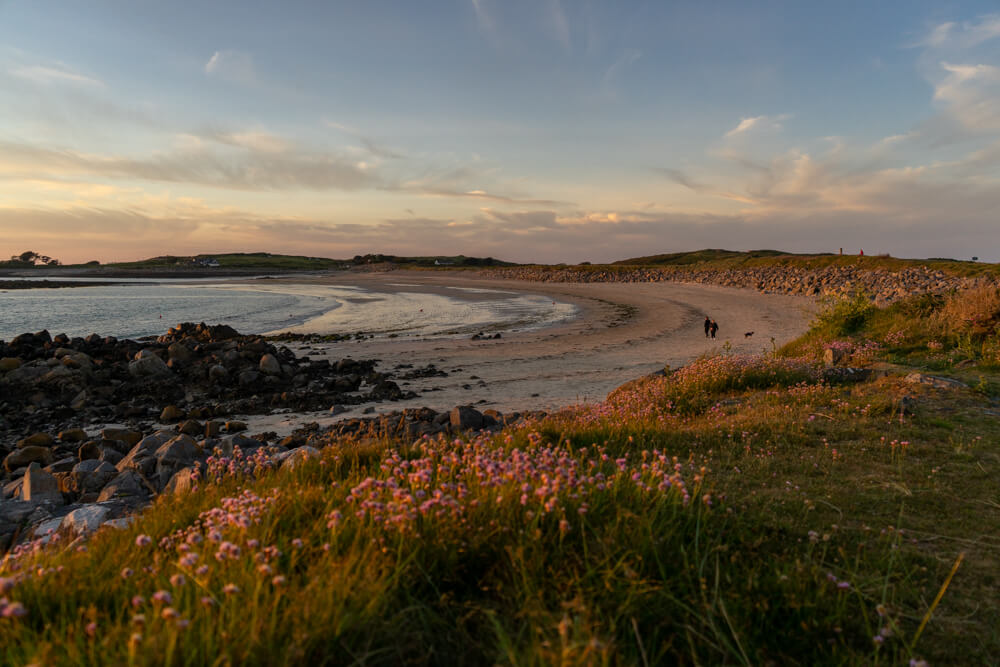 Another secret sunset spot in Guernsey. Chouet Bay is usually quieter and more peaceful at sunset.
So there you have it, your complete two-day itinerary to Guernsey! This is just some of the many great things to do in Guernsey, and we would recommend that if you spend a little more time on this gem of an island if you have the time.
If you enjoyed your trip to Guernsey, let us know what your favourite sight on this amazing island was in the comments section below. We love chatting you guys about this kind of thing, so let's share our top experiences with everyone else! What beach was your favourite? Did you try any of the kiosks? How good is a Guernsey sunset?!
Also, make sure you share this article with your family and friends to show them how beautiful the Channel Islands can be. Sharing is caring and we want to inspire as many people as we can to visit this unbelievable part of the world.
If you are planning a trip to Guernsey soon then check out our other Channel Islands content right here. Come and find us on social media to see where we are currently exploring. Tag us in your photos from Guernsey and we will share them with the rest of our community of explorers and backpackers on our social channels!
Now Read:
This article may contain affiliate links that provide us with a small income. For more information read our Affiliate page.
---
Save this to your Guernsey Pinterest board for later