Ancient, romantic, and magnificently beautiful – that's Bruges for anyone. As we say again and again, this Belgian city seems straight out of a fairytale. Bruges is indeed a place that has to be on every Belgium itinerary.
The city literally takes you back to medieval times with its cobbled lanes, old churches, stone bridges over waterways, and peaceful canals. Such is the charm of this popular European city that it has even been recognized as a UNESCO-listed site.
Bruges is located within an hour's distance from Brussels and hence, serves as the perfect weekend gateway from Belgium's capital. However, that's just not the only reason to include Brussels on your bucket list.
Despite not having an image of a pocket-friendly destination, Bruges is pocket friendly. Wondering how? Well, the city offers plenty of amazing free things that are worth adding to your itinerary.
So, let's unveil the list of the best free things to do in Bruges!
No time to read now? No problem, save a pin to your Pinterest board for later!
The Best Free Things to Do in Bruges – Fun Things to do in Bruges
Where to Stay in Bruges
Best Time to Visit Bruges and is Bruges worth visiting?
Visit the Holy Blood of Basilica
Climb Belfry Tower
Explore Rozenhoedkkai
Wander Around the Historic Streets
Explore the Markt Square
Visit the Church of Our Lady
Enjoy the Surreal Beauty Around Minnewater Lake
Step Back into Time at Beguinage
Stroll Around Burg Square
Saint John's Hospital
Catch the Sight of Bruges' Last Standing Windmills and City Gates
Visit the Saint Saviour's Cathedral
Shop at the Wednesday Market

Before you leave for Bruges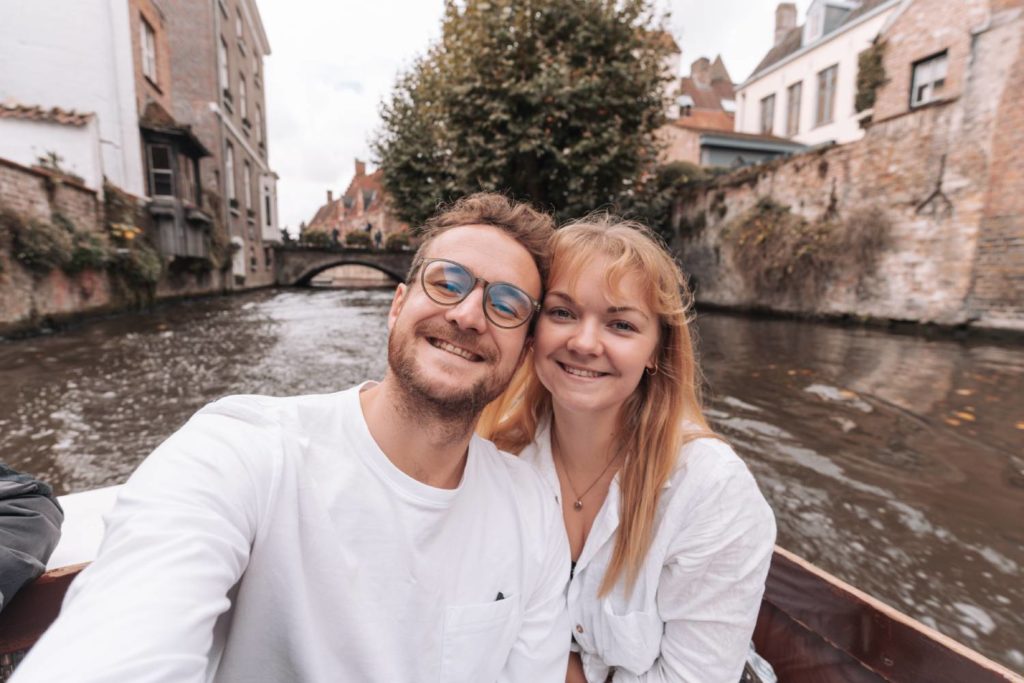 Planning your trip to Bruges
Best Time to Visit Bruges and is Bruges worth Visiting?
The fact that Bruges is a year-round destination makes most of the attractions and activities available throughout the year. However, summer and late spring are considered to be the best time to plan a tour or Bruges day trip itinerary.
During the summer season, the weather remains pleasantly warm with lots of sunshine. One can also look to plan a trip to Bruges in the months between May and August. It is usually called the shoulder season. This is the time when you will witness fewer people, and the weather also remains warm.
Winter is very cold in Bruges, with the temperature falling down to 1°C at night. This is not at all the ideal time to plan outdoor activities in Bruges.
Bruges is one of the most beautiful European cities we have visited so it is definitely worth visiting.
Visit the Holy Blood Basilica
Unarguably the most iconic and religious site in Bruges is the Holy Blood Basilica. Also known as a Heilig-Bloedbasiliek, the basilica is known to house a phial that is said to be filled with some of Jesus' blood.
The phial was brought out on display a few times throughout the day. You can go close to the phial to get a closer look at it. The basilica was founded by Thierry of Alsace in the 12th century.
Talking about the architecture, it boasts a stunning Romanesque style of architecture of West Flanders.
Over the years, the basilica has gone through numerous renovations. Today, it has two chapels – upper and lower. The architecture also boasts stunning glass depicting the leaders of Flanders.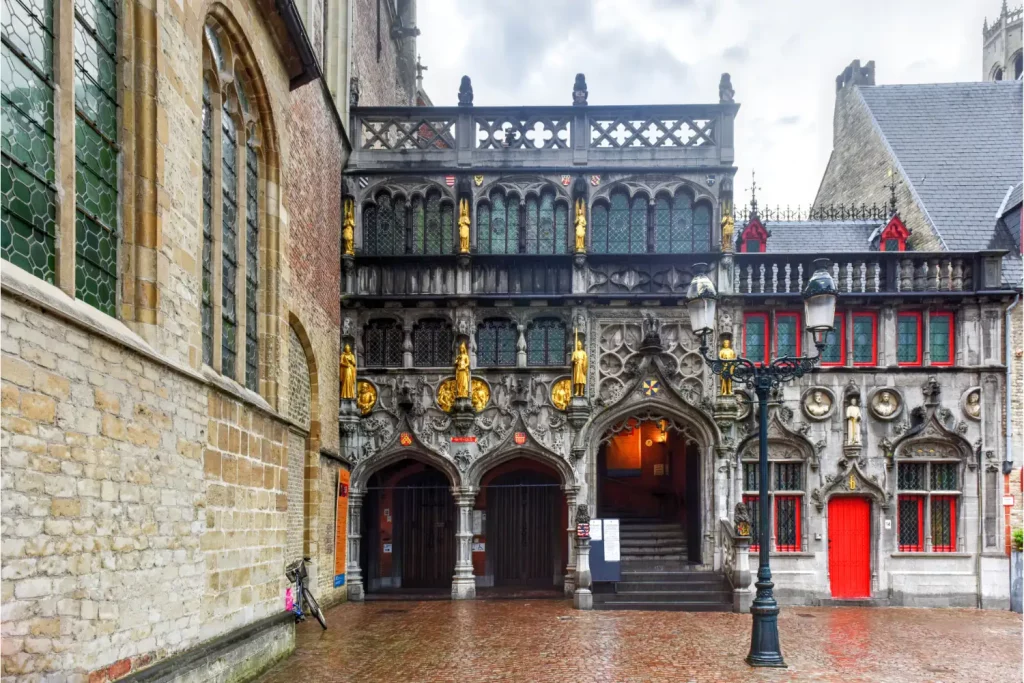 Climb Belfry Tower
Belfry Tower is another highlight of Bruges tourism in Belgium. It is a medieval tower located in Markt Square and is recognized as a UNESCO World Heritage Site in Belgium. Built in the 13th century, the tower is 83 metres making it a part of the city's beautiful skyline.
However, the best thing about this tourist site is the picturesque views from the top. There are 366 steps to reach the top of the tower, from where one can relish the astonishing views over the city and its surroundings.
This is an experience that one must indulge in while holidaying in Bruges at the cost of nothing, as there is no ticket fee to climb the top of the tower. On the way, there is a treasury that used to hold the city's charters, coffers, and seals during medieval times. Ascend a few steps further, and you'll find a drum that operates the carillon and also a keyboard that was used by the carillonneur of the city to play 47 carillon bells.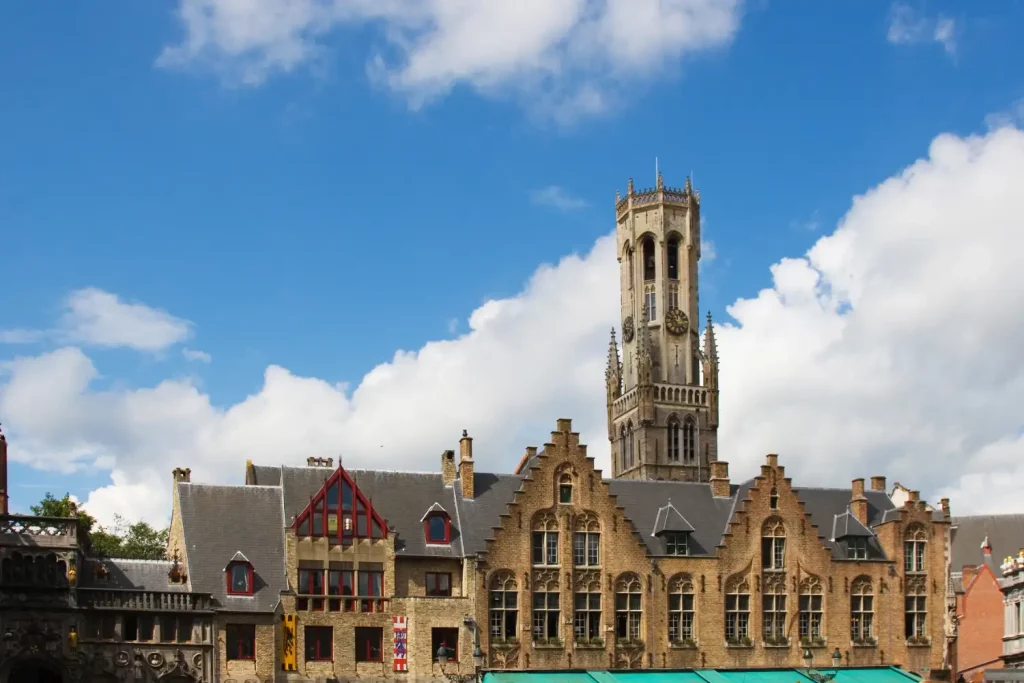 Explore Rozenhoedkkai
What if we tell you that you can visit one of the photographed areas of the city free of cost? That's true! Rozenhoedkkai is one such place that boasts surreal beauty and is ideal for photography.
This picturesque spot is where the two canals – Groenerei and Dijver meet. So, while you are here, just sit back, relax, and enjoy the soothing setup of lovely canals and old buildings. The place also has laid-back restaurants and charming bars where you can spend some time soaking in the calm ambience.
You can also visit this place in the evening as this is the time when you can make the most out of this beautiful place through a canal tour on a boat. However, a boat tour is not a free activity.
If you are looking for a good bag for your time exploring Bruges, we can highly recommend the Wandrd Bag PRVKE 41L if you are carrying camera equipment around the city. If you are looking for a smaller backpack, The Nest by Tropicfeel is one of the most comfortable bags I have ever owned and perfect for a city break.
Wander Around the Historic Streets
One of the best free things to do in Bruges has to be wandering around the city, isn't it? The picturesque streets make for a perfect outing in Bruges. There are cobbled winding lanes dotted with cafes, shops, restaurants, and, obviously, chocolate boutiques.
However, what adds up to the historical streets are the canals along with the stunning buildings. In case you are wondering, the size of the city is quite small, which makes it a lot easier for people to wander and explore.
The fact is you don't even need public transport to explore Bruges. Every attraction and place here is within easy walking distance, which also keeps your travel costs down.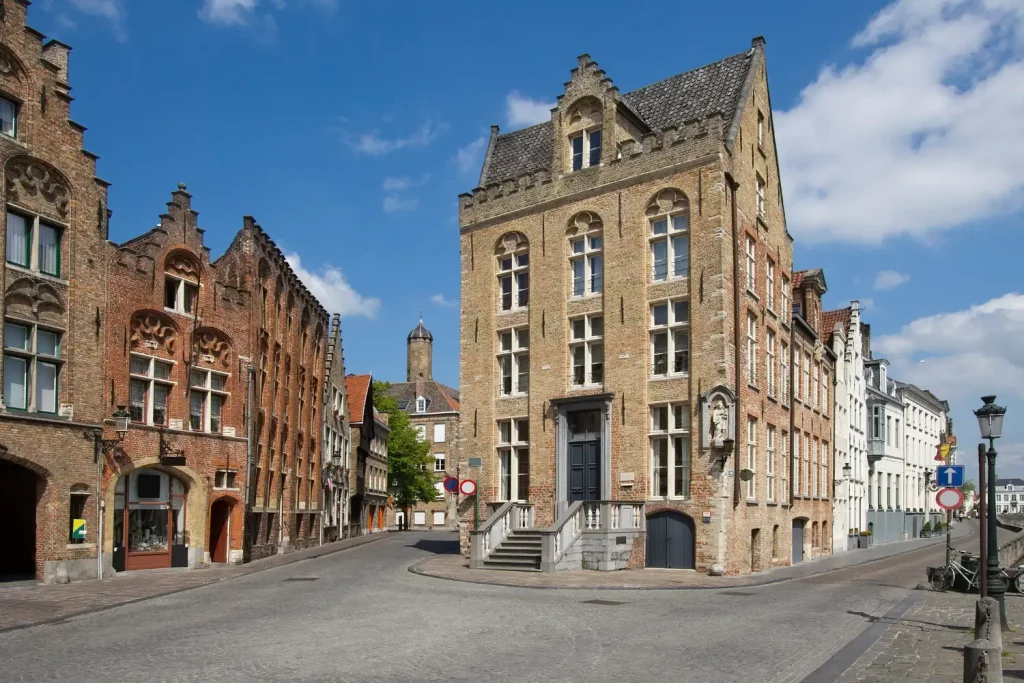 Explore the Markt Square
The most popular public square in Bruges is Markt Square. It is also the heart of the city, making it a busy place amongst tourists as well as locals. The ambience and the setup is nothing short of an old-world charm with horse-drawn carriages, shops, and historical buildings.
There are also street performers showcasing talents on the street that keep the visitors engaged. Belfry Tower is the most popular building in the region. The region has everything to keep you engaged and busy. So, wander around the Markt and enjoy what it has in its fold for you.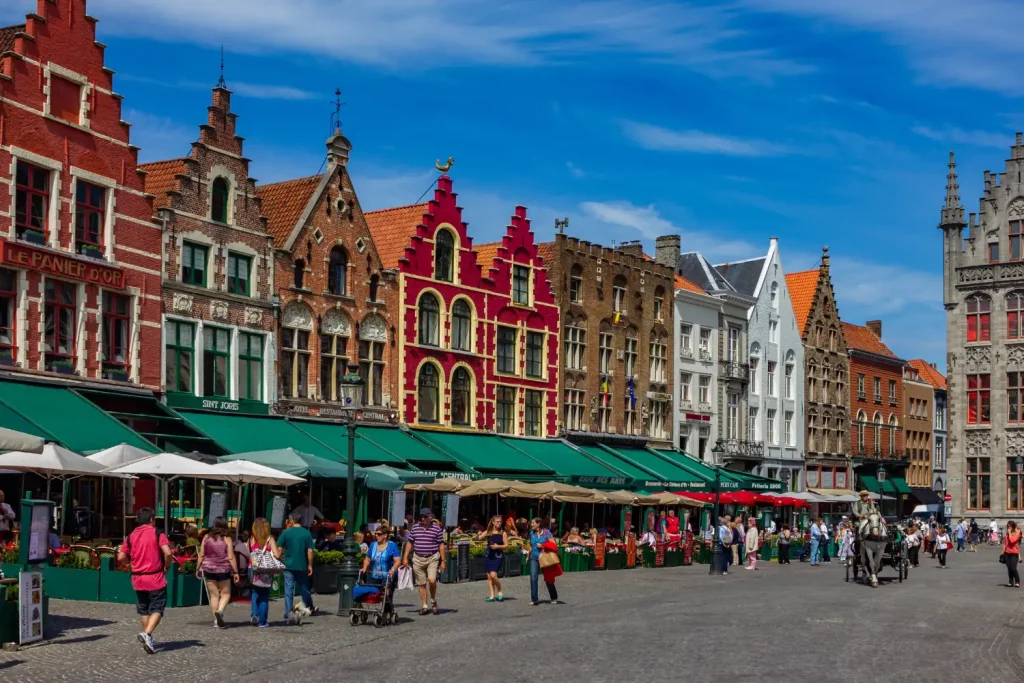 Visit the Church of Our Lady
Also known as Onze-Lieve Vrouwekerk, the Church of Our Lady is another renowned sacred site in Bruges. The construction of the church started back in the 13th century, and it took 200 years to complete it – astonishing, isn't it?
The church also boasts stunning architectural beauty, which is a must to admire. However, apart from its sacred significance, there is plenty more to do and enjoy at the Church of Our Lady.
There is also a museum within the church complex. However, it would require a few euros to enter and enjoy the museum. However, if you are just looking for a free thing to do, the church tour is still enough to make the most out of this attraction.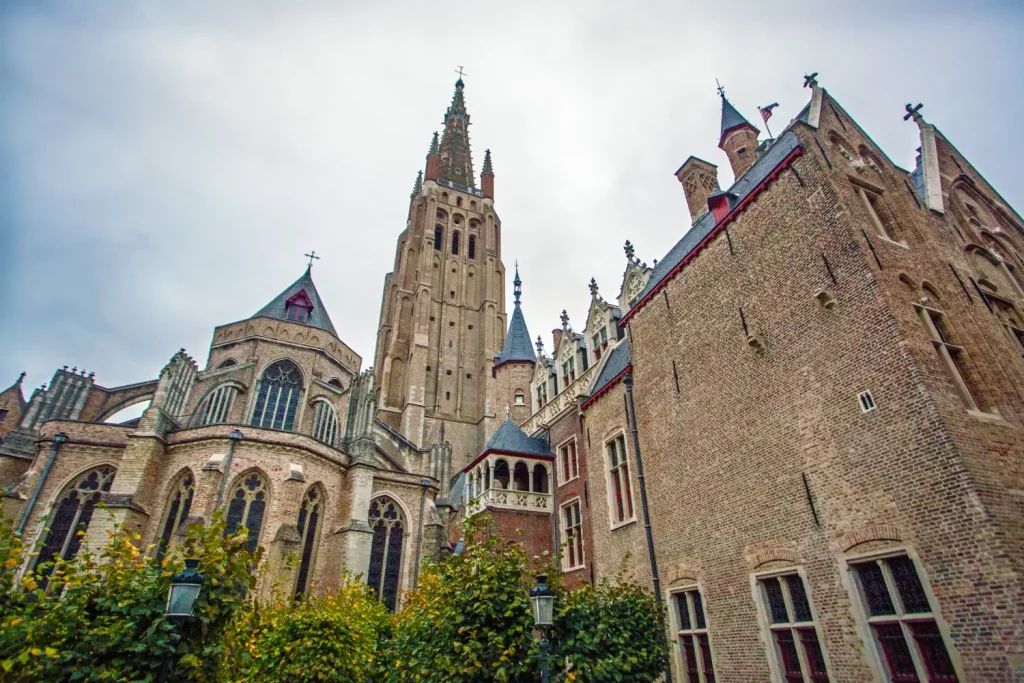 Enjoy the Surreal Beauty Around Minnewater Lake
Another scenic attraction in Bruges which is free of cost is Minnewater Lake. This outdoor attraction is perfect for enjoying a peaceful time with friends and family. The lake is also known as the "lake of love" as there is a legend associated with it.
It goes like this, there was a guy named Stomberg and a girl named Minna. They loved each other. However, the girl's father did not approve of their love. As a result, Minna eloped and escaped to the lake and the forest. Tragically, she died here in the arms of Stomberg.
Today, the Minnewater Lake serves as an epitome of love where you can also see swans swimming. There is even a bridge right at the centre of the park, which adds up to the beauty.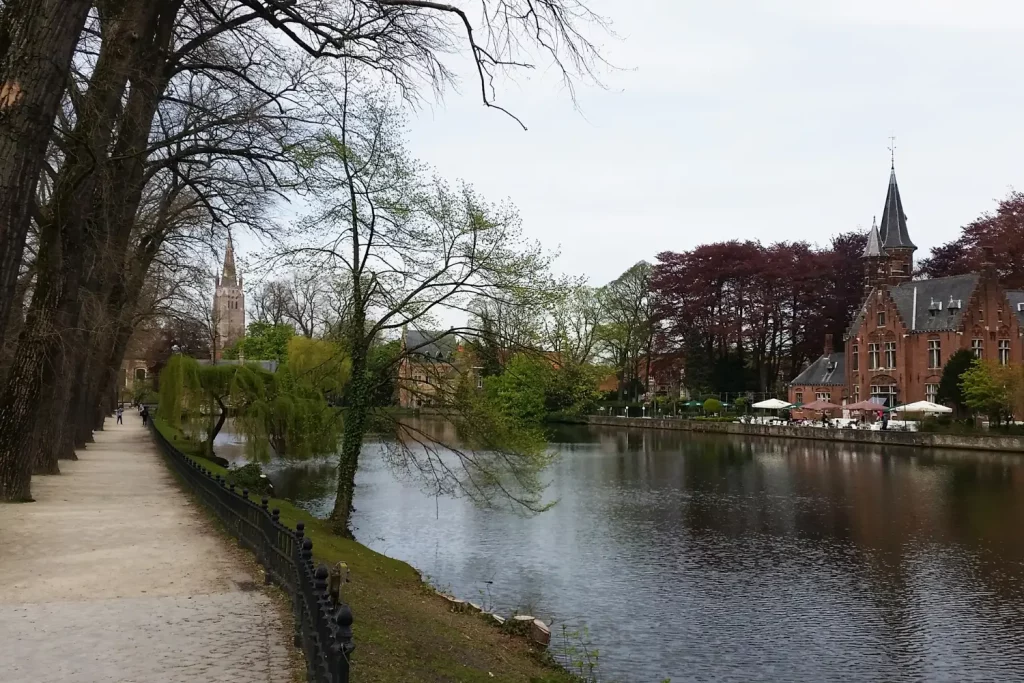 Step Back into Time at Beguinage
Also known as the 'Princely Beguinage Ten Wijngaarde', Beguinage is a former home of holy laywomen (beguines), who formed their enclosed communities. Located near Minnewater, it was founded in the 13th century and was the home of Bruges until 1930.
Today, the estate is run by Benedictine nuns and serves as a monastery. However, it also serves as a famous tourist spot in the region as it also houses a museum and a convent garden. A tour of this place takes you back to the time and shows you how life would have been back in the 13th century.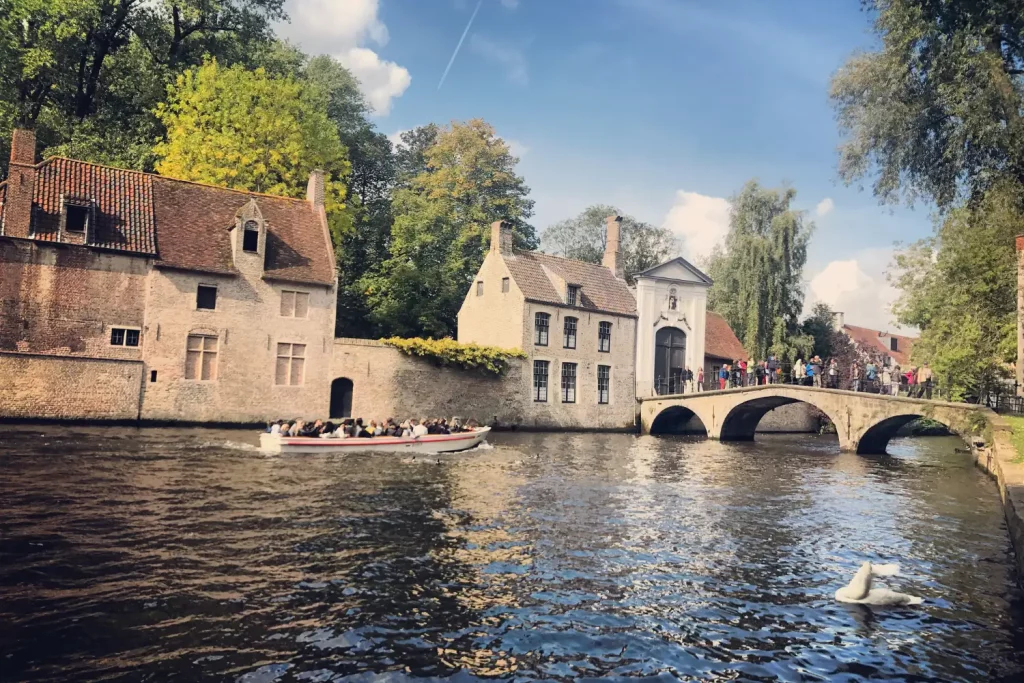 Stroll Around Burg Square
Burg Square is the second most popular public square in Bruges after Markt Square. Though today it is a famous tourist, it was once the main region of operations for the Count of Flanders for centuries.
Today, it truly and magnificently boasts a perfect mix of beauty, power, and old-world charm. Located right in front of the Basilica of the Holy Blood and Bruges City Hall, the place is dotted with many historical buildings.
Along with that, there are also food carts offering tempting options like ice creams and waffles. You can also find good restaurant options where you can just sit and enjoy delectable food while relishing the street view.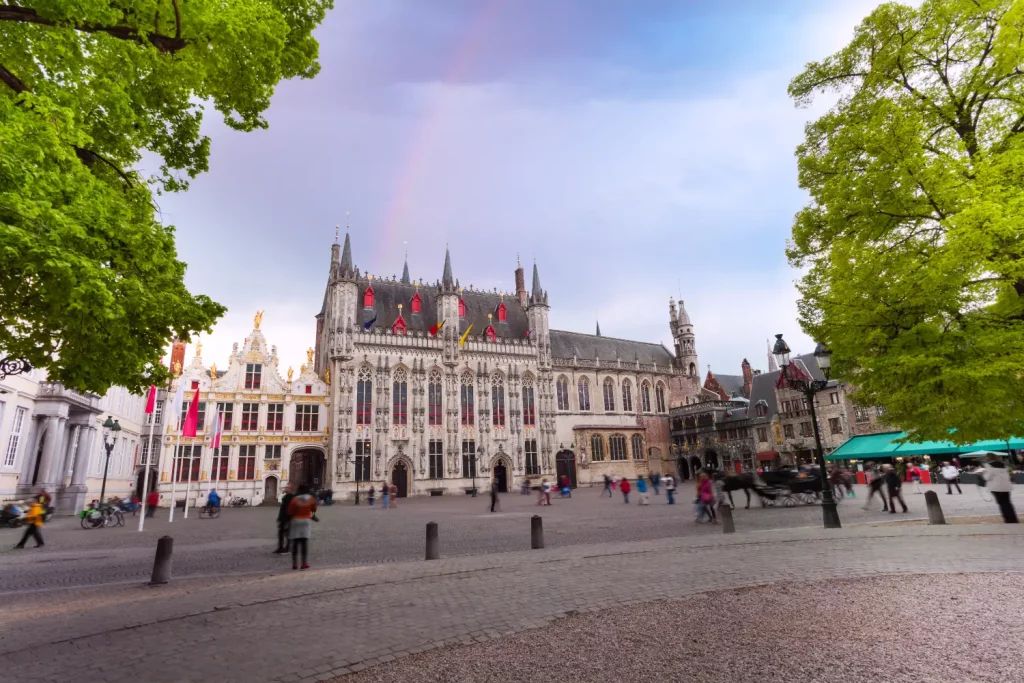 Saint John's Hospital
One of the oldest hospitals in Europe, Saint John's Hospital is an interesting place to visit on your tour of Bruges. Dating back to the 12th century, St John isn't a hospital anymore. It serves as a prominent museum in the city where you can learn about medical history. You need a ticket to see the splendid collection of Saint John's Museum.
However, if you don't want to pay, you can walk around the stunning courtyard within the vicinity of the hospital, which also includes herb gardens. Visiting Saint John's Hospital is also one of the best things to do in Bruges at night as you get to see a whole together different sight to behold. The whole night view is something that you cannot afford to miss.
Talking about the museum, it holds an impressive collection of medieval instruments and artworks that takes you back in time and tells you the story of the hospital life of a bygone era. There are medieval wards along with the church and chapel.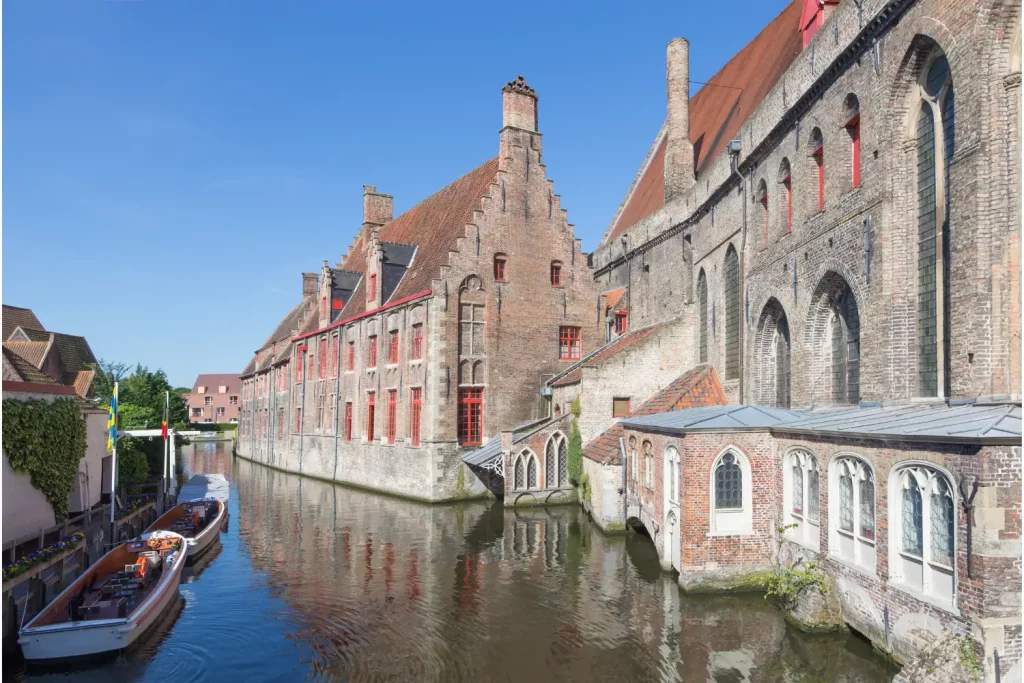 Catch the Sight of Bruges' Last Standing Windmills and City Gates
Situated a little away from the heart of Bruges, the last 4 remaining windmills can be found in the beautiful suburbs of St-Anna. The windmills also remind you how close you are to the Dutch border.
The beautiful suburb of St-Anna is dotted with beautiful houses located on the cobbled streets. Along with that, the place is also dotted with churches and statues in every corner. Along with the windmills, there are also the last four remaining medieval town gates that serve as historic landmarks.
You can take a stroll around the park to soak in the serenity of the place and explore the historical aspect. If you are lucky enough, you might even get to see the 18th-century Sint-Janshuysmill and Koeleweimill.
This is one of the more unique things to do in Bruges and something we would recommend adding to your Bruges itinerary.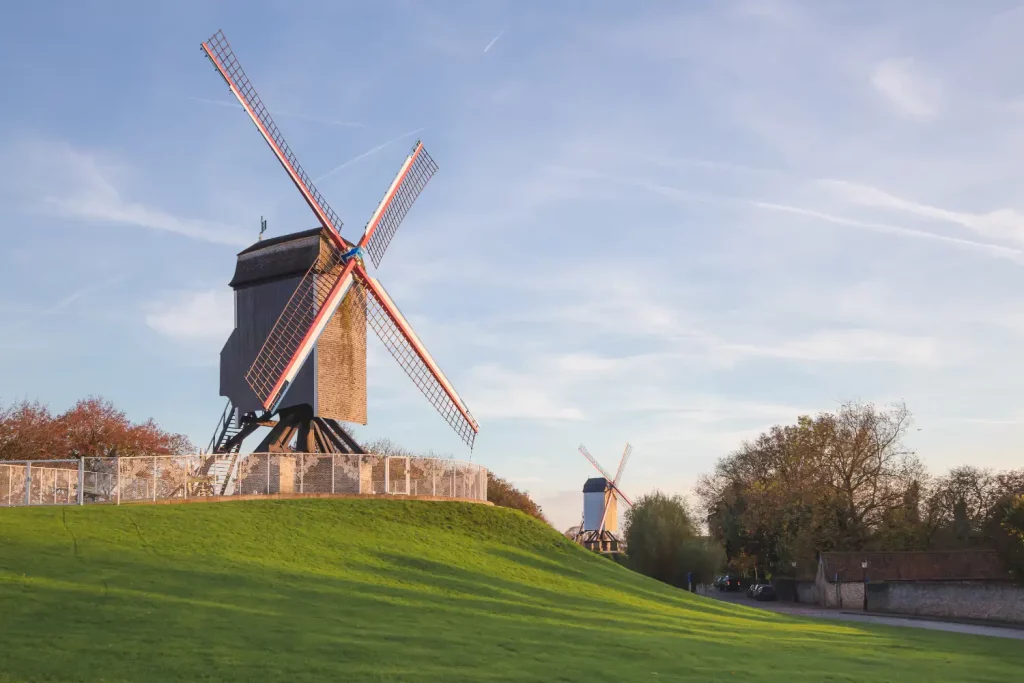 Visit the Saint Saviour's Cathedral
An interesting place to admire Flemish art is Saint Saviour's Cathedral. It is known as the oldest parish church in Bruges, as it was built somewhere between the 12th and 15th centuries. It is a treasure for history and architecture lovers.
The church has medieval tombs and tapestries along with a wide collection of Flemish paintings dating back to the 14th-18th century. On display, you can see works of famous painters such as Hugo van der Goes, Dieric Bouts, and other Flemish artists.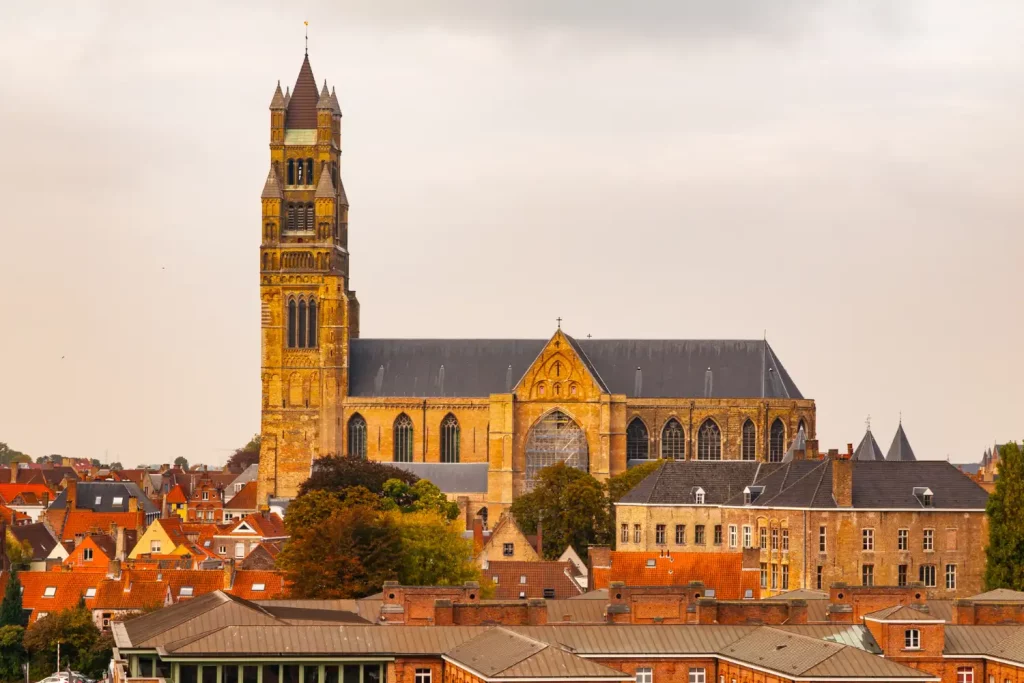 Shop at the Wednesday Market
Before you think about it, let's make it clear – shopping in Bruges isn't free. However, you don't need any money to explore the markets here. Wednesday Market is one of those places which has to be on your list of places to visit in Bruges.
As the name itself says, this market is observed every Wednesday. Situated in the Markt region, this market is a haven for food lovers and connoisseurs, with plenty of food stalls to explore.
If you are also looking to do something local, visiting this market is arguably the best thing to do in Bruges.
Before You Leave for Bruges
Before you set off on your way to Bruges, there are a number of things you will need to get organised to ensure a smooth and enjoyable journey. These include what to pack, where to stay and what is the best insurance for your trip to Belgium. All of this is discussed in detail below.
How to Get to Bruges
To get to Bruges from Brussels, you can take a train or a bus. The train is generally the fastest and most convenient option, with direct trains departing regularly from Brussels Midi Station and arriving at Bruges Station in about one hour. You can purchase your train tickets online or at the station, and it's recommended to book in advance to secure a seat and get better rates. Another option is to take a bus, which takes around 1.5 to 2 hours depending on the traffic. The bus leaves from Brussels North Station and stops at several points in Bruges. You can purchase your bus tickets online or at the station, but keep in mind that the schedules may vary depending on the day of the week and the time of year. Overall, both options are reliable and comfortable, and it's up to you to decide which one suits your preferences and schedule better.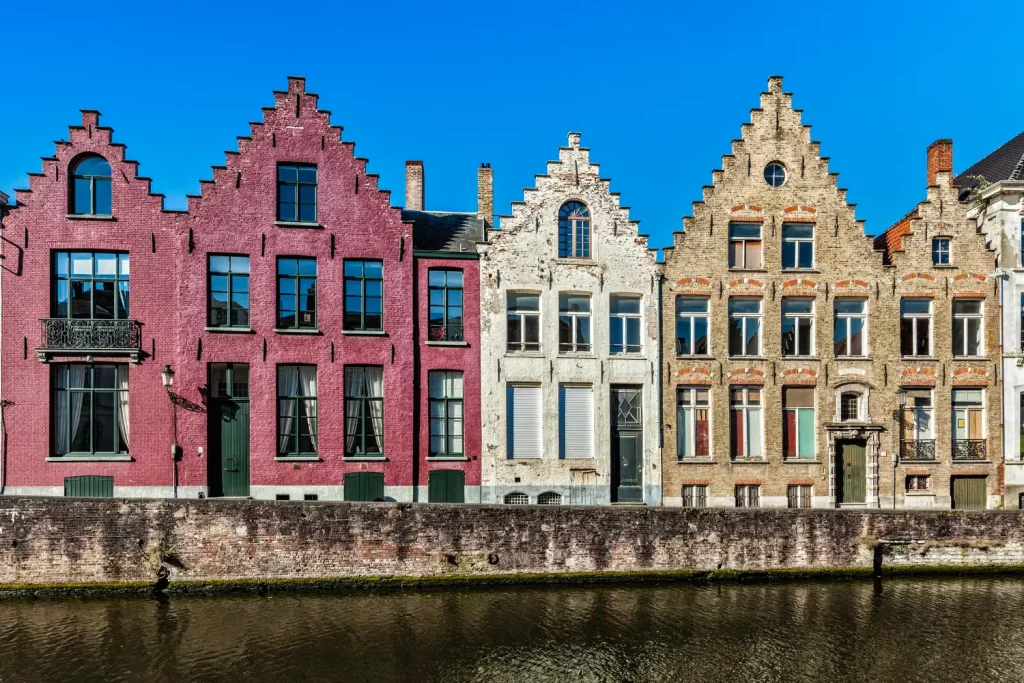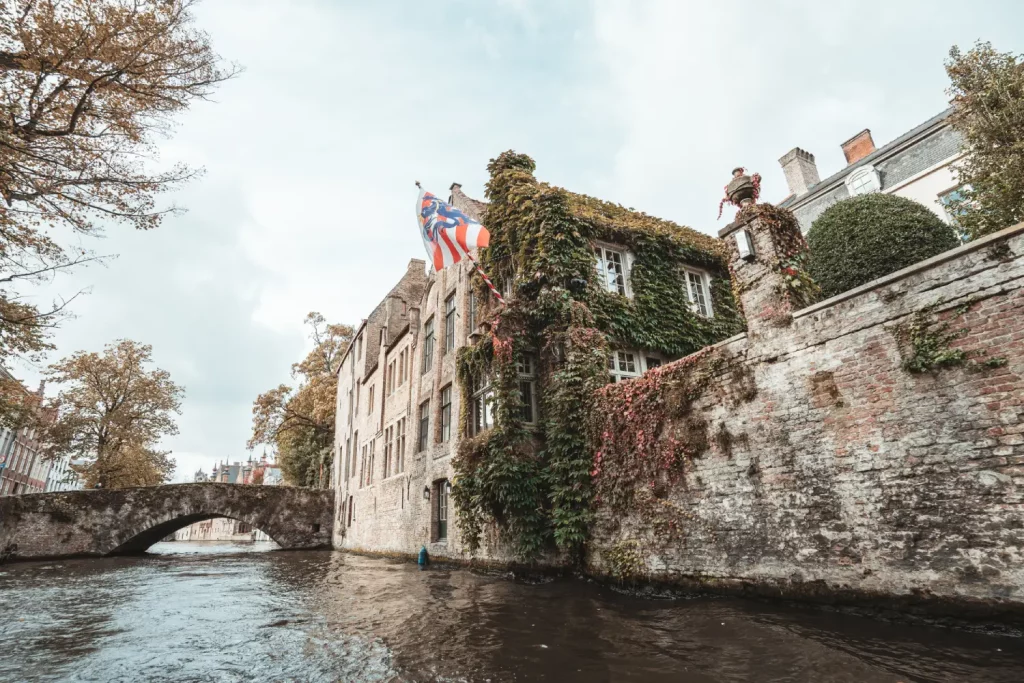 What to Pack for Your Trip to Belgium
Belgium is a country with a temperate climate, so it's best to pack clothes suitable for both warm and cool weather. Depending on the season, you may need to pack a waterproof jacket and comfortable walking shoes. For the summer months, pack lightweight clothing, sunscreen, and a hat. If you plan on visiting religious sites or formal events, bring modest clothing. Belgium is famous for its chocolate and beer, so you may want to leave some extra space in your luggage for souvenirs or gifts. Additionally, be sure to pack any necessary medication and your travel documents, including your passport and visa if required.
For our full list of items that we pack no matter where we go in the world, check out our full packing guides over here.
Given the beautiful sights and scenery that you are no doubt going to see around the Edinburgh, we highly recommend packing a good camera for your trip. If you want to read more about the cameras we use and why we love them, check out the link below.
You can read what else we keep in our camera bag over here.
Photography Equipment
What is the Best Travel Insurance for Belgium
I know travel insurance is the least enjoyable thing to purchase and look at when you're planning a trip, however, you wouldn't want to be without it in the event that something happened. Accidents can happen anywhere and the extortionate medical bills will ruin your trip if you are not covered.
To ensure you have a stress-free trip with no worries about potential medical bills, make sure you cover yourself when you travel. We can recommend using SafetyWing, a backpacker-friendly and cheap insurance company that provides good coverage and support. It is also nomad-friendly, unlike most other insurance companies, meaning you do not need to worry about being out of your home country for too long.
Get a quote for your travel insurance right here and get covered!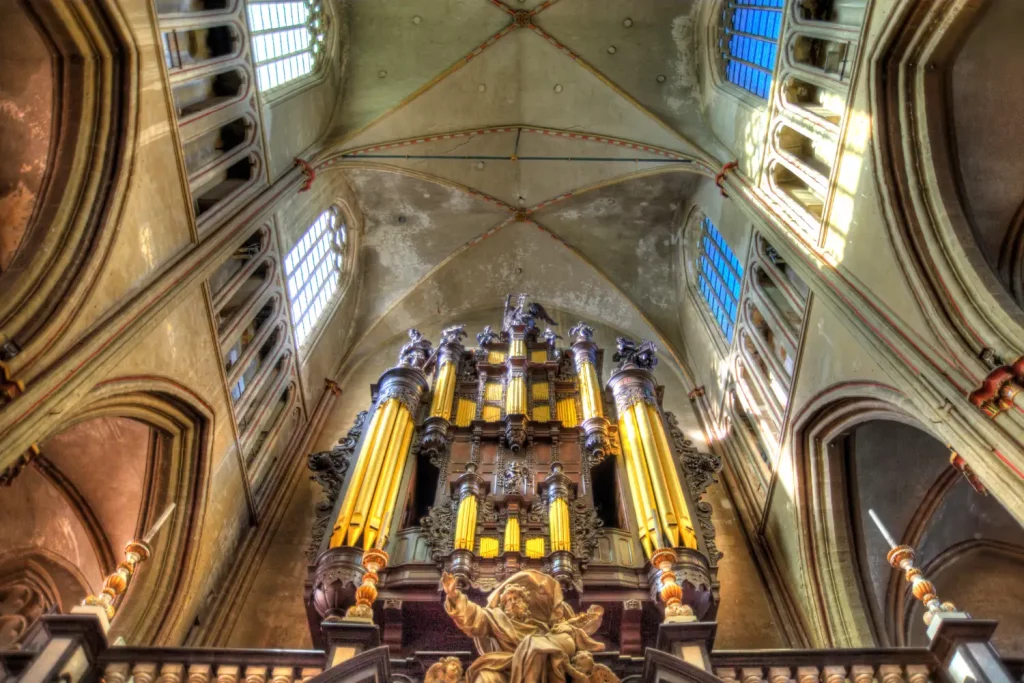 So there you have it, your guide to the best free things to do in Bruges. If you are visiting this incredible city and have any other questions on what to expect, leave us a comment down below. We love to chat about this stuff! If you have already been, let us know how it was! Let us know in the comments below!
Also, remember to share this with your friends and family that you are going to share this amazing experience with. Sharing is caring and we want to ensure that everyone is fully prepared to maximise their experience completing this stunning walk.
If you are planning a Belgium trip soon then check out our other Belgium content right here. Come and find us on social media to see where we are currently exploring. Tag us in your photos from your stay and we will share them with the rest of our community of explorers and backpackers.
Read Now:
This article may contain affiliate links that provide us with a small income. For more information read our Affiliate page.
---
Pin it for later