A bustling industrial port and also a popular tourist destination in Belgium is Antwerp. Also known as the cultural capital of Flanders, the city is a haven, especially for art lovers.
However, apart from that, the city is also known for its history and culture. For a fact, there is plenty to experience and explore in the city for tourists, making it a perfect destination to visit on your trip to Antwerp.
Antwerp is one such destination that is ideal for visiting any time of the year. If you are planning a visit the city in winter, then it is one of the best seasons. The winter season offers some amazing activities, events, and places to explore in Antwerp.
Having said that, let's now explore the ultimate list of the best things to do in Antwerp in winter.
No time to read now? No problem, save a pin to your Pinterest board for later!
Things to Do in Antwerp in Winter – Antwerp Winter Attractions
Where to Stay in Antwerp
Weather in Antwerp in Winter
Visit Antwerp Main Train Station
Admire the Stunning Beauty of St. James' Church
Adore the Grandiose Beauty of Het Steen
Explore Grote Markt
Visit the City Hall
Visit a Brewery
Admire the Historical Significance of Cathedral of Our Lady
Go Shopping at Kloosterstraat and Nationalestraat
Take an Art Tour at the Royal Museum of Fine Arts
Explore Antwerp Port and Maritime Heritage
Explore Antwerp's Nature
Be a Part of Chinese New Year in Antwerp's Chinatown

Before you leave for Antwerp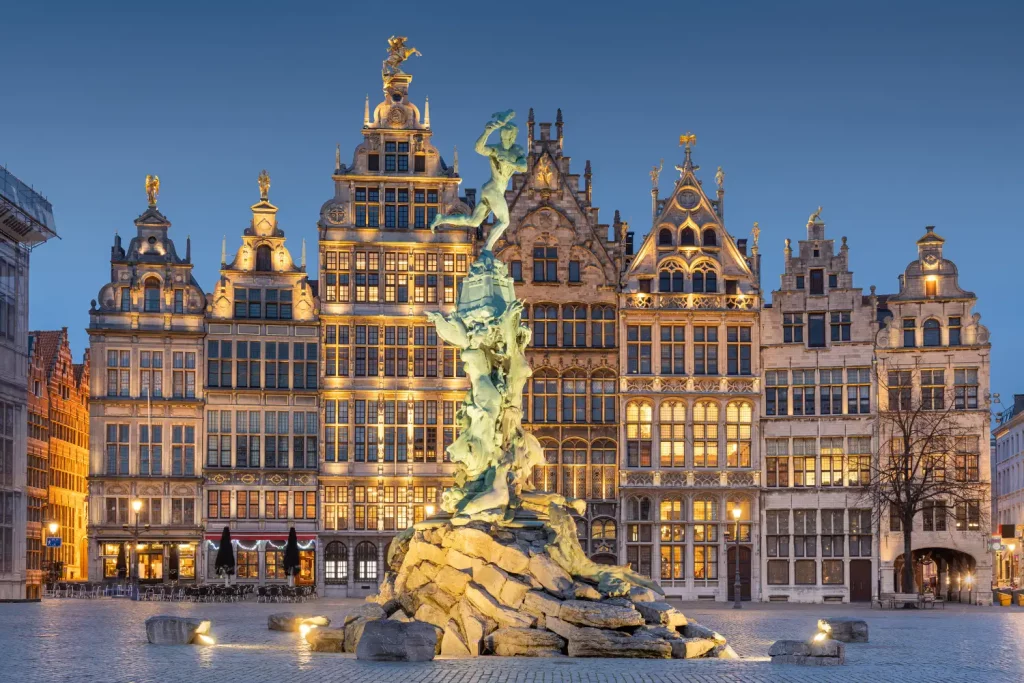 Planning your trip to Antwerp
Weather in Antwerp in Winter
The weather in Antwerp is pleasant all throughout the year. However, if we particularly talk about winter, the season is relatively on the colder side. The season begins in the month of December and lasts until February.
The daytime usually witnesses a pleasantly cold climate. Whereas, during the night, the temperature drops down and makes the city freezing cold. Being the coldest month, January sees the lowest temperature.
In addition, snowfall is very frequent, making the best time to explore outdoor Antwerp winter attractions. However, it is crucial to know that the city doesn't witness snowfall in abundance.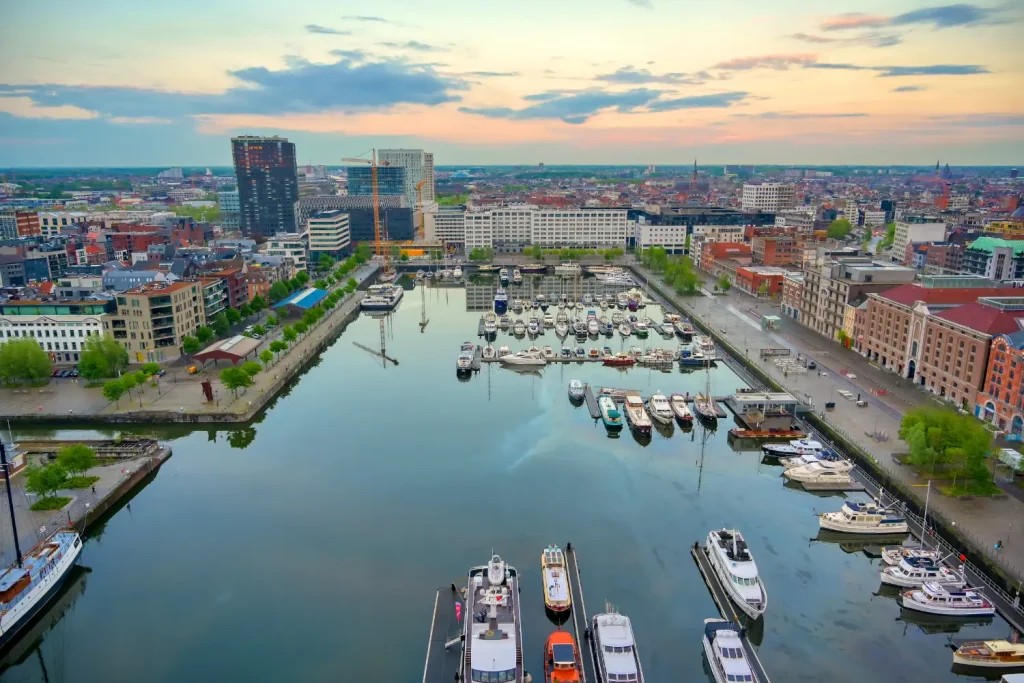 Visit Antwerp Main Train Station
Doesn't matter if it is summer, winter, or any other season, Antwerp Main Train Station has to be the first place to visit on your trip to Antwerp. You would be amazed by its stunning architectural beauty. Hence, it can safely be said that Antwerp Main Train Station is amongst the most beautiful train stations in Europe.
Also known as Antwerp-Centraal Railway Station, it boasts several different architectural forms in its design. The station has a dramatic building and was built by the renowned Belgian architect – Louis Delacenserie between 1895 and 1905.
The key highlight is the entrance hall which has impressive high brick arches and domes. It is also the largest section of the station's architecture. Even if you are not planning to travel via train, a visit to Antwerp Main Train Station is a must just for its marvelous architectural grandeur.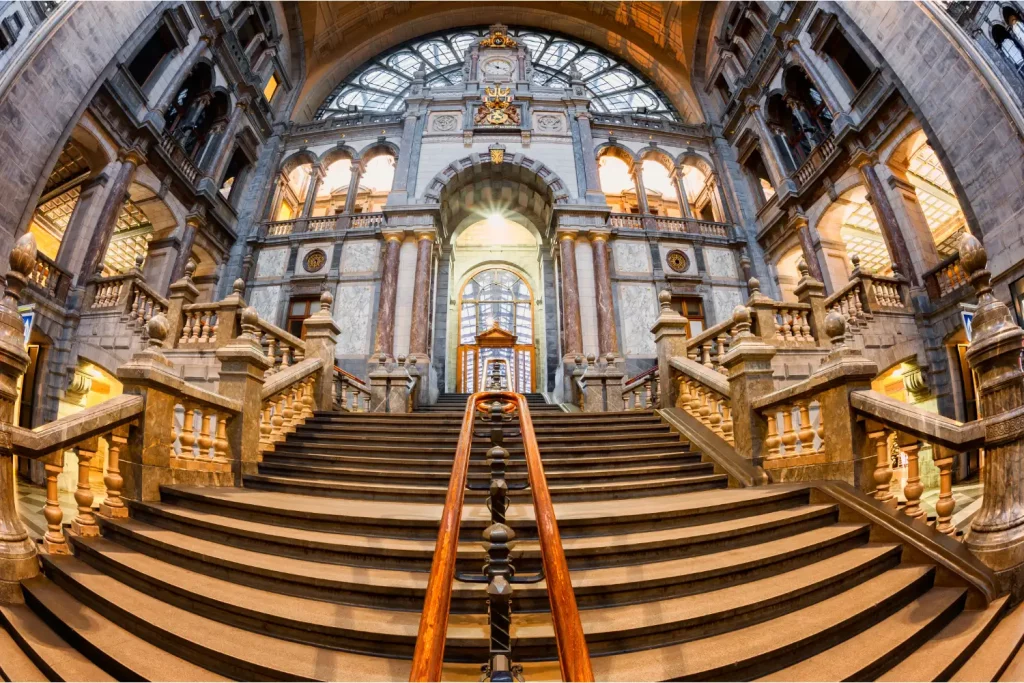 Admire the Stunning Beauty of St. James' Church
St. James' Church is a popular place to visit in Antwerp in winter not only for its high sacred significance but also for its impressive architectural design. Boasting a stunning Baroque interior, St. James' Church is one of the highly revered ecclesiastical constructions in the city.
It is the church where Antwerp's patrician families used to worship. Along with that, they also used to bring leading artists to design their private altars, chapels, and tombs.
It's the Rubens Chapel that lures tourists' attention. It is situated just behind the altar and includes the artist's tomb as well (from the 17th century), along with the tombs of his family members.
Today, St. James' Church also serves as a treasure trove for some of the best artwork from a bygone era. So, if you are an art buff, then this church has to be on your list of places to explore in Antwerp in winter.
Adore the Grandiose Beauty of Het Steen
A medieval fortress beautifully built on the riverfront is Het Steen. It is one of the underrated places to explore in Antwerp. With a rich history, this castle was constructed in Middles Ages after the invasion of the Vikings.
The fact that it is the oldest building in Antwerp clearly states the huge historical significance of Het Steen. The fortress is located in the old city centre of Antwerp, which is another popular tourist site.
In 1890, the castle was transformed into the museum of archaeology. Later, in 1952, an annex was added to include the museum of Antwerp maritime history. However, it was moved to the nearby Museum Aan de Stroom in 2011. The place also has a war memorial to commemorate Canadian soldiers of WWII. Apart from that, Het Steen offers a lot more to explore and indulge to its visitors.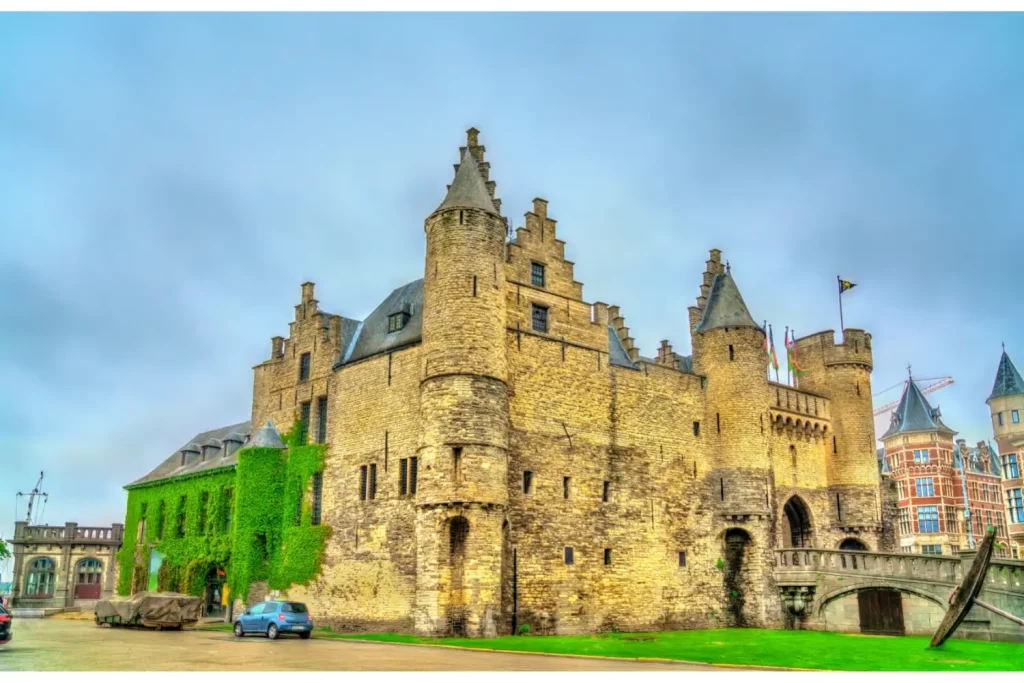 Explore Grote Markt
One of the most popular winter activities in Antwerp is exploring Grote Markt. Yes, despite the chilly weather, it is still a must thing to do in winter. Located in the heart of Antwerp, the Grote Markt is a bustling public square dotted with mighty buildings and restaurants.
The area also hosts plenty of social and cultural gatherings. If you are lucky, you might get to see one. This is a perfect place to be and feel local.
This triangular public is engirdled by the City Hall on one side and the Guild Hall on the other two sides. Whereas, the Brabo Fountain stands beautifully in the middle and is also the key highlight of the square.
In the winter season, the vibe at Grote Markt is at another level, with Christmas music and gleaming lights all around the square. Once you are done exploring the square, you can also go to one of the restaurants to enjoy hot and fresh frites, which are a must in Antwerp.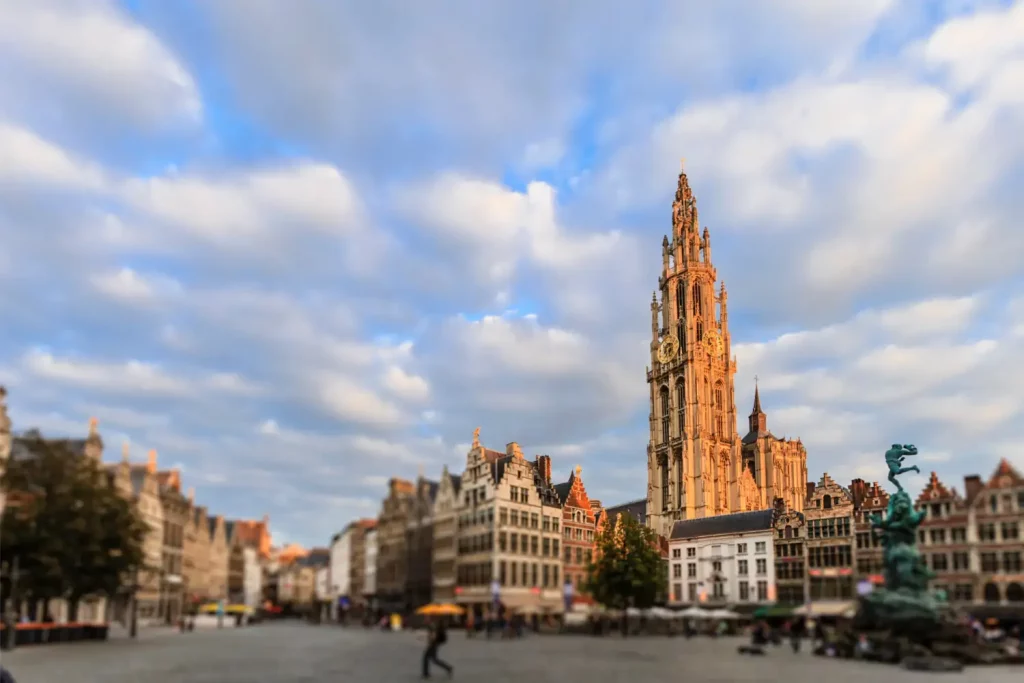 Visit the City Hall
Though the City Hall is located at Grote Markt, it needs a separate inclusion on this list of top things to do in Antwerp in winter. This impressive building has everything to capture the attention of bypassers.
The significance of the City Hall in Belgium tourism can be ascertained by the fact that it is also a UNESCO World Heritage Site in Antwerp. It boasts huge cultural importance. Not only this, it is also known as one of the finest examples of Renaissance architectural design, with stunning halls, a magnificent Renaissance facade, and plenty of other artworks.
Talking about the history of the City Hall, well, it dates back to the 16th century. As a result, there is plenty to admire and adore both inside and outside of this popular tourist landmark.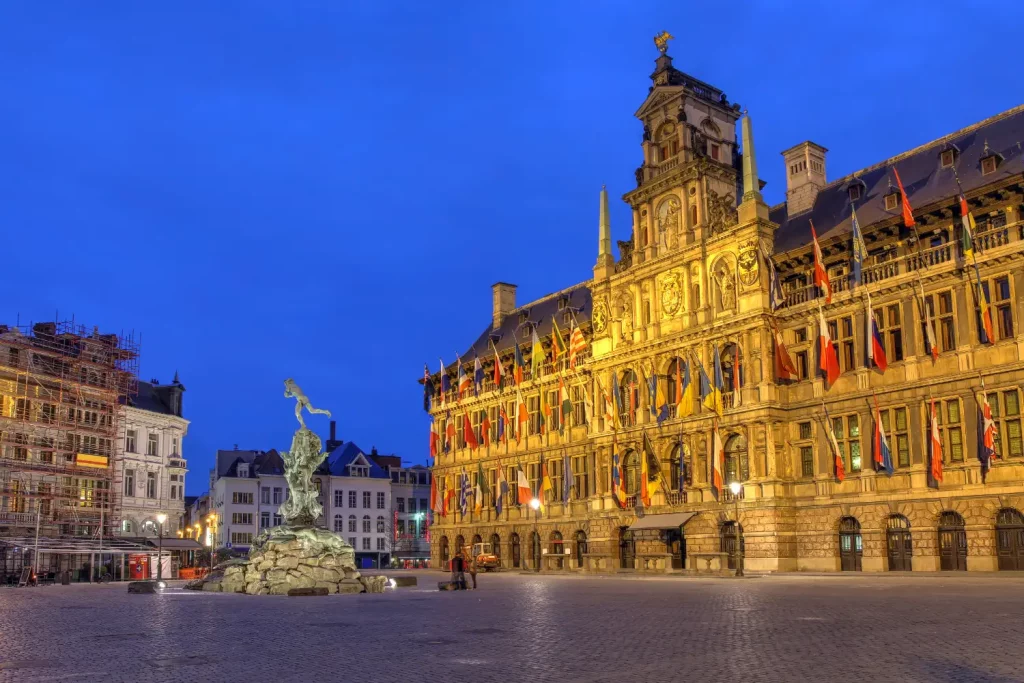 Visit a Brewery
The city of Antwerp has a rich beer culture. It wouldn't be wrong to say that people here just love to gulp beer. There are plenty of micro-breweries that are perfect for a beer tour.
If you want to try the local beer, then De Konick is the best pick. Brouwerij De Koninck is the place where you can take a beer tour and enjoy this amazing local beer. However, that's not your only option, there are a few other brewery options as well 't Waagstuk is another place in the city where you can take a brewery tour.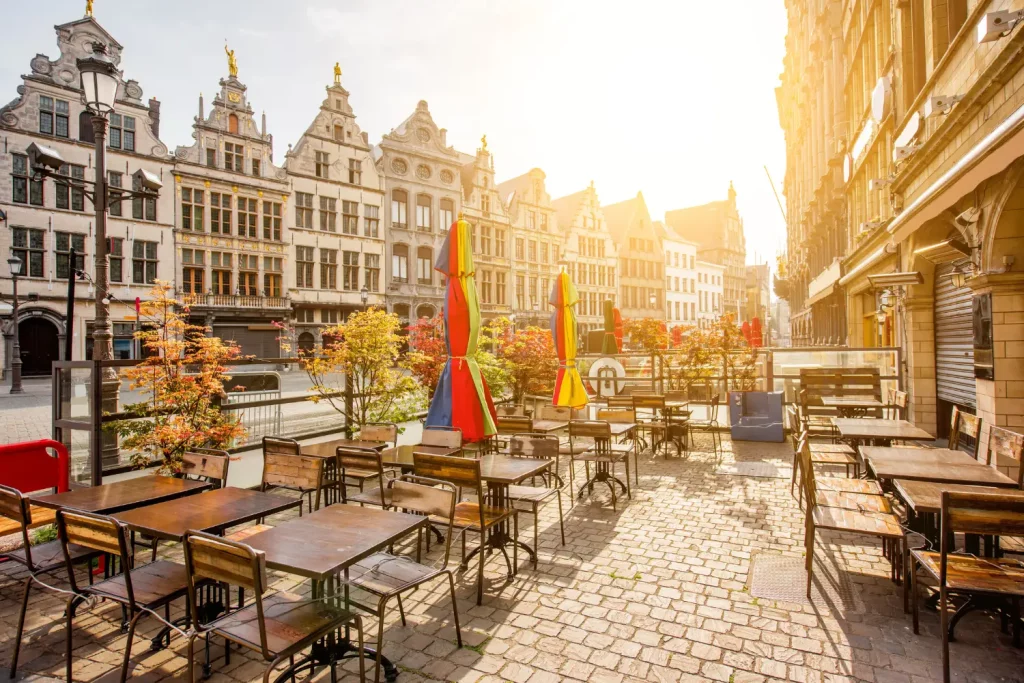 Admire the Historical Significance of Cathedral of Our Lady
Belgium's largest Gothic church, the Cathedral of Our Lady is one of the major tourist sites in the city. The initial construction of the church was started in 1352 and continued until 1521.
Over the years, the church has been through thick and thin of the time and has survived various incidents such as wars, fires, vandalism, and more. As a result, the church's most precious artworks had to suffer.
However, today, the Cathedral of Our Lady serves as the pride and glory of the people of Antwerp. So, be prepared to admire the magnificence of this huge sacred site in Antwerp. It has a huge spire with majestic golden clockwork.
The interior is equally appealing, with a 7-aisled nave of 118 metres long. Besides, the interior is also adorned with 128 windows (out of which 55 are stained glass) and 125 columns. For art lovers, the church also hosts a rich collection of precious art and sculpture.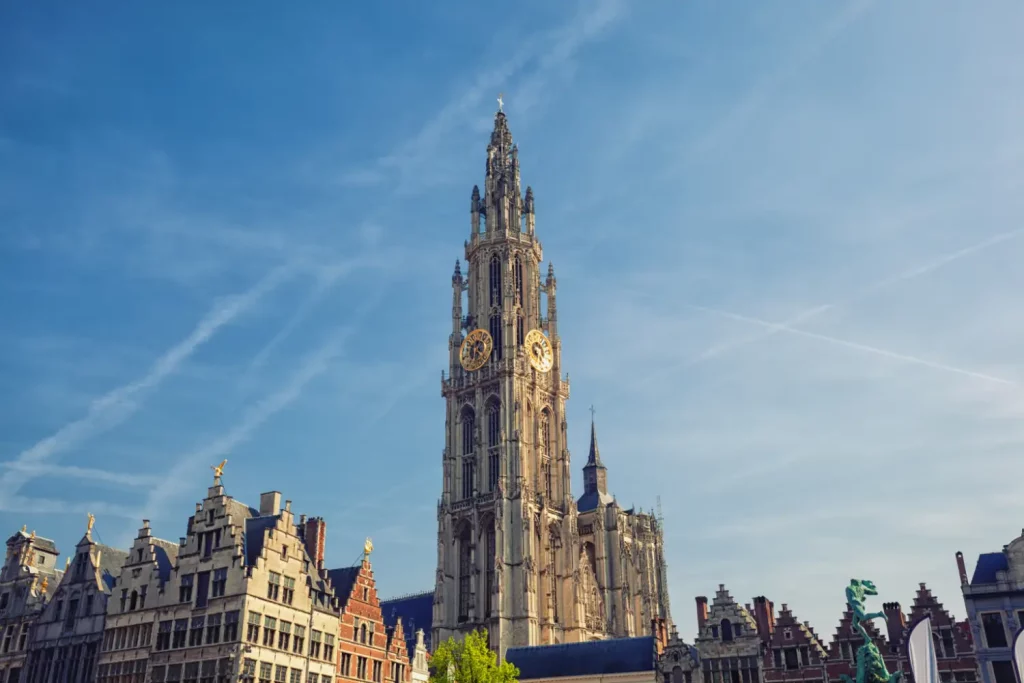 Go Shopping at Kloosterstraat and Nationalestraat
No tour is ever completed with a shopping tour! Besides, who doesn't love to shop? If you are aware enough, you know that the city of Antwerp is known for plenty of things, such as fashion, giants, diamonds, and Madonna statues.
The fashion sense of Antwerp can be easily seen among locals. Kloosterstraat and Nationalestraart are two famous areas that are popular for shopping. The areas are dotted with some amazing boutique and design shops.
Along with that, Meir is another popular spot where you can go shopping. In the month of December, the shops are mainly open seven days a week. For indoor comfort, visit Festive Hall or Stadsfeestzaal.
Take an Art Tour at the Royal Museum of Fine Arts
Winter's temperature makes for a good excuse to stay indoors, isn't it? Hence, the Royal Museum of Fine Arts is the place where you can have a pleasant indoor time while exploring the stunning art collection.
Locally known as Koninklijk Museum Voor Schone Kunsten, the museum dates back to 1442 and originally belonged to the Lucas Guild of Painters and Sculptors. The museum collection is an accumulation of artwork over the years.
Here at this place, you will get an opportunity to adore a magnificently renovated building as well as discover the astonishing art of over seven centuries in a whole new modern setting.
One of the most interesting sections in the museum is the temporary exhibition. If you are lucky enough, you might get to see one of those temporary collections at the Royal Museum of Fine Arts.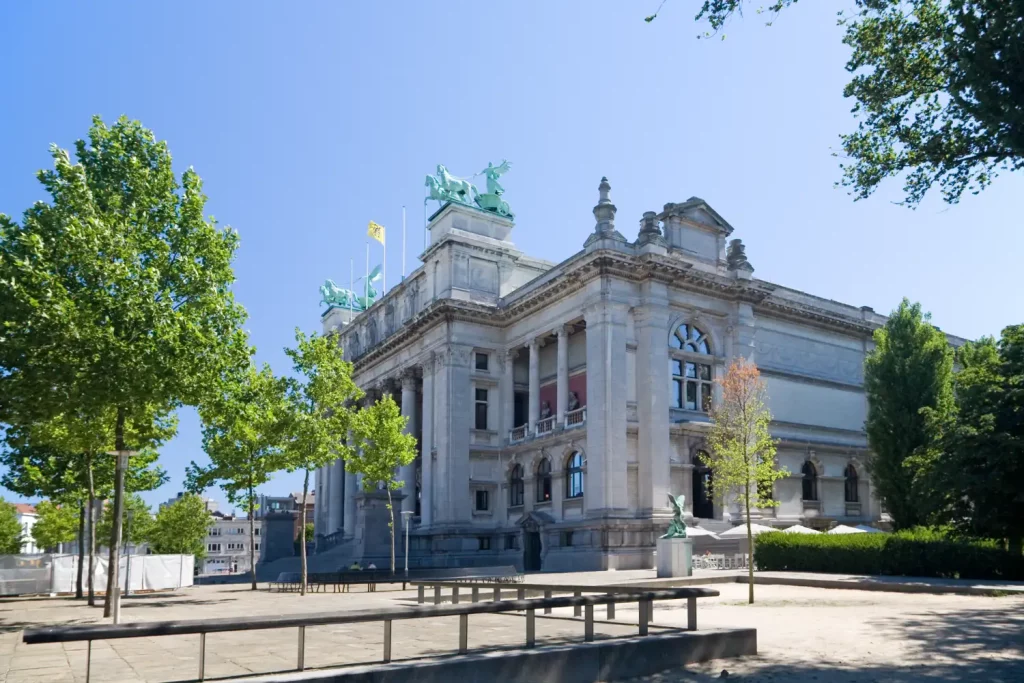 Explore Antwerp Port and Maritime Heritage
In case you don't know, Antwerp is the second biggest port city in Europe. Since the city is located on the river, there is so much to talk about regarding its maritime and port history and heritage.
For that, you can start off with Het Eilandje (also known as the Little Island). It is the oldest port area in Antwerp. It was once the busiest port area in the region. However, with much of the port activity being shifted to the north of Antwerp, Het Eilandje has become a popular tourist site.
It is known for its cobblestones streets that are beautifully dotted with lanterns making an appealing atmosphere. Besides, the area also includes historical hangars and warehouses.
This is also the place where famous places like Museum aan de Stroom or MAS, Red Star Line Museum, and Port House are located.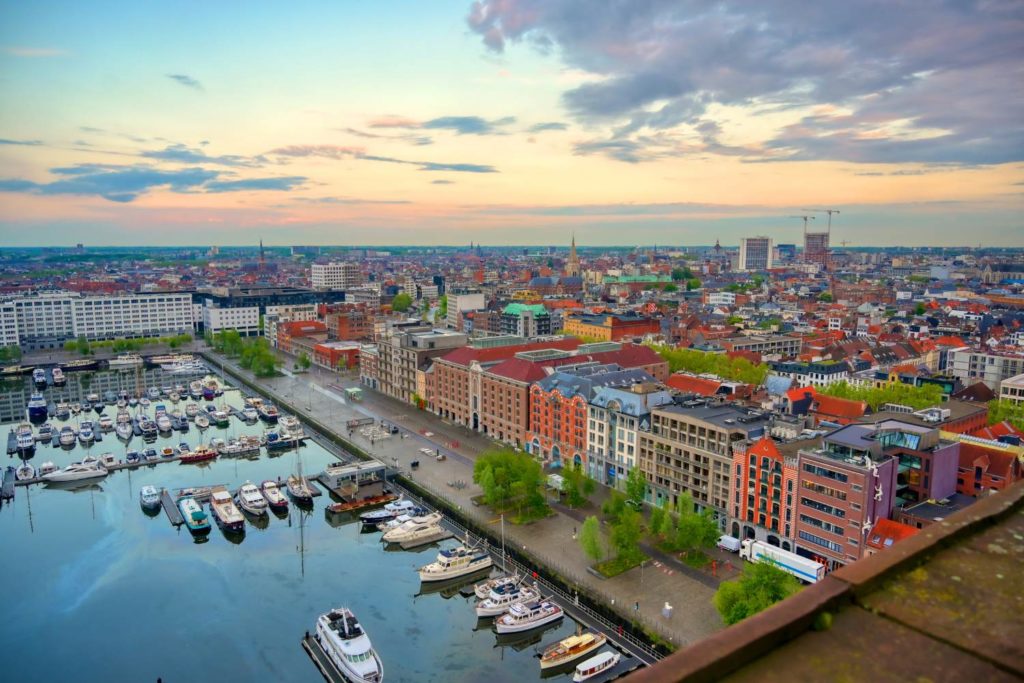 Explore Antwerp's Nature
Apart from all the history, heritage, and culture, the city of Antwerp is also known for its exuberant natural beauty. The city offers plenty of green spots to unwind yourself. A visit to this beautiful place will give you a chance to be close to nature.
There is also Middleheim Open Air Sculpture Museum which is known to house more than 200 modern and contemporary artworks. There are even some world-renowned sculptures, including Auguste Rodin. Middelheim Park is one of the top parks in Europe.
Botanic Garden is another nature hideout in the city of Antwerp where you can spend some quality downtime with your friends and family. Hobokense Polder is another place that is not just only known for its nature but for wildlife as well. It is also the largest green space in Antwerp and will be a perfect place to rejuvenate yourself.
Be a Part of Chinese New Year in Antwerp's Chinatown
Do you know that there is a little Chinatown in Antwerp? We bet you didn't! It is one of the best places to visit in the city, especially in the winter season because of the Chinese New Year.
Celebrated in January – February, Chinese New Year is the biggest celebration in this part of the city. The streets are filled with a procession of dancers and drummers going around the neighbourhood under a colourful Chinese Dragon. The entire celebration is best accompanied by beautiful fireworks.
The entire celebration becomes so unique and distinctive that being a part of it becomes a must thing to do in Antwerp.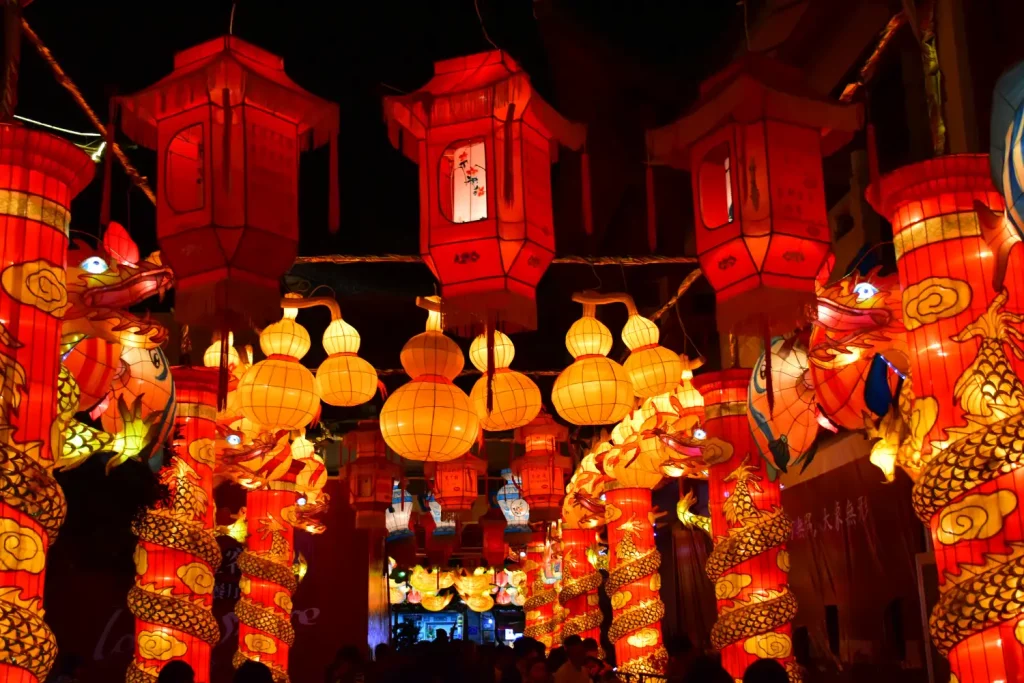 Before You Leave for Antwerp
Before you set off on your way to Antwerp, there are a number of things you will need to get organised to ensure a smooth and enjoyable journey. These include what to pack, where to stay and what is the best insurance for your trip to Scotland. All of this is discussed in detail below.
How to Get to Antwerp
There are several ways to get to Antwerp, depending on your starting location and budget. Here are some options:
By plane: Antwerp has its own airport, Antwerp International Airport (ANR), which is located just 5 km from the city center. Several airlines, including Ryanair and TUI fly, operate flights to and from Antwerp. Alternatively, you can fly to Brussels Airport (BRU), which is about 45 km from Antwerp, and take a train or bus to Antwerp.
By train: Antwerp is well-connected by train to other major cities in Belgium and Europe. There are several high-speed trains that operate between Brussels and Antwerp, with a journey time of around 30 minutes. You can also take a train from Amsterdam, Paris, or Cologne to Antwerp.
By bus: There are several bus companies that operate services to and from Antwerp, including FlixBus and Eurolines. Buses are often a cheaper option than trains, but may take longer.
By car: If you're driving, Antwerp is easily accessible via several major highways. However, keep in mind that parking in the city center can be expensive and difficult to find.
Once you arrive in Antwerp, the city is easy to navigate on foot, by bike, or by public transport. The local transport company, De Lijn, operates trams and buses throughout the city.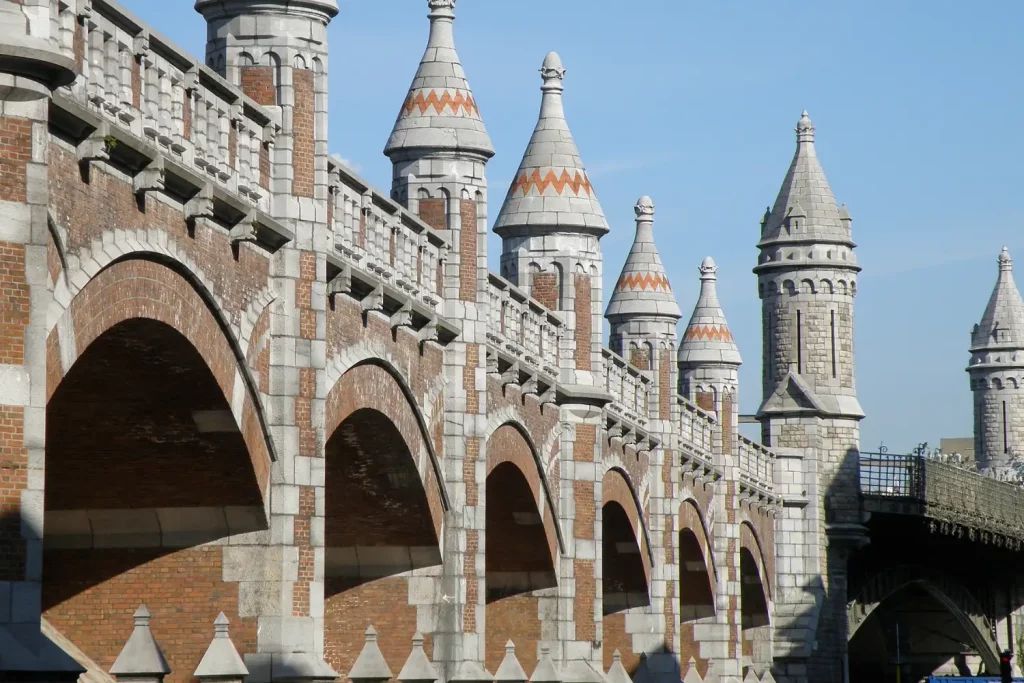 Where to Stay in Antwerp
There is a wide range of accommodations available in Antwerp, so you will not be short on options. Here are our top suggestions for the best places to stay in Antwerp for any budget.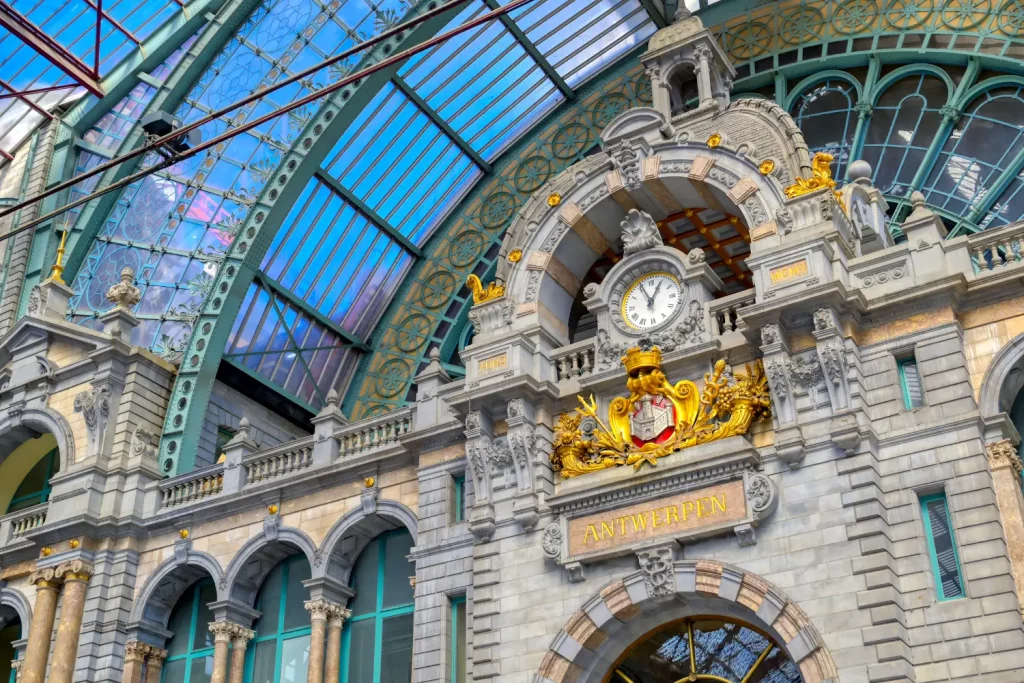 What to Pack for Your Trip to Belgium
Belgium is a country with a temperate climate, so it's best to pack clothes suitable for both warm and cool weather. Depending on the season, you may need to pack a waterproof jacket and comfortable walking shoes. For the summer months, pack lightweight clothing, sunscreen, and a hat. If you plan on visiting religious sites or formal events, bring modest clothing. Belgium is famous for its chocolate and beer, so you may want to leave some extra space in your luggage for souvenirs or gifts. Additionally, be sure to pack any necessary medication and your travel documents, including your passport and visa if required.
For our full list of items that we pack no matter where we go in the world, check out our full packing guides over here.
Given the beautiful sights and scenery that you are no doubt going to see around the Edinburgh, we highly recommend packing a good camera for your trip. If you want to read more about the cameras we use and why we love them, check out the link below.
You can read what else we keep in our camera bag over here.
What is the Best Travel Insurance for Belgium
I know travel insurance is the least enjoyable thing to purchase and look at when you're planning a trip, however, you wouldn't want to be without it in the event that something happened. Accidents can happen anywhere and the extortionate medical bills will ruin your trip if you are not covered.
To ensure you have a stress-free trip with no worries about potential medical bills, make sure you cover yourself when you travel. We can recommend using SafetyWing, a backpacker-friendly and cheap insurance company that provides good coverage and support. It is also nomad-friendly, unlike most other insurance companies, meaning you do not need to worry about being out of your home country for too long.
Get a quote for your travel insurance right here and get covered!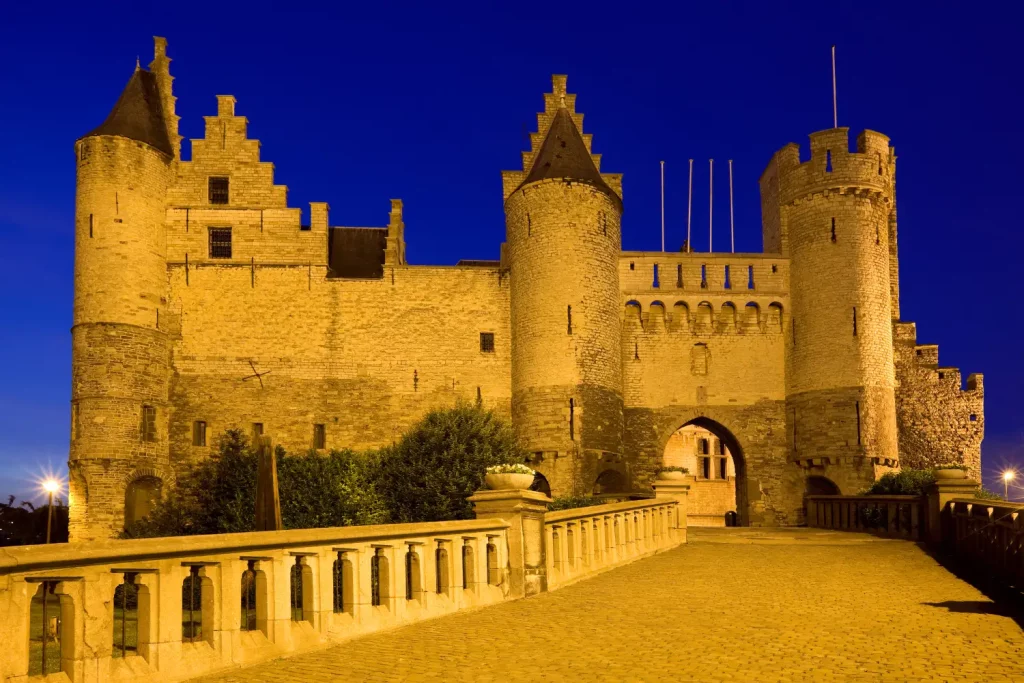 So there you have it, your complete guide to things to do in Antwerp in winter. If you are visiting this incredible city and have any other questions on what to expect, leave us a comment down below. We love to chat about this stuff! If you have already been, let us know how it was in the comments below! 
Also, remember to share this with your friends and family that you are going to share this amazing experience with. Sharing is caring and we want to ensure that everyone is fully prepared to maximise their experience completing this stunning walk.
If you are planning a Belgium trip soon then check out our other Belgium content right here. Come and find us on social media to see where we are currently exploring. Tag us in your photos from your stay and we will share them with the rest of our community of explorers and backpackers.
Read Now:
This article may contain affiliate links that provide us with a small income. For more information read our Affiliate page.
---
Pin it for later!