When we left off we were in Senigallia, loving life by the sea, pretty sure that our journey could only get easier from here. Well we were very wrong..
Save this image to your Italy Pinterest board for later
Day 4 – Saturday 25th August
Senigallia – Civitanova Marche
Distance Travelled – 68km
We got up feeling motivated that after today we would take a rest day, so one more big push. We left the campsite at 1015 and cycled alongside a lovely seaside view. We stocked up on lunch at Lidl 16km in and then pushed on. Again, maps don't always have us in its best interest as what was coming to us was the hardest thing both of us have ever had to conquer. An incline lasting 10km lay before us, which ended up taking us 4 hours! Carrying 30kg on the back of our bikes, we didn't have an option except to push the bikes up the hill as we didn't have enough power in our legs to cycle up. After pushing for around 2km a lovely local came out of his garden and offered us to refresh and top up our water bottles. We were so grateful for this break and a friendly face to keep us going. He said to us that we still had a lot of inclines to go, unfortunately! We could hear the thunder starting and we were just praying it wasn't going to pour on us. We popped our earphones in and pushed on further, climbing up the hill. We reached the top of one incline where another local offered us into her house for shelter, she could obviously see the storm coming! We politely declined and decided to keep pushing on as we were already behind schedule due to the unexpected hills! The downhills became tiring, pulling at the brakes constantly, and were not even enjoyable as we could be sure there would be another uphill at the end of it! When we finally reached what appeared to be flat land, the heavens opened and the rain well and truly came on! We were soaked through and pulled in at the next McDonald's to reset ourselves and use some Wi-Fi. After that we bashed out another 20km and the campsite ended up being closer than we thought. Winning! As we approached the campsite we ended up on a lovely cycle path. We were able to cycle alongside each other and chat when we weren't dodging pedestrians. We had only been saying moments earlier how little pedestrians we'd seen when a large group appeared on the cycle path. I rang my bike bell as if to say "beep beep, look at me, get out of my way I have a campsite go get to.." Well about 10m past these pedestrians I tried to dodge some puddles, which is a lot harder than it looks with 30kg on the back of the bike! Next thing I know I'm ploughing down the barrier, rattling it with my handlebars and smashing into Campbell! He was convinced that was the trip over and I'd broken my leg in the process, I could not stop laughing. We picked my bike up like all the people we had just cycled past, walked by us again. How humiliating! My handlebars had gone completely squint after bashing off Campbell's bike! We fixed it all and off we went, obviously dinging to get passed them again, thankfully not knocking them over in the process! We arrived at the campsite in 1930 after a short 68km cycle, yet very long day. Time for a day of rest!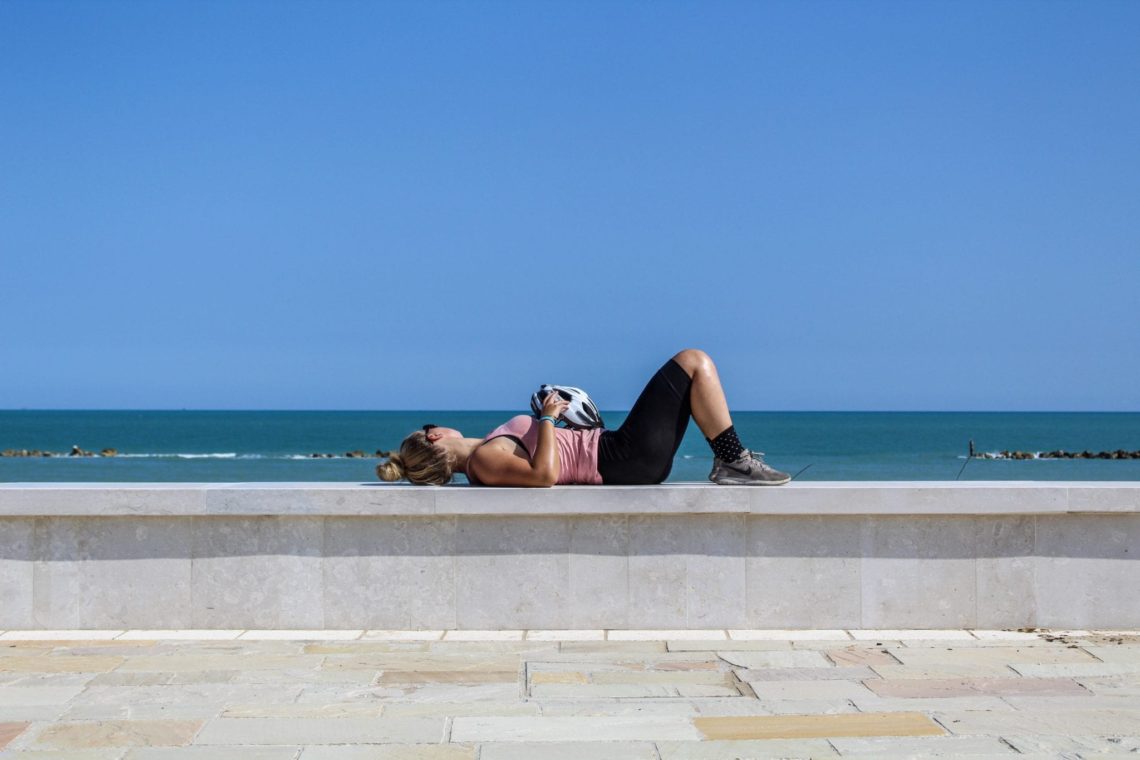 Day 5 Sunday 26th August
Rest Day
Distance Travelled – 0km
What was supposed to be a relaxing long lie and rest day, turned into us both feeling like we'd been run over by a bus 10 times. Every part of our bodies ached and we were full of the cold. This possibly started after being soaked by the rain and then sitting in McDonald's with the air-con blasting. We had planned a day of chilling by the pool on the campsite but it was either our bodies telling us to rest and stay warm or the temperature massively dropped, as we were much cosier chilling in the tent on the WiFi instead. We made it out for a walk in the afternoon and a 10km cycle in the evening to try and move our bodies a bit. Our early night in bed turned out to be a not so early night after all.. Just as we got comfy, read to sleep, the children's party began. Earplugs in and we kept everything crossed we would get a good night's sleep.
Day 6 Monday 27th August
Civitanova Marche – Francavilla
Distance Travelled – 124km
Determination kicked in today as we realised we were only 100km away from Pescara, our original starting destination! Despite feeling run down, we decided to go for it and get as far south as we could! We smashed it to the halfway point before stopping for lunch, which was a real motivational boost! The roads were flat and we were pretty much just following signs for Pescara so it would have been hard to get lost! Unfortunately, the Air BnB we had booked into cancelled us and all other accommodation, including campsites, were extortionate. We chose to push on another 20km to find somewhere cheaper. This was a long 6-hour cycle day, having left at 1015 and not arriving until 1930. 123km complete and we were buzzing and exhausted!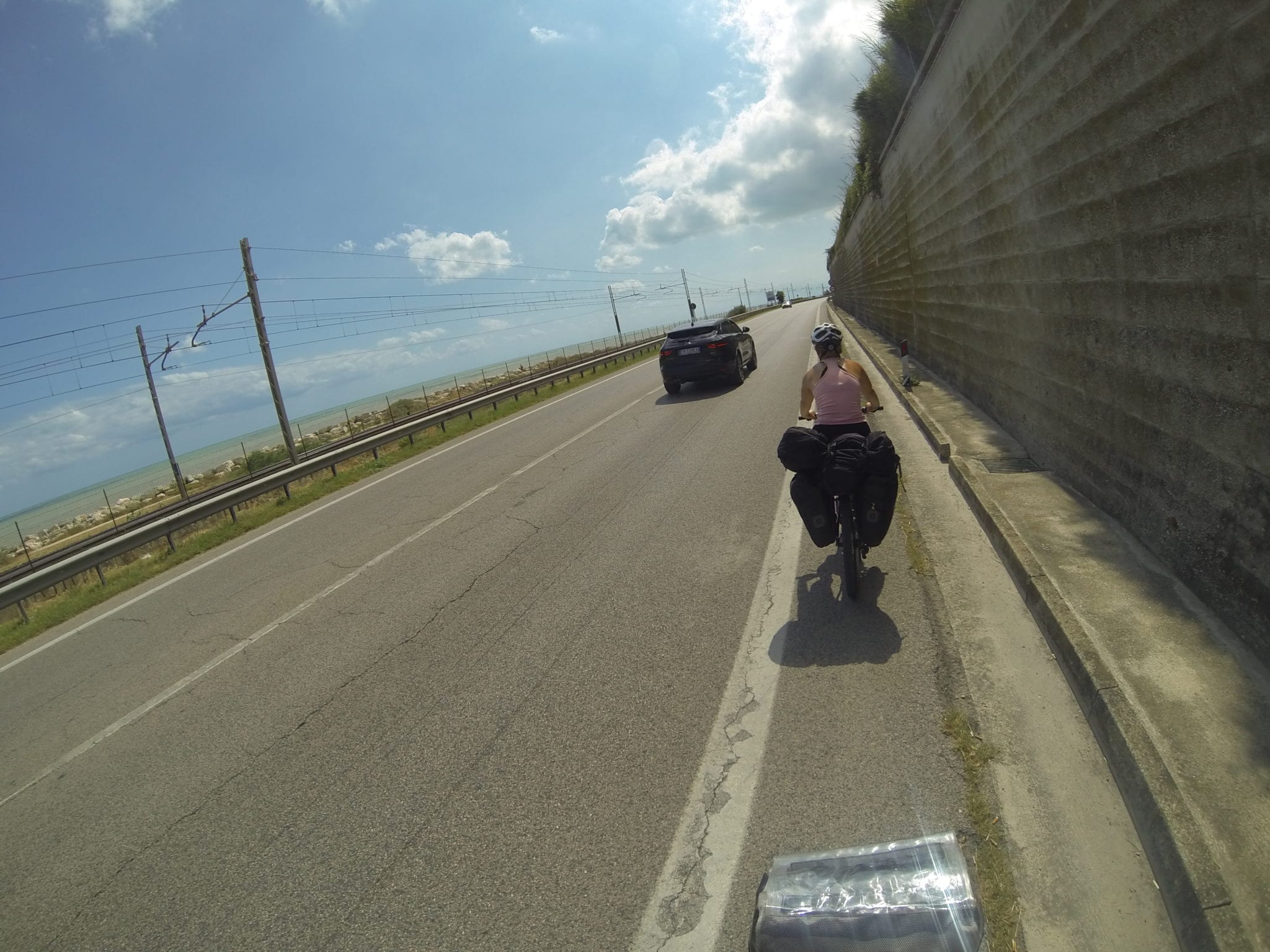 Day 7 Tuesday 28th August
Francavilla – Vasto
Distance Travelled – 60km
Mentally and physically, this was the hardest day yet. We decided since we had smashed out so many kilometres the day before that we would do 60km, which should be a lot easier considering it's half the distance. Wrong! From the get-go this route was constant incline and decline. It gets hard to enjoy a decline when you're pulling so hard at the breaks and know that when you reach the bottom, you're more than likely going to have to climb all the way back up! We took some much-needed water and leg stretch breaks for about a minute every so often, just to reset ourselves and remotivate. This was the first day that we really experienced the beautiful Italian scenery that we had been imagining. Long spaghetti roads that were stunning to cycle along even though my legs were screaming! We reached 10km to go and we had made amazing time, we were buzzing to just power through. Obviously, maps had a different storyline for us and yet again took us a route through what can only be described as hell for a cyclist. If we thought our inclines the other day were bad, we hadn't seen nothing yet. We were literally dragging the bikes over rocks, up a steep hill and in the beating sunlight. Half way up, with no end in sight, my bike got caught on a rock, then handle bars turned and the next thing I know my front tyre is in the air and the bikes on its side again, cutting me in the process. I literally broke down. Feeling so physically and mentally drained, not knowing how long this was going to go on for and feeling like my body was giving up on me. I had been struggling for motivation already today due to my body hurting and still feeling run down however, this hill just topped it. Campbell helped me another quarter of the way up and then we both pushed on up to the top. Here we decided to take the longer route so we could get away from the surface. Of course, a downhill meant many more up hills, a good few more that were so steep we had no option but to push. Two hours later than planned and feeling very demotivated, we reached our destination at a campsite in Vasto and it didn't take us long to get set up and dive into the sea, exactly what we needed.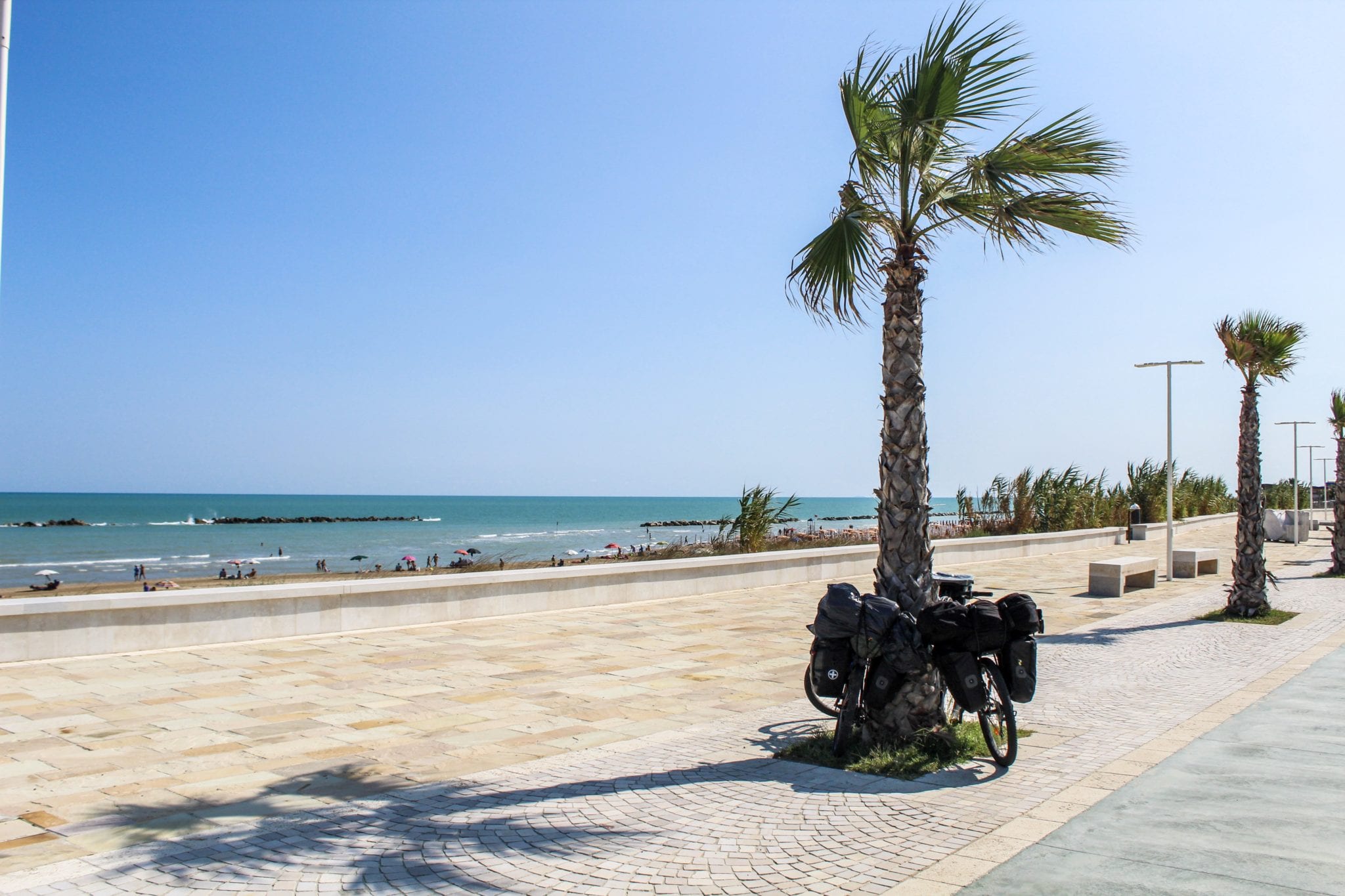 Can we complete our trip without another rest day? Our bodies were aching but we were so desperate to reach our end destination. Check out Part 3 of our journey
here!
Check out all of our other blogs on the beautiful rural areas of Italy right
here
, and see why it's a top pick over most populated and mainstream cities in Italy. Also swing by our social media and say "hi"!
Catch up with the adventure over on our Youtube channel as we summarise this week in the video below!
This article may contain affiliate links that provide us with a small income. For more information read our Affiliate page.
---
Save this image to your Italy Pinterest board for later