For many worldwide, Italy isn't just a country but a dream destination they want to explore and experience. In the heart of the Mediterranean Sea, this beautiful country is home to some stunning tourist destinations.
Once a major Roman Port, Pisa is one of the must-visit cities to explore in Europe. It is the birthland of Galileo Galleli who was a prominent Italian engineer, astronomer, and physicist. Pisa is indeed a treasure trove of architecture, culture, and history.
This popular Italian city has a great deal to offer and if you can do, we would recommend you spend longer. However, if you are only able to spend a day in Pisa, let's get stuck into the best itinerary to give you best time in Pisa.
No time to read now? No problem, save a pin to your Pinterest board for later!
Pisa is the perfect place to visit for a European city break. In this guide, we will discuss the best time to go to Pisa as well as the following in more detail
When is the best time to visit Pisa?

Things to know before visiting Pisa

How to get to Pisa

Campo Santo

The Leaning Tower of Pisa

Pisa's Duomo
Piazza Dei Cavalieri
Orto Botanico
River Arno
What to eat in Pisa

Preparing for your trip to Pisa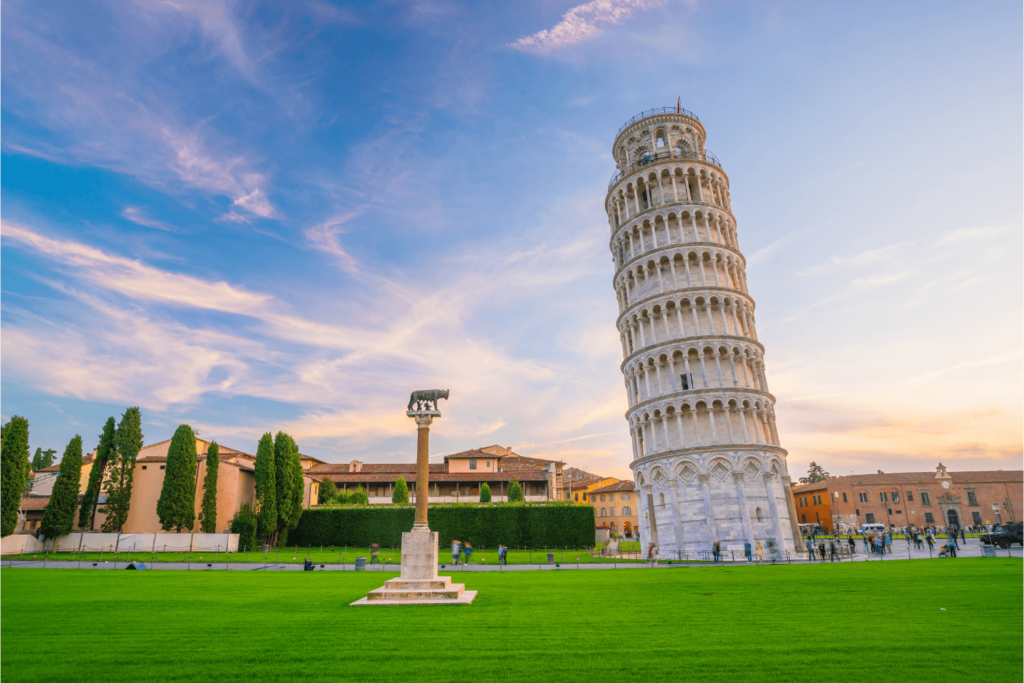 When is the Best Time to Visit Pisa
Pisa is a year-round destination visited by travellers from across the globe. Throughout the year, the weather remains pretty mild making it ideal for sightseeing. Pisa is a university city and as a result, there are cafes, restaurants, and bars that operate year-round and till late at night.
The summer season is considered to be ideal to explore the city. The season begins in June and lasts until September. The weather remains clear and sunny making it easier for tourists to wander around the city. The hottest months for exploring Pisa are July and August. 
If you can handle the heat during the summer in Pisa, this is also the perfect time to visit Pisa as a lot of festivals are on during these months. Luminara is one of those festivals that happens on the 16th of June in which the whole city is lits up with 70,000 wax candles. 
Another highly-celebrated festival observed during these months is San Ranieri Day (17th June) which commemorates the patron Saint of Pisa. In May, a flower festival is celebrated with all the zeal and enthusiasm in the city. 
Winter is another season where the city of Pisa witnesses a good footfall of tourists. From October until March, the season witnesses pleasant weather where temperatures are not too cold. However, make sure to carry an umbrella as sudden rainfall is very common in the city during this season. During this time, Pisa hosts one of the best Christmas markets in the Tuscany region.
If you don't wish to visit Pisa during the peak season, then April to May may be the best time for you to visit Pisa. Since it is considered as off-season, you can expect flight and hotel tickets to be moderately priced. 
If your one day in Pisa happens to fall on a Sunday, there is a large antique market on the first Sunday of every month.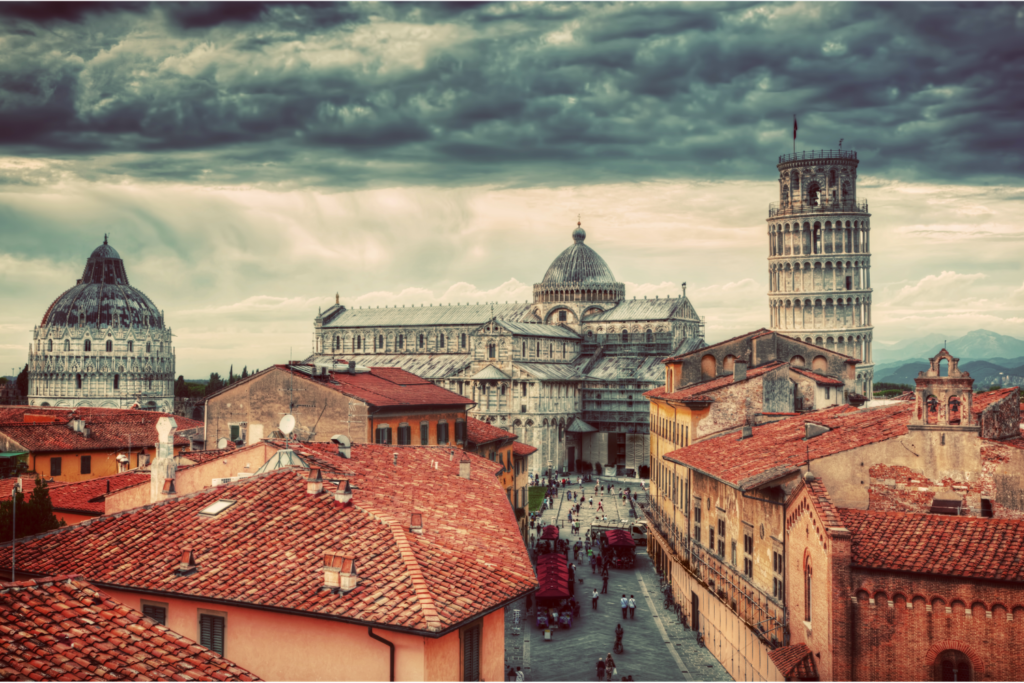 Things to Know before Visiting Pisa
Before we begin discussing the things to do in Pisa, there are a few things you should know about the city before your visit.
Italian is the official language of Italy and most people speak the same language in Pisa. However, there are still many people who are familiar with English. However, it is still recommended to get familiar with a few important Italian phrases for hassle-free travelling around the city. 
The official currency of Italy is Euro. However, being a developed city, Visa and MasterCard is widely accepted here. But we still recommend you to always carry some cash if you're dining in a small cafe or restaurant, or shopping for a market shopping.
Pisa is an easily accessible city from any part of Italy. Pisa is easy to walk around, howeer, there is also the option of travelling around by local bus or through a hop-on-hop-off tourist bus.
How to Get to Pisa
Pisa is centrally located in Italy, making it easier for people to reach the city from any part of the country. 
All three transportation options – rail, road, and air, are available to reach the city. From cities like Florence, Rome, and Milan, Pisa is located at a distance of 1.5 hours, 2.5 hours, and 3 hours, respectively via train.
Also, the city has its own airport, Pisa International Airport (also known as Galileo Galilei Airport). The airport is well-connected to all the major Italian cities. However, not all international cities are connected to Pisa International Airport. 
For instance, if you are coming From the U.S., then you need to book a flight to major airports like Milan or Rome. From there, take the train or you can also choose to travel via car. However, the train is a faster and cheaper way to reach Pisa from these cities.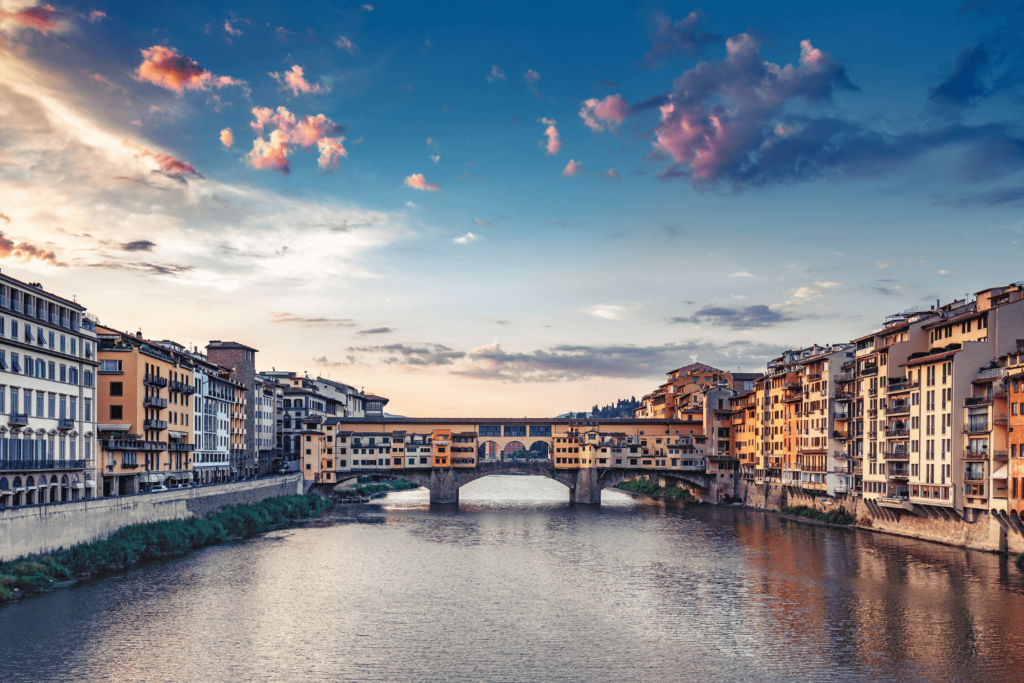 Your Perfect One-Day Pisa Itinerary
Campo Santo
Also touted as the 'Sacred Field', Campo Santo is one of the iconic attractions to visit in the city of Pisa. It is basically a monumental cemetery situated in Piazza dei Miracoli. 
Being a sacred place, Campo Santo is lined with a number of frescoes along with stunning Renaissance and medieval artwork. The legend has it, Archbishop Ubaldo dei Lanfranchi came back from the Fourth Crusade with a few earth's shiploads from Golgotha. It is said that he did it so that people of Pisa could be buried in a sacred land. 
This construction dates back to the 13th century. It is a rectangular cloister that houses a wide collection of sculptures, Roman sarcophagi, and urns.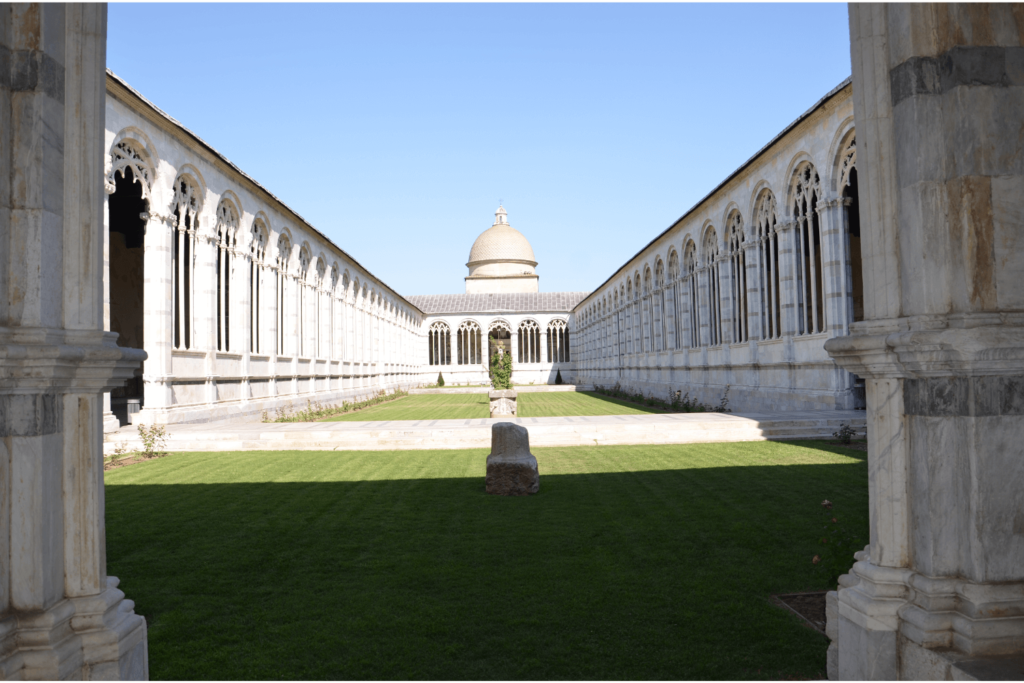 The Leaning Tower of Pisa
No trip to Pisa is complete without visiting the Leaning Tower of Pisa – that's the significance of this architectural marvel. Arguably, this is one of the most famous towers in the world. 
The foundation stone of this attraction was laid in 1173, when Italy was known as one of the most powerful maritime republics.
Before the third storey of the tower could have been completed, the tower has already begun to sink on its north. As a result, the architects thought of counteracting the weight on the north by slightly increasing the height of the south walls. This turned out to be ineffective and the construction was halted. 
However, the work resumed almost 100 years later with an aim to counteract the tilt by angling the upper stories. An open bell chamber was also added to the tower by Tommaso Pisano. 
Until 1990, the construction of the tower and the angle of tilt was increasing by a millimeter every year. It was believed that the tower would fall by 2000. 
As a result, the tower was closed for a heavy restoration program. Later in the year 2001, it was reopened and the 5.5- degree tilt was taken back to a 3.99-degree tilt. In a careful observation, you can also notice a slight curve in the tower which is because of multiple attempts to correct its architecture over the years.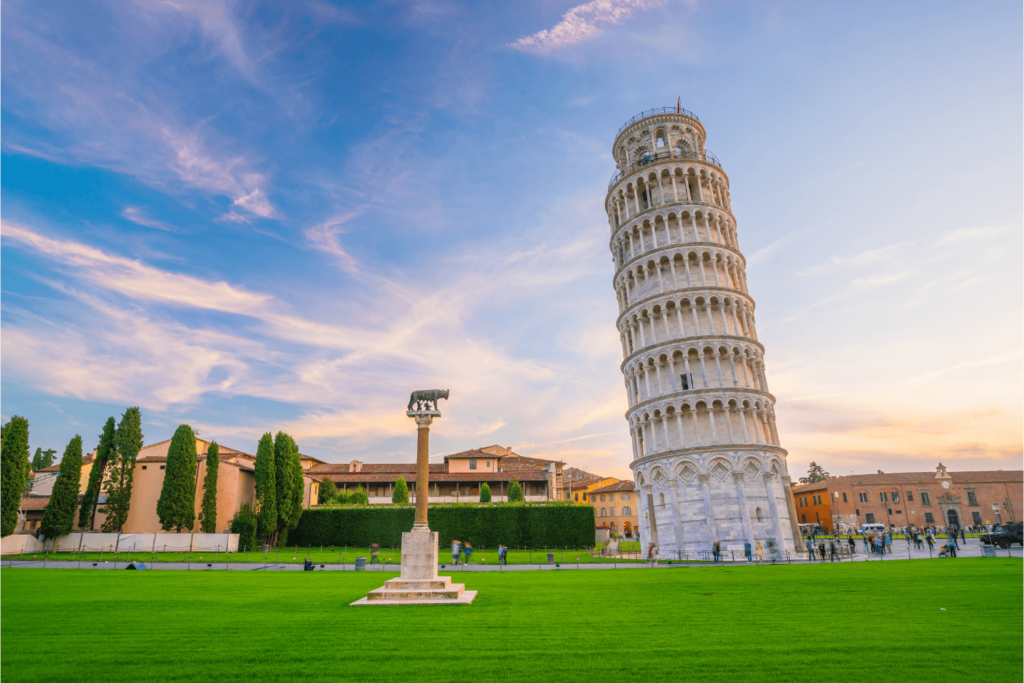 Pisa's Duomo
Also known as Cathedrale di Pisa or Pisa's Cathedral, this attraction is located right beside the Leaning Tower of Pisa. It has a similar design to the tower which is characterized by ornamented columns and colored stones. 
Visiting Pisa's Duomo is an experience that one must experience on a Pisa day tour. As you walk in, the abundance of decorations welcomes you with a mix of elements of Bizantine, Romanesque, and even Islamic aesthetic. 
Besides, the key highlight of Pisa's Duomo is pulpit by Govianni Pisano (14th century) and apse mosaic by Cimabue (1302). To enter The Duomo, you will need a ticket. However, the ticket is free of charge.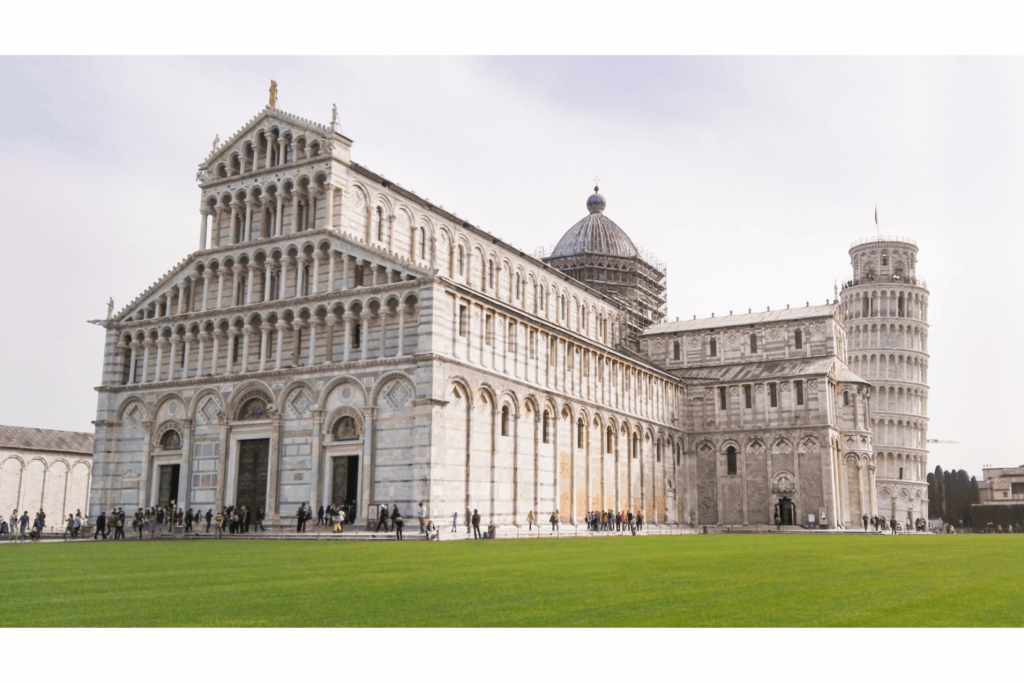 Piazza Dei Cavalieri
There are a number of squares around the city of Pisa, but one that matches the charm is Piazza Dei Cavalieri. The literal meaning of Piazza Dei Cavalieri is Knights' Square. It is a stunning Renaissance square surrounded by astonishing buildings. 
The key highlight of this attraction is sgraffito facade of the Statue of Cosimo I de Medici and Plazzo della Carovana. Adding to the grandeur of these buildings is the projecting roof. 
Along with that, the palazzo also includes Scuola Normale Superiore which is an elite college founded by Napoleon and is located here since 1810. In front of this institute, there is the statue of Cosimo I by Piero Francavilla. 
Whereas, on the north is the Palazzo dell' Orologio which dates back to 1607. It was built for the Order of St. Stephen. Even though today the square and palace are used by the city's university, they were once the headquarters of the Knights of St. Stephen.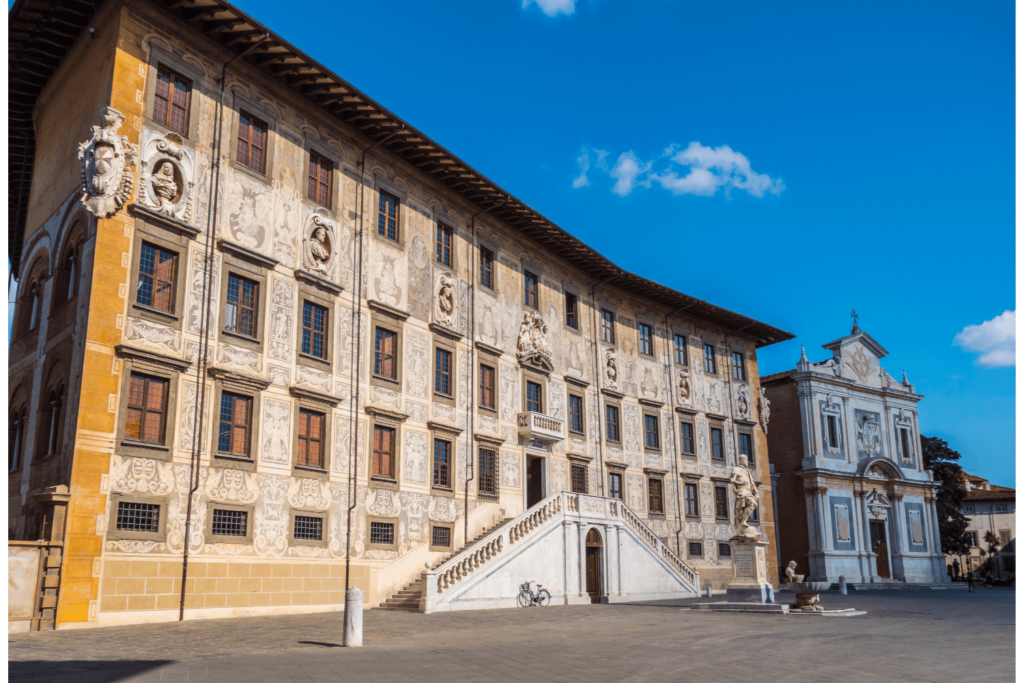 Orto Botanico
Amidst the hustle and bustle of city life, Orto Botanico is a perfect peaceful haven for all the tourists who just to spend some time in nature. Also known as Orto Botanico dell Universita di Pisa, it was the first botanical garden of the university in Europe and was founded by Cosimo I de'Medici in the 16th century. 
Today, it also serves as a popular tourist attraction in Pisa. It houses some great collections displayed outdoors as well as in its several buildings. Make sure to visit the herb gardens, water gardens, an arboretum, and greenhouses when you visit Orto Botanico. 
There is also the first iron-framed glasshouse in Europe here, as well as an old botany school that dates back to the 16th century.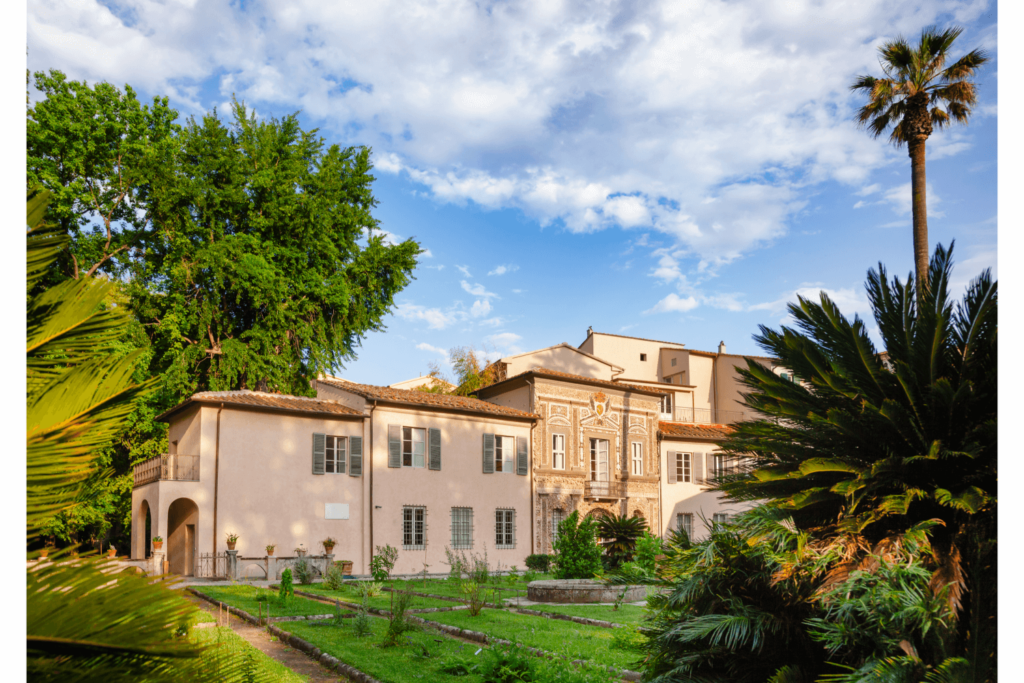 Stroll Around The River Arno
Now once you are finished visiting all the major attractions of the city. It's time to head to a more relaxed place for some quality time in the evening. Head to River Arno where you can wander around the area for a must-have tranquil experience. 
Arno River flows through Pisa along with the other nearby cities such as Florence and offers an amazing view. You can either be at one location and savour the views or you can wander around the area where you will be treated to some iconic sights in the city with a mesmerizing backdrop. 
Once you're finished exploring the region, you can also go for a short break in one of the charming cafes, restaurants, or bars located on the banks of River Arno.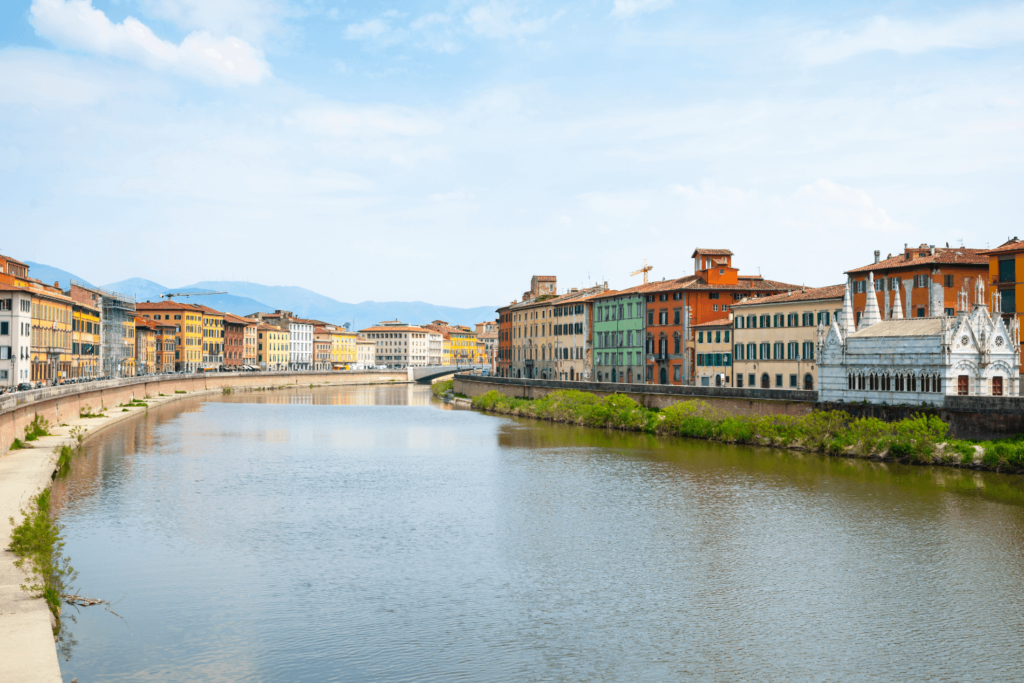 What to Eat in Pisa 
Now that you have your perfect one-day Pisa itinerary, it wouldn't be fair if we don't give an insight into the Pisa's food culture. Pisan cuisine is exactly like Italian cuisine in general. It focuses on using simple and fresh ingredients. However, the cooking style here in Pisa is way different from what you see in Tuscany. 
Both wine and oil are the major ingredients in most recipes. The regional favourites are pesto with pine nuts. But apart from that, we also recommend you to try torta co' bisheri which is basically a tart prepared using white rice, dark chocolates, sourced pine nuts, candied fruit, spices, and raisins. 
Caffe dell'Ussuro is a popular cafe to savour some delicious tarts. However, if you want to have traditional food, head to Antica Trattoria da Bruno and Al Ristoro dei Vecchi Macelli.
Personally, we love the local pizzas and pastas in Italy.
How to Prepare for your Trip to Pisa
Before you set off on your trip to Pisa, there are a number of things you will need to organise to ensure a smooth and successful trip. These include where to stay in Pisa, what to pack for Italy, and what is the best travel insurance for your trip. All of these will be discussed in the following section.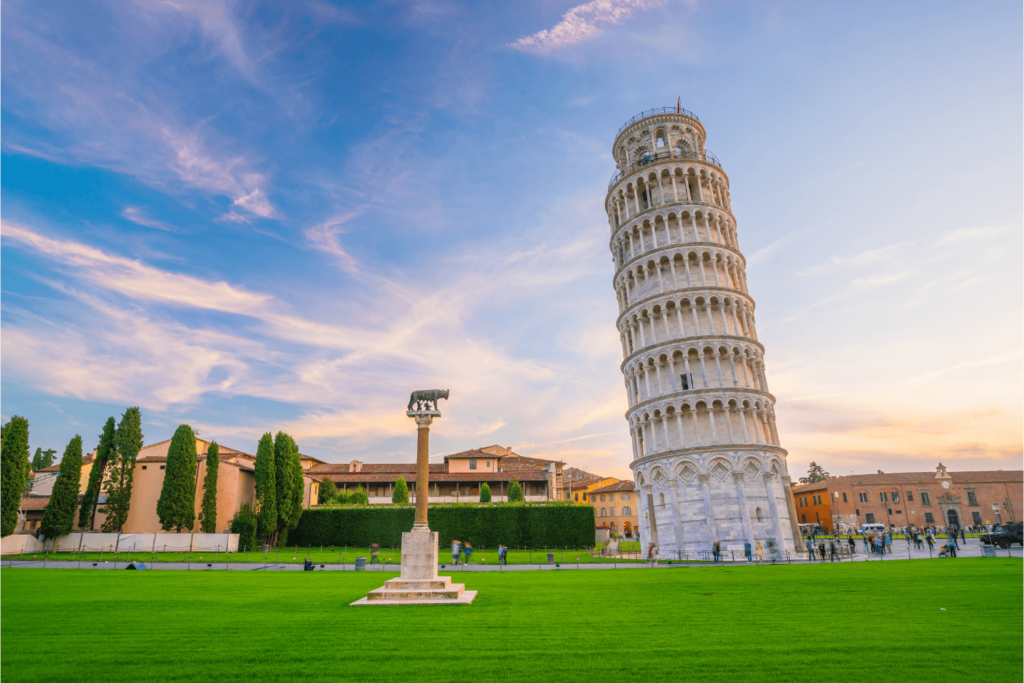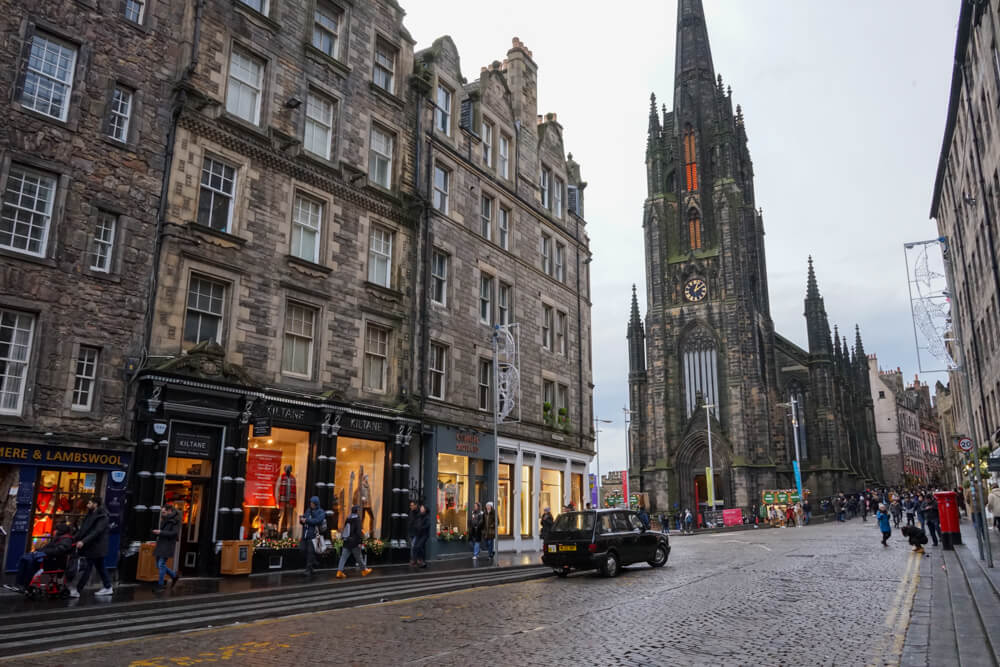 What to Pack for Your Trip to Pisa
What you need to pack for Pisa will rely highly on when you make your trip to Italy. During the Spring and Autumn months, temperatures and weather patterns vary wildly between beautiful sunny skies and rainy days. During the Summer, you are pretty much guaranteed nice weather with temperatures ranging from 20-35 oC. The hottest months are July and August, so these will be the most popular for a Summer holiday.
During the Winter months in Pisa, the weather can go as low as freezing, so make sure you wrap up warm if you are coming between October and April. If you need more inspiration on what to pack for your trip, check out our full packing guides for all-weather conditions over here.
When it comes to toiletries, we recommend that you don't forget to pack sunscreen. The sun in Italy is very strong, especially during the summer months. Apply a lot of cream regularly to prevent a nasty burn from ruining your trip. We use this specific sunscreen to protect us as it is not as oily and irritating as other sunscreens.
Given the beautiful sights and scenery that you will see in Pisa, we highly recommend packing a good camera for your trip. If you want to read more about the cameras we use and why we love them, check out the link below.
You can read what else we keep in our camera bag over here.
What is the Best Travel Insurance for Pisa
Regardless of what type of trip you are heading on, one thing that is essential for everybody is good travel insurance. Accidents can happen anywhere and at anytime and unexpected hospital bills will ruin a holiday. Remove the stress from your next adventure and get covered for the worst.
World Nomads Travel Insurance provides budget reliable travel insurance that will keep you covered for any level of adventure.
You can get your quote before you leave on your trip right here.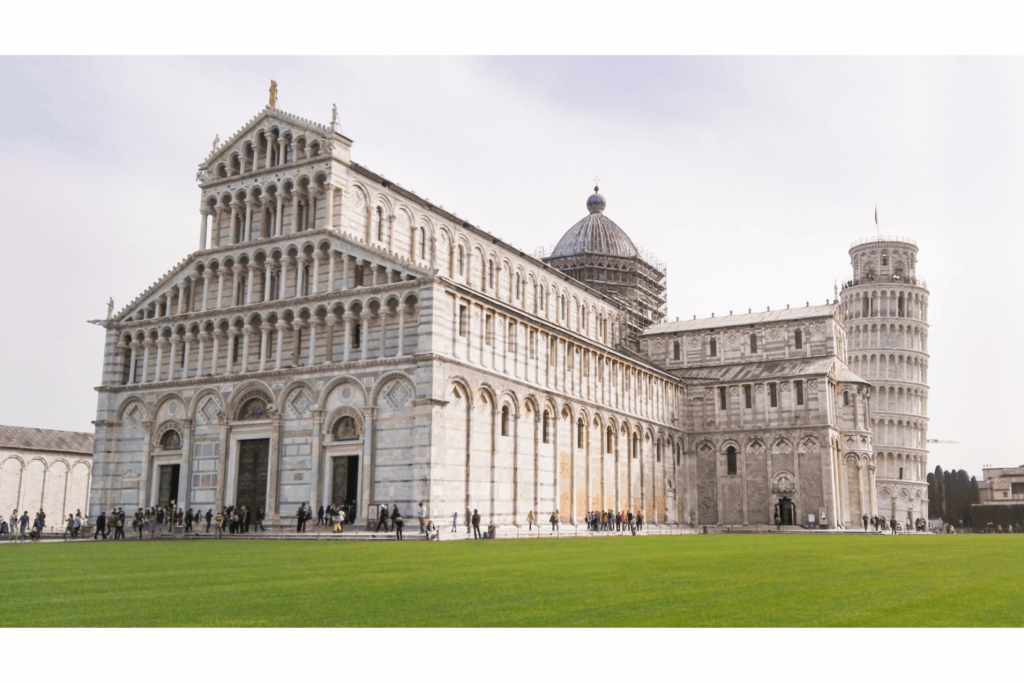 So there you have it, your one day itinerary to Pisa. If you are visiting this incredible city and have any other questions on what to expect, leave us a comment down below. We love to chat about this stuff! If you have already been, let us know how it was in the comments below!
Also, remember to share this with your friends and family that you are going to share this amazing experience with. Sharing is caring and we want to ensure that everyone is fully prepared to maximise their experience completing this stunning walk.
If you are planning an Italy trip soon then check out our other Italy content right here. Come and find us on social media to see where we are currently exploring. Tag us in your photos from your stay and we will share them with the rest of our community of explorers and backpackers.
Read Now:
This article may contain affiliate links that provide us with a small income. For more information read our Affiliate page.
---
Pin it for later!