After meeting up with our cycling mentors, Jen and Mel, we spontaneously decided to challenge ourselves to a 720km bike ride down Italy's east coast. Neither of us has cycled more than 10km before so this is bound to be one hell of a trip! We will both be carrying approximately 30kg of gear on the back of our bikes so we are definitely in for a challenge. The journey begins in Bologna, where we were warned on arrival that a lot of bikes get stolen in Italy, good start!    
Save this image to your Italy Pinterest board for later
Italian Cycling Adventure – Part 1
Day 1 – Wednesday 22nd August 2018
Bologna – Faenza
70km
  We were excited for our cycling adventure to begin so after fuelling up, we were ready for the go. We set off from our Air BnB at 10am in search of the nearest Decathlon as we still had some bits we couldn't get the day before. Cycle shorts and bungee cords being the main things. To break us in gently, we planned a 70km route taking us towards the coast. As soon as we set off we were loving it. The route was mainly flat, beautiful scenery and nicely surfaced roads and cycle paths. We cycled through many vineyards and the temperature was rapidly increasing with not much of a wind. We started off using cycle maps to guide us however, the hot weather and direct sunlight meant that our phones were overheating, so we had to become savvy memorisers, which of course, meant lots of wrong turns. We were back and forward and trying to find new routes to avoid going back on ourselves. At one point, we ended up down a jungle path that may have been a path 5 years ago, but was definitely far from that now. It was all overgrown plants and nettles and this route actually led us through a river. We had no choice but to power through it, as we didn't know of another route and time as pushing on. This honestly had us thinking what the next 700km going to had in store for us.. After going through the river, Campbell quickly realised that he had a slow puncture. As we didn't want to remove everything from the bike to repair it, it meant stopping every 20 minutes for the rest of the day to pump up his tyre. Eventually, we arrived at our Air BnB absolutely exhausted. We realised once we arrived that we made a silly mistake and had decided to dump our bags and then go to the shops to buy food. How we thought we would have the energy for this I have no idea! Thankfully our host said he would drive us as we could both hardly walk we were so sore. An early night was on the cards after dinner as we prepared for day 2!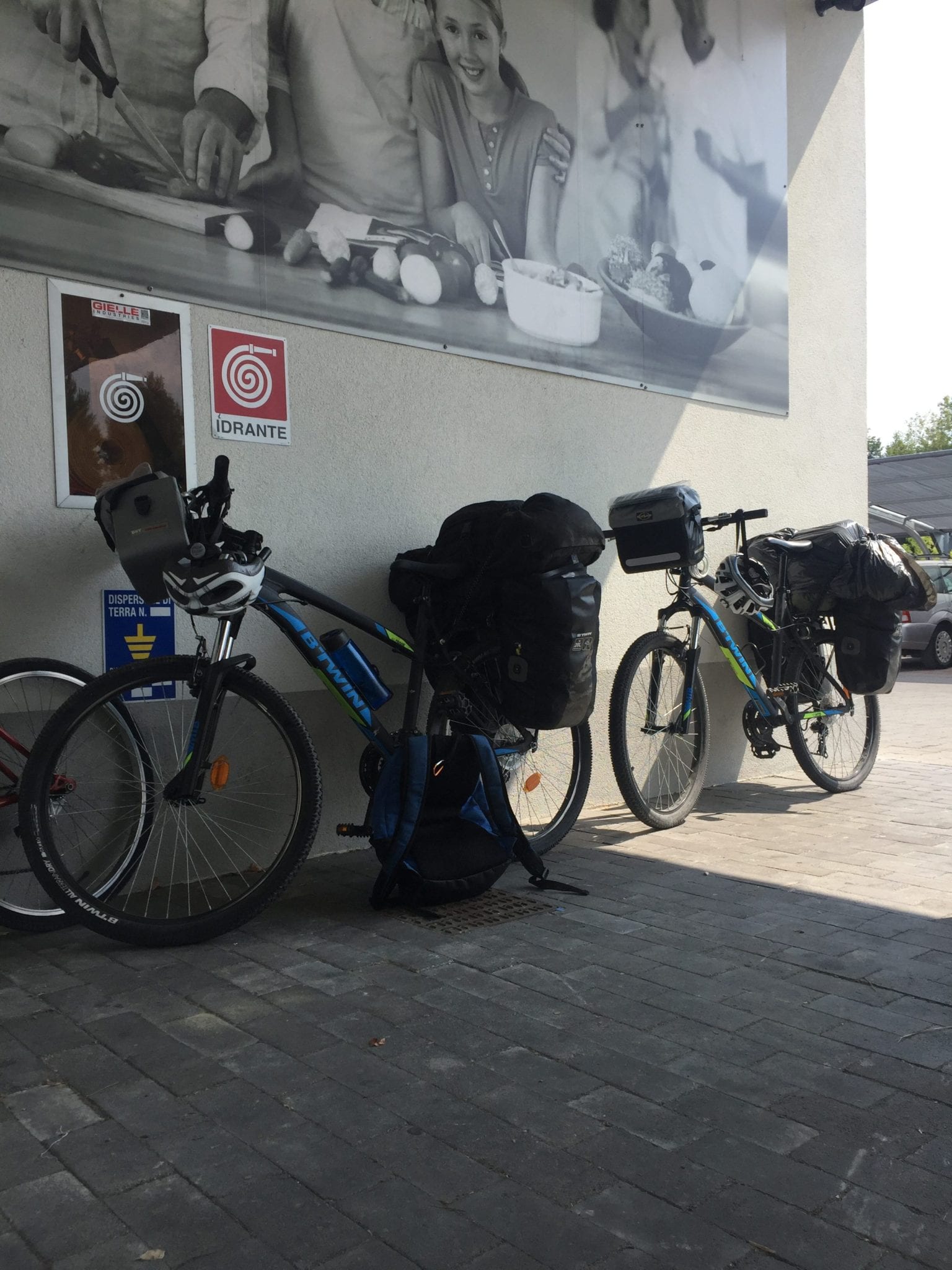 Day 2 – Thursday 23rd August 2018
Faenza – Rimini
80km
  After a morning spent making the most of the free wifi, we left the Air BnB at 1030 and headed to Decathalon to fix Campbell's slow puncture. We had brought spare inner tubing but didn't have a wrench to get the wheel off. It also wouldn't do us any harm to buy another spare inner tube, just in case! Campbell bought the new spare inner tubing and after we pumped it up it turned out to be too small. First win of the day.. We packed it away to exchange it and put on what we thought was one of the spares we already had. Now I think that first day of cycling must have taken it out of us, as we had the bike all set up ready to go again and realised the tyre was going flat and we'd put the punctured spare inner tube back on the bike instead of the new one! Off the wheel came again as we tried to sort our mistakes. Eventually, we fixed the tyre and got on the road. It was a long day as we aimed for the sea. Lots of hills and hard work, our legs were beginning to feel the burn and we couldn't have imagined what the pain would have been like without cycle shorts as our tail bones were struggling. We arrived at 1900 and found a perfect campsite right on the seafront. We took our aching bodies to bed early so we can try to get down to the beach for sunrise.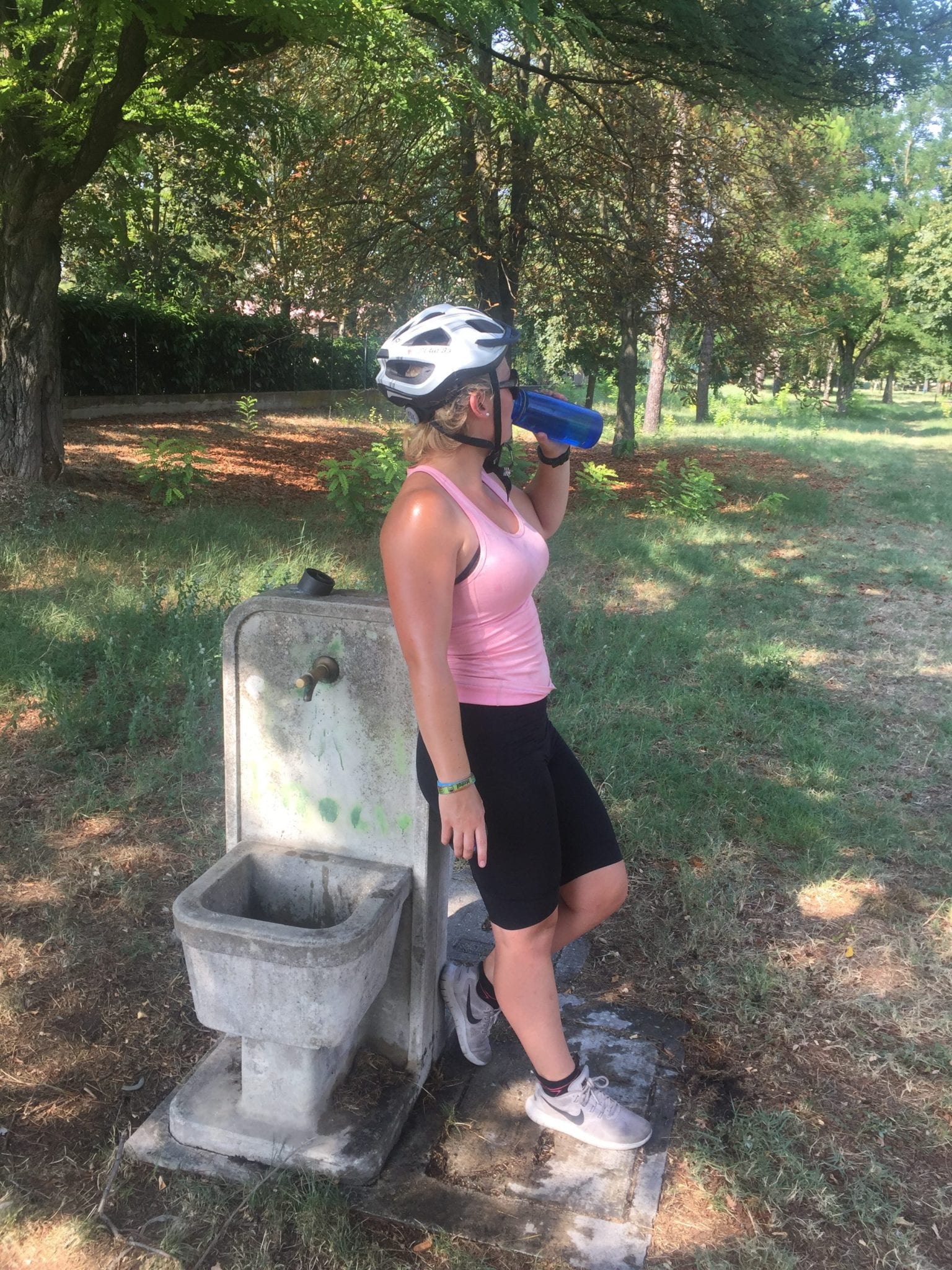 Day 3 – Friday 24th August 2018
Rimini – Senigallia
86km
  We started off feeling really motivated today, cycling along the seafront with beautiful views. There were some cycle paths going along the beach, but even at 10 in the morning these were full of people walking and cycling slow as if they were in holiday mode or something?! As I hadn't put my cycle shorts on that morning (they were still wet), I clipped them on to the back of my rucksack in the hope they would dry! Ouch, I definitely felt the differencw between my tiny Nikes and a pair of padded cycling shorts! Thankfully it was so hot they didn't take too long to dry and I did a quick change by the beach. We have been using Cycle Maps to navigate us through Italy as unfortunately there isn't a cycle option on google maps. This app definitely likes to take us some long routes which we should really be getting savvy to now. So, there we were, bursting our legs up another 1km hill feeling like we were spinning and getting nowhere! This was the hardest hill we had reached yet and we were stopping every 400m or so to reset for a minute and then get going again. Looking back, this was definitely a longer route too! Thankfully we had each other to motivate our way through and it was the best downhill to reunite us with the sea. We had a tough headwind to contend with for the majority of our seafront cycle which wasn't the easiest going but we were grateful for a bit of cool sea breeze. There was about a kilometre of markets to follow which we had to get off and push the bikes through, people were not really for getting out of the way, but it was the only through route we could see. We were getting desperate to just arrive at the campsite by this point and to add to this, after we were back on cycling for about 10km, Cycle maps took us to a dead end as the road was closed. The only thing there was a campsite. We thought we must push on and took a big detour back to get to the road we needed to be on. We were motivated by the fact our home rugby team was playing that evening and we wanted to watch the game online, so we couldn't be late! We eventually arrived at 1630, set up the tent and went out for some pizza, making it in time for the game!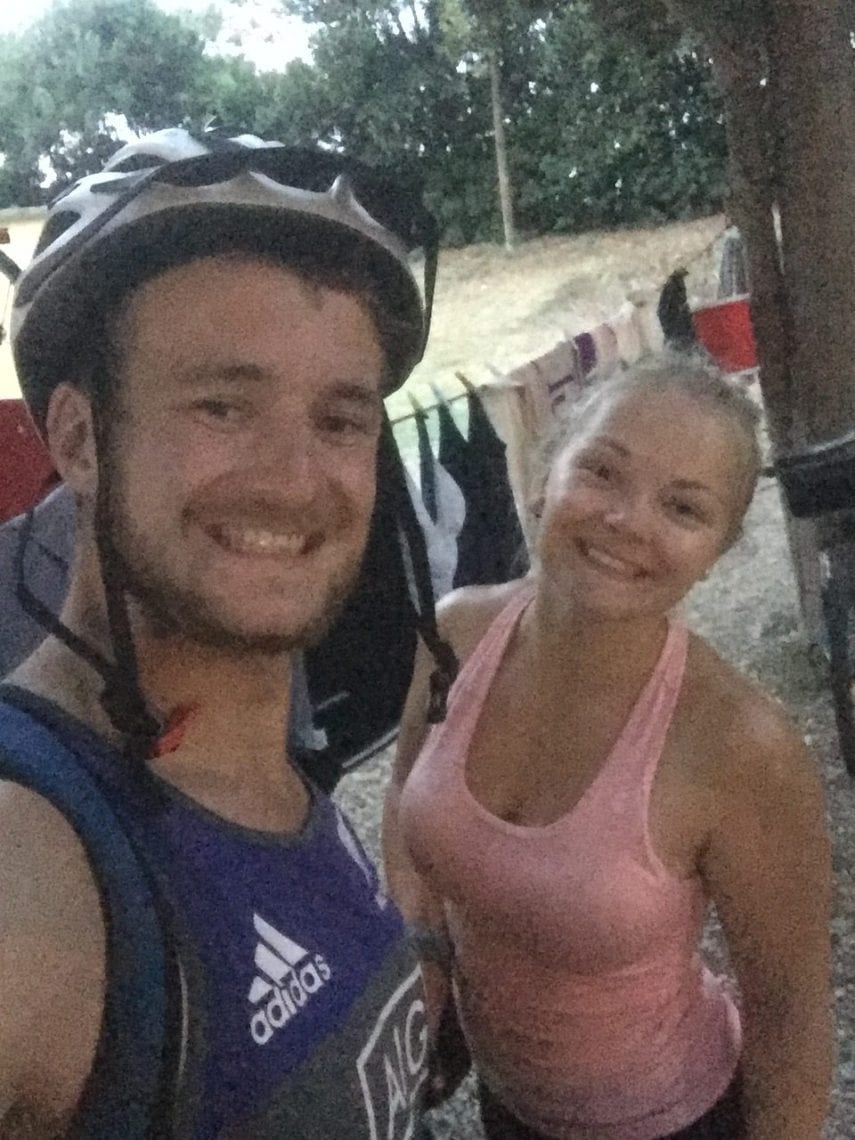 If you enjoyed reading about our journey so far then make sure you check out part two
here
. Plenty more big hills, mishaps and bike flips. If you would like to donate to our chosen charity, MIND, a charity which provides mental health support to those in need, you can do
here
. We are very grateful for donations of any size. Check out all of our other blogs on the beautiful rural areas of Italy right
here
, and see why it's a top pick over most populated and mainstream cities in Italy. Also swing by our social media and say "hi"!  
Catch up with the adventure over on Youtube as we summarise this weeks adventures below!
This article may contain affiliate links that provide us with a small income. For more information read our Affiliate page.
---
Save this image to your Italy Pinterest board for later