Street food and London go hand in hand throughout the city, from the pop-up markets to the permanent setups spread across the buzzing metropolis. Some must-visit attractions for any street foodie exploring the capital are the Street Feast food markets situated throughout
East London
, from Canada Water to Shoreditch. These five markets all reside in some form of renovated warehouse or storage space that has been transformed into a thriving social scene with food to die for.
Here is a quick review of each and a list for you to check off on your next visit.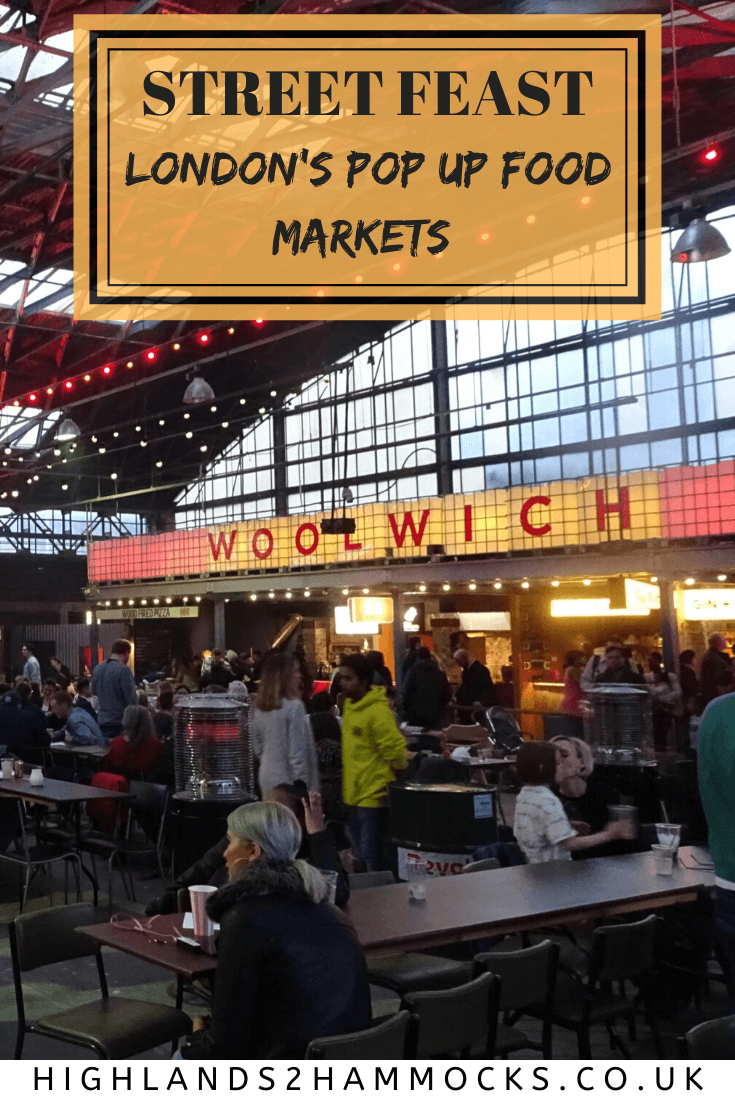 Public – Woolwich Arsenal
Starting with the latest addition to the Street Feast markets (and the closest to our home), Public is an old, covered market transformed to host visitors and foodies from all over London. The large, indoor space has ample seating, with an additional upstairs section containing couches and pool tables. The space features a trampoline section and a play area for children, allowing families to visit and enjoy the delicious food.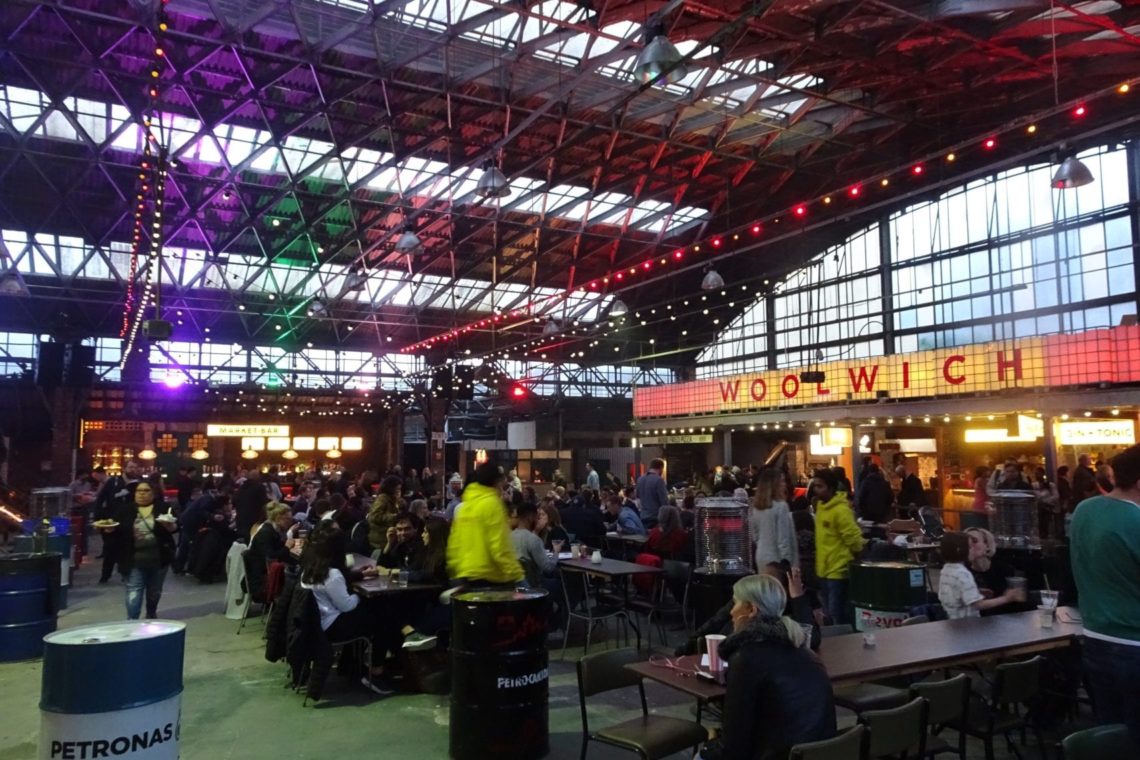 Getting to this market is incredibly simple, if you know where to look. Coming out of the DLR station (at the train platform side) you will turn right towards the Thames. Take the first right down a street and then turn left down the first alleyway. You will see the entrance straight ahead, normally with flaming drums outside to mark it as open. This market is open Fridays 5pm till late and Saturdays 12pm till late. It is free entry all day.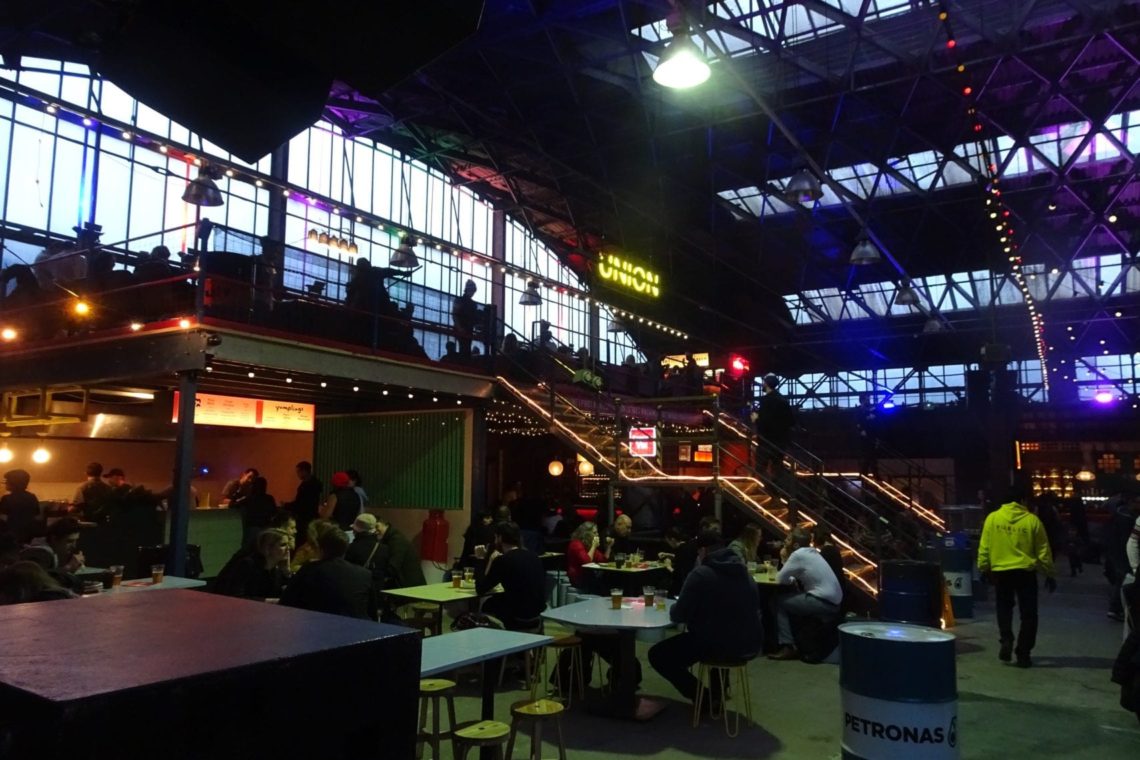 Giant Robot – Canary Wharf
Sitting in the glass jungle of Canary Wharf is the Giant Robot Street Fest market. This is the fanciest looking of the five markets, however, don't worry about being underdressed. At the very north end of Canary Wharf is the enormous boat-looking building that holds a number of shops, the sky garden and of course, Giant Robot. Head to the top level of the building and you will find the entrance to this open and spacious, closed roof market. You will not find as much seating in this market as the others, however, the view from the smoking balcony over the Canary Wharf waters is incredible.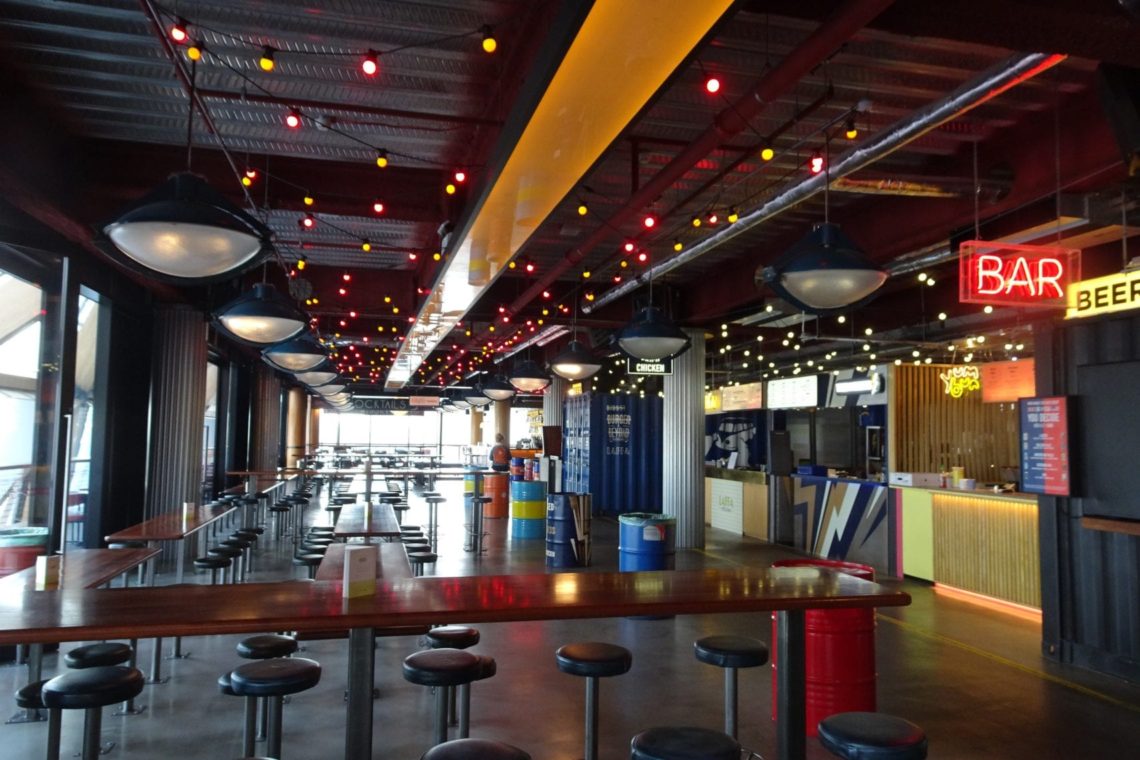 This market is open every day at varying times. Sunday to Wednesday it is open 11am till 10pm, and Thursday to Saturday it is open from 11am till 1am. It is free entry all day.
Dinerama – Shoreditch
In the buzzing district of Shoreditch sits the Dinerama Street Feast Market. This market is similar to the Model Market in Lewisham, with indoor and outdoor areas and constructed amongst unused shipping containers.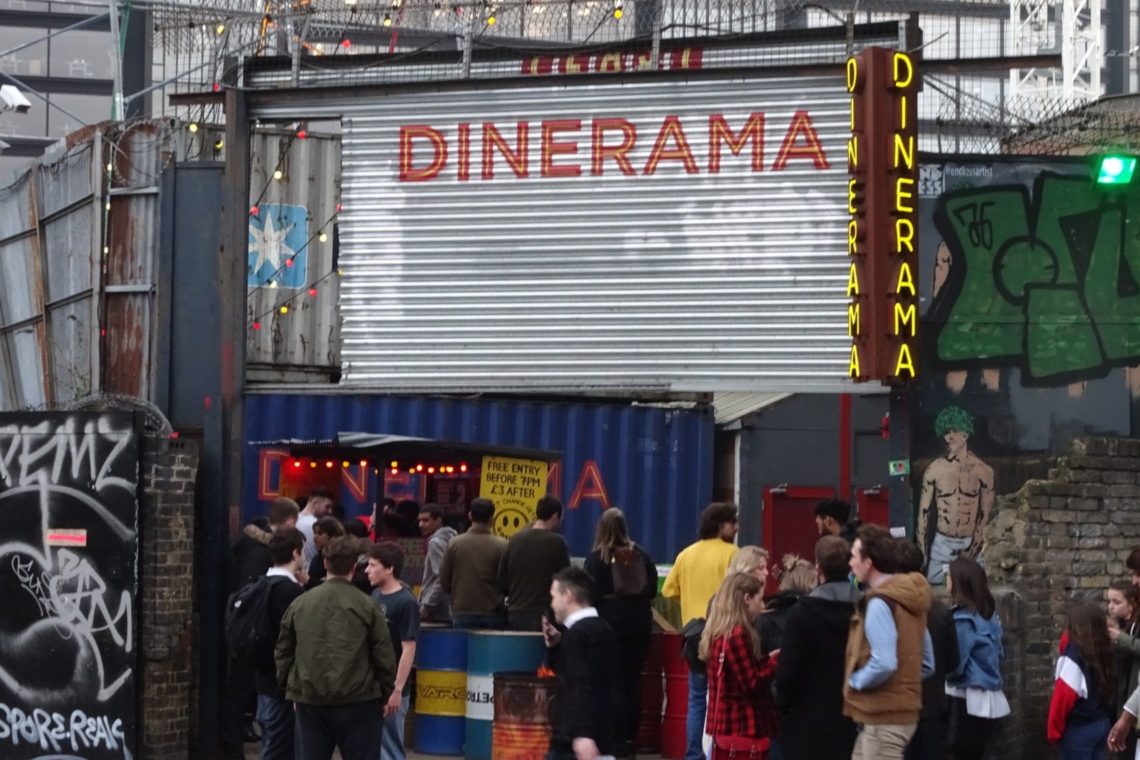 Entry to this place is free before 7pm and will cost £3 after. Open 5pm till late on Wednesday to Saturday, it is the perfect place for a midweek pint!
Model Market – Lewisham
This was the first market we visited, and it's definitely one of our favourites! Although it may be a bit out of the way, it is still worth the visit. Changing to the southern DLR line at Poplar, the DLR will take you to Lewisham station where you can jump off and head to the farthest side of the Lewisham shopping centre. The Model Market is a walled area with one entrance outside the entrance to the shopping centre.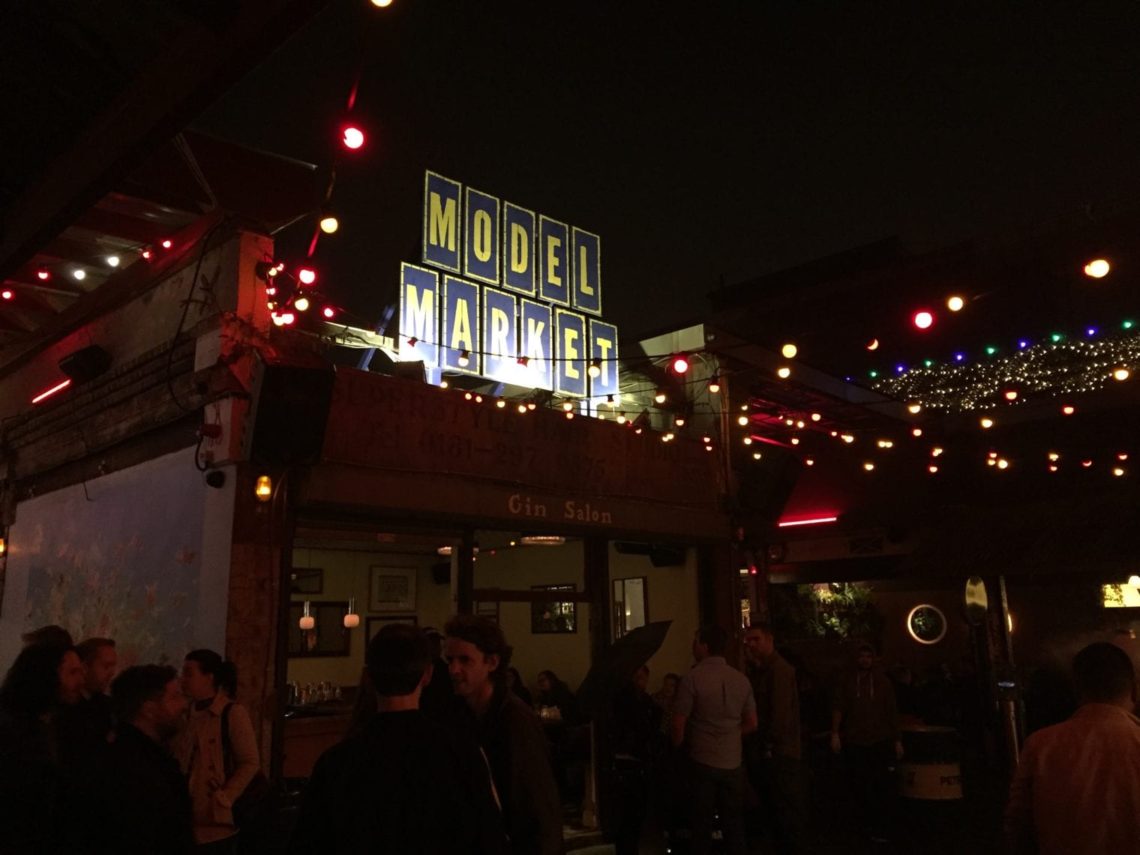 Similar to the Dinerama in Shoreditch, this area has covered sections for when it rains as well as lots of food and drink to choose from. This market is only open on a Friday, 5pm till late, and is free to get in.
Hawker House – Canada Water
Another gem of London that sits slightly off the radar is the Hawker House Street Feast market. This was the last market we visited and we were impressed by the size and comfort of it. With an almost identical interior to that of Public in Woolwich, there is an additional outdoor area with more bars that is similar to Model Market in Lewisham.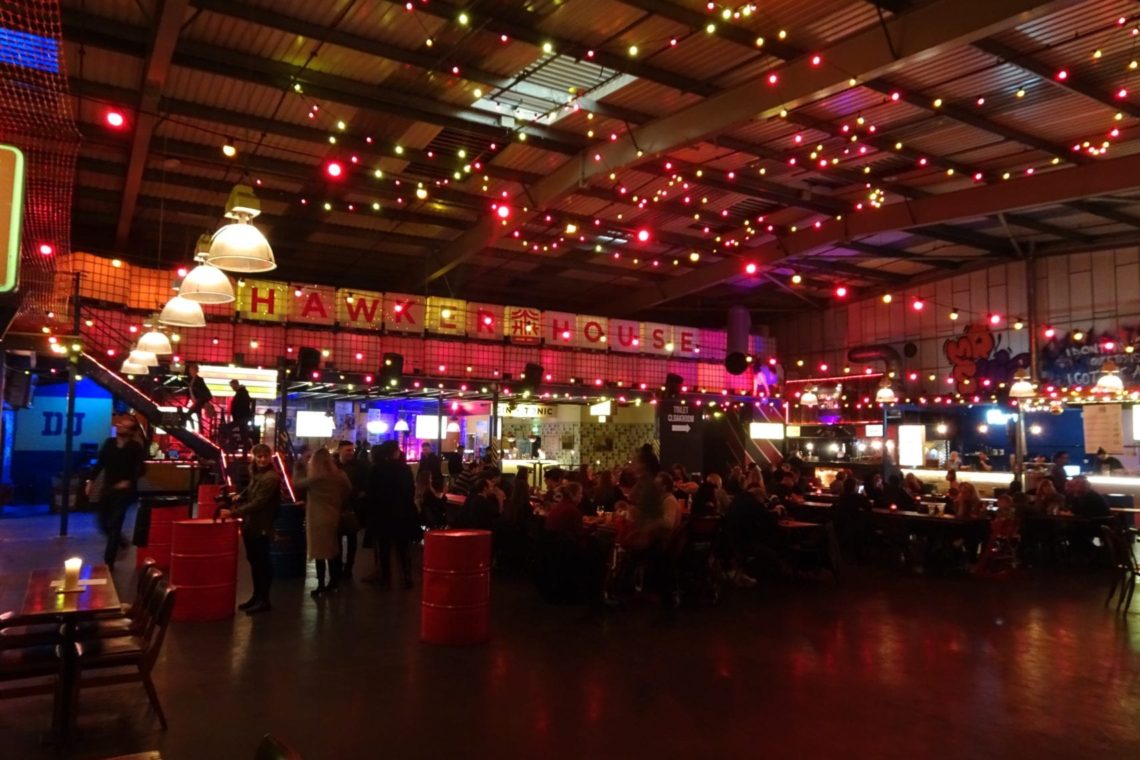 To get to this market you can catch a DLR or Jubilee line to Canada Water and then walk to the giant Decathlon store once you exit the station. Walk around the Decathlon and then head round to the left, walking along the road until you see the Hawker House on the right. This market is open Friday and Saturday, 5pm till late, and is free to get into all day.
Pricing at the Markets
All of the markets are priced at roughly the same, with a small variation in drink and food choice. Drink prices sit around the £5 per pint range (with the cheapest being Budweiser for £4.50) and £10 for pint-sized cocktails. For food, you can choose from an enormous selection of cultures, all around £6-10 for a hearty meal. Check out the
Street Feast
website for a full list of food available at each location. If you liked this article, then check out the rest of the articles on London and other parts of England. Get planning your next trip to this cultural hub. Also catch up with us on social media to say hi!
Now Read:
This article may contain affiliate links that provide us with a small income. For more information read our Affiliate page.
---
Pin it for later!