Disclosure – This bag was gifted to us by Tropic Feel. We were not paid to write this article and all views are our own.
If you are looking for a new backpack and don't know where to start, let me give you some insight into the perfect all-rounder backpack, Nest from Tropicfeel.
Tropicfeel is a brand that inspires exploring nature and the great outdoors with sustainability in mind. They sell a variety products perfect for travel and adventure, from clothing to backpacks, accessories and waterproof trainers. Tropicfeel have a commitment to being transparent about their sustainability and Fair Trade, the Nest being their most sustainable product yet, which is an aspect of this company that we really admire. 
In this post, I will be giving an honest review of the Nest Backpack and going into detail of the functionality and pros and cons of this backpack, including why it really caught my eye. 
No time to read now? No problem, save a pin to your Pinterest board for later!
Below is a round up of what is discussed in this article. 
Why did I choose the Nest Backpack from Tropicfeel

The Nest Backpack from Tropicfeel Overview

Sections of the Nest Backpack

Accessories

Colours

Size
Sustainability 
Pros
Cons
Is the Nest Backpack for me?
Conclusion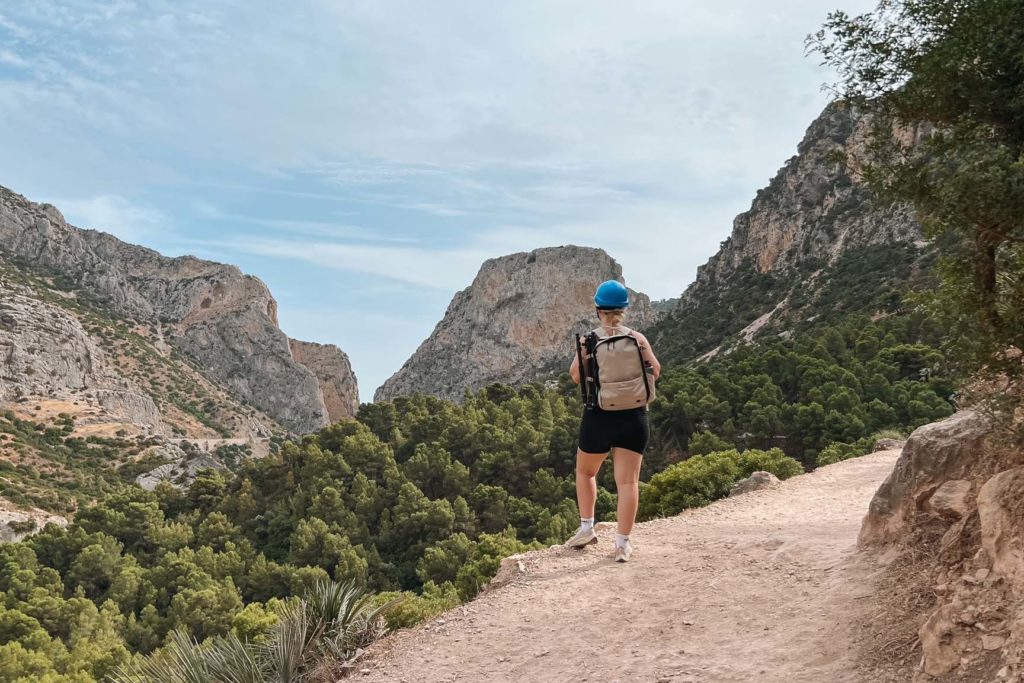 Why did I Choose the Nest Backpack from Tropicfeel?
I have used many different backpacks over the years and I've struggled to find one that really suited me. I did a lot of research into backpacks and the Nest from Tropicfeel was the one I just kept getting drawn back to. So you might be asking, what was I looking for in a backpack and has it lived up to my expectations. 
Comfort – there is nothing worse than being on your feet for 12 house carrying an uncomfortable backpack
Aesthetics – As a content creator taking a lot of photos, I wanted a bag that looked good.
Size and expandability – to use it as hand luggage when travelling and as a day bag when I reach a destination

 

Waterbottle holder – easy access cause I drink a lot

 

Access pocket – nothing worse than digging around trying to find something at the bottom of a bag
Water repellent – I spend a lot of time in countries that it rains
Pockets – to store all my random bits and bobs (chargers, battery pack etc)
Neutral in colour to match multiple outfits on the road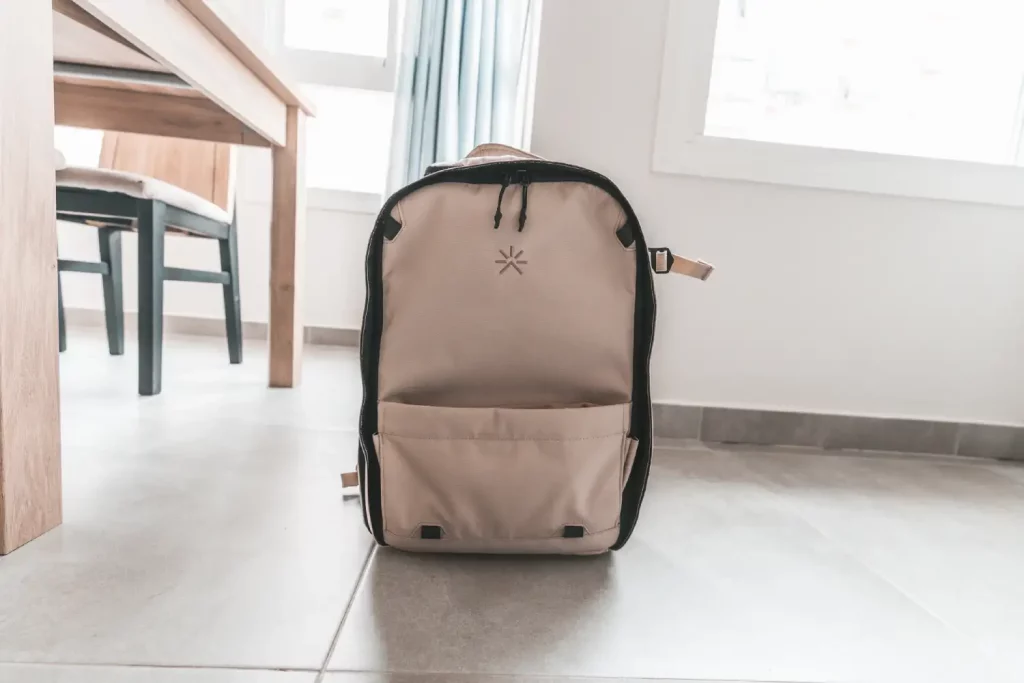 The Nest Backpack by Tropic Feel Overview
This all-rounder backpack allows you to pack smarter and transition between daily use and weekend trips as the Nest can be used as a day bag when you are out exploring the city or as hand luggage when you are travelling. The storage size of this waterproof backpack is 16 litres and this can be expanded to 30 litres by folding out the kangaroo pouch at the bottom of the bag and by using one of the additional 10 litre packing cubes which we will discuss in more detail later on in this article. This additional storage space allows the bag to stretch to a size that would be suitable for a weekend away, whilst not being too bulky for day to day use. 
The Nest is made from 100% recycled nylon and polyester and vegan materials as well as being made in Fair Trade conditions which is something that we absolutely love about Tropic Feel.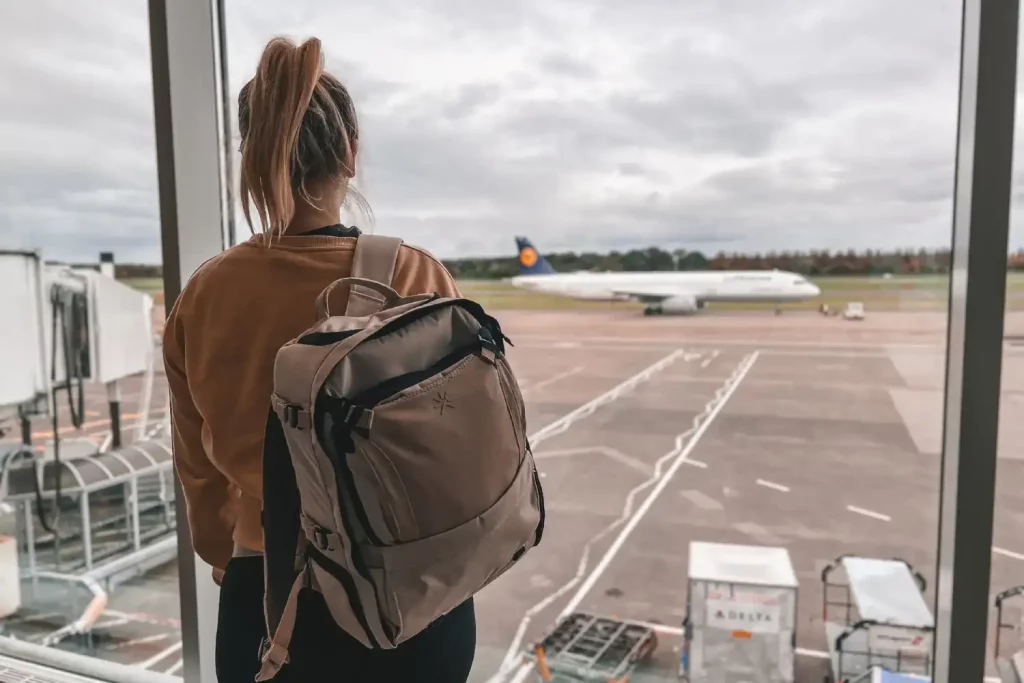 Sections of the Nest Backpack
Starting at the top of the Nest, there is a small zip pocket, perfect for sunglasses, keys, AirPods or anything that you want to access easily. When using the Nest as hand luggage recently, we even stored our snacks in this pouch recently and can confirm that they didn't get squished (bonus!) 
Back
The back of the bag is well ventilated and has air pockets, making it sit comfortably against your back and allowing it to be breathable on a warm day. As frequent travellers, one pocket I really liked is the small zip pocket that lies flat against your back which is perfect for storing your passport if you are travelling. Alternatively, you may wish to store a small purse or wallet in this pocket. 
There is a secure laptop storage area that is accessed separately at the back of the bag, keeping you valuable secured safely against your body. The zip is completely waterproof to avoid any water damage from the rain. This space holds up to a 15" MacBook or alternatively could be used to store notebooks or any other flat items you may have.
Side
On one side of the bag there is a water bottle storage pocket and on the other side of the bag, there is a pocket with access into the bag. This pocket can either access the main pouch of the bag or alternatively, a waterproof pocket which can be popped up at the bottom of the bag if you wish to use it. This pocket is perfect for storing a packed lunch or something that is wet or may leak due to the waterproof bag that it is lined with. This section can be collapsed to allow for more space in the bag. This aspect of the bag stood out for me 
There are straps on the side of the bag which can act as a tripod holder, another perfect aspect for photographers or content creators.
Straps
The shoulder straps on the bag are wide and extremely comfortable, however, they don't have the same breathability as the back panel of the bag is which could make it not as comfortable in hotter weather although I haven't experienced this yet. A loop is attached to the shoulder straps which could be a great place for storing your sunglasses. There is a chest strap however no waist strap so this bag wouldn't be the best choice for heavy packing.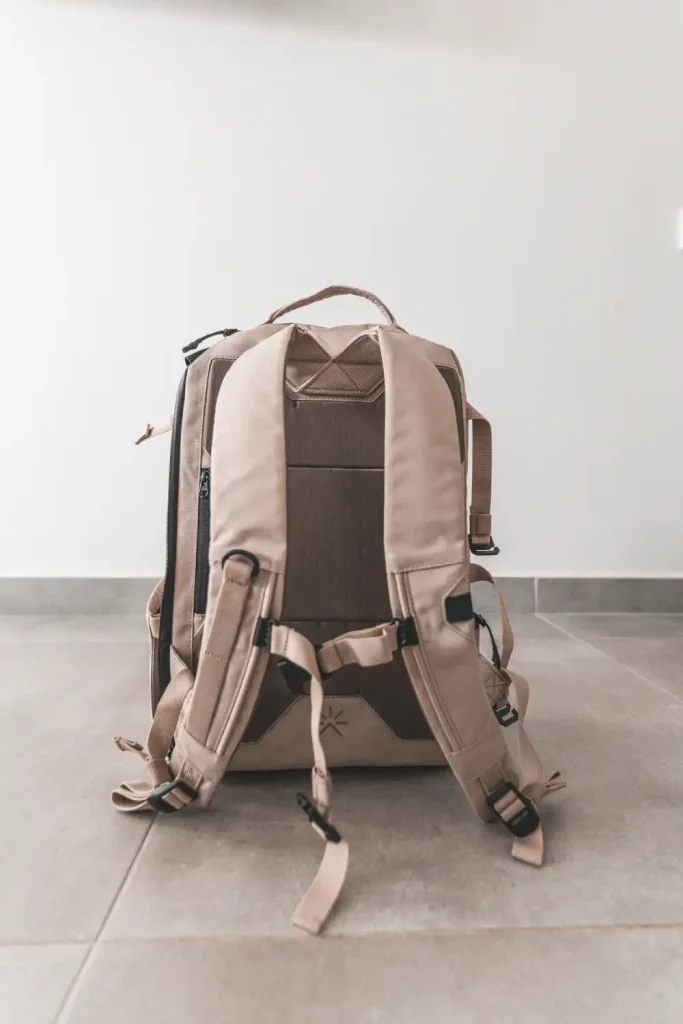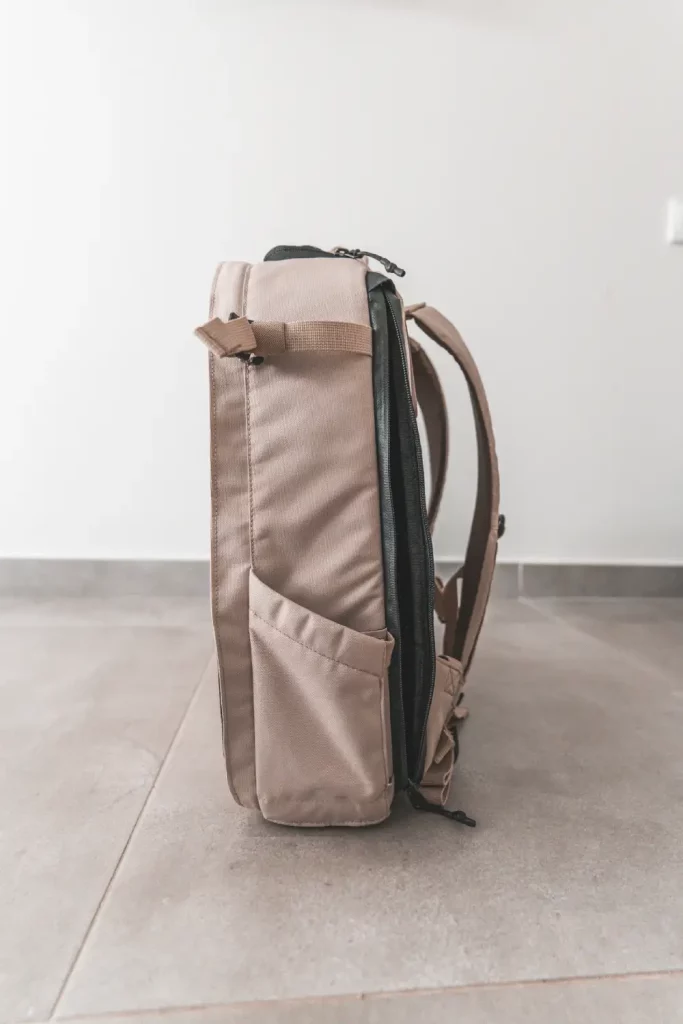 Front
On the front of the bag is one of the key features, the Spider Net System which allows for additional storage, hugging the packing cube against the backpack. The material is water-repellent and he main and front zippers are 100% sealed using water-resistant YKK zippers.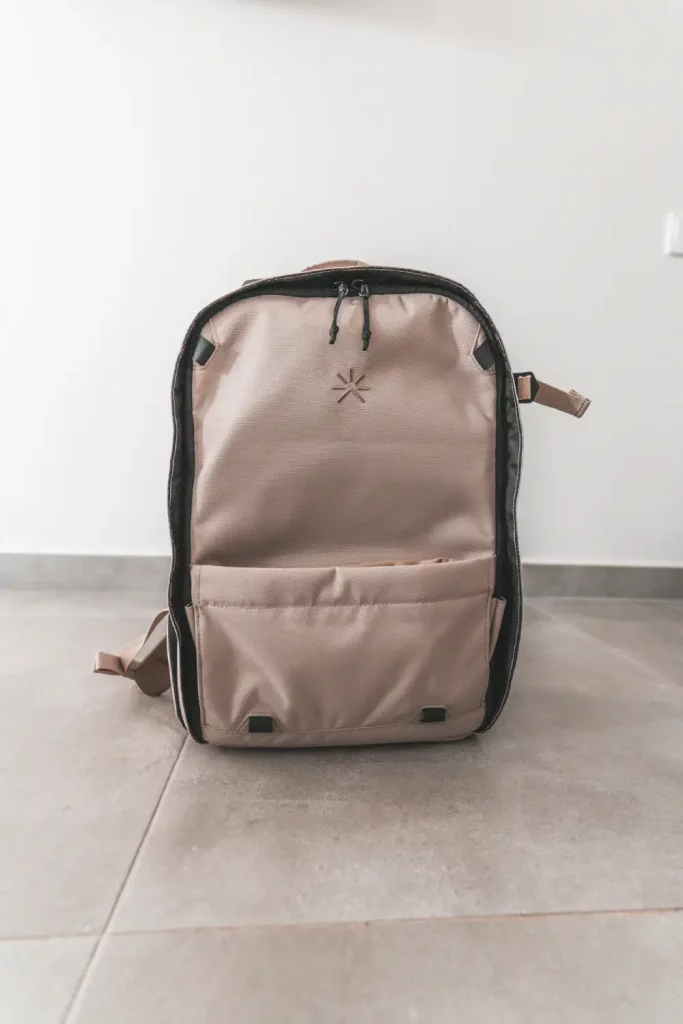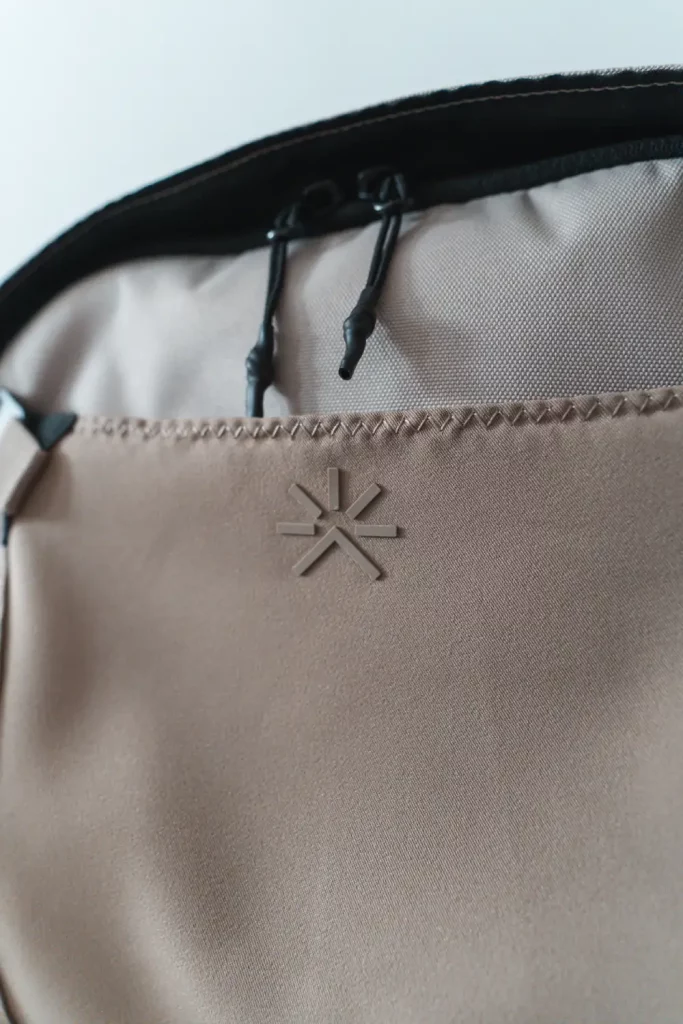 Inside
The Nest Backpack opens flat, allowing for easy packing and ease of access to your belongings. There are a number of zipped pockets for storing bits and bobs such as chargers or battery packs. The inside of the bag can be packed with or without the additional accessories that can be used with the bag as these are removable. With or without the additional organiser, it is easy to keep belongings organised inside the bag.
Kangaroo pouch
At the bottom of the bag is a kangaroo pouch which allows for additional storage, up to 4l capacity, on the outside of the bag. It is worth noting that this storage area doesn't fully zip shut so will not be fully waterproof, however it is perfect for storing shoes or a wet towel. This area tucks away nicely into the bottom of the bag when it is not required.
Accessories
The Nest Backpack can be purchased separately or you have the option to add on additional accessories. These accessories allow for further flexibility with the bag, allowing you to organise your belongings with the organiser, expand the bag with the 10 litre smart packing cube or carry your camera equipment with the camera cube XL add-on. We love the 10 litre packing cube as it allows us to pack extra into the bag if we want to and it fits nicely into the front of the bag without taking up any of the storage space inside the bag.
Read more about the Accessories offered by Nest at Tropicfeel here.
Smart Packing Cube
The smart packing cube helps you to pack efficiently by giving you the option to add an additional 10l of storage to your Nest backpack.
The Smart packing cube has multiple pockets and compartments for storing clothes and has a hook for organisation.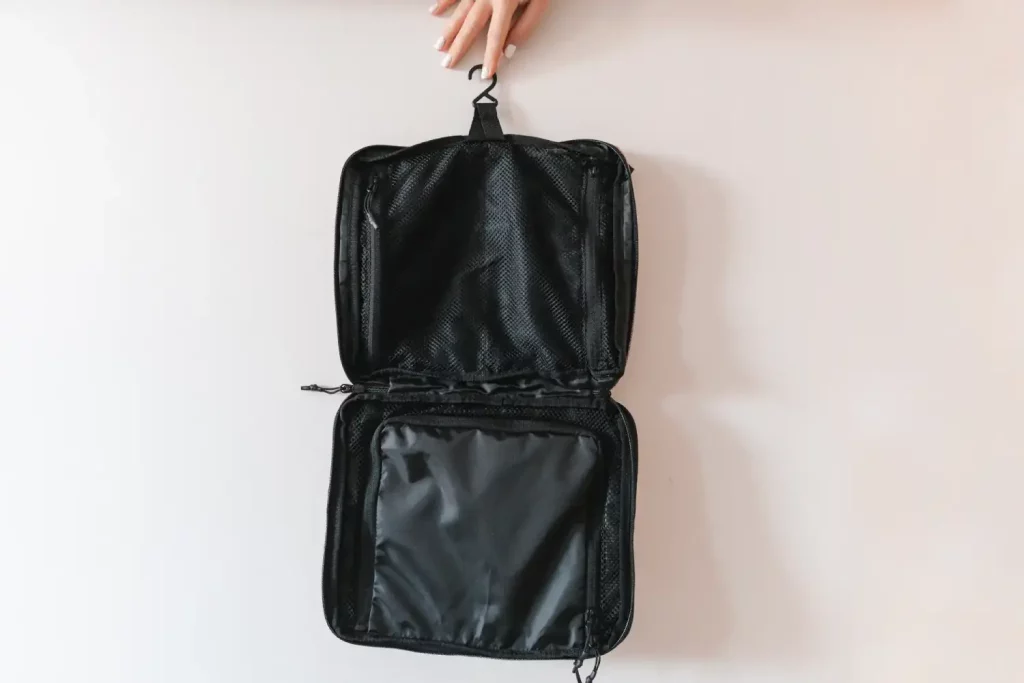 Camera Cube XL
The camera cube is a perfect addition for photographers or content creators allowing you to safely store all of your camera equipment in dedicated compartments.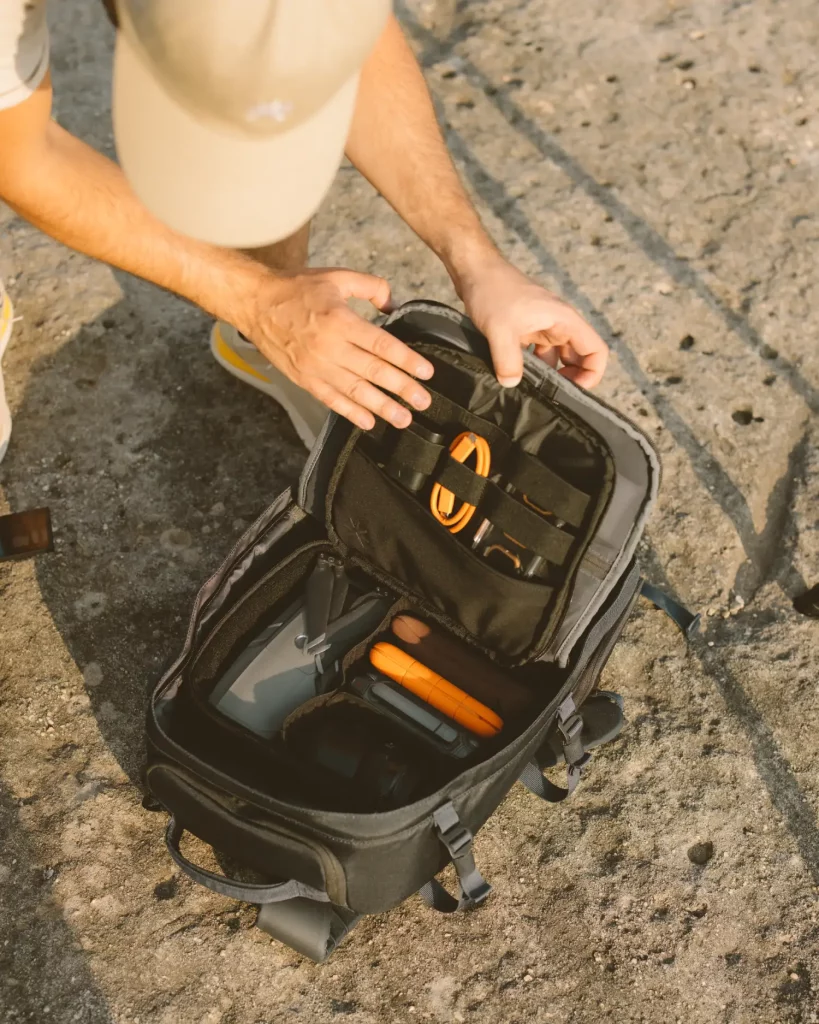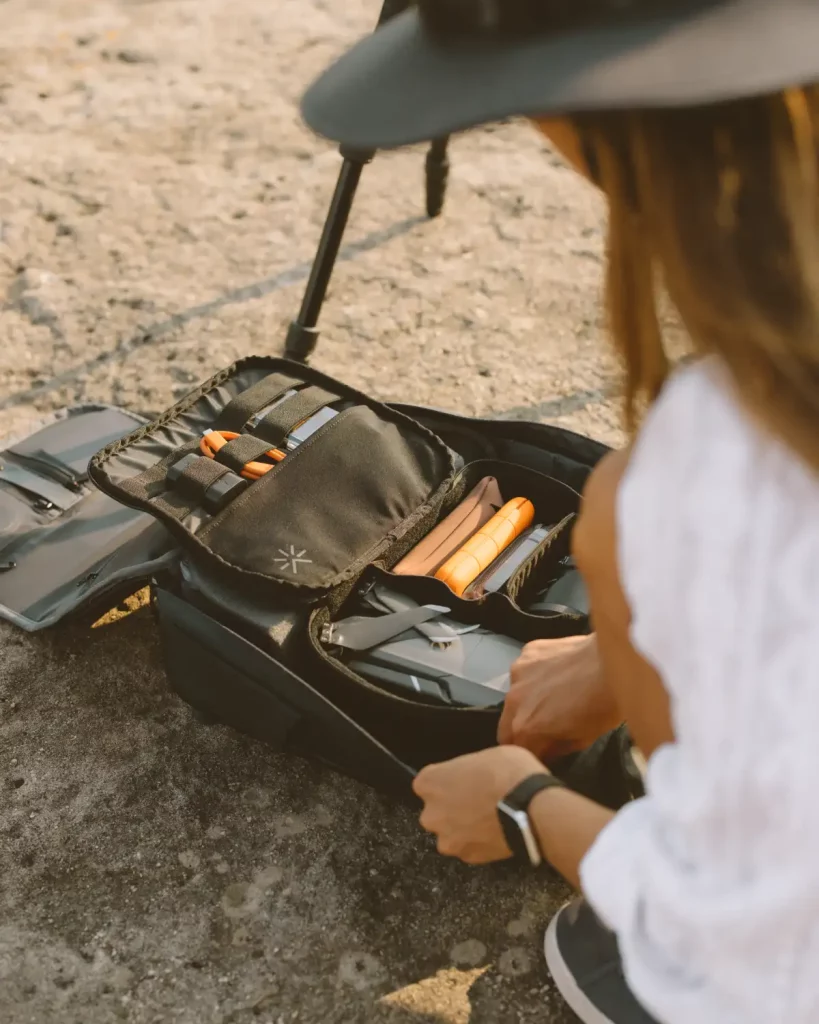 Organiser
The organiser is a great way to keep your belongings organised inside the nest. This folds down flat and nicely into a zip pocket inside the bag for when you are not using it.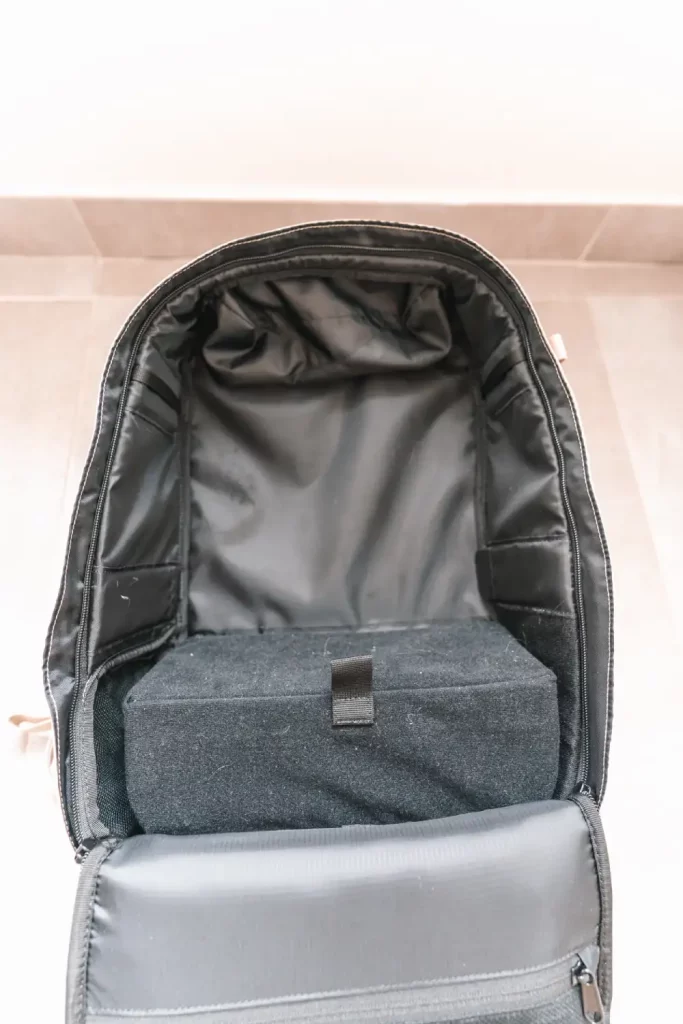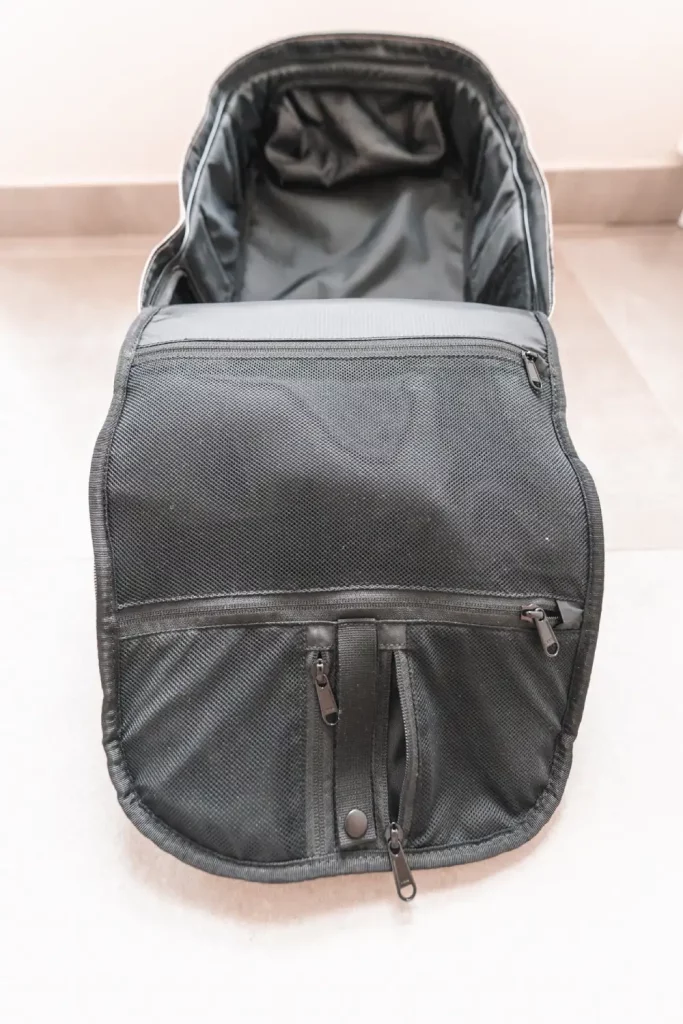 Packing cube
The packing cube is a great addition to the nest allowing you to efficiently pack clothes into the backpack neatly for your trip.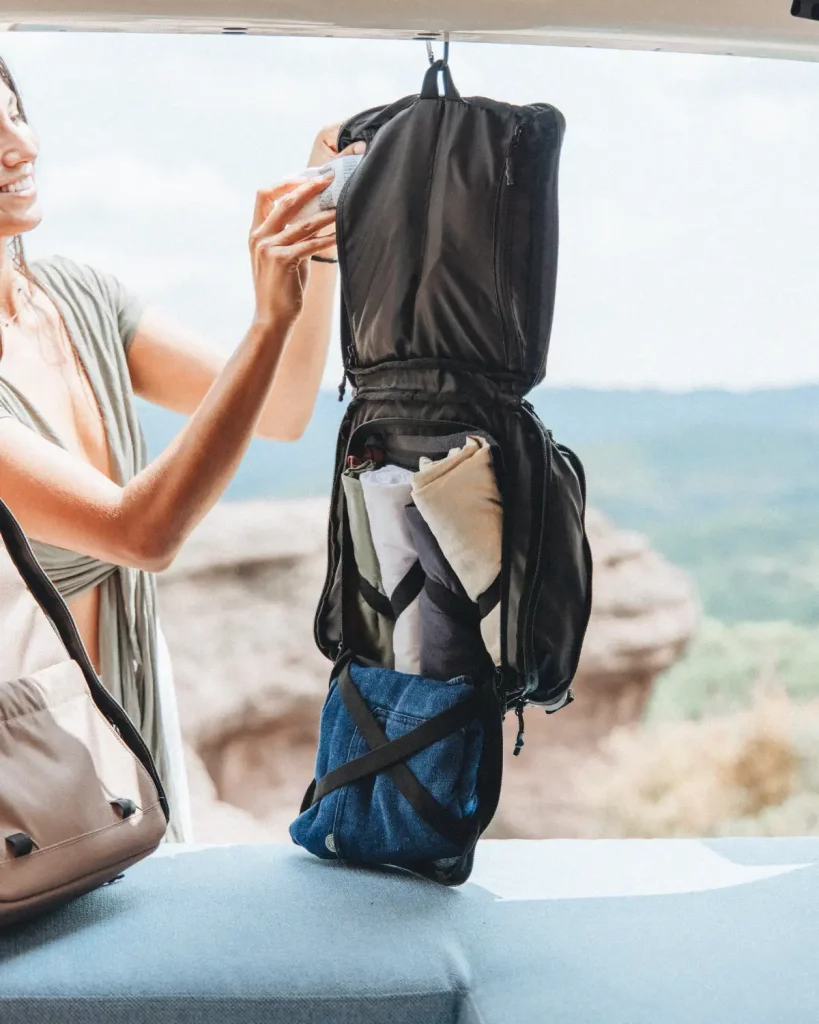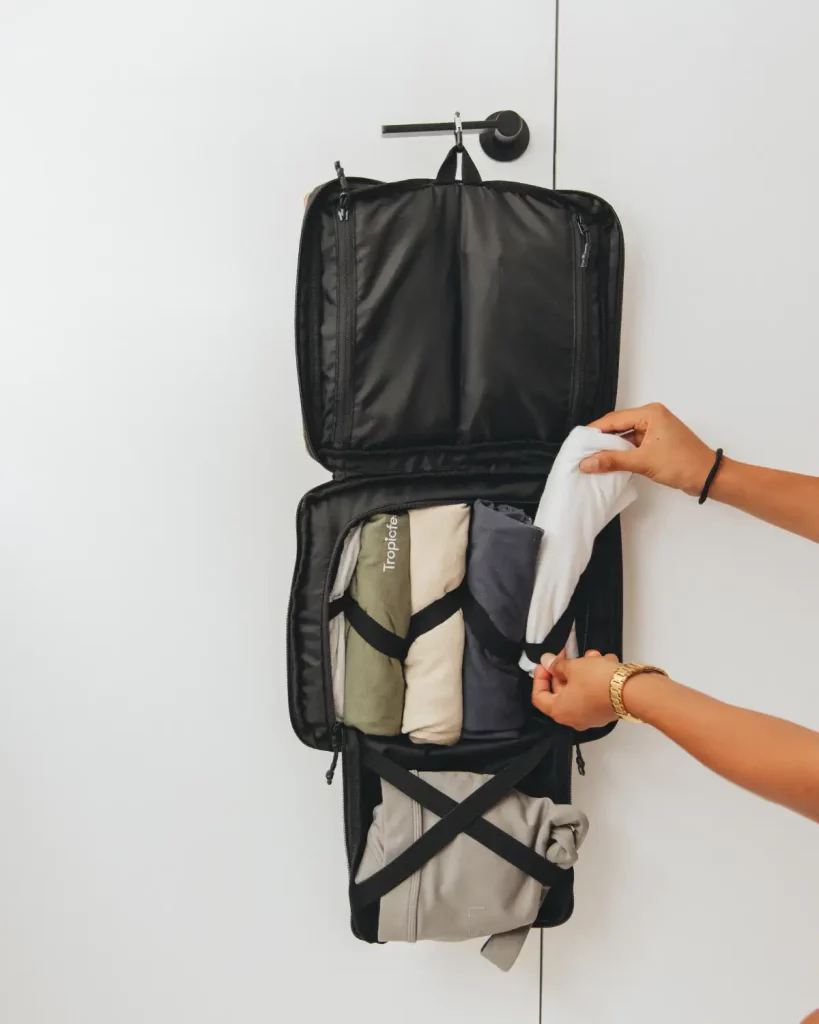 Colours
A range of colours are available to choose from depending on your preference. The colours are very neutral therefore match outfits which was ideal for me whilst travelling.
All Black
Amphora Brown
Blueberry Navy
Desert Green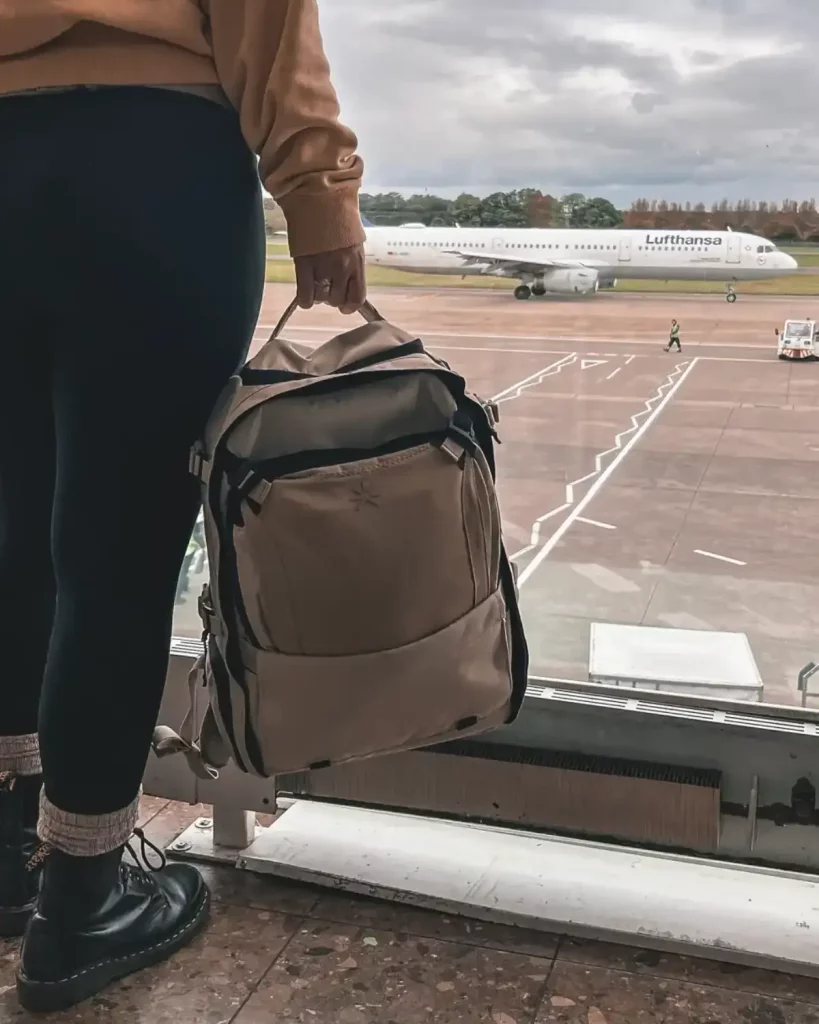 Size of the Nest Backpack

 
Nest is lightweight and as a solid frame meaning it sits upright without falling over and doesn't need to be overpacked or look too bulky to hold the shape on your back. It is perfect for work, your daily hobbies or an adventure sizing from 16l – 20l  – 30l.
Up and down 45.5cm and 56cm with kangaroo pouch

 

28cm wide
14cm deep
Weight 1.1kg
Sustainability
Nest is 100% vegan and made from 100% recycled nylon 100% recycled polyester. 90% of the Nest is made up of recycled materials, re-using fabrics from the industry and giving material a second life. Therefore Nest is Tropic Feels most sustainable product to date. Tropic Feel are very open and honest about their sustainability and ethical journey on their website, ensuring that high standards are met through external audits and certificates.  Every step of the production is monitored to ensure it is created under fair trade conditions. 
You can read more about Tropicfeel's sustainability mission here.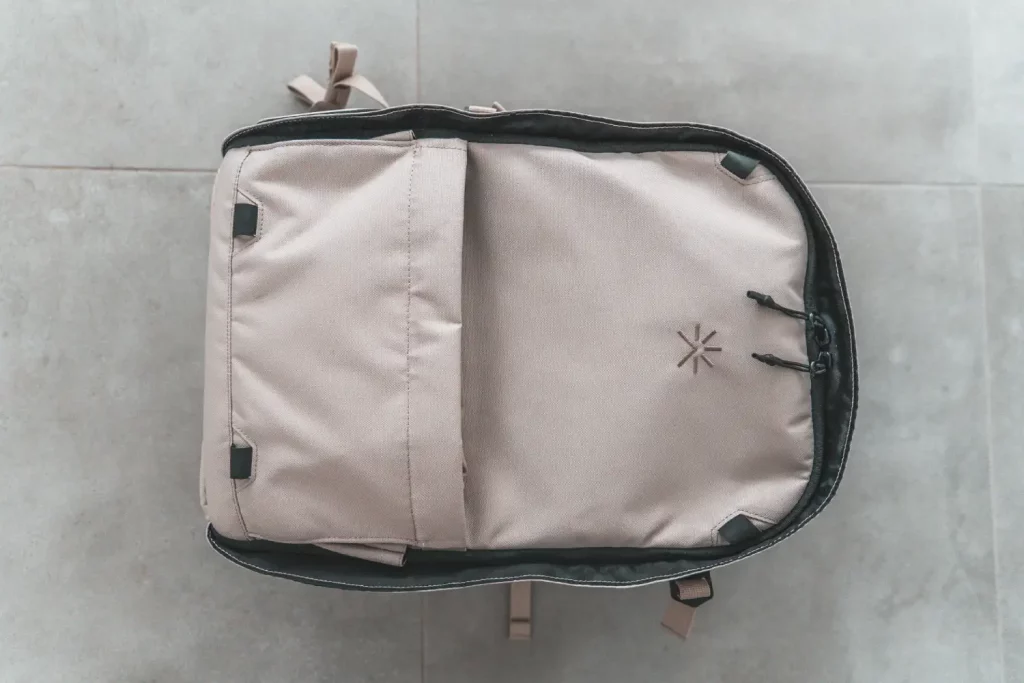 Pros

 
Weather proof – Dries fast and easy to clean
Not gender specific
Pass through panel for luggage
Versatile – can be used for travel or for a day
Removable accessories
The size can be expanded
Lots of pockets
Hooks on the outside which can be used to caribena items onto.
Waterproof side pocket is great and brilliant use of space. It also folds down.
Cons
Expensive
The water bottle pocket is tight initially so if you have a larger water bottle, this might not fit.
Wouldn't be suitable for long travel trip
No waist strap so wouldn't want to carry anything too heavy
Is the Nest Backpack for me?
The Nest Backpack is for you if you can appreciate the detail and organisation of the bag and don't mind the price tag. If you are looking for a bag that you can wear day to day whilst travelling or to take with you to the office but also use as hand luggage or for a weekend away then the Nest is perfect for you. The best way to think of this bag is as a day bag with some extra space for adventures as if you buy it needing a 30l backpack, you would be better purchasing one of their bigger bags.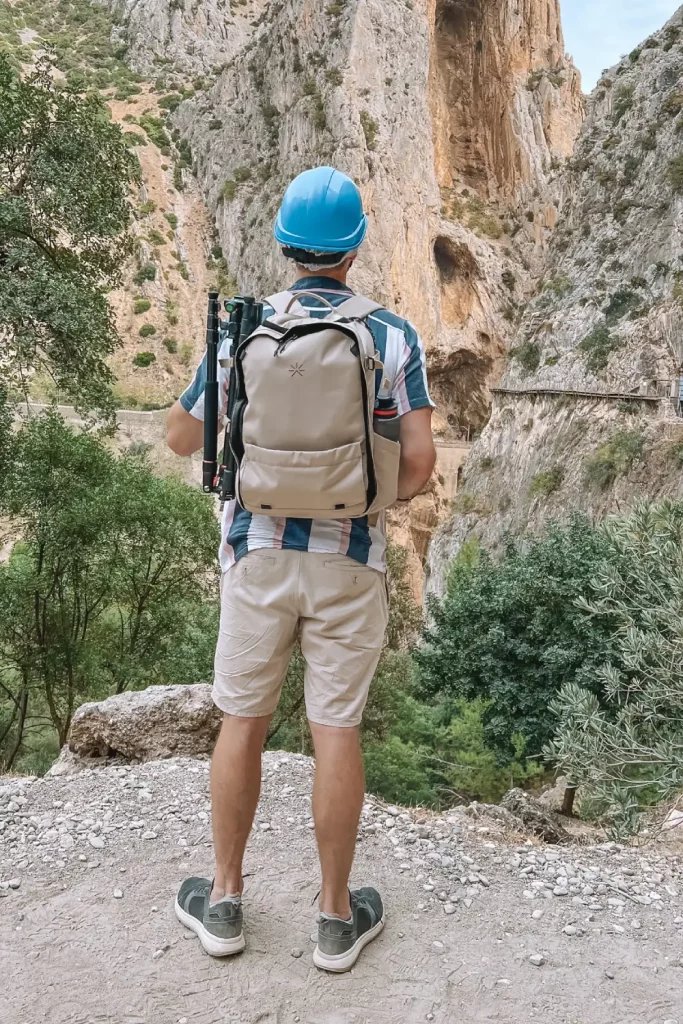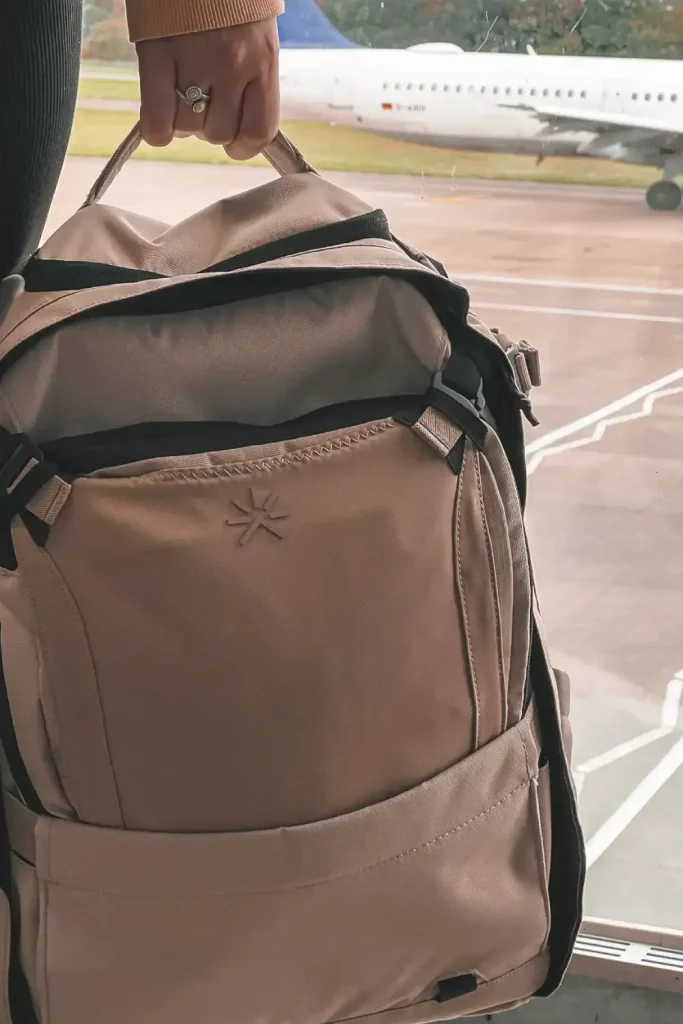 Conclusion
In conclusion the Nest backpack exceeded my expectations and has transitioned really well between between daily use, hand luggage and weekend trips.
This aesthetically pleasing bag has been ideal for my recent city break adventures and has been really comfortable for spending long days exploring. This all rounder backpack has allowed me to pack smarter, optimise space and be more organised.
Despite there being a few cons to this bag, I have to say it is the best backpack that I have owned and is absolutely brilliant for travelling with. 
Currently, the only place you can buy the Nest is on the Tropic Feel website – check their prices here.
No time to read now? No worries! Save it to your Pinterest board for later!!