Disclaimer – We stayed at the Blonde Hedgehog as part of a collaboration. The opinions below, however, are ours and are in no way influenced by this. 
Alderney is the hidden gem of the Channel Islands. With beautiful beaches, stunning cliff views and an abundance of history, this island is one not to be missed. 
There is a variety of accommodations in Alderney, but how about making your trip that bit more special? The Blonde Hedgehog is Alderney's only 5 star hotel and is conveniently located on the cobbled lanes of Alderney's only town, St Anne.
This boutique hotel is new on the scene in Alderney, the charm of which will lure you back time and time again to this incredible island.
No time to read now? No problem, save a pin to your Pinterest board for later!
The Blonde Hedgehog Hotel, Alderney
The Blonde Hedgehog is a luxury stay in Alderney. In this post we will go into detail of what you can expect if you choose to stay here on your trip to Alderney. 
There are three buildings that are part of the Blonde Hedgehog Hotel; Clarence House, The Corner House and The Blonde Hedgehog itself. 
In total, there are two spectacular suites, seven unique rooms, and a beautiful, self-contained cottage to choose from, making the Blonde Hedgehog the perfect place to stay, regardless of your style or requirements. Make sure you get your booking in early to avoid disappointment. 
Blonde Hedgehog – Bedrooms

Clarence House – Bedrooms and Suites

The Corner House

The Restaurant

The Garden

The Lounging area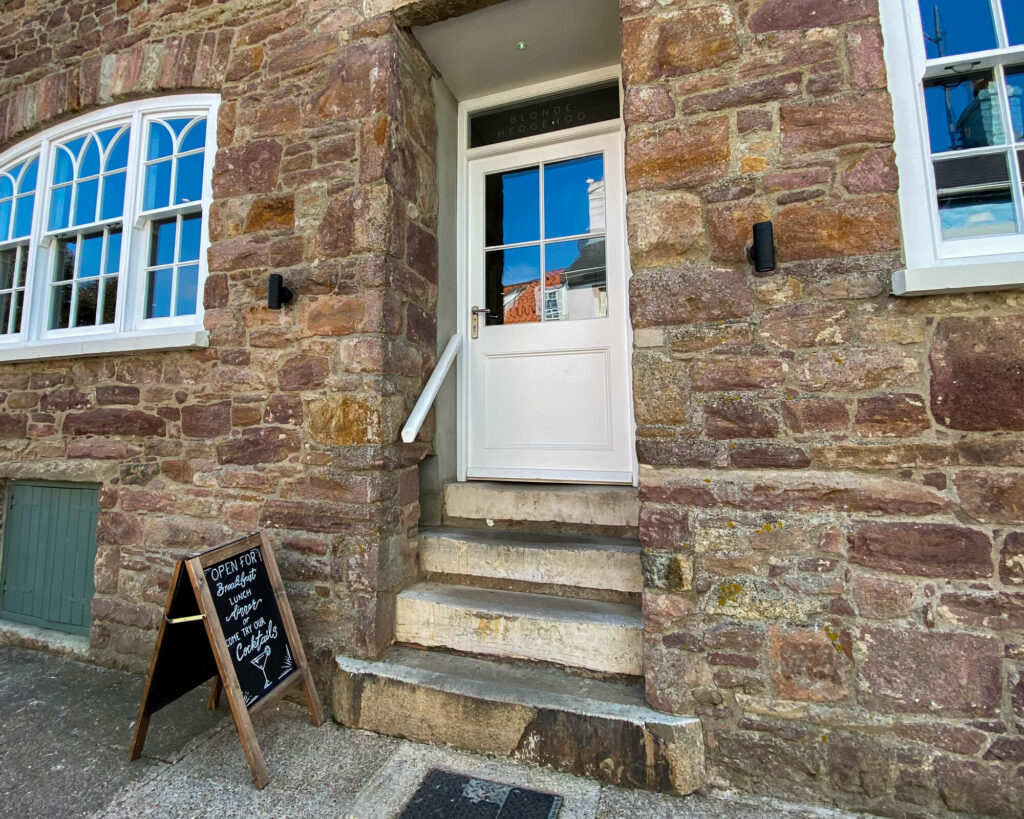 Rooms in The Blonde Hedgehog
There are seven bedrooms in the Blonde Hedgehog, all unique in their own way. Depending what room you stay in will depend on the price you will pay. 
All of the rooms have a flat screen TV and access to wifi, with a tablet to allow you to plan out your trip if you don't have a device. There is also complimentary tea and coffee in the room with a kettle and coffee machine.
There is a safe for you to store your personal belongings.
All of the rooms are kitted out with Plum and Ashby amenities giving a beautiful scent around the area. To complete, there is also a hairdryer and hair straighteners in every room.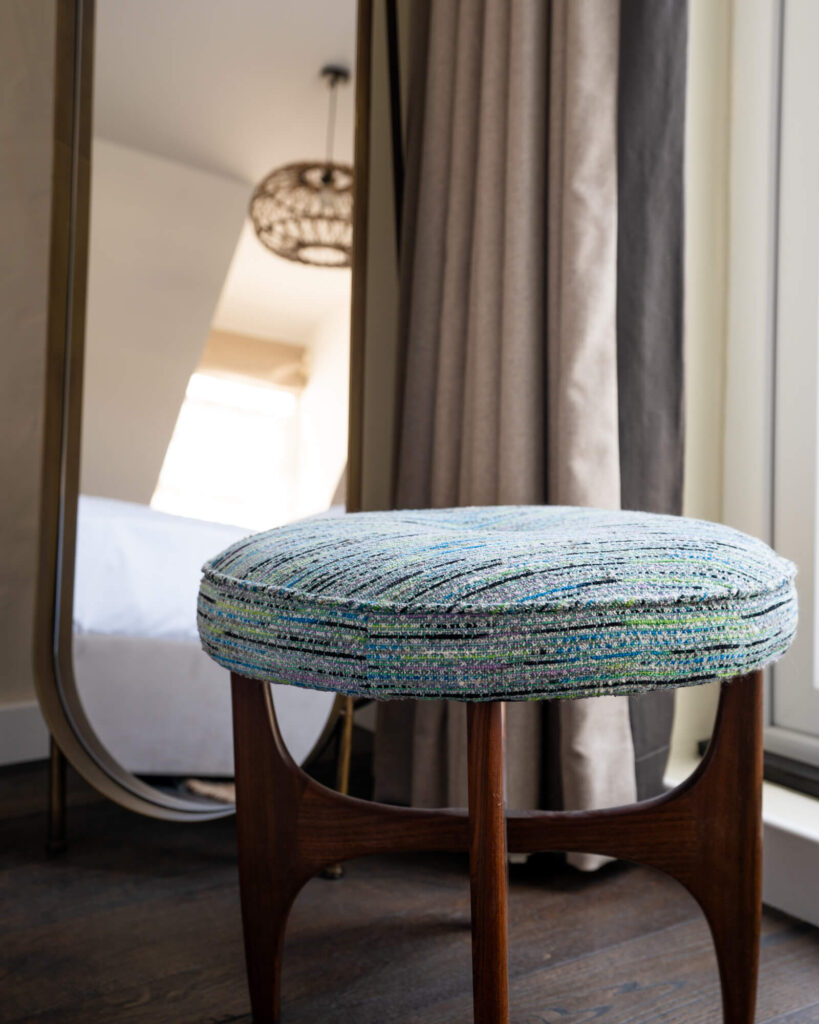 The Burrow
The Burrow is a deluxe double room on the first floor. This large bedroom even has space for a freestanding bathtub by the window. 
There is an ensuite bathroom with a walk in shower and heated towel rail. 
The original fireplace is still standing in this room giving it a warm, cosy feel.
Prices for this room start at £280.
Spikes
This standard double room sits in the top floor loft of the Blonde Hedgehog. Despite being on the top floor, this open plan room is very spacious and has plenty of wardrobe space.
The ensuite bathroom has a walk in shower.
Prices for this room start at £230.
The Den
The Den is situated on the first floor of the property and is another deluxe double bedroom at the Blonde Hedgehog. The bathroom has a free standing bath and a walk in shower for you to enjoy.
Prices for this room start at £280.
Lapins
The second of the loft rooms on the top floor is Lapins. This is the room that we enjoyed our stay in at the Blonde Hedgehog. This is a standard double room with plenty of open space and very comfortable. There is plenty of wardrobe space and the ensuite bathroom has a walk in rainwater shower head.
Prices for this room start at £230.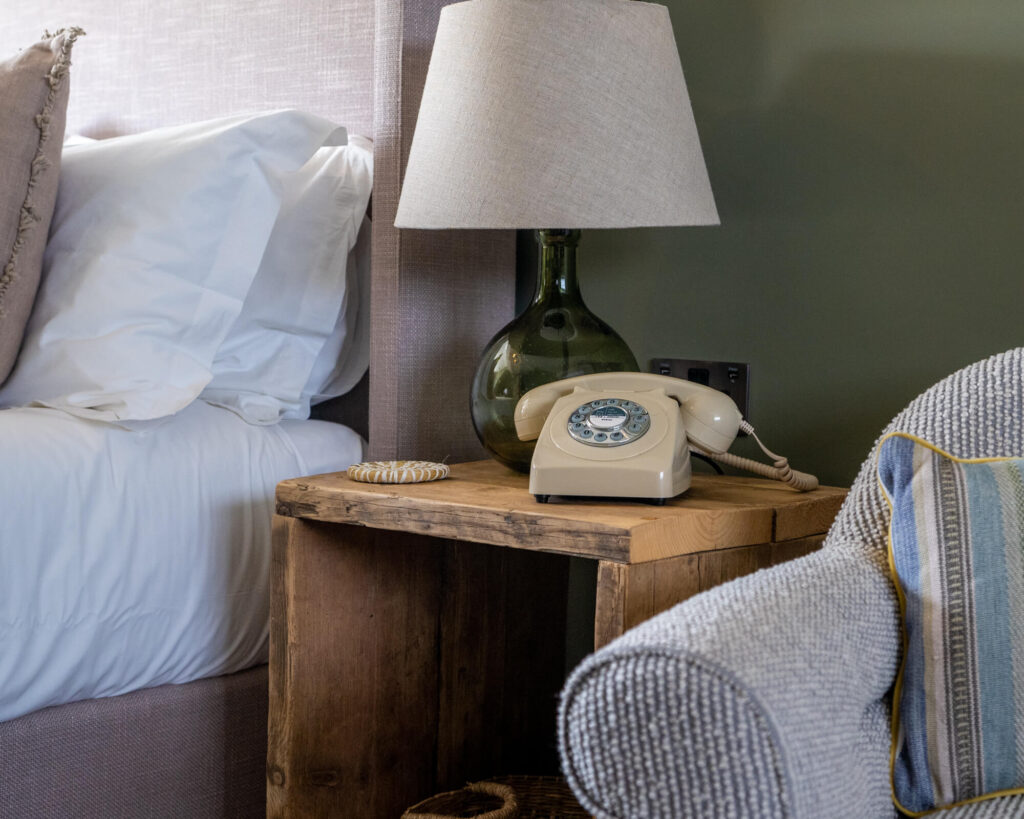 Rooms in the Clarence House
The Clarence House is a building separate to the main area of the Blonde Hedgehog, connected by the garden. It is located in the building directly beside the Blonde Hedgehog and is easily accessed by the main road. 
Inside the Clarence House, the decor is more aimed at the Victoria-Era, with lots of grand arches and a beautiful, winding staircase visible upon entry. 
There are five rooms inside the Clarence House, located across three floors and all with their own unique styling and furnishings from across the globe.
Read more about The Blonde Hedgehog here.
Beaumont
Beaumont is a standard double room on the first floor. The original fireplace is still in the bedroom giving it a cosy feel and the ensuite bathroom has a walk in rainwater shower. 
Prices for this room start at £230.
Sauchet
This first floor double deluxe room is perfect for couples or friends looking for a night away. The large open plan room has plenty of space and a large wardrobe area. The bathroom has a walk in shower and double sinks.
Prices for this room start at £250.
Tourgis
Tourgis is a deluxe double room on the first floor of Clarence House. The original fireplace is still in situ in this room and there is also a free standing bathtub by the window in the large bathroom.
There are also two large windows looking out over the cobbled streets of St Anne.
Prices for this room start at £280.
Le Marais Suite
This luxury suite has an open plan living space as well as bedroom area. There is also an original fireplace in the living area. 
The large bathroom area has a free standing bath tub and a walk in shower.
Prices for this room start at £350.
Le Huret Suite
Le Huret Suite is a ground floor suite in Clarence House. This luxury suite comes with a separate lounge area in the open plan room, with a flat screen tv and windows over looking the cobbled street. 
The original fire place is still in situ in this room.
The large en suite bathroom has a walk in shower as well as a free standing bathtub.
Prices for this room start at £350.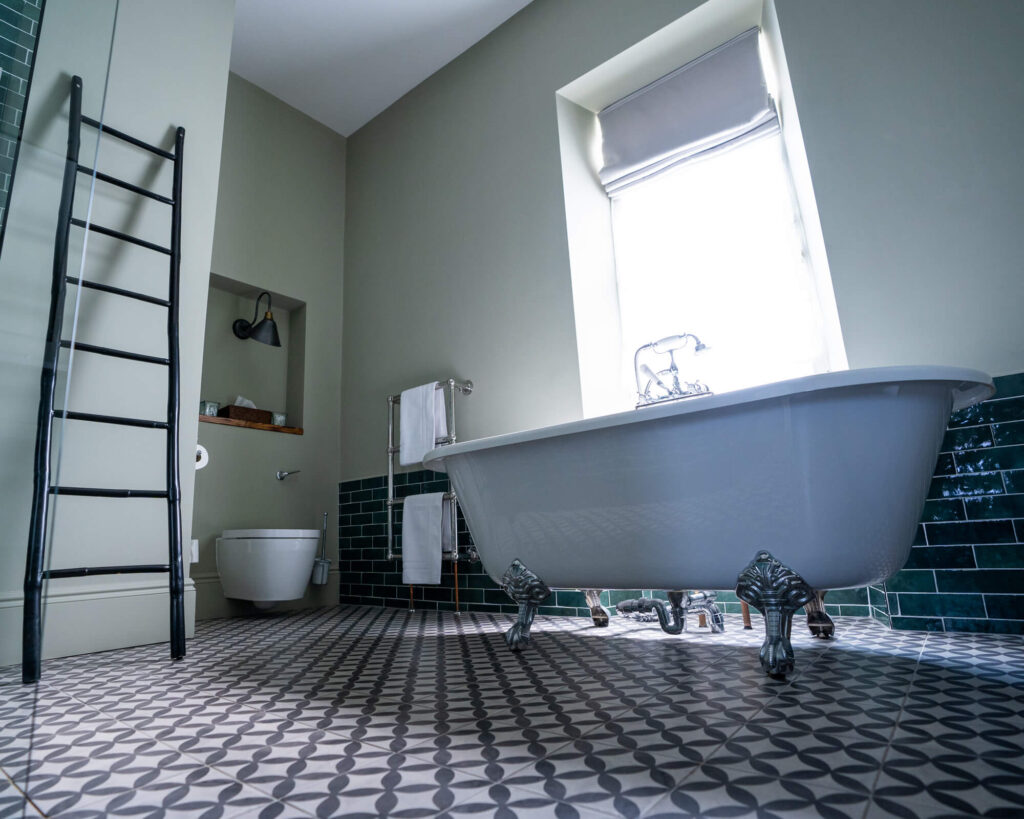 The Corner House
The Corner House sits across the road from the Blonde Hedgehog, however still extremely close to it's amenities. 
This is an 18th century cottage with three double rooms. There is a very cosy living area with a fireplace and flat screen TV. There is a large fully equipped kitchen and seating area, looking out into a small garden area with outdoor seating. 
Upstairs you will find the bedrooms, all extremely comfortable. On the first floor, there are two double bedrooms and a bathroom and on the top floor there is a master bedroom with an ensuite and free standing bath tub. Connected to the master bedroom is a roof terrace that looks over the roofs of St Anne offering views of the island. This is beautiful in spring and summer as the blossoms are out.
This is a dream home away from home and perfect for families or groups of friends looking for a relaxing trip away to Alderney.
Prices for the Corner House start at £600.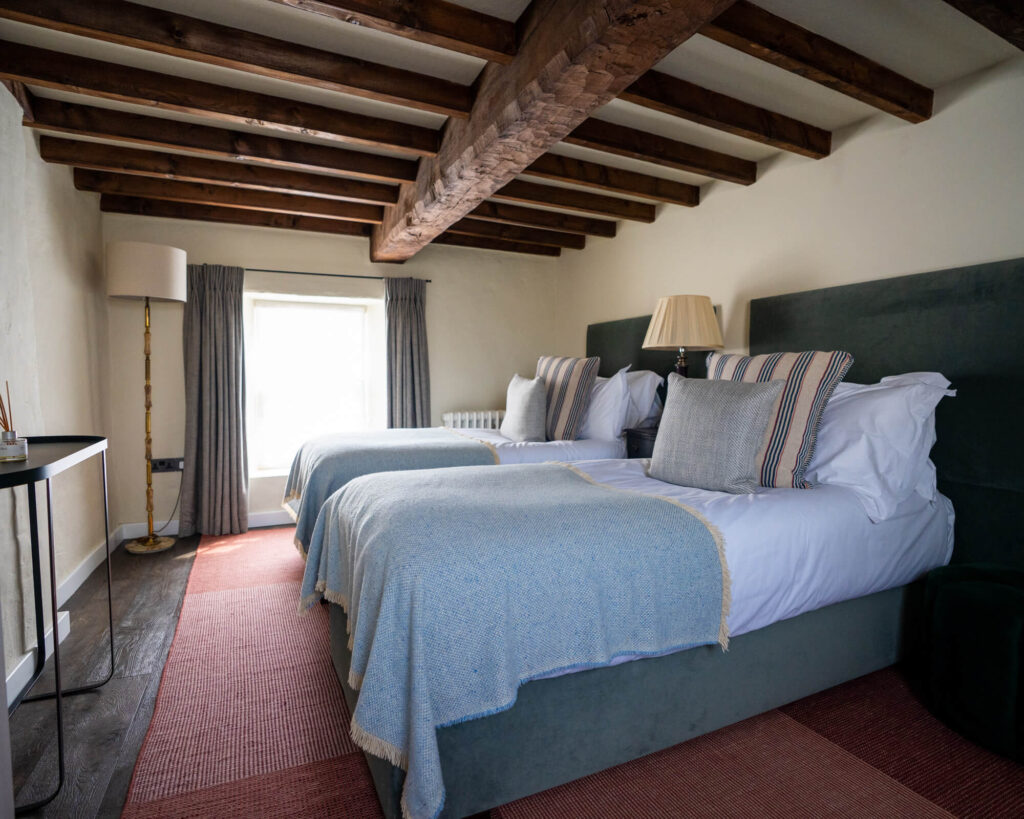 Restaurant and Bar
The restaurant and bar in the Blonde Hedgehog is charming in itself. The staff are extremely welcoming and friendly and the the tables sit within a bright conservatory area. 
There is a small menu but the food is absolutely bursting with flavour and we would even go as far to say Michelin star standard. Being vegetarian we had two options to choose from, one on the main menu and one on the bar menu. The ricotta gnocchi was absolutely delicious and a very generous size. 
If you have any other dietary requirements I am sure if you ask, they will be able to meet your needs.
The bar menu has individually priced meals and the main menu offers two courses for £28 and three courses for £36. 
We can also highly recommend the chocolate overload waffle for desert, it really is a chocolate overload!
Prices range from £2-£40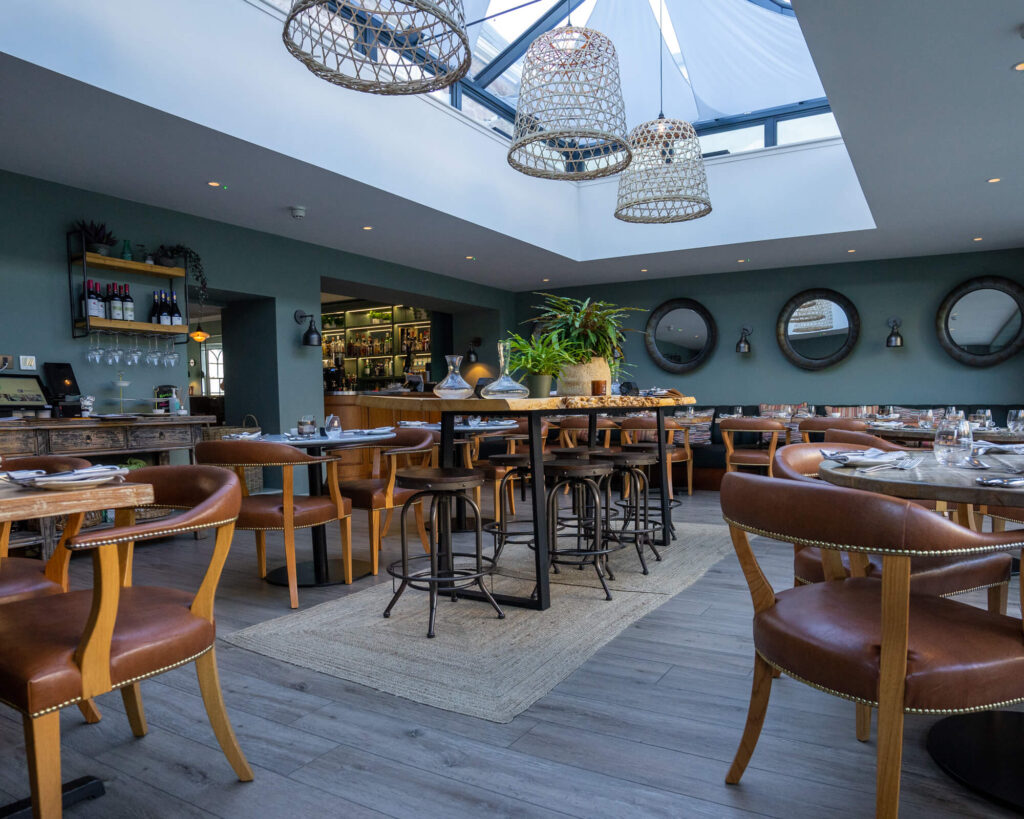 The Garden
The Blonde Hedgehog has a lovely terrace garden area out the back of the restaurant. There are three levels to the garden and plenty of tables and chairs for you to sit out and enjoy a drink or something to eat. 
To the left of this terrace area is another small garden with some relaxing loungers where you can lie out and enjoy the sun trap.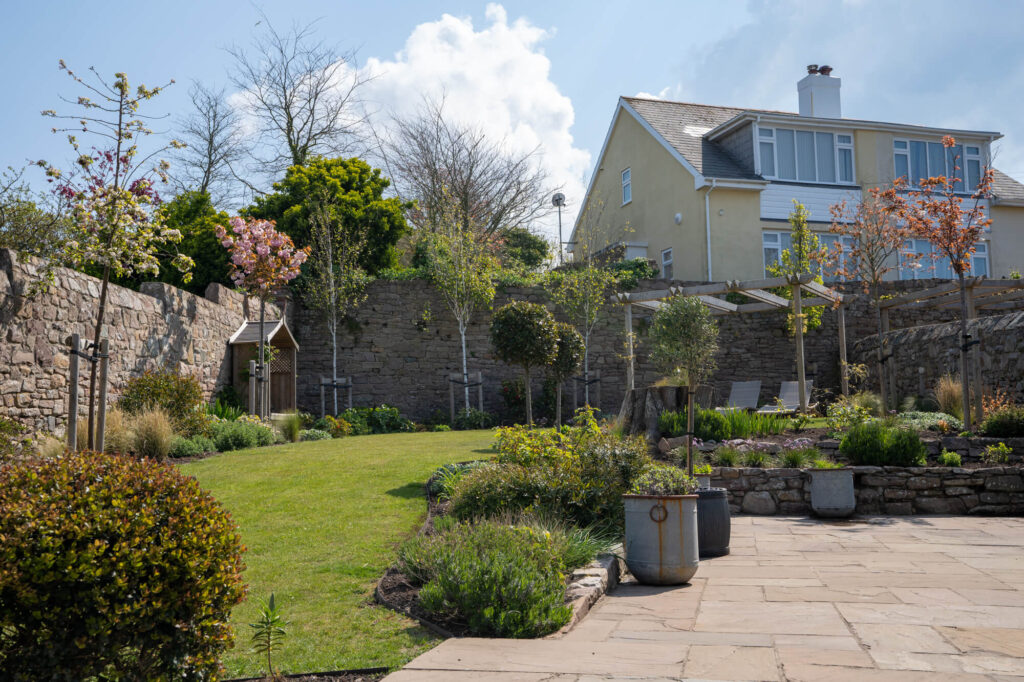 Lounge Area
One of our favourite spaces in the Blonde Hedgehog is the lounging area. This area sits out with the restaurant area, however a small gap in the wall allows for the atmosphere to carry through.
This room has a comfortable seating area, magazines and board games. To complete it, there is cosy fireplace that goes just perfect with a glass of wine and a game of Scrabble after a busy day of exploring.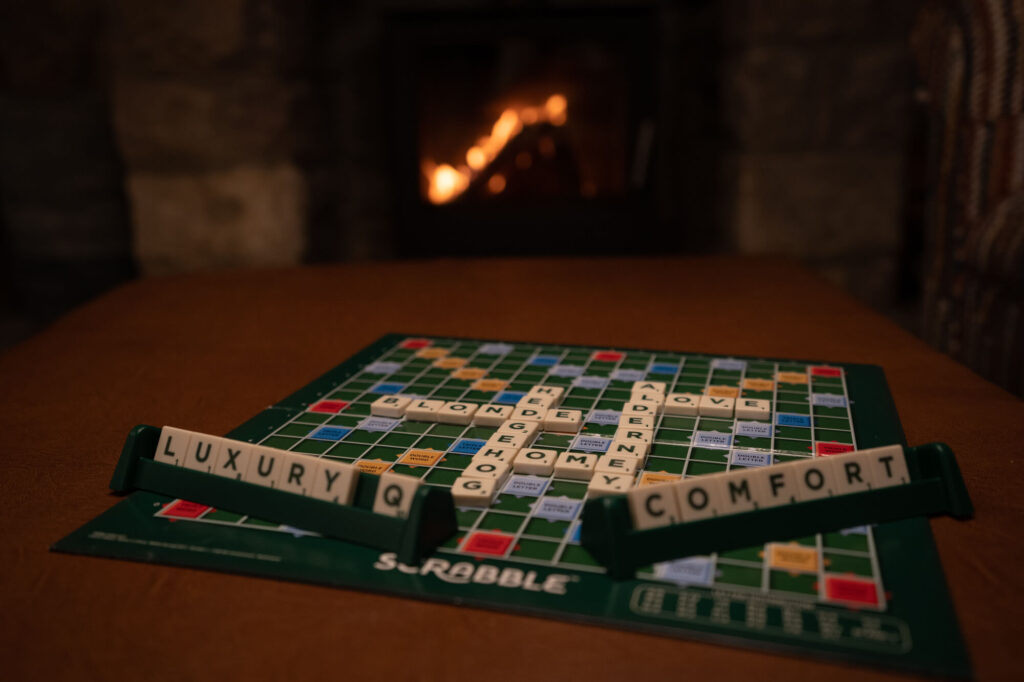 Before You Leave for Alderney
Before you leave on your trip to the beautiful island of Alderney, there are a number of things you will need to organise to ensure a smooth and stress-free trip. These include what to pack, where to stay and what is the best travel insurance for Alderney.
How to Get to Alderney
Given that Alderney is an island, you really have two choices of transport for getting there: plane or boat. Both of these transport methods are available from Guernsey
Ferry to Alderney
During the summer months, there is a second option to get to Alderney and that is by boat. Currently, the boats are only leaving from Guernsey due to the restrictions to travel with France. The ferry options are The Little Ferry Company and Lady Maris II.
Fly to Alderney
Flights to Alderney leave 2-3 times a day from Guernsey. The duration of the flight is around 20 minutes and due to the low number of passengers generally travelling to Alderney, the plane is very small, seating around 10 passengers.
You can browse all of the available flights and routes on the Aurigny website here.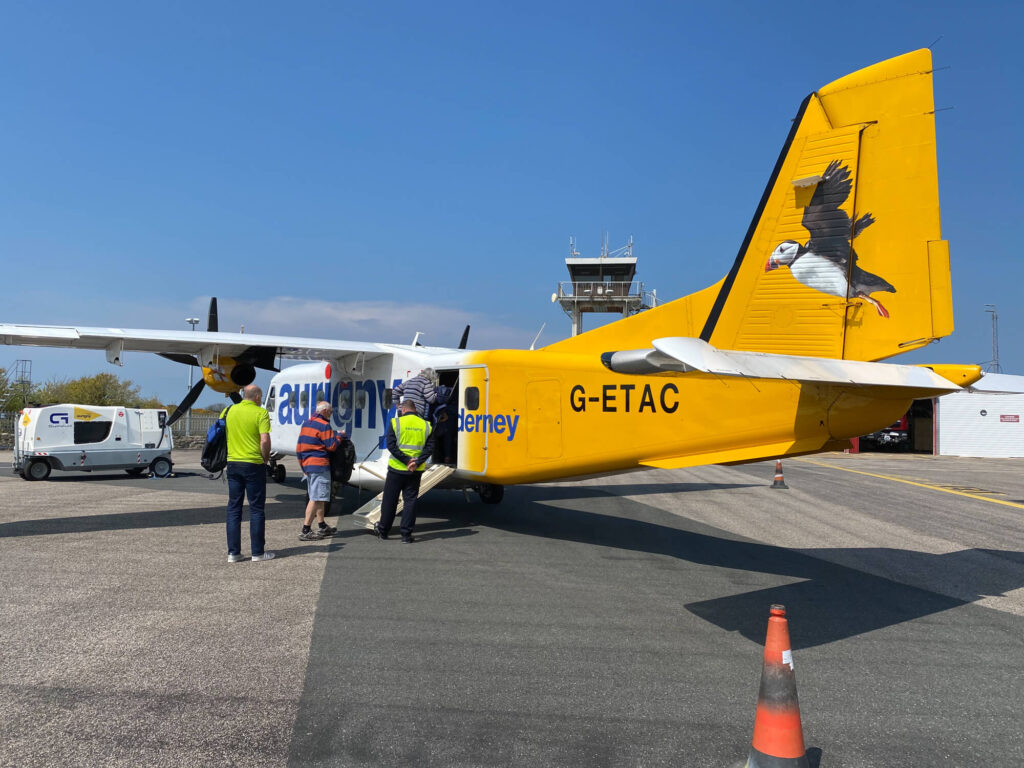 How to Get Around Alderney
Depending on what you want to do when you are in Alderney, will depend how you get around.
Due to the size of the island, it is possible to walk around, especially if the weather treats you well.
Another option would be to hire a bike or even an electric bike from Cycle and Surf. A push bike costs £14 per day for an adult and £10 per day for a junior bike. Electric bikes are £26 per day.
If you want to explore Alderney more in depth, we would highly recommend hiring a car. This allowed us a lot more freedom and flexibility. You can hire from Braye Hire Cars for either £38 or £35 per day depending on how many days you are hiring for, all inclusive of fuel.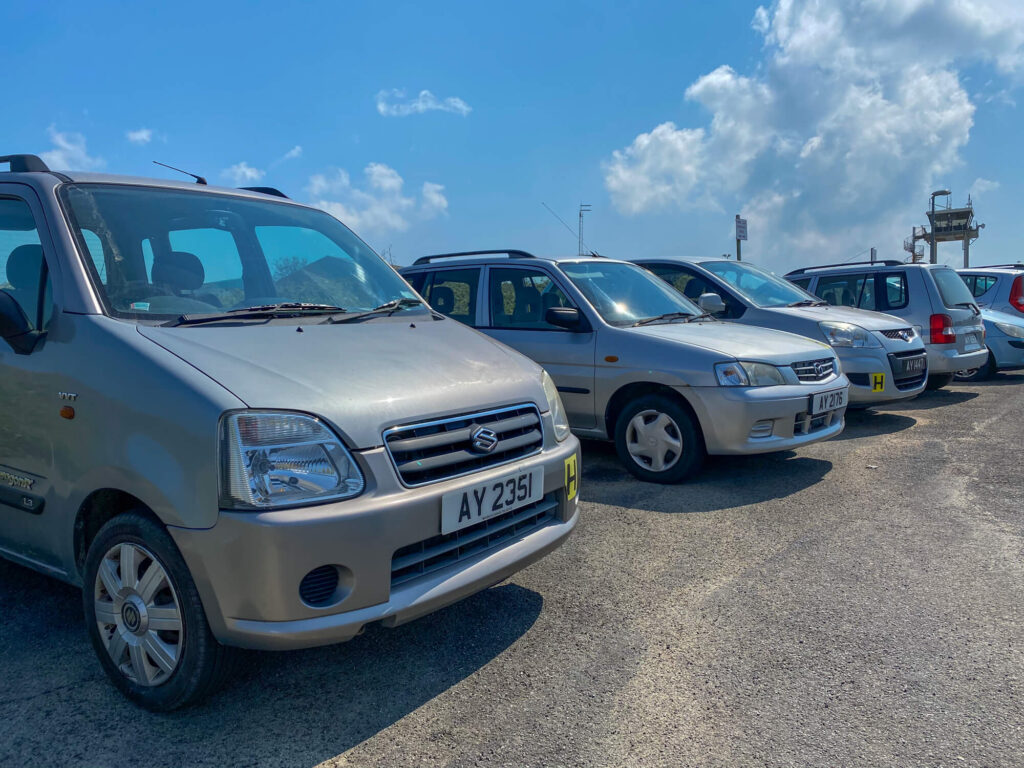 What to Pack for Alderney
What you need to pack for Alderneyy will rely highly on when you make your trip to the Channel Islands. During the Spring and Autumn months, temperatures and weather patterns vary wildly between beautiful sunny skies and storming gales.
The temperatures generally vary from 10 oC to 25 oC during these months, with a mixture between cold, northerly winds and warmer southerlies. There is a small amount of rain, with maybe 1 in 7 days receiving rainfall, which makes it perfect for days out exploring the beautiful island.
During the Summer months in Alderney, temperatures tend to range from 20oC to 30oC, with some days topping 35oC. Summer days in Alderney are perfect for the beach, with many locals and travellers alike sending their day soaking up the sun and playing in the sea. When it comes to toiletries, we recommend that you don't forget to pack sunscreen. The sun in Alderney can be strong, especially in the summer months.
If you need more inspiration on what to pack for your trip, check out our full packing guides for all-weather conditions over here.
Given the beautiful sights and scenery that you will see in Alderney, we highly recommend packing a good camera for your trip. If you want to read more about the cameras we use and why we love them, check out the link below.
You can read what else we keep in our camera bag over here.
What is the Best Travel Insurance for Alderney
Regardless of what type of trip you are heading on, one thing that is essential for everybody is a good travel insurance. Accidents can happen anywhere and at anytime and unexpected hospital bills will ruin a holiday. Remove the stress from your next adventure and get covered for the worst.
World Nomads Travel Insurance provides budget reliable travel insurance that will keep you covered for any level of adventure.
You can get your quote before you leave on your trip right here.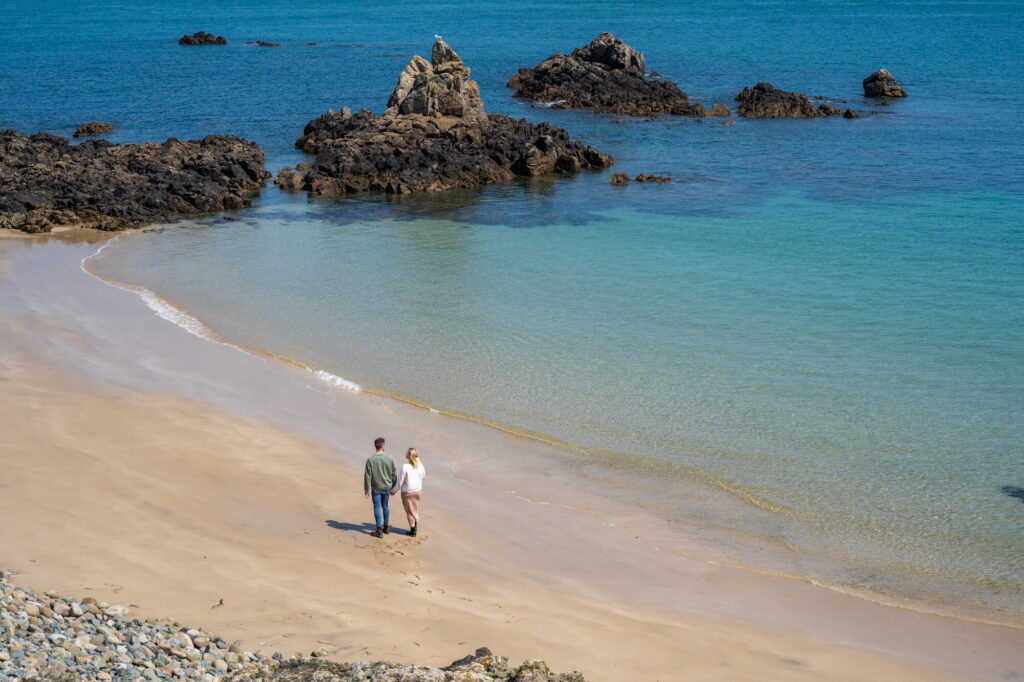 So there you have it, our in depth guide to the Blonde Hedgehog. This hotel really charmed us on our visit to Alderney and we felt at home with a friendly family there. We couldn't recommend more that you treat yourself to a stay here when you are visiting Alderney.
If you enjoyed your trip to Alderney, let us know what your favourite sight on this amazing island was in the comments section below. We love chatting you guys about this kind of thing, so let's share our top experiences with everyone else! What beach was your favourite? Did you try any of the walks? Where was your favourite restaurant?! 
Also, make sure you share this article with your family and friends to show them how beautiful the Channel Islands can be. Sharing is caring and we want to inspire as many people as we can to visit this unbelievable part of the world.
If you are planning a trip to Alderney soon then check out our other Channel Islands content right here. Come and find us on social media to see where we are currently exploring. Tag us in your photos from Alderney and we will share them with the rest of our community of explorers and backpackers on our social channels!
This article may contain affiliate links that provide us with a small income. For more information read our Affiliate page.
---
Save this to your Guernsey Pinterest board for later