Astonishing scenery, verdant nature, rich wildlife, iconic castles, and modern lifestyle, all this makes up for an amazing holiday in Scotland. The country is truly a paradise for travellers of every kind.
There is so much to experience and explore in this beautiful land that surely a single visit isn't going to be enough to cover all facets of Scotland tourism. However, one place that has to be on your Scotland bucket list every time you visit this gorgeous country is the Glenfinnan Viaduct Viewpoint. 
Glenfinnan Viaduct is a railway viaduct located in the West Highlands and at the head of Loch Shiel. The experience that Glenfinnan Viaduct offers is worth remembering for a lifetime. 
Such is the charm of this place that it attracts thousands of visitors every year from across the globe to savour the beautiful scenery and surreal atmosphere. 
No time to read now? No problem, save a pin to your Pinterest board for later!
Glenfinnan Viaduct Viewpoint - All You Need to Know Before Visiting
The Glenfinnan Viaduct is becoming a more and more popular place to visit in the Scottish Highlands. If you are thinking of visiting Glenfinnan Viaduct Viewpoint on your trip to Scotland, which we recommend, this is the guide that will fill you with all the information you need to know about this amazing tourist destination. In this guide, we will discuss the following
An Insight into the Glenfinnan Viaduct

How to find Glenfinnan Viaduct
How to get to Glenfinnan Viaduct
When is the best time to visit Glenfinnan Viaduct
Photography tips for Glenfinnan Viaduct
Drone Regulations
Things to do near Glenfinnan Viaduct

Preparing for your trip to Fort William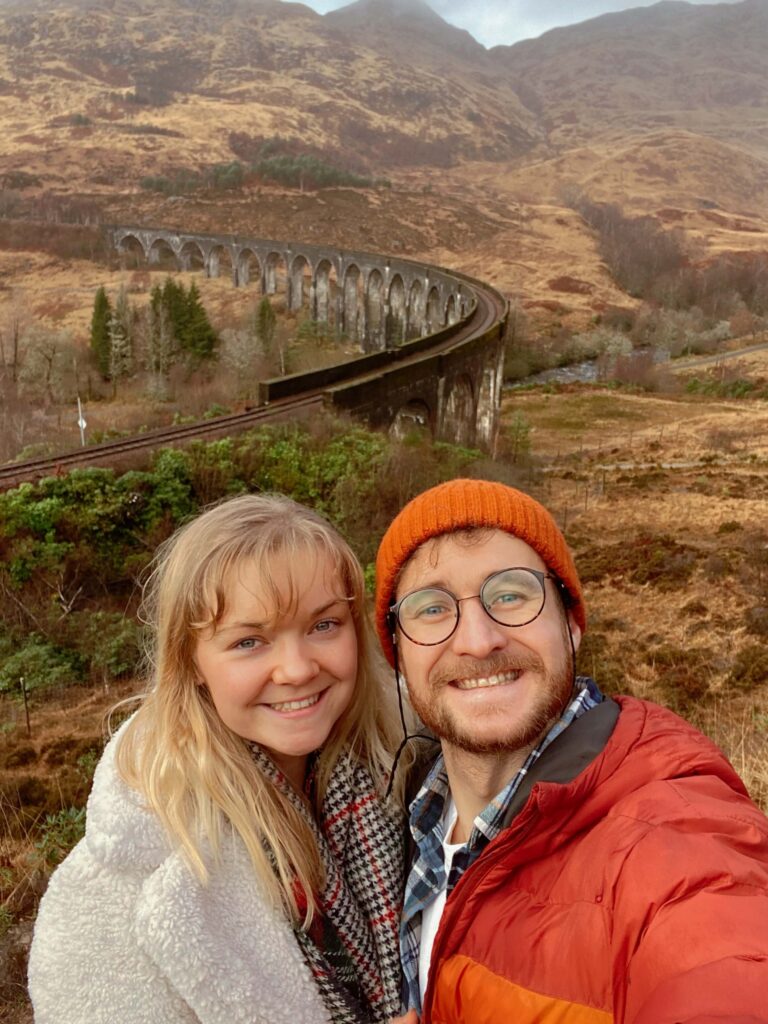 An Insight Into Glenfinnan Viaduct
Located at a distance of 17 miles west of Fort William, Glenfinnan Viaduct is a concrete bridge that was built in the 1890s by Robert McAlpine. It was the first of its kind structure built in Britain. The viaduct is indeed a stunning engineering work of a bygone era.
Now if you're wondering why this place has such huge popularity, it is because of it's feature in the famous Harry Potter movies.
Glenfinnan Viaduct features in Harry Potter and the Chamber of Secrets and is the bridge that the Hogwarts Express is seen going over. The viaduct carries the railway station up till Glenfinnan Station and sprawls across a 1000 ft. span.
The train that runs on Glenfinnan Viaduct is named the Jacobite Steam Train, the same as the Hogwarts Express in the Harry Potter movies, which makes it one of the most popular and fun things to do in Scotland.
This specific train operates in the summer season from Fort William to Mallaig where tourists flock to photography the steam train crossing the bridge. For the rest of the year, regular trains are available on this route.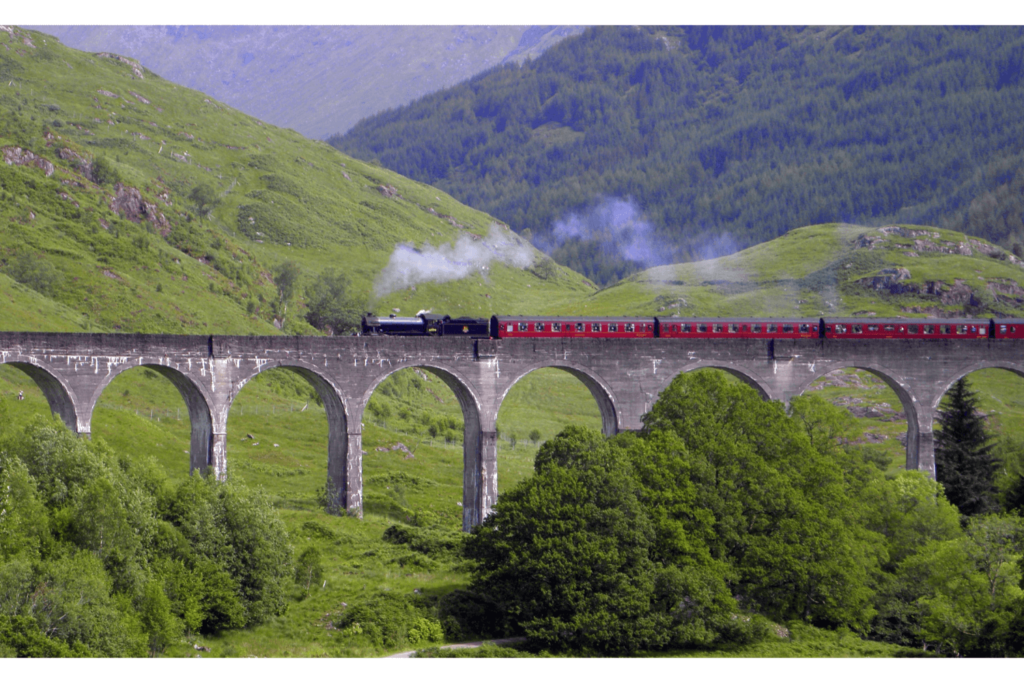 How to Find Glenfinnan Viaduct Viewpoint
There are a number of great viewpoints that you can view the Glenfinnan Viaduct from.
A popular viewpoint being from the visitor centre, although, if you want to see the Jacobite Steam Train passing over the viaduct, then this is not the ideal spot. 
Another great viewpoint is located a short climb up above the one located near the visitor centre. The Glenfinnan Viaduct train will be seen quite far in the distance so you will be able to capture a wide view of the train passing over the viaduct with the stunning views in the backdrop. 
In our opinion, the best place to view the Jacobite Steam Tain driving over the Glenfinnan Viaduct is by walking towards the bridge and following the gate to the left up the hill. Here you will see a popular viewpoint where the train will be driving towards you.
Glenfinnan Viaduct is situated around 30-45 minutes drive west of Fort William, right off the main road. Evidently, the railway provides smooth access to this location aswell.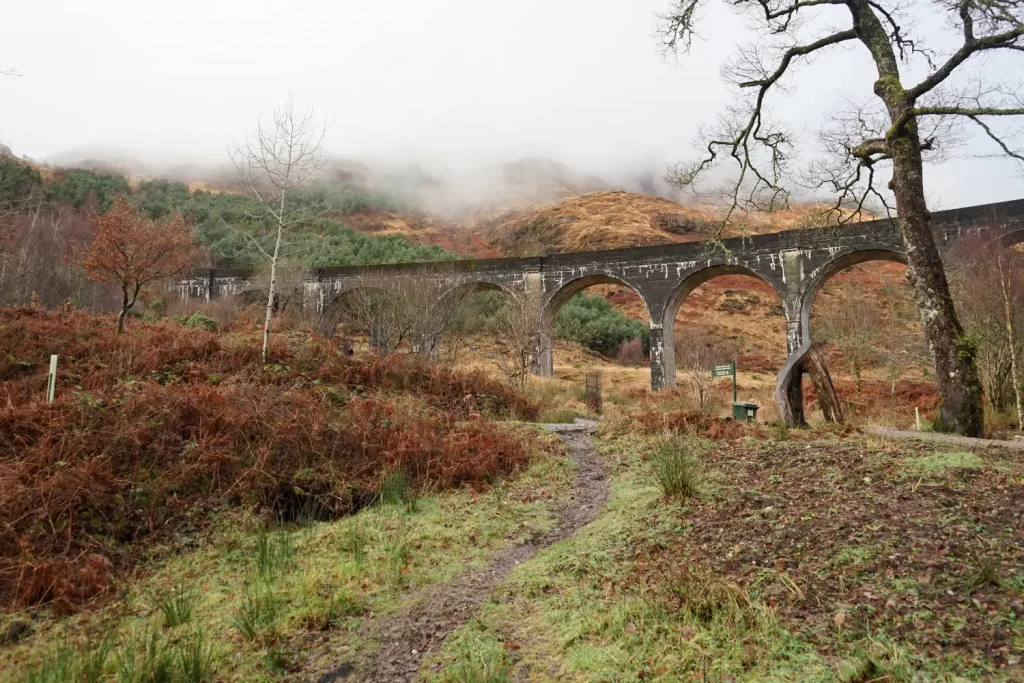 How to Get to Glenfinnan Viaduct Viewpoint
Since this tourist spot is located just right off the main road, getting there by car is a good option. It is an ideal option for those who are planning to make a stop at Glenfinnan to capture the majestic sight of the Jacobite Steam Train. 
Glenfinnan is a popular stopover for those longer Scottish road trips. It is possible to visit Glenfinnan Viaduct as part of a day trip from Edinburgh or Glasgow.
There is a visitor centre near the Glenfinnan Viaduct where you can park your vehicle for £3 or free for National Trust members. There is another parking spot along with the road which is also an option but it is a smaller one.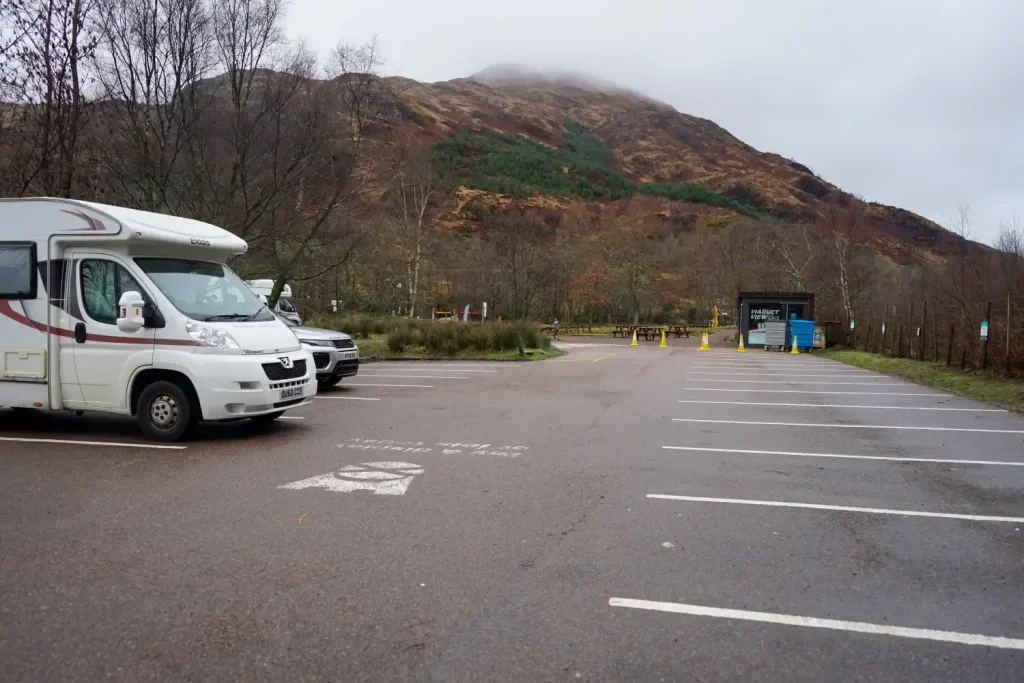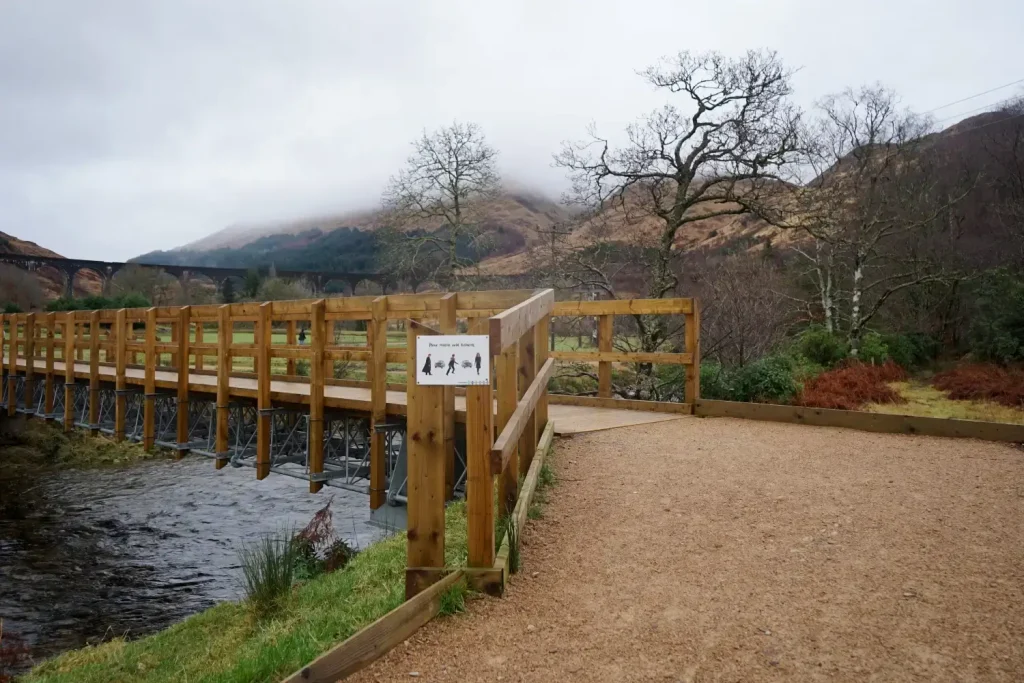 How to get to Glenfinnan Viaduct by Public Transport
There are a number of options for travellers to reach Glenfinnan Viaduct Viewpoint through public transport. Let's have a look at each of them:
Bus: Sheil Bus runs between Fort William and Mallaig. You can board either Route 500 or Route 502 buses. It is 45 minutes drive. For the timetable, you can here. However, make sure to reach early as the bus services are limited every day. Thus, it is highly advisable to check the timetable beforehand. 
Train:

Many travellers prefer the train to reach the viewpoint. You can board a ScotRail that runs on the route from Fort William to Glenfinnan Station. Glenfinnan Station is located on the periphery of Glenfinnan Village. From there, it is a short walk to the visitor centre. The total journey takes about 35 minutes.
However, you can also choose Jacobite Train for a little different experience. Though you won't be able to capture the sight of the steam train running on the iconic Glenfinnan Viaduct just like it's been presented in the Harry Potter movie.
You will witness a once-in-a-lifetime experience of riding that famous Hogwarts Express (Jacobite Train) and savouring the astonishing sights en route.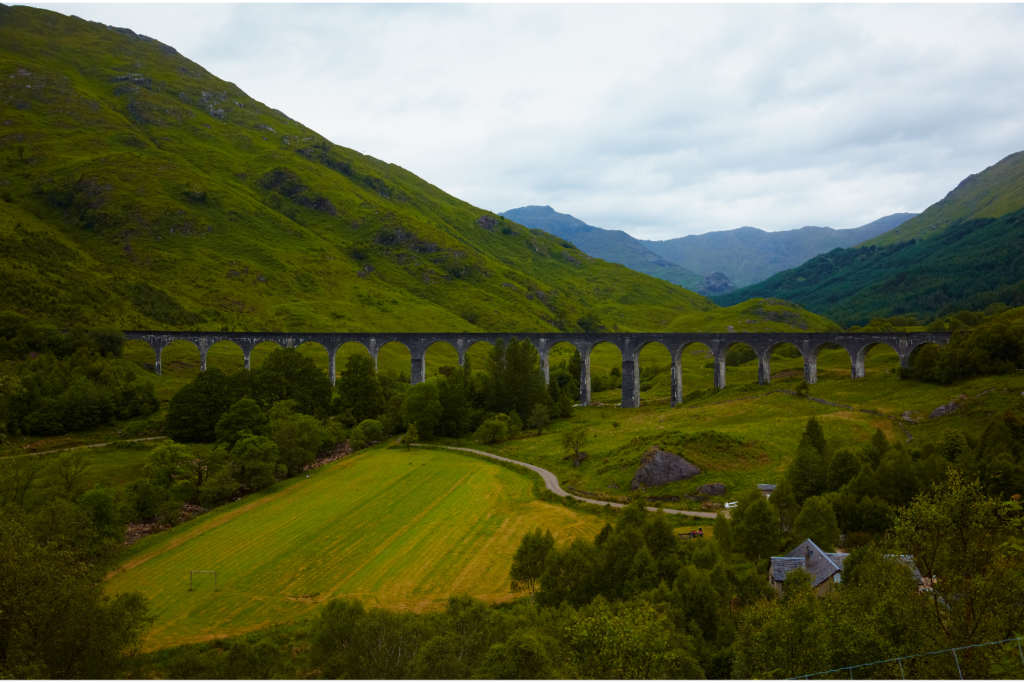 When is the Best Time to Visit Glenfinnan Viaduct
To plan a visit to Glenfinnan Viaduct and Glenfinnan Trail region, it is crucial to understand that the sight (steam train running over the viaduct) for which you're visiting the region is not something that you will see every day. 
The train doesn't operate throughout the year. It's mainly from May to October when you can plan a visit to this popular tourist destination if you want to capture that majestic sight. 
However, it is highly recommended to check West Coast Railway timetable beforehand. Also, the train runs twice a day throughout these months; one in the morning and one in the afternoon.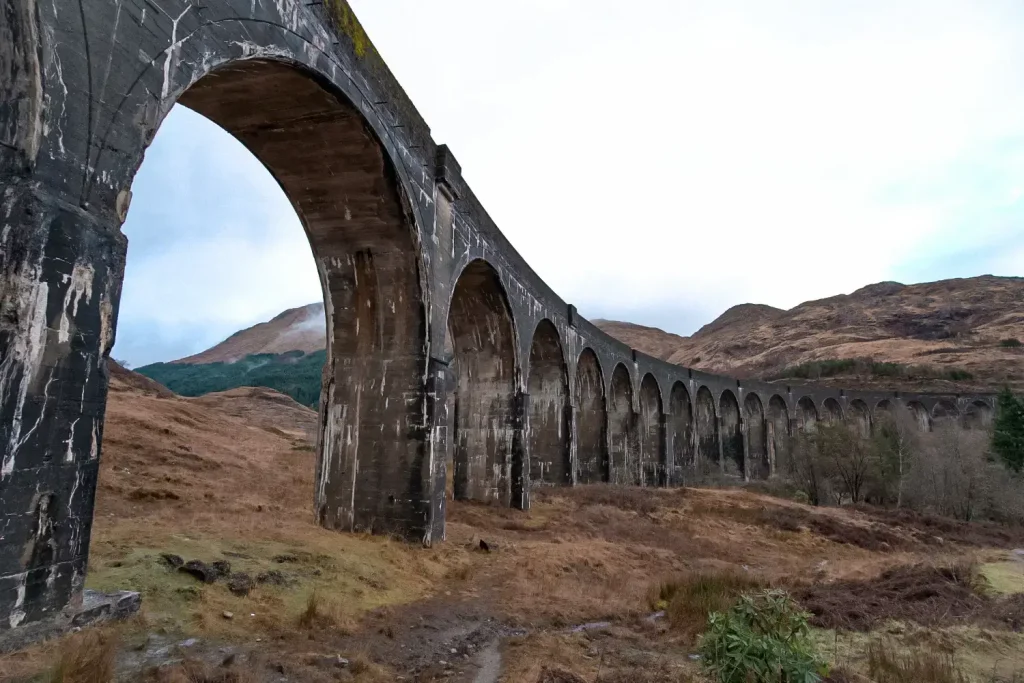 Photography Tips For Glenfinnan Viaduct Viewpoint and Steam Train
It's no hidden secret how photogenic and gorgeous the Glenfinnan Viaduct is. We would recommend the best time to get a photo of the Glenfinnan Viaduct is when the train is passing over the viaduct. 
Firstly, you can expect the area to be busy at the times of the Jacobite Steam Tain crossing. Make sure to set up your camera somewhere in a less crowded spot so that you can capture the view without anyone in front of your camera. We would suggest setting up your camera on a hill a bit higher than other people. 
Doing so, you will get a nice face-on view of the entire railway viaduct as well as the backdrop. Besides, if you are visiting this place for a short time, you will want to nail that shot first time.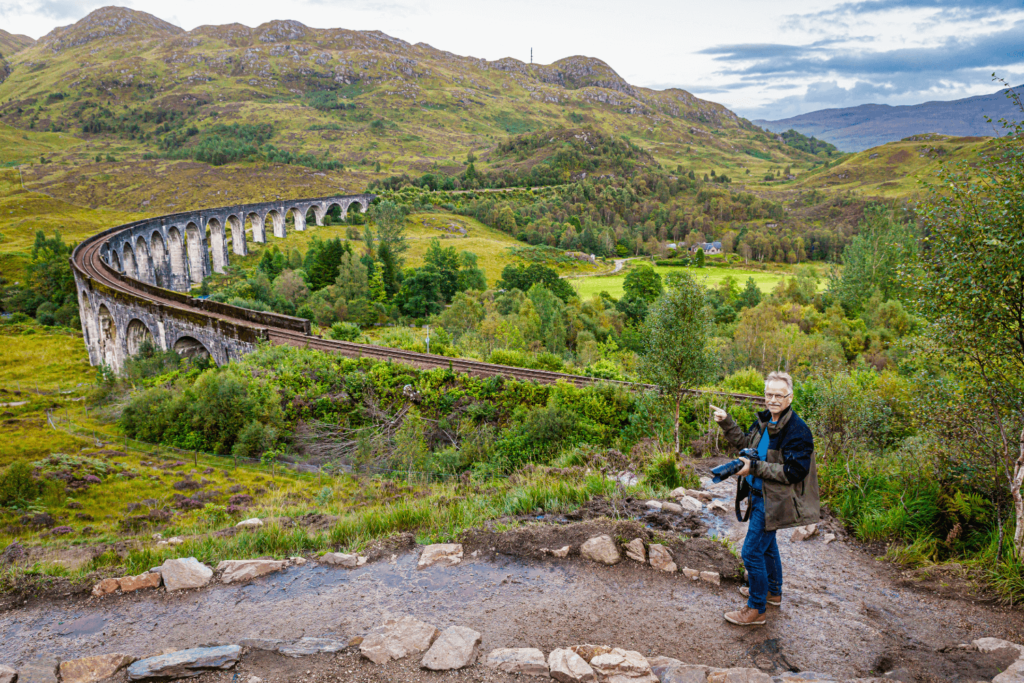 Drone Regulations
Before flying your drone to any tourist spot, it is important to understand the rules and regulations of that particular area regarding drone flying. 
Drone flying at the Glenfinnan Viaduct viewpoint area, is not permitted without seeking permission. Before crossing the bridge you will see a sign advising you of how to seek permission. 
The sign advises you need to call on a number and pay £10 to seek permission. 
It is also important to remember the safety of flying drones especially when the train crosses the bridge.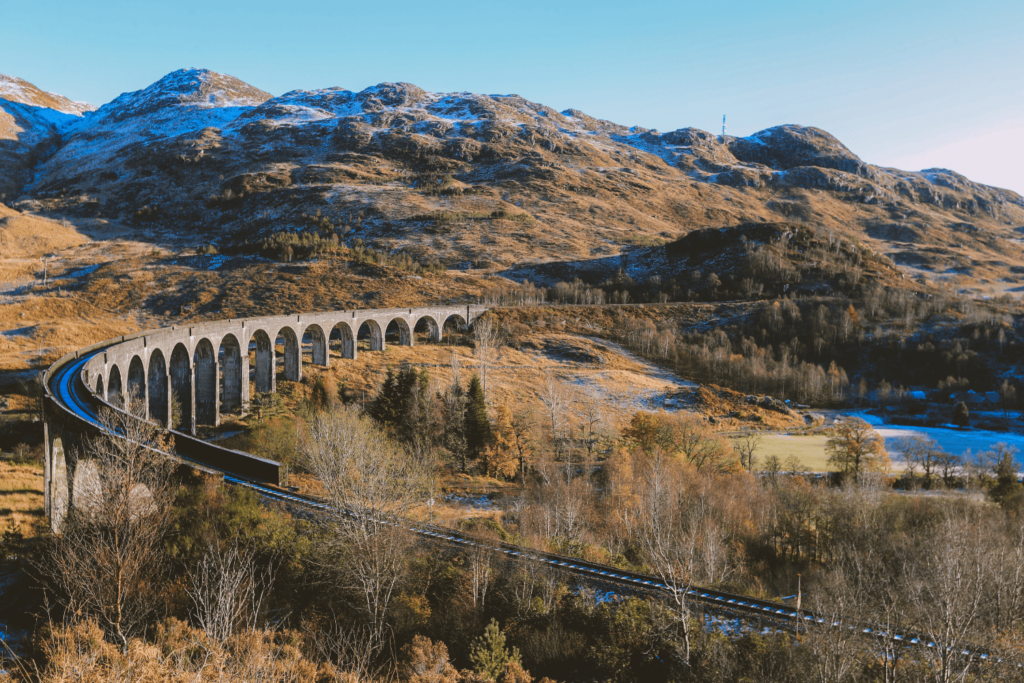 How Many Days to Visit Glenfinnan?
If you are planning to explore Glenfinnan within a day, then you can easily cover major attractions of the region. Whether you choose to explore the region in the morning or afternoon, you will have plenty of time to make the most out of your day trip to Glenfinnan. 
You can go photograph the Glenfinnan Viaduct, visit Glenfinnan Church and Glenfinnan Monument, explore the Glenfinnan Trail, and can even have lunch at Glenfinnan steam train cafe.
Glenfinnan is also a popular tourist place to explore on a weekend or overnight. In fact, it is an ideal option that many travellers choose to explore the astonishing nature around the Glenfinnan area. 
Along with Glenfinnan Viaduct, Glenfinnan Church, Glenfinnan Monument, and Glenfinnan Trail, you can also cover off-to-beat attractions in the region such as hiking some munros in the Glenfinnan area.
We would also recommend going on a boat trip to Loch Shiel or you can also go on a stroll along its banks to witness the surreal wilderness of the region. Now, if you are thinking of exploring all these attractions, you will have to stay overnight in the area.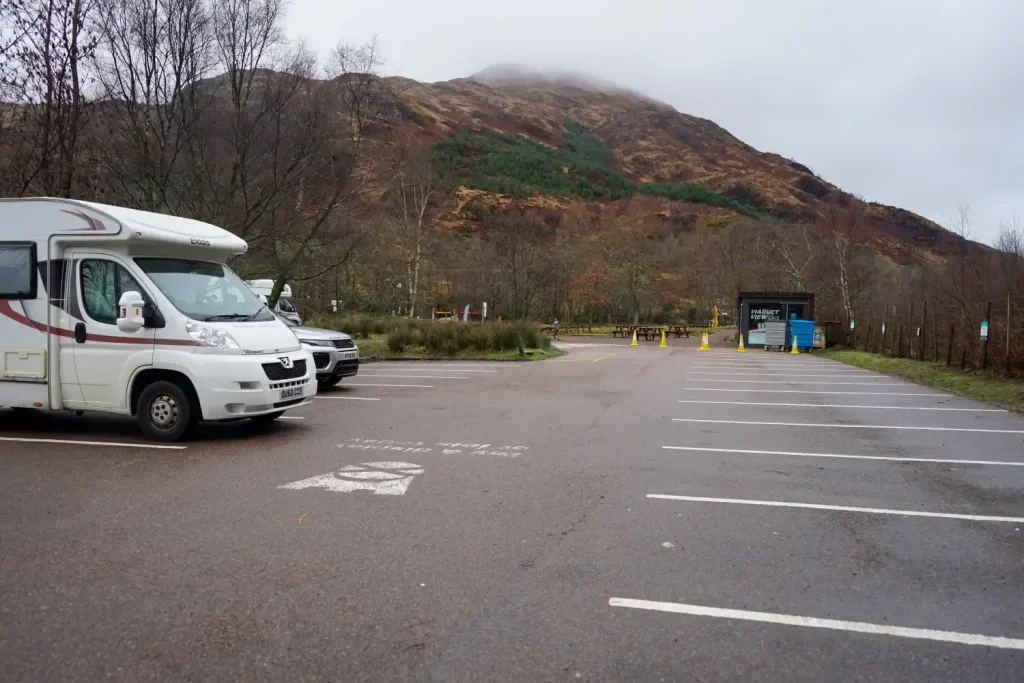 More Things to Do Near Glenfinnan Viaduct
We recommend you spend a few days here in the region of Glenfinnan. This will allow you to explore the other attractions of the region as well.
With that being said, let's have a look at all the popular spots that can also be explored on your visit to Glenfinnan.
Glenfinnan Munros
Glenfinnan Munros are  popular among experienced hikers visiting the area. Some of the amazing hiking experiences included the circular route to the peaks of Sgurr nan Coireachan and Sgurr Thuilm. 
It is a 12-hour day to tackle these peaks or you could opt for a sunrise summit camp and capture the surreal sight of the sun rising over Loch Arkaig and Knoydart.
This is relatively a lesser-known hike, thus, it is advisable to attempt it only if you are an experienced hiker.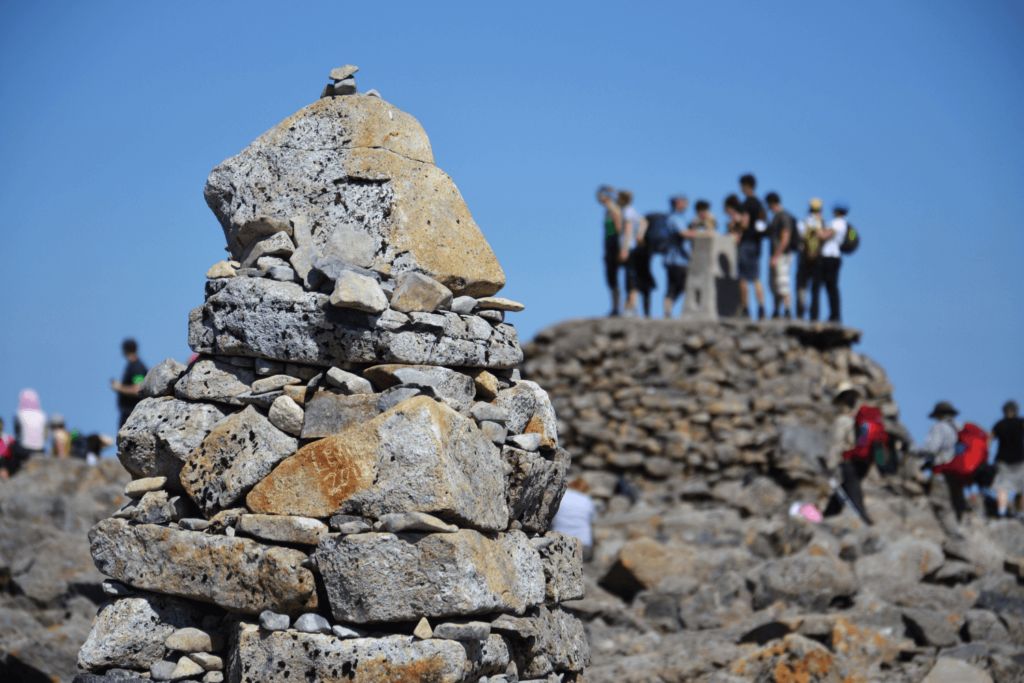 Loch Shiel
This is another natural gem that is a popular spot in Glenfinnan amongst tourists. 
You can do boating in the 18 mile stretch of waters while enjoying the picturesque views of the surrounding area. It is also worth looking out for white-tailed and golden eagles as they are often seen in this area.
This is indeed a place where you can spend some relaxing time amidst the majestic nature and beautiful sights of the surrounding. 
You can also walk along the banks of Loch Shiel. It is another stunning trail that goes all the way to Polloch and takes around 5-6 hours to complete. If you really want to explore the hidden side of Glenfinnan, then this is the way to do it.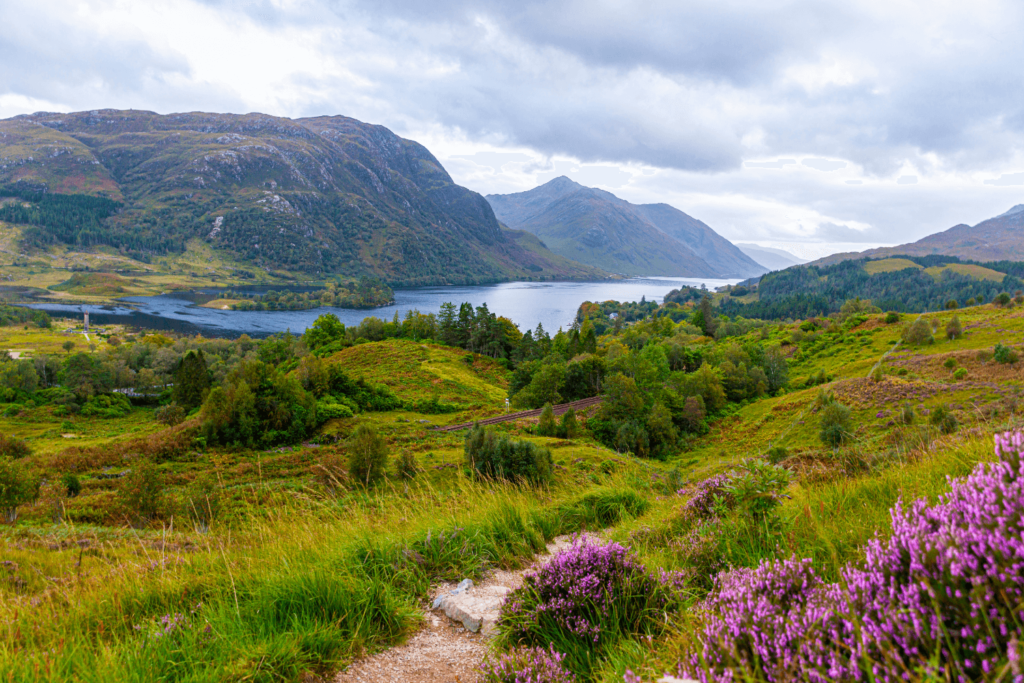 Glenfinnan Monument
Glenfinnan isn't only famous for its viaduct and the steam train but also for the Glenfinnan Monument. Established in 1815, the monument pays tribute to the Jacobite clansmen who martyred in the cause of Prince Charles Edward Stuart.
It was designed by the famous Scottish architect, James Gillispie Graham. After exploring the Glenfinnan Monument, you can explore the Visitor Centre which displays exhibitions that talk about Prince Charles Edward Stuart and the Jacobite Rising of 1745.
Glenfinnan Viaduct Trail
Glenfinnan Viaduct Trail makes for another beautiful walk in the Glenfinnan region. Unlike the above trails, this one is relatively easier to do. It consists of 2.5 miles of circular trail that can be completed within an hour or two. 
On the trail, you can definitely expect to capture some amazing views. Considering, that you will make several stops en route to capture the views, the duration of the walk could also take a bit longer.
On this trail, you not only can explore the panoramic views of the loch and viaduct but can also catch a sight of the steam train passing over the Glenfinnan viaduct.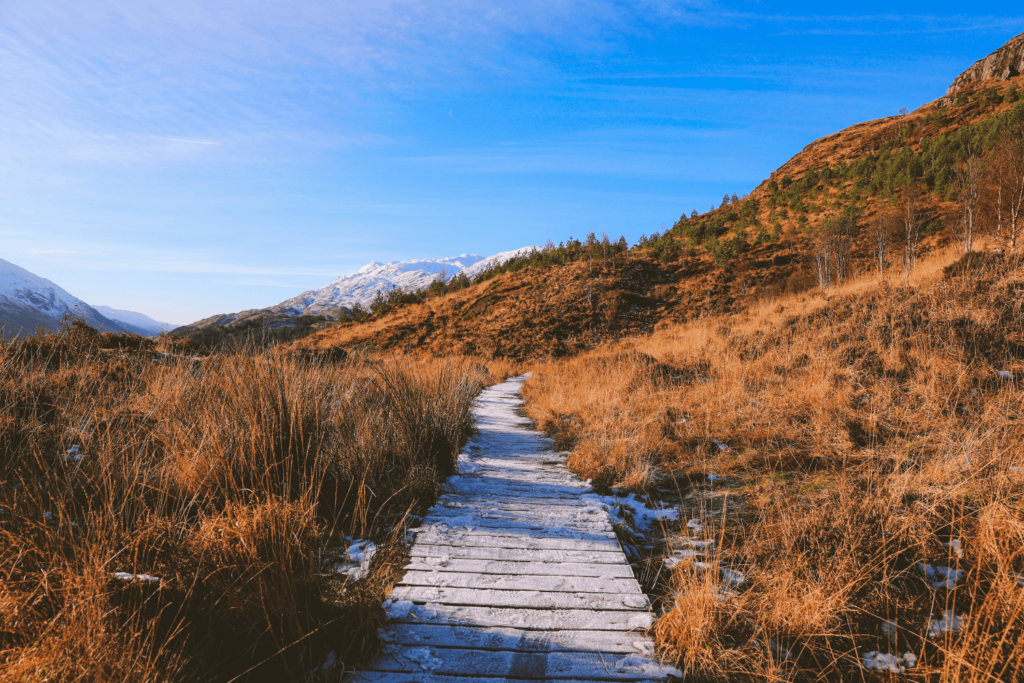 Before You Leave for Fort William
Before you head off on your trip to Fort William, there are certain things you will need to get organised to ensure a smooth trip. These include how to get around the area, including being aware of single track roads, etc., what to pack for Scotland, where to stay in the area and what travel insurance to book.
How Do I Get Around Fort William?
Fort William is one of the main towns in the highlands of Scotland. You can get a train or a bus to Fort William from many of the main Scottish cities or smaller towns. There is a bus service in the town of Fort William or if you have brought your car it is also easy to navigate driving. There are of course other methods that are still popular, such as cycling and hiking, however, if you have a short amount of time, neither of these are very suitable.
If you are looking to rent a cosy, reliable, and luxurious campervan for your trip to Fort William, we highly recommend hiring through Spaceship Rentals. 
Browse the full range of vehicles on offer at Spaceship Rentals over here.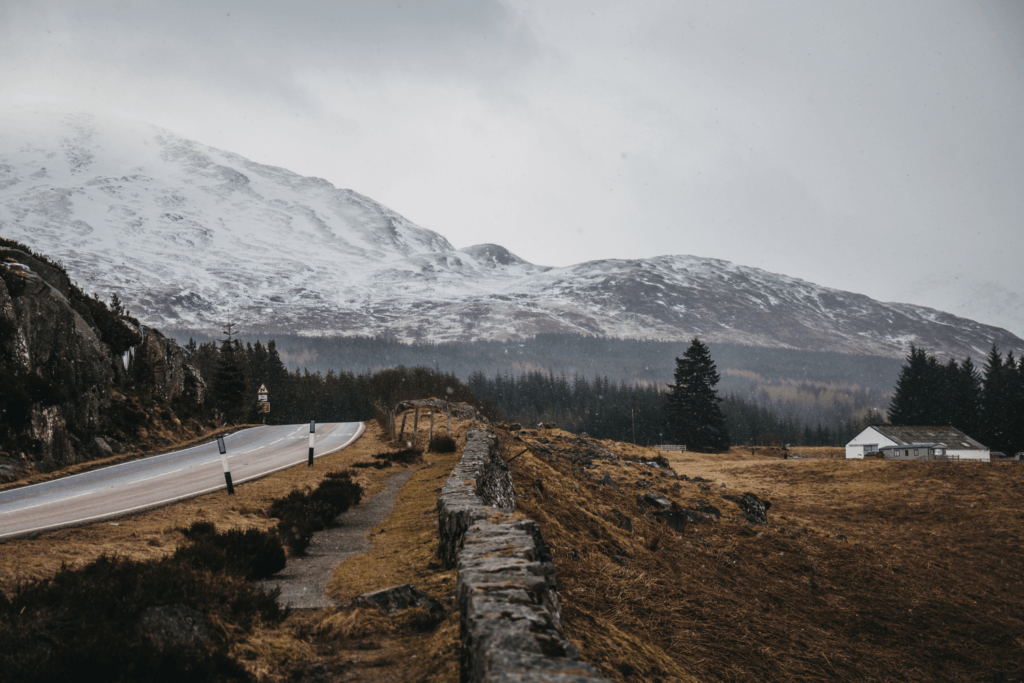 What Should I Pack for the Fort William?
When it comes to packing for a trip to Fort Willam there is one item of clothing that you are going to need all year round: a waterproof. It rains in Scotland on average 250 days a year, meaning that during your time in Fort William you will probably experience at least a drizzle of rain. Due to this, the number one item on any Scotland packing list is a good waterproof jacket.
As for the rest of the year, the temperature in Scotland and the central heartlands is reasonably mild for most of the year. During the winter months, you will most likely experience snow, however, temperatures usually sit around freezing, so it is not too cold. For your reference, the average temperatures in Scotland are listed below during each season.
Spring (March, April, May) – 5-10 degrees C
Summer (June, July, August) – 15 degrees C
Autumn (September, October, November) – 5-10 degrees C
Winter (December, January, February) – 0-5 degrees C
As you can see, the weather never really gets above the teens, with anything over 25 degrees C considered a heatwave. The best way to pack for your trip to the highlands is with layers that can be added and removed as you need them. You will definitely need a hat and gloves during the colder months and will most likely need sunscreen to protect you on the long days in the open.
For our full list of items that we pack no matter where we go in the world, check out our full packing guides over here.
Given the beautiful sights and scenery that you are no doubt going to see around Scotland, we highly recommend packing a good camera for your trip. If you want to read more about the cameras we use and why we love them, check out the link below.
You can read what else we keep in our camera bag over here.
Where Should I Stay in Fort William?
There are many accommodation options around Fort William, ranging from unique accommodation to hotels and campsites. 
Luxury – SeaBeds – Luxury Lookouts with Hot Tubs, why wouldn't you want to treat yourself and stay at this incredible accommodation in Fort William.
Book your stay at SeaBeds Luxury Lookouts with hot tubs here.
Mid-range – The Garrison is a modern style hotel with a bar and free wifi. Located near Fort William and Glen Nevis.
Book your stay at The Garrison here.
Budget – Ben Nevis Hotel & Leisure Club is a great hotel offering a bar and restaurant as well as a heated pool and gym facilities.
The campsites we can recommend are Glen Nevis Campsite and Bunree Campsite.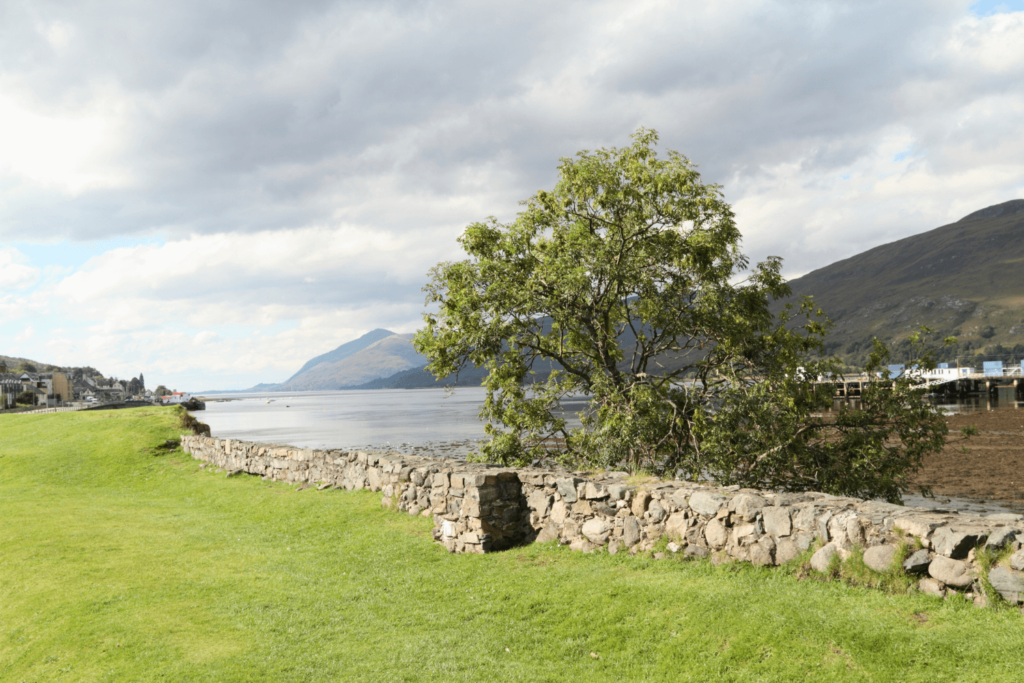 What is the Best Travel Insurance?
No matter what type of adventure you are heading on, whether it is a mountain adventure or a relaxing beach destination, one thing we all need to be aware of is that accidents can happen. The last thing you want is for an unexpected medical emergency to ruin your trip of a lifetime. Luckily, that is what travel insurance is for.
Whenever we travel abroad, we get covered with World Nomad's Travel Insurance, a reliable, friendly and extremely affordable method of covering yourself on any adventure. With years of experience working for backpackers around the globe, the service they provide is perfect for whatever type of trip you have planned.
Get covered for your next trip and get a quote from World Nomad's right here.
So there you have it, a complete guide to Glenfinnan Viaduct. If you are visiting this majestic tourist place and have any queries, or if you have any suggestions let us know in the comments below.
As always, sharing is caring so make sure to share this photo guide with your family and friends and inspire them to head off to this surreal place. If you are planning the trip for yourself, make sure you have a look at the rest of our Scotland content for more inspiration to our beautiful home country.
When you set off on your own adventure, be sure to tag us in your photos on Instagram and we will share them with the rest of our community. In the meantime, why not follow us over there to see what we are currently up to and keep up with us on our Instagram Stories.
Now Read:
This article may contain affiliate links that provide us with a small income. For more information read our Affiliate page.t
Pin this image to your Scotland Pinterest board for later