Imagine cruising along the tranquil River Avon, morning mist still rising above the still water, ducks, and swans making their way around your boat, sending ripples through the reflection of the majestic outline of Warwick Castle towering above and below you. 
Boat rentals are a must-do activity during your time here in Warwick, being both affordable and incredible fun. They are the perfect way to escape from the busy town streets of Warwick, giving you your own perfect place to reflect on the beauty of the town and admire the unique perspective of Warwick's castle. 
No time to read now? No problem, save a pin to your Pinterest board for later!
Warwick Boat Hire – Cruise the River Avon in Style​
This guide is all about the Warwick Boat hire experience, including where you can do it, how much it costs, and why you NEED to do it during your visit to the town of Warwick. 
Why Hire a Boat in Warwick?
It is one thing visiting the beautiful fortification of Castle Warwick and viewing it from the surrounding gardens and street, however, in our opinion the best vantage point of this building is from the water of River Avon. 
The quiet reflection and tranquility of the water beneath the towering stone walls is a truly spectacular sight that is reserved for those who make the voyage down the river towards the weir that sits below the castle walls. 
In addition to the splendor of the castle, the beautiful gardens and banks that line the river also make for a peaceful and memorable row along the canal.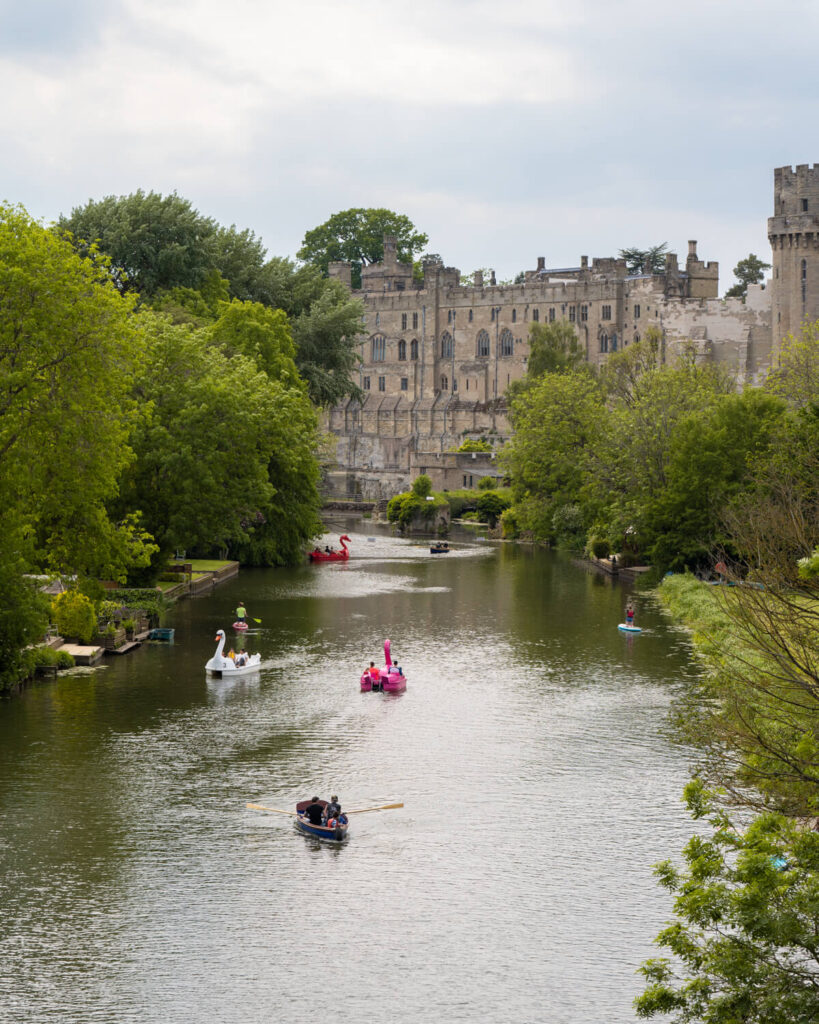 How to Hire a Boat in Warwick?
Boats can be hired from the local hire shop that is found in St Nicholas Park, below the bridge that crosses the River Avon in Warwick. You can either book online or turn up and rent on the day, however, be warned that if you show up on the day without booking you may not get one due to demand. 
What to Expect When You Hire a Boat in Warwick
Speaking from personal experience, the entire process of boat hire in Warwick was incredibly straightforward, pleasant, and affordable. We rented a row boat to enjoy the early morning sunshine during our weekend in Warwick and loved every minute of it.
Having booked online, we simply turned up and let them know the booking name before being shown to our boat and cast off the bank. We then had one hour to explore the local river and enjoy the view of the castle that sits above the Rover Avon. 
We chose to go for the wooden row boat, a very unique experience to Warwick, however, if you fancy something a little more playful you can also rent pedaloes or even giant pink swans!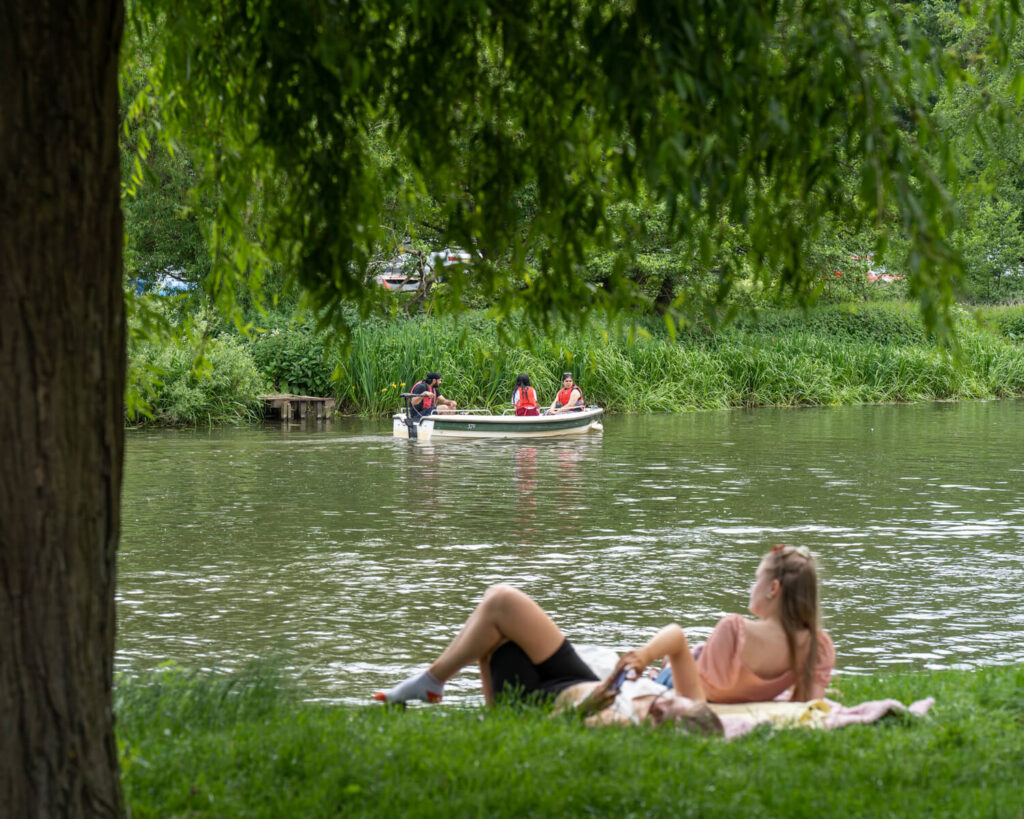 Other Sights to See in Warwick
During your time in Warwick, hiring a boat is just one of the many amazing activities that you need to do to make the most of this wonderful town. Below is a shortlist of our top recommendations for Warwick, the full list of which can be found below. 
Read about all of the best activities in Warwick right here.
Explore Warwick Castle
Visit the ancient castle for yourself and tour the grounds, learn about Warwick's fascinating, and even try your nerve with a darker side to the local area in the Castle Dungeon tour. 
Make sure you book in advance if you are wanting to visit the castle, as it tends to book out well in advance due to the huge popularity of the attraction.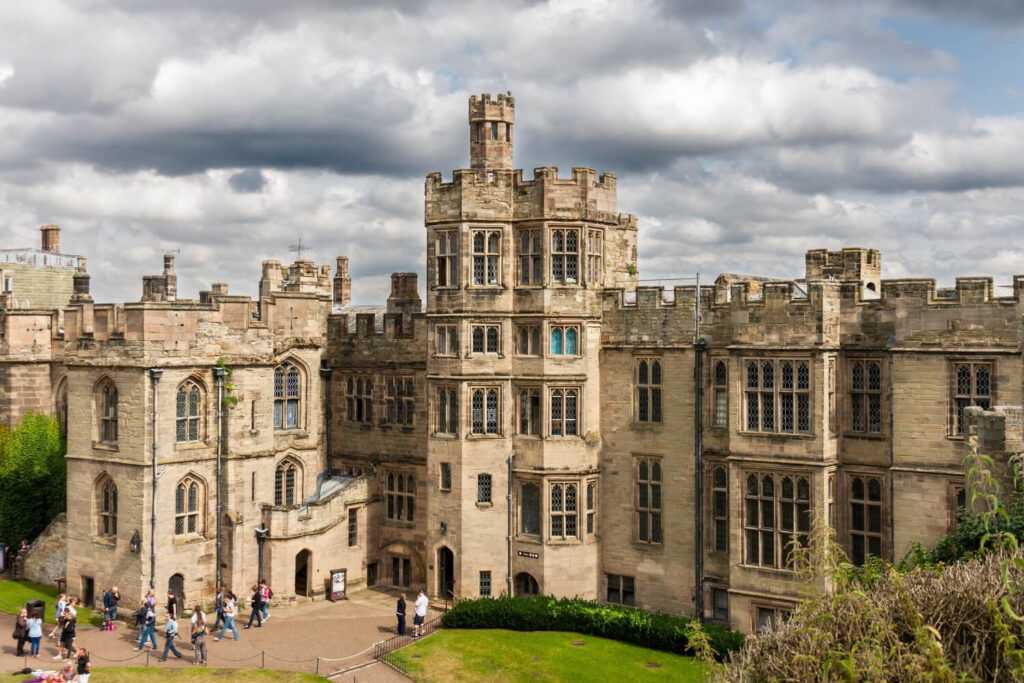 Have a Drink in Warwick's Oldest Pub
Dating back to the beginning of the 15th-century, the Roebuck Inn is the oldest public house in Warwick and is a must-visit pub during your trip to Warwick. 
Located right on the cobbled town centre of Warwick, this pub offers delicious pub meals, cold and refreshing drinks, and invigorating teas and coffees to energise you for a day of exploring Warwick. 
Enjoy a Traditional Cream Tea
If you are wanting to enjoy the true Warwick experience, then one thing you cannot miss out on is a Traditional Cream Tea in the 500-year-old cottage, Thomas Oken. There is nothing more traditionally English than sitting beneath the old wooden beams of this beautiful cafe with a cup of tea and a scone with cream and jam.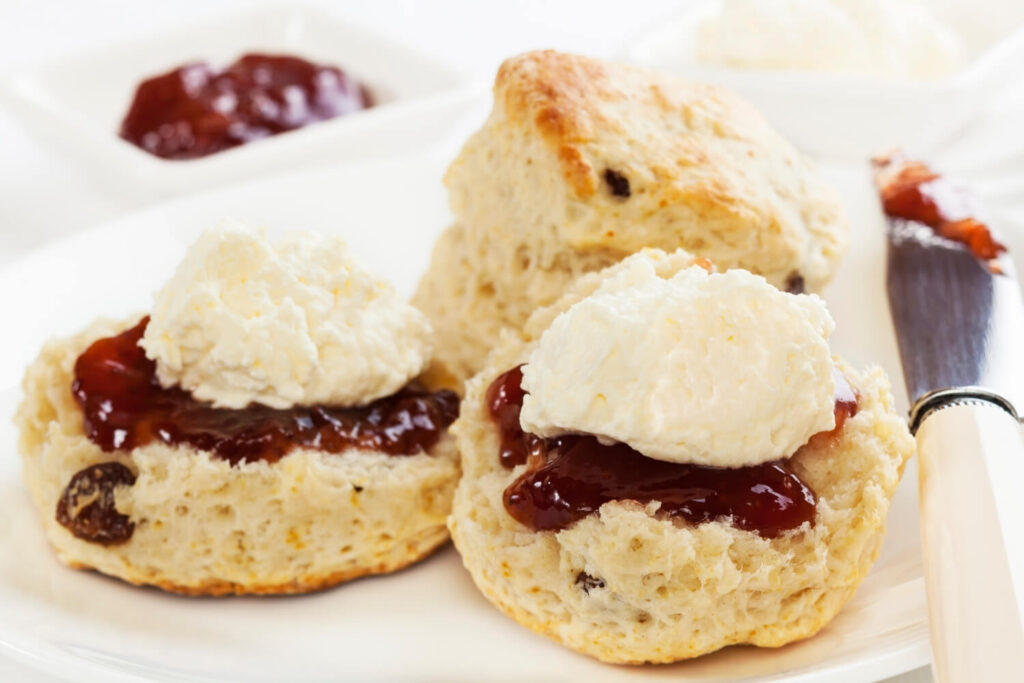 Before You Leave for Warick
Before you head off on your trip to Warwick, there are certain things you will need to get organised to ensure a smooth trip. These include what to pack, where to stay and what travel insurance to book.
How Do I Get to Warwick?
Warwick is a small town that lies just to the southeast of Birmingham, about 30kms from the city centre. It is easily reachable by public transport, including train and bus, with routes that take you from Birmingham directly to the centre of Warwick. 
If you are flying into the country, the closest airport will be Birmingham airport, however, you can still easily reach Warwick by bus and train from any other major airport in the country. 
View all of the relevant bus and train lines that will get you to Warwick right here.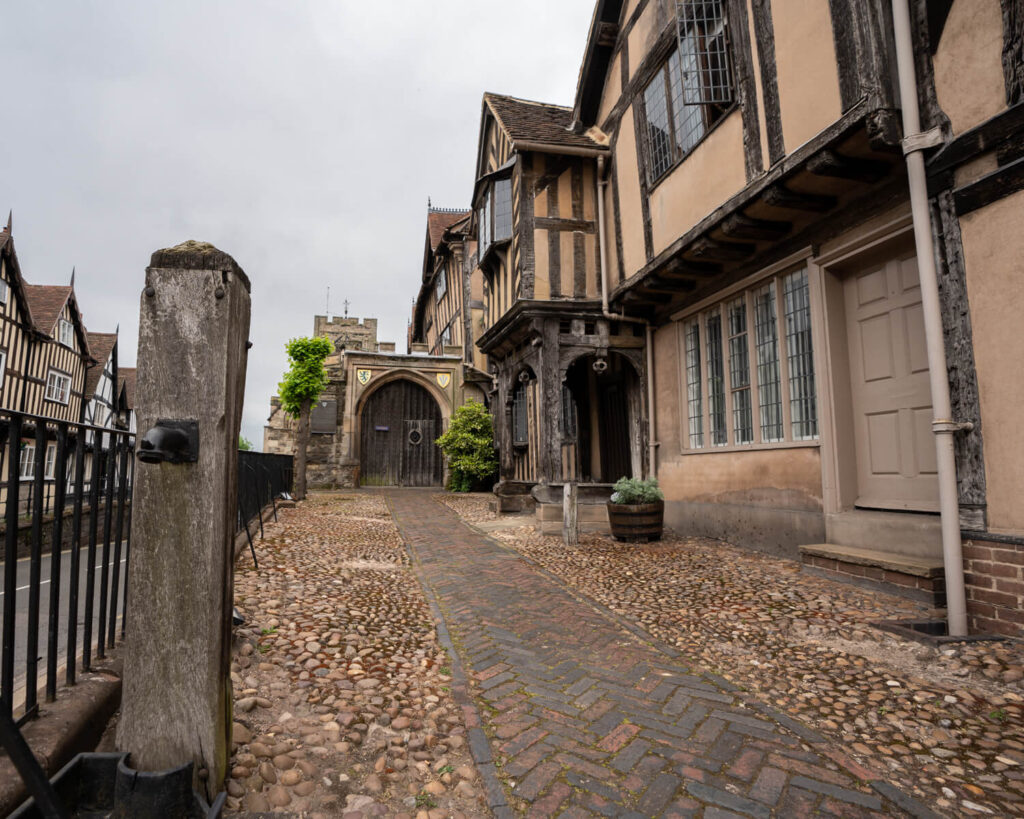 What Should I Pack for Warwick?
What you need to pack for Warwick will rely highly on when you make your trip to the capital. During the Spring and Autumn months, temperatures and weather patterns vary wildly between beautiful sunny skies and freezing rain.
The temperatures generally vary from 10 oC to 25 oC during these months, with a mixture between cold, northerly winds and warmer southerlies. There is a small amount of rain, with maybe 1 in 7 days receiving rainfall, which makes it perfect for days out exploring the beautiful city.
During the Summer months in Warwick, temperatures tend to range from 20oC to 30oC, with some days topping 35oC. Summer days in London are perfect for the beach, with many locals and travellers alike sending their day soaking up the sun and playing in the sea. When it comes to toiletries, we recommend that you don't forget to pack sunscreen. The sun in Warwick can be strong, especially in the summer months.
If you need more inspiration on what to pack for your trip, check out our full packing guides for all-weather conditions over here.
Given the beautiful sights and scenery that you will see in Warwick, we highly recommend packing a good camera for your trip. If you want to read more about the cameras we use and why we love them, check out the link below.
You can read what else we keep in our camera bag over here.
Where Should I Stay in Warwick?
There are many accommodation options in Warwick, however, due to how busy this small town is, we would recommend booking in advance.
Luxury – If you are wanting to make your trip to Warwick one to remember, then the best option for luxury accommodation that is also surprisingly affordable is The Globe in Warwick town centre. This beautiful, rustic and tasteful hotel features a bar and restaurant serving award-winning meat and seafood. Enjoy al fresco dining on the terrace or try the collection of local ales and wines in the onsite bar at this luxurious experience in Warwick. 
Book your stay at The Globe here.
Mid-range – For those on a more mid-range budget, the Holiday Inn Express that sits just on the outskirts of Warwick is the best option for you. Just 2-miles outside of the town centre, this reliable and comfortable choice of accommodation comes with free breakfast, free wifi, an onsite bar and a guaranteed good night sleep. 
Book your stay at the Holiday Inn in Warwick here. 
Budget – The cheapest option that you will find in the town centre of Warwick is the Jersey Villa Guest House, situated just one mile from the famous Warwick Castle.  This comfortable and affordable accommodation is perfect for any short stay in the town of Warwick, with all of the basic necessities such as free wifi, tea/coffee facilities and a large, comfy bed.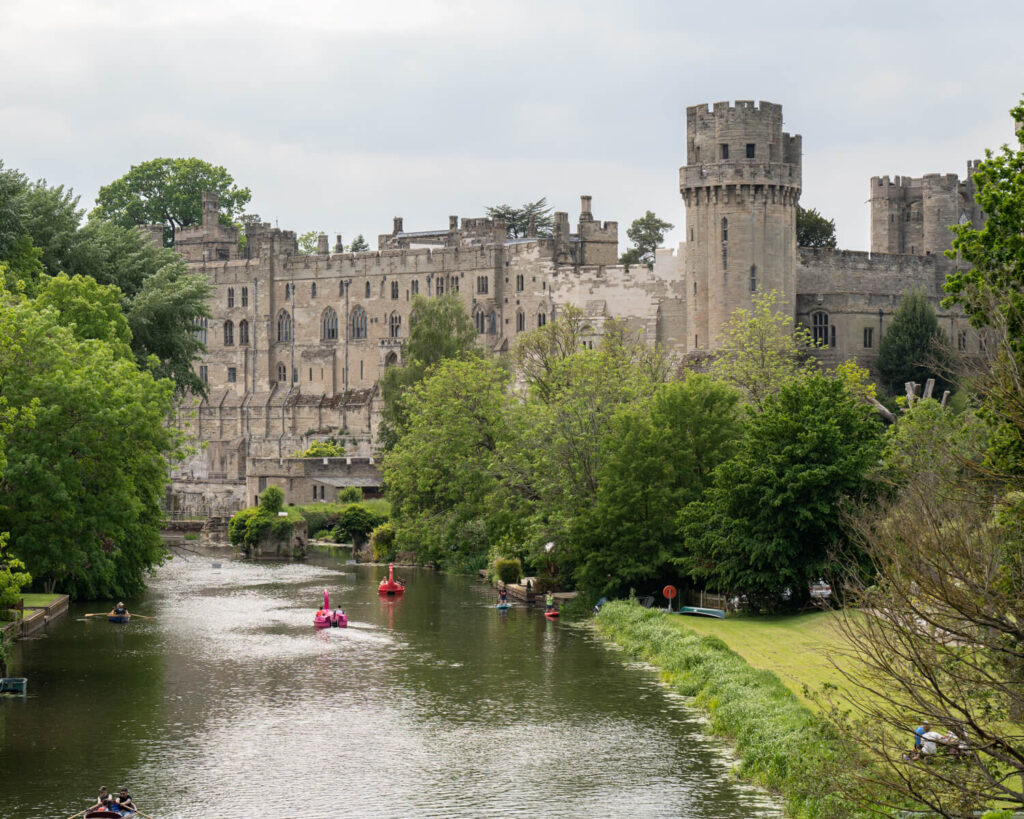 What is the Best Travel Insurance?
No matter what type of adventure you are heading on, whether it is a mountain adventure or a relaxing beach destination, one thing we all need to be aware of is that accidents can happen. The last thing you want is for an unexpected medical emergency to ruin your trip of a lifetime. Luckily, that is what travel insurance is for.
Whenever we travel abroad, we get covered with World Nomad's Travel Insurance, a reliable, friendly and extremely affordable method of covering yourself on any adventure. With years of experience working for backpackers around the globe, the service they provide is perfect for whatever type of trip you have planned.
Get covered for your next trip and get a quote from World Nomad's right here.
So there you have it, a guide to Warwick. If you have visited Warwickshire recently, let us know what you thought of the activities and beautiful buildings in the area. If you have any suggestions let us know in the comments below.
As always, sharing is caring so make sure to share this photo guide with your family and friends and inspire them to head off on their own English adventure. If you are planning the trip for yourself, make sure you have a look at the rest of our England content for more inspiration to our beautiful home country.
When you set off on your own adventure, be sure to tag us in your photos on Instagram and we will share them with the rest of our community. In the meantime, why not follow us over there to see what we are currently up to and keep up with us on our Instagram Stories.
Now Read:
This article may contain affiliate links that provide us with a small income. For more information read our Affiliate page.
---
Pin this image to your England Pinterest board for later
No time to read now? No problem, save a pin to your Pinterest board for later!