The city of Zurich is a beautiful destination. It's not just the financial capital of Switzerland, the city is also home to some incredibly beautiful buildings and landscapes. 
Zurich has a trove of interesting activities and amazing experiences for visitors all year round but in winter, Zurich really comes in to its own. 
Thats why Zurich is a popular destination to visit in Switzerland in winter and is ideal for people of all ages. 
So, if you're planning a visit to the beautiful city of Zurich in winter, here is your perfect 2 days in Zurich in winter itinerary. 
Before we get into that, here is some useful information about Zurich, Switzerland tourism.
No time to read now? No problem, save a pin to your Pinterest board for later!
Zurich is the perfect winter getaway and in this 2 days in Zurich in winter guide, we will discuss the best time to go to Zurich as well as the following
Where to Stay in Zurich
Zurich weather in winter
Stroll through the old town
Gallery hopping
Winter events in Zurich
Explore the museums
Visit 

Uetliberg

Lake Zurich

Enjoy your time in the snow

Before you leave for Zurich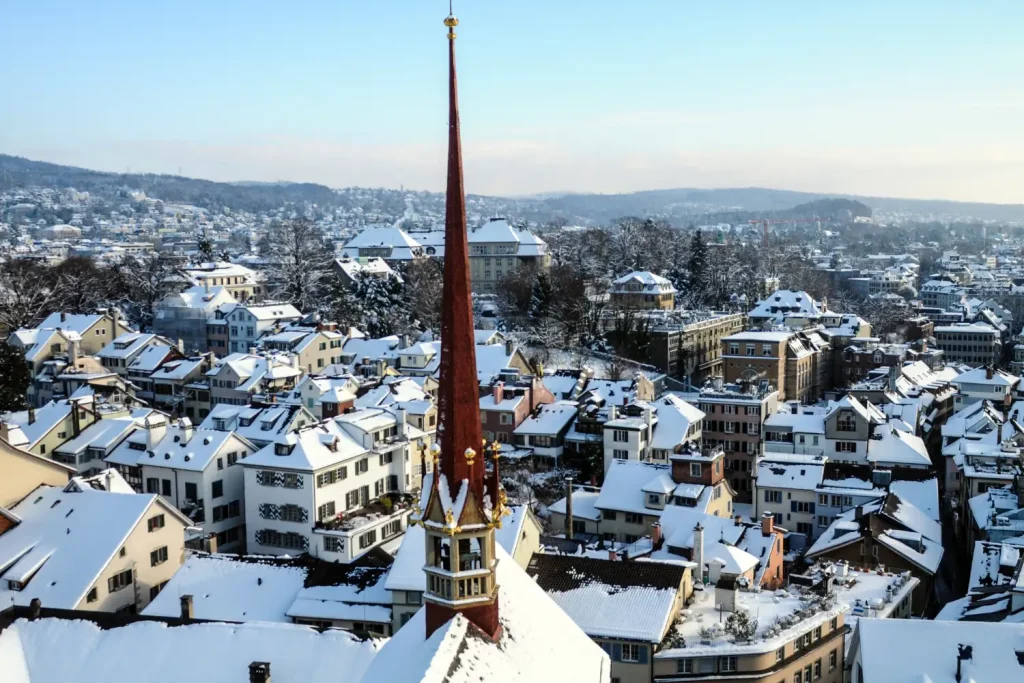 Zurich Weather in Winter
The winter season in Zurich starts in December and lasts until February. Each month can vary in terms of climate and temperature. Therefore, it's best to pick which month you prefer to plan your Zurich itinerary according to your climate preference. 
The month of December is all about chilly weather and snow. The average temperature in this month ranges from -1°C to 4°C. 
January is the peak time of winter in Zurich. This is the best time to go skiing in the city. The temperature in January varies between -3°C and 6°C. 
In contrast, February is the latter phase of winter in Zurich, so this is when the temperature starts to warm up. During this time goes up to 8°C.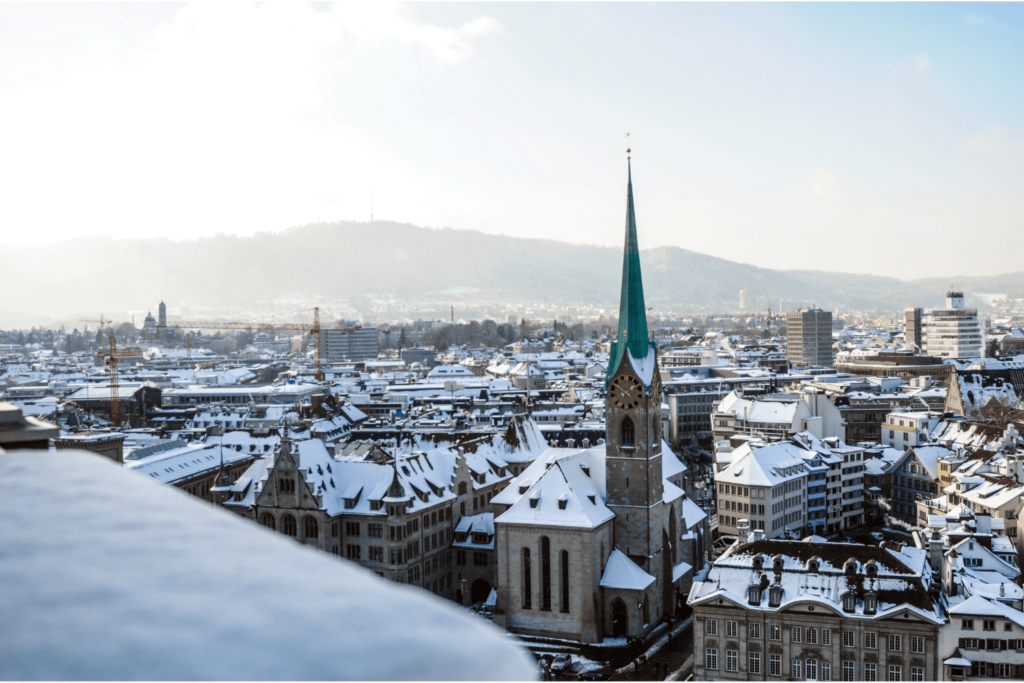 Day 1
Stroll Through The Old Town
Zurich Old Town is a must-visit in the city.
In the winter season, the Old Town has a different vibe in comparison to the summer season. This is the place where you will come across a lot of the top tourist sites in Zurich. One of them is Peterskirche Church, which houses Europe's largest clock face. 
You'll also find the double tower of Grossmunster Church and the architectural marvel that is Fraumunster Church. 
Augustinergasse is another key highlight in the Old Town region, it's a vibrant street housing colourful buildings. It is one of the oldest quarters and includes artisans' workshops where you can buy lovely souvenirs.
Reach the Federal Institute of Technology in Polybahn to capture the sweeping views of the Old Town. Lastly, end your Old Town tour with some delectable Swiss food in one of the many quaint cafes or restaurants in the Old Town.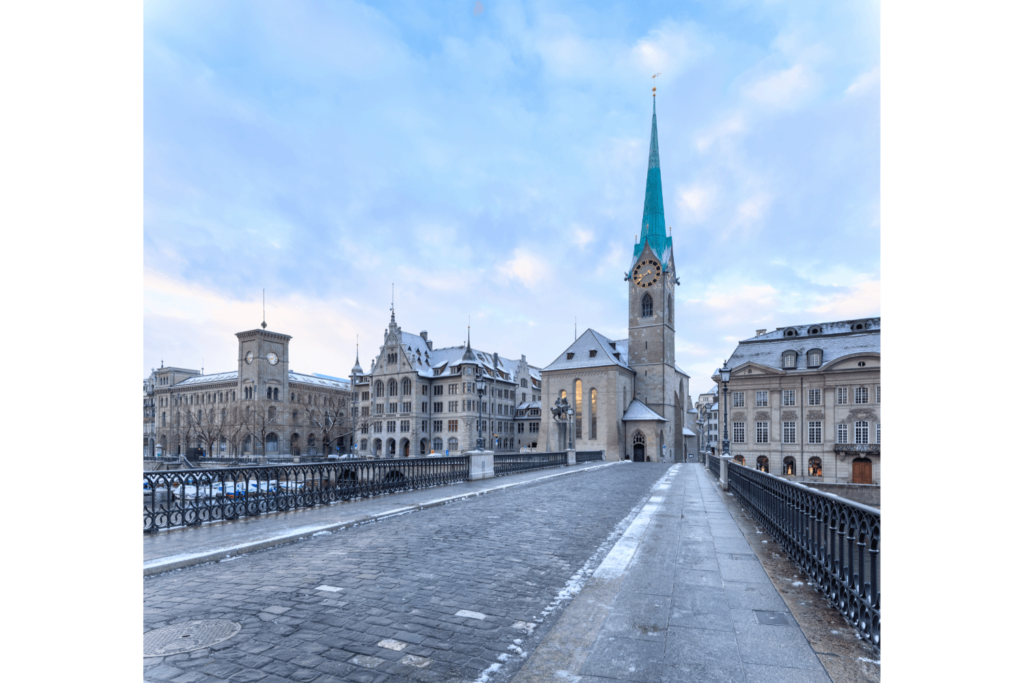 Gallery Hopping 
Visit Lake Zurich's bank where you will get to see plenty of art, Jean Tinguely's kinetic sculpture, Herueka, being a prominent one. Another popular piece of art in the city is Y, the slingshot-inspired sculpture by Sislej Xhafa. 
A popular haven for art lovers in Zurich is Kunsthaus Zurich by Alberto Giacometti. It is a must-see gallery on your art exploration tour in Zurich. Another renowned art gallery in the city is Hauser & Wirth which houses some incredible artworks. 
Galleria Eva Presenhuber is also a popular art gallery in Zurich which houses global conceptualize works from celebrated artists. Finish your art tour with a visit to Galeria Francesca Pia.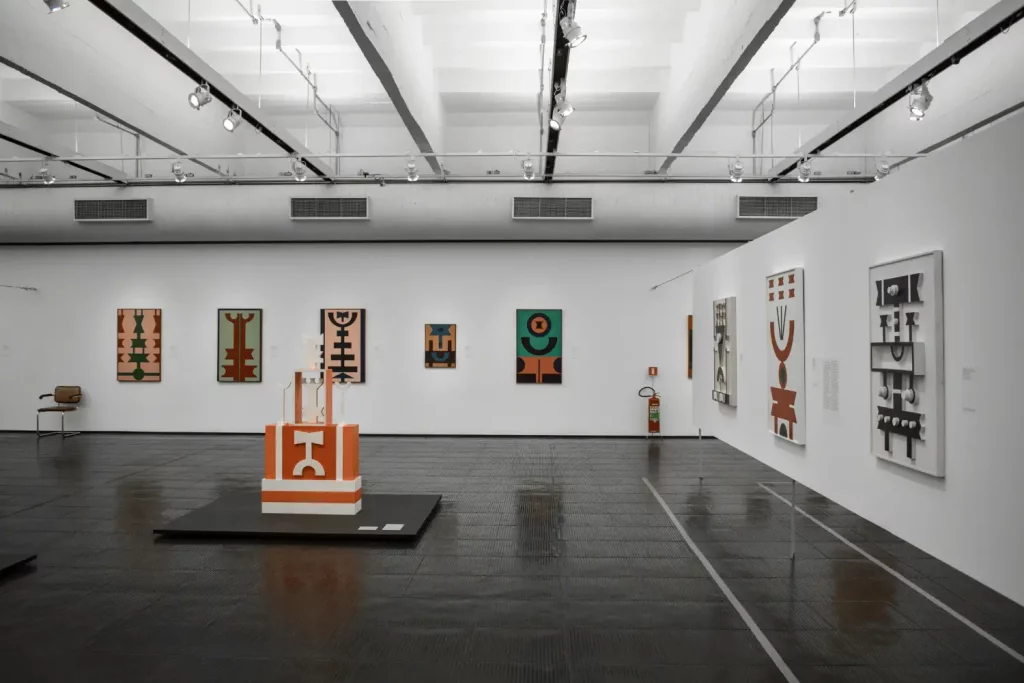 Explore the Christmas Markets 
It's fair say that the winters in European cities are synonymous with Christmas markets. And if you're looking for the best places to visit in winter in Switzerland to explore these famous Christmas markets, then Zurich is the prime choice amongst both locals and tourists. 
The cheerful, happy vibe, the smell of cinnamon, mulled wine, and the entire city sparkling with glittering lights – that's the Christmas season in Zurich. No wonder visiting these markets is one of the top free things to do in Zurich. 
The city hosts a number of markets during Christmas time and each of them is unique. To see one of the biggest Christmas markets held in Zurich, head to the main station. The key highlight of this market is its Christmas tree, which is adorned in Swarovski Crystals. 
It's not essential to visit the city in December to explore these Christmas markets, as they usually begin from late November and close a few days before Christmas. 
However, each of the Christmas markets in Zurich has different opening and closing hours, so make sure to check before you go.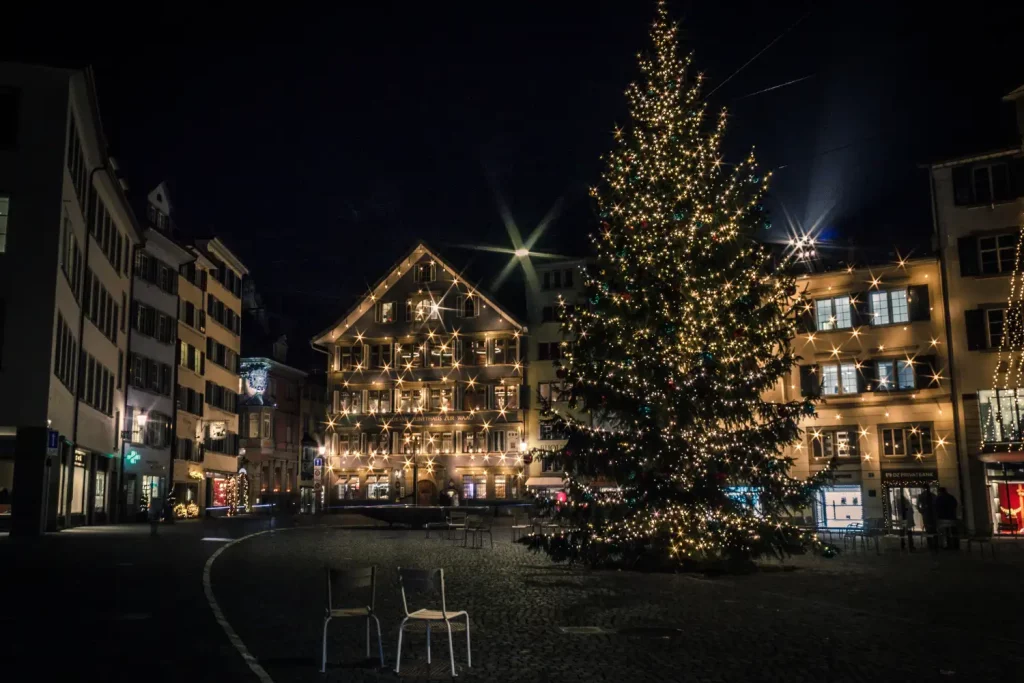 Have a Blast at Zurich's Events
It's not just about Christmas markets in Zurich in winter, there are always amazing shows and attractions on for visitors as well.
One such attraction is the biggest light show in the city, which is observed around Bahnhofstrasse. You can also head to the following locations for an amazing experience; Neumarkt, Rennweg, and Paradeoplatz. 
The National Museum is another place where you can enjoy an ultimate light show in Zurich. The museum probably hosts the most enthralling and appealing show as it features music and mythical creatures along with an illuminated cocktail bar. 
Salto Natale Winter is another key event that happens in the winter season. This is an animal-free circus that is fun to watch when in Zurich. It was founded by the members of the Swiss Knie Circus dynasty. You enjoy the performances while savouring their delectable menu in the festive dining tent.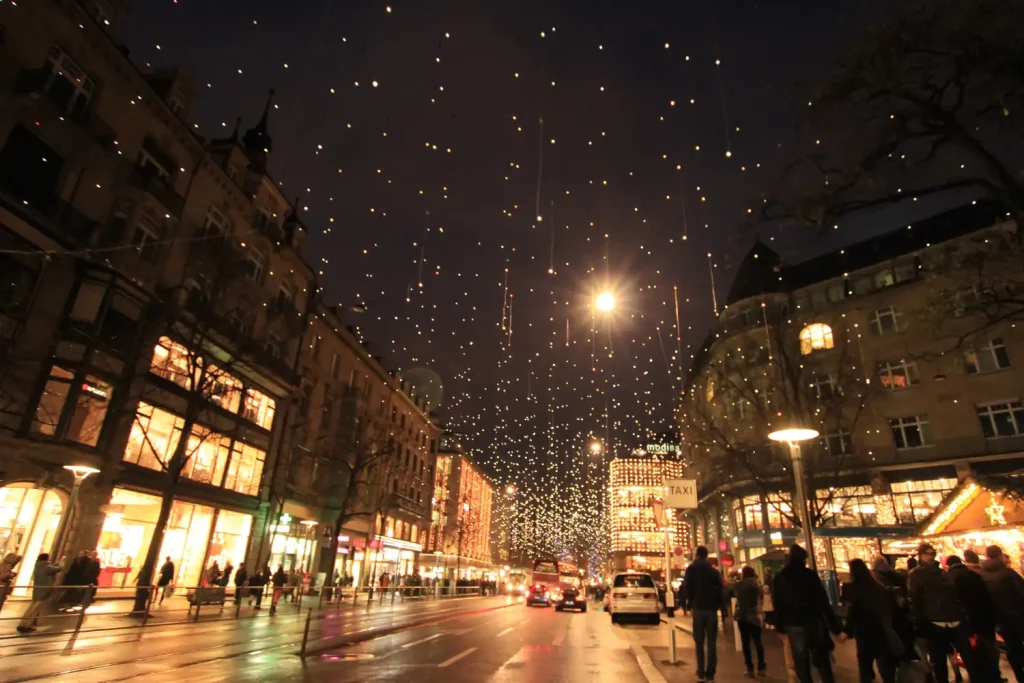 Day 2
Explore the Museums
Zurich boasts a great selection of museums. And if your vacation in Zurich in winter is more about staying indoors in a cosy environment, then a museum tour is a must. 
The museums in Zurich will take you through the history, heritage, and culture of Switzerland. To start off, the Swiss National Museum is the ideal place. It is a castle, one that could be right out of a Disney movie, that boasts beautiful modern extensions. 
On display, there are permanent and temporary exhibitions ranging from ancient artefacts to household objects to crafts. The selection of museums in the city cater for people of all ages. 
For kids, an interesting place to visit is the Zurich Tram Museum. Even if you are not a kid, a visit to this museum is well worth it. On the tour, you'll see historic trams that date back to the 1800s and make sure you check interactive display. 
Lastly, there is the Lindt Home of Chocolate Museum which is the most amazing of all. The name is enough in itself to tell you what the museum is all about and what you can expect here.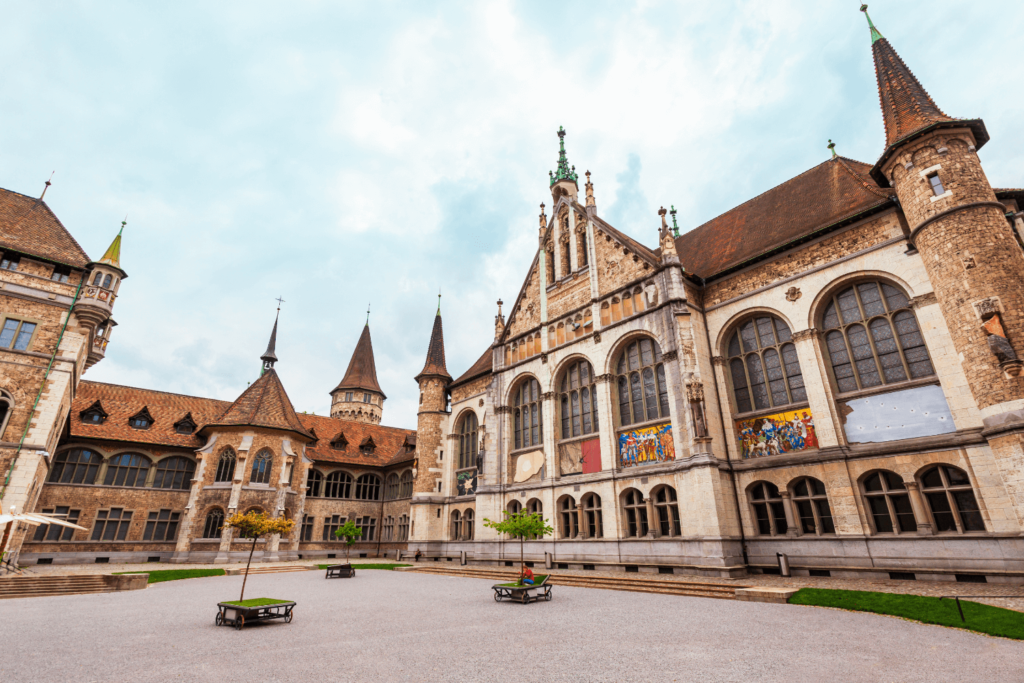 Visit Uetliberg
What could be a better way to spend day 2 of your Zurich tour than visiting a place that offers gorgeous views of the entire city?
Uetliber is a mountain that is a popular spot for both tourists and locals for a peaceful outing. Take the S-Bahn from the Central Station to get here. 
From the top, you not only capture the stunning vistas of the city, but of Lake Zurich as well. What makes the views even more special is the snow-cladded Alps in the backdrop. 
Not just for nature buffs, this place is also a hotspot for adventure lovers. There is a hike that takes you all the way up the mountain and passes through the winding trails. A mountain excursion at Uetliberg will surely offer you an unforgettable experience. 
At the top, there is a restaurant to sit and savour delicious delicacies while relishing in the beautiful views of Lake Zurich and the city in the background.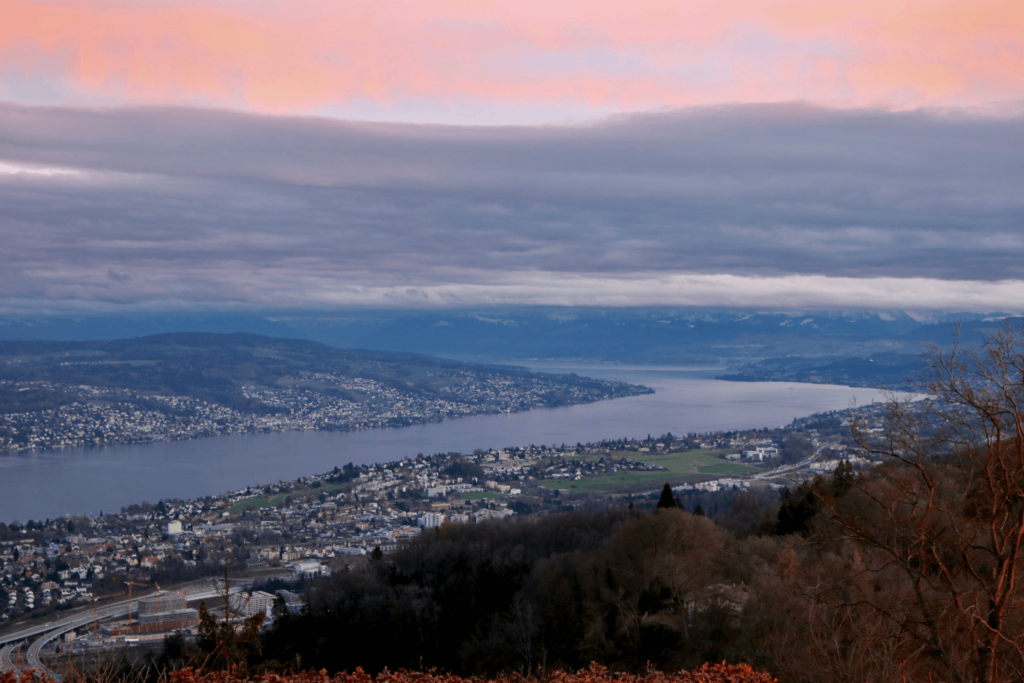 Lake Zurich 
Talking of Lake Zurich, it is also an unmissable attraction when in the city. Lake Zurich is quite a big attraction though, so you need to know the right spot to soak in the vibe and enjoy your time around it. 
Buerkliplatz is just the place, it's located on the northern shore of Lake Zurich. It's often touted as the "starting point of Lake Zurich". 
Here at Buerkliplatz, you can go boating in Lake Zurich. There are boats on the shore that will take you on a surreal experience, dotted with beautiful views and a plethora of scenery. 
In order to book a boat ride, there is a boat station near the square where you can plan your Lake Zurich boat cruise. There is also Lake Promenade in the region, which is a lakeside area.
A stroll along this promenade is itself an experience to relish as the place lights up with glittering lights. The whole atmosphere here makes the promenade worth the visit. You can take a stroll while enjoying the stunning buildings and relishing in soothing views of the city.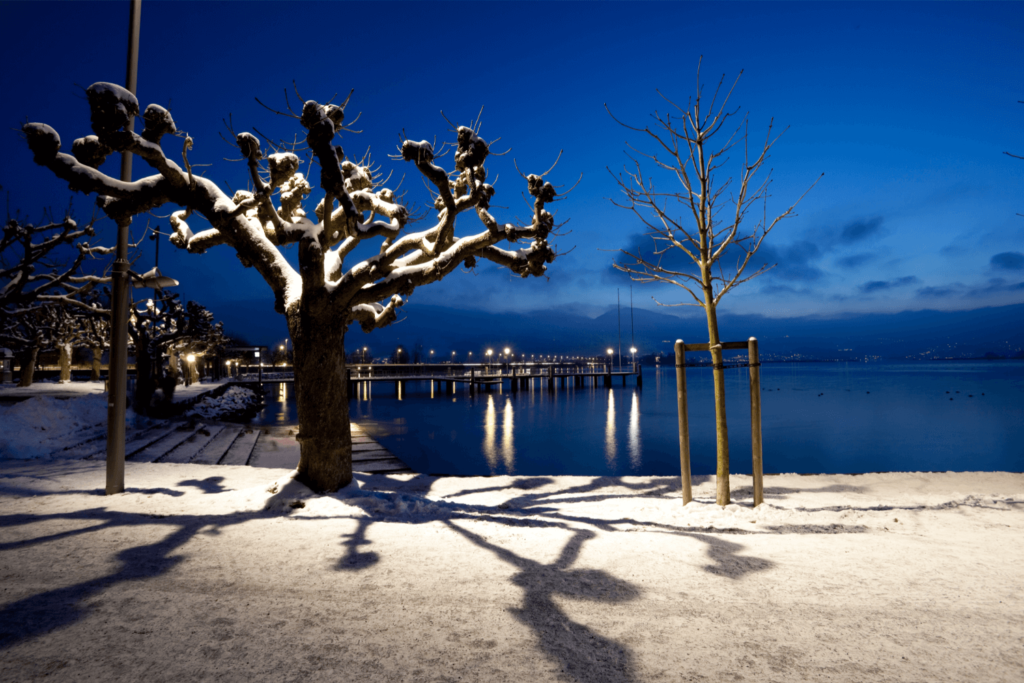 Enjoy Your Time in the Snow
We can't talk about winters in Zurich without talking about snow! And that's why the next activity is exclusive to this season and is the best of all. 
In the peak winter months, the city of Zurich is covered in a blanket of snow which makes it an ideal time for ice skating. It is the winter activity in Zurich which is not just loved by locals, but by tourists as well. 
The city has plenty of options when it comes to ice rinks, both indoor and outdoor ones. However, the most popular of all the ice rinks in Zurich is Dolder open-air rink.
It is one of the largest ice rinks in Europe and operates from Monday to Sunday. Be aware that the operating hours vary for each day so make sure to check before you go. 
As you glide around the ice rink, you'll be treated to stunning views across the city. On display, there are snow sculptures and there are even ice discos so you can boogey while you skate. 
Lachen Ice Rink is another popular spot that is located near Zurich Lake. Here you will have the option to sip mulled wine during rest breaks to beat the cold. 
Sportzentrum Heuried is also a renowned ice rink in Zurich. Visitors can not only ice skate here, but play ice hockey too. It is one of the places that has an outdoor rink. 
Weather and climate permitting, you can also skate on the natural ice fields across the city.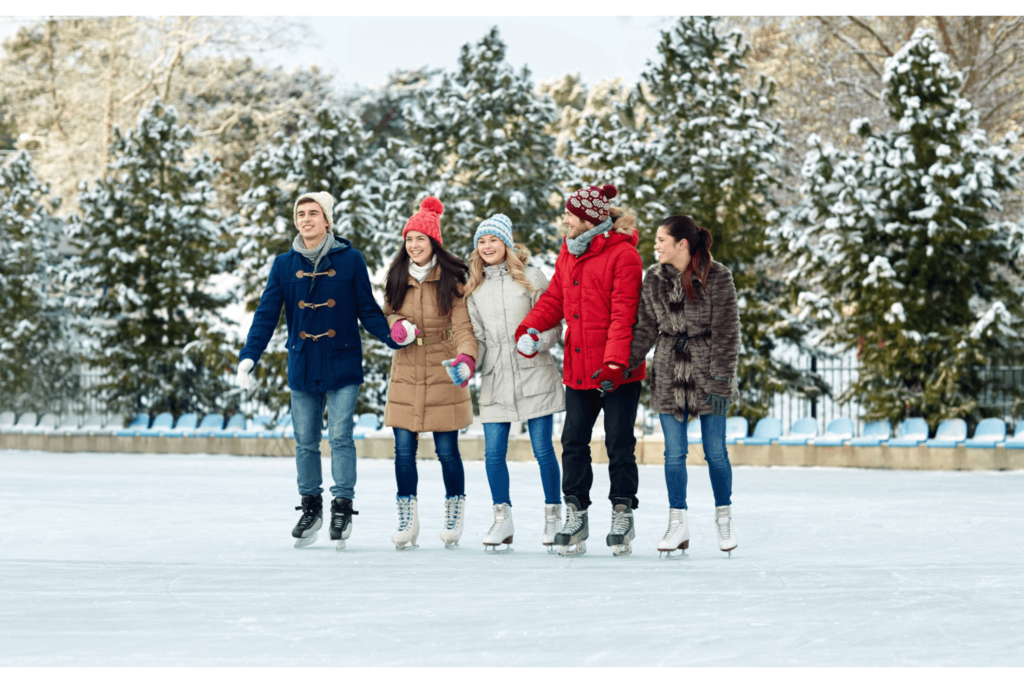 Before You Leave for Zurich
Before you set off on your trip to Zurich, there are a few things you will need to get sorted to ensure a smooth and unforgettable adventure. Here is everything you need to know before you set off on your journey to Zurich.  
How to Get to Zurich
Zurich Airport is the largest international airport in Switzerland with many flights going in and out of it every day. The easiest way to get to the city centre of Zurich from the airport is by S-Bahn or Train which run every 5-10 minutes between 5am and midnight.
It is also popular to reach Zurich city centre by train or by bus.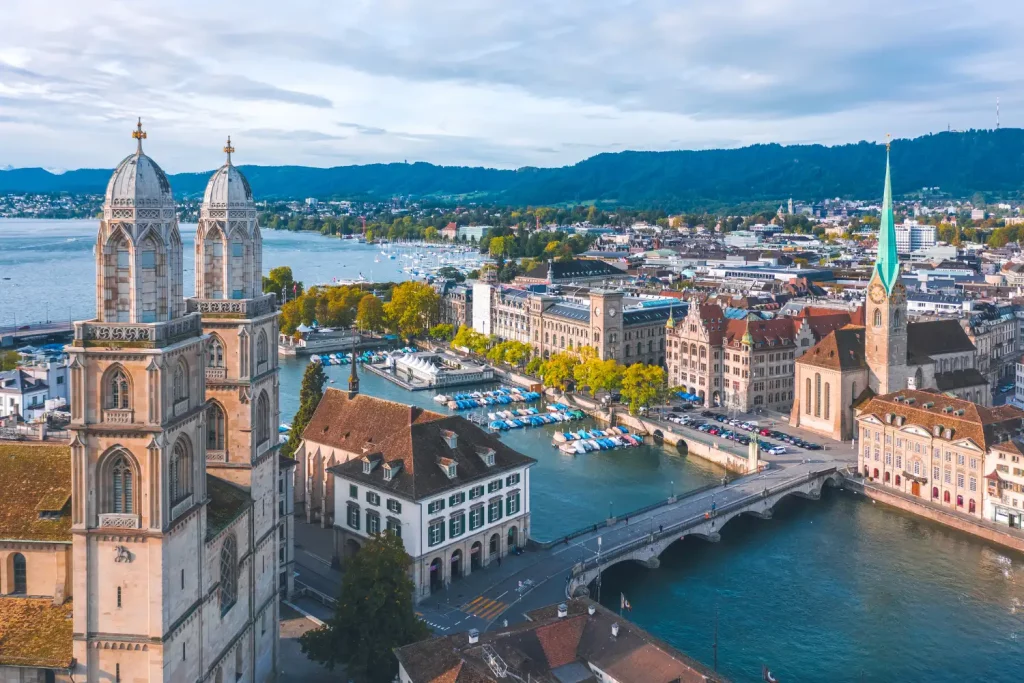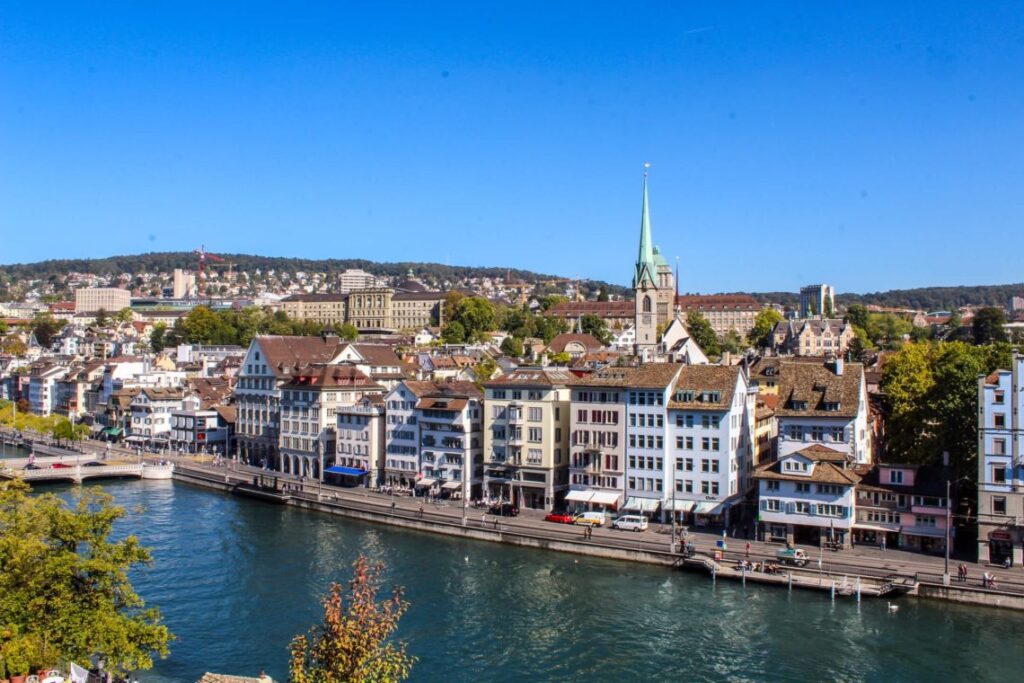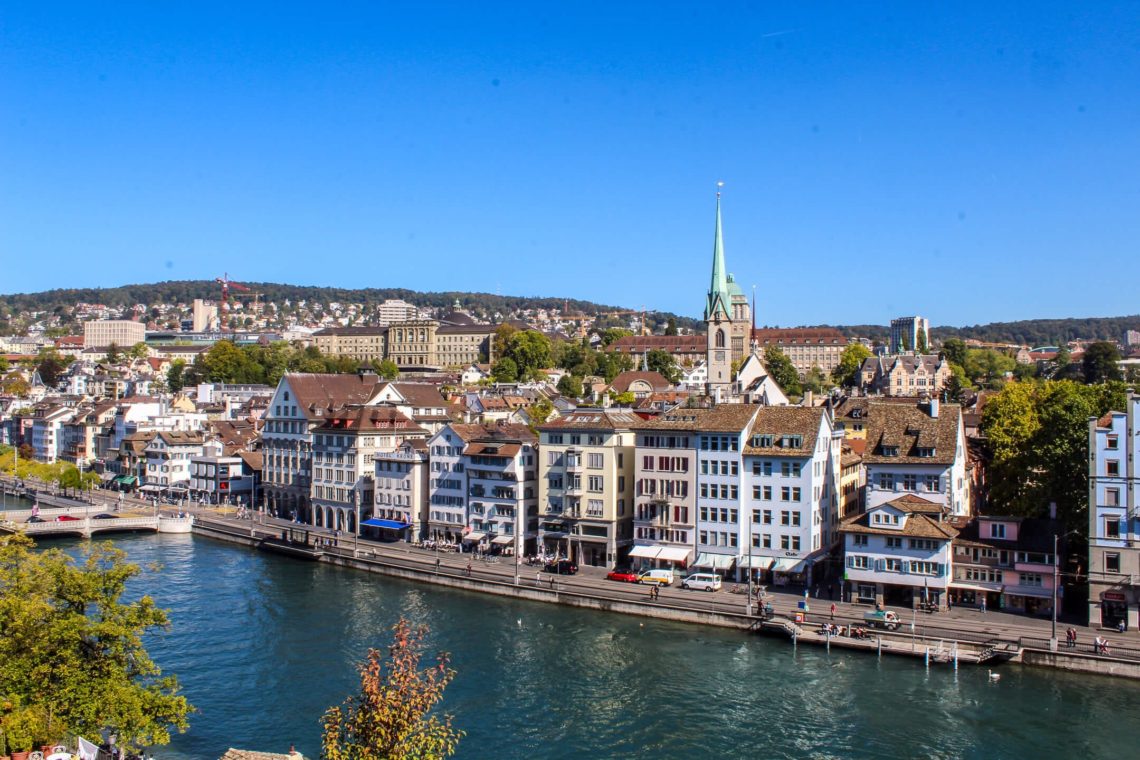 What to Pack for Zurich
What you pack for your trip to Zurich will depend on what time of year you visit. Zurich experiences all four seasons (sometimes in one day), so it is good to always be prepared. In the winter, temperatures can reach well below freezing, so it is a good idea to pack warm and waterproof clothing. In the summer, it can reach sweltering temperatures, so light and breezy clothing are best.
For our packing checklist and packing inspiration, check out our full packing guides for all seasons over here. 
Overall, during your trip to Zurich you are going to be doing a LOT of walking, so comfy shoes are the most important item to pack.   
For our full list of items that we pack no matter where we go in the world, check out our full packing guides over here.
Given the beautiful sights and scenery that you are no doubt going to see around Zurich, we highly recommend packing a good camera for your trip. If you want to read more about the cameras we use and why we love them, check out the link below.
You can read what else we keep in our camera bag over here.
Photography Equipment
What is the Best Travel Insurance for Zurich
I know travel insurance is the least enjoyable thing to purchase and look at when you're planning a trip, however, you wouldn't want to be without it in the event that something happened. Accidents can happen anywhere and the extortionate medical bills will ruin your trip if you are not covered.
To ensure you have a stress-free trip with no worries about potential medical bills, make sure you cover yourself when you travel. We can recommend using SafetyWing, a backpacker-friendly and cheap insurance company that provides good coverage and support. It is also nomad-friendly, unlike most other insurance companies, meaning you do not need to worry about being out of your home country for too long.
Get a quote for your travel insurance right here and get covered!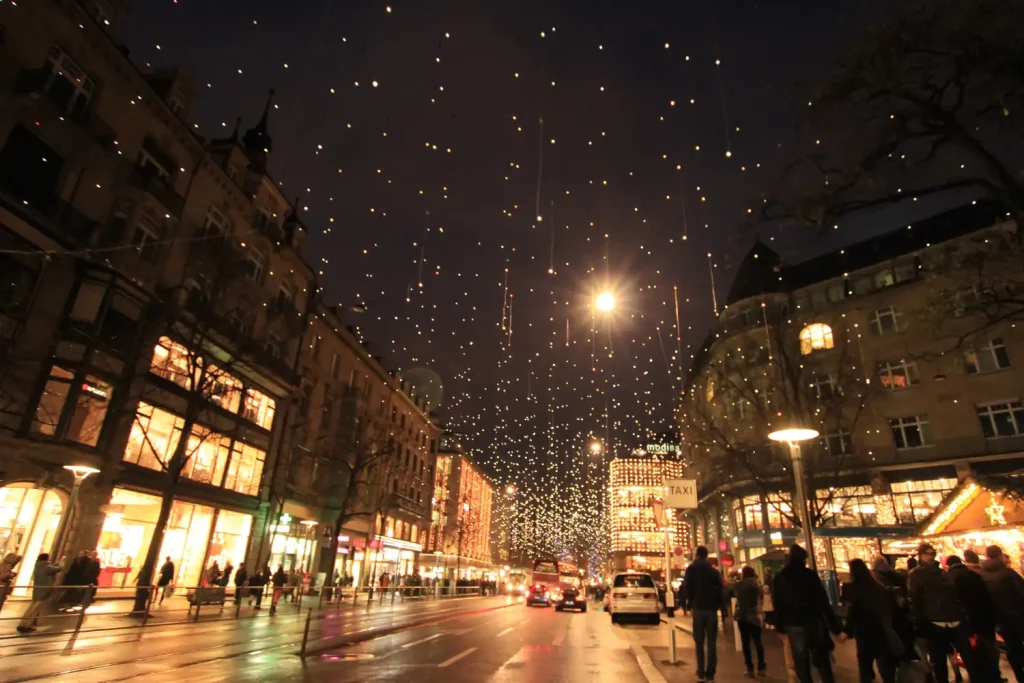 So there you have it, our guide to visiting Zurich in winter. If you are visiting this incredible city and have any other questions on what to expect, leave us a comment down below. We love to chat about this stuff! If you have already been, let us know how it was! 
Also, remember to share this with your friends and family that you are going to share this amazing experience with. Sharing is caring and we want to ensure that everyone is fully prepared to maximise their experience visiting Zurich.
If you are planning a Switzerland trip soon then check out our other Switzerland content right here. Come and find us on social media to see where we are currently exploring. Tag us in your photos from your stay and we will share them with the rest of our community of explorers and backpackers.
Read Now:
This article may contain affiliate links that provide us with a small income. For more information read our Affiliate page.
---
Pin it for later!