So, you have just spent the past year grafting your heart out, saving for that next big adventure and planning your trip of a lifetime. The time has come, your bags are packed, your flights are booked and you are ready to go! Wait, what about an international bank account? You don't want to be spending that hard-earned cash on paying to withdraw YOUR OWN MONEY! Not to worry, here is our guide to avoiding the withdrawal fees and choosing the best bank accounts for your next trip. This article aims to discuss the Starling vs Monzo argument and conclude on which international bank account for backpackers is best for you.
We have now been using Starling bank card and Monzo travel card for over a year, throughout Europe, North America, Asia and Australia, and we would be scraping the barrel to fault them. Our overall experience with these cards has been incredibly positive; they are easy to setup, simple to manage and both offer excellent customer support when in sticky situations. An app that can handle all of your travel funds without you having to worry about the is one of the best gifts for backpackers that you could ask for.
Deciding which card to choose, however, is the hard part when it comes to the best bank account for digital nomads. We discuss below the similarities as well as the differences between these two accounts, concluding on which is the best bank account for travelling.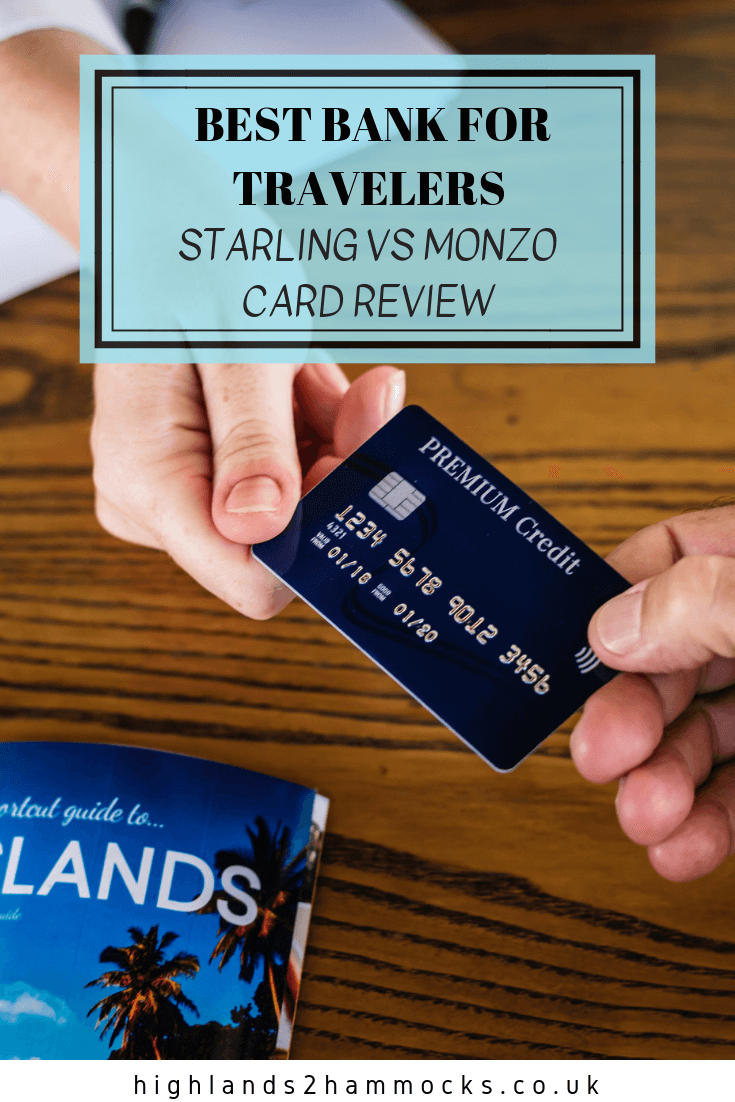 IMPORTANT NOTE: It must be said right away that it is only possible to apply for Starling Bank or Monzo Bank if you have a UK address and a UK phone number. You must also be over the age of 16 to open an account with either of these banking apps. If you do not have both of these then you will be unable to open an account with either of these bank accounts. However, the information in this article will still be helpful for deciding what other account is best for you, so do read on.
Best Bank for Travelers
International Bank Accounts
Before you head off on your next adventure, it is important to ensure you have your finances in order. This means choosing a banking provider that will allow for your nomadic lifestyle, without charging you for any international activity. The two options we opted to try before heading to Europe were the large banking providers, Starling bank and Monzo bank.
Both of these offer free cash withdrawals throughout the world, an easy solution to managing your finances remotely and worldwide access to your money, without having to let the bank know your every move, everything the best bank account for backpackers should do. They also offer two of the best apps for backpackers when it comes to online banking. Super simple to use with a good user interface and excellent customer service.
What to Look For in a Bank Account
When it comes to deciding on a bank account for life on the road, there are a certain number of parameters that you must look out for. These will not only cut the costs that you will end up spending on the road, meaning longer travels and more adventures, but they can also help to limit the number of unwelcome surprises on the road.
Exchange Rate of the Card
So you have a card that can be used anywhere in the world, awesome! However, unless you think carefully about the card's exchange rate it can still end up costing you more than you would like. Both Starling Bank and Monzo Bank use the live Mastercard exchange rate, meaning they always offer one of the most competitive rates on the market.
Compare this to generic travel agency cards, Thomas Cook for example, who use their own exchange rate, including a commission. When I last used one of their cards in Australia, it actually worked out cheaper for me to pay the international withdrawal fee on my UK bank account, than use there shockingly bad exchange rate. Since then, I would always advise to take a wide berth from using travel cards from travel agencies.
Customer Service
When you are on the other side of the world from home and your bank account decides to play up, leaving you stranded with no money, no help and no way of communicating with friends and family, all you can hope for is a friendly face to help you through. This is where the customer service of your bank card comes in to play.
The importance of good customer service cannot be stressed enough when it comes to handling your finances, especially when you can't speak with someone face to face. Make sure you read plenty of reviews about a companies customer service, whether they are prompt to reply, quick to fix, or whether they just don't care.
Accessibility of your Money
Despite having a bank account with the most competitive costs, the lowest transaction fees and the best interest rates, you might be still be unable to access your cash. Depending on the type of card, eg. Mastercard, Visa, Amex, you may or may not be able to use certain ATMs around the world. The biggest culprit for this being the American Express cards.
Despite them offering some of the best loyalty rewards, they are terrible for accessing cash on the other side of the world from America. It is always safest to stick with Visa and Mastercard.
What Cards to Choose
There are hundreds of options out there when it comes to choosing the best bank for travelers, however we will be discussing two of the best bank accounts for travelling: Starling Bank and Monzo Bank.
Starling Bank
Starling Bank was the account that I chose after reading about it on many other travel blogs and articles. It is a lesser know international bank account than Monza, however its competitive features make it a very good Monzo alternative. Offering worldwide cash withdrawals and card payments, with no annoying sub-charges to access my money, it was an obvious travel bank account choice for backpackers. It also comes with an incredibly easy to use, online app for your phone, allowing you to access your account wherever you may be in the world.
The account makes transferring between any bank account very easy and simple to do, and this is something I regularly did (mostly when I spent too much on wine..). You can log into the Starling app using touch ID, set up contacts and regular payees, and monitor your expenses throughout the month.
The Starling bank app also shows you all of your spending in a categorised way, allowing easy tracking of your expenditure, such as fuel, bills, food and rent etc. You will be notified about all of your spending by push notifications, letting you know how much you just spent in your home currency, based on the exchange rate on that day. You are also able to set a "low-amount warning" on your account, which will let you know if your account dips below a set amount.
Security wise, you are able to remote lock pretty much any aspect of your account, all independently. You can lock your card payments, cash withdrawals, online payments or all of the above at once, as well as order a new card all from your phone. This means you can relax a bit more if your wallet goes missing after a large night out. Your spending is tracked based on the location of your phone, so there is no need to let the bank know where you are headed, and no need to worry about overseas theft. If you do lose your card, they offer free delivery of a new card to anywhere in the UK, however in order to send it overseas there is a charge of £60, so don't go losing your card!
Another reasons it is one of the best bank accounts for travelers is its latest features, including the ability to create savings goals for the next adventure. This feature allows you set money aside to prevent spending it, without removing it from that account. This means that the saved money will still contribute to interest payments that you receive. There is also a Round-Up feature to aid with your savings, including a "multiplier feature" which will round up any spending that you do on the card to the nearest pound and then multiply it by up to 10x into your savings.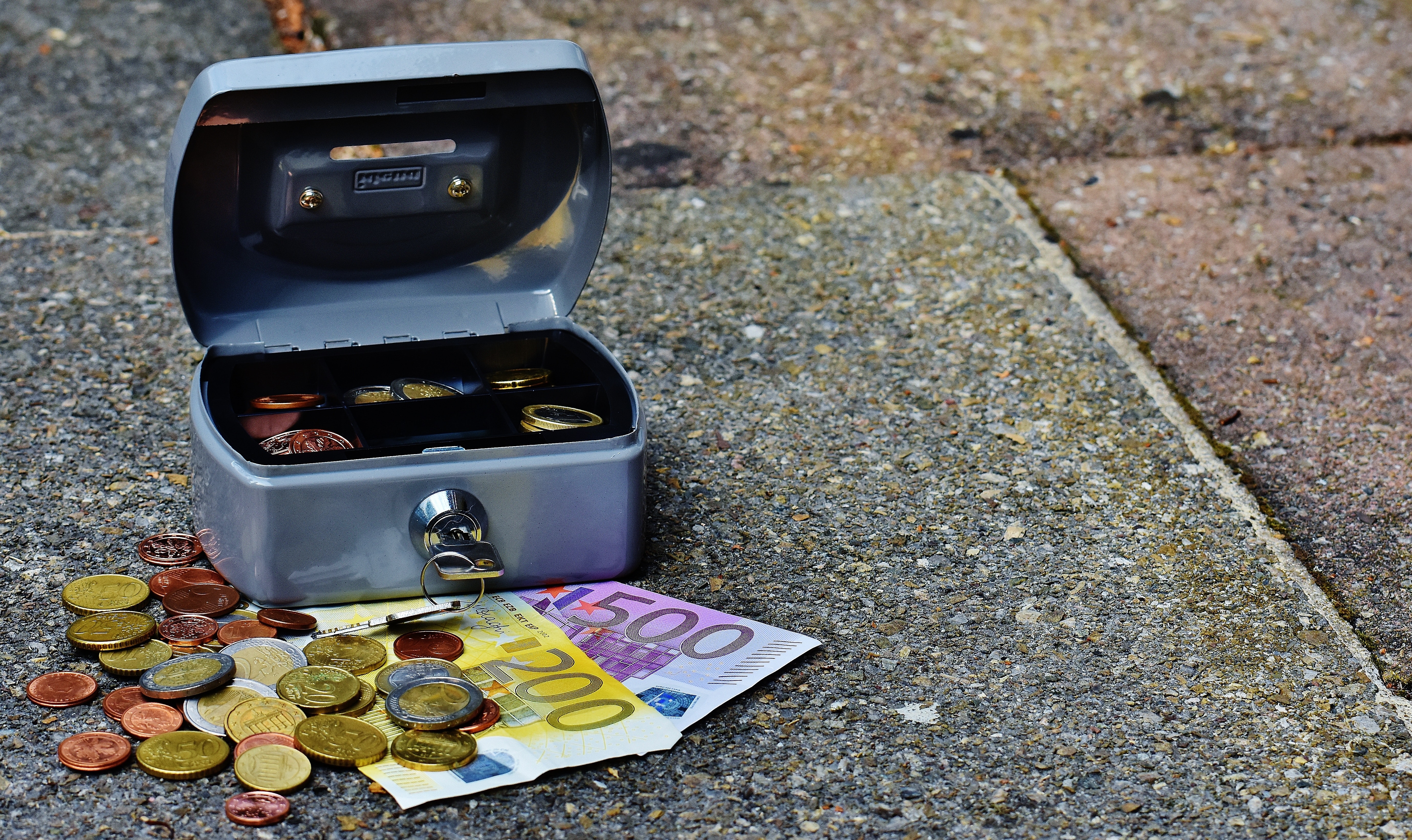 Monzo Bank
The Monzo Bank account is the other international bank account that we decided to try out. This account runs in a very similar way to that of Starling bank, with some key differences. Here is a summary of it overall.
This card offers free card transactions and cash withdrawals (up to a point), all over the world, making it a very competitive, global bank account. When I say up to a point, I mean that after £200 worth of withdrawals, you will pay a fee of 3% per withdrawal. Although this is a low withdrawal fee compared to some back accounts, it can still quickly rack up if you are in a country that only functions in cash.
Given that it is a fully digital bank account, the Monzo app is incredibly user friendly, with even better features than the Starling. It is super simple to perform a Monzo topup, with instant transfer between UK bank accounts. The home screen shows you a graphic of your finances over the month, highlighting areas of key spending. You are able to set budgets for different aspects of your life, such as rent, social, food etc, all of which alarm when you are approaching the individual set limits.
In terms of security, it has a similar setup to Starling, allowing you to temporarily freeze the use of your account in case of loss or suspected fraud. It also allows you to order a new card and change your pin number right from the app. Monzo will only send your first bank card the UK address you have registered with, however they will send any replacement cards abroad, probably at a fee depending on shipping and postage etc.
Comparison: Starling vs Monzo
The main difference between the two cards is the Starling's ability to withdraw an unlimited amount of money from foreign ATMs without charging a penny, while Monzo is at a cap of £200 per month. After this cap Monzo starts charging 3% withdrawal fees, which is quite eye-watering for a budget backpacker.
Despite this flaw, Monzo's interface and abilities in the app make it a very close contender with the Starling. Tracking your spending with alarms when you approach your set limits is very handy for anyone lacking the self-control to turn down one more beer.
Conclusion
Overall, we would have to rate the Starling as our favourite out of the two. This is simply due to its ability to withdraw free cash in an unlimited amount across the globe. On our most recent trip, a lot of the countries we visited would only accept cash, making withdrawals a hefty part of our lives. If we had to pay each time, we would not be the savvy budgeteers you see today!
Before you make your own decision, make sure you do plenty of research into the card that is right for you. Don't just take my word for it! There are also plenty of cards out there, offering extra benefits such as insurance and discounts, however most of these are paid accounts.

Other Travel Money Tips
Before you head off on your adventure, it is important to be prepared for anything. Expect the unexpected, as they say. Here is some of the advice that we have heard over our years of life on the road, all of which has proved incredibly fruitful.
Have a "Fake Wallet"
When you are travelling to some of the more exciting countries in the world, off the beaten track from most backpackers, there are unfortunately some compromises in terms of safety. The world isn't a big, happy, friendly place and unfortunately we have heard stories from friends of ours of bad things happening to them.
One of these nightmarish scenarios is the obvious threat of theft. Be it pickpocketing or armed theft, being stolen from is never a nice feeling and can often ruin your trip. It is important to do everything you can to avoid putting yourself in the situation where theft is likely, and also to be prepared for the event that it may happen.
An important tip that we have learnt is to have a "dummy wallet" on you that you can give over in the case of a robbery. This can be an old wallet containing a few pounds worth of money and an old bank card. In the event of a robbery, the perpetrator is often satisfied with the first item you give them, too hurried to ask for more or check it legitimacy.
Take Two Cards
You do not want to be in a foreign land, with no knowledge of the local language, and find yourself in the situation where you can't access your money. It doesn't matter how good you think your international bank card is, you can still find yourself unable to use it. This might be because of a theft, loss or damage to the card itself.
In these scenarios, it is always handy to have a spare bank card that you can use. One that is preferably hidden away from your everyday life, unlikely to be lost, damaged or stolen too. It doesn't really matter if this card has amazing international fees as well, as it is purely for emergency scenarios.
Carry Backup Cash
Once again, you are most likely going to find yourself in the situation where you are unable to access the money in your bank account. This can even be the simple situation of being nowhere near an ATM machine to withdraw it. In these scenarios, it is always helpful to ensure you have a backup source of cash, stored at the bottom of your bag, or hidden in your spare socks.
If you found this article useful, make sure you share it with your friends so none of them fall victim to the dreaded "transaction fee". Also check out our other travel hacks and catch up with us on social media to see what we are currently up to!
Now Read:
This article may contain affiliate links that provide us with a small income. For more information read our Affiliate page.
---
Pin it for later!