Bangkok is one of the most exciting and happening cities in the world. You may be a nature lover, a cultural traveller or a backpacker in search of historical places to visit. Be assured that Bangkok will cater to all these needs and offer experiences in abundance to any kind of traveller.
With so much choice, finding the best day trips from Bangkok can be a discerning task. However, not to worry as we are here to help! With Jimmy living in Bangkok for months, and I being born and raised in BKK, who better to tell you all about where you can escape from the city in this day trips from Bangkok blog!
Bangkok is known as the land of smiles. It experiences a hot climate for most of the year, which I guess contributes to the sense of joy that reverberates around the high rise buildings. The city of Bangkok is always crowded with travellers, most of whom come from the world over to visit the street markets, historical temples and huge palaces.
Of course, let's not forget the
street food in Bangkok,
another major attraction factor. If you tour Bangkok
in all of its glory and are still hungry for more, then this day trips from Bangkok blog will help you!
Before you leave for on your trip of a lifetime, plan your ultimate Thailand experience with this complete 2-week Thailand itinerary!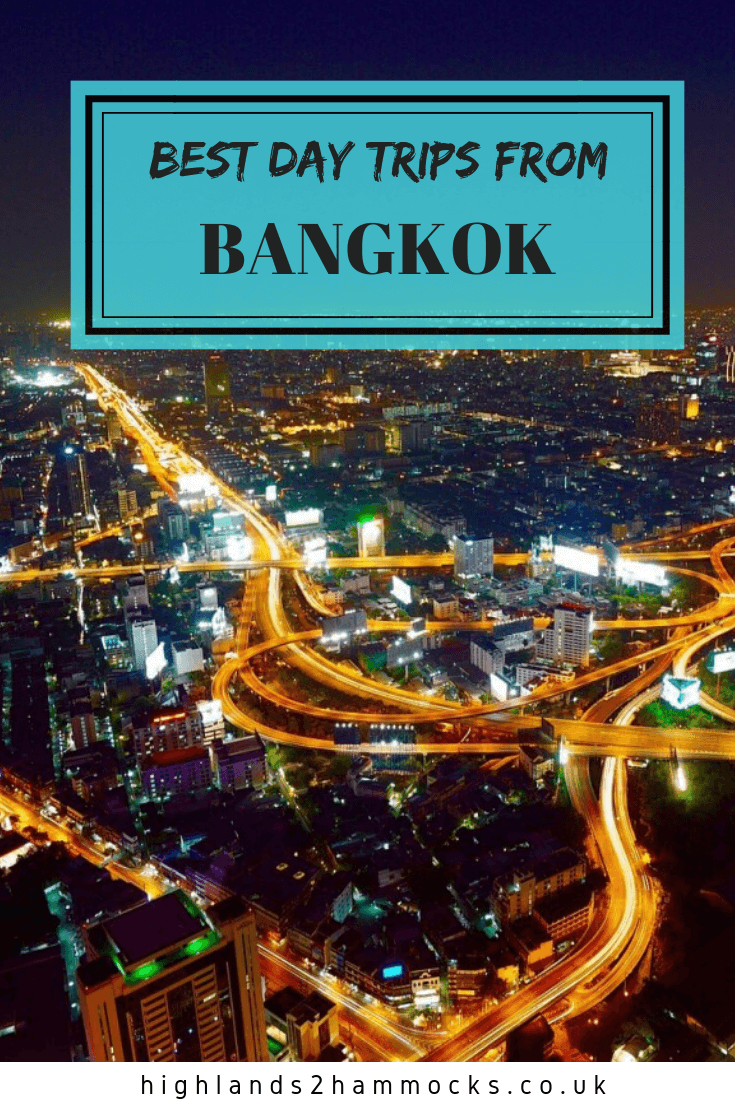 Day Trips From Bangkok Blog
Based on popularity and the most loved places by travellers, we have come up with the best day trips from Bangkok city that you too can experience!
Day Trips From Bangkok to Khao Yai
Our first of the best day trips from Bangkok, away from the hustle and bustle of the big city, is a peaceful grassland place called Khao Yai. Only about 2 hours away by car from Bangkok, this dense forest is famous for the national park named after it! Khao Yai National Park is the third-largest national park in Thailand. Perhaps, there are a lot of things to do in this serene land.
Things to do in Khao Yai
Khao Yai National Park
Khao Yai National Park, one of the oldest of its kind, is home to numerous species of animals and birds. Elephants, gibbons, bears and macaques are among the 300 plus species available in this national park. You will also be surprised that it is even possible to find giant reptiles here. This beautiful grassland is noted as a
UNESCO World Heritage Site
.
This also forms the part of Dong Dong Phayayen Khao Yai Forest Complex. Khao Yai is the largest monsoon forest in Southeast Asia which stretches 2333 Square feet. Experience the mighty mountains, dense vegetation, awe-inspiring caves and unbelievable waterfalls spread throughout this forest.
Solo trips are not advisable, however you can hike or bike as a group or with a guide through the green trials to get an adventurous experience! If you are looking for a fully guided trip here from the city the starting price is around $100USD, with transit from the city.
Khao Yai Winery
Amidst the rich vegetation and wildlife is one the first and best wineries in Thailand. It dates back to 1998 when the first corked bottle was etched here. It is known as the PB Valley, which is a two hour ride from the main city of Bangkok.
Stretching up to 80 hectares, most of the Khao Yai winery is used to grow grapes to make the best of wines. Chenin Blanc, Cabernet Sauvignon and Tempranillo are just some of the wines made here. Three glasses of wine are given as a compliment to taste when you take a wine yard tour. There are also places available to stay if you book in advance!  
You can find this fully guided day trip from the city as low as $120USD.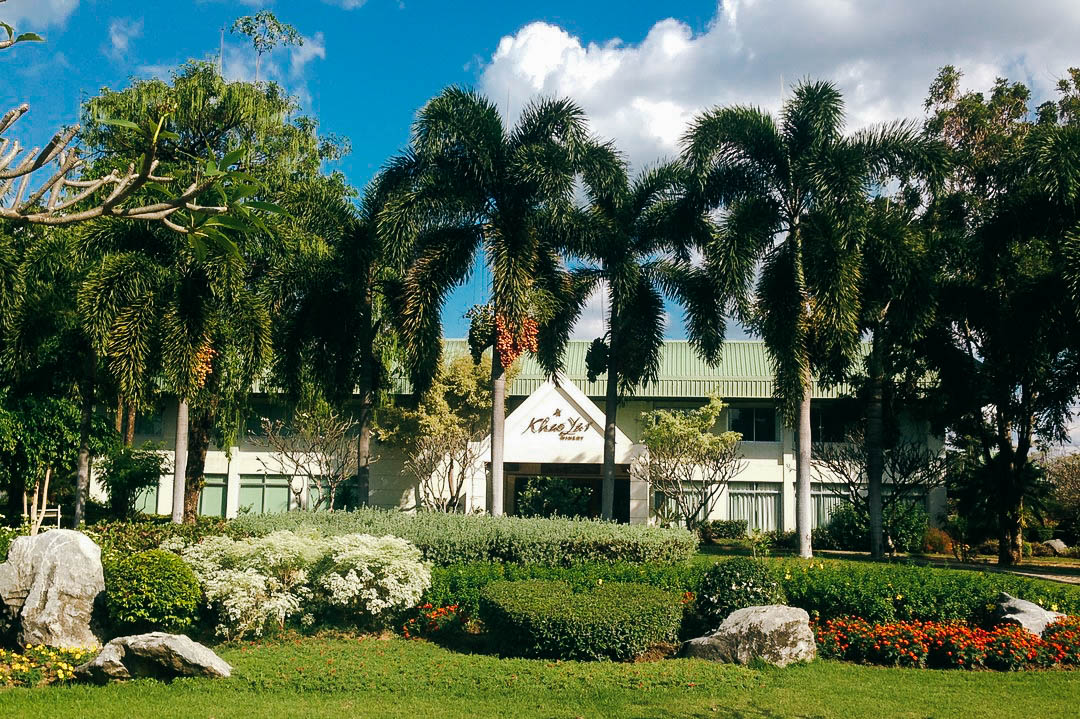 Day Trips From Bangkok to Ayutthaya
At around 80 kms from the main city of Bangkok sits the beautiful temple of
Ayutthaya
. By train, it takes two hours to reach this UNESCO World Heritage Site. For a full days exploration, we recommend wearing a pair of comfy shoes and cotton clothes, as you are going to have a hot and long day out in the sun. Rent a bike or take a tuk-tuk to visit places in Ayutthaya.
Ayutthaya is a very pleasant location to witness rich vegetation, beautiful ponds and historical ruined structures. The palaces of Wat Mahathat, Wat Lokayasutharam and Wat Na Phra Mane are some of the most amazing things you will see in the whole of Thailand.
We suggest starting this trip in Victory monument area and getting a van from here to Ayutthaya. This will cost you around 70 baht per person (roughly £2), and will only take you one hour. This is the place most the locals go for vacation. Did you know Ayutthaya was the former capital of Thailand?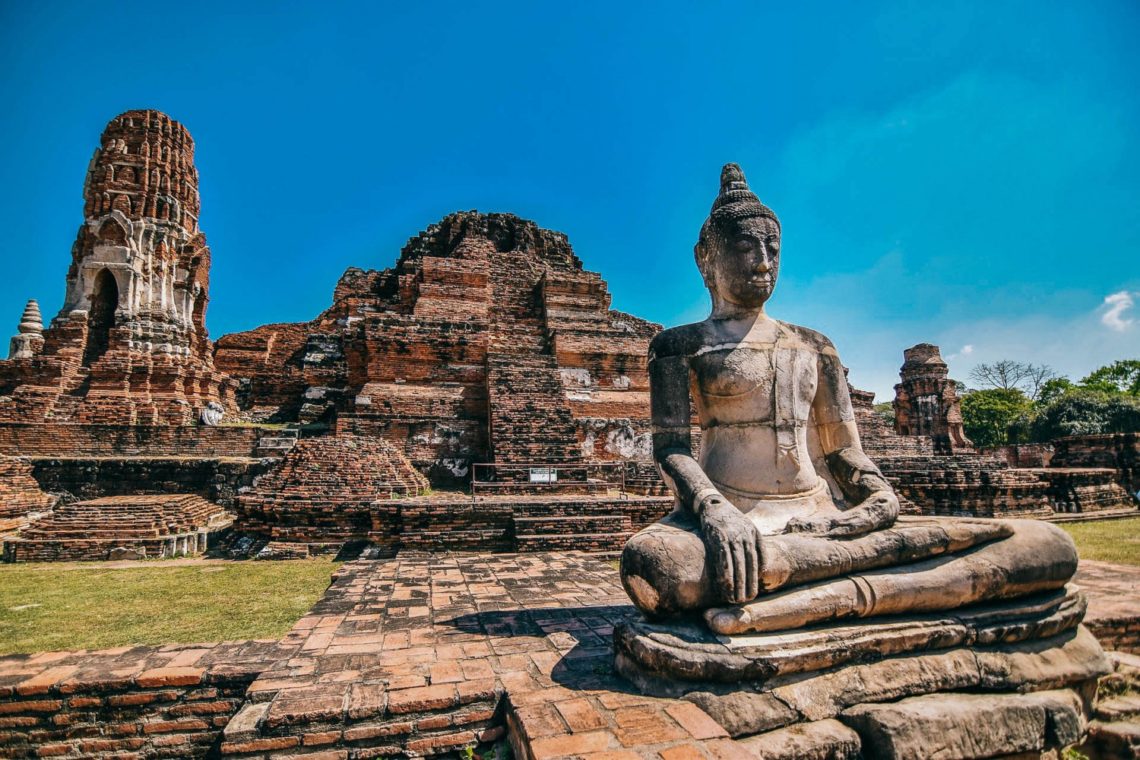 Things to do in Ayutthaya
Wat Phra Si Sanphet
Wat Phra Si Sanphet is one the most ancient temples in Ayutthaya. It dates back to 1350 when it was built by King Ramathibodi. The temple was then destroyed in 1767 by the Burmese, but the legacy of this temple remains unchanged. This is a must visit place during your day trip to Ayutthaya.
Wat Lokkayasutharam
You will fall in love with Buddhism at Wat Lokkayasutharam. This will surely exert a pull close to your heart with its Mayan or Inca ruins. 
Wihan Phra Mongkhon Bophit
Wihan Phra Mongkhon Bophit houses the
largest Buddha statue of Thailand
. It is built at a height of 12.45 metres. Be amazed at the beauty of this unique statue.
Elephant Stay
The Royal Elephant Kraal is a cultural experience where elephants are trained for war. You can visit this place to develop a strong bond with these giant creatures and understand the way they were trained. You can also book in advance to stay at this place.
Chao Sam Phraya National Museum
Numerous treasures of Thailand is said to be present in this National Museum. This was found when the ruins of the city were being excavated. It is the second-largest museum of Thailand and was inaugurated in 1970. The Thai Pavilion relics of Lord Buddha is the most famous thing in this place.
Day Trips From Bangkok to Kanchanaburi
This place is known by its bridge on River Kwai. Located at 130 kms from Bangkok, Kanchanaburi is also famous for its Death Railway due to the dark history of the area. You can take a first-class van here from Victory monument for only 160 baht (roughly £4). It's a crazy thing to experience, standing on the narrow bridge just inches from the train as it passes by.
Many have died during the process of building the
Thailand to Burma Railway

,
which took place during the occupation by Japanese forces. Visit the Jeath War Museum to learn about soldiers of that war and you are sure to be humbled.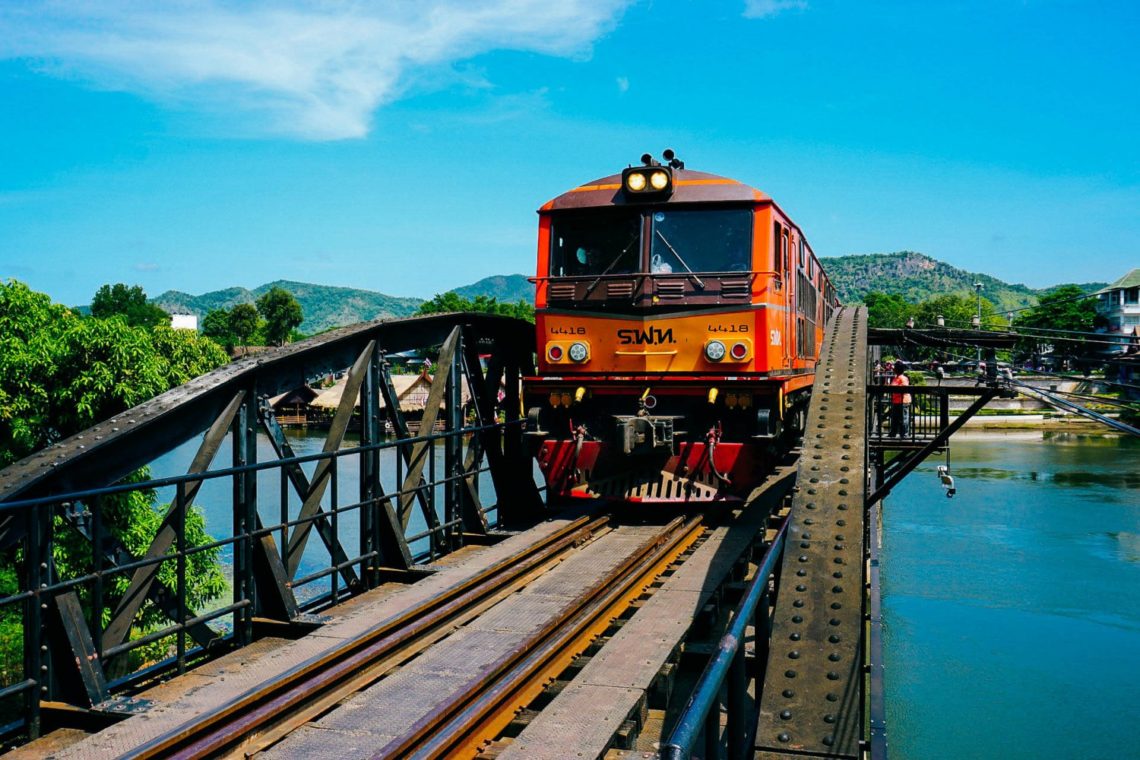 Things to do in Kanchanaburi
Erawan National Park
Drive down five hours from Bangkok to reach this beautiful National Park, situated near the Border of Myanmar. Wildlife lovers, this is the place for you! Tigers, elephants, cobras and gibbons all live here amidst the mesmerising views of limestone hills and clear streams. Erawan Falls is the core attraction spot here with its emerald waters. This is named after the elephant that carries the Hindu God, Indra.
Hellfire Pass Memorial Museum
This unique museum takes you through steep stone walls, photos of fallen men in black and white and a lonely railway track. It is present at a fifty mile distance from Kanchanaburi. Hellfire Pass Museum is dedicated to the British, Dutch and Australian prisoners of war. It is also for the Asian people who died during the construction of the Thailand to Burma Railway. Pay a visit to show you gratitude and respect towards these souls.
Elephant Haven
A satellite branch of the
Chiang Mai Elephant Nature Park
is the Elephant Haven.  Elephants are left our in their natural habitat, free from poachers, cruelty and enslavement. You can visit them, cook for them, bathe them and spend time to take care of them.
Don't worry! You will be given safety training before you set off to see these beautiful animals. 
Read more about the amazing things to see and do in Chiang Mai in this complete Chiang Mai itinerary.
Day Trips From Bangkok to Pattaya
Pattaya is one of the most
visited destinations in Thailand
. It is also
is one of the most expensive day trips, costing about 160 baht (roughly £4) from BKK by van, due to the fact you will find it crowded by international travellers, rather than locals.
A small fishing village turned into streets with high rising building and party places is all what Pattaya is about. This is the closest beach destination from Bangkok. Apart from beautiful beaches, Pattaya has awesome places like the Sanctuary of Truth and the Wat Phra Yai Temple. 
Things to do in Pattaya
Cabaret Shows
The most popular Tiffany and Alcazar cabaret shows are worth watching when in Pattaya. The famous Thai ladyboys perform Tiffany Cabaret Show and the Alcazar show is the performance by cross-dressers. Witness amazing dance, music and drama of both Thai and English songs at this place.
Siam Pattaya and Chanthaburi Sapphire Mines
Siam Pattaya is the first miniature replica of the wonders of the world and Thai heritage. You can see models of  world class places like London Bridge, Pyramid, Statue of Liberty, Temple of Emerald Buddha, Bridge over the River Kwai and many other amazing miniatures. Chanthaburi is close to Siam Pattaya where you can learn how the cutting and polishing of the Sapphire is done.
Flight of the Gibbo
A thrill-filled canopy tour for the adventure lovers in Thailand. This is basically a zipline that stretches about 3 kms, between 26 different platforms high above the the famous Khao Kheow Open Zoo. You can do a full day Jungle safari as well in this place.
Koh Larn / Coral Island
Being one of the
most popular island destinations in Pattaya
, Koh Larn is an adventure destination. Some of the activities that you can do here are as follows:
Snorkeling

Swimming

Surfing

Coral spotting in glass bottom boats

Windsurfing

Parasailing

Jet-Skiing
Sip your drinks along with delicious seafood in this destination as the sunsets over paradise.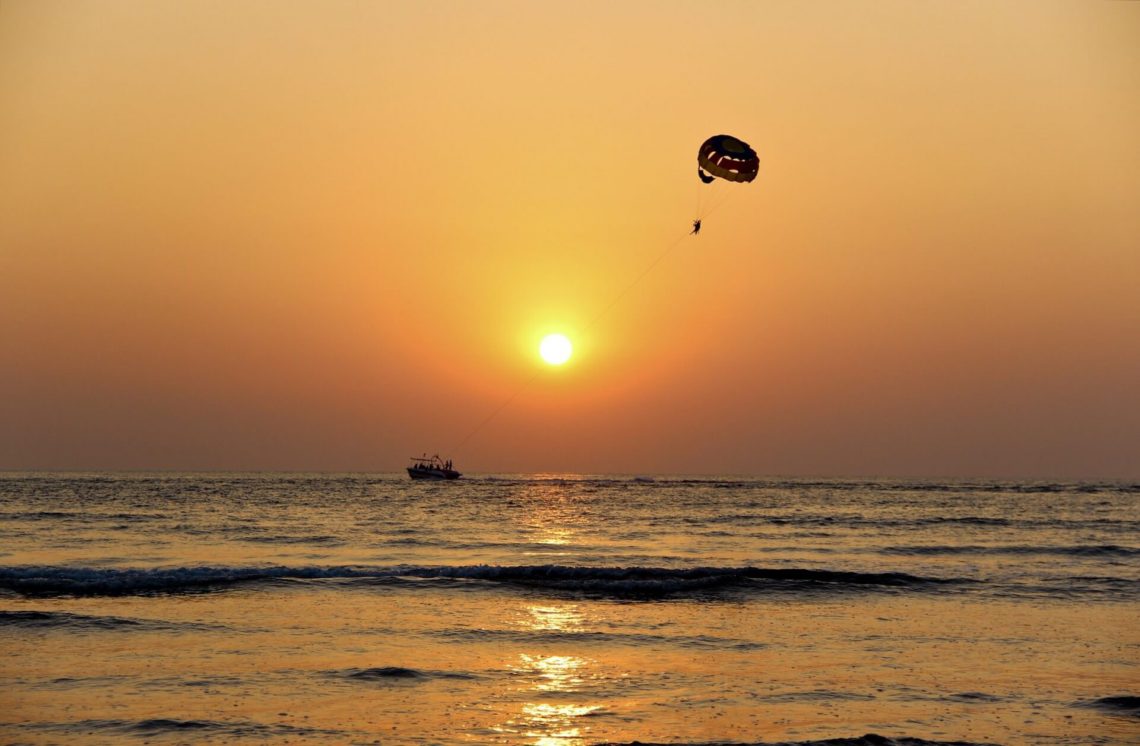 Cartoon Network Amazone
The best place for kids and water sports enthusiasts is Cartoon Network Amazone. This is the
first cartoon network themed restaurant
in the whole world! Below are some of the things you can do here:
Alien Attack

Banana Spin

Cartoonival

Goop Loop

Humunga Slide

Jake Jump

Mega Wave

Live shows of Cartoon Network characters
Day Trips From Bangkok to Samut Prakan
At just 30 kms from Bangkok is Samut Prakan. It is situated at the junction of Phraya River and
Gulf of Thailand
. This is the cheapest day trip from the city costing only 51 baht. It is called Pak Nam and is loved by culture activists. 
Things to do in Samut Prakan
Muang Boran Ancient City
This is one of the
biggest outdoor museums in the world.
Also called as Ancient Siam, the cultural park has replicas of popular architectural and heritage sites of Thailand. These are also placed at its exact direction as per its geographical location.
Erawan Museum
The famous three headed elephant statue is what Erawan Museum is known for. The structure is made of bronze. This museum has three stories of antiques and artefacts of the ancient period. According to Hinduism, the three stories represent three parts of the universe: the underworld for first floor, earth for second floor and heaven for the third floor.  
Wat Asokaram
The serene and quiet buddhist temple is located at the mouth of the river Chao Phraya. This is the house for many monks and nuns. Meditate and detox your soul at this amazing atmosphere of lush green and silent atmosphere.
Wat Khun Samut Chin Temple
Situated in the middle of Gulf of Thailand, Wat Khun Samut Chin is one of the best day trips you will have. Go past the Baan Sakhla village to visit this
ancient Thai temple.
A lot of monks live in this temple. A land erosion in the past caused a split in this region and a part of this temple stands still over the sea.
Wat Bang Phli Yai Klang
The huge reclining Buddha is the landmark to this place. Get inside the Buddha and see the place has four stories. Everything is related to ancient period and Buddhism. It will leave you mesmerised for days!  
Crocodile Farm and Zoo
Visit the largest crocodile farm in the world in Samut Prakan. You will see different variety of crocodiles as you walk inside this place. There are also many crocodile shows presented in this park. In the zoo that is situated in Crocodile park, you will see creatures like chimpanzees, leopards, tigers, pythons and even camels.
Eagerly planning to visit Thailand soon? Make sure you allocate some days to stay in Bangkok. If you just have four to five days in Bangkok and still want to do something worthwhile, then check out our 4-day itinerary to Bangkok
. This will give you a crystal clear picture of how you can spend the best days in Bangkok.
Once you explore the city and the foods in Bangkok
,
plan on going for day trips from there. This day trips from Bangkok blog suggests various options for each day trip. We let you know about each one of them. It is up to you choose which ones interest you!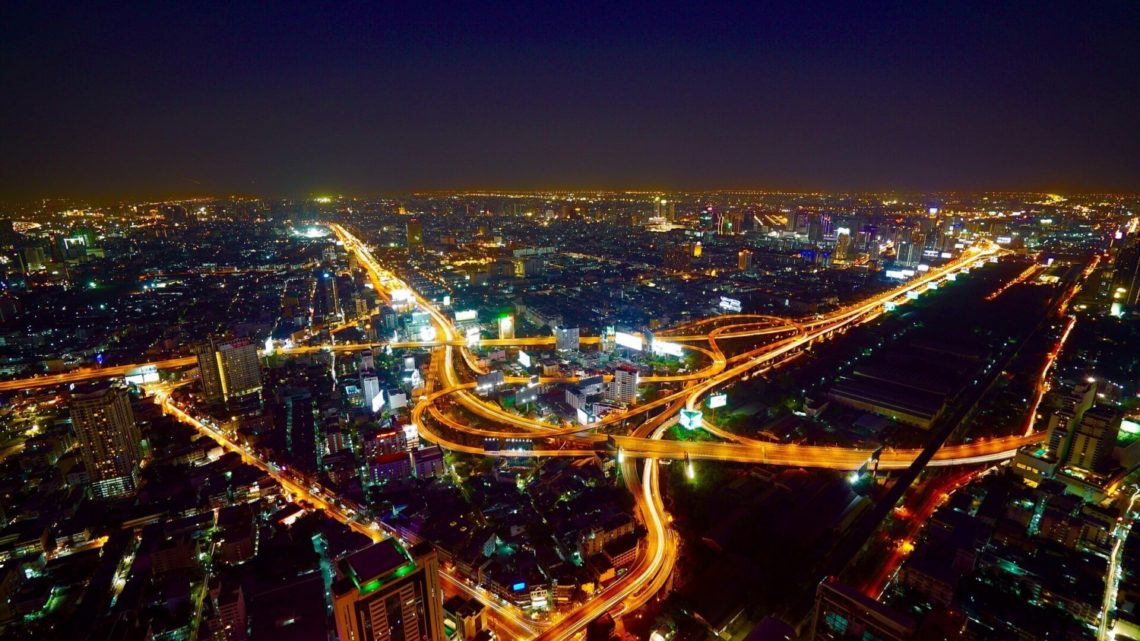 Before You Leave for Bangkok
Before you set off on your trip of a lifetime to Thailand, there are a few things you will need to get sorted out for a stress-free and enjoyable trip. These include what to pack, what visa to get, what insurance is best and where to stay. These are all discussed below.
What Travel Insurance is Best for Bangkok?
As you would do when you are travelling any country, make sure you have travel insurance before you head to Indonesia. We can recommend using
World Nomads Travel Insurance
for the best and cheapest coverage. Always make sure that you are covered for the activities you will want to take part in whilst you are away, whether that is
snorkelling with turtles
or chasing waterfalls.
Get your quote before you leave on your trip right here.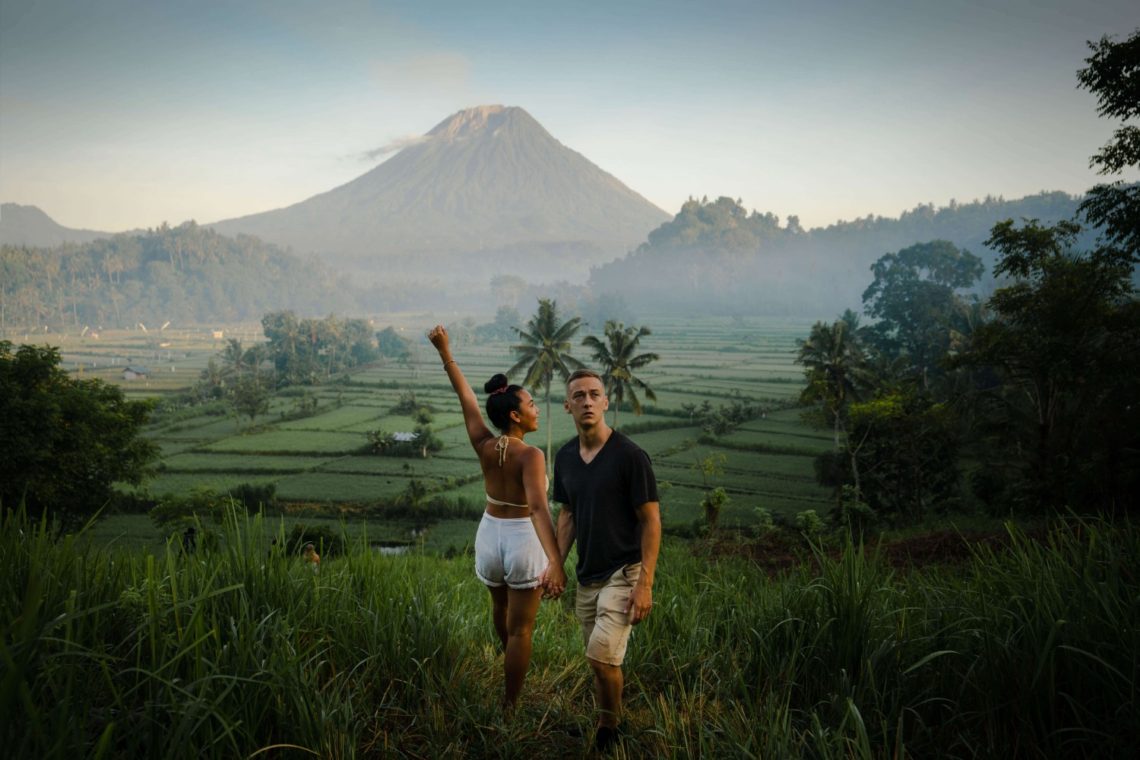 What to Pack for Bangkok?
Bangkok is blessed with tropical, scorching weather year-round. This means there are three seasons: a hot season (March-June), the wet season (July-October) and cool season (November-February). The temperature during these seasons remains above 26oC and humidity averages around 78%. Due to this, we would recommend that you
pack light clothing and a light waterproof
. Lucky for you, this makes packing a lot easier and your luggage a lot lighter.
Check out our Summer Packing List for Women and Summer Packing List for Men for some clothing inspiration for your trip to paradise.
When it comes to sun protection in Thailand, it is a lot more expensive to buy it when you arrive. We, therefore, recommend packing as much sunscreen as you can before you leave for Bangkok. You definitely don't want to forget your camera when you are travelling to Bangkok. No matter where we go in the world, we always ensure our camera bag is fully topped up.
If you would like to know more about what is in our camera bag, click right here.
Where to Stay in Bangkok
Luxury
–
Grand Hyatt Erawan Bangkok
is the ultimate 5-star hotel located in the downtown region of Bangkok. With a swimming pool and a gym, this modern-looking hotel is perfect and reasonably priced for your stay in Bangkok.
Book your stay at Grand Hyatt Erawan Bangkok here.
Mid-range
–
Evergreen Place Siam by UHG
is a great place to stay in Bangkok. The air-conditioned rooms each come with a dining area, an electric kettle and private balcony offering  . There is also an outdoor pool and free wifi.
Book your stay at Evergreen Place Siam by UHG here.
Budget
–
Laksameenarai Guesthouse
is the perfect place to stay on a budget trip to Bangkok. A great location and excellent value for an air-conditioned room with free wifi.
Book your stay at Laksameenarai Guesthouse here.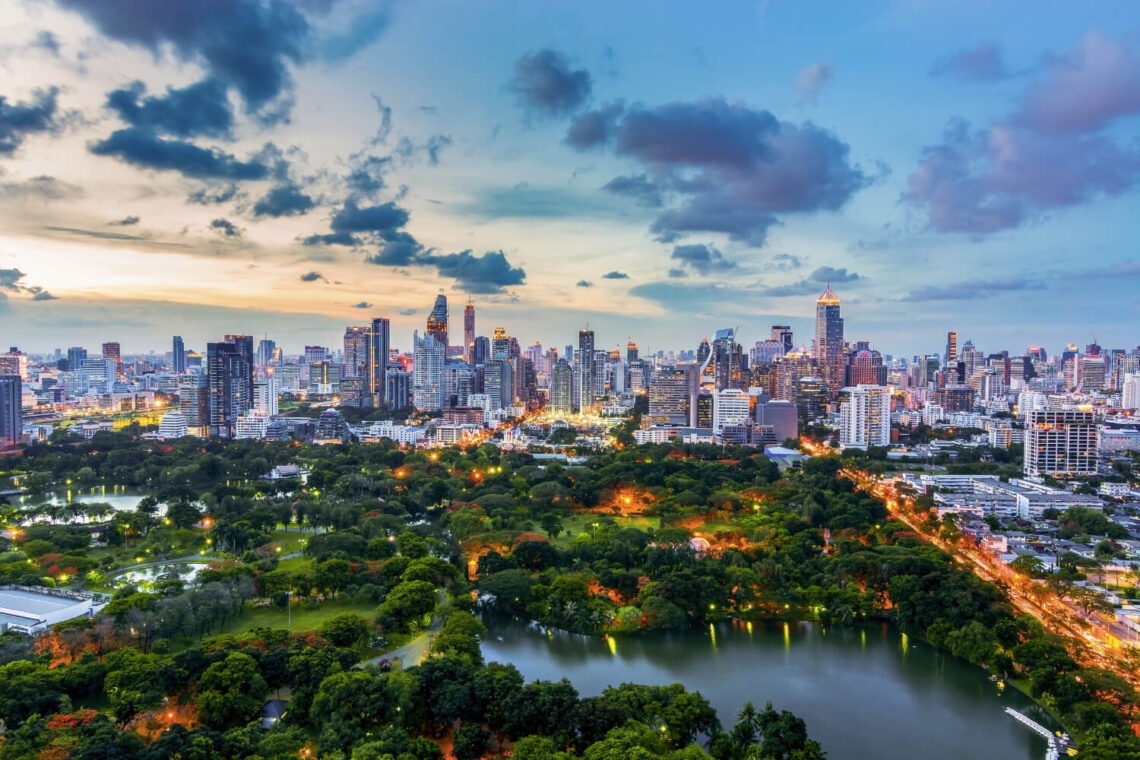 Have you already been to Bangkok? We would love to hear from you about your experiences. Put them in the comments section below. Perhaps, if you are visiting Thailand for the first time, then Divert Living can help you in figuring out
what to carry to Thailand
,
where to go in Thailand
and similar information.
As always, sharing is caring so make sure to share this photo guide with your family and friends and inspire them to head off on their own Thailand adventure one day. If you are planning the trip for yourself, make sure you have a look at the rest of our
Thailand content
for more inspiration. When you set off on your own adventure, be sure to tag us in your photos on
Instagram
and we will share them with the rest of our community. In the meantime, why not follow us over there to see what we are currently up to and keep up with us on our Instagram Stories.
Authors Bio
Hi! We are Jimmy & Tah, American and Thai Millennials who left our careers in the military and finance to become full-time travelers. We met in August, 2015 in South Korea, kicked off traveling in September, 2017 with $4000 in saving account and first started
publishing our journey
on how we live the life we have always dreamt of – traveling and being able to work wherever we love (as long as there is Wi-Fi and coffee ☕️)
Now Read:
This article may contain affiliate links that provide us with a small income. For more information read our Affiliate page.
---
Pin this image to your Thailand Pinterest board for later