Alderney is the third largest island in the Channel Islands after Jersey and Guernsey. It is the most northerly island, sitting only 8 miles away from the French coastline and 56 miles from the UK. Alderney is known as the hidden gem in the Channel Islands. The small size, beautiful beaches and incredible history make for a fantastic trip to the island. 
Alderney is only one and a half miles long and three miles wide, making it really easy to get around. We will discuss this along with the many things to do in Alderney in greater detail below.
No time to read now? No worries! Save this post to your Pinterest board for later!
This guide contains information on our favourite places to eat in Alderney. The places mentioned are listed below.
Blonde Hedgehog
Cantina No. 6
The Vaults
Georgian House 
Nellie Grays
Mel's Tearoom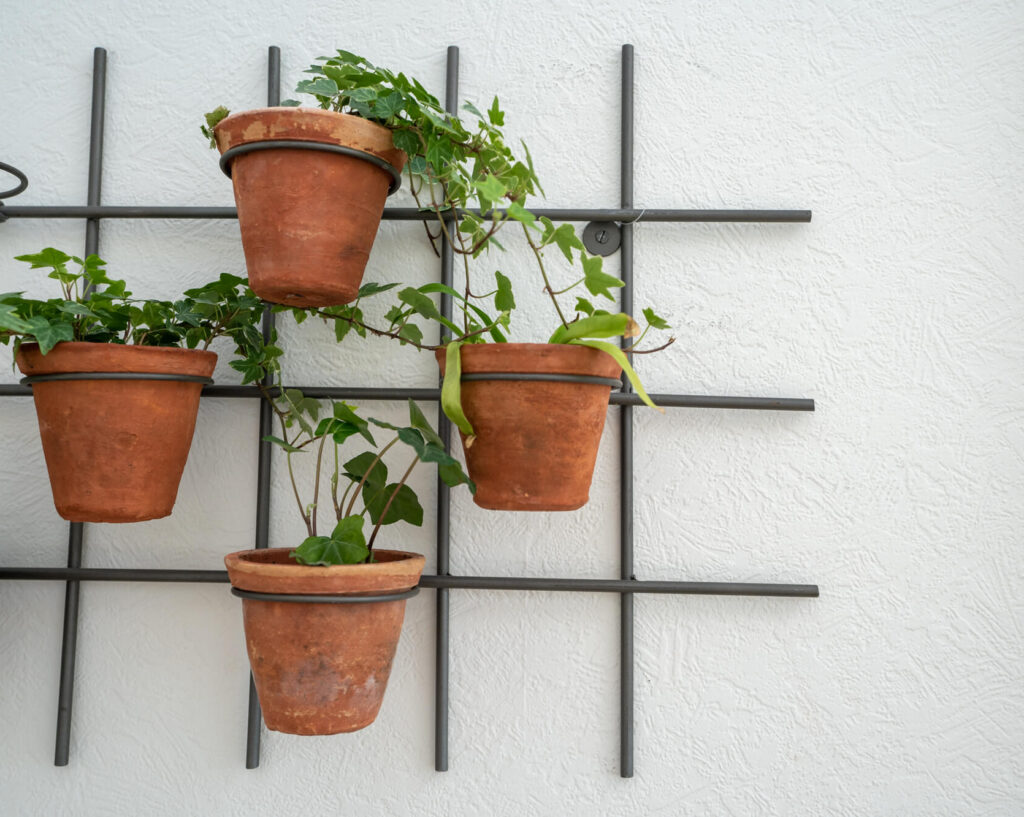 Best Restaurants in Alderney
Blonde Hedgehog
We honestly felt like we had a Michelin star experience at the Blonde Hedgehog. 
The Blonde Hedgehog is one of the most luxurious experiences we have ever had. The food quality was just next level. Situated in the cobbled streets of St Anne, this Victorian building is extremely aesthetic. 
We can recommend the ricotta gnocchi and the chocolate overload waffles, you will leave here with very content bellies!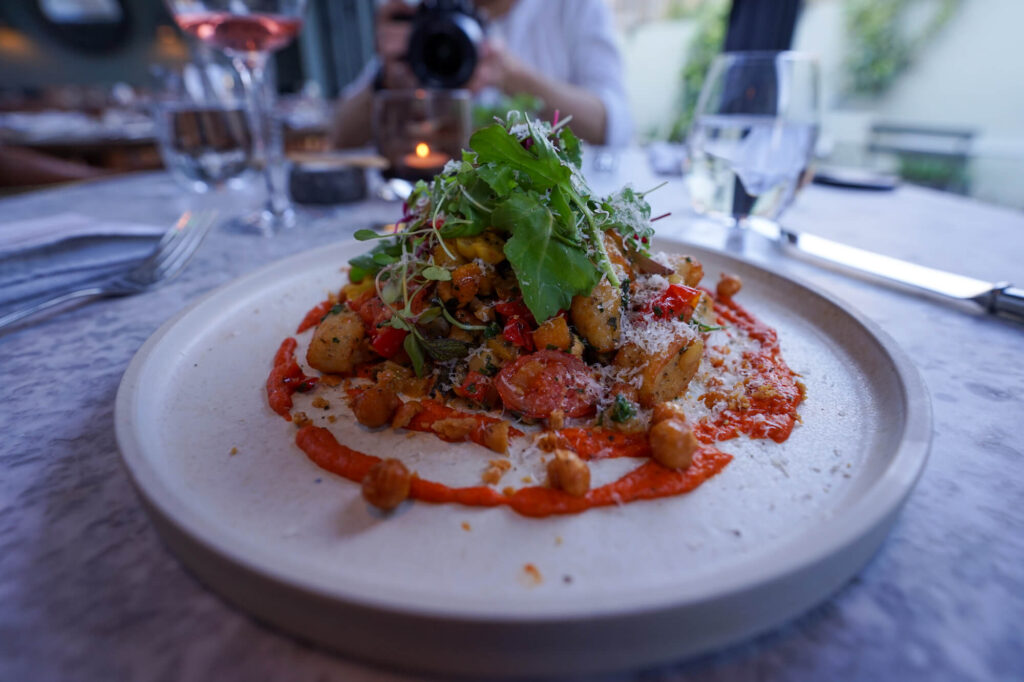 Cantina No. 6
Cantina No. 6 looks out over Braye Beach and servesa selection of delicious tapas. This is your warning that the portions are big and very filling for tapas so keep that in mind if you are planning to eat out tonight. 
They also serve burritos which are delicious and also very generous in size.
Cantina No. 6 is open for breakfast, lunch and dinner as well as takeaway. There is a small balcony downstairs where you can sit and enjoy a drink outside. 
Open 10.00-14.30 and 18.00-21.00 everyday apart from being closed on a Sunday and Monday.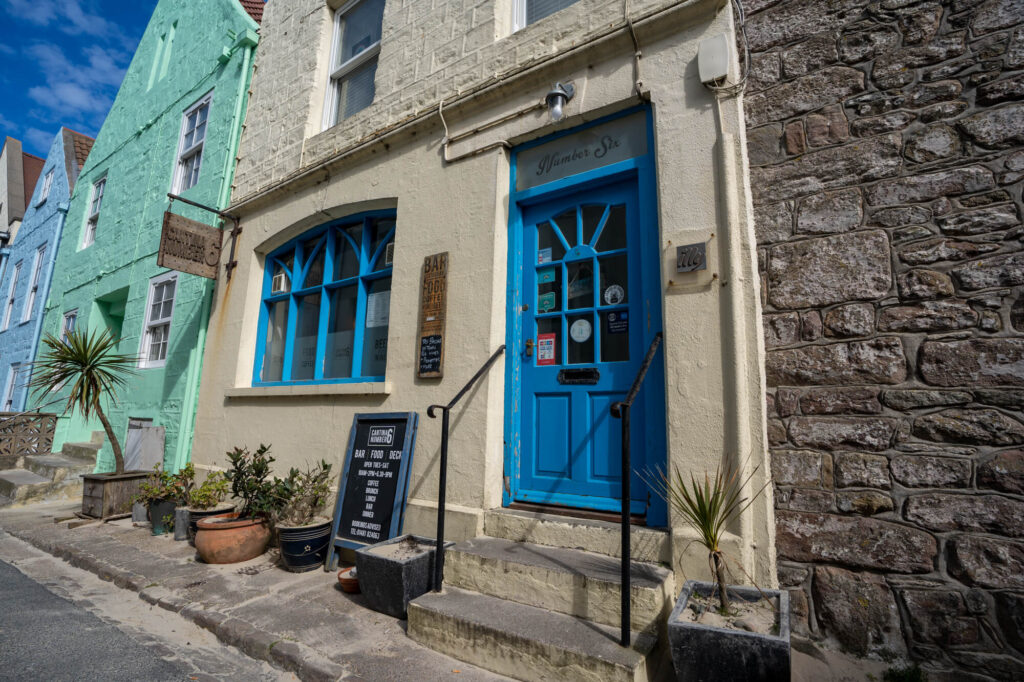 The Vaults
The Vaults is a steakhouse restaurant situated downstairs in Braye Beach Hotel. It also offers vegetarian options and a selection of sides. This restaurant is also popular for cocktails and has a range to try on the menu.
Open Wednesday – Sunday 18.00-00.00. Closed Monday and Tuesday.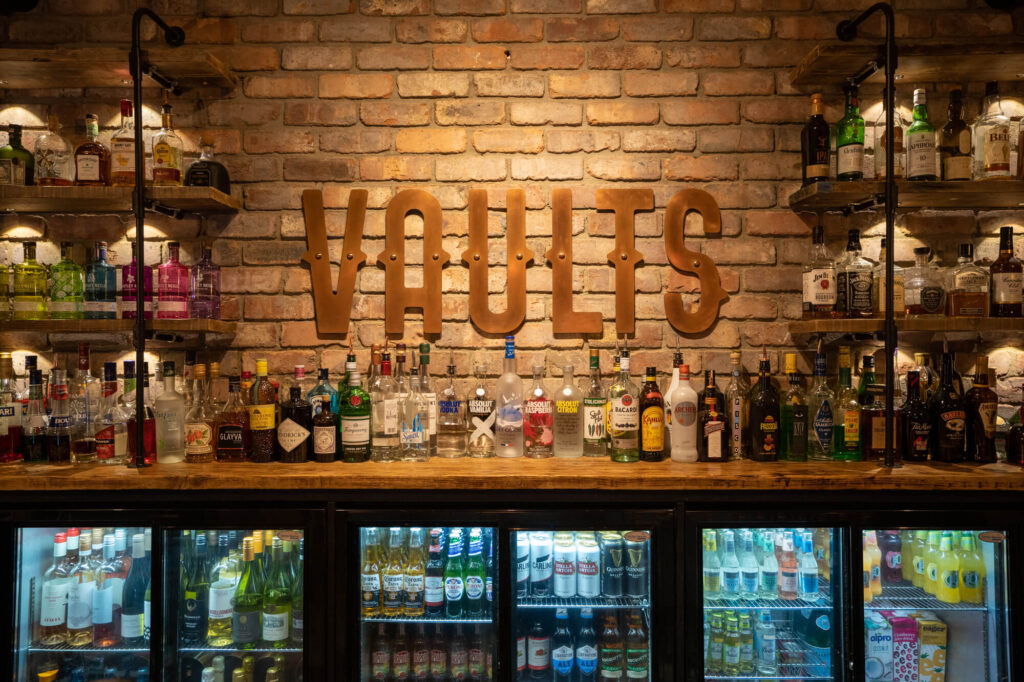 Georgian House
The Georgian House is located in the heart of St Anne on Victoria Street. Upon entering, you will feel like you are entering into a pub. When you go upstairs you will find yourself dining in a gorgeous open plan conservatory with beautiful views of the sun setting over the roofs outside.
The portions in here are massive. We can highly recommend the black bean burger. It comes on it's own so you can choose a side. We ordered a side of french fries and a side of triple cooked chips and we couldn't finish either of them. We have also heard the sharing desert platter is incredible too but of course, we were too full to taste it for ourselves.
The restaurant is open 12.00-14.00 and 18.00-21.00 Monday- Saturday. Lunch only on Sunday.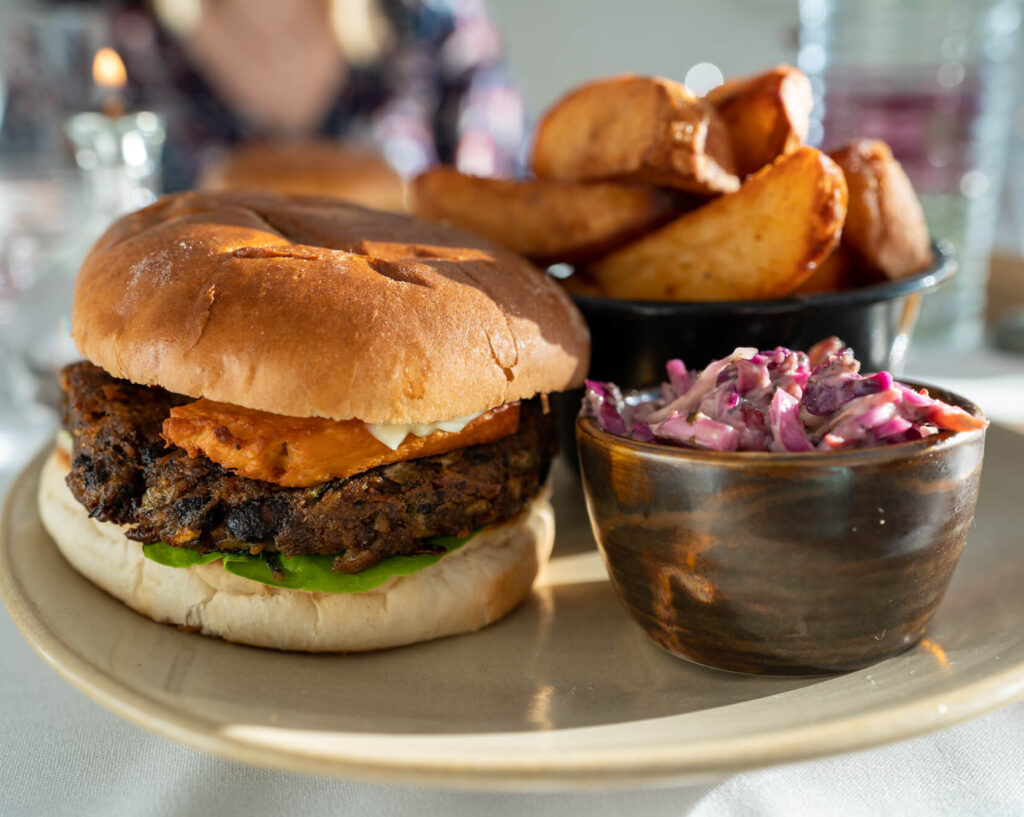 Nellie Gray's
The only Indian Restaurant in Alderney and a restaurant not to be missed. Nellie Gray's sits on the high street in Alderney
We enjoyed a vegetable korma and rice with some naan breads along with a glass of wine and a cobra for £35!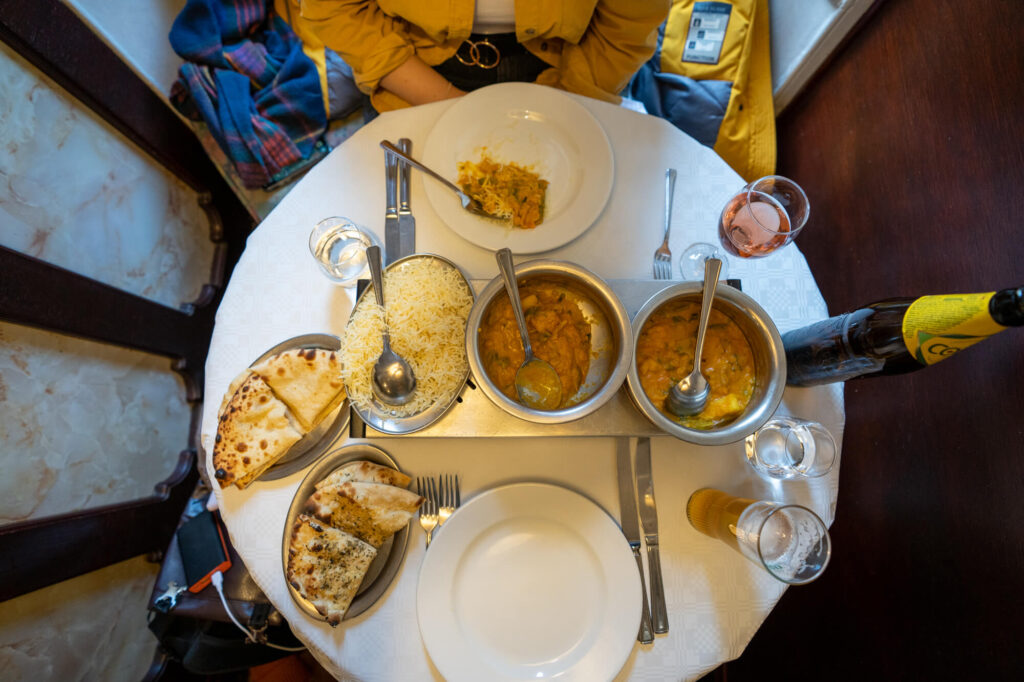 Mel's Tearoom
Mel's Tearoom is the perfect place to stop and grab a bit to eat if you are in a hurry. They also offer take away if you are unable to sit in. 
We enjoyed a falafel wrap from Mel's Tearoom and I hear they also have delicious cakes. 
Open 10.00-16.00 daily expect from Wednesday and Sunday.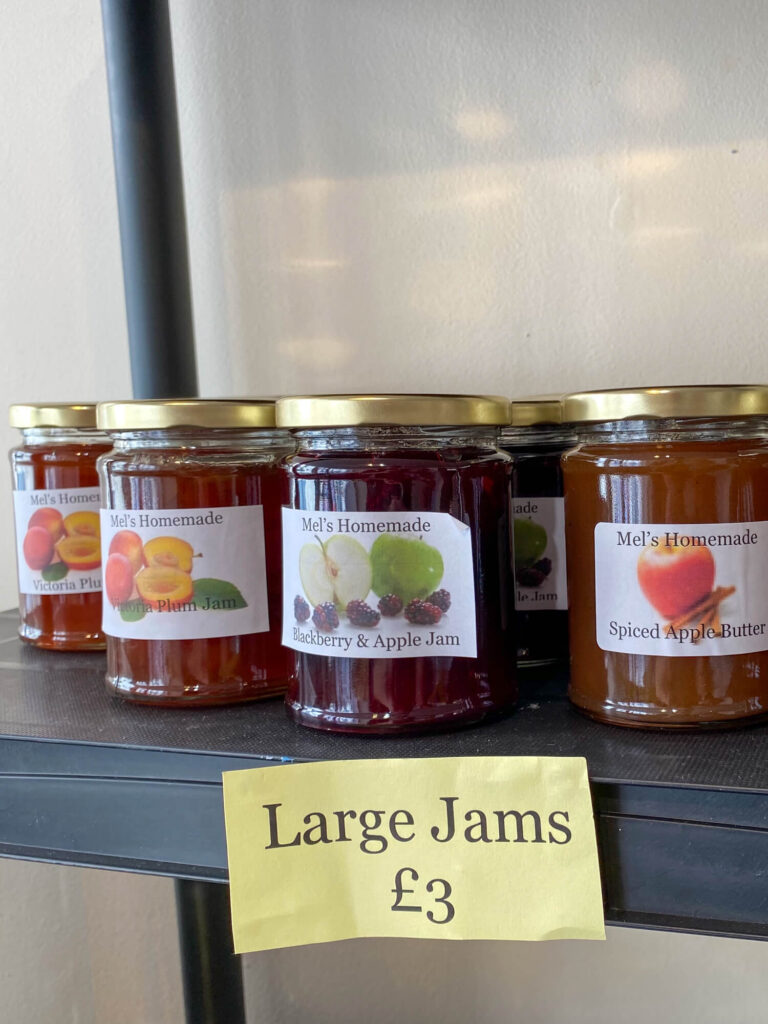 Before You Leave for Alderney
Before you leave on your trip to the beautiful island of Alderney, there are a number of things you will need to organise to ensure a smooth and stress-free trip. These include what to pack, where to stay and what is the best travel insurance for Alderney.
How to Get to Alderney
Given that Alderney is an island, you really have two choices of transport for getting there: plane or boat. Both of these transport methods are available from Guernsey
Ferry to Alderney
During the summer months, there is a second option to get to Alderney and that is by boat. Currently, the boats are only leaving from Guernsey due to the restrictions to travel with France. The ferry options are The Little Ferry Company and Lady Maris II.
Fly to Alderney
Flights to Alderney leave 2-3 times a day from Guernsey. The duration of the flight is around 20 minutes and due to the low number of passengers generally travelling to Alderney, the plane is very small, seating around 10 passengers.
You can browse all of the available flights and routes on the Aurigny website here.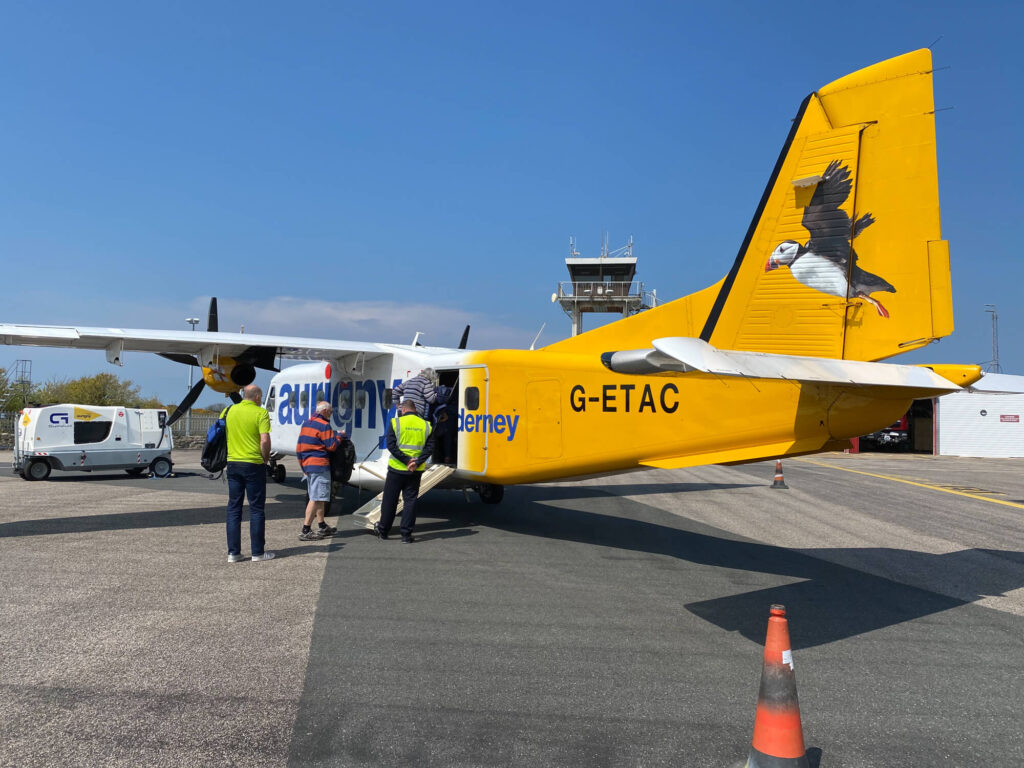 How to get around Alderney
 Depending on what you want to do when you are in Alderney, will depend how you get around. 
Due to the size of the island, it is possible to walk around, especially if the weather treats you well. 
Another option would be to hire a bike or even an electric bike from Cycle and Surf. A push bike costs £14 per day for an adult and £10 per day for a junior bike. Electric bikes are £26 per day. 
If you want to explore Alderney more in depth, we would highly recommend hiring a car. This allowed us a lot more freedom and flexibility. You can hire from Braye Hire Cars for either £38 or £35 per day depending on how many days you are hiring for, all inclusive of fuel.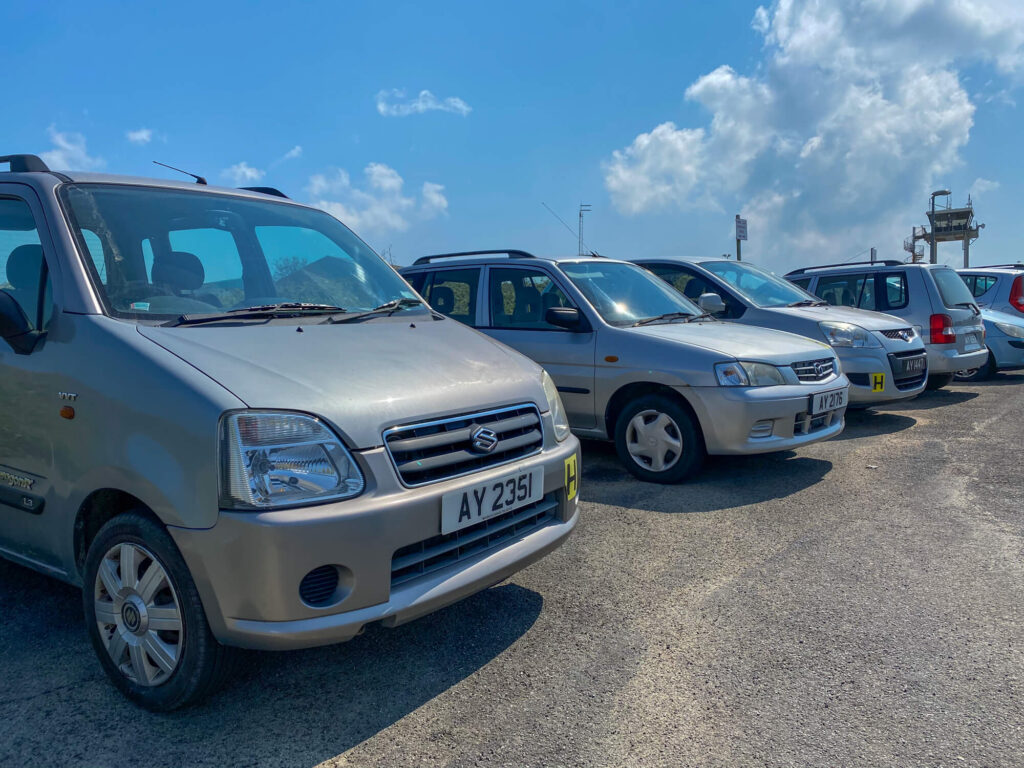 What to Pack for Alderney
What you need to pack for Alderneyy will rely highly on when you make your trip to the Channel Islands. During the Spring and Autumn months, temperatures and weather patterns vary wildly between beautiful sunny skies and storming gales.
The temperatures generally vary from 10 oC to 25 oC during these months, with a mixture between cold, northerly winds and warmer southerlies. There is a small amount of rain, with maybe 1 in 7 days receiving rainfall, which makes it perfect for days out exploring the beautiful island.
During the Summer months in Alderney, temperatures tend to range from 20oC to 30oC, with some days topping 35oC. Summer days in Alderney are perfect for the beach, with many locals and travellers alike sending their day soaking up the sun and playing in the sea. When it comes to toiletries, we recommend that you don't forget to pack sunscreen. The sun in Alderney can be strong, especially in the summer months.
If you need more inspiration on what to pack for your trip, check out our full packing guides for all-weather conditions over here.
Given the beautiful sights and scenery that you will see in Alderney, we highly recommend packing a good camera for your trip. If you want to read more about the cameras we use and why we love them, check out the link below.
What is the Best Travel Insurance for Alderney
Regardless of what type of trip you are heading on, one thing that is essential for everybody is a good travel insurance. Accidents can happen anywhere and at anytime and unexpected hospital bills will ruin a holiday. Remove the stress from your next adventure and get covered for the worst.
World Nomads Travel Insurance provides budget reliable travel insurance that will keep you covered for any level of adventure.
You can get your quote before you leave on your trip right here.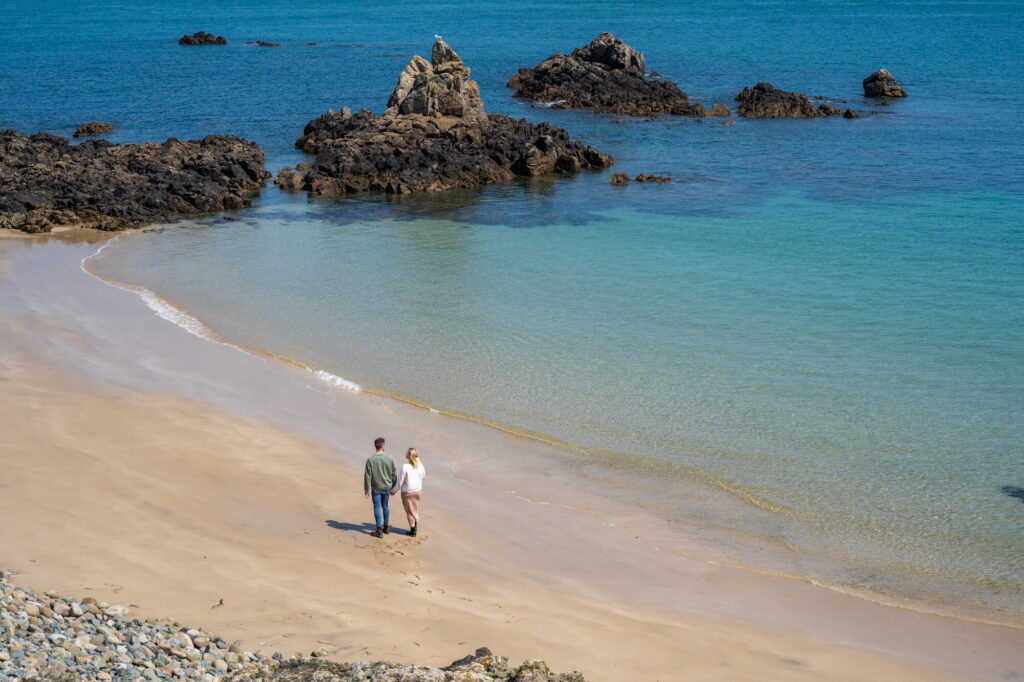 Where to Stay in Alderney
When it comes to accommodation on Alderney, you are simply spoiled for choice with a huge range of hotels, B&Bs and even campsites to choose from. No matter what your preferred level of luxury is, there is the perfect place for you.
Luxury – The top place to stay when you visit Alderney has to be the Blonde Hedgehog. The attention to detail is impecable, not to mention the beautiful interior and friendly staff that make your stay so comfortable. To top it off, the food is fantastic.
Book your stay at the Blonde Hedgehog here.
Mid-range – Spend your time on Alderney in true luxury, overlooking the beach at the Braye Beach Hotel. It's hard to beat those stunning views over the white sandy beach.
Book your stay at Braye Beach Hotel here.
Budget – Being a small island, there isn't much in the way of budget, however there are cheaper options. One of these is the Georgian House. Located on the high street, the Georgian House is in a central location with a restaurant and bar one site. 
Book your stay at the Georgian House here.
Camping – If you are up for a more adventurous stay on Alderney, Saye Beach Campsite offers a secluded camping experience behind the sand dunes, just a stone's throw away for the beach. You can hire a tent at Saye Beach Campsite or bring your own. Visit their website for a full price list of tents and campsites.
So there you have it, the best places to eat in Alderney. This is just some of the many great places to eat in Alderney, and we would recommend that you give them a go if you have the time.
If you enjoyed your trip to Alderney, let us know what your favourite sight on this amazing island was in the comments section below. We love chatting you guys about this kind of thing, so let's share our top experiences with everyone else! What beach was your favourite? Did you try any of the walks? Where was your favourite restaurant?!
Also, make sure you share this article with your family and friends to show them how beautiful the Channel Islands can be. Sharing is caring and we want to inspire as many people as we can to visit this unbelievable part of the world.
If you are planning a trip to Alderney soon then check out our other Channel Islands content right here. Come and find us on social media to see where we are currently exploring. Tag us in your photos from Alderney and we will share them with the rest of our community of explorers and backpackers on our social channels!
This article may contain affiliate links that provide us with a small income. For more information read our Affiliate page.
---
Save this to your Guernsey Pinterest board for later