Easy-peasy Peri-peri Hummus with Peri-peri Drizzle Recipe
One of our favourite snacks/afternoon meals right now has got to be spicy peri peri hummus with peri peri drizzle and warm pitta bread dippers. As an easy, on-the-go cravings cracker, this warming meal is perfect for any cold winter afternoon. It is also delicious with carrot dippers as an extra healthy alternative, and is completely vegan friendly!
Derived from our love of Nandos, we developed this recipe to mimic their mouth-wateringly famous Hummus with Peri-Peri Drizzle, which is now available in the shops for £2 a tub. However, by following our Nandos' hummus recipe and prepping in bulk for the week, you will be able to enjoy this spicy treat for a mere 70p per serving!
That's way better than half price, and if you're eating anywhere as much of it as us (and believe me, after you try it you will be!), you can save £13 a week over 10 portions!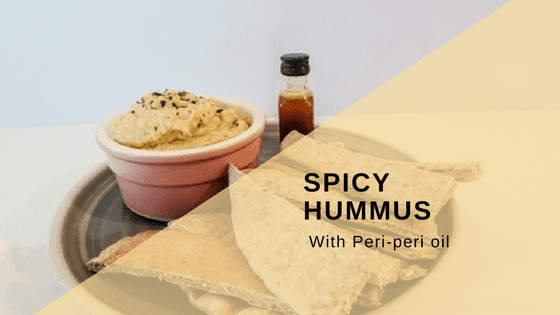 I will admit I am no artisan, Michelin star chef, but after trying my best to replicate the delicious peri-peri oil you get with your hummus, I think I have come pretty close to the real thing. Both the Nando's peri drizzle recipe and the Nando's hummus recipe are incredibly simple, requiring only a food processor or a blender and absolutely no cooking!
What Equipment Do You Need?
Food Processor or blender
Mixing Bowl
Spatula
Storage Containers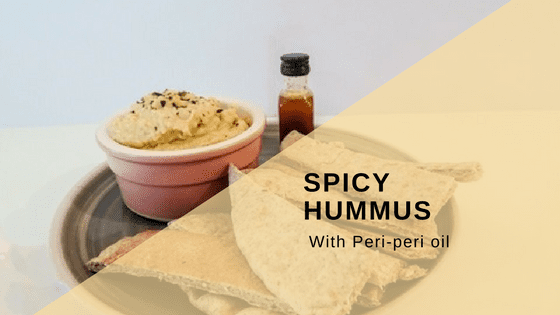 Peri-Peri Hummus Recipe
Ingredients
240g Chickpeas (drained)
1tbsp Tahini paste
3tbsp Lemon Juice, (or two fresh lemons)
50ml Virgin Olive Oil
2 cloves Garlic, peeled and roughly chopped
Pinch of salt to flavour
Good splash of Nandos peri-peri sauce
Method
Add all ingredients to food processor and blast for 2 minutes.
Safely taste your creation to see if you need more lemon or salt, it's your personal preference.
Once the flavour is right test the desired spiciness of your hummus, if you want it spicier then drizzle in more peri-peri sauce
If consistency is too thick add a small splash of water and blend for a further 2 minutes, repeat until you have a thick, smooth hummus.
Turn blender off and scrape clean (lick if necessary).
Peri-peri Oil Drizzle Recipe (Eight 20ml hummus-drizzle servings)
What is Peri-Peri Oil Drizzle?
The perfect accompaniment to your Peri Peri Hummus, this spicy oil mix adds a mouthwatering mixture of spice, tang and smokiness that will leave you desperate for another dip. No portion of hummus is complete without a good splash of this sauce combined with toasted pitta bread for dipping.
What is in Peri-Peri Oil?
50ml Virgin Olive Oil
100ml water
Large pinch of Rock Salt
½tsp Hot Chilli Powder
2 cloves Garlic, peeled and roughly chopped
1 Chilli Pepper, deseeded and roughly chopped
4tsp Smoked Paprika
6tbsp Lemon Juice (or 4 fresh lemons)
1tsp Nandos spice rub
1tbsp Vinegar
Method
Add all ingredients to a food processor and blend until smooth.
Decant into air-tight bottle and store in the fridge.
Shake well before use as the oil and water will separate.
An extra, little tip for you for on-the-go hummus enjoyment, is if you enjoy a Nandos as much as we do then keep your peri drizzle bottles and wash them out for re-use with your own, home-made peri-peri oil! Warm your pittas up on a grill or in the oven if you want an authentic Nandos experience in the comfort of your own home.
Try this out at home and let us know below what you thought of it. Did you like it? Would you add more spice? Or do you prefer hummus without the spice? If you did enjoy this recipe then make sure you share it with your family and friends. Keep your eyes peeled at our Food Corner for more updates and check us out on social media to see what we are up to.
Read Now:
This article may contain affiliate links that provide us with a small income. For more information read our Affiliate page.
---
Pin it for later!