Since we were both kids, two of our biggest passions have been exploring the great outdoors and eating amazing foods. After we quit our jobs and set off around the world, we have spent more time in a tent or camper van than under a fixed roof. This has meant developing and growing our knowledge and skills for preparing amazing, delicious foods with little to no equipment or space. This is a full camping food list of our favourite recipes and best camping hacks for preparing incredible meals with little to no space and equipment.
For the purpose of ease and camping safety, the recipes in this article are all vegetarian. However, if you so wish, you can easily add any form of meat to the recipe.
For the full recipes, check out our complete downloadable camping recipe ebook, for free!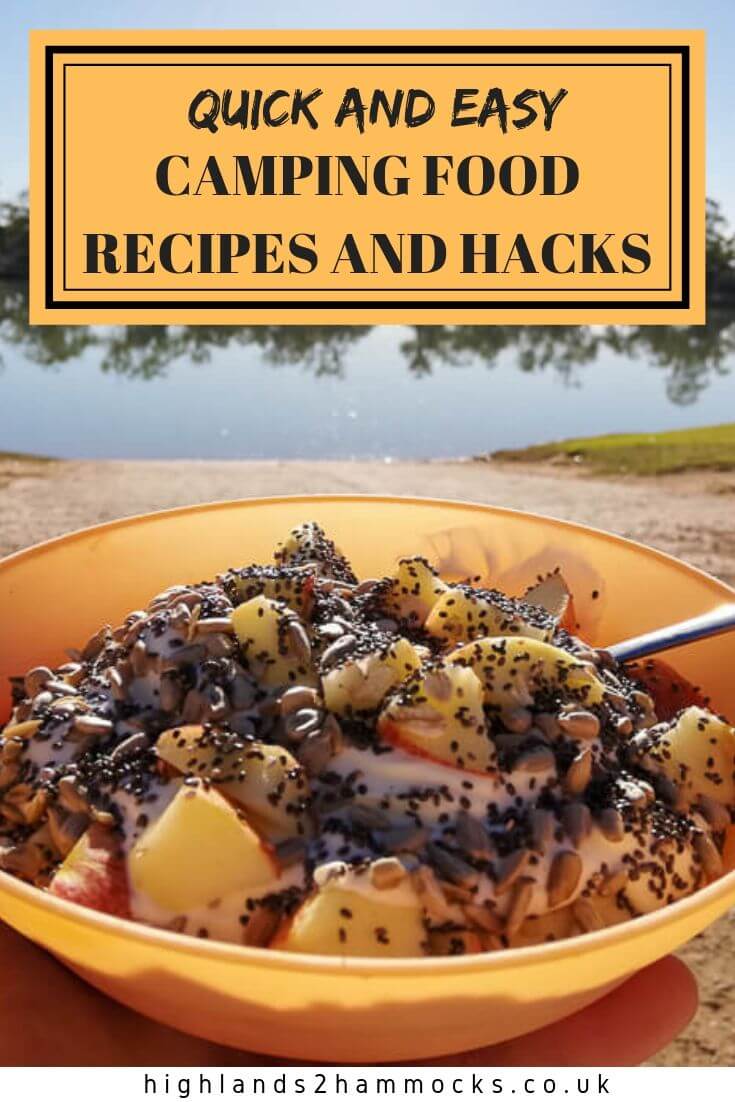 Below is a list of everything in this article. We will be discussing each of the below points in greater detail, so read on to find out!
What to pack for your camping trip
How to store food whilst camping
What equipment to pack for different types of camping trip
Vegetarian camping food list

Granola Bowl with Greek Yoghurt
Omelette and Beans
Protein Porridge with Apple
Panini with Brie and Pesto
Pesto Past and Nuts
Thai Green Curry with Tofu
Veggie Parmigiana with Quinoa and Broccoli
Soft Tacos with Soy Meat
Nasi Goreng with Tempe/ Tofu (Stir Fried Rice)
BBQ Burger and Quinoa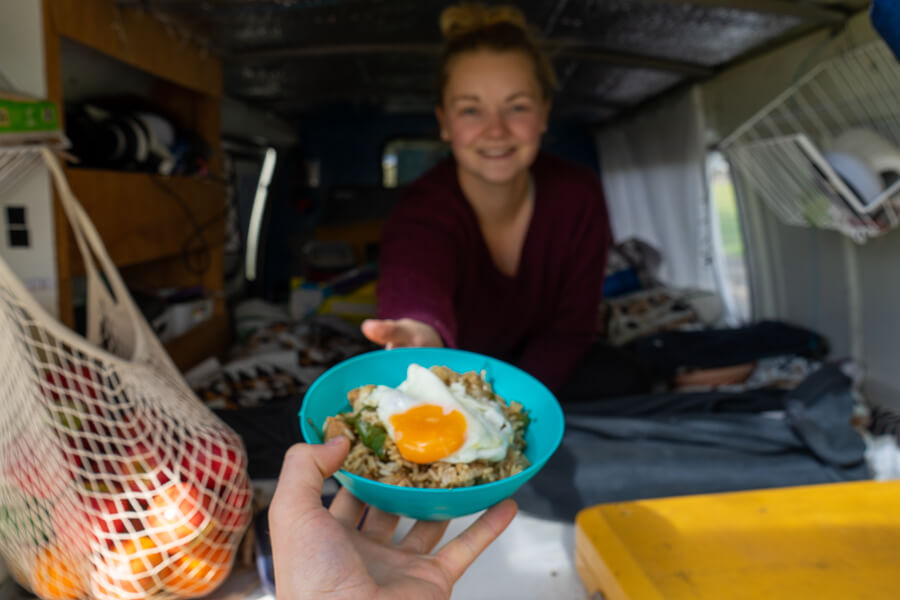 Easy Camping Food List and Cooking Hacks
What Type of Camping Trip are You Going On?
Depending on what type of trip you intend to embark upon will decide on what you will need to pack. Obviously, if you are planning a 3-day hike through the mountains, with nothing but a backpack on your back, you are not going to be packing the same as a 2 day campervan tour along the Great Ocean Road.
Luckily, we have great experience in both backpack camping trips and driving camping trips, so will be able to advise you on what are the best things to pack for both kinds of adventure.
In this guide we will discuss what to pack for both a backpack and a vehicle, assuming that everything you take in your backpack, you will also take in your car.
Also Read – Wild Camping Essentials – A Complete Guide to Wild Camping
How to Store Food While Camping
The most difficult balance when packing food for a camping adventure is trying to balance nutritious, fresh food with the ability to carry and store it. Majority of fresh foods require a fridge in order to maintain their freshness over 2 or 3 days, however if you are hiking the mountains, I doubt you will be carrying a fridge with you.
For camping journeys over one night long, we strongly suggest using mostly dried, tinned and vegetarian foods, as these are the easiest to store and prepare whilst camping. Meat is definitely the heaviest and most difficult food to keep fresh when you have little to no fridge space, and is also the most dangerous if it is not stored appropriately.
How to Store Food in a Backpack
The easiest way to store food for a backpack camping trip is to avoid any foods that contain large amounts of water, ie. tinned food in brine. The recipes that are optimal for backpack camping trips are all highlighted later on.
The easiest way to minimise the weight of your pack is to simply be prepared. Plan what meals you are going to cook and portion out the amounts of rice/pasta before you leave, in order to minimise excess food. Also prepare any vegetables and sauces that you are going to cook and store them in lightweight plastic tubs.
If you are not wanting to do much cooking, there is a huge range of dried camping foods that are super easy to prepare and weigh little to nothing. If you are from the UK, we can highly recommend Firepot Food for their all natural, dehydrated meals and eco-friendly, compostable packaging.
If you are from elsewhere in the world then you can view all of the best dried foods here.
How to Store Food in a Vehicle
All of the camping trips we have done by vehicle (both car and tent, and camper van) have involved the use of a 12v fridge. These small fridges are a fantastic way of storing the perishable items such as milk and leftover food for longer journeys. Using both 12v and 240v, you will be able to run it in your car whilst you drive and then connect it to campsite electrics when you stay on site.
During our wild camping trip around the North Coast 500 in Scotland, we used this 25L fridge. Quiet, reliable and surprisingly large, this is the perfect portable fridge for your next camping trip.
Get your own portable fridge here.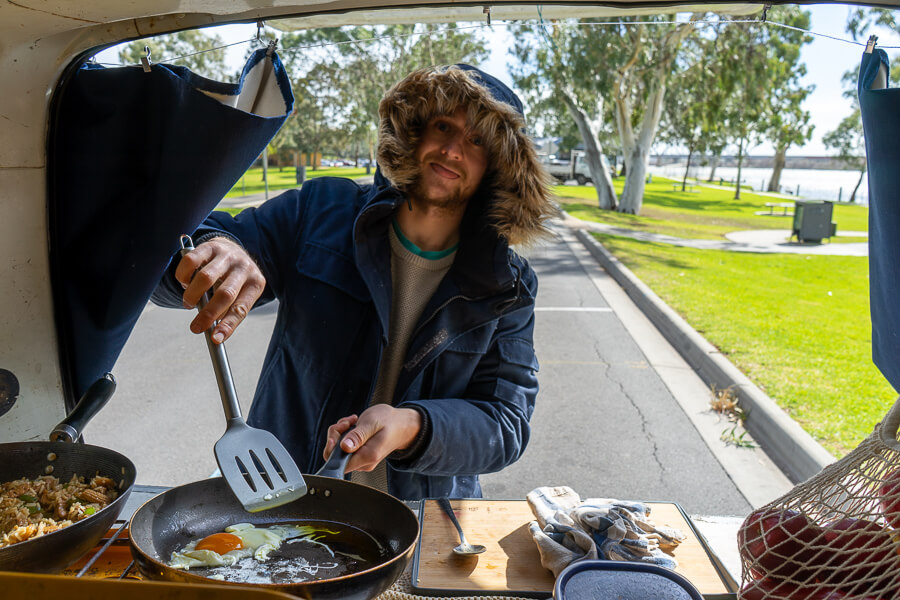 Also Read – Glamping on a Budget – Packing List
Equipment to Pack for Cooking Whilst Camping
In order to save money on your next trip, or simply to survive on the more remote camping trips, there are certain pieces of equipment that you will need to pack. Here is our list of must-have items for both backpack camping and vehicular camping.
Backpack Camping and Driving Camping
The following items will be required if you are carrying all of the equipment on your back. Obviously, the lighter the equipment is the better, so we recommend spending a little more money on it if you want good quality.
Driving Camping
In addition to the above equipment, camping with a vehicle allows you to pack a few more luxuries without getting weighed down. We always pack the following items to ensure our road trips run smoothly.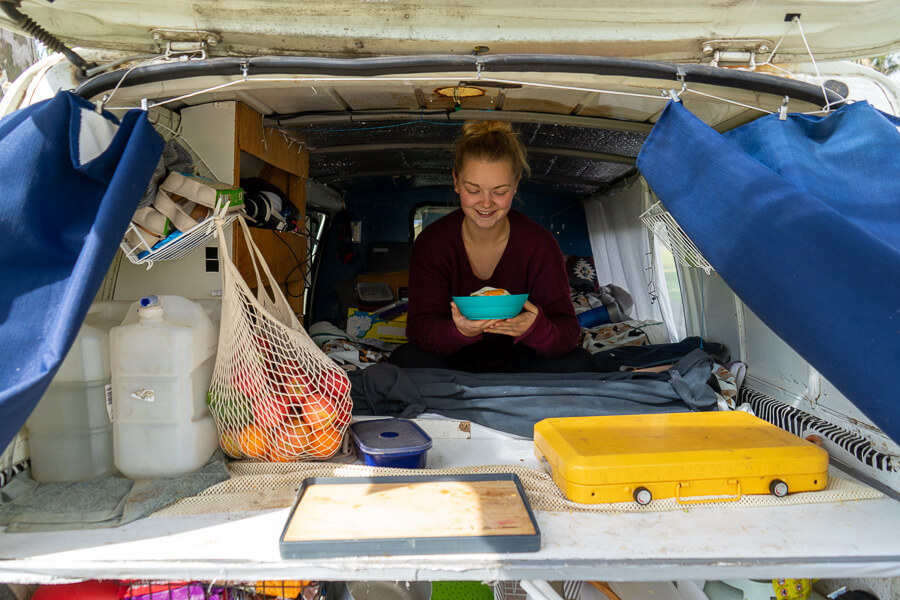 Also Read – Wild Camping North Coast 500 – The Best Places to Wild Camp
The Best Vegetarian Camping Food List and Recipes
No matter what kind of camping trip you are off on, what time of year you are braving the weather or what your preference in food may be, these camping recipes are perfect for you. Easy to make, quick to whip up and all deliciously nutritious, here are our top ten favourites from our months living in a van.
For the full recipes, check out our complete downloadable camping recipe ebook, for free! 
Breakfast
Granola Bowl with Greek Yoghurt
A light, summery classic when it comes to starting the day, a home made granola mix is always delicious. For this recipe, I always stocked up on fruits and a carton of yoghurt to last the week, getting a good portion of healthy fruits in before the day has even began.
All you need to make your own healthy, granola bowl is some rolled oats, a selection of fruits such as an apple, strawberries, blackberries and blueberries, a handful of nuts and seeds like sunflowers seeds and chia seeds, and a yoghurt of your choice.
If you wish to make this a vegan breakfast, simply swap the yoghurt for a plant-based alternative.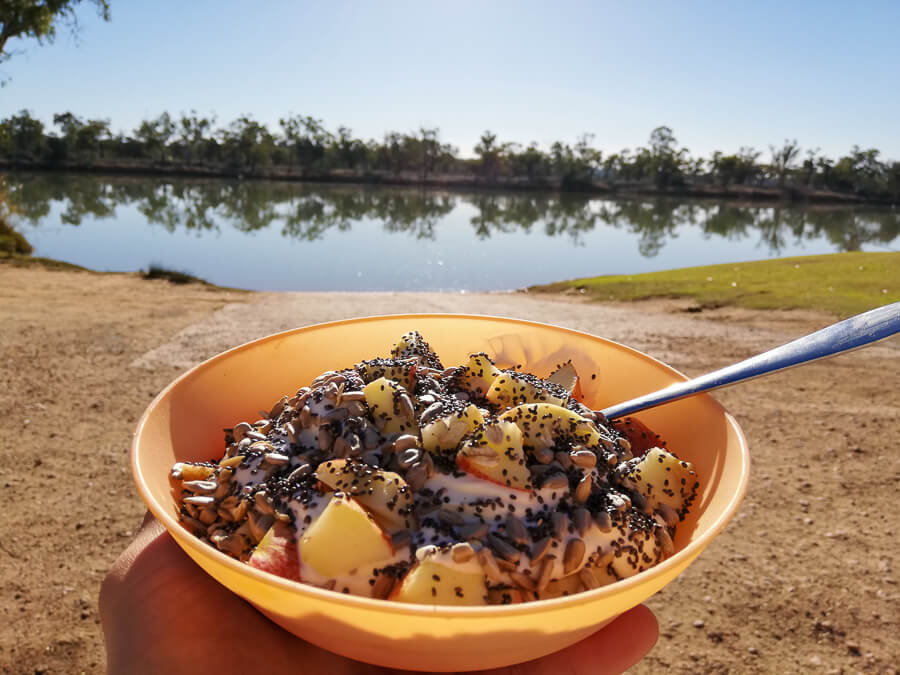 Omelette and Beans
Easy to make and super quick for a cold morning, an omelette and beans is always a favourite of ours. The best thing about making an omelette is that you can simply chuck in whatever leftovers you may have, such as peppers, onions, and cheese.
This recipe is quicker made if you have two hobs, however if you are limited to one, the best way to make it is cook the omelette first and cover it with a plate to retain heat whilst you heat up the beans.
If you want to, you can even fry up some bacon or add ham to the omelette to use up any leftovers you have.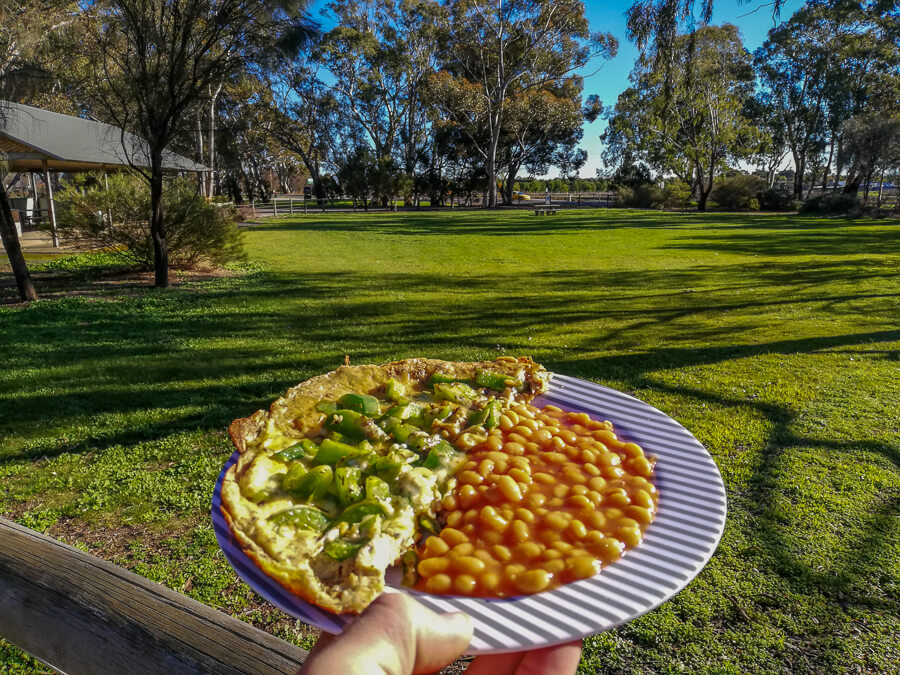 Protein Porridge with Apple
A Scottish classic and definitely my favourite start to the day when we were camping through the winter in Australia, protein porridge is an easy belly warmer. This one-pot breakfast is not only quick to make but it is also super cheap.
Start off with some quick-to-cook rolled oats and soak them in a liquid of your choice for 15 minutes. This can be any form of milk (cows, almond, oat etc.) or simply water. Once the oats have softened, heat them on a low heat for 10 minutes, stirring continuously until the liquid begins to thicken.
Add in a heaped tablespoon of peanut butter (or other form of butter) and stir through the mixture until it is blended in. Once it has reached a texture slightly less thick than you would like, remove the heat and plate up. Top with your choice of fruit (chopped apple for me) and a dashing of chia seeds.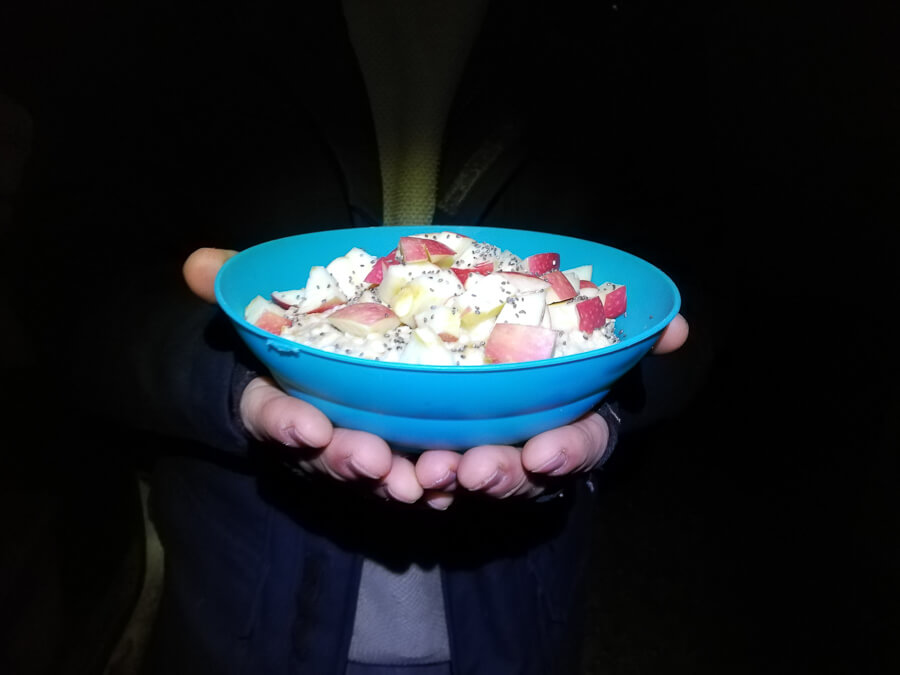 Lunch
Panini with Brie and Pesto
Is there anything more simple and delicious than a tasted sandwich? If you are in a hurry, a classic cheese toastie is always the way to go. We like to jazz our tasted sandwiches up a bit with some brie cheese and pesto sauce as a topping.
All you need for this is some nice bread, a small wheel of brie and a jar of pesto. Coat your frying pan with olive oil for some additional flavour and fry the bread on a low heat on both sides for 3 minutes.
Add ham to this toastie if you want a bit of meat for your lunch.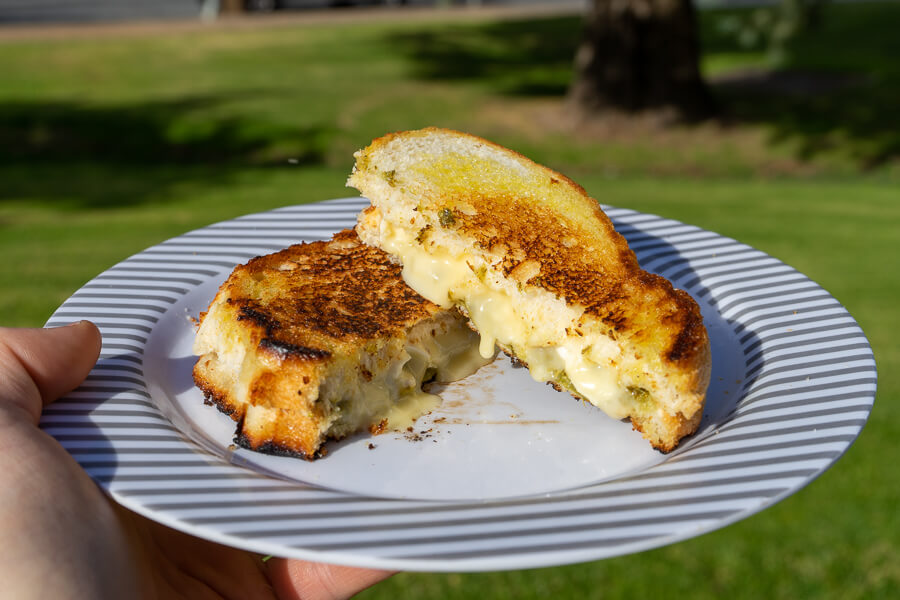 Pesto Pasta and Nuts
Another amazing one-pot recipe, always guaranteed to please. Pesto pasta with a garnishing of nuts and seeds has long been our go-to work lunch for when we are tired and hungry.
All you need for this recipe is a jar of pesto, a handful of pasta and some nuts and seeds of your choosing, we normally go with cashew nuts and sunflower seeds. Throw in some red, capsicum peppers for a bit of extra flavour and top with parmesan cheese.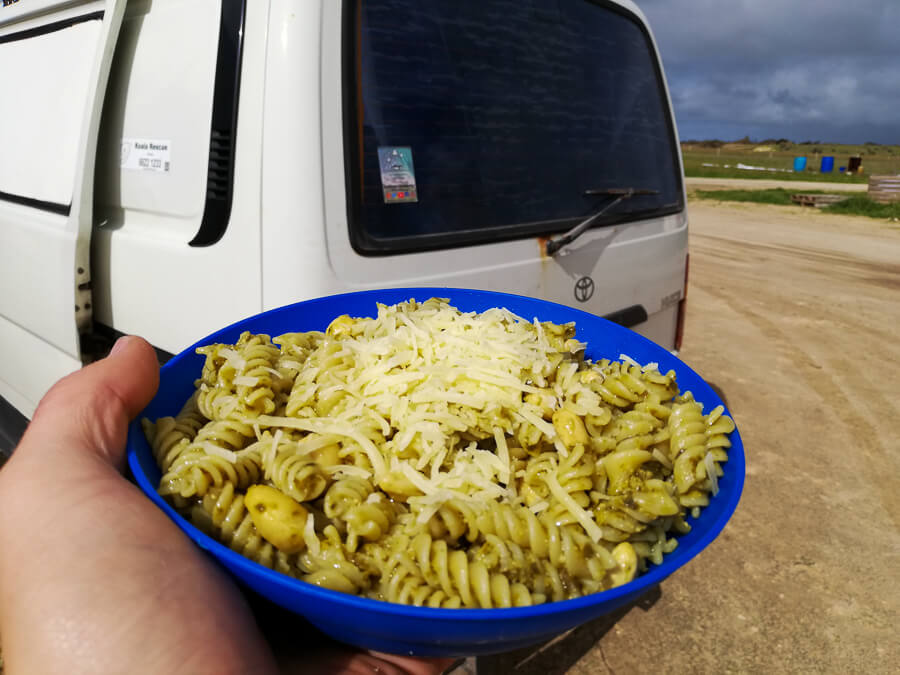 Thai Green Curry with Tofu
A simple dish for all the camping curry lovers out there, Thai Green Curry is a favourite of ours. Jars of Thai Green Curry paste have a long shelf life and no storage conditions, making it perfect for camping trips.
In addition to the paste, you will need coconut milk, as well as a choice of vegetables such as capsicums peppers, bean sprouts, water chestnuts and baby sweetcorn. This dish is also best served with boiled rice.
Preparing the tofu is often an intimidating thought, with many people being put off by ill preparation. In fact, I would go as far as saying "if you think you don't like tofu, you have simply never tried well-prepped tofu".
The secret is to remove as much moisture as you can from the block, before replacing it with a delicious marinade instead. Wrap the block of tofu in kitchen roll and place it under something heavy for 24 hours, changing the wrap every 12hrs.
After you have done this, all you need to do is cut it up and marinade it in some diluted Thai Green Curry paste for a couple of hours before cooking.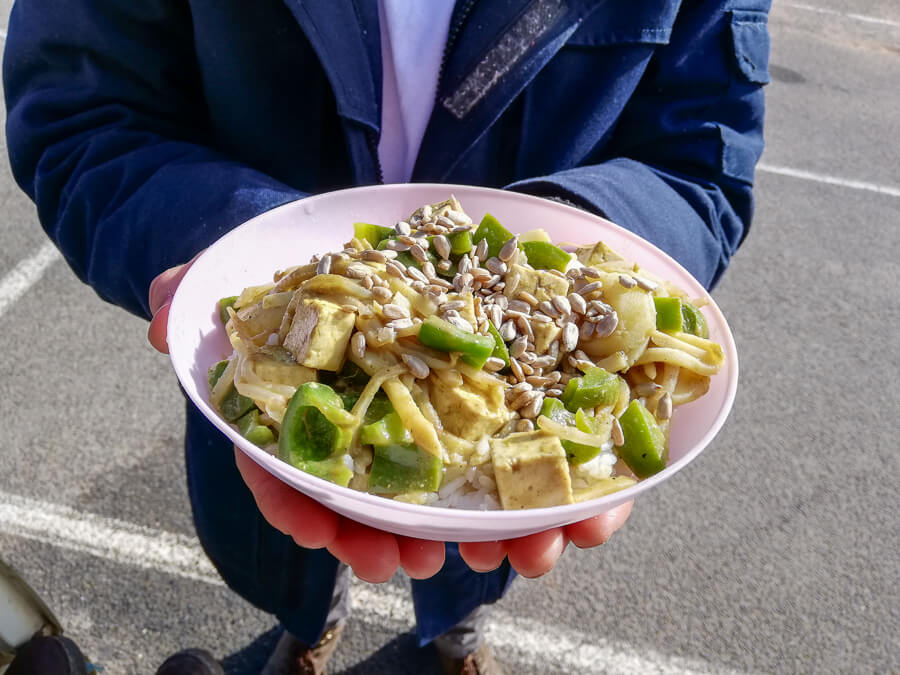 Dinner
Veggie Parmigiana with Quinoa and Broccoli
An easy meal with not a lot of cooking involved is our Veggie Parmigiana and quinoa. This is an incredibly easy recipe as it mostly involves tinned and pre-made foods, such as the vegan chicken patties, the quinoa packet and the tomato sauce.
If you wish to make your own quinoa, check out these amazing quinoa recipes for inspiration. As for the tomato sauce, all you will need is a jar of chopped tomatoes, salt, pepper, mixed herbs and smoked parika. Simmer the chopped tomatoes and add in a pinch of all of the above, removing from heat when the paste has reached a thick, saucy consistency.
For a "chicken" pate that you would not believe was vegan, have a look out for the Unreal Co. range of foods in supermarkets across Australia. They are currently only available here, however they will hopefully be distributing worldwide soon.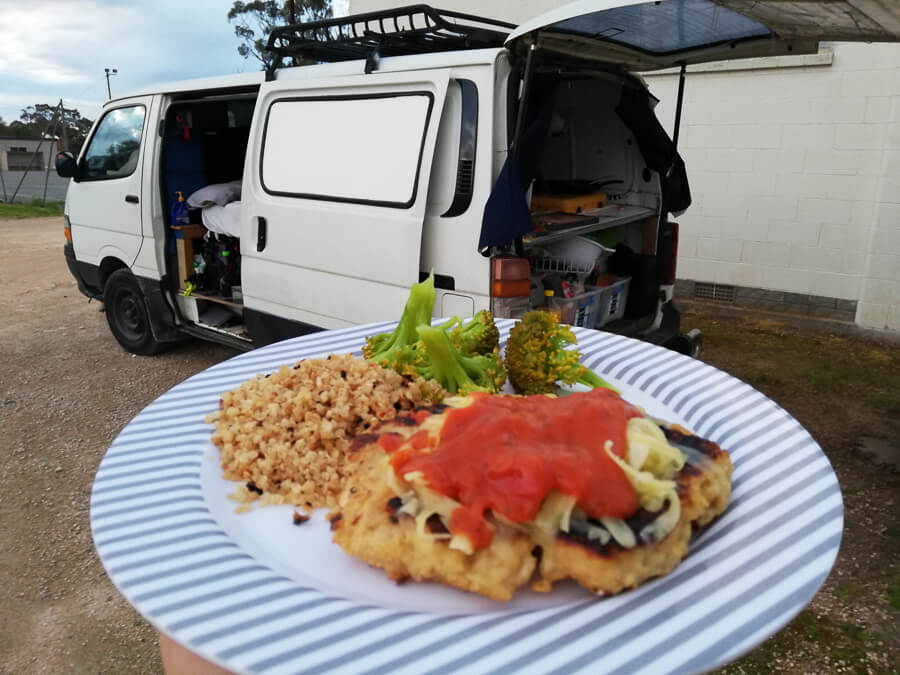 Soft Tacos with Soy Meat
Another super easy meal to prepare, we like to use the pre-packed taco meal kits for ease on the road. If you want to create your own, all you will need is small wraps, tomato salsa (see the above recipe and add a bit of chilli powder), fajita seasoning and the toppings discussed below.
In addition to the soft taco packets, we add in sweetcorn, soy meat and top it with cheese. If you wish to have meat in this dish, minced beef is the perfect accompaniment for this recipe.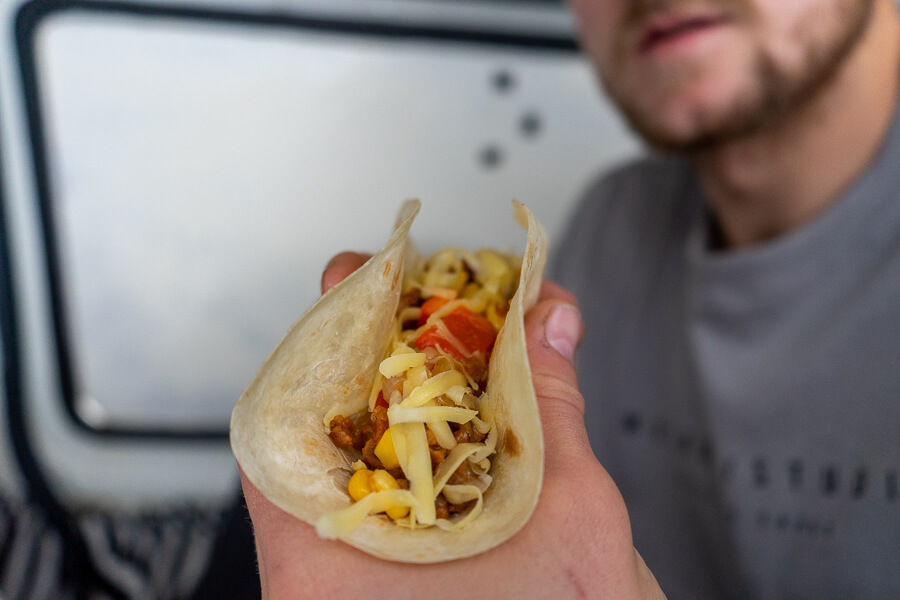 Nasi Goreng with Tempe/ Tofu (Stir Fried Rice)
Our staple dinner from our time in Indonesia and our favourite rustle-up dinner, fried rice with tempe or tofu is simply delicious. Not only is this a really quick dish to make, it is also very simple, with very few ingredients.
All you need for your own Nasi Goreng recipe is boiled rice, soy sauce, black pepper, Chinese five spice and sesame seed oil to top it off. You want to prepare the tofu/tempe as discussed below, before frying it off until browned. Then you can add in your choice of vegetables, such as capsicum peppers, been sprouts and water chestnuts. Mix in the rice and voila!
To prepare the tempe or tofu, the secret is how you marinade it. The tofu will need to be drained as much as possible to remove the excess moisture, which can be done by wrapping the black in kitchen roll and sitting it under a heavy object for 24 hours, changing the wrap every 12hrs. Chop both the tempe and the tofu up and marinade them both in a 50/50 dilution of water to soy sauce for 1-2 hours before cooking.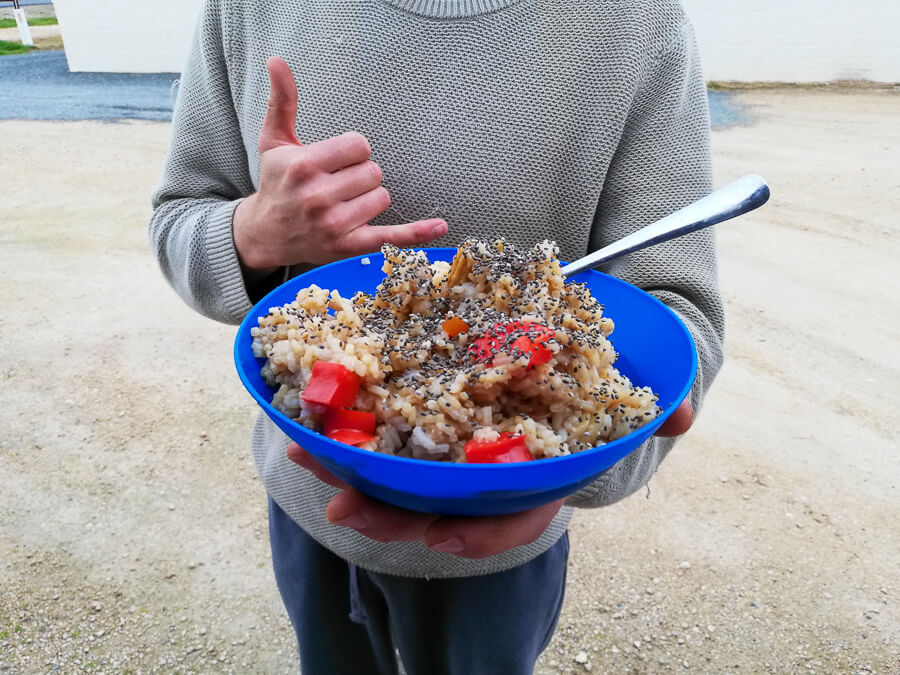 Burger and Quinoa
No camping trip is complete without a good old-fashioned BBQ or simple, stove top burger. A vegetarian patte, topped with chipotle sauce and cheddar cheese, sitting on a warm, brioche bun is definitely the best way to celebrate a day in the outdoors.
We like to side our burger with a portion of quinoa and steamed broccoli, both of which can be cooked at the same time using the steamer tray.
For a pate that you would not believe was vegan, have a look out for the Unreal Co. range of foods in supermarkets across Australia. They are currently only available here, however they will hopefully be distributing worldwide soon.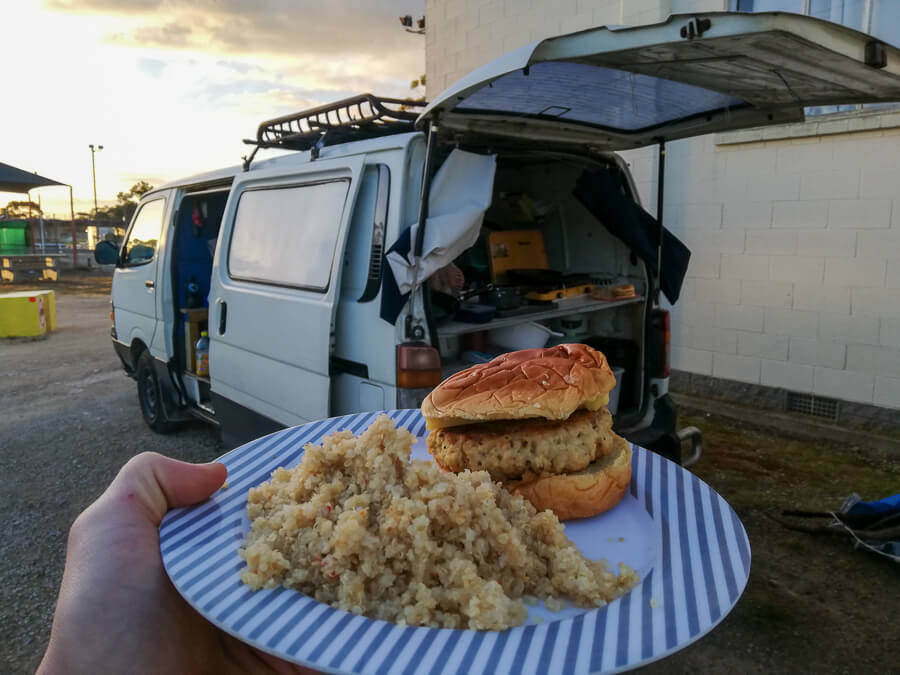 So there you have it, the best vegetarian camping food recipes and hacks from our years of experience living life on the road. If you have tried any of these recipes for yourself, let us know how they went in the comments section below. What are your go-to camping recipes? What can you not go camping without? How do you like your porridge: salt or cinnamon? (A long-term debate between Gemma and I..). Let us know in the comments below.
If you enjoyed this article and are preparing for your own camping adventure, make sure you check out the rest of our camping hacks over here. Remember, sharing is caring, so if you enjoyed this article then hare it with your friends and family so they too can enjoy the beauty of the Great Outdoors.
If you used this guide to help you plan your camping recipes, let us know how you found it. You can catch up with us over on our social channels to see where we currently are, and tag us in your photos to show us you enjoying your own camping adventure for us to share it with the rest of our community!
Now Read:
This article may contain affiliate links that provide us with a small income. For more information read our Affiliate page.
---
Pin it for later!