One of the best ways to avoid food waste is by making a leftovers pizza. In this post, we share our favourite recipes for an Italian style tomato-based pizza and also an Indian style chasni sauce base. So you can take your pick of which flavour you fancy. This is a really tasty meal that is really easy and cheap to make. This is our recipe for an awesome, homemade leftovers pizza.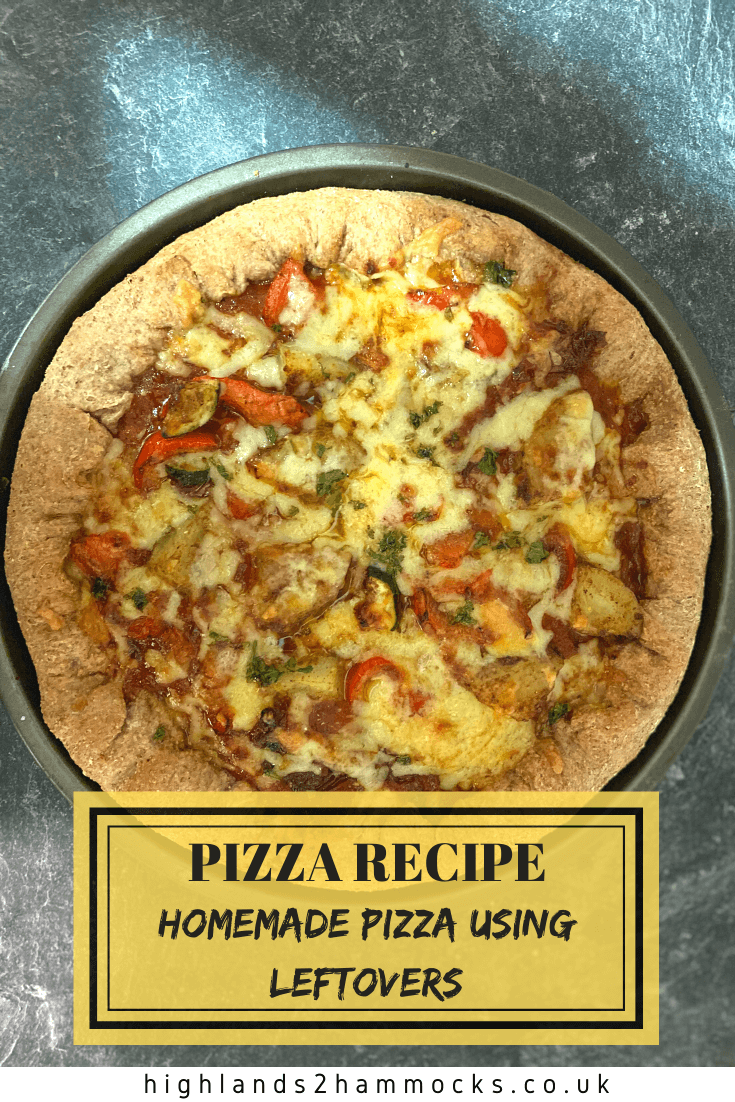 For the below recipe we have listed a couple of simple topping items, however, as always, this pizza is customizable which is why we have given you the option of two sauces. You can put whatever you like best on a pizza and that's why it's perfect for using up leftovers.
Ingredients
Base
Ciabatta bread mix
Extra flour for dusting
Water 350mL
Pinch of salt
Chasni Sauce
1 onion
1 can chopped tomatoes
1tbsp curry powder
1 tbsp tandoori masala powder
a handful of finely chopped corriander (keep some to garnish)
a handful of finely chopped mint
2tbsp olive oil
2 tbsp mango chutney
1tbsp tomato ketchup
200ml vegetable stock
salt and pepper
Tomato Based Sauce
Chopped tomatoes 400g
Tomato Puree 2tbsp
Basil 1tsp
Oregano 1tsp
Mixed herbs 1tsp
Pinch of salt and pepper
Toppings
Cheese 300g grated
1/2 courgette
sundried tomatoes
Pepper 1 diced
2 potatoes
Crust
Mozerella or your preferred cheese.
Method
Base
Start off by preparing the base. Take the ciabatta bread mix and empty it all into a large mixing bowl. Add the oil, salt and a small splash of water and begin mixing it in, continuing to add the water in small amounts.
Once the water is completely mixed in and you have a sticky dough, dust a clean countertop with the excess flour and start to knead the dough into it. If it is sticking to your hands add more flour, it should be able to fold in half with the seam disappearing without sticking to your fingers. Knead the dough for about 10 minutes, folding air into it.
Now place the dough ball back into the large bowl and dust the top with flour. Place a warm, damp towel over the bowl and leave in a warm place for 30 minutes. As we wait for this to rise we can prepare the meat toppings and sauce.
Sauce
For the tomato sauce, add all ingredients into a pot and heat until it is bubbling. Reduce the heat and simmer for 15 minutes or until you think it is thick enough. It should be about the consistency of the tomato puree paste. Once it has reached this, turn off the heat and leave it at the side.
For the chasni sauce cook the onions in the oil until they are soft. Then add the rest of the ingredients apart from the creme fraiche. Cook until the sauce becomes thick and taste test throughout to make it to your preference. Blend the sauce until there are no lumps. Put it back on the heat and stir in the creme fraiche, making a nice creamy consistency.
Toppings
Boil your potatoes and place the rest of your vegetables onto a tray. Sprinkle salt, pepper, tikka masala powder and garlic granules on top. Pre-heat the oven to 200oC (180oC fan assisted) and roast the vegetables.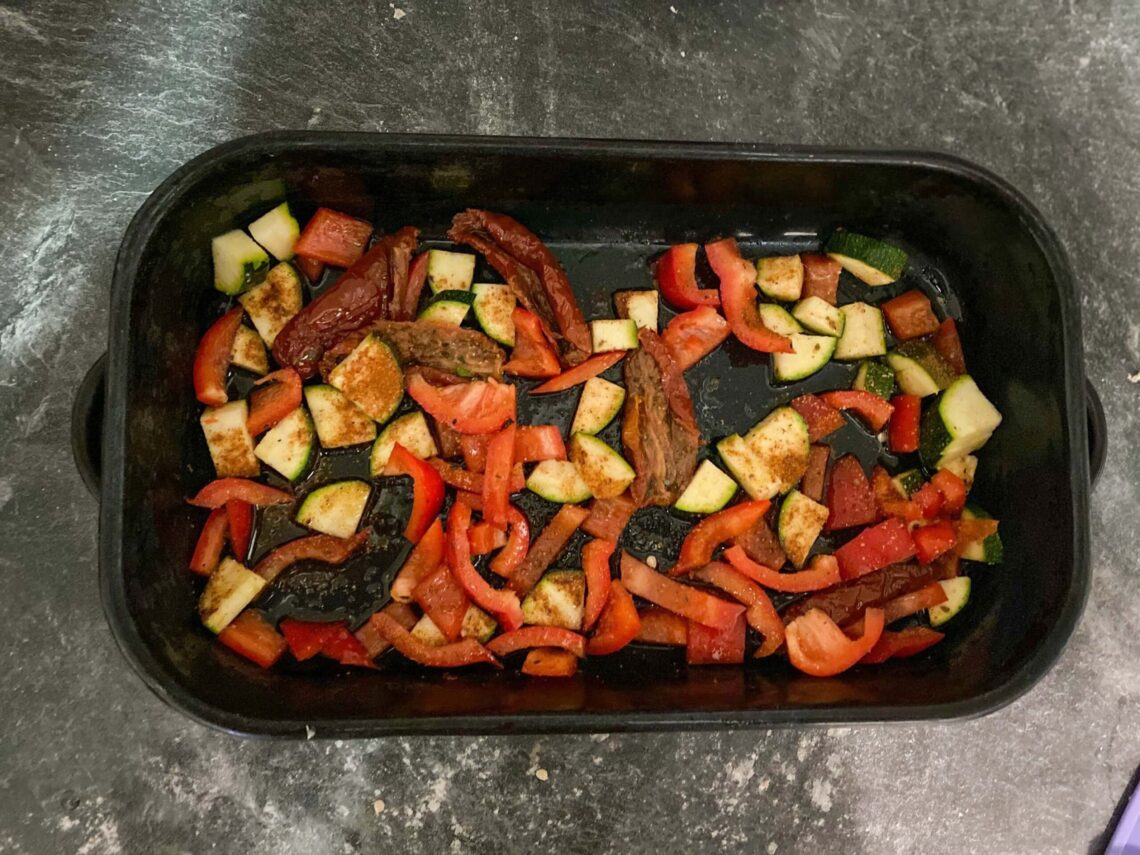 After 30 minutes bring the dough out and dust the counter once more. Knead the dough lightly for one minute and divide it into four portions. The easiest way is to roll it into a fat sausage shape and cut it with a knife. Take two of these portions and freeze for the next time you want pizza. With the other two, knead, squash or roll them into pizza shapes, ensuring to leave a slightly thicker section round the outside for the crust to hold the sauce.
Stuffed Crust
Spray an ovenproof tray with frylight or rub with some oil and place the pizza dough onto it. This is where you will add the mozzarella to the crust if you want a stuffed crust pizza. Par-cook the pizza for 5 minutes and remove from the oven ready for topping.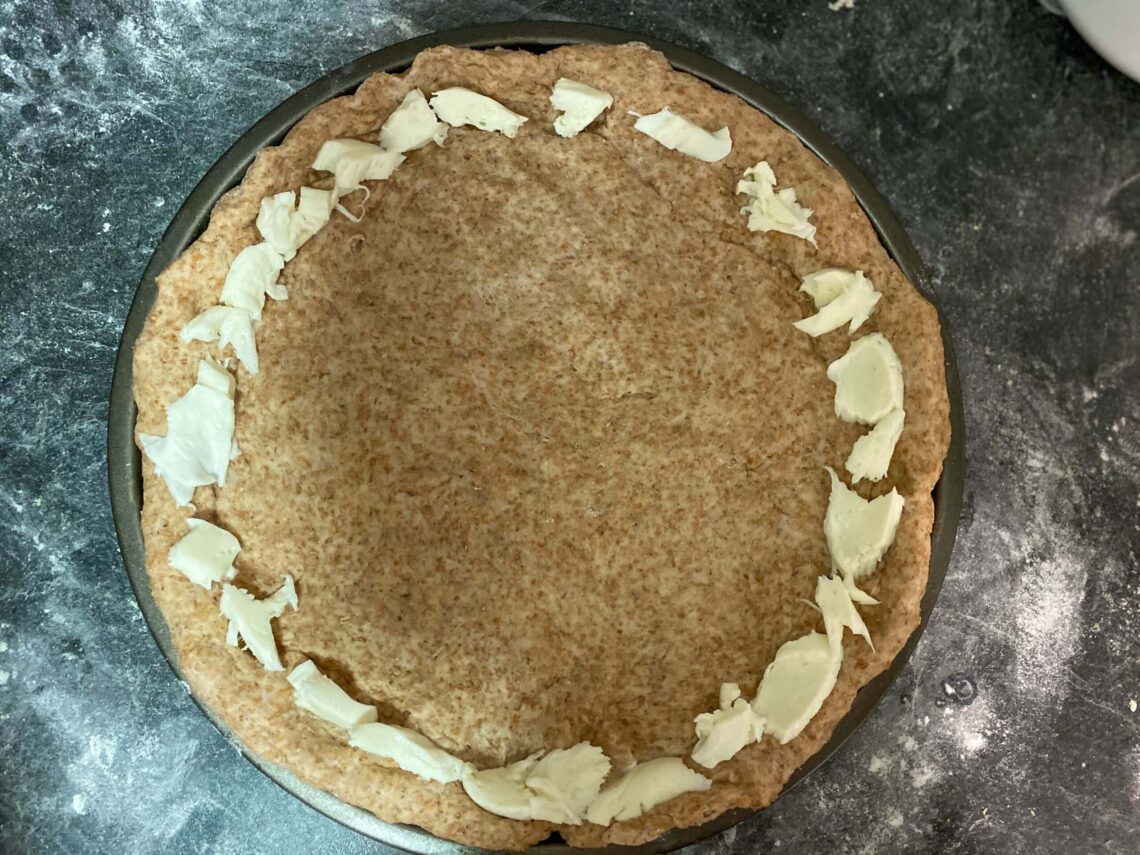 Add together
Spoon the sauce mixture onto each and spread evenly, remember it is better to add a small amount to each pizza and top them up, rather adding too much to one and regretting it.
Sprinkle the vegetables over the top of each pizza, followed by the cheese. Don't worry if it has turned into a mountain, these will reduce in size as the cheese melts.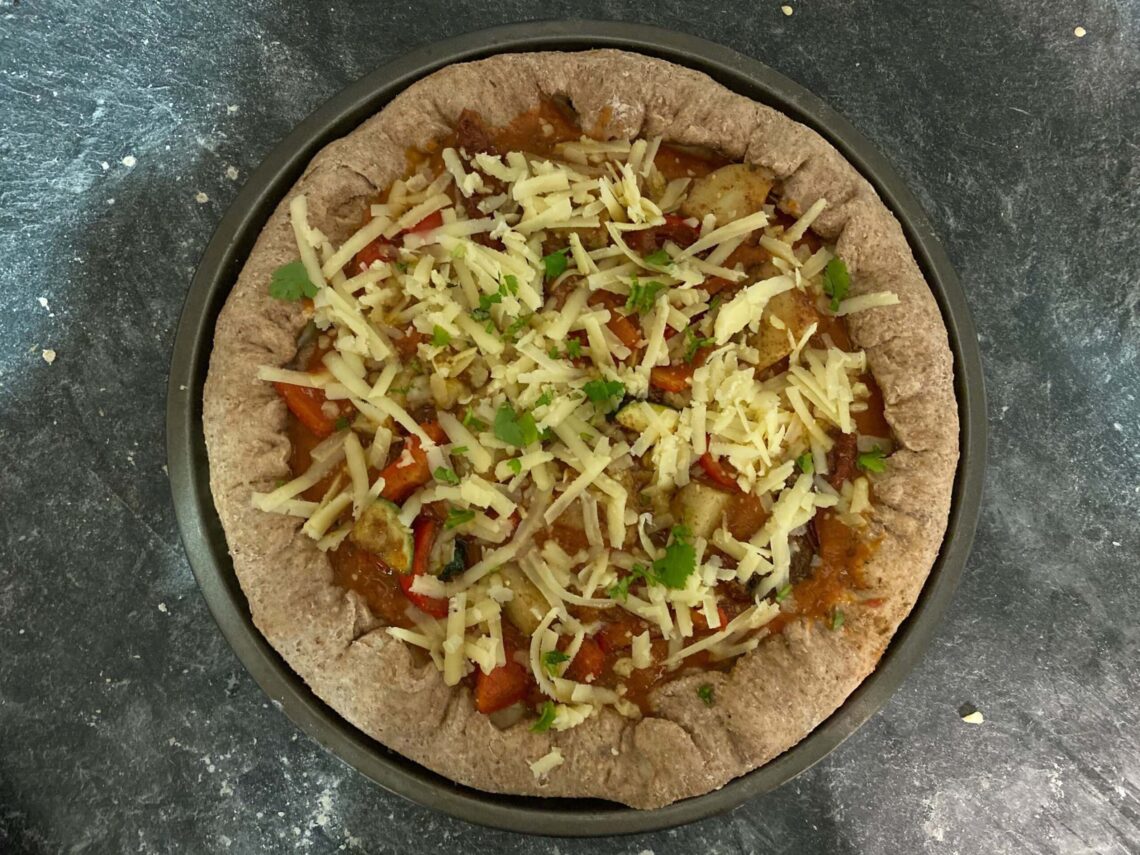 Stick them in the oven for 15 minutes and check on them. Lift one of them up with a spatula and check the dough in the middle is cooked, if it is still soft then return to oven for 5 minutes. Serve them up and enjoy!
If you enjoyed this article read our other delicious recipes and make sure you subscribe to our mailing list so you don't miss out on our other posts! If you tried this recipe, let us know on Instagram what you think and join our community for more yummy recipes.
---
Pin it for later!