The ancient city of Pompeii is located in the Campania region, near the city of Naples in Italy. This archaeological site has to be on every traveller's bucket list. In AD 79, Mount Vesuvius erupted and the city was destroyed. As a result, it was buried under 4-6 metres of volcanic ash and pumice stone.
The city, frozen in time until its discovery in the 18th Century, gives visitors an insight into what a Roman City was actually like. 
Pompeii was preserved in its entirity with temples, squares, public buildings, shops, villas, baths, and much more. It's something everyone needs to see in their lifetime, so let's give you a complete guide to visiting Pompeii and what to expect.
No time to read now? No problem, save a pin to your Pinterest board for later!
A Complete Guide To Visiting Pompeii – What You Need To Know Before Visiting Pompeii
Where to Stay in Pompeii
An Insight Into the Pompeii Eruption
How Long Does it Take to Visit Pompeii?
Guide Tours – Do You Really Need Them?
Best Time to Visit Pompeii
Visiting Pompeii in 2023 – What All You Need to Know
Theaters
Antiquarium
Forum
House of Menander
Temple of Isis
Villa of the Mysteries
Amphitheater
Sanctuary of Venus

Before you leave for Pompeii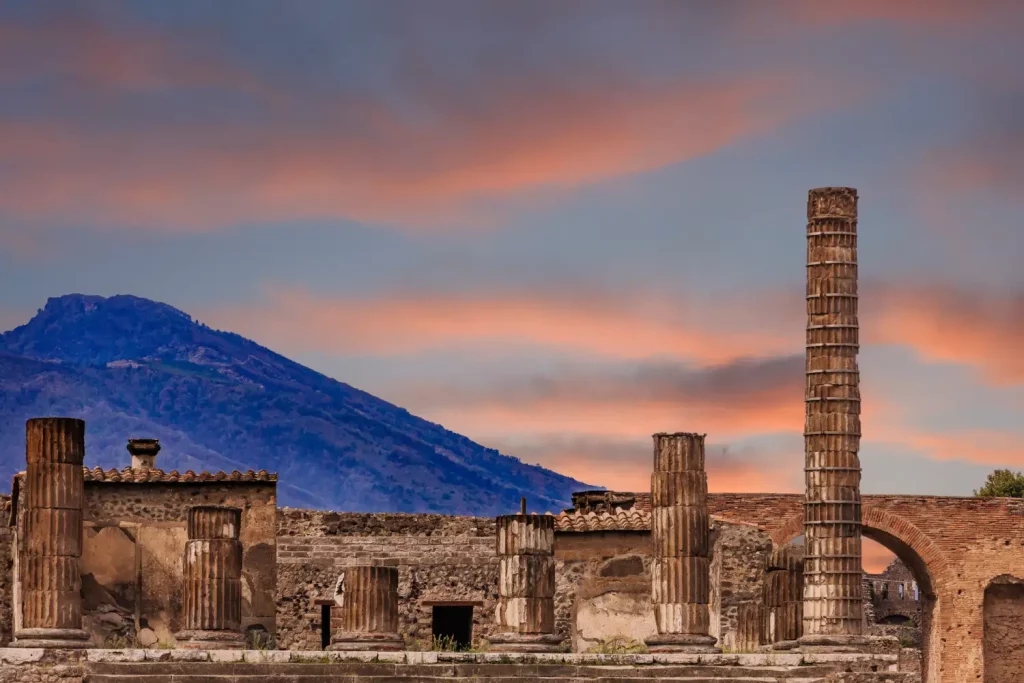 An Insight Into the Pompeii Eruption
Though it was a catastrophic event for the city, Pompeii wouldn't be the archaeological marvel we know today without it. Historians and archaeologists have gained so much valuable information about Roman life and today, Pompeii is the longest continually excavated site in the world!
Around 16 years before the eruption, the city was badly damaged by an earthquake. During that time, Pompeii had a population of 20,000.
The rebuilding of the city wasn't complete when the eruption happened. It is said that when the people saw the explosion, they started to leave the city. As the final blast of ash and debris from the volcano descended, there were still 2000 locals trapped in the city.
Ever since, the city lay abandoned, frozen in time. Excavation work began in the 18th century and since then, almost 3/5th of the total area has been recovered. In the early phase of excavation, everything was taken to the museum in Naples.
In 1911, the excavators decided to put everything back in place and, today, work to revive Pompeii is still in progress. A recent addition to the city's artefacts is 'the room of the slaves' in a nearby villa in Civita Giuliana.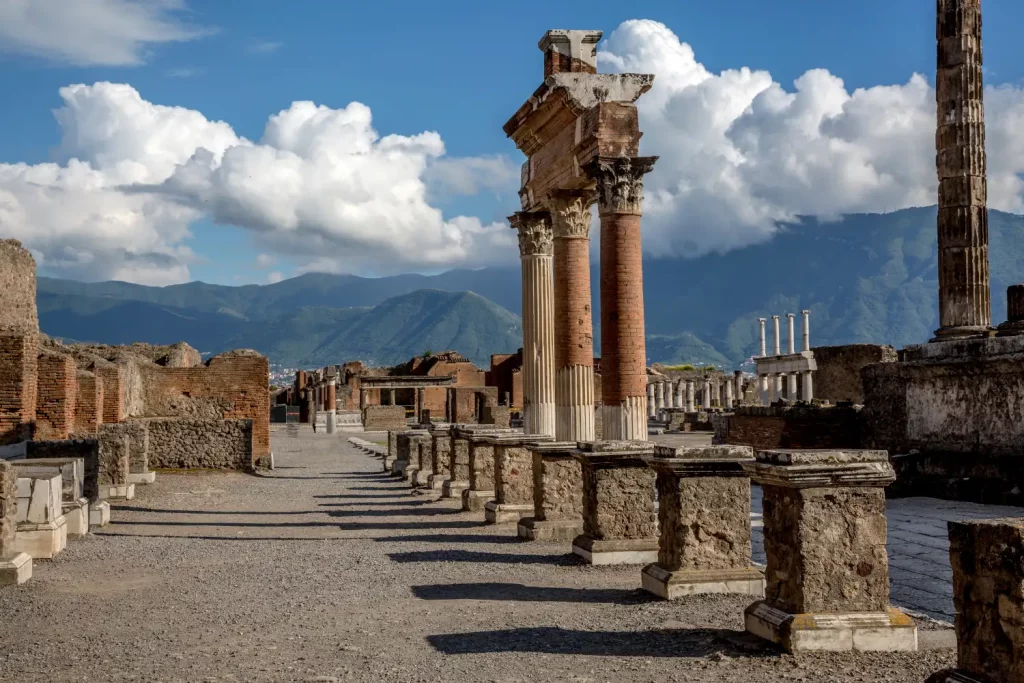 How Long Does it Take to Visit Pompeii?
A 2-hour guided tour is enough time to see the main attractions on your visit to Pompeii. However, if you want to explore this place on your own and take your time, 3-4 hours is plenty. Anything longer than this may be tiring, especially if it is a hot day. On that note, remember to stay hydrated and pack your sun tan lotion!
Guided Tours – Do You Really Need Them?
A common query for tourists is whether to book a guided tour or not. Of course, it is down to personal preference and how you like to explore a place. Having the benefit of a knowledgeable guide can be great, but sometimes it's more fun to discover things for yourself. To answer the question 'do you really need a guided tour?', the answer is no.
The ancient site of Pompeii can be easily explored on your own. The official ticket counter provides you with a map of the entire place and the authorities have put up plenty of signs to tell you all about this intriguing city.
If you do book on to a guided tour, be aware of unofficial tours. Though a guided tour can be cheaper if you book it from outside the ruins, it is not recommended. Also, as you come out of the train station, there is a small office that claims to sell Pompeii tickets. The official counter is inside the Pompeii gate. Finally, the streets in Pompeii are often narrow, so exploring them in a group can get snug!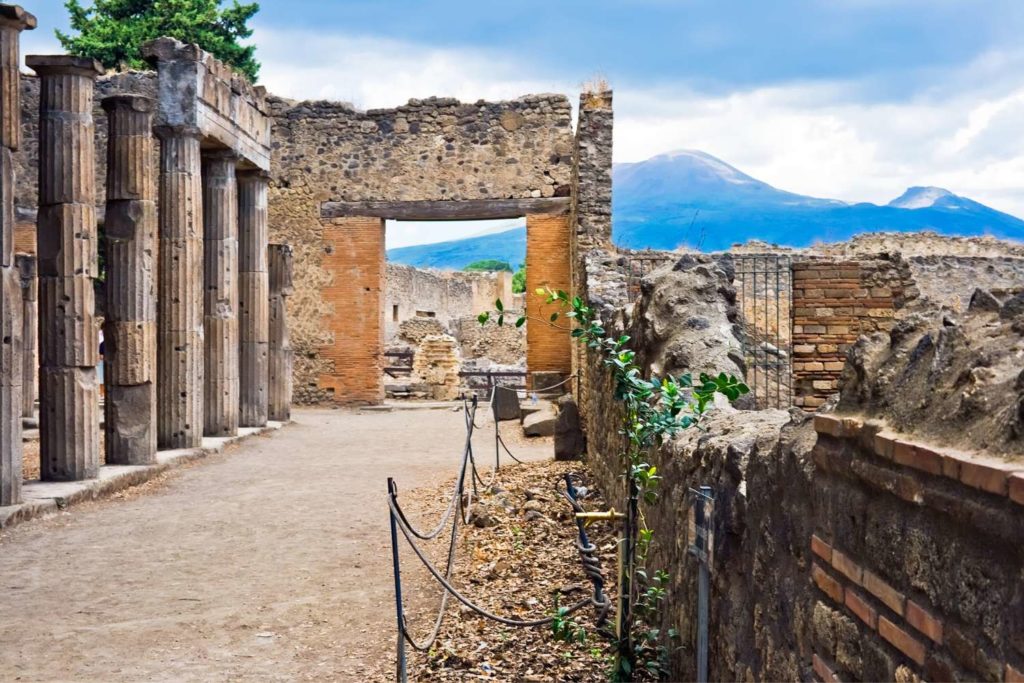 Best Time to Visit Pompeii
Pompeii is, understandably, flocked by thousands of tourists every year. However, the peak season to visit Pompeii is from April to the end of October. 
The hot climate during these months means most people visit in the morning. However, after 1pm, the lovely sea breeze blows from the Bay of Naples, which can be quite pleasant. You will also find there is little to no queue in the afternoon.
For a quieter visit, go during the off-peak season, which is from November to March. There won't be too many visitors so it's a great time to avoid crowds.
Bear in mind that if you are planning a visit during these months, do so in the morning. Otherwise, there is a risk of not having enough natural light to see and explore the beautiful features such as the frescoes adorning the walls. The ideal time would be between 10am and 3pm.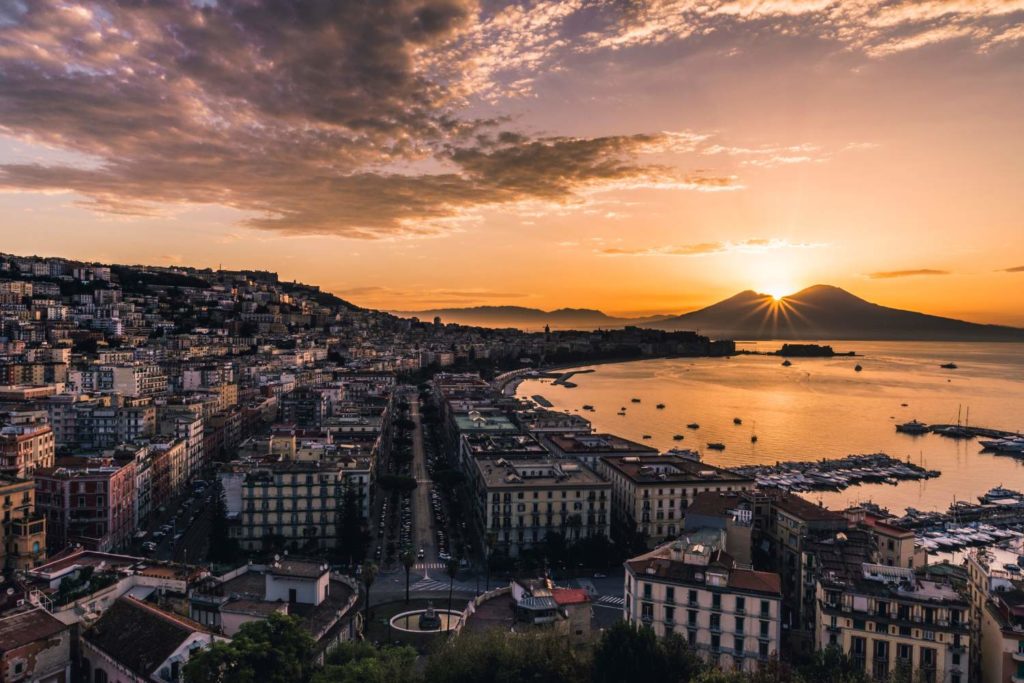 Visiting Pompeii in 2023 – What All You Need to Know
When planning your trip, there are a few things you should know before visiting Pompeii. One of those is the green pass certification. Since 1st June 2022, the green pass entry is no longer required for tourists to enter Italy and explore its attractions.
It's also important to know the opening times of Pompeii as they differ from season to season. From 1st April to 31st October, the opening hours are 9am to 7pm, with last entry at 5:30 pm.
From 1st November to 31st March, the opening hours are from 9am to 5pm, with last entry at 3:30 pm. Note that on 1st January, 1st May, and 25th December, the site is closed.
Pompeii has a huge significance in Italy tourism. It was once a flourishing city and so there are many wonders to see within this ancient site. With that in mind, let's give you a list of some of the top attractions to explore in Pompeii.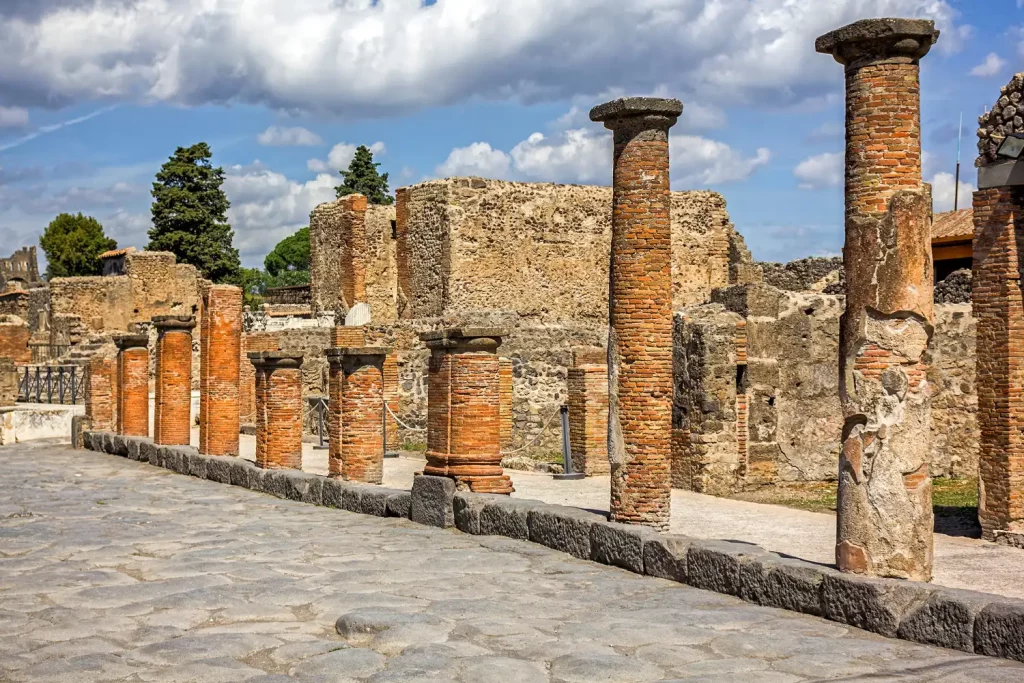 Theatres
This is a beautiful example of theatre architecture from a bygone era. Constructed into the sloping ground, the large theatre (also known as Teatro Grande) has the capacity to hold 5000 spectators.
This open-air amphitheatre is where Greek-Roman plays used to be performed and was one of the first stone theatres constructed by the Romans. 
It has wider, sloped tiers that were used for the upper classes to separate them from the masses, who sat in the steeper and narrower levels.
Adjacent to Teatro Grande is Teatro Piccolo, also known as the 'little theatre'. It beautifully represents the earliest example of a roofed Roman theatre and is very well preserved.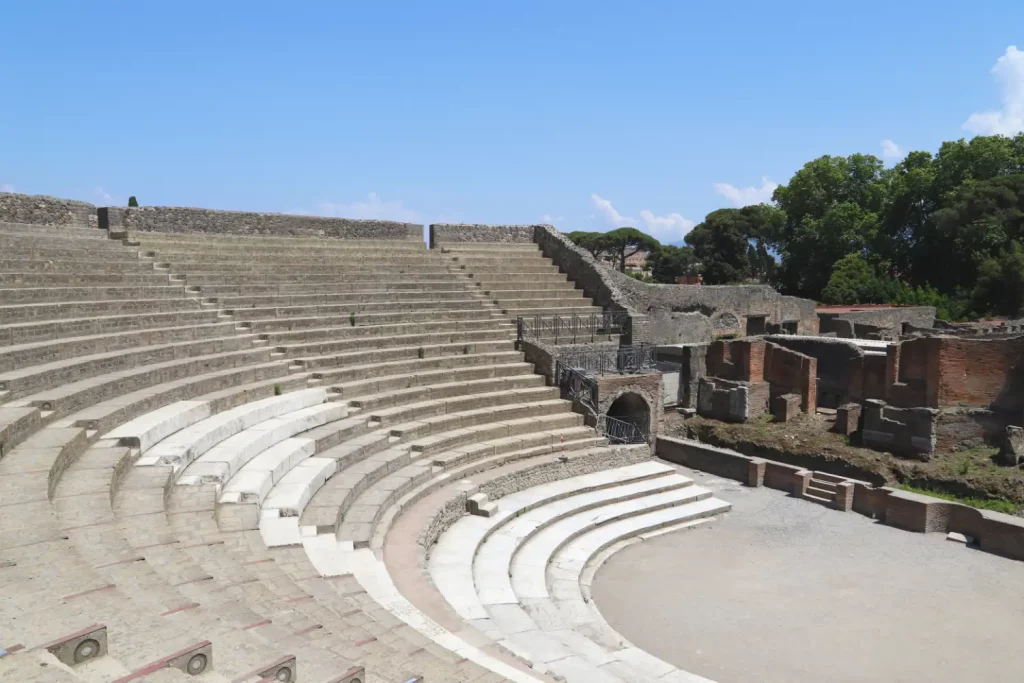 If you are looking for a good bag for your time exploring Pompeii, we can highly recommend the Wandrd Bag PRVKE 41L, especially if you are carrying camera equipment around this ancient city. If you are looking for a smaller backpack, The Nest by Tropicfeel is one of the most comfortable bags I have ever owned and perfect for a city break.
Antiquarium
The Antiquarium is a treasure trove, bursting with artefacts and interpretive displays about this fascinating site. Some of the artefacts even date from before the Roman era!
Through the displays here, you get a glimpse of what everyday life was really like in this once thriving city. Some of the key highlights are furnishings, vessels, commercial items, and small households.
There are also plaster casts built from the haunting impressions left in the solidified ash, showing the figures of locals who couldn't save themselves.
Forum
Once the main square of this Roman city, this is probably the key highlight of Pompeii. Later becoming the facade for the Temple of Jupiter on the north side, the Forum is a large square that features public buildings, triumphal arches, temples, markets, and more.
It is a striking site in Pompeii, which has a lot to explore and see. This was also the place where the city's main religious and civic activities were performed, along with commercial activities.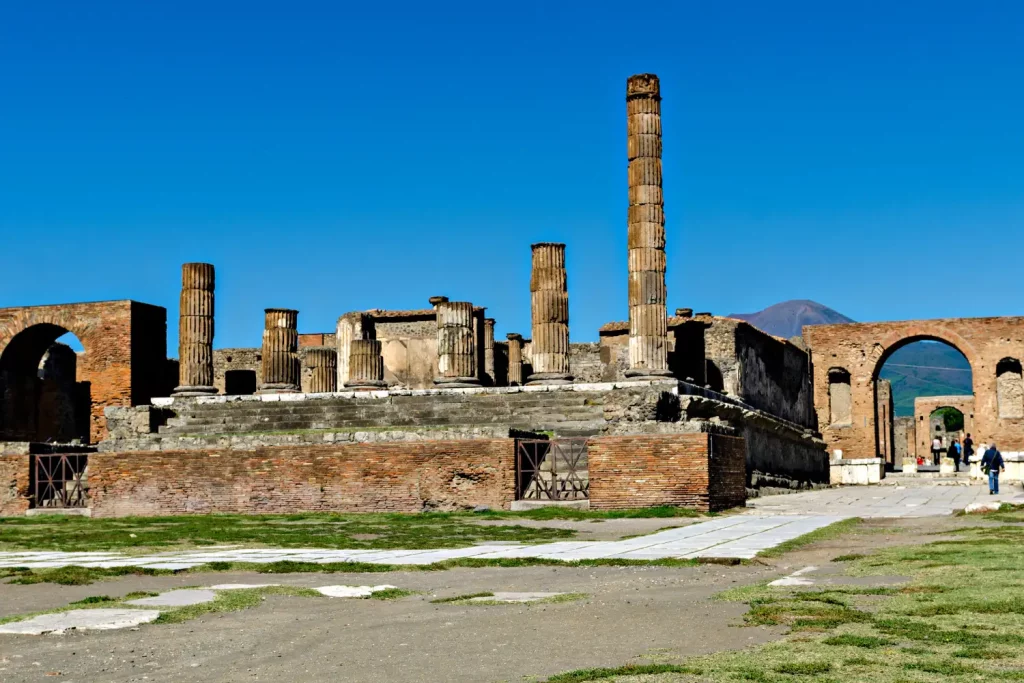 House of Menander
House of Menander is a magnificent, high-status house. There is a well-preserved temple in one corner, along with a wooden roof that reaches the center opening.
The key highlight of this site are the rooms that are adorned with scenes from Homer's Iliad. The peristyle (A porch in Roman architecture that runs around the perimeter of a building, created by columns) is surrounded by a gorgeous painted colonnade. Next to it is the beautiful 'House of the Lovers'.
Temple of Isis
Dedicated to the Egyptian goddess who had a huge significance during the times of the Roman Empire, the Temple of Isis is one of the must-visit sites on your Trip to Pompeii. The temple sits comfortably on a raised platform, right at the centre of the courtyard.
History says that the temple was built in the 2nd Century BCE. However, in AD 62, the earthquake destroyed it, and it was later rebuilt. Be sure to look out for the inscription that was put on one of the walls in 1817 by Stendhal, a French novelist.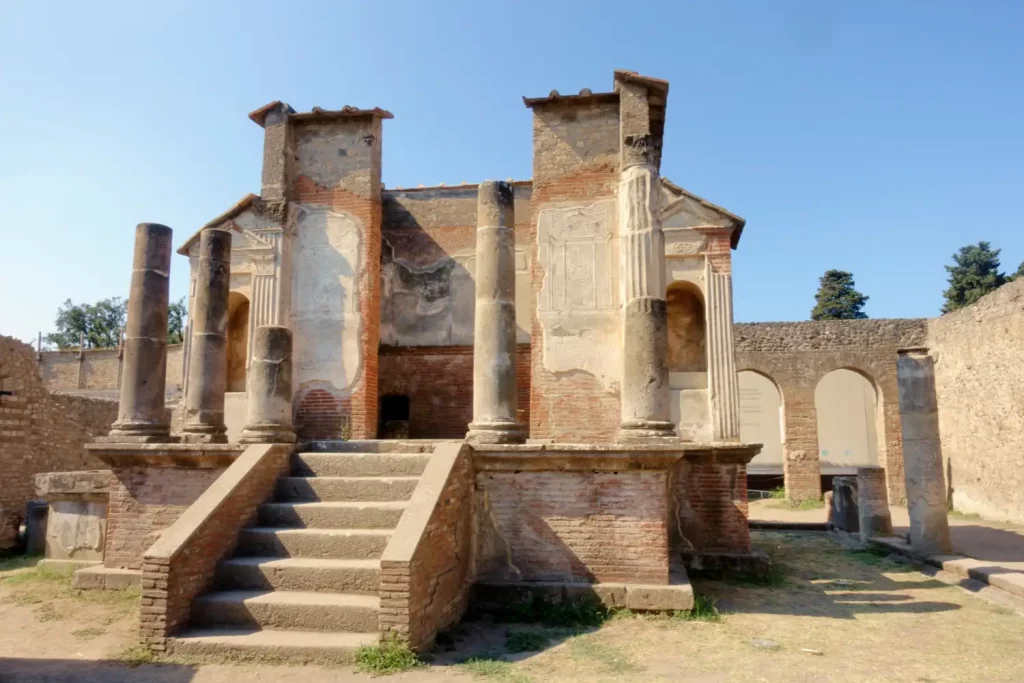 Villa of the Mysteries
Villa of the Mysteries is another key highlight of the ancient city of Pompeii. It was discovered around 1910. Also touted as the Villa dei Misteri, it is a mysterious site that was said to belong to one of the most powerful families in Pompeii, the Istacidii family, during the times of Augustus.
It was built in the western residential area, and the construction dates back to the 1st century BC. However, it is said that the villa was renovated a few times before the destruction hit the city.
The dining hall here is decorated with an extraordinary cycle of paintings. They seem to display the Dionysian ritual and the commencement of the cult, with the gods Aphrodite and Dionysus in the middle of the rear wall.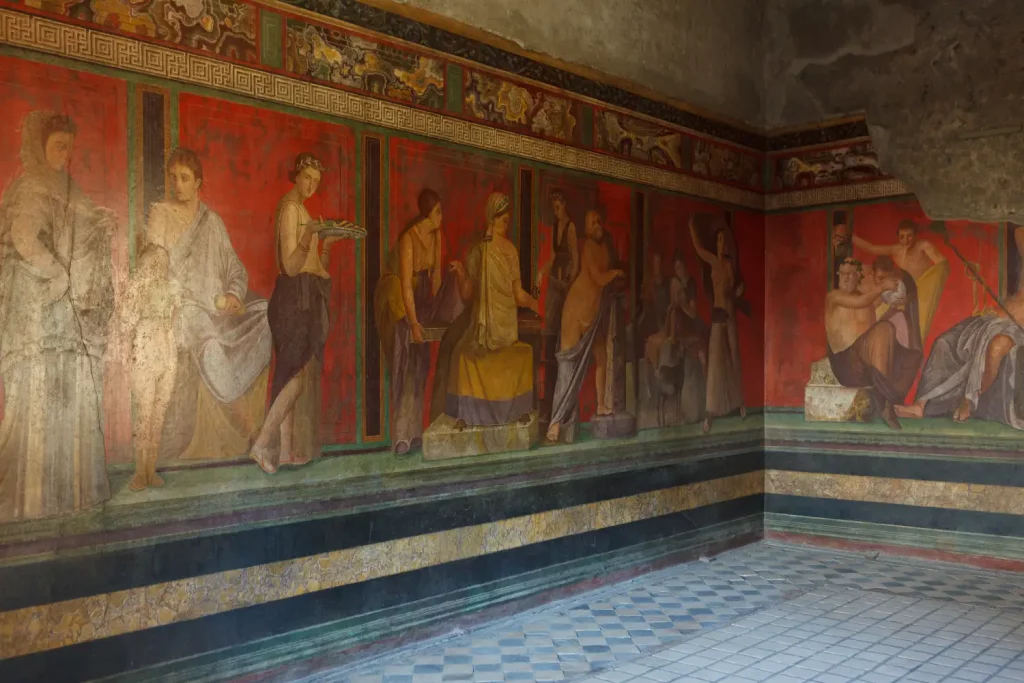 Amphitheatre
The massive Amphitheatre in Pompeii is not to be missed. Tracing its history from 80 BCE, it is located at the far end of the city and has a seating capacity of 12,000.
The first row was for the prominent citizens, whereas the middle row belonged to the middle-class people. The highest rows, or the summa, were used by the rest of the people.
This is said to be the oldest surviving Roman amphitheatre, and the most complete of those built prior to the Colosseum in Rome.
Palestra is located right next to the amphitheatre. It is adorned with colonnades from the three sides and has a swimming pool in the centre.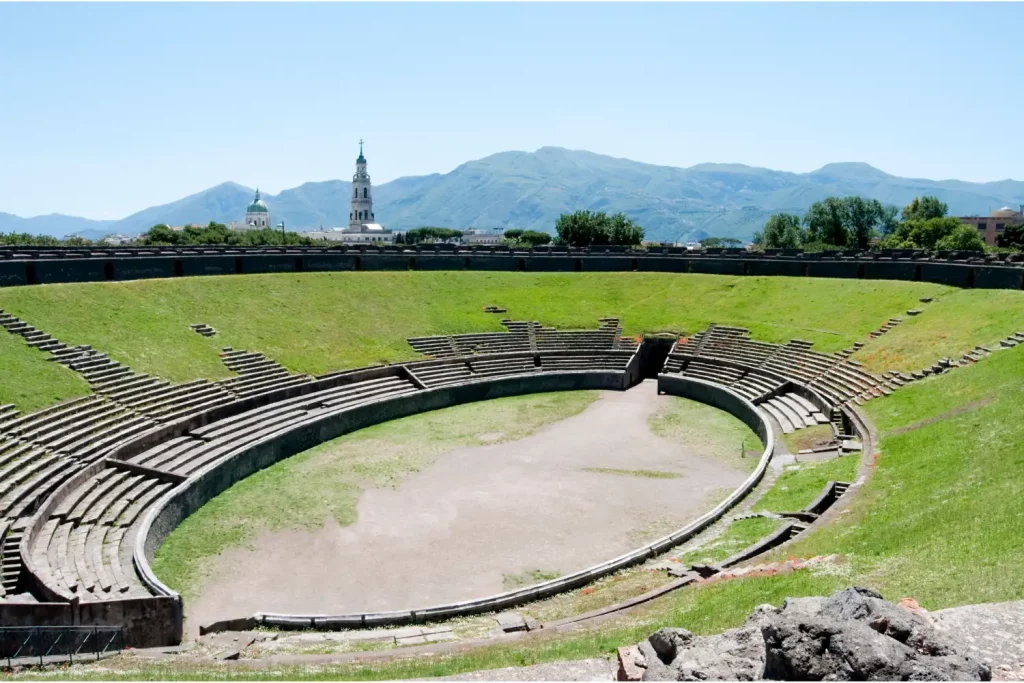 Sanctuary of Venus
Dedicated to Venus, the Sanctuary of Venus is a sacred site and one of the most important attractions in Pompeii. During the Roman Empire, Venus was believed to be the protectress of the city.
The sanctuary was laid in the 2nd century BC overlooking the Sarno Valley and the sea. The temple has a large gold lamp, which is believed to have been donated to the cult by Nero and his wife, Poppea. Today, the lamp is on display in the National Archaeological Museum in Naples.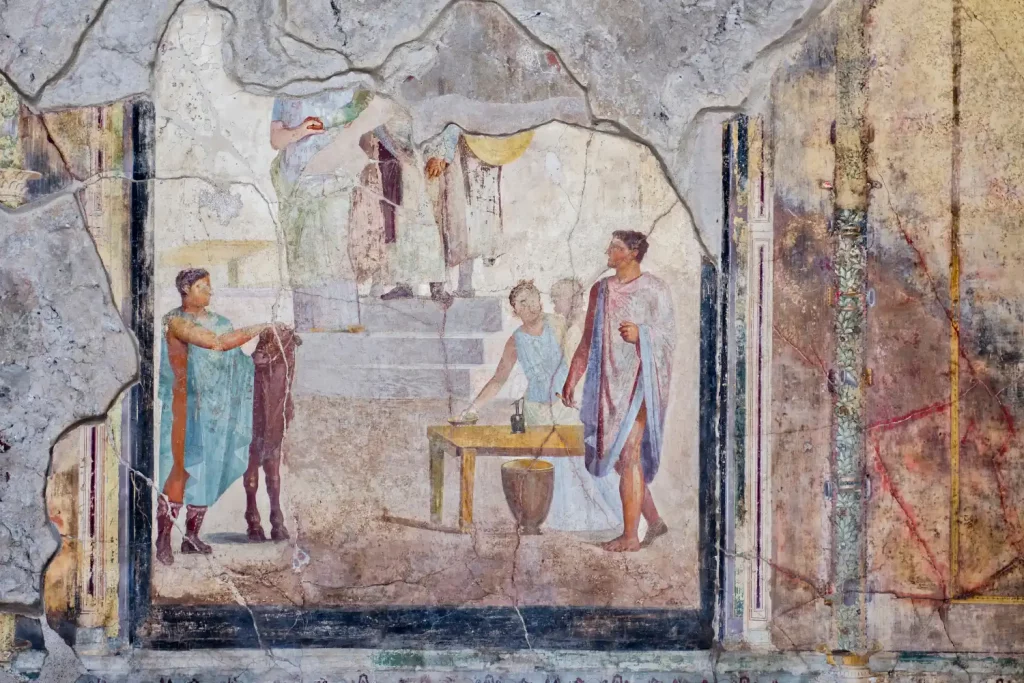 How to Prepare for Your Visit to Pompeii
Before you set off on your trip to Pompeii, there are a number of things you will need to organise to ensure a smooth and successful trip. These include what to pack for Italy and what is the best travel insurance for your trip. Both of these will be discussed in the following section.
Where to Stay in Positano
Luxury – Villa Boheme Exclusive Luxury Suites is a luxury accommodation in Positano a 3 minute walk from the beach. The property is family owned on the cliffside overlooking Positano's Spiagga Grande beach.The accommodation features free WiFi and a private terrace with panoramic sea views. There is a fully equipped kitchenette, air conditioning, and a private bathroom with a hairdryer. There is also access to a pool with a view.
There is a bus link to the centre of Positano which is 0.6 miles away which stops outside the accommodation.
Read more and book your stay at Villa Boheme Exclusive Luxury Suites here.
Mid-range – Villa Yiara is a beautiful and bright accommodation with incredible sea views. This adult only property is situated in an 18th century building overlooking the bay of Positano. The accommodation has free wifi and air conditioning and some of the rooms will feature a spa bath. 
Read more and book you stay at Villa Yiara here.
Budget – La Maliosa D'Arienzo is an accommodation in Positano that offers sea views over Positano bay. The property is a 1 minute walk from the beach and is surrounded by olive and citrus groves. There is free wifi in the rooms and all rooms are air conditioned with a minibar.
Each day, breakfast is served under a veranda surrounded by flowers.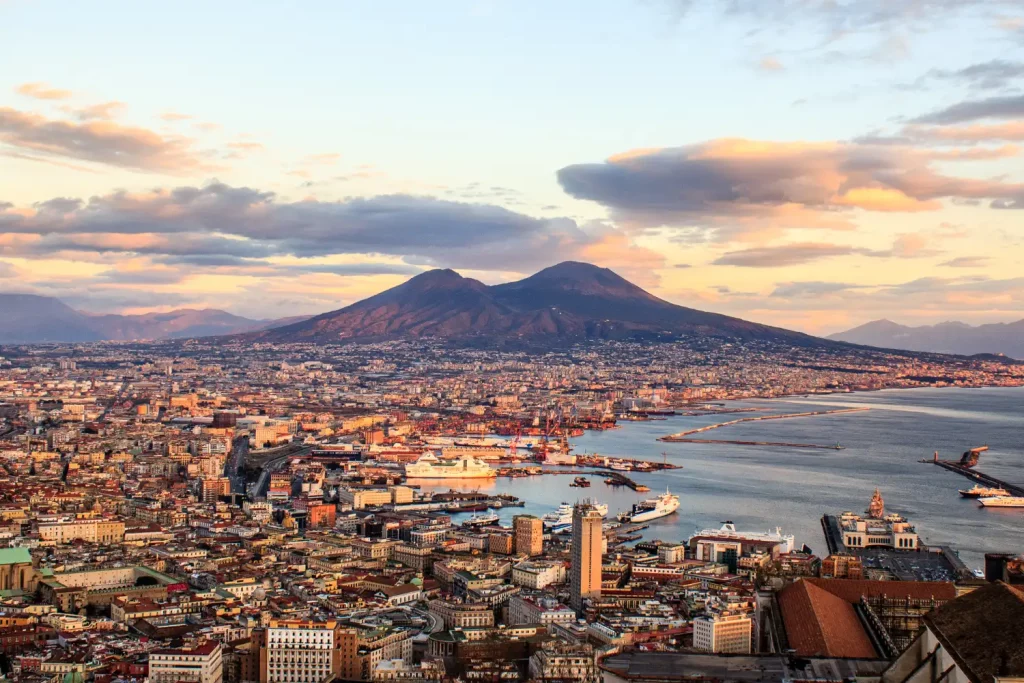 What is the Best Travel Insurance for Italy
I know travel insurance is the least enjoyable thing to purchase and look at when you're planning a trip, however, you wouldn't want to be without it in the event that something happened. Accidents can happen anywhere and the extortionate medical bills will ruin your trip if you are not covered.
To ensure you have a stress-free trip with no worries about potential medical bills, make sure you cover yourself when you travel. We can recommend using SafetyWing, a backpacker-friendly and cheap insurance company that provides good coverage and support. It is also nomad-friendly, unlike most other insurance companies, meaning you do not need to worry about being out of your home country for too long.
Get a quote for your travel insurance right here and get covered!
What Should You Pack for your trip to Pompeii?
What you need to pack for Pompeii will rely highly on when you make your trip to Italy. During the Spring and Autumn months, temperatures and weather patterns vary wildly between beautiful sunny skies and rainy days. During the Summer, you are pretty much guaranteed nice weather with temperatures ranging from 20-35 °C. The hottest months are July and August, so these will be the most popular for a Summer holiday.
During the Winter months in South Italy, the weather can get cold, so make sure you wrap up warm if you are coming between October and April. Among the essentials for a winter trip, we would recommend a warm coat (men's / women's) and even a cosy hat and gloves for those chilly days. If you need more inspiration on what to pack for your trip, check out our full packing guides for all-weather conditions over here.
When it comes to toiletries, we recommend that you don't forget to pack sunscreen. The sun in Italy is very strong, especially during the summer months. Apply a lot of cream regularly to prevent a nasty burn from ruining your trip. We use this specific sunscreen to protect us as it is not as oily and irritating as other sunscreens.
Given the beautiful sights and scenery that you will see in Italy, we highly recommend packing a good camera for your trip. If you want to read more about the cameras we use and why we love them, check out the link below.
You can read what else we keep in our camera bag over here.
Photography Equipment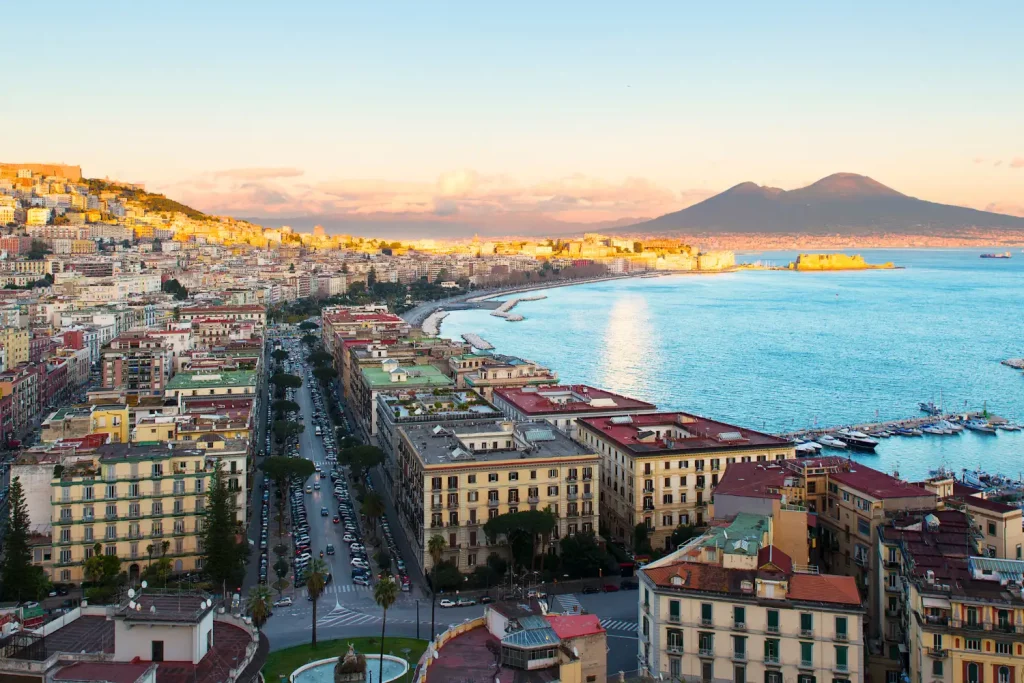 So there you have it, your complete guide To visiting Pompeii. If you are visiting this incredible city and have any other questions on what to expect, leave us a comment down below. We love to chat about this stuff! If you have already been, let us know how it was! When did you visit Pompeii and how was your experience? Let us know in the comments below!
Also, remember to share this with your friends and family that you are going to share this amazing experience with. Sharing is caring and we want to ensure that everyone is fully prepared to maximise their experience completing this stunning walk.
If you are planning an Italy trip soon then check out our other Italy content right here. Come and find us on social media to see where we are currently exploring. Tag us in your photos from your stay and we will share them with the rest of our community of explorers and backpackers.
Read Now:
This article may contain affiliate links that provide us with a small income. For more information read our Affiliate page.
---
Pin it for later!