Although it may be one of Italy's lesser-known cities, Bari is a central hub for shipping around the
southern region of Puglia, Italy
. With routes across to Greece, as well as north to
Croatia,
Bari is on the rise for tourism. Luckily for us, this means it is currently sitting in the perfect limbo between being cheap, off the grid location, yet it still has incredible tourist attractions. This truly makes it the perfect city for a budget break. As
budget backpackers
ourselves, we just had to show you guys how to explore this beautiful little city without busting your bank balance. Here is our guide to a budget break to Bari, Italy!    
Save this image to your Italy Pinterest board for later!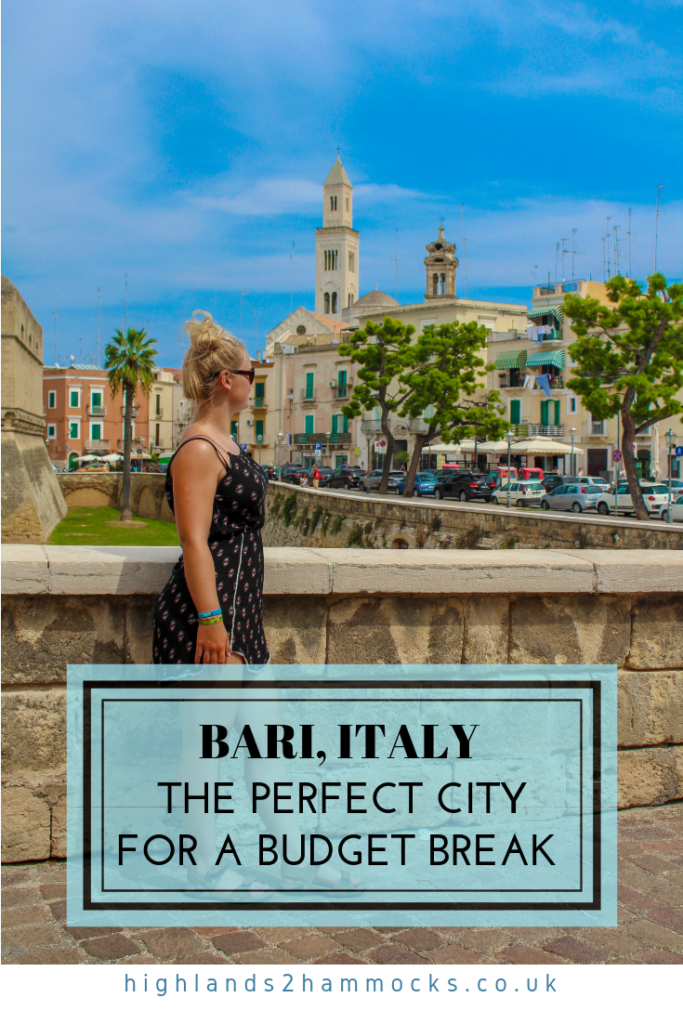 Bari, Italy: The Perfect City for a Budget Break
Excellent Accommodation
During our stay to Bari, Italy, we treated ourselves to a
Booking.com
stay, as we had just completed a 700km cycle down the east coast, (I'll leave that story for a different day..). The options we found on Booking.com,
Airbnb
and even Hostelworld were all reasonably priced and not too difficult to get too, made even easier as we had bikes. Our accommodation was £45 per night for a very nice, self-contained room. The full shabbang, with a kitchen, shower, air-con and even a cute patio area for dining. Check all three of these services and you will be sure to find somewhere suitable!      
Cheap Food Choices
Our favourite part of Bari, Italy is obviously the
fantastic food choices
available. This makes the price and availability of such one fo the more important parts of any city experience to us. Luckily, we were very impressed by the range of choices and the prices available around the city. There is plenty of higher class, more expensive restaurants to choose from, around both the old and the new towns. However, there is also an incredible number of cheap eats and delicious restaurants hidden around too! Some of the best places to eat in Bari are the back alley, local restaurants, sitting around the old town.  
  Some particular favourites of ours were the
Castle Bar
,
Café Italiano
and the
Turkish Kebab Shop
, which sits between the old and new towns. The most striking thing about Italy is the high quality of its restaurants. This is even including fast food places! There is no such as a cheap, rubbish pizza!    
Plenty of Free Activities
Spread throughout the city, you will not find it difficult to find yourself fascinated.  History on every corner, friendly and welcoming locals, and even beautiful beaches ALL FREE! During our 4-day visit to Bari, we didn't spend a penny on any sightseeing or activities and we still maximised our time in the city. The old town is large enough to take a day to walk around, admiring the small streets, beautiful colours and quirky locals as they go about their daily lives. The walk back around the seaside is then so beautiful, you could sit and admire it for an entire day. Best of all, Bari is one of the only cities I have been to where there is a beach just off the city centre! Spend your afternoon enjoying the water and soaking up the rays before spending the evening in the city, just 15 minutes away!    
Fantastic Facilities around the City
The most impressive thing we found in Bari is the incredible facilities it has to offer all over the city, which are completely free! There is a wireless network available at key tourist spots, such as the old town square and the beach, which is free and offers a reliable connection. Along the beach, you will find free toilets and showers, all of which are well kept and clean. Drinking water taps are also readily available at the beach and spread throughout the city, allowing you to top up your reusable water bottles and stay hydrated!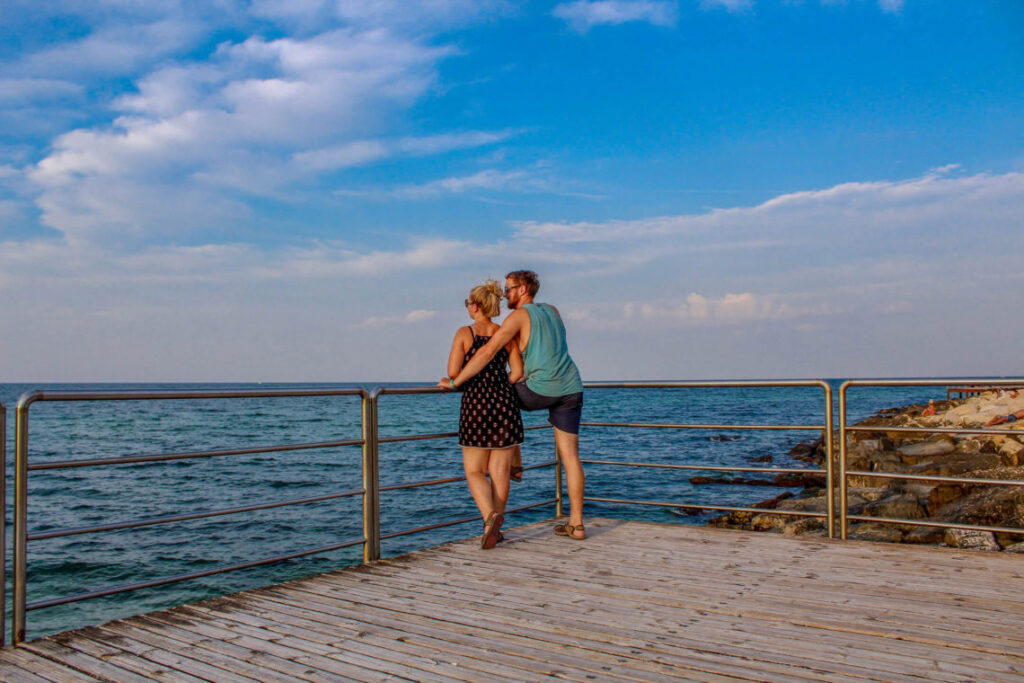 Transport around the City
The easiest way to get around the city is definitely by bike. The bus network isn't very regular and taxis charges can quickly add up, however, there are
bike rental
options available. From just €15 a day, you can rent a bike of your own and explore the entire city at your own free will. One of the most impressive things we found about Bari, is just how bike-friendly drivers tend to be. Italy has a reputation for having wild drivers and manic traffic junctions. However, as an outsider I can't deny some of the traffic in cities I visited are absolute mayhem, it seems to be controlled mayhem. There are rarely ever any bumps and it seems to just work! As a cyclist, pedalling through this madness can be a terrifying experience! However, you will soon realise most drivers seem to bend over backwards to accommodate for you. There were even times when cars stopped in the middle of a roundabout to let us on!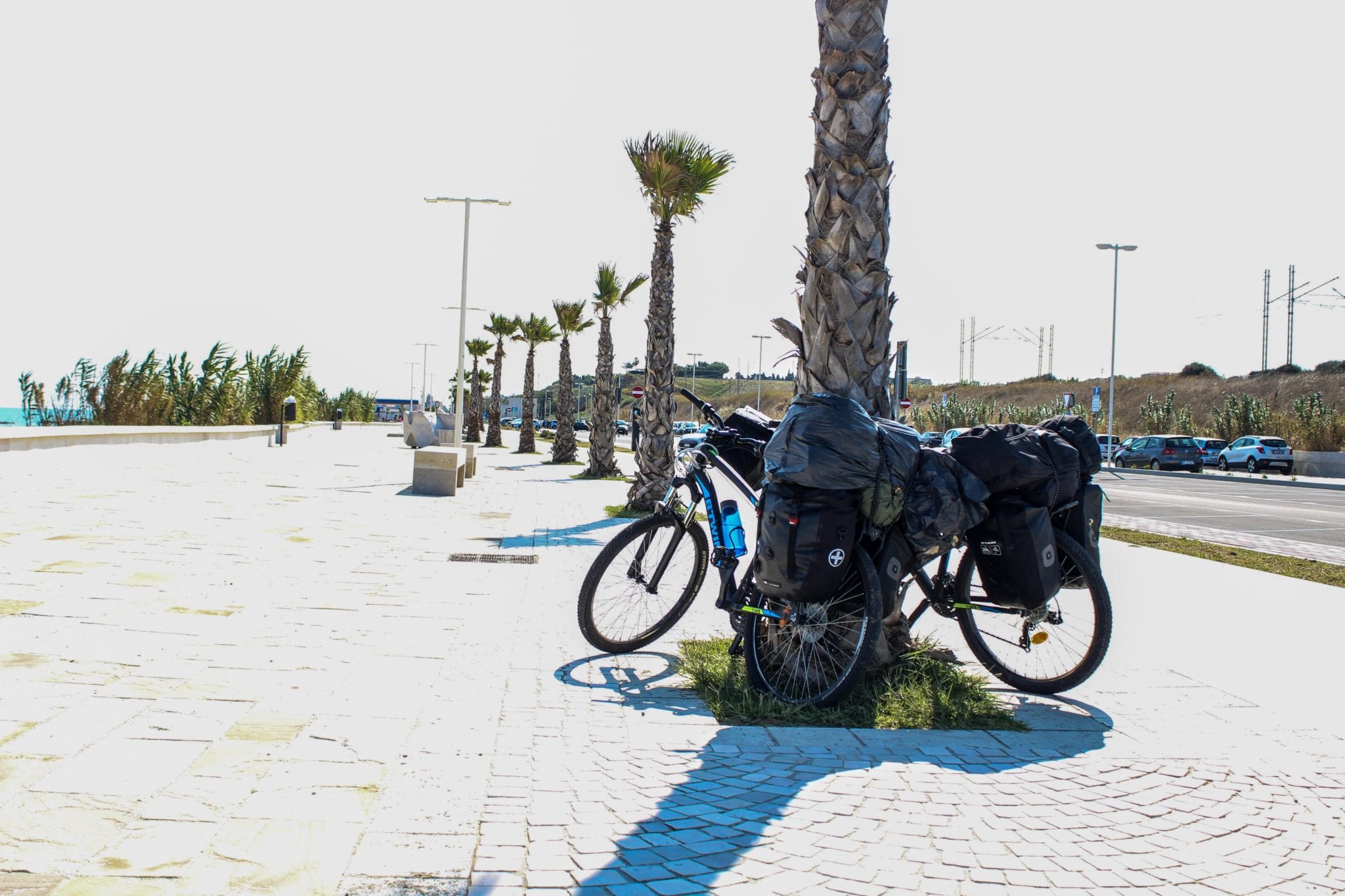 In Bari, there are plenty of opportunities to rent bikes for short or extended periods of time. There are even cycling guided tours around the old town! We highly recommend getting a bike for your stay, as it makes getting around the city so much easier! The Bari city hub itself is split into two sections, the old town and the new town. The new town is incredibly easy to navigate as a cyclist, with the entire area split into perfect blocks and grids. This makes finding your way around very simple! It's worth noting that I said
as a cyclist,
as pretty much the entire new town is a one-way system. This makes driving around the city centre a nightmare! Luckily as cyclists, we didn't have to worry about this too much.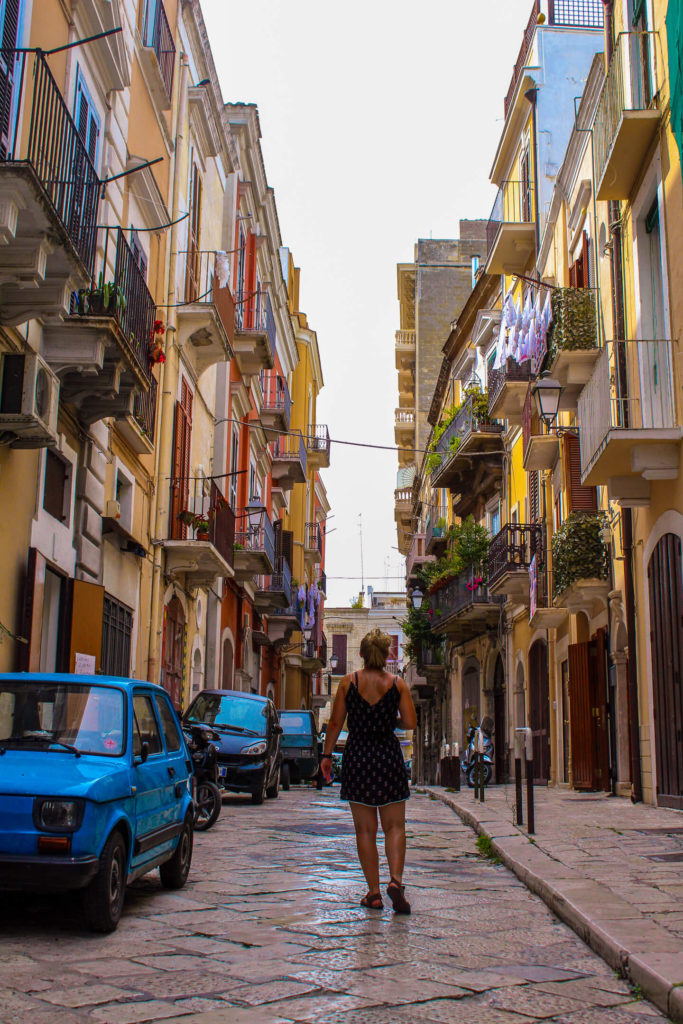 However, the same can't be said for the old town. It is mostly built in a circular shape, with tiny, winding roads through the middle. All of these roads are built around the ancient Bari Castle (which is also worth a visit!). The stark contrast between these two towns are reason enough to visit; they are both completely stunning in their own way.   With all of these highlights combined, Bari makes for an incredible city break that is easily done on a budget. Our favourite part of this beautiful city is how undiscovered it continues to be. This gives visitors a chance to see a more authentic side of Italy than the main tourist traps further north. If you are wanting to visit an authentic part of Italy, then a Bari weekend break is perfect for you!      
How to Prepare for Your Visit to Italy
Before you set off on your trip to Puglia, there are a number of things you will need to organise to ensure a smooth and successful trip. These include what to pack for Italy and what is the best travel insurance for your trip. Both of these will be discussed in the following section.  
What is the Best Travel Insurance for Italy
Regardless of what type of trip you are heading on, one thing that is essential for everybody is good travel insurance. Accidents can happen anywhere and at anytime and unexpected hospital bills will ruin a holiday. Remove the stress from your next adventure and get covered for the worst.
World Nomads Travel Insurance
provides budget reliable travel insurance that will keep you covered for any level of adventure.
You can get your quote before you leave on your trip right here.
What Should You Pack for Puglia?
What you need to pack for Puglia will rely highly on when you make your trip to Italy. During the Spring and Autumn months, temperatures and weather patterns vary wildly between beautiful sunny skies and rainy days. During the Summer, you are pretty much guaranteed nice weather with temperatures ranging from 20-35 oC. The hottest months are July and August, so these will be the most popular for a Summer holiday. During the Winter months in Puglia, the weather can go as low as freezing, so make sure you wrap up warm if you are coming between October and April. If you need more inspiration on what to pack for your trip,
check out our full packing guides for all-weather conditions over here
.   When it comes to toiletries, we recommend that you don't forget to pack sunscreen. The sun in Italy is very strong, especially during the summer months. Apply a lot of cream regularly to prevent a nasty burn from ruining your trip. We use
this specific sunscreen
to protect us as it is not as oily and irritating as other sunscreens.   Given the beautiful sights and scenery that you will see in Italy, we highly recommend packing a good camera for your trip. If you want to read more about the cameras we use and why we love them, check out the link below.
You can read what else we keep in our camera bag over here.
With this, we come to the end of this
Budget Guide to Bari. Doesn't matter whether you have 2 days or a week in Bari, the fact is, some things might be left as unexplored (considering the compelling charm of the city) on your 10 day trip of Bari.
But that's the life of a globetrotter, right? Well, with that being said, wherever you go or whatever you do in Bari, make sure to make the most out of it in order to create memories to cherish for a long time. 
If you have visited Italy, let us know what you thought of the sights listed above, or if you have any suggestions let us know in the comments below.
As always, sharing is caring so make sure to share this travel itinerary with your family and friends and inspire them to head off on their own Italian adventure. If you are planning the trip for yourself, make sure you have a look at the rest of our
Italy content
for more inspiration to our beautiful home country. When you set off on your own adventure, be sure to tag us in your photos on
Instagram
and we will share them with the rest of our community. In the meantime, why not follow us over there to see what we are currently up to and keep up with us on our Instagram Stories.    
Now Read:
This article may contain affiliate links that provide us with a small income. For more information read our Affiliate page.
---
Save this image to your Italy Pinterest board for later!