Krakow is not only one of Poland's most popular tourist destinations, but also a city that truly comes alive during the winter season. With its captivating blend of architectural styles and rich historical heritage, Krakow offers a magical experience in the winter months.
As the seventh largest city in Poland, Krakow boasts an eclectic mix of buildings from different eras, where modern structures seamlessly blend with historical landmarks. This unique characteristic sets the stage for a truly enchanting winter visit.
In this post, we share with you the wonders of visiting Krakow in winter. Experience the atmosphere, embrace the chill in the air, and discover the countless things to do and places to explore when the city blooms in the colder months.
Whether you're a first-time visitor or returning to uncover more of Krakow's charm, these winter activities will leave a lasting impression.
No time to read now? No problem, save a pin to your Pinterest board for later!
The Best Things to Do in Krakow in Winter
Where to Stay in Krakow
What to Expect from Krakow in Winter
Visit Wawel Castle
Go For a Sleigh Ride
Go For Skiing
Be a Part of Tlusty Czwartek
Relish Some Wine and Warm Beer
Visit Juliusz Slowacki Theater
Enjoy Ice Skating
Visit the Christmas Market
Get in the New Year's Vibe
Visit Saint Peter and Paul Church

Before you leave for Krakow
Where to Stay in Krakow
There is a wide range of accommodations available in Krakow, so you will not be short on options. Start searching on the box below and find your favourite accommodation.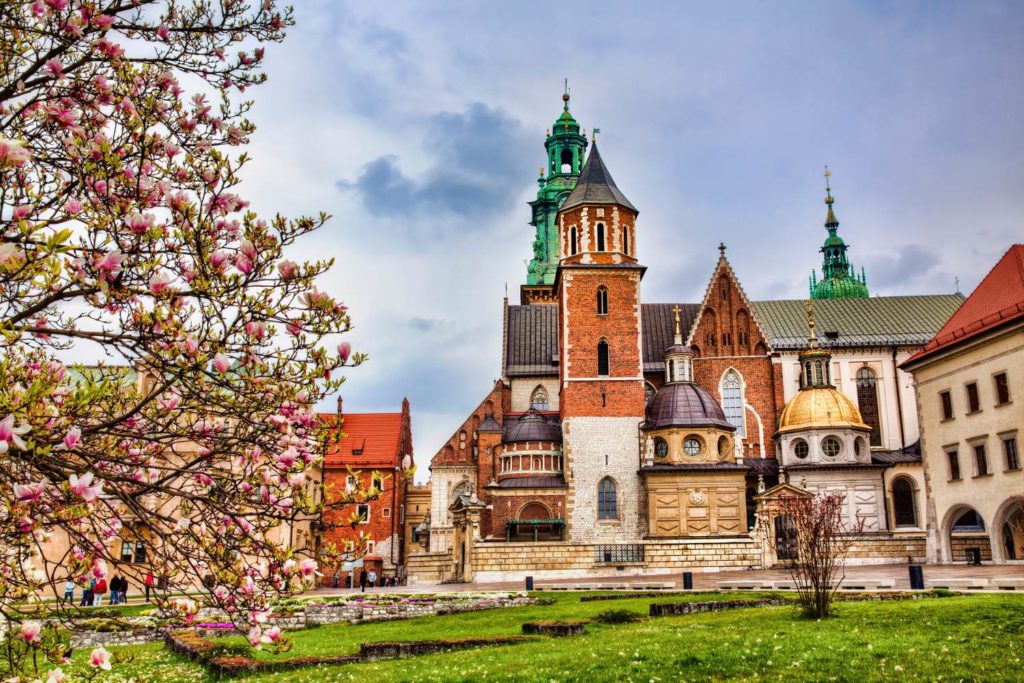 What to Expect from Krakow in Winter
Krakow in winter is literally magical. Poland is a country that is known for being extremely chilly in winter. The mountain regions remain covered with snow throughout the season.
It doesn't always snow in Krakow, but, if you are lucky, you will be treated with a picturesque view of the Old Town, beautifully covered in the blanket of snow.
The snowy days in Krakow can only be enjoyed between the months of December and February. Even on a day, there is no snow, the climate will still be quite cold in Krakow. Whereas, the temperature ranges between single figures to sub-zero Celsius.
January is the coldest time which also has the highest chance of seeing snowfall in Krakow. Make sure to pack some thick layers to beat the chills. Besides, the city also got your back to keep as there are plenty of places to warm up and have hot drinks.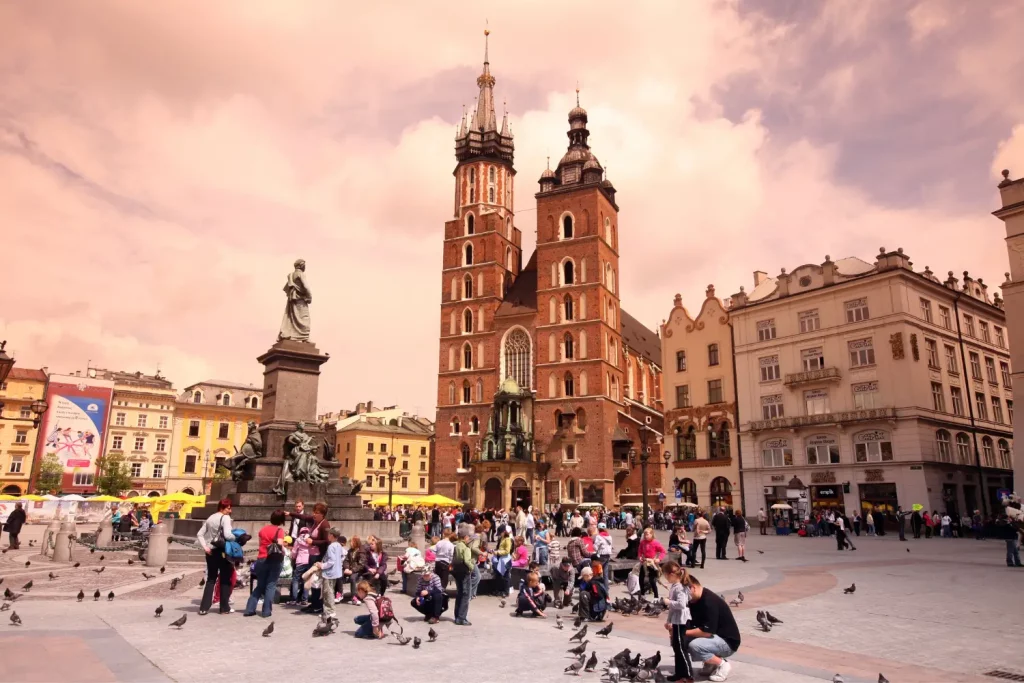 Visit Wawel Castle
Who doesn't love castles? Well, if you do, Wawel Castle is the one perfect place to be at. This is a year-round attraction that never fails to amaze you with its magnificent charm.
There is a legend associated with the castle which says that the creature once used to live beneath the castle. Not only this, the dragon used to command human sacrifices every week until it was defeated by two princes.
Today, the castle stands as an architectural marvel that also talks about the rich history and heritage of Krakow. Within the complex, there are royal apartments, an armory, and state rooms.
Adding up the beautiful charm of Wawel Castle, there is a naked tree which makes the entire place more iconic during the winter season when it snows. Visit Wawel Castle definitely has to be one of the top things to do in Krakow.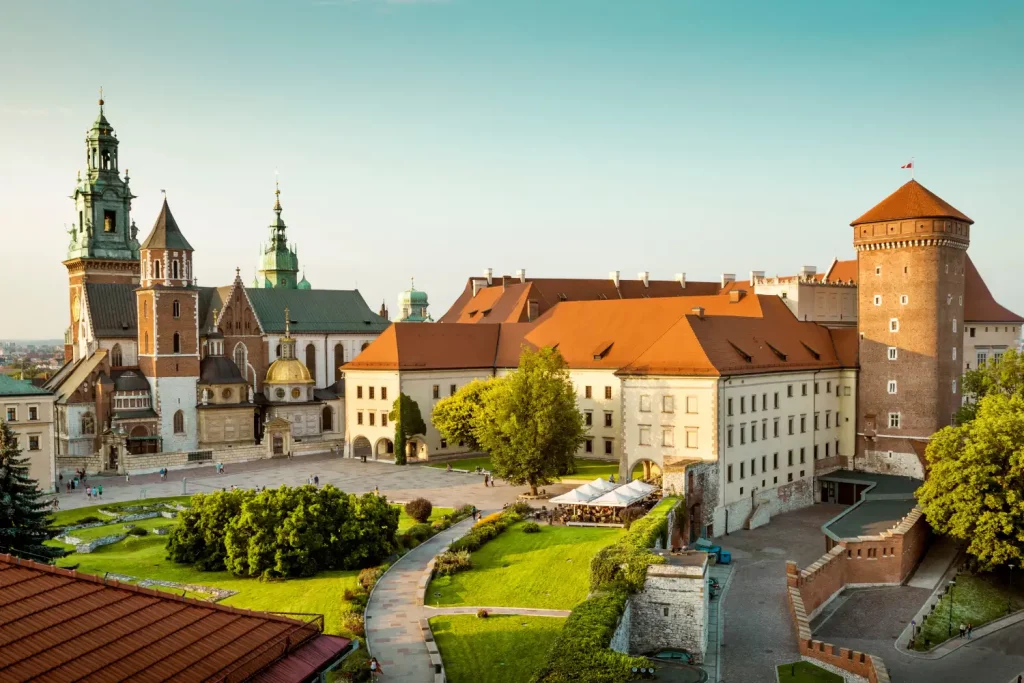 Go For a Sleigh Ride
Sleigh Ride is always fun and magical, isn't it? Though the horse-drawn carriage ride is very common around Krakow's Market Square region, a Sleigh Ride is a perfect alternative for winters.
It includes a horse that carries a sled beautifully adorned with sleigh bells and flaming torches. Riding a sleigh is definitely one of the unique experiences to relish in Krakow in winter. The ride goes through snow-draped valleys around Krakow and ends with a forest bonfire compiled with tea or honey vodka and grilled sausage.
There are plenty of companies that organize the Sleigh Ride tour in Krakow. However, it mainly depends on the weather condition.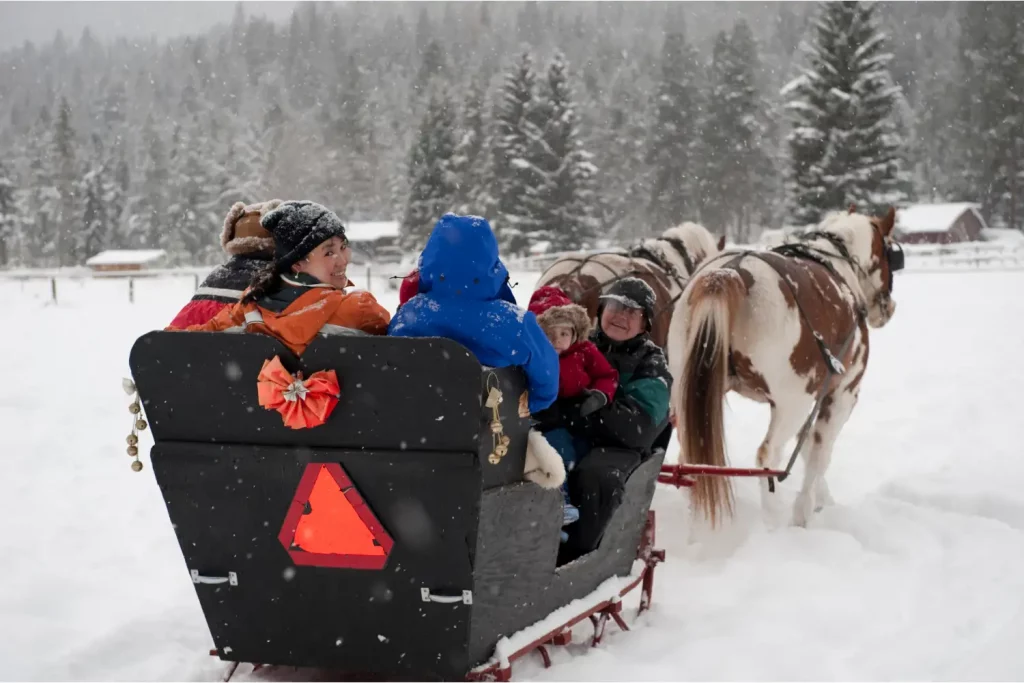 Go For Skiing
If you really want to experience a thrill, then you must indulge in a skiing experience in Krakow. Tatra Mountains is located some 100 km from the city and is a popular hideout for all ski lovers.
The Tatra Mountains are located between Slovakia and Poland and have some amazing slopes to ski. You can board an early bus to reach your destination. There are some good options of ski resorts in Krakow to choose from, such as Kasprowy Wierch, Szczyrk Mountain Resort, Bialka Tatrzanska, Szymoszkowa, and more.
These resorts are family-friendly resorts and come easy on the pocket as compared to those in other parts of Europe. Besides, the place is also idea for beginner skiers as it is not as challenging as the Alps.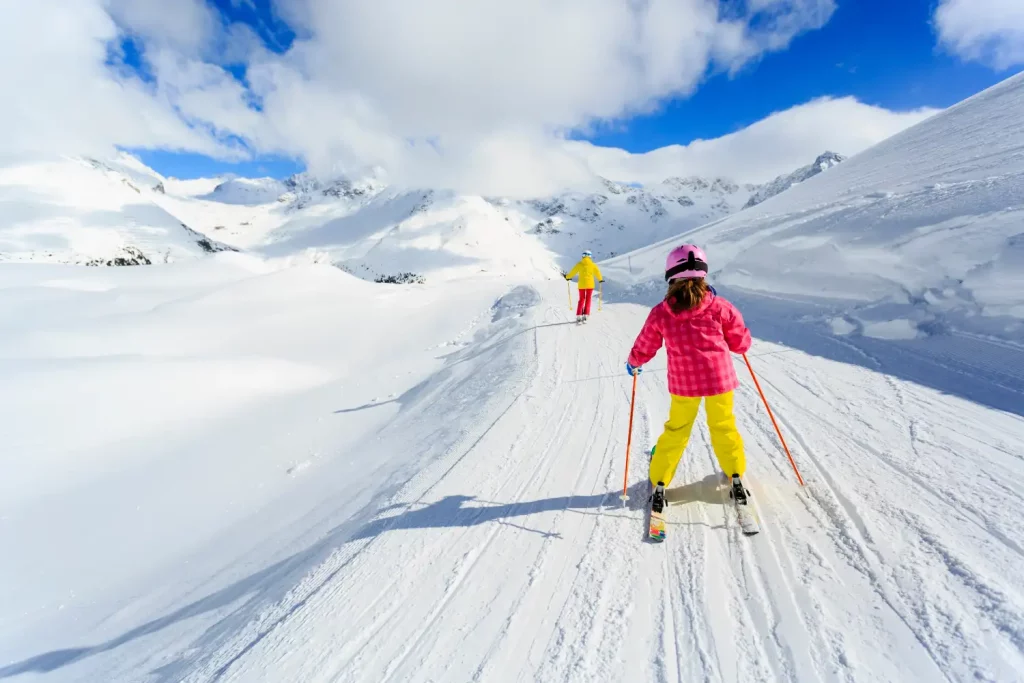 Be a Part of Tlusty Czwartek
When you are in Krakow, you must be part of Tlusty Czwartek, which can be loosely translated to "Fat Thursday". It is a local holiday that is celebrated on the last Thursday before Lent.
The holiday is all about eating as much as you can. Hence, it is a must event to indulge in. We recommend you join the festival. One of the must-have dishes is paczek which is more like a stuffed donut.
On the day of this festival, you can expect to see a huge crowd of people outside the pastry shops because of the celebration. The dish is sweet and is often loved by everyone. Make sure you try the traditional ones that are filled with jam. Besides, you will get to see the dish with other stuffing as well.
There is a legend associated with this festival that talks about this type of candy. The legend has it that if one doesn't eat at least one on the day of Tlusty Czwartek, that person will have bad luck for a whole year.
Relish Some Wine and Warm Beer
So what you're in the winter season? What if we say that drinking wine and beer in Krakow could help you beat the cold of the winter season? Well, that's true! By the end of September, the bars in Krakow start to offer mulled wine and beer.
These drinks you won't get to savour in the summer season. Drinking mulled wine and beer is loved amongst the locals, and hence, it has to be one of the most interesting things to do in Krakow.
While searching for these amazing drinks, if you see a sign saying "grzane wino, well, that's your place to be to enjoy some mulled wine. Whereas, if the sign says "grzane piwo", the place serves beer which is the key highlight.
The preparation of both drinks is quite similar. Some crucial ingredients, such as sugar, cloves, orange peel, and cinnamon, are added to give them a delectable taste. If you are a teetotaller, there are still a few good options for you, such as Krakow hot chocolate.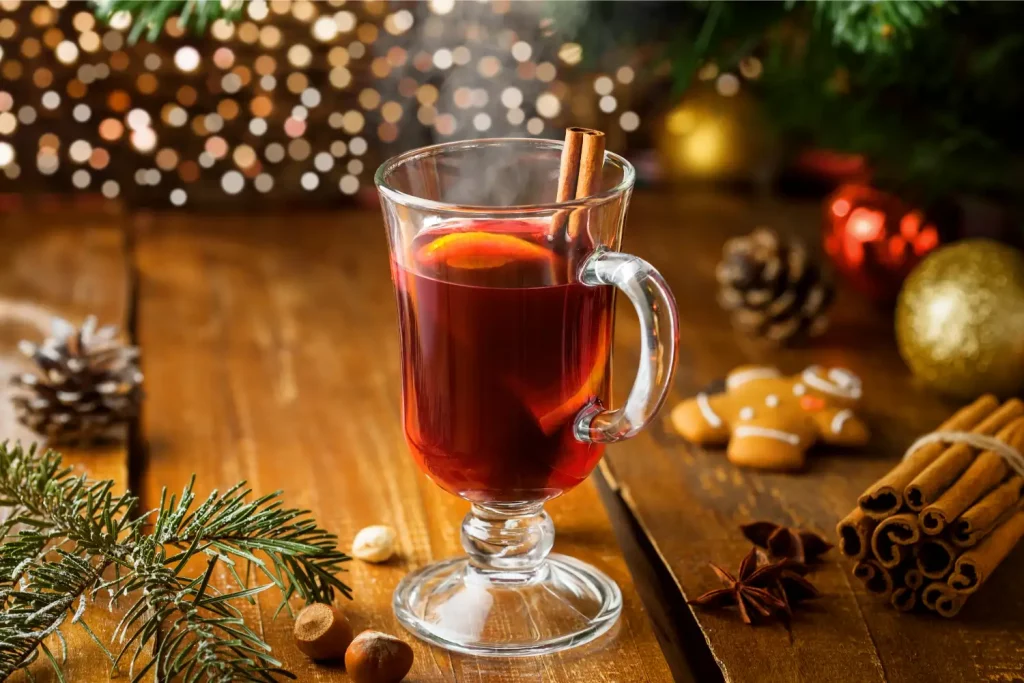 Visit Juliusz Slowacki Theater
Juliusz Slowacki Theatre isn't just an ordinary theatre. It's a renowned UNESCO World Heritage Site in Poland and has been operating since 1893. It is a highly recognized stage in the country and also serves as a stunning example of theatre architecture in Europe.
Even though it serves as a popular tourist site, you can only take a tour of the theater in the summer season. However, you can book a ticket for an actual play which is the key highlight of the place.
Witnessing a play in such an iconic theater is an experience in itself that you cannot afford to miss out on. A walk inside the theater is something that you must keep in mind.
The interior of Juliusz Slowacki Theatre is so intriguing and the details are so incredible that they will take you directly back in time.
Enjoy Ice Skating
A traditional thing to do in Krakow is ice skating. People love to do ice skating in the winter season here. For that, plenty of ice skating rinks gets installed all around the city since the beginning of December.
If you want to have some winter fun and looking for a fun thing to do, this is your activity to indulge in. Shopping malls are the venues where you can find the best of ice rinks in Krakow. The prominent one is located in Krakowska Gallery.
This is the place where you also get the best crowd. So, do not hesitate to rent skates and go for an ultimate skating experience with kids and adults. Right next to the place, there is also an area where you can enjoy a glass of wine or some warm beer along with something to eat.
Another popular place is Kazimierz Gallery which usually opens in the Jewish quarter. Not only this, Park Ice is also a location in Blonia Meadow where you can go ice skating. It operates from December to March.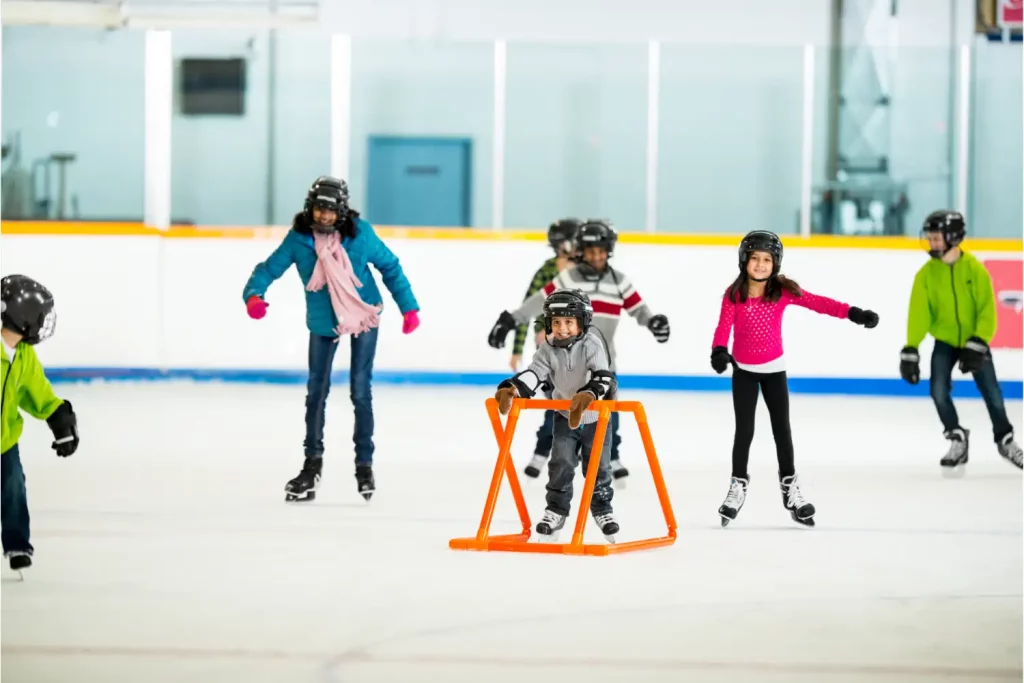 Visit the Christmas Market
If there is one activity that you must do while vacationing in Krakow in winter, it should be visiting Christmas Market. The city hosts plenty of Christmas Markets to visit in various squares. However, all of them are small and insignificant if compared with the Christmas Market observed in the Market Square, the Rynek Glowny.
The square is already adorned with timeless beauty and stunning monuments. However, it comes to a different charm during Christmas time. The market is observed at the end of November and lasts until the end of December or early January.
At the market, you can find numerous huts that feature and sell the best of the products by local artisans. Along with that, you can also find Christmas decoration items and souvenirs, mainly wooden handicrafts, to gift to your loved ones.
You can also find some options for food and drinks to enjoy at the Christmas Market. One of the best things to do in Krakow at Christmas is try the traditional hot drinks of Poland, which is both beer and wine.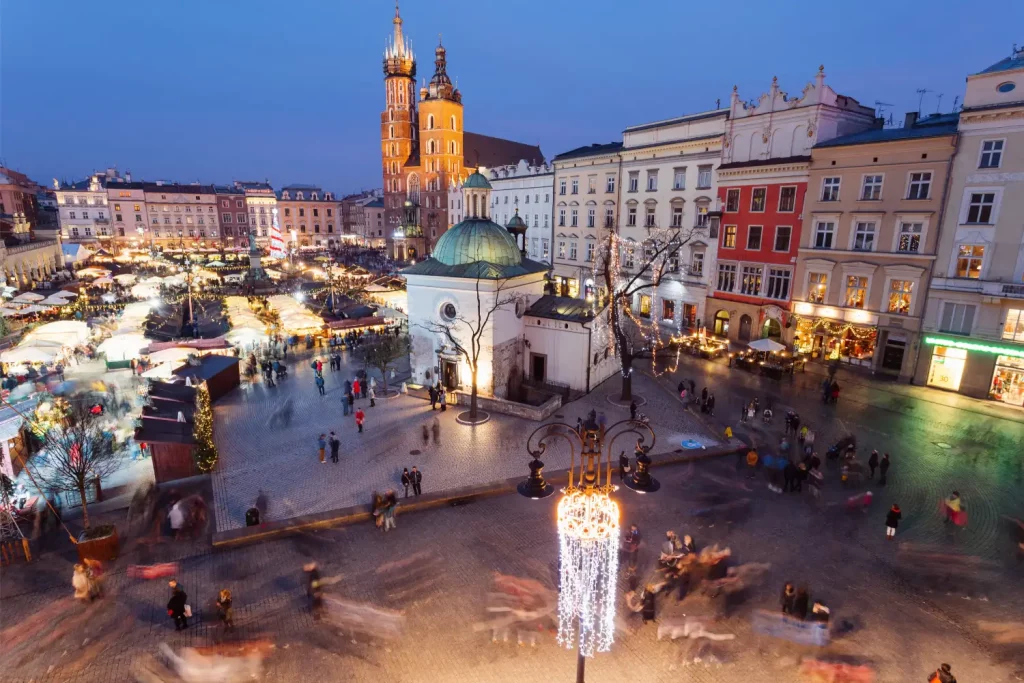 Get in the New Year's Vibe
When vacationing in the winter season, New Year's Eve is the best time after Christmas. The city is dotted with plenty of bars and pubs. You can visit one of these bars and pubs or go bar hopping on New Year's Eve.
However, the most traditional thing to do is visit Market Square, which is a vibe during this of the year. The square hosts free concerts of some of the most celebrated singers of the country.
Not only this, the Basilica of Santa Maria also plays crucial in the New Year celebration. As the bells of the Basilica of Santa Maria ring, a fabulous display of fireworks begins and marks the beginning of the New Year. Afterward, the party continues all night long.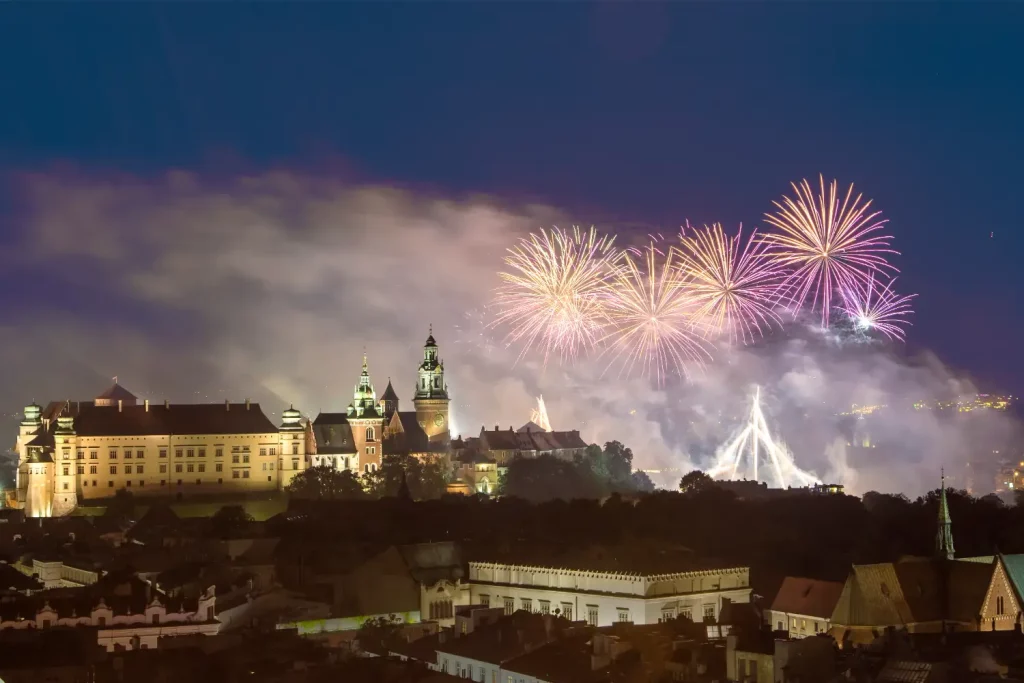 Visit Saints Peter and Paul Church
Doesn't matter if it is winter or summer, visiting Saints Peter and Paul Church is one of the best things to do in Krakow. The church is richly beautiful on a normal day. However, if you visit them on a snowy day, the visual of the church is a sight to behold.
The church is known for its exquisite Roman Catholic Polish-style architecture, and its construction dates back to the 16th century. In the early 19th century, Saints Peter and Paul Church serves as a protestant place of worship.
Talking about the architecture, it has a beautiful facade which is made of dolomite. The inside of the church is more like a theater which makes it a unique place. Not only this, there are also statues of several Jesuit saints. On the walls, you can also find events from the lives of Saint Peter and Paul in the apse of the presbytery.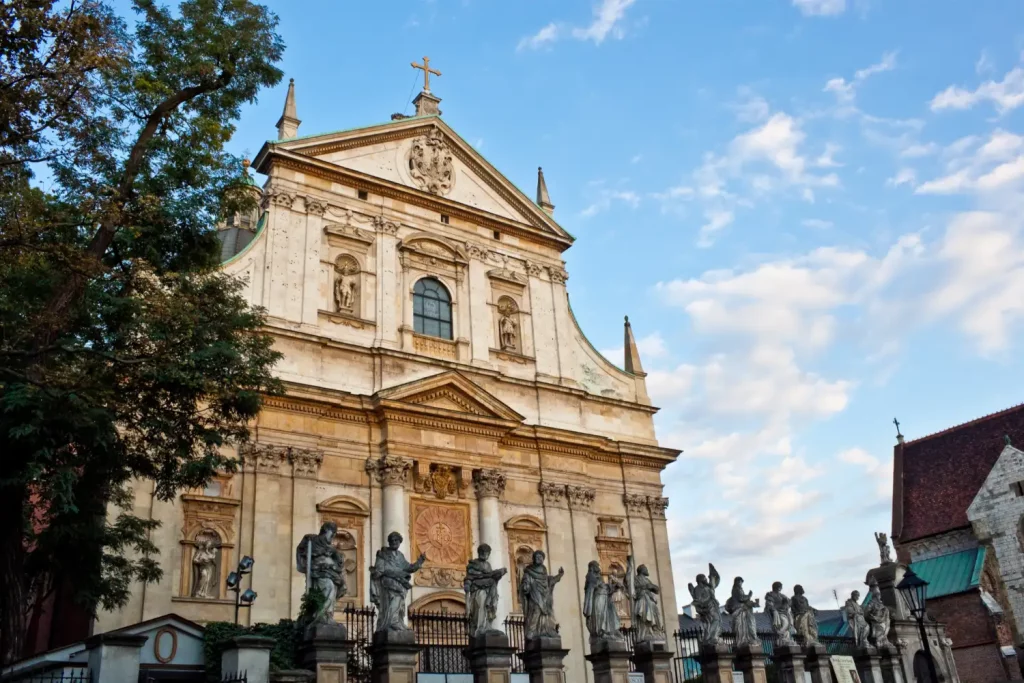 Before You Leave for Krakow
Before you set off on your way to Krakow, there are a number of things you will need to get organised to ensure a smooth and enjoyable journey. These include what to pack, where to stay and what is the best insurance for your trip to Krakow. All of this is discussed in detail below.
How to Get to Krakow
Krakow is a popular tourist destination in Poland and is well-connected to major cities in Europe. There are several ways to get to Krakow, depending on your location and preference. If you're coming from abroad, you can fly into Krakow's John Paul II International Airport, which is served by a number of international airlines. From the airport, you can take a taxi or public transportation such as buses or trains to reach the city center. For those traveling from within Poland or neighboring countries, there are regular trains and buses connecting Krakow to other major cities, making it accessible for budget-friendly travel. Additionally, Krakow can be reached by car or coach, with major highways leading to the city. Overall, Krakow has a reliable and efficient transportation system, allowing for easy access to this historic and picturesque city.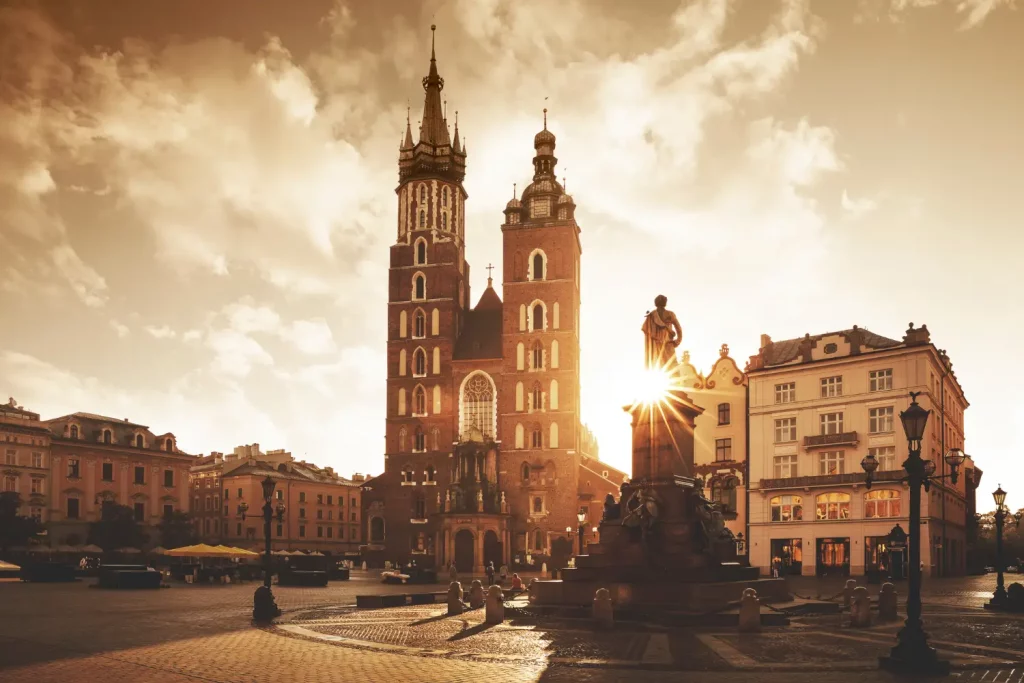 Where to Stay in Krakow
There is a wide range of accommodations available in Krakow, so you will not be short on options. Start searching on the box below and find your favourite accommodation.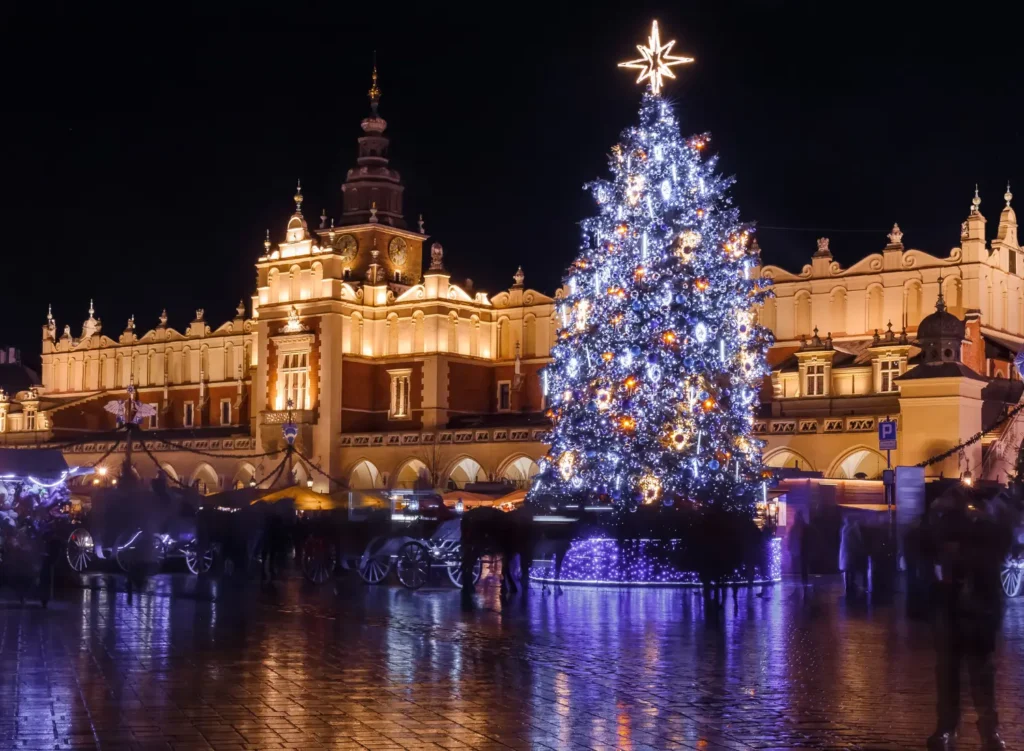 What to Pack for Your Trip to Krakow
When packing for a winter trip to Krakow, it is essential to bring warm and layered clothing to stay comfortable in the cold temperatures. Start with a heavy winter coat or parka, as temperatures can drop below freezing. Pack sweaters or thermal tops, long-sleeved shirts, and warm pants. Make sure to include thermal socks and sturdy, waterproof boots to keep your feet warm and dry while exploring the city. Don't forget to pack gloves, a hat, and a scarf to protect your extremities from the chilly winds. Additionally, consider bringing a few pairs of thick socks and a cozy pair of slippers for indoor relaxation. As the weather can be unpredictable, pack a waterproof jacket or an umbrella to stay dry during rain or snow showers. With these winter essentials, you will be well-prepared to enjoy your trip to Krakow.
For our full list of items that we pack no matter where we go in the world, check out our full packing guides over here.
Given the beautiful sights and scenery that you are no doubt going to see around Krakow, we highly recommend packing a good camera for your trip. If you want to read more about the cameras we use and why we love them, check out the link below.
You can read what else we keep in our camera bag over here.
Photography Equipment
What is the Best Travel Insurance for Krakow
I know travel insurance is the least enjoyable thing to purchase and look at when you're planning a trip, however, you wouldn't want to be without it in the event that something happened. Accidents can happen anywhere and the extortionate medical bills will ruin your trip if you are not covered.
To ensure you have a stress-free trip with no worries about potential medical bills, make sure you cover yourself when you travel. We can recommend using SafetyWing, a backpacker-friendly and cheap insurance company that provides good coverage and support. It is also nomad-friendly, unlike most other insurance companies, meaning you do not need to worry about being out of your home country for too long.
Get a quote for your travel insurance right here and get covered!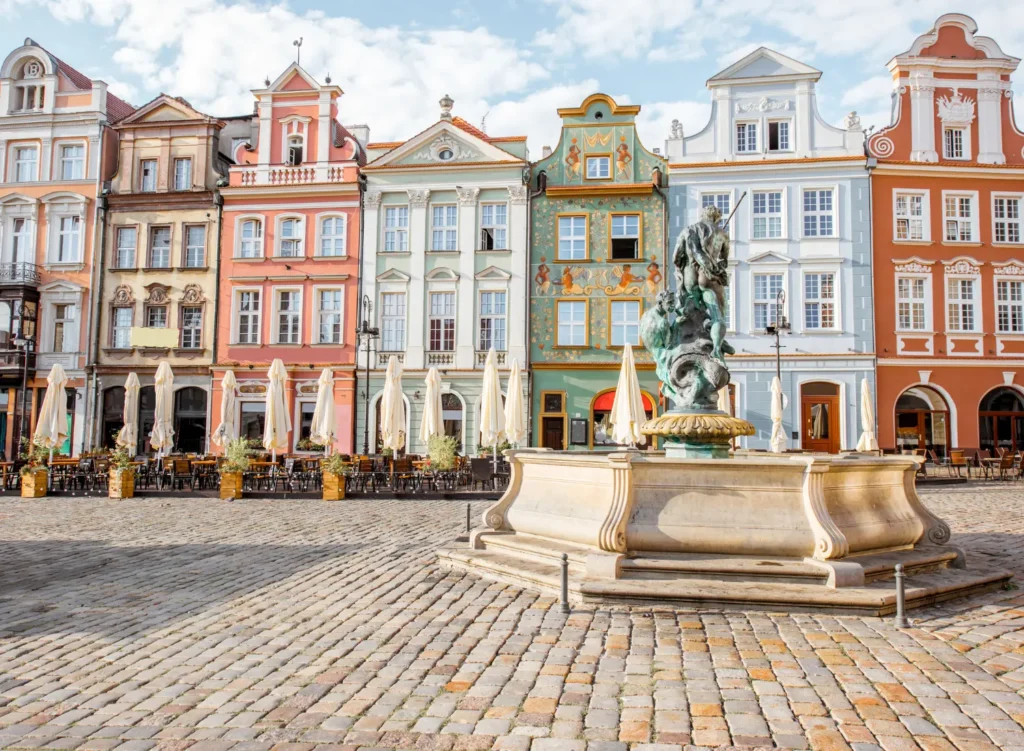 So there you have it, your travel guide to Krakow. If you are visiting this incredible city and have any other questions on what to expect, leave us a comment down below. We love to chat about this stuff! If you have already been, Let us know in the comments below!
Also, remember to share this with your friends and family that you are going to share this amazing experience with. Sharing is caring and we want to ensure that everyone is fully prepared to maximise their experience completing this stunning walk.
If you are planning a Scotland trip soon then check out our other travel content right here. Come and find us on social media to see where we are currently exploring. Tag us in your photos from your stay and we will share them with the rest of our community of explorers and backpackers.
Read Now:
This article may contain affiliate links that provide us with a small income. For more information read our Affiliate page.
---
Pin it for later!