One of Europe's most Instagram-able sights has got to be the spectacular Lake Bled. The crystal-clear waters, surrounding mountains and stunning greenery make it one of the most beautiful places we have ever visited! And to top it all off, it even hosts one of the only two islands in Slovenia!  Upon this island is a church, whose bell chimes throughout the day. During our short stop off in this incredible part of the world, this is what we got up to.
In this Lake Bled blog we list our favourite activities on the Lake itself, as well as the many sights in the surrounding area. We also discuss the best places to stay at Lake Bled, what you should pack for Lake Bled and how to get to Lake Bled from Ljubljana.
In this post, we share all of the best things to do at Lake Bled.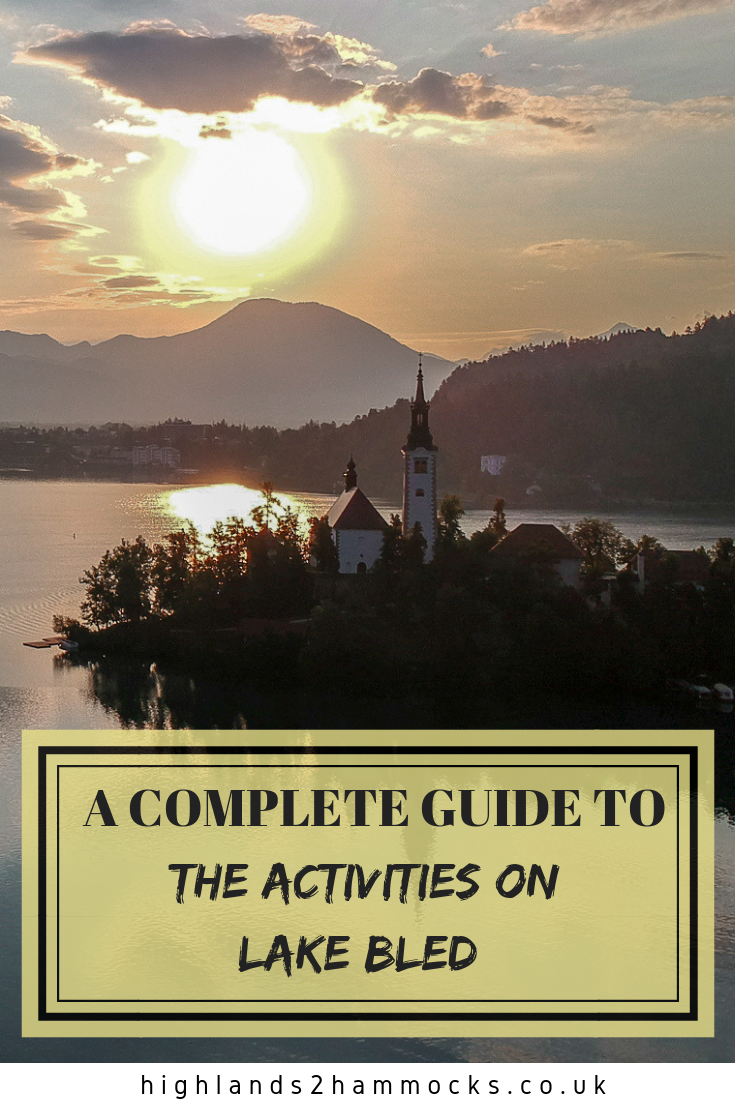 The Best Things to do at Lake Bled – A Complete Guide
Lake Bled is one of the most beautiful places in Slovenia and well worth visiting on your trip to Slovenia. It is one of the things Slovenia is famous for and I am sure you will have seen many beautiful photos of it online. 
Wild Swimming in Lake Bled
Of course, this is an obvious one and is one of the must-do activities for any Lake Bled day trip. When you see the blue water, you are going to find it very difficult to not jump straight in, especially in the hot summer months! Around the western bank, there are plenty of areas that provide easy access into the welcoming waters.
As it is glacial water, you will find it is not quite as warm as the Mediterranean sea. However, this cool lake is absolutely delightful after a day of hiking or any of the other many activities available.
If you are a capable swimmer, you can even swim over to the island that Lake Bled holds. From the eastern shore, this swim is about 1.5km each way. This means it shouldn't take longer than half an hour to reach the pretty banks of the island.
Unfortunately, there is a strict "no swimsuits" rule on the island. This means you cannot explore around the church and houses themselves, however, even just the view and atmosphere on the island's pier is worth the effort.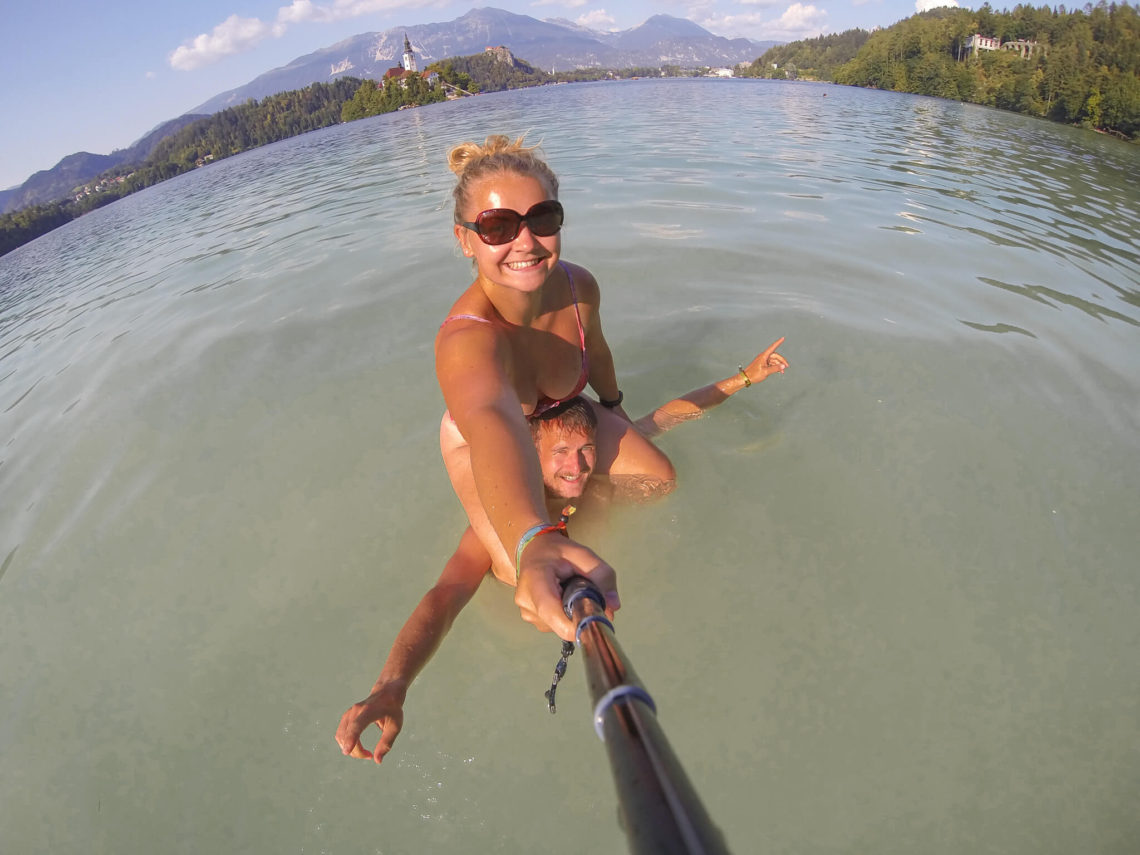 Visit Bled Island
As mentioned above, it is possible to swim out to Bled Island if you are a confident swimmer. If you are wanting to explore the church on the island, how about considering these other options to get there.
Rowing Boat
If you are wanting to get off at the island and visit the church, there is a Lake Bled boat rental available to get you over to Bled Island. Lake Bled is one of the most beautiful and peaceful places for rowing in the world. You can rent the rowing boat by the hour for around €15-€20 depending on where you rent from. You can check out more rental information, here. 
Pletna Boat Ride
If you would rather sit back, relax and enjoy the ride, then how about going on a gondola ride. On this trip you will be joined by others, therefore this will cost around €12. We would recommend that you bring cash to pay for this activity. The departure point is at the pier below Cafe Park and boats run throughout the day. You can find out more information on boat rides to Bled Island, here.
Lake Bled Workout
You will struggle to find anywhere in the world with a more perfect morning workout view. Every early morning you brave in Bled will reward you with a sunrise unlike any other. The sky lights up long before the sun peaks over the surrounding mountains, illuminating the beautiful, still waters of the lake with an incredible serenity.
Whether it is a simple run around the lake's banks, an early morning swim, or even a lakeside HIIT workout, the view of the surrounding valley is more than enough motivation to start the day right. If you are into your HIIT workouts, you can watch out lakeside workout right here! We hope this gives you some on the road, fitness inspiration.
White-Water Rafting Lake Bled
For the more extreme adventurer, there are a bountiful amount of high adrenaline adventures available in the hills surrounding Bled. Rafting in Slovenia is a popular activity and as neither of us had done it before, our choice was obviously  going to be White-Water Rafting, hosted by the Adventure Rafting tour company.
On this 3 hour expedition, you begin at the campsite where you booked it, where you will be collected and dropped off. You will then be brought to the starting point to get kitted out and psyched up by the teams enthusiastic and friendly raft leaders. After a quick introduction, you are on your way down the rapids of the River Sava, fighting as a team through the perils that await.
Even if you are not a fan of the water, this tour is nothing to be afraid of. We found it to be an excellent introductory rafting trip, with no steep drops or sudden immersions (apart from when the leader decides to tip you..).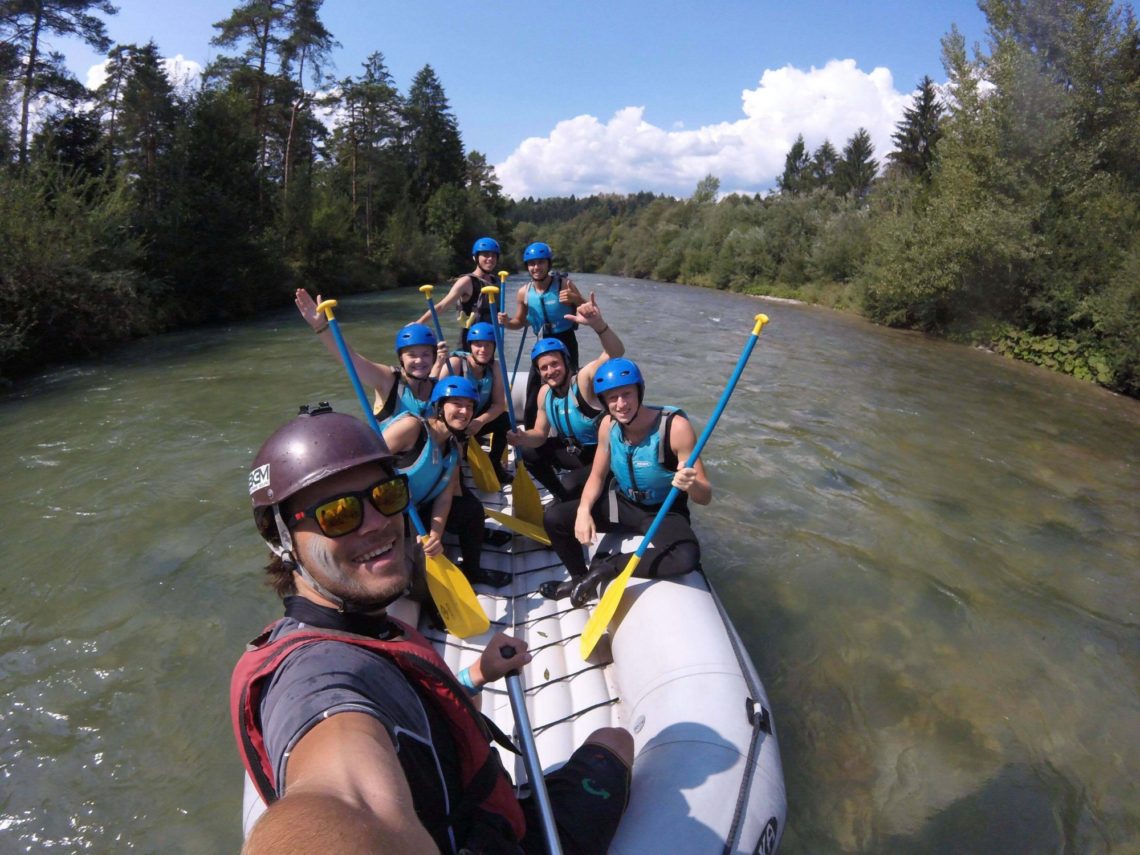 Throughout your journey your guide will tell you all about the beautiful surrounding landscape. You will also get to play multiple fun raft games. You will finish off the trip with a spot of body surfing down a set of rapids, before you paddle the final stretch, whilst singing traditional Slovenian songs. How dreamy!
This trip cost us €34 each and is the cheapest option that we could see. Despite this, the value for money of the trip is outstanding, with it even including free digital pictures.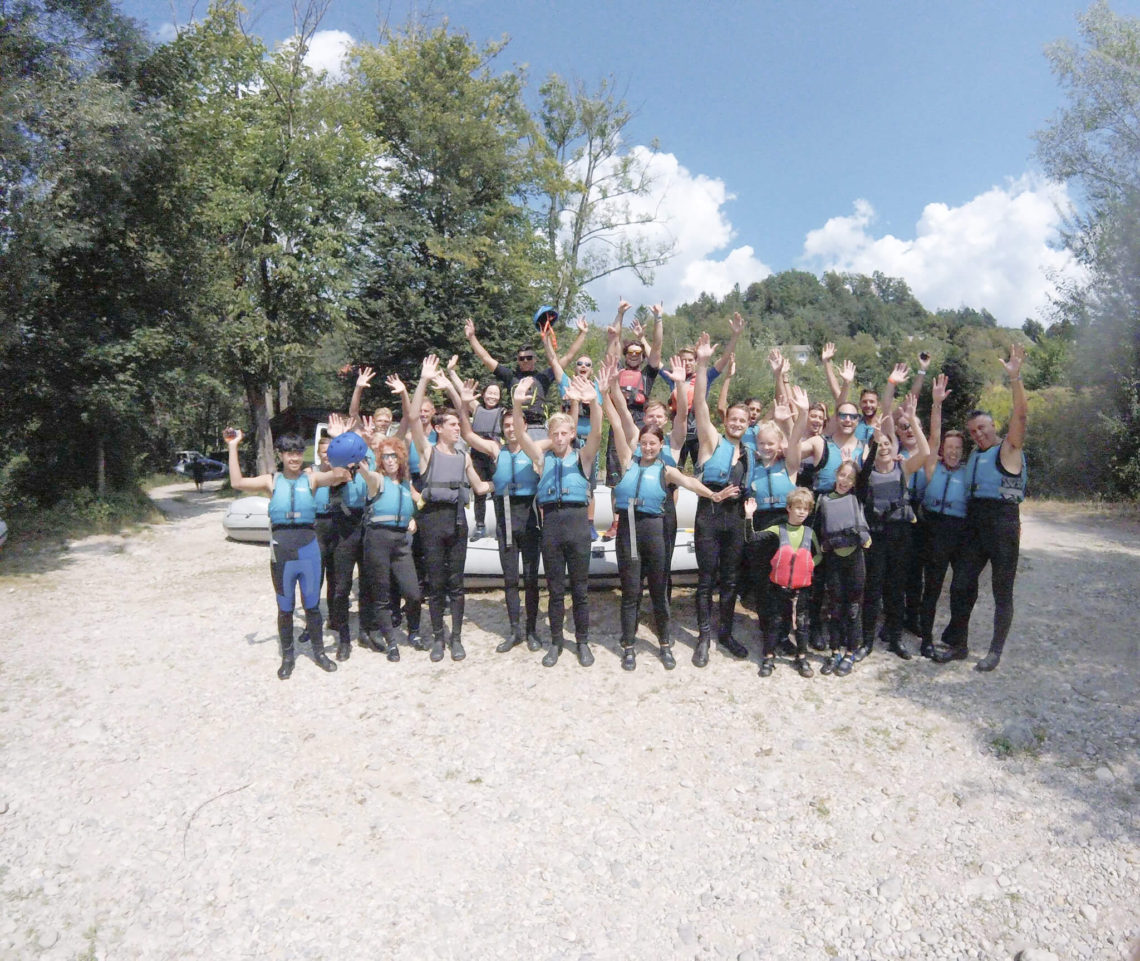 Stand Up Paddle Boarding Lake Bled
Lake Bled's stunning surroundings matched with the calm waters, make the ideal place to try your hand at the Stand-Up Paddle. This activity that is rapidly gaining popularity all across Europe, and we can see why! This fun, slightly tricky, and completely exhausting sport is the ultimate way to take in your surroundings, all while keeping fit.
With multiple places around the lake offering SUP rentals, we decided to give it a go and see how hard it could be. Let's just say the people doing it on the open ocean make it look very easy! After much time wobbling around we both finally managed to do some proper Stand Up Paddling and had an incredible time.
On the eastern banks of the lake you will find a SUP rental spot, offering 1hr rentals for only €10, which is then lowered to just €5 between 9am and 10am! Well worth the money. We would recommend that you bring cash for this activity. You can leave your belongings on the shore beside the person renting the boards, there are no secure lockers for valuables though.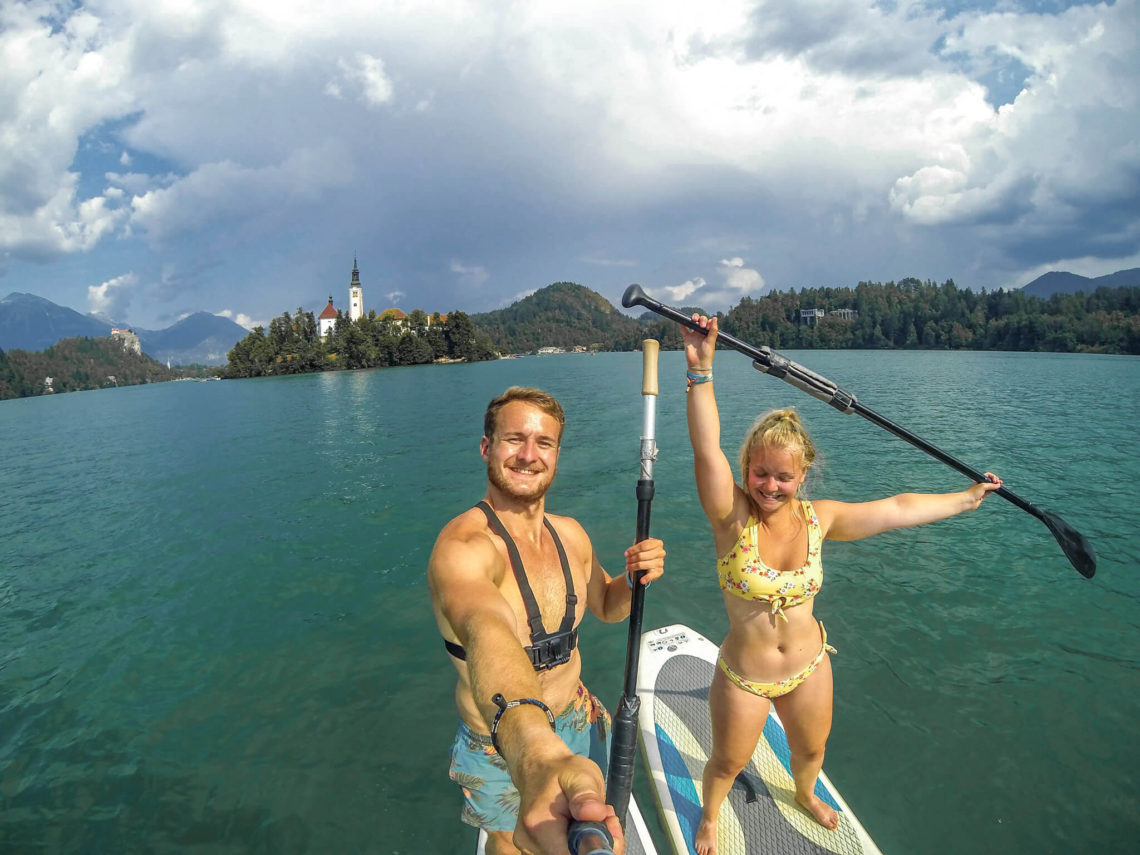 Cycle around Lake Bled
The 6km route around Lake Bled allows you to enjoy the view of the church on the island from all different angles. You will see many people in the area cycling their way around the country and if you want to see it all, this is the perfect way to do it.
If you don't have a bike with you, you can rent one at any of the below rental companies.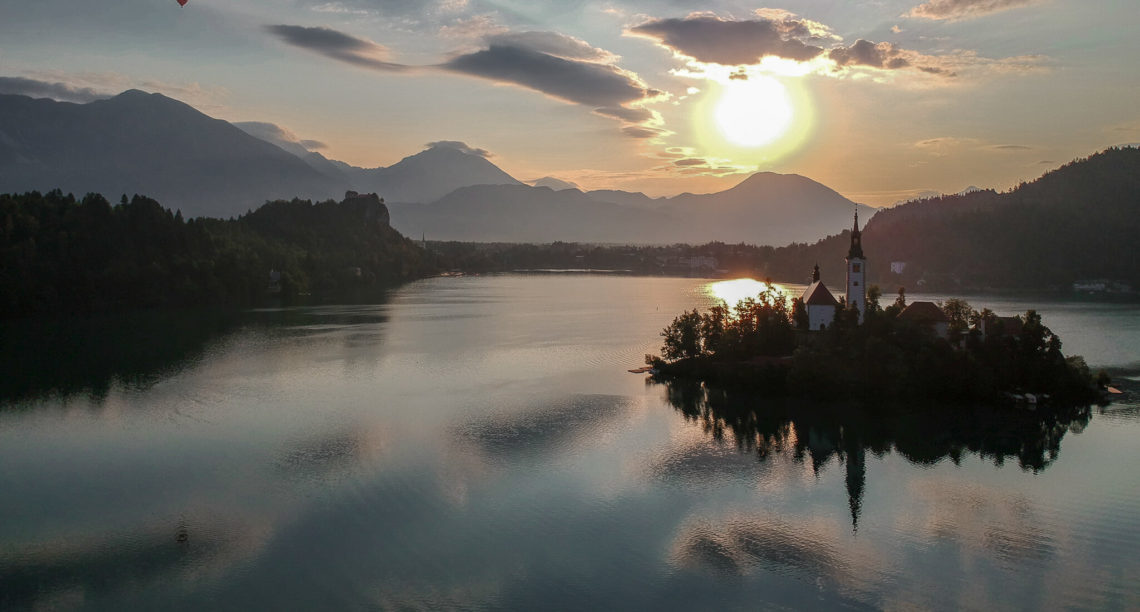 Before You Leave For Lake Bled
Before you leave on your adventures, there are a few things you will need to get organised to make sure your trip runs smoothly.
What to Pack for Lake Bled
A must for your trip to Lake Bled is a swimsuit, whether you visit in the warm summer or chilly winter, that water is tempting! It can be cold in the morning and as soon as the sun hits you, it will be warm. Therefore we would recommend you pack layers with you.
You can check out our packing lists for some inspiration here.
Lake Bled is one of the most photogenic locations in Europe and was one of those places that made our jaws literally drop with how beautiful it is. Make sure you don't forget your camera as you can get extremely snap happy around the lake.
If you have a Go Pro or underwater camera, then this is the perfect opportunity to make use of it as there are so many water based activities around Lake Bled. If you have a drone, this is also worth packing as the shots you can get of the church in the middle of the lake are incredible.
You can check out what travel tech we bring with us on our trips here.
Travel Insurance
One of the most important purchases to make before you go on any trip is your travel insurance. Forking out for an accident is really not worth it when you're on the road. To save us worrying about medical costs, we take out travel insurance with World Nomads, a backpacker friendly insurance company. They offer a range of cover for all of your needs on your adventure.
Get a quote for your cover right here and have peace of mind on your trip.
Getting to Lake Bled
Lake Bled is the perfect day trip from Ljubljana, Slovienia's capital city. Ljubljana sits just 55km from Lake Bled and is at the base of the Julian Alps, in the north west of Slovenia. We would recommend staying in Lake Bled for at least 3 days to allow you to try the great activities on offer here and also to allow you the time to relax and take in the breathtaking views by the lake.
If are arriving by train into Lake Bled then you will have the choice of arriving into one of two stations. The main line is Lesce-BLed, which is 4km away from Lake Bled, meaning you will need to catch a short bus into town (unless you're up for the hike with your luggage). Over 20 trains a day pass by this station from Ljubljana every day, therefore it should be a simple trip.
The other option for your day trip to Lake Bled from Ljubljana is to get on one of the fewer trains from Ljubljana to Bled-Jezero with a transfer at Jesenice. This adds a lot of travel time onto your journey, however the train station is within walking distance to Lake Bled.
You can check out Slovenia Railways to plan the best route for you, here.
Where to Stay on Lake Bled
Luxury – Grand Hotel Toplice – Small Luxury Hotels of the World features panoramic views of the lake and the alps. Located on the shore of the lake, what more could you want from your stay in Slovenia.
You can book your stay at Grand Hotel Toplice – Small Luxury Hotels of the World
Mid-Range – Penzion Vila Prešeren is located directly on Lake Bled with a gorgeous view of the church. Perfect for your next visit to this Slovenian town.
You can book your stay at Penzion Vila Prešeren, here. 
Budget – Central Bled House is location near Lake Bled and is a great budget option for your trip to this wonderful part of the world.
You can book your stay at Central Bled House, here.
So there you have it, everything you need to know about the activities available in Lake Bled. This is an incredible spot for an adrenaline filled, completely relaxing, and utterly breath-taking weekend break. If you have been to Lake Bled and tried any activities that we haven't mentioned, please let us know what you thought of them below. If you tried any of the above activities, we would also love to hear about it below. Did you enjoy them? Would you visit Lake Bled again?
Be sure to share this post with your family and friends to show them how wonderful a place Lake Bled is. A perfect summer or winter destination for your next trip.
If you enjoyed reading this, then make sure you get planning your next European Break with our other Europe content. You can also catch up with us on our social channels, come and say hey!
Read Now: 
This article may contain affiliate links that provide us with a small income. For more information read our Affiliate page.
---
Pin it for later!