MOVING TO GUERNSEY GUIDE

NOW 50% OFF!
Plan your move to Guernsey with our downloadable pack containing ALL of the information you need to know before your life changing trip.
This guide is an easy-to-read, 40+ page infographic, with pictures detailing what you need to know to move to Guernsey as well as the best sights, activities, and places to eat.
"How does going to the beach every day after work sound to you?"
It was that sentence that sold moving to this little island in the middle of the Channel to us. Guernsey offers a great work-life balance and there is something here for everyone. Whether that is eating out, relaxing on the beach or walking around the cliffs, with the island being around 9 miles long and 6 miles wide, you never have far to go.
Now, I can't say that has been our lives every day as the daily grind does take over sometimes. However, it's amazing to make the most of it when you can.
Guernsey is one of the main Channel Islands located in between the UK and France. It is often forgotten about in comparison to the nearby island of Jersey, however, it is an island that should definitely be on your radar.
If you enjoy small island living, then Guernsey may just be the place for you. many people move to Guernsey every year with the same intention, "I'll only stay short term" and guess what, we know many people that are still here 20 years later! Guernsey is one of those places that will leave you wanting more, you will never get enough of how beautiful those white sandy beaches are.
No time to read now? No worries! Save it to your Pinterest board for later!
Moving to Guernsey - Living and Working in Guernsey
Where is Guernsey?
Guernsey is a small island located in the Channel Islands, in between England and France. 50km off the north-west coast of France in the Bay of St. Malo and 120km from the English coast. It is the second biggest Channel Island after Jersey.
The island is well known for its occupation by the Germans during World War II, as well as it's pristine beaches and laidback island lifestyle. It is a very unique island with a varied food scene and unbelievable scenery.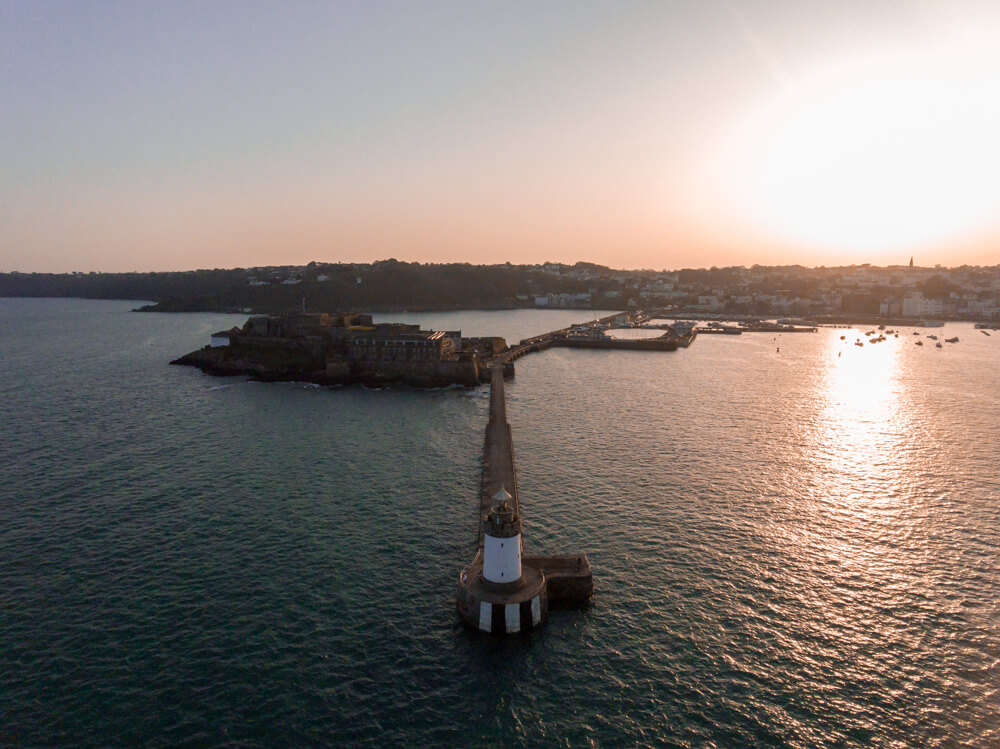 Things to Know About Guernsey
Despite its tiny 65km2 surface area, there are a lot of people living on the island. In 2020 the population of Guernsey is 67,000. Being such a small island, it is possible to drive around the island in 1 hour.
There are 10 parishes in Guernsey, St Peter Port and Castel being the largest and most populated and Torteval being the smallest and least populated.
From cliff walks to pristine beaches, watersports and of course visiting the historical sights, you will not be bored on the island.
How Big is Guernsey?
As we mentioned above, Guernsey is only 65km2. This means it's possible to drive around the island in 1 hour. On your drive around the island, you will come across a variety of different forts, beaches and rocky outlines. It truly is a spectacular island for scenic variety in such a small space.
Despite its tiny size, only 15% of Guernsey has been built on. This means that there is an incredibly diverse landscape on the island. There are forests and rolling green fields and cliffs in the south, stunning beaches to the west, and flat walking areas in the north. To the east of the island is the main population, stretching from St Peter Port all the way up the eastern coast to St Sampsons.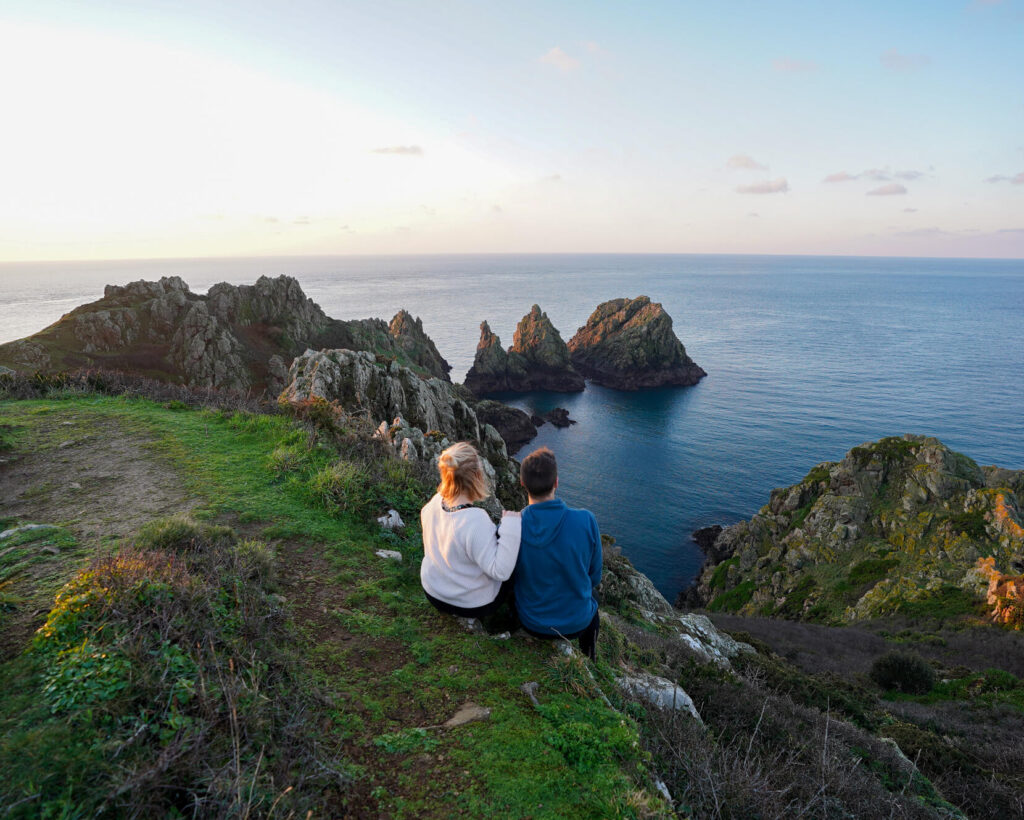 Is Guernsey Safe?
The crime rate in Guernsey is very low. The community is very small, intimate and overall very friendly, with little to worry about on a daily basis. When Gemma first lived here, it was very common to leave the back door to her shared accommodation wide open for anyone to access, as there was little worry of breaking and entering.
Despite this comfortable way of life, we would always recommend you bring your common sense and good practice over to the island from where you are coming from, as you never know and "low risk" never truly means "risk-free".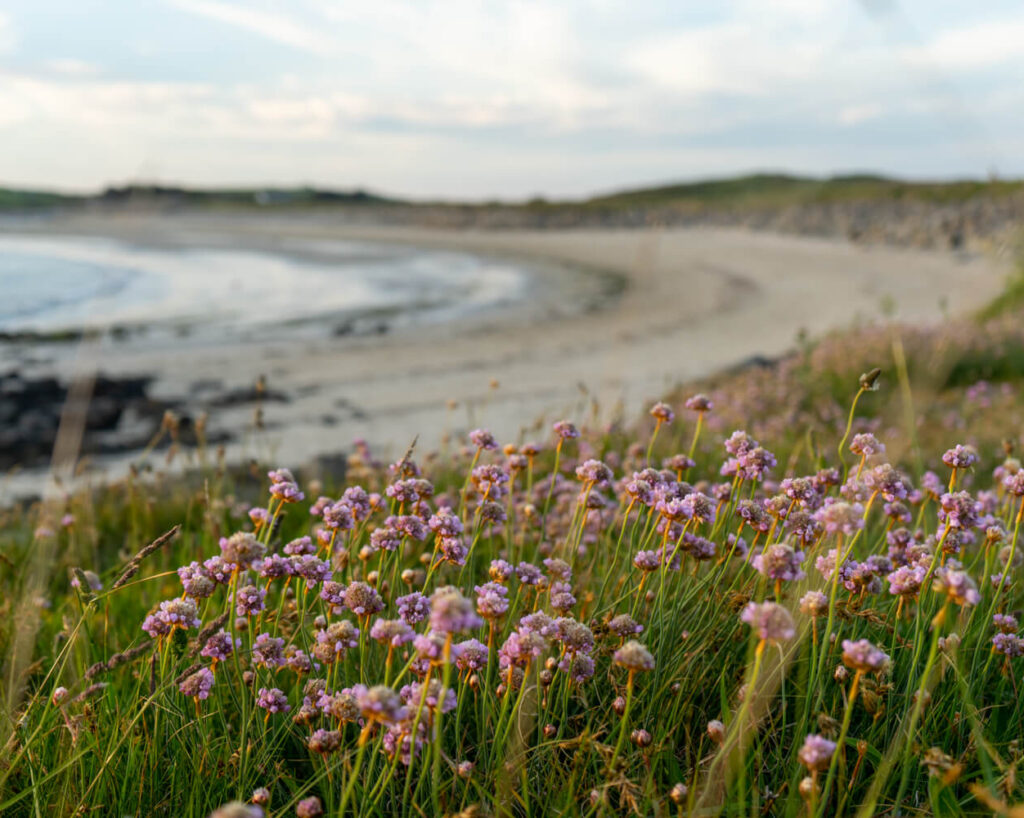 Is Guernsey in the UK?
Guernsey is not part of the UK, however, it is under the protection of the British Crown and is an independent, self-governed island. Guernsey's own government is the States of Guernsey who handles all matters from domestic affairs to taxation and the British Government is responsible for foreign affairs and defence.
If you are travelling between the UK and Guernsey, you do not need to travel with a passport, however, you do need to show some form of identification. If you are travelling from outside of the UK then you will need a passport.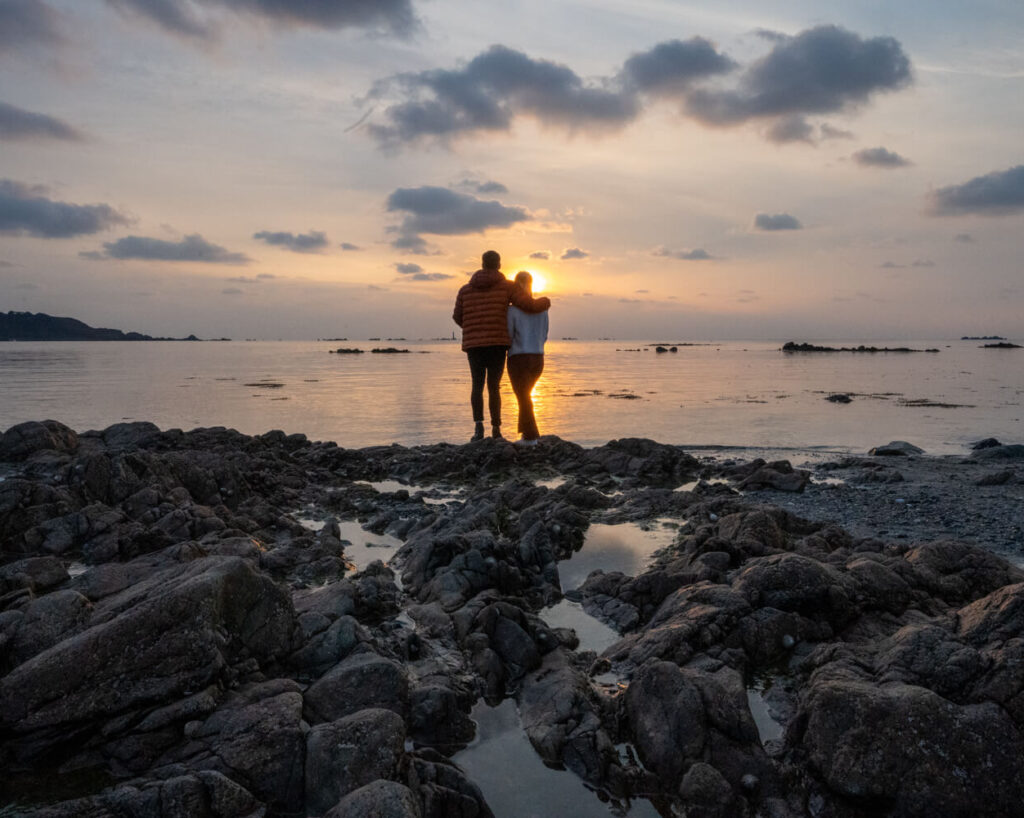 What is the History of Guernsey?
Guernsey is full of recent history, dating from the Neolithic and Prehistoric period thousands of years ago, through to one of the most significant places in the Second World War. Occupied by Germany during World War 2, the Channel Islands were the closest the invading Nazi forces got to land on the shores of Britain and were occupied for nearly 5 years.
There are many concrete bunkers and deep tunnels holding Guernsey's history. The German underground military hospital holds an eeriness to it however I would say these are definitely worth a visit even if history isn't your thing!
\
Liberation Day is an annual holiday in Guernsey held on the 9th May. This is the day that Guernsey was liberated from the Germans. Huge celebrations take place over the island. The roads in St Peter Port close and the parades take place throughout the day with gunshots from the famous Castle Cornet. This is a bank holiday on the island and everyone who has the day off heads out to celebrate.
The most recent celebration that will go down in the history of Guernsey was the first country in the British Isles to end the lockdown and have zero cases of coronavirus. We were so lucky to be living in Guernsey during the coronavirus pandemic and be released from lockdown earlier than if we were living elsewhere.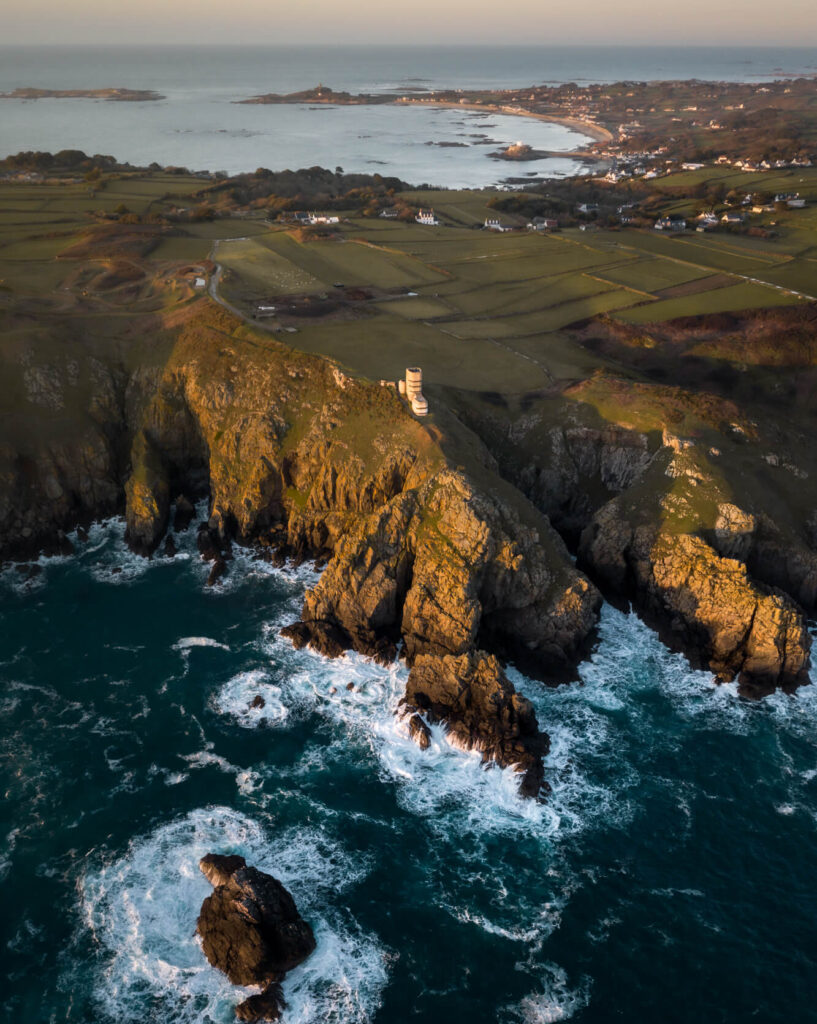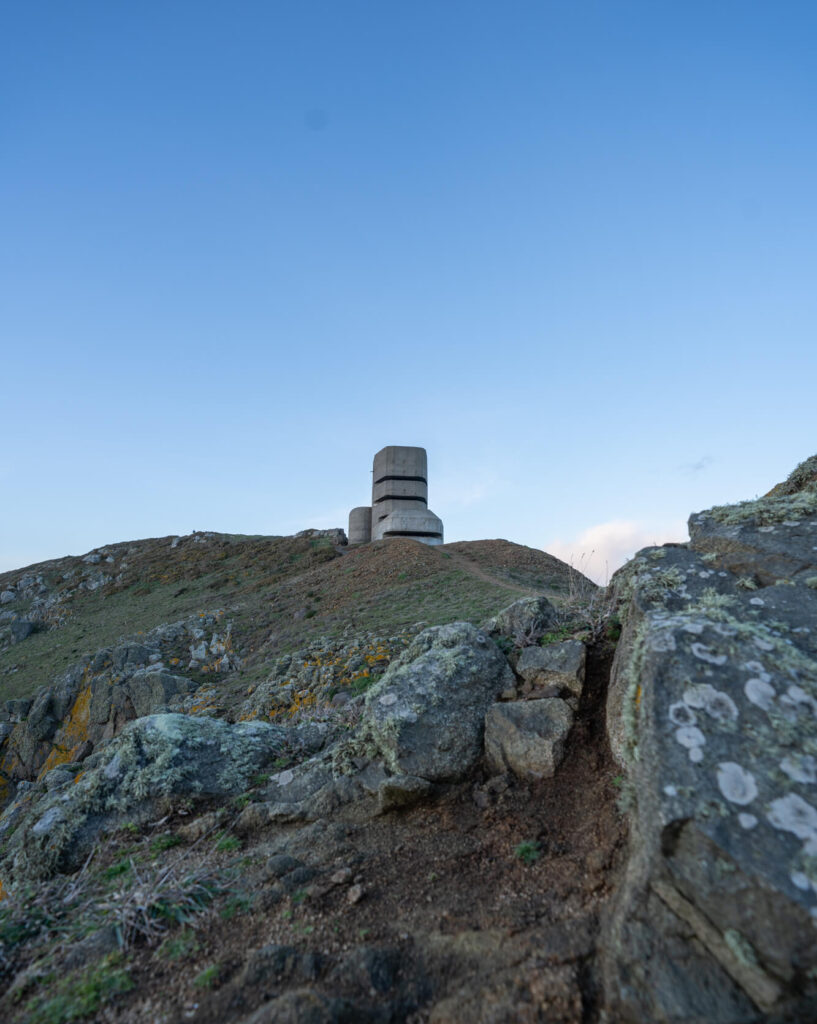 How to Get to Guernsey
Given that Guernsey is an island, you really have two choices of transport for getting there: plane or boat. Both of these transport methods are available from the UK, France and from the neighbouring Channel Islands.
Ferry to Guernsey
Condor is the best option for ferries to and from the Channel Islands from the mainland. Leaving from the mainland UK ports of Poole and Portsmouth, the French port of St Malo and the Channel Islands port of Jersey, there are two main ferries that will bring you to Guernsey.
The faster boat, known as the Liberation, takes 3 hours to get from Poole to Guernsey, while the slower boat, known as the Clipper, takes 7 hours from Portsmouth. From St Malo, it will take you just under 2 hours aboard the Rapide to reach Guernsey.
Browse all of Condor's ferries and routes on their website here.
Fly to Guernsey
Flying to Guernsey can be done from multiple airports across the UK with the Channel Islands airline, Aurigny. This is the quickest and easiest way to get to the island if you are only coming for a short period of time.
You can browse all of the available flights and routes on the Aurigny website here.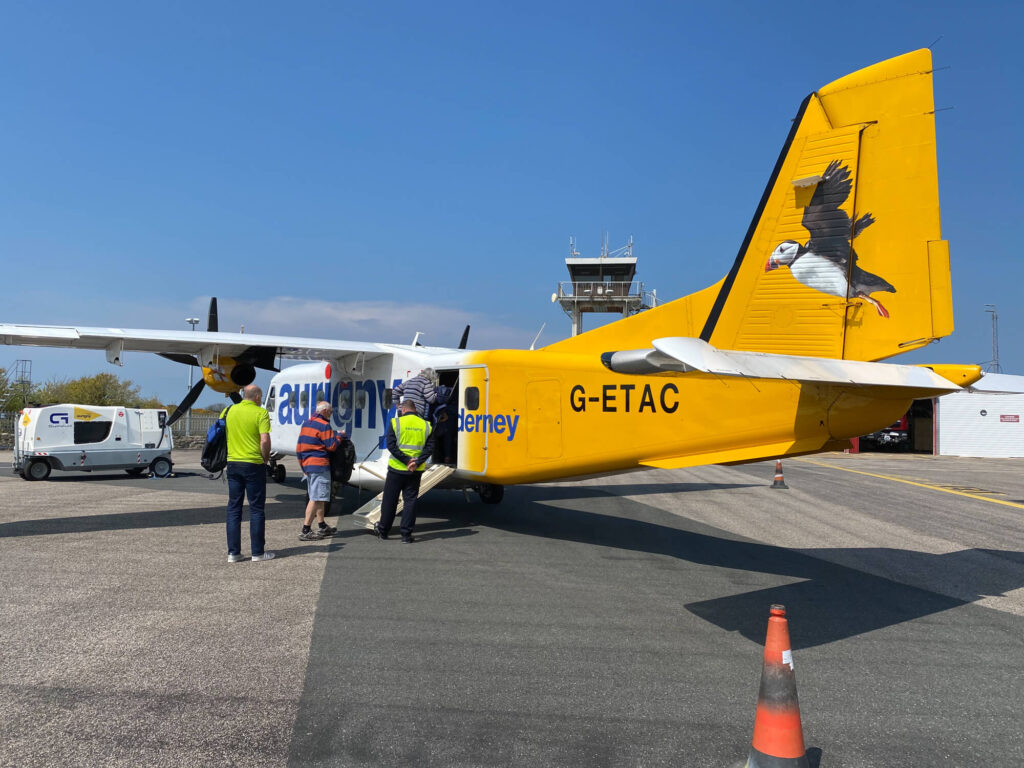 How to Get Around Guernsey
Travelling around Guernsey by car is the easiest way to explore the history and reach the popular stretches of sand and hidden coves on the island. The roads and lanes can be narrow and there is also a filter in turn system used, which we have never seen before elsewhere. It would be advised reading further about this if you plan to drive in Guernsey.
Public Transport in Guernsey
The bus in Guernsey is a cheap mode of transport and if your accommodation is situated in St Peter Port, then this may be a mode of transport for you. We can recommend using a Puffin pass as this will cost 70p per journey instead of £1. There is also the option for a night owl bus ticket if you are travelling after 9 pm. The cost of this ticket is £2.50.
Hiring Transport in Guernsey
Hiring a bicycle is a great option for getting around Guernsey. Some parts of the island can be steep, however, if you choose to stick to the coast then you will be cycling mainly on flat land. You can rent a bike from multiple places around Guernsey for a day.
Another option of getting around the island is hiring a scooter. If you have a driving license or a scooter license then you are allowed to drive a motorcycle in Guernsey. This is a very popular way of getting around the island due to how small the roads are.
Then, of course, you have car hire in Guernsey, which you can do from many of the same large car-hire companies that you will find in the UK and Europe, such as Hertz and Europcar.
In Guernsey, we drive on the left-hand side of the road. There are no motorways and the top speed on the island is 35mph. The roads are a lot more narrow than you may have been used to so it is extremely important to drive with caution.
There is also a filter in turn system in place on some of the roads in Guernsey, meaning that whoever arrives at the filter first has right of way, then it is taken in turns that the driver going in a different direction will then go next.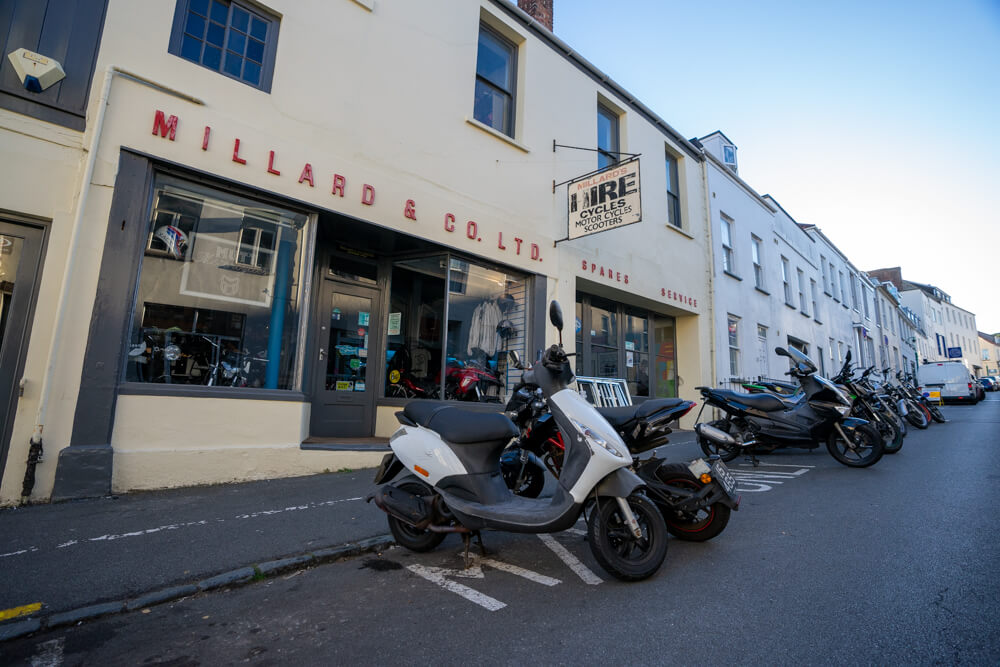 Bringing Your Car to Guernsey
When you move to Guernsey, you will need to register your car to be on the island and change your number plate. Your vehicle must be in Guernsey when you want to register it and it must have been cleared by the border agency when you arrive onto the island. This process is very simple as the border agency are there when you pull off the ferry, pulling random cars over.
Registering Your Car in Guernsey
When you arrive in Guernsey, you should re-register your car within 14 days. You will need to go to Bulwer Avenue Offices to register your vehicle and bring your original and current registration documentation, in the UK this would be your V5 form.
Whilst you are here, you will be asked to complete an 'Application to Register a Motor Vehicle/Motorcycle' and pay the First Registration Duty based on vehicle emissions. You will also need to pay a £44 first registration fee. Annual vehicle tax (road circulation fee) is not currently levied in Guernsey.
You will also be given new number plates and will need to change these over at the same time as registering your vehicle.
You can drive around with your old driving license for up to one year in Guernsey and then you must have your license changed to a Guernsey driving license.
Car Insurance in Guernsey
In Guernsey, it is not a requirement as part of your insurance to have an MOT done to your car. Once you have changed the registration of your car to Guernsey, you can now look into insuring your car using one of the island's insurance companies. There are many to choose from so we will leave you to have a Google and see which one suits you best.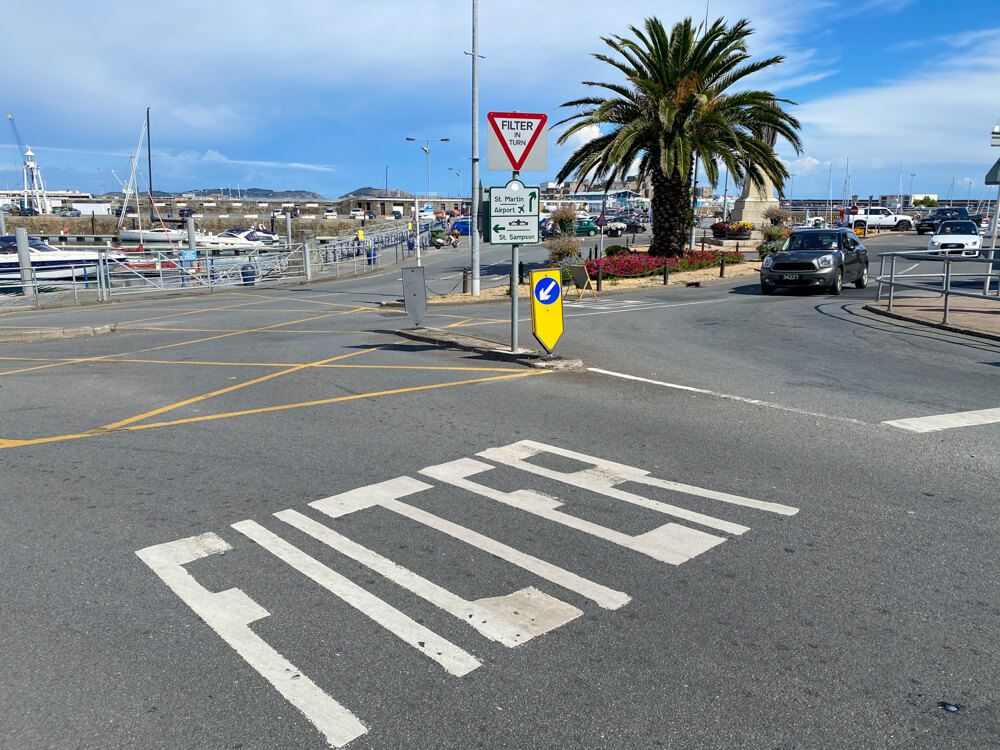 Health Insurance in Guernsey
There is no NHS on the island, therefore it is recommended that you have health insurance. GP practices are also private therefore when you register with a GP, you will need to pay for your consultations.
If you are in an emergency, the cost of the ambulance to turn up is £371. However, you can pay an annual subscription fee of £36 for an individual to be covered with St John's Ambulance.
All of this can obviously add up as you begin your new life on Guernsey, and so we would recommend taking out an excellent Health Insurance policy.
Social Security in Guernsey
Another thing you must do when you arrive in Guernsey is register with Social Security. The social security scheme funds healthcare under the Specialist Health Insurance Scheme as well as providing work benefits such as sickness benefit, injury benefit, maternity benefit etc. Your paycheque will pay 6.6% of your gross earnings towards social security with your employers contributing a further 6.6%.
By paying to social security, this covers you by the Specialist Health Insurance Scheme, which covers the cost of specialist medical care by the Medical Specialist Group if you required treatment.
You can download the registration form and take it into Edward Whedon House in St Peter Port.
Outside of the Specialist Health Insurance Scheme, as mentioned above, you will be responsible for the cost of GP consultations, A&E use, ambulance call-outs without cover, dentistry, physiotherapy, chiropody, and opticians. Whilst in hospital, there are no charges for overnight, care or medication prescriptions.
Tax in Guernsey
When you arrive in Guernsey, you will need to register with the Guernsey Income Tax Department.
As a self-governing dependency, Guernsey has its own tax system. Income tax is 20%, no VAT tax, no council tax and no income tax on first £10k earnings.
Education in Guernsey
Education in Guernsey is free and is compulsory for those aged 5-16. There are 3 schools for special education needs and private schools on the island. Children are allocated a place at primary school in their catchment area and for a secondary school, they will sit an exam to determine their place at one of the three secondary schools, 4 comprehensive schools or one of the three grant-funded colleges.
Guernsey does not have its own university on the island, students tend to leave the Bailiwick and study higher education in the UK. However, there are apprenticeships and the College of Further Education on the island for those leaving school but not wanting to leave the island.
If you are wanting to study nursing, you can find out more at the institute at the hospital where you can study on the island.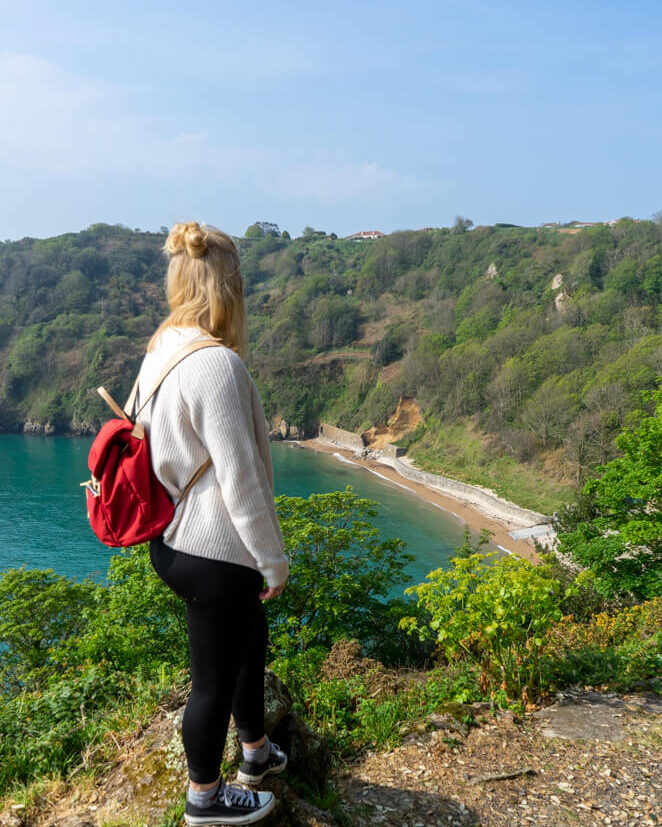 Finding Accommodation in Guernsey
If you are moving to Guernsey to work in healthcare, then you will most likely start off living in one of the HSC staff accommodations. There are a variety of different accommodations across the island from shared to having your own flat. We would suggest this being a good way to start off until you get to know the island and know where you want to live.
The two property markets on the island are closed market and open market houses.
On the Local Market
These homes can be lived in by those who qualify as a local resident, being born in Guernsey or having ancestry on the island. You can also live in the local market if you have lived on the island for a significant period of time.
There is also the option to live in this market if you have an employment permit and have been recruited to an essential full-time post.
The majority of houses on the island are the local market.
On the Open Market
The house prices in the Open Market are more expensive than the local market. They are available to those with a British and EEA passport. If you have been granted an Entrepreneur or Investor visa then you will also qualify for the Open Market.
Anyone living in an Open Market property can live and work on the island indefinitely with no need for an employment permit and no minimum revenue requirement.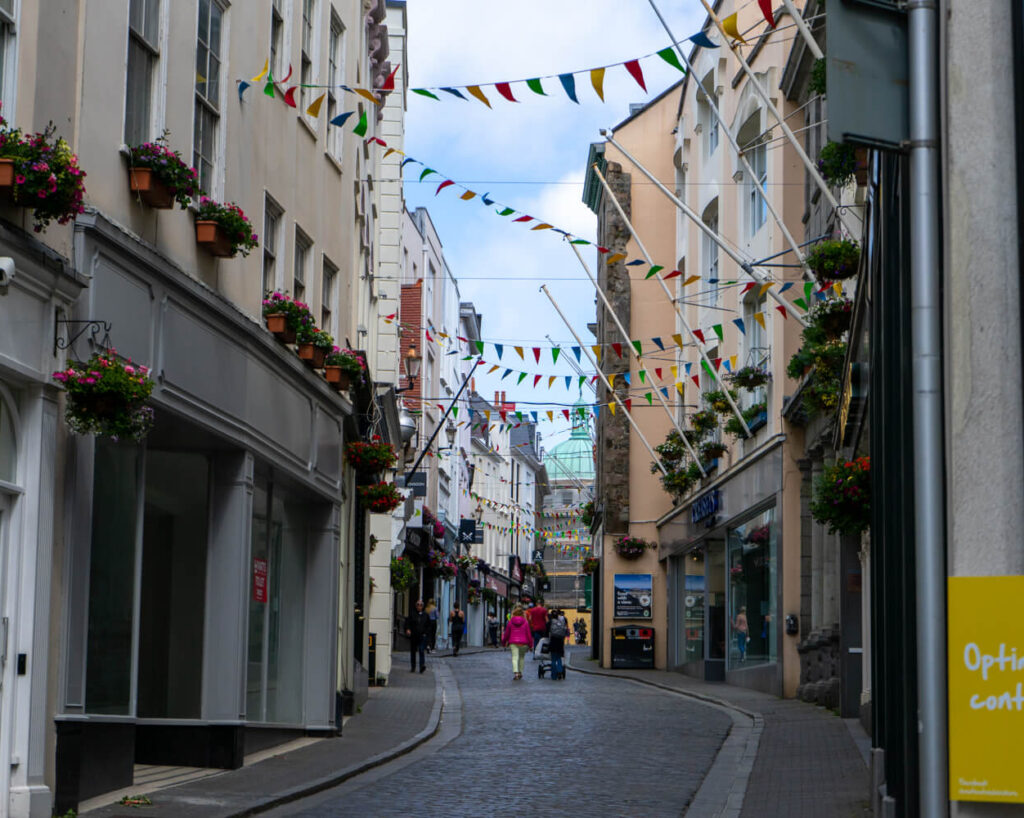 Shopping in Guernsey
The main hub for going shopping is in the town of St Peter Port. Here you will find shops like Marks and Spencers, Fat Face, New Look and Next. There is not as much choice for clothes shopping as there is on the mainland, however, you won't be stuck if you need a new outfit.
The supermarkets in Guernsey are a little more expensive than on the mainland, most likely due to the fact that they are shipped over. The supermarkets that you will find across the island are:
The Channel Islands Co-operative
Morrisons Local
Alliance (Sells Tesco products)
Marks and Spencers
Waitrose
Iceland
Kiosks and "Hedge-Veg" Around the Island
One of my favourite things about Guernsey is near enough every corner you turn on the road along the seafront, there is a different kiosk serving hot food and drink, snacks and ice cream. Popular kiosks on the island and my personal favourites are Woodies Kiosk at Bordeaux and Richmond Kiosk near Vazon Bay. Both have spectacular views over the beach and great coffee and ice cream.
Another popular small business in Guernsey is "Hedge-veg". Driving around the island you will come across many stalls outside houses selling home-grown fruit and veg with only an honesty box for payment. The honesty of the people on the island is incredible, making it a very safe and welcoming place to live.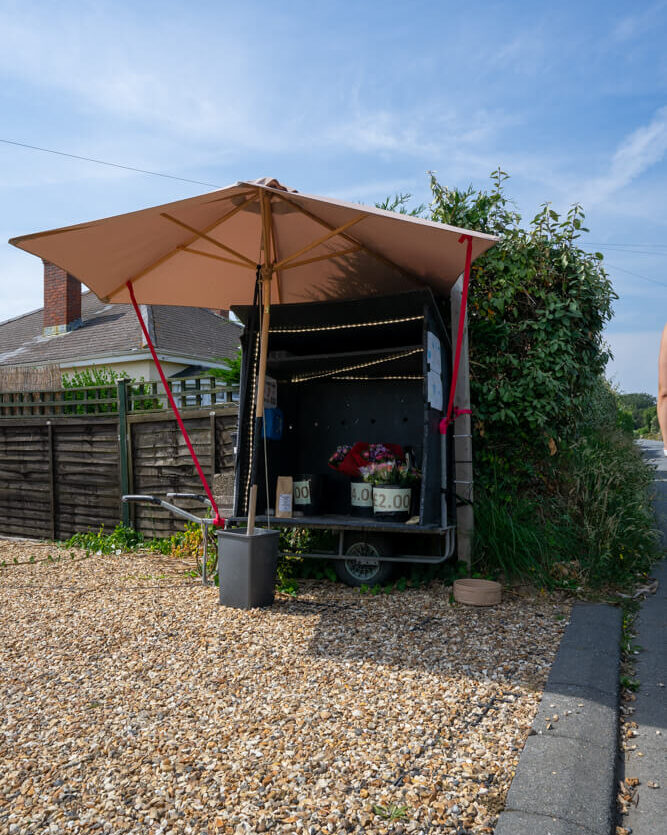 Phone Companies in Guernsey
Depending on your network and phone plan will depend on whether you are able to use your phone when you come to Guernsey. The phone networks on the island are Sure, JT and Vodafone. You will find each of these shops in town where you can go and find out the best deals they are offering.
Weather in Guernsey
Guernsey is the sunniest place in the British Isles and on a warm summer's day, there are plenty of opportunities to enjoy Guernsey's sunny weather, whether it be sunbathing on the beach, surfing or cliff walking. Guernsey sees more sunshine throughout the year than the UK and hosts many outdoor events throughout the summer months for the community to enjoy.
However, there isn't an awful lot to do on a wet winter's day. It is common for things to close and there are not many indoor activities to do on a rainy day.
Another thing to be aware of when the weather isn't great is that the flights and ferries may not leave the island. If there low fog or high winds (which can be common on an island), then you will be delayed or stuck on or off the island until it clears.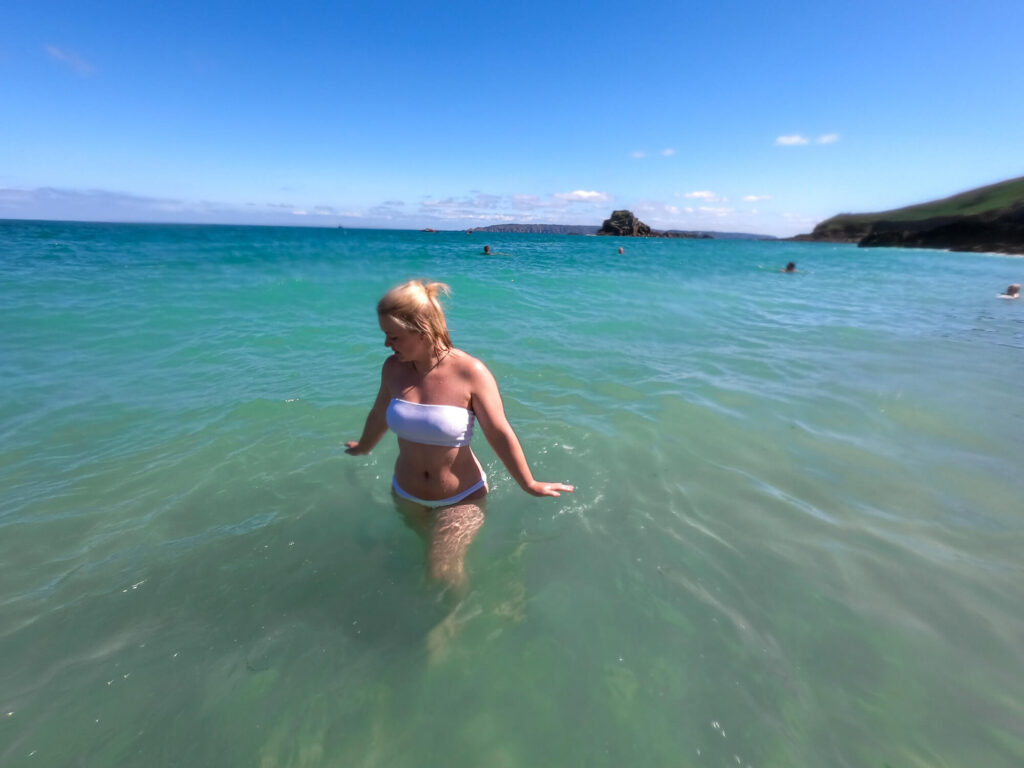 Leisure Centres in Guernsey
There is one public leisure centre on the island and that is Beau Sejour. There is a swimming pool, gym, fitness classes as well as a health suite with a sauna, steam room and jacuzzi. There are also courts outside for squash, tennis, netball, volleyball etc. There is a cafe on-site and throughout the year, shows or films are shown in the film area. 
There are other gyms and leisure centres located around the island (such as the popular Kings Health Club), as well as two 18-hole and one 9-hole golf course.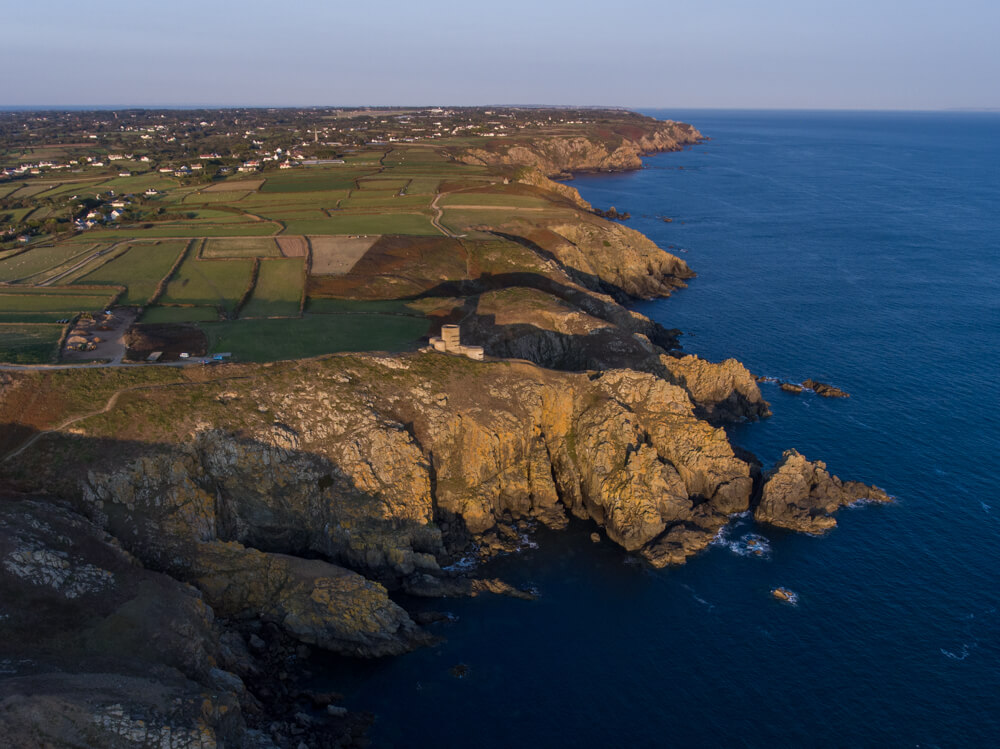 The Best Things to Do in Guernsey
One of our favourite things about living in Guernsey is the incredible range of activities, sights, and locations that you need to visit around this tiny island. For somewhere so small, the variety and number of free and incredible activities are simply mind-blowing.
Cliff Walks in Guernsey
The south-west coast of Guernsey offers some of the most stunning scenery, with amazing cliff views. Starting at the bathing pools you can head round to Fort George and then follow the path all the way round to the fairy ring. This is a 28-mile walk of sheer beauty and incredible views.
Beaches in Guernsey
The white sandy beaches surrounding Guernsey are an ideal chill-out spot on a hot summers day, Cobo Bay being one of the most popular beaches on the island for this. If you enjoy surfing, then Vazon Bay is the best beach on Guernsey for watersports and you can rent a board from the Guernsey surf school if you don't have your own.
The sunsets over the sea in Guernsey are incredible, our favourite place to watch it being Cobo. During the summer months,  the main road along the seafront is closed off on a Sunday and The Cobo Bay Hotel hosts balcony gigs giving local tribute bands a shot at fame!
Shopping in Guernsey
As we mentioned above, shopping in Guernsey isn't quite like shopping in Oxford Street or any big shopping centres. The variety of shops isn't huge however you will still be able to find what you need. The main shopping hub is in St Peter Port, however, there is also a selection of shops on the Bridge in St Sampsons.
There is a mix of boutique and smaller shops as well as larger brands to shop at in Guernsey.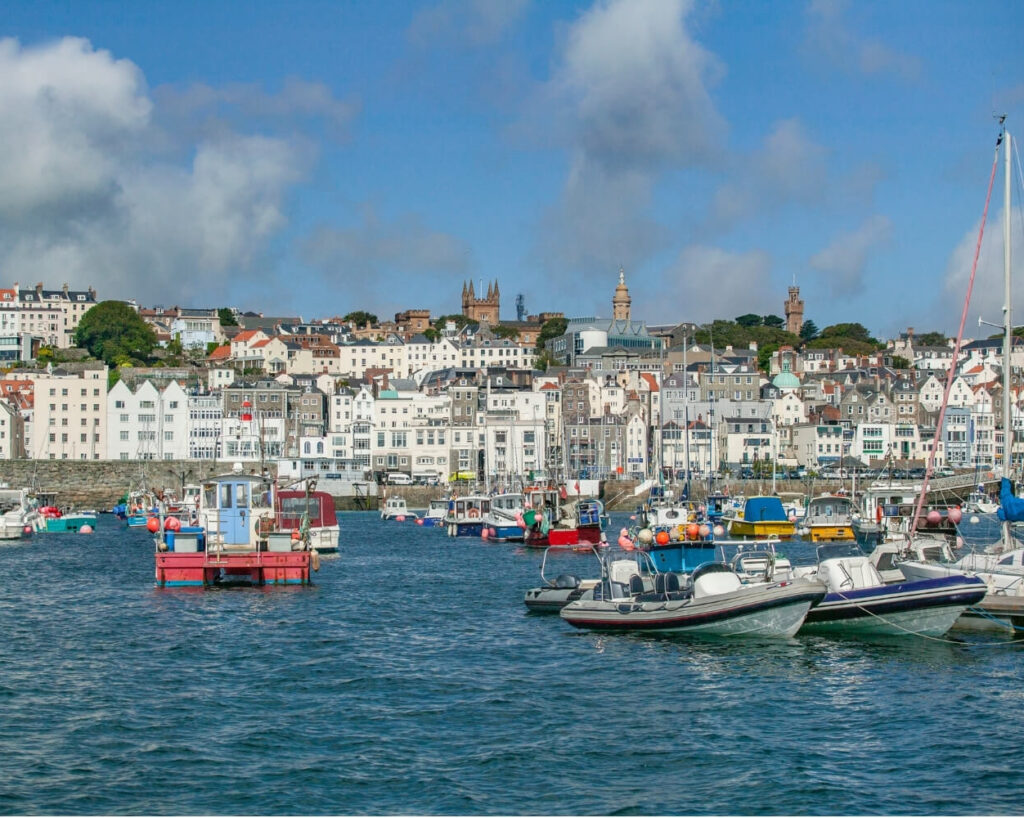 Festivals and Events in Guernsey
The island holds multiple regular events and festivals all year round, including Tennerfest food festival, Viaer Marche, Liberation Day festivals, the town carnival, and various outdoor concerts.
In the summer months, there are festivals pretty much every weekend on the island. There is always something going on.
Watersports in Guernsey
Surfing is a popular sport rain or shines in Guernsey, the favourite surf beach being Vazon Bay located on the west coast. Many a time I hired a board from Guernsey Surf school to enjoy the thrill of the waves. The turquoise sparkling water surrounding the land is not as the Mediterranean as it looks, however, it is refreshing and still well used even in the cold winter months!
The beach café Vistas serves up delicious reasonably priced food and drinks with beautiful views of Vazon beach and the surfers!
There are also options to rent equipment from Outdoor Guernsey, whether that is a kayak or a stand-up paddleboard. You won't get bored with the watersports around the island.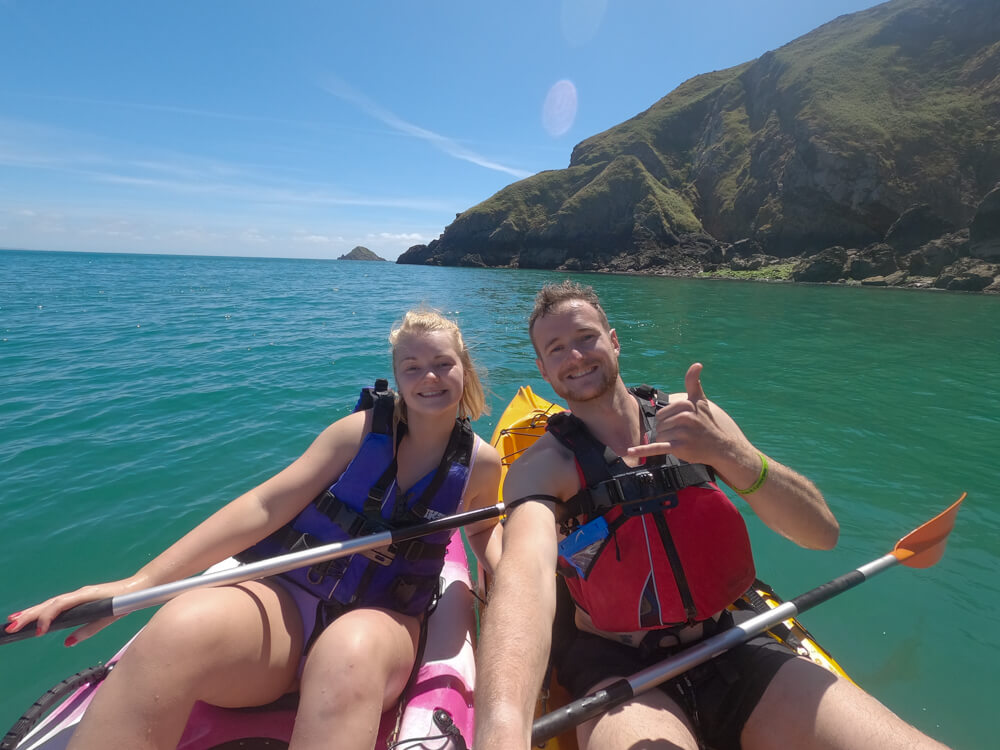 Eating and Drinking in Guernsey
Eating out in Guernsey is a lifestyle that many choose to live on the island. There are many great restaurants located all around the island so you will never be far from somewhere serving some good grub. If you are visiting Guernsey during the month of October, you will be arriving in time for Tennerfest, a fixed priced food festival serving up to 3-course meals for only £10!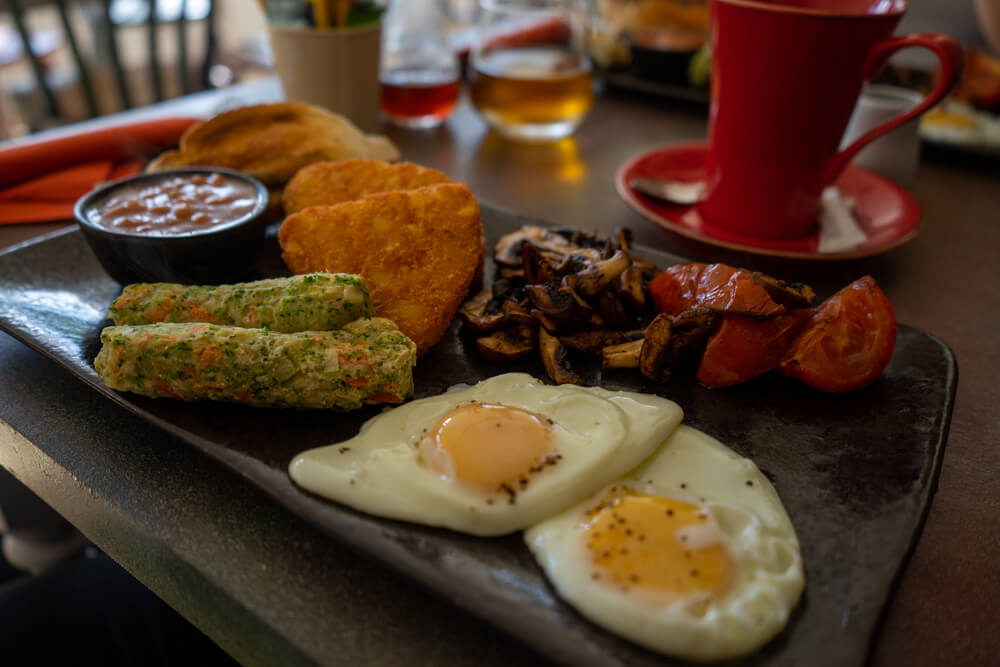 Day Trips from Guernsey
Within the Bailiwick of Guernsey are other islands that are located only a short boat trip away. Each of these has its own unique and beautiful history, culture, and special quirk that is like nothing we have experienced in the world.
Sark Island
Sark is one of the smaller islands in the Bailiwick of Guernsey, which is well worth visiting if you are moving to Guernsey. Sark is a popular holiday destination for Guernsey residents who flock over there in the Summer months to go to the Sark folk festival, to explore the island, and to simply relax in the tranquillity it offers over a long weekend on Sark.
Read our full guide to Sark Island and see what it is really all about.
Lihou Island
Located off the west coast of Guernsey, Lihou Island is the most westerly point in the Channel Islands. This small island is easy to get to at low tide as there is a causeway linking it to Guernsey. The causeway meets at L'Eree headland and is a 570m walk across to Lihou Island.
The States of Guernsey publish the tide times, however, don't leave it until the last minute or you will get stranded over there with nowhere to stay.
Herm Island
Herm is an island in the Bailiwick of Guernsey and sits only a 20-minute ferry ride away from Guernsey Harbour. It is home to 60 residents and is a popular destination for those in Guernsey, looking to escape from the mainland for a short break. With expansive golden sands and turquoise blue waters, it really is true when they say that Herm feels like paradise.
Read our full guide to Herm Island here to see what it is all about.
Before You Leave for Guernsey
Before you leave on your trip to the beautiful island of Guernsey, there are a number of things you will need to organise to ensure a smooth and stress-free trip. These include what to pack, where to stay and what is the best travel insurance for Guernsey.
What to Pack for Guernsey
What you need to pack for Guernsey will rely highly on when you make your trip to the Channel Islands. During the Spring and Autumn months, temperatures and weather patterns vary wildly between beautiful sunny skies and storming gales.
The temperatures generally vary from 10 oC to 25 oC during these months, with a mixture between cold, northerly winds and warmer southerlies. There is a small amount of rain, with maybe 1 in 7 days receiving rainfall, which makes it perfect for days out exploring the beautiful island.
During the Summer months in Guernsey, temperatures tend to range from 20oC to 30oC, with some days topping 35oC. Summer days in Guernsey are perfect for the beach, with many locals and travellers alike sending their day soaking up the sun and playing in the sea. When it comes to toiletries, we recommend that you don't forget to pack sunscreen. The sun in Guernsey can be strong, especially in the summer months.
If you need more inspiration on what to pack for your trip, check out our full packing guides for all-weather conditions over here.
Given the beautiful sights and scenery that you will see in Guernsey, we highly recommend packing a good camera for your trip. If you want to read more about the cameras we use and why we love them, check out the link below.
You can read what else we keep in our camera bag over here.
What is the Best Travel Insurance for Guernsey?
If you are simply planning on heading to Guernsey for a holiday, one thing that is essential for everybody is good travel insurance. Accidents can happen anywhere and at anytime and unexpected hospital bills will ruin a holiday. Remove the stress from your next adventure and get covered for the worst.
World Nomads Travel Insurance provides budget reliable travel insurance that will keep you covered for any level of adventure.
You can get your quote before you leave on your trip right here.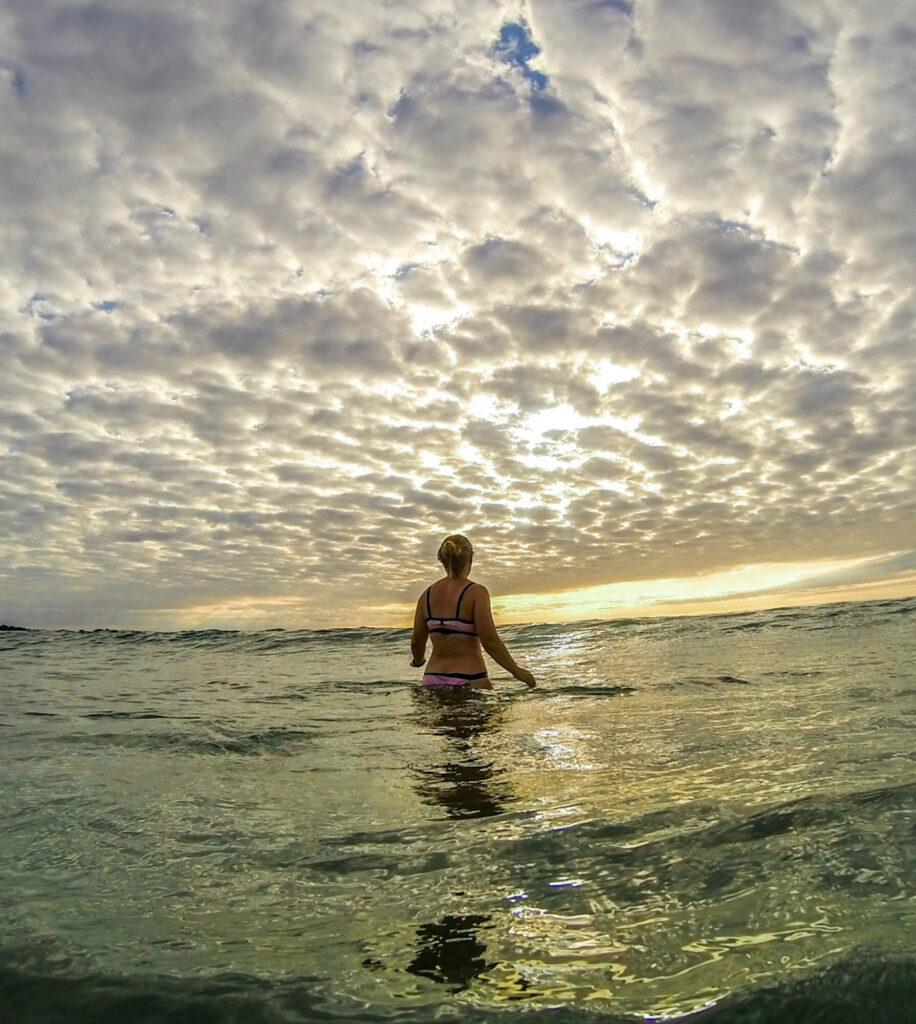 Where to Stay in Guernsey?
When it comes to accommodation on Guernsey, you are simply spoiled for choice with a huge range of hotels, B&Bs and even campsites to choose from. No matter what your preferred level of luxury is, there is the perfect place for you.
Luxury – Spend your time on Guernsey in true luxury at the Old Government House Spa and Hotel in St Peter Port. This hotel has beautiful views over the harbour of Guernsey's capital, as well as access to a luxurious spa, an outdoor terrace and a heated, outdoor pool.
Book your stay at the Old Government House Spa and Hotel here.
Mid-range – If you would like a taste of luxury at an affordable price, then the Auberge du Val Hotel is perfect for you. This 19th-century farmhouse sits on the west coast of the island and offers cosy, ensuite rooms, complete with tea, coffee and tv. The hotel is just a short walk from the beautiful nature reserves in St Saviour, perfect for a romantic trip away for the weekend.
Book your stay at the Auberge du Val Hotel here.
Budget – Situated just 2-miles from Guernsey airport in the heart of St Martins, the Carlton Inn is the best value hotel in Guernsey. With free parking and wifi, as well as access to the Wicked Wolf pub that sits in the same building.
Book your stay at the Carlton Inn here.
Camping – If you are up for a more adventurous stay on Guernsey, Fauxquets Valley Campsite offer a range of glamping safari tents, glamping pods and sites for your own tent if you bring one. Visit their website for a full price list of tents and campsites.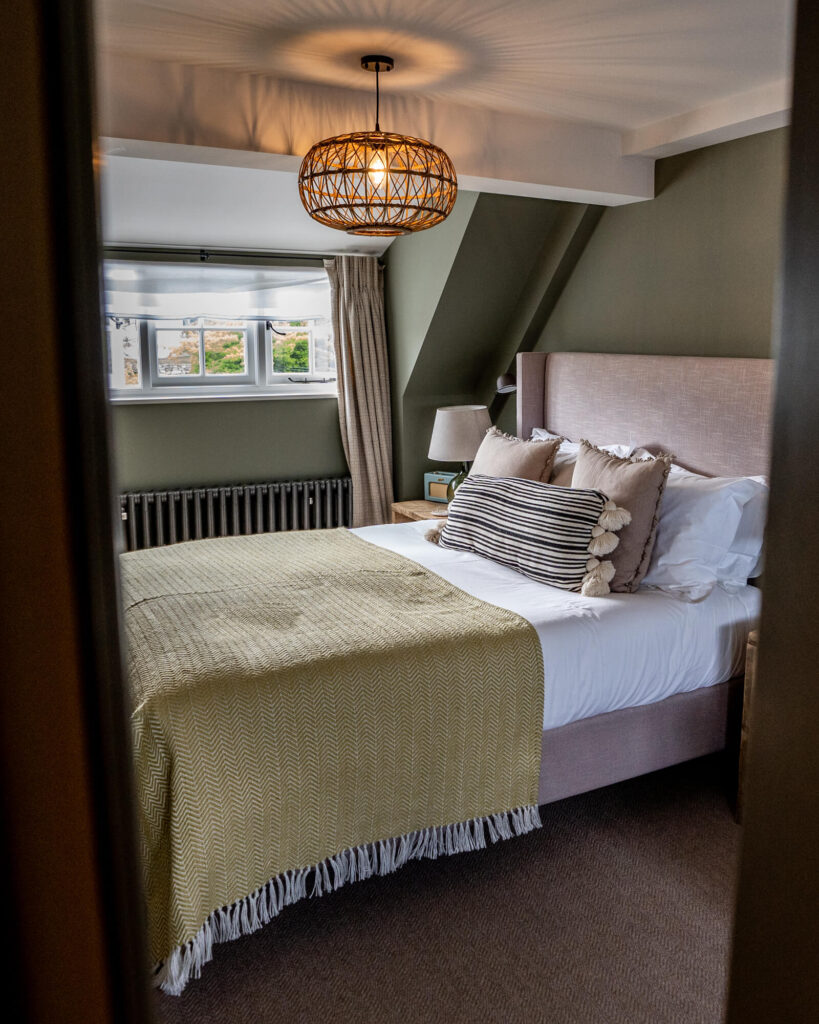 If you found this guide to moving to Guernsey useful, please let us know in the comments section below. We love chatting you guys about this kind of thing, and sharing our top experiences with everyone else! Have you moved to Guernsey yet? Do you have any tips that we missed out?
Also, make sure you share this article with your family and friends to show them how beautiful the Channel Islands can be. Sharing is caring and we want to inspire as many people as we can to visit this unbelievable part of the world.
If you are planning a trip to Guernsey soon then check out our other Channel Islands content right here. Come and find us on social media to see where we are currently exploring. Tag us in your photos from Guernsey and we will share them with the rest of our community of explorers and backpackers on our social channels!
Now Read:
This article may contain affiliate links that provide us with a small income. For more information read our Affiliate page.
---
Save this to your Guernsey Pinterest board for later