There is a feeling of entering a different world when you arrive in Sark. Although you are only a short trip across the water from Guernsey, Sark is a completely different enchanted island with plenty to see and do. With clifftop views of the turquoise seas beneath and no noisy traffic, Sark is the perfect little getaway to paradise.
There are so many amazing things to do in Sark that it is the perfect place for an island-hopping adventure or a simple weekend getaway from Guernsey. Before you head off on your trip, make sure you read this guide to Sark for all the information you need to know about this incredible island.
Plan your weekend break to Sark with this detailed two-day itinerary
Save this image to your Guernsey Pinterest board for later!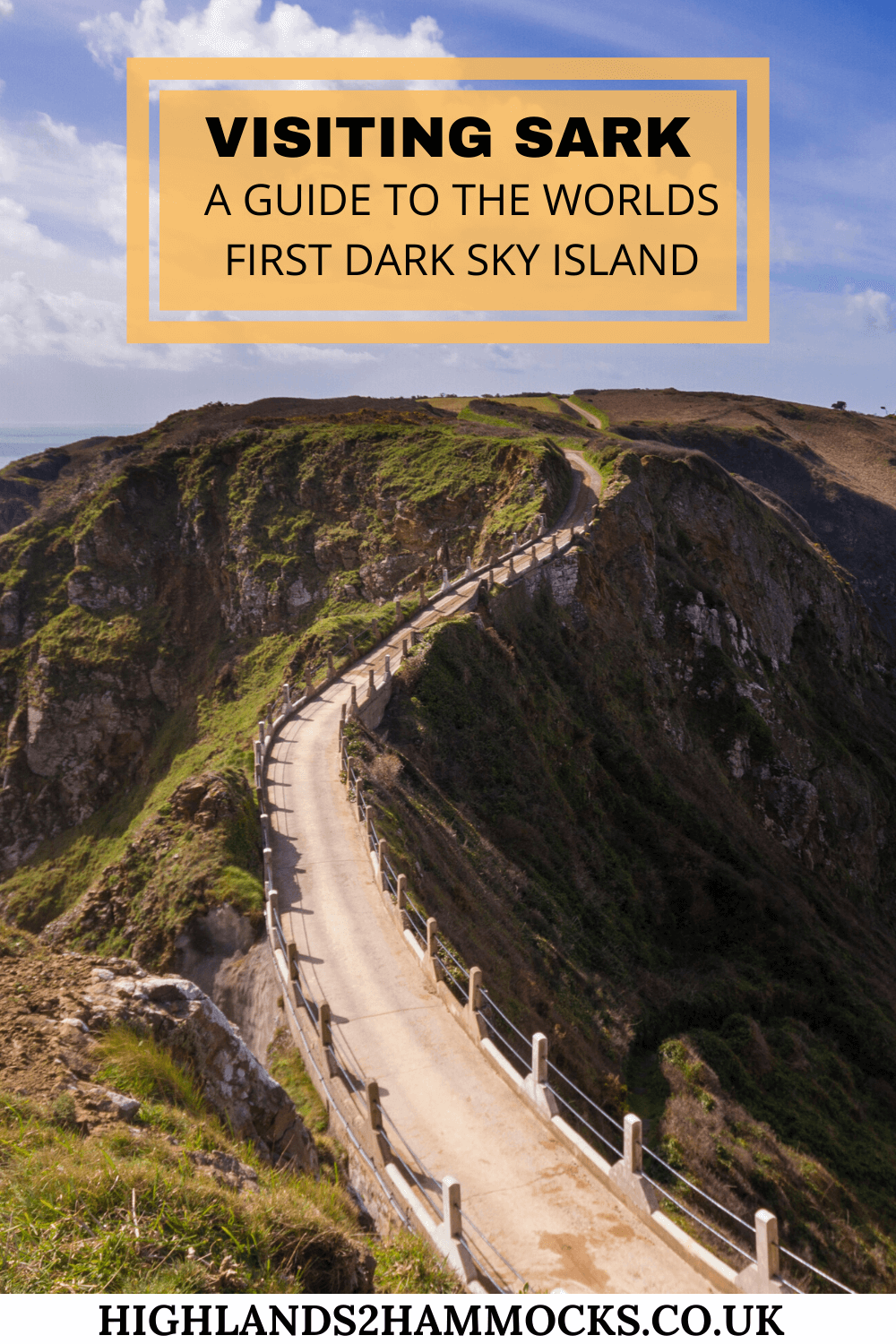 This travel guide to Sark covers how to get there, the best time to go and a detailed article of what you can expect when you visit this island.
What is Sark?
Where is Sark?
How to get to Sark?
Why Should I go to Sark?
When Should I go to Sark?
Come along with us on our Sark Camping Trip. Make sure you subscribe to our Youtube channel for more by clicking here!
Sark Island Guernsey – The First Dark Sky Island
What is Sark?
Sark is an island in the Bailiwick of Guernsey nestled between Guernsey and Jersey and known as the crown jewel of the Channel Islands. Sark is a self-governed island and has a population of only 500 people on the island. There is little to no crime on the island so there is only one tiny prison with two beds in it. It hasn't been used at all yet in 2020.
Sark is a popular holiday destination for Guernsey residents who flock over there in the Summer months to go to the Sark folk festival, to explore the island, and to simply relax in the tranquillity it offers.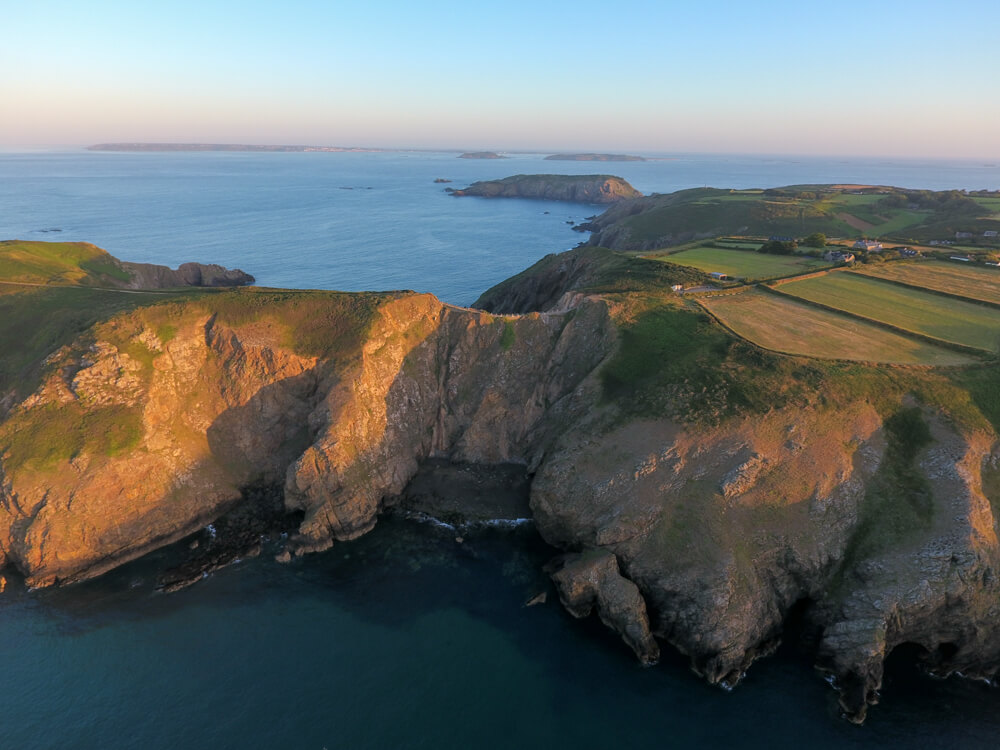 Where is Sark?
Sark is located between England and France. It is a small island that is part of the Bailiwick of Guernsey in the Channel Islands. On a clear day, you can see Guernsey, Jersey and France, all clearly from the island.
There is no light pollution on Sark meaning that the stars here are incredible. Don't forget to bring a torch out with you in case you get caught out after dark.
Along with the other Channel Islands, Sark was under German occupation during World War II. There is a lot of history to learn about Sark, however, you wouldn't know it when you visit.
How to get to Sark?
To get to Sark from Guernsey, you will need to book onto the passenger ferry, Sark Shipping. The ferry takes around 50 minutes to sail to Sark from Guernsey and be prepared for a bit of a rocky ride, the open water gets very bumpy. When you arrive into Sark, head through the tunnel on your right at Maseline Harbour.
You then you have the option of walking up the footpath or taking the tractor bus up the hill, also known as the toast rack. The tractor will be there waiting for you when you arrive at the port. The tractor departs half an hour before the scheduled ferry sailings so you can catch the tractor back down when you leave the island as well.
If you have a lot of bags, you have the option to leave them at the harbour and have them delivered to your accommodation. All you need to do is make sure they have a luggage tag on them and pay £3 per bag.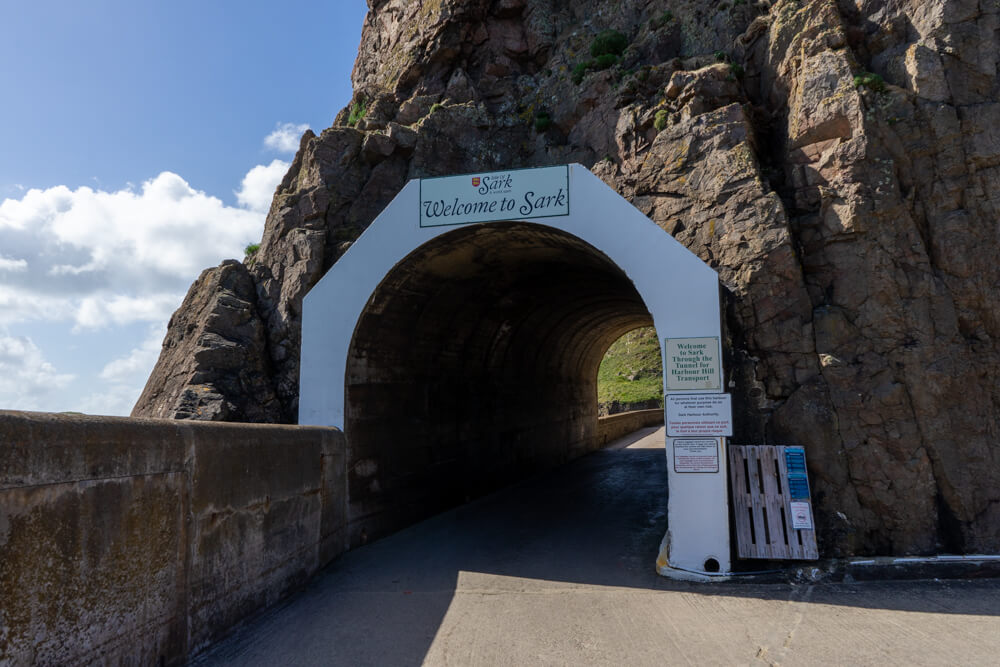 How to Get Around Sark
There are three main options when it comes to getting around the island of Sark. On the island, the only motorised vehicles are tractors, only one of which is available for public use (the "toast rack"). The other options for getting around are walking, cycling and horse and carriage.
When you reach the top of the hill, you will be met with a line of horse and carriages. You can tour the island with these on a one-hour or two-hour ride on a carriage, however, we would recommend hiring a bicycle instead.
There are 3 options for hiring a bicycle on the island, A to B cycles, Sark Cycle Hire and Avenue Cycle Hire. They are all very similar in price and nearby each other. If you are travelling from France or Jersey, then you can bring your own bike with you, however, on the passenger boat from Guernsey you cannot.
There are no cars on Sark, only tractors and horse-drawn vehicles are allowed, so you will see that even the fire engine and ambulance are pulled by a tractor.
We hired bikes from A to B cycles and it cost us £38 for 3 days for both of us.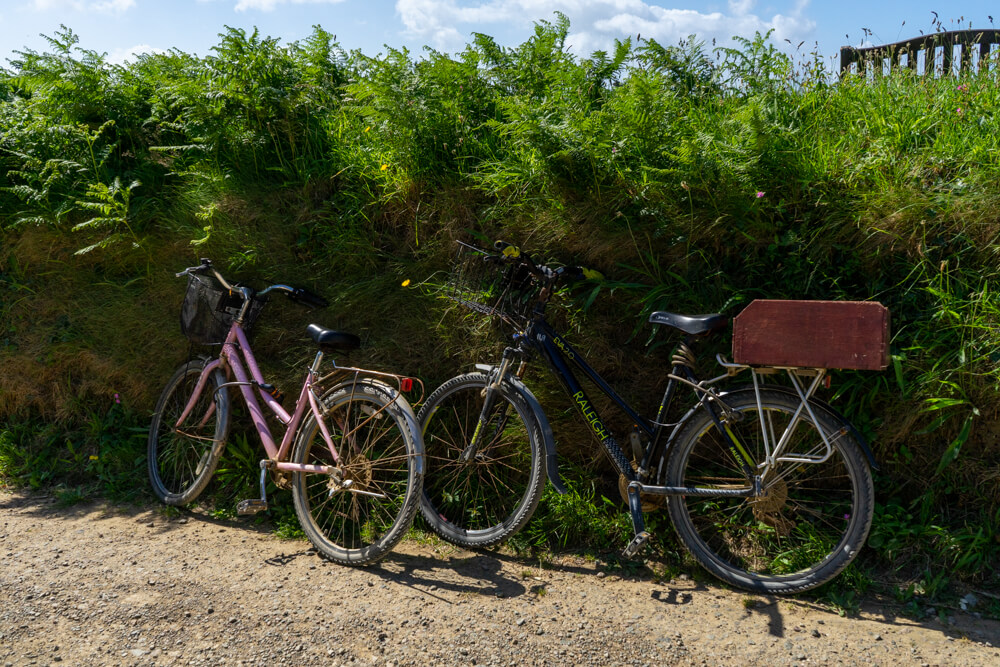 Why Should I Go to Sark?
With cliff top views and coastal paths, how can you say no to a trip to Sark? There is a very calm feeling to being on Sark, there is no noise from traffic as there is no airport of no cars on the island, it is extremely peaceful.
Walking through Sark, you will pass many cute and quaint cottages, many of these being opened up for business whether that is a bed and breakfast or a restaurant or cafe. The beautiful coastal sights, endless horizon, delicious food and friendly locals are all reasons in themselves for you to visit this unique island.
If that isn't enough, Sark was also declared the world's first Dark Sky Island in 2011 due to its complete lack of light pollution. on a clear night, the view of the stars is unbeatable and is definitely something you should include in your trip.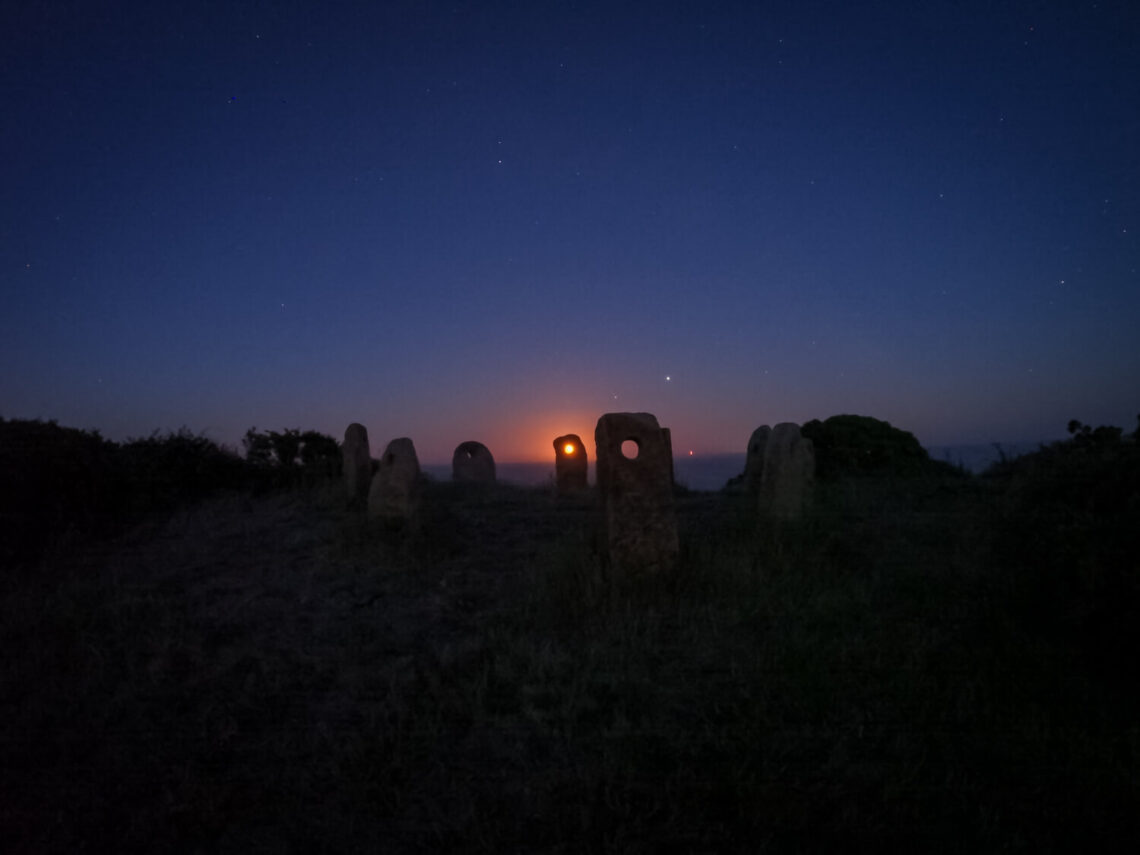 When Should I Go to Sark?
The best time to visit Sark is in the Summer months. The ferry from Guernsey runs to Sark all year round however from Jersey and France it only runs from April-September. Being an island, it can be windy but don't be fooled by that as the sun is still strong so make sure you don't forget your sun cream.
We visited Sark in July and as much as the water looked very inviting after a long walk, it was still freezing!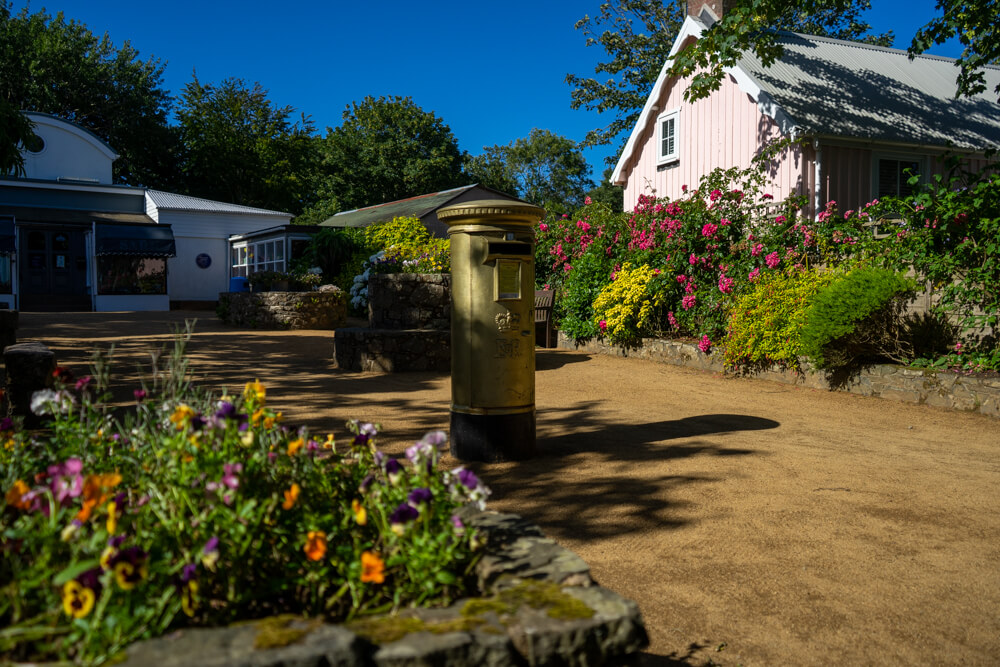 Things to Do in Sark
La Coupée
This is one of the most popular attractions in Sark. La Coupée is the 100m bridge joining the peninsula of Little Sark with the larger part of Sark known as Great Sark. La Coupée is 100m long and sits 80m above sea level. It is only 3m in width and looking over both sides you can see the beautiful sandy beaches lying beneath.
On your left-hand side, you can look down to Pot Bay which stretches along the east coast and on your right-hand side is sark's most popular and largest beach  La Grande Grève. There are steps leading down to La Grande Grève however they were closed off when we were there. The only way to access Pot Bay is by boat.
The picturesque views at La Coupée make it one of our favourite places to visit in Sark.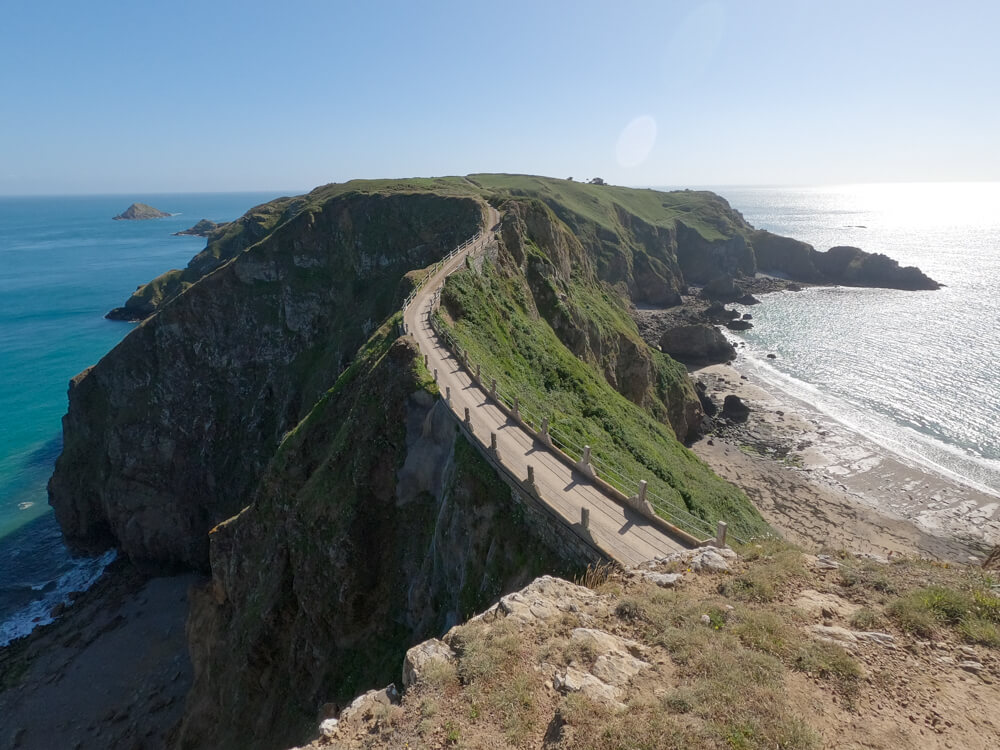 Rock Pools
Venus Pool
The Venus Pool is located at the end of La Coupée. To get there, follow the track past the Sablonnerie, there is a gate where you leave your bike. Follow the winding path down the cliff to the left until you find the rock pool. The Venus Pool is only accessible at low tide and is the perfect way to cool off on a warm day.
The best time to visit the Venus Pools is on a hot sunny day, two hours either side of low tide. This natural rock pool is big and deep enough to swim in and there are plenty of rocks nearby to sunbathe on. The water used to be deeper, however following a landslide, the pool has filled up further with rocks.
Adonis Pool
The Adonis Pool is another natural tidal pool, located close to the southwestern tip of Little Sark. The Adonis pool is covered by the sea at high tide and is best accessed when the tide is low. The Adonis Pool is larger and deeper than the Venus pools as well as having longer periods of sunshine throughout the day.
However, it is more difficult to access and will be separated from the mainland when the tide reaches halfway.
Cupids Bath
Cupids Bath is another small rock pool located near the Venus Pools
It is best to wear water shoes down to the rock pools and bear in mind that the rocks can be slippery. The water is not as warm as you may be expecting, but very enjoyable nonetheless.
Exploring Caves
The Gouliot Caves
On the west coast of Sark are The Gouliot Caves, a must-visit on your trip to Sark. These unique caves are not the easiest to access however they are well worth the effort to get down to them. To access the Gouliot Caves, follow the path and steps from La Vaurocque. The rugged Sark coastline has plenty of caves and caverns to discover and get lost in.
The Boutique Caves
The Boutique Caves are situated at the north end of the island and are accessed from the Eperquerie Landing via paths and steps in the cliff. The best time to go to the Boutique Caves is an hour before low tide when you can explore the tunnels and wet and dry caves.
Window in the Rock
The Window in the Rock is another stunning spot on Sark with spectacular views. Located on the west side of the island, this attraction is to be accessed at your own risk as the drop below is a steep 250 feet. The window was previously used to haul up goods from the beach below, however, it is now a tourist viewpoint.
To get there follow the road past Beau Sejour and Hathaway's restaurant and a signpost will be on your left-hand side. Follow the path down and you will find a spot on your right to park up your bike. A few steps down through the woods and you will have made to to the Window in the Rock.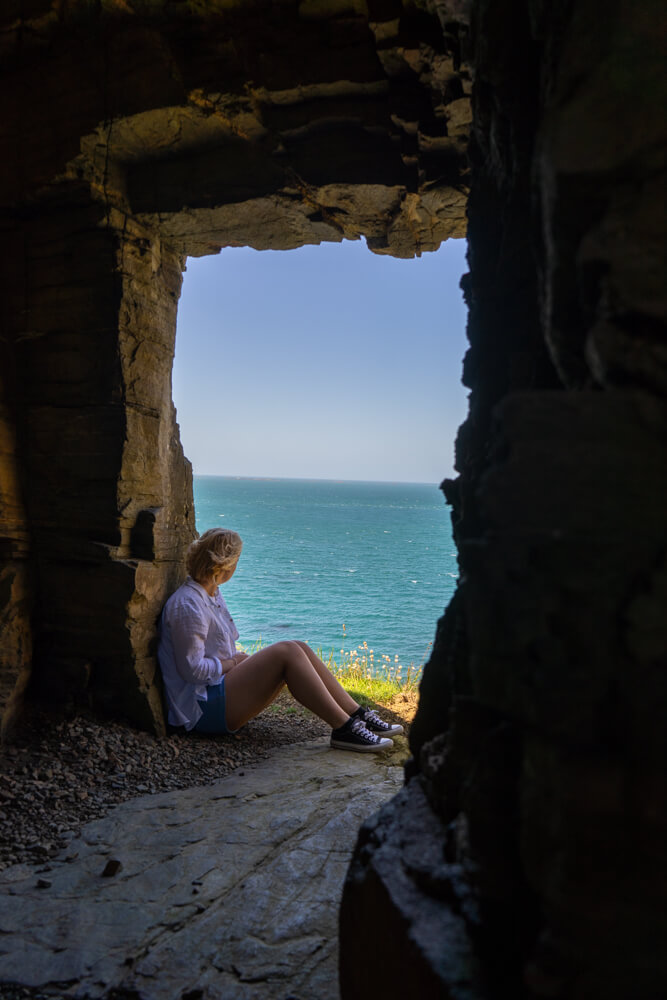 Star Gazing
Sark was declared the worlds first dark sky island, so it is the perfect place to go and watch the stars as the night falls. There is no light pollution on the island so the sky lights up on a clear night, it is unbelievable. It is also possible to book a tour of the island's observatory and be shown the night's sky by the volunteers that run it.
This books up quickly in the peak months, so make sure you book in advance.
Watersports
Being an island, there are many watersports on offer for those that love adventure. Explore Sark from the sea with Adventure Sark and try out the many waterbased activities they have to offer. From sea kayaking to coasteering and on land hiking, there is something for everyone to enjoy.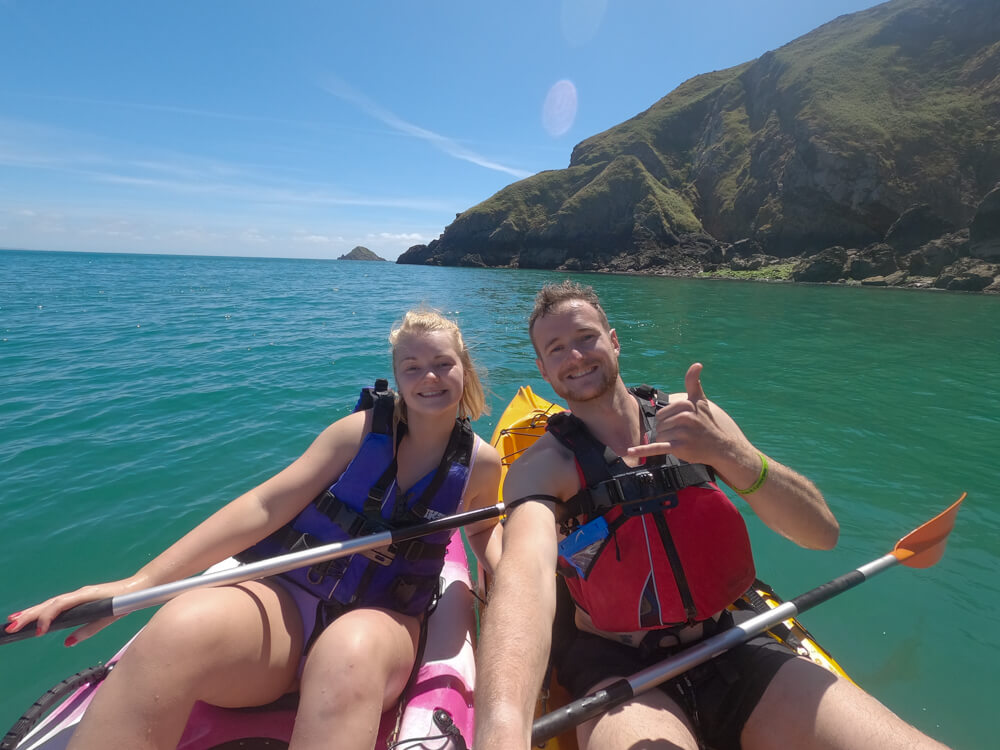 Eating Out in Sark
Hathaway's
Hathaway's is a busy little tearoom open all day for food and drink. It is located beside the La Seigneurie Gardens and offers a delicious range of cakes and fresh foods. We found the prices a bit steep, however, the quality was excellent and we returned on more than one occasion during our stay.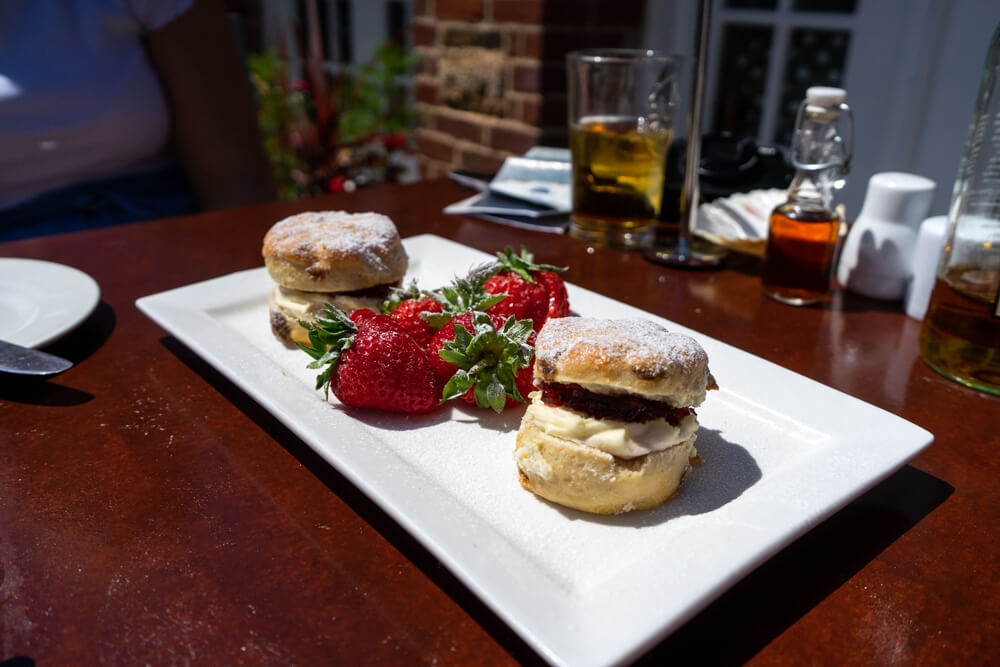 Beau Sejour
A restaurant that sits in a conservatory overlooking the garden. The food at Beau Sejour is fantastic and is really reasonably priced. We returned more than once during our stay and tried both the breakfast and dinner menu. This is definitely the best place on Sark for a hearty breakfast to kick off your day.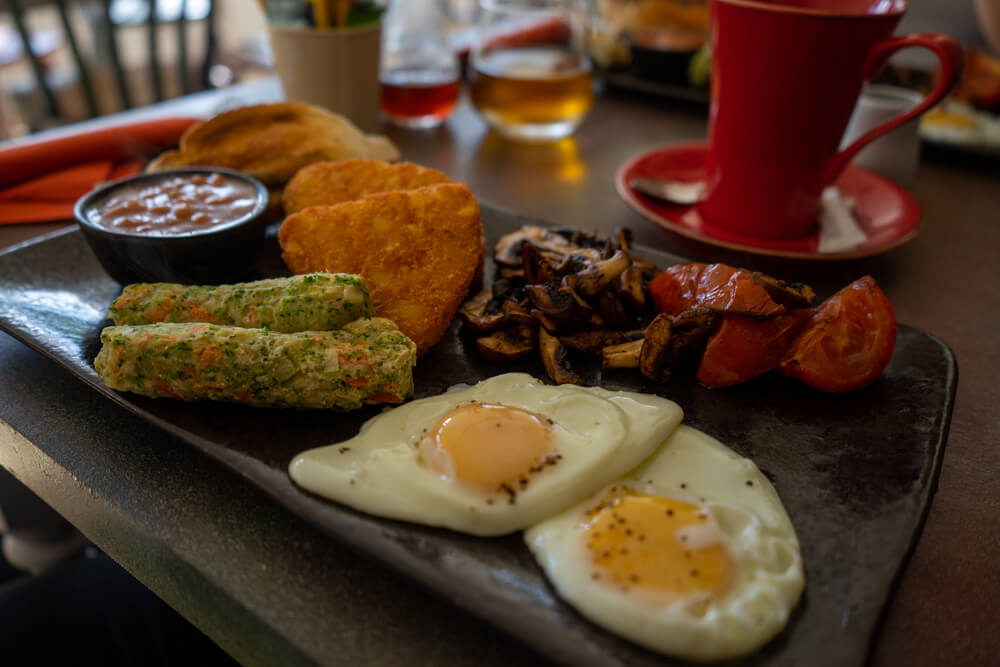 Before You Leave for Sark
Before you leave on your trip to the beautiful island of Sark, there are a number of things you will need to organise to ensure a smooth and stress-free trip. These include what to pack, where to stay and what is the best travel insurance for travelling to the Bailiwick of Guernsey.
How to Get to Guernsey
Given that Guernsey is an island, you really have two choices of transport for getting there: plane or boat. Both of these transport methods are available from the UK, France and from the neighbouring Channel Islands.
How to Get the Ferry to Guernsey
Condor is the best option for ferries to and from the Channel Islands from the mainland UK and France. Leaving from the mainland UK ports of Poole and Portsmouth, the French port of St Malo, and the Channel Islands port of Jersey, there are two main ferries that will bring you to Guernsey.
The faster boat, known as the Condor Liberation, takes 3 hours to get from Poole to Guernsey, while the slower boat, known as the Condor Clipper, takes 7 hours from Portsmouth. From St Malo, it will take you just under 2 hours aboard the Condor Rapide to reach Guernsey.
Browse all of Condor's ferries and routes on their website here.
Fly to Guernsey
Flying to Guernsey can be done from multiple airports across the UK with the Channel Islands airline, Aurigny. This is the quickest and easiest way to get to the island if you are only coming for a short period of time.
You can browse all of the available flights and routes on the Aurigny website here.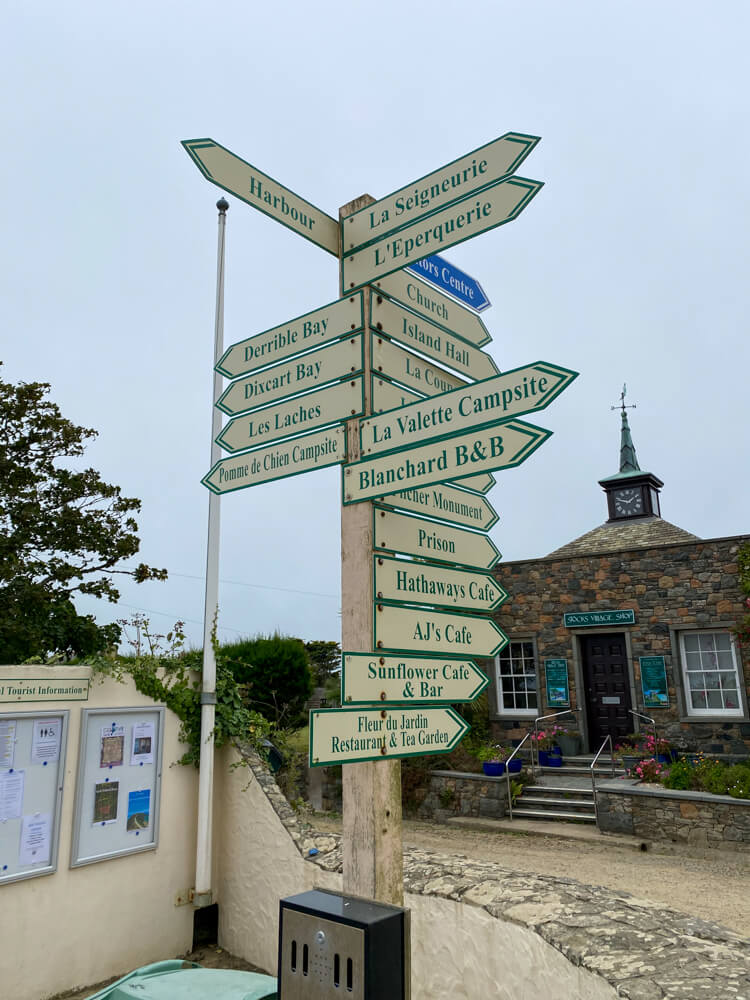 What to Pack for Sark
What you need to pack for Sark will rely highly on when you make your trip to the Channel Islands. During the Spring and Autumn months, temperatures and weather patterns vary wildly between beautiful sunny skies and storming gales.
The temperatures generally vary from 10 oC to 25 oC during these months, with a mixture between cold, northerly winds and warmer southerlies. There is a small amount of rain, with maybe 1 in 7 days receiving rainfall, which makes it perfect for days out exploring the beautiful island.
During the Summer months in Sark, temperatures tend to range from 20oC to 30oC, with some days topping 35oC. Summer days in Sark are perfect for the beach, with many locals and travellers spending the day jumping in and out of the sea.
If you need more inspiration on what to pack for your trip, check out our full packing guides for all-weather conditions over here.
When it comes to toiletries, we recommend that you don't forget to pack sunscreen. The sun in Sark can be strong, especially in the summer months.,
Given the beautiful sights and scenery that you will see in Sark, we highly recommend packing a good camera for your trip. If you want to read more about the cameras we use and why we love them, check out the link below.
You can read what else we keep in our camera bag over here.
What is the Best Travel Insurance for Sark
Regardless of what type of trip you are heading on, one thing that is essential for everybody is good travel insurance. Accidents can happen anywhere and at anytime and unexpected hospital bills will ruin a holiday. Remove the stress from your next adventure and get covered for the worst.
World Nomads Travel Insurance provides budget reliable travel insurance that will keep you covered for any level of adventure.
You can get your quote before you leave on your trip right here.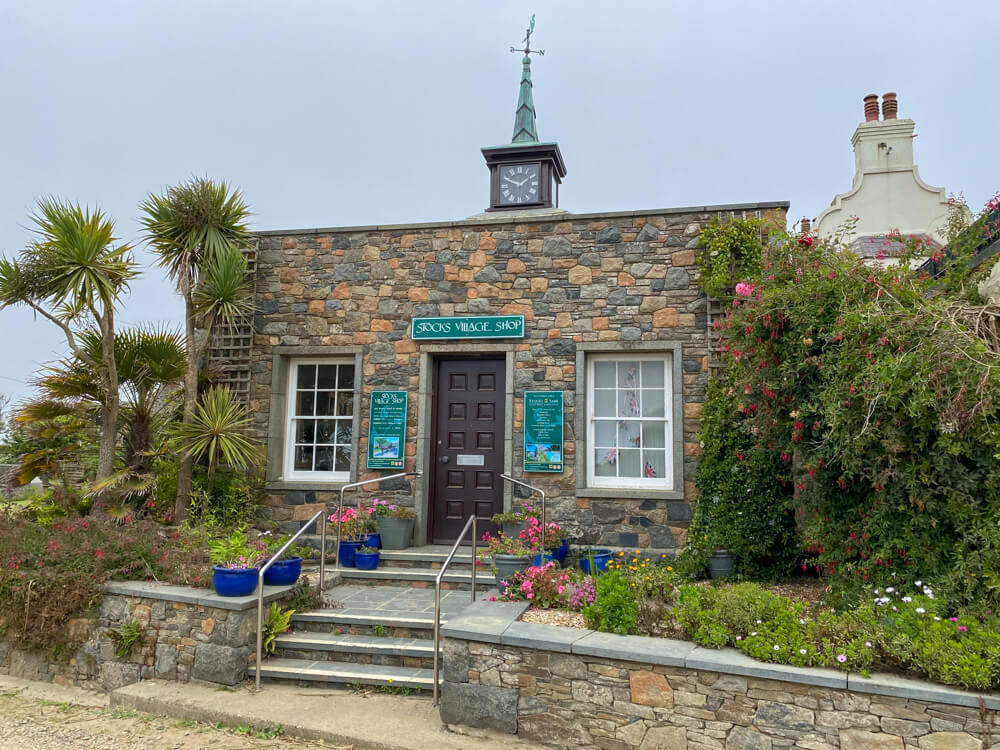 Where to Stay in Sark
When it comes to accommodation on Sark, there is something for everyone's taste. There is a range of hotels, B&Bs and even campsites to choose from. No matter what your preferred level of luxury is, there is the perfect place for you.
Luxury – Stokes Hotel is a 16th-century luxury hotel nestled in nature on Sark. There are 2 swimming pools as well as a poolside bar and restaurant. Breakfast is included in your stay.
Mid-range – Pourquoi Pas B&B is a beautiful and affordable place to stay in Sark. With gorgeous views overlooking the cliffs and a pool in the garden, how could you say no to staying here?!
Budget – La Valette campsite offers pods to stay in that are fully equipped with the exemption of lighting and sleeping bags. These pods are perfect if you are looking for a budget stay on the island.
Camping – Pomme de Chien is a peaceful campsite located near the harbour in Sark. It has free hot showers and a fridge to store any food or drinks you have brought. Costing only £10 per person a night, this campsite is a great way to visit Sark on a budget.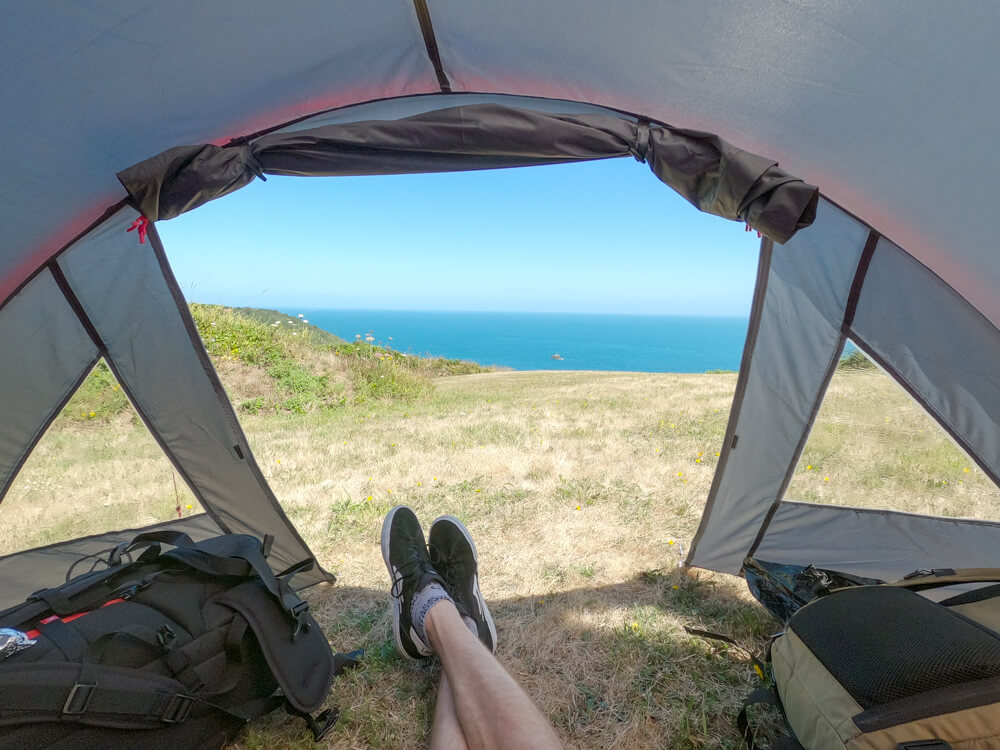 So there you have it, a complete guide to visiting Sark! This island is a world away from the mainland of Guernsey and it's easy to see why it is such a popular holiday destination for Guernsey locals.
If you enjoyed your trip to Sark, let us know what your favourite sight on this amazing island was in the comments section below. We love chatting you guys about this kind of thing, so let's share our top experiences with everyone else! If you haven't been to Sark yet, have we encouraged you to visit this beautiful island?!
Also, make sure you share this article with your family and friends to show them how beautiful the Channel Islands can be. Sharing is caring and we want to inspire as many people as we can to visit this unbelievable part of the world.
If you are planning a trip to Sark soon then check out our other Channel Islands content right here. Come and find us on social media to see where we are currently exploring. Tag us in your photos from Guernsey and we will share them with the rest of our community of explorers and backpackers on our social channels!
Now Read:
This article may contain affiliate links that provide us with a small income. For more information read our Affiliate page.
---
Save this to your Guernsey Pinterest board for later