Sea swimming in Guernsey is very common and that's not just at the fun Christmas day swim. In fact, sea swimming in Guernsey is popular everyday of the year. Whether it's in the bathing pools, harbours or glorious beaches you will more than likely see people swimming in the sea throughout the day.
We got really into sea swimming during the summer months of living in Guernsey and surprisingly continued it right through winter too, enjoying the Christmas Day and Boxing Day sea swim buzz.
Many people believe that the cold water therapy is great for the body and mind, however it does come with risks which we will discuss in more detail along with tips for safe sea swimming, below.
No time to read now? No problem, save a pin to your Pinterest board for later!
Sea swimming in Guernsey is a very popular and a great thing today. In this guide, we will discuss the health benefits of sea swimming as well as the following
What is the best time to go sea swimming in Guernsey?
How to stay safe whilst sea swimming
Tips for staying warm after sea swimming
Why you should try sea swimming in Guernsey

Preparing for your trip to Guernsey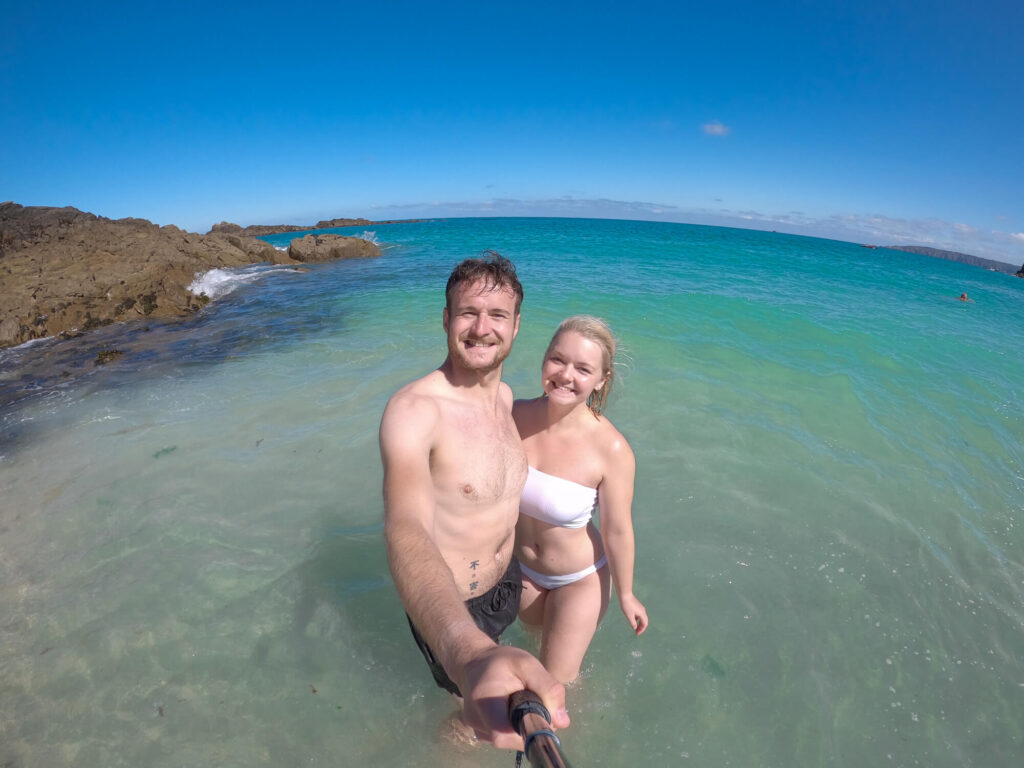 What to Expect from Sea Swimming in Guernsey
There are many places to try outdoor sea swimming in Guernsey, the water is clear and the sun shines more than any other place in the British Isles.
A popular place for swimming is at the outdoor bathing pools. Located just outside of St Peter Port, this is an easy option for those wanting to go for a swim on their lunch break. At high tide the water crashes over the barrier and into the pool, filling it up with water. When the tide goes out, the high walls keep the water contained in the pool.
Guernsey also has some of the most stunning beaches which are perfect for a swim. It will depend on the tide the type of swim you will have. A few of our favourites for swimming are Vazon Bay, Fermain Bay and Port Soif.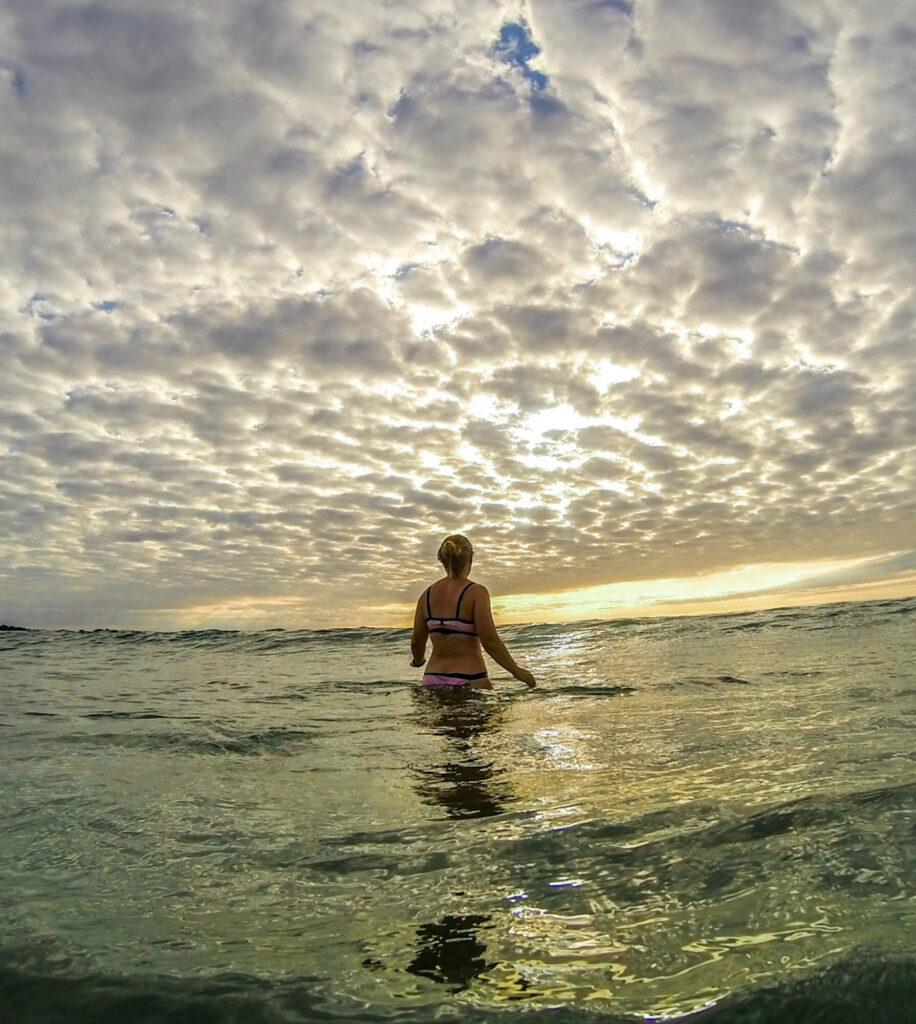 Health Benefits of Sea Swimming
Many people enjoy the health benefits of sea swimming, so why is going through the pain of acclimatising to the freezing cold water really worth it?
Listed below are just some of the believed health benefits that result from regular swims in cold water environments.
Improve circulation

Lowers stress levels 

Boosts immune system

Increases libido 

Natural high

Better sleep
Increased happiness 
Prevents and manages long term health conditions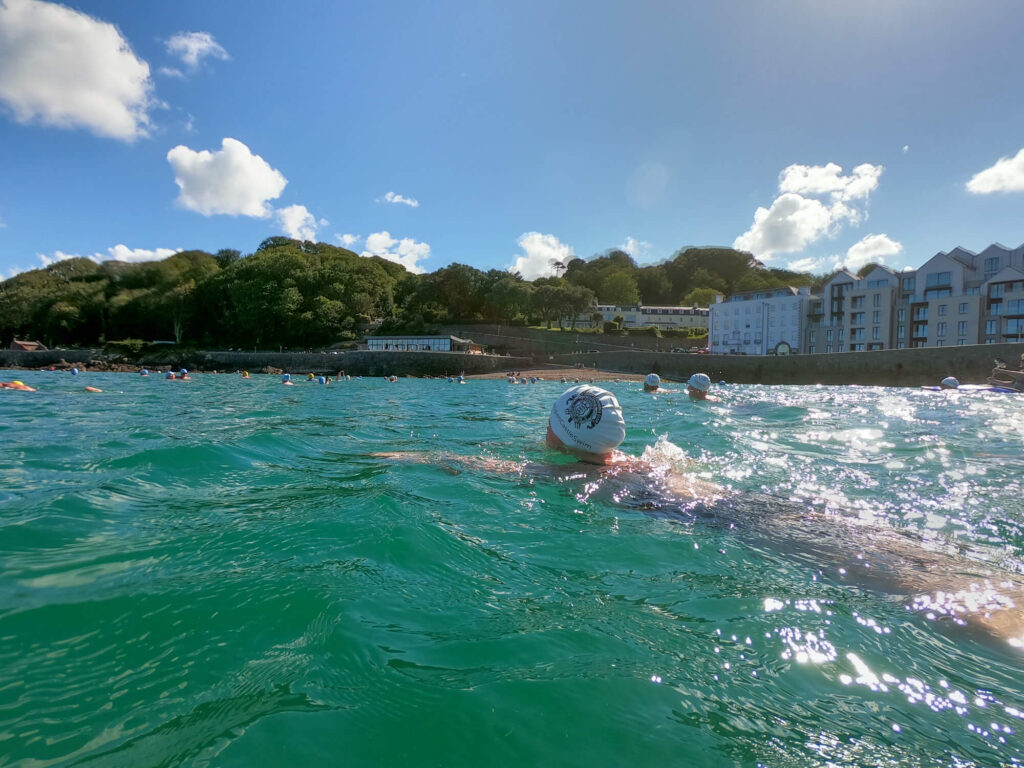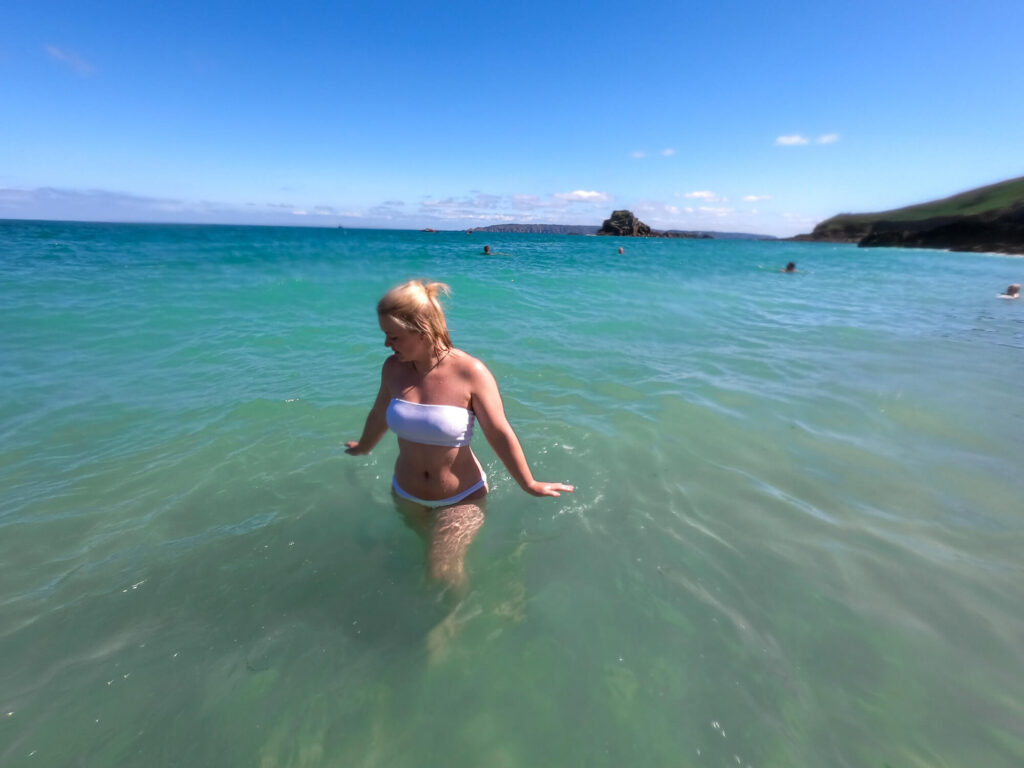 What is the Best Time to go Sea Swimming in Guernsey
We would recommend to start swimming during the summer months when the water is warmer. It is much easier to start acclimatising your body at this time. The water reaches its warmest by September and then it starts getting colder, being at its coldest in March. 
It's a personal preference, however we love going swimming as the sunrises or sunsets, it feels such a great way to be connected with nature.
Remember not everyday is a swim day and if it doesn't look safe, don't go in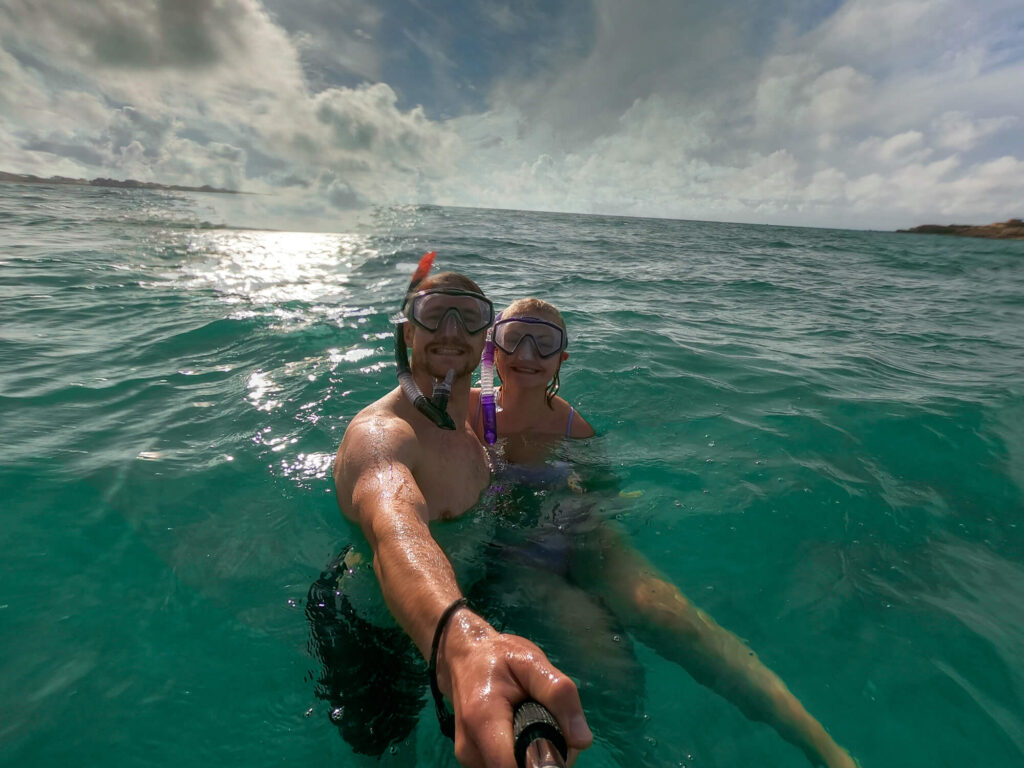 How to Stay Safe Whilst Sea Swimming
If you are new to sea swimming, it is important to note that even the strongest of swimmers can get into trouble in the cold water. Please make sure you understand how to stay safe in the sea before going in. 
There are no lifeguards on the beaches in Guernsey, we would advise you don't swim alone or make sure you let someone know where you are going. Swimming as a group is best.

Check the weather conditions before you go swimming. Look at the winds and temperature as well as the tide times.

It is advisable to wear a wetsuit, if not then at least swimming gloves and booties. 

Acclimatising to cold water takes time, build up to it. Control your breathing.

If you have a heart condition, enter cold water slowly.

Don't start swimming until you have your breathing under control as when the water is cold (under 15degrees c) you will begin to hyperventilate.

Even strong swimmers will lose power and strength in cold water due to reduced blood flow to the arms and legs.

Swim close to the shore

Be aware of rips and don't try to swim against them, swim out the side of a rip.

Keep an eye on how long you have been in the water 

Be responsible for your own safety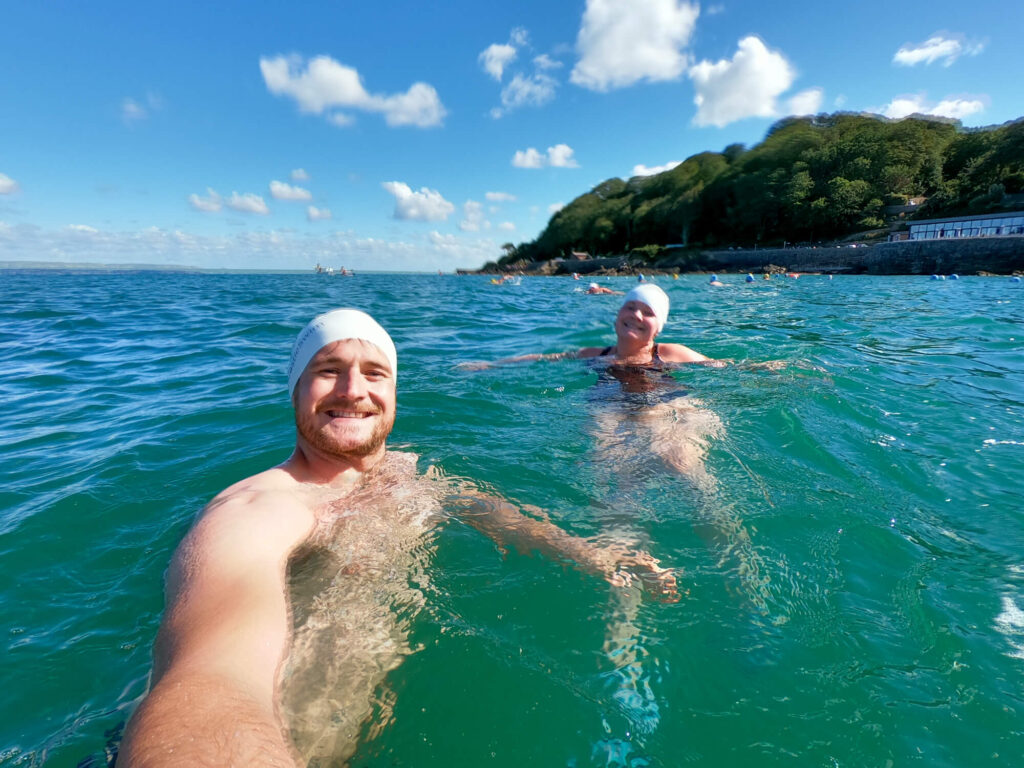 Tips for Staying Warm After Sea Swimming
Swimming in summer is completely different to swimming throughout the winter months. When it is warm, you can come out of the sea and the sun will quickly dry you off. In winter it can be very dangerous and hypothermia is a huge risk.
When you first get out the water, you might not think you are actually that cold. However it is still important that you get dry and warm as quickly as possible.
It is a good idea to find a sheltered area, out of the wind for getting dressed and we would advise you to have warm clothes to put on after. If you have a dryrobe or an overhead towel then this will help to keep you warm whilst you get dressed. 
Wear clothes that are quick and easy to get on after and wrap them up in a hot water bottle. You may start to get increasingly shivery after coming out the water as your core temperature drops.  
We bring hot water bottles with us to keep warm as well as a flask with a hot drink. Wait until your core temperature has risen again before taking a hot shower or bath.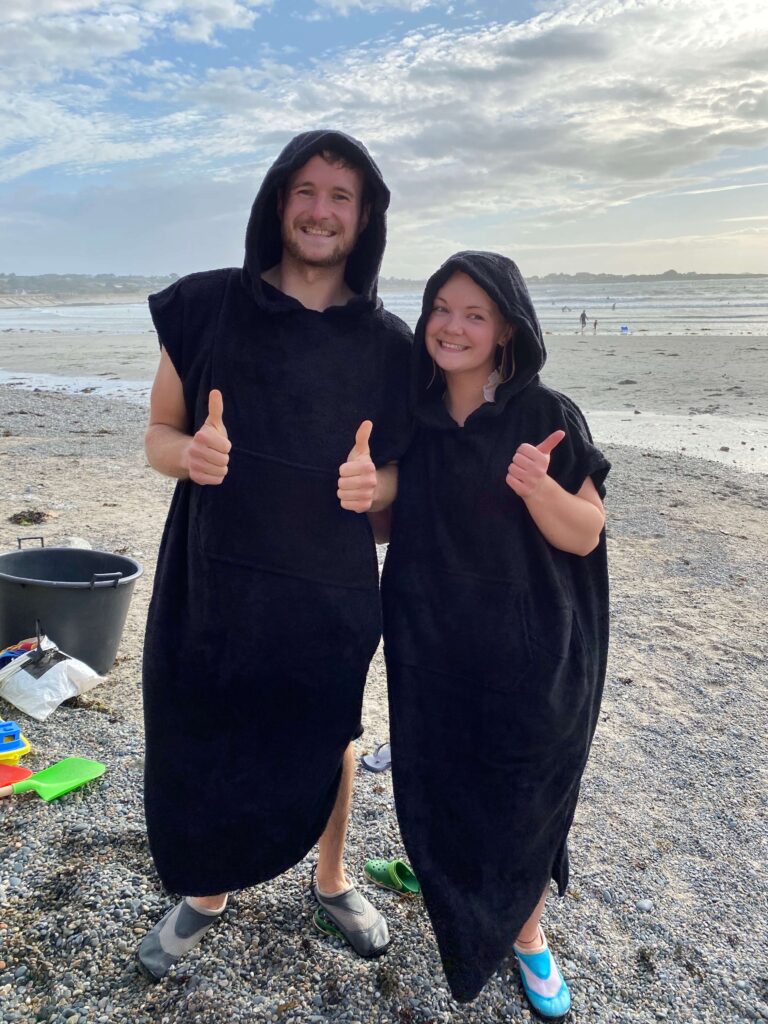 Why You Should Try Sea Swimming in Guernsey
There are so many reasons to try sea swimming and the health benefits aren't the only reason. Swimming in the sea gives you an opportunity to disconnect from the busy pace of life and connect with nature in the waves. We also found that getting in the cold water gave us control during uncontrollable times to push ourselves out of our comfort zone.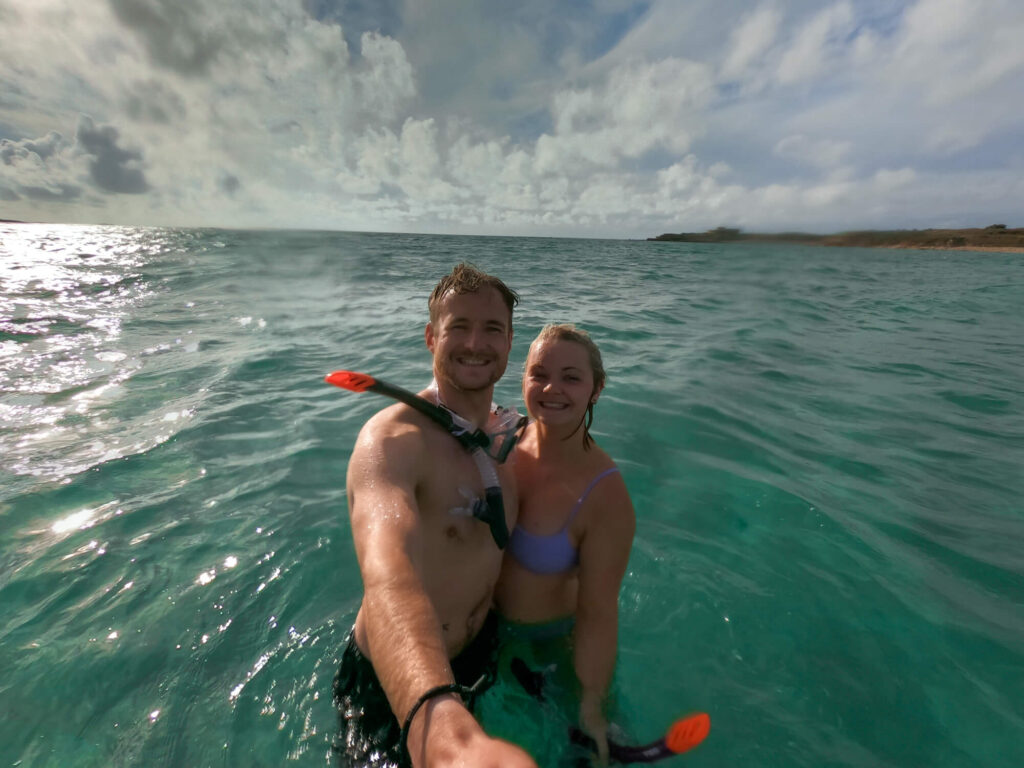 Before You Leave for Guernsey
Before you leave on your trip to the beautiful island of Guernsey, there are a number of things you will need to organise to ensure a smooth and stress-free trip. These include what to pack, where to stay and what is the best travel insurance for Guernsey.
What to Pack for Guernsey
What you need to pack for Guernsey will rely highly on when you make your trip to the Channel Islands. During the Spring and Autumn months, temperatures and weather patterns vary wildly between beautiful sunny skies and storming gales.
The temperatures generally vary from 10 oC to 25 oC during these months, with a mixture between cold, northerly winds and warmer southerlies. There is a small amount of rain, with maybe 1 in 7 days receiving rainfall, which makes it perfect for days out exploring the beautiful island.
During the Summer months in Guernsey, temperatures tend to range from 20oC to 30oC, with some days topping 35oC. Summer days in Guernsey are perfect for the beach, with many locals and travellers alike sending their day soaking up the sun and playing in the sea. When it comes to toiletries, we recommend that you don't forget to pack sunscreen. The sun in Guernsey can be strong, especially in the summer months.
If you need more inspiration on what to pack for your trip, check out our full packing guides for all-weather conditions over here.
Given the beautiful sights and scenery that you will see in Guernsey, we highly recommend packing a good camera for your trip. If you want to read more about the cameras we use and why we love them, check out the link below.
You can read what else we keep in our camera bag over here.
What is the Best Travel Insurance for Guernsey?
If you are simply planning on heading to Guernsey for a holiday, one thing that is essential for everybody is good travel insurance. Accidents can happen anywhere and at anytime and unexpected hospital bills will ruin a holiday. Remove the stress from your next adventure and get covered for the worst.
World Nomads Travel Insurance provides budget reliable travel insurance that will keep you covered for any level of adventure.
You can get your quote before you leave on your trip right here.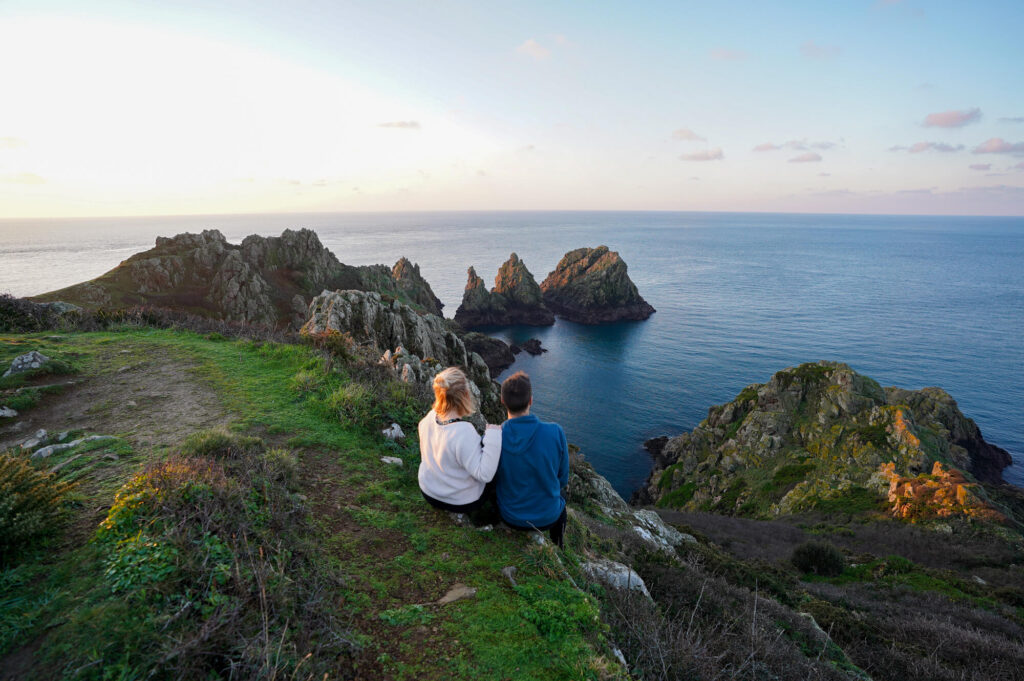 Where to Stay in Guernsey?
When it comes to accommodation on Guernsey, you are simply spoiled for choice with a huge range of hotels, B&Bs and even campsites to choose from. No matter what your preferred level of luxury is, there is the perfect place for you.
Luxury – Spend your time on Guernsey in true luxury at the Old Government House Spa and Hotel in St Peter Port. This hotel has beautiful views over the harbour of Guernsey's capital, as well as access to a luxurious spa, an outdoor terrace and a heated, outdoor pool.
Book your stay at the Old Government House Spa and Hotel here.
Mid-range – If you would like a taste of luxury at an affordable price, then the Auberge du Val Hotel is perfect for you. This 19th-century farmhouse sits on the west coast of the island and offers cosy, ensuite rooms, complete with tea, coffee and tv. The hotel is just a short walk from the beautiful nature reserves in St Saviour, perfect for a romantic trip away for the weekend.
Book your stay at the Auberge du Val Hotel here.
Budget – Situated just 2-miles from Guernsey airport in the heart of St Martins, the Carlton Inn is the best value hotel in Guernsey. With free parking and wifi, as well as access to the Wicked Wolf pub that sits in the same building.
Book your stay at the Carlton Inn here.
Camping – If you are up for a more adventurous stay on Guernsey, Fauxquets Valley Campsite offer a range of glamping safari tents, glamping pods and sites for your own tent if you bring one. Visit their website for a full price list of tents and campsites.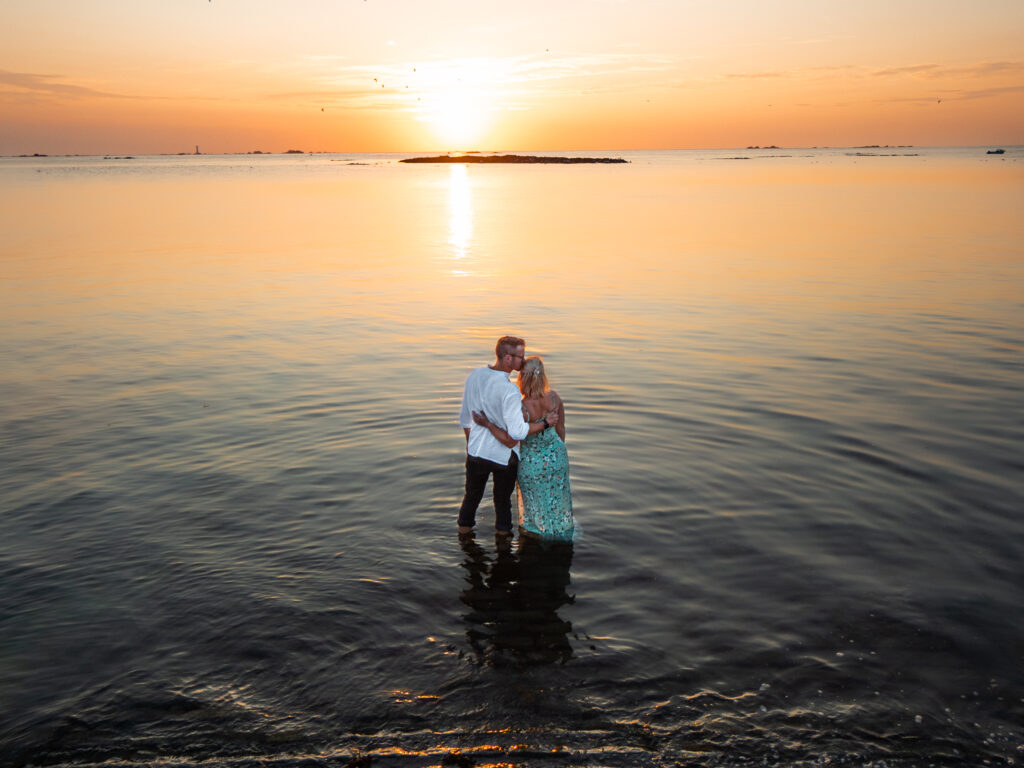 So there you have it, your complete guide to swimming in the sea in Guernsey! This is just some of the many great things to do in Guernsey, and we would recommend that you give living on this gem of an island a go.
If you found this guide to the historical sites in Guernsey useful, please let us know in the comments section below. We love chatting you guys about this kind of thing, and sharing our top experiences with everyone else! What site was your favourite? Do you have any places to add that we missed out?
Also, make sure you share this article with your family and friends to show them how beautiful the Channel Islands can be. Sharing is caring and we want to inspire as many people as we can to visit this unbelievable part of the world.
If you are planning a trip to Guernsey soon then check out our other Channel Islands content right here. Come and find us on social media to see where we are currently exploring. Tag us in your photos from Guernsey and we will share them with the rest of our community of explorers and backpackers on our social channels!
Now Read:
This article may contain affiliate links that provide us with a small income. For more information read our Affiliate page.
---
Save this to your Guernsey Pinterest board for later