Birmingham is a bustling city in the West Midlands in England. It is a perfect destination for a day out with the family as there are so many things to do in Birmingham. From the delicious chocolatey delights of Cadbury World to the Renaissance masterpieces in Birmingham Museum, you are sure to find something to entertain everyone. 
Let the fun times roll as we explore eight entertaining days out in and around Birmingham.
No time to read now? No problem, save a pin to your Pinterest board for later!
Birmingham Museum & Art Gallery
Birmingham Museum & Art Gallery is a Grade II listed landmark building that first opened in 1885. They host a wide range of exhibitions, including the 'We Are Birmingham' exhibit which features a radical transformation of the iconic Round Room and is a vibrant celebration of the modern city and its culture. Another exhibition, 'Unprecedented Times', explores themes of hope and loss whilst reflecting on the challenging times we've experienced as a nation during the COVID-19 pandemic.  
The museum is also home to the award-winning Edwardian Tearooms that cater for everyone with tasty full-English breakfasts, vegan options and even a selection of beers and wines. They also operate a quirky 'Press For Champagne' service in private booths, where you can press a button and be presented with a champagne menu.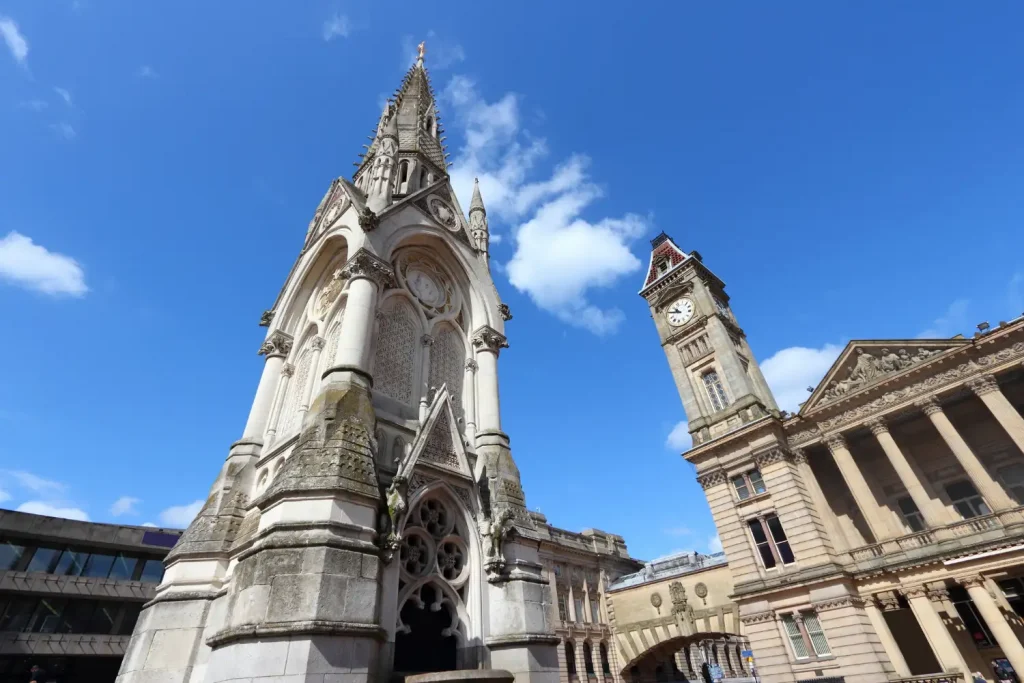 Birmingham Wildlife Conservation Park
Owned and managed by Birmingham City Council, Birmingham Wildlife Conservation Park is located on the edge of Canon Park. It's home to a unique collection of animals from around the world, such as lemurs, red pandas, monkeys, otters, and meerkats. 
The Park works with other zoos and conservation teams to protect endangered species, increase the animal population, and raise awareness of the threats they face. All the animals are protected in spacious, natural enclosures and are featured in informational talks and classroom experiences. If you're ready to get close to some of the world's rarest animals, the Wildlife Conservation Park is for you!
Villa Park Stadium
For any football fanatic, a visit to the Villa Park Stadium on Trinity Road is an unforgettable day out. The stadium obviously features football matches, but it also hosts a range of events and tours. Do you fancy walking in the footsteps of your favourite Villa players, taking to the bench as you look out across the turf or attending the post-match press conference room? 
The club promises an unforgettable tour around the 42,640-capacity stadium with a chance to go pitch side and check out behind the scenes – with backroom access to the dressing room and players' tunnel too!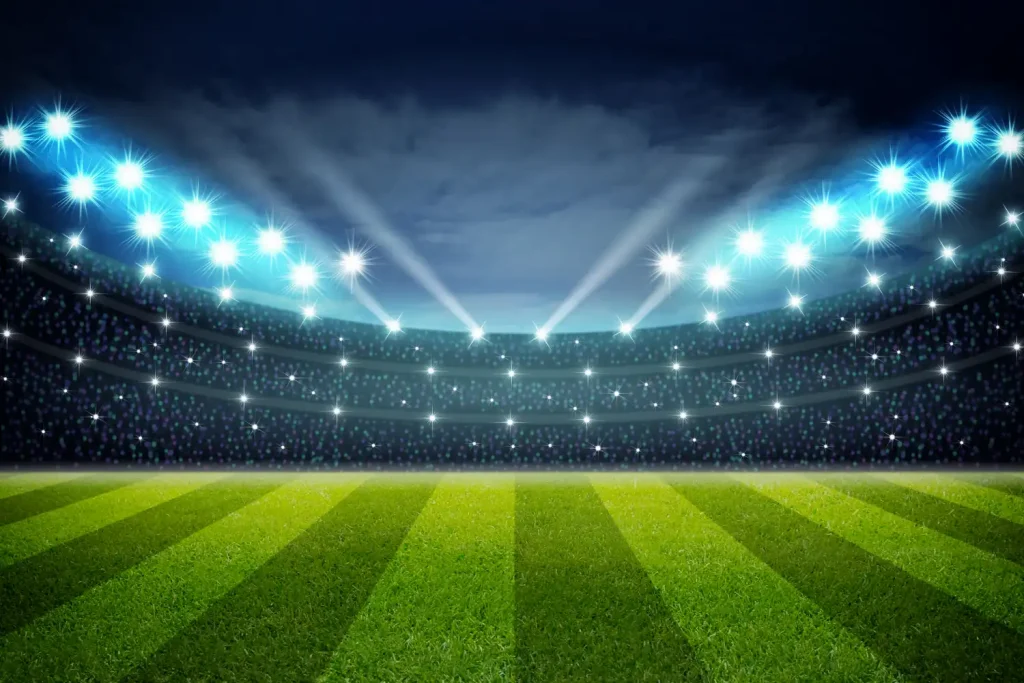 Brindley Place
Brindley Place is a development of shops, restaurants, attractions, entertainment and more. It's also home to the National Sea Life Centre, the Ikon Gallery, and the Crescent Theatre. 
It's got something for everyone, and you could spend an entire day in this part of Birmingham alone.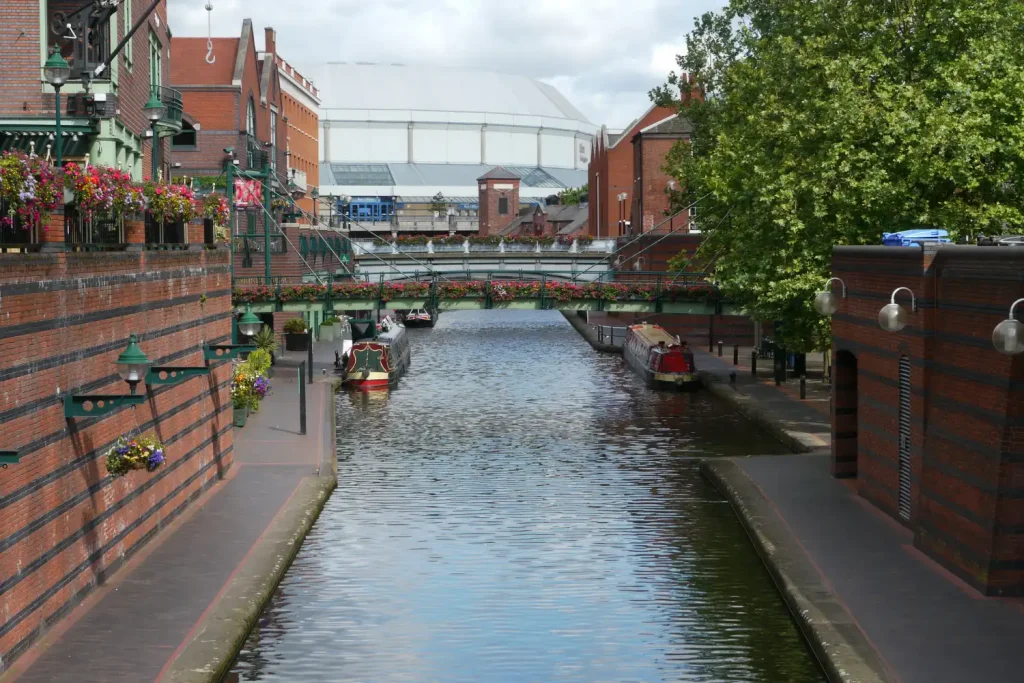 Cadbury World
If you love chocolate, then a trip to Cadbury World is a no brainer. It attracts a whopping 500,000 visitors a year and features animatronics, interactive displays, and chocolate tasting experiences. 
There is also a magical 'Cadabra' ride, a chance to meet the famous drumming gorilla and the all-new immersive 4D Chocolate Adventure Zone. So, if you fancy sampling some tasty chocolate and learning all about the history of UK chocolate making, Cadbury World could be the ideal day out for you.
Top Tip:
If you've got children along for the ride, why not let them burn off their sugar high and get some exercise at the venue's newly refurbished African Adventure play area whilst you have a sit-down?
Birmingham Back to Backs
For a touch of history, Birmingham Back To Backs is a fascinating option. These back-to-back houses were a feature of many industrial towns during the 19th century and were developed around shared courtyards to serve the country's rapidly expanding population. These early versions of terraced housing were all mostly demolished by the early 1970s, but in 1988, the Birmingham Back To Backs received Grade II listed status and were restored to their former glory by the Birmingham Conservation Trust. These hidden gems can be explored via guided tours and provide a window into 19th-century working city life where you can listen to tales from former residents and explore this quirky hidden corner of the city. 
Symphony Hall
Opened by the Queen in 1991, Symphony Hall is a 2,262-seat concert venue that's home to the City of Birmingham Symphony Orchestra. It has been critically acclaimed as one of the finest concert halls in the world featuring around 270 concerts throughout the year covering various styles of music, from rock to pop and classical to country, as well as comedy shows and more. So, why not see if there's a show for you?
Gas Street Basin
Gas Street Basin is at the heart of Birmingham's canal network, with its surrounding towpaths bustling with bars, pubs, restaurants, and other modern buildings. It features many old and new style moored canal boats and boasts beautiful views across the water. 
Be sure to visit the iconic, impressive, and highly rated Canal House Restaurant & Bar for a delicious bite to eat or a round of drinks as you gaze out across the waterways. Many of the old cottages and warehouses that surround the canals have been restored too and create an oasis of colour that demonstrates Birmingham's rich industrial history. 
Whether you're an adventure seeker, history buff or food enthusiast, there are so many things to do and see in Birmingham to suit any taste. Where will you visit first?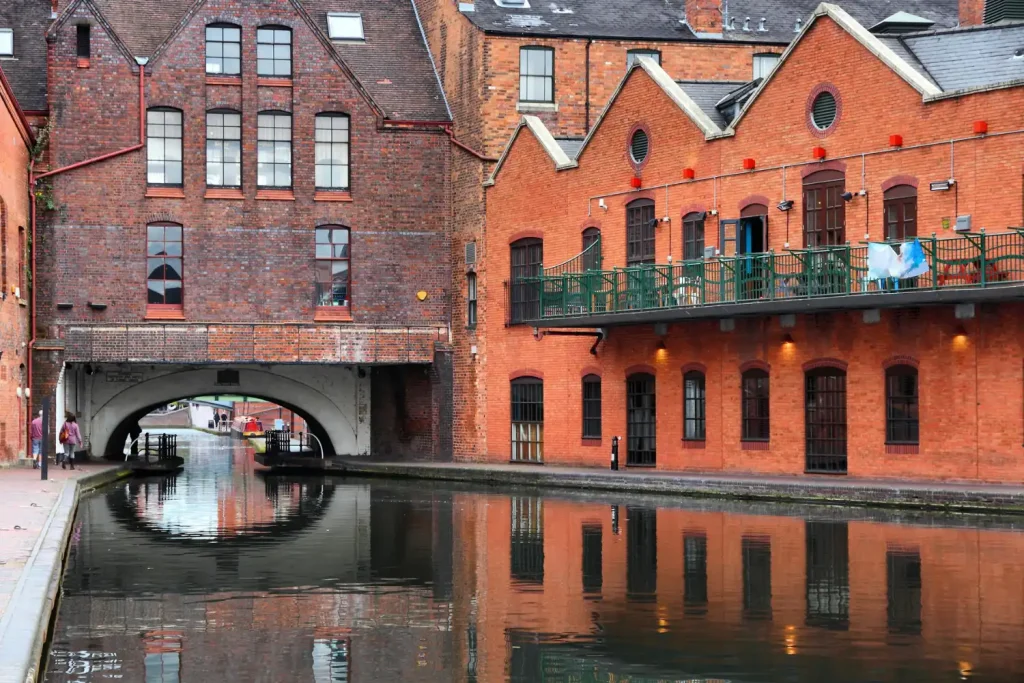 Before You Leave for Birmingham
Before you head off on your trip to Birmingham, there are certain things you will need to get organised to ensure a smooth trip. These include what to pack, where to stay and what travel insurance to book.
How Do I Get to Birmingham?
Birmingham is a large city in the West Midlands in England. It is easily reachable by public transport, including train and bus, with routes from all over the country. 
If you are flying into the country, the closest airport will be Birmingham airport.
What Should I Pack for Birmingham?
What you need to pack for Birmingham will rely highly on when you make your trip to the capital. During the Spring and Autumn months, temperatures and weather patterns vary wildly between beautiful sunny skies and freezing rain.
The temperatures generally vary from 10 oC to 25 oC during these months, with a mixture between cold, northerly winds and warmer southerlies. There is a small amount of rain, with maybe 1 in 7 days receiving rainfall, which makes it perfect for days out exploring the beautiful city.
During the Summer months in Birmingham , temperatures tend to range from 20oC to 30oC, with some days topping 35oC. When it comes to toiletries, we recommend that you don't forget to pack sunscreen. The sun in Birmingham can be strong, especially in the summer months.
If you need more inspiration on what to pack for your trip, check out our full packing guides for all-weather conditions over here.
Given the incredible buildings that you will see around the city of Birmingham, we highly recommend packing a good camera for your trip. If you want to read more about the cameras we use and why we love them, check out the link below.
You can read what else we keep in our camera bag over here.
Where Should I Stay in Birmingham?
There are many accommodation options in Birmingham, however, due to how busy this city is, we would recommend booking in advance.
Luxury – The Grand Hotel is a five-star hotel in Birmingham with beautiful modern air-conditioned rooms. There is a restaurant in the hotel and a buffet or English breakfast is served in the morning.
Book your stay at The Grand Hotel Birmingham here.
Mid-range – Located in the heart of Birmingham, close to the New Street Rail Station, shopping district, and the Arena Birmingham. The rooms are spacious with air conditioning and a power shower in the bathroom.
Book your stay at Jury's Inn Birmingham here.
Budget – A canalside hotel offering rooms with views over the canal. There is an on-site bar and bistro restaurant and the accommodation is within easy reach of the NEC, ICC and the city centre.
What is the Best Travel Insurance?
No matter what type of adventure you are heading on, whether it is a mountain adventure or a relaxing beach destination, one thing we all need to be aware of is that accidents can happen. The last thing you want is for an unexpected medical emergency to ruin your trip of a lifetime. Luckily, that is what travel insurance is for.
Whenever we travel abroad, we get covered with World Nomad's Travel Insurance, a reliable, friendly and extremely affordable method of covering yourself on any adventure. With years of experience working for backpackers around the globe, the service they provide is perfect for whatever type of trip you have planned.
Get covered for your next trip and get a quote from World Nomad's right here.
So there you have it, the 8 best things to do in Birmingham this Spring. If you have visited Birmingham recently, let us know what you thought of the activities and beautiful buildings in the area. If you have any suggestions let us know in the comments below.
As always, sharing is caring so make sure to share this photo guide with your family and friends and inspire them to head off on their own English adventure. If you are planning the trip for yourself, make sure you have a look at the rest of our England content for more inspiration to the UK.
When you set off on your own adventure, be sure to tag us in your photos on Instagram and we will share them with the rest of our community. In the meantime, why not follow us over there to see what we are currently up to and keep up with us on our Instagram Stories.
Now Read:
This article may contain affiliate links that provide us with a small income. For more information read our Affiliate page.
---
Pin this image to your England Pinterest board for later
No time to read now? No problem, save a pin to your Pinterest board for later!