Being surrounded by the nature and absorbing its goodness can be overwhelming. Although, visiting St. Andrews eases the process and provides the best of nature with the benefit of utter goodness. 
Being situated in Scotland, St. Andrews has gained enough footfall to make its mark in the tourism industry. 
This tourist-friendly place has a rich history which finds its proof in the architecture and surroundings. Ground to some of the brilliant attractions to choose from, family-friendly spots to historical wonders, as well as an abundance of stunning beaches, parks, and fantastic walks to explore, St. Andrews never fails to amaze its visitors. 
St. Andrews is an important town located on the Fife Peninsula. It is a part of the land which extends from the broad Forth Estuary in the South to the Firth of Tay in the North. A key location where once the trade with the Friesians, Flemings, and Normans bloomed during the Middle Ages, and now with the changing times, tourists (especially golfers), keep the locals busy here. 
Apart from this, the fact that this picturesque town boasts the presence of its rich heritage is nothing short of admiration. Numerous historic buildings, amazing castles, mesmerizing cathedrals, and Scotland's oldest university, everything here is worth exploring. 
St. Andrews is located in a very particular place- 50 kilometers northeast of the capital of Edinburgh, arriving here is easy due to the presence of Scotland's finest and major airports. 
Being surrounded by water gives it the benefit of having some of the astounding beaches in Scotland. This category definitely includes West Sands beach- a two-mile stretch of sand and dunes that go onto the Royal and Ancient Golf Club of St. Andrews. 
The following list of things needs to be a part of the itinerary of unusual things to do in St. Andrews!
No time to read now? No problem, save a pin to your Pinterest board for later!
St Andrews Cathedral
Staring your journey with a visit to St. Andrews cathedral would not only be aesthetically pleasing but it would also give a serene feeling to carry on forward. 
The history of St. Andrews cathedral often astonishes many people and once you get to know about it, there is nothing stopping you from planning your next here! 
St. Andrews Cathedral was once the center of religious and spiritual power in Scotland, and in 1472 it became the seat of the archbishop. By the 15th century, the location was referred to as the Cathedral of St. Andrews, just a few twist of words. 
Another fun fact associated with this place is that some 335 feet in length and 160 feet wide, the cathedral was built between 1160 and 1328 and was once the largest church in Scotland.
The cathedral had been a host to numerous powerful people in its time but to stand out from them were Robert I and James V. 
The cathedral's stonework was plundered in 1559, leaving it in ruins. For tourist visitation, now only parts of the late Romanesque east front, a section of the west front, the southern side aisle, and a gatehouse remain to let them take in the rich historic feeling. 
Apart from having a look at the mesmerizing ruins, many tourists pay a visit to the neighboring 108-foot-tall St. Rule's Tower. Many say the view from there is nothing short of being called magically hypnotizing.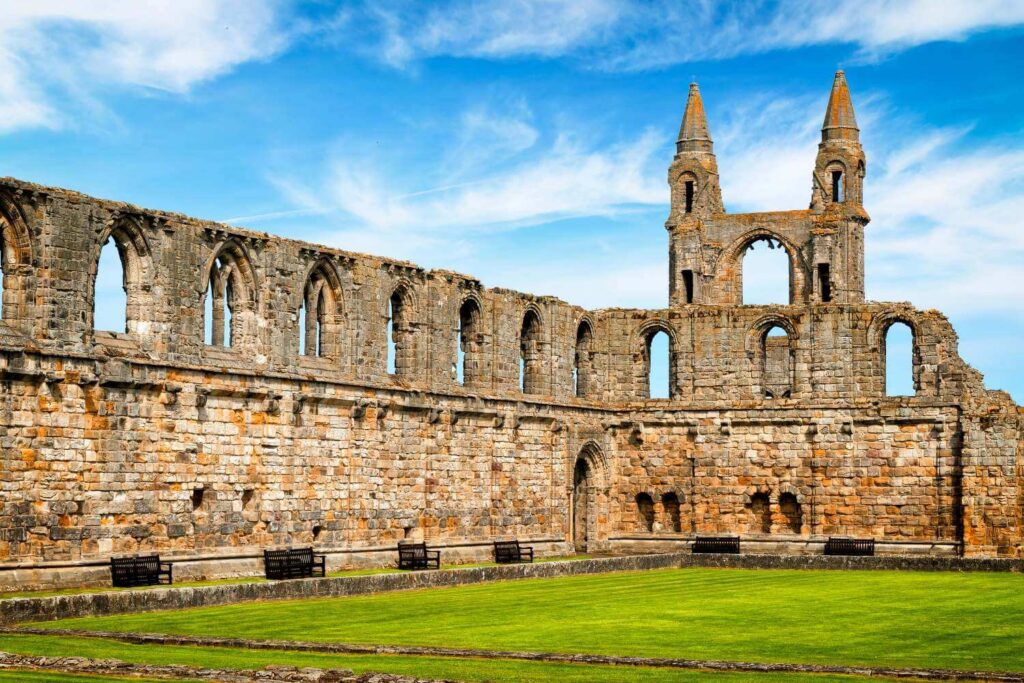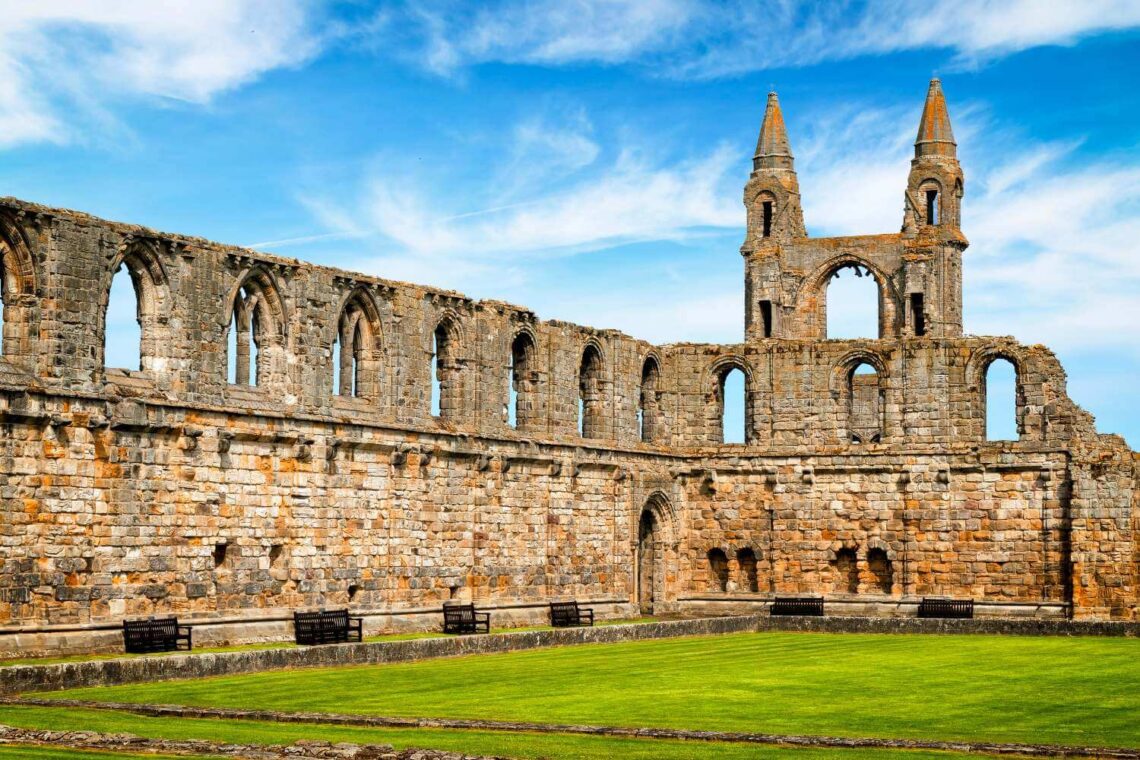 St Andrews Castle
A bishop's palace, a fortress, and a state prison, St. Andrews castle has been everything to closer to nothing in the place. Now almost in ruins, St. Andrews castle was built around the late 100s which makes it more interesting to visit now. With its broken and cracked walls, it says more than before. 
The amazing history of this place talks about how its purpose changed over time and how with the changing times it has seen all from being a palace to sieges to prison. 
While visiting here, the tourists are welcome to explore the remains of the old medieval tunnels dug during the year-long siege that started after the murder of Cardinal Beaton in 1546. Along with this, they can also pay a visit to the dungeon where the Cardinal was imprisoned. 
It is definitely a place worth visiting! 
St Andrews University Museum
Established in 1411, St. Andrews university holds the record of being the smallest yet oldest university in Scotland. Its well-preserved old architecture is one of the major tourist attracting points. 
While talking about its infrastructure, the main building has had a few additions to it over a period of time. St. Leonard (1511) and the college of St. Salvator (1450) were added in 1747 whereas St. Mary's College was opened in 1538 by Cardinal Beaton. The former colleges are devoted to Arts and Science whereas the latter serves as the theology faculty.
Aside from being famous for its architecture, St. Salvator has something which grabs the most attention. It contains the pulpit from the Holy Trinity Church, a place where John Knox had his first preaching. Whereas, St. Leonard's Chapel is a tourist hub as it houses some fine tombstones from the 16th and 17th centuries. Something to look forward to! 
For St. Mary's College, the one thing that attracts globetrotters is a rose bush. Yes! A bush! 
According to the legends, a rose bush was planted by Mary Stuart near the college. What's interesting is that this bush still flowers and bores quite beautiful flowers. Adding to this beauty is a house located in South Street where she stayed. It is now known as St. Leonard's College library.
Apart from these magnificent architectures, a list of other tourists' famous museums are: The Bell Pettigrew Museum and the Wardlaw Museum. The former is known for its notable natural history collections and the contemporary art exhibits in the Gateway Galleries whereas the latter is pretty famous for its large collection of historic and art-related artifacts.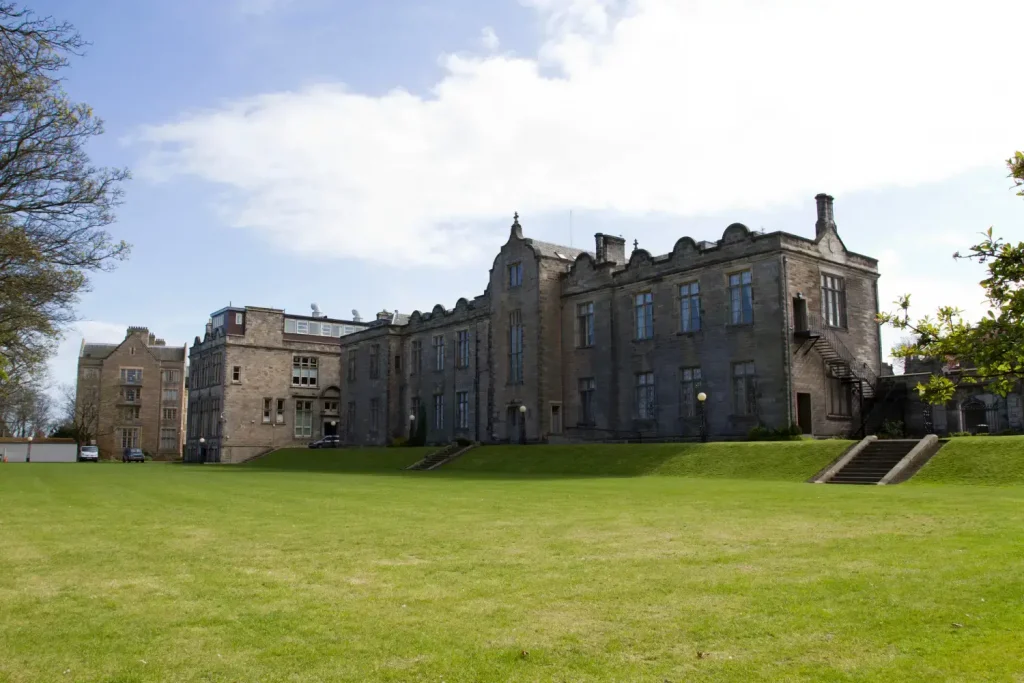 St Andrews Links Golf Course
Many tourists visit St. Andrews for its magical scenery and beautiful architecture but beyond this, another tourist attraction plays its role well. 
Due to its huge golfing estate and heritage, the game of golf was invented here itself and its modern version was invented in the 15th Century. 
Even though this sport has been played here since the early 1400s but it wasn't until the mid-18th century that it was established as a par-72, 18-hole course. It's this format that has since become the norm.
So it would not come as a surprise that the area would be home to the world's oldest golf club: Royal and Ancient Golf Club of St. Andrews, established in 1750.
Another fact that this place wears as a jewel is St. Andrews' seven famous courses which are owned and operated by the non-profit St. Andrews Links. 
St. Andrews Links is a group that also manages the best-known of the St. Andrews links courses, the famous Old Course- the oldest golf course in the world.
While sightseeing and knowing St. Andrews inside-out, do add a golf link tour to your itinerary for a better and more historical experience for you to remember the place by!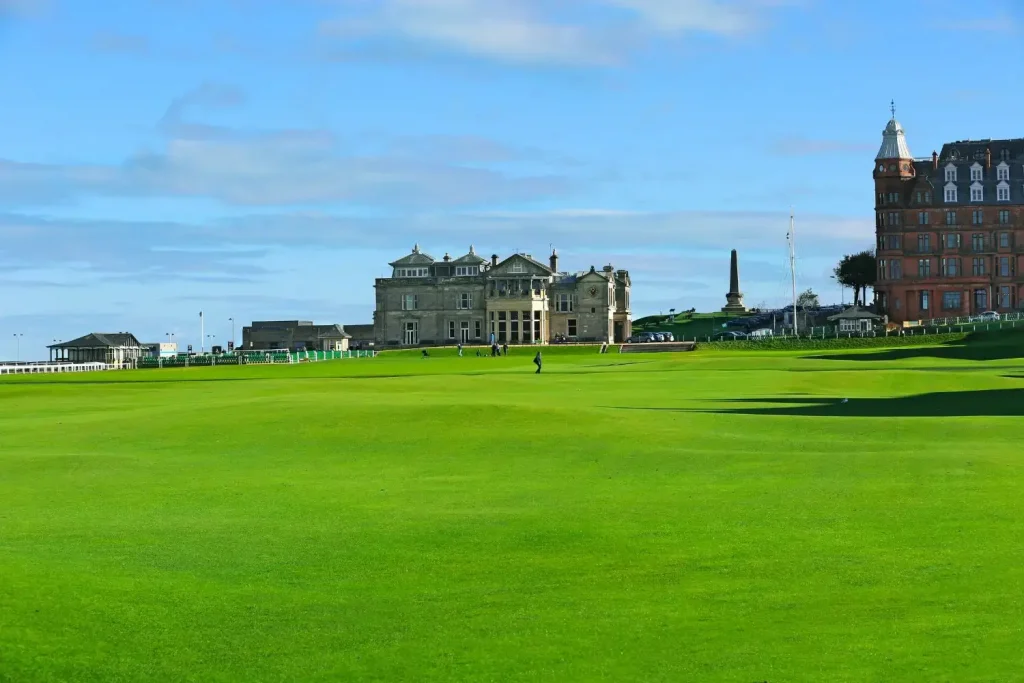 St Andrews Aquarium
While unveiling the historical chapters, the tourists also learn a lot about the rich aquatic life St. Andrews holds. To explore the basic as well as unique aquatic wildlife, visiting the St. Andrews aquarium would be a great choice. The aquarium doesn't just hold a place for marine life but it is also home to some interesting wildlife which has always attracted globetrotters. 
Overlooking the coast and St. Andrews Bay, the aquarium is home to countless fish species including sharks and piranhas alongwith other local marine life such as seals, crocodiles, and crabs to name but a few. 
Other attractions include things like participation in fun animal feeding activities and animal handling. The feeding program deals with animals like penguins and seals while animal handling deals with insects and docile reptiles. 
St Andrews Botanic Gardens
Serendipity is found all across St. Andrews but the one place where you can connect with yourself is at the Botanic Garden. Distributed in a lovely 18-acre site on the south side of town, the garden showcases some fine gardens, numerous plant species, and an attractive riverside setting perfect for enjoying some quality me-time. 
The one thing that attracts so many eyes is 8,000 different exotic and native plant species all in one place. They are perfectly distributed and extensively labeled in 'zones'. These 'zones' are ​​dedicated to particular species including a pleasant meadow, a woodland area, a rockery, and mesmerizing ponds and waterfalls. One could also find what's regarded as one of the country's top collections of rhododendrons.
Alongwith the magnificent gardens and woodland areas, there is also a butterfly house which fascinates many, especially kids.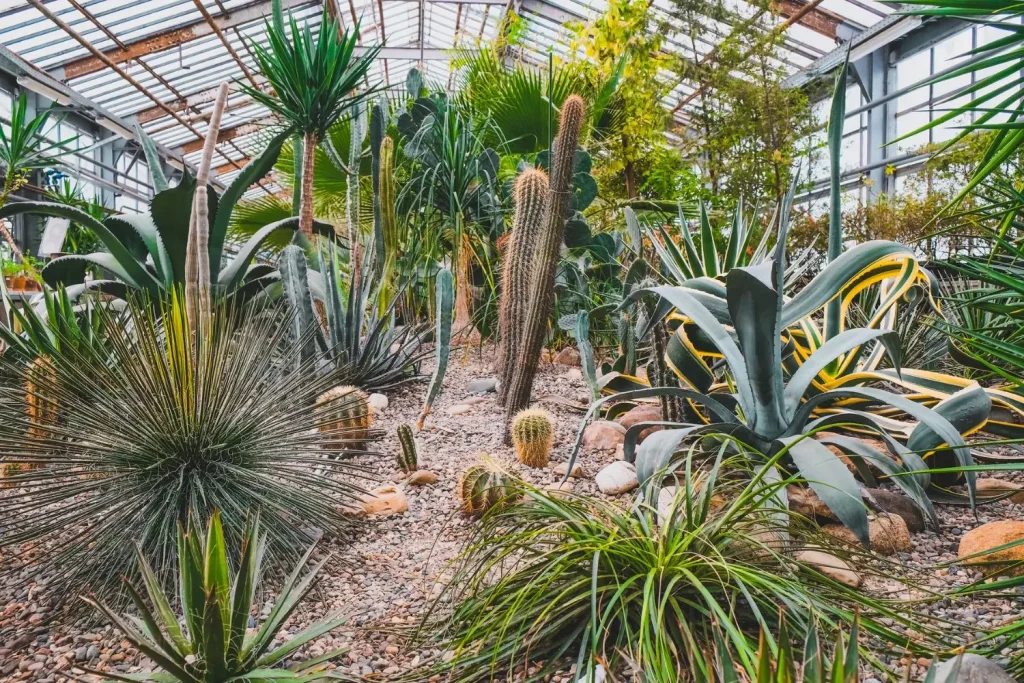 Drive to Craigtoun Country Park
Located to the south of St. Andrews, Craigtoun Country Park is an early 20th Century construction. It has been built similar to the village-style found in the Netherlands and on the grounds which were once a part of 17th Century manor house. 
The place offers a lot for its tourists mainly with things that provide utter tranquility. The ambiance of Craigtoun Country Park is such due to the presence and feels of an authentic village. The place is filled with open and huge gardens which include sitting areas, golf areas, walled gardens, rose gardens, a lovely avenue lined by cypress trees, walking trails alongside beautiful lakes where the option of boating is available, and numerous ponds. 
For tourists who are traveling with family and kids, this place is nothing else than perfect for having a picnic memory. From laying on the soft grass to walking in the heritage lanes, children could learn and play alongside history. The options of enjoying a traditional railway ride and a tractor ride are also present. 
Fit for all kinds of travelers from across the world, this place surely is a perfect choice to explore. 
St Andrews Museum and Preservation Trust Museum
To unfold the history of St. Andrews', pay a visit to St. Andrews Museum and the preservation trust museum. Excellently maintained by the townsfolk, the museum is situated in a lovely old Victorian-era mansion in Kilnburn Park. 
It features a huge exhibit showcasing every facet of the history of the town, from the legendary golf course to the acclaimed university. Since it is free to visit, usually a huge crowd is found here. 
The museum's gallery showcases the local artwork which fascinates one and all. While tourists flood over here every year, the place has now become a hot spot for concerts, workshops, and gatherings. 
The St. Andrews Preservation Trust Museum is situated rather close to the cathedral as well as the magnificent castle, giving it the pleasure of being one of the most interesting spots in St. Andrews. It supports a huge and delightful garden, perfect for evening time. 
While on your visit to the St. Andrews Preservation Trust Museum and St. Andrews Museum, feel free to connect with the heritage and history of the location.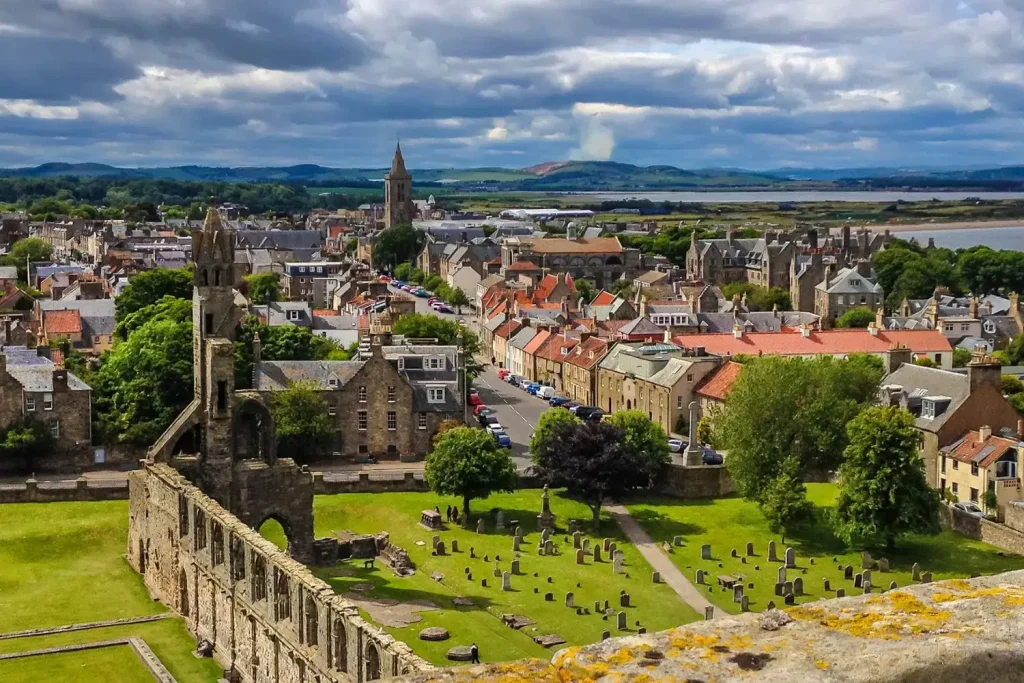 Explore the Food in St Andrews
Whilst exploring the heritage, make sure to also unfold the food essence of St. Andrews. The place is the top spot for rich seafood and drinks. 
To know the best of any destination in the world, one should have a taste of its local cuisine.
The house of heritage, presence of cultural development, and serendipity, St. Andrews is worth every penny and time. Holding the title of being the perfect choice for a getaway, St. Andrews attractions have provided tourists with some worthy memories to carry on with. From amazing cathedrals to magnificent castles, this town is absolutely worth time and effort and leaves an impression on you of being the most tranquil destination. 
Let us know what you thought of the sights listed above, or if you have any suggestions let us know in the comments below.
As always, sharing is caring so make sure to share this photo guide with your family and friends and inspire them to head off on their own North Coast 500 adventure. If you are planning the trip for yourself, make sure you have a look at the rest of our Scotland content for more inspiration to our beautiful home country.
When you set off on your own adventure, be sure to tag us in your photos on Instagram and we will share them with the rest of our community. In the meantime, why not follow us over there to see what we are currently up to and keep up with us on our Instagram Stories.
Now Read:
This article may contain affiliate links that provide us with a small income. For more information read our Affiliate page.
Pin this image to your Scotland Pinterest board for later