In the centre of Skye located only a 10 minute walk from the famous Sligachan Bridge is Allt Daraich Falls. This quickly became one of our favourite places on the Isle of Skye due to how peaceful and unpopular it was. There are a number of waterfalls and small cascades along Allt Daraich River, all plowing into crystal clear plunge pools surrounded by the stunning Cuillin Mountain Range.
No time to read now? No problem, save a pin to your Pinterest board for later!
Allt Daraich Falls - A Must Visit Sight on the Isle of Skye
In this post, we share just how easy it is to get to this beautiful spot on the Isle of Skye as well as the best time to go and how to get there. 
What is Allt Daraich Falls?

Where is Allt Daraich Falls?

How to get to Allt Daraich Falls?

Why Should I go to Allt Daraich Falls?

When Should I go to Allt Daraich Falls?

Preparing for your trip to the Isle of Skye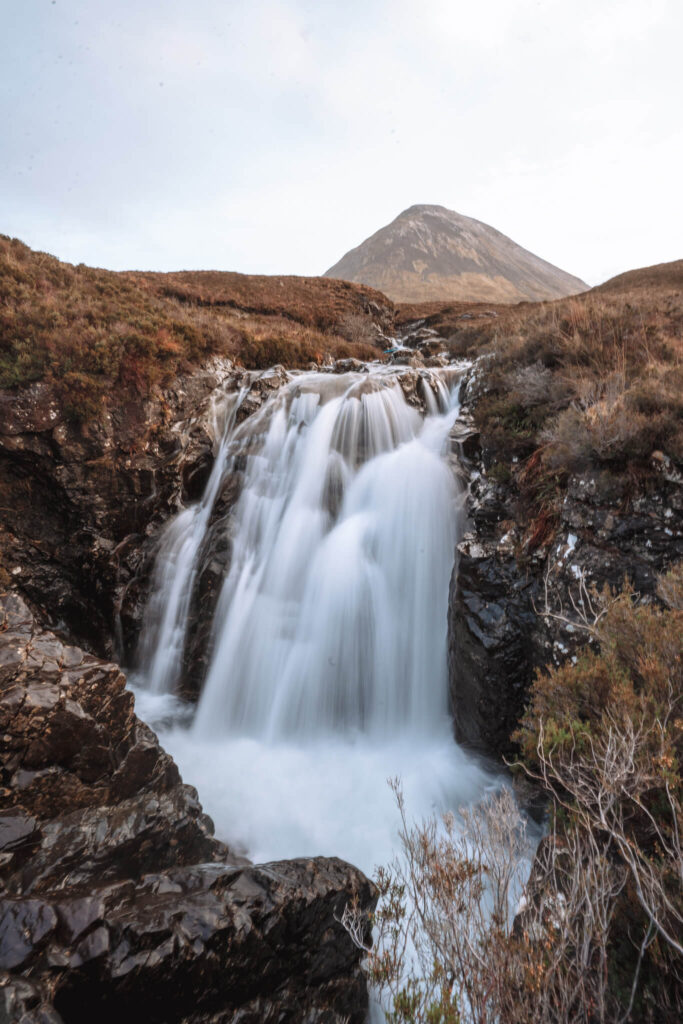 What is Allt Daraich Falls?
Allt Daraich is one of the many streams that flow into River Sligachan in the centre of the Isle of Skye. It is made up of many fast flowing waterfalls and small cascades leading up to the surrounding mountains. The small plunge pools make this spot a beautiful place for a bit of wild swimming with the perfect scenery. 
Please note: some of the parts along the river would be extremely dangerous to swim in due to the fast-flowing waterfalls. Choose where you swim wisely. Please also remember to follow the outdoor access code and leave no trace when you visit.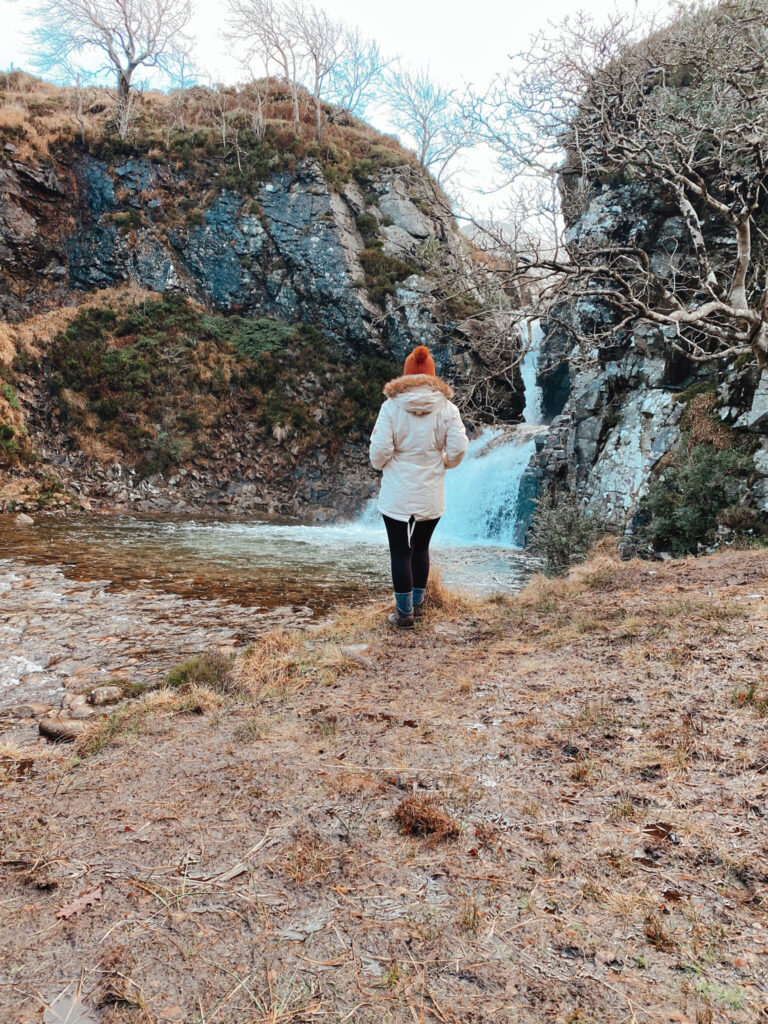 Where is Allt Daraich Falls?
Located in the centre of the Isle of Skye near Sligachan is the Allt Daraich river. Following the river up from the Sligachan Old Bridge, you will see a number of waterfalls on your left-hand side, cascading into bubbling swimming holes. The Cuillin Mountain Range that sits behind, makes for the perfect backdrop if you fancy a swim in this beautiful setting.
Due to the snowmelt that feeds these rivers during winter, be prepared for an icy cold dip during winter if you do brave it!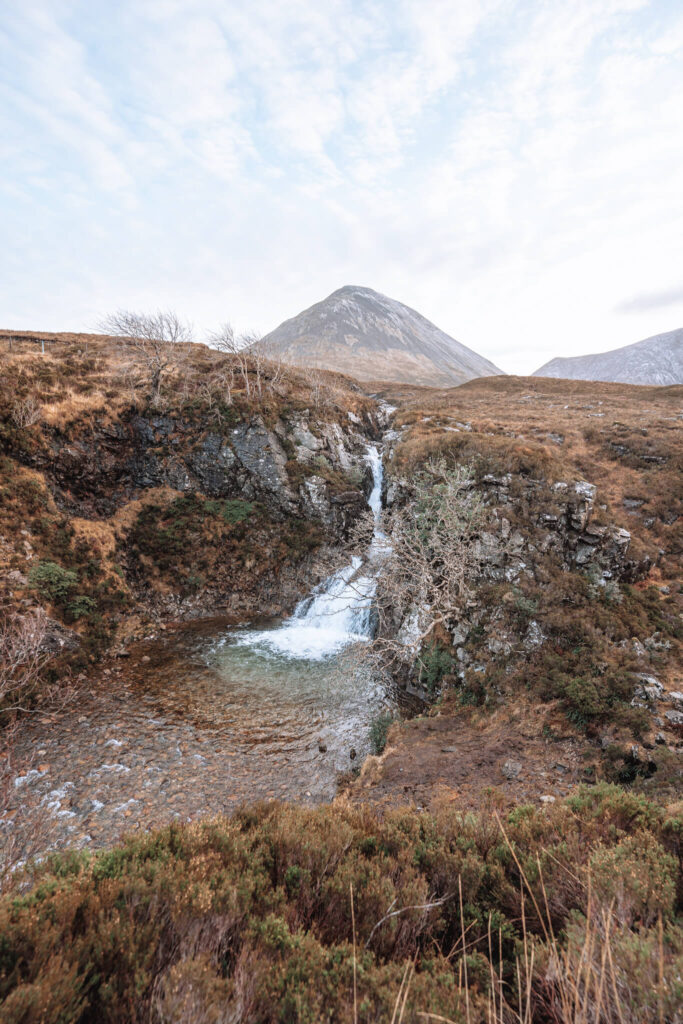 Struggling to plan your Isle of Skye road trip?!
How to get to Allt Daraich Falls?
Allt Daraich is located a short 10 minute walk from the Sligachan Hotel. You can park near the hotel just off the main road of the A87 and cross over the Old Sligachan Bridge. Follow the path to the right and cross through a gate, you will see signs for John Muir Trust leading to Loch Coire Uisge, follow those signs.
Continue on the stoney path left past the Explorer's Monument and follow it, keeping the river on your left hand side. You will be able to see the waterfall from the path and you can either walk down the hill to access the water, or continue to follow the path along the river and enjoy more beautiful falls on the walk.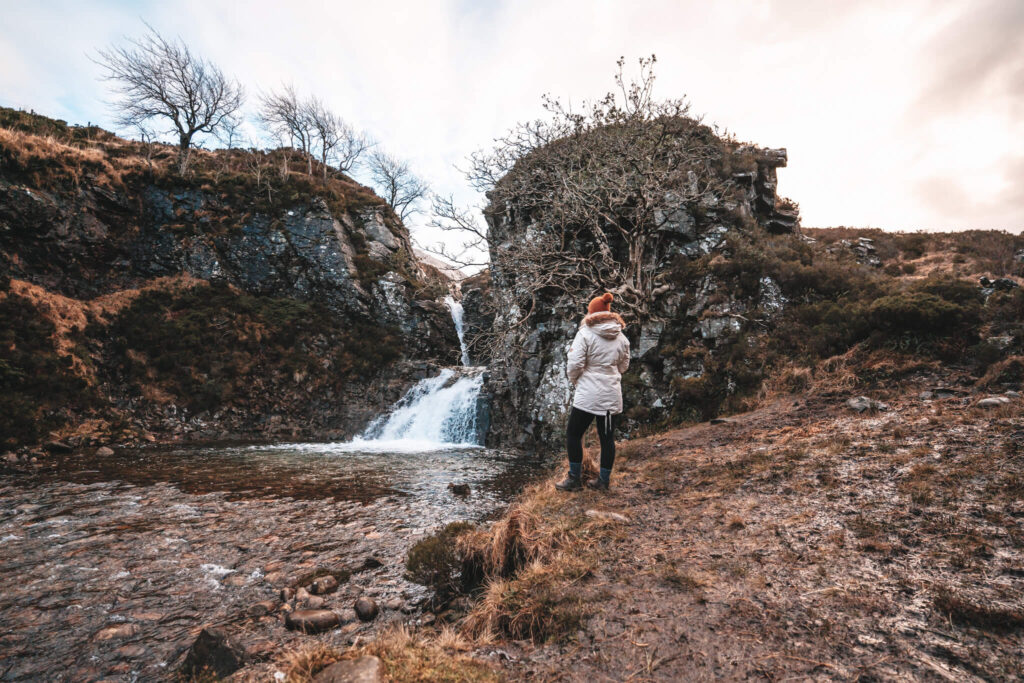 When Should I go to Allt Daraich Falls?
The best time to visit the Allt Daraich is during the summer months when the weather is warmer and you can enjoy a cool down in the pools. The nicer weather may make this spot more popular, however, there are plenty of safe swim spots in the river to enjoy.
In saying that, visiting Allt Daraich after heavy rainfall is very impressive due to the power of the waterfall.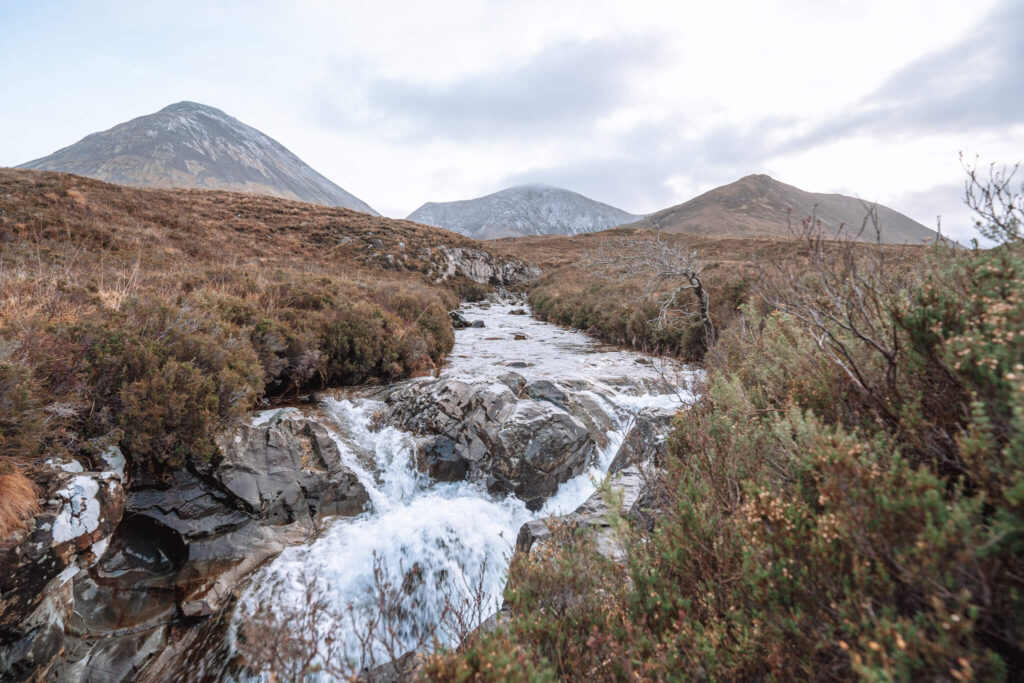 DON'T FORGET
Your trip to Scotland will be a lot more comfortable with a midge net and midge spray. These little biting bugs can be enough to ruin a trip if you don't have the equipment to protect yourself from them. A repelling candle can also be helpful if you are sitting oustide.
Why Should I go to Allt Daraich Falls?
If you enjoy visiting nature spots and beautiful waterfalls, then you will enjoy Allt Daraich Falls. The close proximity of this waterfall on Skye to the car park makes it a good place to visit if you are on a busy itinerary and a quieter alternative to the busy Fairy Pools on the Isle of Skye. 
If you enjoy outdoor swimming, we would definitely recommend bringing your bathers and a towel and finding a safe spot to enjoy the cool turquoise water.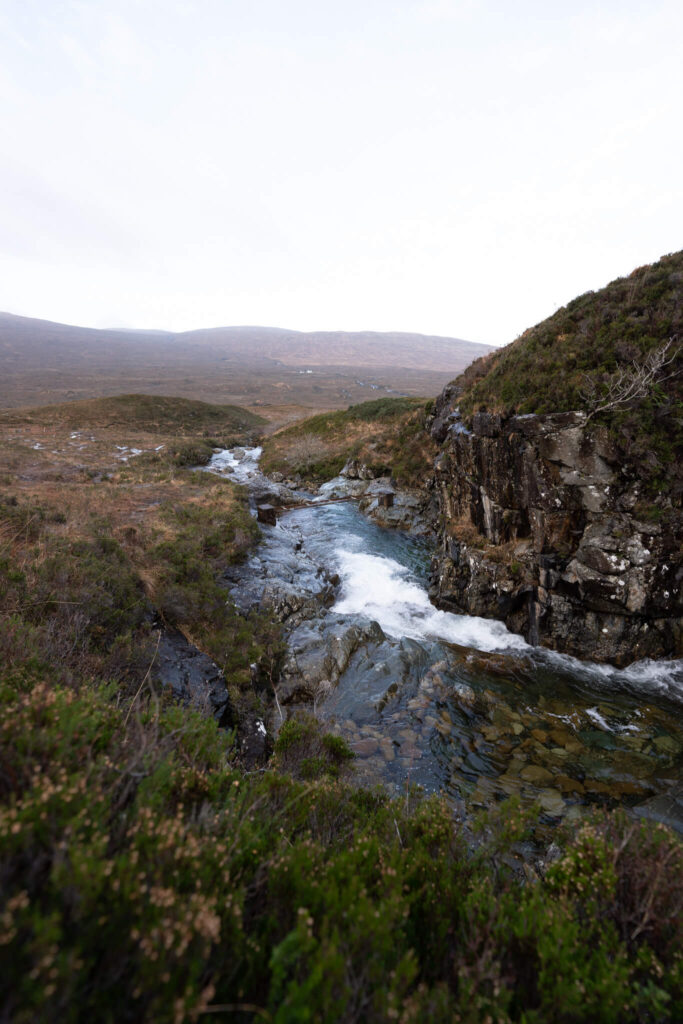 We would highly recommend getting yourself a Seashell dryrobe for keeping warm when you get out of the icy cold water! They even have pockets to store your keys!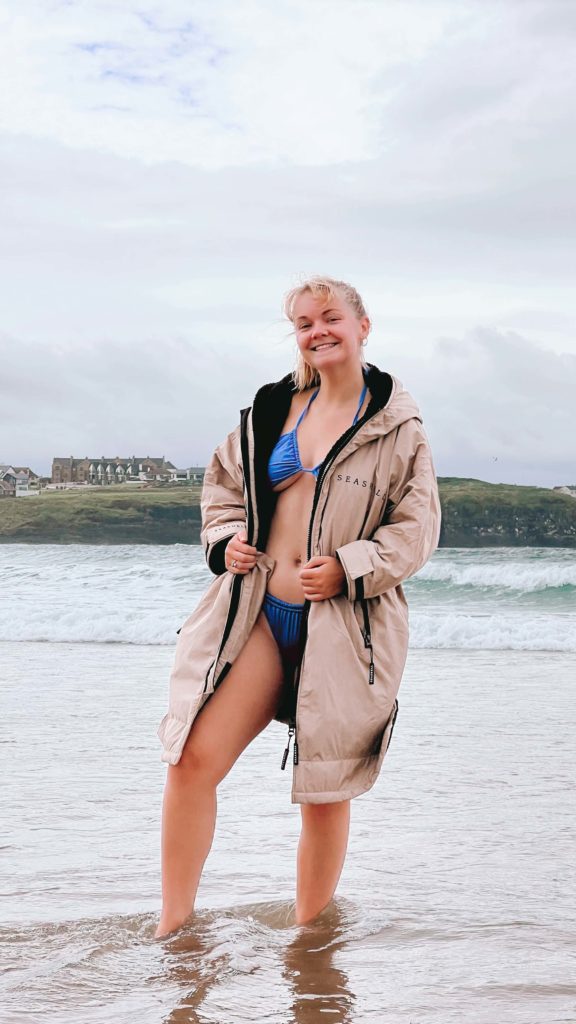 Before You Leave on Your Trip to the Isle of Skye
Before you leave on your trip to the Isle of Skye there are a few things you will need to get organised to ensure a smooth and enjoyable trip. These include how to get there and around the island, what to pack and where to stay, all of which are discussed below.
How to Get to the Isle of Skye
Drive
The Isle of Skye is connected to mainland Scotland by the Skye Bridge, a free road bridge, from Kyle of Lochalsh to the village of Kyleakin on the island. In high winds, the bridge will close to high vehicles and on days of particularly extreme weather, the bridge may close to all vehicles.
Ferry 
Another option is to get the ferry over to Skye which typically takes around 30 minutes, leaving from Mallaig on the mainland to Armadale. You can check the timetables online as there is typically only a morning and afternoon ferry running.
Bus
If you are travelling to Skye without a vehicle, buses run from Scotland's major cities, Glasgow and Edinburgh direct to Isle of Skye's capital, Portree. Buses to the Isle of Skye run from other areas in Scotland and you can plan your bus journey to Skye here.
Once you are on the island, you can book onto a tour that departs from Portree and takes you around the best sights that there are to see on the island. Read more about this tour and book your place right here.
If you are looking to rent a cosy, reliable and luxurious campervan for your trip along the NC500, we recommend hiring through Spaceships
Browse the full range of vehicles on offer at Spaceships over here.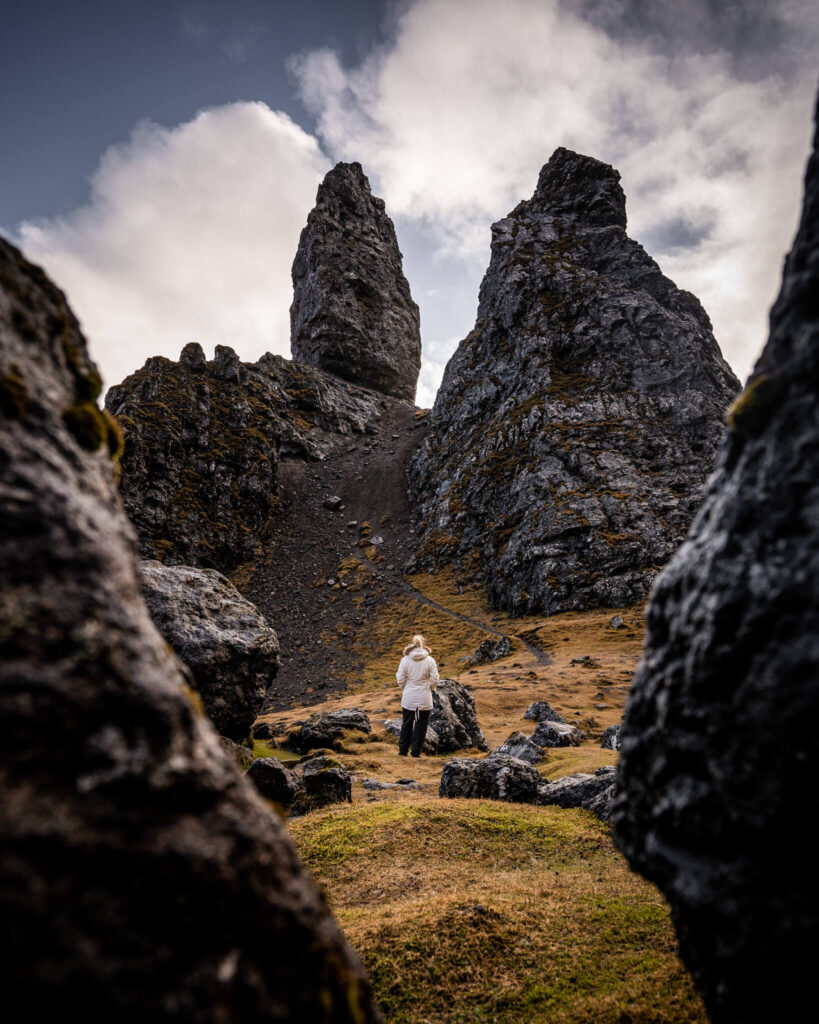 Where to Stay on the Isle of Skye
These recommendations may vary depending on what activities you are wanting to do whilst on the island. We have based these accommodations close to the centre of the island and near Portree. In the summer Portree is extremely busy and we would recommend that you look to stay elsewhere if you want to avoid the crowds and traffic.
In the winter months, however, Portree is a pleasant and central location from which it is easy to get to many of the sights around the island.
Luxury – If you are looking for a comfortable apartment stay to come home to after a day exploring, Quayside Apartment is the perfect place for you. With spectacular views and a good central location, this accommodation is comfort plus for your next trip to Skye.
Book your stay at the Quayside Apartments right here.
Mid-range – The Portree Hotel is a great central location for your stay in Skye. This hotel overlooks the main square in Portree and during the winter months, there are wood-burning stoves to keep you warm after a day of exploring.
Book your stay at the Portree Hotel right here.
Budget – If you are looking for a budget place to rest your head but still have a great view, The Pink House is the place to stay just for that. A continental breakfast is included in your stay and you can book a room with a great view out to sea.
Book your stay at the Pink House right here.
If hostels are more your scene, you can check out the hostels available in Isle of Skye here.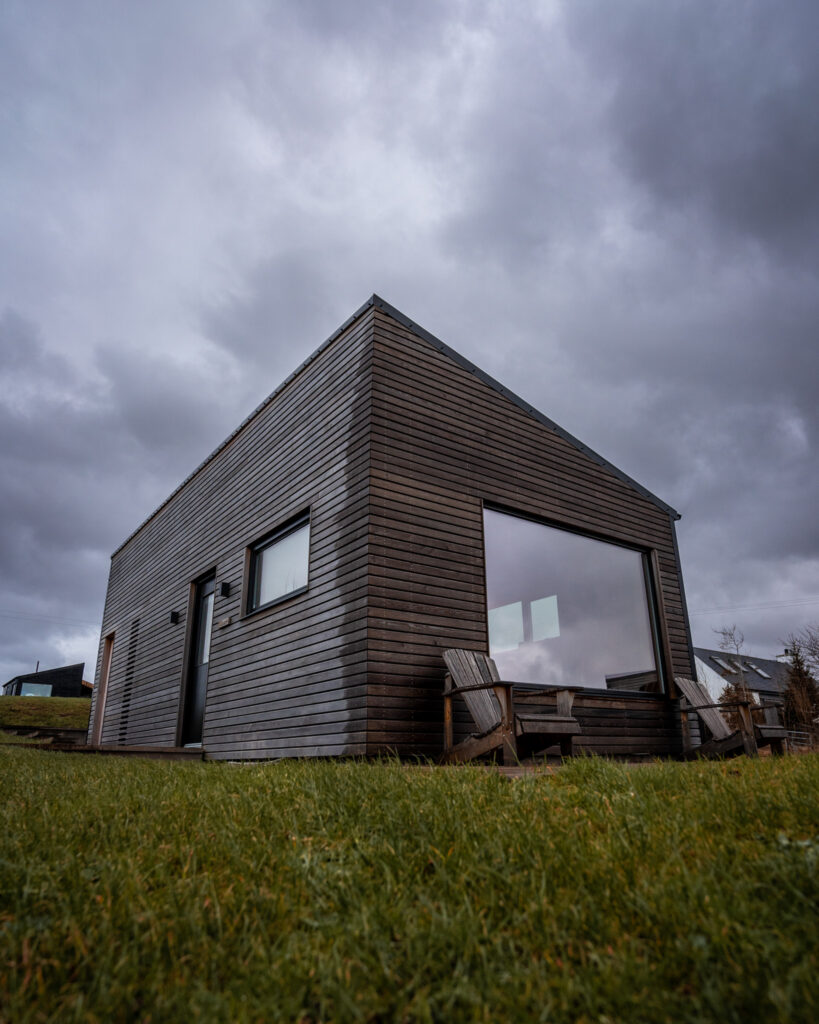 What to Pack for the Isle of Skye
When it comes to packing for a trip to Scotland there is one item of clothing that you are going to need all year round: a waterproof. It rains in Scotland on average 250 days a year, meaning that during your trip to the Isle of Skye in winter, you can expect rain at some point. Due to this, the number one item on your packing list is a good waterproof jacket.
Second to that, another item to not leave home without is a good pair of warm and, if possible, waterproof boots. A lot of the best sights on Skye require a bit of walking to reach them and the conditions underfoot can become very muddy. You do not want to ruin a good pair of white trainers so pack some sturdy boots.
You will definitely need a hat and gloves during the winter months as the wind chill can be bitter.
For our full list of items that we pack no matter where we go in the world, check out our full packing guides over here.
Given the beautiful sights and scenery that you are no doubt going to see around the Isle of Skye, we highly recommend packing a good camera for your trip. If you want to read more about the cameras we use and why we love them, check out the link below.
You can read what else we keep in our camera bag over here.
Photography Equipment
What is the Best Travel Insurance for Scotland
We know travel insurance is the least enjoyable thing to purchase and look at when you're planning a trip, however, you wouldn't want to be without it in the event that something happened. Accidents can happen anywhere and the extortionate medical bills will ruin your trip if you are not covered.
To ensure you have a stress-free trip with no worries about potential medical bills, make sure you cover yourself when you travel. We can recommend using Safetywing, a backpacker-friendly and cheap insurance company that provides good coverage and support.
Get a quote for your travel insurance right here and get covered.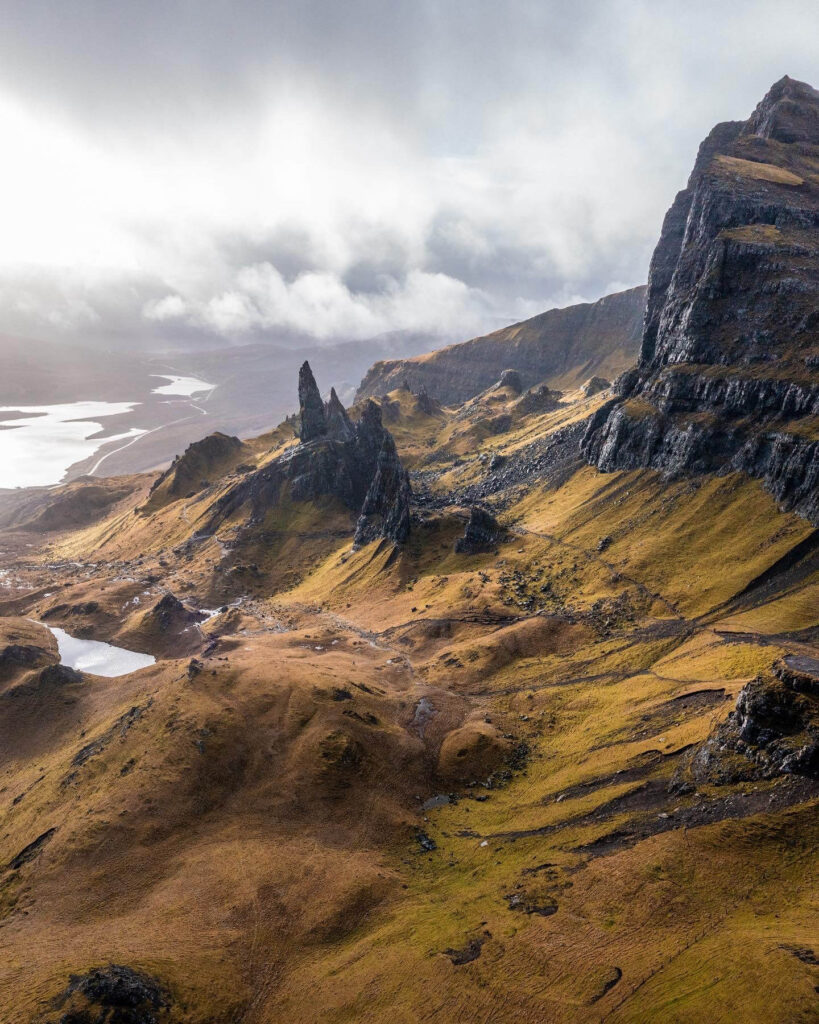 So there you have it, your guide to visiting Allt Daraich on the Isle of Skye. If you are visiting this incredible place and have any other questions on what to expect, leave us a comment down below. We love to chat about this stuff! If you have already been, let us know how it was! Did you go in for a swim? Let us know in the comments below!
Also, remember to share this with your friends and family that you are going to share this amazing experience with. Sharing is caring and we want to ensure that everyone is fully prepared to maximise their experience on the Isle of Skye.
If you are planning a Scotland trip soon then check out our other Scotland content right here. Come and find us on social media to see where we are currently exploring. Tag us in your photos from your stay and we will share them with the rest of our community of explorers and backpackers.
Read Now:
This article may contain affiliate links that provide us with a small income. For more information read our Affiliate page.
---
Pin it for later!