At the end of our North Coast 500 adventure this Summer, we took a detour on our route home to the magical island of the Isle of Skye. This was our first-ever trip to this famous place, and boy were we in for a treat! The weather was phenomenal, the views were extraordinary and the culture and history are fascinating.
Despite how lucky we were with the weather, the Isle of Skye is a magnificent place for a road trip no matter when you visit. Whether you decide to tour the island during the summer or visit Skye in the winter, you will not be left disappointed for beautiful sights.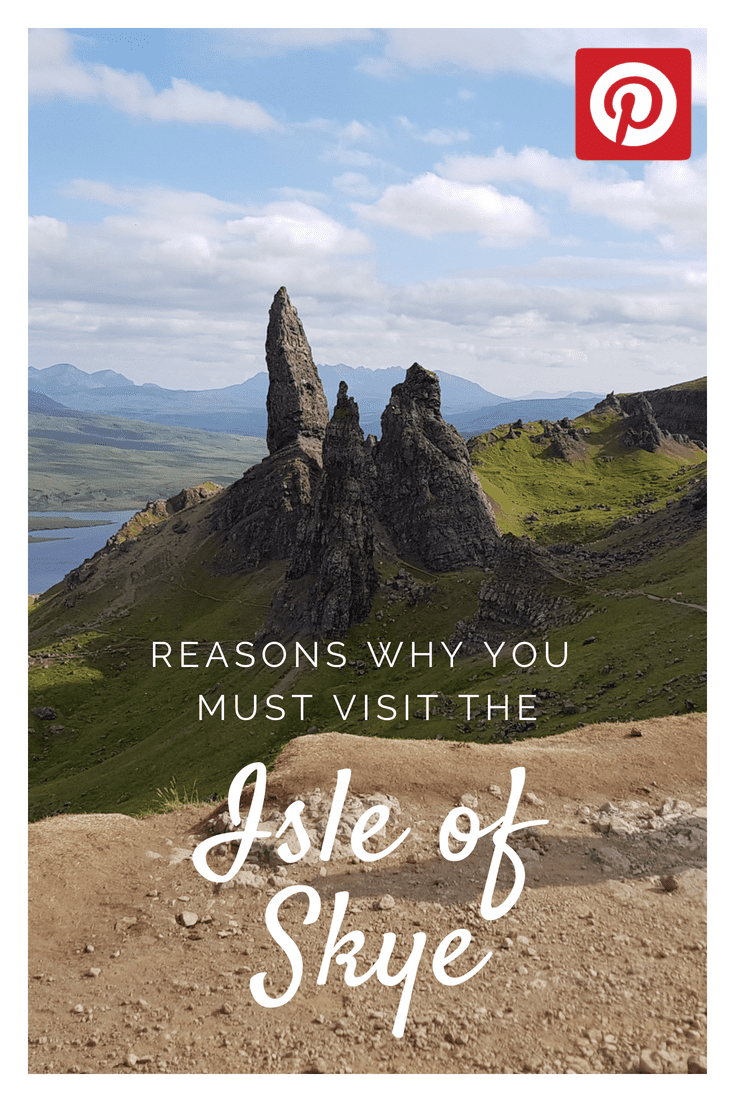 Listed below are the sights that we will discuss in this article. These were our highlights of the trip, and are just some of the many reasons why you must visit Skye on your Scotland itinerary.
Old Man of Storr
The Fairy Pools
The Isle of Raasay
The Quiraing
Fairy Glen
Kilt Rock
Also catch up with our other adventures around Scotland over on our Youtube channel and see these sights for yourself!
Isle of Skye – The Best Things to Do in Skye
The Isle of Skye is accessible from mainland Scotland by a free road bridge which starts from Kyle of Lochalsh to the small village of Kyleakin. There is also a ferry to the Isle of Skye that leaves from Mallaig on the mainland to Armadale on the Isle of Skye. There are also bus services that leave from Fort William and other Scottish cities that go to the Isle of Skye.
What to Pack for the Isle of Skye
When it comes to packing for a trip to Scotland there is one item of clothing that you are going to need all year round: a waterproof. It rains in Scotland on average 250 days a year, meaning that during your 5-day Heart 200 road trip you will probably experience at least a drizzle of rain. Due to this, the number one item on any Scotland packing list is a good waterproof jacket.
As for the rest of the year, the temperature in Scotland and the central heartlands is reasonably mild for most of the year. During the winter months, you will most likely experience snow, however, temperatures usually sit around freezing, so it is not too cold. For your reference, the average temperatures in Scotland are listed below during each season.
Spring (March, April, May) – 5-10 degrees C
Summer (June, July, August) – 15 degrees C
Autumn (September, October, November) – 5-10 degrees C
Winter (December, January, February) – 0-5 degrees C
As you can see, the weather never really gets above the teens, with anything over 25 degrees C considered a heatwave. The best way to pack for your trip to the highlands is with layers that can be added and removed as you need them. You will definitely need a hat and gloves during the colder months and will most likely need sunscreen to protect you on the long days in the open.
For our full list of items that we pack no matter where we go in the world, check out our full packing guides over here.
DON'T FORGET
Your trip to Scotland will be a lot more comfortable with a midge net and midge spray. These little biting bugs can be enough to ruin a trip if you don't have the equipment to protect yourself from them. A repelling candle can also be helpful if you are sitting oustide.
Check out the prices of them here.
Given the beautiful sights and scenery that you are no doubt going to see around Scotland, we highly recommend packing a good camera for your trip. If you want to read more about the cameras we use and why we love them, check out the link below.
You can read what else we keep in our camera bag over here.
Best Things to Do on the Isle of Skye
Hike up to the Old Man of Storr
North of Portree, high up on the hills is the iconic Old Man of Storr. Created by a massive landslide many thousands of years ago, this natural phenomenon is a pillar of rock that can be seen for miles around. This combined with a very photogenic landscape makes an incredible view. As one of Scotland's most iconic scenes, and I am sure you will have heard of it before.
Read the full guide to hiking to the Old Man of Storr over here.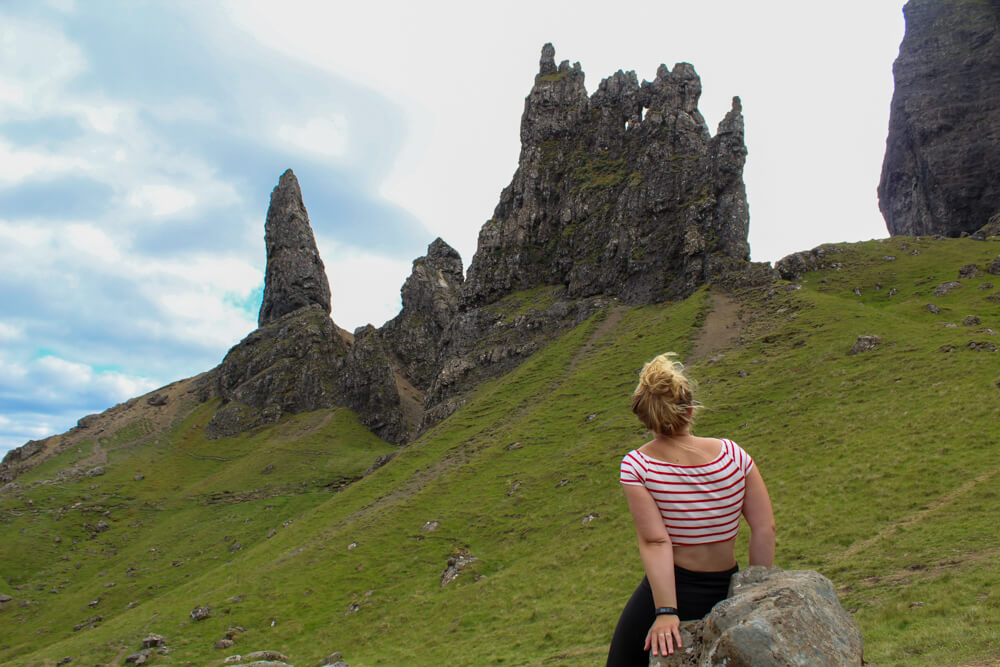 The hike to the viewing "platform" is only 3.8km, however, don't let this distance fool you. This is quite a steep hike up, it took us around an hour each way. It is also one of the most popular walks on the island, and will be very busy. Parking fills up quickly therefore lay-by parking beneath the "old man" can also be used. Pack your water and camera, and head off for one of the most beautiful views on the island.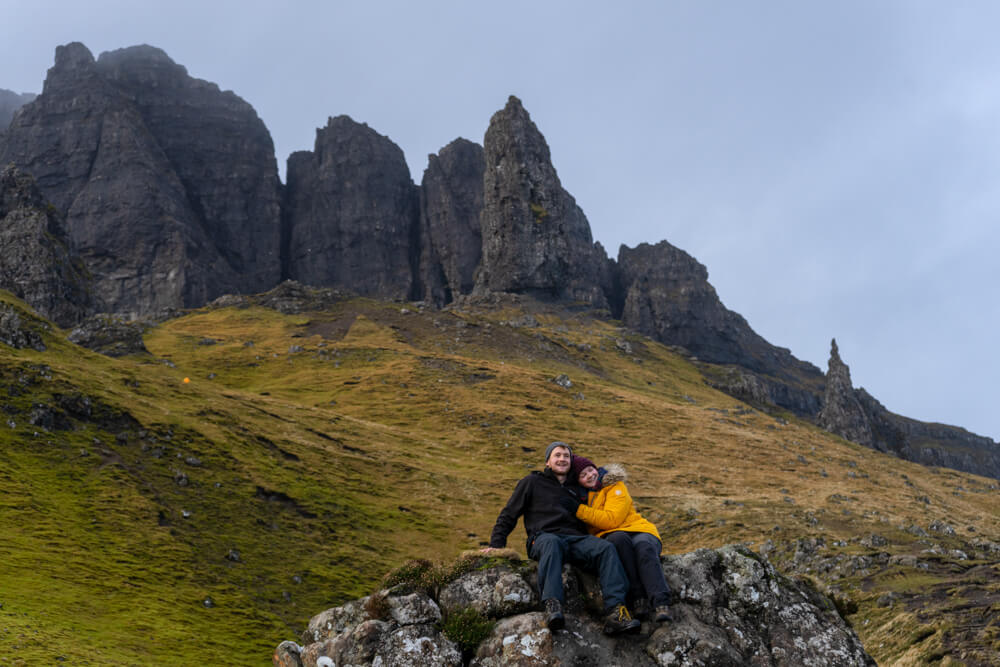 Visit the Fairy Pools
You will find these magical pools in the south-west region of Skye, and oh my! you definitely do not want to miss them! Park in the forestry commission car park and take the half-hour walk towards the pools (this is well signposted and bustling with people, just follow the crowds). The pools are crystal clear and make for some unforgettable photos.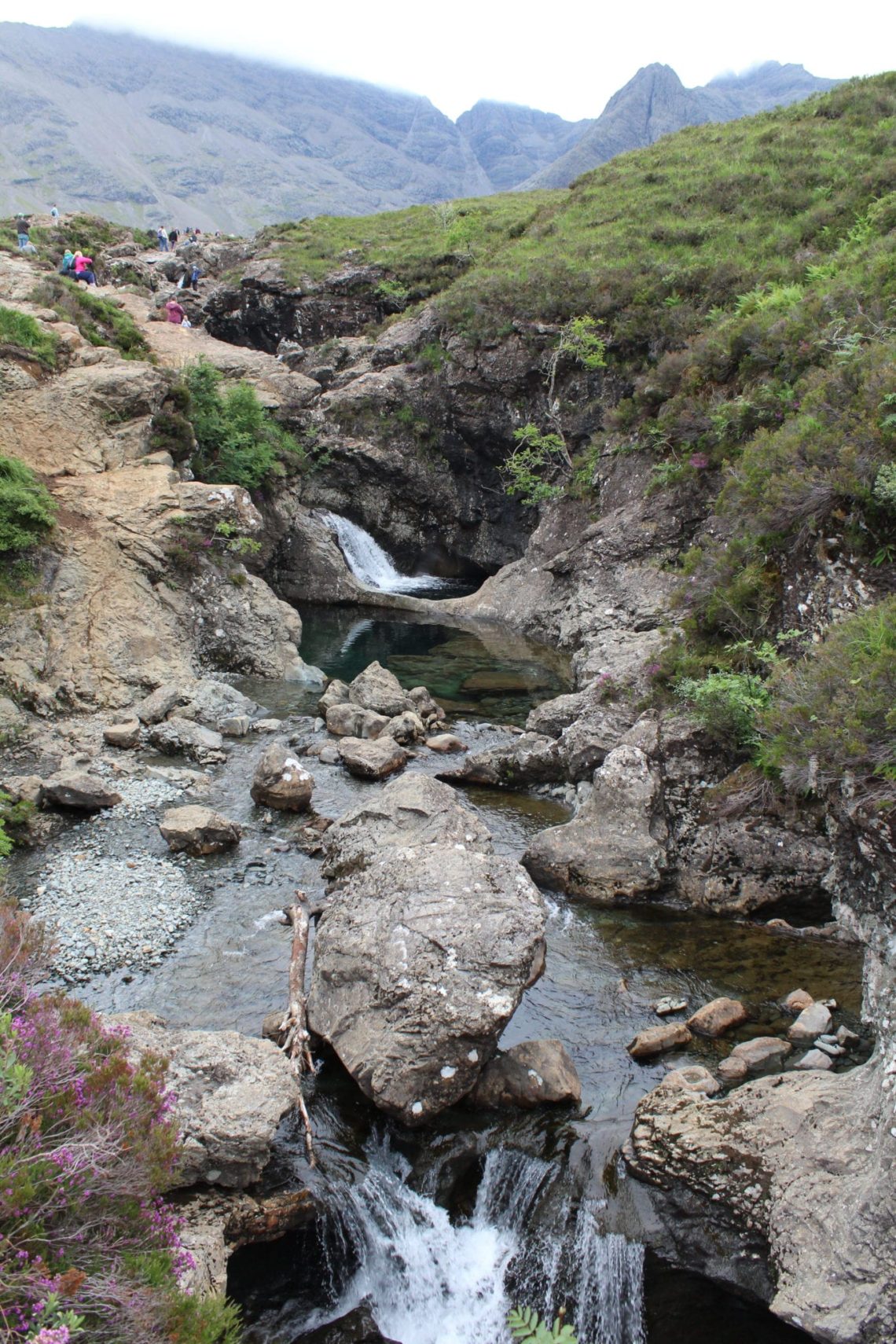 For those brave enough to swim wild in the cold water, make sure you pack a towel and swimsuit, and for those not brave enough, do it anyway! We had all good intentions as we had been swimming in the Rha Falls the previous day, however, the midgies were out in full force that morning and we thought we might get some odd looks if we got in. Turns out there were some kids in the pools and to dip your toes in it wasn't too cold. So if you're there, go for it! I wish I had.
Since this is Skye's busiest attractions, if you want some privacy and the pools to yourself, you will have to get there early. We arrived just after 10am and the carpark was already full, with cars still piling along the road. try and get there for sunrise for some spectacular scenery and the place to yourself.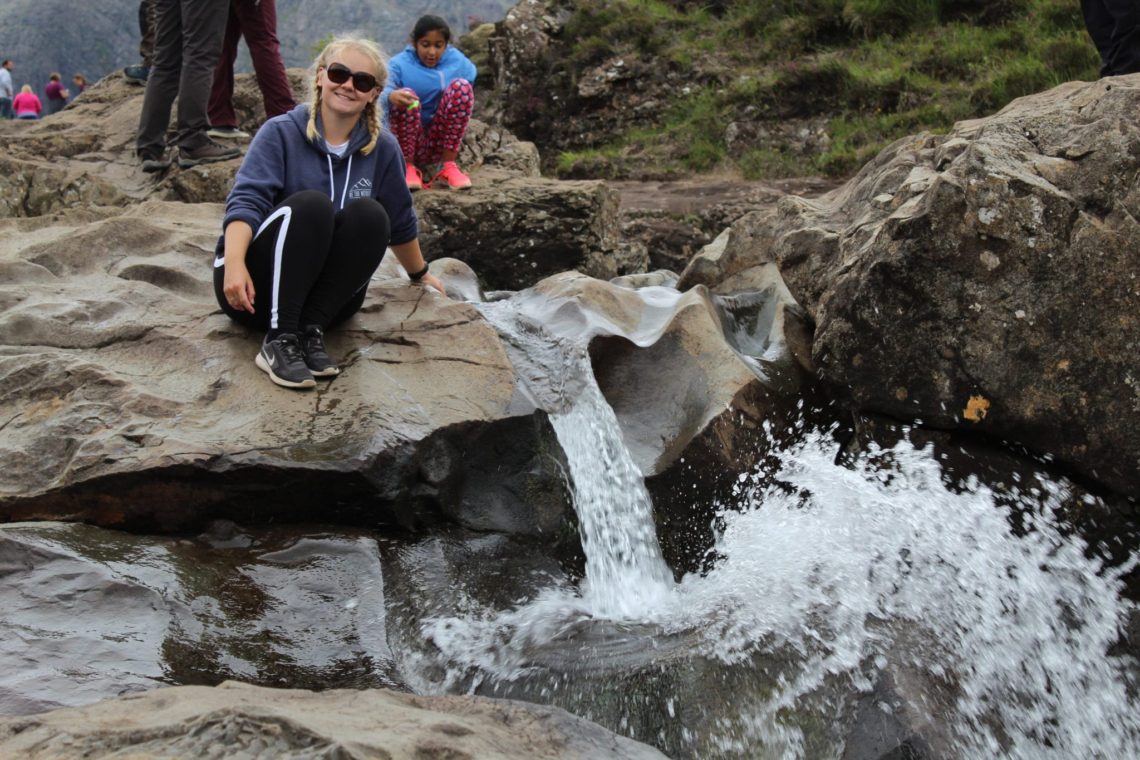 Sail Across to Raasay Island
From Sconser, you can take the ferry across to Raasay island for £7 return. The ferries run once an hour throughout most of the day and then less often in the evening. Our suggestion would be only to go if you enjoy walking, as that's pretty much all there is to do. There is one small shop on the island however I would recommend trying to stock up as much as you can before going over.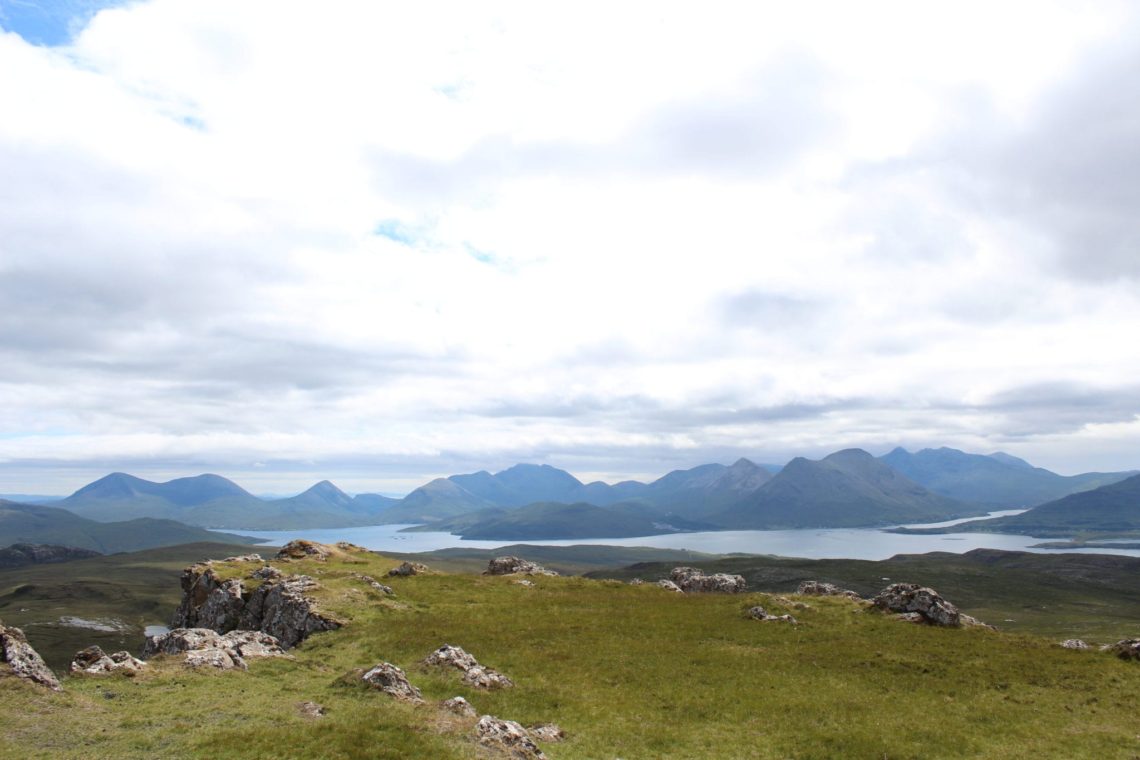 We decided to dust off our hiking boots and take the walk up Dun Caan, the highest point on the island. We ended up running half of the way up just to try get away from the miserable bugs (horseflies, aka. clegs, are fervent in this part of the world!). Make sure you bring insect repellent and a midgie net if you have one, cause these little bugs were definitely not our friends.
The views along the route and from the top are unbelievable; sure there are plenty of hills on Skye itself, however none of them give you a view of the entire island. The walk took us around 5 hours to complete and was a good 23km. It is definitely safe to say we had sore feet by the end of it!
Drive Through the Quiraing
The Quiraing, or in Gaelic A' Chuith-raing, is located in the north of the island and can be explored as a stunning viewpoint or as a walk. There has been a brand new car park built to sustain the number of tourists visiting this spot and the cost for 3 hours parking is £3.
This spot is a photographer's dream as the landscapes in this area are some of the most beautiful in Scotland. The Quiraing was created by a landslide, thousands of years ago and has left pinnacles and outcrops of cliffs. The walk is a total distance of 6.8km and with no stops will take you around 2 hours. I would recommend you leave some extra time spare for stops though as you will want to get snap happy on this walk.
Lose Yourself in the Fairy Glen
The Fairy Glen is a unique landscape located near Uig in the north of the Isle of Skye. There have been no stories related to fairies living in this area, the name was given due to the impressive and otherworldly landscape. This area is accessible by car, however, there is limited parking.
On a busy day, you may have to park in Uig and take a 30-minute walk or a shuttle bus up to the glen. The walk up to the viewpoint from the parking area can get extremely muddy and slippery in the winter months if it has been wet.
In recent years, tourists have been known to move rocks in the area to form a swirl on the grass. The locals ask that we do not move rocks or get involved with this as they are trying to keep it in the natural form and not harm the environment.
Read all you need to know about the Fairy Glen on the Isle of Skye in our full guide over here.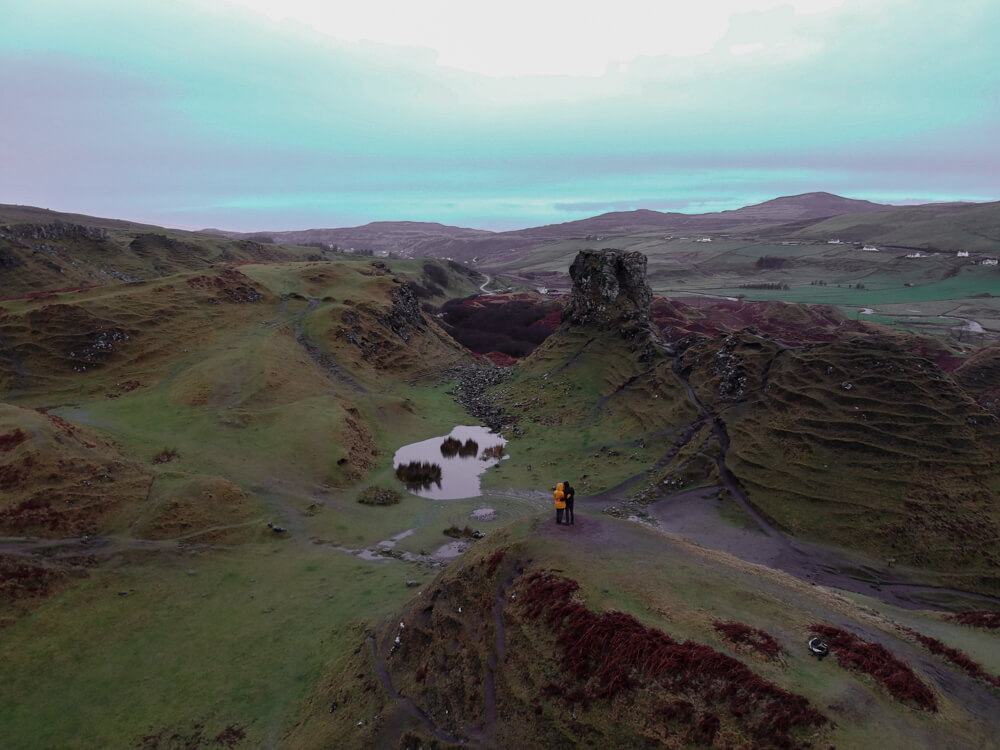 Kilt Rock and Mealt Falls
Kilt Rock got its name from its resemblance to a kilt. The plaits formed by the vertical basalt columns. The Mealt Falls lies to the left of this viewpoint. A waterfalling freefalling 60m into the Sound of Raasay. This is a stunning viewpoint on the island and if there has been heavy rain then the waterfall will be extremely impressive.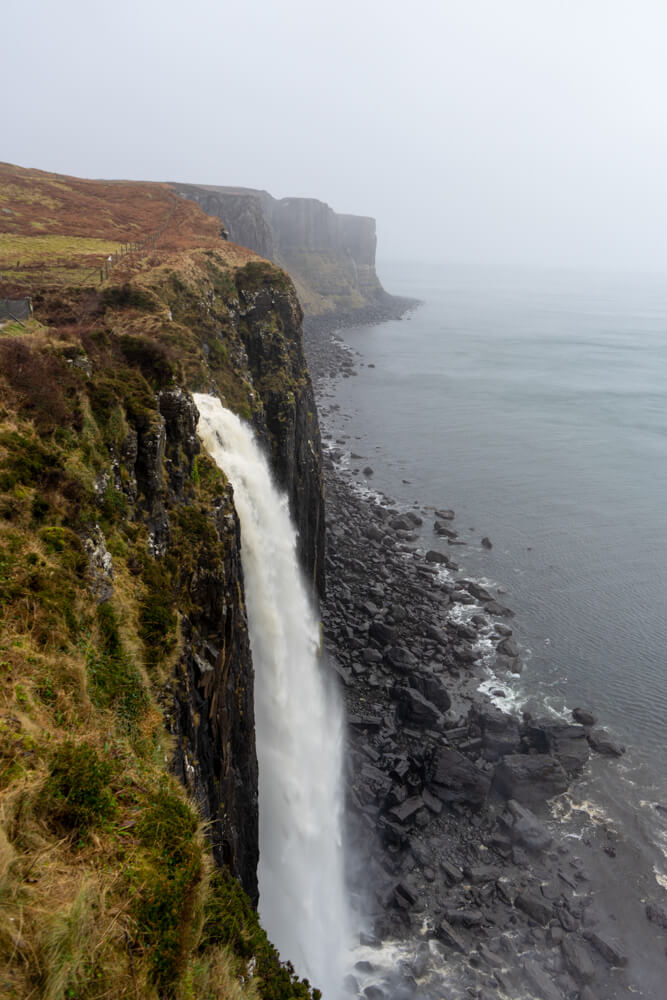 Toilet and Shower Facilities Across the Island
In the small town of Carbost, across the road from the Talisker Distillery and beside the Caora Dhubh Coffee Company, we happened to accidentally come across a toilet and shower block facility. For wild campers that have just completed a sweaty hike, this was the dream find. It is 20p entry into the block, 2 toilets 2 showers and a disabled toilet/shower room. A shower is £1 for 2 minutes and was the best shower we had all trip.
If you want to save money and wild camp, then it is facilities like this that can change a trip. Skye is definitely up there with our favourite locations for wild camping now! You can read our guide to wild camping for all of our best tips for your next off the track adventure.
Food and Drink on the Isle of Skye
West of Sconser, around a 10-minute drive from the ferry terminal is the Sligachan Hotel. Around this area is the only areas on the island that we could find a mobile phone signal. If you are looking for a night away from your gas stove and tent, check out Seumas' Bar by the hotel. Delicious, reasonably priced food, dog-friendly and a good chilled atmosphere, this is the perfect stop after a day of exploring.
Taste of India – If you're a huge foodie like us and want a restaurant recommendation, then this is the place to go. Located in Portree near the harbour it's the perfect spot to dine in after a long day of exploring. We thoroughly enjoyed the food there.
So there you have it, the best things to do on the Isle of Skye, complete with everything you will need for an unforgettable trip. If you have visited the Skye yourself, let us know how you enjoyed it in the comments section below. What packing tips do you want to share? Is there anything that we forgot to mention? What were your favourite sights on the Isle of Skye? Let us know in the comments below.
If you enjoyed this article and are preparing for your own camping adventure, make sure you check out the rest of our Scotland content here, as well as all of our Camping Tips and Guides over here. Remember, sharing is caring, so if you enjoyed this article then share it with your friends and family so they too can learn everything they need to about the Isle of Skye.
If you used this guide to help you plan your Skye road trip, let us know how you found it. You can catch up with us over on our social channels to see where we currently are, and tag us in your photos to show us you enjoying your own camping adventure for us to share it with the rest of our community!
Now Read:
This article may contain affiliate links that provide us with a small income. For more information read our Affiliate page.
---
Pin it for later!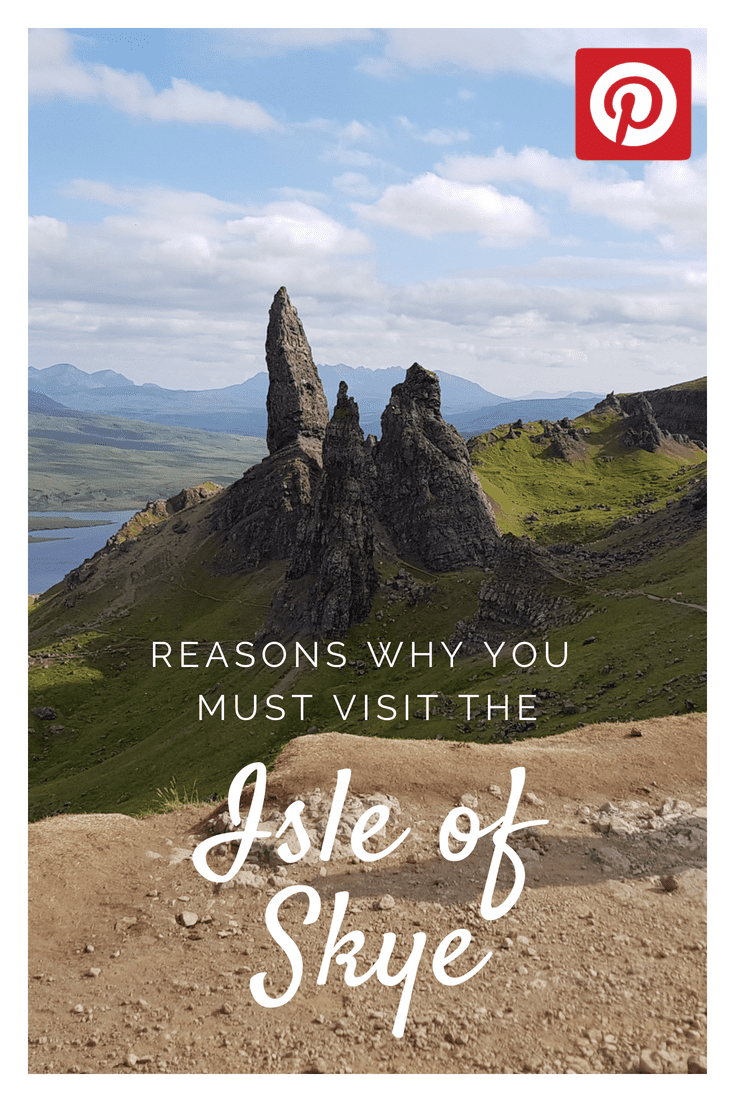 Struggling to plan your Isle of Skye road trip?!