Situated on the shores of Loch Linnhe in the west of the Scottish Highlands is Fort William. This town is well known due to it being the home of the UK's highest peak, Ben Nevis.
There are many great things to do in Fort William, from getting out and about in nature, hiking, exploring waterfalls and doing snowsports.
If you are not in to the adventure side of things, there is a high street with plenty shopping and cafes and restaurants to experience aswell.
In this post, we explore in more detail the best things to do in Fort William.
No time to read now? No problem, save a pin to your Pinterest board for later!
Best Things to do in Fort William
Fort William is a brilliant place to see some of the most incredible scenery in Scotland and if you are into getting out and about in nature, there are many great walks and hikes in the area. In this post we include the following:
Climb Ben Nevis

Ride the Harry Potter Steam Train

Corpach Shipwreck

Neptune's Staircase

Try out the Snowsports

Visit the Highland Soap Company
Ben Nevis Distillery
Old Inverlochy Castle
Walk to Steall Falls

Preparing for your trip to Fort William.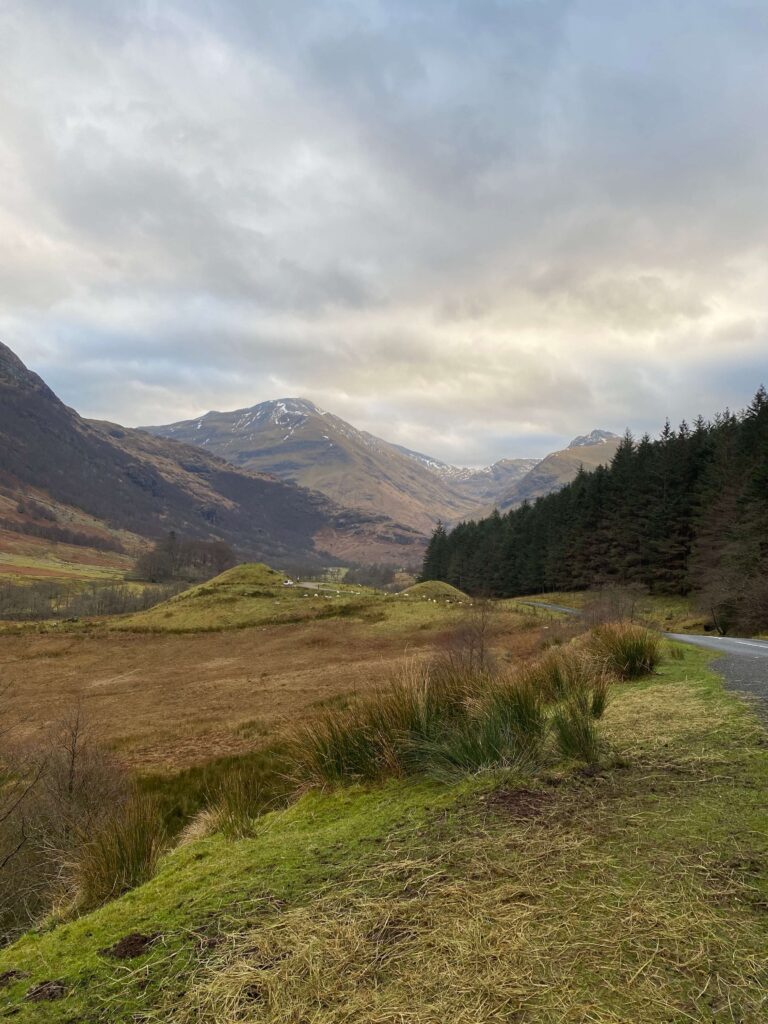 Climb Ben Nevis
The tallest mountain in Scotland is Ben Nevis, sitting at 4,411ft. Mountains standing taller than 3000ft are called a Munro in Scotland and to 'bag' a munro, means climbing one of these mountains. We would recommend if this is something you are thinking of doing that you are well prepared and have some experience and knowledge of mountaineering.
Climbing mountains in Scotland is never something that should be taken lightly due to how unpredictable the weather is. We suggest that you are well prepared on how to 'bag' a munro safely before you set off.
We would recommend heading out on the hills with experienced climbers before attempting a Munro by yourself.
You must always carry a map and a compass and be very experienced in using them. If you would rather hike Ben Nevis with an experienced local guide, you can check out this Ben Nevis Guide for a guided group walk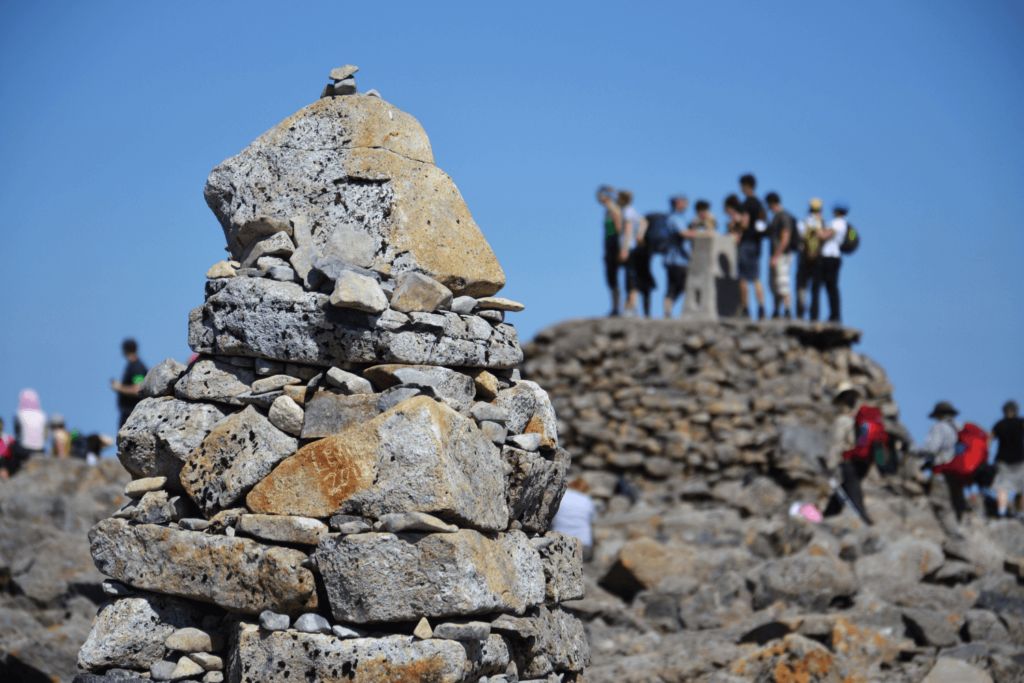 DON'T FORGET
Your trip to Scotland will be a lot more comfortable with a midge net and midge spray. These little biting bugs can be enough to ruin a trip if you don't have the equipment to protect yourself from them. A repelling candle can also be helpful if you are sitting oustide.
Go on an Adventure with Active Highs
Active Highs is an adventure-based company located just outside of Fort William. Take your adrenaline to the next level and book yourself onto an experience with Active Highs. We can highly recommend the canyoneering, where you can get enjoy the thrills of the natural waterfall slides and jump into the deep pools. 
They also offer other activities such as white water rafting, white water kayaking and gorge walking.
Ride the Harry Potter Steam Train
The Fort William to Mallaig  Jacobite steam train crosses one of the most popular bridges in the world, the Glenfinnan Viaduct. This 84-mile trip is one of the most stunning routes in Scotland taking you through Scotlands most incredible scenery.
The Glenfinnan Viaduct was made famous in the Harry Potter movies and is visited by many every year. You can either choose to take the train journey or park at the Glenfinnan Viaduct and snap a photo of the train steaming past there.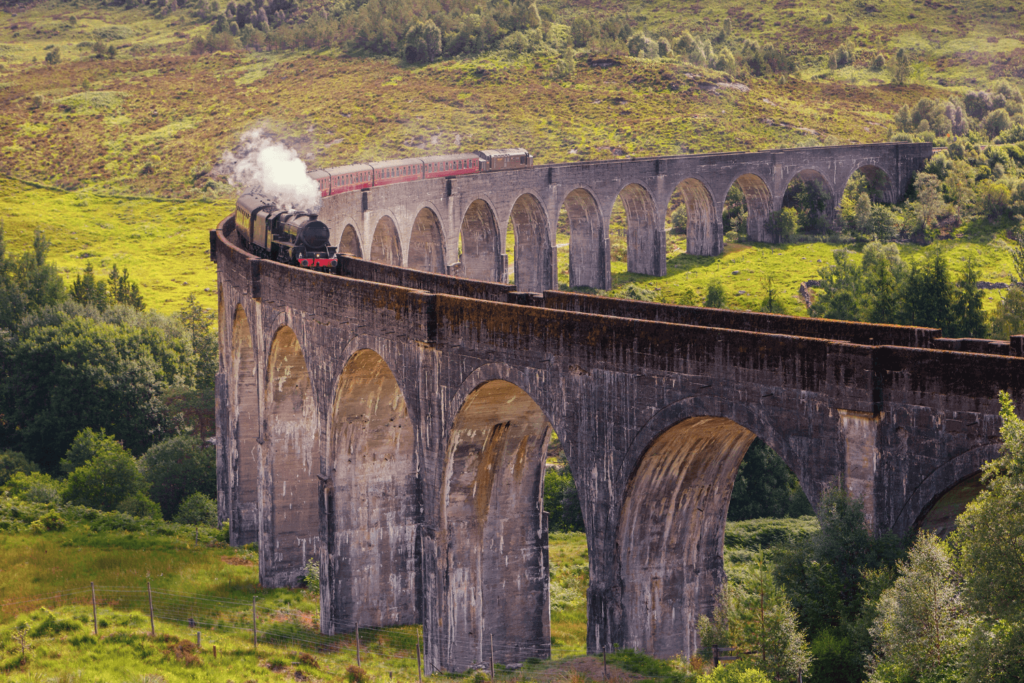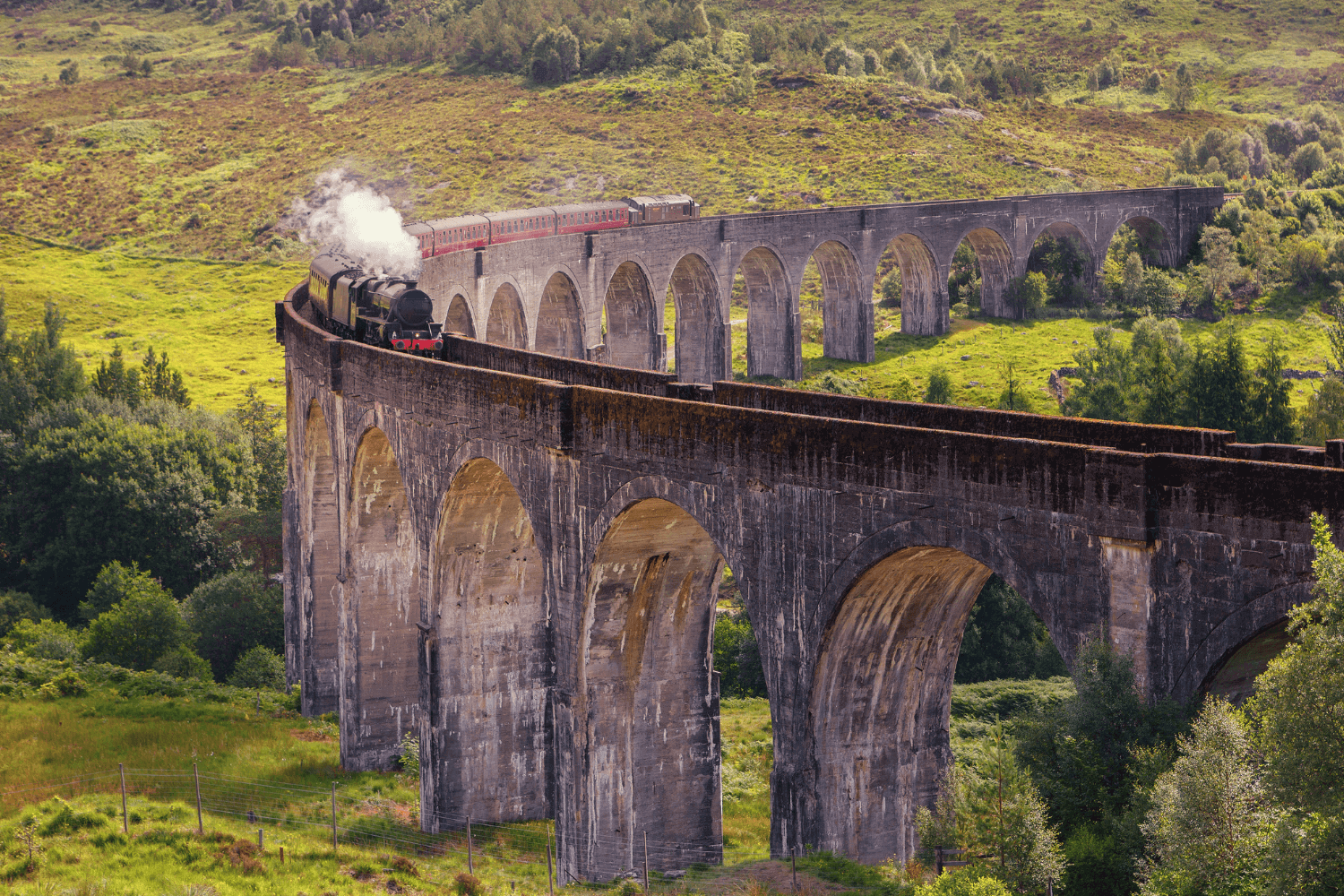 Corpach Shipwreck
One of Scotland's best, hidden gems and one of the most photogenic spots in the country lies just outside of the popular highland town of Fort William. Located in Corpach, the Old Boat of Caol sits proudly on the stony beach of Loch Eil, with a backdrop of the stunning Ben Nevis, Scotland's highest peak. This tranquil spot is every photographer's dream location, with glasslike water to your right, the towering peak of Ben Nevis in front and the mystery of the Corpach Shipwreck as a frame.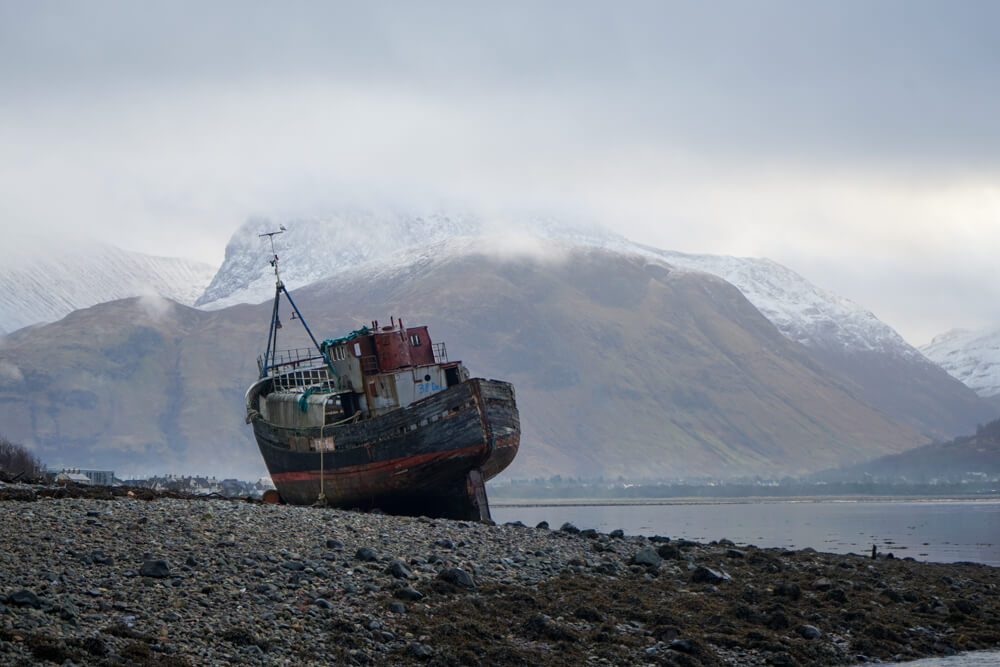 Neptune's Staircase
Also situated just outside the town of Fort William lies one of the UK's most impressive manmade constructions, the 8-tier staircase lock known as the Neptunes Staircase. Built more than 200 years ago, this collection of locks carriers boats up and down an elevation of a whopping 20m and connects the Great Caledonian Canal to the open waters of Loch Linnhe.
Visit these impressive locks and see for yourself why so many people flock to see the Great Caledonian Canal for themselves.
Plan your visit to the Neptunes Staircase with our full guide to this spot over here.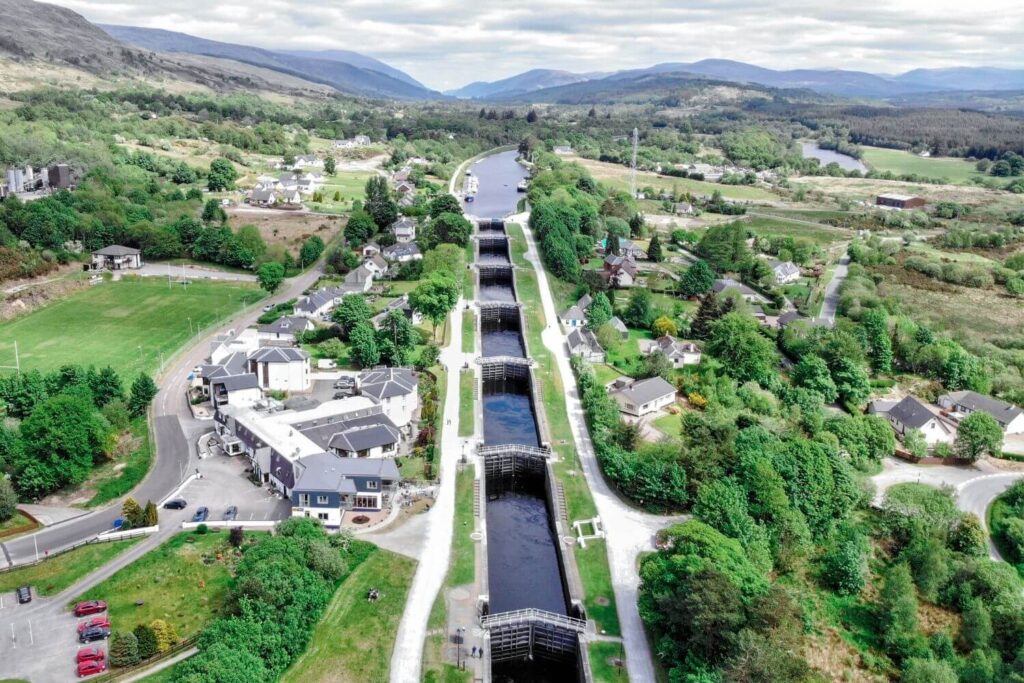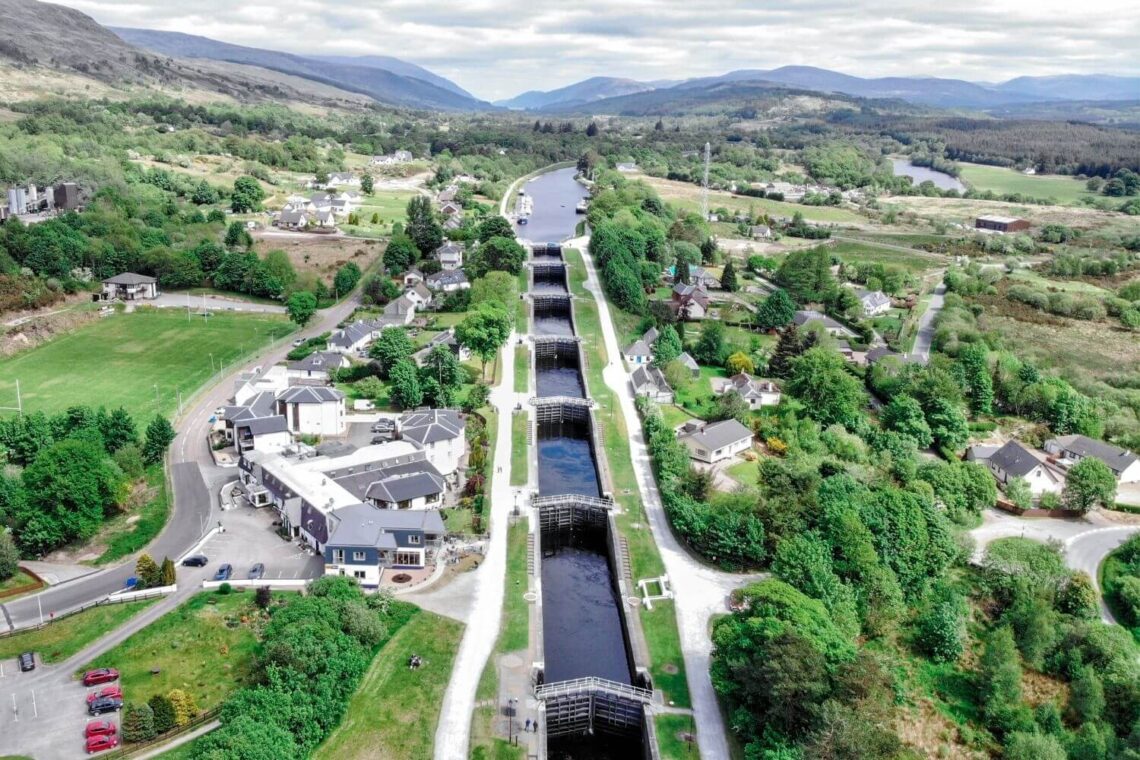 Try out the Snowsports
During the winter months Fort William can be a great place to enjoy snowsports. Whether you are a skiing or snowboarding pro or just want to try your hand at some sledging, there is something for everyone at the Nevis Range Snowsports.
Make sure you check the weather and the Nevis Range website to make sure the weather is safe for them to open.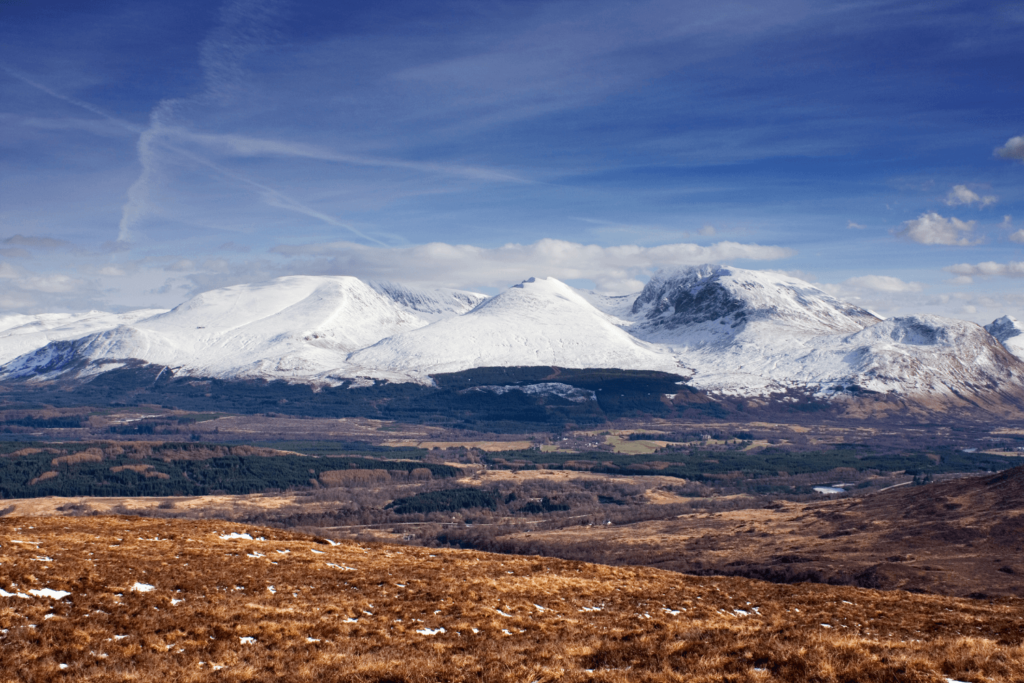 Visit the Highland Soap Company
The Highland Soap Company is one of our favourite luxury soaps. If you have ever been to Scotland you may have heard of them but did you know they have a visitor centre in Fort William. There are many other eco friendly gifts available in the visitor centre as well as a comfortable cafe selling delicious food.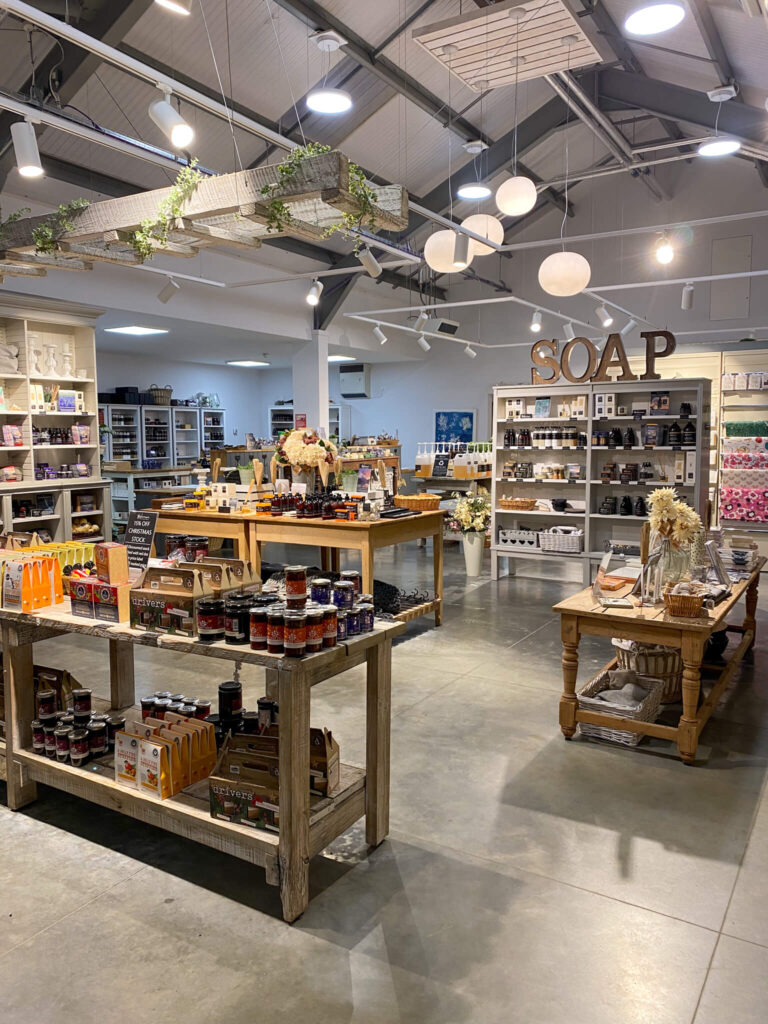 Ben Nevis Distillery
The Ben Nevis Distillery is a whisky distillery in Fort William which sits at the foot of the UK's highest mountain, Ben Nevis. Whisky tours run hourly throughout the day and cost £5 per person with some whisky tasting at the end. 
Old Inverlochy Castle
Inverlochy Castle is an old castle ruin that sits on the banks of River Lochy. The fortress itself has survived remarkably well over the years, built in the 1200's by the Comyns who dominated northern Scotland at this point in time. 
Walk through the old fortress and envision what it would be like to live here many many years ago.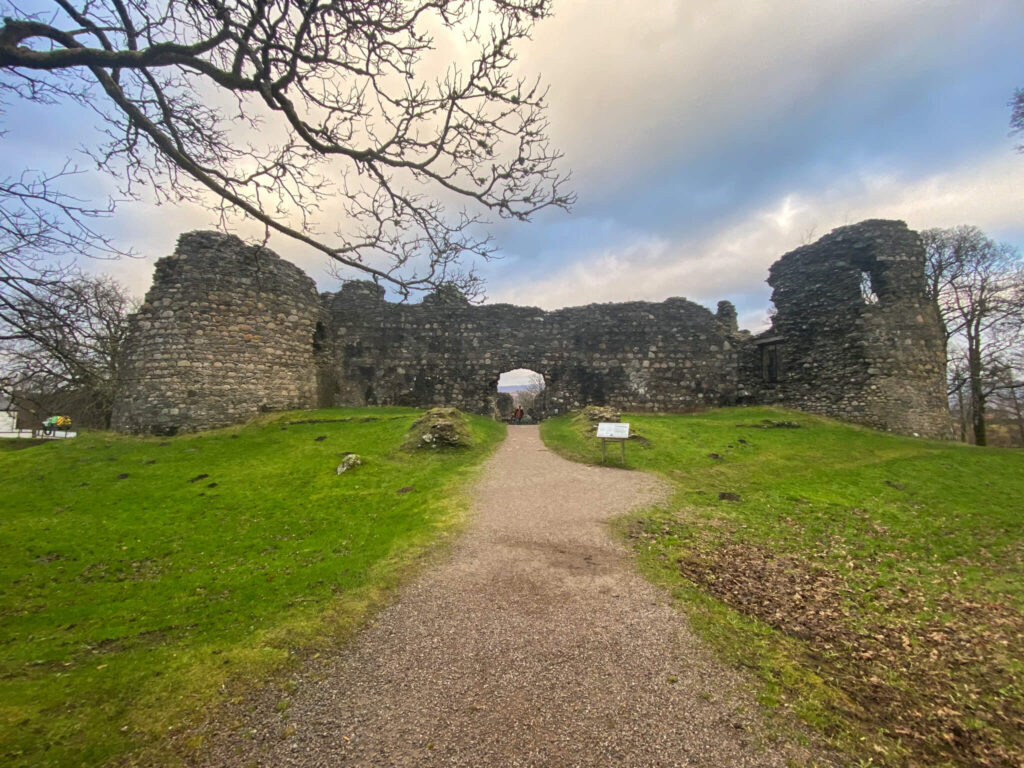 If you are looking for a good bag for your time exploring Fort William, we can highly recommend the Wandrd Bag PRVKE 41L if you are carrying camera equipment around the city. If you are looking for a smaller backpack, The Nest by Tropicfeel is one of the most comfortable bags we have ever owned and perfect for days out.
Steall Falls
Steall Falls is a very impressive waterfall located in Glen Nevis. It is Scotland's second-highest waterfall, and also the second highest in the UK, with a single drop of 120 metres. If you want to get a closer look at the waterfall, you will need to cross Steall Bridge, which has 3 wires, 1 to walk along and 2 for holding onto. The bridge is roughly about 10ft above the water and roughly 20ft in length. Be prepared for this to be a very wobbly walk across the bridge.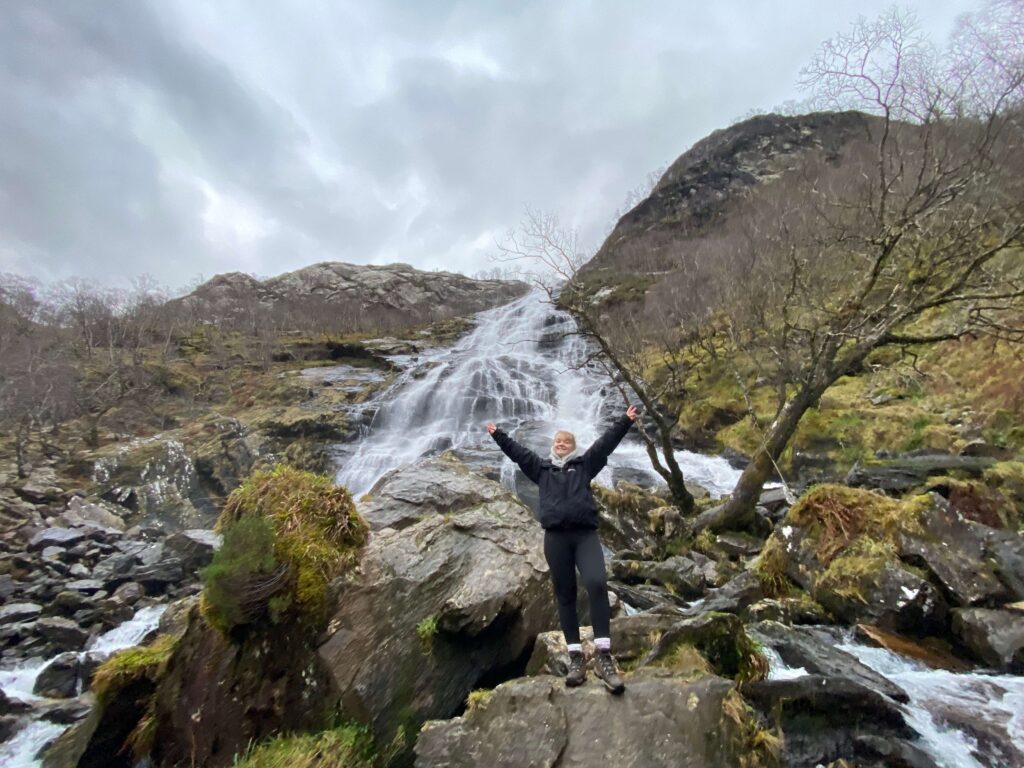 Before You Leave for Fort William
Before you head off on your trip to Fort William, there are certain things you will need to get organised to ensure a smooth trip. These include how to get around the area, including being aware of single track roads, etc., what to pack for Scotland, where to stay in the area and what travel insurance to book.
How Do I Get Around Fort William?
Fort William is one of the main towns in the highlands of Scotland. You can get a train or a bus to Fort William from many of the main Scottish cities or smaller towns. There is a bus service in the town of Fort William or if you have brought your car it is also easy to navigate driving. There are of course other methods that are still popular, such as cycling and hiking, however, if you have a short amount of time, neither of these are very suitable.
If you are looking to rent a cosy, reliable, and luxurious campervan for your trip to Fort William, we highly recommend hiring through Spaceship Rentals. 
Browse the full range of vehicles on offer at Spaceship Rentals over here.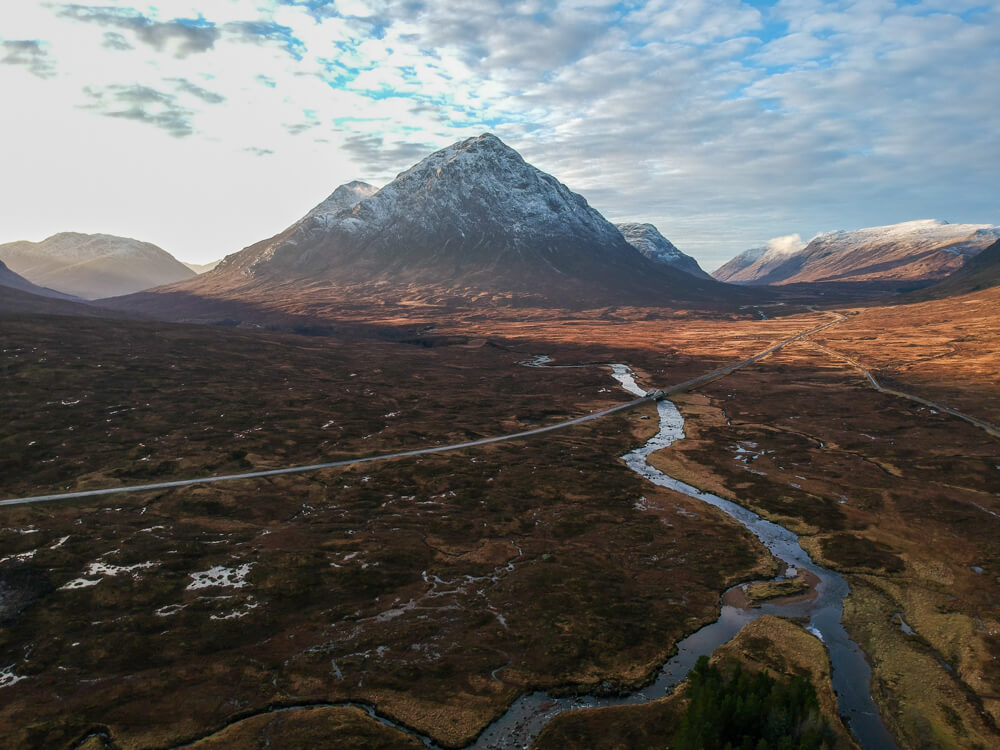 What Should I Pack for the Fort William?
When it comes to packing for a trip to Fort Willam there is one item of clothing that you are going to need all year round: a waterproof. It rains in Scotland on average 250 days a year, meaning that during your time in Fort William you will probably experience at least a drizzle of rain. Due to this, the number one item on any Scotland packing list is a good waterproof jacket.
As for the rest of the year, the temperature in Scotland and the central heartlands is reasonably mild for most of the year. During the winter months, you will most likely experience snow, however, temperatures usually sit around freezing, so it is not too cold. For your reference, the average temperatures in Scotland are listed below during each season.
Spring (March, April, May) – 5-10 degrees C
Summer (June, July, August) – 15 degrees C
Autumn (September, October, November) – 5-10 degrees C
Winter (December, January, February) – 0-5 degrees C
As you can see, the weather never really gets above the teens, with anything over 25 degrees C considered a heatwave. The best way to pack for your trip to the highlands is with layers that can be added and removed as you need them. You will definitely need a hat and gloves during the colder months and will most likely need sunscreen to protect you on the long days in the open.
For our full list of items that we pack no matter where we go in the world, check out our full packing guides over here.
Given the beautiful sights and scenery that you are no doubt going to see around Scotland, we highly recommend packing a good camera for your trip. If you want to read more about the cameras we use and why we love them, check out the link below.
You can read what else we keep in our camera bag over here.
Photography Equipment
Where Should I Stay in Fort William?
There are many accommodation options around Fort William, ranging from unique accommodation to hotels and campsites. 
Luxury – SeaBeds – Luxury Lookouts with Hot Tubs, why wouldn't you want to treat yourself and stay at this incredible accommodation in Fort William.
Book your stay at SeaBeds Luxury Lookouts with hot tubs here.
Mid-range – The Garrison is a modern style hotel with a bar and free wifi. Located near Fort William and Glen Nevis.
Book your stay at The Garrison here.
Budget – Ben Nevis Hotel & Leisure Club is a great hotel offering a bar and restaurant as well as a heated pool and gym facilities.
The campsites we can recommend are Glen Nevis Campsite and Bunree Campsite.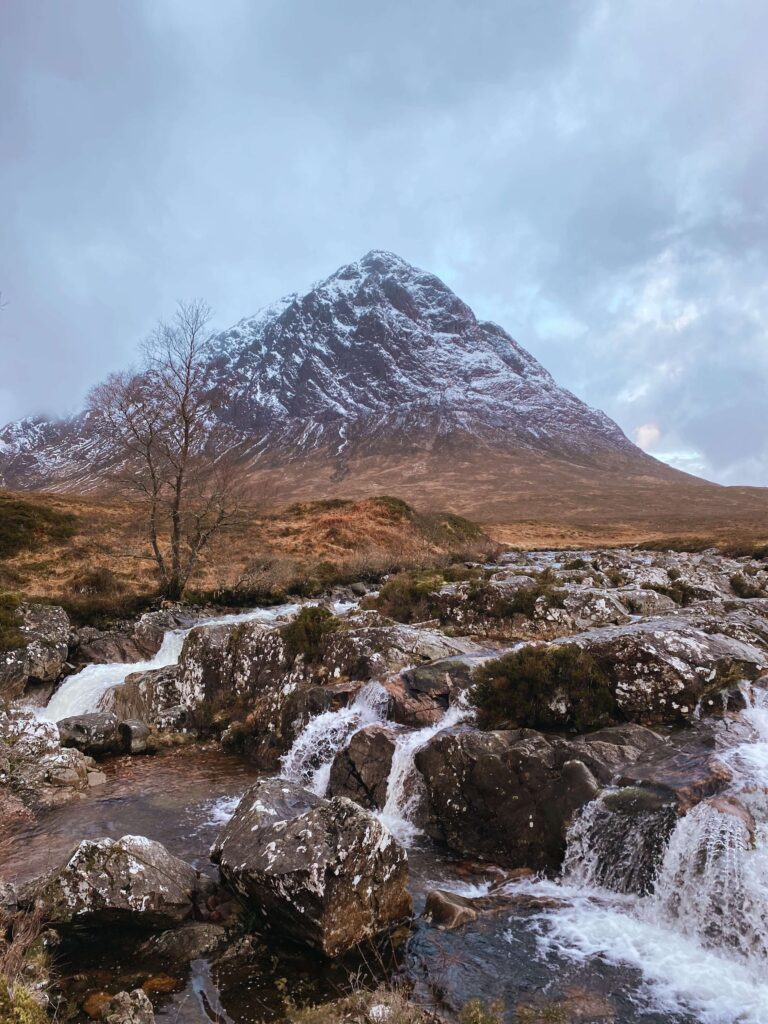 What is the Best Travel Insurance?
No matter what type of adventure you are heading on, whether it is a mountain adventure or a relaxing beach destination, one thing we all need to be aware of is that accidents can happen. The last thing you want is for an unexpected medical emergency to ruin your trip of a lifetime. Luckily, that is what travel insurance is for.
Whenever we travel, we get covered with Safetywing Insurance, a reliable, friendly and extremely affordable method of covering yourself on any adventure. With years of experience working for backpackers around the globe, the service they provide is perfect for whatever type of trip you have planned.
Get covered for your next trip and get a quote from Safetywing right here.
So there you have it, all of the best things to do in Fort William, including castles, snowsports, and waterfalls. If you have visited Fort William recently, let us know what you thought of the sights listed above, or if you have any suggestions let us know in the comments below.
As always, sharing is caring so make sure to share this photo guide with your family and friends and inspire them to head off on their own trip to Fort William. If you are planning the trip for yourself, make sure you have a look at the rest of our Scotland content for more inspiration to our beautiful home country.
When you set off on your own adventure, be sure to tag us in your photos on Instagram and we will share them with the rest of our community. In the meantime, why not follow us over there to see what we are currently up to and keep up with us on our Instagram Stories.
Now Read:
This article may contain affiliate links that provide us with a small income. For more information read our Affiliate page.
Pin this image to your Scotland Pinterest board for later