Barcelona is a place which must be visited at least once in your lifetime. There's a lot to be explored in Barcelona and it offers experiences you won't get in any other European or Spanish city.
This Barcelona 3-day itinerary is ideal for first-time visitors as it covers details about where to visit each day, what to eat, what to do, and so on. This blog post is mainly aimed at travellers who are visiting Barcelona for the first time.
If there's a city that has it all, it must be Barca. This vibrant city has nightlife, beaches, hiking, and good food. The panoramic views say it all and it's not to be missed as part of any Spanish tour. 
No time to read now? No problem, save a pin to your Pinterest board for later!
The Best Barcelona 3-day itinerary
Barcelona is a lively destination, you won't be short of things to do in your 3 day visit. In this Barcelona 3-day itinerary, we will discuss the best time to visit Barcelona along with the following:
The best time to visit Barcelona
Free Walking tours
Casa Battle by Gaudi
Passeig de Gracia
Breakfast in Barcelona
Park Guell
Monumental Sone Park Guell Barcelona
Park Guell sunset view
Hospital Sant Pau
Gothic quarter, Las Ramblas and beachfront
Evening Flamenco show at Palau de la Musica
Free things to do in Barcelona
Morning market
Hostafrancs market
Maritime museum
Montjuic
The best time to visit Barcelona
Generally speaking, the best time to visit Barcelona is from April to June. The temperatures are pleasant for sightseeing and the city's bars and restaurants are opening up to welcome visitors. This is also when some of Barcelona's key events happen in the city.
The height of summer is peak season and brings with it high, sticky temperatures and lots of visitors. Accommodations will also be more expensive during this period so bear that in mind. That being said, if you are a sun seeker and enjoy the hustle and bustle, July and August may be your ideal months to visit.
From September, the temperatures start to cool. If you want to catch the tail end of the warmer season and benefit from lower priced accommodation and less crowds, September and October will be perfect for your trip.
Don't think Barcelona has nothing to offer in the winter season, December is when the city gears up for the festive period. It's decorated in beautiful lights and there is such a merry vibe as Christmas approaches.
In the winter months, Andorra is a popular place to visit for the ski season. A day trip to Andorra from Barcelona is relatively easy and well worth a trip in your itinerary.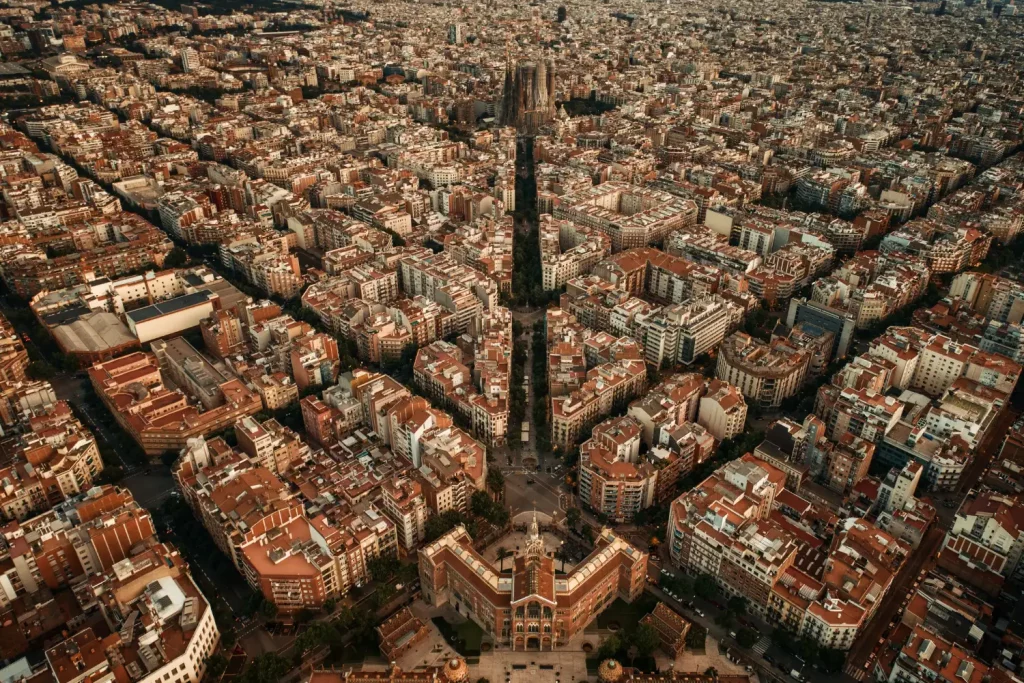 Planning your trip to Barcelona
Day 1
Go on a free walking tour
A fantastic way to start your trip is by taking a free walking tour in Barcelona. The guides are friendly and happy to answer your questions. The free walk is ideal for anyone new to the city so that they can get familiar with the surroundings.
Although it is not necessary, it is suggested to tip the guides, if you are able. You can choose to take the tour with Free Walking Tours Barcelona (11 a.m. and 3 p.m daily) or Sandemans New Europe Tours (11 a.m daily). Information correct at time of publishing.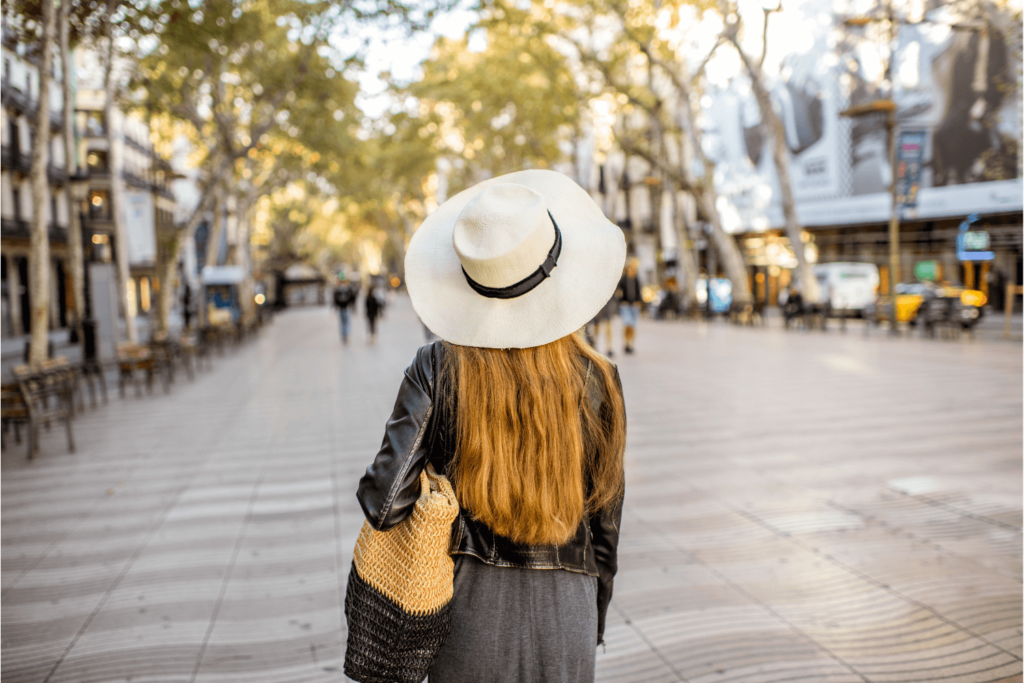 Casa Batllo by Gaudi
Casa Batllo by Gaudi can easily be recognised, simply by huge lines of people waiting in front of it! This famous pastel-coloured house has oddly shaped, masqueraded balconies. It's a must visit place but it's a good idea to book your tickets in advance to avoid long entry queues. 
Once inside, gaze at the underwater wonder world of Antoni Gaudi, the famous modernist architect. 
Passeig de Gracia
Passeig de Gracia is a perfect example of Modernist Architecture. It is a major avenue in Barcelona and one of the city's most important shopping and business areas. Passeig de Gracia is home to some of the most iconic architecture in Barcelona.
After you've spent time exploring Casa Batllo (above), spend the rest of your day meandering along Passeig de Gracia. You will find numerous other famous houses like Casa Lleo Morera, and Casa Amatller. 
Furthermore, there's so much to do like some designer shopping, getting treats at one of the beauty and wellness studios or eating at one of the many delicious restaurants.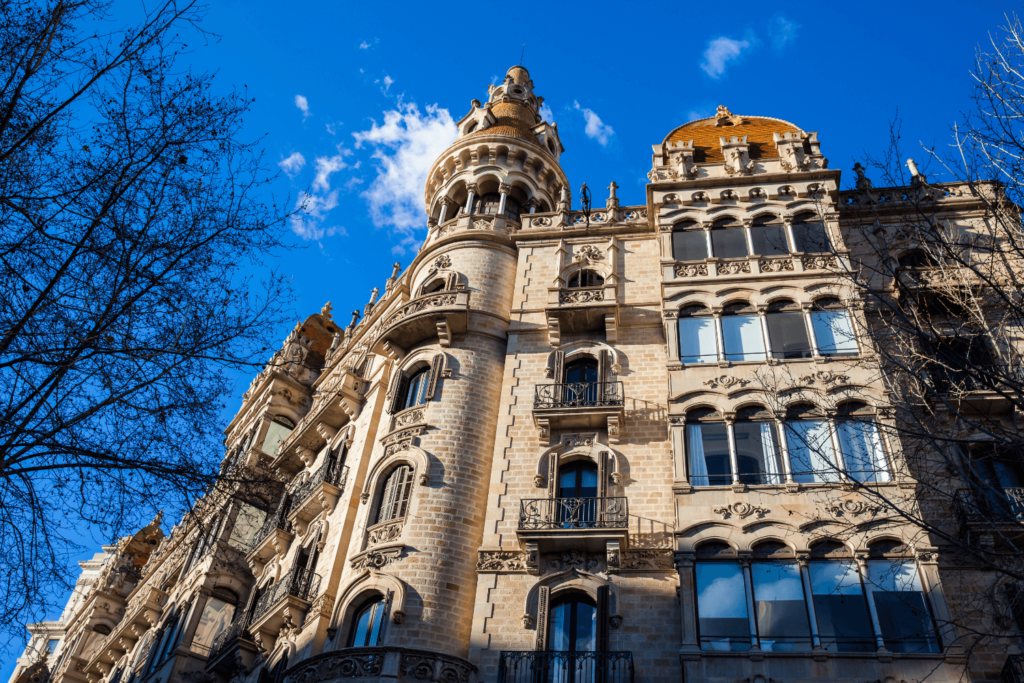 If you are looking for a good bag for your time exploring Barcelona, we can highly recommend the Wandrd Bag PRVKE 41L, especially if you are carrying camera equipment around the city. If you are looking for a smaller backpack, The Nest by Tropicfeel is one of the most comfortable bags I have ever owned and perfect for a city break.
Day 2
Breakfast
When there are so many amazing places you can grab breakfast, or brunch, in Barcelona, it seems wrong not mention it! Start your day with some yummy chocolate banana pancakes. Or try some of the veggie options available in the city. There are so many breakfast places in Barcelona, it's the perfect way to fuel up for another day of sightseeing.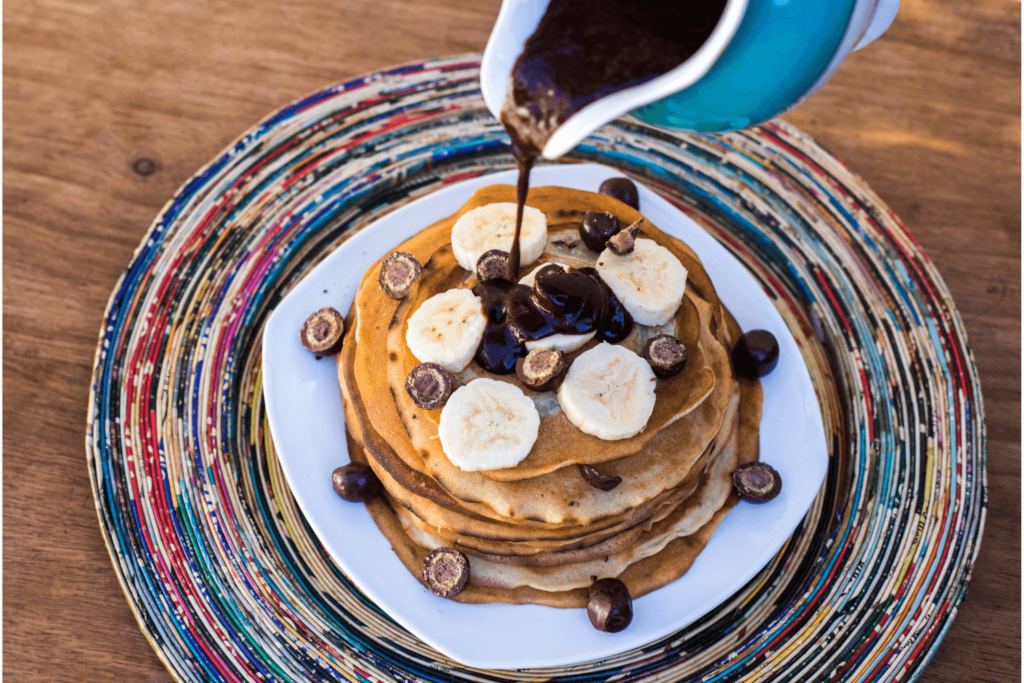 Park Guell
After a delicious breakfast, make your way to Park Guell, it's definitely one of the top things to do in Barcelona in 3 days! The park is a stunning 17-hectare park and a lovely place to wander on a sunny day. 
This monument is full of world-famous modern art where you can capture some astonishing photos. Some of the treasures here include a colourful dragon fountain, a fairytale-style gatehouse, Casa del Guarda, and the mosaic seating area.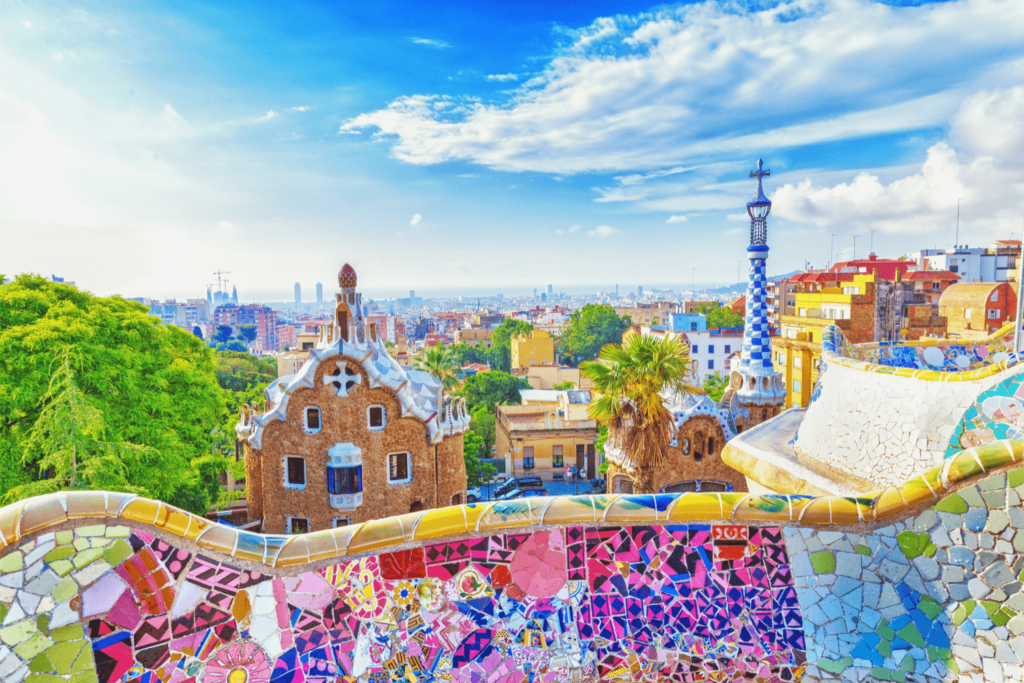 Monumental Zone Park Guell Barcelona
Whilst the rest of the park is free, you will need a timed ticket to visit the incredible Monumental Zone in the park. This is to avoid overcrowding inside this section of park. You can purchase your park ticket in advance through any online medium so you won't have to queue.
The rest of the park easily takes 1-2 hours to explore and the monumental zone will likely need another hour. Exploring monumental zone parks is fantastic to visit on your own but if you want to learn more about the park, you can take a guided tour along with you. 
 RENT YOUR MOTORHOME HERE
Sunset view of Park Guell
Park Guell can be visited at any time of the year which means you can witness the beautiful sunset, regardless of when you visit Barcelona. It really is not to be missed and is the perfect way to finish your day of this area, in this amazing space surrounded by nature and tranquillity.
The park is open untill 6:15 p.m. in winter and 9:30 p.m. in summer.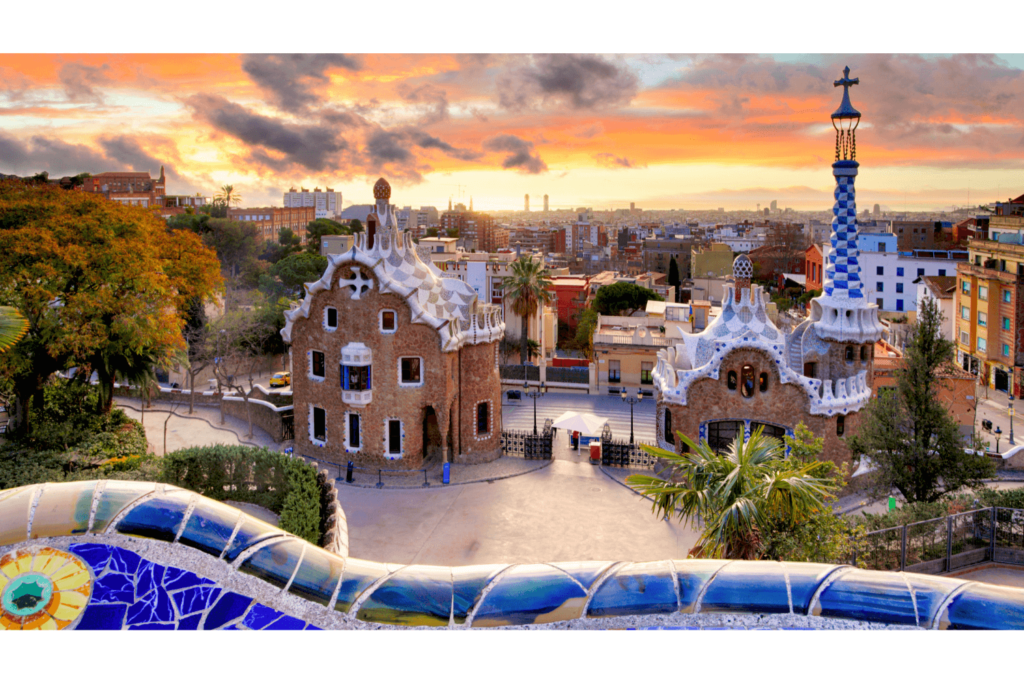 Day 3
Hospital Sant Pau
Not instantly recognised as a former hospital due to its grand appearance, Sant Pau hospital is one of the most stunning instances of modernist architecture. It is a complex of 30 buildings, constructed by the famous Catalan modernisme architect Lluís Domènech I Montaner. 
Several pavilions are connected by underground passageways around the complex. There's an idyllic courtyard with orange trees which perfectly compliments the red brick buildings.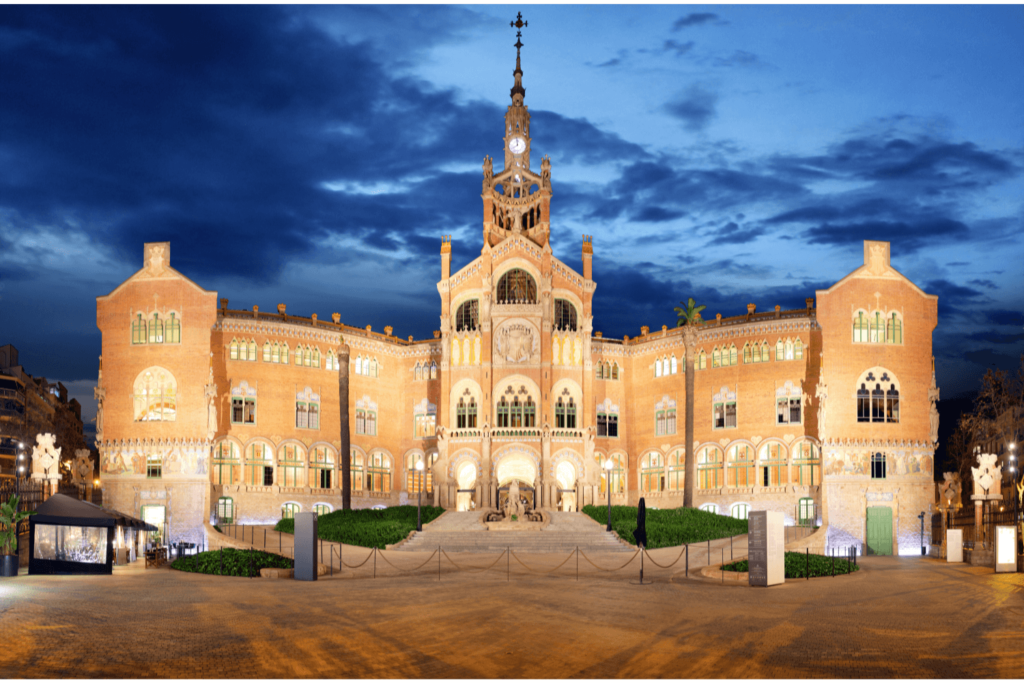 Gothic Quarter, Las Ramblas and Beachfront
Now it's time to head towards the real touristic Barcelona! Gothic Quarter is at the beachfront and offers you lovely views of the harbour, sea, and shopping centre. You can easily spend an entire afternoon here and if you still have some energy, you can head towards the old town of Las Ramblas. Here you can roam, soak in the vibrant atmosphere and be entertained by street performers. 
It's a fantastic place to visit but be extra vigilant, the area is (sadly) well known for pickpocketing.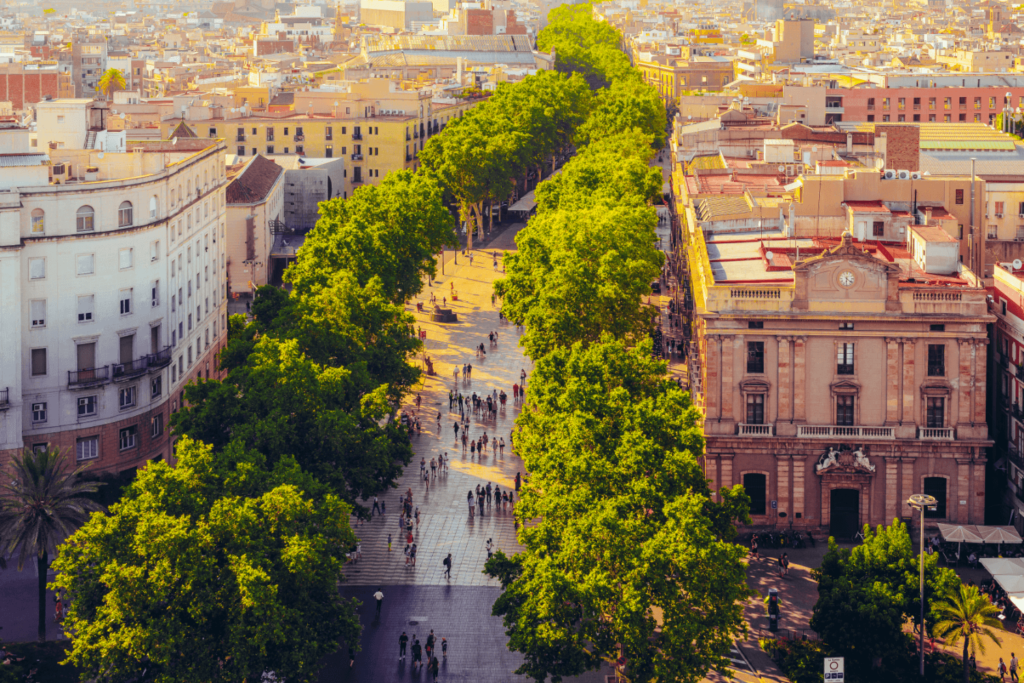 Evening Flamenco show at Palau de la Musica
The Palau de la musica is a huge feature in Barcelona's modernist treasure chest. The exterior of the building is stunning and offers an interesting mix of modern glass sides with an old brick façade. 
Visit Palau de la Musica with a guided tour to discover the hidden secrets of this iconic place. Travelling to Barcelona in a couple? It's the perfect place to spend a relaxed evening with your special someone.
You will need to reserve your tickets in advance. 
And that concludes the top things to do in Barcelona in 3 days!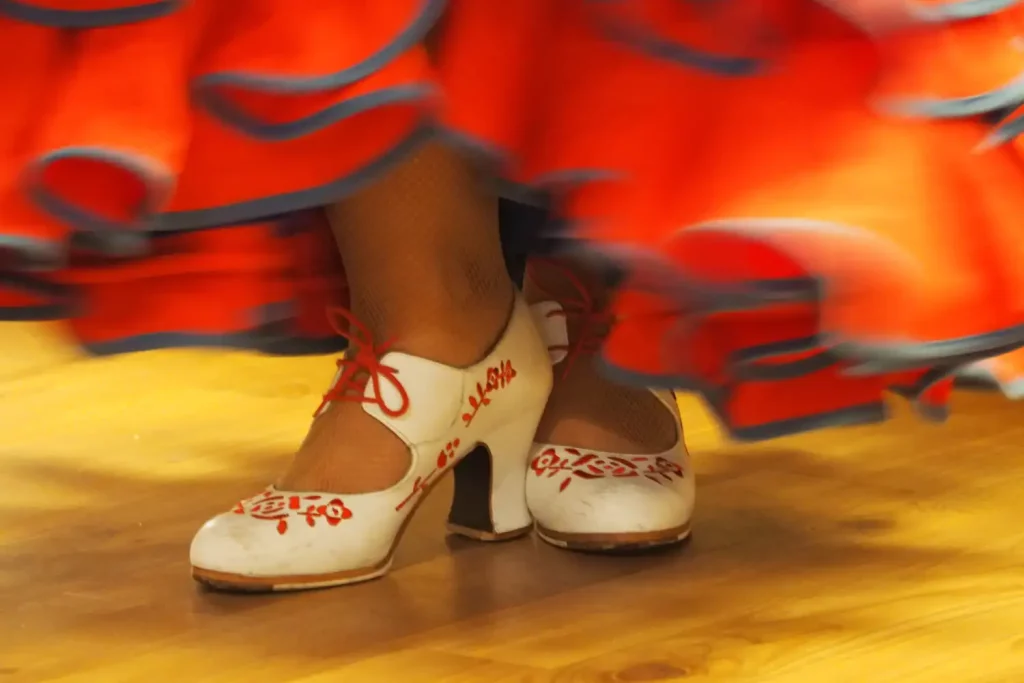 Free things to do in Barcelona
This 3 day itinerary for Barcelona was packed with things to do but if you still have some time to explore, or you are on a more budget friendly trip, we've listed a few destinations where you can hang out for free. 
Morning market in Barcelona
Do you love to hang out in markets and do a bit of window shopping? If the answer if yes, definitely plan a visit to the morning markets in Barcelona. These markets have food, a vibrant atmosphere, and fantastic hang-out spots. Perfect to immerse yourself in the local culture.
Barcelona has really good markets and some of the most famous ones are located centrally, such as Boqueria Market. These are definitely among the top free things to do in Barcelona.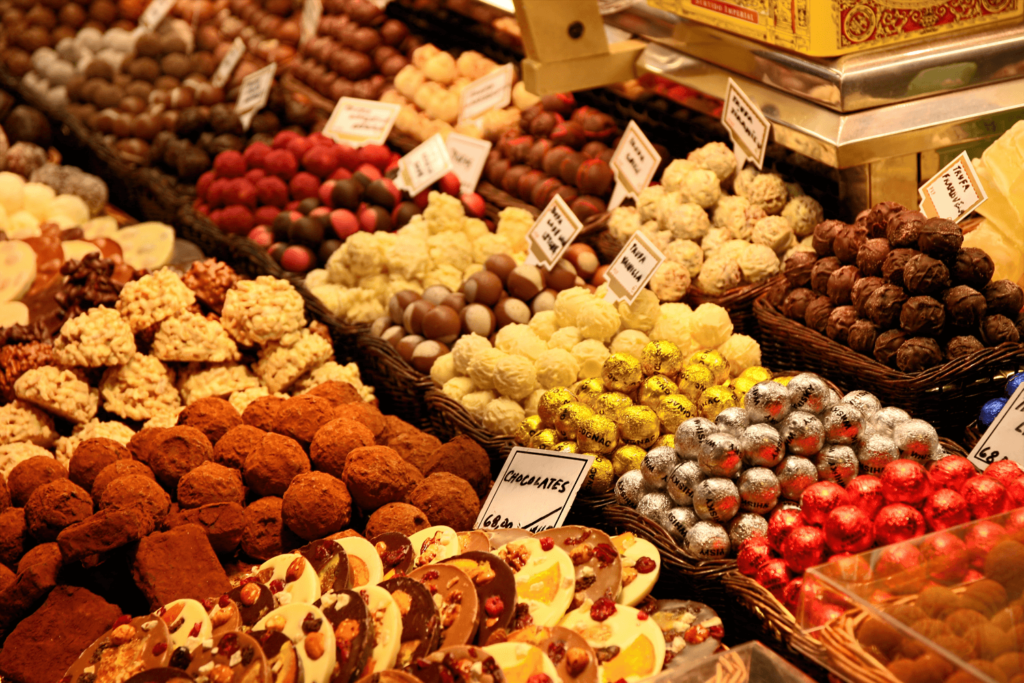 Hostafrancs Market
Hostafrancs Market is one of the oldest markets in Barcelona. It is located along Carrer de la Creu Coberta and was established back in 1888. Locals usually come here to see the latest outfits along, among other things. 
The streets of this market are busy with people hunting for good clothes and good food! So, if you are not comfortable in busy spaces, you might want to skip this one. That being said, it is very lively and fun to roam around this market. 
Maritime Museum
The maritime museum is one of the best examples of Gothic architecture, owing to its construction in the 13th century. This is a kid-friendly place and you can explore the museum for free. This is the number 1 museum among the other free museums in Barcelona.
Explore Montjuic
Montjuic is located on a hilltop and offers incredible views. You can even explore the National Museum of Catalan Art if you climb the stairs along the waterfalls, by walking towards the Font Magica de Montjuic. From here, you will have a fantastic view of the entire Museum and this is one of the best spots to take pictures. 
You will find some other great destinations such as the Olympic stadiums at Montjuic, pavilions, botanic gardens, and more walking down the streets of the museum.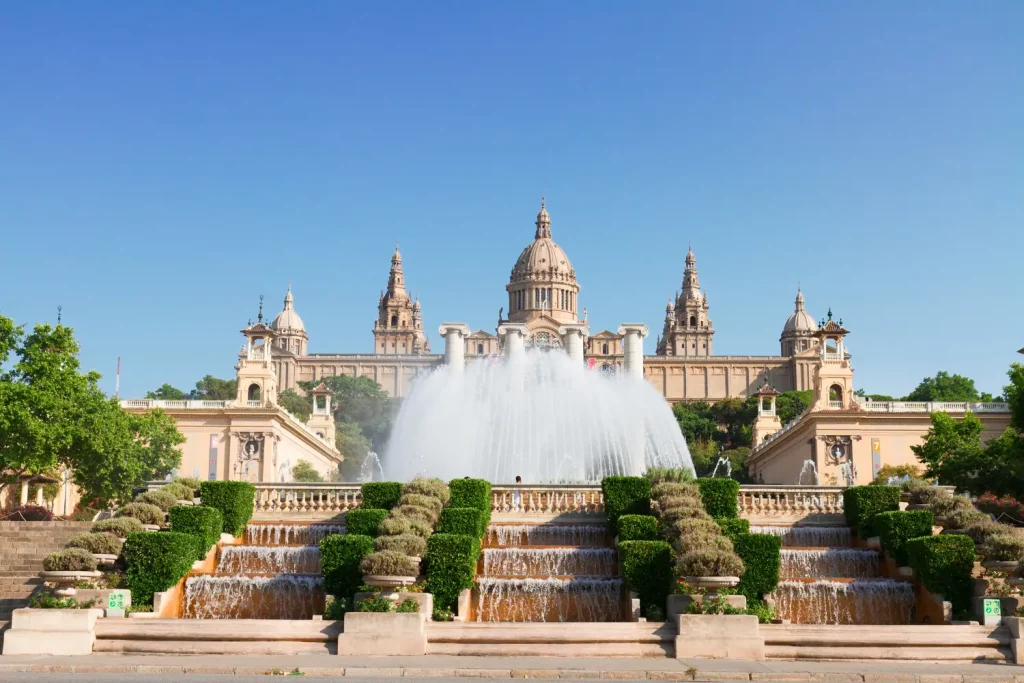 Before You Leave for Barcelona
Before you set off on your way to Barcelona, there are a number of things you will need to get organised to ensure a smooth and enjoyable journey. These include what to pack, where to stay and what is the best insurance for your trip to Barcelona. All of this is discussed in detail below.
How to Get to Barcelona
The most popular way to arrive in Barcelona is by flying, however being located on the east coast of Spain, many people may also arrive in Barcelona by bus or train.
If you fancy hiring a motorhome or campervan for your trip to Barcelona, we recommend checking out Motorhome Republic.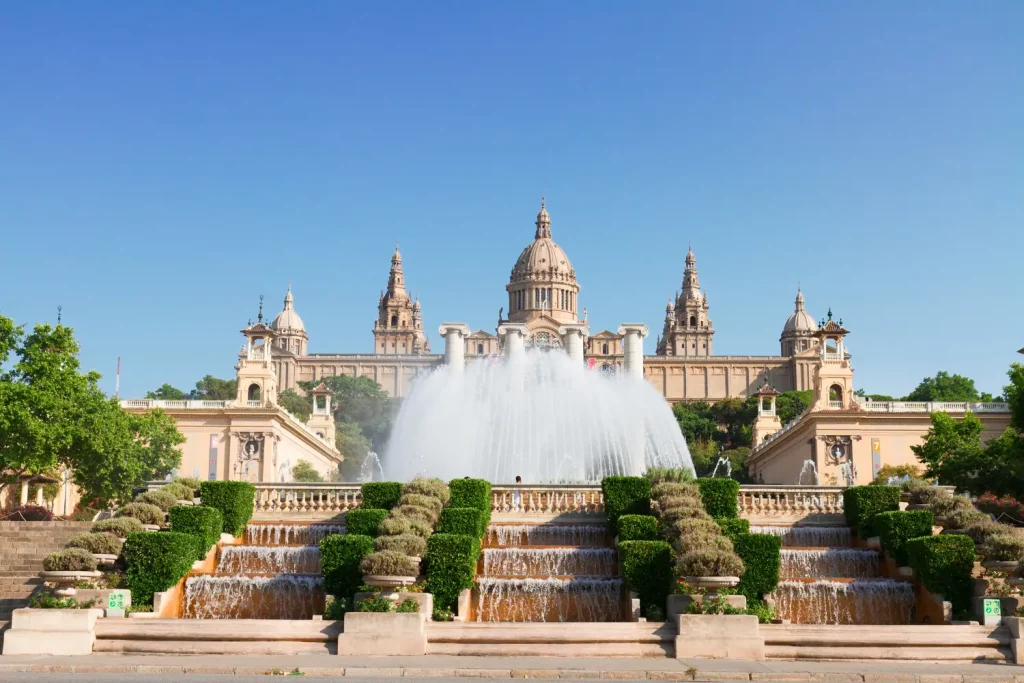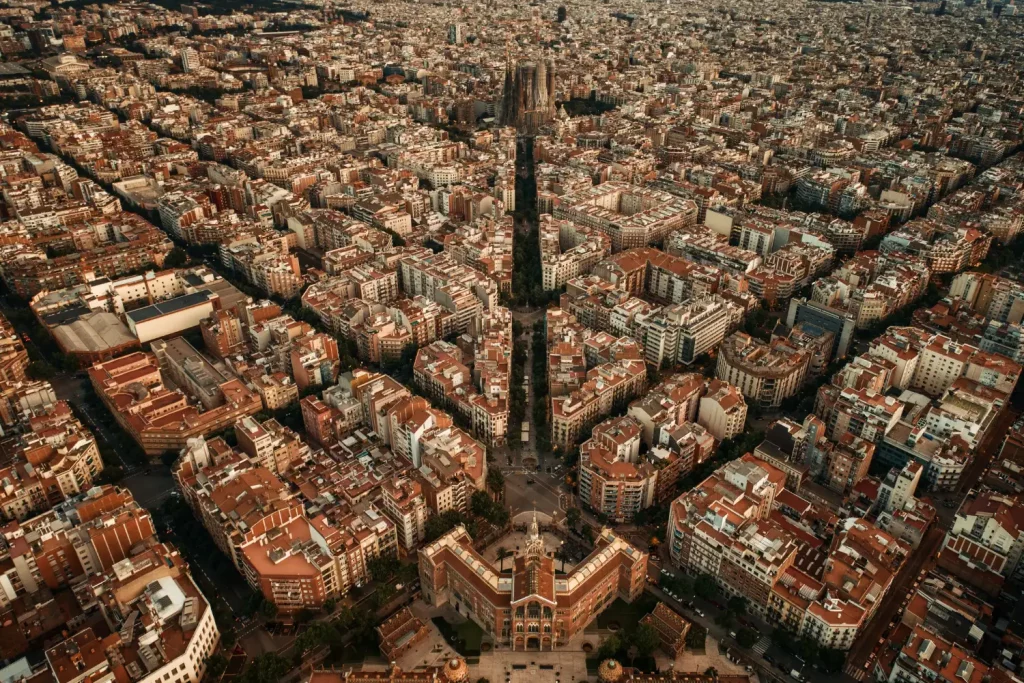 What to Pack for Your Trip to Barcelona
What you need to pack for Barcelona will rely highly on when you make your trip there. During the Spring and Autumn months, temperatures and weather patterns vary wildly between beautiful sunny skies and rainy days. During the Summer, you are pretty much guaranteed nice weather with temperatures ranging from 20-35 oC. The hottest months are July and August, so these will be the most popular for a Summer holiday.
During the winter months in Barcelona, the rain will become more frequent and the temperatures will drop to between 10-20 °c. Among the essentials to pack for a winter trip here, we recommend a good waterproof coat (men's / women's). If you need more inspiration on what to pack for your trip, check out our full packing guides for all-weather conditions over here.
When it comes to toiletries, we recommend that you don't forget to pack sunscreen. The sun in Barcelona is very strong, especially during the summer months. Apply a lot of sun cream regularly to prevent a nasty burn from ruining your trip. We use this specific sunscreen to protect us as it is not as oily and irritating as other sunscreens.
Given the beautiful sights and scenery that you will see in Barcelona, we highly recommend packing a good camera for your trip. If you want to read more about the cameras we use and why we love them, check out the link below.
You can read what else we keep in our camera bag over here.
For our full list of items that we pack no matter where we go in the world, check out our full packing guides over here.
Photography Equipment
What is the Best Travel Insurance for Barcelona
I know travel insurance is the least enjoyable thing to purchase and look at when you're planning a trip, however, you wouldn't want to be without it in the event that something happened. Accidents can happen anywhere and the extortionate medical bills will ruin your trip if you are not covered.
To ensure you have a stress-free trip with no worries about potential medical bills, make sure you cover yourself when you travel. We can recommend using SafetyWing, a backpacker-friendly and cheap insurance company that provides good coverage and support. It is also nomad-friendly, unlike most other insurance companies, meaning you do not need to worry about being out of your home country for too long.
Get a quote for your travel insurance right here and get covered!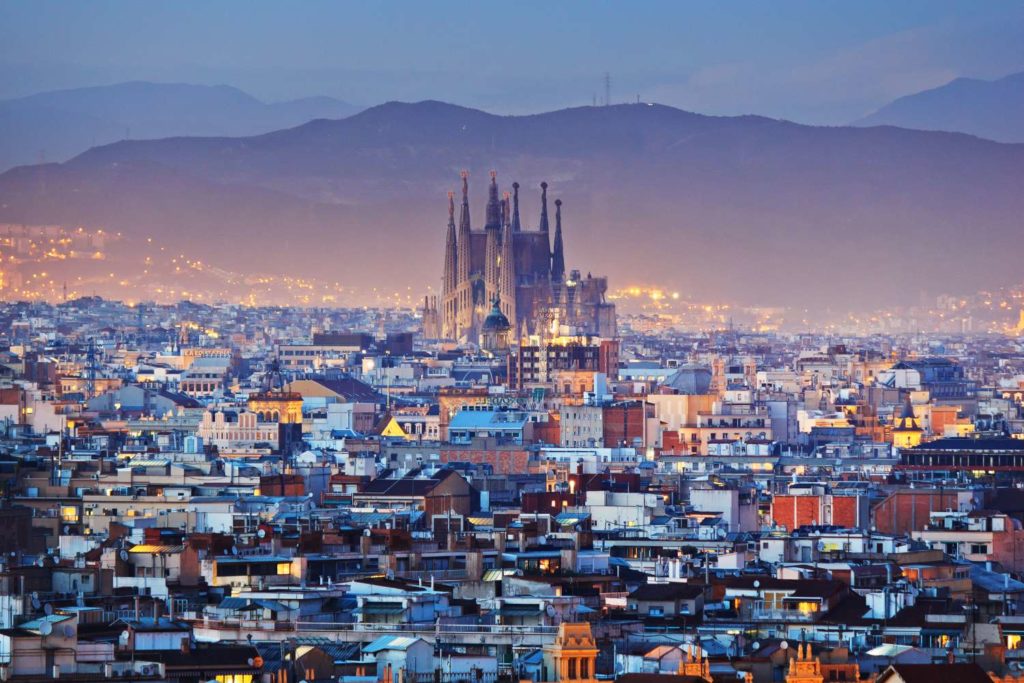 So there you have it, a 3 day itinerary for Barcelona. If you are visiting this incredible city and have any other questions on what to expect, leave us a comment down below. We love to chat about this stuff! Let us know in the comments below!
Also, remember to share this with your friends and family that you are going to share this amazing experience with. Sharing is caring and we want to ensure that everyone is fully prepared to maximise their experience completing this stunning walk.
If you are planning a Spain trip soon then check out our other Spanish content right here. Come and find us on social media to see where we are currently exploring. Tag us in your photos from your stay and we will share them with the rest of our community of explorers and backpackers.
Read Now:
This article may contain affiliate links that provide us with a small income. For more information read our Affiliate page.
---
Pin it for later!
No time to read now? No problem, save a pin to your Pinterest board for later!