In the middle of the blissful mediterranean sea, in between northern Africa and Sicily, sits the island paradise of Malta. As well as the beautiful main island of Malta, there are many day trips that you can take to the neighbouring islands, including the Italian island of Sicily.
We have been on each of these day trips during our visits to Malta and would recommend that if you have the time on your itinerary, you visit them too.
Get planning your trip with this complete 7-day itinerary to the beautiful island of Malta
No time to read now? No problem, save a pin to your Pinterest board for later!
Malta is the perfect island for a getaway but how about visiting the nearby islands for a day trip from Malta whilst you are there? In this guide, we will discuss the best time to go to Malta as well as the following
Comino and the Blue Lagoon

Gozo

Sicily

Preparing for your trip to Malta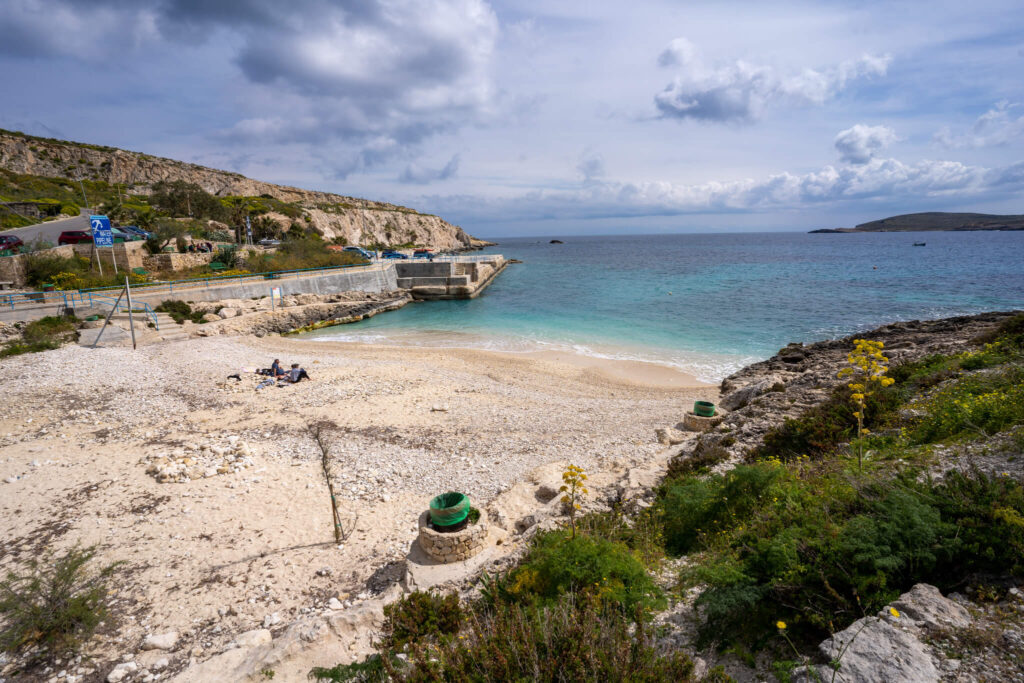 Comino Island and Blue Lagoon
A short boat trip from Malta sits the remote Comino Island, predominately known as the Blue Lagoon. This is the smallest of the Maltese archipelago including Malta and Gozo with only a small number of permanent residents. Comino is an extremely popular island amongst the tourists, especially in the summer months with its crystal-clear waters and cheap boat tours.
Please bear in mind, this is our experience from our trip in 2016.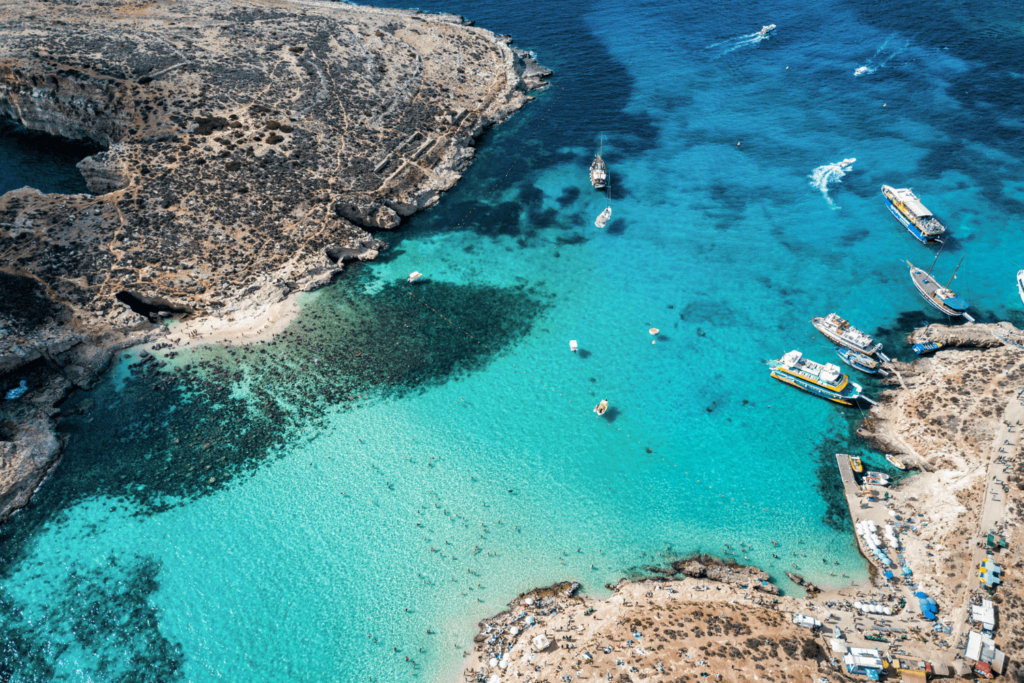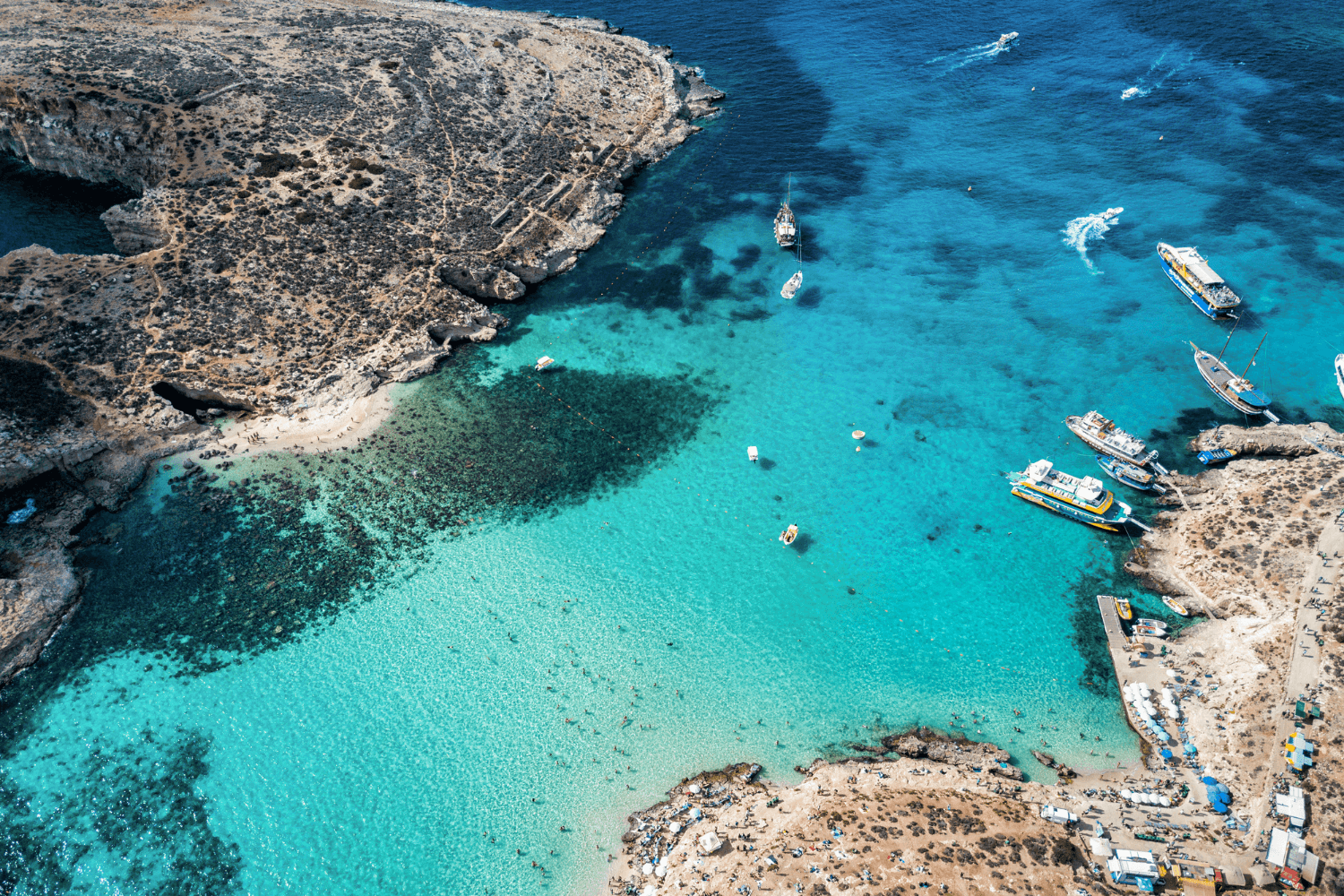 Getting There
There is very little accommodation on the island and no transport, therefore most people access the island for a day trip by boat. There are many different organised boat trips, most costing between €20-€25 per person. The boat trips take around 2 hours, and generally, there is a buffet and bar included onboard. It was a nice way to take in the views and chill in the sun.
Food and Drink
The stunning Blue Lagoon surrounds Comino Island attracting visitors daily to bathe in the warm water and rest on the shore. There are pop up stalls on the stony walk down to the water serving food, ice cream, drinks, cocktails etc. You can expect to pay more than average here as it is a tourist hot spot.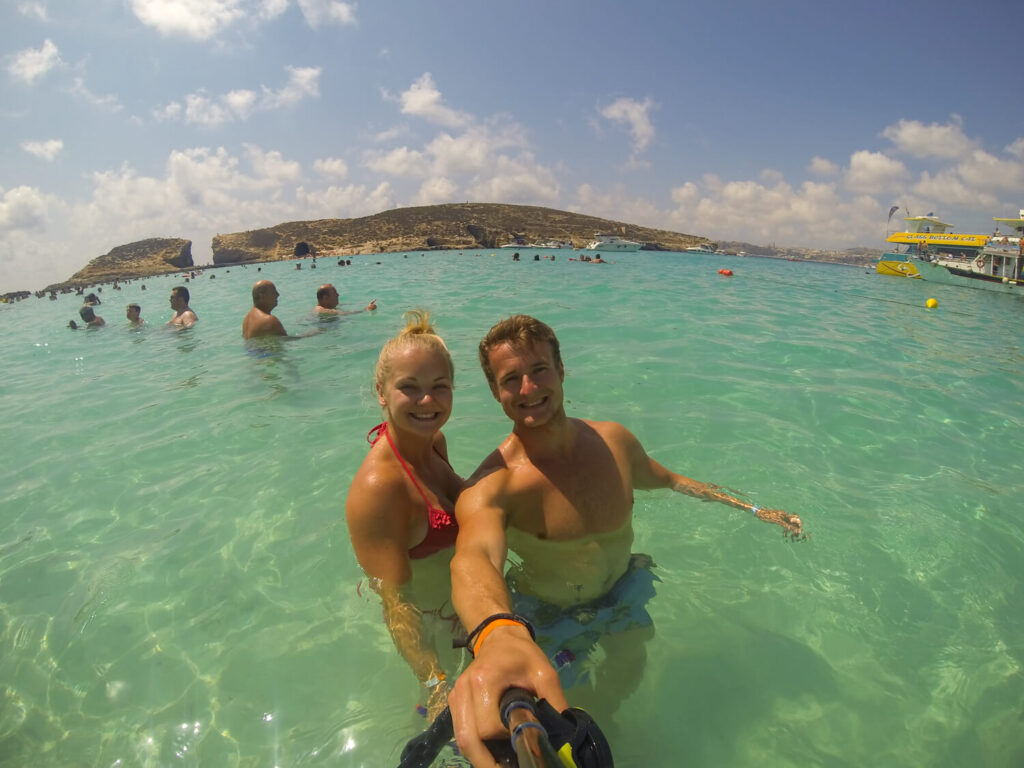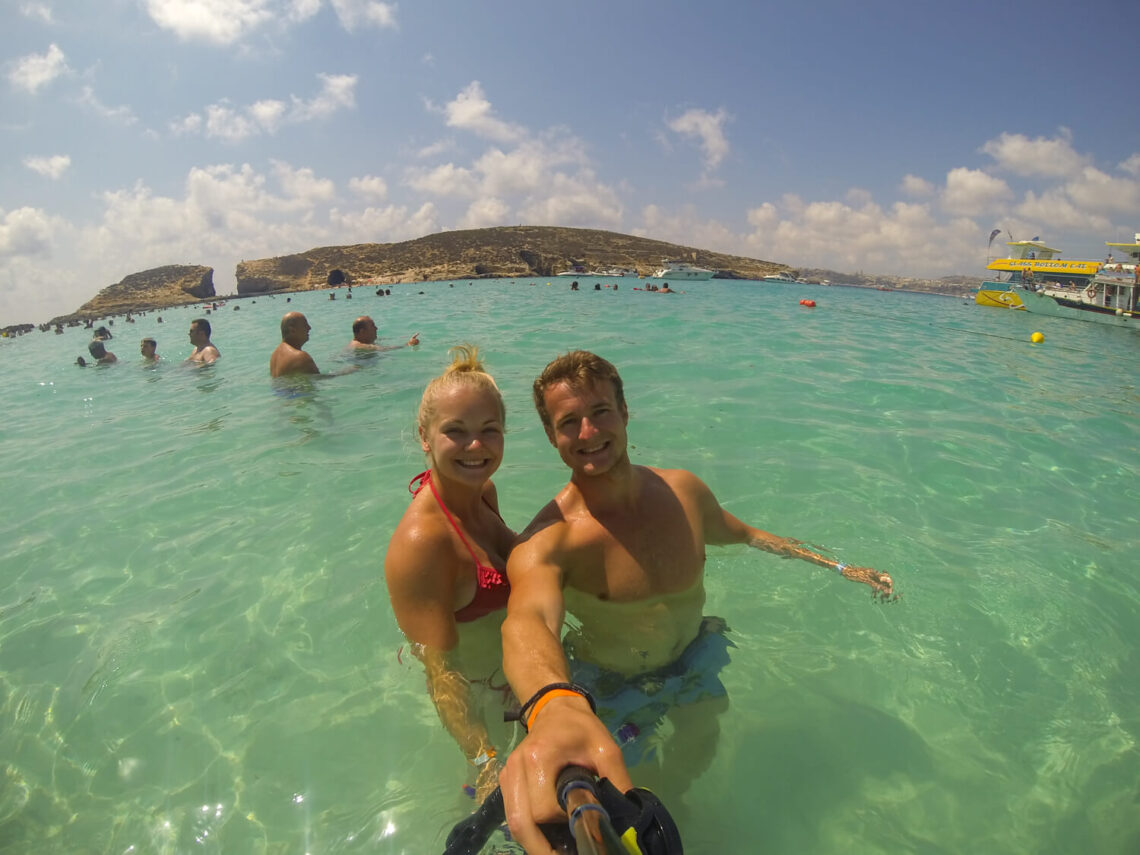 Sunbeds at the Blue Lagoon
Spread around the rocky shores of the Blue Lagoon are rentable sunbeds. There is a high demand for limited sunbeds and you need to be an early bird to get one. By the time we arrived the tiny beach area was overcrowded with them, so we chose not to bother and spend our time snorkelling and exploring instead! We also saw a couple of sunbeds that were starting to go underwater by the time we were leaving, which would be far from ideal if you had left your bags there! If you do rent one, keep this in mind.
Lockers for Valuables
There are locker services available which I would recommend taking advantage of to store your belongings safely. These are handy if you plan on swimming across the Blue Lagoon to explore the nearby caves, as it is about a 15 minute swim to get across. The lockers come at around €5 for the day.
Activities at the Blue Lagoon
This is the perfect paradise for snorkelers and divers, with caves around the island to explore and plenty of sea life to discover. We stuck to the main swimming area and snorkelled our way across to another small island. There is a jet boat which takes you a tour to the caves costing an additional €15.
Unfortunately, being one of Malta's main tourist attractions it is very, very busy. There isn't really any room to put a towel down and relax if you wanted to, and loud music and lots of hustle and bustle will prevent you from enjoying beach naps! Thankfully the warm, crystal clear water is too nice to get out of anyway!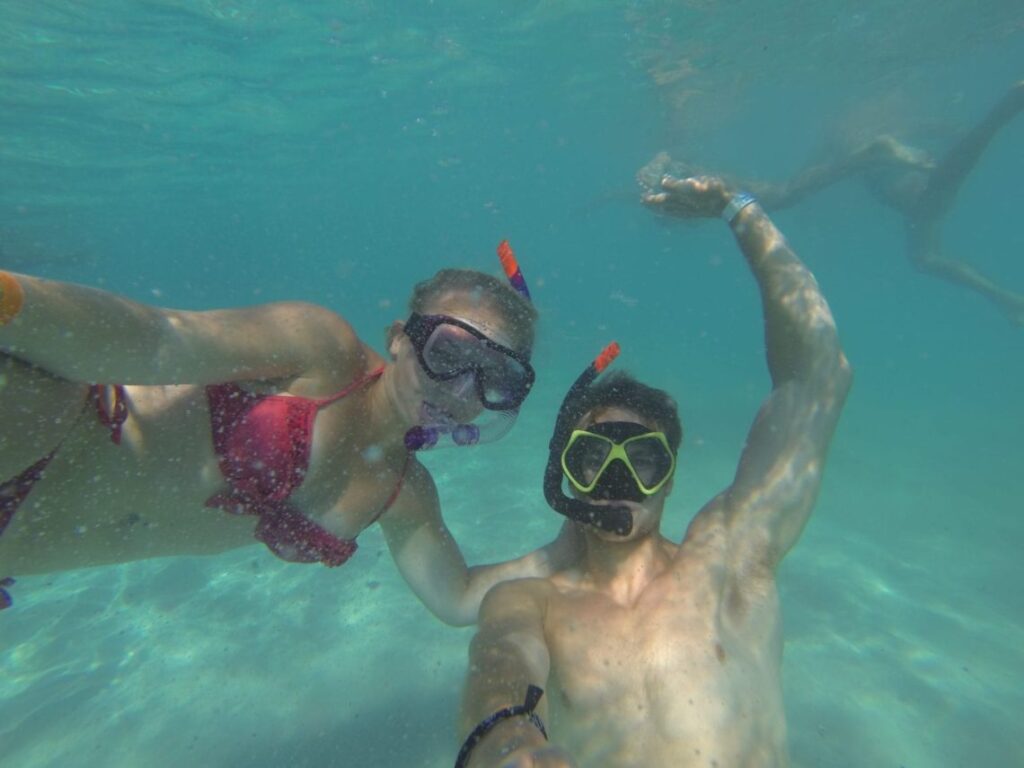 Gozo
The final island of the Maltese archipelago is Gozo, smaller than the main island and larger than Comino, Gozo is a beautiful place to unwind. We took a day trip to the island starting at the Cirkewwa ferry terminal at the very northern part of Malta.
How to get to Gozo
Depending on where you are staying in Malta, or whether or not you choose to take a vehicle across to Gozo, will depend on where you board the ferry.
From Mgarr ferry terminal in the north of Malta, you can board the ferry with a vehicle and the trip across will take around 25 minutes. The ticket prices are as follows:
Standard passenger – €4.65 return
Passenger and motorcycle – €8.15 return.
You can read more about the ferry here.
There is also a fast ferry that leaves from Valletta to Gozo. This trip takes around 45 minutes and no vehicles can travel on this ferry. A standard adult fare is €6 each way.
When you arrive on Gozo, you can choose to hire a vehicle from any of the nearby rental shops or get on the hop on hop off bus which will take you a tour of the island.
Read more about the fast ferry to Gozo here.
We boarded a ferry which took approximately 25 minutes and we arrived at Mgarr, a harbour town on the east coast of Gozo.
If you don't choose to bring a vehicle to the island, a convenient hop-on hop-off bus waits for tourists disembarking the ferry at the terminal and offers the chance to listen to the history and facts about each area (remember your earphones!). This gives you the freedom of seeing the scenery and hopping off at our chosen locations.
When exploring Gozo you can expect to see beautiful sights, ranging from ancient cathedrals to stunning beaches.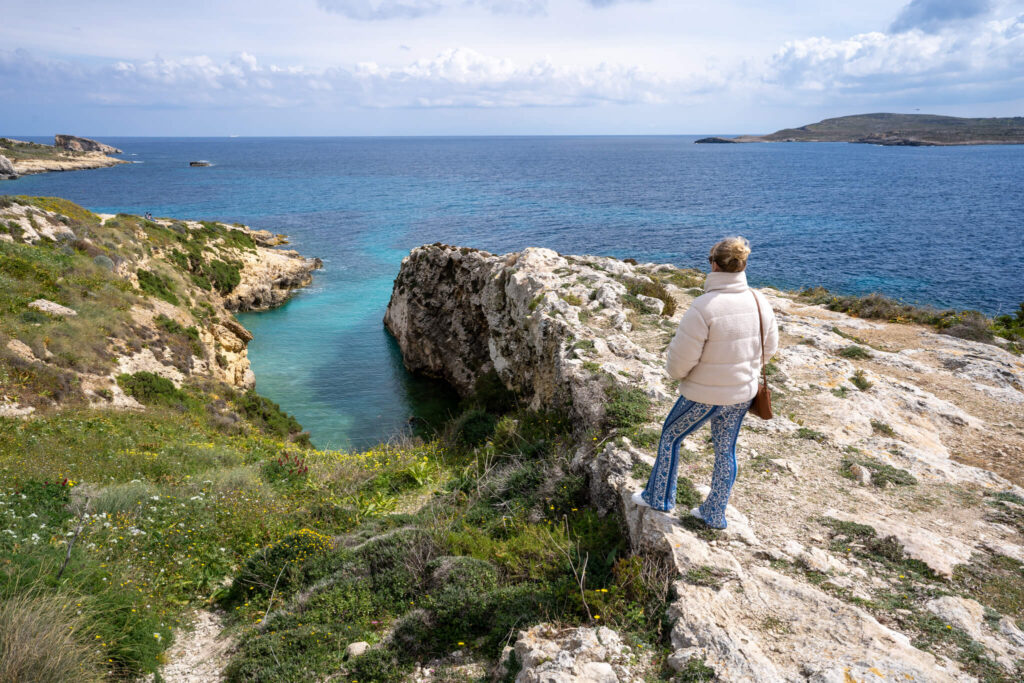 Ramla L-Hamra
Ramla l-Hamra is the largest and  most popular sandy beach in Gozo. The dark red sand is surrounded by countryside and cliffs with a winding road to get down there. There are facilities nearby and a lifeguard on the beach. The perfect spot for some wave jumping in the sea.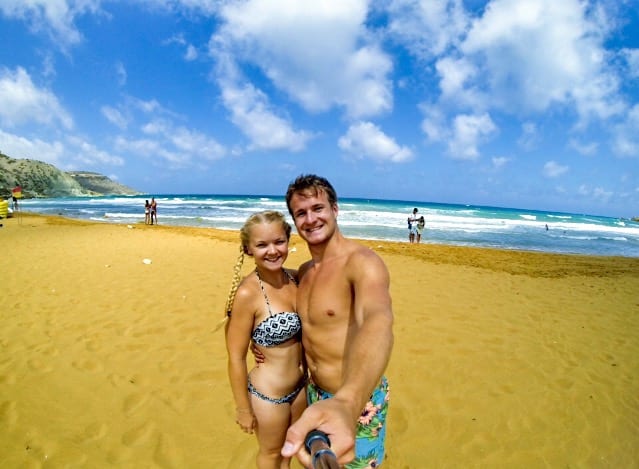 Azure Window
Head to Dwejra Bay to visit the spot where the famous Azure Window used to stand proudly out at sea. This spot is still very popular to visit despite the Azure window collapsing during a storm in 2017. This amazing piece of Limestone was created by the collapse of a sea cave. It continues to be a popular spot, everyone wanting to get some photos of where the famous arch used to stand. 
This area is also a popular diving spot and if you find a sheltered spot it is a beautiful place to enjoy the sunshine.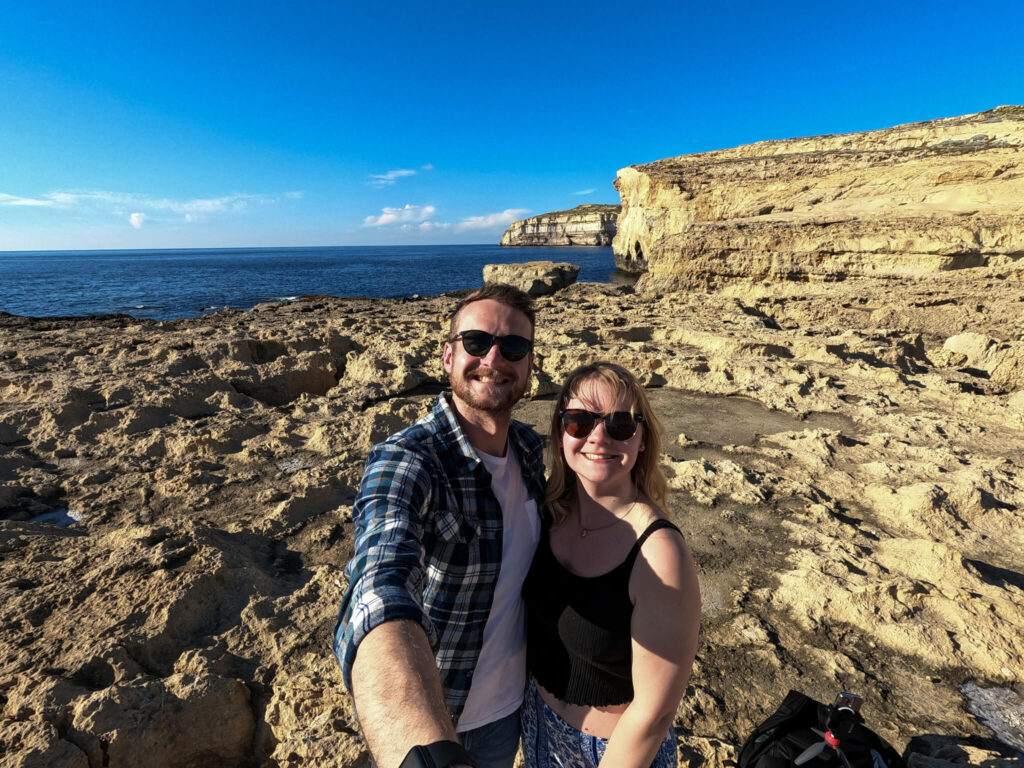 Xlendi
Xlendi is a must visit stop on your trip to Gozo. This small seaside village is well known for its spectacular sunset shows. There's a small sandy beach leading into shallow waters and many people swimming and snorkelling as the sun was setting. It is also a very popular diving spot. If you don't fancy getting in the water, many restaurants line the shoreline serving delicious food and drinks you can enjoy with a view.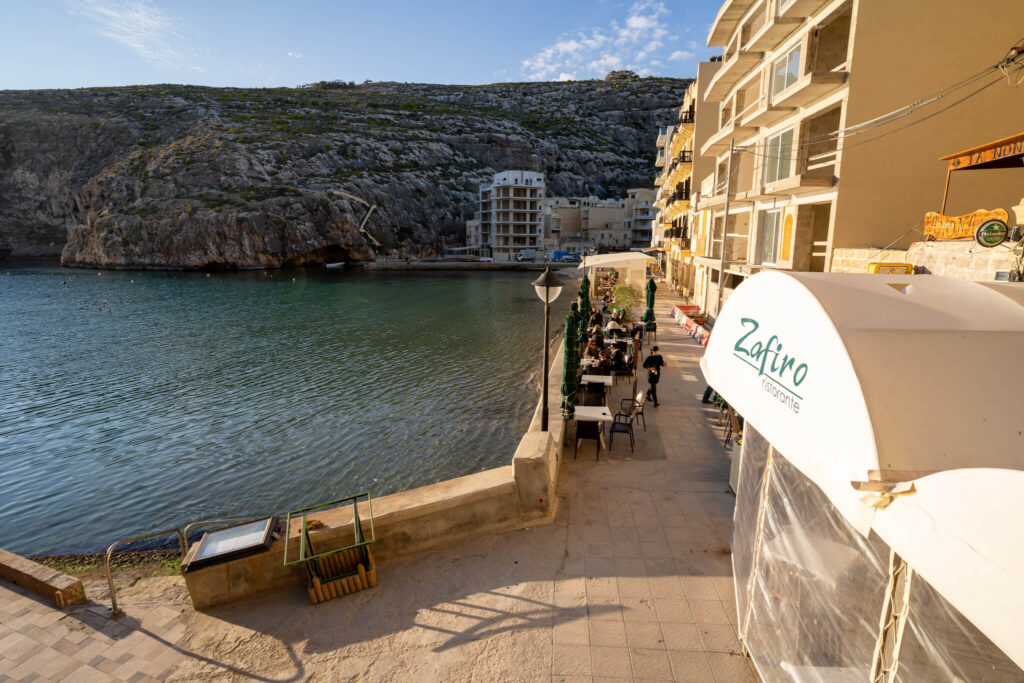 Sicily
Once you have finished exploring the many beautiful sights of Malta, four hours away from the island is the beautiful Italian island of Sicily. When we did this trip in 2016, we booked an organised tour which included transfers, ferry and a bus tour guide showing us the sights for the day. Prepare for an early rise around 4am to be collected and taken to the ferry port. 
Please keep in mind that this trip was pre-pandemic and rules may have changed.
Taormina
Taormina, a hilltop town on the east coast of Sicily. Here you can wander through the quaint town and admire the stunning views. This is a hot spot for tourists, meaning it wasn't the cheapest, however, there are some great restaurants to taste the local cuisine. We would recommend looking out for the lunchtime deals. On our visit, a small ice cream cost approx. €6.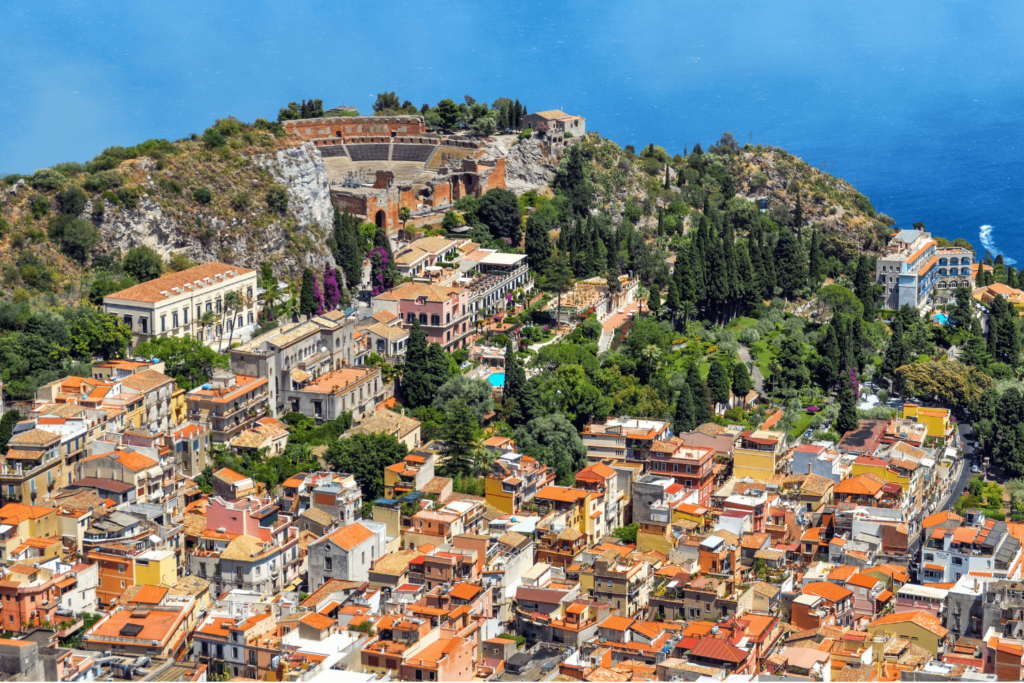 Mount Etna
Another top tourist spot in Sicily that you can expect to see is Mount Etna, sitting at 3320m high. Depending on the volcanic activity and predictions of Mount Etna will depend on whether or not the tour will take you up to the volcano, however, you will not be able to miss this sight from the road anyway!
Etna is the highest active volcano in Europe, most recently erupting in February 2022. There is the option to go on the cable cars which went higher up and gave a closer view of the volcano. This costs €30 per adult for a round trip on the cable cars. There is a restaurant at this level where you can admire the views of the black sand and volcanic rock.
The contrast in temperature and weather between these tourist spots was incredible. Make sure you bring a layer with you to put on when you get up to the volcano, it is very cold!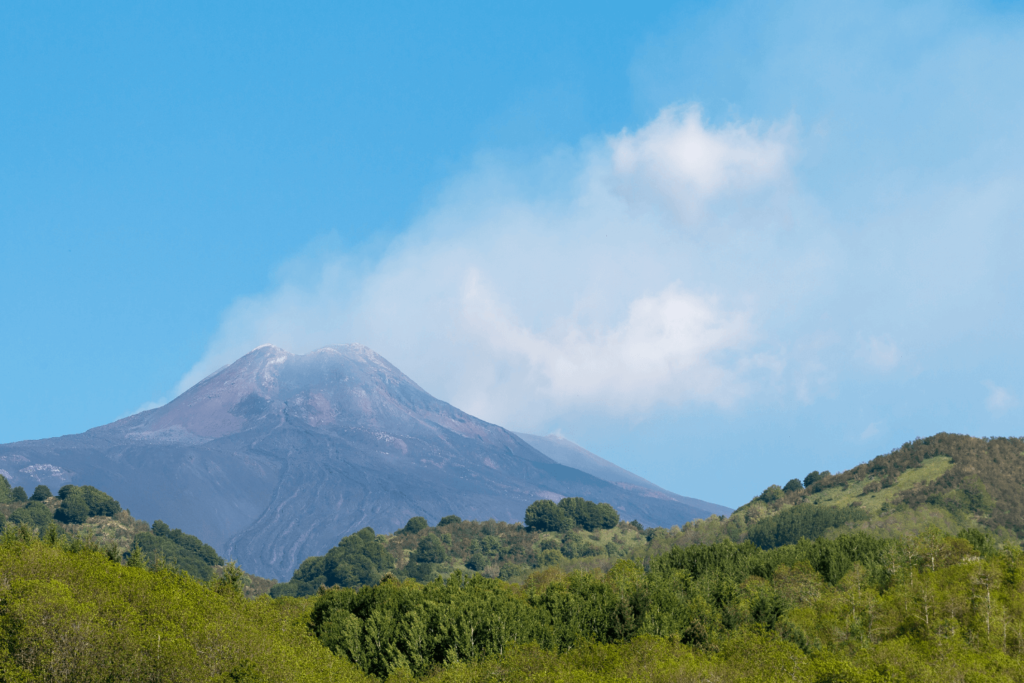 How to Prepare for Your Visit to Malta
Before you set off on your trip to Malta, there are a number of things you will need to organise to ensure a smooth and successful trip. These include what to pack for Malta and what is the best travel insurance for your trip. Both of these will be discussed in the following section.
What is the Best Travel Insurance for Malta
Regardless of what type of trip you are heading on, one thing that is essential for everybody is good travel insurance. Accidents can happen anywhere and at anytime and unexpected hospital bills will ruin a holiday. Remove the stress from your next adventure and get covered for the worst.
World Nomads Travel Insurance provides budget reliable travel insurance that will keep you covered for any level of adventure.
You can get your quote before you leave on your trip right here.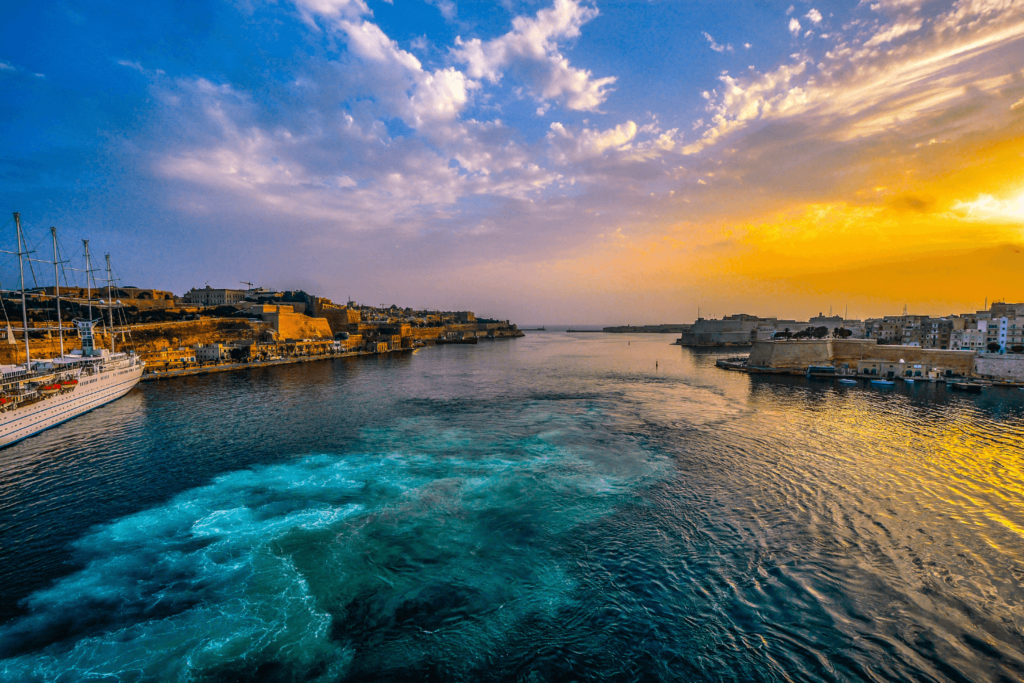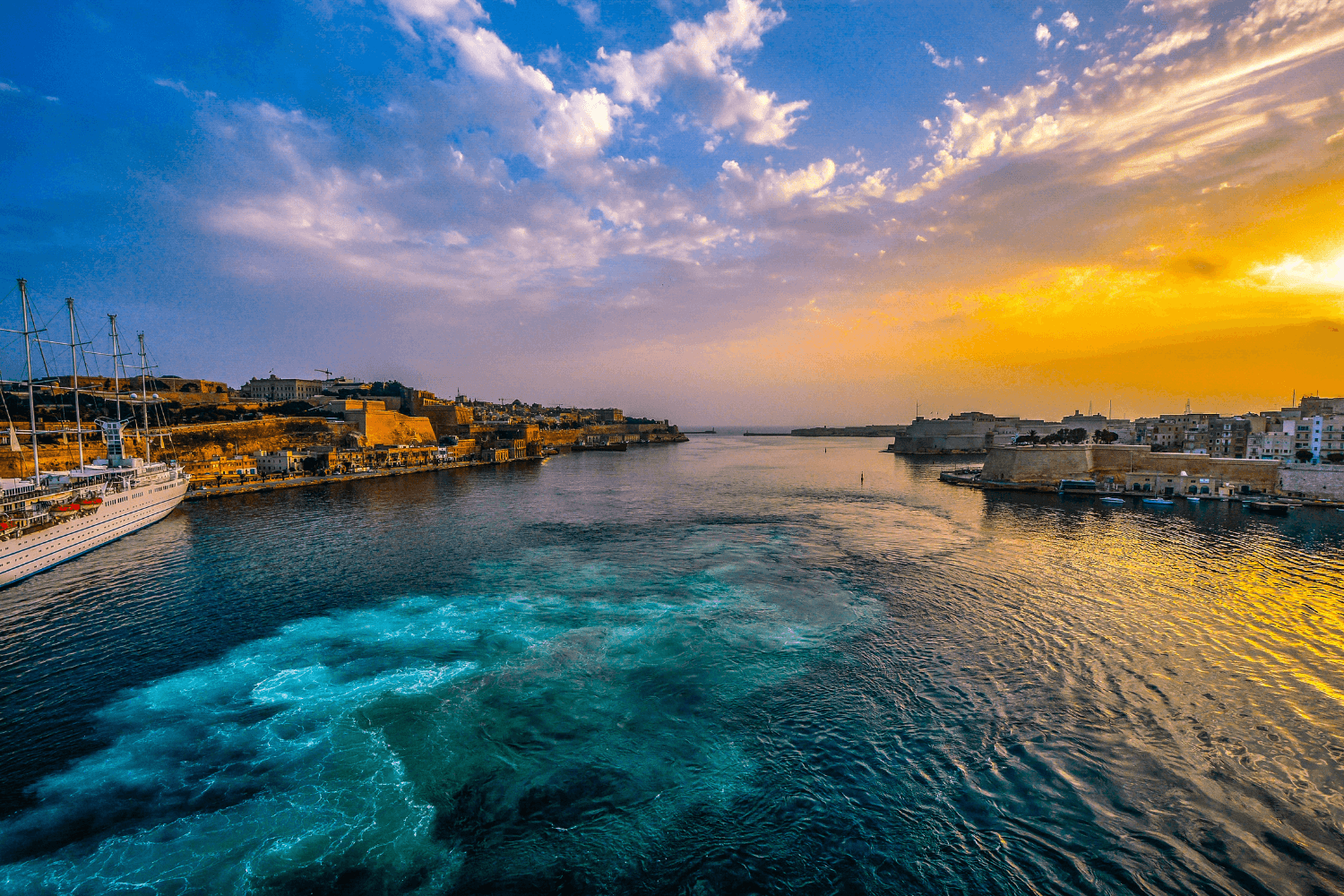 What Should You Pack for Malta?
What you need to pack for Malta will rely highly on when you make your trip there. During the Spring and Autumn months, temperatures and weather patterns vary wildly between beautiful sunny skies and rainy days. During the Summer, you are pretty much guaranteed nice weather with temperatures ranging from 20-35 oC. The hottest months are July and August, so these will be the most popular for a Summer holiday.
During the winter months in Malta, the rain will become more frequent and the temperatures will drop to between 10-20 oc. If you need more inspiration on what to pack for your trip, check out our full packing guides for all-weather conditions over here.
When it comes to toiletries, we recommend that you don't forget to pack sunscreen. The sun in Malta is very strong, especially during the summer months. Apply a lot of suncream regularly to prevent a nasty burn from ruining your trip. We use this specific sunscreen to protect us as it is not as oily and irritating as other sunscreens.
Given the beautiful sights and scenery that you will see in Malta, we highly recommend packing a good camera for your trip. If you want to read more about the cameras we use and why we love them, check out the link below.
You can read what else we keep in our camera bag over here.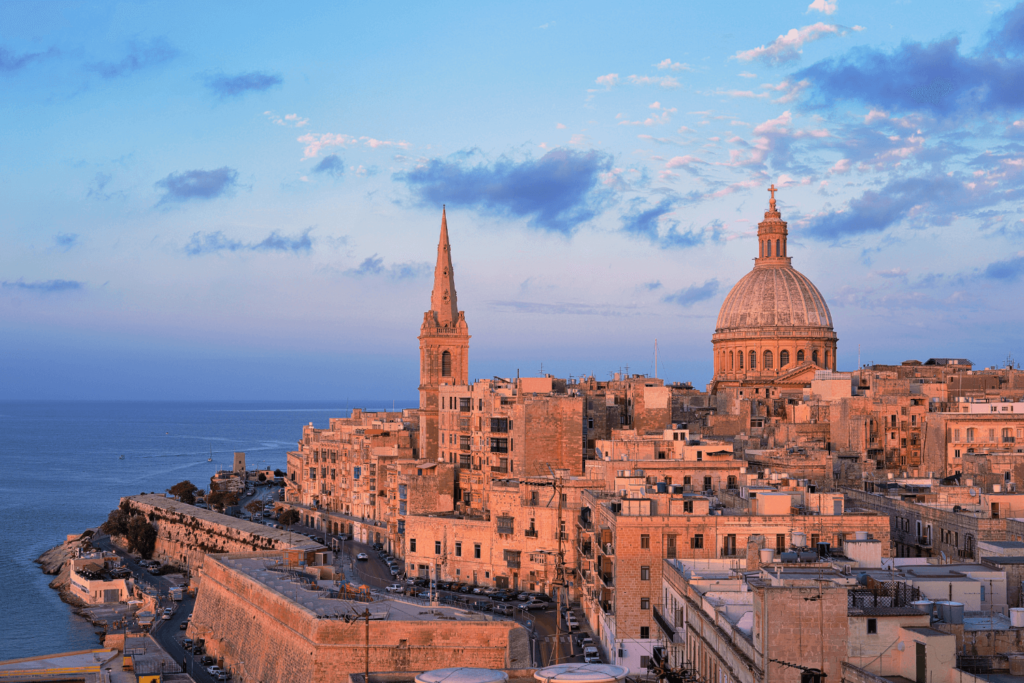 Where to Stay in Malta
Due to how small the island of Malta is, your choice of accommodation is huge. It is up to you where you wish to stay on the island and you can browse all of the top accommodations in Malta on this website. In our opinions, the best location to stay in Malta is in the small town of Sliema, just to the north of Valletta.
Sliema is central on the island, not far from the capital city of Valletta and the nightlife centre of St Julians, and it is also very affordable due to it being outside of these two areas. Here are the top accommodation options that we recommend for all ranges of budget.
Luxury – Even the most luxurious accommodation in Sliema is very reasonably priced, making it the perfect place to stay in Malta. The hotel AX The Palace sits just off the high street of Sliema and features luxuries such as a rooftop infity pool that overlooks the sea, as well as home comforts like AC and free wifi.
Read more about AX The Palace and book you stay right here.
Mid-Range -At the mid-range pricing for Sliema, the Palazzo Violetta Boutique Hotel is the perfect mixture of Malta's beautiful old-style architecture and the modern side of the island. Offering studio apartments that are perfect for two travellers, including a kitchenette and terrace swimming pool, this hotel is the optimum combination of budget abd luxury.
Read more about Palazzo Violetta Boutique Hotel and book you stay right here.
Budget – If you are not bothered with a luxurious place to stay and simply want a comfortable and safe place to rest at the end of the day, then the Roma Hotel is the perfect place for you. This seaside hotel sits overlooking Sliema's seafront promenade and is just a couple of minutes walk away from its rocky beaches. All rooms feature a TV, fridge and tea and coffee making facilities.
Read more about the Roma Hotel and book you stay right here.
If you are more into the hostel scene when you travel, there are an unbelievable number of funky, cheap, and social hostels spread through the country. Browse the full range of hostels that Malta has to offer and book your stay right here.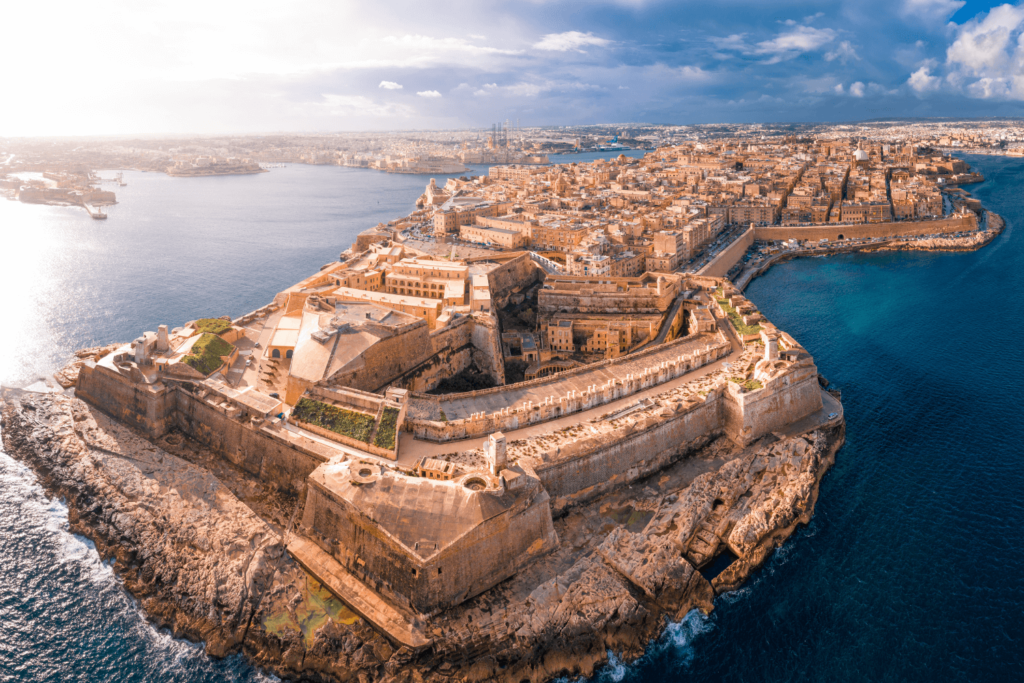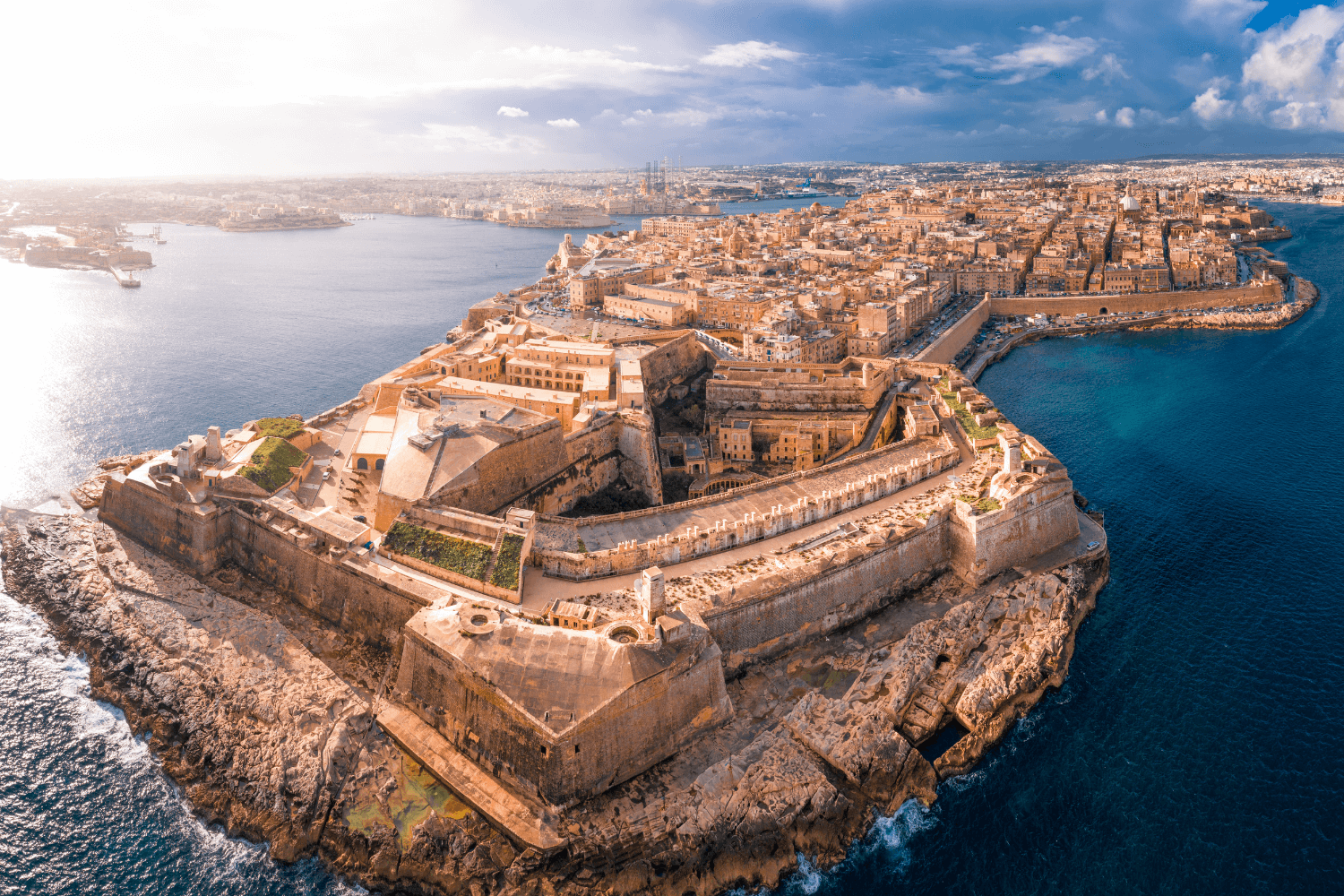 So there you have it, a guide to the best day trips from Malta. If you have visited Malta recently, let us know what you thought of it, or if you have any suggestions let us know in the comments below.
As always, sharing is caring so make sure to share this photo guide with your family and friends and inspire them to head off on their own Malta adventure. If you are planning the trip for yourself, make sure you have a look at the rest of our Malta content for more inspiration to our beautiful home country.
When you set off on your own adventure, be sure to tag us in your photos on Instagram and we will share them with the rest of our community. In the meantime, why not follow us over there to see what we are currently up to and keep up with us on our Instagram Stories.
Now Read:
This article may contain affiliate links that provide us with a small income. For more information read our Affiliate page.