Sat in the turquoise-blue Mediterranean Sea is the tropical island of Malta. It is located in between Sicily and the North African coast, with hot weather and blue waters that make it a popular island for tourists, especially in the summer months. Malta is a relatively easy travel destination, with flights departing from most UK major airports with around a 3-hour flight time. No matter what your taste of adventure is, you will find plenty of things to do in Malta.
No time to read now? No problem, save a pin to your Pinterest board for later!
In this post, we will discuss the following things to do in greater detail. Some of our top recommendations for your trip to Malta.
Comino, The Blue Lagoon
Mdina
Festivals in Malta
Marsaxlokk
Valletta 
St Peters Pool
Gozo 
Cafe del Mar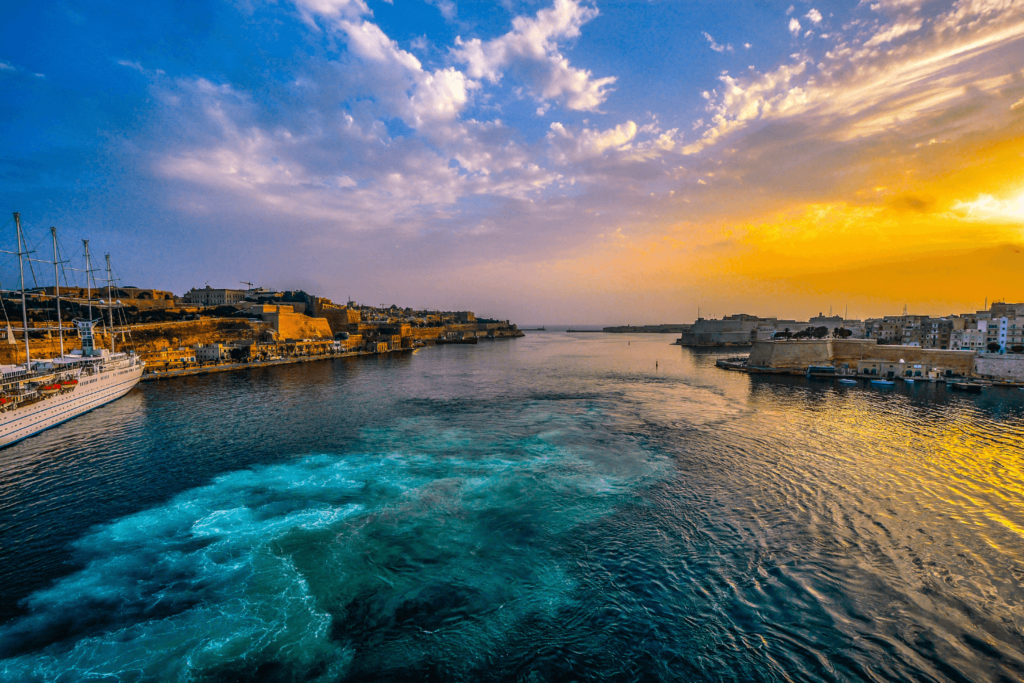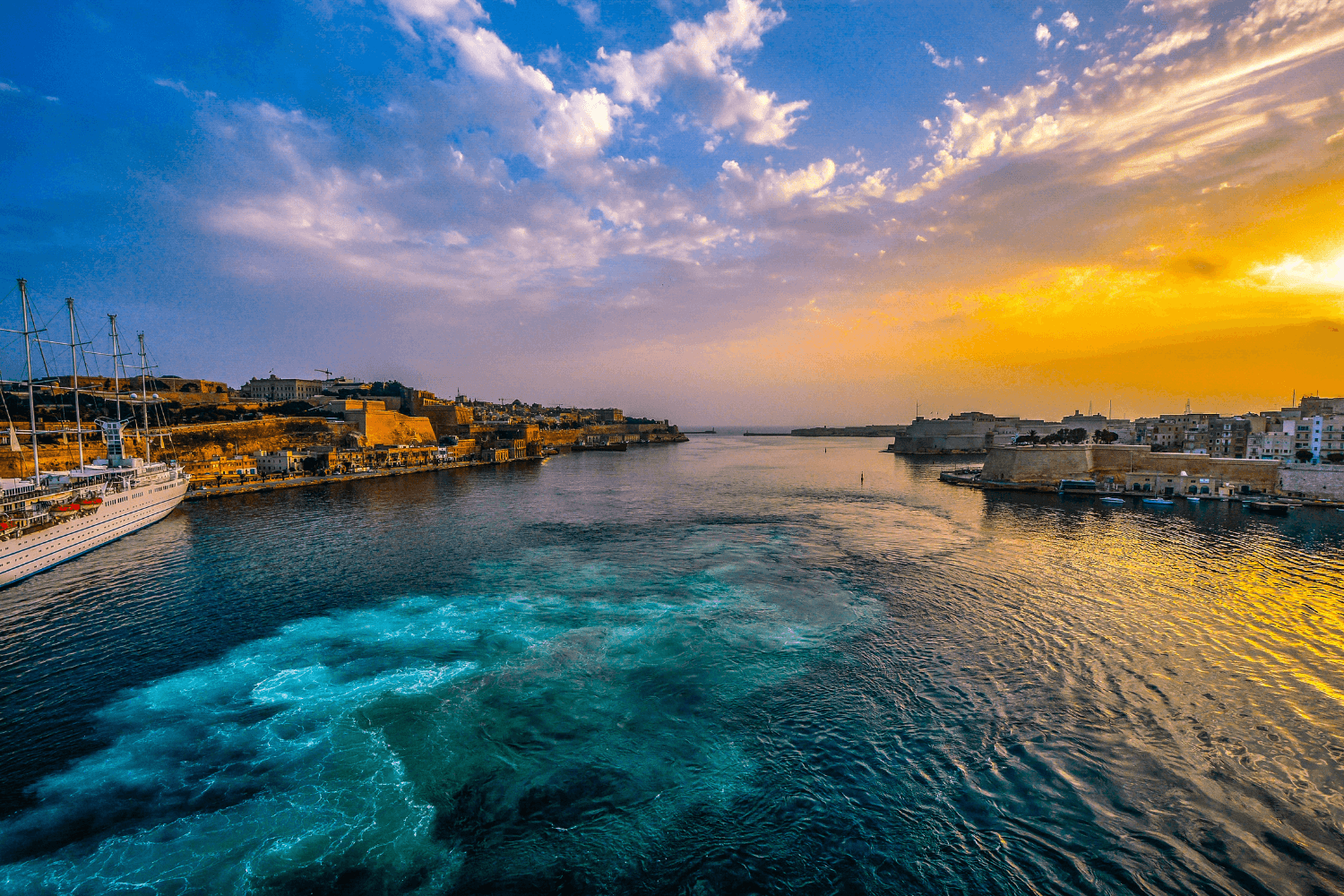 When Should You Visit Malta and Where to Stay?
The Maltese islands are an archipelago consisting of three beautiful parts of heaven – Malta itself, Gozo and Comino. It is cheap and easy to island-hop by ferry, and tour tickets can be bought from kiosks on the seafront around the tourist areas of the island. The ferry leaves from Cirkewwa port every hour and takes approximately 30 minutes to an hour. You can also choose to travel on the local ferry or the fast ferry from Gozo. We will go into these in more detail below.
We have visited March during March and September. In March the temperature varied around mid-teens degrees c, however, the wind made it feel cooler. We visited just before the season started therefore not everything was open. The bonus to visiting at this time is that it is not too hot to explore all day and expenses such as hotel and rentals are cheaper. The island was also quieter so we didn't have to book ahead and the sun still shone every day.
Visiting Malta in September, you can definitely expect the temperature to be higher, typically high 20's. As it is coming to the end of season, the island will begin to get quieter at this time of year.
Areas we can recommend staying in are Sliema and St Pauls Bay. Both are within close walking distance to endless restaurant options, bus stops, and of course the sea! Sliema did tend to be a little more expensive for eating out than St Pauls Bay. 
Sliema is a pretty central area of the island if you are travelling by bus as it is close to Valletta, St Julians and Marsaxlokk.
If you intend on renting a vehicle or a scooter and want to take it on the ferry to Gozo then we would recommend staying in St Pauls Bay.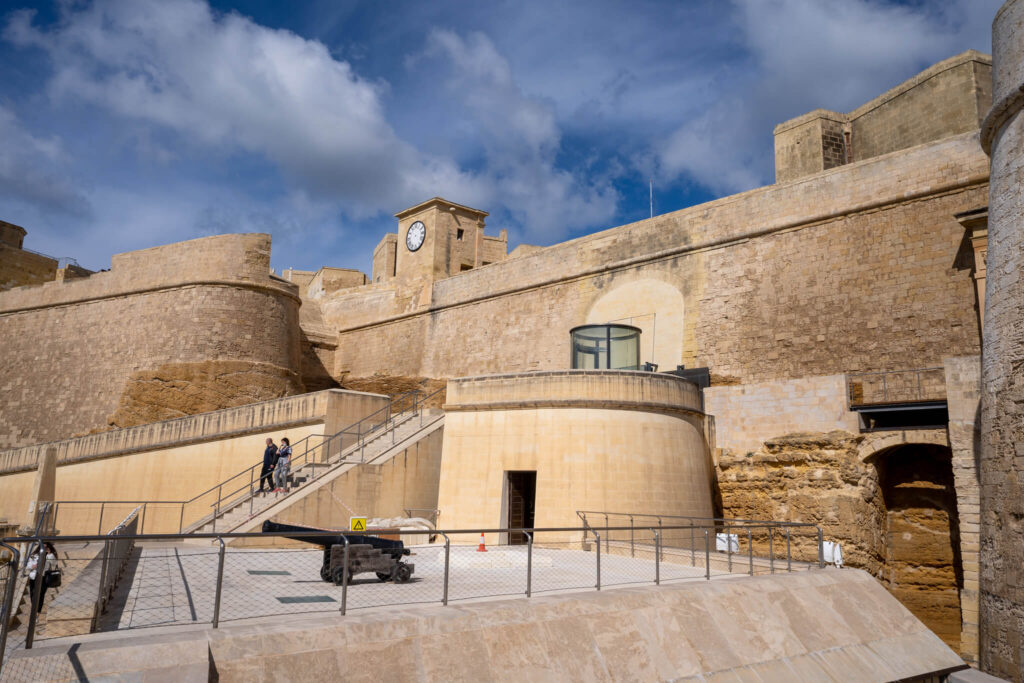 The Blue Lagoon
 The Blue Lagoon which is located just off Comino beach is definitely a must-see during your weekend break in Malta. It is a very popular hotspot for day-trippers with many boats flooding in every day. This shallow crystal-clear water is a paradise for swimming and snorkelling. There are lockers costing around €5 to store your belongings in whilst you swim.
If you're hungry or want a cocktail, kiosks line around the island offering plenty of choices. The Blue Lagoon's beauty attracts many tourists daily which unfortunately means it is very crowded and can benear enough impossible to get a deck chair (which you can also expect to pay for).
If you don't fancy taking the day trip cruise over to the island, you can hop onto the local ferry which runs throughout the day.
As much as this beautiful art of Malta can be very busy during the peak season we would still recommend it as a must-see when you visit Malta.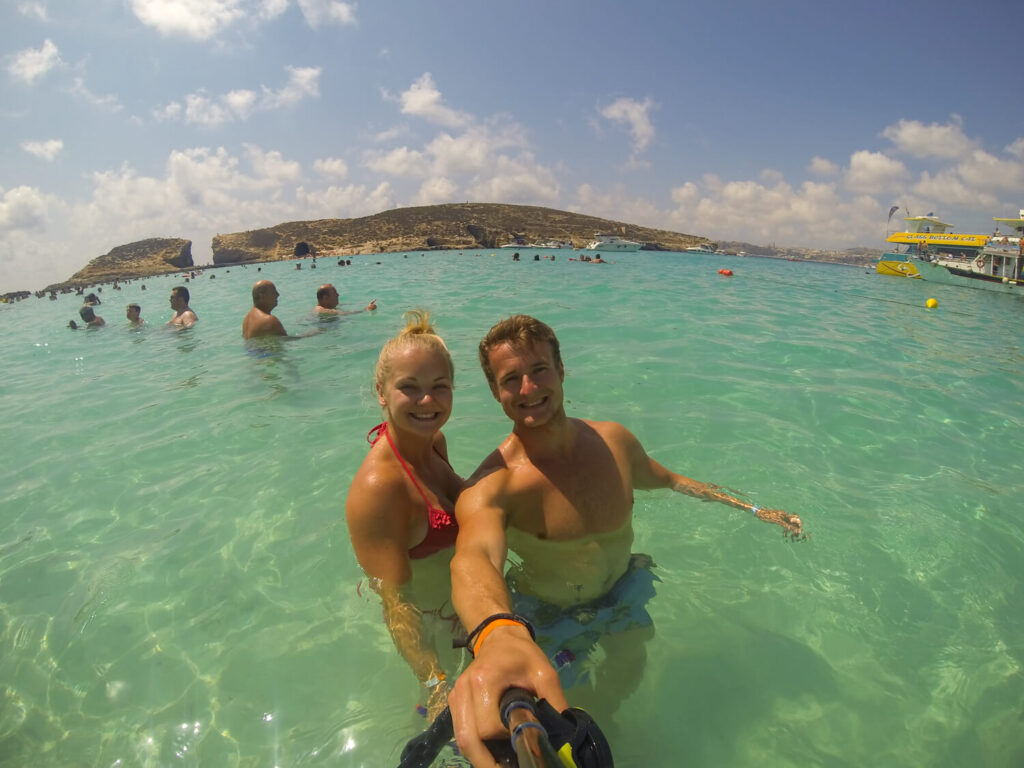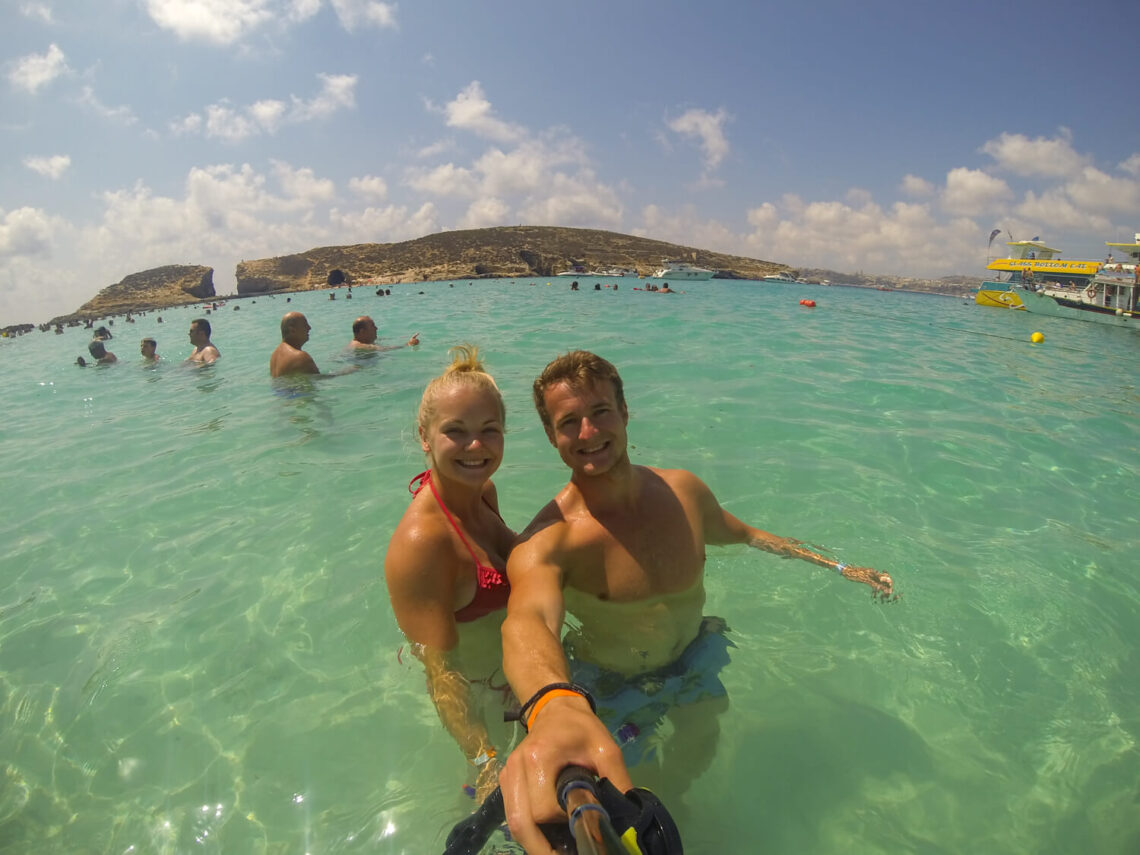 Mdina
Mdina is a walled, fortified city in the northern part of Malta, previously the capital city of Malta from antiquity to the medieval period. Mdina is also known as the 'Silent City' and less than 300 people live here. Limited resident cars and emergency vehicles are allowed into the city and noise is kept to a minimum. 
Mdina sits high on a hilltop, still confined within its walls, with incredible views of surrounding neighbouring towns and across the sea. It is a UNESCO World Heritage Sight and also features in the popular TV show Game of Thrones.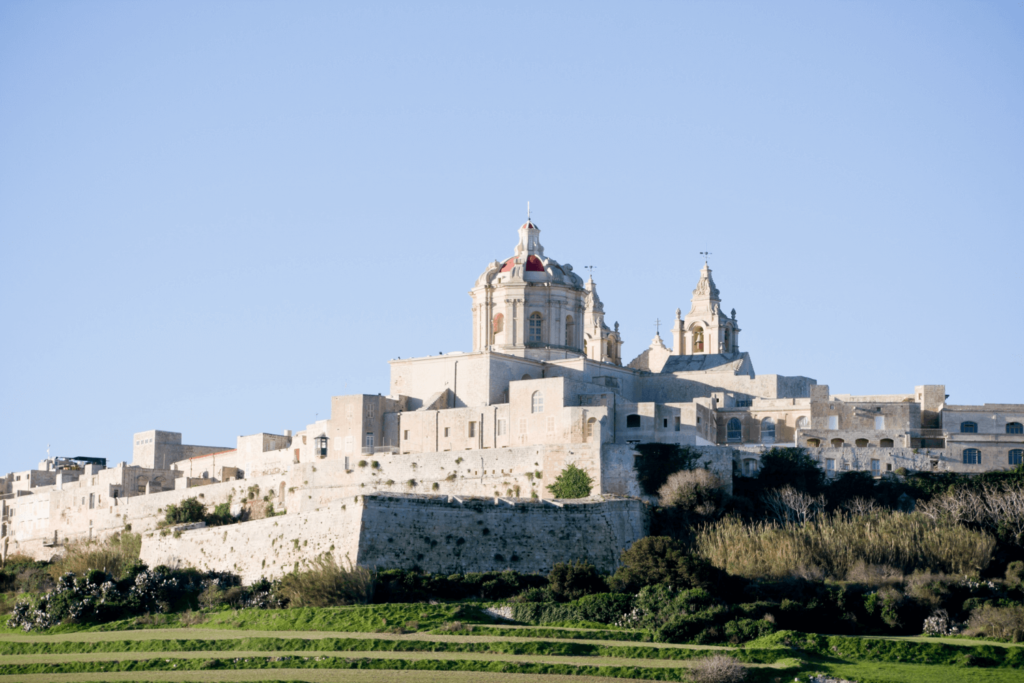 Festivals in Malta
Every Sunday during the summer in Malta a different area will hold what is known as a festa (religious feast). This is a village celebration that involves lots of fireworks, food, drink, dancing and lots of music and costumes! This is a great way to enjoy the local traditions.
During the festival, roads are closed off and you may see bands marching up and down the streets, fireworks and loads of pop up bars selling cheap cocktails!
Explore Marsaxlokk
For a fact, Marsaxlokk is the largest fishing village of Malta. Being a fishing village, if you enjoy seafood then you will enjoy eating out in this area of Malta. Along with the seafood, the village is also known to produce honey, jams, and different sorts of souvenirs. 
There is a small beach in the village where you can swim and snorkel. Marsaxlokk is one such place where you can spend some downtime strolling the streets or gazing upon the natural beauty. It is a popular place amongst the locals for a Sunday brunch and is a great place to visit if you are looking to escape the hustle and bustle of the other busy towns on the island.
Along with that, dining is another experience which is quite unique here at Marsaxlokk Fishing Village. There are a number of waterfront restaurants where you can enjoy delicious dishes with a glass of wine.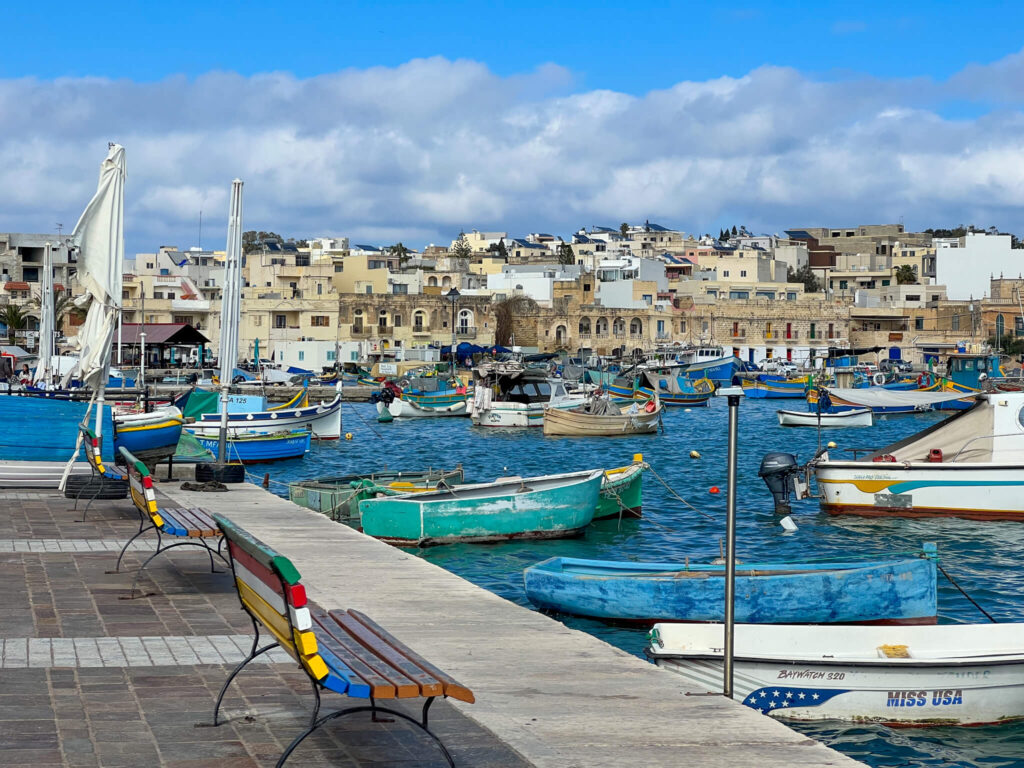 Valletta
Valletta is Malta's capital city and holds much of the island's history. This picturesque city has lots of options for eating out or even just going for a hot drink or an ice cream. The upper Barrakka gardens is a beautiful spot to enjoy views of the Grand Harbour, the three cities; Birgu, Cospicua and Senglea. This peaceful spot is the highest point in Valetta and away from all the hustle and bustle below. A lovely to place to watch the sunset and admire the colourful gardens.
The Upper Barrakka lift links the gardens with the city centre, a round trip costs €1 and it is definitely the quickest way into the city from Valetta's waterfront. Twinned with the upper Barraka gardens, a 15-minute walk away is the lower Barraka gardens. A less well-known setting offers a relaxing setting to sit and watch the ships entering and leaving the harbour.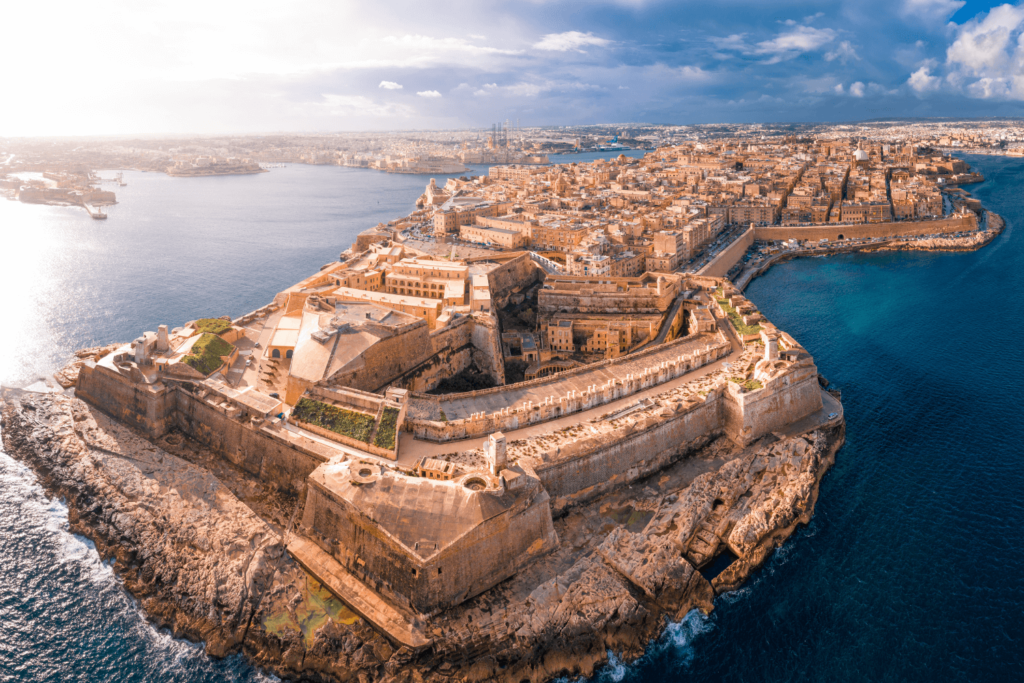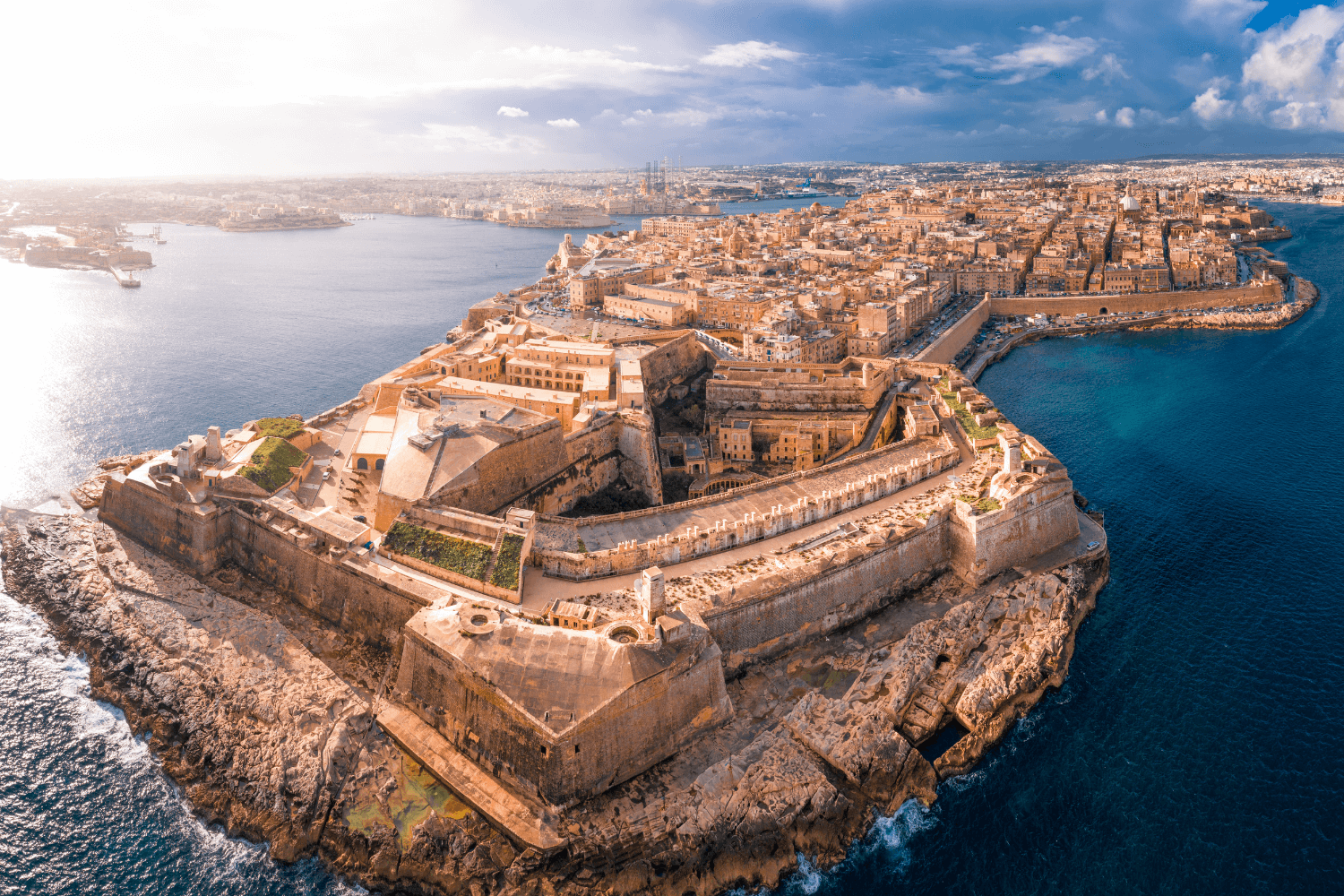 St Peter's Pool
St Peter's Pool is a gorgeous spot near Marsaxlokk, at the tip of Delimara Point in the southwest of Malta. This is a popular place for locals to go sunbathing on the flat rocks and cliff jumping into the sea. The clear sea also makes it a perfect spot for snorkelling. If you don't fancy the jump into the azure water, there are ladders for access. 
Make sure you bring everything you need for the day as there are no facilities here.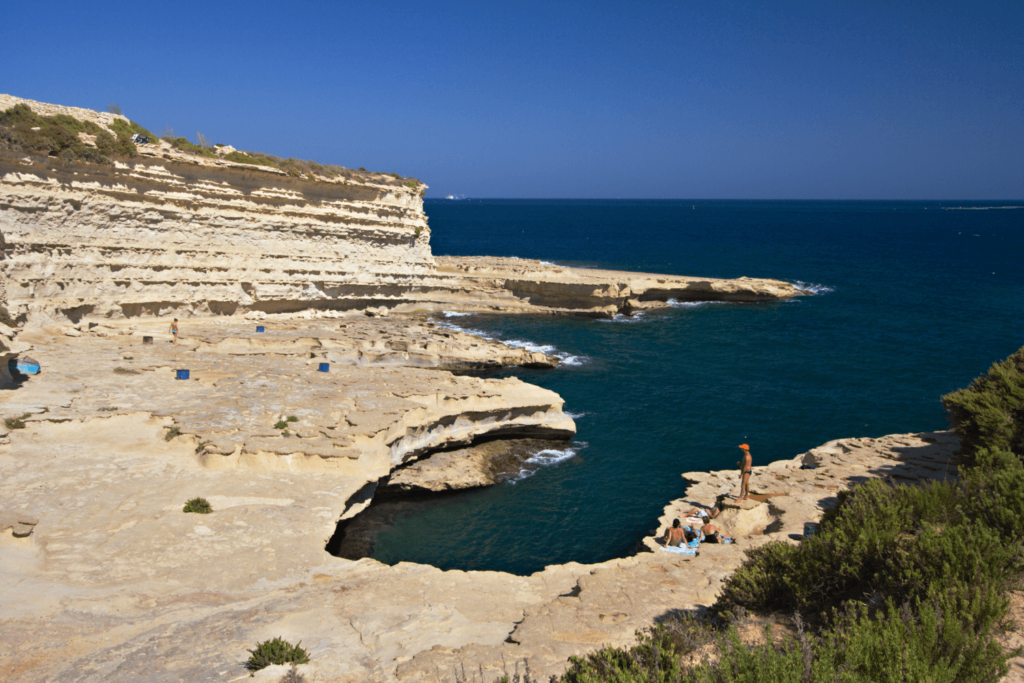 Visit Gozo
This serene island is full of character and well known for its incredible scuba diving and photogenic streets. It is a day trip not to be missed when you visit Malta.
Depending on where you are staying in Malta, or whether or not you choose to take a vehicle across to Gozo, will depend on where you board the ferry.
From Mgarr ferry terminal in the north of Malta, you can board the ferry with a vehicle and the trip across will take around 25 minutes. The ticket prices are as follows:
Standard passenger – €4.65 return
Passenger and motorcycle – €8.15 return.
You can read more about the ferry here.
There is also a fast ferry that leaves from Valletta to Gozo. This trip takes around 45 minutes and no vehicles can travel on this ferry. A standard adult fare is €6 each way.
When you arrive on Gozo, you can choose to hire a vehicle from any of the nearby rental shops or get on the hop on hop off bus which will take you a tour of the island.
Read more about the fast ferry to Gozo here.
There is also the option to get around on the hop on hop off bus on Gozo  which costs £15.38.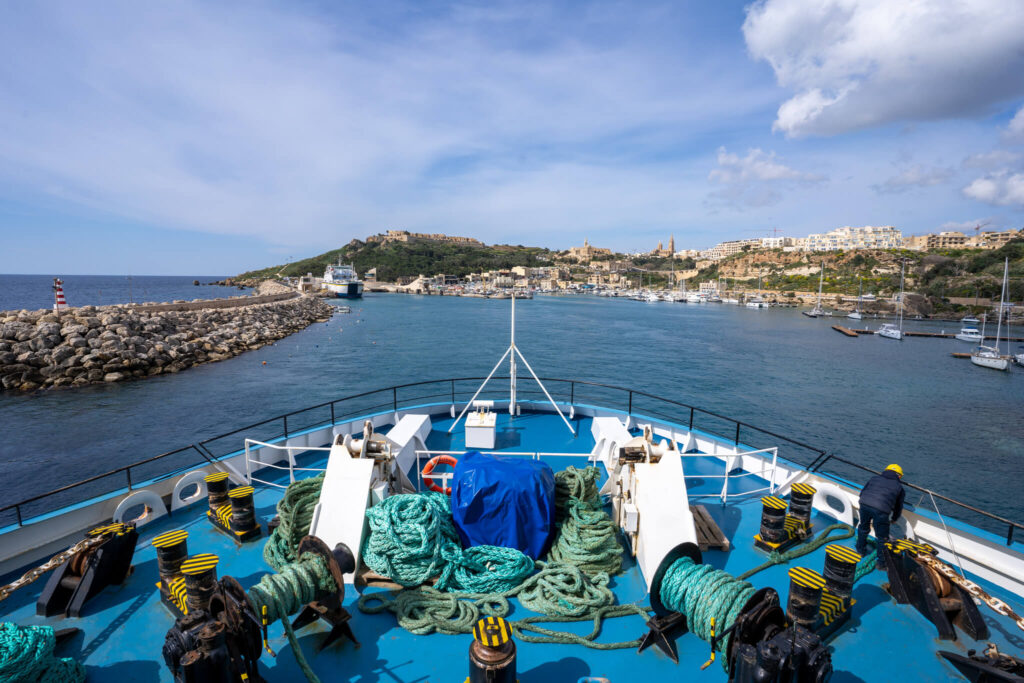 Gozo is also home to some beautiful beaches and small towns. We would recommend taking some time to see both sides to the island and soaking up the culture. Don't forget to pack your swimmers if you enjoy going for a dip in the sea. If you find a sheltered sun trap on the beach that clear blue water will definitely tempt you in for a tip. 
One of our favourite beaches on the island is Hondoq Bay due to how secluded it felt. Read more about our favourite spots to visit in Gozo in our one day Gozo itinerary.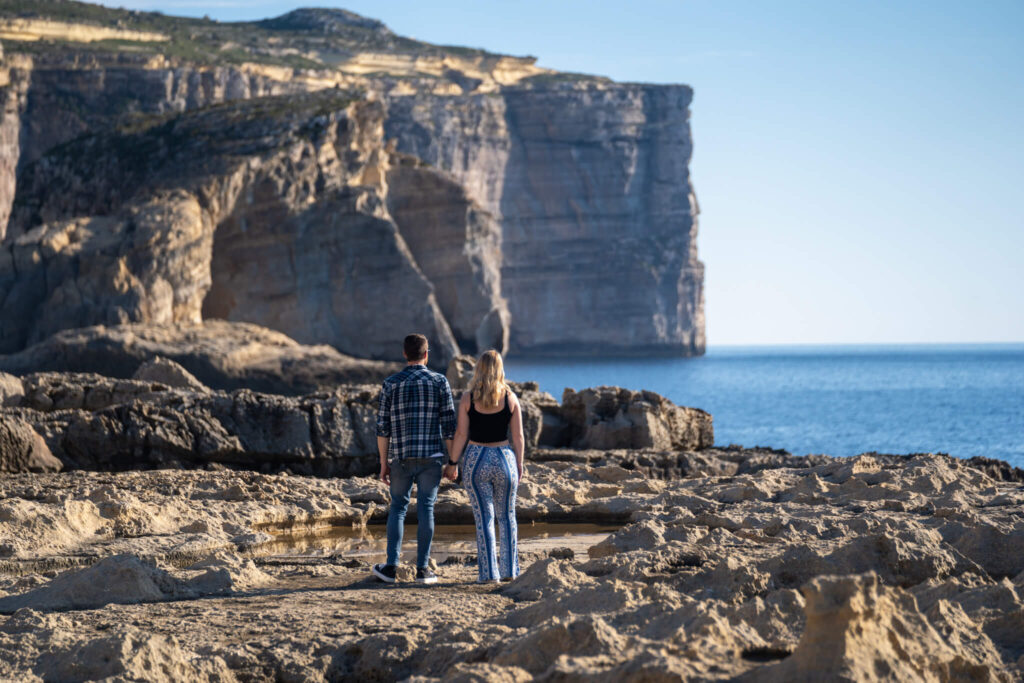 Sunset at Café del Mar
A sunset at Cafe del Mar is definitely a must see on your Malta itinerary. During the day, you need to pay entry and pay for a sun lounger. However, if you visit after 6pm then entrance is free and all you need to do is buy a drink. The stunning infinity pool gives some cracking photos of Malta's beautiful sunset. This is definitely one of Malta's best-hidden gems and is something that we recommend you check out during your visit to Malta.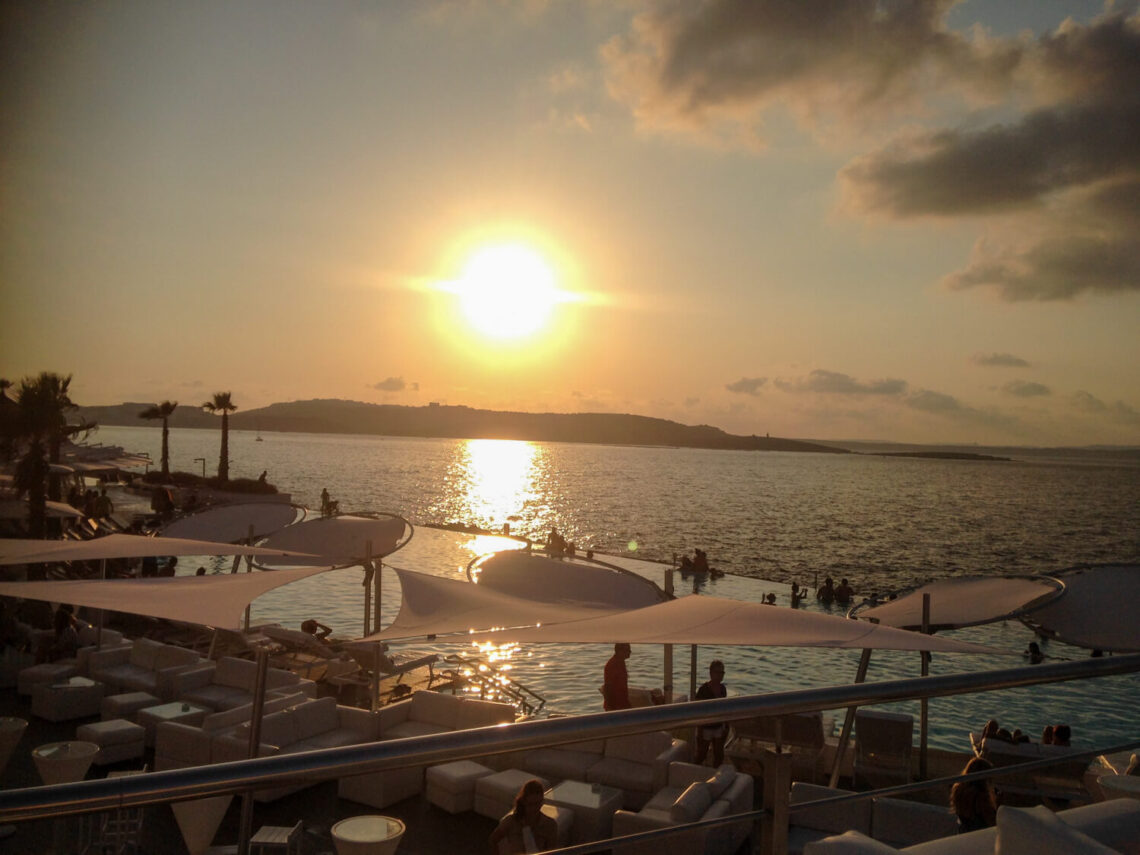 How to Prepare for Your Visit to Malta
Before you set off on your trip to Malta, there are a number of things you will need to organise to ensure a smooth and successful trip. These include what to pack for Malta and what is the best travel insurance for your trip. Both of these will be discussed in the following section.
What is the Best Travel Insurance for Malta
Regardless of what type of trip you are heading on, one thing that is essential for everybody is good travel insurance. Accidents can happen anywhere and at anytime and unexpected hospital bills will ruin a holiday. Remove the stress from your next adventure and get covered for the worst.
World Nomads Travel Insurance provides budget reliable travel insurance that will keep you covered for any level of adventure.
You can get your quote before you leave on your trip right here.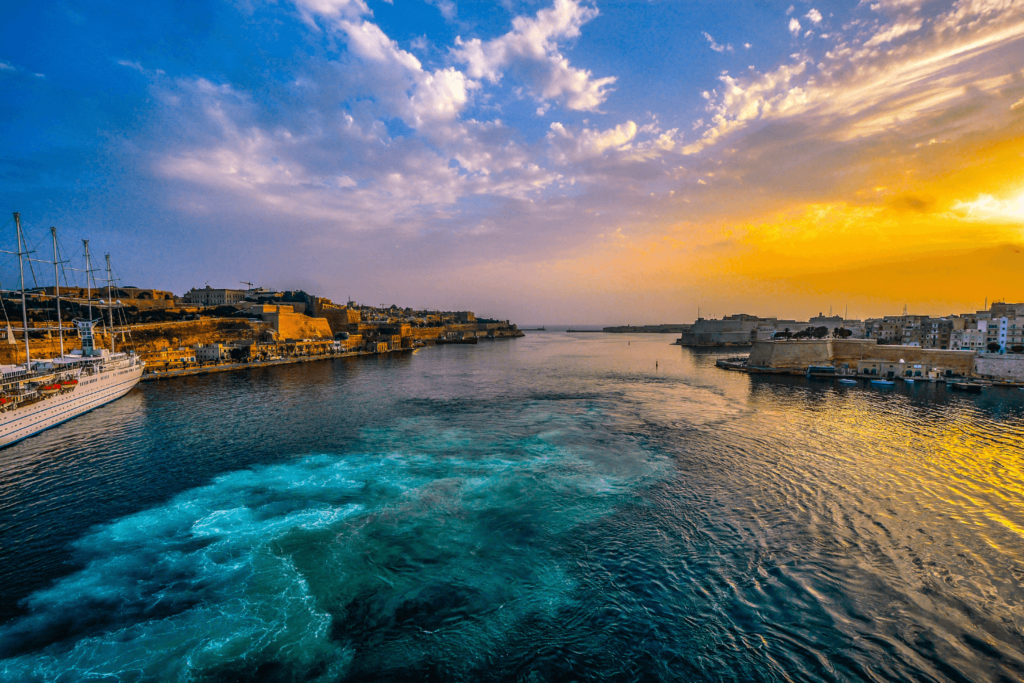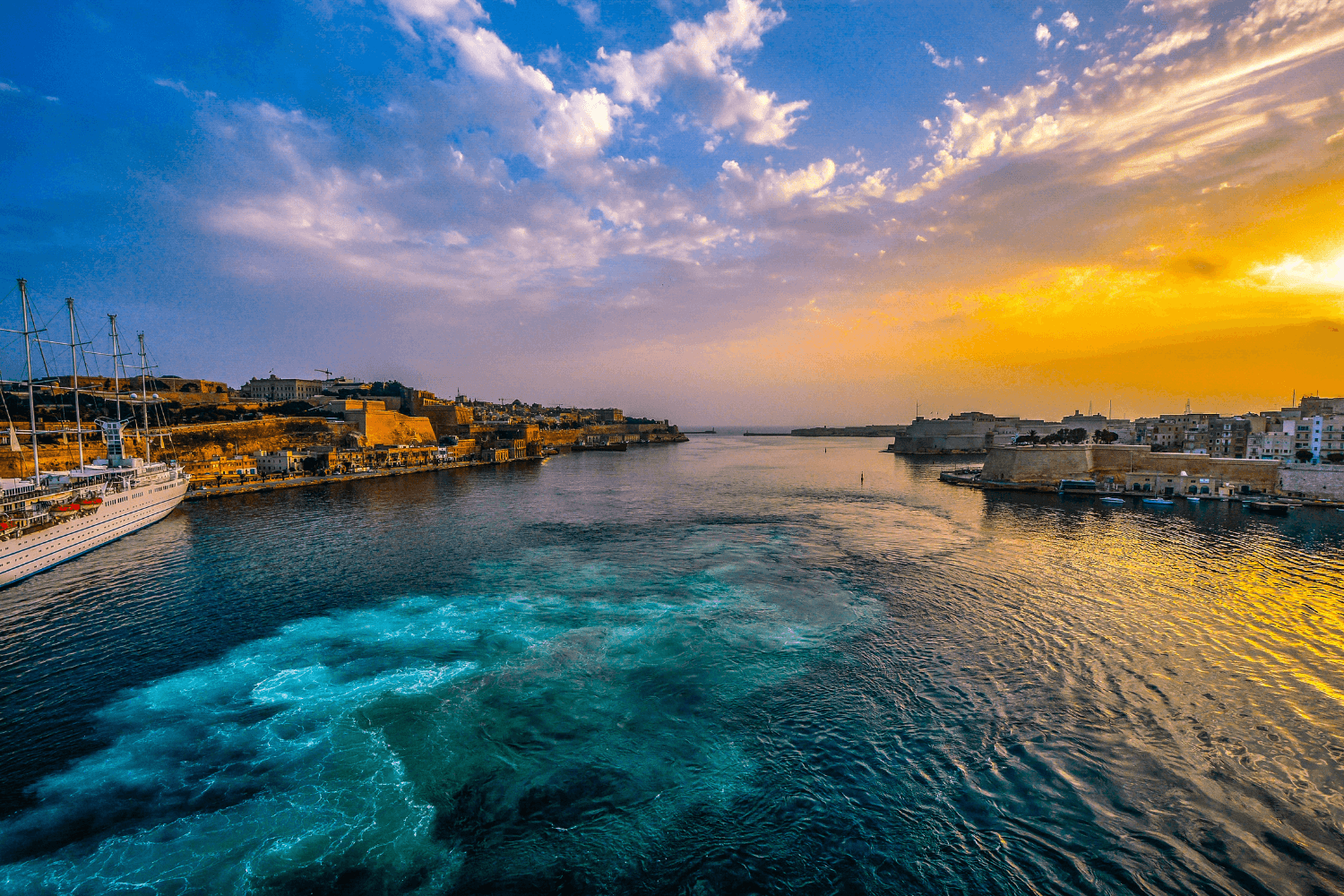 What Should You Pack for Malta?
What you need to pack for Malta will rely highly on when you make your trip there. During the Spring and Autumn months, temperatures and weather patterns vary wildly between beautiful sunny skies and rainy days. During the Summer, you are pretty much guaranteed nice weather with temperatures ranging from 20-35 oC. The hottest months are July and August, so these will be the most popular for a Summer holiday.
During the winter months in Malta, the rain will become more frequent and the temperatures will drop to between 10-20 oc. If you need more inspiration on what to pack for your trip, check out our full packing guides for all-weather conditions over here.
When it comes to toiletries, we recommend that you don't forget to pack sunscreen. The sun in Malta is very strong, especially during the summer months. Apply a lot of suncream regularly to prevent a nasty burn from ruining your trip. We use this specific sunscreen to protect us as it is not as oily and irritating as other sunscreens.
Given the beautiful sights and scenery that you will see in Malta, we highly recommend packing a good camera for your trip. If you want to read more about the cameras we use and why we love them, check out the link below.
You can read what else we keep in our camera bag over here.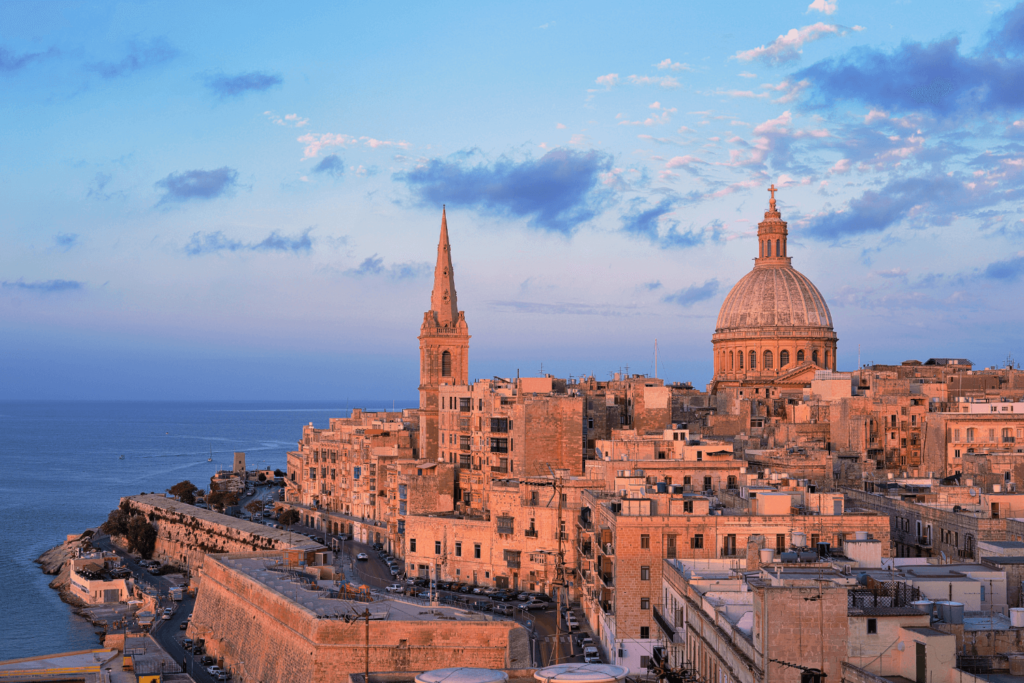 Where to Stay in Malta
Due to how small the island of Malta is, your choice of accommodation is huge. It is up to you where you wish to stay on the island and you can browse all of the top accommodations in Malta on this website. In our opinions, the best location to stay in Malta is in the small town of Sliema, just to the north of Valletta.
Sliema is central on the island, not far from the capital city of Valletta and the nightlife centre of St Julians, and it is also very affordable due to it being outside of these two areas. Here are the top accommodation options that we recommend for all ranges of budget.
Luxury – Even the most luxurious accommodation in Sliema is very reasonably priced, making it the perfect place to stay in Malta. The hotel AX The Palace sits just off the high street of Sliema and features luxuries such as a rooftop infity pool that overlooks the sea, as well as home comforts like AC and free wifi.
Read more about AX The Palace and book you stay right here.
Mid-Range -At the mid-range pricing for Sliema, the Palazzo Violetta Boutique Hotel is the perfect mixture of Malta's beautiful old-style architecture and the modern side of the island. Offering studio apartments that are perfect for two travellers, including a kitchenette and terrace swimming pool, this hotel is the optimum combination of budget abd luxury.
Read more about Palazzo Violetta Boutique Hotel and book you stay right here.
Budget – If you are not bothered with a luxurious place to stay and simply want a comfortable and safe place to rest at the end of the day, then the Roma Hotel is the perfect place for you. This seaside hotel sits overlooking Sliema's seafront promenade and is just a couple of minutes walk away from its rocky beaches. All rooms feature a TV, fridge and tea and coffee making facilities.
Read more about the Roma Hotel and book you stay right here.
If you are more into the hostel scene when you travel, there are an unbelievable number of funky, cheap, and social hostels spread through the country. Browse the full range of hostels that Malta has to offer and book your stay right here.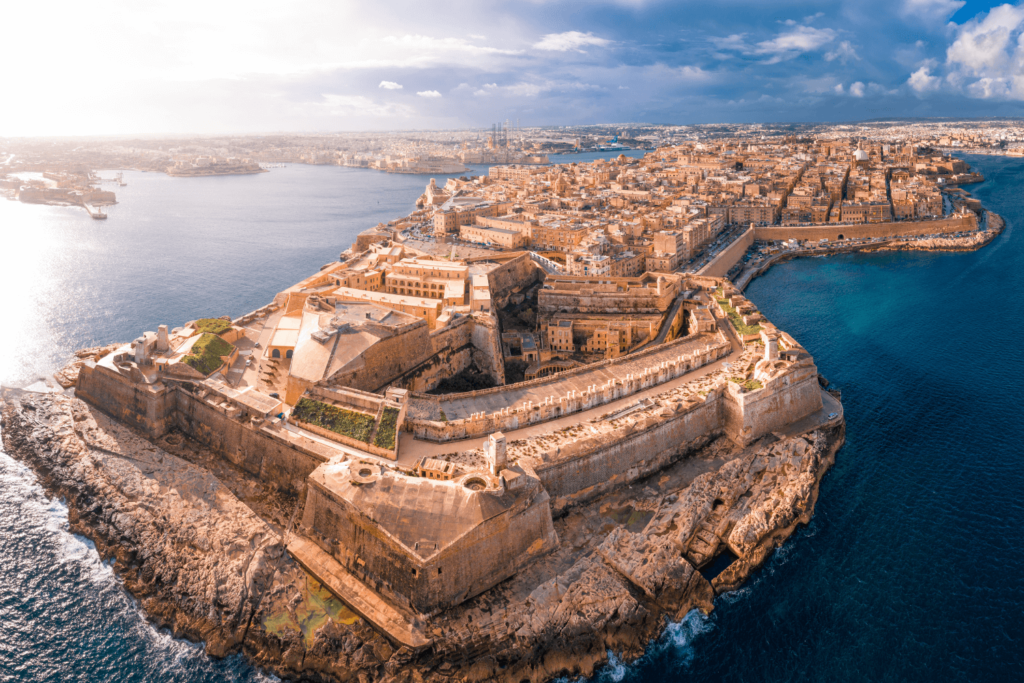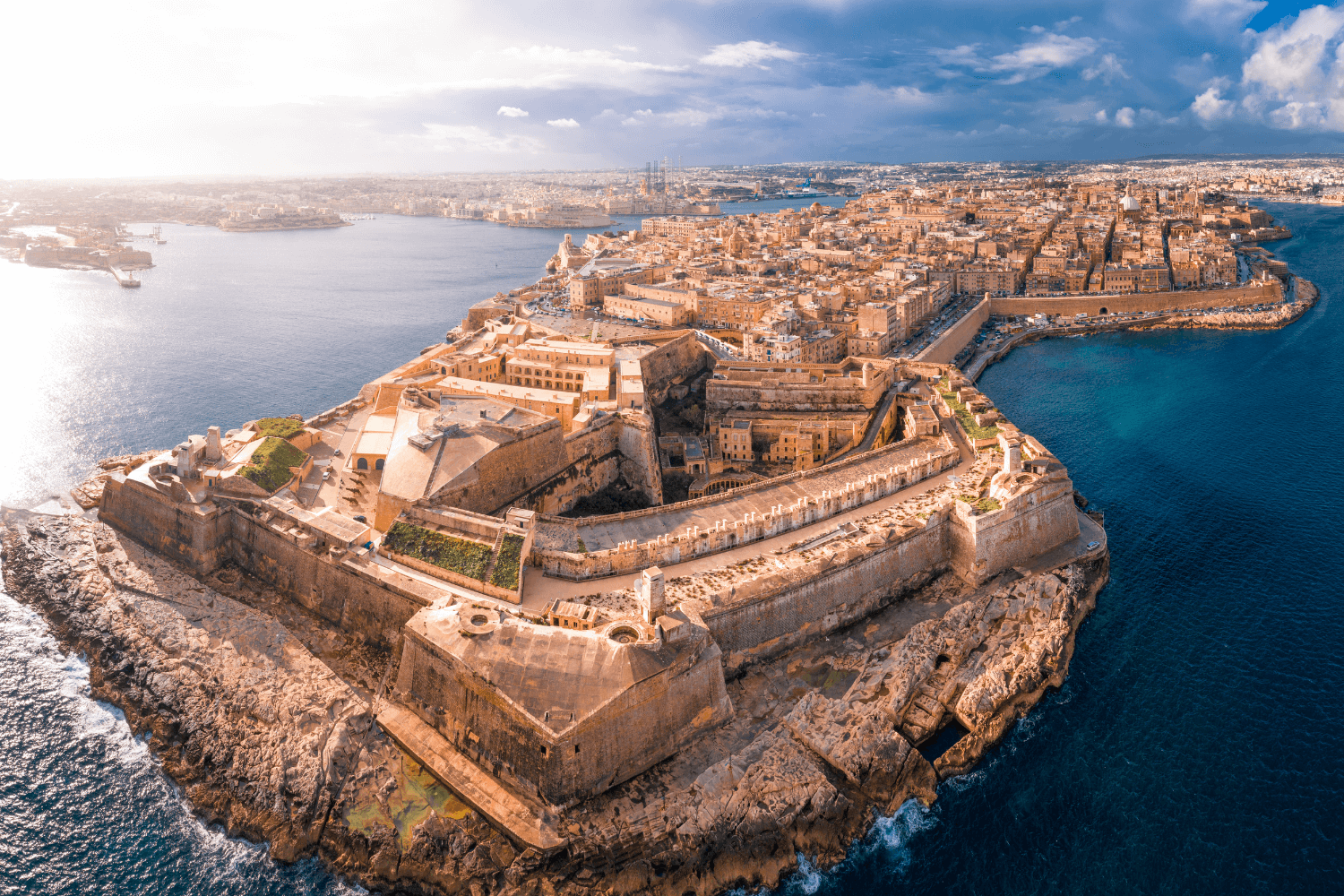 So there you have it, the best things to do in Malta. If you have visited Malta recently, let us know what you thought of it, or if you have any suggestions let us know in the comments below.
As always, sharing is caring so make sure to share this photo guide with your family and friends and inspire them to head off on their own Malta adventure. If you are planning the trip for yourself, make sure you have a look at the rest of our Malta content for more inspiration to our beautiful home country.
When you set off on your own adventure, be sure to tag us in your photos on Instagram and we will share them with the rest of our community. In the meantime, why not follow us over there to see what we are currently up to and keep up with us on our Instagram Stories.
Now Read:
This article may contain affiliate links that provide us with a small income. For more information read our Affiliate page.