Sat in the turquoise-blue Mediterranean Sea is the tropical island of Malta. It is located in between Sicily and the North African coast, with hot weather and blue waters that make it a popular island for tourists especially in the summer months. Malta is a relatively easy travel destination, with flights departing from most UK major airports with around a 3-hour flight time. No matter what your taste of adventure is, you will find plenty of things to do in Malta.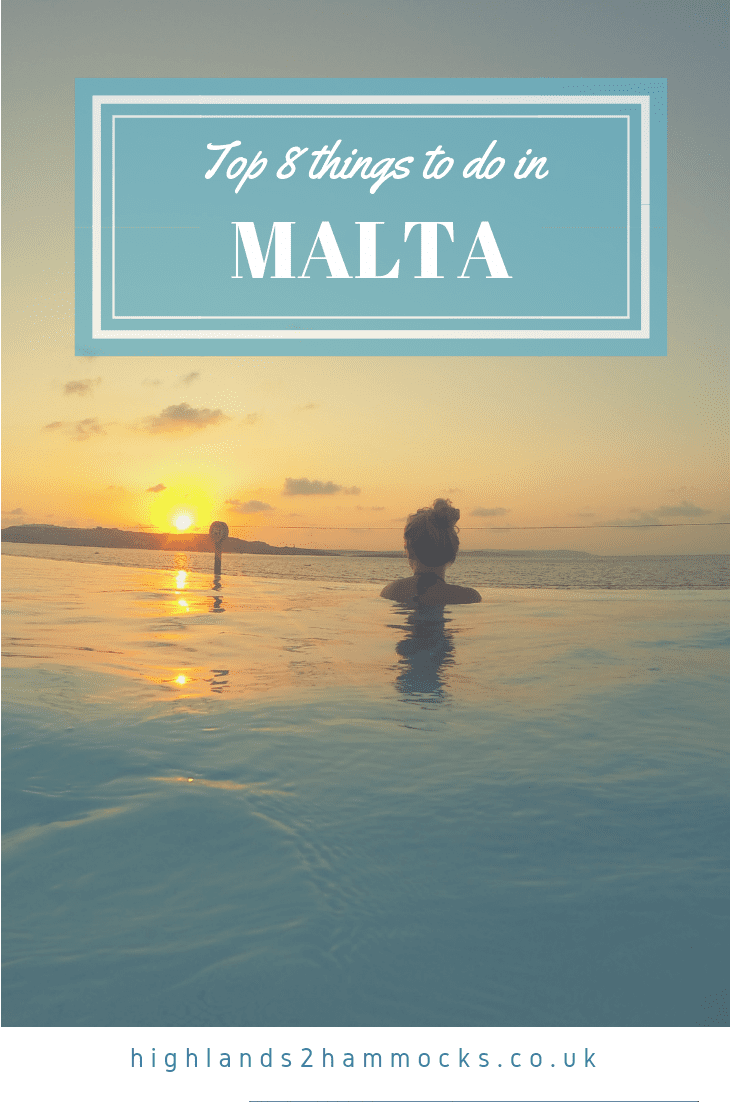 The Maltese islands are an archipelago consisting of three beautiful parts of heaven – Malta itself, Gozo and Comino. It is cheap and easy to island-hop by ferry, and tour tickets can be bought from kiosks on the seafront in Sliema. The ferry leaves from Cirkewwa port every hour and takes approximately 30 minutes to an hour.
We visited Malta for 3 weeks in September 2016 and stayed in Sliema, a pretty central area of the island within close walking distance to endless restaurant options, bus stops and of course the sea! An ideal location we believe as we loved the quiet, laidback vibe and it definitely helped that there were many English-speaking people as we're not very hot on the Maltese language!
The temperature was still high 20's in September with sunshine every day, giving us the gorgeous summer weather, whilst missing the busy holiday period. We have some top highlights of the trip that we want to share.
Top 8 Things to do in Malta
The Blue Lagoon
 The Blue Lagoon which is located just off Comino beach is definitely a must-see during your weekend break in Malta. It is a very popular hotspot for day-trippers with many boats flooding in every day. This shallow crystal-clear water is a paradise for swimming and snorkelling. There are lockers costing around €5 to store your belongings in whilst you swim.
If you're hungry or want a cocktail, kiosks line around the island offering plenty of choice. The blue lagoon's beauty attracts many tourists daily which unfortunately means it is very crowded and near enough impossible to get a deck chair (which you also need to pay for).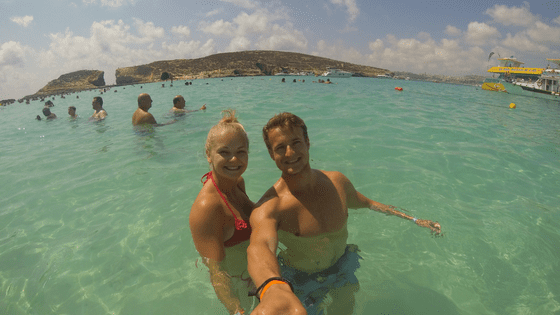 Mellieha Bay
Mellieha Bay was another one of our favourite day trips, with regular and reliable buses from Malta that stop at most tourist destinations. It only took us around 30 minutes to get here from Sliema. The buses do tend to be very busy though so prepare to stand for some if not all of your journey! If you are going to be a regular bus traveller you can buy a 12-trip card for €15!
Many people speak English in Malta so it's easy enough to ask about the different deals you can buy. Mellieha Bay is the longest Beach in Malta and also offers a variety of water sports. We decided to spend a day of relaxing when we came here, sunbathing, reading and a bit of swimming every now and then to cool down!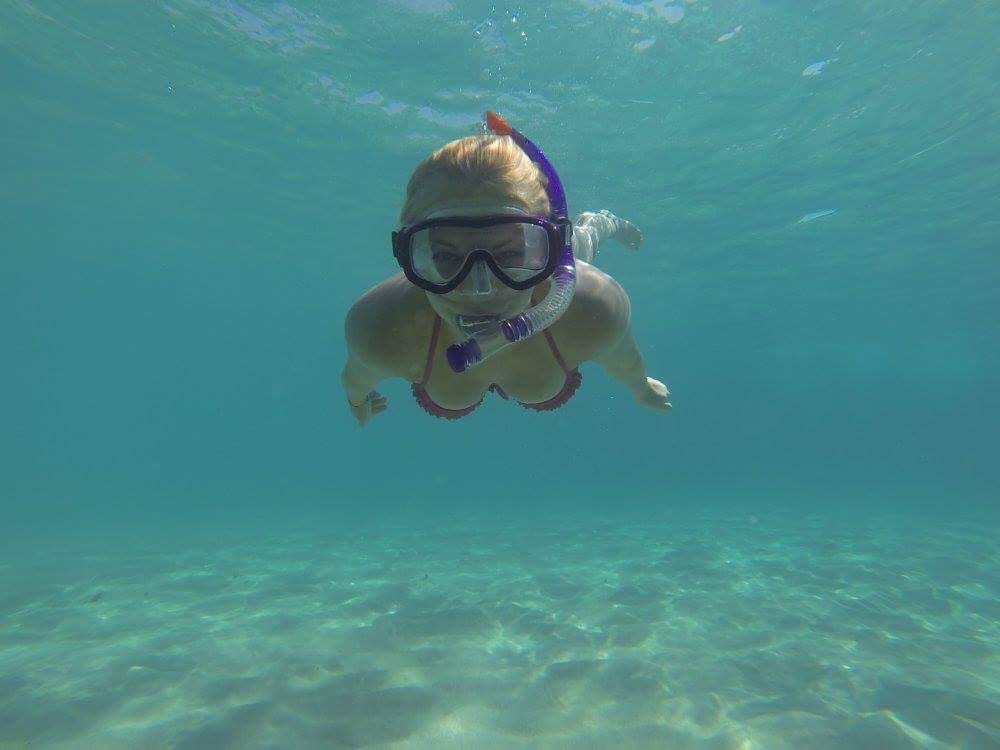 Festival Vibes
Every Sunday a different area will hold what is known as a festa (religious feast). This is a village celebration that involves lots of fireworks, food, drink, dancing and lots of music and costumes! This is a great way to enjoy the local traditions.
We arrived in Malta on a Sunday and it just so happened that when we headed out that evening it was the Sliema festival! There were roads closed off and bands marching up and down the streets, fireworks and loads of pop up bars selling cheap cocktails! We thought that this was normal and went out the following night expecting it to happen again.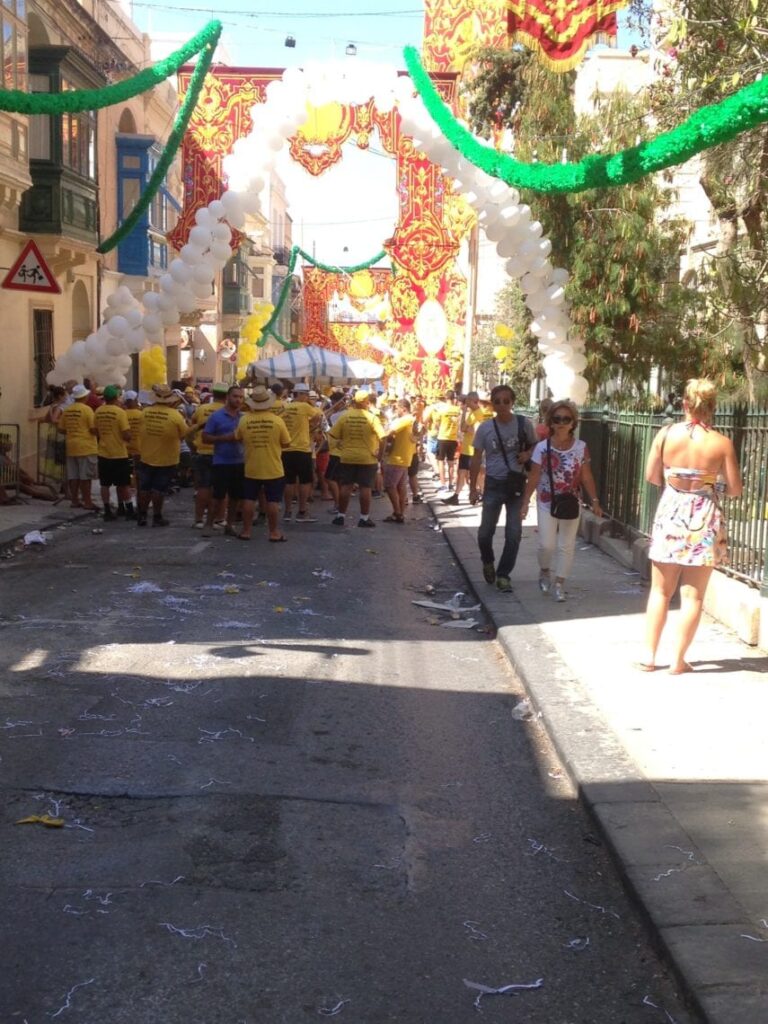 San Julian
San Julians (home to Paceville) could be described as the party town of the island. With lots of restaurants, bars, clubs, loud music, bright lights and many happy hour deals we enjoyed a few nights here if we had the energy left at the end of the day. A walkable distance along the Sliema sea front and you could even bar crawl your way there!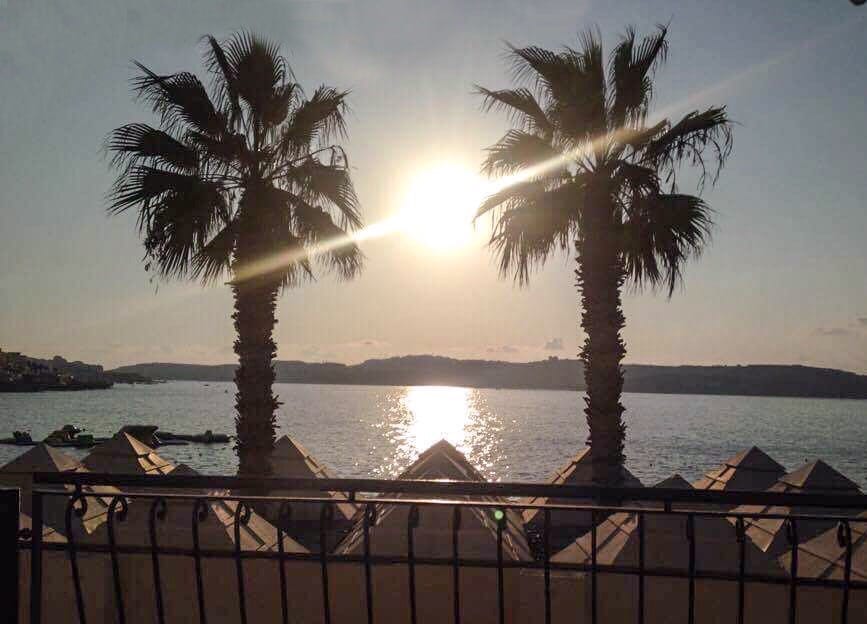 Valletta
Valletta is Malta's capital city (strangely one of its smallest cities!) and holds much of the islands history. It isn't even the largest city in Malta. This picturesque city has lots of options for eating out or even just going for a hot drink or an ice cream. The upper Barrakka gardens is a beautiful spot to enjoy views of the Grand Harbour, the three cities; Birgu, Cospicua and Senglea. This peaceful spot is the highest point in Valetta and away from all the hustle and bustle below and admire the colourful gardens.
The Upper Barrakka lift links the gardens with the city centre, a round trip costs €1 and it is definitely the quickest way into the city from Valetta's waterfront. Twinned with the upper Barraka gardens, a 15-minute walk away, is the lower Barraka gardens. A less well-known setting which offers a relaxing setting to sit and watch the ships entering and leaving the harbour.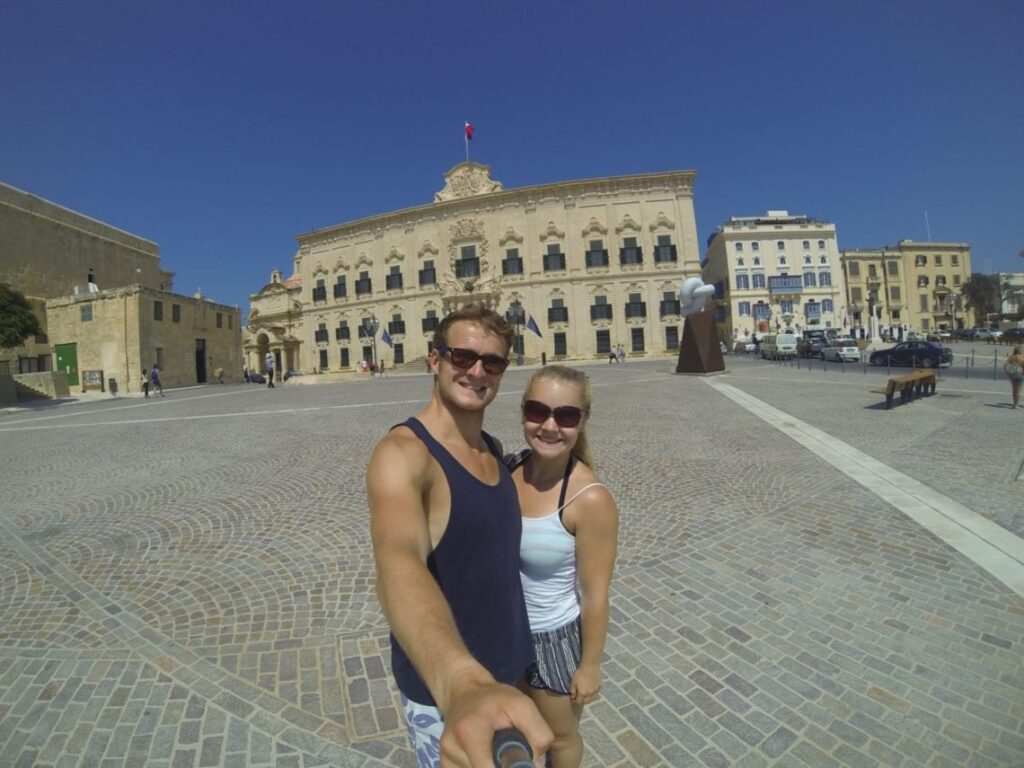 Life is Better by the Sea
There aren't many sandy beaches in Malta however this comes with loads of opportunity for pier jumping! Many areas in the sea are roped off to allow swimmers to swim safely. I would advise you wear your swimwear everywhere you go as a jump in the sea is very tempting in that midday heat! There's also lots of opportunities to go diving whether you're a beginner or advanced. There are wrecks to see further out however we only went for a short dive so unfortunately didn't get a chance to see it.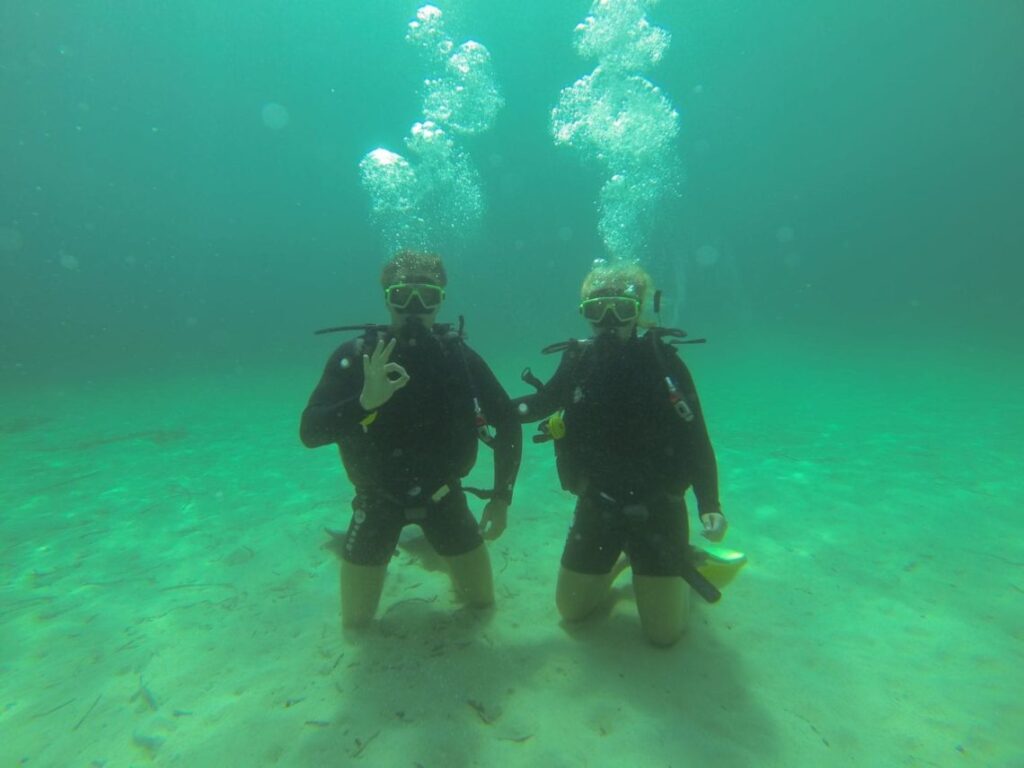 Gozo Day Trip
On our trip to Gozo we spent an amazing day travelling round on the open top bus and hopping off at our preferred destinations. Azure window was definitely our highlight on this day. Sadly, this beautiful natural arch has now collapsed due to erosion. However, I have heard that this is now a very attractive dive site with marine life already beginning to live amongst the collapsed rock. Gozo is also home to some beautiful beaches and small towns.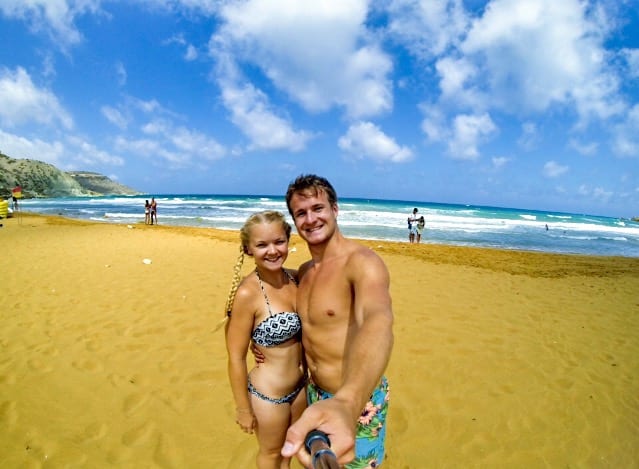 Sunset at Café del Mar
Last but not least our favourite highlight definitely has to be the sunsets at Café del Mar. During the day, you need to pay entry and pay for a sun lounger (drinks aren't the cheapest either!).
However, if you visit after 6pm then entrance is free and all you need to do is buy a drink. The stunning infinity pool gives some cracking photos of Malta's beautiful sunset. This is definitely one of Malta's best-hidden gems and is something that we recommend you check out during your visit to Malta.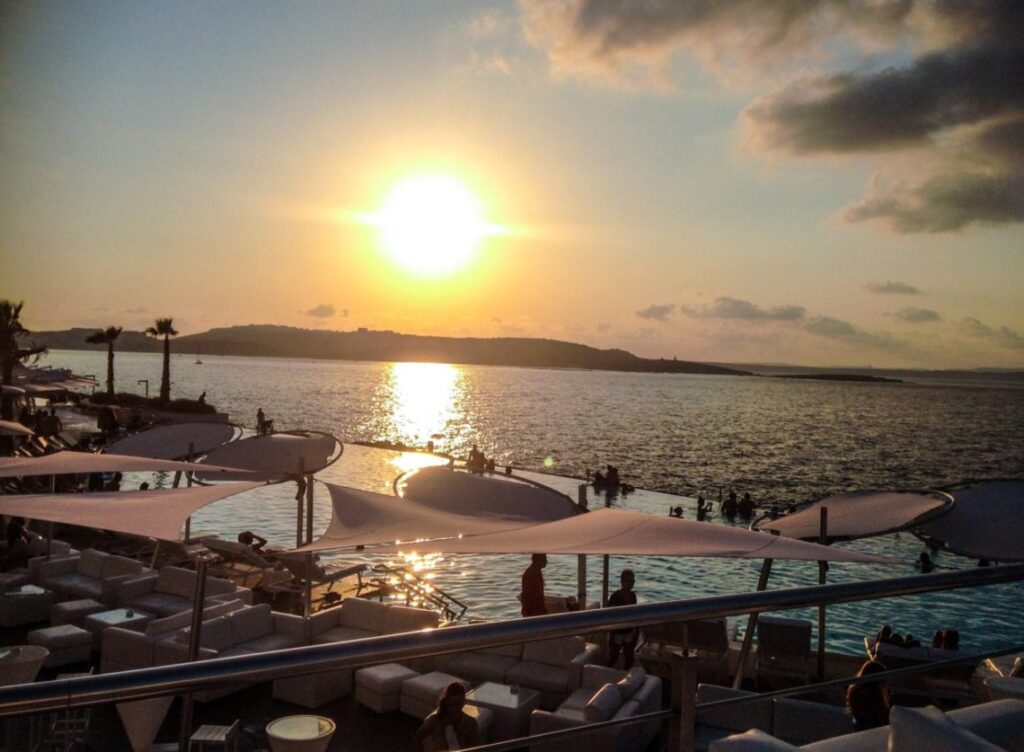 How to Prepare for Your Visit to Malta
Before you set off on your trip to Malta, there are a number of things you will need to organise to ensure a smooth and successful trip. These include what to pack for Malta and what is the best travel insurance for your trip. Both of these will be discussed in the following section.
What is the Best Travel Insurance for Malta
Regardless of what type of trip you are heading on, one thing that is essential for everybody is good travel insurance. Accidents can happen anywhere and at anytime and unexpected hospital bills will ruin a holiday. Remove the stress from your next adventure and get covered for the worst.
World Nomads Travel Insurance provides budget reliable travel insurance that will keep you covered for any level of adventure.
You can get your quote before you leave on your trip right here.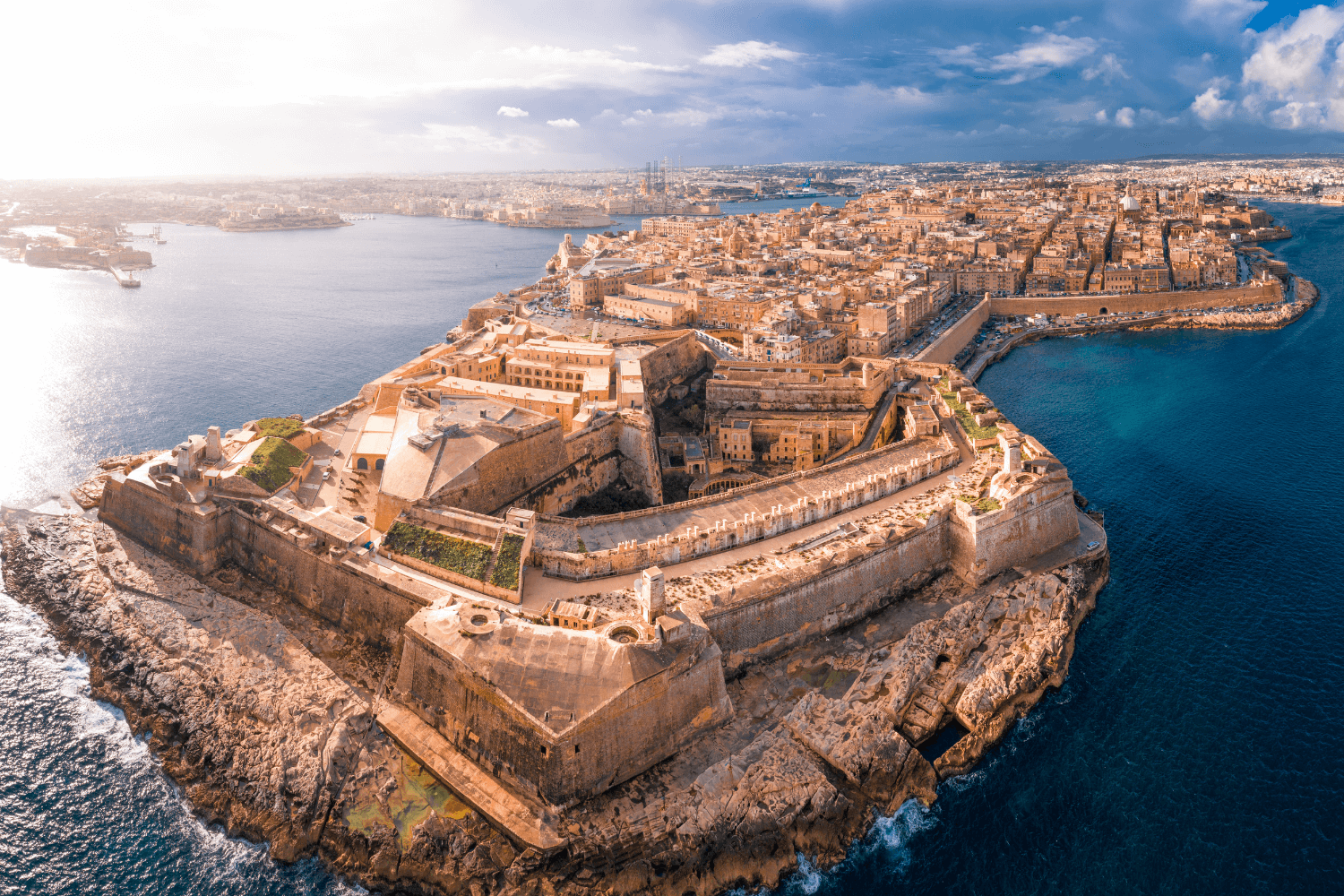 What Should You Pack for Malta?
What you need to pack for Malta will rely highly on when you make your trip there. During the Spring and Autumn months, temperatures and weather patterns vary wildly between beautiful sunny skies and rainy days. During the Summer, you are pretty much guaranteed nice weather with temperatures ranging from 20-35 oC. The hottest months are July and August, so these will be the most popular for a Summer holiday.
During the winter months in Malta, the rain will become more frequent and the temperatures will drop to between 10-20 oc. If you need more inspiration on what to pack for your trip, check out our full packing guides for all-weather conditions over here.
When it comes to toiletries, we recommend that you don't forget to pack sunscreen. The sun in Malta is very strong, especially during the summer months. Apply a lot of suncream regularly to prevent a nasty burn from ruining your trip. We use this specific sunscreen to protect us as it is not as oily and irritating as other sunscreens.
Given the beautiful sights and scenery that you will see in Malta, we highly recommend packing a good camera for your trip. If you want to read more about the cameras we use and why we love them, check out the link below.
You can read what else we keep in our camera bag over here.
Where to Stay in Malta
Due to how small the island of Malta is, your choice of accommodation is huge. It is up to you where you wish to stay on the island and you can browse all of the top accommodations in Malta on this website. In our opinions, the best location to stay in Malta is in the small town of Sliema, just to the north of Valletta.
Sliema is central on the island, not far from the capital city of Valletta and the nightlife centre of St Julians, and it is also very affordable due to it being outside of these two areas. Here are the top accommodation options that we recommend for all ranges of budget.
Luxury – Even the most luxurious accommodation in Sliema is very reasonably priced, making it the perfect place to stay in Malta. The hotel AX The Palace sits just off the high street of Sliema and features luxuries such as a rooftop infity pool that overlooks the sea, as well as home comforts like AC and free wifi.
Read more about AX The Palace and book you stay right here.
Mid-Range -At the mid-range pricing for Sliema, the Palazzo Violetta Boutique Hotel is the perfect mixture of Malta's beautiful old-style architecture and the modern side of the island. Offering studio apartments that are perfect for two travellers, including a kitchenette and terrace swimming pool, this hotel is the optimum combination of budget abd luxury.
Read more about Palazzo Violetta Boutique Hotel and book you stay right here.
Budget – If you are not bothered with a luxurious place to stay and simply want a comfortable and safe place to rest at the end of the day, then the Roma Hotel is the perfect place for you. This seaside hotel sits overlooking Sliema's seafront promenade and is just a couple of minutes walk away from its rocky beaches. All rooms feature a TV, fridge and tea and coffee making facilities.
Read more about the Roma Hotel and book you stay right here.
If you are more into the hostel scene when you travel, there are an unbelievable number of funky, cheap, and social hostels spread through the country. Browse the full range of hostels that Malta has to offer and book your stay right here.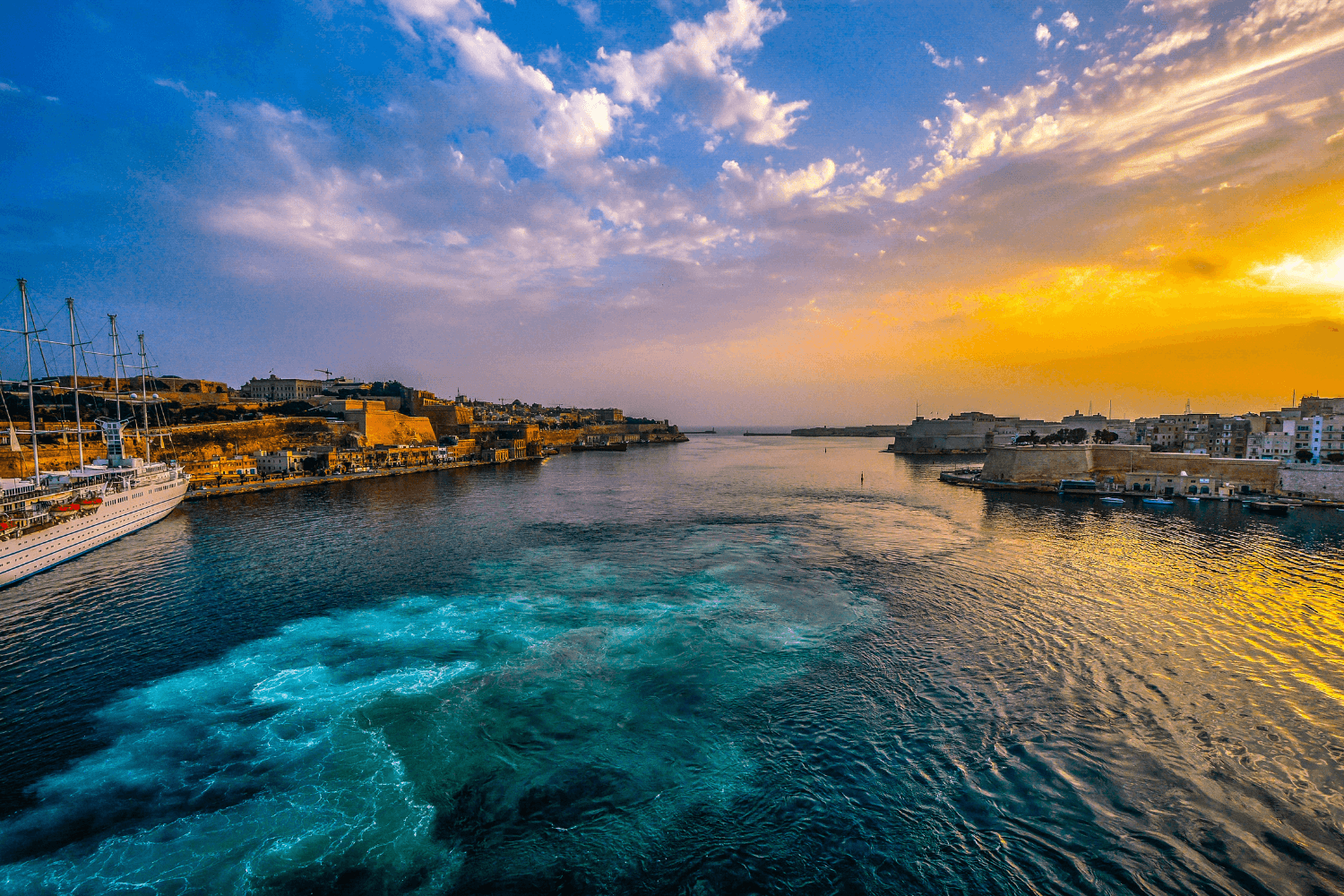 With this, we come to the end of this guide to the best things to do in Malta. Doesn't matter whether you have 2 days or a week in Malta, the fact is, some things might be left as unexplored (considering the compelling charm of the island) on your trip to Malta.
But that's the life of a globetrotter, right? Well, with that being said, wherever you go or whatever you do in Malta, make sure to make the most out of it in order to create memories to cherish for a long time. 
If you have visited Malta, let us know what you thought of the sights listed above, or if you have any suggestions let us know in the comments below.
As always, sharing is caring so make sure to share this travel itinerary with your family and friends and inspire them to head off on their own Maltese adventure. If you are planning the trip for yourself, make sure you have a look at the rest of our Malta content for more inspiration to our beautiful home country.
When you set off on your own adventure, be sure to tag us in your photos on Instagram and we will share them with the rest of our community. In the meantime, why not follow us over there to see what we are currently up to and keep up with us on our Instagram Stories.
Read Now:
This article may contain affiliate links that provide us with a small income. For more information read our Affiliate page.
---
Save this to your Malta Pinterest board for later