So, Brussels it is! Indeed, a great choice! When it comes to exploring Belgium tourism, there is no better place than the capital city of Brussels, which offers you different facades to experience and explore. 
This easy-going capital city and the administrative hub of the European Union is known for its magnificent cathedrals, unique museums, grand facades, the stunning Atomium, and, obviously, the world-famous Belgian chocolates. 
But don't dare to think that tourism in Brussels is just restricted to all these. Instead, be ready to get surprised by the unparalleled beauty, rich history, and culture at any point of your trip. 
Undoubtedly, there is a lot to see, explore, and experience in the city of Brussels. And one of them is the beer culture. Yes, Belgium is home to the greatest beer tradition in the world, and that can be easily seen in Brussels. 
With that being said, we present you with this ultimate guide on things to do in Brussels in one day to ensure that you enjoy a hassle-free, fun time in the capital city of Belgium. 
So, here we go!
No time to read now? No problem, save a pin to your Pinterest board for later!
Things to Do in Brussels in One Day
There are so many great things to do in Belgium and visiting Brussels in one of them. This one day itinerary will keep you busy seeing all of the best sights to see in Brussels.
Where to Stay in Brussels

Best Time to Visit Brussels

Quick Tips For Your One-Day Trip in Brussels
Things to Do in Brussels in One Day
Grand Place
Brussels Town Hall
St Michael and St Gudula Cathedral
Mannekin Pis
Shopping at Galeries Royales Saint-Hubert
Enjoy some delicious waffles
Marolles Flea Market
Mont de Arts
Belgian Fries and Beer
Before You Leave for Brussels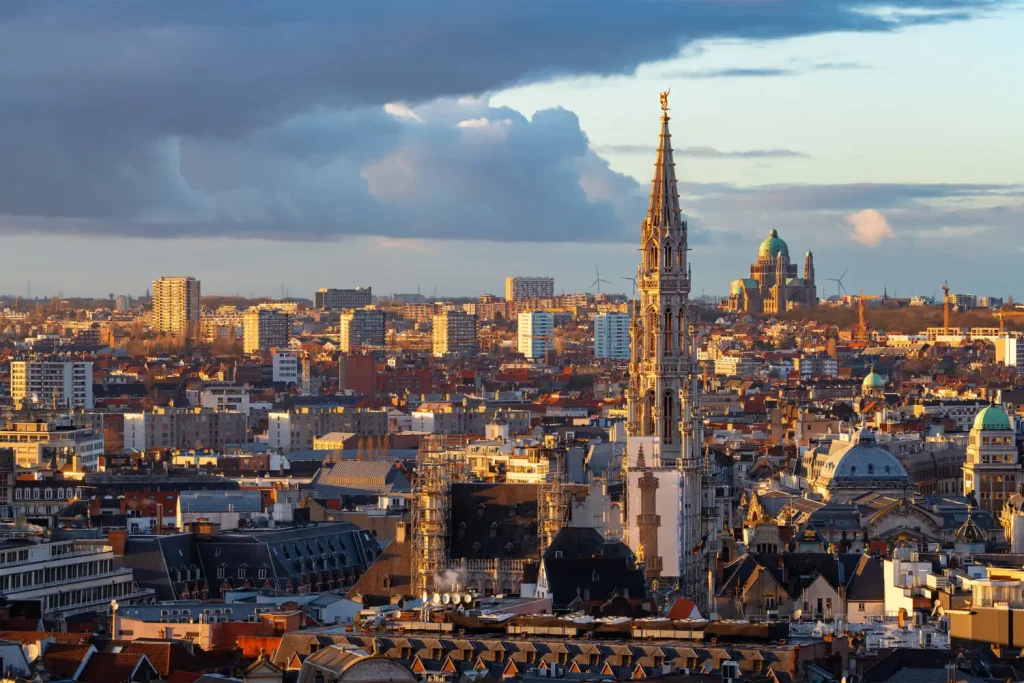 Best Time to Take Brussels One-Day Trip
Brussels is a year-round destination which means you can plan your day trip any time of the year. And just because of that fact, we'll give you some different reasons to help you plan your Brussels one-day trip in the season of your choice. 
Brussels hosts different markets and festivals for locals and tourists. Here are some key highlights of Brussels tourism:
Ommegang:

Hosted in the month of June, the Ommegang festival can best be described as straight out of the Rennaisance and features folk games, jugglers, and puppet performances. 

Zinneke Parade:

This festival is observed in the month of May. It is a multi-cultural event for Brussels people and also features amazing performances by locals. 

Flower Carpet:

In the month of August, Flower Carpet blooms up the charm of the city. It is an ephemeral show held on the beautiful square of the Grand Palace. 

Christmas Market:

This is probably the most vibrant and happening time of the year in Brussels. The Grand Palace also hosts one of the best Christmas Markets that also features traditional stalls, food, and wine.
Quick Tips For Your One-Day Trip in Brussels
Brussels Zaventem is the airport of Brussels which is located in the northeastern part of the city. From the airport, downtown is located some odd 15 kms, and hence, you need to take a taxi, bus, or train to reach there. 

The city of Brussels is also well connected via rail and road networks in Europe. From Brussels, there are high-speed trains to neighbouring countries such as Netherlands and Amsterdam. 

The bus network of Brussels is also quite vast. STIB Airport Line takes you from the airport to other parts of the city. 
Things to Do in Brussels in One Day
Now, let's unveil the list of top things to do for an amazing time in Brussels. 
This has to be the first tourist site you should explore in Brussels. Wondering why? Well, Grand Place is a UNESCO World Heritage Site in Brussels. Yes, now you know the importance of this famous tourist landmark in Brussels. 
Located in the downtown city, Grand Place is the busiest square in Brussels and includes all the important architectural landmarks. It is basically the downtown of the city, and hence, there is a tactical reason to visit Grand Place first. 
You must include Grand Place on your Brussels sightseeing in one day tour to admire the beautiful architecture of this historical building. This public square oozes history, stunning architecture, and the majestic flower carpet (twice a year). 
This tourist site sums up the vibe of Brussels and is engirdled by guild houses, locally known as Gildehuizen. Apart from exploring the architecture, Grand Place is also a prominent site to enjoy a drink or have some delicious food. 
The stunning historical building enhances the charm of this cobblestone square and features intricate stonework, baroque gables, and gold ornated decoration. Apart from that, you can also explore the mesmerizing flower market, which is observed thrice a week.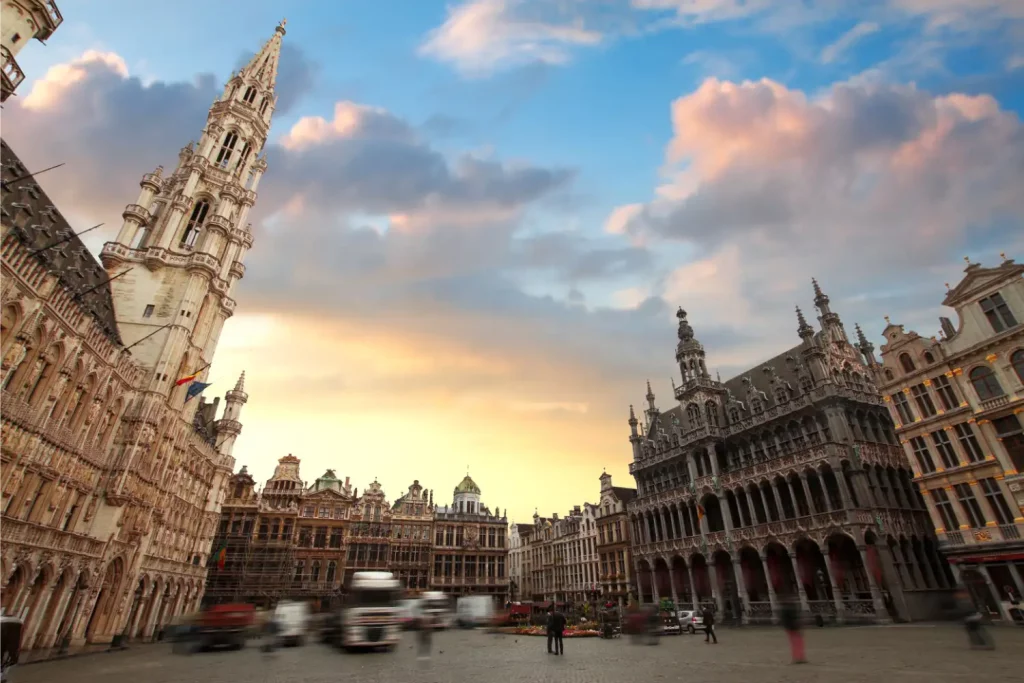 In the vicinity of the Grand Place, the Town Hall is another renowned tourist landmark to explore in Brussels. It is the only surviving medieval building that is still intact in its original form at the Grand Palace. 
There are parts of the Town Hall that still serves as municipal offices. Adding to the beauty of this historical building is the bell tower. If we talk about the history of this architectural marvel, well, it was built in stages in the 15th century. 
Being one of the most spectacular buildings in the city, the Town Hall also boasts grand rooms displaying unrivaled magnificence. And about its architecture, well, it is a beautiful Gothic style with an impressive facade adorned with sculptures. 
Besides, the opulent interior is another key highlight that will make you awe-struck. The Town Hall is also a prominent venue that hosts various free concerts and looks stunningly gorgeous at night when it lits up.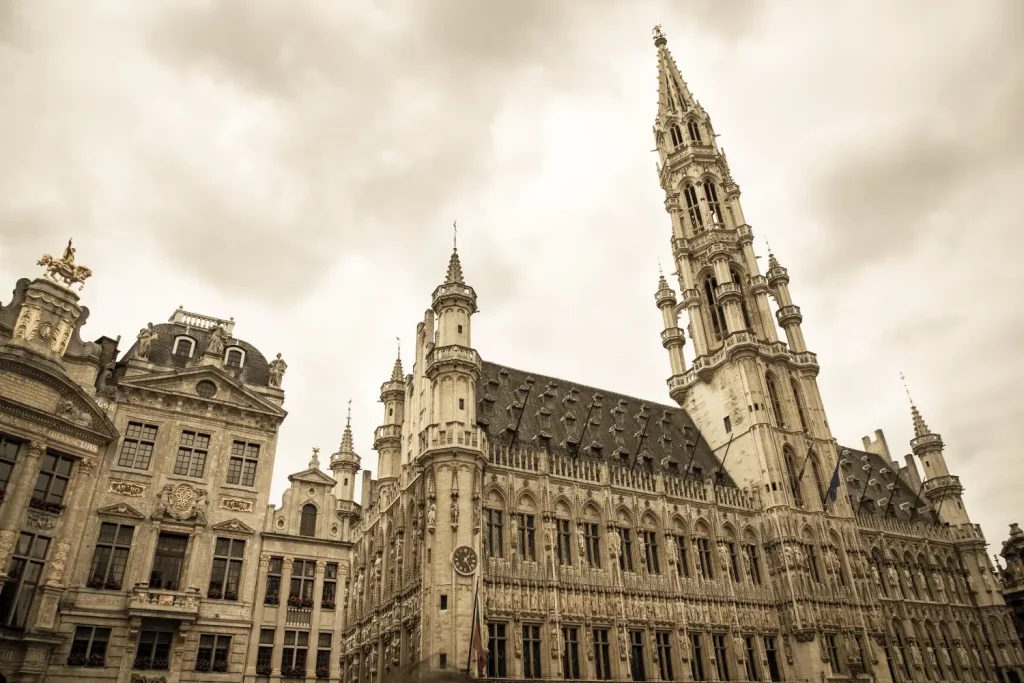 St. Michael and St Gudula Cathedral 
Another popular tourist landmark in central Brussels is the twin cathedrals of St. Michael and St Gudula. These are Roman Catholic churches that co-exist and have a huge sacred significance in the hearts of locals. 
The cathedrals are dedicated to the patron saints of Brussels. Apart from that, these cathedrals are also known for their Gothic-style architecture, which is nothing less than poetry in stone.. An interesting historical fact related to this tourist site is that it took 300 years to be built. 
Apart from the exterior, the interior is equally appealing, with baroque-style pulpits and marble alabaster altarpieces. It also has stained glass windows that date back to the 16th century. 
We highly recommend you spend an hour here admiring the intriguing architecture and reading up on the history while soaking in the peaceful and spiritual ambience.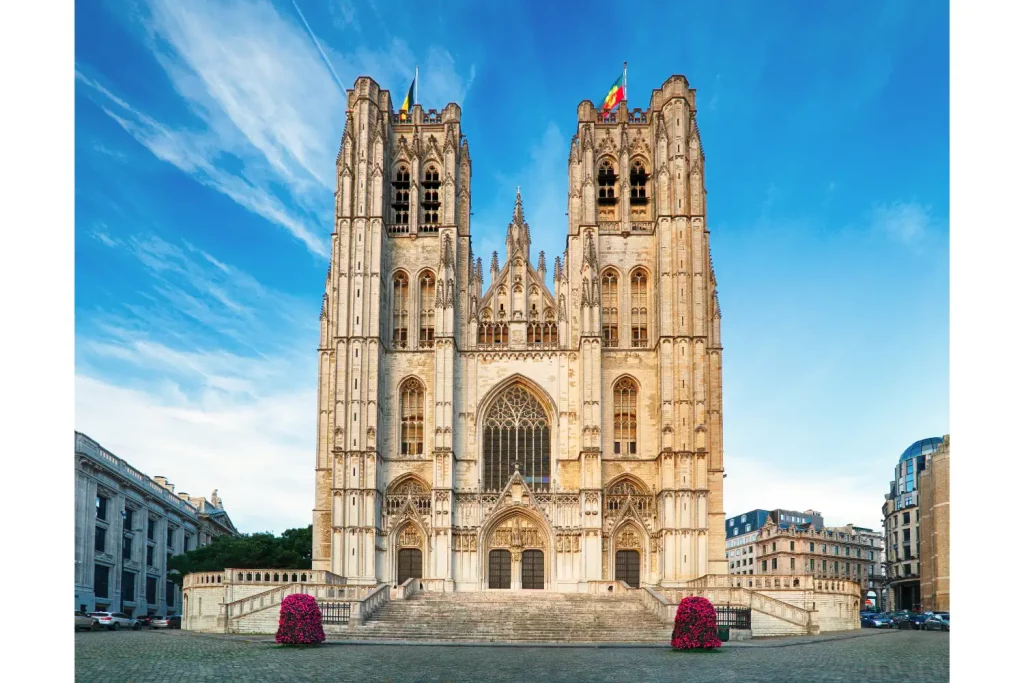 Some 900 meters west of St. Michael and St Gudula Cathedral, Mannekin Pis is another popular tourist landmark in Brussels. There are high chances that you must have already heard of it. 
Mannekin Pis is a bronze sculpture of a small boy urinating in the fountain. Yes, that is a famous tourist site in the city. However, it is not the original sculpture. The one which was first built is now displayed in Brussels Museum. 
The reason why this quirky sculpture has so much popularity is that it serves as the embodiment of Belgian rebellious spirit and humour. Another interesting fact about this tourist site you must know is that it has more than 900 costumes. The sculpture is dressed up from his wardrobe a couple of times a year, especially on those special occasions. 
Since this tourist landmark does not take much time to explore, you can easily cover it while on your way to your next destination.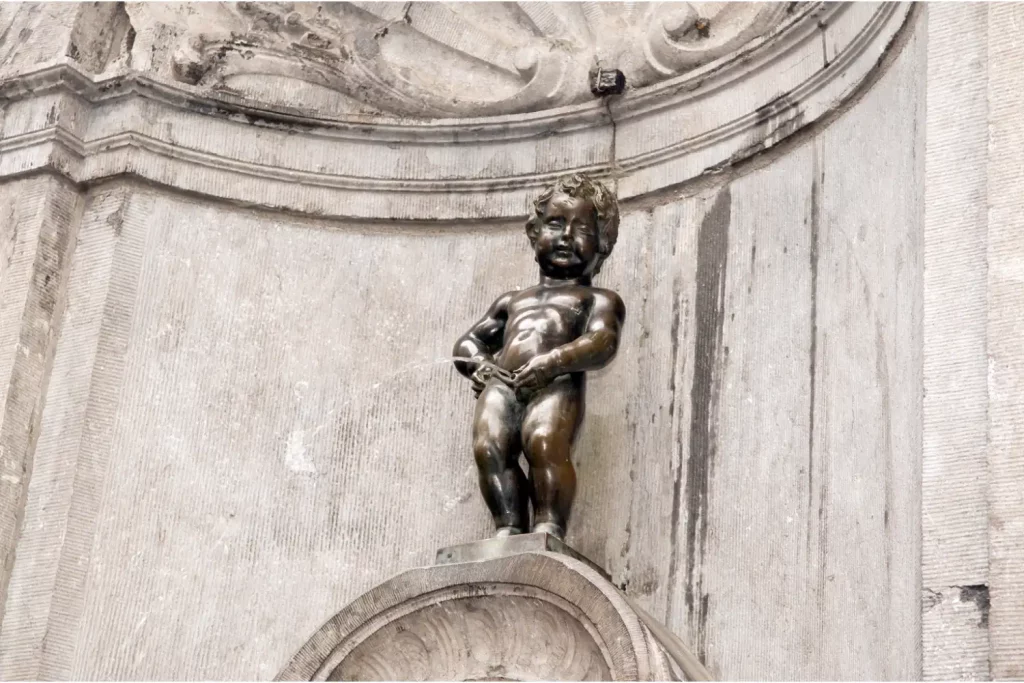 Shopping at Galeries Royales Saint-Hubert
As we always say, no shopping is ever completed without some shopping. And when you are in Brussels, there are plenty of amazing opportunities to shop and splurge. One of the prominent shopping destinations in Brussels is Galeries Royales Saint-Hubert. 
The reason why you should go shopping here is because of the fact that it is Europe's first covered shopping arcade. Interesting, isn't it? This entire arcade is designed by Jean -Pierre Cluysenaer between 1846 and 1847. 
There are the King's Gallery, the Queen's Gallery, and the Prince's Gallery as the spots to go on a shopping spree. But apart from shopping, this place is also a great photography spot because of the beautiful internal passages.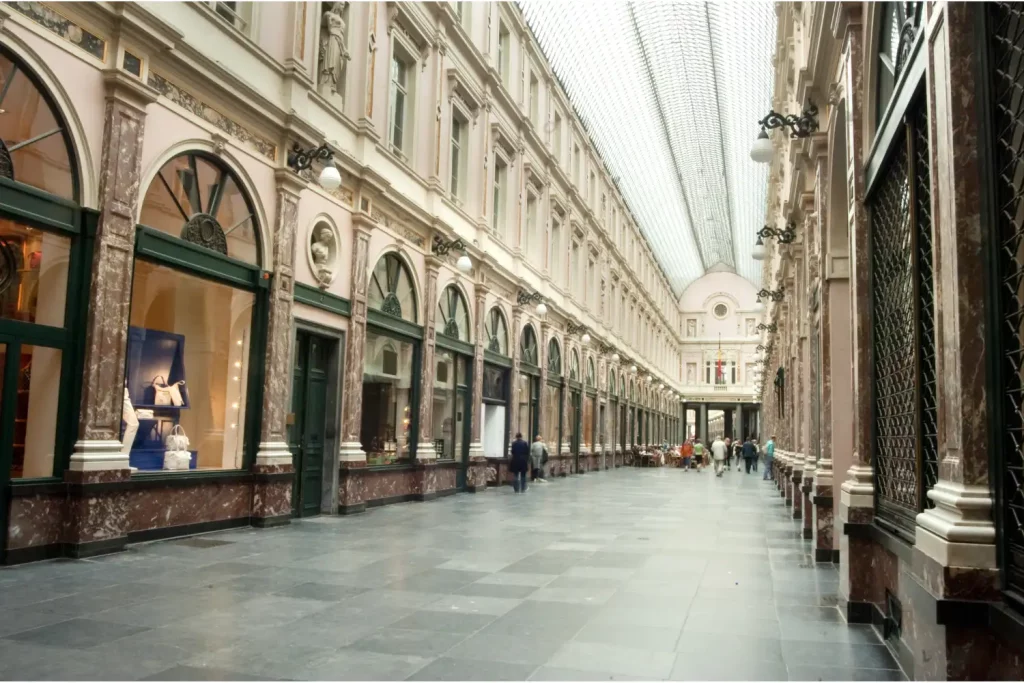 Enjoy Some Delicious Waffles 
After a heavy shopping tour, it is a must to fuel yourself up. And what could be a better way than savouring the delicious waffles – the staple of Belgium or fries? Waffles in Brussels are different from what you have had in other parts of the world. 
In case you don't know, it was Maurice Vermersch of Brussels who introduced waffles. Compared to what you get in other parts of the world, waffles in Brussels are all about lighter batter, deeper pockets, and larger squares. 
There are plenty of places in Brussels that serve this delicious food item. But when it comes to the best place to have them, Maison Dandoy is one of them.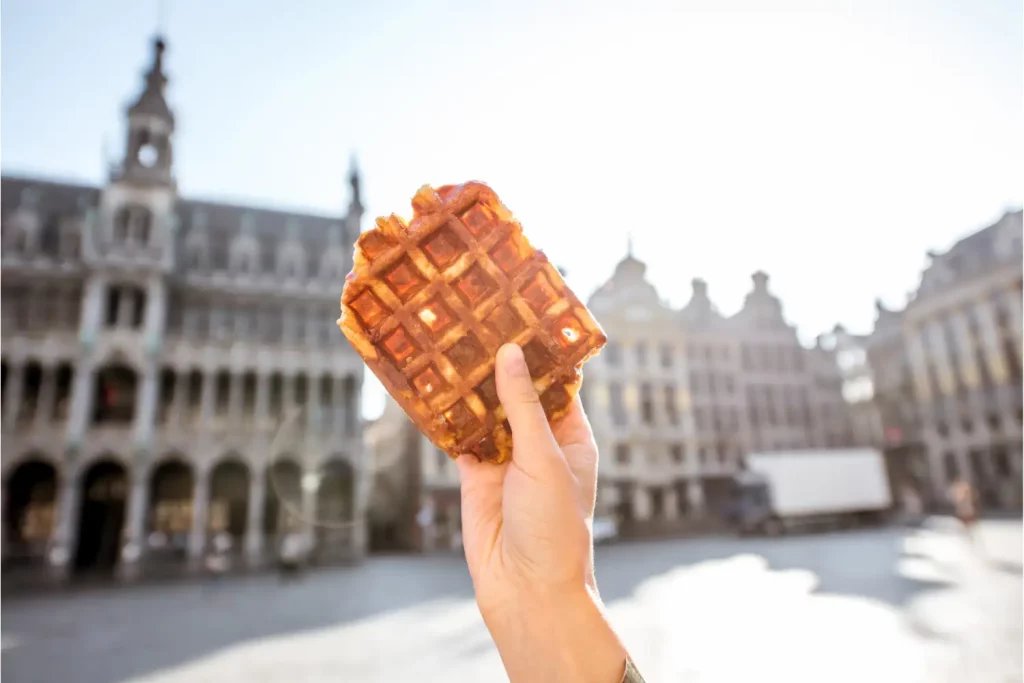 Yes, we're giving you another option to shop if Saint-Hubert isn't what you are looking for on your shopping tour in Brussels. As the name itself says, it is a flea market situated at Place de Jeu de Balle. Marolles Flea Market is another place that has huge historical importance in Brussels tourism. 
It was once also referred to as the "Old Market" and was supposed to serve as the playing field for players of "belle pelote" However, today, it is an important market featuring more than 450 merchants. 
Here at this market, you can expect to see some vintage items on sale. You would definitely want to pick some to bring home in order to enhance the interior of your home. 
Mont de Arts can be understood as a beautiful little hill that houses as many as 10 museums. Not only this, but it also has a surreal vibe which just adds up to the charm of this beautiful place. 
And if you are one of those avid museum lovers, then Mont de Arts has to be that one place on your Brussels itinerary. You can admire and explore everything that the city offers to its visitors. 
You can just sit here and just enjoy the street performances for a lovely time here. Besides, you can also visit some of those interesting museums here, Magritte Museum and Musical Instruments Museum being the two most popular choices amongst tourists. 
Despite being known as a tourist site for museum lovers, this place also offers an amazing opportunity to capture panoramic city views. We recommend you visit this tourist site in the evening during the sunset time. It is the time when you can capture some picture postcard-worthy clicks while witnessing a gorgeous sunset.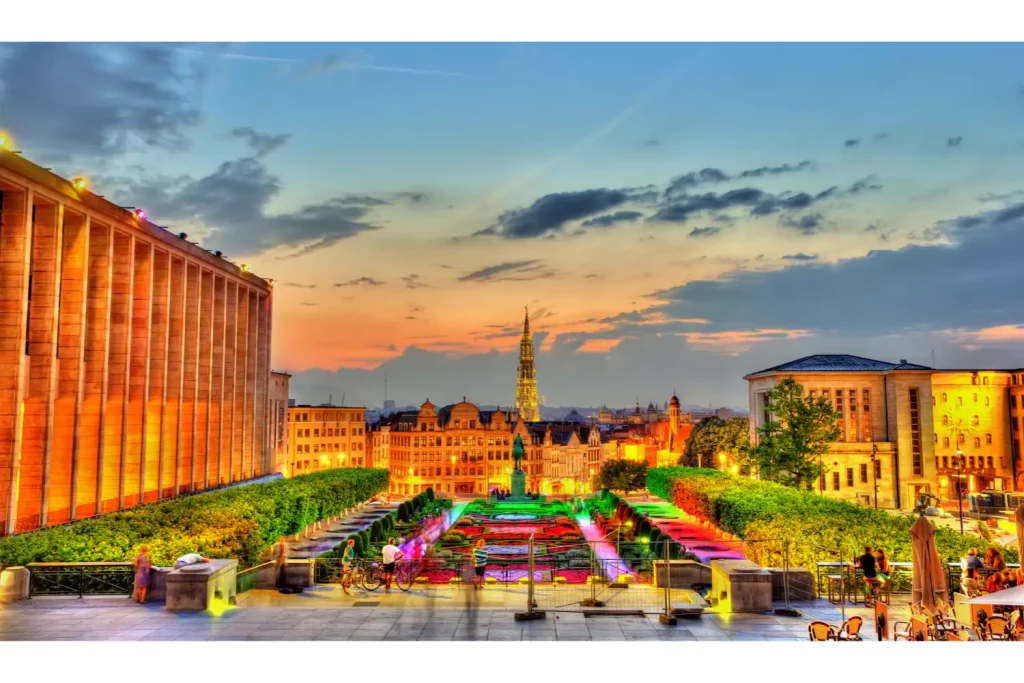 Sum Up the Day With Some Belgian Fries and Beer
It's not just the Belgian waffles that are world-famous, Belgian fries are equally popular globally. And when you are in Brussels, you must try them as they are unique from what you have been eating till now. 
Brussels is one such country that has always been large on food. Apart from the waffles and fries, Belgium is also popular for its vibrant beer culture. Belgium fries and beer are two absolute best things you can't afford to ignore while on a food tour in Brussels. 
For a snack as simple as fries, it is quite hard to explain the taste. So, we recommend you just order them and experience the difference yourself. Put some sauce on them, and here you go! Yum! Some of the popular places in Belgium where you can enjoy authentic fries are Maison Antoine, Friterie du Miroir, and Place Flagey: Fries Food Truck. 
On the other hand, a lot of tourists visit Belgium just to be a part of its amazing beer culture. There are even various breweries in Brussels where you can visit and go for beer-tasting tours. Here you can also learn about the process of brewing with guided tours.  
If you are a beer connoisseur, then you must know that Belgium beers include lambic beers, amber ales, ales, pale larges, and stouts.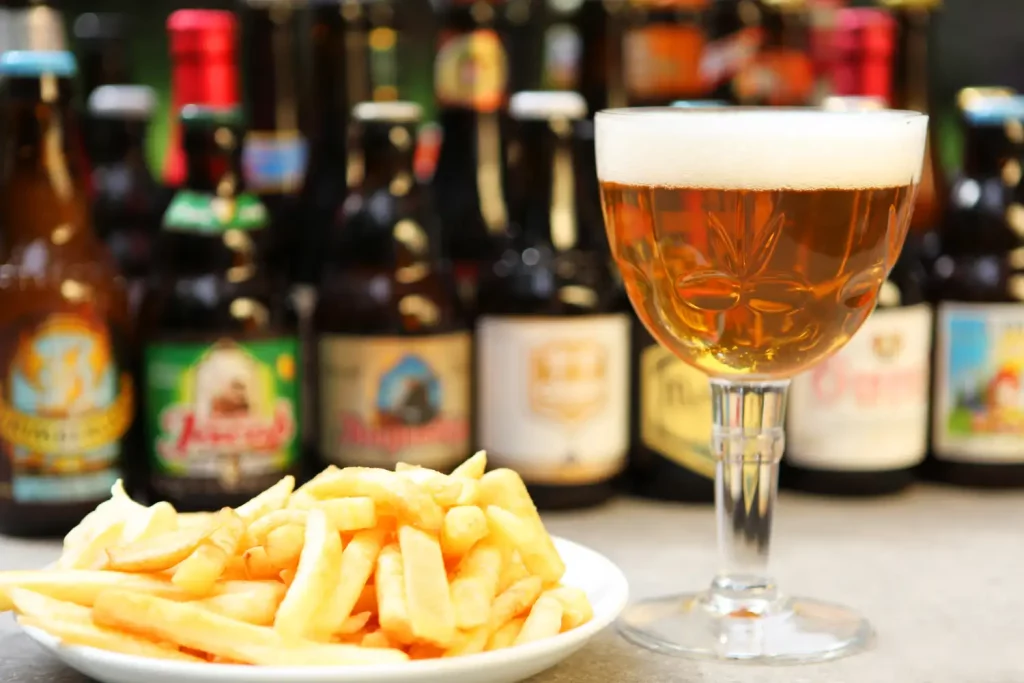 Before You Leave for Brussels
Before you set off on your way to Brussels, there are a number of things you will need to get organised to ensure a smooth and enjoyable journey. These include what to pack, where to stay and what is the best insurance for your trip to Belgium. All of this is discussed in detail below.
How to Get to Brussels
When you arrive in Brussels, you will most likely arrive at one of the main train stations, the bus station, or the airport. If you are eager to explore the city centre sights, such as the Grand Place, Manneken Pis, and the Royal Palace, then Brussels-Central is the best train station for you. The Brussels-North Bus Station is also conveniently located near the city centre, making it an excellent choice for arriving in the city.
Brussels-South (Midi/Zuid) Station is situated slightly further from the city centre, while the airport is farther out. However, there is a very simple and reliable public transportation system that runs throughout the city. You can catch a train from Brussels Airport directly to the city centre, passing through Brussels-South, in just 20 minutes.
For this itinerary, any of these options will be suitable for getting you into the city centre. However, since most of the sights are centred around the Grand Place, Brussels-Central or the bus station would be the closest and most convenient stations.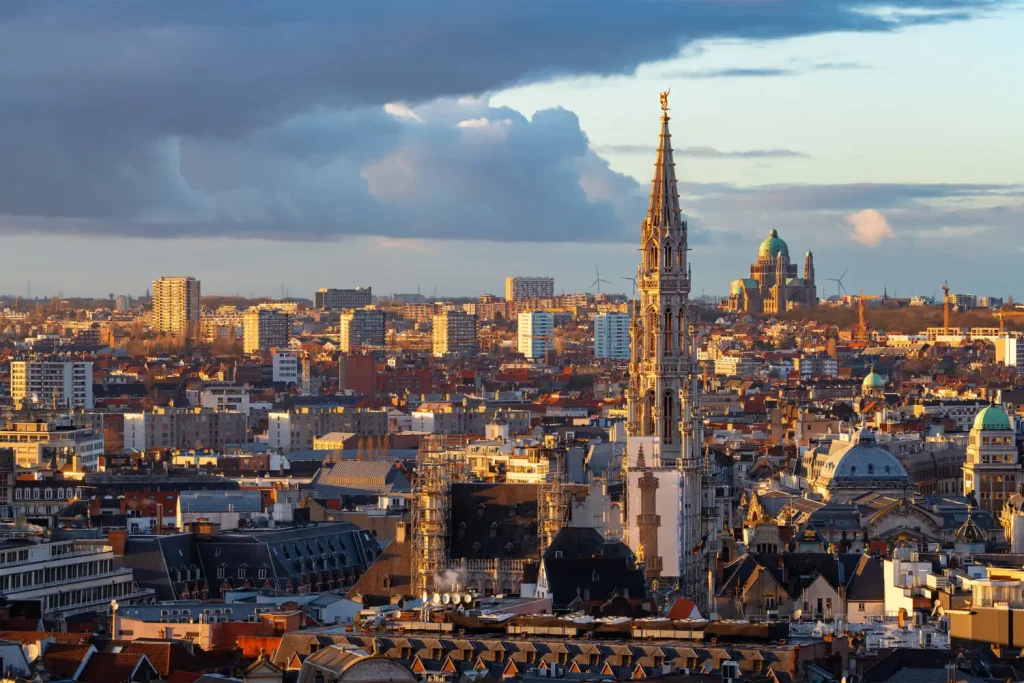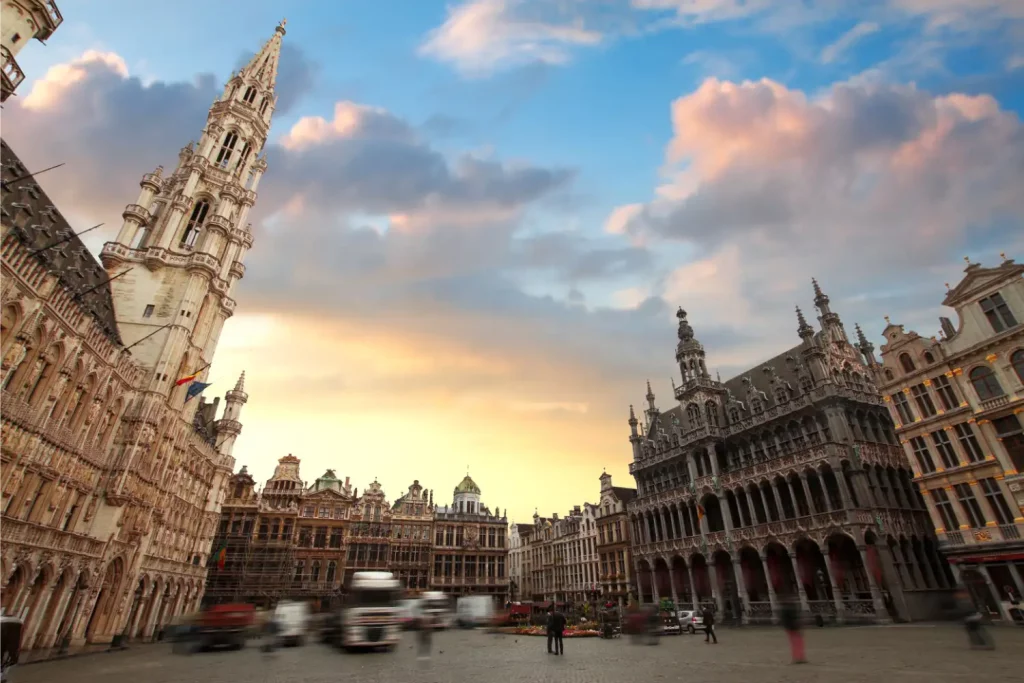 What to Pack for Your Trip to Belgium
When it comes to packing for a trip to Belgium there is one item of clothing that you are going to need all year round: a waterproof. On average, Brussels experiences around 13 to 17 rainy days per month. The number of rainy days varies depending on the month, with the driest month being April with 13 rainy days and the wettest month being October with 17 rainy days. Due to this, the number one item on your packing list is a good waterproof jacket.
Second to that, another item to not leave home without is a good pair of warm and, if possible, waterproof boots as you will most likely be doing a lot of walking around the city.
You will definitely need a hat and gloves during the winter months as the wind chill can be bitter.
For our full list of items that we pack no matter where we go in the world, check out our full packing guides over here.
Given the beautiful sights and scenery that you are no doubt going to see around Brussels, we highly recommend packing a good camera for your trip. If you want to read more about the cameras we use and why we love them, check out the link below.
You can read what else we keep in our camera bag over here.
Photography Equipment
What is the Best Travel Insurance for Brussels
I know travel insurance is the least enjoyable thing to purchase and look at when you're planning a trip, however, you wouldn't want to be without it in the event that something happened. Accidents can happen anywhere and the extortionate medical bills will ruin your trip if you are not covered.
To ensure you have a stress-free trip with no worries about potential medical bills, make sure you cover yourself when you travel. We can recommend using SafetyWing, a backpacker-friendly and cheap insurance company that provides good coverage and support. It is also nomad-friendly, unlike most other insurance companies, meaning you do not need to worry about being out of your home country for too long.
Get a quote for your travel insurance right here and get covered!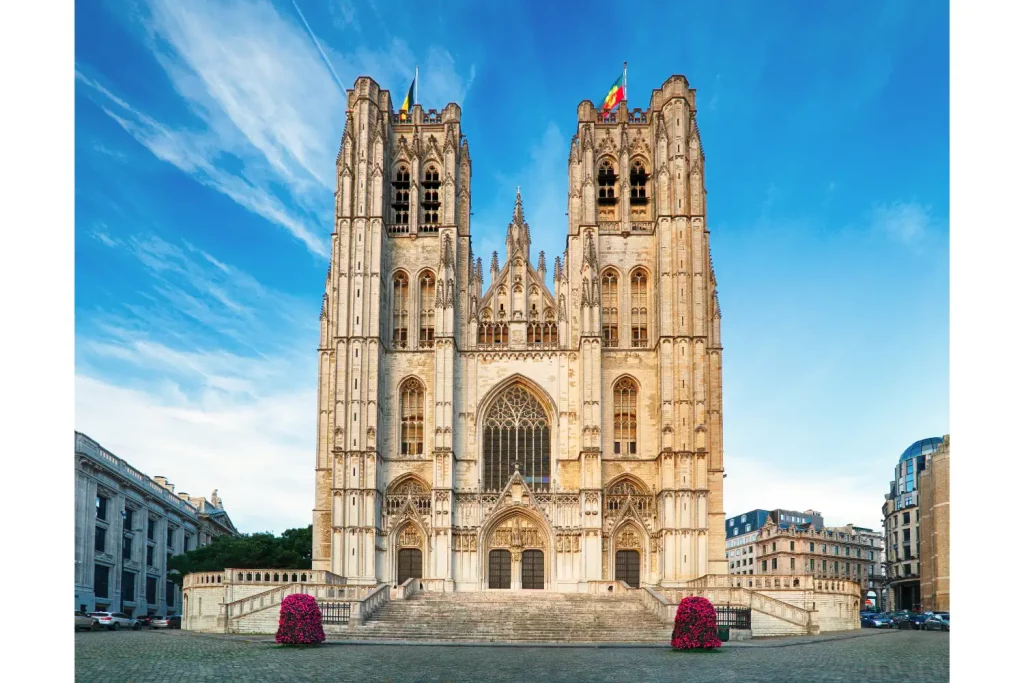 So there you have it, your one day Brussels itinerary. If you are visiting this incredible city and have any other questions on what to expect, leave us a comment down below. We love to chat about this stuff! If you have already been, let us know how it was! 
Also, remember to share this with your friends and family that you are going to share this amazing experience with. Sharing is caring and we want to ensure that everyone is fully prepared to maximise their experience in this beautiful city.
If you are planning a Belgium trip soon then check out our other Belgium content right here. Come and find us on social media to see where we are currently exploring. Tag us in your photos from your stay and we will share them with the rest of our community of explorers and backpackers.
Read Now:
This article may contain affiliate links that provide us with a small income. For more information read our Affiliate page.
---
Pin it for later!