White sandy beaches aren't necessarily what you would think of what you imagine the Isle of Skye. The island is well known for its rugged landscape and incredible cliffs. Camas Daraich could easily be mistaken for the Caribbean, the clearest of blue water meeting the most beautiful white sandy beach. 
Camas Daraich is a lesser known place to visit on the Isle of Skye as it sits at the end of the Sleat Peninsula making it a little bit more of an adventure to get to. We would say this sight is well worth it though if you have the time to visit on your trip to the isle of Skye. 
No time to read now? No problem, save a pin to your Pinterest board for later!
Camas Daraich, Beach, Isle of Skye
When you visit the Isle of Skye, you will be stuck for choice for where to visit. The island is full of walks, swimming holes, beaches and incredible geological phenomenons. In this post, we will discuss the following
What is Camas Daraich?

Where is Camas Daraich?

How to get to Camas Daraich?

Why Should I go to Camas Daraich?

When Should I go to Camas Daraich?

Preparing for your trip to the Isle of Skye.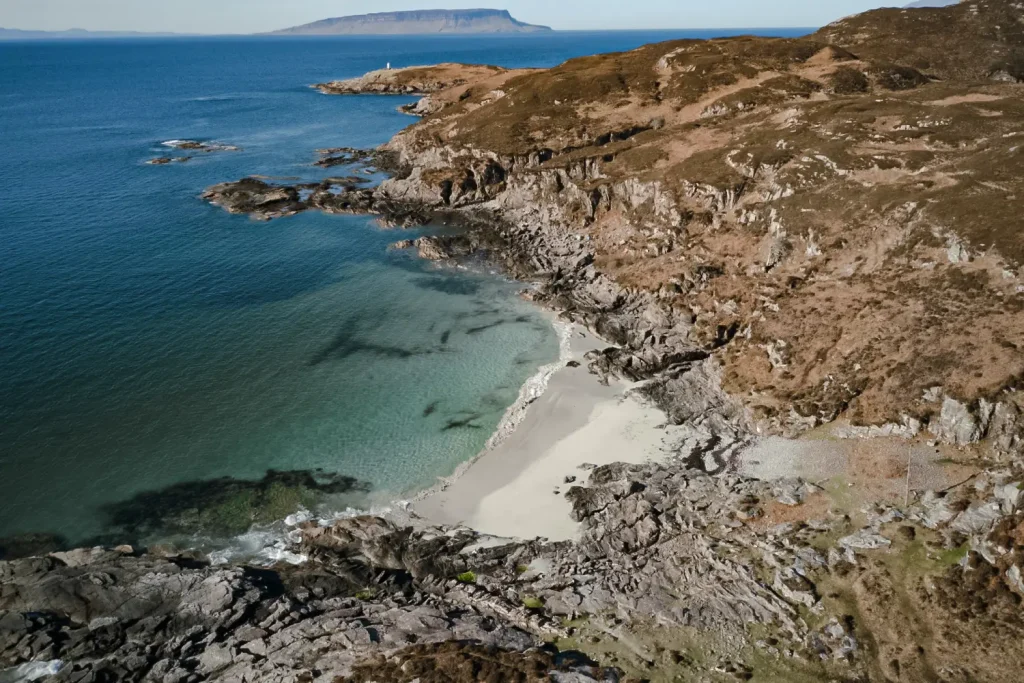 What is Camas Daraich?
Camas Daraich is a small white sandy beach on the Sleat Peninsula on the isle of Skye. The beach is surrounded by rocky outcrops and towering cliffs to one side. This beach requires a a bit of a walk to get to as it is located at the end of the Sleat Peninsula. This makes it the perfect place to visit if you are wanting to escape the busy areas on the Isle of Skye as it is likely it will be much quieter.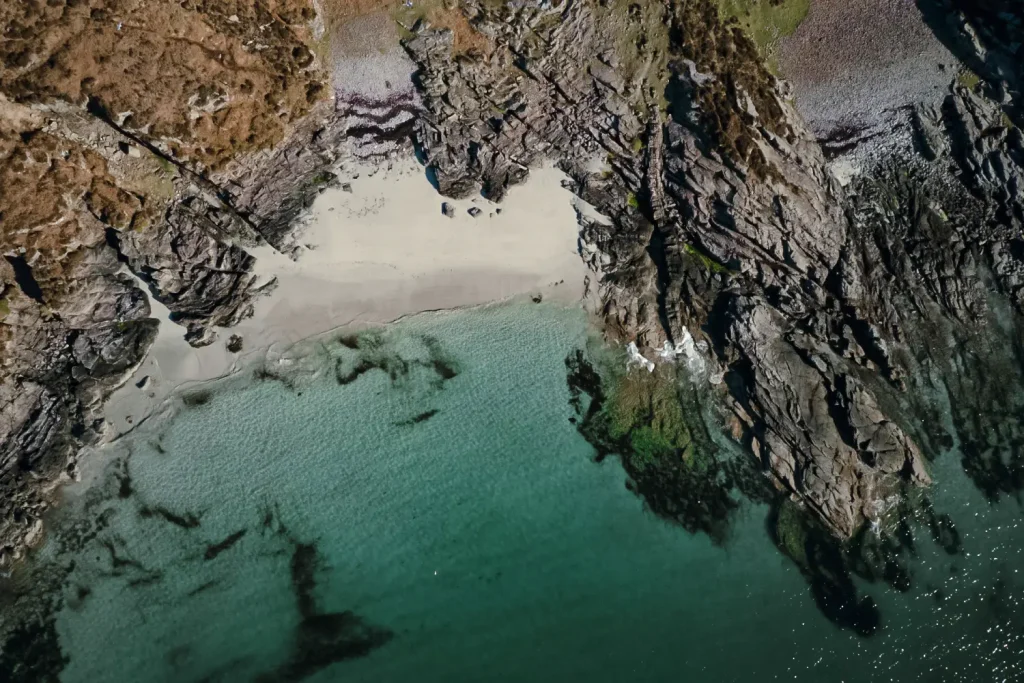 Where is Camas Daraich?
Camas Daraich Beach is located at the end of the Sleat Peninsula on the southern end of the Isle of Skye. If you are visiting the Point of Sleat Lighthouse, you will pass by Camas Daraich on route and we would really recommend stopping to take in the beautiful views. 
The beach is around an hours walk away from where you will park your car along a rough road and boggy terrain however it is well worth the walk.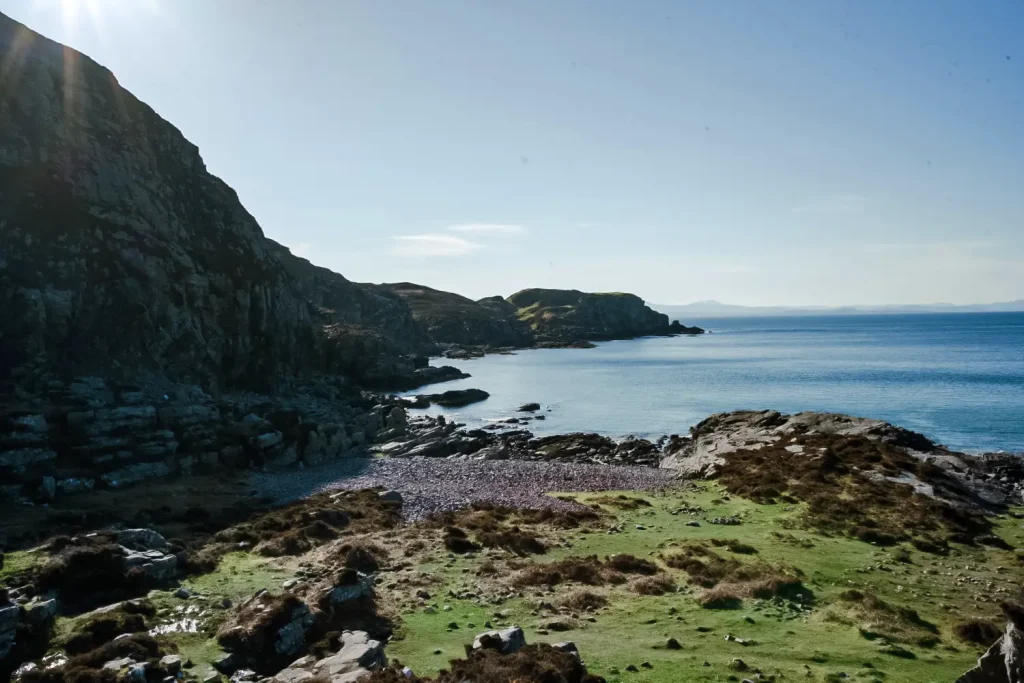 How to get to Camas Daraich?
Camas Daraich is quite a distance from civilisation on the Isle of Skye. Drive down the Sleat Peninsula past Armadale Harbour and continue to the end of the road to the Aird Old Church Gallery. You will reach a car park where you cannot drive on any further, there is room for around 6 cars here.
Follow the road on foot through the gate, remembering to close the gate behind you. Keep in mind that animals roam freely along this farm road. The road is uneven and wouldn't be accessible for wheelchairs or prams. It is quite up and down over a roughy rocky surface.
When you reach a gate at the end of the road, turn left towards the Aird of Sleate. This ground is very uneven and very boggy if the weather has been wet. The coastline will soon come into view again and you will see the beautiful white sandy beach.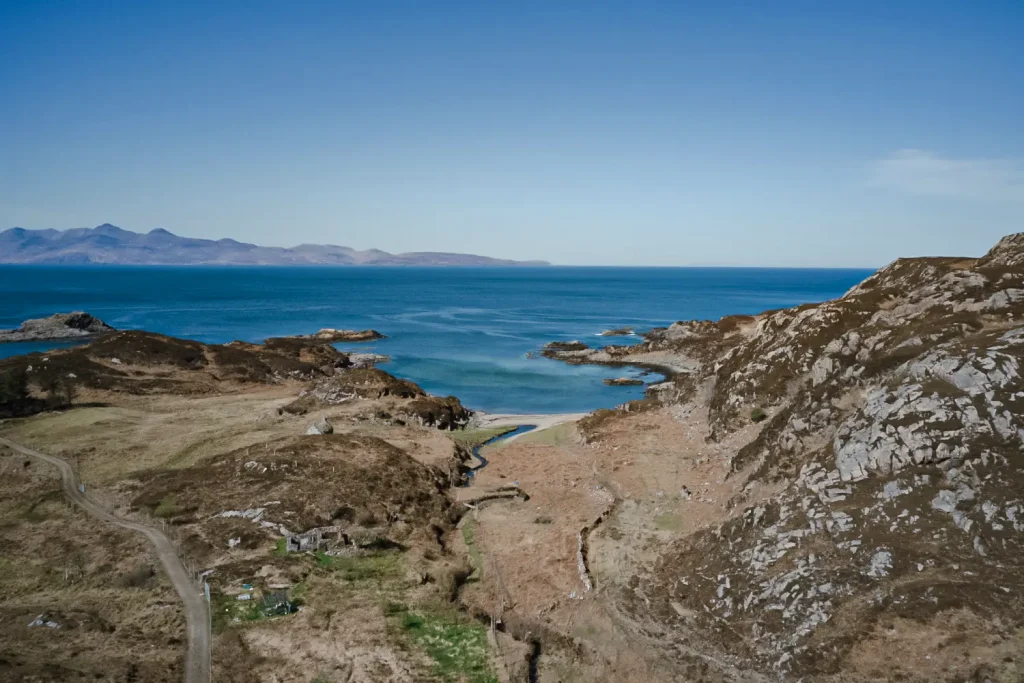 Why Should I visit Camas Daraich?
Camas Daraich is a unique beach on the Isle of Skye as the white sand is not common on this island. It is around 2 hours away from the main road and tourist spots on the Isle of Skye, however we would say that if the weather is right and the tide is right, it is well worth visiting Camas Daraich. 
Whist you are there, keep an eye out at sea for dolphins, purpoise and other sea animals as they have been reported to have been seen from the beach. 
When Should I Visit Camas Daraich?
The best time to visit Camas Daraich is when the sun is shining, we would even recommend getting there in time for a nice golden sunrise. It is also worth noting, to see the white sand, you will need to check the tide times before you leave to make sure you are there for low tide. 
Before You Leave on Your Trip to the Isle of Skye
Before you leave on your trip to the Isle of Skye there are a few things you will need to get organised to ensure a smooth and enjoyable trip. These include how to get there and around the island, what to pack and where to stay, all of which are discussed below.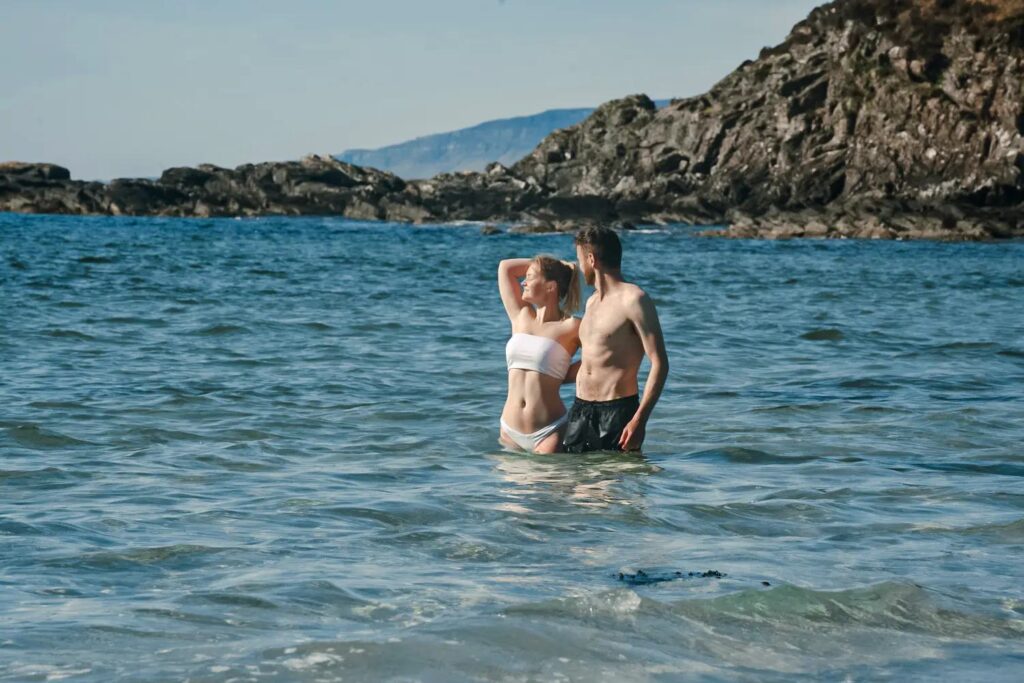 How to Get to the Isle of Skye
Drive
The Isle of Skye is connected to mainland Scotland by the Skye Bridge, a free road bridge, from Kyle of Lochalsh to the village of Kyleakin on the island. In high winds, the bridge will close to high vehicles and on days of particularly extreme weather, the bridge may close to all vehicles.
Ferry 
Another option is to get the ferry over to Skye which typically takes around 30 minutes, leaving from Mallaig on the mainland to Armadale. You can check the timetables online as there is typically only a morning and afternoon ferry running.
Bus
If you are travelling to Skye without a vehicle, buses run from Scotland's major cities, Glasgow and Edinburgh direct to Isle of Skye's capital, Portree. Buses to the Isle of Skye run from other areas in Scotland and you can plan your bus journey to Skye here.
Once you are on the island, you can book onto a tour that departs from Portree and takes you around the best sights that there are to see on the island. Read more about this tour and book your place right here.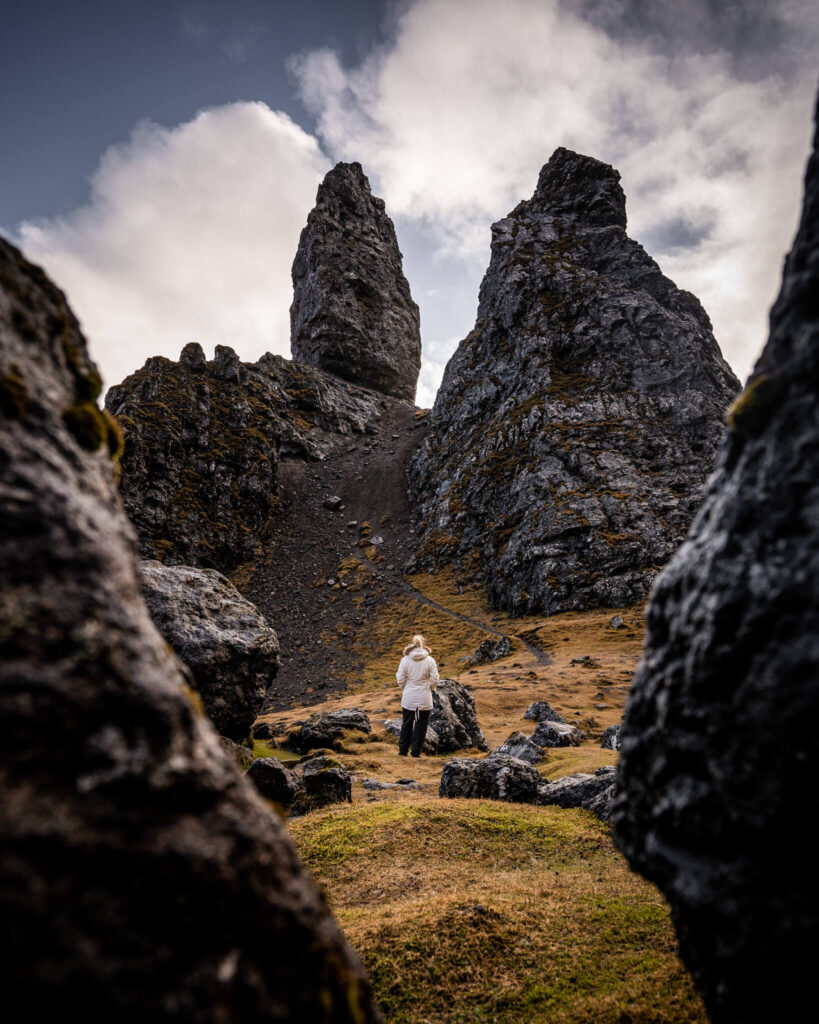 Where to Stay on the Isle of Skye
These recommendations may vary depending on what activities you are wanting to do whilst on the island. We have based these accommodations close to the centre of the island and near Portree. In the summer Portree is extremely busy and we would recommend that you look to stay elsewhere if you want to avoid the crowds and traffic.
In the winter months, however, Portree is a pleasant and central location from which it is easy to get to many of the sights around the island.
Luxury – If you are looking for a comfortable apartment stay to come home to after a day exploring, Quayside Apartment is the perfect place for you. With spectacular views and a good central location, this accommodation is comfort plus for your next trip to Skye.
Book your stay at the Quayside Apartments right here.
Mid-range – The Portree Hotel is a great central location for your stay in Skye. This hotel overlooks the main square in Portree and during the winter months, there are wood-burning stoves to keep you warm after a day of exploring.
Book your stay at the Portree Hotel right here.
Budget – If you are looking for a budget place to rest your head but still have a great view, The Pink House is the place to stay just for that. A continental breakfast is included in your stay and you can book a room with a great view out to sea.
Book your stay at the Pink House right here.
If hostels are more your scene, you can check out the hostels available in Isle of Skye here.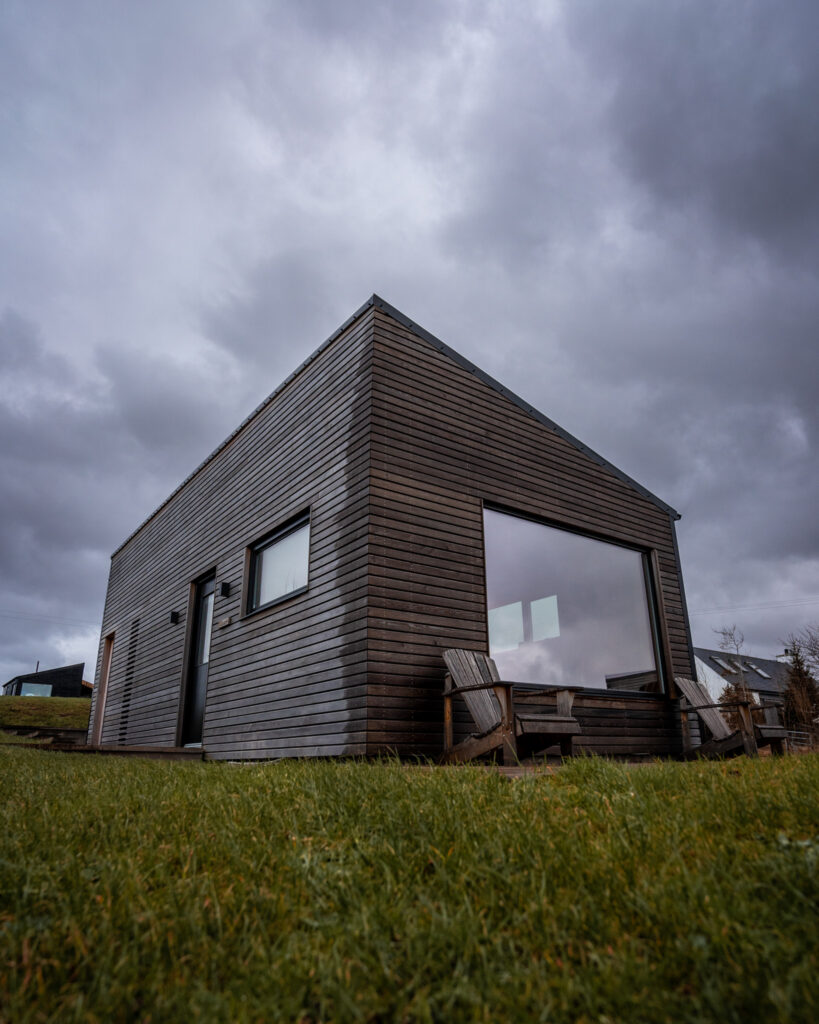 What to Pack for the Isle of Skye
When it comes to packing for a trip to Scotland there is one item of clothing that you are going to need all year round: a waterproof. It rains in Scotland on average 250 days a year, meaning that during your trip to the Isle of Skye in winter, you can expect rain at some point. Due to this, the number one item on your packing list is a good waterproof jacket.
Second to that, another item to not leave home without is a good pair of warm and, if possible, waterproof boots. A lot of the best sights on Skye require a bit of walking to reach them and the conditions underfoot can become very muddy. You do not want to ruin a good pair of white trainers so pack some sturdy boots.
You will definitely need a hat and gloves during the winter months as the wind chill can be bitter.
For our full list of items that we pack no matter where we go in the world, check out our full packing guides over here.
Given the beautiful sights and scenery that you are no doubt going to see around the Isle of Skye, we highly recommend packing a good camera for your trip. If you want to read more about the cameras we use and why we love them, check out the link below.
You can read what else we keep in our camera bag over here.
What is the Best Travel Insurance for Scotland
I know travel insurance is the least enjoyable thing to purchase and look at when you're planning a trip, however, you wouldn't want to be without it in the event that something happened. Accidents can happen anywhere and the extortionate medical bills will ruin your trip if you are not covered.
To ensure you have a stress-free trip with no worries about potential medical bills, make sure you cover yourself when you travel. We can recommend using World Nomads, a backpacker-friendly and cheap insurance company that provides good coverage and support.
Get a quote for your travel insurance right here and get covered.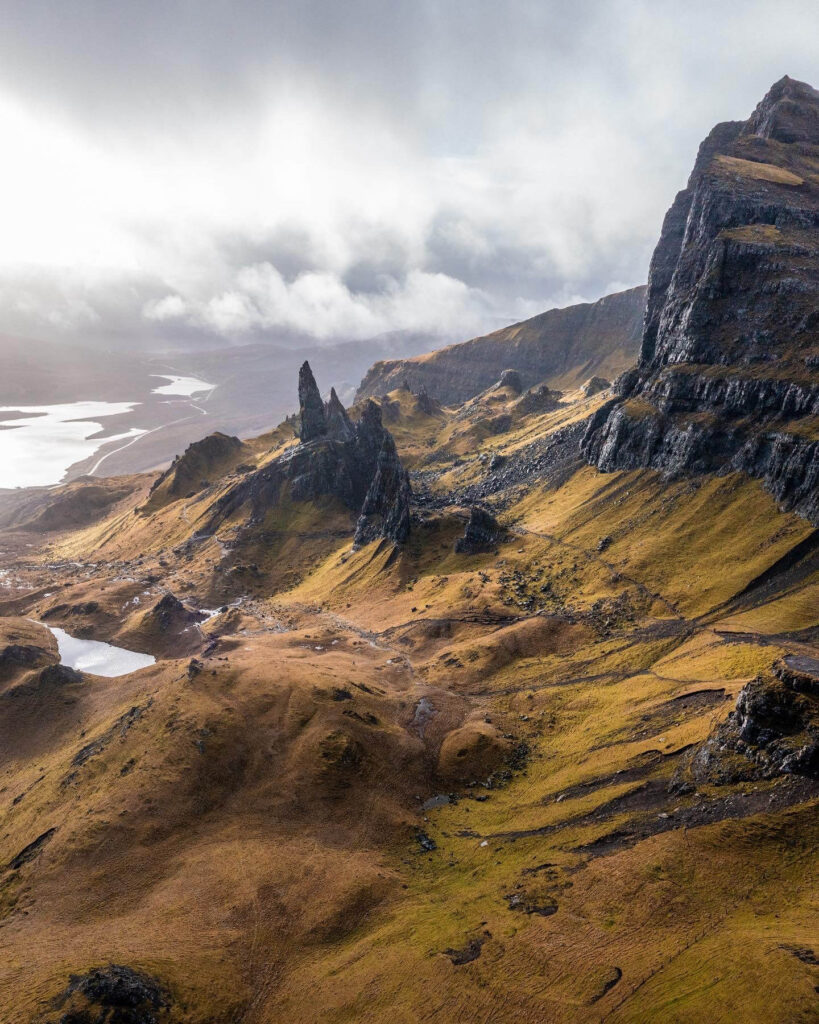 So there you have it, your guide to Camas Daraich, one of our favourite beaches on the Isle of Skye. If you are visiting this incredible place and have any other questions on what to expect, leave us a comment down below. We love to chat about this stuff! If you have already been, let us know how it was! Did you get a clear day to see the sights? Did you manage the trip without getting caught in the rain? Let us know in the comments below!
Also, remember to share this with your friends and family that you are going to share this amazing experience with. Sharing is caring and we want to ensure that everyone is fully prepared to maximise their experience completing this stunning walk.
If you are planning a Scotland trip soon then check out our other Scotland content right here. Come and find us on social media to see where we are currently exploring. Tag us in your photos from your stay and we will share them with the rest of our community of explorers and backpackers.
Read Now:
This article may contain affiliate links that provide us with a small income. For more information read our Affiliate page.
---
Pin it for later!