Tucked away snuggly on the very northern tip of the country is the small and quaint town of John O'Groats. This remote town has had a rather shaky relationship with the tourism industry, however, there is one sight here that continues to draw visitors from all over the country, the John O'Groats Sign Post.
Pay a visit to the sign post as you road trip around the North Coast 500 and discover the history of the town, from why it is named John O'Groats to where you can find the original John O'Groats signpost. Either that, or you can simply read this detailed guide to the sign post and get inspired for your trip of a lifetime!
Get planning your epic North Coast 500 road trip with our guide to the Best Planning Tips
Pin this image to your Scotland Pinterest board for later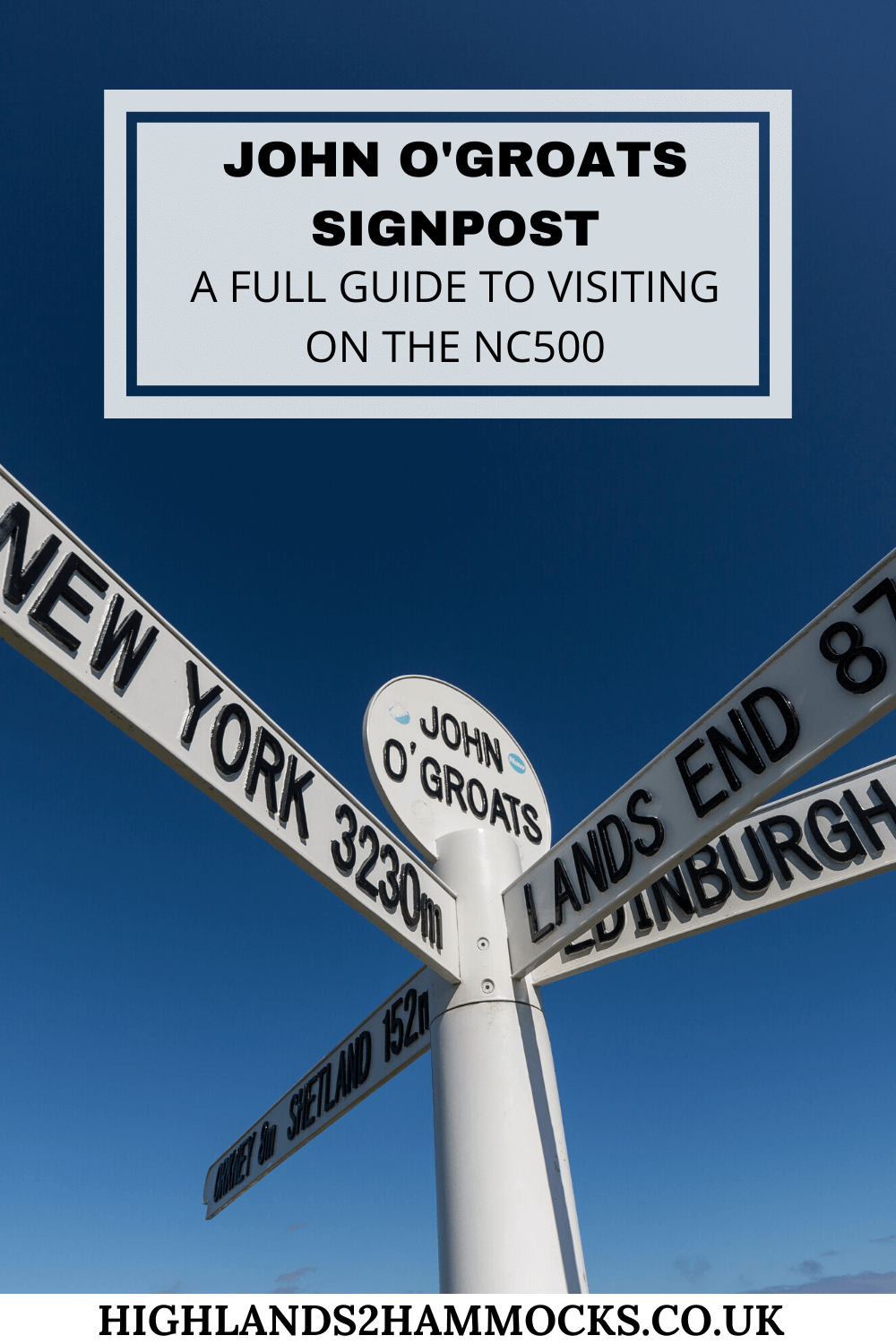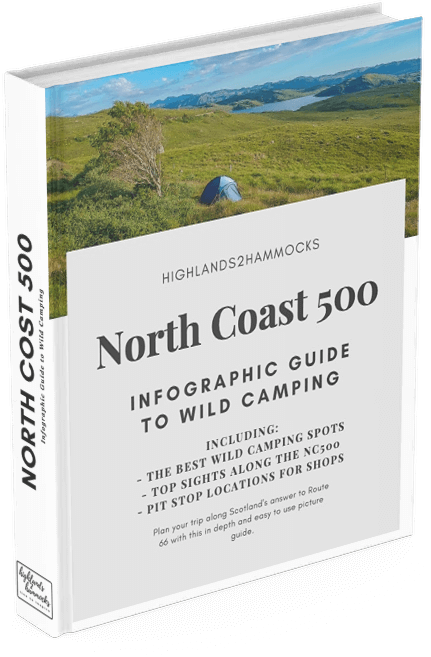 Download an easy to use, NC500 map and North Coast 500 Itinerary right here. Complete with pictures, stopping points and highlights along the way, this guide is a must-have for your next trip!
Come along on our road trip with us on our Best Road Trips in Scotland video. Make sure you subscribe to our Youtube channel for more!
Visit the John O'Groats Signpost – Britain's Most Northerly Point
One of the most iconic sights on the northern coast of Scotland marks the end of the hugely impressive journey from Lands End in England to the northerly point of John O'Groats. At these two opposite ends of the country, you will find a set of twin signposts, each detailing the direction and distance it is to tourist attractions around the world.
No trip around the North Coast 500 is complete without a visit and a picture with this iconic signpost, as well as a well-deserved cuppa in the local cafe.
History of John O'Groats
The town of John O'Groats has had a turbulent past, since its founding in the 15th century when the Dutchman Jan de Groot first built his house here. Jan de Groot ran a ferry from here to Orkney for 2p a trip, and the town of John O'Groats has been named after him ever since.
In recent years, this small seaside town has not had the best reputation for tourism. Lonely Planet described it as a "seedy tourist trap" in 2005, and later in 2010, it was named "Scotland's most dismal town" by Urban Realm. However, recently there has been a lot of work done to recover the reputation of this popular NC500 stop and in our opinion, it has come a long way.
It is far from the most interesting, beautiful, or fascinating stop on the North Coast 500, however, it is definitely a nice place to stretch your legs, browse the local shop, and snap a photo with the iconic signpost.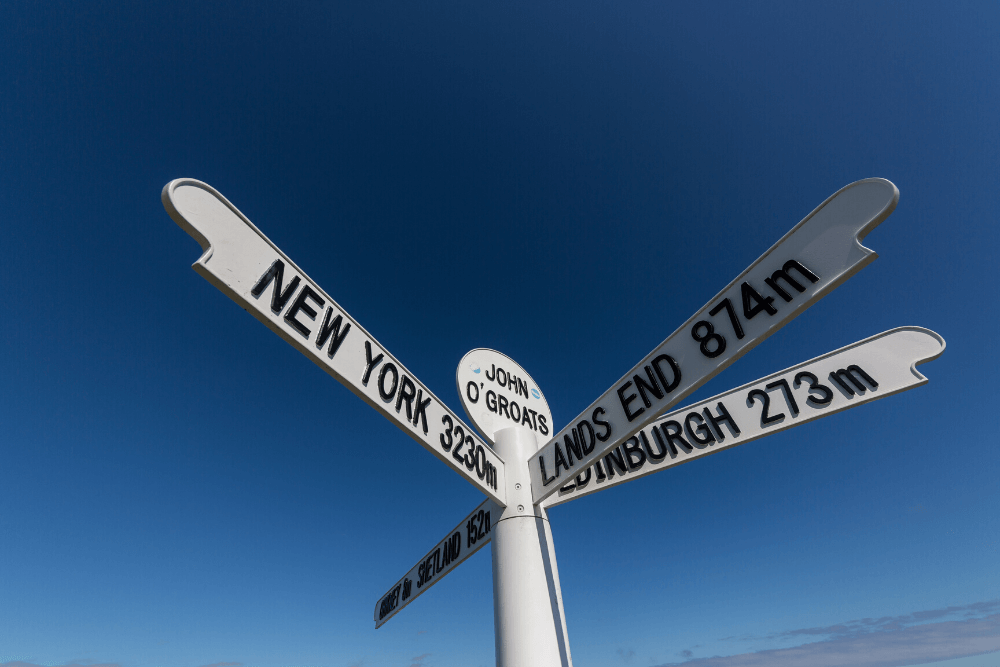 What is the John O'Groats Sign Post?
Installed in 1964, the famous John O'Groats signpost marks the "Journey's End" of the epic road trip from its sister signpost in the coastal region of Cornwall. Originally, this signpost was a paid visitor attraction that was situated on private land. It featured a customisable signpost, where you could pay to have any message you wanted to be inserted for a photograph with the post.
Since then, in 2013 as part of the nearby hotel redevelopment, the original signpost was moved to the nearby caravan park, 200 yards away. When the hotel reopened, a publicly accessible (but not customisable) signpost was erected in front of the hotel.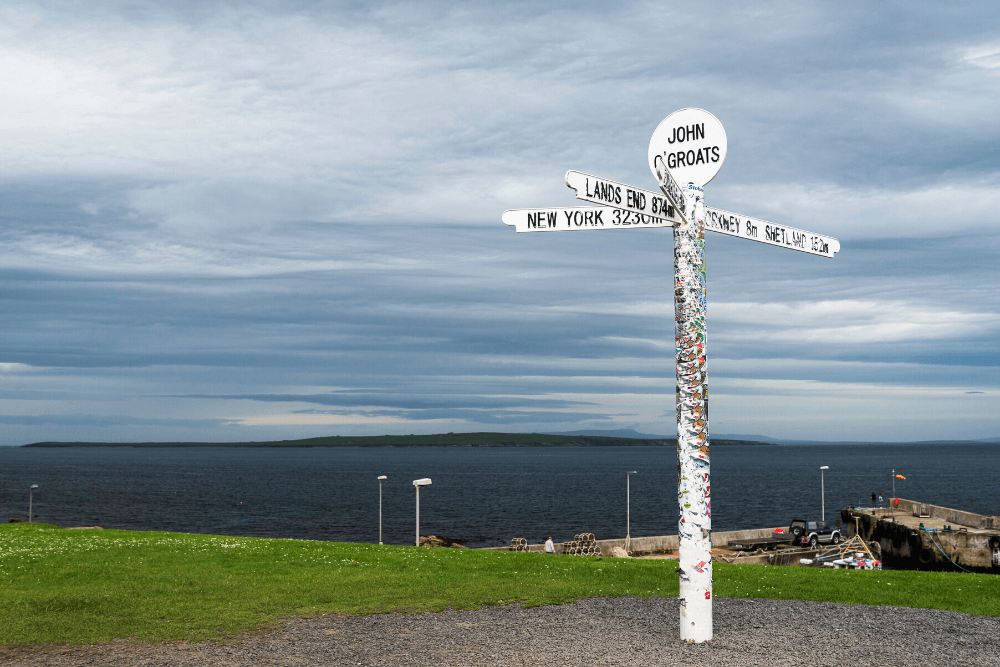 Where is the John O'Groats Sign Post?
On the northern coast of Scotland, you will find the John O'Groats ferry terminal, nearby which you will also find the famous John O'Groats sign post. This all lies about 750m north of the actual town of John O'Groats so is very easily accessible if you are staying in the town centre.
How to Get to the John O'Groats Sign Post
The sign post is very difficult to miss as (ironically) the journey there is very well signposted. If you follow the road towards the John O'Groats ferry terminal, you will eventually reach a large, circular car park. If you park up here and walk past the John O'Groats visitor centre on your left, the sign post itself will come into view in front of you.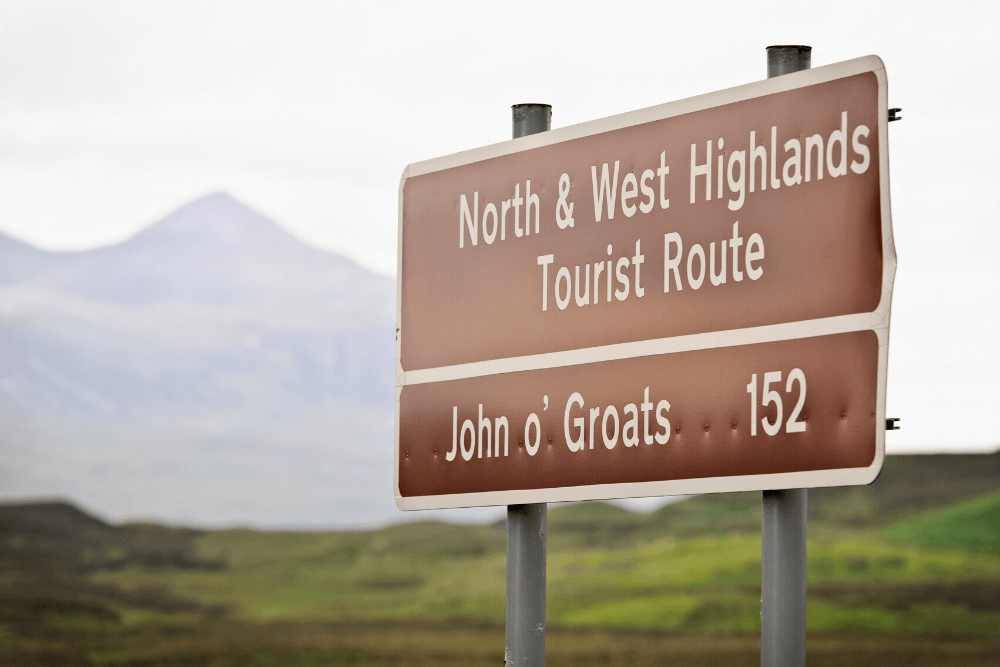 What to Expect at the John O'Groats Sign Post
At the site of the John O'Groats signpost, you will find a number of other interesting tourist attractions and amenities. When you arrive at the John O'Groats Visitor Centre, park in the large, circular car park and pay a visit to the centre for ideas of other North Coast 500 sights and attractions (or read our full list here).
Once you have finished in the visitor centre, you have a choice of a few different shops and cafes to visit, such as the Crafts Centre or the Knitwear Co. Both of these centres have their own small cafe, selling hot drinks and snacks for the road. If you are looking for a heartier meal, the Storehouse and the Stacks Coffee House and Bistro both serve hot meals for adventurers.
Nearby Sights to the John O'Groats Sign Post
There are loads of other beautiful sights that you will need to visit close by to the John O'Groats Signpost, both to the west and further to the south. For a full list of all of the best North Coast 500 sights that you cannot miss, read our full guide here.
Visit the Duncansby Stacks and Lighthouse
Towering above the ferocious North Sea are the beautiful and majestic outlines of the Duncansby Stacks. Standing as a testament to the power of nature in this remote part of the world, it is believed that these sea stacks have existed for over 6000 years, slowly being eroded by the strength of the sea.
During your trip around the NC500, swing by Duncansby Head and visit the lighthouse that dates back to 1924, and wander along the coast to see these impressive sea columns for yourself.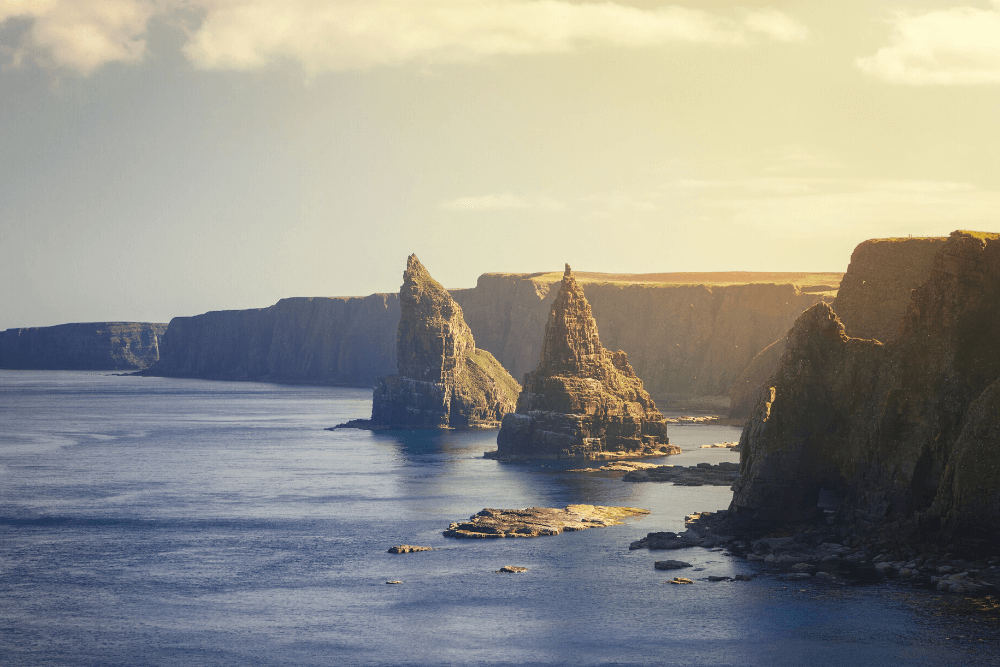 Relax on the Paradise of Coldbackie Beach
One of the best-kept secrets that the North Coast 500 has to offer sits just outside the small town of Tongue on the northern coast of Scotland. Coldbackie Beach is the perfect example of what Scotland has to offer in terms of beaches: hidden from view, golden sands, and crystal-clear water.
During your trip along the northern coast of the NC500, keep your eyes peeled for this strip of paradise and dip your toes in the beautiful water.
Read our full guide to Coldbackie Beach right here for more information on how to get here and what to expect.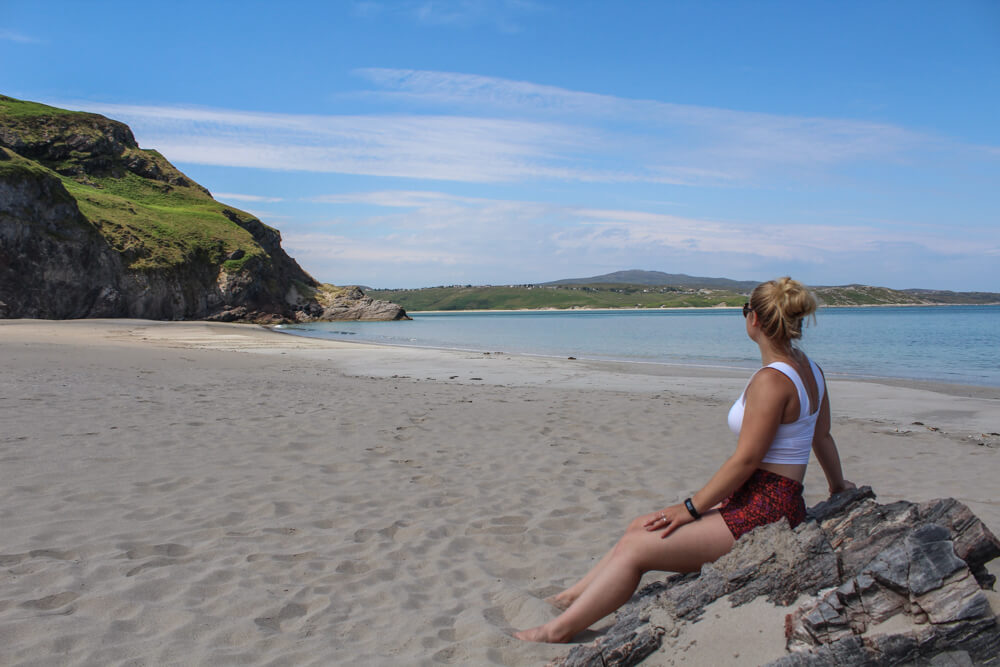 Before You Leave on the North Coast 500
Before you head off on your trip around the NC500, there are certain things you will need to get organised to ensure a smooth trip. These include how to get around the route, including being aware of single track roads, etc., what to pack for Scotland, where to stay along the route and what travel insurance to book.
How Do I Get Around the North Coast 500?
Given the remote location of the NC500 and the majority of the sights along the route, the best way to get around this road trip is by driving. There are of course other methods that are still popular, such as cycling and hiking, however, if you have a short amount of time on the route, neither of these are very suitable.
As for public transport, the use around the NC500 is understandably difficult due to how remote each location is, however, with the increasing problem of congestion along the route, this is a good option to research if you have time. If it is something that interests you, you can read a public formed itinerary of how to get around the NC500 by public transport over here.
If you are looking to rent a cosy, reliable and luxurious campervan for your trip along the NC500, we highly recommend hiring through Bunk Campers. We toured with these guys around the up-and-coming Heart 200 road trip in Scotland's central highlands and could not believe the comfort and customer service we experienced with their vans.
Browse the full range of vehicles on offer at Bunk Campers over here.
What Should I Pack for Scotland?
When it comes to packing for a trip to Scotland there is one item of clothing that you are going to need all year round: a waterproof. It rains in Scotland on average 250 days a year, meaning that during your Scotland adventure you will probably experience at least a drizzle of rain. Due to this, the number one item on any Scotland packing list is a good waterproof jacket.
As for the rest of the year, the temperature in Scotland and the central heartlands is reasonably mild for most of the year. During the winter months, you will most likely experience snow, however, temperatures usually sit around freezing, so it is not too cold. For your reference, the average temperatures in Scotland are listed below during each season.
Spring (March, April, May) – 5-10 degrees C
Summer (June, July, August) – 15 degrees C
Autumn (September, October, November) – 5-10 degrees C
Winter (December, January, February) – 0-5 degrees C
As you can see, the weather never really gets above the teens, with anything over 25 degrees C considered a heatwave. The best way to pack for your trip to the highlands is with layers that can be added and removed as you need them. You will definitely need a hat and gloves during the colder months and will most likely need sunscreen to protect you on the long days in the open.
For our full list of items that we pack no matter where we go in the world, check out our full packing guides over here.
Given the beautiful sights and scenery that you are no doubt going to see around Scotland, we highly recommend packing a good camera for your trip. If you want to read more about the cameras we use and why we love them, check out the link below.
You can read what else we keep in our camera bag over here.
Where Should I Stay on the NC500?
The remoteness in the highlands of Scotland will leave you with little choice of accommodation in each location along the NC500, however, there are still enough options to choose from to ensure a comfortable trip. These are mostly in the shape of B&Bs, Airbnbs, converted cottages and other quirky accommodations.
Depending on how adventurous you are, there may be more accommodation choices than just the above, often with an even better view. Caravan and camping sites are abundant along the NC500, drawing camping enthusiasts from all over the world. For some of the most spectacular bedside scenery along the North Coast 500, we recommend packing a tent and getting in touch with nature for the week.
As we travelled along the North Coast 500, camped in our trusty Vango tent on a mixture of campsites and wild sites. Wild camping is a fantastic way to enjoy the beauty of the highlands, however, it must be done respectfully. Read our full guide to Wild Camping if you wish to give it a go so you know everything you need to for a comfortable and sustainable trip.
The best hotels and holiday homes that you can stay in are all within close vicinity of the stunning sunset spot of the Duncansby Lighthouse. For affordable and comfortable accommodation, you can choose from the Seaview Hotel, Puffin Cottage, the Anchorage B&B and Hamnavoe.
Click here for more options for accommodation near John O'Groats.
What is the Best Travel Insurance for Scotland?
No matter what type of adventure you are heading on, whether it is a mountain adventure or a relaxing beach destination, one thing we all need to be aware of is that accidents can happen. The last thing you want is for an unexpected medical emergency to ruin your trip of a lifetime. Luckily, that is what travel insurance is for.
Whenever we travel abroad, we get covered with World Nomad's Travel Insurance, a reliable, friendly and extremely affordable method of covering yourself on any adventure. With years of experience working for backpackers around the globe, the service they provide is perfect for whatever type of trip you have planned.
Get covered for your next trip and get a quote from World Nomad's right here.
So there you have it, your complete guide to the John O'Groats Signpost. If you have visited the NC500 recently, let us know what you thought of the sights listed above, or if you have any suggestions let us know in the comments below.
As always, sharing is caring so make sure to share this photo guide with your family and friends and inspire them to head off on their own North Coast 500 adventure. If you are planning the trip for yourself, make sure you have a look at the rest of our Scotland content for more inspiration to our beautiful home country.
When you set off on your own adventure, be sure to tag us in your photos on Instagram and we will share them with the rest of our community. In the meantime, why not follow us over there to see what we are currently up to and keep up with us on our Instagram Stories.
Now Read:
This article may contain affiliate links that provide us with a small income. For more information read our Affiliate page.
---
Pin this image to your Scotland Pinterest board for later