Guernsey is full of recent history and the island was the closest place to mainland Britain to be occupied by the Germans during World War 2. Occupied by Germany during World War 2 there are many concrete bunkers and deep tunnels holding Guernsey's history. The German underground military hospital holds an eeriness to it however I would say these are definitely worth a visit even if history isn't your thing!
Liberation Day is an annual holiday in Guernsey held on the 9th May. This is the day that Guernsey was liberated from the Germans. Huge celebrations take place over the island. The roads in St Peter Port close and the parades take place throughout the day with gunshots from the famous Castle Cornet. This is a bank holiday on the island and everyone who has the day off heads out to celebrate.
Plan your weekend break to Guernsey with this detailed two-day itinerary
Save this to your Guernsey Pinterest board for later!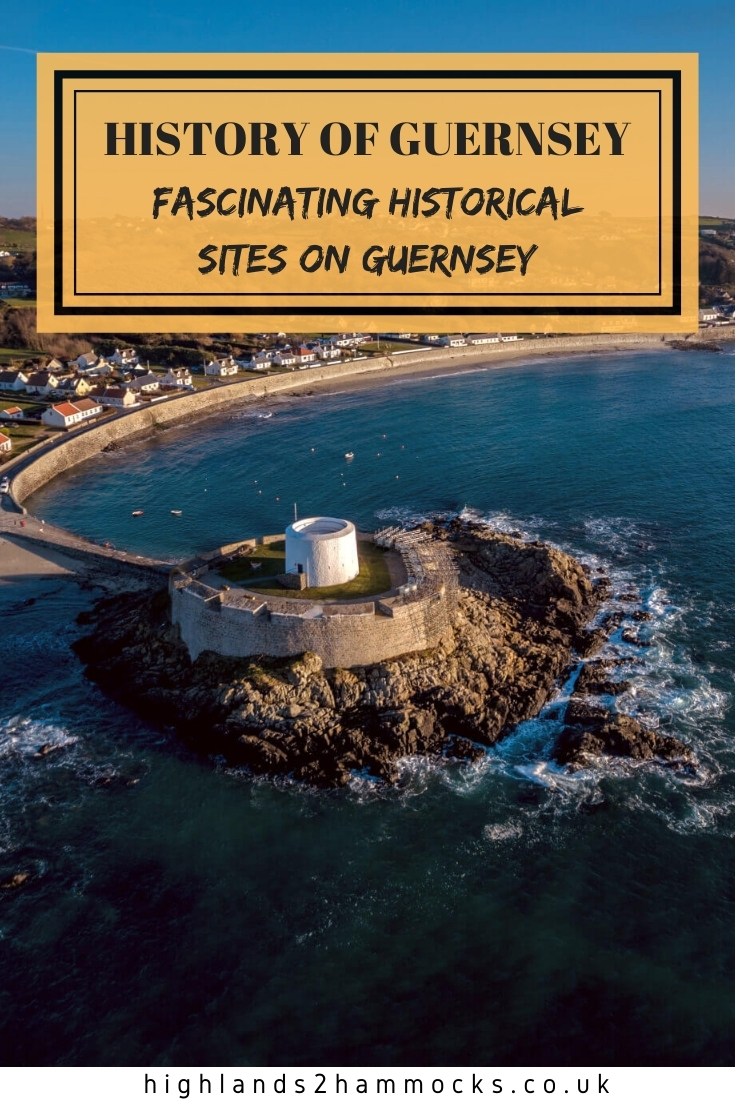 Check out this our two-day adventure exploring beautiful Guernsey. Make sure you subscribe to our Youtube channel for more by clicking here!
History of Guernsey – Fascinating Historical Sites in Guernsey
The Guernsey Discovery Pass
The history in Guernsey is phenomenal and if you are planning to visit many of the sites you may be as well paying for a Discovery pass. This is an annual pass that gives you unlimited seasonal entry to Castle Cornet, Guernsey Museum and Art Gallery, Fort Grey and the German Naval Signals Headquarters.
It costs £18 and all children under 18 who are accompanying will go for free. You can buy the pass from a number of different places, including Castle Cornet, Guernsey Museum at Candie, and Beau Sejour Leisure Centre.
Read more about the Guernsey Discovery Pass here.
Due to the current worldwide situation please ensure you research the up to date opening hours before visiting.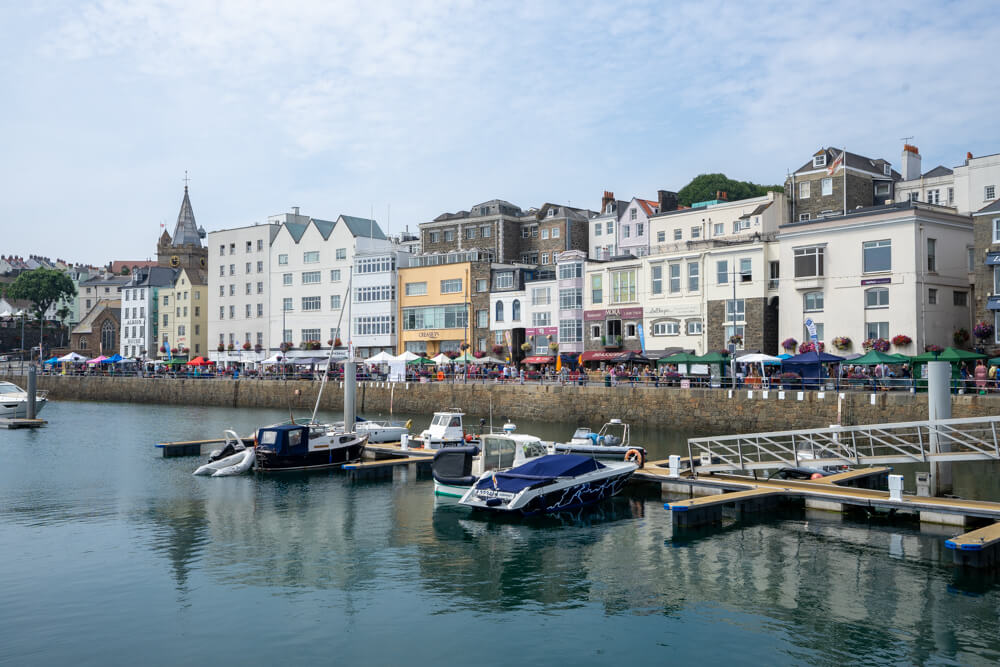 German Underground Hospital and Bunker
The German Underground Hospital and Bunker is the largest WWII structure in the Channel Islands at 75,000 feet. The maze of tunnels below ground level would be completely unknown except the large concrete entrance. This complex underground made was not initially built for hospital purposes, but was used as a shelter for a machine gun company. It wasn't until 1944 that the decision and transformation were made to turn the tunnels into the Underground Hospital.
This is a fascinating place to visit when you are in Guernsey but we would recommend that even if you visit on a warm Summers day, it's cold in the tunnels so bring something warm to wear.
Admission: Adults £4.50 children (under 15) £2.50 Infants (under 2) free.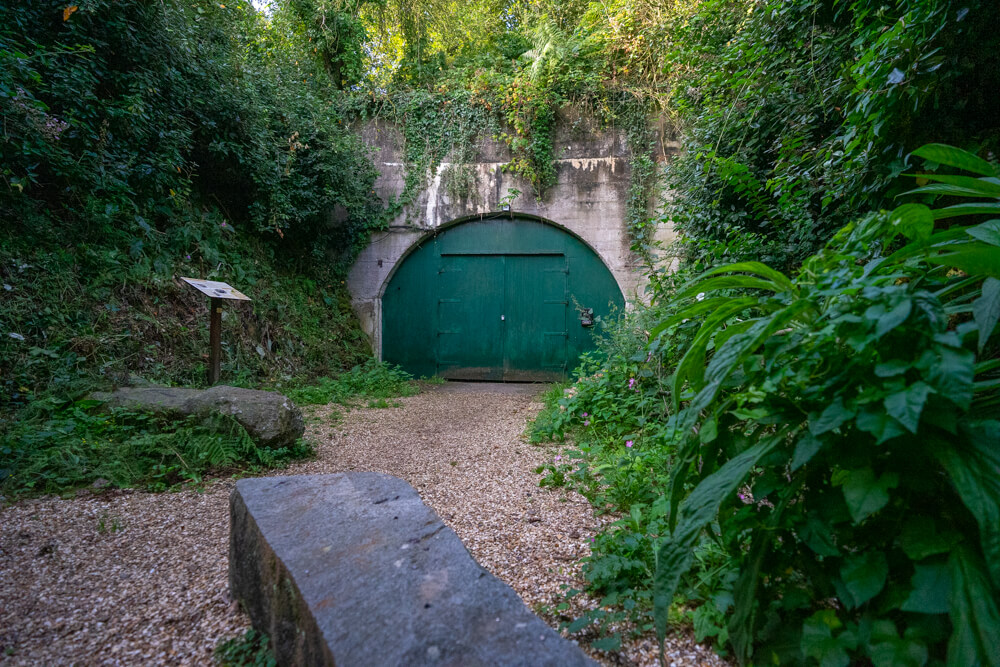 La Vallette Underground Military Museum
The Underground Military Museum is a great place to learn about Guernsey's military history including both World War I and the German Occupation during World War II. This museum is also hidden underground in one of the German-built tunnels on the island and would be almost invisible from the land if it wasn't for the entrance. The German forces used this underground tunnel for storage of their U-boats and fuel.

Today the museum stores a mass amount of history, including memorabilia and exhibitions from the German occupation. The Underground Military Museum is walkable from the town terminus bus station.
If you are feeling brave, the La Vallette Bathing pools are across the road and are lovely for a refreshing dip in the sea with stunning views out to Castle Cornet.
Admission: Adults £6, over 65s £4.50, and children £3.50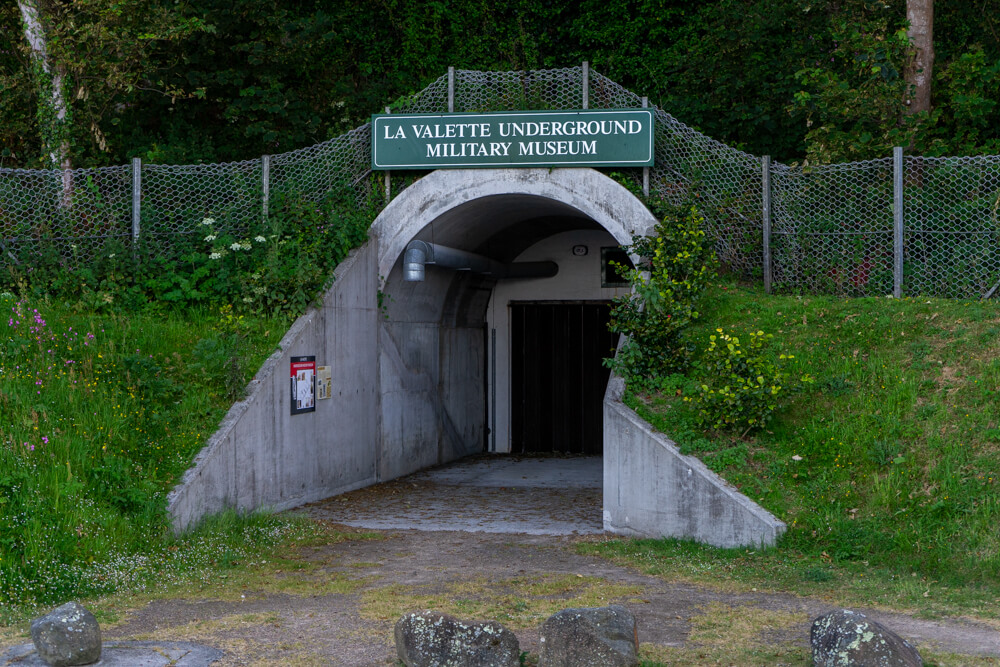 Castle Cornet Museum
Castle Cornet dates back to as early as the 13th century, guarding the bay to Guernsey's most populated harbour for hundreds of years.
The construction of the castle as a result of the loss of Normandy by the English crown in 1204 by King John, which then required improved defences for the Channel Islands. The castle was originally situated on a small island off of Guernsey's mainland, which was only accessible by foot at low tide.
As the island grew in population and the harbour of St Peter Port expanded out to sea, access to the castle was eventually granted by bridges and harbour walls.
It is possible to experience a guided tour of the castle to here the history and tales of this iconic part of Guernsey's history from a local tour guide. This tour runs daily at 10.20 am and is included in the ticket of entry. After you have completed this tour you are free to wander the castle and explore on your own for as long as you would like.
You can buy tickets for the castle at the entrance to the castle itself. If you are also wanting to explore some of Guernsey's other museums and historical sights then the Discovery Pass is the recommended option as it grants you access to all four sites on the island and grants children free access.
Admission: Adults: £10.50, Children 7+/Students: £3, Children under 7: free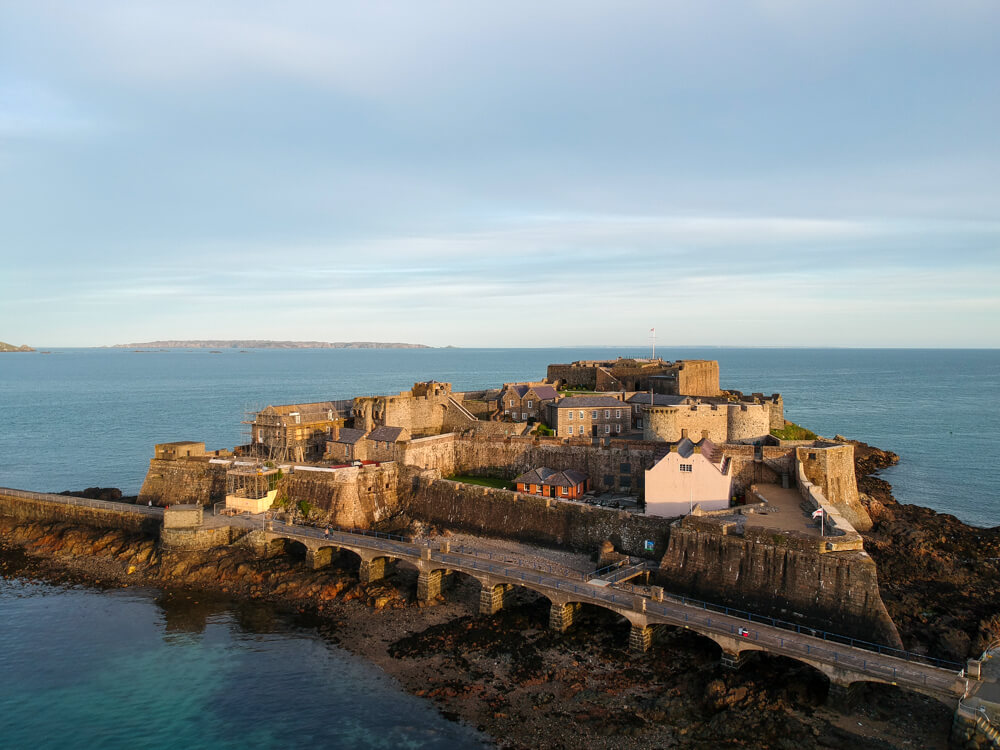 Vale Castle
A short walk from Bordeaux kiosk on the north side of the island is Vale Castle.
Overlooking the northeast end of the island, with spectacular views out towards Herm and Sark, Vale Castle is a beautiful spot for both sunrise and sunset in Guernsey. As it is open to the public throughout the year, there are no opening times to abide by for early mornings or late nights, making it perfect for photography, you can visit whenever you please.
The site of the castle itself is believed to date back as far as the Iron Age, however, the stone building that you see today dates back to the 15th century. The castle was also used by occupying forces during the Second World War and remnants of this can still be seen today.
Looking out to the west from the top of the castle, the sunset view from Vale Castle is a combination of the ancient history of the island and the modern-day character of Guernsey. As your gaze journeys beyond the aged, weather-worn stones of the fortification, your eyes will meet the skyline of St Sampsons, with towering chimneys of the local power plant.
Admission: Free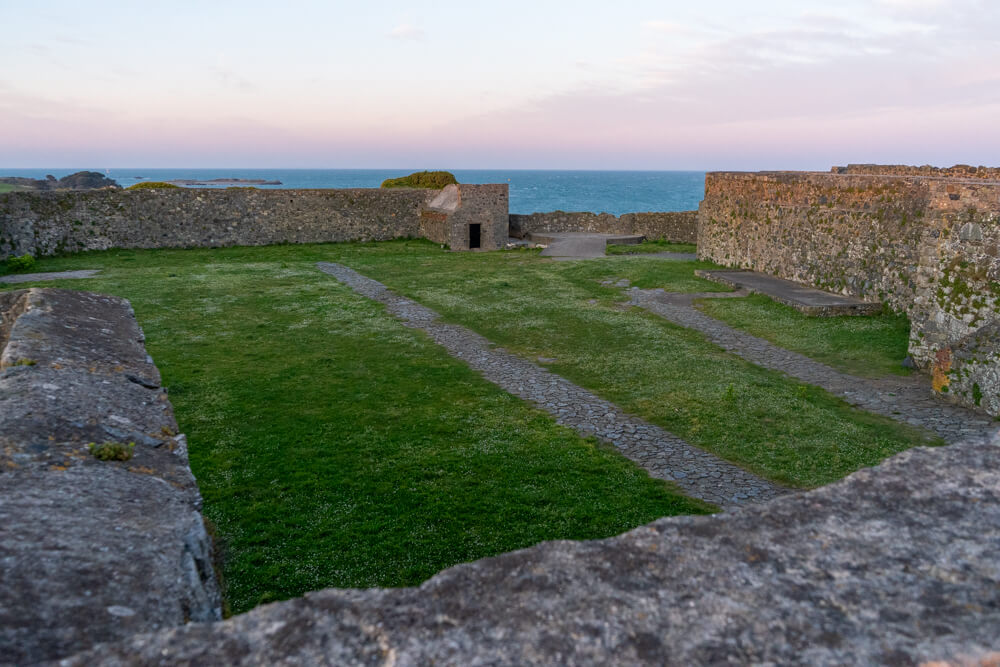 German Naval Signals HQ
The German Naval Commander headquarters was responsible for all of the radio traffic to and from Germany and the other islands during World War II. It was established at La Collinette Hotel and the current site is a restoration of the original bunker. It is situated underground with a narrow entrance and steps and is unfortunately not wheelchair accessible.
Admission: Adults £4.00, Children £1.50

Rousse Tower
Rousse Tower was initially built in the 19th century to protect the island from French invasion. The tower has been fully restored with replica canons and has been well maintained. It is open for visiting April-October and is well worth a visit on your walk around Rousse headland.
Located near Ladies Bay, there is a great kiosk nearby.
Admission: Free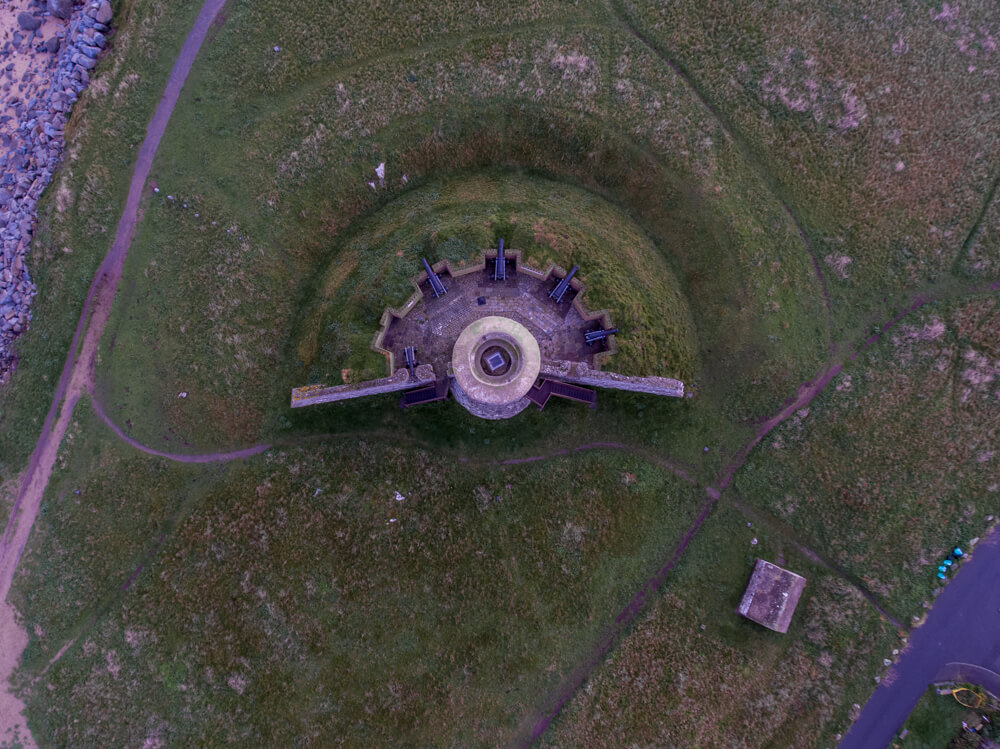 Fort Pezeries
Located at on the south-west coast of the island, Fort Pezeries sits proudly looking over Rocquaine Bay. Since 1680 there has been some sort of fortification built on this part of the island. The fort was abandoned by the British in 1842, surrendering itself to overpowering growth of nature before being restored over 150 years later. There are now has three 18 pounder cannons.
The walk to Fort Pezeries is an enjoyable one along the coast. If you carry on 100m further you will arrive at the Fairy Ring. It is believed locally that this site is linked to fairies and witchcraft however in reality it is far from that. The Fairy Ring was built as a dugout picnic area for those inspecting roads and coastal defences on the island until 1837. It is now enjoyed by many who walk in the area. 
Admission: Free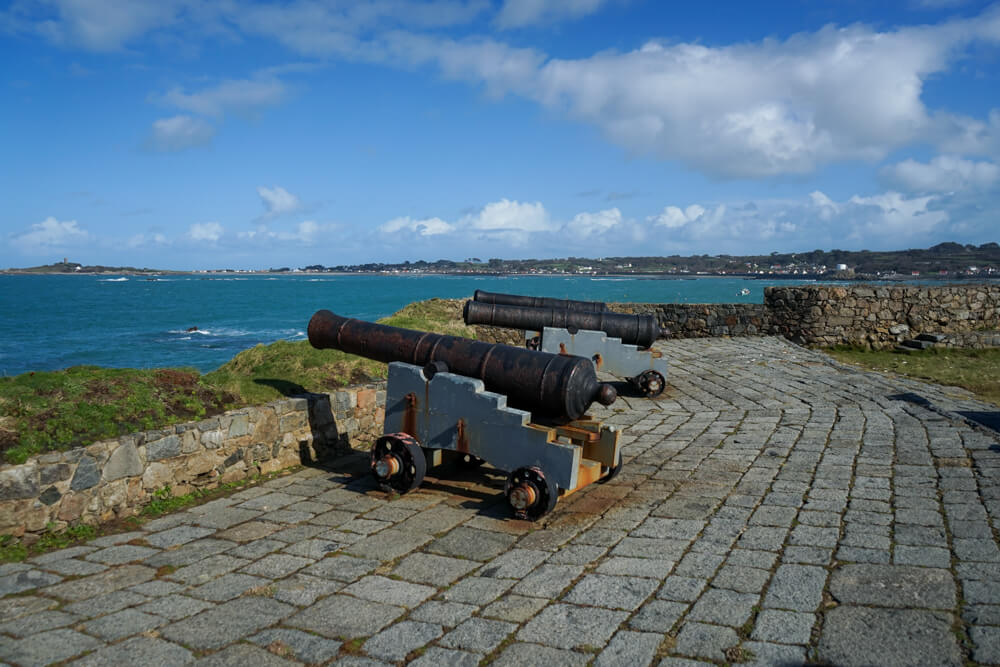 Fort Grey
Fort Grey is a Martello Tower built-in 1804 to defend Guernsey's west coast. It is known to locals as the 'cup and saucer' as from above that is exactly what it looks like. Fort Grey is where you will find the Shipwreck museum, there are many of recovered items on display here from the shipwrecks that have occurred on the west coast. You can also reach the gripping tales of the shocking disasters that occurred between HMS Sprightly in 1777, to the Vermontborg in 2003.
Admission: Adults £4, children 7+ and students £1.50, accompanied children under 7 years FREE
Chateau Des Marais
Chateau des Marais, also known as Ivy Castle, is a castle located at Le Grand Bouet on the north side of the island. Built during the 13th century, Chateau des Marais was used as a refuge from pirates. The castle was Guernsey's main defensive construction for 20-30 years before work began on Castle Cornet in 1250. 
Chateau des Marais was originally built as a motte-and-bailey castle as it was built with stone walls and situated on a raised area of ground, a motte. This was a typical castle build during this time period.
Chateau des Marais was used by the Germans during World War II who destroyed the archaeological evidence of this motte-and-bailey structure by building a bunker, machine-gun posts and communication trenches.
During the 20th century, Chateau des Marais was transferred from the War Department and Her Majesty's Commissioners of Crown Lands to the States of Guernsey. In the 1970s, restoration work was carried out on the castle and it is now maintained by the Guernsey Museums Service.
Chateau des Marais is accessible on the following bus routes, 51, 22, 12, 21, 11, 92.
Admission: Free
Batterie Dollman Gun Pit
Located at Pleinmont headland, the Batterie Dollman Gun Pit is a restored battery gun pit that houses the last of its type in Europe. The French gun weighs 10 tonnes and is 22cm was restored by Guernsey Armouries in 1997. There are 3 of these German Coastal Artillery Batteries and Batterie Dollman sit in pit number 3. 
Before work could begin on restoring the gun pit, an estimated 1,000 tons of soil was removed, most of which was removed using an excavator, although many tons had to be shovelled out by hand.
The Batterie Dollman is still being fully restored and all work done has been to make it look as real as it was during war times. When the restoration work initially began, it showed the bunkers to be exceptionally intact with armoured doors and even a bunker telephone still in place. 
During the summer, there are occasional Sunday's where the site is fully open and the canon is fired using blank charges.
Admission: Free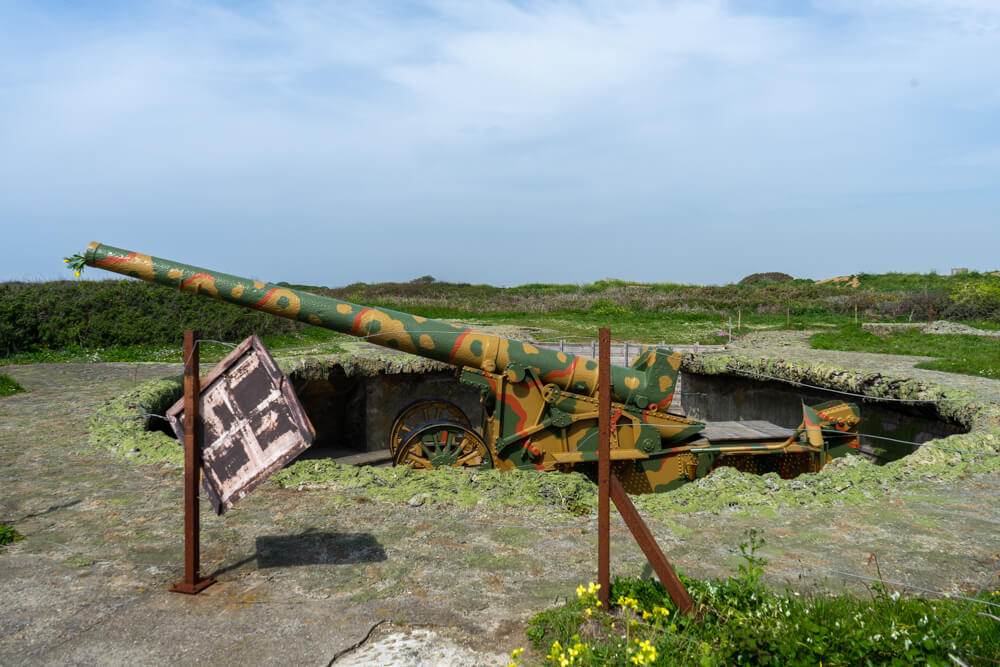 Pleinmont Observation Tower
Built by the German forces from 1942 to 1945, the Pleinmont Observation Tower was built as part of their sea defence system during the German Occupation in Guernsey during the Second World War. The observation tower is five stories high and the original rangefinders are still in working order onsite.
Pleinmont is one of our favourite places on the island to watch the sunset. We can highly recommend a walk around the cliffs here. 
Admission: Adults: £3.00, Children: £1.50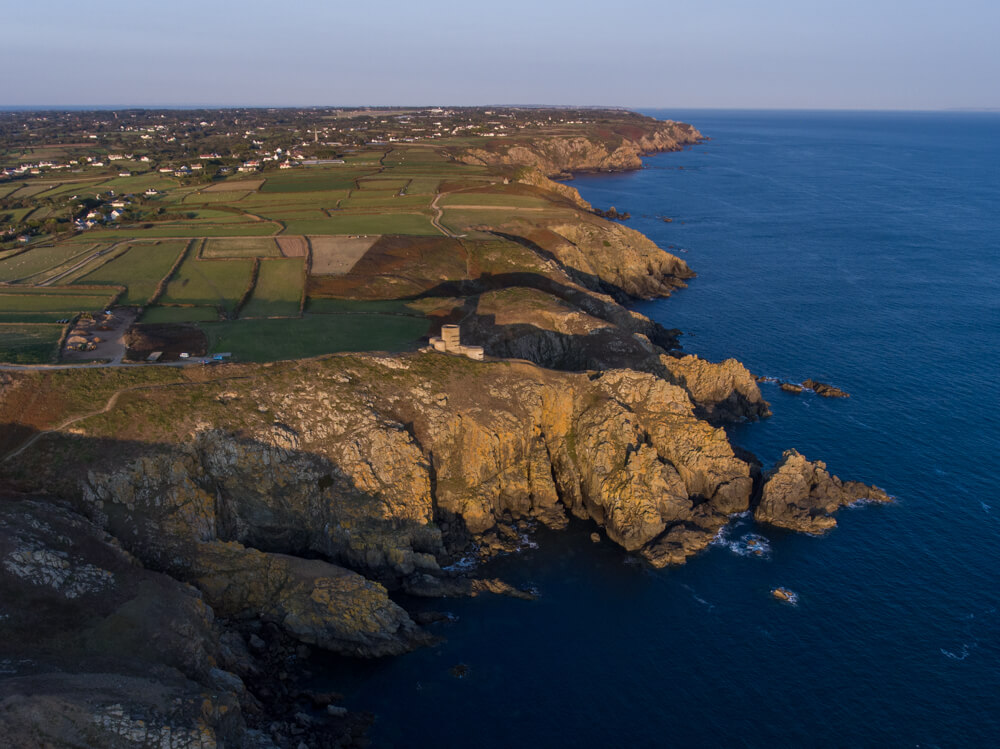 Admire the beauty of Pleinmont Point at sunset with this stunning drone footage of Guernsey from above. Also, click here to watch more of our Youtube videos and hit that subscribe button!
Clarence Battery
Clarence Battery is located just above the La Vallette Bathing Pools in St Peter Port. It was originally built in 1708 as an outer defence for Fort George, Guernsey's major military headquarters. Clarence Battery was the main fort on the island during French Revolution and home of the German Luftwaffe early warning system during the Second World War. 
This is a great spot to sit and watch the aeroplanes coming in overhead or look over to St Peter Port and Castle Cornet, the view is cracking.
Clarence Battery was renamed in 1805 in honour of George III's son, as it was previously named Terres Point Battery. 
Admission: Free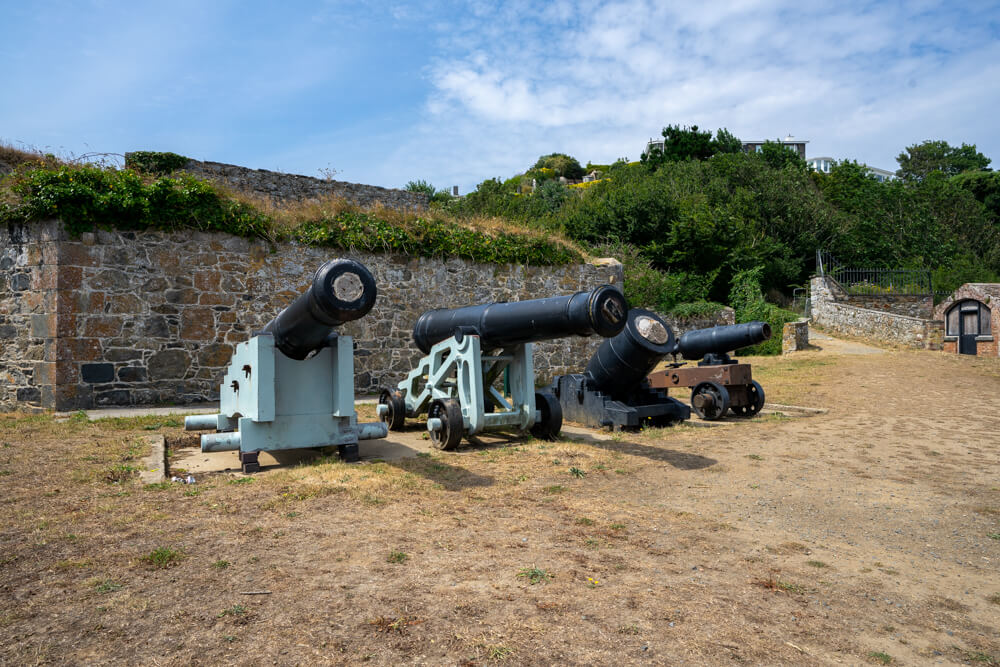 Fort Le Marchant
Originally constructed in the 17th century, Fort le Marchant has consistently featured as an intimidating sight for foreign invaders off the northern coast of  Guernsey. Towards the end of the 18th century, the small steadfast of Fort le Marchant underwent serious expansion with the rising threat of French invasion.
In addition to the remaining fortifications that you will see here today, an additional barracks was built on the site of Fort le Marchant in 1854, however, this has since been demolished.
Fort le Marchant is a beautiful place to visit for a walk along the coastline at high or low tide. Hugely popular with dog walkers, it is very common to see dogs off the leash in this area, so be aware when you are driving into the area.
Admission: Free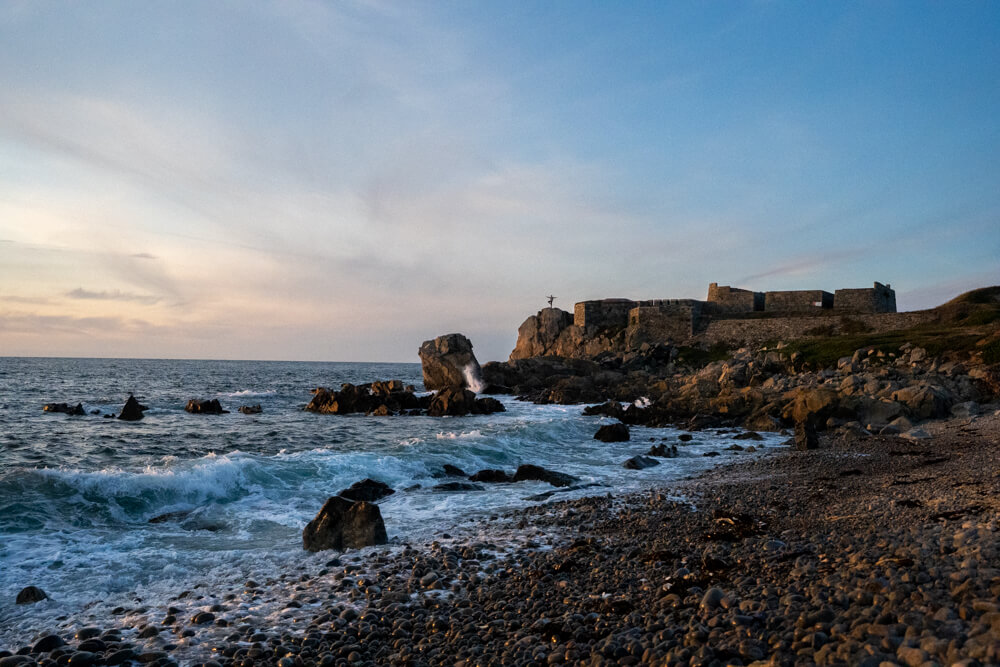 Fort Doyle
Fort Doyle was built in the 19th century as part of the expansive island-wide fortification seres to keep the island safe from French invasion. It is located on the north side of the island by Beaucette Marina. During the Second World War, the German forces fortified the area with 3 defence guns, mortars and anti-aircraft guns. This was to replace the three 18 pounder cannons were that were stationed in the battery previously.
Fort Doyle can be accessed by car or by using the following bus routes: 6, 6A, 7, 7A.
This is a beautiful area to go for a walk and enjoy a drink or a meal in Beaucette Marina afterwards.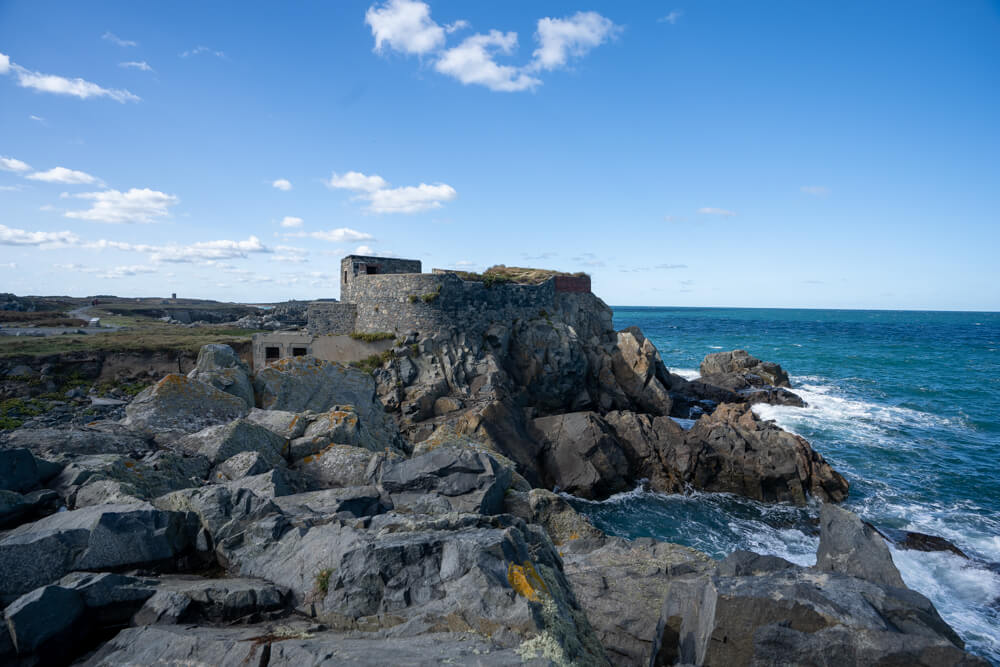 Fort Hommet Casemate
Located on the Vazon Bay Headland The Fort Hommet Gun Casemate Bunker is a fully restored gun casemate that was constructed by the occupying German forces during 1940-1945. Four of the 21 Fortress casemates in Guernsey were built here at Fort Hommet.
This is another great spot for walking along the headland or walking along the beach. It is also a popular area for bird spotting.
You can access Fort Hommet by care or it is accessible on bus routes 42,91,11.
Admission: Adults: £2.50, Children: £1.00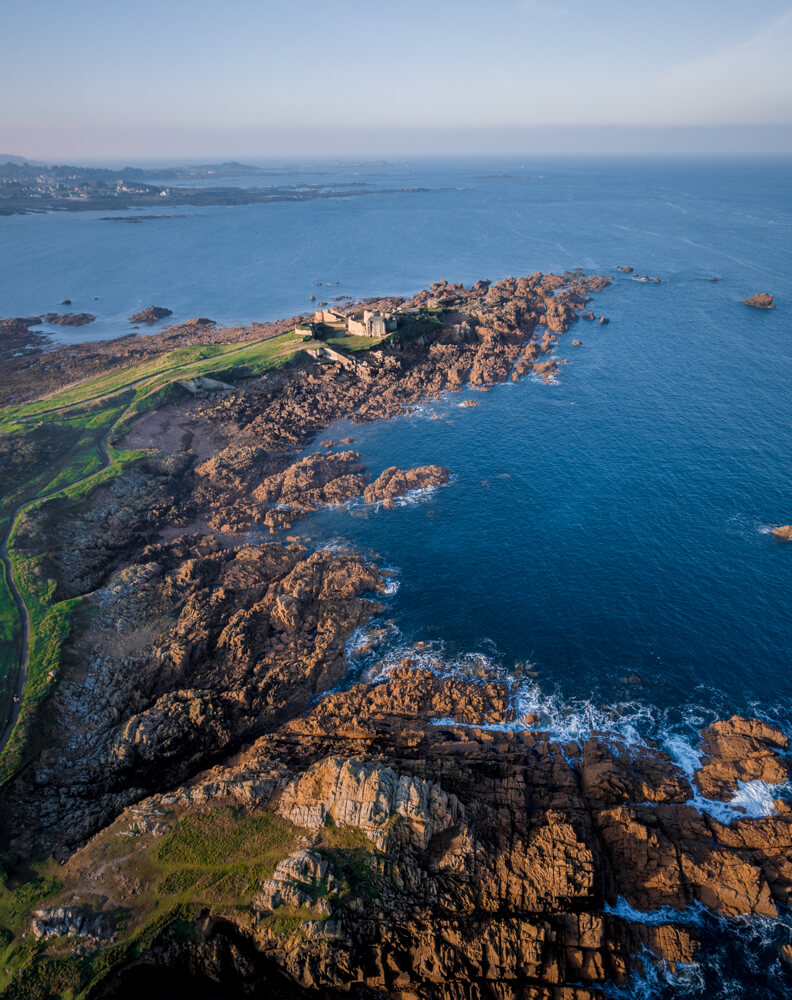 Before You Leave for Guernsey
Before you leave on your trip to the beautiful island of Guernsey, there are a number of things you will need to organise to ensure a smooth and stress-free trip. These include what to pack, where to stay and what is the best travel insurance for Guernsey.
What to Pack for Guernsey
What you need to pack for Guernsey will rely highly on when you make your trip to the Channel Islands. During the Spring and Autumn months, temperatures and weather patterns vary wildly between beautiful sunny skies and storming gales.
The temperatures generally vary from 10 oC to 25 oC during these months, with a mixture between cold, northerly winds and warmer southerlies. There is a small amount of rain, with maybe 1 in 7 days receiving rainfall, which makes it perfect for days out exploring the beautiful island.
During the Summer months in Guernsey, temperatures tend to range from 20oC to 30oC, with some days topping 35oC. Summer days in Guernsey are perfect for the beach, with many locals and travellers alike sending their day soaking up the sun and playing in the sea. When it comes to toiletries, we recommend that you don't forget to pack sunscreen. The sun in Guernsey can be strong, especially in the summer months.
If you need more inspiration on what to pack for your trip, check out our full packing guides for all-weather conditions over here.
Given the beautiful sights and scenery that you will see in Guernsey, we highly recommend packing a good camera for your trip. If you want to read more about the cameras we use and why we love them, check out the link below.
You can read what else we keep in our camera bag over here.
What is the Best Travel Insurance for Guernsey?
If you are simply planning on heading to Guernsey for a holiday, one thing that is essential for everybody is good travel insurance. Accidents can happen anywhere and at anytime and unexpected hospital bills will ruin a holiday. Remove the stress from your next adventure and get covered for the worst.
World Nomads Travel Insurance provides budget reliable travel insurance that will keep you covered for any level of adventure.
You can get your quote before you leave on your trip right here.
Where to Stay in Guernsey?
When it comes to accommodation on Guernsey, you are simply spoiled for choice with a huge range of hotels, B&Bs and even campsites to choose from. No matter what your preferred level of luxury is, there is the perfect place for you.
Luxury – Spend your time on Guernsey in true luxury at the Old Government House Spa and Hotel in St Peter Port. This hotel has beautiful views over the harbour of Guernsey's capital, as well as access to a luxurious spa, an outdoor terrace and a heated, outdoor pool.
Book your stay at the Old Government House Spa and Hotel here.
Mid-range – If you would like a taste of luxury at an affordable price, then the Auberge du Val Hotel is perfect for you. This 19th-century farmhouse sits on the west coast of the island and offers cosy, ensuite rooms, complete with tea, coffee and tv. The hotel is just a short walk from the beautiful nature reserves in St Saviour, perfect for a romantic trip away for the weekend.
Book your stay at the Auberge du Val Hotel here.
Budget – Situated just 2-miles from Guernsey airport in the heart of St Martins, the Carlton Inn is the best value hotel in Guernsey. With free parking and wifi, as well as access to the Wicked Wolf pub that sits in the same building.
Book your stay at the Carlton Inn here.
Camping – If you are up for a more adventurous stay on Guernsey, Fauxquets Valley Campsite offer a range of glamping safari tents, glamping pods and sites for your own tent if you bring one. Visit their website for a full price list of tents and campsites.
So there you have it, your complete guide to visiting the historical sites in Guernsey! This is just some of the many great things to do in Guernsey, and we would recommend that you give living on this gem of an island a go.
If you found this guide to the historical sites in Guernsey useful, please let us know in the comments section below. We love chatting you guys about this kind of thing, and sharing our top experiences with everyone else! What site was your favourite? Do you have any places to add that we missed out?
Also, make sure you share this article with your family and friends to show them how beautiful the Channel Islands can be. Sharing is caring and we want to inspire as many people as we can to visit this unbelievable part of the world.
If you are planning a trip to Guernsey soon then check out our other Channel Islands content right here. Come and find us on social media to see where we are currently exploring. Tag us in your photos from Guernsey and we will share them with the rest of our community of explorers and backpackers on our social channels!
Now Read:
This article may contain affiliate links that provide us with a small income. For more information read our Affiliate page.
---
Save this to your Guernsey Pinterest board for later