Guernsey, Jersey and some smaller islands located in the English Channel make up the beautiful Channel Islands. Although these islands aren't in the UK, there is very much a UK resemblance. Located 25 miles from France, on a clear day you can see the French coastline with incredible clarity from Guernsey. There is a huge French influence on the island, and trying to pronounce the street names with a Scottish accent could prove quite entertaining! Unfortunately, the local Guernsey language is dying out and the majority of people now speak English. There are many reasons why you should visit Guernsey when it is safe to do so. In this post, we share some of the reasons why we love living on the island and why we think that you would love to visit Guernsey too.  
Plan your weekend break to Guernsey with this detailed two-day itinerary
Save this image to your Guernsey Pinterest board for later!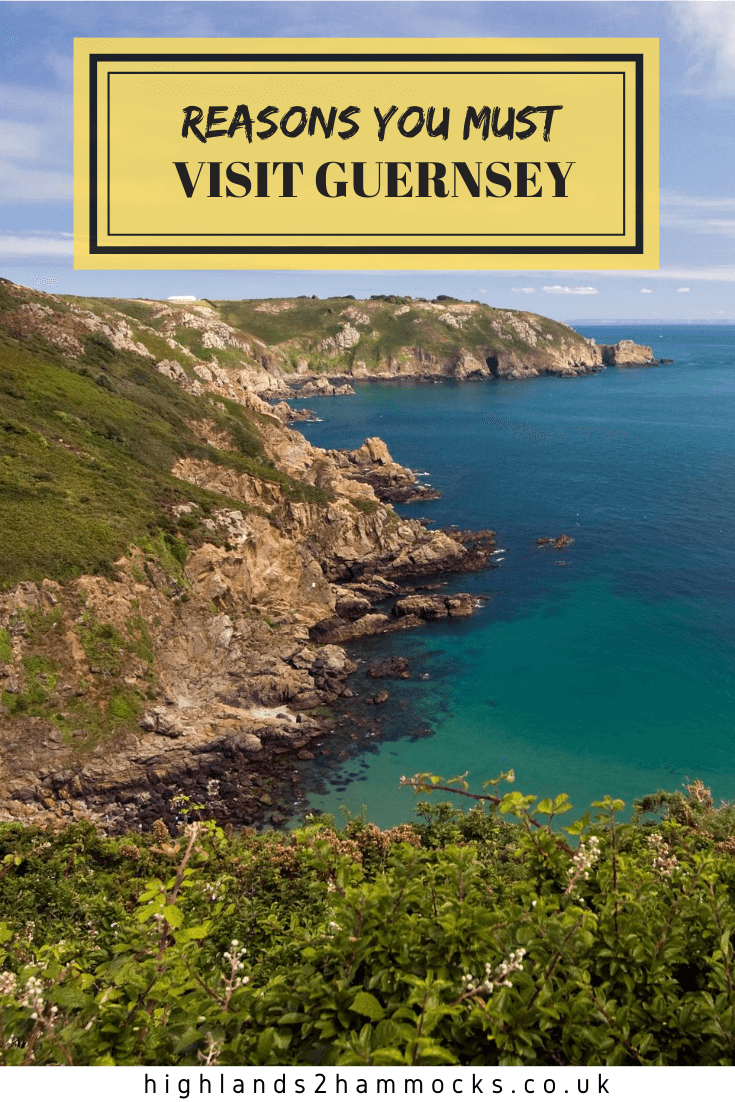 In this guide, there is information for planning your trip to Guernsey, as well as the best places to stay and things to do whilst you are visiting the island. Some of these include:
Cliff walks
Learning about the history of Guernsey
Beach days
Balcony Gig
Seafront Sunday
and many more…
Come along on our food tour of Guernsey in this video. Make sure you subscribe to our Youtube channel for more by clicking here!
Reasons to Visit Guernsey
Why You Should Visit Guernsey?
You might be asking why such a small island in the British Isles could be so special? The kind, multicultural community along with picturesque cliff walks and white sandy beaches are naming only a few of the reasons why we would recommend a visit to Guernsey. There is a lot of recent history held on the island including many World War 2 bunkers and underground museums. Guernsey is the perfect place for a weekend break to mix up some good food and drink along with history and picture-perfect views.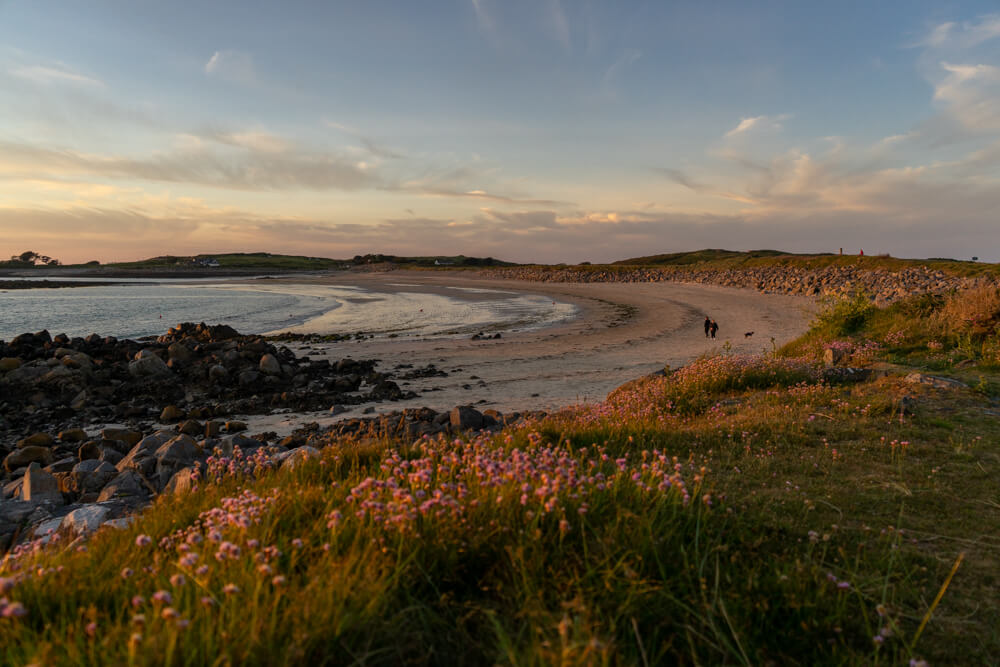 The Laidback Guernsey Lifestyle
Covering only 30 square miles, it doesn't take very long to drive around the island, the full circumference taking about an hour. The maximum speed limit on the island is 35mph, with many of the smaller inland roads being just 25mph. When you get onto the narrow roads you will quickly realise that you can't or wouldn't want to go much faster than that anyway. Take time to enjoy the slow, quiet and simple
lifestyle on the island of Guernsey
. The crime rate in Guernsey is extremely low making it a very safe place to live. So safe that you will actually find a lot of people will tell you they don't even lock their car door!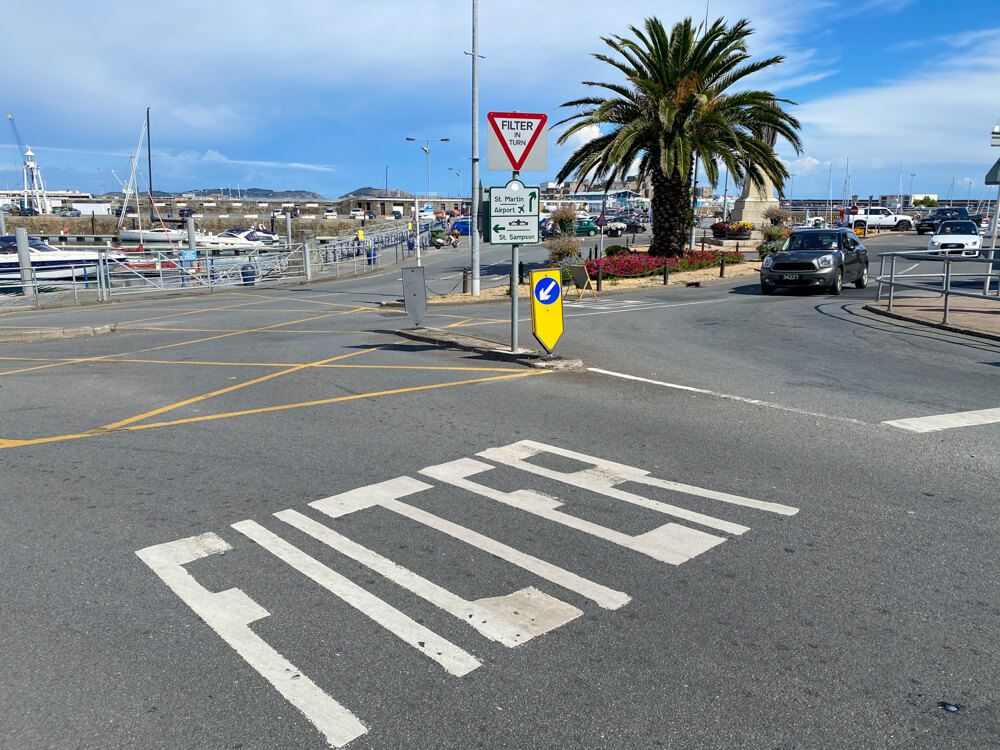 The Weather in Guernsey
Guernsey is the sunniest place in the British Isles and on a warm summer's day, there are plenty of opportunities to enjoy Guernsey's sunny weather, whether it be sunbathing on the beach, surfing or cliff walking. Guernsey sees more sunshine throughout the year than the UK and hosts many outdoor events throughout the summer months for the community to enjoy. However, there isn't an awful lot to do on a wet winters day. It is common for things to close and there are not many indoor activities to do on a rainy day. Pub it is then!  
The Fascinating History of Guernsey
Guernsey is full of recent history and the island was the closest place to mainland Britain to be occupied by the Germans during World War 2. Occupied by Germany during World War 2 there are many concrete bunkers and deep tunnels holding Guernsey's history. The German underground military hospital holds an eeriness to it however I would say these are definitely worth a visit even if history isn't your thing!  
Liberation Day
is an annual holiday in Guernsey held on the 9
th
May. This is the day that Guernsey was liberated from the Germans. Huge celebrations take place over the island. The roads in St Peter Port close and the parades take place throughout the day with gunshots from the famous Castle Cornet. This is a bank holiday on the island and everyone who has the day off heads out to celebrate. The most recent celebration that will go down in history is that Guernsey was the first country in the British isles to end the lockdown and have zero cases of coronavirus. We were so lucky to be living in Guernsey during the coronavirus pandemic and be released from lockdown earlier than if we were living elsewhere.  
Kiosks and Hedge-Veg
One of my favourite things about Guernsey is near enough every corner you turn on the road along the seafront, there is a different kiosk serving hot food and drink, snacks and ice cream. Popular kiosks on the island and my personal favourites are Woodies Kiosk at Bordeaux and Richmond Kiosk near Vazon Bay. Both have spectacular views over the beach and great coffee and ice cream. Another popular small business in Guernsey is "Hedge-veg". Driving around the island you will come across many stalls outside houses selling home-grown fruit and veg with only an honesty box for payment. The honesty of the people on the island is incredible, making it a very safe and welcoming place to live.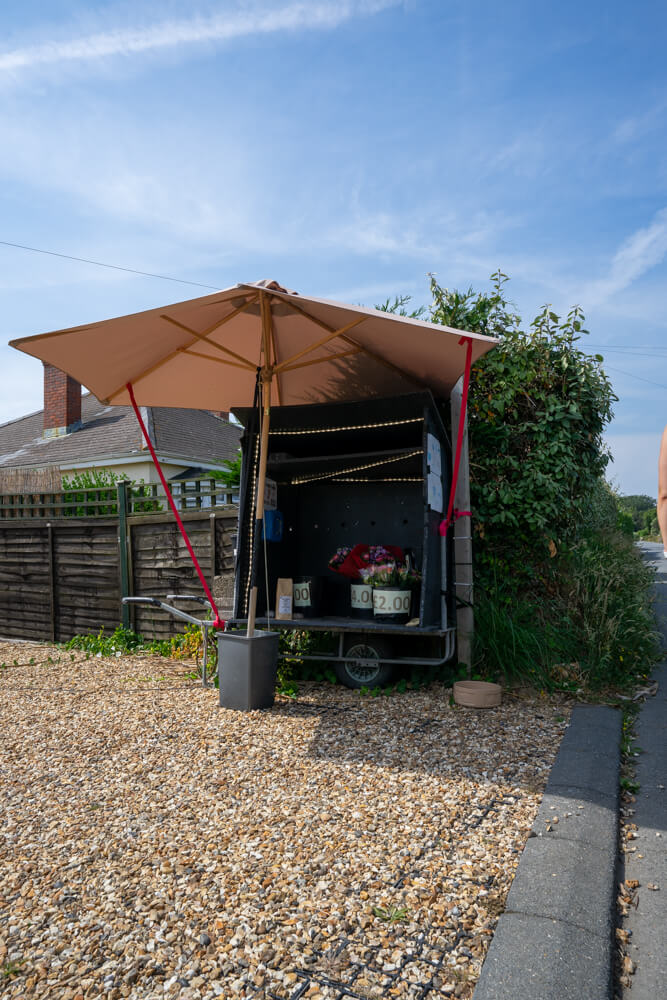 Beaches in Guernsey
The white sandy beaches surrounding Guernsey are an ideal chill-out spot on a hot summers day, Cobo Bay being one of the most popular beaches on the island for this. If you enjoy surfing, then Vazon Bay is the best beach on Guernsey for watersports and you can rent a board from the Guernsey surf school if you don't have your own. The
sunsets over the sea in Guernsey
are incredible, our favourite place to watch it being Cobo. During the summer months,  the main road along the seafront is closed off on a Sunday and The Cobo Bay Hotel hosts balcony gigs giving local tribute bands a shot at fame!   In addition to the hugely popular, white-sand beaches on the northern side of the island, Guernsey also has a host of
hidden beaches
dotted along its southern coast. Guarded by the steep cliffs, these beaches tend to be a lot more sheltered from the wind and are also less popular than the northern ones due to their isolation. Petit Port beach is one of the
most pristine beaches
if you visit at low tide. It is a bit of a hike down to get to Petit Port but it is well worth the climb once you reach the bottom and you are sheltered by the cliffs on the white sandy beach. Avoid visiting at high tide if you are wanting a sandy beach as when the tide is high, all that is left on the beach is stones.   The other option in Guernsey is the Valette Bathing Pools. These are outdoor swimming pools located on the east side of the island. These are best accessed when the tide is low as the pools are filled from the seawater. They are a safe and contained way of swimming in Guernsey.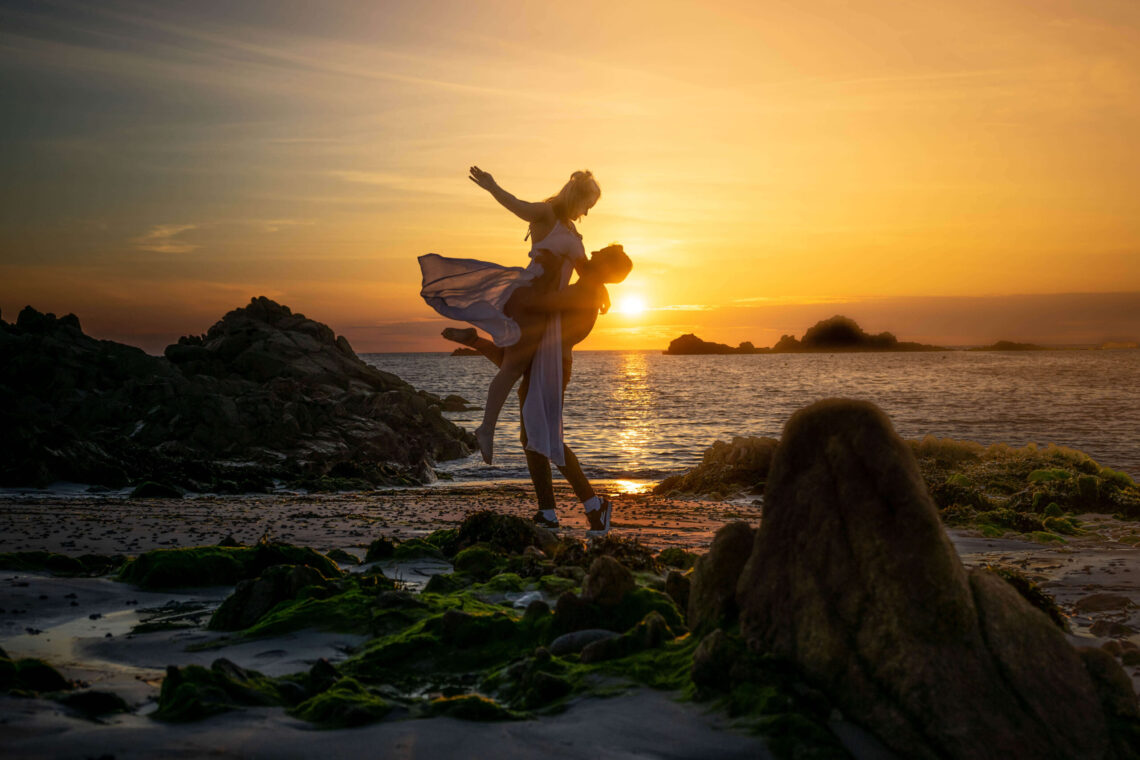 Surfing in Guernsey
Surfing is a popular sport rain or shines in Guernsey, the favourite surf beach being Vazon Bay located on the west coast. Many a time I hired a board from Guernsey Surf school to enjoy the thrill of the waves. The turquoise sparkling water surrounding the land is not as the Mediterranean as it looks, however, it is refreshing and still well used even in the cold winter months! The beach café Vistas serves up delicious reasonably priced food and drinks with beautiful views of Vazon beach and the surfers!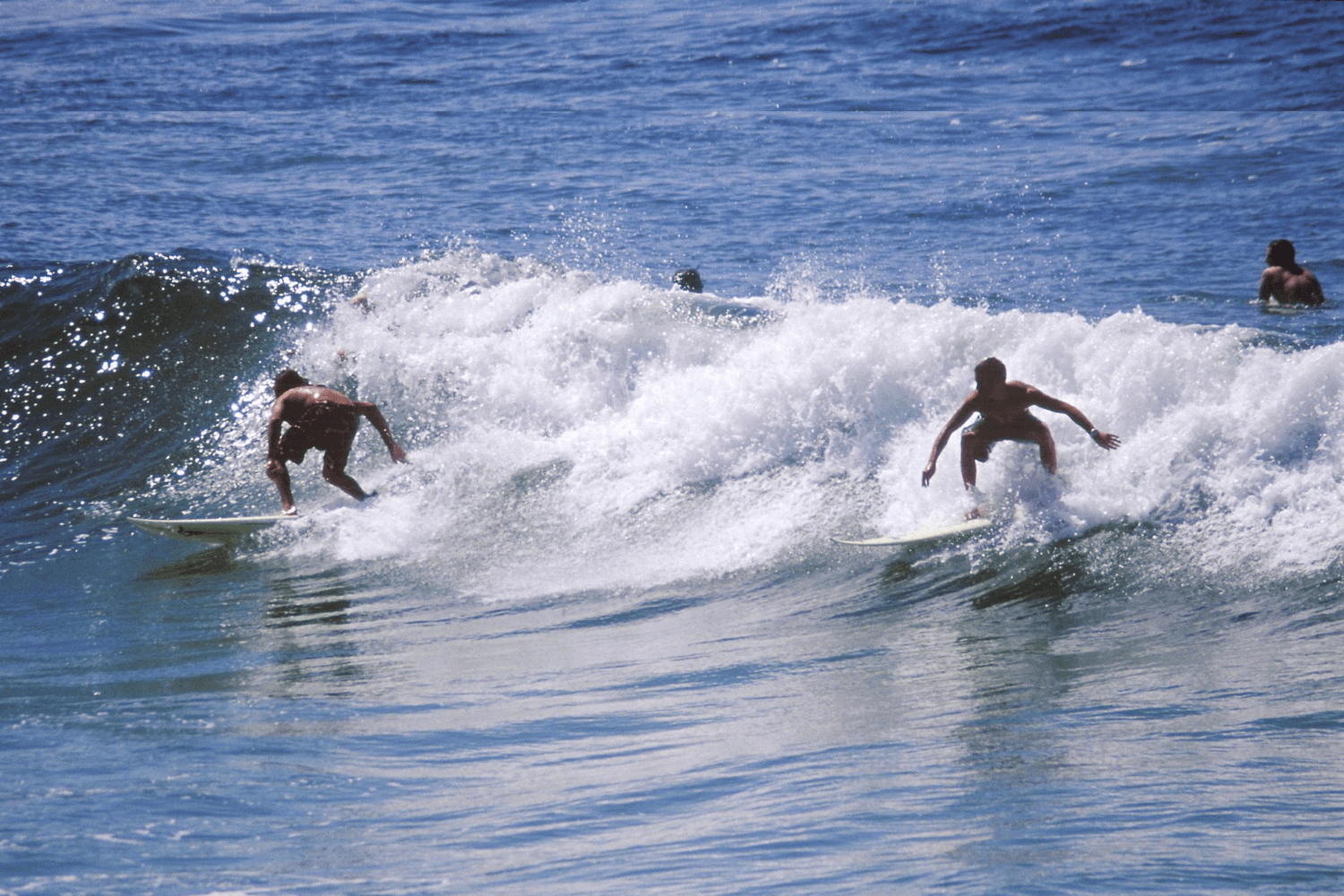 Food and Drink in Guernsey
Guernsey is a great place to visit for food and drink. Many
restaurants in Guernsey
host "Tennerfest" throughout the month of October which allows you the opportunity to try out a three-course menu for £10. The food in Guernsey is so fresh and tasty so I highly recommend trying it out! The Guernsey cow is a popular animal on the island producing its own Guernsey milk and cream. The Guernsey ice cream I'd have to say is definitely the best part of this!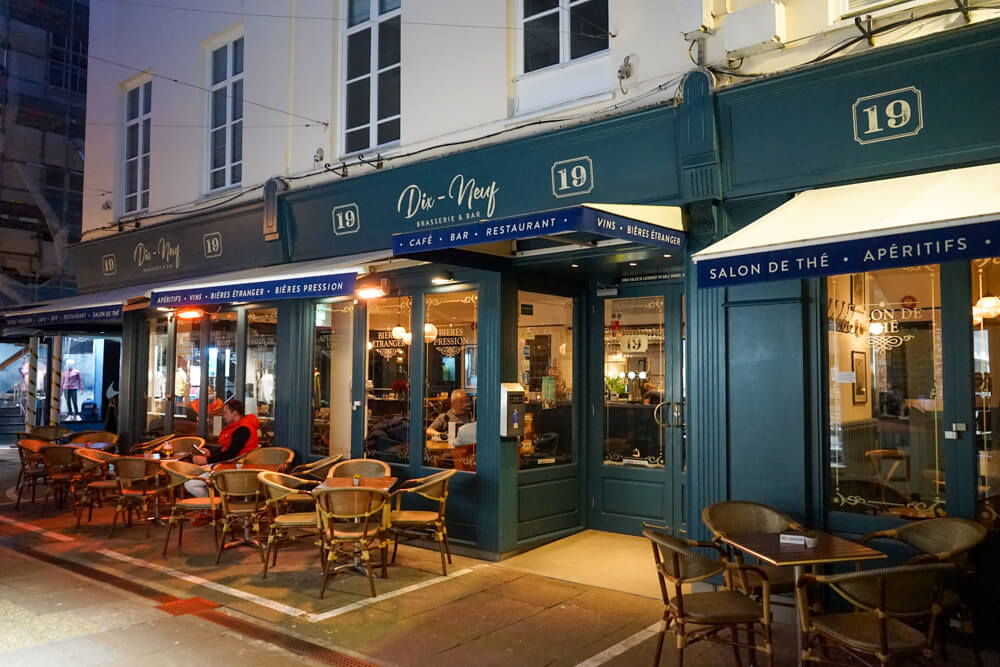 Guernsey's Best Attractions
Castle Cornet
Sitting at the harbour in St Peter Port is Castle Cornet. This 800-year-old castle offers an insight into Guernsey's incredible history dating back hundreds of years. Take some time out your day to spend a few hours here,  join the daily tours, watch the firing of the noonday gun and enjoy wandering around the courtyard and museums on site.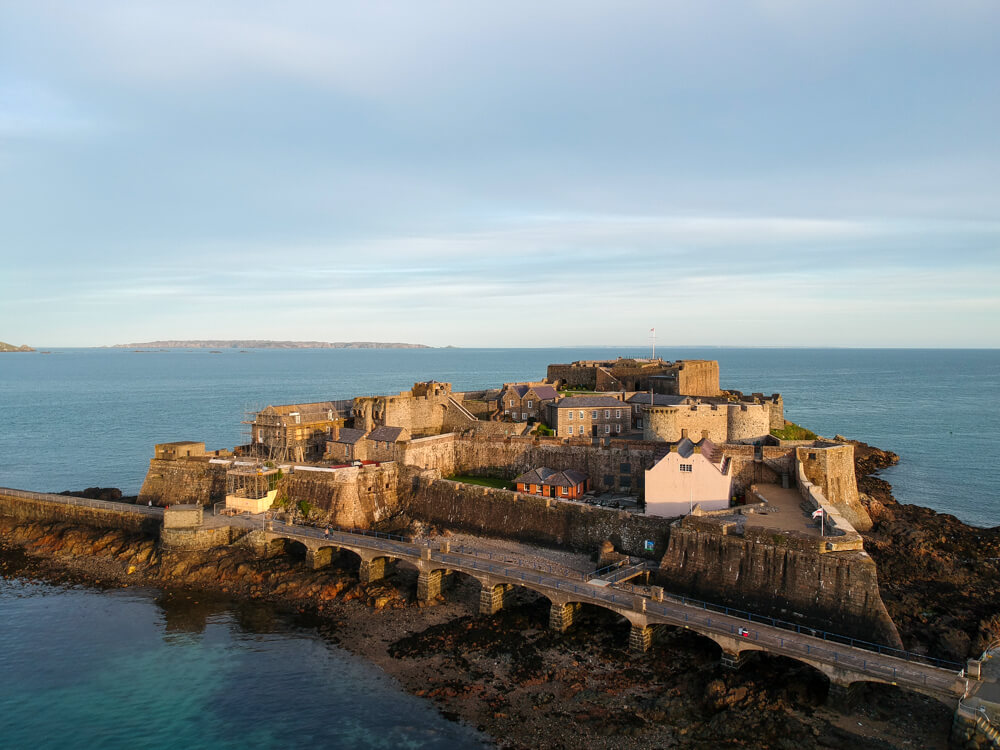 The Hill Climb
The Val de Terres is the well-known windy road in Guernsey and on set bank holidays throughout the year a formula one type day is organised and all the car fanatics race up the hill in record time. Even if you're not here to watch the hill climb, this is a fun road to drive up and if you are feeling brave enough, walk up.    
The Little Chapel
The Little Chapel
is another attraction that is lovely to visit. This small chapel is located in St Andrews and was built by Brother Déodat who aimed to create a miniature version of the famous grotto and basilica at Lourdes in France in 1914. This beautiful work of art is a popular place for tourists to visit on their trip to Guernsey.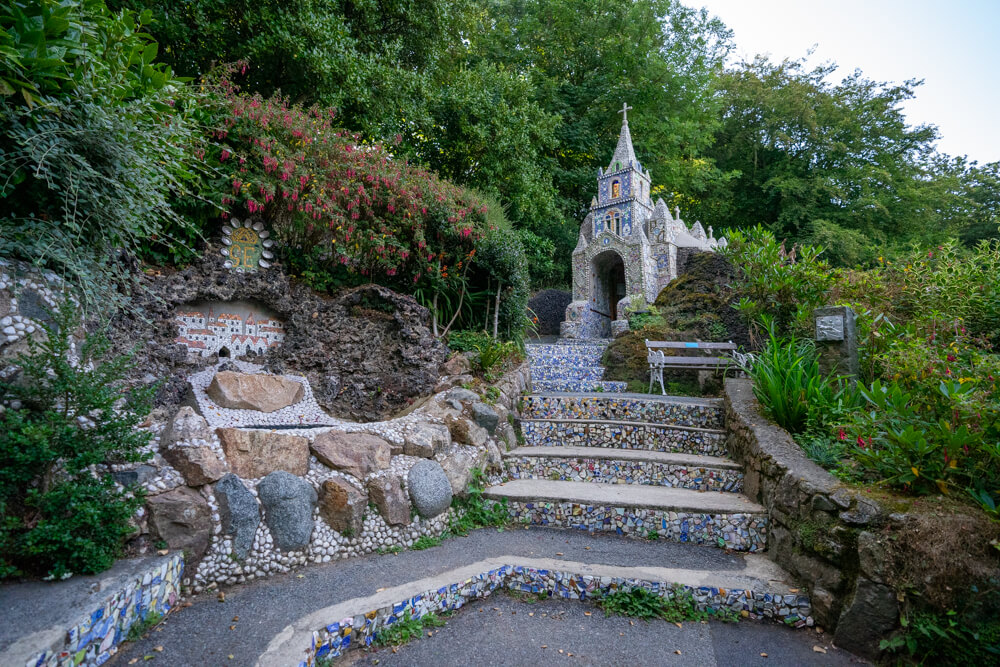 The German Underground Hospital
The German Underground Hospital is the largest World War 2 structure in the Channel Islands. There is over 75,000 square feet of tunnels that were constructed by slaves and occupied by the German occupying forces between 1940 and 1945. This is a fascinating place to visit in Guernsey due to how much history it holds.    
Sea Front Sunday
Seafront Sunday is one of our favourite things about Guernsey. The seafront is closed off and small local businesses gather to set up their markets and sell their goods to the locals. There is live music playing, food on offer and an all-round good vibe. It's a lovely Sunday morning activity.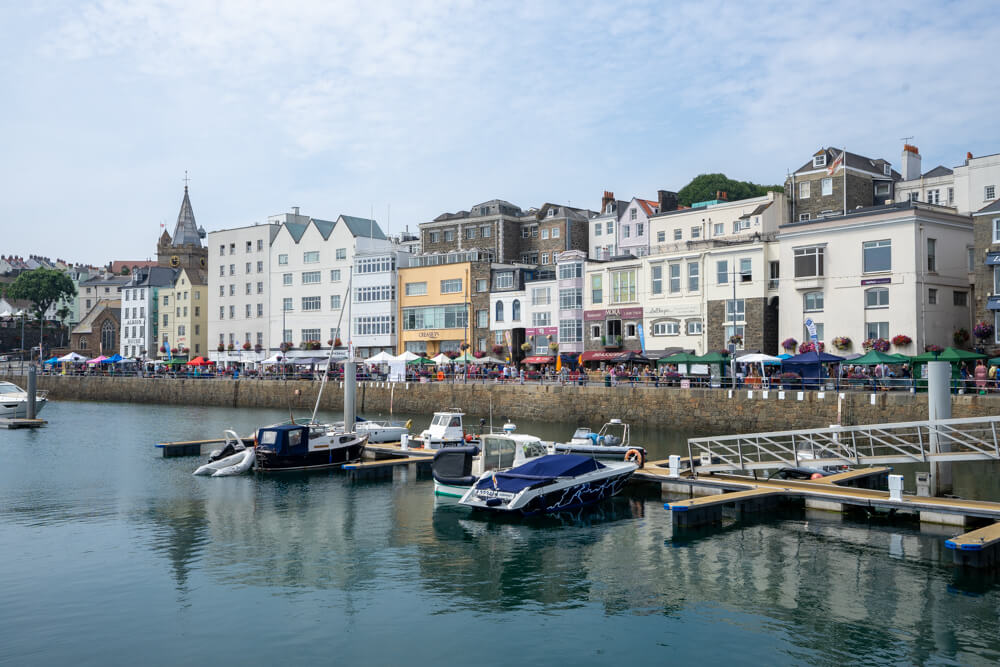 Cobo Balcony Gigs
During the summer months in Guernsey, head round to Cobo Bay on a Sunday for an afternoon full of live music and fun. Cobo Hotel balcony turns into a stage where live bands perform to the crowds that gather on the beach and the closed off road area. Bring a picnic and some drinks and chill out the beach on a sunny Sunday afternoon listening to the local talent.    
Visiting Nearby Islands
Lihou Island
Located off the west coast of Guernsey,
Lihou Island
is the most westerly point in the Channel Islands. This small island is easy to get to at low tide as there is a causeway linking it to Guernsey. The causeway meets at L'Eree headland and is a 570m walk across to Lihou Island. The States of Guernsey publish the tide times however don't leave it until the last minute or you will get stranded over there with nowhere to stay.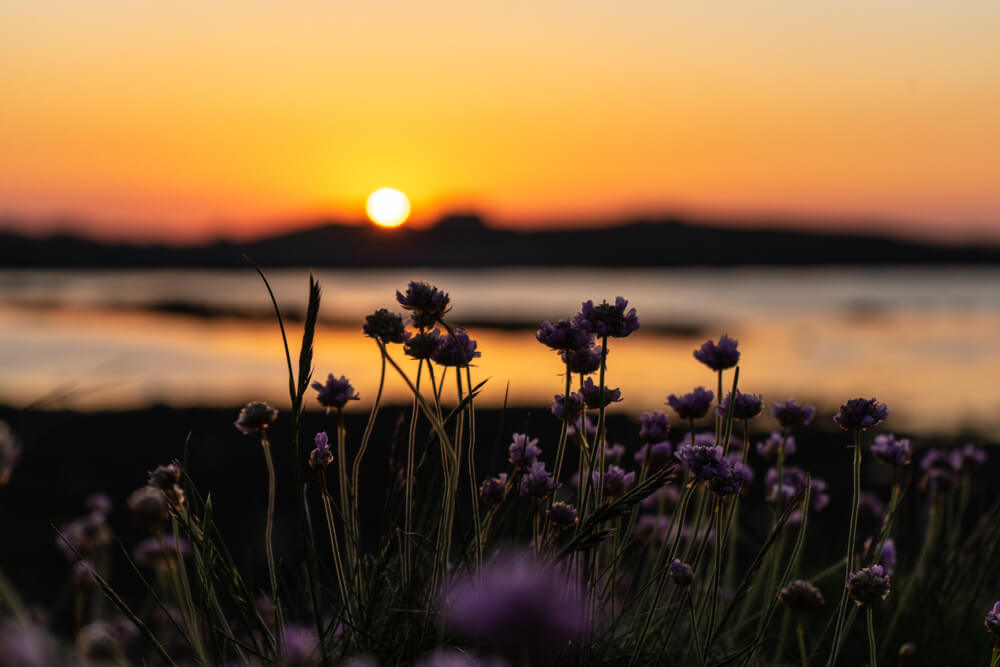 Herm Island
Herm
is one of the smaller islands in Guernsey located off the east coast. Herm is only accessible by boat and the
Travel Trident
Ferry is the place to book your tickets for a trip to the island. Herm is a small island with no transport and it takes approximately an hour to walk around the whole island. The pristine beaches make you feel as though you are in paradise. If you are feeling peckish, we love stopping in at the Mermaid Tavern for some food before we head back to Guernsey. There is a great selection of food and drink and a large outdoor seating area. There is also a kiosk located at Shell Beach serving hot food and drinks and ice cream. The perfect way to cool down.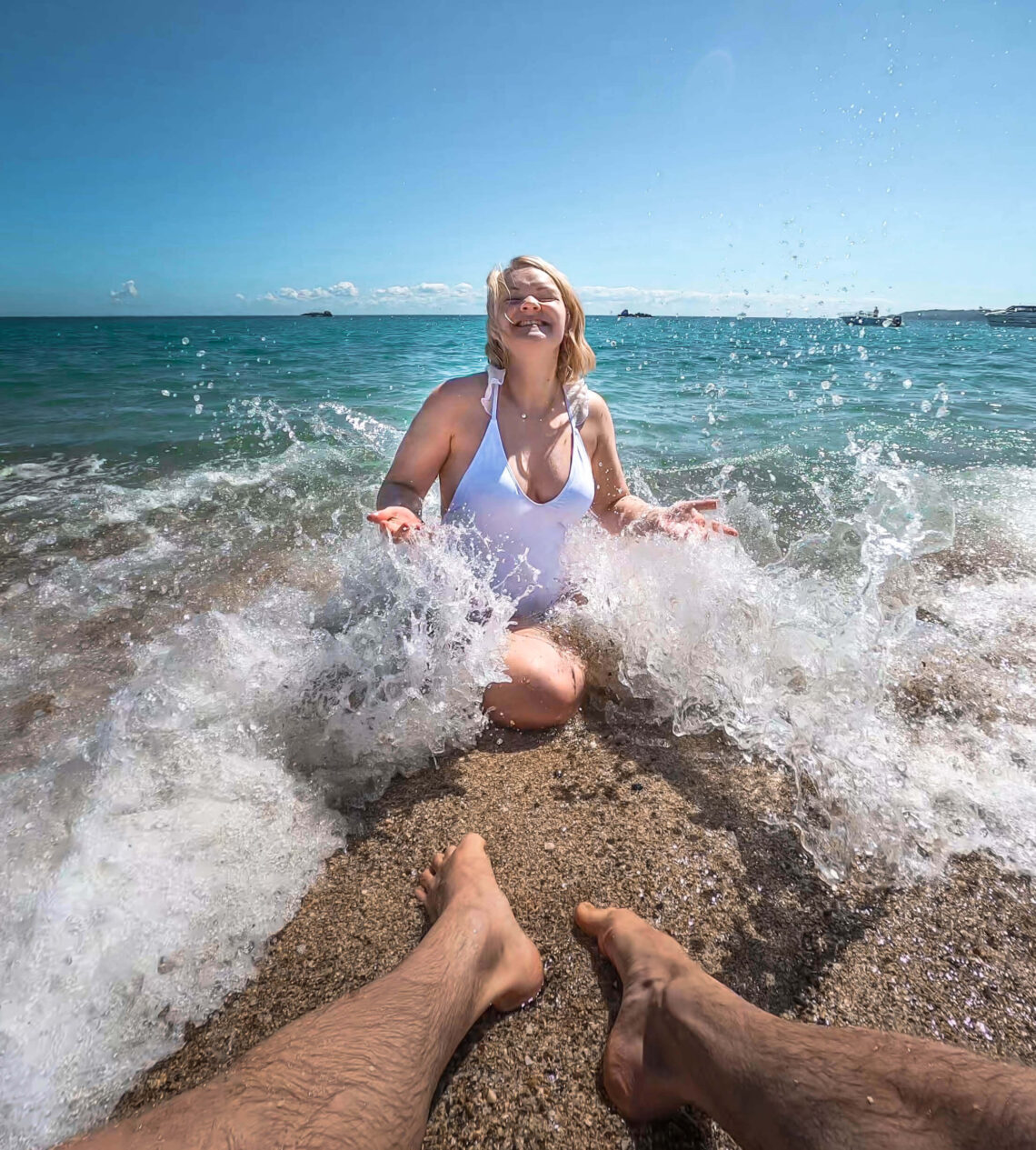 Sark Island
Sark
island sits further off the east coast of Guernsey and is another small island with no transport, only horse and carriage or bicycle. Sark was declared the first dark sky island in the world as there is no light pollution over there. The perfect place to camp out and admire the stars. To get to Sark from Guernsey, you will need to book onto the passenger ferry, 
Sark Shipping
. The ferry takes around 50 minutes to sail to Sark from Guernsey and be prepared for a bit of a rocky ride, the open water gets 
very
 bumpy. Walking through Sark, you will pass many cute and quaint cottages, many of these being opened up for business whether that is a bed and breakfast or a restaurant or cafe. The beautiful coastal sights, endless horizon, delicious food and friendly locals are all reasons in themselves for you to visit this unique island.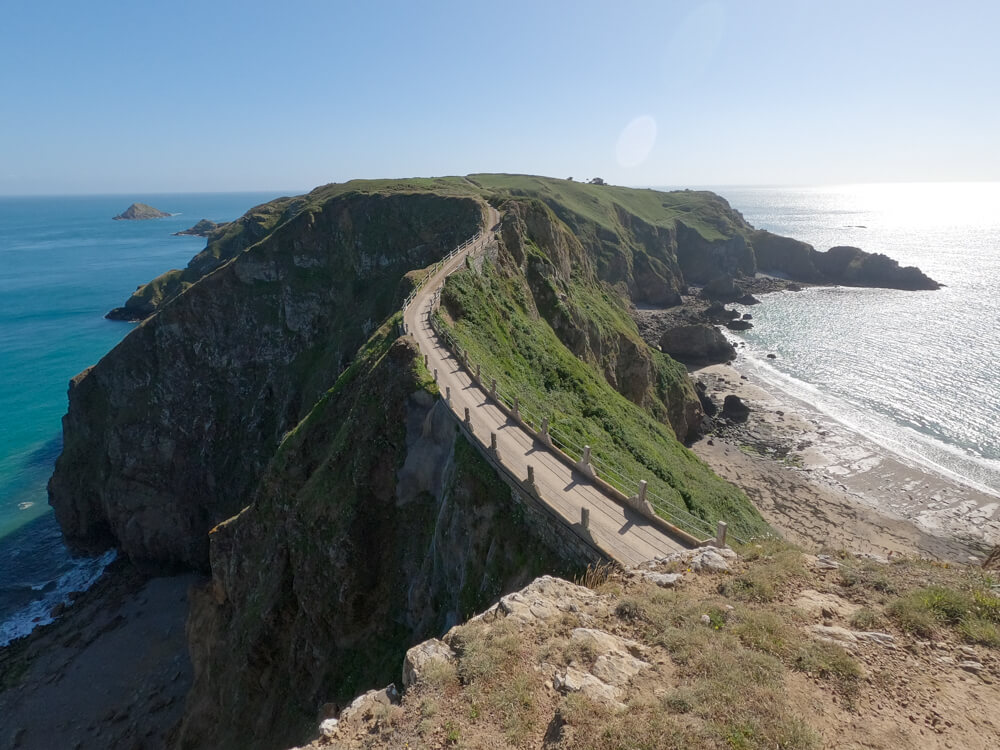 Getting Around Guernsey
Travelling around Guernsey by car is the easiest way to explore the history and reach the popular stretches of sand and hidden coves on the island. The roads and lanes can be narrow and there is also a filter in turn system used, which we have never seen before elsewhere. It would be advised reading further about this if you plan to drive in Guernsey. The
bus in Guernsey
is a cheap mode of transport and if your accommodation is situated in St Peter Port, then this may be a mode of transport for you. We can recommend using a Puffin pass as this will cost 70p per journey instead of £1.  
Hiring a bicycle
is a great option for getting around Guernsey. Some parts of the island can be steep, however, if you choose to stick to the coast then you will be cycling mainly on flat land. You can rent a bike from multiple places around Guernsey for a day. Another option of getting around the island is
hiring a scooter
. If you have a driving license or a scooter license then you are allowed to drive a motorcycle in Guernsey. This is a very popular way of getting around the island due to how small the roads are.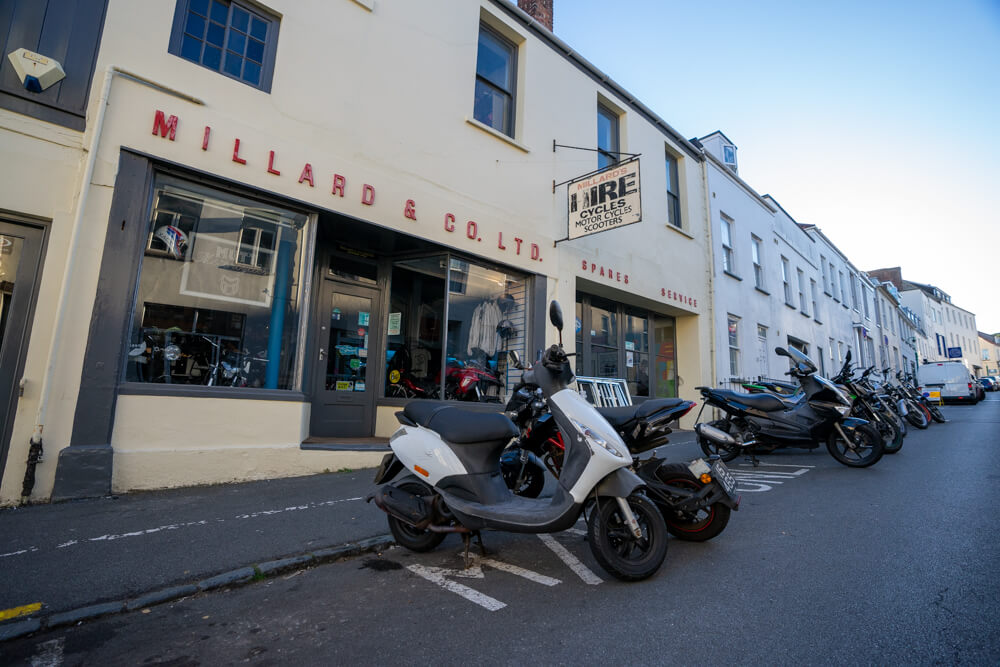 Before You Leave for Guernsey
Before you leave on your trip to the beautiful island of Guernsey, there are a number of things you will need to organise to ensure a smooth and stress-free trip. These include what to pack, where to stay and what is the best travel insurance for Guernsey.  
How to Get to Guernsey
Given that Guernsey is an island, you really have two choices of transport for getting there: plane or boat. Both of these transport methods are available from the UK, France and from the neighbouring Channel Islands.  
Ferry to Guernsey
Condor is the best option for ferries to and from the Channel Islands from the mainland. Leaving from the mainland UK ports of Poole and Portsmouth, the French port of St Malo and the Channel Islands port of Jersey, there are two main ferries that will bring you to Guernsey. The faster boat, known as the Liberation, takes 3 hours to get from Poole to Guernsey, while the slower boat, known as the Clipper, takes 7 hours from Portsmouth. From St Malo, it will take you just under 2 hours aboard the Rapide to reach Guernsey.
Browse all of Condor's ferries and routes on their website here.
Fly to Guernsey
Flying to Guernsey can be done from multiple airports across the UK with the Channel Islands airline, Aurigny. This is the quickest and easiest way to get to the island if you are only coming for a short period of time.
You can browse all of the available flights and routes on the Aurigny website here.
What to Pack for Guernsey
What you need to pack for Guernsey will rely highly on when you make your trip to the Channel Islands. During the Spring and Autumn months, temperatures and weather patterns vary wildly between beautiful sunny skies and storming gales. The temperatures generally vary from 10 oC to 25 oC during these months, with a mixture between cold, northerly winds and warmer southerlies. There is a small amount of rain, with maybe 1 in 7 days receiving rainfall, which makes it perfect for days out exploring the beautiful island. During the Summer months in Guernsey, temperatures tend to range from 20oC to 30oC, with some days topping 35oC. Summer days in Guernsey are perfect for the beach, with many locals and travellers alike sending their day soaking up the sun and playing in the sea.  
If you need more inspiration on what to pack for your trip, check out our full packing guides for all-weather conditions over here.
  When it comes to toiletries, we recommend that you don't forget to pack sunscreen. The sun in Italy is very strong, especially during the summer months. Apply a lot of creams regularly to prevent a nasty burn from ruining your trip. We use
this specific sunscreen
to protect us as it is not as oily and irritating as other sunscreens.   Given the beautiful sights and scenery that you will see in Guernsey, we highly recommend packing a good camera for your trip. If you want to read more about the cameras we use and why we love them, check out the link below.
You can read what else we keep in our camera bag over here.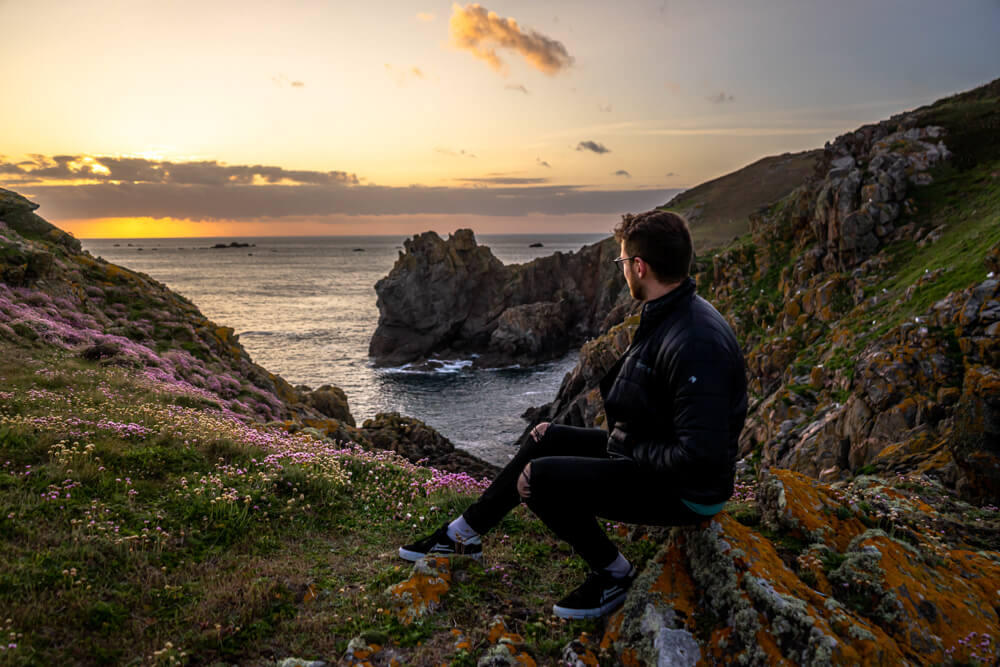 What is the Best Travel Insurance for Guernsey
Regardless of what type of trip you are heading on, one thing that is essential for everybody is good travel insurance. Accidents can happen anywhere and at anytime and unexpected hospital bills will ruin a holiday. Remove the stress from your next adventure and get covered for the worst.
World Nomads Travel Insurance
provides budget reliable travel insurance that will keep you covered for any level of adventure.
You can get your quote before you leave on your trip right here.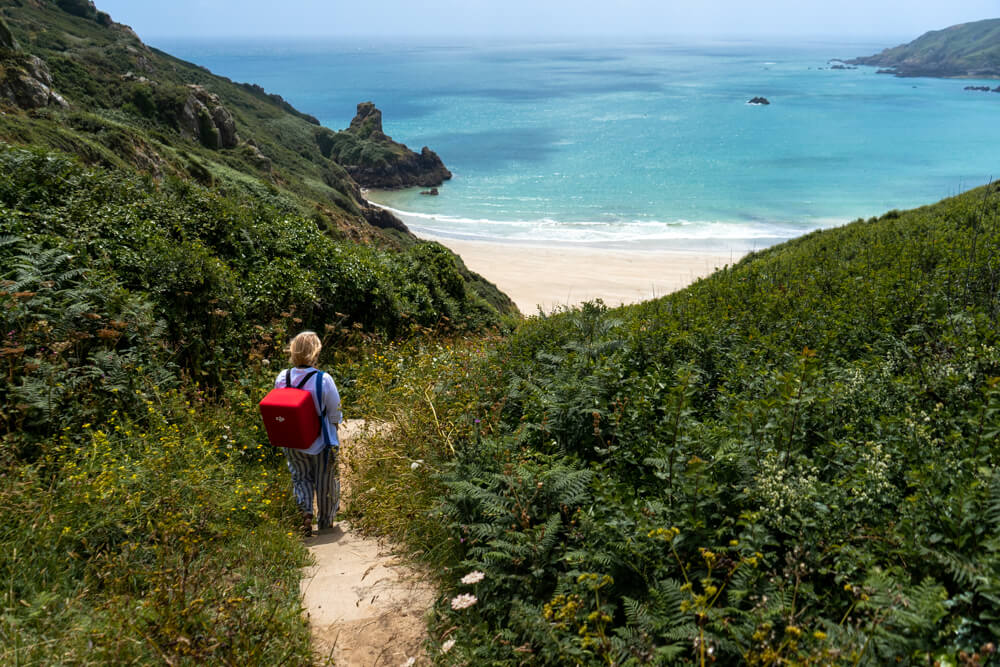 Where to Stay in Guernsey
When it comes to accommodation on Guernsey, you are simply spoiled for choice with a huge range of hotels, B&Bs and even campsites to choose from. No matter what your preferred level of luxury is, there is the perfect place for you.  
Luxury
– Spend your time on Guernsey in true luxury at the Old Government House Spa and Hotel in St Peter Port. This hotel has beautiful views over the harbour of Guernsey's capital, as well as access to a luxurious spa, an outdoor terrace and a heated, outdoor pool.
Book your stay at the Old Government House Spa and Hotel here.
Mid-range
– If you would like a taste of luxury at an affordable price, then the Auberge du Val Hotel is perfect for you. This 19th-century farmhouse sits on the west coast of the island and offers cosy, ensuite rooms, complete with tea, coffee and tv. The hotel is just a short walk from the beautiful nature reserves in St Saviour, perfect for a romantic trip away for the weekend.
Book your stay at the Auberge du Val Hotel here.
Budget
– Situated just 2-miles from Guernsey airport in the heart of St Martins, the Carlton Inn is the best value hotel in Guernsey. With free parking and wifi, as well as access to the Wicked Wolf pub that sits in the same building.
Book your stay at the Carlton Inn here.
Camping
– If you are up for a more adventurous stay on Guernsey, Fauxquets Valley Campsite offer a range of glamping safari tents, glamping pods and sites for your own tent if you bring one.
Visit their website for a full price list of tents and campsites.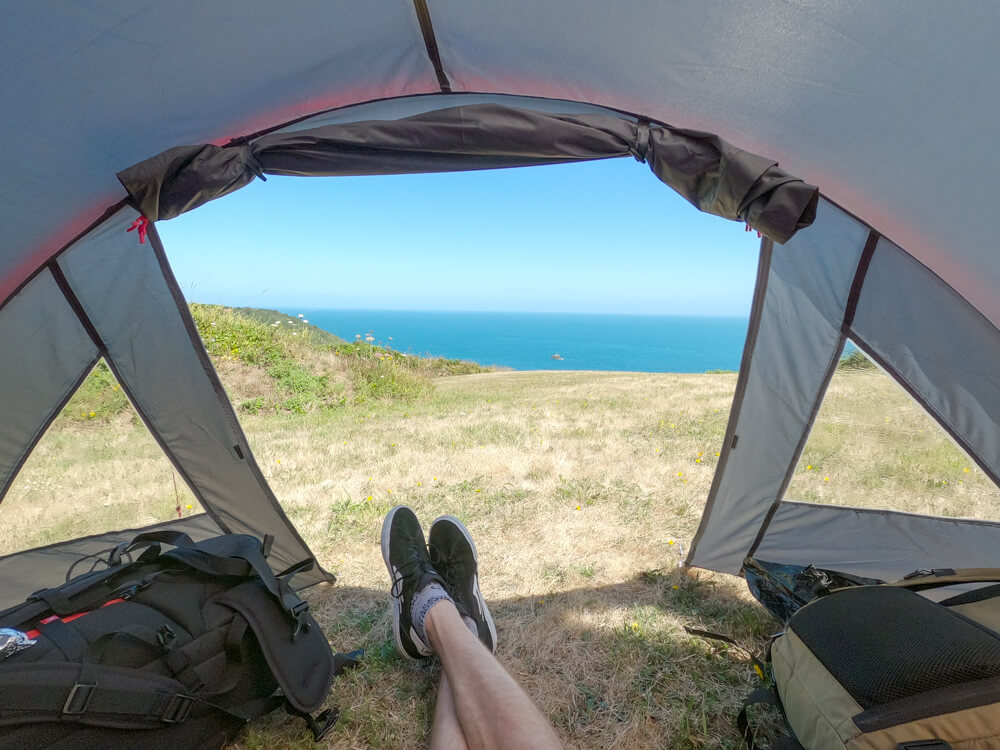 So there you have it, a complete guide to Petit Port in Guernsey! This is just one of the many beautiful beaches and cliff views along the southern coast of the island, so make sure you read our other Guernsey guide to discover even more of them. If you enjoyed your trip to Guernsey, let us know what your favourite sight on this amazing island was in the
comments section below
. We love chatting you guys about this kind of thing, so let's share our top experiences with everyone else! What beach was your favourite? Did you try any of the kiosks? How good is a Guernsey sunset?! Also, make sure you share this article with your family and friends to show them how beautiful the Channel Islands can be.
Sharing is caring
 and we want to inspire as many people as we can to visit this unbelievable part of the world. If you are planning a trip to Guernsey soon then check out our
other Channel Islands content right here
. Come and 
find us on social media
to see where we are currently exploring. Tag us in your photos from Guernsey and we will share them with the rest of our community of explorers and backpackers on our social channels!    
Now Read:
This article may contain affiliate links that provide us with a small income. For more information read our Affiliate page.
---
Save this to your Guernsey Pinterest board for later