Hermit's Castle has been referred to by different names, but the one apt word to explain the charm of this tourist spot is 'unusual'. It is truly a peculiar tourist place that is still unknown to many.
Often described as Europe's smallest castle, Hermit's Castle isn't one of those majestically imposing castles, and it is truly an unusual attraction in many ways. Unlike most of the castles in Scotland, this one is relatively new as it was built in 1950. Besides, even though it is referred to as a castle, it is not a castle in reality.
It is more like a small coastal fortress built in a Brutalist style with a rocky shoreside setting in the backdrop. The location where Hermit's Castle is built makes it a stunning attraction to explore on your Scotland tour, specifically if you are touring the North Coast 500.
Located on the North Coast 500, Hermit's Castle sits beside the popular Achmelvich Beach. This region is dotted with serene natural beauty in the form of white sand beaches and coastal scenery.
No time to read now? No problem, save a pin to your Pinterest board for later!
Complete Guide to Visiting Hermit's Castle
Now, if you are planning to add Hermit's Castle to your North Coast 500 itinerary, then this guide will help you make the most out of your time at this stunning tourist attraction.
It covers everything from how to get there and the best time to visit, where to stay, and more. So keep reading till the end to make your visit to Hermit's Castle hassle-free.
The Mystery of Hermit's Castle

An Insight into Hermit's Castle

How to get to Hermit's Castle?

Where to Stay near Hermit's Castle?

Other places to visit near Hermit's Castle?

Preparing for your trip to the NC500.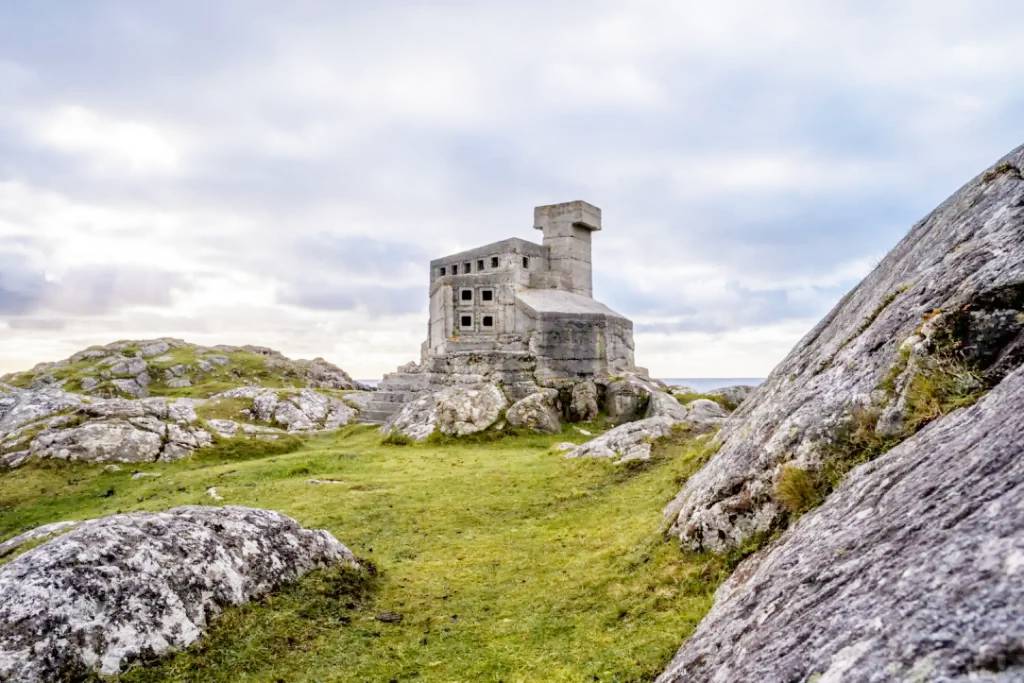 The Mystery of Hermit's Castle
Even if you ask any local about the history and the reason behind the construction of Hermit's Castle in Achmelvich, well, no one could tell you. The reason is still a mystery.
The only information available to the public is that the castle was built by an English architect, David Scott who hailed from Norwich. It is said that the castle was built by him single-handedly in just 6 months.
It is also said that he maintained secrecy about the construction of Hermit's Castle. He used to buy materials from the local fisherman and bring it to the lonely outcrop through his boat.
He was fed up with the daily life stress, and wanted to escape it by building Hermit's Castle. However, it is said that he left soon after completing the construction.
An Insight into Hermit's Castle
The castle resembles more like a fortress than a castle itself. It is because of its tiny architecture. 
A concrete bothy would probably be the right term to explain the description of Hermit's Castle. But despite its name and image representing it as a castle, this is one of the really cool places to explore in Scotland.
If you are travelling as a family, kids will enjoy exploring the inside of this tiny castle.
This unusual castle is constructed very well into the rocks on the peninsula right behind the caravan site. Such is the majestic beauty of this man-made wonder that the grey concrete used in it seems almost identical in colour to the stones and rocks found naturally around the region.
Consequently, the castle seems like it is more of a natural creation which fits right into the surrounding.
Not just this, if you stand beside the castle and get a picture clicked, it will make you feel like a giant person. If we talk about the entrance, though it is quite tall yet narrow.
The inside of the castle includes one small bedroom with a bed platform. Along with that, it also has a chimney, storage shelves, hearth, and tiny windows. They were originally glass windows, however, they were later removed. 
How to Get to Hermit's Castle
Hermit's Castle – one of the most popular North Coast 500 castles, is located in the Achmelvich region of Scotland. The castle is easily accessible via the Shore Caravan Site.
Finding Hermit's Castle is quite easy if you know what you are looking for. However, it could also be difficult or the site could be overlooked because of the headlands.
In order to reach this beautiful tourist spot, you will have to park your vehicle at Achmelvich's Beach Car Park. From Ullapool to Achmelvich, 809 bus service operates twice daily that can also be used as public transport to reach the castle.
From there, take the path to the beach. Then head towards static caravans located on the left. Climb over the rocks and take a walk along the grass. From there, hop over the stile and there will be a gate to the right of the last house.
Proceed to walk the peninsula in a straight direction in the west. This is around a 10-15 minute walk. The castle can't be seen from a far distance as it is well camouflaged in the rocky backdrop. But that's what makes it even more interesting to find.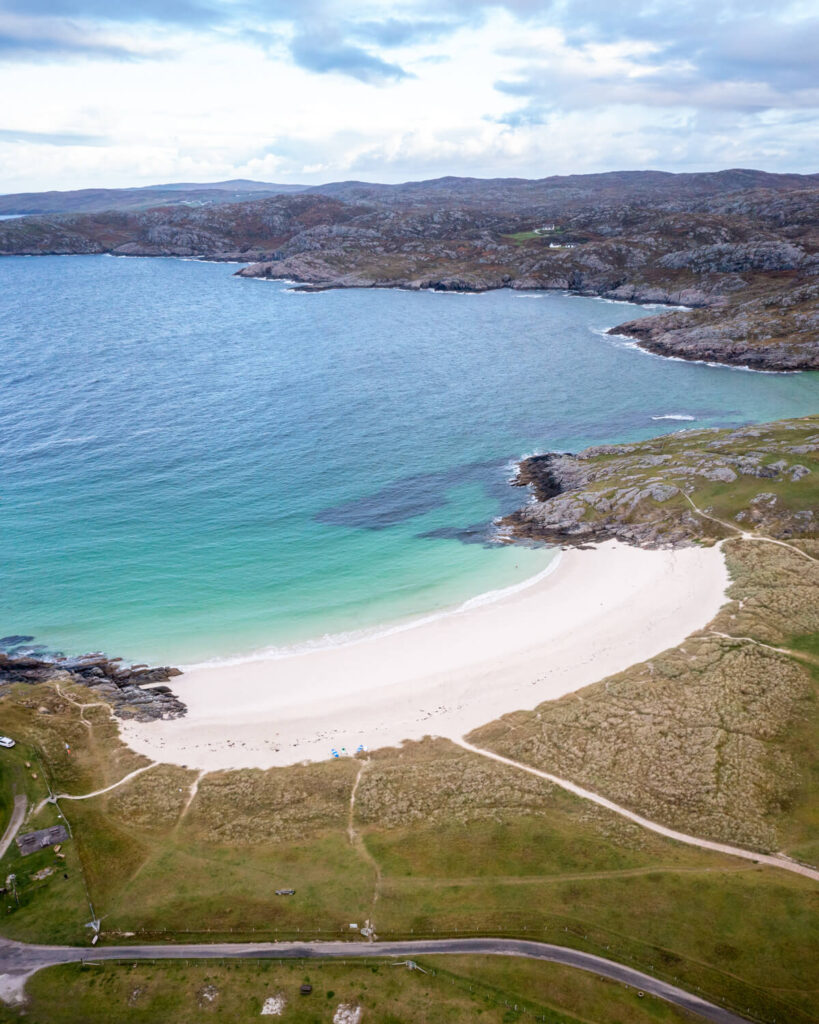 Where to Stay Near Hermit's Castle
If you are looking for some good options to stay near Hermit's Castle, well, you have to look for that in the Achmelvich region. There are some good options available in this beach town.
Some popular and comfortable places to stay in the region are the North Coast 500 Pods, Canisp View, Tigh Eilidh, and Achmelvich Beach Youth Hostel. 
Shore Caravan Site also sits right on the beach and next to Hermit's Castle.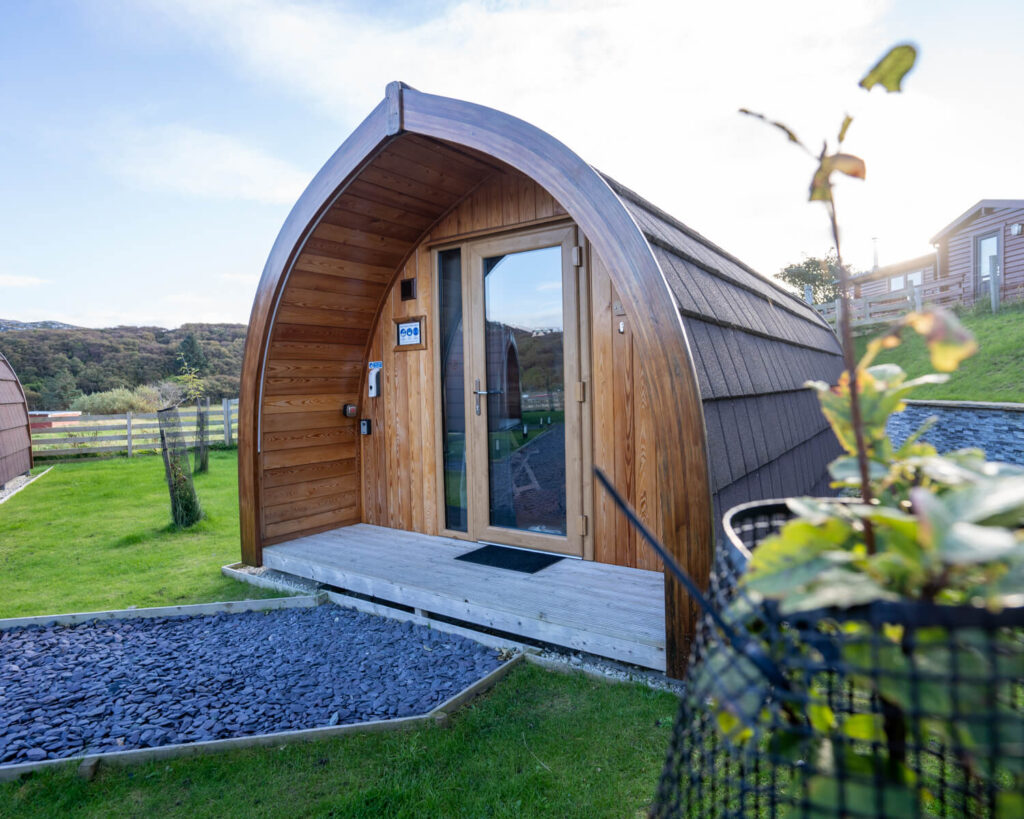 Other Places to Visit Near Hermit's Castle
One of the perks of visiting Hermit's Castle is that it is located in the region of Achmelvich, one of the most beautiful locations in Scotland.
It is home to some amazing tourist spots ranging from beaches to mountains. There are plenty things to do when you visit the area nearby Hermit's Castle.
Achmelvich Beach
Achmelvich Beach is indeed a paradise for beach lovers. From the beach, the views sprawl across the bay to the Lochinver village, a coastal town nearby.
On the rural west coast, this is certainly amongst the most serene beaches for tourists to enjoy a great time with friends and family. The vast stretch of white sands and the granite outcrops divide the beach.
The beach is surrounded by grass and rocks along with the majestic mountains in the backdrop. There is also a small cove just north of the beach which is accessible during low tides.
This tourist place is also a haven for adventure seekers as you can also do various adventure activities such as windsurfing, kayaking, and water surfing in the summer season.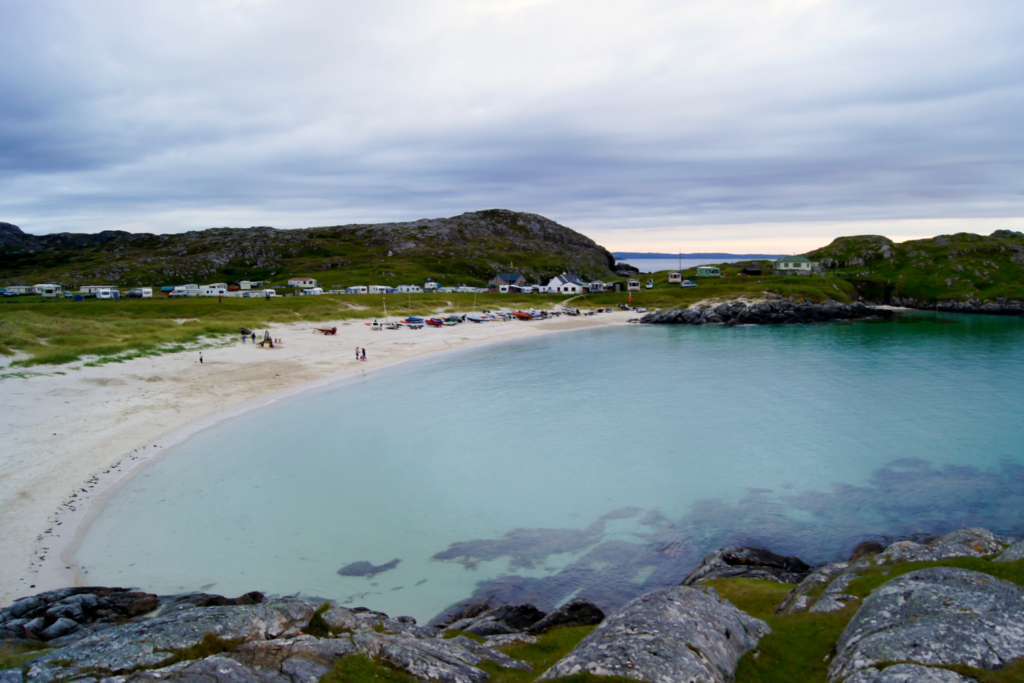 Clachtoll Beach
Turquoise water, a vast stretch of white sands, a serene ambience, rugged terrains, and a soothing backdrop, that's Clachtoll Beach for you.
Undoubtedly, it is one of the most beautiful highland beaches in the region.
As a result, a lot of travellers visit this beach for an amazing time with their friends and family. There is a free area to park your car when you visit.
The Clachtoll Beach Campsite  is located just behind the beach and attracts a lot of tourists during the summer season. Even though the beach is located at a relatively remote location, it is still busy in peak season.
To the south of the bay, on the headland, there is Split Rock which is another attraction for those who are into geology.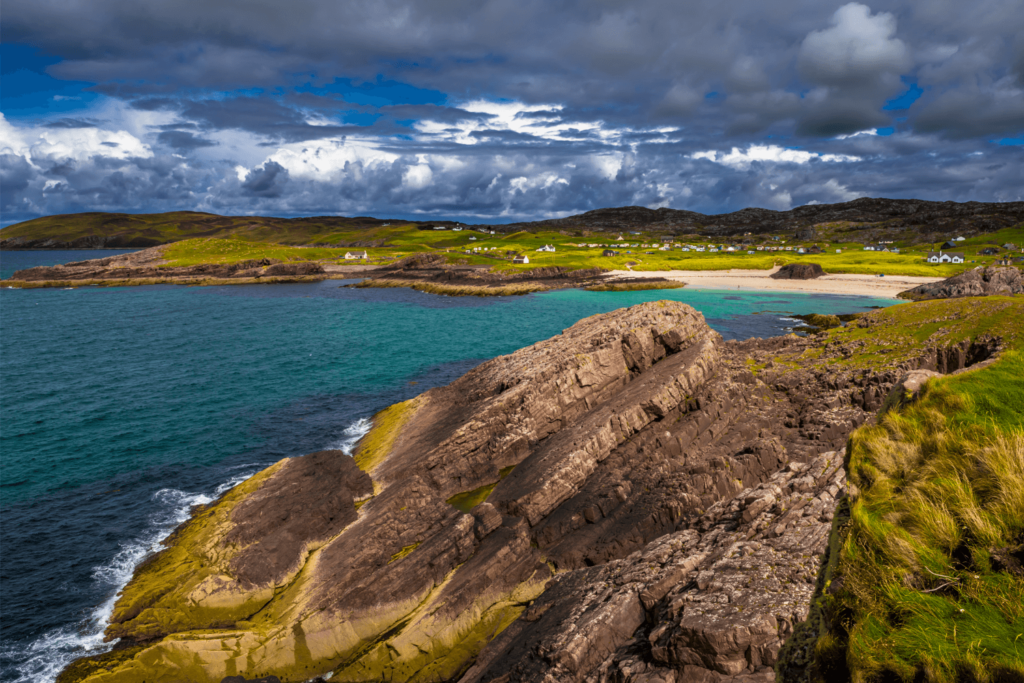 Stac Pollaidh
In the region of Assynt, Stac Pollaidh is one of the mightiest mountains in Scotland. It is known for its unmatchable grandeur and scenic landscape as well as its ridge and circuit.
The entire hike to this ridge and circuit is an experience in itself. It offers great views that sprawl over Assynt to the northern region and Achiltibuie and Summer Isles to the western and southern regions.
This tourist spot is only recommended for experienced hikers as the hike involves a challenging scramble. The path is excellently paved which makes it ideal for walking. However, the return path is a bit boggier and eroded. Whereas, the climb is steep.
Culag Woods
Owned by a local community trust, Culag Woods is situated on the edge of Lochinver. It is a large woodland area on the south side of Lochinver. The Culag Woods cover a network of paths, sculptures, and viewpoints.
Sprawls over 40 acres of land, Culag Woods makes for an ideal place for travellers to explore and have a good time. It consists of both forest and coastal scenery that makes this attraction so special.
Grey herons is one of the key attractions of this popular tourist attraction. Look into the highest branches; there you will find the nests of grey herons. Along with that, you can also expect to spot great spotted woodpeckers and willow warblers.
Gruinard Island
An uninhabited island which was once the experimental site for scientists to conduct experiments with Anthrax. During the experiment, the island was hit by fire.
As per the witnesses, the incident was nothing less than an apocalypse. The island was used for germ warfare during World War II. Though it was declared free from Anthrax in 1990 by the government, the island is uninhabited.
There is nothing much to explore on the island as such, yet you can visit to witness the evidence of bygone dark history. You can see the entire island on the stretch of A832 south and west of Mungasdale.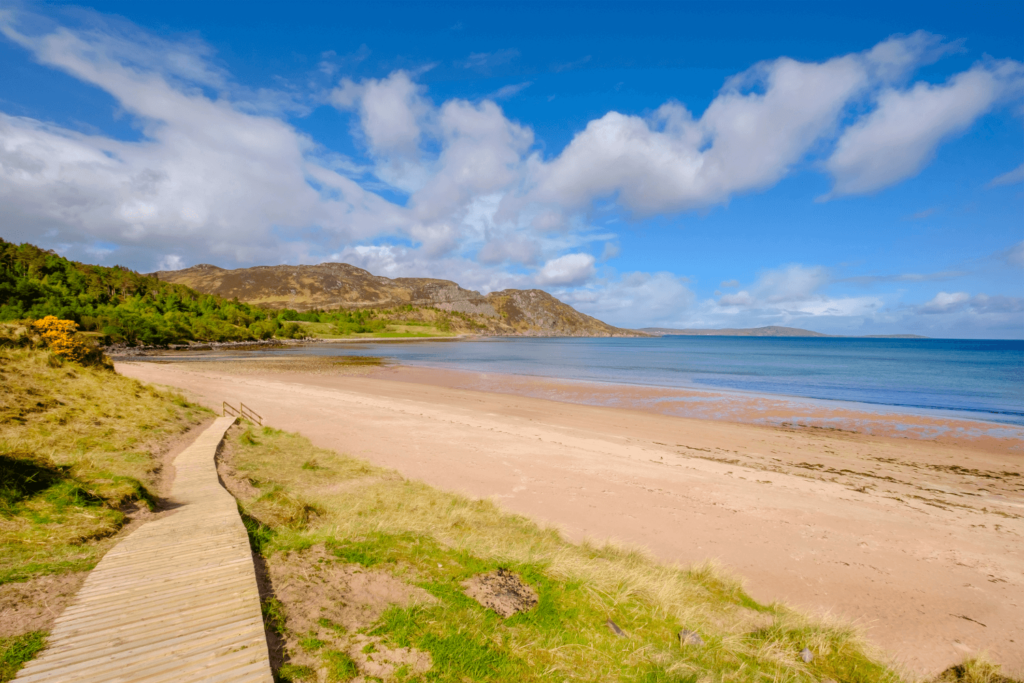 Dun Dornaigil Broch
An iron-age broch, Dun Dornaigil is nothing but astonishing remains of a drystone roundhouse. The majestic Dun Dornaigil Broch is located just above the River Strathmore.
According to researchers, this broch was once a defensive structure. However, other also says that it was once the symbol of power and prestige. Today, only the remaining stonewalls are there that are 7 metres high.
For those who are into history, this is one of the places in the country that you must look to explore nearby Hermit's Castle.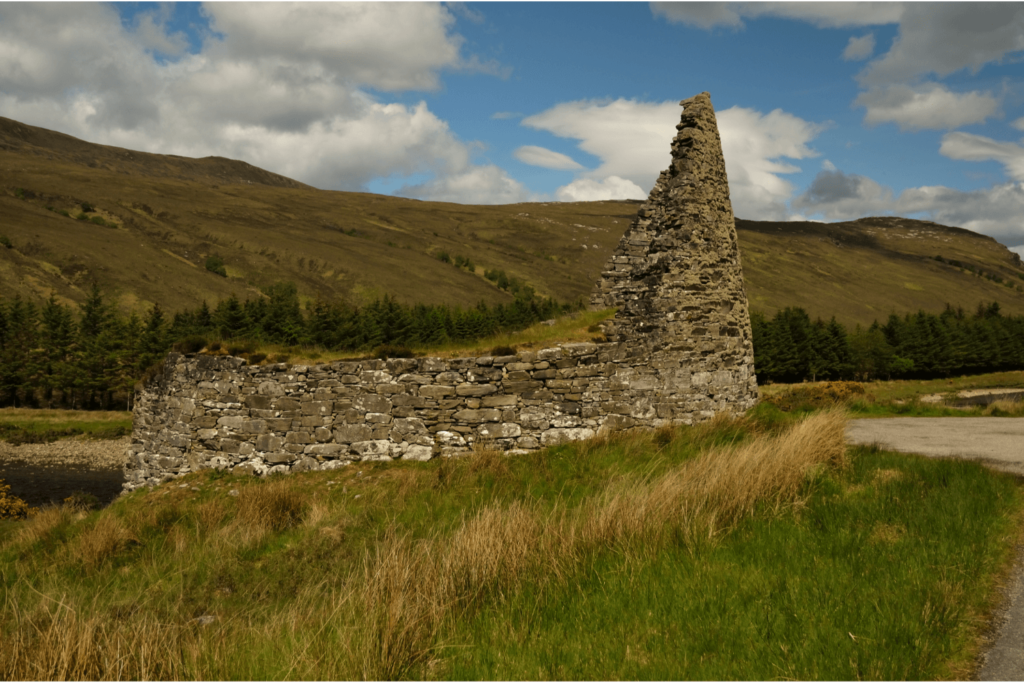 Cape Wrath
Another site which is almost untouched by humans in the Scottish Highlands is Cape Wrath. However, despite that, it is relatively easy to reach. Cape Wrath is a spectacular trail which begins from Fort William to the north western most point of mainland Britain.
It is an 11-mile trail which is mainly for experienced backpackers. En route, you will get to witness the extraordinary landscapes consisting of mountains, streams, and verdant greenery.
The route via road goes through Kyle of Durness by passenger ferry that operates from Keoldale. From there, a friendly tour guide will escort you to the minibus arranged by the Ministry of Defence firing range.
The driver of the bus is highly knowledgeable of the area and will walk you through the history of the region which is a conversational area as well as a military training site.
The ferry ride and the bus ride both accept cash only.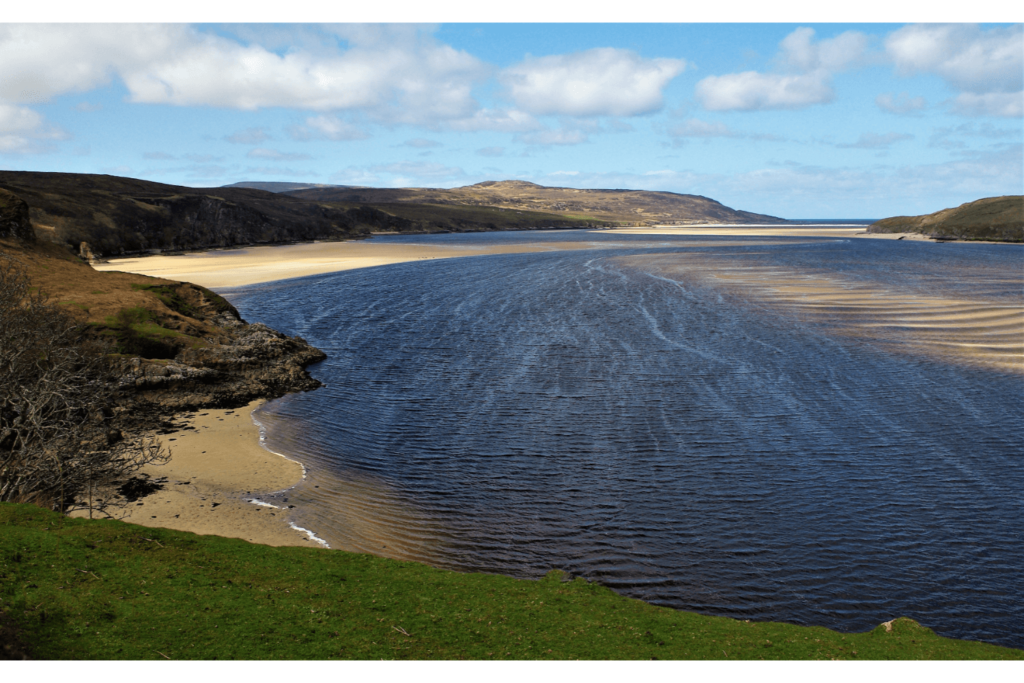 So there you have it, the ultimate guide to Hermit's Castle that covers everything you need to know about this place. If you have visited the NC500 recently, let us know what you thought of the sights listed above, or if you have any suggestions let us know in the comments below.
As always, sharing is caring so make sure to share this photo guide with your family and friends and inspire them to head off on their own North Coast 500 adventure. If you are planning the trip for yourself, make sure you have a look at the rest of our Scotland content for more inspiration to our beautiful home country.
When you set off on your own adventure, be sure to tag us in your photos on Instagram and we will share them with the rest of our community. In the meantime, why not follow us over there to see what we are currently up to and keep up with us on our Instagram Stories.
Now Read:
This article may contain affiliate links that provide us with a small income. For more information read our Affiliate page.
Pin this image to your Scotland Pinterest board for later