Dunnet Bay is an amazing crescent beach with white sand, azure waters, and rolling sand dunes that collectively makes for a perfect weekend gateway.
Dunnet Bay stretches for over 2 miles and offers its visitors a good opportunity to indulge in a number of activities. If you are brave enough to enter the cold water, you can go swimming or paddle boarding.
The beach is a perfect stopover for all those who love to surf, especially when the wind and waves are right.
However, if water sports aren't your thing, you can choose to just relax by the shore and take in the surreal ambiance. Dunnet Bay is also a paradise for wildlife enthusiasts as you can look out for seabirds and seals off the coast.
Visiting Dunnet Bay is one of the best things to do on the NC500 route and in this guide, we will help you plan an amazing tour of this beautiful part of the country.
No time to read now? No problem, save a pin to your Pinterest board for later!
A Complete Guide to Visiting Dunnet Bay
Dunnet Bay is a must visit on your NC500 itinerary. This gorgeous stretch of sand is accessible via a wooden ramp from the small car park. In this guide, we will discuss the best time to go to Lihou Island as well as the following
What is Dunnet Bay?

Where is Dunnet Bay?

How to get to Dunnet Bay?

Why Should I go to Dunnet Bay?

When Should I go to Dunnet Bay?

Preparing for your trip to the NC500.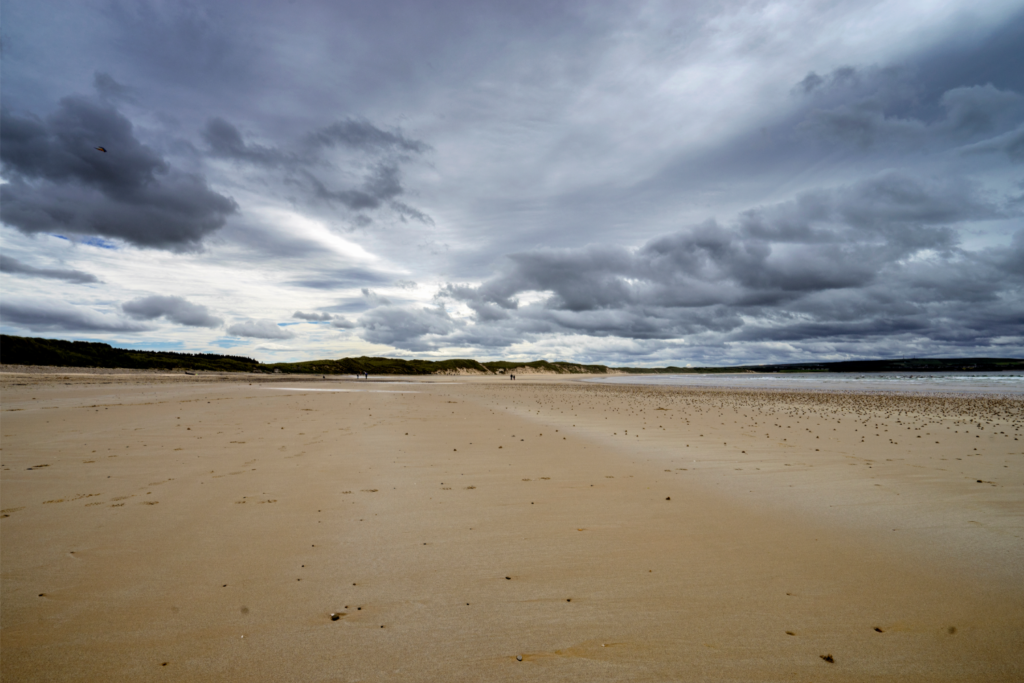 What is Dunnet Bay – An Insight Into This Beautiful Beach on the NC500!
From the village of Castletown to Dunnet, Dunnet Bay is a long stretch of pristine sandy beach that attracts a lot of visitors throughout the year. However, in the months of summer, you will see a relatively higher footfall of tourists here in this region.
Dunnet Bay in Scotland is one of the best beaches on the North Coast 500 route. The reason Dunnet Bay is so popular amongst tourists is due to being the most northernly beach on the north coast of mainland Scotland as well as how great it is for wild swimming and other watersports.
The best thing about Dunnet Bay is that its is dog friendly all year round. Even during peak season, you can expect to see people taking a stroll with their dogs on this large empty beach.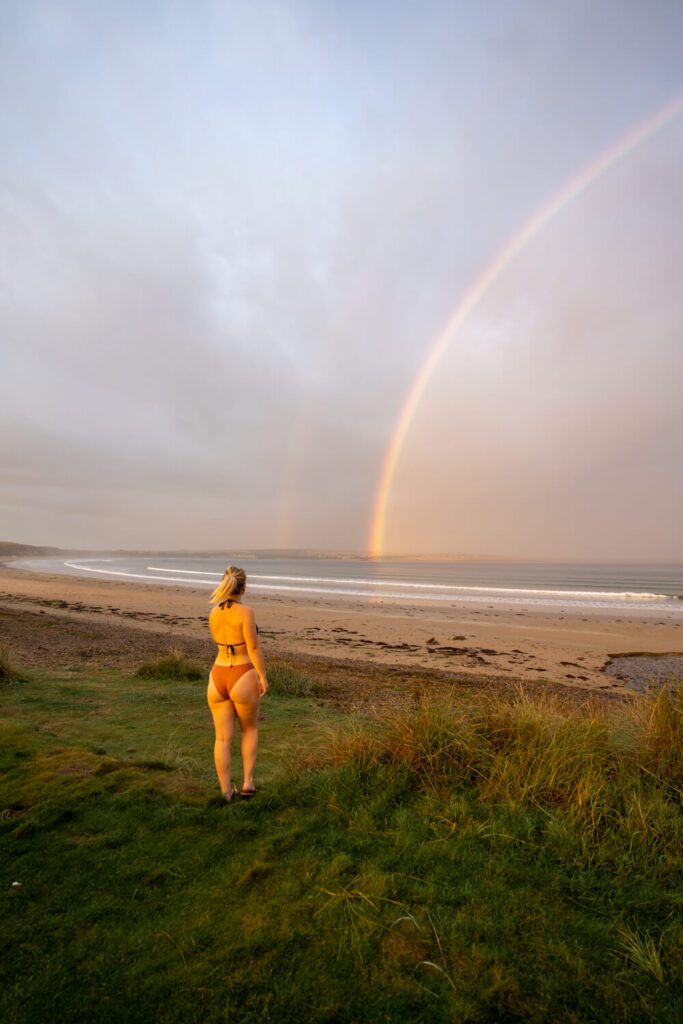 Where is Dunnet Bay
Dunnet Bay is situated at the northeastern tip of Scotland between Dunnet and Castletown. The beach expands over an area of 2 miles and is surrounded by grassy plains and dunes. 
The closest facilities to Dunnet Bay can be found in the town of Dunnet. The town has a number of attractions, accommodation options, and the Seadrift-Dunnet Visitor Centre.
Just beyond the beach, there lies Dunnet Head, a peninsula in Caithness. This region is the northernmost part of the United Kingdom's mainland. There are also a number of things to do here in this region and places to visit such as a 19th-century lighthouse. If you visit Dunnet Head, make sure to look out for any wildlife.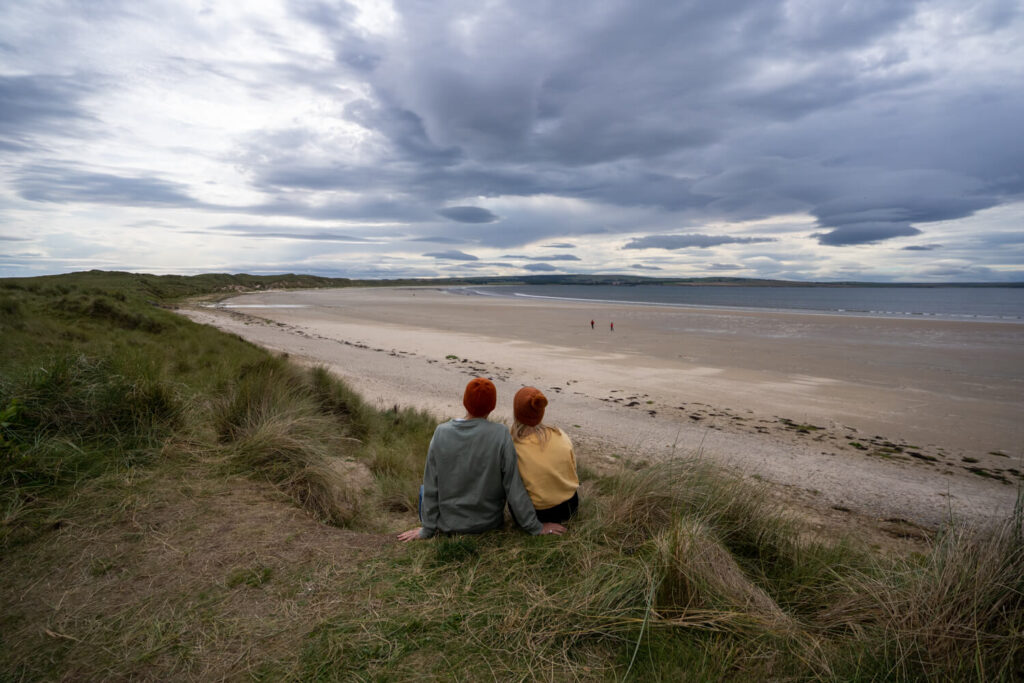 How to Get to Dunnet Bay
There are a number of ways to get to Dunnet Bay, the most popular being in your own vehicle by either following the north coast clockwise or anti-clockwise.
This beautiful stretch of sand sits in front of the Dunnet Bay Campsite, just off the main road so it is hard to miss.
There are a few public transport options which we will discuss in further detail below.
If you want to reach Dunnet Bay by bus, the routes 80D and X99 take you to Dunnet Bay from Thurso or John O'Groats.
The nearest airport to Dunnet Bay is Wick (WIC). Eastern Airways flies from aberdeen taking 40 min. From there you can get 2 buses (80 and 82) to reach Dunnet Bay.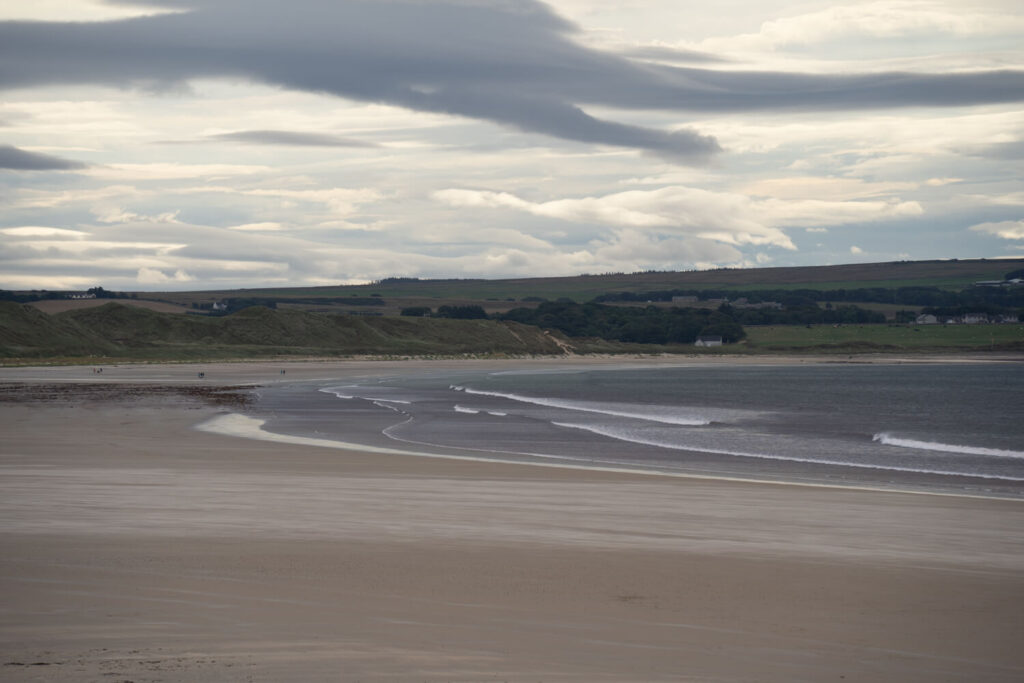 Why You Should Go to Dunnet Bay
Dunnet Bay is one of those beaches in Scotland where you can enjoy some quiet time, listening to the waves crashing off the shore. However, the region offers so much more to enjoy than just watersports and beach walks. 
Bird Watching at Dunnet Head
Dunnet Head offers a number of things to do and enjoy for travellers. And amongst all those, one popular activity that you must do here is bird watching.
On a clear day, you can expect to capture some stunning sights of the Orkney Islands which are located at a distance of around 15 km from the tip. The islands are home to a variety of seabirds such as guillemots, shearwaters, puffins, kittiwakes, and more.
As wildlife lovers, we learned that the Royal Society for the Protection of Birds (RSPB) is doing great work in ensuring the conservation of wildlife here in this region.
The RSPB conducts annual monitoring of seabirds as a part of a national survey to ensure the well being of these wild creatures.
Camping at Dunnet Bay
On your visit to Dunnet Bay, if there is one thing you absolutely cannot afford to miss out is the camping. There are a number of Dunnet Bay Campsites in and around the region, however we would recommend staying at Dunnet Bay Campsite which overlooks the beach. The perfect spot to pitch up in summer.
With vast natural beauty around, the region is a perfect spot for you to unwind from the hustle and bustle of the day to day life and go camping with your friends and family.
Explore Dunnet Lighthouse
While in Dunnet Head, another popular attraction you cannot afford to miss out on is Dunnet Lighthouse. This is the most northern point in mainland Britain and if you are lucky enough to have clear weather, the views across to Orkney are spectacular. 
There is a rich history of the Dunnet Head Lighthouse that dates back to the times of World War II. This historic construction was built in 1831 by Robert Stevenson who is known as the grandfather of a famous novelist.
Build at a height of 20 metres, there is a fairly challenging ascent to reach atop the lighthouse and includes 51 steps and 9 ladders  However since the lighthouse is built on a cliff, it makes the lighthouse stand at a height of 105 metres above the sea level.
One of the reasons why the lighthouse has such huge popularity amongst tourists is the fact that it is known as the most Due to being the most northerly point in the UK, this spot is very popular among tourists and can therefore get very busy during the day. There is a long single-track road leading up to the point which can take quite a while to get to if the road is busy.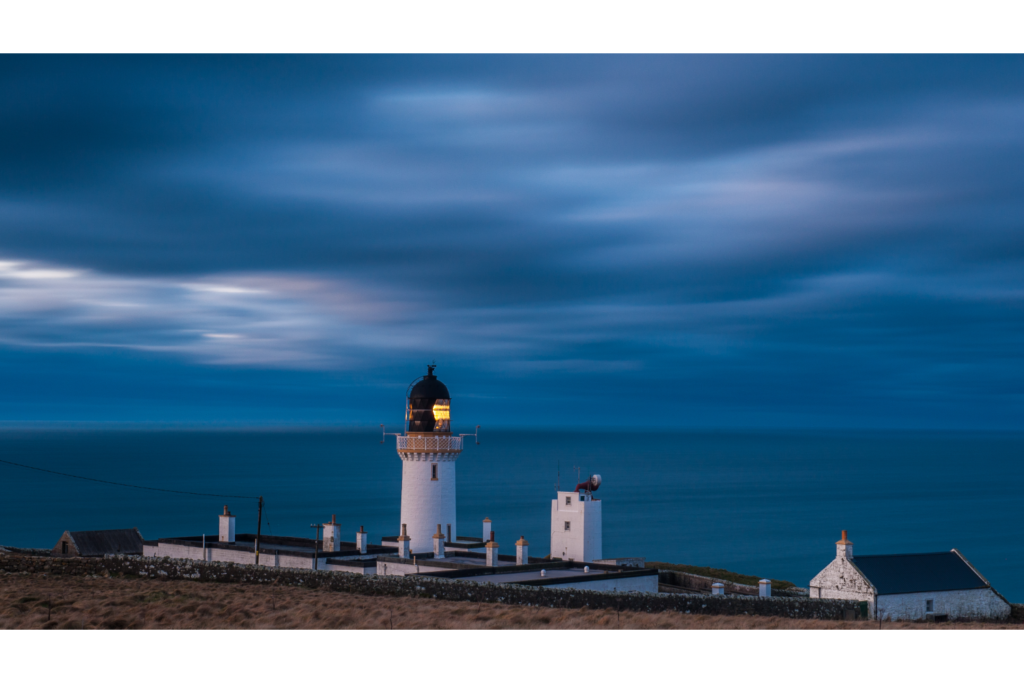 Dunnet Forest Walk
For all the nature lovers, Dunnet Forest Walk is a must-thing to do around Dunnet Bay. It is a vast area of mature coniferous forest. On the south of Dunnet village, the forest area was planted by Forestry Commission in the 1950s.
However, there is an interesting story behind the creation of this region. The Commission did an experiment by planting on poor soils. Today, the region is mainly managed by the local community for biodiversity and recreation.
There is also Dunnet Links National Nature Reserve which consists of a large wooded area that includes walkways and bridges. Dunnet Links is known as one of the largest sand-dunes areas in the northern region of Scotland.
The region is home to more than 200 different plant species including the Scottish Primrose which is known to be only found on the North Coast of Scotland.
While walking in the forest, you can also expect to capture the sight of various woodland birds including the coal tits, goldcrests, and crossbills.
Castle of Mey
Popularly touted as the northerly castle in Scotland, the Castle of Mey is one of the most interesting attractions to explore around Dunnet Bay. Located between John O'Groats and Thurso, the Castle of Mey overlooks the ocean across the Pentland Firth.
The architecture of the castle is a real delight for tourists with honey-coloured stones embracing the beauty of architecture. Even today, the castle is in great shape and modern in size. Along with that, it is also adorned with beautiful gardens and includes a visitor centre, a tearoom, an animal centre, and a shop.
Castle of Mey is said to be built by the Fourth Earl of Caithness between 1566 and 1572. However, later in 1952, the castle was bought by the Queen Mother from Captain Imbert-Terry.
During that time, the castle went through renovation work. In 1966, the castle was handed over to a charitable trust. All these instructing facts and stunning architecture and facilities together make this place a worth visit around Dunnet Bay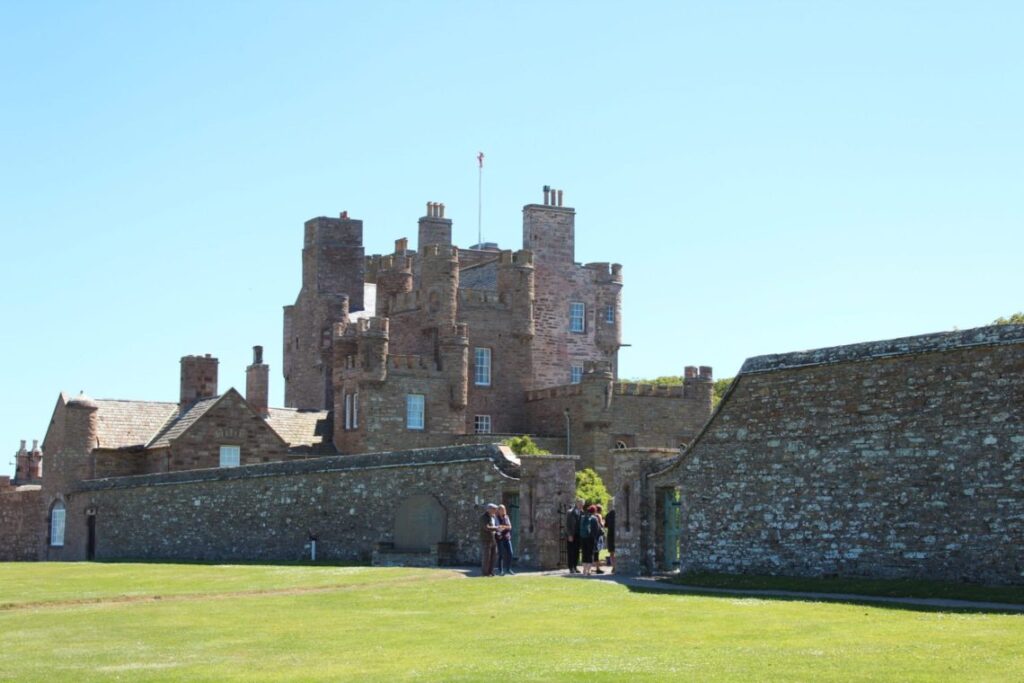 Dunnet Bay Distillery
Another popular place you should visit while vacationing in this region is Dunnet Bay Distillery. It was set up by a couple, Martin and Claire Murray, and their team with a passion to create handcrafted spirits to celebrate the heritage of the Scottish Highlands.
Of all the spirits they handcraft, the show stopper is the award-winning Rock Rose Gin. Dunnet Bay Distillery also offers a 90 minutes distillery tour for the general public. On the tour, you will get to know about the founders and can even taste their handcrafted spirits in the beautiful tasting room.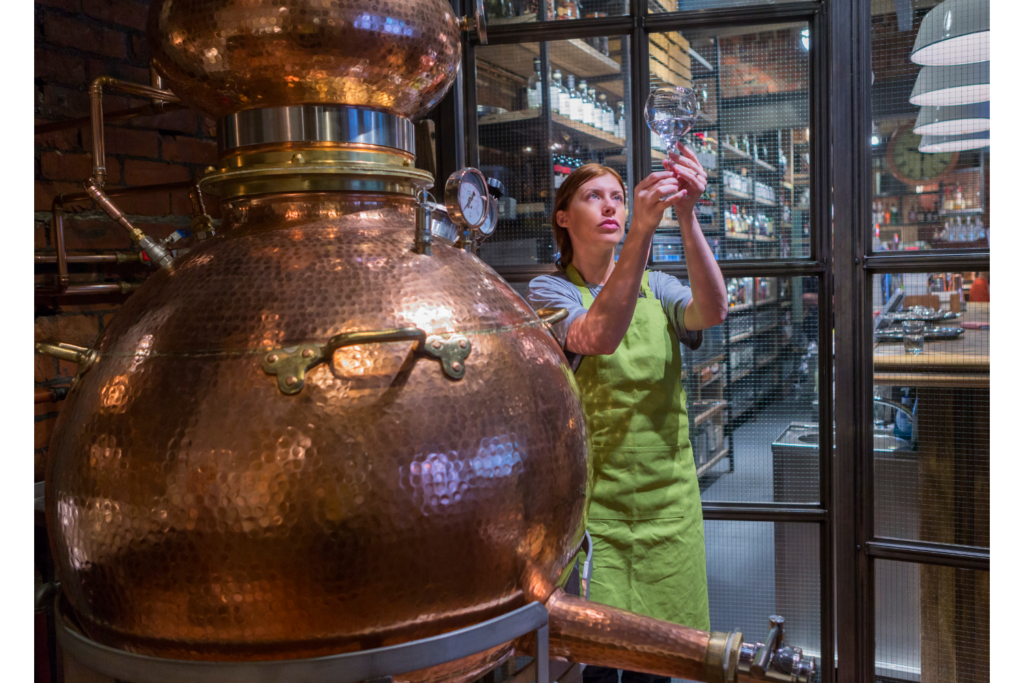 North Coast Watersports
If you are a lover of the sea and want to try your hands at surfing in the waters of Dunnet Bay, well, North Coast Watersports is the way to do that. This surf school offers private and group lessons as well as surf retreats and equipment hire.
North Coast Watersports is also known as the most northerly surf school in Scotland and with highly experienced coaches they are also recommended as one of the best surf schools. 
They also offer a kids programme during the summer months to get the kids in the water and teach them the basics of surfing.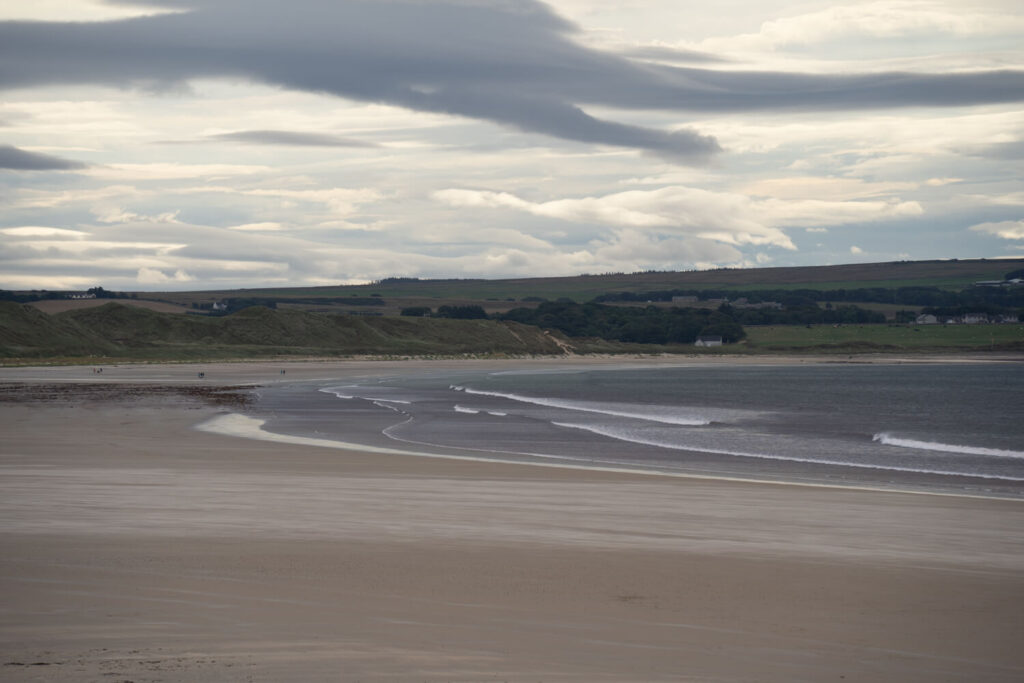 The Best Time to Visit Dunnet Bay
Scotland witnesses a good number of tourists every year. During the summer months, the area can be extremely busy. asthis is when the weather tends to be at its best. In saying that, a number of tourists will still travel to the area through the winter months and enjoy a windy stroll along the beach, enjoying the quieter road trip. However, if we talk about Dunnet Bay in general, the region witnesses coastal climate.
The months from May to October are considered the best time to explore the Dunnet Bay region. During these months, the temperature remains cool with the exception of summer warmer days and the rain is less likely. The highest temperature during this time goes as high as 15°C and as low as 6°C.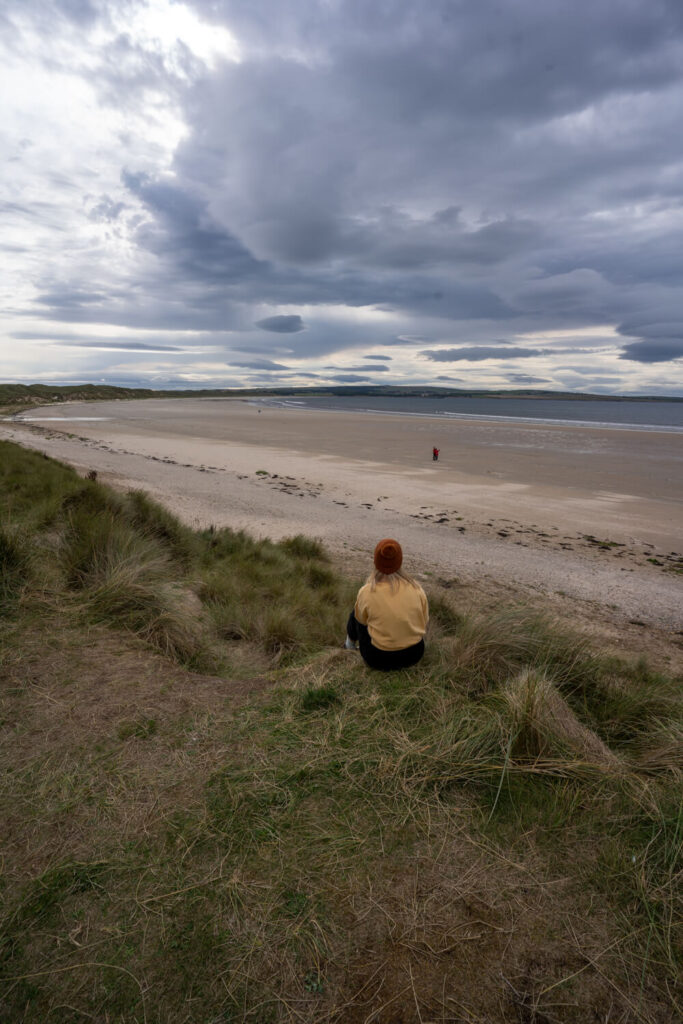 Before You Leave on the North Coast 500
Before you head off on your trip around the NC500, there are certain things you will need to get organised to ensure a smooth trip. These include how to get around the route, including being aware of single track roads, etc., what to pack for Scotland, where to stay along the route and what travel insurance to book.
Read more planning tips for the North Coast 500 in our full guide.
How Do I Get Around the NC500?
Given the remote location of the NC500 and the majority of the sights along the route, the best way to get around this road trip is by driving. There are of course other methods that are still popular, such as cycling and hiking, however, if you have a short amount of time on the route, neither of these are very suitable.
As for public transport, the use around the NC500 is understandably difficult due to how remote each location is, however, with the increasing problem of congestion along the route, this is a good option to research if you have time. If it is something that interests you, you can read a public formed itinerary of how to get around the NC500 by public transport over here.
If you are looking to rent a cosy, reliable, and luxurious campervan for your trip along the NC500, we highly recommend hiring through Spaceship Rentals. 
Browse the full range of vehicles on offer at Spaceship Rentals over here.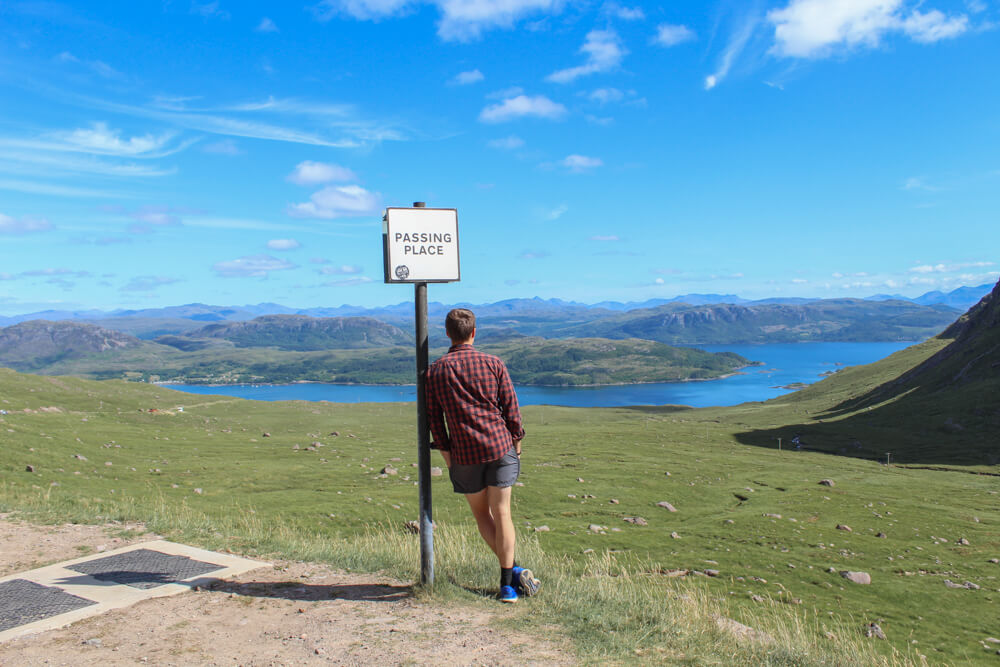 What Should I Pack for the NC500?
When it comes to packing for a trip along the NC500 there is one item of clothing that you are going to need all year round: a waterproof. It rains in Scotland on average 250 days a year, meaning that during your 7-day NC500 road trip you will probably experience at least a drizzle of rain. Due to this, the number one item on any Scotland packing list is a good waterproof jacket.
As for the rest of the year, the temperature in Scotland and the central heartlands is reasonably mild for most of the year. During the winter months, you will most likely experience snow, however, temperatures usually sit around freezing, so it is not too cold. For your reference, the average temperatures in Scotland are listed below during each season.
Spring (March, April, May) – 5-10 degrees C
Summer (June, July, August) – 15 degrees C
Autumn (September, October, November) – 5-10 degrees C
Winter (December, January, February) – 0-5 degrees C
As you can see, the weather never really gets above the teens, with anything over 25 degrees C considered a heatwave. The best way to pack for your trip to the highlands is with layers that can be added and removed as you need them. You will definitely need a hat and gloves during the colder months and will most likely need sunscreen to protect you on the long days in the open.
For our full list of items that we pack no matter where we go in the world, check out our full packing guides over here.
Given the beautiful sights and scenery that you are no doubt going to see around Scotland, we highly recommend packing a good camera for your trip. If you want to read more about the cameras we use and why we love them, check out the link below.
You can read what else we keep in our camera bag over here.
Where Should I Stay on the NC500?
The remoteness in the highlands of Scotland will leave you with little choice of accommodation in each location along the NC500, however, there are still enough options to choose from to ensure a comfortable trip. These are mostly in the shape of B&Bs, Airbnbs, converted cottages and other quirky accommodations.
Depending on how adventurous you are, there may be more accommodation choices than just the above, often with an even better view. Caravan and camping sites are abundant along the NC500, drawing camping enthusiasts from all over the world. For some of the most spectacular bedside scenery along the North Coast 500, we recommend packing a tent and getting in touch with nature for the week.
As we travelled along the North Coast 500, camped in our trusty Vango tent on a mixture of campsites and wild sites. Wild camping is a fantastic way to enjoy the beauty of the highlands, however, it must be done respectfully. Read our full guide to Wild Camping if you wish to give it a go so you know everything you need to for a comfortable and sustainable trip.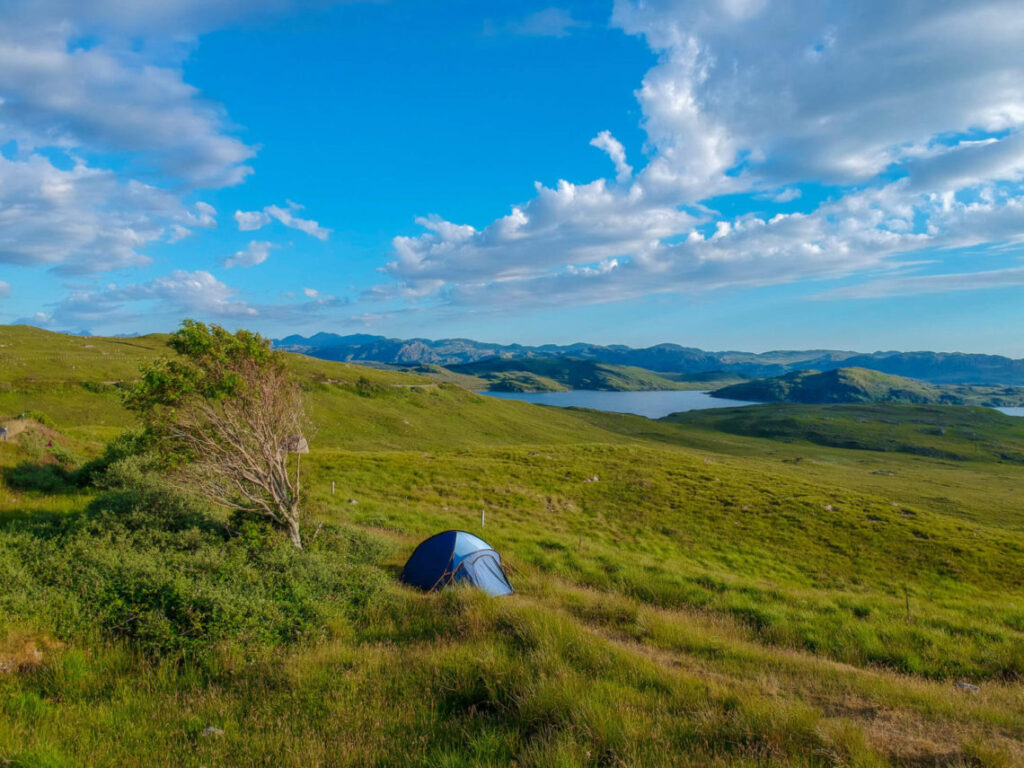 What is the Best Travel Insurance?
No matter what type of adventure you are heading on, whether it is a mountain adventure or a relaxing beach destination, one thing we all need to be aware of is that accidents can happen. The last thing you want is for an unexpected medical emergency to ruin your trip of a lifetime. Luckily, that is what travel insurance is for.
Whenever we travel abroad, we get covered with World Nomad's Travel Insurance, a reliable, friendly and extremely affordable method of covering yourself on any adventure. With years of experience working for backpackers around the globe, the service they provide is perfect for whatever type of trip you have planned.
Get covered for your next trip and get a quote from World Nomad's right here.
So there you have it, a comprehensive guide to Dunnet Bay that covers everything from best time to visit to how to get there to things to do in and around the area. If you have visited the NC500 recently, let us know what you thought of the sights listed above, or if you have any suggestions let us know in the comments below.
As always, sharing is caring so make sure to share this photo guide with your family and friends and inspire them to head off on their own North Coast 500 adventure. If you are planning the trip for yourself, make sure you have a look at the rest of our Scotland content for more inspiration to our beautiful home country.
When you set off on your own adventure, be sure to tag us in your photos on Instagram and we will share them with the rest of our community. In the meantime, why not follow us over there to see what we are currently up to and keep up with us on our Instagram Stories.
Now Read:
This article may contain affiliate links that provide us with a small income. For more information read our Affiliate page.
Pin this image to your Scotland Pinterest board for later