This article contains information on a gifted bungee jump experience. Rest assured all of the content below is accurate and true to the beliefs and opinions we hold for this place. 
Are you looking for a spark of adrenaline on your next trip to Scotland? How about throwing yourself off a 40m bridge in the Scottish Highlands at the best bungee jump in Scotland? Located in the heart of Scotlands brand new epic road trip, the Heart 200, Highland Fling Bungee is a must-stop on your road trip.
Get planning your ultimate Scotland Road Trip with our 10-day Scotland itinerary to all the best sights!
Hover over the image and save it to your Scotland Pinterest board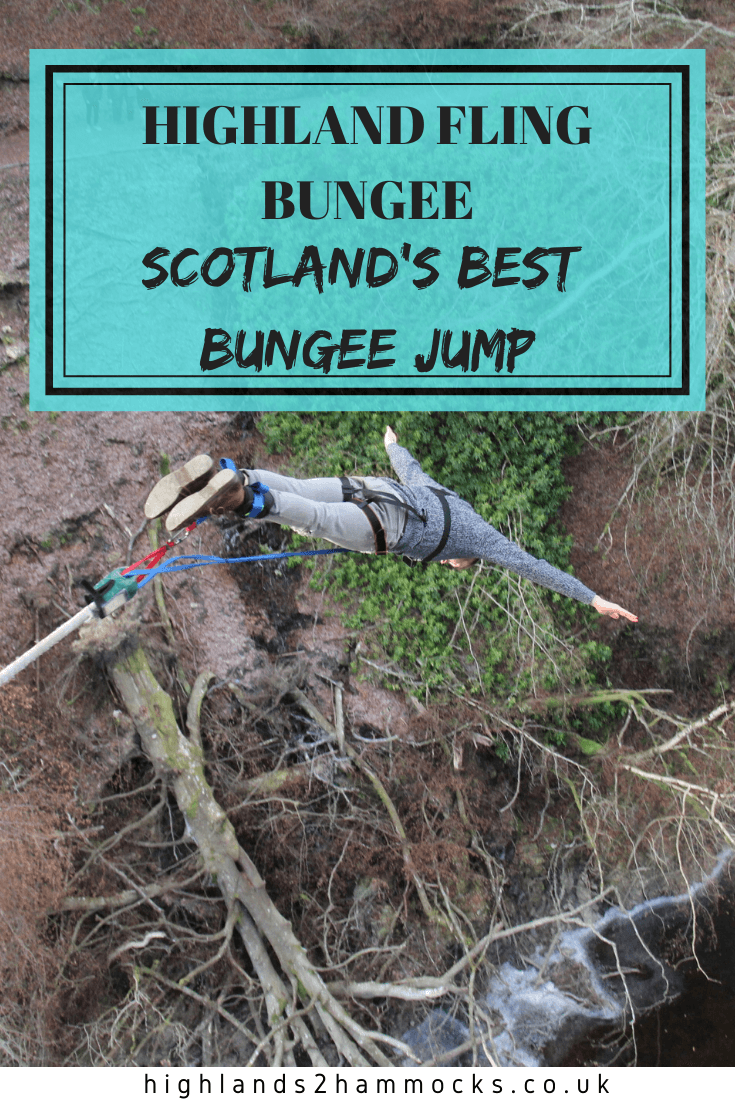 See the Killiecrankie Bungee for yourself in our Best Road Trips in Scotland video. Make sure you subscribe to our Youtube channel for more by clicking here!
Watch more of our Youtube videos over on our channel here!
Highland Fling Bungee – Killiecrankie Bungee Jump
This Killiecrankie Bungee jump is a top bucket list item for thrill-seekers and for those who want to conquer their fear of heights. Highland Fling Bungee host a number of different adrenaline experiences for you to choose from and is the UK's first static bungee jump experience. We will go into each of these in further detail below.
Highland Fling Bungee is open 7 days a week all year round. You must book in advance for your choice of activity to ensure you get the time slot that you want. You can choose to book through the booking form on Highland Bungee Fling or alternatively you can phone or contact via email. You will find all the contact details for Highland Fling Bungee at the bottom of this post.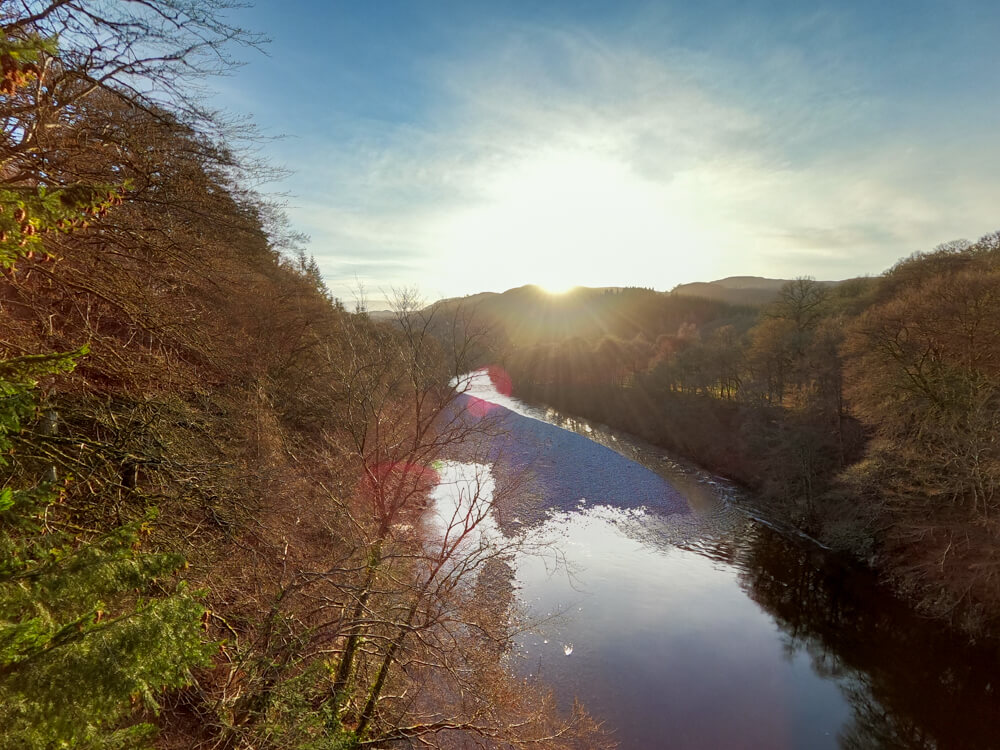 Where is the Highland Fling Bungee Located?
The company is managed from the Killiecrankie Visitor Centre, 3 miles from Pitlochry. The jump location is at the Garry bridge where a specially constructed platform sits 40m above the Garry River. Car parking is available at the Killiecrankie visitor centre and spectators are welcomed.
There is, however, also another bungee jump that you can do not far from the heart of Scotland's largest city, Glasgow. Leaping from the top of one of Scotland's most iconic landmarks, you can bungee jump 50m from the top of the Titan Crane.
Highland Fling Bungee is managed by experts in the field and is very safe, however, you must be aware that there are always risks in these kinds of activities. If you are pregnant, unfortunately,  you won't be able to take part this time.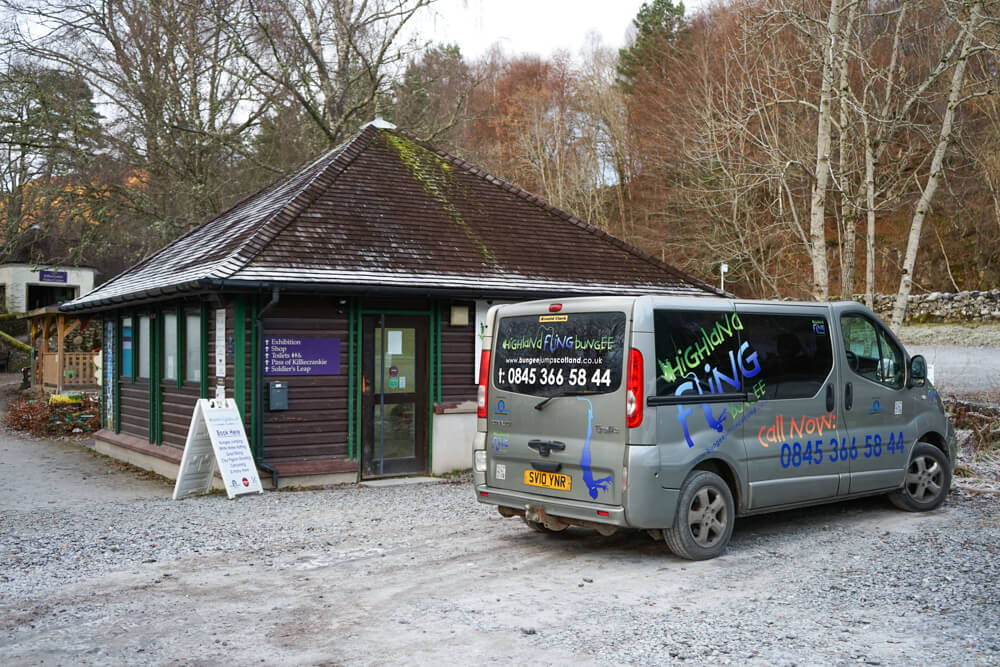 What Type of Bungee Jump Can I Do?
A bungee jump in Scotland is a challenge like no other. Taking the leap quite literally into the most beautiful scenery that Scotland has to offer. This incredible adrenaline experience will leave your heart thumping and longing for more. You can choose from three types of bungee jump here in Killiecrankie, either tandem, solo or nighttime.
This 40m free fall will cost £79pp and if you wish to do a second jump on the same day it will cost £30pp.
If you haven't booked, Highland Fling Bungee will do their best to accommodate walk-ins, however, during busy periods this may not always be possible.
Important Information on Bungee Jumping
The maximum weight is 100kg and the harness will fit a waist size of 40cm-125cm. The minimum age for jumping is 14 years old and the maximum is 114, however, over 65's require a doctor's letter.
Make sure you are wearing sensible clothing and footwear, ie. nothing that can fall off or will be uncomfortable with a harness on. Once you have jumped you will be winched back up to the platform, a process that we discuss this in further detail below.
If you want to purchase some memorabilia to show off to everyone that you did a bungee jump, you can purchase a £15 t-shirt, the photos of your experience for £25pp or even a three-camera edited video for £35pp.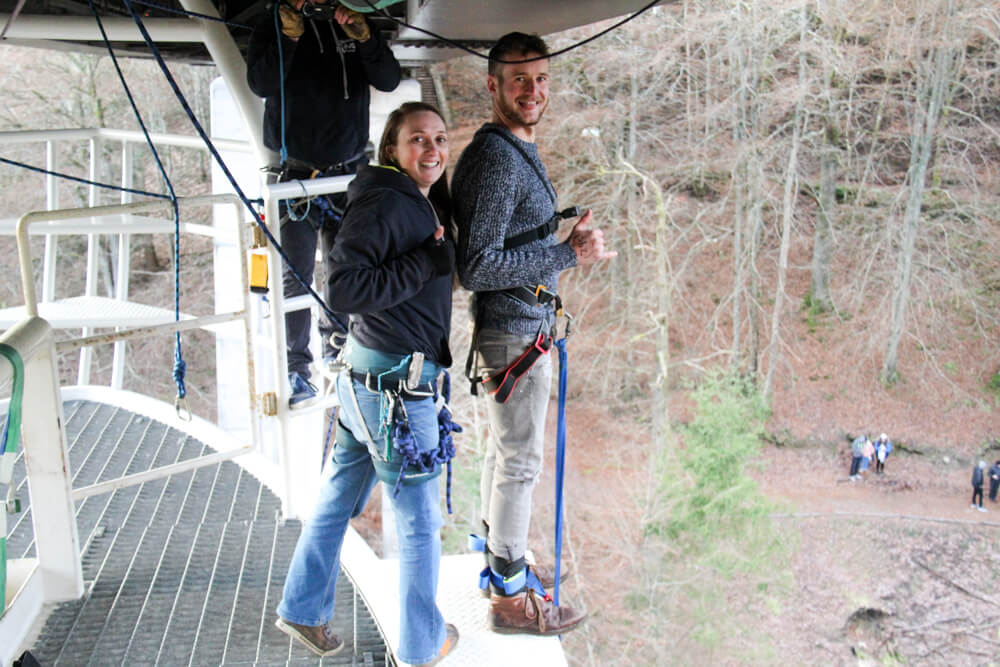 Tandem Bungee Jump
If you are wanting to share this experience with a loved one, how about taking the leap together on a tandem bungee jump. This type of bungee jump can only be booked at the Killiecrankie jump centre and must be booked over the phone. You can book your tandem bungee by calling Highland Fling Bungee on the contact details listed below.
The maximum combined weight allowed for this jump is 180kg and the maximum weight difference of both jumpers is 35kg. The cost for a tandem bungee experience is £179 for both people on the tandem. The price for memorabilia is the same as for a single bungee, however, the price is per tandem.
Night-time Bungee Jump
Highland Fling Bungee is Europe's first and only blackout bungee jump! Imagine the adrenaline you will feel jumping off a 40m platform into complete darkness with no idea of when the free fall will end? This is an experience you will not want to miss out on so make sure you pre-book to guarantee your space. Night jumps run from October through to march each year and will run with a group of 4 or more jumpers.
If no one else is brave enough to join you on this experience of a lifetime, get in touch with Highland Fling Bungee anyway and they will discuss convenient times with you as to when they will be running night jumps. At £85pp this is a ince in a lifetime experience that will most likely have you coming back for more. You can book your night jump by phone on 0345 366 5844.
Charity and Fundraising Bungee Jumps
All year round Highland Fling Bungee offers charity and fundraising bungee jumps. What a way to tick off an amazing bucket list activity whilst raising money for charity. Charity jumps can take place at both the Titan Crane jump site and the Killiecrankie jump site and groups of jumpers can be up to 100. This experience takes place all year round at Killiecrankie and during May-September at Titan Crane. For groups of 20+, other dates can be requested.
If this is something you would be interested in, get in contact with Highland Fling Bungee for their competitive rates for charity jumps and group charity rates and start raising money for a good cause.
Highland Fling bungee also accommodate stag and hen parties! Get in contact with them directly to find out more and book your spot.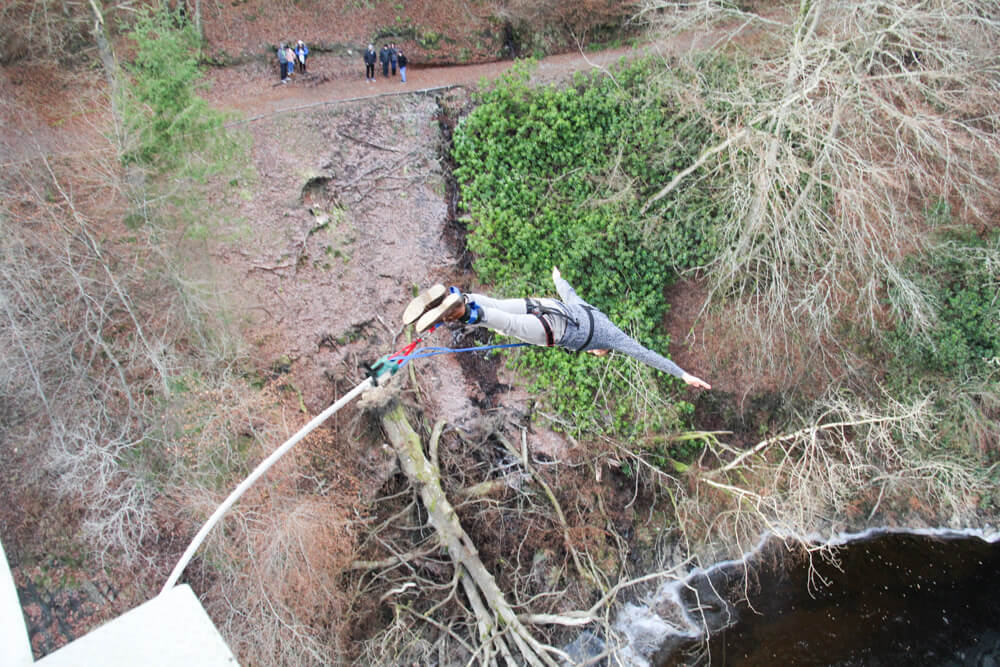 Highland Fling Bridge Swinging in Scotland
The newest addition to Highland Fling is the bridge swing, releasing you from above and dropping a 15m free fall into the beautiful scenery above the River Garry. This experience has been purpose-built and is only available at the Killiecrankie location in Perthshire, the same bridge where the bungee jumping takes place.
The minimum age for the swing is 10 years old and the maximum age being 110 with over 65's requiring a doctor's letter. The maximum weight limit is 120kg and the waist harness will fit a waist size of 40cm to 125cm.
You will be dressed in a full-body harness and released from above, free-falling for 15m before the rope takes the slack and accelerates you through nature, underneath the bungee jump platform. You will be winched back to where you started when the swing is over. How does that sound for an adventure-packed experience?!
You can book the swing online and Highland Fling is open for swing all year round. Check the booking times for availability.
The cost for a swing is £69pp and for a second jump by the same person on the same day it is an additional £30pp. Allow 1 hour for this thrilling experience and at the end you can decide if you want to purchase the memorabilia in the shop.
Killiecrankie Zip Park
The Killie Zip is new to Highland Fling in 2021 and what an experience it is. Initially you will climb up a 20ft wooden ladder up the tree to get to your first zip line. There is a large circuit of 9 lines zipping through the forest and across the River Garry at a heigh of up to 35ft. We would advise wearing comfortable clothing for this activity and allow 1.5 hours for the experience. The location of the zips is around 100 years from Garry Bridge where the bungee and highland swing take place. Spectators can watch from below as you whizz around the valley. It is advised to book in advance to ensure there is availability for the activity you want to do.
This is a really fun experience to see the beautiful views of Killiecrankie, even if you get jelly legs when you're up high, the view is so worth it.
Quad Biking
The quad biking experience is located just outside of Pitlochry and is open to treks 7 days a week. We would recommend that you wear clothes you don't mind getting dirty, your qualified quad guide will provide you with a helmet and eye protection for your 1 hour tour around the hills.
This is a fantastic experience, you will start off warming up around some easier trails before working up to some a little more challenging. You don't need to have experience of riding a quad bike before as your guide will control the gears on your bike when it comes to starting and stopping.
We loved the views whilst driving around the trek and you can even stop at the top for a photo opportunity. Don't get tpp distracted by the views though or you might crash your quad bike.
Is This Bungee Jump a Good Gift Experience?
If you are looking for present ideas, how about going for a gift experience over a material item. Highland Bungee Fling sells experience gift cards that are valid for 12 months and can be used at their Killicrankie or Clydebank jump sites. When you purchase a gift card, bear in mind that the Titan Crane bungee jump is only open from May-September. The Killicrankie jump site is open all year round.
A range of vouchers can be purchased on Highland Fling Bungee's website. You can choose to purchase a monetary voucher card that can be used towards a choice of adventures and a gift card for a specific experience.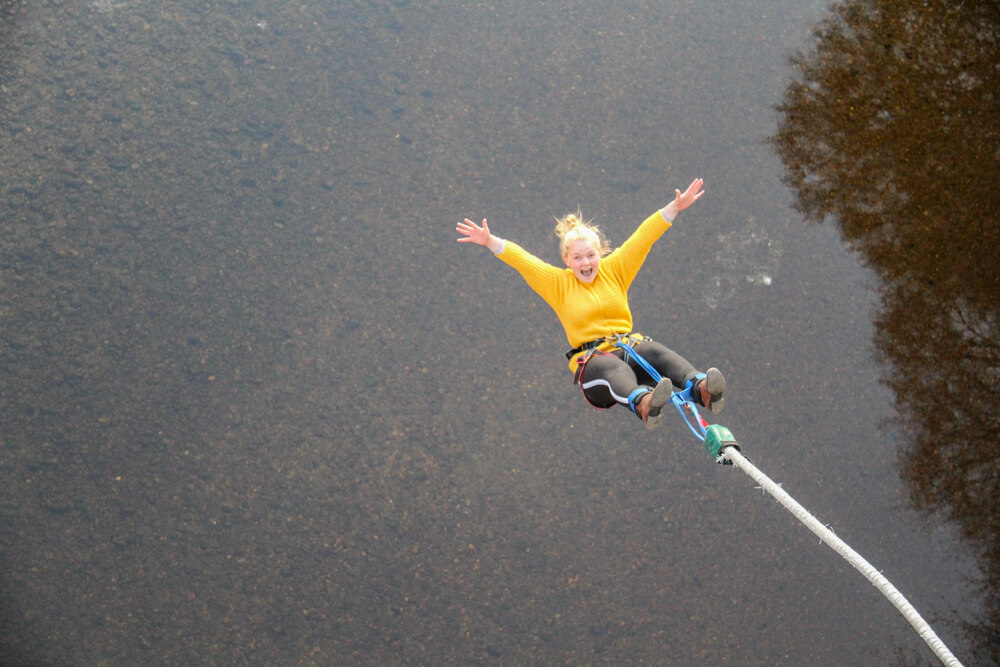 Things to Know Before You Go
Your pockets must be empty before you leave the visitor centre and all jewelry must be removed. If you need to, you can leave your belongings in the office and collect them after your jump.
If you have a chest strap for your go pro, you can choose to wear this however it will be your own responsibility to ensure it strapped on tightly.
What to expect when you arrive at Highland Fling Bungee
When you arrive at Highland Bungee Fling and sign in, you will be asked to read a sign on the back wall and sign a disclaimer form on the iPad to agree that you are happy with the information you have been given.
You will be supported to step into a harness and this will be all tightened for you. After this, you will be weighed and your weight will be written down on your right hand. This is to ensure that the correct ropes are used for your jump.
On your left hand, you will be given another number and this is your photo and video number.
You will then head to the jump point by minibus with the rest of your group, which will take 5 minutes along the road to the Garry Bridge. Spectators will need to make their own way there and the best viewpoint is from the bottom of the hill.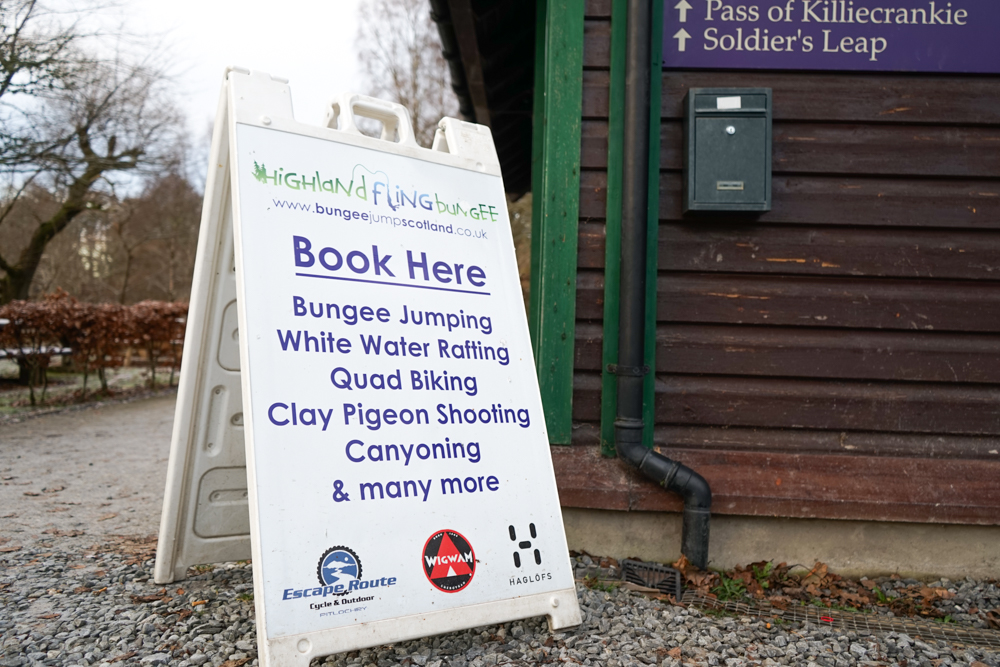 Arriving at the Bungee Jump Site
For those jumping, you will be asked to climb up a ladder at the side of the bridge one by one. At this point, you will be clipped onto a harness as you climb up. When the whole group reaches the top, you will be escorted along the bridge to the jump site.
If you are afraid of heights, you may start to get jelly legs at this point, don't worry you will get to sit down soon. When you reach the platform, the group will split in two and be asked to sit on either side. There are 3 HD cameras filming this whole experience for you, so make sure you keep smiling!
Whilst you are sitting there, the staff will attach the leg equipment to you which will hold both of your legs together. They will also talk you through how to make your jump as comfortable as possible. By keeping your head up and looking forward to the mountain, hands out to the side and shoulders back your body should tilt forward. This should stop you from being tempted by a foot first jump which would be a lot more uncomfortable fall.
There will be upbeat music on, pumping you up for what lies before you.
When your name is called forward, you will be clipped onto the very thick bungee rope, at this point, I recommend not looking down. If you watch our YouTube video you will see how much I avoided looking down! The staff will take a short video asking you your name and what you are there for and a few photos will be taken before your jump.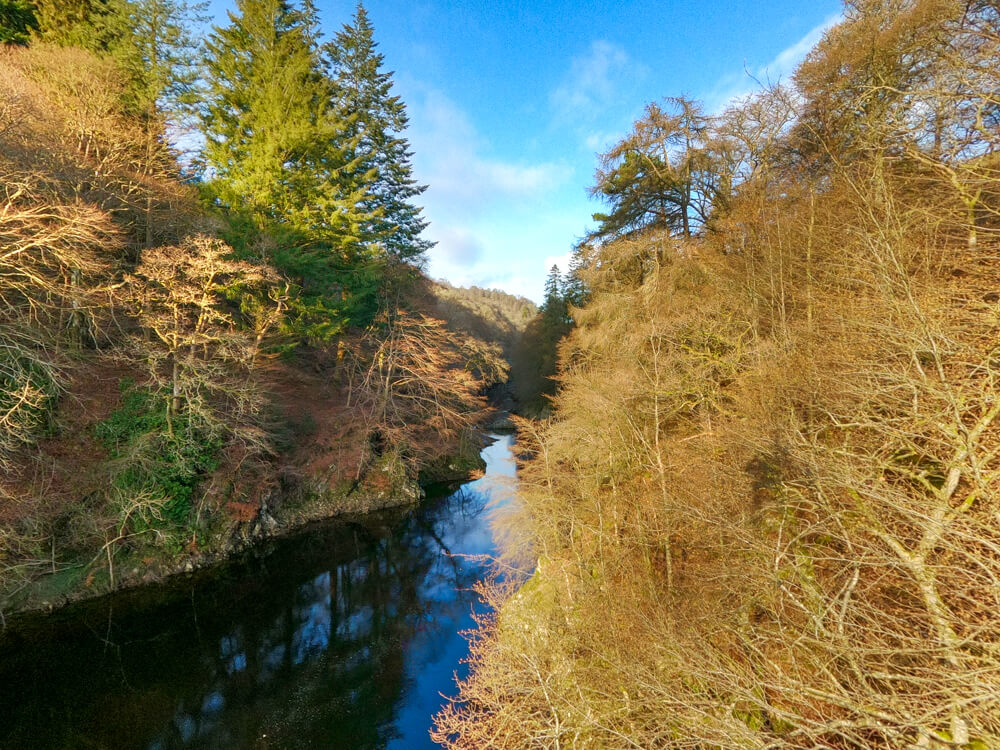 Our Experience
I know this doesn't make it any easier but if you are sitting on the fence about giving bungee jumping a go, I will tell you a little bit about our experience. I was terrified, we were both sitting on the top platform terrified. Unable to tell if we were shivering with the cold or really shaking with fear. The staff were kind and friendly, however, which will instantly you put at ease.
This was an experience we couldn't pass on and one that we would 100% do again. If anything it has got us desperate for another adrenaline rush like that in the near future! You will be in safe hands with Highland Fling Bungee and we recommend you take the leap and book this incredible experience in the heart of Scotland.
Highland Fling Bungee Contact Details
Highland Fling Bungee
C/O The National Trust for Scotland
Killiecrankie Visitor Centre
Killiecrankie
Perthshire PH16 5LG
Scotland
United Kingdom
Phone number – 0345 366 5844
Highland Fling Titan Crane Bungee Jump
Queens Quay,
1 Aurora Ave,
Clydebank
G81 1BF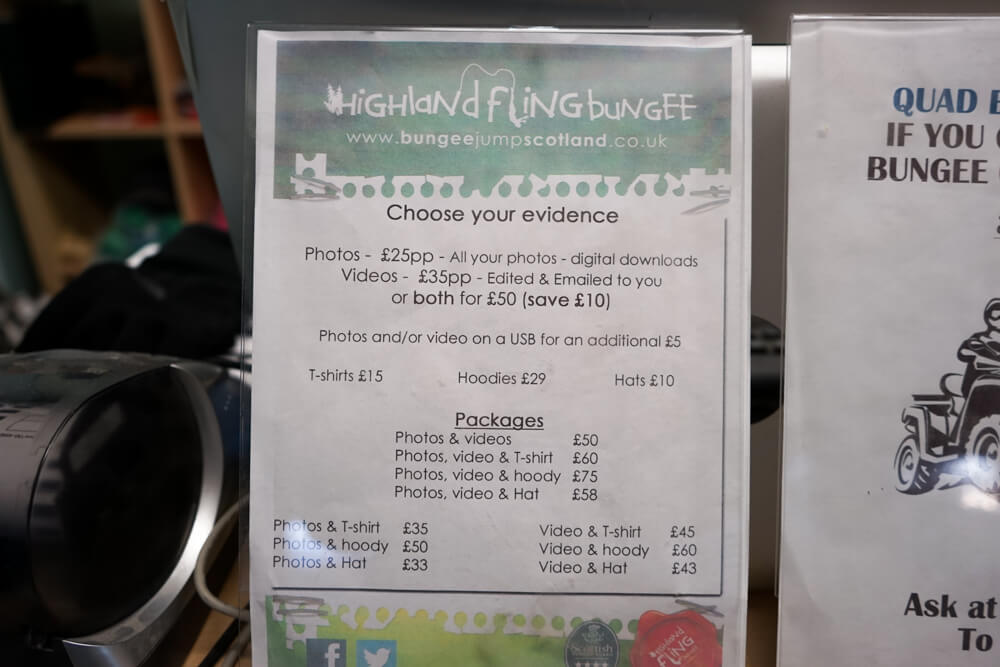 How to Get to Highland Fling Bungee
Highland Fling bungee has two locations in Scotland, one in Perthshire and one in Clydebank. is located 3 miles from Pitlochry in Perthshire Scotland.
Highland Fling Bungee Killicrankie
To get to the Perthshire location from Glasgow, head along the M80 and then the A9 road. Take the turn off for Pitlochry and you will start to see signposts for Highland Fling Bungee. The journey time is around 1 hour 40 minutes and the distance is 87 miles. If you need to get public transport, catch the train to Blair Athol, you may need to change at Perth, and then catch the bus to the Killicrankie Visitor Centre.
To get to the Killicrankie Visitor Centre from Edinburgh, drive along the M90 and A9 roads for 74 miles. Allow 1 hour 45 minutes for this trip. If you need to get public transport, catch the train to Blair Athol and then catch the bus to the Killicrankie Visitor Centre.
Titan Crane Bungee Jump Clydebank 
The Titan Crane Bungee is 8 miles from Glasgow along the A814. Allow yourself 30 minutes to get there. If you need to use public transport, you can catch the train from Glasgow Central Station and disembark at Clydebank.
From Edinburgh, the Titan Crane is a 1 hour 45 minute drive via m8 and is 54 miles. If you require public transport, you can catch a train from Edinburgh to Glasgow and then from Glasgow to Clydebank.
Before You Leave for Highland Fling Bungee
Before you head off on your adventure of a lifetime, there are a few things you will need to get organised to ensure a smooth and enjoyable trip. These include where you will be staying around the Heart 200, what you will need to pack and the dreaded issue of travel insurance. All of this is discussed below.
Where to Stay in Scotland
We highly recommend that when you book your experience at Highland Fling Bungee, you do this as part of your Heart 200 itinerary. The best way to see the beautiful sights around the heart of Scotland is by renting a campervan. Check out Bunk Campers for unlimited mileage and affordable prices for your next road trip.
Luxury
For Killiecrankie – Ever fancied staying in a castle? Well, Fonab Castle Hotel can offer you just that and at less than a 10 minute drive away from the Killiecrankie Visitor Centre, you can stay cosy in your room admiring the views right up until you need to go for your jump.
For Clydebank – The Golden Jubilee Conference Hotel is the perfect place to stay for your bungee jump in Clydebank with stunning views over the River Clyde.
Mid-Range
For Killiecrankie – If you are looking to stay somewhere that includes breakfast, Derrybeg Bed and Breakfast serves up a traditional Scottish breakfast to fill up your adventurous bellies in the morning. What more could you want than that and the amazing views of the Tummel Valley that come with it.
For Clydebank – A stay in the West Park Hotel is affordable and will have you feeling relaxed and set up for your bungee experience.
Budget – For Killiecrankie – The Red Brolly Inn is a budget yet comfortable place to stay for your next trip to Pitlochry.For a cosy and traditional accommodation experience, this is the place for you.
For Clydebank – Book your budget stay in The Titan in preparation for your bungee jump. This budget accommodation is in a great location for your bungee jump as well as a trip into Glasgow or Loch Lomond.
If hostels are more your scene, you can check out the hostels available in Scotland here.
What to Pack for a Trip to Scotland
When it comes to packing for a trip to Scotland there is one item of clothing that you are going to need all year round: a waterproof. It rains in Scotland on average 250 days a year, meaning that during your 5-day Heart 200 road trip you will probably experience at least a drizzle of rain. Due to this, the number one item on any Scotland packing list is a good waterproof jacket.
As for the rest of the year, the temperature in Scotland and the central heartlands is reasonably mild for most of the year. During the winter months, you will most likely experience snow, however, temperatures usually sit around freezing, so it is not too cold. For your reference, the average temperatures in Scotland are listed below during each season.
Spring (March, April, May) – 5-10 degrees C
Summer (June, July, August) – 15 degrees C
Autumn (September, October, November) – 5-10 degrees C
Winter (December, January, February) – 0-5 degrees C
As you can see, the weather never really gets above the teens, with anything over 25 degrees C considered a heatwave. The best way to pack for your trip to the highlands is with layers that can be added and removed as you need them. You will definitely need a hat and gloves during the colder months and will most likely need sunscreen to protect you on the long days in the open.
For our full list of items that we pack no matter where we go in the world, check out our full packing guides over here.
Given the beautiful sights and scenery that you are no doubt going to see around Scotland, we highly recommend packing a good camera for your trip. If you want to read more about the cameras we use and why we love them, check out the link below.
You can read what else we keep in our camera bag over here.
What is the Best Travel Insurance for Scotland
I know travel insurance is the least enjoyable thing to purchase and look at when you're planning a trip, however you wouldn't want to be without it in the event that something happened. The extortionate medical bills could ruin your trip if you are not covered.
To ensure you have a stress-free trip with no worries about potential medical bills, make sure you cover yourself when you travel. We can recommend using World Nomads, a backpacker friendly and cheap insurance company that provides good coverage and support.
Get a quote for your travel insurance right here and get covered.
So there you have it, your ultimate guide to Highland Fling Bungee. If you are visiting this incredible place and have any other questions on what to expect, leave us a comment down below. We love to chat about this stuff! If you have already been, let us know how it was! Were you scared? Did you scream louder than Gemma did? Let us know in the comments below!
Also remember to share this with your friends and family that you are going to share this amazing adrenaline experience with. Sharing is caring and we want to ensure that everyone is fully prepared to maximise their experience completing this bucket list activity.
If you are planning a Scotland trip soon then check out our other Scotland content right here. Come and find us on social media to see where we are currently exploring. Tag us in your photos from your bungee jump experience and we will share them with the rest of our community of explorers and backpackers.
Read Now:
This article may contain affiliate links that provide us with a small income. For more information read our Affiliate page.
---
Save this image to your Scotland Pinterest board for later